7+ Best Coaching Platforms of 2023 (Ultimate Guide)
Choosing the right coaching platform is vitally important to your business. From providing the best user experience to offering the most features and integrations, the best coaching platform can help you meet your goals. In this guide, I ranked and reviewed the 7+ best coaching platforms, so that you can pick the best one for you.
---
We're reader-supported. When you buy through links on our site, we may earn an affiliate commission.
Want to go directly to the best coaching platforms? Check out Thinkific and Mighty Networks.
It is not easy to start a coaching business and get clients the results they want.
To begin with, you need to have the patience and skills to help them reach their goals.
Next, you also need a technical solution that helps you deliver the right content.
While using the right online course platforms to share information is helpful, you may find that creating a course is not nearly as effective when you want to give your students the personal touch they need to grow.
Some believe that membership sites platforms are the way to go when it comes to delivering coaching content.
They are easy to set up and manage, and you can offer a variety of features and benefits to your members.
While this may be true in some situations, it is definitely a situation where one size doesn't fit all when it comes to starting an online coaching business.
That is where specific coaching platforms come in.
These allow you to dive deep into working with your clients and help them overcome any challenges they're facing.
If you're looking for the best platforms that can help you become a great coach and increase the odds of your business succeeding, this post will go over the top options to consider.
Let's get right into it.
What Are The Best Coaching Platforms?
The following are some of the best coaching platforms you can use in your business.
Best Overall Coaching Platform.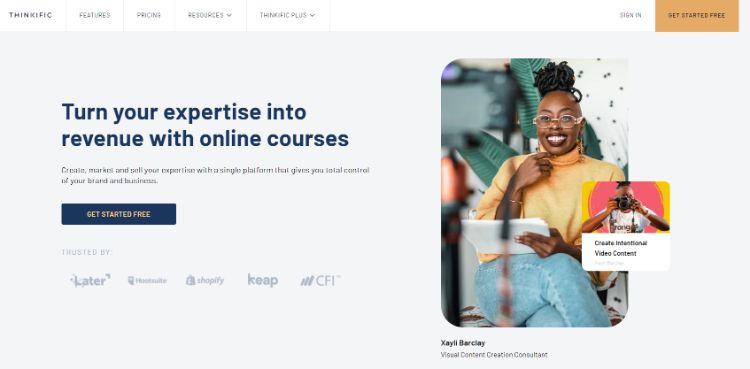 If you want to grow your coaching business successfully, then I recommend Thinkific as the #1 coaching platform.
Thinkific is an all-in-one platform that allows you to create, market, and sell online courses and coaching programs.
With an unmatched leaving experience for your customers, you can be sure that your courses and coaching programs will sell like hotcakes.
Plus, you can use Thinkific to create a powerful online presence for your coaching business.
With an easy-to-use interface, you can build communities and landing pages quickly and easily.
There's also a 0% transaction fee when it comes to accepting payments in more than one hundred countries, which means that you keep more of your hard-earned profits.
If you want to run your business effortlessly, then you can't go wrong with Thinkific.
Key Features:
Website themes allow you to quickly and easily create a professional website for your coaching business.
Advanced customizations give you the power to make your site unique,
The ability to connect your tools allows you to manage your courses and coaching programs with ease.
You can even set your own domain name to brand yourself as an industry leader.
Pricing: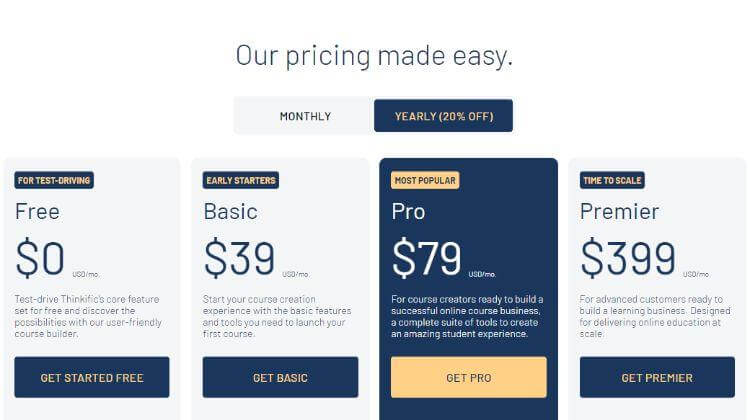 There is a free version that gives you the ability to add unlimited students to a limited number of courses.
This is great to test the waters and see if Thinkific is the right platform for you.
The paid plans start at $39/month and go up to $399/month, depending on the features that you need.
Get started with Thinkific.
Best For Ease Of Use.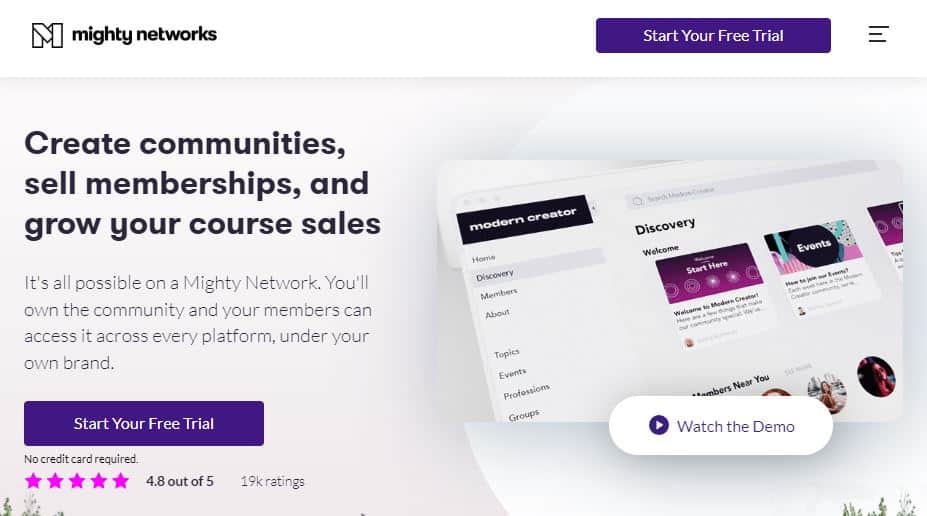 Mighty Networks helps you build a coaching business with ease.
Whether you're starting your coaching business from scratch or looking for a more streamlined way to sell your courses, Mighty Networks has you covered.
The ability to help your members connect is one of the key features that sets Mighty Networks apart from other course platforms.
Mighty Networks is an excellent option if you want to build a network of engaged coaching clients.
Whether you want to build your courses to share your knowledge, host weekly coaching sessions, or create a community for your clients, Mighty Networks has the needed features.
Key Features:
Mighty Insights™ benchmarking help you define and track your goals, so you can see how you progress over time.
Download your member data allows you to keep a copy of your member's contact information and activity on the platform so that you can follow up with them later.
Set your terms & conditions helps you protect your intellectual property and set the rules for how your members can use your content.
Group chat events let you bring members together for live discussions and Q&A sessions.
You can also create an Ambassador program to reward members for referring new clients to your business.
Pricing: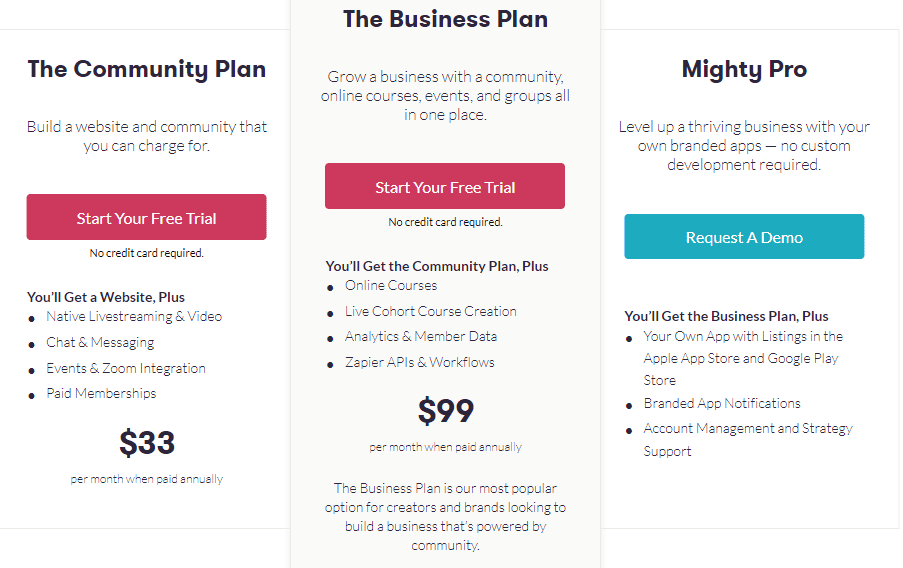 With a two-week trial to get started, Mighty Networks has three pricing tiers starting at $33 per month.
There is then the business plan, coming in at $99 per month, and the Mighty Pro, a quote-based plan for enterprise-level businesses.
Get started with Mighty Networks.
Best For Scheduling Coaching Sessions.

Acuity Scheduling is a great tool when it comes to scheduling appointments.
Whether you're a coach or a consultant, you'll be able to use the power of Acuity Scheduling to manage your clients and appointments with ease.
Gone are the days when you spend time trying to find a time slot that fits both you and your client – with Acuity, you can easily find a time that works for both of you.
Provide your calendar and control your availability as you go.
This means that you can get your business online and start taking appointments in no time.
Providing you with the ability to manage several employees and locations, Acuity Scheduling is excellent for businesses of all sizes.
In addition, if your business operates in various time zones, Acuity has got you covered – you can easily adjust the time zone settings to ensure that everyone is on the same page.
With the coaching software also allowing clients to fill in intake forms before their appointments, you can ensure that you have all of the information you need before starting the session.
Key Features:
Sync your calendars with Acuity Scheduling to ensure that everything is kept in one place. This way, you'll never have to worry about losing track of an appointment again.
Acuity Scheduling also allows you to accept online payments to get paid for your services without hassle.
Feel confident and in control of your business with Acuity Scheduling by efficiently managing several employees and locations.
Reduce no-shows with the software's automatic reminder system to constantly remind clients of their appointment.
Meet clients anywhere in the world with Acuity's adjustable time zone settings.
Pricing:

With three pricing plans on offer, there's an Acuity Scheduling plan to suit businesses of all sizes:
Emerging: $14 per month
Growing: $23 per month
Powerhouse: $45 per month
Get started with Acuity Scheduling.
4. CoachAccountable.
Best Coaching Platform Overall.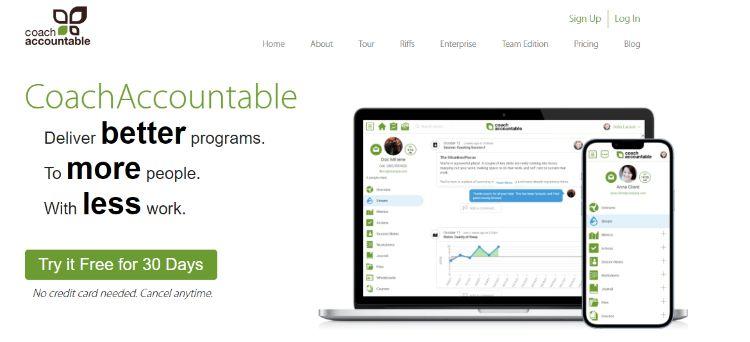 CoachAccountable is a platform for those who want to deliver better client results while doing less technical work.
Used by thousands of professional coaches since its start in 2012, it offers a simple way to manage your coaching business – without any of the headaches that often come with other platforms.
If you want to make your coaching more than a one-to-one service and give your clients access to an online community and other resources to help them succeed – CoachAccountable could be the perfect coaching solution.
Various tools can help you track your client's progress, create group coaching programs, and even keep a running record or "coaching journal" of your client's success.
There is even a mobile app that makes it easy to manage your business on the go.
Key Features:
Client management software helps you keep track of progress and ensure accountability.
An elegant scheduling system makes it easy for everyone to know when the next appointment is.
Invoice clients quickly and efficiently to get paid for your services.
A mobile app makes coaching conveniently accessible from anywhere.
Ensure clients are successful with comprehensive resources and various engagement tools.
Pricing: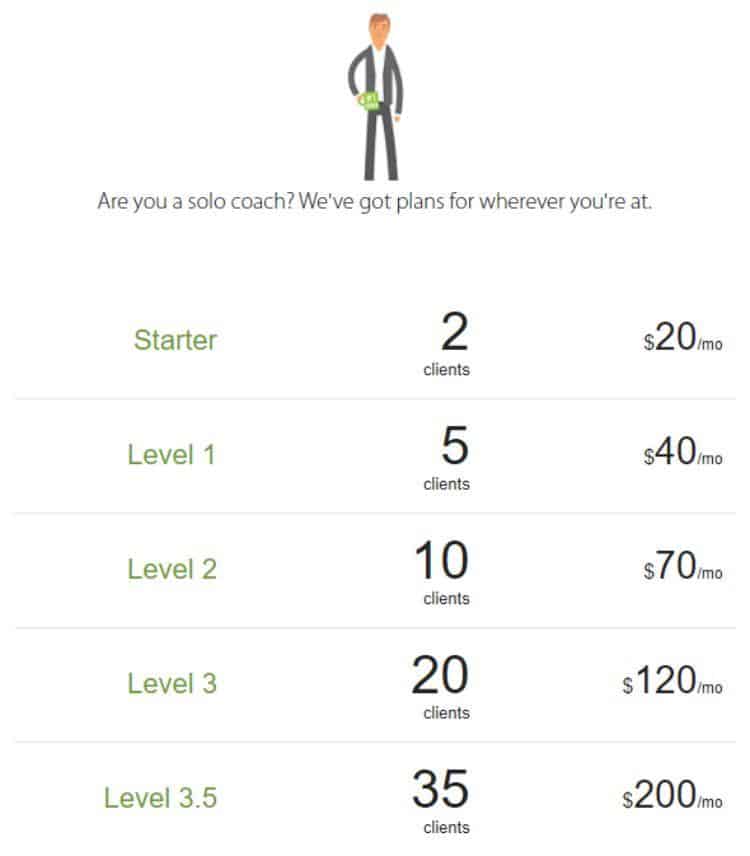 There are several levels and price points, all based on the number of clients in the system.
Prices start from $20 and go up to $400 per month.
5. TrueCoach.
Best For Providing Coaching Analytics.

TrueCoach is great for those who want to train their clients online – with the ability to do so from anywhere.
This "smart" coaching platform uses data and analytics to help you understand your client's progress and give them the best possible advice.
Forget about tedious admin work that eats into your valuable time – with TrueCoach, you can focus on what you're good at – coaching.
TrueCoach can crunch the numbers and provide you with feedback on your clients' progress, based on specific input from your clients into the dedicated app.
Then, you can also use this information to set goals for your clients – and help them smash through them.
You can ensure that everything is stored safely and securely in the cloud when it comes to data security.
You can also host videos directly on popular video hosting sites (including Vimeo or YouTube) to share them with your clients, giving them the proper feedback based on their needs.
Key Features:
Custom metrics and goals mean that your clients' progress is always accurately represented.
Client management tools ensure that you can keep track of your client's progress and ensure accountability.
Email notifications let you know when new information has been entered into the system, so you can follow up with your clients as needed.
Progress tracking allows you to see how your clients are doing over time and make the necessary adjustments.
The included program builder makes it easy for you to create programs that your clients can follow.
Pricing: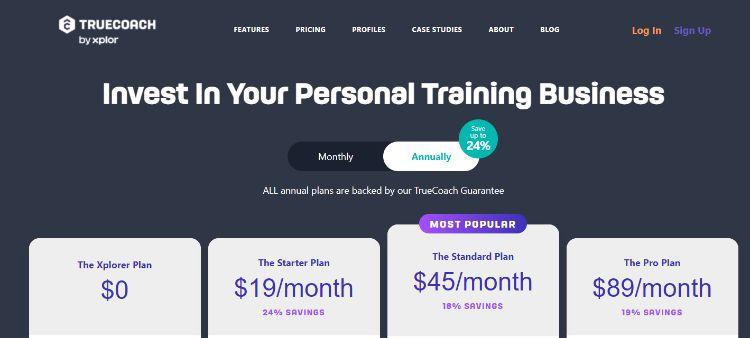 With a free Xplorer Plan, you can test out the features and see if this platform is a good fit for you.
From there, paid plans are as follows:
The Starter Plan: $19/month
The Standard Plan: $45/month
The Pro Plan: $89/month
There's also a free 14-day trial to test out the features on offer.
6. My PT Hub.
Best For Providing Personal Training.

My PT Hub offers a web interface and mobile that allows you to manage your clients from anywhere.
Create customizable programs that your clients can follow and easily track their progress.
There are also thousands of plans that you can add to your clients' programs with ease, ensuring that they always have something new and challenging to work on.
If you want your brand to stand out from the rest, you're in luck – with My PT Hub, you can choose just the features you want (and need) to create a custom application specific to your business.
This can be a great selling point when getting customers onboard.
Key Features:
One can add unlimited workouts to programs so clients never get bored doing the same routines.
Unlimited nutrition plans help your clients stay on track with foods they enjoy.
The ability to add unlimited clients means that you can work with as many people as you want without looking for another solution.
Custom branding allows you to add your logo and create a custom application just for your business.
Accept payments and get paid for your services quickly and securely.
Instant chat support so that you can provide help when your clients need it most.
Pricing: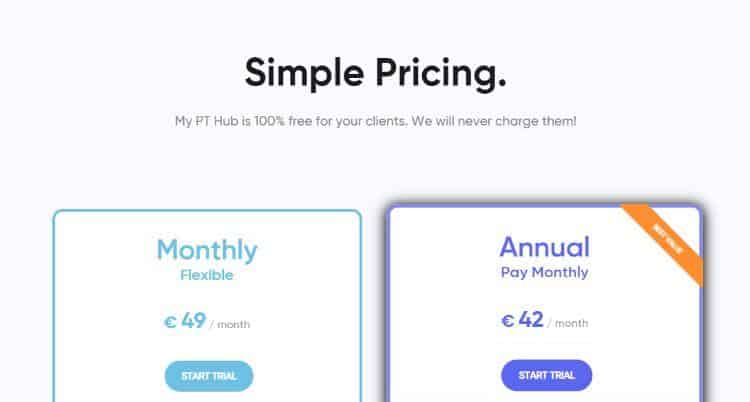 There are two pricing plans available, based on annual or monthly payments.
The great news is that even if you choose the annual option, you still pay (the discounted rate) every month, which means that you won't have to put out a lump sum of money at once.
The plans are as follows:
Monthly: $ 49/ month
Annual: $ 42/ month
7. Vcita.
Best For Marketing Your Coaching Business.

Vcita allows you to provide fantastic customer service with ease.
Use their robust business calendar to schedule appointments, and manage your entire business from one place.
You can also use Vcita to send invoices, accept payments, etc.
With the ability to send estimates and invoices, you can ensure that you're always getting paid on time.
In addition, the marketing features that are included make it easy to get the word out about your services.
You can use the power of SMS or even email marketing to set up campaigns that will reach your clients wherever they are.
If you want a profitable long-term, repeat business, Vcita is the perfect solution to build it on.
Key Features:
Email/SMS marketing templates provide you with an easy way to reach out to your clients and promote your services.
Automate campaigns to make it easy to set up the proper marketing for your needs.
Marketing coupons and promotions help you attract new clients and keep existing ones coming back for more.
Lead capturing and nurturing helps you build relationships with potential clients and turn them into paying customers.
Online scheduling allows you to manage your appointments easily and stay on top of your business schedule.
A business calendar ensures that you're always aware of what's going on with your business.
Pricing: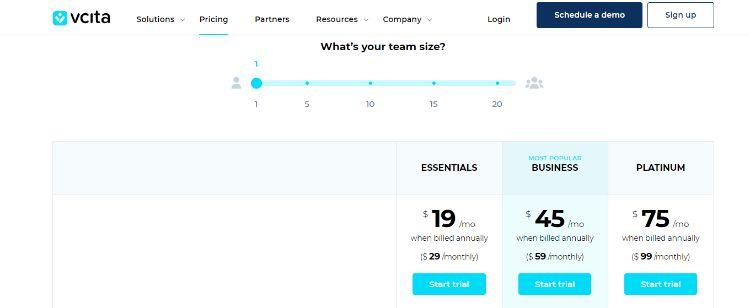 There are three pricing plans on offer with Vcita, which are as follows:
Essentials: $19/mo
Business: $45/mo
Platinum: $75/mo
8. Satori.
Best For Business Automation.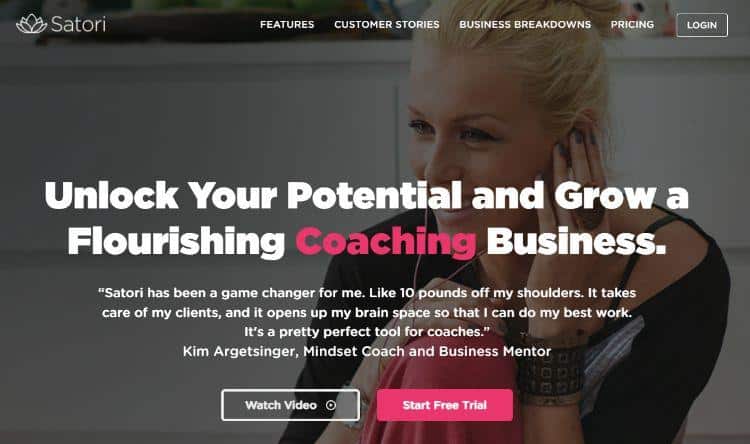 No matter what type of coaching business you have, Satori can give you the features you need.
Reclaim time and energy by automating your business with Satori.
Give your clients the right tools to help them succeed – whether you offer group coaching or even one-to-one sessions, your clients will always have access to what they need.
You can even create personalized proposals, meaning that your clients will know what you can do for them from the first point of contact.
If you run group sessions of any kind, you can book and manage all of the sessions from a single interface, making it easy to track who is coming and when.
Reaching a wider audience is also easy and comes with less hassle – Satori has the tools to make this a reality.
Key Features:
One-touch client enrollment lets your clients sign up for coaching sessions in the most streamlined way possible.
Custom branding allows you to put your stamp on the Satori platform so that it looks and feels like your own.
Automatic follow-up means you don't have to worry about forgetting to reach out to clients after sessions – Satori will do it for you.
Coaching check-ins help you keep track of your client's progress and ensure that they're on the way to reaching their goals.
Session notes and notifications make it easy for you and your clients to keep track of everything.
Custom billing schedules let you choose when and how you want to bill your clients so that you can always get paid on time.
Pricing:
These are the pricing plans involved when using Satori:
Scholar: Free
Starter: $23 per month
Trailblazer: $39 per month
Pro: $56 per month
All of these are paid annually. There's also a free 30-day trial to get started.
What Are Coaching Platforms?
Online coaching platforms help take a coaching practice to the next level by providing a space to host content, track progress, and manage clients.
Platforms like these often come with various features such as client management tools, billing and payments, scheduling, and more.
While some platforms are general-purpose and can be used for any coaching business, other coaching tools are more specific.
They cater to niche markets such as health and wellness coaching, relationship coaching, or business coaching.
Choosing the right platform is essential to the success of any coaching business, as it will be the foundation on which everything else is built.
Why Do Coaching Companies Need A Coaching Platform?
Several essential functions need to be handled to run a successful coaching business.
These include intake and assessment forms, content hosting and delivery, coaching management, billing and payments, scheduling, etc.
A good coaching platform will take care of all of these functions while giving you the time to focus on getting clients better results.
The right platform will make your life easier as a business owner, but it will also provide your clients with an easy-to-use interface where they can track their progress and access your content.
Features Of A Great Online Coaching Platform
When choosing a coaching platform, it's essential to consider the most important features to you and your business.
While the best coaching platform is the one that meets your specific needs, several features are essential to any excellent coaching platform.
Let's look at a few of them.
Client Management Tools
A coaching program is only as good as its participants.
To run a successful coaching business, you need to manage your clients effectively.
This includes keeping track of their progress, providing feedback, and offering support when needed.
The best coaching platforms will have various client management tools that will make it easy for you to do all of this.
Scheduling Appointment Tools
The coaching process often involves meeting with clients regularly.
The best coaching platforms will have various scheduling and appointment tools that will make it easy for you to keep track of your clients' schedules and make appointments.
Intake And Assessment Forms
Online coaching services often require clients to fill out intake and assessment forms.
These forms help coaches get to know their clients and assess their needs.
The best coaching platforms will have a variety of such forms that will make it easy for you to get the information you need from your clients.
Payment Processing
The best online coaching tools will make it easy to process payments from your clients.
This includes recurring billing, automated invoicing, and payment gateway integration.
Dealing with multiple coaches might also seem difficult when considering invoicing, payments, etc.
This is where an excellent coaching platform comes in, allowing you to use invoicing tools or accounting software to make this process much smoother.
Integration with tools such as Stripe or Paypal will streamline the whole workflows you offer to your clients.
Real time modules
Sometimes, being a life coach (or any other type of coach) means that you need to offer your clients real-time support.
The best coaching platforms will have various real-time modules that will make it easy for you to provide your clients with the support they need, when they need it.
White Label Solutions
Apart from the various user-friendly features that make a tool easy to use, a good coaching platform should also offer a white label solution.
This means that you can brand the platform to match your coaching business.
This is important, as it will help you build trust with your clients.
Marketing Tools
When it comes to marketing, the right coaching platform can include the option to create landing pages, questionnaires, social media posts, and even have a CRM that helps with marketing your coaching business.
This will take away another crucial factor that you won't have to think much about, allowing you to focus on providing a coaching experience that is second to none.
Content Hosting And Delivery
The best online coaching platforms help with content hosting and delivery.
This includes video hosting, file sharing, and e-learning tools.
You can easily host and deliver your coaching content to your clients with these features.
A community of like-minded coaches
Having an online coaching practice can be isolating.
The best coaching platforms have a community of like-minded coaches who can provide support and advice.
This community can be an excellent resource for growing your coaching business.
Coaching Engagements And Analytics
While a coaching app will help you manage your clients, tracking their engagement with your content is also essential.
This includes content analytics, progress tracking, and quiz results.
With these features, you can quickly see how your clients engage with your content and what areas they need more help with.
Wrap Up
Being involved in the coaching profession means providing the best possible experience to your clients is key.
As such, the features mentioned above are just some of the many you should consider when choosing a coaching platform.
To recap, the best coaching platforms in the market right now are:
The best coaching platforms are the ones that have the features that are most important to you and your clients, so don't rush when making a decision.
This will allow you to do the right research and choose the suitable platform for your needs.
Have you used any other online coaching platforms before?
Do you recommend any of them?
Please share your thoughts in the comments below.
Further reading on AdamEnfroy.com: Do you have a business idea you want to share with the world?
Here's my post on how to start a blog and do just that – while making money in the process.
In addition, here's another post on the top 100+ best small business ideas that can help you get started.
Finally, here are the best businesses to buy online if you don't want to start from scratch.
Editorial Process:
Our reviews are made by a team of experts before being written and come from real-world experience. Read our editorial process here.
Some of the links in this article may be affiliate links, which can provide compensation to us at no cost to you if you decide to purchase a paid plan. These are products we've personally used and stand behind. This site is not intended to provide financial advice. You can read our affiliate disclosure in our privacy policy.