Personal Branding: What It Is & How to Achieve Your Goals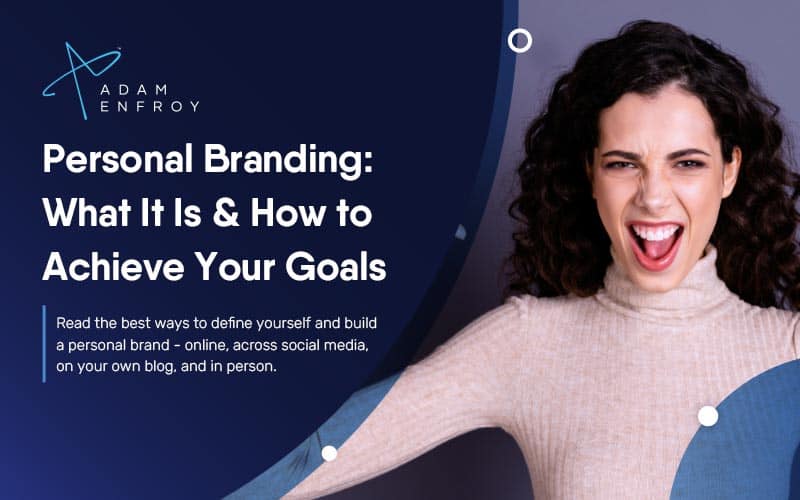 In the digital age, your personal branding connects to your online presence.
Everyone can stand out and project different versions of themselves into the world.
Do you ever Google yourself? What do you find?
What do your Tweets and social media posts say about you?
Do you have a website to own your online real estate?
Are you sharing your personal life and unique story with the world?
Ultimately, the question is: what kind of impression are you leaving?
This online impression impacts your relationship with potential employers and clients.
In a world where as many as 50% of those that have a bad experience share it with others, being aware of the impression you leave on others is crucial.
Creating a personal brand can be game-changing if you're a small business owner, want to improve your career prospects, or become a prolific blogger.
Our Perception Of Personal Brands
We tend to think about brands as companies or products – think McDonald's or Apple iPhones. However, anyone can be a brand.
As an individual, your personal branding is wrapped up in the content and achievements you share on social media and everywhere else online.
Look around at personal brands.
People who start new podcasts have personal brands. Influencers who speak at conferences have brands.
Influential bloggers and people who contribute to industry publications – all personal brands.
The secret: personal branding is easy, but barely anyone does it.
Building a personal brand requires sharing your skillset with the world.
Do this consistently, and you'll build your own personal brand in no time.
This guide will cover the best strategies to use in creating a personal brand that will help you achieve your goals this year.
First, let's discuss the definition of successful personal branding.
What is Personal Branding?
Personal branding is the practice of finding your mission and sending messages to the world to achieve a specific outcome.
Your brand combines skills and life experiences that make you a unique individual.
It promotes what you stand for and differentiates you from others in your field.
It is very similar to finding your meaning of life with a tool like the Japanese Ikigai: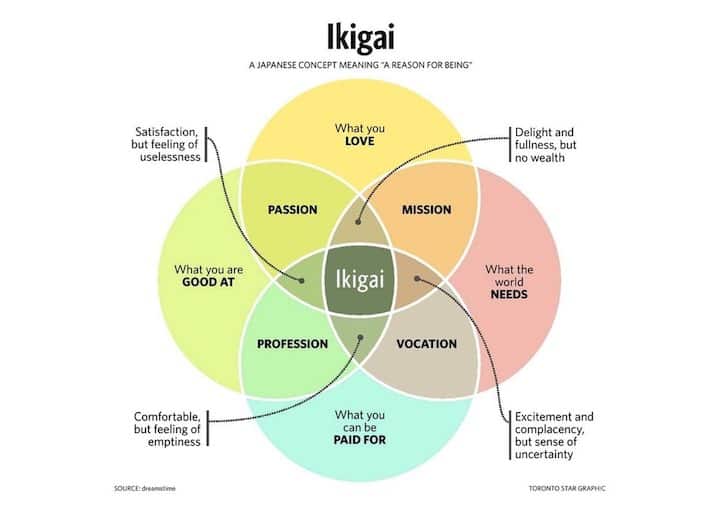 Source: hyperisland.com
Personal branding builds your reputation. According to a recent study:
Global executives attribute 45% of their company's reputation and 44% of their company's market value to the reputation of their CEO.

Additionally, a CEO's reputation plays a vital role in attracting employees to a company (77%) as well as motivating them to stay (70%).
In a world where the digital "you" tells your story and will outlive your biological body, a personal brand builds a legacy that supersedes a career.
So how do you create a personal brand? How do you consistently create content (as well as publish content) that you're passionate about on your own digital platform? Below I've outlined seven simple ways to create a remarkable personal brand.
How Do You Build a Personal Brand?
1. Find your Unique Superpowers.
When building a personal brand, you must first find your unique superpowers. These can also be called your passions, purpose, or "elevator pitch."
Can you say what you're about in 20 words or less?
If you can't, you need to start defining what you're passionate about and what unique skills you want to share with the world.
Your unique superpowers are the starting point for your own business and your own personal brand. You have to ask yourself:
What feels effortless to me?
What do people tell me I'm good at?
What is something I'm willing to struggle for?
When do I feel fearless?
What can I see more clearly than others?
What is my one message to the world?
After answering these questions, here's a quick exercise to tap into your superpowers.
Create a list of your top 10 passions. These can be things you are good at, enjoy doing, get lost in, or make money from.
Choose your top 2-3 passions that are in your "sweet spot." These should be located at the intersection of what you're good at, what you enjoy doing, and what you can help others with.
Write a 20-word mission statement that distills your purpose.
Getting clear about your purpose and your strengths should be your personal branding foundation, and is the key to an effective personal branding strategy. But passion is not enough. You might have a passion for tennis or surfing, but that passion doesn't automatically translate into success.
Instead, study the needs of people in the areas you're passionate about.
What are they struggling with, and what are their pain points?
What are they trying to achieve in their lives?
Think about how you can best help your audience and readers in your unique way.
2. Create a Personal Brand Statement.
Find personal brand statement examples, which are 1-2 sentences explaining your value, who you serve, and your unique value proposition.
When planning your personal brand statement, make it memorable, somewhat short, focused on your audience, and from your authentic voice.
With a personal branding message, you are the strategist and control your real-life message on a deep, personal human being level.
Whether you live in New York (or the middle of nowhere in Kansas), you can use your professional and personal experience to dominate the job market
3. Brand Yourself Online Across Multiple Platforms.
To share your voice with the world, you need an online platform. Social media is an okay place to start, but you should also build a website since that's a platform that you own.
This will give you a place to house all of your content, and you can build your own digital marketing strategy and SEO authority over time.
First, make sure to know your audience.
Depending on your industry, your platform for creating your online personal branding will differ.
For example, my personal brand is located on:
My blog – AdamEnfroy.com
Social media profiles

LinkedIn
Twitter
Instagram
Facebook

Other features on Forbes, Entrepreneur, and Business Insider
My business cards
If you don't have your own website, you need to build one.
A lot of so-called branding experts and social media profiles rely too heavily on third-party platforms they don't control like Facebook, Snapchat, Instagram, or Quora.
You can leverage these social media platforms, but what happens when one loses popularity? It's too risky to rely on social media alone, which is why you need a personal website.
Once you've decided on a domain name, pick your web hosting, create a site outline, and start planning your personal branding strategy.
This content strategy should include your unique value proposition, a sitemap to know what web pages you'll need, your blog post ideas, and some digital marketing strategies to get more visibility.
The more personal branding tools you can use to your advantage, the better position you'll be in.
4. Create Focused Personal Branding Content.
Now that you know your unique superpowers and have a digital platform, it's time to hone in on the core focus of your site.
It's essential to narrow down your niche and use content marketing to your advantage.
Create a content pool of ideas that are all focused, related, and you can rank for on search engines.
For example, if you want to be known for videography, you might write blog posts about the following related topics:
Corporate Videography
Shooting commercials
How to add animation to your videos
Choosing the best camcorder
Post-production tips for YouTube videos
And the list goes on.
Once you start writing content and blog posts, get feedback from your audience to understand their most significant pain points and fine-tune your content to give them what they want.
Write helpful, engaging posts, optimized for search engines, and solve a pain point for your niche.
The key is consistency and aiming to write a little bit every day. Just 300 words per day equal a 400-page book in one year.
5. Practice Networking and Link Building.
Even if you write and post some excellent content on your website, that doesn't mean anyone will see it.
Much like you build authority in the real world, you need to focus on SEO and guest blogging to build Domain Authority (DA) online.
You can't expect to be found online without making real connections and building up your DA. Instead of focusing most of your initial efforts only on writing new content, instead, build relationships and get backlinks.
After all, to build your brand strategy, you must participate in some serious networking. Remember, powerful networking is not just about "you," it's about providing value to others first.
Start with simple networking: this can be done by sharing someone else's content or thanking them for their article.
These can be bite-sized connections on social networks like Facebook, Twitter, and LinkedIn.
This straightforward approach doesn't take much effort but also doesn't provide much in return.
Next, work on strengthening your ties. Real networking is about building strong ties with others in your field that you want to work with.
This includes face-to-face interaction, email exchanges, and understanding each other's needs in the market.
Once you have reached out to others in your field and know them personally, you help each other with SEO, link building, guest posts, and outreach.
Ultimately, the relationships are super valuable, and the Dofollow backlinks to your brand website are a huge factor in determining your search rankings.
The key is to be as helpful as possible, write fantastic content, and network with others to boost your credibility. Ultimately, be so valuable that people literally feel bad if they don't help you.
6. Be Your Authentic Self.
Your personal brand is just that, personal. Be your authentic self and develop your own self-branding in your writing style.
Authenticity is being vulnerable, having values, and being true to them. If you know your target audience and effectively communicate an authentic message, you build trust with your readers and become an expert in your niche.
Your writing style is also a reflection of your values.
Do you write seriously or informally? Are you informational or comedic?
Do you keep it loose, or focus on being professional?
It will always depend on your niche, audience, and blog strategy.
But make sure to stay consistent in your writing style, and you'll realize that you have developed a unique brand voice that resonates over time.
7. Become The Personal Brand You Want to Become.
Personal branding is an investment in yourself and your future.
The time you take developing content, networking, and sharing your ideas with the world will pay dividends down the road that you can't yet imagine.
You need to think long-term.
Your personal brand won't become well-known overnight.
However, if you're in it for the long haul, start writing as the person you want to become. Every piece of content will consistently build your reputation over time.
You'll meet up with more important people in your niche, enjoy better career prospects, and have your platform to share your ideas with the world. Ideas that will live on long after you're gone.
Personal Branding – FAQ
How important are having the right mentors when setting up your own brand?
Setting up your own brand and working with the right mentors is essential when starting your own brand.
Also, being a thought leader and contributor in your industry is critical to becoming successful. Having access to a wealth of knowledge and resources will help you on your journey to success.
What should you pay attention to when creating a personal brand?
When creating your own personal brand, you should pay attention to the following personal branding foundation questions:
What are your unique selling points?
What are your goals?
Who is your target audience?
What are your values and what do you stand for?
What makes you different from everyone else in your industry?
What are your skills and strengths?
What are some personal branding examples?
Some strong personal brands include:
Oprah Winfrey

Steve Jobs
Richard Branson
Martha Stewart
Elon Musk
Why is having personal branding important?
Your personal brand helps you to build your reputation and credibility.
If you're in business, your business brand also helps to build your company's credibility.
Having a personal story tied into your professional success can help the average person connect with you and be more likely to do business with you.
Why is uniqueness important when setting up a personal brand?
When you set up your own personal brand, it is imperative to be unique and differentiate yourself from everyone else.
This will help you to stand out and be memorable.
Creating quality content and being active on social media are great ways to build your brand and make it stand out.
Wrap Up
Building a personal brand is a process, not an event.
Developing your brand strategy takes hard work, dedication, and time. However, the benefits are immense and long-lasting.
Start by developing great content, networking with others in your field, and being authentic.
These steps will lay the foundation for a successful personal brand.
Do you have any thoughts about personal branding?
Do you find that building a strong personal brand is something that you have to actively work on or does it come naturally over time?
Let me know in the comments below!
Further Reading on AdamEnfroy.com: To start building your personal brand, check out my free and easy guide on how to start a blog this year.
In addition, consider using an AI logo generator to create a unique and professional-looking logo for your new blog or website.
Editorial Process:
Our reviews are made by a team of experts before being written and come from real-world experience. Read our editorial process here.
Some of the links in this article may be affiliate links, which can provide compensation to us at no cost to you if you decide to purchase a paid plan. These are products we've personally used and stand behind. This site is not intended to provide financial advice. You can read our affiliate disclosure in our privacy policy.