11 Proven Ways How to Grow Your Instagram & Followers (2023)
With 270.1 million active social media users in the U.S. in January 2022, individuals and brands are moving their business decisions to social media.
Instagram is one of the biggest social media platforms and this article will teach you how to grow your Instagram following this year.
With 1.9 billion and 2.4 billion users respectively, Facebook and YouTube are the largest social media sites on Earth.
However, Instagram is catching up with 1 billion monthly active users.
Let's have a deeper look at some Instagram statistics as the platform continues to grow and develop.
Instagram is on the verge of becoming the number one social media platform.
If you're a brand or influencer looking to build your personal brand this year while monetizing your profile, read on for some great tips to grow your Instagram.
What Are the Best Ways to Grow Your Instagram?
Here are the fastest ways to grow your Instagram:
1. Start posting Reels
Reels are a new feature on Instagram that are short, engaging videos up to 90 seconds long. Reels can be fun, creative, and informative all at the same time.
If you're not using Reels yet, now is the time to start. Reels are a great way to get more eyes on your content and grow your following.
A quick way to create your first Instagram reel is as follows.
Storyboard Concept
Knowing what your concept or reel is going to be ahead of time will make the filming process much smoother. You don't need an entire script, but having a general idea of what points you want to hit will help keep you on track while shooting.
Shoot Instagram Reel
Once you have your storyboard ready, it's time to start filming! Remember to keep your reel under 90 seconds.
Preview and Add Effects
After you finish filming, it's time to add any effects or music you want in the background. You can also trim your reel down to make sure it's under the 90-second limit.
Share Instagram Reel
Finally, it's time to share your reel on Instagram! You can share it on your feed or as a story. You can also use relevant hashtags and tagging to get more eyes on your content.
2. Schedule Posts to Increase Your Instagram Followers.
When we discuss growing your Instagram, the main thing we're referring to is growing your Instagram follower count.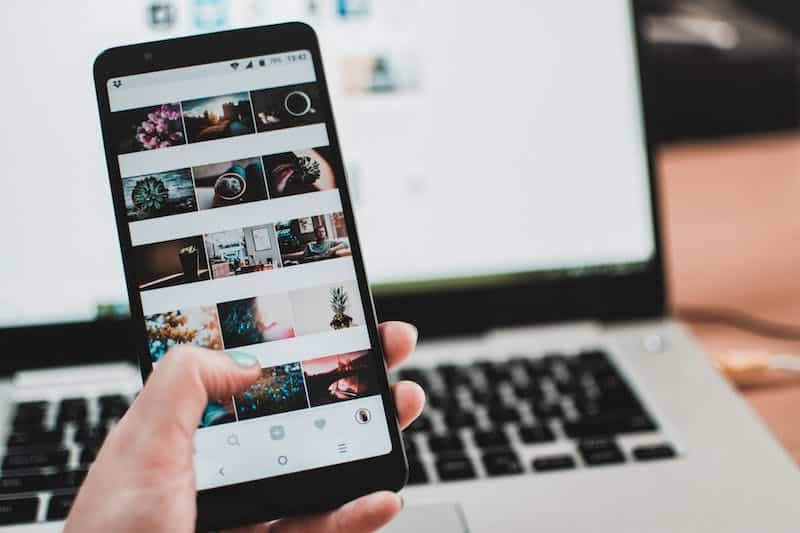 To grow your follower count, you need to create high-quality content for Instagram posts. But just creating posts isn't enough, you need to scale your processes.
To do that, look at using an Instagram scheduling tool to schedule your posts in advance and put your Instagram strategy on auto-pilot.
One of my favorite ways to schedule Instagram posts is with the free Combin Scheduler.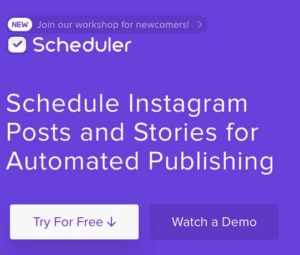 This tool lets you plan, manage, and schedule your posts from one dashboard. Here are the steps to easily get started with the tool.
With Combin, you log in to your Instagram page (or business profile), add new Instagram posts, add your post description and relevant hashtags, tag your location, and set a date and time for the post.
By scheduling posts, you can engage with your Instagram audience on a regular basis, which helps improve your follower growth over time.
3. Focus on Quality over Quantity.
Some sources say that you need to post on Instagram between one to three times a day, however, this may not work best for you.
While brand awareness is good, your potential followers might see hyper-frequent posts as spam and will start to unfollow you. Second, if you start posting several times per day and then slow down, your user engagement rates with your target audience may decline.
If you're not able to generate quality pictures every day, then post less frequently. It's always better to post a few quality pictures a week than a lot of low-quality content.
Use Instagram analytics to view which trending and top posts resonated with your audience, and with the Instagram algorithm. You can also boost your high-performing posts with Instagram ads, having a call-to-action of visiting your profile and going to your website.
4. Use Instagram Stories.
Instagram has started as a social network for picture sharing, however, it has grown far beyond this point already. There are 500 million stories created daily worldwide.
The intention of Instagram stories is to share your life moments quickly and easily. The best feature here is that all stories are highlighted at the top of the Instagram feed without any prepayments or post boosting.
Despite the fact that stories last only for 24 hours, their impact is way longer, especially with the most popular stories which you can pin in highlights of your profile and let visitors of your page play them again and again.
Stories can be in the form of a picture of course, but for better engagement, we suggest you give it a more vivid look – go for videos. If you can't film or edit videos, then use the help of tools available.
For example, Renderforest has a large library of Instagram Stories templates suitable for any kind of industry.
You should also create Instagram Reels, live video, and IGTV videos as part of your Instagram marketing strategy.
5. Create your own hashtags.
Hashtags are helping to build up a community and involve people who have common interests. The right hashtag can expose your image, video, or Instagram story to a large and targeted audience.
Many brands are creating their own hashtags and encouraging people to use them – #JustDoIt, #ImLovinIt – we all know what do they stand for.
We know it might be difficult convincing people to use your hashtag and start following you, but what about starting with smaller groups.
Let's say you host a virtual or video conference and you think of a hashtag – #MarketingSummit2020. Make sure that it's not taken and starting to use hashtags during the event – on invitations, as decorations, in marketing collateral, etc.
You can even repost images from your followers who have used the hashtag, showing how much you appreciate their photos.
6. Socialize and comment on other accounts.
Let's not forget that Instagram is a social media platform where you can meet new people and communicate with those who share common interests.
Start liking tons of pictures that are related to your profile topic, or example, if you are portraying a healthy lifestyle or fractional nutrition look for people talk about it.
Leave your comments under other posts, let them know that they are doing great, or share your own opinion on this topic. Don't forget about your own comments and DM inbox.
Give your followers a two-way communication. If you don't want to miss a comment on your profile, make sure you switched on the notifications.
7. Give people a reason to follow you.
The main reason why people follow a particular brand, blogger, or influencer is that they have found value in it for themselves. Usually, we tend to subscribe to the content which is attractive visually and is specifically informative or even motivating.
Become one of those experts who can educate or motivate those who are planning to change the diet and lose some weight. Tell them that you went through all the pain and challenges that led you to what you have now.
If you look at Kayla Itsines, you can tell she's skilled at influencer marketing, sharing her workouts and meal planning with a huge community: (Bikini Body Guides) and Sweat with Kayla app users.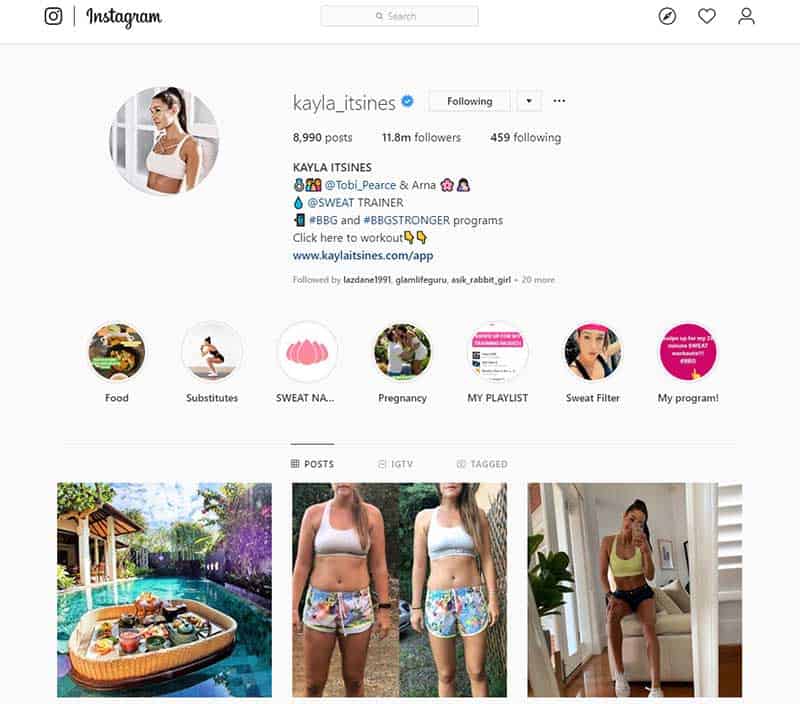 8. Have a unique grid.
Don't underestimate the power of visual communication. When it comes to presenting a brand, customers recognize the product by its logo first or the color choice. If we see a soft drink and a red color label on the bottle we all know it stands for famous Coca Cola.
Do the same with your own Instagram profile and make your grid consistent and visually appealing.
This isn't just about color but also the structure and symmetry. You can use a free tool like Planoly or Preview that allows you to preview the picture layout before you post. Make sure to stick to one picture filter for color consistency or become more creative with collage and puzzle pictures.
Another tip is to add some quotes on one color background or post the same object on every third or fourth picture in the row.
With this flow of the organized photo posting, you can start telling your brand story. Your followers will be more likely to stay within your community platform as they'll be awaiting more posts to come.
9. Geotag your pictures.
When you are visiting places that are super amazing – make sure to geotag them. Instagram users who have been there or are planning to visit the awesome restaurant or city you're tagging will notice your photo – and potentially follow you since you have something in common.
You can even create your own geotag and build content around the location so others can have use of it in the future. If you see that people start to use your geotag, start socializing. Write a comment, like a picture, start following their Instagram content – people will notice and follow you back.
10. Work with Instagram influencers.
Join forces with other famous, popular, and well-known bloggers and Influencers this way exchanging followers with each other. Make sure you collaborate with influencers who have similar interests or topics because the audience will be more likely to follow you.
It is difficult to force men who follow car repair centers to force following some makeup artists who talk about beauty products. Not only other influencers can make a difference but also real brands. If brands are not approaching you, you can have a short introduction email sent to their marketing team.
Don't be afraid to ask for a promoted post. Spend some money on your profile boost to widen your social reach and let others know you exist.
11. Make the most of your Instagram bio.
Your Instagram bio is going to be the first interaction many people have with your brand, so you need to make sure it stands out from the crowd.
Your Instagram handle isn't enough. In your business account, you need to be clear and concise about what your business does, and working in keywords that are relevant to your brand or industry so visitors know exactly what you're about.
Another top tip is to maximize the potential of your Instagram bio link by using a tool like LinkGallery – a new product from the popular URL shortener, Rebrandly – to send your visitors to multiple destinations, all from a single link.
The way this works is that all of your links – whether your website, ecommerce store, or even your other social channels – are hosted on a page that can be customized to fit with your branding, and is accessed from that small but powerful link in your bio.
You can also use the built-in analytics feature to see which of your links your prospective customers are most interested in, and use this data to optimize your CTAs and conversion paths.
Check out this guide to creating an Instagram business page for more tips on how to optimize your account and increase your followers.
Bonus Tip: Add Captions
Want to add an extra layer of engagement to your stories? Add a caption that tells viewers what you're saying in the video.
This way, people who are hard of hearing or might not have their volume on can still follow along. You can even add emojis to help get your point across!
This is also great for using as a thumbnail for your posts as well. If you have a video with a great message, adding the caption as the thumbnail will not only help get your point across but can be an easy way for people to know what your post is about without having to click on it.
Summary
There are many ways how to grow your Instagram profile this year. Think about the layout and overall look of your profile, make sure you post regularly, there is value for your followers in the content you share. If you want to widen your reach, use Instagram hashtags and geotagging.
Make sure people can easily find you and view your main interests and topics that coincide with your personal branding. Work with other influencers and brands on social. Whether it's via shoutouts, promos, and giveaways, other profiles can boost your visibility.
Follow a few of these suggestions to grow your Instagram account and you're sure to gain more followers this year.
Did we miss any strategies to grow your Instagram? Let us know in the comments.
Further Reading on AdamEnfroy.com: To generate sales on social media, check out my articles on how to make money on Instagram and how to sell on Facebook.
In addition, many content creators are now using Instagram to drive traffic to platforms like OnlyFans.
If you want to learn how to monetize this relatively new site, here's how you can make money on OnlyFans.
***
Guest Post by Roman Daneghyan – the Chief Marketing Officer of Renderforest․ He's a Content Marketing Specialist and an Expert in SEO, social media marketing, and link building. Roman enjoys sharing his experience gained along working as a marketer and helping other entrepreneurs succeed. He has his works published on some of the most renowned blogs and mediums like Crazy Egg, Forbes, Upwork, and ShareThis.
Disclosure: I may receive affiliate compensation for some of the links below at no cost to you if you decide to purchase a paid plan. You can read our affiliate disclosure in our privacy policy. This site is not intending to provide financial advice. This is for entertainment only.