7+ Best Virtual Conference Platforms of 2023 (Ranked)
Choosing the right virtual conference platforms is crucial if you want to equip your audience with the knowledge they need. From delivering top-notch training to promoting your business, the best virtual conference platforms can help you meet your goals. In this guide, I ranked and reviewed the 7+ best virtual conference platforms, so that you can pick the best one for you.
---
We're reader-supported. When you buy through links on our site, we may earn an affiliate commission.
Strapped for time and don't want to read the whole article? My top picks are Communique and Eventzilla.
With virtual conference platforms, businesses can hold large scale conferences and expos entirely online.
And the virtual conferencing industry has received a massive boost since the start of 2020.
In March 2020 alone, virtual event software was downloaded 62 million times. The US virtual conferencing market is likely to reach $10.92 billion by 2027.
Let's get started.
What Are the Best Virtual Conference Platforms?
Here are my top picks for the best virtual conference platforms:
Best overall all virtual event platform (Quote-based).
Adam's Take
If you want to host engaging events that your attendees will remember for a long time, Communique is the platform to consider. With top-notch customer service based on your needs, I advise you to check them out for your next virtual event.
Communique (founded 2001) is an all-in-one virtual event platform that helps organizations host amazing virtual events with leading edge design and attendee engagement.
When joining the virtual event attendees access a fully customizable lobby where a video greeting can welcome them. On screen hotspots provide entry to the Auditorium, Exhibit Hall with booths, Resource Center, Networking Lounge, or whichever rooms are desired. Consistent navigation at the bottom of the screen provides additional functionality and shortcuts.
Features:
The platform includes robust features to facilitate attendee engagement including:
Registration and ticketing
Customizable Personal Agenda
Attendee Matchmaking
Meeting scheduling
Networking and breakout rooms
Briefcase or swag bag
1:1 and small group Video Chat
Live or pre-recorded Webinars with engagement features such as Q&A, polls, & surveys
Gamification with leaderboard
Mobile app
Live day broadcast messages
Language translation
ADA support
Social Media Wall, Photo Booth, and more.
Communique also stands out for fanatical customer service. Clients are assigned a dedicated project manager to help plan, build and execute successful virtual event experiences. In addition, full support is available during live days for speakers, attendees, and organizers.
Organizations using Communique Conferencing:
Citi
Ernst & Young
NASA
Levi Strauss
Salesforce
Sony
American Dental Association
Thermo Fisher Scientific
User Experience:
With one of the most professional-looking interfaces of any virtual conference platform, Communique Conferencing is perfect for those who want to give their events a polished look and feel.
The chat features during a live event are easy to use and let you keep track of all the conversations going on.
Pricing:
Communique offers both pay-per-event and unlimited annual license plans. Please contact them for pricing and/or a demo.
What I Like/Dislike About Communique Conferencing:
Like:
Interaction opportunities are fantastic for networking and building relationships virtually.
Very customizable platform. You can change your event's branding, colors, and overall look and feel to match your brand.
Dislike:
Charge registration fees are not part of the registration module, so you need to use a separate page to process payments.
The registration front end lags behind some of the features, so it would be great to incorporate those features into the registration process.
Product Updates:
Online tutorials help you get the most out of your virtual conference experience.
Best for marketing and promotion of your virtual events ($1.50 per registration).
Adam's Take
If you want to run virtual conferences, then Eventzilla is my #1 choice. With pricing options that depend solely on the number of paid attendees, you won't have to pay extra for services that don't use.
Eventzilla is a virtual event platform that helps you host, set up, and manage all virtual events like webinars, live streams, and conferences.
It works with any video streaming partner like Zoom, GotoWebinar, ON24, etc., and lets you collaborate directly from the browser.
From automated waitlists to scheduled emails, it automates redundant tasks so you can focus on essential parts of the event.
Key Features:
It helps you automate the entire registration process with features like:
Multiple registration cycles based on different attendee type.
Attendee self-service to register, modify, cancel, or refund.
Multi-session registration.
Automated waitlists and approvals.
Eventzilla also helps you create registration pages for your online events, webinars, and live streams – without writing any code. Its drag-and-drop builder also comes in handy to edit or reorganize the event page quickly. On top of that, all the event pages come automatically optimized for mobile devices.
Other key features include screen sharing and HD recording, custom branded meeting rooms, multiple breakout rooms, and live chat.
It offers many built-in SEO and marketing features, including the ability to send personalized email campaigns, discount coupons, etc. You can also promote your blog by embedding a registration widget on your blog, website, or Facebook page.
It also allows you to create speaker profiles, where you can publish all the relevant information. You can also create and send certificates via email to all the attendees without any coding.
Eventzilla's dashboard also gives you insight into your registrations, orders, and overall traffic. An integration with Google Analytics also helps you track things like ticket sales, visits, and referrals. You can even import CSV files containing attendee data and regular custom reports.
It also offers an intuitive mobile app for attendees to access event location, details, sponsor, schedule, attendees, and more. The app is available on both iOS and Google PlayStore.
Event organizers also get a mobile app synced with the Eventzilla server to access data on the go. You can use it to monitor ticket sales in real-time, track attendance, and gauge revenue from anywhere you want.
Additionally, it uses Zapier to integrate with thousands of business tools to help you host and monetize your online conference. Common integrations include Zoho, PayPal, Stripe, Slack, Mailchimp, etc.
User Experience:
With a left-hand side menu that lets you quickly and easily navigate between features, Eventzilla is one of the most user-friendly virtual conference platforms out there.
The intuitive design makes it easy to get started without any prior experience.
It's easy to embed your events on your website or blog with Eventzilla's embeddable widgets. You can also share your event on social media with just a few clicks.
Pricing:
Eventzilla offers three payments plans:
Basic: $1.50 per registration
Pro: 1.9% + $1.50 per registration
Plus: 2.9% + $1.50 per registration
You can also register for a free demo or a 7-days free trial.
What I Like/Dislike About Eventzilla:
Like:
Simple to set up an event page and run the conference without any prior experience.
Easy to use for the organizer that needs to quickly and easily navigate between features.
Dislike:
More integration with commonly used apps would be beneficial
More customization options to make your event stand out.
Product Updates:
Collaborate anywhere features make it easy to connect with remote attendees and keep everyone on the same page.
The multistream to social platforms feature lets you share your event live on social media so that everyone can follow along.
Best for hosting and promoting webinars ($34 per month).
Adam's Take
If you want to run webinars without any additional hassle, then Demio gets my vote. With the ability to run browser-based events in just a few clicks, as well as having integrated marketing tools to help you promote your events, you can be up and running with your webinars in just a few minutes.
Demio is a no-download webinar and virtual event platform that helps you host webinars, create registration pages and replay webinars. It also offers a host of marketing tools to help you promote your virtual event and achieve better results.
You can even embed your own logo along with other branded elements. Demio also helps you stream all the presentations in HD and display a series of webinars or with a group of different people.
Read my full Demio review for more information.
Key Features:
Its "Hybrid Event" feature helps you present both live streams and recorded videos in the same presentation. It can also play pre-recorded presentations on-demand at any time.
Some of its key features include a call-to-action button, single-click joining, customizable registration & thank you page templates, direct video sharing, etc.
You get plenty of event planning, email marketing, and promotion functions as well, such as:
Options to embed your registration page on your website or any landing page.
Email notifications to remind your attendees of the upcoming event.
View your contact details, manage them, and import all data in a .csv file.
Additional custom fields in the registration form to extract more customer data.
The platform also lets you share videos or upload presentations, conduct interactive polls, gifts & handouts, and more. You can leverage all these functions to engage and interact with your attendees during the virtual event.
Plus, you can view results and essential statistics in real-time and even display them during the event as social proof.
You can also interact with attendees via public or private chat, send emoji gestures, and mention specific participants. You can provide webcam or mic access to your audience and let them speak during the event.
There's also an automatic recording option to record events and share them with your audience on any platform. Finally, you can analyze your registration rate, how attendees engaged with your content, and the time they started dropping off.
Additionally, Demio supports multiple browsers and platforms, including iOS, Android, Chrome, Safari, Mozilla, etc.
User Experience:
With the ability to easily share your screen with participants, Demio is perfect for those who want to give presentations or demonstrations during their events.
You can answer live questions while presenting with Demio's chat features.
You can also see a good-sized preview of all presenters, making it easy to keep track of who is talking.
Pricing:
Demio offers three pricing plans, including:
Starter: $34 per month (50-Attendee Room)
Growth: $69 per month (150-Attendee Room)
Business: $163 per month (500-Attendee Room)
You get a 14-days free trial with all the plans to test the video conference software before the final purchase.
What I Like/Dislike About Demio:
Like:
Participants can register right in Demio, making it easy to track who is attending your event.
Running a webinar is easy, and the features are straightforward.
Dislike:
Setting up a duplicate of the webinar is not as intuitive as it could be.
It would be great to see more integrations with other software so you can run your event from one platform.
Product Updates:
The platform now shows the Join Room anytime someone accesses their join link so they can immediately jump into the action.
A formal queue system to manage attendees has been implemented so you can keep track of who is trying to join your event.
Best for detailed analytics and participants reports (€69 per month, billed annually).

Adam's Take
Apart from allowing you to have powerful video communication for companies of all sizes, I like Livestorm because it provides detailed analytics that show you important information pertaining to your virtual meeting. In addition, you can also connect to Google Analytics, giving you even more in-depth information.
Livestorm is a virtual event platform and video communication tool that helps you conduct product demos, live events, customer training, and internal communication. It enables your attendees to join a webinar through a simple link without downloading anything.
Plus, it supports all major browsers like Opera, Chrome, Safari, Internet Explorer, etc., and lets you host multiple HD webinars.
Key Features:
The platform assists you with the steps to get started:
Planning & setting up your virtual event
Going live and engaging your audience
Collecting important insights
For the planning part, it helps you set up your registration page and automatic email reminders. You can also set up instant meetings with up to 12 participants in a private room and share your screen through a browser-based setup.
For tasks like sales demos, it enables you to schedule meetings in a temporary meeting room. You can also embed sessions in your workflow through software like Calendly.
Plus, Livestorm lets you set up an automated ending and start of the webinar or play a video in the middle of a webinar. You can also share the screen with multiple attendees and chat with them in real-time.
It allows you to conduct one-on-one meetings with attendees, polls and Q&A sessions, and share pre-recorded videos.
Finally, you get a detailed analytics report along with registrant profiles and participant reports. You can also track the source of registrations and referrers for each registration.
Additionally, it also provides a multi-language support team, Zapier & Slack integration, and GDPR-compliance.
User Experience:
With the ability to clearly understand when a session is live and recorded, Livestorm is one of the most user-friendly virtual conference platforms out there.
The 'chat', 'questions', 'polls', and 'people' tabs make it easy to keep track of all that matters during a live event.
Pricing:
Livestorm offers three payment plans:
Basic: Free plan
Premium: €69 per month, billed annually
Enterprise: Quote-based
The Basic plan puts a maximum limit of 20 minutes per event, while the Premium plan allows 4 hours per event.
What I Like/Dislike About Livestorm:
Like:
Email automation is a great way to keep track of all the conversations.
A simple platform (you need only chrome) to access makes it easy to use for those who are not tech-savvy.
Dislike:
The UI for getting the webinars set up can be a bit confusing
Product Updates:
New Leave Event Button is a great way to manage your live event and ensure everyone is on the same page.
Customizable virtual backgrounds make it easy to change the look and feel of your event to match your brand.
Try Livestorm for free today or read my full review for more information.
Best overall all-in-one virtual conference platform (Quote-based).
Adam's Take
If you're looking for a platform that allows various types of interaction between your audience, then Whova is the platform I suggest you check out. Whether it's live polls, live chat, Q&A, or various other features, Whova packs in the features. This allows you to run your webinars the way you want them while giving your audience the opportunity to interact.
Whova is an all-in-one virtual event platform that helps you stream sessions, replay videos, engage attendees, create virtual booths, and more.
It works with all major video streaming platforms and helps you manage videos and session info in one place.
It's also accessible on all devices, including laptops, tablets, and smartphones. That means you can easily join discussions and attend sessions from any place and at any time.
Plus, you can conduct paid sessions and allow access only to attendees with premium tier tickets. That means session videos will be available to just registered attendees. You can also moderate the session through your mobile phone or web.
Key Features:
Whova also offers plenty of features to help you engage attendees, just like in-person events. For instance, you can use live polls, Q&A, and live chat to interact and engage your audience, boosting the event experience.

Here are some other features that can help you increase engagement during a virtual conference:
It lets you showcase leaderboards and offer prizes to increase survey and poll responses.
Engage attendees by arranging photos, caption, and Passport contests.
Send reminder emails, notifications, in-app messages, and posts to ensure everyone joins the session.
Share links, photos, and tips during the video conference.
Ask engaging and fun questions to break the ice.
Use built-in chat features to start conversations during the conference.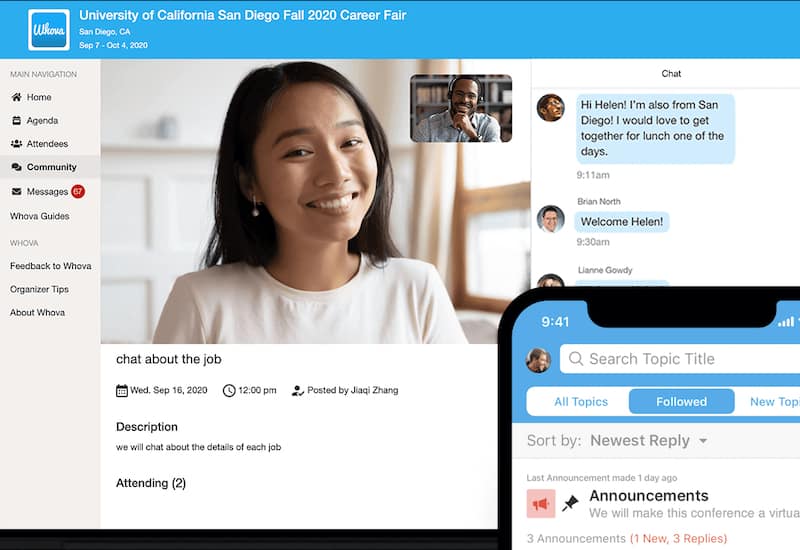 Additionally, it also creates actionable insights and provides a detailed overview of attendees' profiles.
You can also create virtual meet-ups for specific groups and connect with other attendees face-to-face with shared interests and backgrounds.
Whova also offers special features for exhibitors and sponsors, including customizable virtual booths, virtual brochures and recordings, and online coupons and giveaways. You can also embed live streams to demonstrate or connect your audience.
User Experience:
If you want to allow customers to use both their desktop and their phones to access your event, then Whova is an excellent platform for user experience.
With easy-to-understand and use tabs, participants can easily access the chat, Q&A, and other features with just a few clicks.
Pricing:
You can request a personal quote based on the number of attendees, your event's length, etc.
What I Like/Dislike About Whova:
Like:
Attendees can schedule and view sessions based on their availability and interests.
Different engagement options throughout the event create a more dynamic and interactive experience.
Dislike:
The interface can be a bit busy and overwhelming for some users.
Product Updates:
Offer booth packages directly through exhibitor tickets to make it easy for them to sign up and pay for their booth.
Use separate exhibitor and attendee registration pages to track who is registering for what.
Get started with Whova.
Best for interacting with your attendees during the virtual event ($499 per year).
WebinarJam is a cloud-based virtual event platform that lets you create and host virtual events including webinars, virtual meetings, and live streaming. It can connect with 5000 attendees and six presenters in a single event – though it places a 4-hour limit.
It's compatible with all devices and ensures high-quality video and audio broadcasting and streaming in 30 FPS.
For user engagement, you can use the Live Chat feature to connect with your audience in real-time. You can also answer questions, moderate comments, chat in private, make sticky announcements, and more.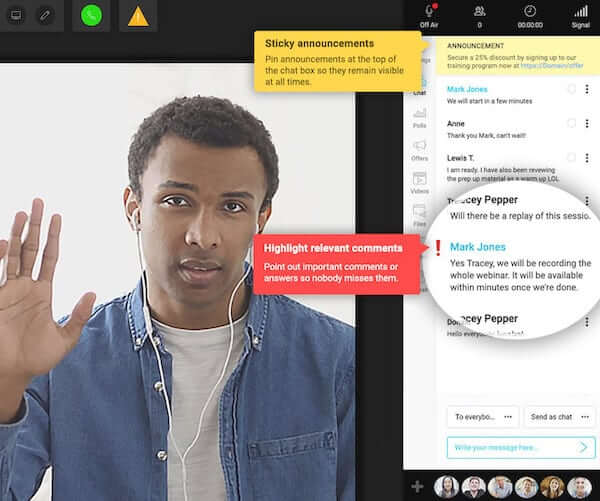 It's also capable of automatically recording the live broadcast in an HD video file. There's also a "Replica Replay" feature that displays everything that occurred during the live session, second by second.
Besides, you can schedule the Replay Room or live sessions or run a recurring series wherever you want. You can even set your live room to the 'Always On' option.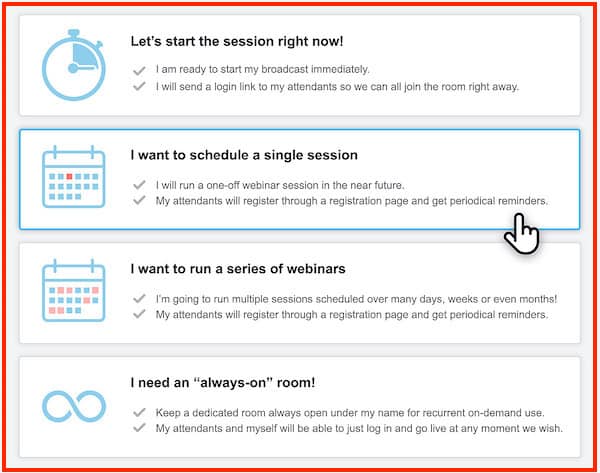 WebinarJam also allows you to invite attendees to participate as speakers in the live event. Invitees can also share their screen and broadcast directly through their webcam. Finally, you can send them back to the "attendee mode" through a click of a button.
It also offers an iOS and Android mobile app to help you broadcast or join a live stream from anywhere.
You get a drag-and-drop page builder and pre-designed templates as well to create registration pages. Other features include free split testing, unlimited free hosting, the ability to activate or deactivate offers on your registration page, etc.
WebinarJam also comes with many features that will come in handy while you're hosting the virtual conference, including:
Schedule a series of email and SMS notifications to follow-up with registrars.
Display clickable offers in between your conference.
Use the 'Panic button' in case of a mishap to get redirected to another live room.
Interact with event attendees and create attendee engagement by using real-time polls and surveys.
Import your presentation file in any format and display it on your screen.
Use annotations and hand-written notes and draw on the screen to convey your message.
Other prominent features include Q&A tools, one-click registration, Zapier integration, live file/video sharing, performance analysis, etc.
WebinarJam provides three plans:
Basic: $499 per year
Professional: $699 per year
Enterprise: $999 per year
All plans provide features like live chat, automated recordings, Email & SMS system, scheduling, page builder, polls & surveys, drawing board, etc. Professional and Enterprise plans also provide special features like the Panic Button and Always-on room. You also get a 30-days money-back guarantee.
Best for small and medium-sized organizations (Free for up to 100 attendees).
Airmeet is a virtual event platform that helps you conduct meetups, virtual fairs, summits, conferences, and more. It also offers a private virtual backstage that lets you connect with the speaker privately before and after the session.
You can also have multiple hosts and share your screen simultaneously – in a single video session. Besides, it offers real-time analytics during the live stream and allows you to record the session. You can even present your live video in split or multi-screen format.
Plus, you get various interactive features like polls, 'raise hands' before asking questions, real-time chats, emoji reactions, and Q&A.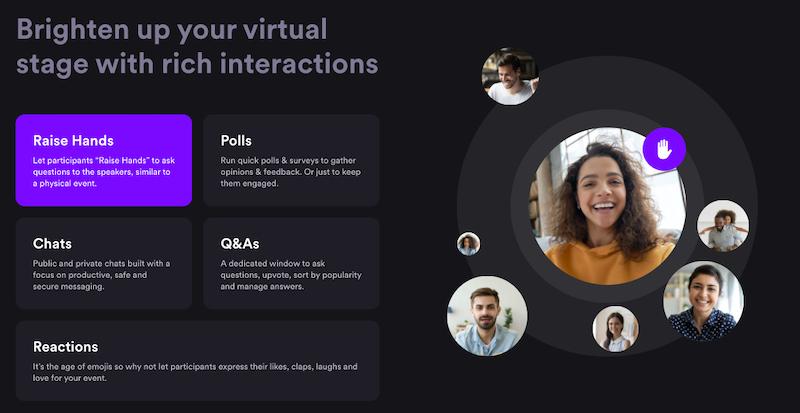 It also offers customizable branding for webinars and helps you send reminders and alerts to attendees. You can also build detailed profiles of keynote speakers and participants, so everyone discovers the attendees they want to engage with.
Airmeet offers integrated social media promotion solutions and analytical insights for better marketing decisions.
Other significant features include attendee management, sponsorship management, ticket management, recorded session playback, employee activity monitoring, two-way audio capabilities, etc.
Sponsors can also sell tickets directly from the platform and take surveys or feedback after the webinar.
Airmeet offers two types of plans:
Free for up to 100 attendees and ten organizations.
Standard: Starting at $99 per month
The custom-based Standard plan allows 100 – 1000 attendees, 100,000 maximum participant capacity per event, up to 10 organizers.
Best for collaborating and screen sharing ($40 per month).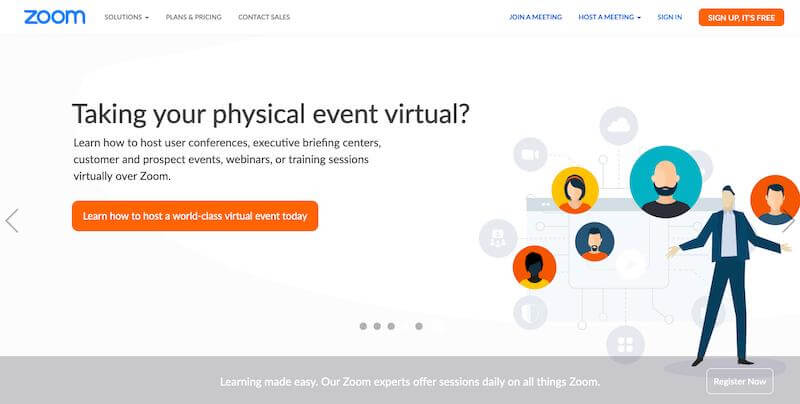 Zoom is one of the most popular video event platforms on this list. It helps you host virtual conferences, webinars, training sessions, and instantly join HD quality meetings across devices.
It also makes it on my list for the best meeting management software tools in addition to being a top virtual conference platform.
It also supports wireless sharing of content and multi-desktop sharing at the same time in a single meeting. Plus, you can host up to 100 participants and up to 10,000 view-only attendees.
There's also a unique feature, Zoom Rooms for Touch, that helps you share and collaborate on content with screen sharing and interactive whiteboards. Attendees can view and co-annotate on this blank whiteboard or over the shared file.
Plus, you can co-annotate through a smartphone, desktop, and Zoom Rooms. It allows you to open up to 12 whiteboards simultaneously and save all your whiteboard sessions safely.
Other key features include breakout rooms, live streaming, on-demand viewing, live support, the ability to conduct polls & Q&A, etc. You also get detailed reports on registrants, attendance rate, attendee engagement, polling, and Q&A sessions.
You get full control over actions like:
Muting/unmuting panelists
Promoting attendee to panelist
Providing audio and video capabilities to panelists
Managing rooms based on locations and role-based administration
Additionally, you get features like Scheduling Display and Digital Signage (some dedicated digital signage platforms) to meet your branding and admin goals. It also integrates with all major CRM, marketing solutions, and video platforms like Salesforce, Kaltura, Pardot, etc.
Security-wise, Zoom ensures encryption, role-based security, Passcode protection, waiting rooms, and more.
Pricing:
Pricing plans start from $40 per month per host.
For further reading, you can check out my article on the best Zoom alternatives for more options.
Best for hosting virtual trade shows (Quote-based).
vFairs is a virtual event platform that helps you host online and semi-online webinars, trade shows, conferences, etc. It offers a chat room feature with one-on-one audio and video support and integrates with top CRMs and marketing solutions.
3D Booths is one of its most prominent features. It provides your attendees with a real-life trade-show experience and helps you market your event easily. Plus, its 3D poster hall enables organizers to share compiled content and let attendees browse and engage with creators simultaneously.
Another unique feature is allowing attendees to create their product 'wishlists' from all the 3D booths they visited. This also helps you understand your audience's preference and create targeted marketing campaigns.
Besides, the mobile-friendly platform helps you create custom registration forms with your branding elements to collect all the relevant information.
Other prominent features include:
Schedule live webinars.
Group and 1:1 chat rooms with audio/video support.
Customer support across every timezone.
Boost engagement through live Q&A sessions and polls.
Present downloadable documents and other visual content during the event.
Measure metrics like how effective your event was using analytical reports.
It comes packed with gamification features like leaderboards, trivia quizzes, scavenger hunt, and more to garner more interest. Additionally, vFairs supports multiple languages, including English, Mandarin, Spanish, Arabic, etc.
Pricing:
vFairs offer quote-based payment plans. However, you can contact the vendor for a free demo.
Best for hosting webinars and large virtual events ($25 per month, billed annually).
ClickMeeting is a virtual event platform that helps you organize paid webinars, automated webinars, large virtual events, and more. It also lets you live-stream your content simultaneously on Facebook or YouTube to get more attendees.
Plus, it provides a "Huge Virtual Events" feature to connect with 10,000 attendees and a multi-user account to collaborate with other co-workers.
Its "Huge Virtual Events" features allow you to connect with 10,000 attendees at a time. It also allows you to send customized invitations for the event and create a registration page with your branding elements.
ClickMeeting also offers multiple customizable email templates with an additional registration CTA to create email campaigns and send reminders right before the event.
Other significant features include:
Screen sharing.
Moderated private chat.
On-demand webinars.
Analytical reports and attendee statistics.
Automated recording.
Social-media sharing.
Integrated address book to manage your contacts.
Live stream on Facebook and YouTube.
Conduct polls, surveys, and Q&A sessions.
Whiteboard with drawing tools, text boxes, erasers, and shapes to illustrate your ideas during the event.
You can create webinar rooms for multiple purposes like online training, product demos, marketing, and more. It also lets you create a waiting room where you can present the agenda of the webinar before the starting of the session. You can even rebrand it using custom colors and your brand's logo.
Additionally, ClickMeeting translates the chat simultaneously in 52 languages. It detects the source language automatically and translates it in real-time.
You can also moderate Q&A and private chats and enable your attendee to dial-in your webinar through a toll-free number. On top of that, you can gather feedback from attendees through performance ratings.
Detailed analytics reports of the virtual events also help you make data-driven marketing decisions.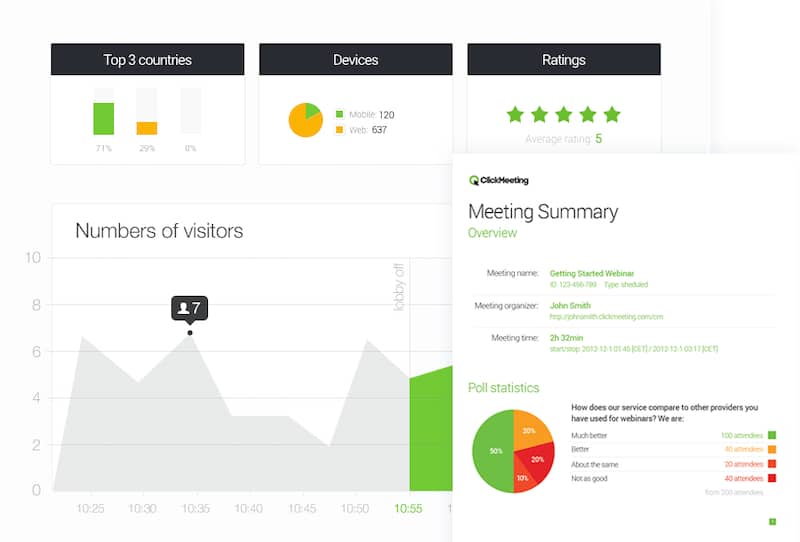 ClickMeeting offers three flexible plans, including:
Live: $25 per month, billed annually
Automated: $40 per month, billed annually
Enterprise: Custom-based
You also get a 30-days free trial. Plus, all the plans let you host unlimited virtual events.
What Are Virtual Conference Platforms?
Virtual conferencing platforms allow you to host large scale virtual conferences online. With the rise of social distancing, these tools eliminate the need for people to travel to a specific location in order to attend an event.
Similar to webinars, they allow hosts, attendees, interactive content, video recordings, polls, surveys, and more.
What Features Do You Need in a Virtual Conference Platform?
The needs and specific KPIs of businesses will vary. After all, it's natural for a small company's virtual conferencing priorities to differ from those of a large manufacturer.
Despite that, certain features are essential to a virtual conferencing platform.
Here's a list of some standard features you'd need in a virtual conference tool:
1. Breakout Rooms.
Breakout rooms are sub-rooms or smaller groups created after splitting a large room. They help company employees be a part of multiple teams that don't always overlap.
Separate chats and personalized windows can also help in effective brainstorming, instead of everyone communicating in the same room.
For example, Zoom provides breakout sessions to separate teams for streamlined communication, better productivity, and personalizing the agenda.
2. Third-party Integrations.
Video conferencing and conference calls need to integrate many functions to solve the problems of attendees in real-time. The more integrations you have with your platform, the fewer additional applications you would need for your business.
Luckily, most of these virtual event platforms in this list offer a host of third-party integrations like MailChimp, Kartra, Aweber, iContact, etc.
3. Reporting and Analytics.
It's vital for businesses to evaluate and understand the engagement levels over a virtual conference. It acts as real-time feedback for hosts to improve on different aspects. Thus, your virtual events platform should display holistic engagement statistics on registration, attendance, polls, etc.
4. Conference Recordings.
An ideal conferencing platform should come with an automatic recording feature. This feature comes in handy to record your virtual conferences and embed them on your website so that attendees can visit it anytime they want.
Even the hosts might want to access the recording as a sample or exemplary model in some cases. Thus, it's essential to use an application like WebinarJam that enables automatic conference recording.
5. Conference Ticketing.
A virtual event platform that provides end-to-end ticketing services is handy during registrations for planned conferences and webinars. Your platform should offer barcode/ ticket scanning, online ticketing, kiosk management, mobile and onsite ticketing, ticket brokering, etc.
6. Polling.
Polling is useful to get multiple or single choice answers to carefully curated questions during webinar sessions. It's a great way to collect information about public opinion. An ideal conferencing tool allows multiple polls per scheduled webinar. Anonymous polling is also an advantage in many cases.
7. Screen Sharing.
Screen sharing is a vital feature to collaborate and display text, images, graphs, charts, diagrams, and numbers. You can't overlook this feature, particularly in the case of remote presentations.
You should also consider features like whiteboarding, chat messaging, HD presentations, virtual event management, event app, and single-click registrations.
How Do You Use a Virtual Conference Platform?
Most virtual conference platforms work the same way. And due to their appeal and growing popularity, most of them are user-friendly as well.
Here, I'm using Zoom to demonstrate how virtual event software works.
Users can join Zoom meetings either through the web browser (only for hosts) or mobile application. Zoom works across mobile devices, laptops, and PCs.
To join a meeting as an attendee, you can simply select the 'Join Meeting' option. A pop-up will appear, where you'll have to enter the meeting ID or Personal Link to join.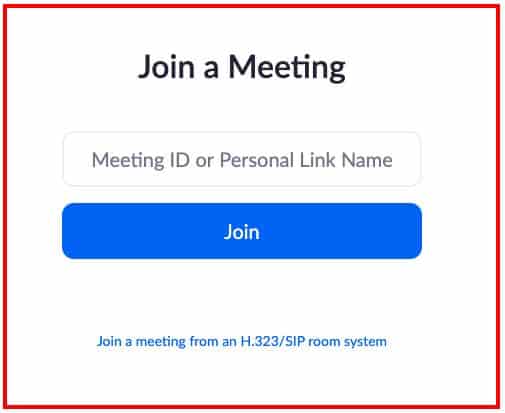 In case you're looking to host a meeting, either launch the zoom app on your mobile or your computer and sign in with your credentials.
Go to the home screen and select the 'Host a Meeting' option.
You'll get three options:
With video off
With video on
Screen share only
You can choose either of the options based on the nature of your conference.
When you click on any of the options, Zoom will ask you for a host of information relevant to the meeting. You need to fill up details like meeting topic, hostname, passwords, invitation URLs, and participant IDs.
Zoom lets you invite participants either by sharing the link, passcode, or invitation via email.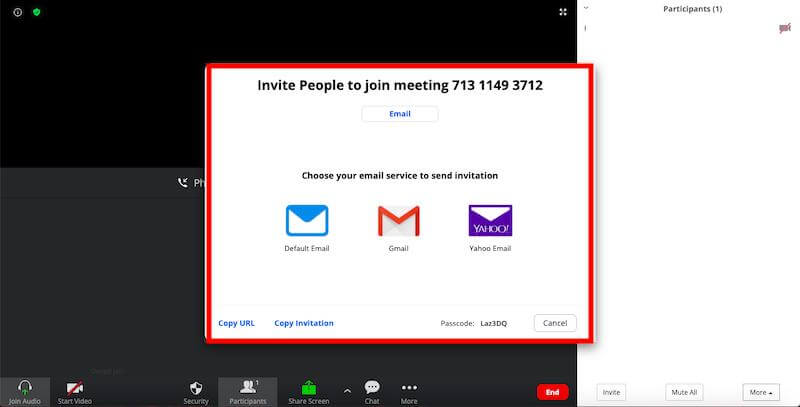 It also integrates with Google Calendar to block the calendar dates and times automatically
Zoom allows you to record conferences automatically. You would just have to tamper with some settings.
Head to: Settings > Recording.
Turn on the automatic recording option, and your conferences will get recorded automatically.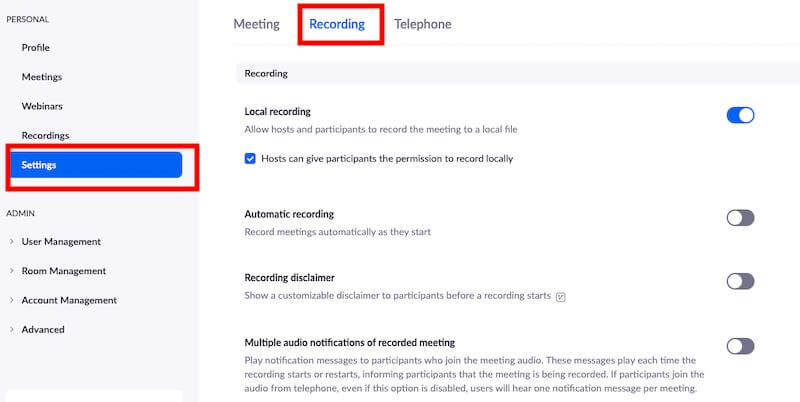 Attendees can also record, but only when the host switches on the Automatic Recording option. They just have to click on the 'Record' option at the bottom of their screen.
Attendees can also mute, disable videos, and leave meetings at any time. If meetings exceed the time limit and automatically ends, users can use the same link to join back.
A key advantage of Zoom is that it offers Google Chrome and Firefox extensions. This lets users access Zoom even without the app, with merely an internet connection.
Executive Summary.
These were my top picks for the best virtual event platforms based on their key features and pricing.
Most of these tools offer some standard features like polling & survey options, screen sharing, analytics, private chat, etc. However, your choice would depend on your specific business requirements.
If you're looking for a virtual conference platform with advanced events promotion & marketing features, Communique and Eventzilla are the best options. On the other hand, WebinarJam and Zoom are best for collaboration and interacting with your attendees and speakers.
vFairs is most suitable for hosting virtual trade shows due to its features like 3D booths and virtual posters.
Which of these virtual conference platforms are you planning to use, and why? Share your feedback by commenting below.
If you are particularly planning to host a webinar, you might want to check out my detailed review of the best webinar software.
Disclosure: I may receive affiliate compensation for some of the links below at no cost to you if you decide to purchase a paid plan. You can read our affiliate disclosure in our privacy policy. This site is not intending to provide financial advice. This is for entertainment only.