21 Best Mind Mapping Software of 2023 (Ultimate Guide)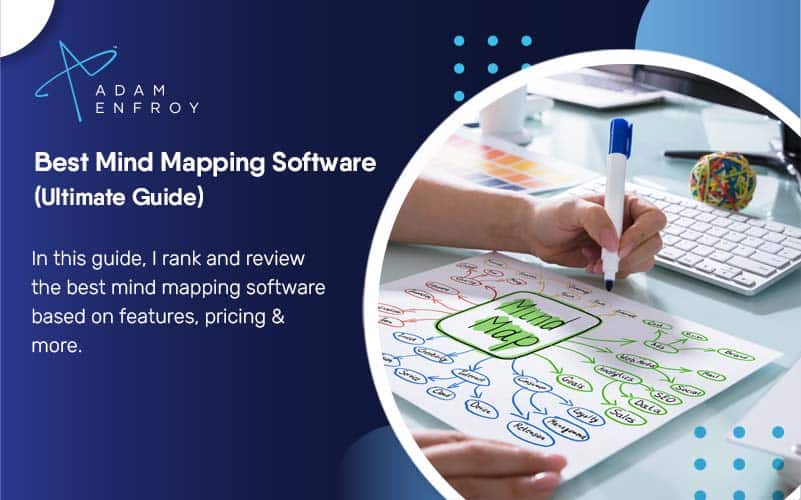 Mind mapping software allows you to visualize concepts and relationships to view the context of entire systems.
Rather than writing on a sticky note or jotting things down on a piece of paper, mind mapping apps take brainstorming to the next level.
Mind maps are a great tool to view central topics and understand their subtopics and related ideas.
For example, suppose we are looking at heart attacks as a central problem.
We could then draw a map around the central problem to show the allied fields associated, or subtopics like the hospitals, doctors, age group of patients, patient diets, and more.
Here's an example mind map format, for instance: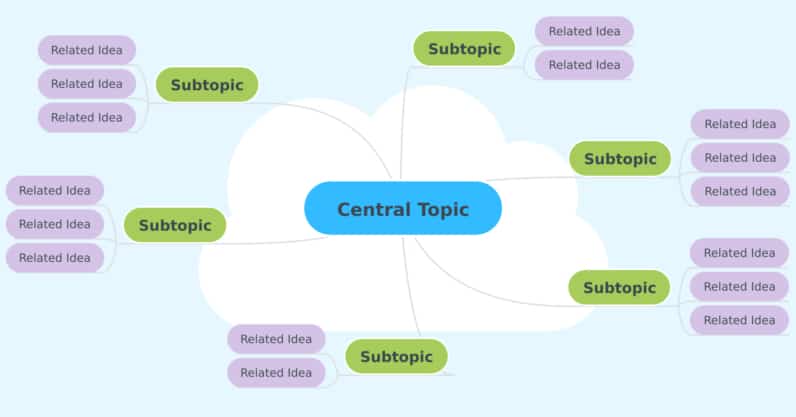 Whether you're a marketer, designer, or business owner, mind mapping software is a great way to brainstorm new ideas and collaborate with team members.
This guide will cover the top mind mapping solutions, covering their main features, pros, and cons.
Let's get started.
What is the Best Mind Mapping Software?
Here is a list of the best mind map software to look at this year:
1. Cacoo.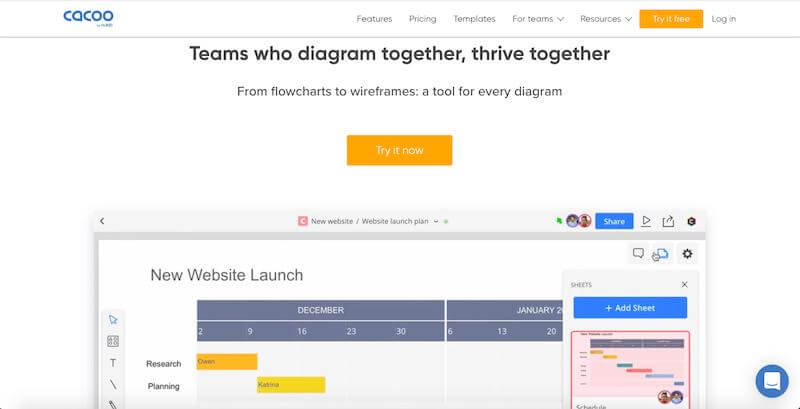 Cacoo is an amazing diagramming app for teams.
They offer real-time collaborative editing so that team members can build diagrams together simultaneously from any location. It's easy to tell who's working on which parts of the diagrams as real-time live cursors show exactly what others are working on.
Teams can also take advantage of their on-diagram comments feature, which makes it simple to create comment threads with the right feedback and context. You can also resolve these similar to Google Docs or Sheets.
If you're looking for different diagrams and mind maps to choose from Cacoo offers hundreds of professional templates and shapes to incorporate in your planning process. They also just started integrating with Zapier, Microsoft Teams, and Microsoft OneDrive.
Key Features:
Live, real-time editing, diagram version history, and in-diagram comments make this a great collaboration tool for teams.
There are hundreds of shapes and templates to build any type of diagram.
The dynamic charts allow you to use data visualization principles to better understand your data.
Their intuitive dashboard assists teams in organizing, sharing, and protecting projects with strong user management options and shared folders.
Cacoo is 100% cloud-based, so can be accessed from anywhere. The only thing a user needs is permissions and a link to view.
Pros:
Wide range of integrations with Google Drive, Adobe, and more
Allows AWS import
Export files in formats such as SVG, PDF, etc.
Unlimited diagrams sharing
Comes with a smooth drag-and-drop feature and Gantt charts
The robust and feature-rich free plan
Real-time feedback from the entire team
Extensive collection and usability of wireframes
14-day free trial
Offers comprehensive customer support via Live Chat and email support
Video tutorials available
Pricing:
Cacoo provides both free and paid plans for its users. Team plans begin at $5 per user per month (when billed annually).
Free – Provides a limited number of folders and sheets.
Pro – Provides unlimited diagram sheets and access to all Cacoo features, starting at $5 per month.
Team – Provides unlimited folders and sheets for your team (more users) and 1:1 brainstorming sessions and prioritized email support.
Enterprise – With their Enterprise offers, you can host Cacoo yourself on a private network/server. You also get their 24/7 email support.
For Team and Enterprise, you'll have to get in touch for pricing information.
2. Milanote.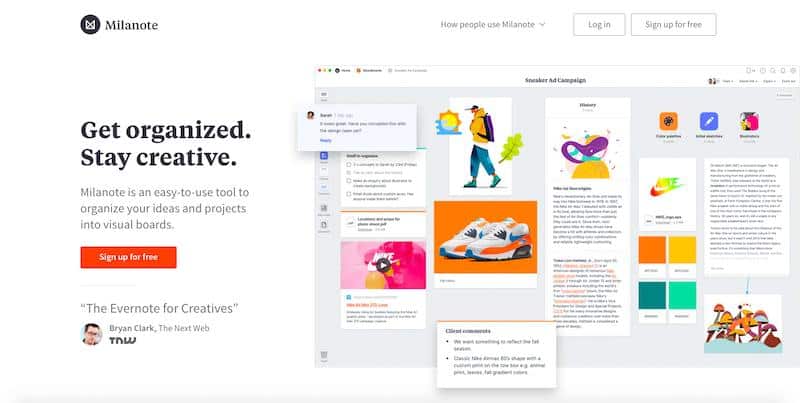 Milanote is an extremely easy-to-use tool to organize your ideas and projects and project them on to visual boards. It is perfect for professionals like designers, creative directors, marketers, writers, and agencies alike.
Key Features:
Mood boarding – With its unique features, create the perfect mood boards
Extensive templates – Choose from a wide range of templates
Task management – Organize all your projects into visual boards for ready reference
Online whiteboard – Make use of this feature to add notes, images, files and more
Pros:
Allows you to add a minimum of 100 notes, images, or links
You can share unlimited boards and upload unlimited files if you purchase the paid plan
Provides easy collaboration between teams and team members
Perform storyboarding with visuals, narration, and sequencing of each scene
Provides features like task reminders and custom colors
Compatible with formats like PDF, ZIP file, and more
Offers a free trial period
Native app for iPhones
Cons:
No built-in chat
No native app for android platform
Pricing:
Milanote offers three pricing plans. The first one is a freemium plan, the second one is the 'Professional' plan that costs $9.99 per person per month, billed annually.
The third is the Team plan, starting at $49 per month, billed annually as well.
3. Padlet.
Padlet is a cloud-hosted mind mapping software used by millions of people across the globe. It is ideal for small and medium businesses, as well as for classroom teaching.
Key Features:
Content designing – It offers beautiful attachment previews, themes, gorgeous typography, and a wide range of wallpaper choices
Extensive privacy – Offers extensive security and privacy and allows you to choose many modes, including Public, Secret, Password protected, and more
Portfolio management – Use it to display your best creations and collaborate better
Pros:
Offers a 30-day free trial
Provides copy-paste and drag-and-drop feature
Changes are auto-saved
Uses 29 languages for increased compatibility
Supports a wide range of files like image, video, music
iOS, Android and Kindle compatible
User management control, with allowing and revoking access
Embed content from anywhere on the web, like YouTube, Instagram, Twitter, and more
24/7 customer support available
Cons:
Doesn't offer content filtering currently
On-site deployment not possible
Not very compatible with Internet Explorer browser
Pricing:
Padlet offers three pricing plans, namely the 'Backpack,' 'Briefcase,' and 'Pro.' The plans start at $12 and range up to $8.25 per user per month. You also get a discount on annual payments.
4. XMind.
XMind is a full-featured, cloud-hosted, mind map software and brainstorming tool. It is perfect for brainstorming ideas and spur creativity and enhancing efficiency at home & in the workplace.
Key Features:
Project dashboard – Allows you to look at several ideas and options together on the same page
Image export – Allows you to export all image sheets at the same time with better control
ZEN mode – This feature enhances focus on a single mind map
Brainstorming module – Available in 8 Pro, you can easily segregate and classify different ideas
Pros:
30-day money-back guarantee
In-built Fishbone charts, Matrix, Timeline, org charts for in-depth comparative analysis
Compatible with laptops and mobile devices
Extensive customer support via email and phone
Gantt charts available
Compatible with Windows, Android, Linux, and macOS
Allows you to export in formats like PNG, SVG, PDF, markdown, and more
Cons:
Doesn't offer online support
Available only in English
No onsite deployment
Pricing:
XMind comes with two pricing plans:
$39.99 for 6 months .
$59.99 for a year.
5. Coggle.
Coggle is an online tool for creating and sharing flowcharts and mind maps. It is a browser-based tool, which means that you don't have to download or install it. Moreover, it helps you map your processes, systems, and algorithms easily.
Key Features:
Powerful flowcharts – Wide range of in-built powerful flowcharts and process maps for better expression
Private diagrams – Create and access private diagrams at any time. Also allows you to loops and join branches easily
User and data management – Available in the 'Organization' plan, it allows for comprehensive and holistic data management
Pros:
Real-time collaboration with co-workers and clients
Drag-and-drop feature
The changes auto-saved
Add floating text and images
Free plan available
Provides Enterprise-level customer support
On-premise instances for deployment behind your firewall
Email and ticket support
Compatible with Windows, Android, iOS
Cons:
Customer service is only available in English
Doesn't provide online support
No free trial period for paid subscriptions
Pricing:
Coggle offers three pricing plans. The first plan is entirely free of cost, and the paid plans start from $5 per member per month.
6. Mindomo.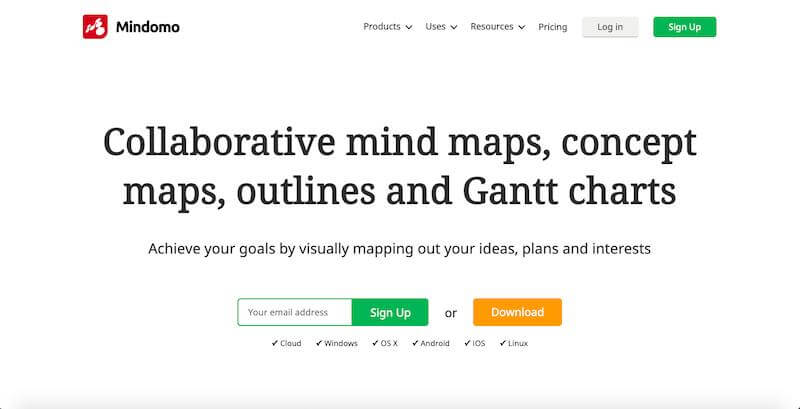 Mindomo is an all-in-one visual tool for mind mapping, concept mapping, and outlining. It's a pioneering mind map software that first enabled the transformation of mind maps into diagrams. The best part is that Mindomo offers multiple solutions for all user segments.
Key Features:
Diversified formatting – Allows high customization for fonts, themes, maps
Web image search – Students can make use of this feature and add images from internet
Native mobile apps – Has iPad and Android native apps for online and offline mind mapping
Pros:
Offers an excellent freemium plan
30-day money-back guarantee for paid plans
Supports multiple formats like PDF, XML, PPT, TXT, HTML
Direct audio recording
Provides multi-branch color and a rainbow palette
Wide range of integrations like Moodle, Canvas, Blackboard, Clever, Schoology
Cons:
Topic resizing is a bit challenging
The dashboard can be difficult to use
Pricing:
Mindomo offers four plans. The first one is a freemium plan, and the paid plans start from $13.5 per month and range up to $16.5 per month.
These prices are based on the number of users involved.
7. Canva.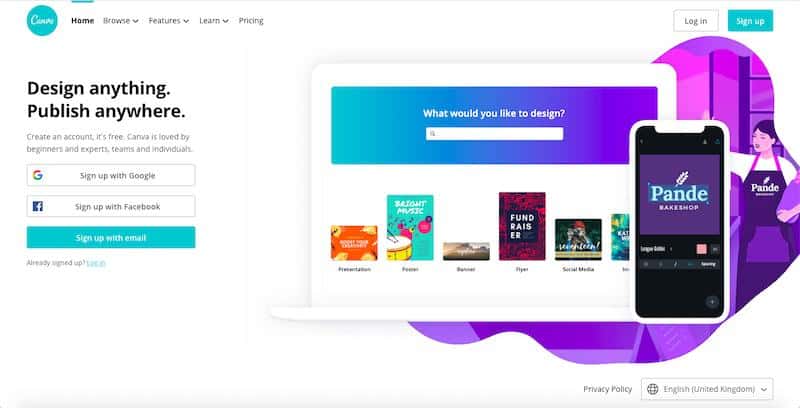 Canva is one of the more recent mind mapping and graphic design tools. It is most suitable for web and print media design. Moreover, it is one of the most popular mind mapping tools on the internet, used by over 15 million people across the globe.
Key Features:
Range of templates – Wide range of designer-made, free templates
Photo straightening tool – holistic application of rotation effects to straighten every photo
Image cropping – Ensure you have every picture just the way you want
Photo enhancer and transparency tool – Enhance and add transparency feature to any photo
Pros:
Offers a freemium, open-source plan
Wide range of charts available, including area chart, bar graph, pie chart, T chart, and more
You can easily add text to photos
30-day free trial period and free subscriptions for non-profits
Comes with a drag-and-drop feature
Allows you to embed graphs in presentation mode, infographics and more
In-built speech bubble maker
Options to design grids and photo frames
Enables creation of web wireframes
Cons:
Supports only English and doesn't offer live support
Changing of image dimensions is sometimes problematic
Content combination for export is difficult
Pricing:
Canva offers three pricing plans, namely 'Free,' 'Pro,' and 'Enterprise.' The paid plans start from $30 per month, while the pro goes for $119.99 paid annually.
8. MindMeister.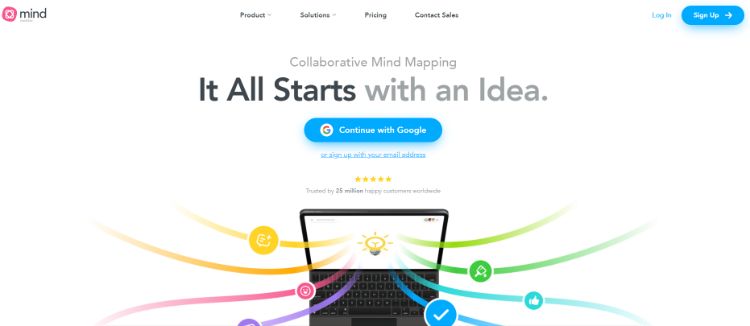 MindMeister is an online mind mapping tool used by millions across the world. It is suitable for professionals from all walks of life, including artists, students, and teachers, to visualize and present their thoughts.
Key Features:
Mind map editor – Award-winning feature that allows you to create, share and present mind maps direct from the web browser
Project management – Turn ideas into actionable tasks, assign them to collaborators, set deadlines and priorities
Excellent templates – Make use of in-built templates and avoid creating ones from scratch
Publishing and editing – Publish your mind maps directly on the web, social media or embed it on website
Pros:
Offers an excellent free plan
Enables real-time collaboration
History view allows you to see contributions
Supports multiple file formats like PNG, PDF, TXT
Multiple integrations like Dropbox, Drive, Confluence, Evernote
Available in iOS and Android
Cons:
No onsite deployment
No live chat support
The freemium plan offers three mind maps only
Pricing:
MindMeister offers four plans, namely 'Free,' 'Personal,' 'Pro,' and 'Business.' The three paid plans cost $4.99, $8.25, and $12.49 per user per month, respectively.
9. Stormboard.
Stormboard is a highly flexible and easy-to-use mind mapping software and drawing tool. The best part is that it allows you to use shared workspaces to generate excellent ideas, organize, and then work on refining those ideas.
Key Features:
Real-time whiteboards – Brainstorm on the go and never miss out on ideas
Priority support and training – Ensure your employees or students leverage their potential
Pre-made templates – You get attractive pre-existing templates to help you save time and efforts
Task management – Ensure holistic project management throughout your organization
Pros:
100% data encryption with TLS
Extensive integrations with Zapier, Trello, Slack, Pipedrive, and more
Direct use from a web browser, no need for download and installation
Compatible with iOS, Android, and Windows
Excellent customer support with live chats, email, and telephone
Invoice billing in paid plans
Paid plans offer legend color palettes
Offers a free mind mapping software plan
Cons:
Incompatible with Linux
The freemium plan could be made more feature-rich
No free trial period for paid plans
Pricing:
Stormboard offers three pricing plans, namely 'Individual,' 'Business,' and 'Enterprise.' While the first is a free version, the latter two cost $10 and $16.67 per user per month when billed annually.
10. SimpleMind.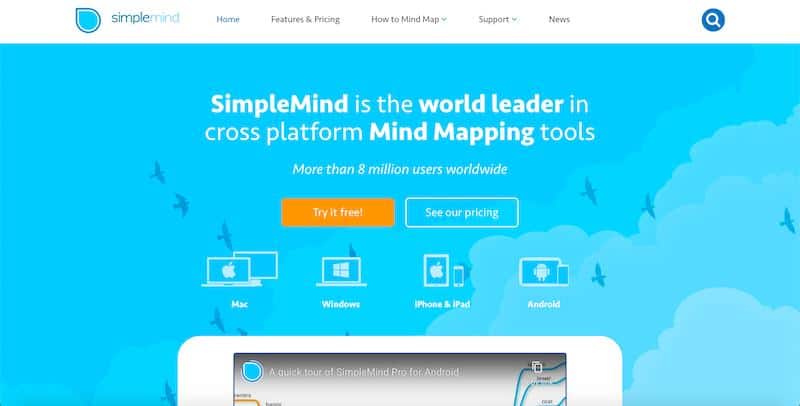 SimpleMind is the world leader when it comes to cross-platform mind mapping. On top of that, it comes with impressive features, including virtually unlimited page size and a number of elements, intuitive mind mapping, automatic map layout, and more.
Key Features:
Free layout – Helps you analyze your thoughts and structure due to unlimited page size and elements
Task management – Offers holistic and inclusive task management
Crosslink – create crosslinks to connect two topics you want
Single pager – create multiple mind maps on the same page for an inclusive view
Pros:
Allows you to make use of checkboxes, progress bars, and auto-numbering
Comes with built-in stock icons, live checklist, and to-do list
Add links to mind maps for reference
Enables the use of a color palette or custom colors
Merge paths and create summaries
Multiple selectable mind map types
30-day free trial and one-time purchase
Offers a free plan
Seamless sync with apps like Dropbox and Google Drive for paid plans
Cons:
The free trial is restrictive, and you can't use it on iOS and Android
The free plan lacks multiple features
Pricing:
SimpleMind offers two segments, including the 'Free' and 'Pro.' The Pro plan has prices based on three slabs: €24.99 for Individuals, €39.99 for the Team pack, and €79.95 for the 10-user pack.
11. SmartDraw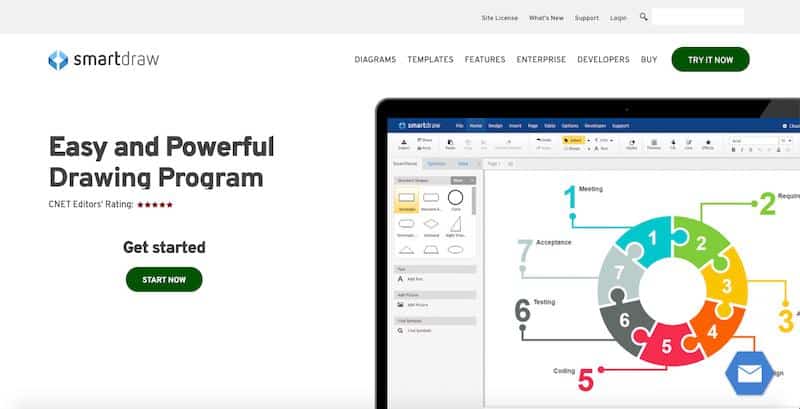 SmartDraw is a diagram and mind mapping tool that is used all over the world. Some of its most prominent features include intelligent formatting, Visio import & export, extensive integration, and more.
Key Features:
Intelligent formatting engine – Allows you to build and edit diagrams easily
Visio import and export – Allows export and import from Visio
Development platform – In-built platform to create an instant diagram from data
Pros:
Automatic spacing, alignment, sizing and color finish for professional outlook
Extensive integrations with Office, Jira, etc.
Use over 34,000 symbols for a wide range of disciplines and 4,500 templates
Engineering prowess on lines of CAD
Extensive collaboration between and inside teams
Offers comprehensive customer support by phone, email, live chats
Runs on a web browser, which means you don't have to install it
Share files with non-SmartDraw users
Cons:
Doesn't offer a free trial
Gantt chart provides limited columns
Multi-user collaboration can be difficult sometimes
Customer service can be improved
Pricing:
SmartDraw offers two plans, namely the 'Single user' and the 'Multiple users.' The former costs $297 and is a one-time purchase. The latter is for more than five users, and costs $595 per month, billed annually.
12. Slickplan.
Slickplan is basically a website planning system that helps you with boosting creativity and designing the specifications that you require. It is perfect for writers, agencies, start-ups, teachers, students, and artists.
Key Features:
Sitemap builder – Create a sitemap helps you plan and execute the information architecture design process
Productive content planner – Centralize your on-page content and unify content types
Diagram maker – Create the perfect diagrams with the in-built diagram and mind map maker
Pros:
Offers a 30-day free trial period
Comes with prominent features like drag-and-drop features, extensive templates, third-party integrations, and more
Auto-saves changes
Provides connector keyboard shortcuts
Allows easy planning of navigational wireframe
Fully GDPR-compliant
Create sitemap shadows and gradients
Enables you to add multiple/ external links, add, clone, create and remove symbols
Incorporates Google analytics for data-driven insights
Cons:
Doesn't offer a free plan
Can be challenging to use for novices
Graphics and collaboration functionality could be improved
Separate views for each client require individualized accounts
Pricing:
Slickplan comes with four subscription plans, starting from $8.99 and ranging up to $89.99 per month. There's a 14 day free trial for all plans and a 10% discount for annual billing.
13. Lucidchart.
Lucidchart is a visual workspace that combines elements like diagramming, data visualization, and collaboration to accelerate understanding and drive innovation in the form of mind maps.
Key Features:
People management – Coordinated and comprehensive people management enabled
Project management – Holistic management of projects on a single platform
Business process mapping tool – View all business processes together on the same platform and make informed decisions
Value stream mapping software – Take advantage of it and identify the steps of your business process that add the most value
Pros:
Free plan available
Use over 500 templates in-built and wireframe software
Provides concept maps and Venn diagram maker built-in
Comes with in-built ER diagram and UML diagram tools
Extensive integrations with Drive, JIVE, Google apps, and more
Cons:
Only available in English
No live support
Pricing:
Lucidchart offers the following plans:
Free: $0
Individual: $7.95 per month
Team: $9.00 per month
Enterprise: Contact them for a quote
14. MindMup.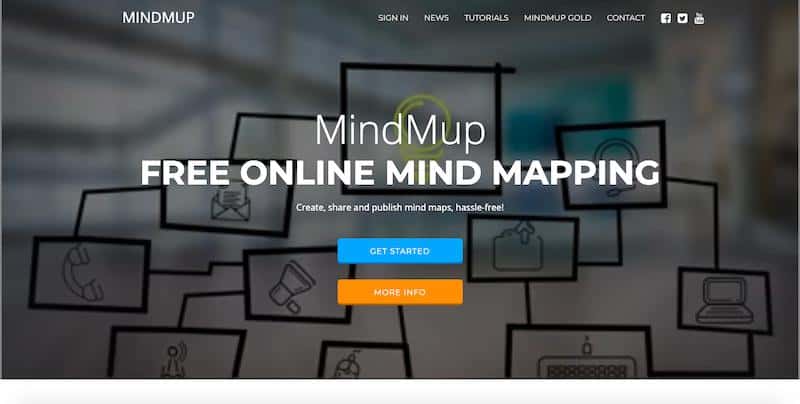 MindMup is a mind mapping tool that allows hassle-free creation, publishing, and sharing of mind maps & diagrams. Moreover, it's an excellent tool for note-taking, collaborative planning, and classrooms.
Key Features:
Project management – Manage project progress easily with icons and priorities
Economical diagramming tool – Explore and develop your concepts your way
Organization administration – Manage your organization and individual access and security from a single platform
Pros:
Offers a free plan
Provides features like an unlimited mind maps, powerful keyboard shortcuts, online publishing and map sharing, and more
Easy conversion of maps to formats like PDF etc.
Allows smooth addition of documents and images to mind maps
Email and ticket support
Provides efficient storyboarding
Enables social media integration
It's a browser-based tool, so one doesn't have to download and install it
Cons:
Available only in English
No phone and live support
Sometimes slow to load
Pricing:
MindMup offers three pricing plans, starting from $2.99 per month. The first one is a freemium plan.
15. GoConqr.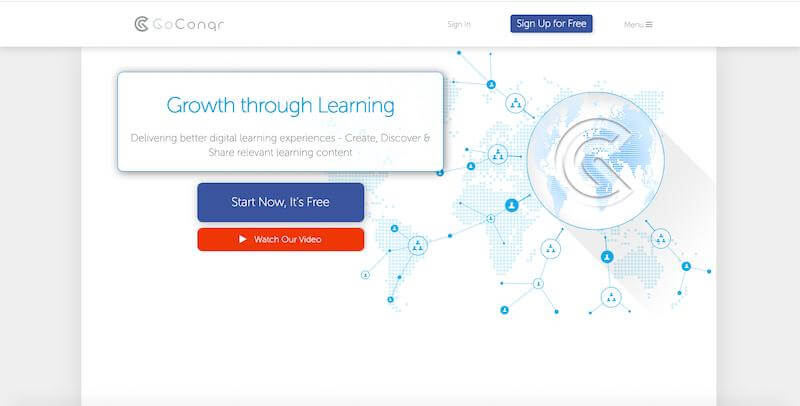 GoConqr is a comprehensive and integrated suite of content creation tools for every step of the learning journey. Moreover, it is replete with flashcards, quizzes, mind-maps, notes, flowcharts, and diagrams.
Key Features:
Project management – allows you to plan, execute, and control work and ensure completion
Task management – Holistic management of tasks throughout the lifecycle
Course builder – Customize courses easily and build the way you want
Note-taking software – Assimilate a topic and express it in your own words. Add images and videos to notes
Pros:
Offers an excellent freemium plan
Online flashcards allow unlimited sharing
Create mind maps, quizzes, and flowcharts for greater collaboration and information facilitation
Integration with Facebook, Twitter, and Gmail
Provides seamless data sharing
Cons:
Doesn't have a phone or live chat support
Integrations could be increased
Can be challenging to grasp for beginners
Pricing:
GoConqr contains two plan segments. The first is 'Individual,' which has a basic free plan and a 'Premium' one at $4.95 per month. The second segment, 'Groups,' has four plans, starting from $1.49 per member per month.
16. Scapple.
Scapple is one of the most prominent mind mapping software and diagramming tools in the market. It helps you get all your musings and thoughts on the paper effectively.
Key Features:
Scrivener integration – Directly drag notes into Scrivener
Project management – Make use of its features to connect with team members to plan and execute processes
Double-click start – That's right, just Double click anywhere and start writing
Inspector window – Stylize your notes with bubbles, color, font, alignment, and more
Pros:
Offers 30-day free trial period
Excellent drag-and-drop feature
Full-screen mode to have a better view of your work
Easy export and print of ideas
Comprehensive video tutorials
Highly customizable background shapes and notes
Stack notes in columns for ready referral
Import range of formats like text, PDF, images
Cons:
Available only in English
No phone or live support
Third-party integrations could be enhanced
No in-built templates
Pricing:
Scapple offers two pricing plans. The 'Standard license' plan costs $14.99, and the 'Educational license' plan is $12.
17. MindNode.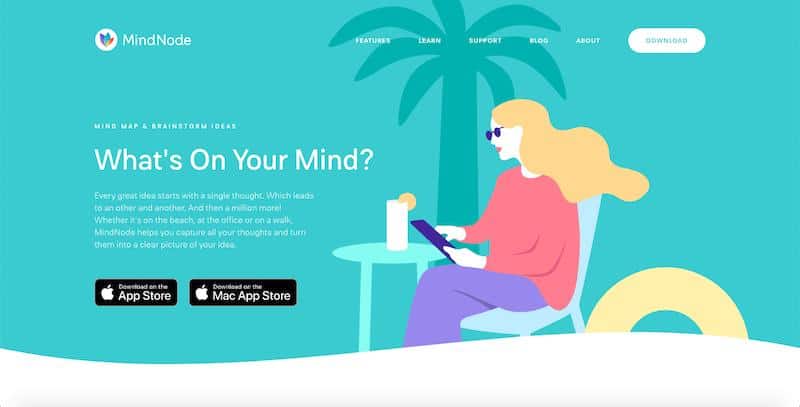 MindNode is an award-winning visual brainstorming and mind mapping application that allows you to connect your thoughts and emphasizes better clarity.
Key Features:
Quick entry – Capture your thoughts directly from the menu bar
Progress tracker – Transform your nodes into tasks real-time
Focus mode – Use this feature to block out distractions and focus on one track
Smart Layout feature – Fully automatic layout for the organization of branches and easy view
Pros:
14-day free trial period
Excellent customer support via phone, live chats, and email
Export to plain text, RTF, docx, pdf, image, markdown, or TaskPaper
More than 250 stickers for customization
Wide range of in-built themes to choose from
Integrations with apps like Things, OmniFocus, Markdown
Provides customer service in multiple languages
Cons:
Not available for Windows
Can be difficult for novices
Pricing:
There are two versions for Mac and iOS. The subscriptions cost $2.49 per month or $19.99 for a year.
18. MindMaple.
MindMaple is one of the most popular mind mapping software in the market right now. It is excellent for brainstorming and collaboration and is most suitable for teachers, students, and corporate leaders.
Key Features:
Project task management – Holistic management on all fronts for your project
Boundary makers and relationship builders – Analyze topics, break them down and draw the correlation
Personalization tools – With an array of tools, personalize your maps the way you want
Task scheduling and prioritization – Schedule tasks as per their importance and deliver on time
Pros:
Comes with a natural, user-friendly drawing interface
Highly customizable spaces and maps
Enables you to add video, picture, and text to mind maps
Offers an excellent color palette, easy customization of themes, and fantastic drag and drop feature
File export and import
Paste hyperlinks on mind maps for easy access and ready reference
Enables task progress tracking
Cons:
Integrations could be more extensive
Doesn't offer phone support
Not compatible with Android platform
Pricing:
It offers a one-time purchase of license at $19.99 for Windows, $9.99 for Mac, and $2.99 for Pen.
19. Ideaflip.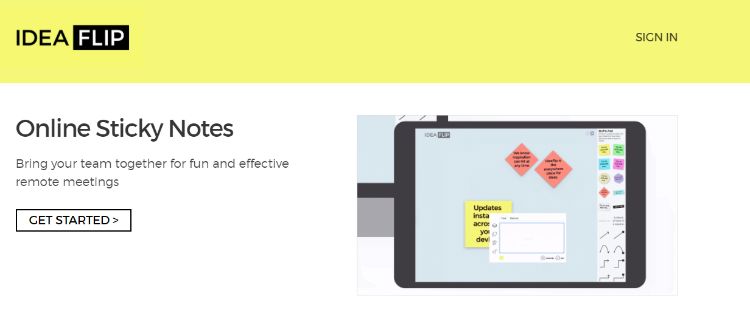 Ideaflip is a mind mapping software that enables teams to turn thoughts into ideas to be shared and refined. It is a simple web app that is perfect for group brainstorming and individual ideas.
Key Features:
Project and task management – View all your projects and tasks on the same platform for planning, ideation, and execution
Status ranking – Rank your projects as per their completion or importance status for ready reference
Idea ranking – Rank the ideas according to their importance for future brainstorming
Pros:
Provides a 14-day free trial
Enables End-to-end data encryption
Allows you to create your own templates for better flexibility
Upload images, PDF, CSV, and build mind maps
Export and import files in a range of formats
Efficient creator tracking
No need for download and installation
Free to use for guest users
Cons:
Doesn't offer email support
Incompatible with the Android platform
Available only in English
Doesn't provide a free plan
Pricing:
There are two segments: 'Individual' and 'Enterprise.' The former has three plans, starting at $9 per month. The second segment starts at $145.
20. MindManager.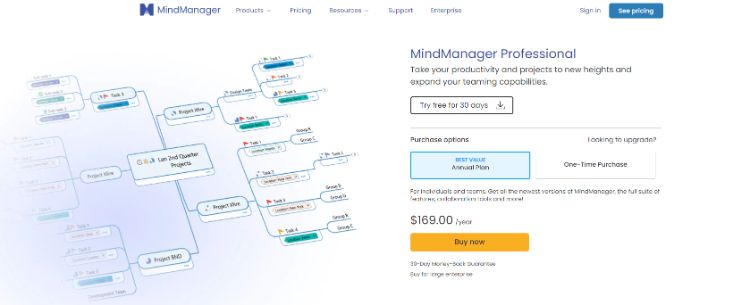 MindManager is a product of MindJet that helps individuals and teams collaborate and work faster. Moreover, it transforms unstructured data into a structured form and allows people to draw easy conclusions.
Key Features:
Task management – Ideal for small, medium and large businesses by allowing you a holistic view of all projects, along with organization, planning, and execution
Information & knowledge management – Makes sharing information, collaboration and communicating extremely easy
Visual project planning – Visualize, organize and track all your projects comprehensively
Pros:
Offers a 30-day free trial
Provides a wide range of videos and whitepaper
Comes with highly interactive and customizable visual maps
Improved collaboration increases productivity
Sort-and-filter feature
Extensive integrations with Google Calendar, Excel, One Note
Solve problems like missing data, redundancy, and miscommunication by central integration of data
Allows you to capture and contextualize data instantly
Cons:
Incompatible with Android
Doesn't offer any freemium plan
Pricing
MindManager offers three pricing plans, starting from $99 per year.
21. Miro.
Miro is a cloud-based mind mapping tool that is most suitable for small and medium businesses. It comes with a collaborative whiteboard to bring together your team and work efficiently.
Key Features:
Product development – Create a central hub for strategy, planning and shipping fast
Infinite canvas – Zoomable canvas and web whiteboard lets you unleash your creativity
Enterprise-grade security – So that you can rest easy with enhanced compliance
Pros:
Extensive integrations with tools like Dropbox, JIRA, Slack, and more
Offers an excellent free plan
End-to-end design workflows
Allows you to create empathy maps, customer journeys, and service design blueprints
Comes with an extensive built-in template library
Collaboration boost with voter and timer features
Seamless video chats, screen-sharing, and live chats
KPI monitoring, along with milestone tracking & road-mapping
Cons:
Video adding is a bit challenging
Mobile version could be improved
Upload file size limit is low
Pricing:
Miro comes with five pricing plans, starting from $8 per user per month, billed annually. You also get a freemium plan for basic requirements.
Note: tools not yet included on this list include Freemind, Bubbl.us, iMindQ, TheBrain, and iMindMap
What is Mind Mapping Software?
Mind mapping software gives you a graphic way to view complex ideas and concepts. It provides you with a graphic-based platform to generate ideas, formulate, re-formulate, synthesize, recall, structure, and understand your own thoughts better.
Compared to a paper-and-pencil based environment, which entails tedious drawing, deletions, and re-drawing, and can hamper the creative spirit, mind mapping software makes it easy for you to make simple changes with the click of a button.
With the help of modern mind map templates, you can create special effects, make use of symbols, add links to pages containing your inspiration, and a lot more.
What Are the Benefits Of Using Mind Mapping Software?
Mind mapping software has multiple benefits that you can't get out of tools like Microsoft Office, Powerpoint, or other tools. Here are some of the key benefits.
1. Meaningful Learning.
Meaningful learning is different from non-meaningful, or rote learning. Rote learning doesn't allow students to make any connection between something they learn and something that they already know. The items exist as disparate silos in the mind of the student.
Mind mapping software presents a solution with visual references. Since over 90% of the human brain is visual, it allows the students to recall information quickly and find connections between data points.
2. Idea Retention.
Retaining something you've learned is just as important as learning something new. And mind maps can increase the efficiency of both learning and retention.
The learning pyramid also suggests that visual and demonstrative teaching methods, like mind maps, can provide far more active modes of learning than lectures or reading.
Moreover, group discussion, teaching others, and practicing by doing are all examples of areas where you can mind maps to significant effect.
3. Simplifies Brainstorming.
Human beings find a simple set of items easier to comprehend than complex technical diagrams and disparate data.
A 2017 study further reiterated this point when it found that:
92% of respondents found faster clarity via main maps
83% of respondents stated that mind maps help them share information faster and more effectively
67% said that they could identify the root cause of a business problem quickly with the help of mind maps
Mind maps help you break down information, simplify the various aspects, and enable faster & more efficient learning on all levels.
4. Improves Productivity.
Productivity is central to the success of any business. According to the mind mapping survey above, the productivity of various workers increased when they started using mind mapping software. It is one of the top collaboration tools for teams that should be used in the workplace.
The survey found that:
10% of productivity increase for beginners
50% productivity increase in the case of experts
Even a 20% increase in productivity is roughly equivalent to getting the job of an entire day completed. Using mind maps is like the advantage of an extra day every week.
5. Saves Time.
It goes without saying that time is money. And the 2017 Mind mapping survey conclusively proves that using mind maps can lead to saving time and getting things done quicker and more effectively.
The survey suggests that 41% of professionals saved 1 to 3 hours every week using mind maps. The study also talked about how 50% beginners can save up to 2 hours every week using the maps, and 47% of expert users can save up to 7 hours every week, which can drastically improve the productivity of a company.
The time you save using a mind map tool could be put to use in an area that requires attention.
Executive Summary.
The mind map tools help in the smooth facilitation of ideas, collaboration, and enables quick learning. But there are so many of these tools in the market, which makes it challenging to choose the right one.
These tools are straightforward to use and mostly need little to no experience at all. Some tools will have a higher price; some will have better functionalities, some will offer better collaborative abilities, while others still will provide added benefits.
Your choice would depend extensively upon:
Variables in your business
Business deliverables and outcome
The trade-off between price and features
Number of users
Educational use vs. creative use vs. corporate use
It's down to you to make the right choice, taking every characteristic and feature into consideration.
Further Reading on AdamEnfroy.com: For more visual software reviews, check out my guides to the best graphic design software, the best photo editing software to try this year, and the best org chart software you can pair with your mind mapping software.
Disclosure: I may receive affiliate compensation for some of the links below at no cost to you if you decide to purchase a paid plan. You can read our affiliate disclosure in our privacy policy. This site is not intending to provide financial advice. This is for entertainment only.