11+ Best Social Media Management Tools, Apps, and Software (2023)
Choosing the right social media management tools is vitally important to your business. From scheduling posts to analyzing your results, the best social media management tools can help you meet your goals. In this guide, I ranked and reviewed the 11+ best social media management tools, along with my top 5 choices, so that you can pick the best one for you.
---
We're reader-supported. When you buy through links on our site, we may earn an affiliate commission.
More than 3.5 billion people use social media, with the number continues to increase every year.
With such widespread use of social media, businesses are rushing to engage their target audience on various social platforms and convert them into customers.
Social marketing helps businesses and online marketers connect and engage with their audience, build a social media presence, work with influencers, raise awareness about their products, and ultimately make more money online.
However, this is easier said than done.
Social media management is not only time-consuming but can also be stressful when trying to keep up with everything that's going on with your numerous social media channels.
That said, the right social media tools can save you more than 6 hours each week when using their automated scheduling features.
These tools help you:
Schedule your social posts in advance.
Track social media engagement and clicks.
Follow, unfollow, and engage with social media users.
And much more.
Let's get started.
What Are the Best Social Media Management Tools?
Here are my picks for the best social media management software to help you kickstart your social media marketing this year.
Best Overall For Social Media Management

Adam's Take
If you're looking for the best overall social media management tool, eClincher is an excellent option. It's an all-in-one platform that gives you everything you need to grow your online presence. For those who prioritize social media marketing, eClincher is an excellent option to save you time and money.
eClincher is great for those businesses that have a large need for social media management. It is an all-in-one solution that can help businesses manage many aspects of their social media marketing.
With built-in reputation management & brand monitoring, eClincher is a powerful tool for businesses to protect and grow their online presence, while ensuring their brand is front and center in the social media conversation.
Using an all-in-one smart inbox, eClincher gives businesses the ability to quickly and easily see all of their social media activity in one place.
This makes it easy to respond to comments, messages, and mentions quickly and efficiently.
Moreover, using a visual calendar, eClincher helps businesses to better organize and manage their content, so it's easy to publish content that is timely and relevant to their audience.
Key Features:
Auto-post with RSS feeds allows you to easily and quickly post content to your social media accounts from anywhere, at any time.
Bulk upload & scheduling enables you to upload and schedule large amounts of content in one go, making it easy and quick to get your message out there.
Smart queues ensure that your content is always fresh and relevant, by automatically posting new content as soon as it's published.
The visual calendar & scheduler makes it easy to see what's coming up and plan your content accordingly, so you can be sure that everything is coordinated and runs smoothly.
Publishing & scheduling posts give you complete control over when and where your content is published, so you can make sure that it reaches your audience at the right time and in the right place.
Cons:
One small issue is that dropdown menus can sometimes get in the way of typing when using the desktop software.
Pricing:
There are three pricing plans available:
Basic: $59/mo
Premier: $119/mo
Agency: $219/mo
Get started with an eClincher Free Trial.
Best For Speed.

Adam's Take
Planable is a great social media management tool for those that want to move quickly and efficiently. The platform provides access to both individuals and agencies that want to make the most of their content, without having a content calendar that's all over the place.
Planable was made for those that want to create social media content fast, with as much as 6x faster content creation.
The collaboration tools are great for team communication, ensuring that everyone is on the same page.
With end-to-end workflow, you can say bye-bye to spreadsheets that do more harm than good.
You can also wave tedious and repetitive tasks goodbye with various features that help you make the most out of your social media content strategy.
Key Features:
Round-the-clock support ensures that you're never left in the dark.
Unlimited users & workspaces ensure that everyone has a seat at the table.
A dedicated account manager helps you get the most out of your subscription.
Team onboarding & training makes sure that everyone is up to speed on how to use Planable efficiently.
Robust security keeps your data safe
Easy-to-use social media calendar ensures that you're always organized.
An intuitive social media scheduler makes publishing a breeze.
Cons:
Customizing posts is sometimes challenging when bulk posting content
Pricing: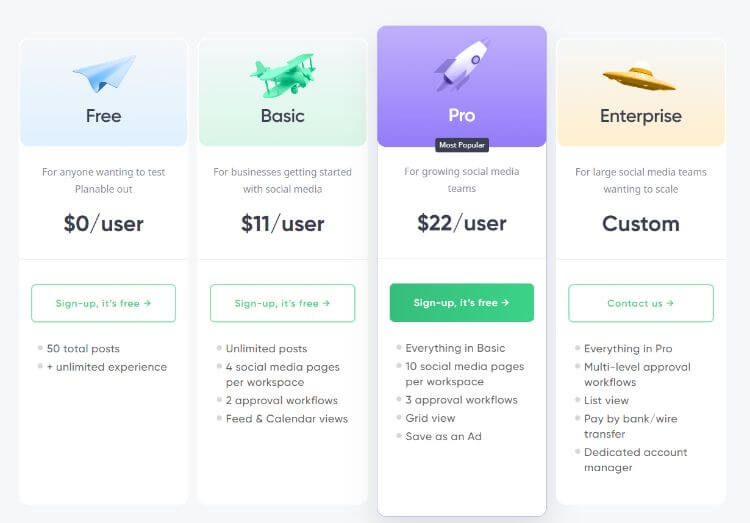 You can test out the system for free (you get 50 total posts) to ensure that it's a good fit for you.
When you're ready to move to a paid plan, these are the prices:
Basic: $11/user
Pro: $22/user
Enterprise: Custom quote
Get started with Planable.
Adam's Take
You can pretty much get all the social media functionality you need from Crowdfire. From content management and curation to scheduling your posts to go live exactly when you want them to, Crowdfire gives you all the tools you need.
Launched in 2010 as 'JustUnfollow,' this social media management tool refurbished itself and became Crowdfire in 2015.
With over 20 million global users, including artists, freelancers, e-sellers, and bloggers, it is one of the largest social media management platforms on the market right now.
Crowdfire is a complete social media management tool with features ranging from content curation, scheduling, analytics to Social listening.
Best For: It works the best for individuals, small businesses and digital agencies who want to optimize engagement, dive deep into their analytics tools and listen to what's being said on topics related to them.
Key Features:
Discover relevant content – You can discover videos and infographics based on your interests to find content your audience will love.
Pre-schedule content – Pre-schedule all of your relevant content and publish at pre-determined, scheduled times.
Social listening – Listen to everything that's being said about your brand and perform competitor analysis.
Get extensions – With Crowdfire, you can add various add-ons like Google Chrome extensions.
Free usage – It offers one free account every for every social media site and a 14-day free trial to get its premium features.
Cons:
It only recommends videos or infographics posted by other members
There is limited ability for blog promotion
The focus is more on quantity than quality
Pricing:
It offers one account for every social media site for free and a 14-day free trial for the top plan. Other than that, it has three paid plans.
The 'Plus' program costs $7.48 per month, the 'Premium' plan is $37.48 per month, and the 'VIP' plan is $74.98 per month.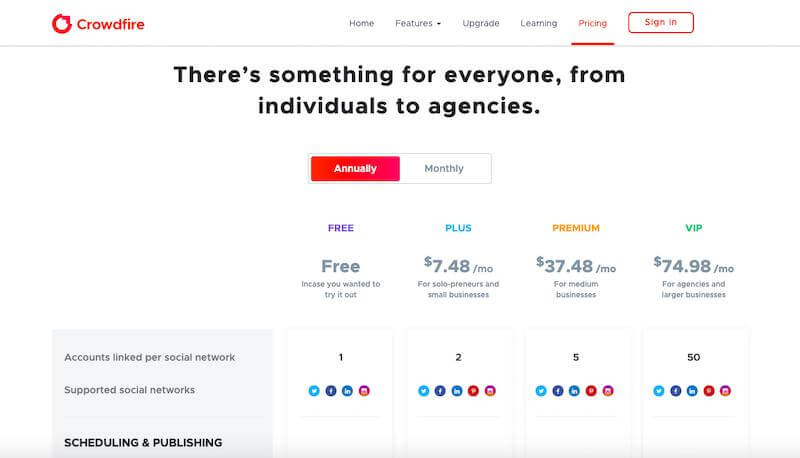 Overall, Crowdfire is a great social media management tool with broad functionality for those individuals and small businesses that want to increase their post count, improve engagement with followers, and perform social listening.

Adam's Take
Are you tired of sharing long URLs that look ugly and take up a lot of space, especially on mobile devices? Rebrandly can come to the rescue! I like this platform as it helps businesses become more professional while tracking all their links to see how much traffic they are receiving.
Rebrandly is a popular link management tool so that you can shorten your long URLs to share them more easily on social media and make social media posting seamless.
Their link manager lets you tag links, create customizable URLs, perform fast redirects, and expire links at certain times.
Best For: Rebrandly is a must-have for large brands that post often on multiple social channels and social media apps that need short, branded links.
It is also a much more advanced tool compared to Linktree and its alternatives.
Key Features:
Traffic routing – Create deep links, route traffic, and create 301 redirects to have complete control over your social media links.
Team collaboration – Have extra user seats for your team, multiple access levels single sign-on (SSO), and two-factor authentication (2FA).
Link analytics – A custom URL and report builder tracks all of your link clicks and actions based on your social media links.
Training and support – Rebrandly offers email support, a knowledge base, direct training, video tutorials, and account management.
Cons:
Doesn't include all of the social media post scheduling features like other tools on this list.
Pricing:
They offer four pricing plans and a custom enterprise pricing plan.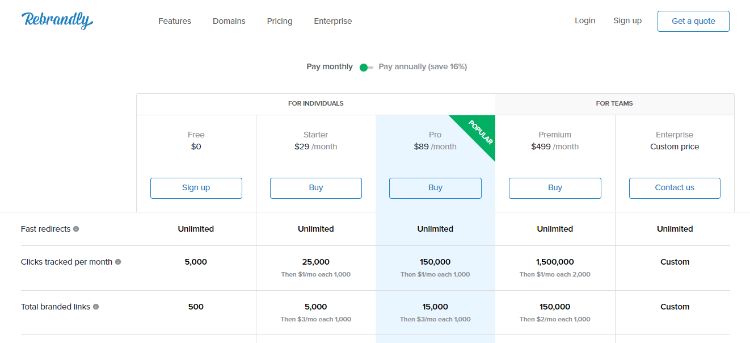 The Free Plan offers unlimited redirects, 5,000 clicks, and 500 branded links per month.
Their Starter Plan is $29/month and provides 25,000 clicks and 5,000 branded links.
The Pro Plan is $89/month and offers 150,000 clicks and 15,000 branded links.
The Premium Plan is $499/month and gives you 1,500,000 clicks and 150,000 branded links.
They also offer an enterprise plan with custom pricing.

Adam's Take
Conversation is at the heart of social media, and with Agorapulse, you can easily manage this across all your social media accounts. The software provides users with powerful tools to help them effectively engage in online conversations and connect with their audience.
Founded in 2011, Agorapulse helps individuals and businesses easily manage social media.
It effectively allows users to engage in meaningful conversations online.
As per Agorapulse's website, over 17,000 social media managers use it daily to scale up their social media marketing efforts. It also provides a 28-day free trial.
Best For: Agorapulse is excellent for medium-sized businesses and agencies that need multiple users managing at least a dozen different social media profiles.
Flexible scheduling – Take advantage of the flexible scheduling tools to schedule, reschedule, queue, or upload your posts in bulk.
Social Inbox – Easily find, filter, and manage specific mentions and essential messages.
Instant reports – Unlimited reports help determine the ROI of engagement and social content in terms of your social media strategies.
Collaboration features – Easy assignments of inbox items and draft posts keep social moving fast and smoothly.
One of the most expensive mid-tier plans in the market. (We're told a free plan is in the works.)
Listening feature needs to be improved
Low diversity in emoticons
No option to search through inbox
It offers four pricing plans to suit the need of every business type.
The Pro plan is $79 per month
The Premium plan is priced at $199 per month
The Enterprise plan is priced at a custom rate.
All the plans offer a nearly 20% discount with annual payment.
6. Buffer.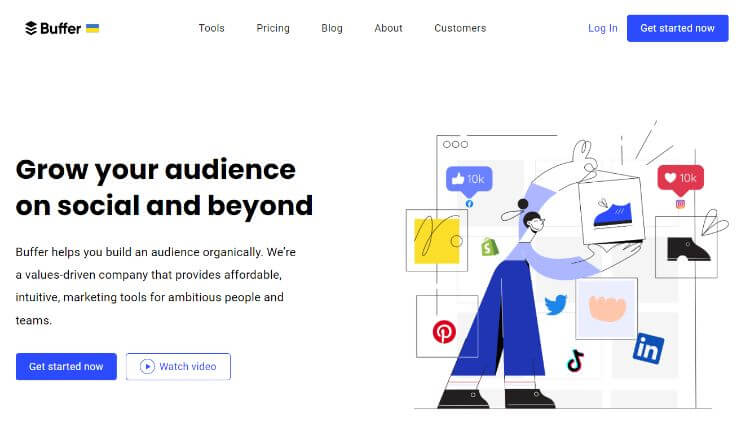 If you know anything about digital marketing and social media strategy, then you're probably already aware of Buffer.
Released in 2010, Buffer is one of the best tools on the internet to help you manage your social media accounts.
It offers a range of services, including social listening, data analytics and insights into user posting frequency on different platforms like Twitter, Facebook, Pinterest, and LinkedIn.
They also have a mobile app for iOS and Android for team collaboration on the go.
Best For: Buffer is suited explicitly for scheduling and publishing content on all your different social media platforms.
Publish content – You can publish and share content at the click of a button on numerous social media sites like Twitter, LinkedIn, and Facebook.
Free image tool creation – With the help of 'Pablo,' an in-built image creation tool, you can create images instantly for various social media websites.
Extension for Chrome – You can install its extension for Chrome, which allows you to share links, publish blogs, or post pictures from any location.
Insightful analytics – With Buffer's analytics social media tool, you can now measure your social media performance based on a variety of metrics. Furthermore, you can create reports, get recommendations, and extract actionable insights for better marketing.
Instagram integration is not up to par
No tool to selectively search for hashtags or searches
Buffer offers three pricing plans.

With a free plan that gives you the ability to publish on up to three channels, there are also the following plans:
Essentials: $5/month/social channel
Team: $10/month/social channel
Agency: $100/month/social channel
7. Sendible.

Sendible is one of the best social media tools in the market.
It has a lot of amazing features that many of its counterparts lack.
For instance, it can measure ROI from the very same dashboard that you use to manage your social media so that you don't have to flip multiple times.
On top of that, it is fully integrated with different social media platforms and other social media management apps.
Trusted by more than 10,000 businesses, it also offers an attractive 30-day free trial.
Best For: Sendible is excellent for lead generation, scheduling posts, and managing multiple clients. It can be used by businesses (small, medium, and large) as well as self-employed businessmen.
Preview social media posts – You can now see beforehand how your posts will look after posting them on social media sites like LinkedIn, Facebook, or Twitter.
Plan your content calendar – It lets you schedule posts individually or in bulk, or queue them.
Collaboration – Set up individual dashboards for clients to better segregate and organize work.
360-degree brand building – Now develop your brands inclusive of all KPIs with enhanced reputation building and monitoring.
Inbox interface can be a bit confusing to handle
Posting multiple images in a single Instagram post is difficult
Limited social media analytics features
Sendible comes with four pricing plans.
Starter is at $25 per month.
Traction is at $76 per month.
Scale is at $170 per month.
Expansion is at $340 per month.
All the plans provide a 15% discount for annual payment.
8. Hootsuite.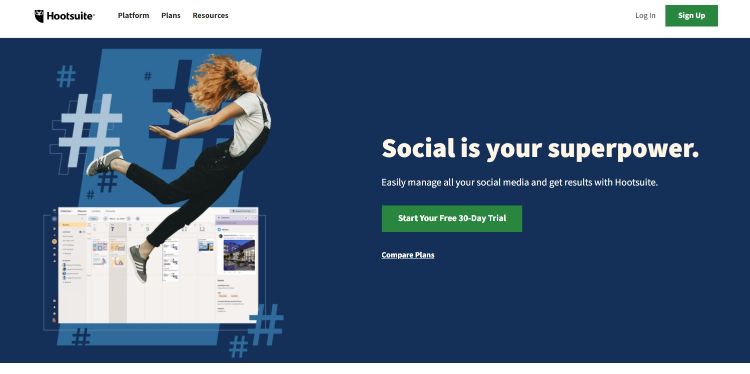 Created in 2008 and headquartered in Vancouver, Canada, Hootsuite is another popular social media platform.
With more than 16 million global users, it offers a variety of integrations with social networks like Reddit, Tumblr, and Marketo, Facebook, YouTube, Instagram, and other popular sites.
It also comes with a 30-day free trial period.
Best For: Hootsuite is a great addition to a set of marketing tools for social media listening, managing customer service, monitoring multiple social media simultaneously, and easy scheduling of posts.
A wide range of social media support – Using Hootsuite, you can use Facebook, Twitter, LinkedIn, and Instagram accounts without installing any software.
Manage multiple accounts – Tailor-made to manage multiple accounts together.
Scheduler with automatic posting – makes it very simple to auto-schedule different posts on social media.
Robust analytics – Provides extensive and in-depth analytics reports.
Track performance – You can pull data based on over 70 different metrics into customizable reports and make better data-backed decisions.
Auto-scheduling may sometimes take some time to process due to software issues
Some apps require extra fees to work
Thumbnails and summary previews on Facebook are missing
Expensive custom URL shorteners
Facebook reach and engagement is low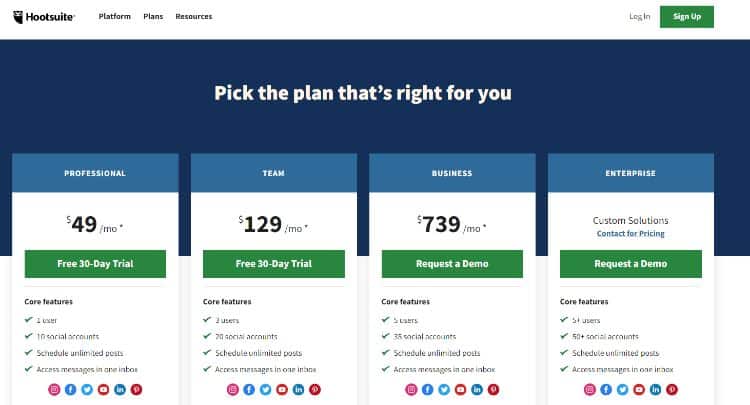 Hootsuite offers three pricing plans:
The Professional plan starts at $49 per month when billed annually. It includes 10 social profiles and 1 user.
The Team plan starts at $129 per month when billed annually and includes 20 social profiles and 3 users.
The Business plan starts at $739 per month when billed annually and includes up to 35 social media profiles and 5-10 users.
The Enterprise plan is based on quotations, as per your need.
The first two plans have a 30-day free trial period. For the last one, you need to request a demo.
Check out my full review of Hootsuite vs. Buffer more a more detailed comparison.
9. Sprout Social.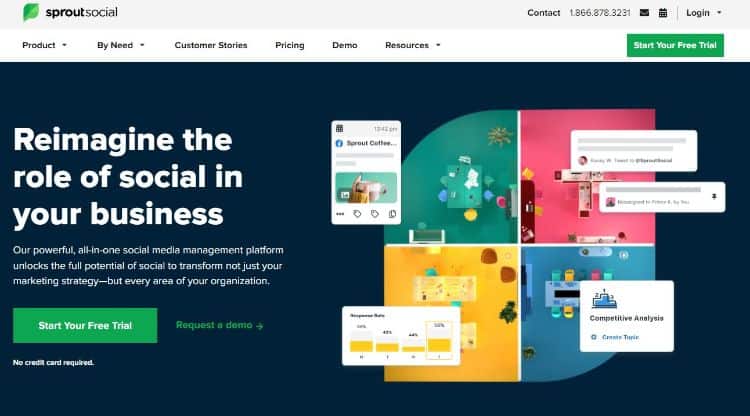 Sprout Social is a go-to social media management tool and CRM on the market.
This social media management platform is built on the idea of fostering deep, meaningful relationships between individuals, communities, businesses, and brands.
Although it is priced a little higher than most of its counterparts, the value it provides more than makes up for the hefty price tag.
Best For: Sprout Social is best suited for small and large businesses.
However, it is also quite useful in the enterprise sector for social media strategy.
User-friendly dashboard – One of the significant advantages of Sprout Social is its intuitive and user-friendly dashboard.
Organized messaging area – Also called 'Smart Inbox,' this area displays all of the messages from all connected social media sites in a single marketing platform.
Message scheduling – It allows users to schedule messages. Moreover, with Sprout Social, you can queue up your posts for sending out at a pre-determined time schedule.
Discovery – A unique feature, 'Discovery,' is an in-built platform that allows you to monitor a list of people with whom you have interacted and who've mentioned you in a tweet.
30-day free trial – the free trial allows you to test the compatibility of your business with a plan of your choice.
Social Sprout has three pricing plans.
The Standard plan starts at $89 per month and provides 5 social profiles.
The Professional plan starts at $149 per month and provides 10 social profiles.
The Advanced plan starts at $249 per month, and also includes 10 social profiles.
All the plans come with a 30-day free trial.
10. SocialPilot.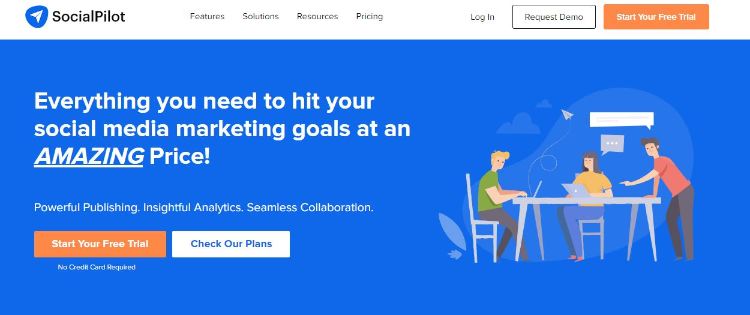 With more than 100,000 businesses worldwide trusting it for their social media management, customer engagement, and detailed analytical insights, SocialPilot is one of the best software available in the market right now.
It offers a lot of value at low, reasonable prices, making it a top choice all around the globe.
Best For: SocialPilot is designed to increase your social media marketing efforts and save time.
It is aimed at social media professionals and small to medium agencies but is equally useful for individual entrepreneurs and small businesses.
Priority email support – Customer support is one of the strongest points of SocialPilot. It is always there to help you out.
Content suggestion – A unique feature; it also offers content suggestions so that you are never short of content to post. You can also couple this tool with graphic design software like Canva to create social post templates.
Highly customizable – It can be explicitly customized to suit all your needs. For example, you can add an RSS Feed URL and let their tool automatically publish your custom posts.
User-friendly dashboard – A single dashboard that pools all your needs and brings them on to a single platform for maximum efficiency.
Video feature limited only to uploading
The free trial is not available in all countries
Social Pilot has three pricing plans.
The Professional plan is $30 per month ($25.5 per month if billed annually).
The Small Team plan is $50 per month ($42.5 per month if billed annually).
The Studio plan is $100 per month ($85 per month if billed annually).
The Agency plan is $150 per month ($127.5 per month if billed annually) and provides 75 social media accounts.
All three plans have a 14-day free trial period. You can contact them is you want a customized plan to suit your specific requirements.
11. Meet Edgar.

Meet Edgar of the most popular social media management tools available in the market right now.
From scheduling posts to curating and repurposing content, this social media management platform provides you with a wide range of services.
The best part is that it generates content for prolonged periods even when you are out of content so that you never have to worry about your customers getting busy elsewhere.
Best For: Managing multiple social media accounts at one go, despite you not having the time to devote to it.
It's great for businesses that require social media scheduling at regular intervals of time, preferably via automation.
Auto-variations – It can write posts for you. To summarize, it automatically finds quote-worthy text, mined from articles and blogs, at the click of a button.
Extensions – Offers extensions like Google Chrome browser extension, Safari, or Bookmarklet.
Continuous posting – Unique feature that doesn't let you run out of posts even when you don't have content.
Great support response – You'll get a guaranteed response from the support team within 48 hours of raising a request.
A/B Test Social Messaging – Allows you to run A/B tests and derive actionable insights and rethink your strategy.
No integration with Pinterest
A little expensive
Meet Edgar's costs are as follows:
Edgar Lite: $24.91 per month for five social accounts
Edgar: $41.58 per month for twenty five social accounts.
12. CoSchedule.
Established in 2014 and based out of the US, CoSchedule is a top-rated social media management software, catering to more than 10,000 satisfied customers globally.
With features like a Chrome extension and built-in headline analyzer, you can organize and track all your content, integrate with various tools, and gain actionable insights in one click.
Best For: This software is best used in the case of small businesses and enterprises and for creating case studies for future reference. It is also useful for individuals who create and track blogs.
Streamlined marketing – Add tasks on centralized calendars for ready reference of employees.
Read-only view – Share your calendar in read-only mode so there are no unwanted edits.
Platform integration – It integrates with tools like MailChimp, Zapier, Google analytics, and so forth.
Use extensions – Chrome extension is available to cater to a wide range of needs.
Co-schedule content – It allows you to schedule and share content marketing efforts across multiple platforms at the same time.
The user interface is not very intuitive
Extra payment to use the re-queue feature
There are three pricing plans, including: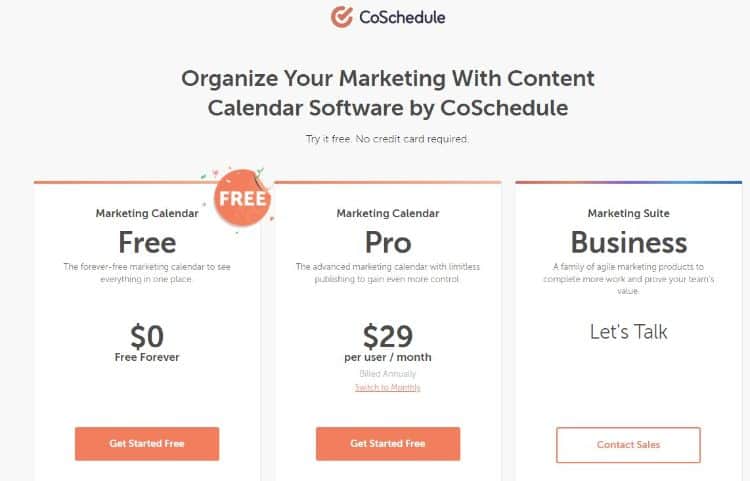 The Marketing Calendar Pro Plan costs $29 per user per month (billed annually).
For the Marketing Suite Business Plan, you need to get a customized quote from the company.
All the plans come with a 14-day free trial.
13. MavSocial.

MavSocial is another impressive and feature-rich social media management tool on this list. Its USP is its focus on visual appeal.
Apart from usual features similar to that of other tools on this list, it also provides you with an in-built digital content library to manage and edit your content.
You also get a 7-day free trial.
Best For: Due to its focus on visual aesthetics, MavSocial is ideal for companies with a huge brand name. Since it offers millions of free images, it is perfect for SMEs that require seamless social media publishing.
Track social media – Discover trending topics or track a campaign's success.
Filter content – Easily filter through tons of data with filters like exclusion, retweets, and more.
View history – View all your engagement history, messages, and comments.
Monitor and analyze – Track developments on social media with real-time data, and generate actionable insights for guided marketing strategy.
Scheduling and automation – Use a superior automation characteristic to schedule and publish your content.
The interface is not very user-friendly and intuitive
There's no basic, free version
May contain bugs due to frequent changing of API
MavSocial comes with four pricing plans: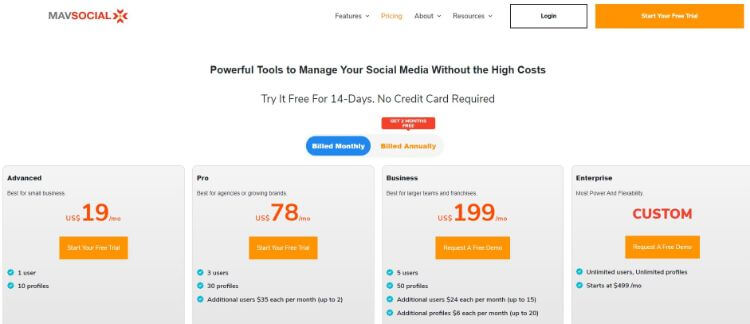 The Advanced plan costs $19 per month (1 user, 10 profiles).
The Pro plan is $78 per month (3 users, 30 profiles).
The Business plan is $199 per month (5 users, 50 profiles).
The Enterprise plan comes in at a custom price.
All the plans offer a 14-day free trial.
Note: other tools not yet reviewed for this list include Tailwind, Buzzsumo, HubSpot, and TweetDeck.
What Are Social Media Management Tools?
Social media management tools are designed to automate most of your social media management strategy.
This includes scheduling posts, collaborating with your marketing team, creating marketing campaigns, and monitoring all of your accounts in one place.
Leveraging one of these SaaS tools is a great way to amplify your social media efforts and promote the content you produce.
These tools help you with all the following tasks:
Reaching out to your core audience.
Gleaning actionable insights to help you identify your strengths and weaknesses.
Streamlining workflows to save time and effort.
Scheduling and sharing your social media content on different channels.
Engaging in social media monitoring and replying to comments and posts.
Social Media Management Software FAQ.
What are social media management tools?
Social media management tools are a big part of managing social media at scale. Once a brand (or influencer) get's multiple large accounts it becomes a lot to manage without using a social media management tool.
What is the best free social media management tool?
The best free social media management tool is Later which has a feature-packed free plan that can handle most of your social media posts for your brand or personal accounts.
What are the major tools of media management?
The major social media management platform tools are Buffer, Hootsuite, and Crowdfire. These tools will cover most of your social media marketing needs for solo businesses or even large corporations.
What is SSO important in social media management?
SSO is the ability to access all social media accounts using a single login.
For example, if you manage Twitter, Google+, Instagram, and Pinterest accounts from one place, this will reduce the time to publish content.
The right SSO provider will ensure you are able to use the same password for all social media sites.
Summary.
Social media offers an instant reach to nearly half of the global population, which is a big deal.
As quoted by David Alston, a repeat tech and marketing startup entrepreneur, 'Social media is not a media. The key is to listen, engage, and build relationships.
Before choosing the best piece of marketing software, you need to carefully consider what you hope to achieve with it, and which features would align the best with your business requirements.
For example, if you're a social media influencer and want to make money on Instagram, Buffer could be an easy way to schedule more posts.
If you're a small business, Crowdfire could be a great tool to grow your social media follower count.
Keeping all these things in mind, try to make the right choice for your business. All the tools mentioned in this list come with a free trial, so you can test out their features before making your final decision.
Have I missed any of your favorites on this list? Which of these tools are you planning to use? Let me know in the comment section below.
Editorial Process:
Our reviews are made by a team of experts before being written and come from real-world experience. Read our editorial process here.
Some of the links in this article may be affiliate links, which can provide compensation to us at no cost to you if you decide to purchase a paid plan. These are products we've personally used and stand behind. This site is not intended to provide financial advice. You can read our affiliate disclosure in our privacy policy.