7+ Best 3PL Companies of 2023 (Ranked and Reviewed)
Choosing the right 3PL companies is crucial to ensure the timely and efficient distribution of your inventory to customers. From flexible order fulfillment to deep industry knowledge, the best 3PL companies can help you meet your goals. In this guide, I ranked and reviewed the 7+ best 3PL companies, so you can pick the best one for you.
---
We're reader-supported. When you buy through links on our site, we may earn an affiliate commission.
Want to get directly to my top pick? The best 3PL company right now is ShipBob.
3PL companies, also known as third-party logistics companies, are service providers that ecommerce merchants use to outsource and fulfill their shipping and logistics.
Selling products online takes a lot of hard work, discipline, financial acumen, and marketing power. The 3PL industry is an $8.6 trillion industry right now.
By hiring a 3PL company, online store owners can outsource shipping and order fulfillment to focus on running their businesses.
So who do you pick?
Let's get to the list.
What Are the Best 3PL Companies?
Here are my top picks for the best 3PL companies.
Best overall 3PL company (Quote-based).
Adam's Take
ShipBob is an excellent company if you're looking for a business that can take care of order fulfillment for you. I highly recommend their services to any business owner looking to outsource this portion of their operations. With top-notch customer service and a focus on speed and reliability, ShipBob is the best option for businesses needing order fulfillment services.
ShipBob is a tech-enabled 3PL company that helps fulfill ecommerce platform orders for direct-to-consumer brands.
The company provides connected technology, fulfillment services, and warehouses near your target customers.
ShipBob also works through Google and their merchant center to integrate Shopping ads with Google's Free and Fast Shipping Label. It enables you to showcase the shipping speed of each business at the point of discovery. Plus, it helps you connect to an online store, import products, and ship them to customers.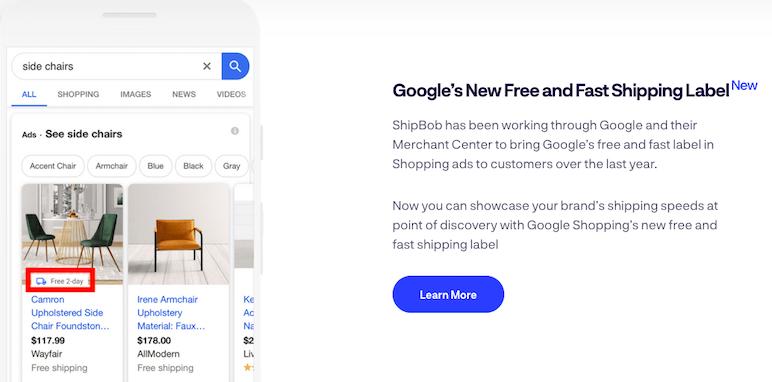 The fulfillment platform works in three steps:
First, connect your store to ShipBob and send your inventory.
Next, the company would store your inventory in its fulfillment centers.
Finally, ShipBob ship the order from the nearest fulfillment store as soon as a customer places an order.
Additionally, the software acts as your web-based office and helps you manage your shipment process from a single dashboard. You can control and edit orders, track real-time stock levels, get automatic notifications to reorder the required inventory, etc.
3PL services by ShipBob include:
Receiving
Storage
Pick-and-Pack
Standard Packing
Shipping
Key Features:
Extensive Fulfillment-Centre Network – ShipBob helps you determine optimal inventory placement across the expanding fulfillment network to enhance delivery speed and reduce shipping costs. It also enables you to distribute inventory into more warehouses.
Ecommerce Fulfillment Software – Its web-based software works like your back office for all logistics needs.
Distributed Inventory – You can leverage its network of fulfillment centers to split the inventory across multiple locations for cheaper and quicker deliveries.
2-Day Shipping and Returns – ShipBob offers 2-day shipping on orders from anywhere in the US.
Global Expansion – ShipBob helps you expand your business across the globe and offers a reliable, cost-effective supply chain for international customers.
User Experience:
With the ability to see your inventory in real-time, you will always know what ShipBob is doing with your products.
You can perform bulk actions from a streamlined interface, such as changing product types or adding new products.
Pricing:
ShipBob offers customized quotes based on your requirements. There are separate costs for other services like storage, pick and pack, receiving, etc.
What I Like/Dislike About Shipbob:
Like:
It offers 2-day express shipping.
It can ship orders to over 220 countries and regions.
Use its built-in analytics and reports to make data-driven decisions across the supply chain.
It integrates third-party apps like Wix, BigCommerce, Shopify, Squarespace, etc.
ShipBob provides a developer-friendly REST API.
The tool sends orders automatically to the concerned warehouses.
You can search orders, filter them by status, and take a quick timeline view of your order.
Dislike:
You'll want to reserve a pick-up slot or drop-off time for your warehouse retrieval, which isn't as convenient.
Product Updates:
Gift Notes for Squarespace allow you to include a personalized message with each order placed on your Squarespace store. This touch is a great way to show your customers you care about their satisfaction.
The Export Inventory on Hand Summary Report allows you to see, at a glance, how much inventory you have in each of your warehouses. This report can help manage your inventory.
Get started with a free quote from ShipBob.
Best for supply chain consulting and assistance (Quote-based).

Adam's Take
If you want to get expert advice before starting your own ecommerce business, you may want to consider consulting with order fulfillment companies. In this case, I urge you to check out FedEx Fulfillment. They are a top-order fulfillment company that can help you with every step, from setting up your online store to shipping orders to customers.
FedEx is an American multinational delivery services company and a third-party logistics provider. It offers 3PL services in multiple industries, including healthcare, retail, industrial, consumer goods, technology, and electronics.
Plus, it helps you grow your ecommerce business through its integrated approach to distribution, packaging, fulfillment, returns, and more.
FedEx also helps maximize the control and visibility of the supply chain with warehouse management systems and automation.
You also receive services like:
Network optimization
Warehouse location analysis
Identify the best shipping mode
Holistic supply chain analysis
Supply chain engineering and design
Shipment consolidation
It also helps reduce employee turnover and offers traditional resources and space according to market demands.
FedEx assists in warehouse operations and distribution services as well. It provides dedicated or shared warehouse space, staffing management, complete warehouse and distribution center management, etc.
Additionally, the company helps you design and print manuals, flyers, brochures, holiday cards, postcards, custom boxes, and more. Besides, you can get your business logo printed on customized delivery boxes.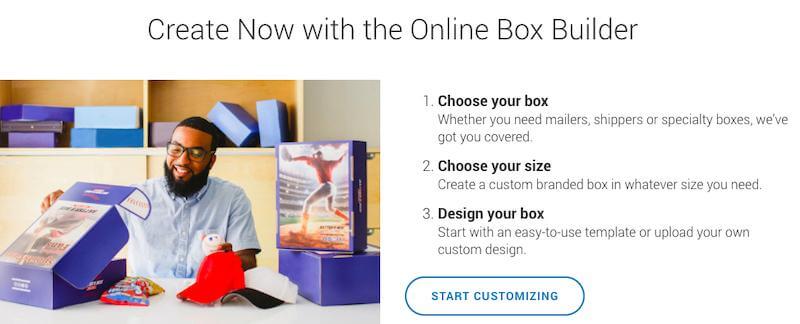 3PL Services by FedEx:
Warehouse Management
Storage
Packaging
Order Fulfillment
Reverse Logistics
Key Features:
FedEx® Transportation Management – It helps free up resources and time and reduces capacity shortage to meet business goals.
Ecommerce Integrations – Optimize your ecommerce store with a multichannel strategy by integrating returns and distribution centers. It improves your overall order fulfillment network.
Supply Chain Consulting – Get assistance from FedEx experts for an impartial evaluation of the business and chalk out a growth plan.
Compare shipping rates – Instantly compare shipping rates, track packages, and manage delivery services with FedEx tools.
Track the status of shipments – Keep customers informed on the status of their orders with tracking services provided by FedEx.
User Experience:
Ensuring your products get delivered successfully is made easier with FedEx.
You can track your packages and get real-time updates on where and when they will be delivered.
You can get specific with the product packaging and the delivery instructions to ensure your product arrives the way you want it to.
Pricing:
You have to get in touch with the vendor for the pricing quote. You can also calculate the approximate shipment cost with their calculator.
What I Like/Dislike About Fedex:
Like:
Enhance customer experience with customized packaging.
It offers a return option to your customers while maintaining profitability.
Outsource facility management services to focus on core areas of your business.
Use its unsaleable research feature to identify and fix problems with products.
Real-time location tracking to gain a transparent view of operations.
Dislike:
Getting the platform integrated can be a challenge
Product Updates:
You can now use the FedEx Ground Economy Label for FedEx Ship Manager Server to label packages and track their delivery.
Best for environment-friendly transportation solutions (Quote-based).

Adam's Take
Want to get worldwide support and manage your eCommerce business hassle-free? You can rely on DHL Supply Chain to do just that! Being one of the top order fulfillment companies, I like their commitment to customer service and their experience in the industry. The company also has the environment at heart as it looks for ways to make its operations more sustainable.
DHL is a division of Deutsche Post DHL and helps you with supply chain management & third-party logistics. DHL offers services in multiple sectors, including consumer, technology, retail, healthcare, life sciences, auto-mobility, and more.
It collates all necessary services, including transport, warehousing, and management, together in a completely optimized package. It further helps you streamline global logistics services and supplier oversight and assists with customer touchpoint management.
There are various warehouse services, including storage and pick & pack, kitting, packaging, click & collect or direct delivery, etc.
Other prominent services include:
DHL Inbound to Manufacturing (supplier management, inventory optimization, etc.).
DHL Service Logistics (on-site and return-to-base repairs, spare parts delivery, exchange logistics, and field engineer support).
DHL Indirect Materials Management (Inventory management, production uptime availability, critical spares & risk mitigation, etc.).
DHL Envirosolutions (Recycling and waste management, legislative compliance, producer responsibility, etc.).
DHL Passenger Gateway Services (procurement, inbound handling, storage, and more).
DHL HealthConnect (customer service support, real-time order, shipment tracking with proof of delivery, etc.).
Plus, DHL's project management approach ensures smoother implementation and addresses risks during the shipping process. It follows a proprietary project management methodology, DePICT®, for desired business results.
Another plus point is that it continually reviews, evaluates, and adopts the latest technological solutions. DHL leverages augmented reality (AR) technologies to optimize warehouse processes. They're also testing a wide range of automated guided vehicles (AGVs) and robots for future deployment.
3PL Services by DHL Supply Chain:
Warehousing
Freight Security
Freight Management
Green Transportation Solutions
Air, Road, and Sea Shipments
Supply Chain Management
Key Features:
DHL Fulfillment – It offers multiple B2C and B2B warehousing solutions and logistics management.
DHL Materials Management – It offers data on production uptime availability, risk mitigation, critical spares, supply chain control/planning, and more.
Transport Solutions – You get transportation for finished and raw products, international and domestic distribution, temperature-assured transportation, etc. The platform also offers a transport management system to help you handle everything from a web-based dashboard.
Reverse Logistics – It provides end-to-end solutions for reverse logistics, including returns management and product recalls.
Warehouse Management System – The platform offers a warehouse management system with features like inventory control, order optimization, automated replenishment, cycle counting, etc
User Experience:
With a desktop, mobile, and tablet experience, DHL Supply Chain customers can view current and historical shipment information, create and manage shipments, track shipments in real-time, receive proactive alerts, and more.
The app is role-based, so users only see the information that's most relevant to them.
Pricing:
You have to get in touch with the vendor for personalized costs. DHL also provides a shipping cost calculator.
What I Like/Dislike About DHL Supply Chain:
Like:
It offers analytics and data management of your entire shipping process.
Freight optimization and real-time visibility of shipments.
Development and re-engineering of the supply chain.
Benchmarking and health checkups of the supply chain.
Classification, evaluation, and prioritization of inquiries.
Dislike:
Less significant presence in the U.S. compared to other top supply chain providers.
Product Updates:
Enhanced Supply Chain Decision-Making helps users lower costs while improving customer service.
4. C.H. Robinson.
Best for shipping via railway networks (Quote-based).
Adam's Take
Suppose railway shipping is the primary mode of transportation for your product. In that case, you will want to partner with C.H. Robinson, as they are one of the world's largest third-party logistics providers specializing in intermodal shipping. They also have ocean and air capabilities if you need them.
C.H. Robinson is a 3PL company that offers a full suite of logistics services and tools, including supply chain management solutions. The third-party logistics company combines multi-modal transportation management systems and expertise.
They also provide an extensive transportation network across North America to meet your truckload needs. Plus, you can leverage its less-than-truckload (LTL) services to deliver frequent and smaller shipments efficiently.
Integrating customized solutions for ocean freight also helps you ship your products via sea. It also offers 15 large-scale air gateways across six global regions to deliver shipments through the air at a faster pace. Besides, it provides specialized services like last-mile delivery, project logistics, consulting, and more.
3PL Services by C.H. Robinson:
Truckload
Less-than-Truckload
Ocean Shipping
Rail Shipping
Air Freight
Customs Brokerage
Warehousing
Supply Chain Consulting
Key Features:
Customs – Easily comply with customs clearance changes, identify issues, and eliminate risks with advisors and policy experts.
Intermodal – Incorporate rail shipping into the supply chain to diversify your shipping solutions.
TMS Technology – It offers global TMS technology and managed services by TMC, a subsidiary of C.H. Robinson.
Logistics Management – Benefit from end-to-end logistics management solutions that control costs and streamline your supply chain.
Warehousing & Distribution – Find flexible warehousing, distribution, fulfillment, and transportation solutions designed to meet your needs.
User Experience:
If you like seeing all of your options in one place visually, C.H. Robinson is an excellent choice.
The website is very user-friendly and provides plenty of resources to help you make decisions about your shipping.
Examine your key performance indicators, map your shipments, and easily find the cheapest options.
Pricing:
C.H. Robinson offers quote-based pricing.
What I Like/Dislike About C.H. Robinson:
Like:
Send unplanned freight at short notice with larger space.
It offers multiple logistics solutions, including ocean, air, trade compliance, customs brokerage, and surface transportation.
C.H. Robinson comes with one of the largest Non-Vessel Operating Common Carriers (NVOCCs) globally.
They combine consolidation, LTL, and small parcels in a single shipping service.
You get custom trade compliance and brokerage services.
Dislike:
Customized solutions are typically not within their capabilities when compared to top-tier providers.
Product Updates:
C.H. Robinson now assists smaller carriers in becoming fully digital, running effectively, and lowering their carbon footprint.
5. Ryder.
Best for reverse logistics and spare parts delivery (Quote-based).
Adam's Take
While reverse fulfillment is not a popular term, it is essential for eCommerce businesses. Ryder offers various eCommerce reverse logistics solutions to help companies manage their returns. Ryder can quickly and efficiently process returns and get products back on shelves with the technology and the people to back them up.
Ryder 3PL offers an end-to-end supply chain network, serves over 20 industries globally, and operates in all parts of North America. Its logistics has over 55 million square feet of warehouse space managed across the USA, Mexico, and Canada.
Its logistics management includes vehicle maintenance, transportation logistics management, and carriers.
You can also leverage Ryder's warehouse and distribution management, just-in-time lineside delivery, freight bill audit & payment, and returns.
The 3PL company also offers end-to-end services like inbound logistics, cross-docking, and transportation management.
You can also avail of outbound delivery to retail stores, distribution centers, and directly to the consumer. Outbound logistics include cross-docking, just-in-time delivery, multiple freight lanes, and shipment execution.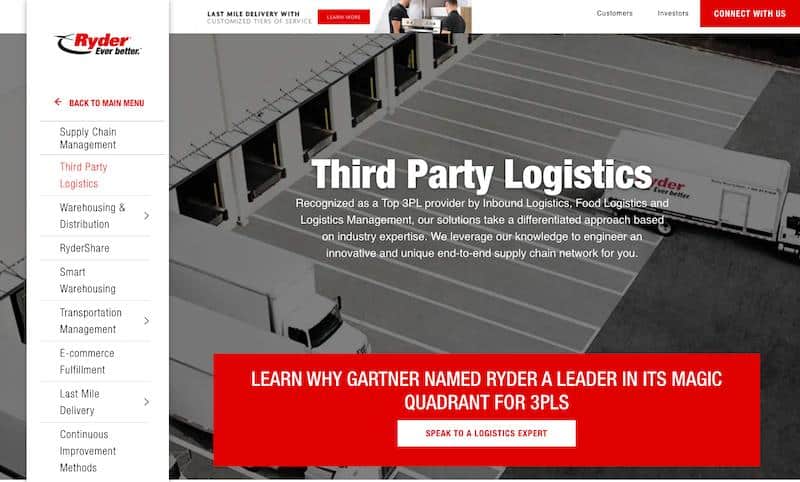 3PL Services by Ryder:
Supply Chain Management
Warehousing and Distribution
Smart Warehousing
Last-Mile Delivery
Cross-border Delivery
Carrier Portfolio Management
Freight bill audit & payment
Just-in-time lineside delivery
Transportation Management
Key Features:
Reverse Logistics – It provides a full suite of reverse logistics services to help you move the supply chain forward and improve return management. They claim to deliver returns of up to 5% on sales.
Aftermarket Logistics – Aftermarket logistics helps in lowering costs and reducing customer downtime. It manages inventory and SKU count to meet engineering repair processes and high service requirements and implements packing, bundling, and kitting.
Inbound and Outbound Logistics – Its inbound logistics solutions are available via rail, port, or through over 26,000 border crossings. Outbound logistics come with cross-docking capabilities, access to multiple freight lanes, just-in-time delivery, and shipment execution.
Fleet Management – It enables its customers to manage their private fleets and provides access to a wide range of transportation solutions.
Customs Clearance – Its customs clearance services offer enhanced visibility into the supply chain and compliance with local trade regulations.
User Experience:
With the ability to control everything from one interface, Ryder is perfect for managing your business on the go.
Whether it's invoice management, insights, or resources management features, Ryder provides everything you need to keep your business running smoothly.
Pricing:
Customized pricing based on your requirements and the company's annual sales revenue.
What I Like/Dislike About Ryder:
Like:
It offers a joint carrier base of over 3,100 qualified carriers.
Achieve complete visibility through return material authorization (RMA) tracking and verification.
They provide insight into manufacturing costs, lead times, and product availability information for suppliers.
You also get access to demand forecasts and shipping & logistics estimates.
It offers a pool of over 9,500 dedicated drivers.
Dislike:
Control Tower Capabilities are not as strong as other software on the market.
Product Updates:
Southern Glazer's Wine & Spirits is looking to remake its inbound supply chain with the help of Ryder.
6. Burris Logistics.
Best for temperature-controlled shipment and warehousing (Quote-based).
Burris Logistics is a third-party logistics(3PL) company that provides facilities for cold storage, custom distribution, direct-to-consumer fulfillment, and more.
It also provides solutions like temperature-controlled warehousing, managed services, dedicated fleets, truckloads, intermodal, and more.
Their logistics has over 70,000 authorized carriers that support transport modes like truckloads, LTS, intermodal, International, Drayage, and more. Buttis Logistics also helps transport fresh produce, chemicals, building materials, plastic, rubber, machinery, industrial supply, equipment, etc.

Burris' PRW Plus service also carries out temperature-controlled warehousing – with temperatures ranging from -20 to 58-degree celsius.
Their integration with Honor Food helps you ship grocery, frozen, and dairy foods in 14 states of the Mid-Atlantic and Northeast states of the USA.
You also get exceptional Burris Specs Freightliner service. It reduces cost and shipment safety with the latest technology like WABCO OnGuard, Thermoking temperature monitoring, and Lytx drive cam.
3PL Services by Burris Logistics:
Dedicated Fleet
Direct-to-Consumer delivery
Facility Design
Freight Management
Logistics Technology
Procurement & Redistribution
Temperature Controlled Warehousing
Key Features:
Trinity Logistics – Trinity Logistics is Burris' freight management brand that provides services like less than truckload, warehousing, truckload, etc.
Custom Dedicated Distribution – You can collaborate with their team and gain complete control over the procurement process. You also get control over product selection, deal negotiation, and vendor relations.
Facility Design – This service by Burris includes food and industrial safety, consideration of temperature zone conversions, racking plans, and material handling equipment.
Reverse Logistics – With this service, Burris can provide a sophisticated process system that includes product destruction and tracking of product returns.
Automotive Parts & Supplies Distribution – In this area, Burris offers services like regional delivery, packing and kitting, sequencing, sequencing per customer needs, and more.
Pros:
Burris Logistics provides distribution and warehousing services for all temperature requirements.
Online reporting to help you keep track of the logistics and shipping process.
Facility management.
Get automatic notifications regarding the order and delivery status.
Private label food delivery.
Pricing:
Contact the vendor for customized pricing plans.
7. DSV Global.
Best for diverse delivery options like delivery to the hospital and next-day delivery (Quote-based).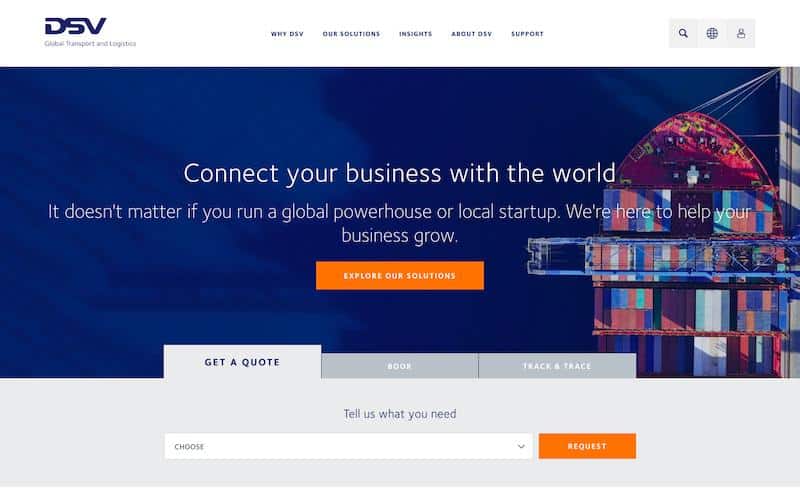 DSV Global is a transport and logistics company that offers air, road, sea, and train transport services. They operate in over 80 countries worldwide and have about 1,400 offices and logistic facilities.
You get services for various industries like automotive, healthcare, chemicals, perishables, industrial, retail, fashion, and more. They also ship biopharma and pharmaceutical products like drugs, OTC products, vaccines, clinical trial material, etc. You can even use DSV Global for energy logistics like oil, gas, renewable energy, mining, metals, nuclear, etc.
Standard modes of transport include air freight, sea freight, road transport, rail freight, and courier service. All these multimodal transport options are temperature controlled. You can also opt for unique delivery options like next-day delivery, direct delivery to the hospital, and more.
Additionally, their QHSE quality assurance system ensures that all your shipments get delivered safely without any harm. Their warehousing and cross-dock also meet regulations and requirements like HACCP, AIB, ISO, GDP, and more.
3PL Services by DSV Global:
Warehousing
Order fulfillment
Logistics solutions
Supply chain innovations
Intermodal transport options
Air, sea, and rail shipments
Key Features:
Inventory Scan – helps increase inbound cost efficiency, enhance stock rotation, and optimize availability.
Multi-Channel Fulfillment – offers multichannel services in multiple locations near the Port of Rotterdam, including the Netherlands.
Labeling – label your packaging with your brand's barcodes and logos before shipment. You can even get your customers' information added to the shipment boxes.
Proactive Inventory Management – automated inventory management system will help you to optimize stock levels and be more proactive in replenishing items.
Technology Integration – integrations with major ERP software so that your data is always up-to-date, accurate, and consistent.
Pros:
It offers product reconfiguration, repair, and return tasks.
GDP approved warehousing for pharmaceuticals.
Proper testing of products based on the company's guidelines.
DSV Global offers to repackage products based on your business needs.
Configure electronics and hardware as per customer requirements.
Customs clearance and broker services.
Pricing:
Quote-based.
8. Expeditors.
Best for shipping high-value and high-touch products (Quote-based).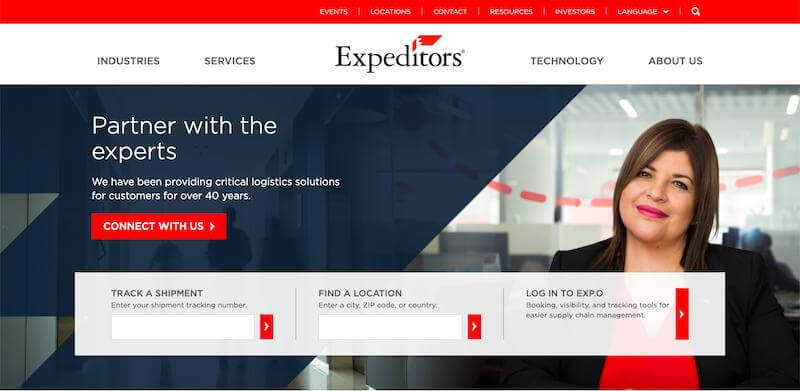 Expeditors is a logistics and freight forwarding company that operates in 357 locations in over 60 countries on six continents. They have 40 ocean freight carriers that ensure global coverage.
You can measure KPIs and numerous metrics to get an idea of how they operate every step of the way. You can also track your shipment with your shipment tracking number.
Expeditors also ship high-value and high-touch products with proper protection with its special white glove shipment.
Temperature-controlled delivery options also help you deliver products at any location. They regularly monitor temperatures to ensure your product remains within the safe temperature limit. This feature mainly helps in delivering frozen, chilled products.
The 3PL company provides rail and intermodal services for domestic and cross-border areas. It also combines air and sea shipping services to reduce delivery time by up to 50 percent. Not only this, but this feature also helps you reduce overall delivery costs.
Additionally, project and energy service provides transportation solutions for mining facilities, infrastructure projects, aircraft manufacturers, renewable energy, pharmaceutical power generation, petrochemicals, etc.
3PL Services by Expeditors include:
Order & Risk Management
Warehousing & Distribution
Transportation via air, ocean, and road
Customs Brokerage
Trade Consulting
Multimodal
Key Features:
Data & Analytics – Expeditors provide built-in analytics tools that provide all the information from the point of order to the final delivery. You can analyze this data to make informed business decisions.
Living Model – Living Model is a 'twin model' of your supply chain that helps you make decisions based on current conditions. It also enables you to measure performance, adapt to changing market conditions, and exploit potential opportunities.
LCL (less than a container load) Solutions – Expeditors has 300 fixed weekly schedules and 40,000 individual lanes – which helps you deliver products that require less than a container load.
Cross Docking – Cross docking is a service Expeditors provides for customers who need to move products from one point to another quickly and efficiently.
Ocean & Air Freight Services – Expeditors offers ocean and air freight services tailored to meet each customer's needs.
Pros:
Helicopter deliveries and AOG (aircraft on ground) support.
Expeditors provide same-day delivery options without any size and weight restrictions.
Freight and bulk shipping.
The 3PL company offers additional services like labeling & packaging and picking & packing.
Present in over 300 locations globally.
Pricing:
Get in touch with the vendor for a customized cost.
9. DB Schenker.
Best for GPS tracking in real-time and online monitoring (Quote-based).
DB Schenker is an air, land, and sea freight logistics company and is a German rail operator Deutsche Bahn AG division. They boast of acclaimed customers like Apple, Dell, BMW, ASML, Procter & Gamble, and more.
The company has 430 land transportation branches across Europe's 38 countries and provides door-to-door shipping services across Europe. They also serve about 700 locations in 130 countries worldwide with their air freight network.
You get services for land transport, air freight, ocean freight, contract logistics, lead logistics, and unique products.
Its tracking tools offer real-time information about the estimated delivery time, shipment status, and location. You can use the tracking number for every order to access all the shipment data without logging in to the portal.
Additional features include a detailed cargo overview, 24/7 GPS tracking in real-time, and online temperature and humidity monitoring.
3PL Services by DB Schenker:
Air & Ocean Freight
Land Transport
Production & Fulfillment Logistics
Lead Logistics
Key Features:
Part and Full Loads (FTL) – It offers door-to-door shipping of products across Europe with its seamlessly connected land terminals.
Intercontinental Supply Chain Solutions (ISC) – DB Schenker offers end-to-end visibility on several levels and enables inventory reduction for international deliveries.
Contract Logistics – Contract logistics solutions offer production logistics, fulfillment logistics, ecommerce logistics, service and aftermarket logistics, etc.
Freight Management – DB Schenker offers a broad range of freight management services, such as air and ocean freight, customs clearance, transportation management, etc.
Industry Solutions – DB Schenker provides specific industry solutions tailored to meet the individual needs of the automotive, aerospace, IT & electronics, and consumer sectors.
Pros:
Customized reports and statistics.
Consulting and business case studies.
Temperature and humidity monitoring.
Its logistic solution, eSchenker brings all services under one umbrella for maximum support at all supply chain stages.
It offers time-definite Air Freight services.
Pricing:
Quote-based.
What Are 3PL Companies?
3PL companies are third-party logistics companies that offer various services related to the eCommerce supply chain.
Large, medium and even small businesses (including startups) leverage global 3PL companies to save time, improve operational efficiencies, reduce costs, and expand shipping capabilities.
3PL services are generally scalable and flexible, depending upon a business's requirements. You can leverage 3PL companies when required or as a permanent solution.
You use 3PL companies to ship your products locally and globally at cost-efficient prices.
What Features Do You Need in a 3PL Company?
Here are a few key features you should seek when vetting your 3PL provider.
Flexibility – You should be able to increase and decrease the logistics requirements in real-time according to your market conditions. This feature also helps with better cost optimization.
Reverse Logistics – It should offer reverse logistics to efficiently manage the return and exchange of products.
Customs – The 3PL company should offer robust compliance and solutions for customs to ensure the seamless delivery of cross-border orders.
Multiple Transport Solution – Leverage multiple transport solutions, including road, ocean, and air, to optimize costs and ensure on-time delivery of shipments.
Ecommerce Fulfillment – This is a must-have feature if you are running an ecommerce business. It will help you deliver your small shipments timely and cost-efficiently.
Tracking and Analytics – Extensive reporting and analytics of shipments will help you make data-driven business decisions.
Make sure to consider these essential features as the foundation of an efficient 3PL company.
Is Amazon a 3PL?
Amazon is a retail giant that offers fulfillment services to other companies and organizations.
However, Amazon does not technically qualify as a third-party logistics (3PL) company because it owns the warehouses, inventory, and delivery infrastructure used for its products.
The Four Types of 3PL
There are four main types of 3PL services: warehousing, transportation, inventory management, and value-added services.
Warehousing involves storing products in a third-party warehouse until they are needed.
Transportation means the 3PL company will transport the goods to their final destination.
Inventory management includes tracking and monitoring all inventory levels and ensuring accuracy.
Finally, value-added services refer to special activities such as labeling and packaging that help enhance or differentiate a product or service.
Industries Using 3PL The Most
The retail industry is one of the most significant users of 3PL companies due to its reliance on fast delivery times and efficient distribution networks.
But other industries such as manufacturing, healthcare, automobile, aviation, chemicals, and many more rely heavily on 3PLs.
The manufacturing industry, 3PLs are used to help manage complex supply chains.
The healthcare industry help provides medical supplies and distributes drugs to pharmacies.
Automobile companies use 3PLs for the transportation of parts and vehicles worldwide.
Aviation companies make use of 3PLs for the efficient transport of aircraft components, while finally, the chemical industry relies on 3PLs for the safe and secure handling of hazardous materials.
Main Differences Between 3PL, 4PL, 5PL
The main difference between a 3PL, 4PL, and 5PL is their scope of services.
A 3PL typically provides basic logistics solutions such as warehousing and transportation.
A 4PL takes it one step further by providing end-to-end integrated supply chain solutions, including inventory management, freight forwarding, and other value-added services.
Finally, a 5PL focuses on technology solutions to optimize supply chain operations for long-term cost savings.
3PL Companies – FAQ
Why are third-party logistics providers important in business?
3PL s allow businesses to outsource non-core functions of their operations. These providers can handle many different kinds of services, which means that a company can give its attention entirely to its core function.
Which eCommerce businesses should use a 3PL provider?
Any eCommerce business with a large volume of products or selling products in different regions of the country or world needs to use a 3PL company.
These companies have the capacity and capability to store all of your products, which can be too much for an individual business.
In addition, they have access to shipping companies that can deliver your products to locations across the country or throughout the world, which means that you don't have to put resources into handling these kinds of services.
What does excellent customer service when using a 3PL look like?
Excellent customer service from a 3PL provider means that you can get in touch with the company efficiently, and they'll be able to help you with all your questions, problems, or concerns.
Tere should never be any delays in getting your goods delivered using a 3PL provider.
eCommerce companies that want to increase their sales need to focus on customer service, which can be very difficult for smaller businesses with limited resources. A 3PL provider takes the load of providing excellent customer service off your hands.
What is the supply chain industry?
The supply chain is a series of processes between suppliers and businesses. It includes many elements, such as transportation, storage, and inventory management. The entire process aims to ensure that your goods are delivered to customers as quickly as possible.
The fulfillment provider covers freight solutions and logistics challenges, ensuring a successful operation.
Executive Summary.
That ends my list of the best 3PL companies to try this year.
Whatever eCommerce products you're shipping – whether it be electronics, fashion items, or products large and small, hiring a 3PL company is something to consider.
These companies pack your orders and ship them safely to your customers so that you can focus on running and marketing your business. However, choosing a reliable 3PL company is essential to offer a superior customer experience and retain your customers.
You might also have different requirements based on your products. For example, opt for DHL Supply Chain if you want environmental transportation solutions. For feasible returns and exchanges and spare parts delivery, Ryder is a good choice.
My top pick is ShipBob due to its extensive fulfillment services, excellent customer support, and logistics capabilities.
Some of their other outstanding features include integration with Google merchant center, 2-day express shipping, built-in analytics and reports, the ability to overview your order, and more.
Ultimately, review each company carefully to choose one that aligns with your business.
Which one of these 3PL companies are you planning to use, and why? Let me know in the comments below.
Disclosure: I may receive affiliate compensation for some of the links below at no cost to you if you decide to purchase a paid plan. You can read our affiliate disclosure in our privacy policy. This site is not intending to provide financial advice. This is for entertainment only.