The 7 Best Email Marketing Services for Businesses in 2024
Email marketing is a powerful channel to reach your customers.
Unlike social media audiences, you own your email list. So long as you have an email subject line that stands out in their inbox, you can almost guarantee that potential customers will read your marketing campaigns.
To get started with email marketing, you'll need a service provider that helps you collect emails, manage your subscriber list, and send professional campaigns.
The problem? There are hundreds of tools to choose from, each offering different features, pricing plans, and use cases.
This guide is here to help you speed up the decision making process. We've ranked seven of the top email marketing services by their best features, pros, cons, and price—so you can choose the right one for your business.
How to choose the best email marketing software
There's a plethora of email marketing services to choose from because every company has different needs. What a blogger needs from their email marketing software will be dramatically different from what a Fortune 500 company requires.
Before committing to a decision, consider these four things.
Type of email
The type of emails you plan to create can significantly sway your decision. You'll need to choose a software that specializes in the emails you'll send.
That includes:
Transactional emails (such as order confirmation, abandoned cart, and password reset emails). These are usually sent by ecommerce brands or course creators. Make sure your chosen software can send this type of triggered email or drip campaign.
Content-based newsletters. If your emails are more content-driven (like newsletters or educational updates), choose an email marketing service with advanced content management systems. You should be able to change the format of your emails, create lead magnets, and design landing pages within the software.
Paid newsletters. More creators are monetizing their business with paid newsletter, where readers pay a subscription fee to access exclusive content in their inbox. Look for tools that allow you to manage subscriptions, process payments, and customize your emails to build a world-class customer experience.
Email features
Before choosing an email marketing tool, check whether it offers the features you need.
Not only can this help you manage your email marketing campaigns in the short-term, but choosing a platform with the features you might need in future can prevent you from having to migrate later down the line.
The most important email features include:
User-friendly interface: Is it easy to find the features you're looking for? Can you train new team members on how to use the software? A platform that's easy to navigate will save you time in the long run.
Email automation tools: Save time by finding an email tool that allows you to create triggered emails, personalize customer journeys, and sync data from your online store or customer relationship management (CRM) platform.
Segmentation features: The most successful emails are personalized. When searching for a tool, look for features that allow you to segment your audience based on various criteria—such as demographics, behavior, or purchase history.
Email reporting and analytics: Look for a platform that offers insights into open rates, click-through rates, conversion metrics, and subscriber behavior. These analytics help you fine tune your email marketing strategy to convert more customers.
Compliance and deliverability: The best email marketing services comply with email marketing regulations such as GDPR and CAN-SPAM. Strong deliverability features, including spam testing and monitoring, also help emails reach your subscribers' inboxes—instead of being flagged as spam.
Integrations: Does the tool you're shortlisting integrate with other platforms you use? Whether it's a CRM or your ecommerce platform, you'll want to choose an email marketing service that serves you now and has the flexibility to grow.
Price
Most businesses have a marketing budget to cover their expenses. The cost of email marketing software comes from that budget, but the cheaper you can get your tool, the more money you'll free up to experiment with.
Compare the pricing plans for each email marketing plan on your shortlist. Some companies have free plans ideal for beginners, only for them to become one of the more expensive options once you hit a certain amount of subscribers. Make sure the one you choose can grow with you… without costing a fortune.
If the tool is particularly expensive, see whether it offers a free trial. You can play around with the email marketing service—and check it has the features you need—before committing to an expensive subscription.
Deliverability rate
Email marketing tools with a high deliverability score means they're least likely to be marked as spam. In other words: you'll have the best chance of hitting your subscribers' inbox when you use the software to send emails.
When evaluating your options, look for platforms with a high deliverability rate. Anything above 95% is good, but the higher their score, the better.
7 of the best email marketing services, reviewed
| Email marketing service | Best for | Pricing |
| --- | --- | --- |
| | More advanced automation features | From $29/month |
| | HubSpot users | From $18/month |
| | Small businesses | Free plan available |
| | Managing events via email | From $12/month |
| | Bloggers and creators | Free plan available |
| | Sales funnels and landing pages | From $19/month |
| | Premium customer support | Free plan available |
1. ActiveCampaign
Best for: Marketers who need a CRM and email marketing automation features in one place.
For those looking for a marketing solution that does more than send emails, ActiveCampaign is a great option. It can set up virtually any email automation feature you can think of, allowing you to focus on other areas of your business.
It's also great for those who want to create landing pages that capture leads without having to use a separate tool.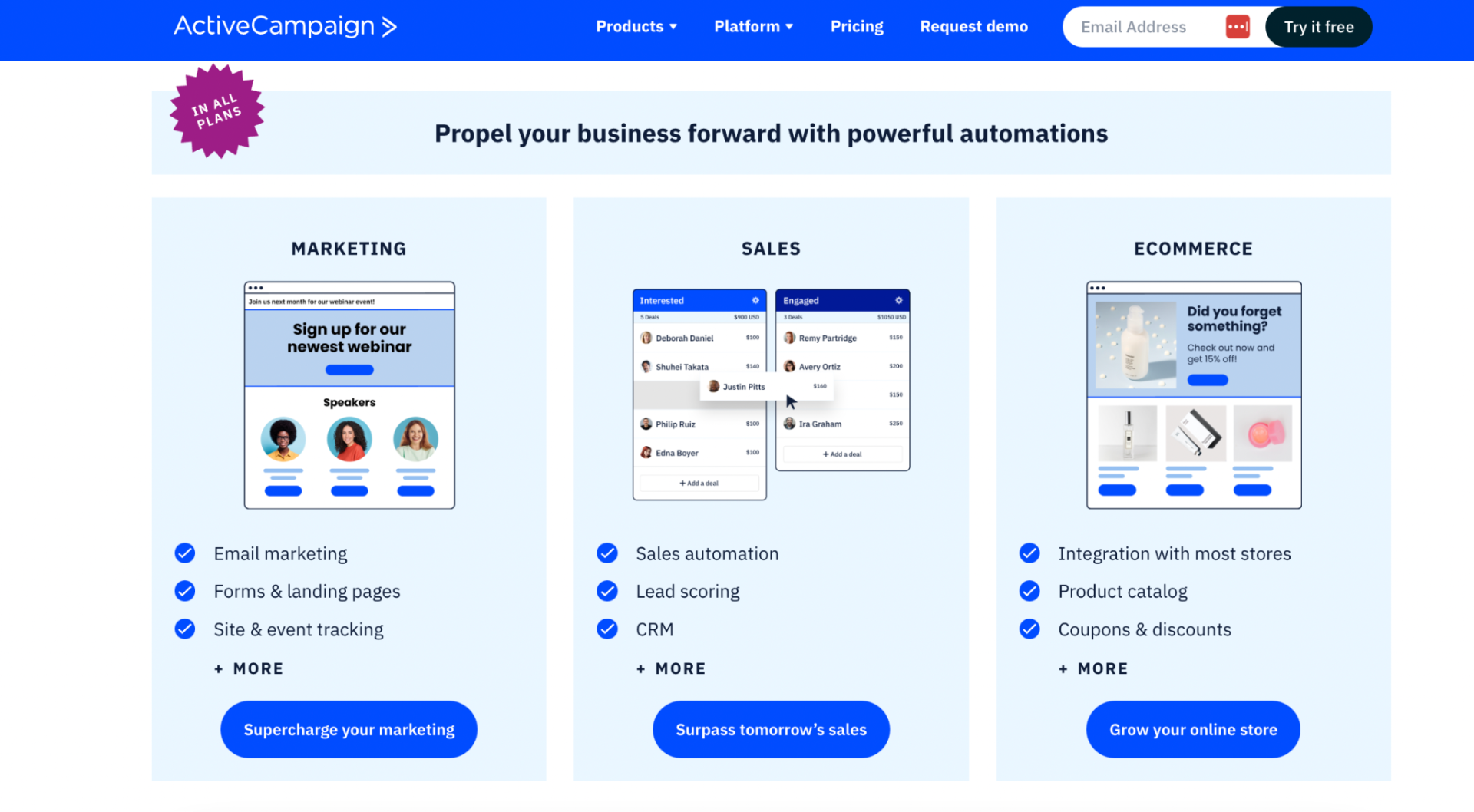 ActiveCampaign also helps with lead scoring—away to award points to individual email subscribers based on your chosen actions. Once they hit a point threshold, they either enter a new automation funnel or can be contacted by your sales team.
Plus, with Predictive Actions, ActiveCampaign answers tough questions about your customers to automatically take action for you and lead them down the sales funnel.
You can even set up your social media advertising (specifically Facebook ads) through the ActiveCampaign interface, which is a great way to bring your marketing efforts together in a single dashboard.
"ActiveCampaign is my absolute favorite choice," says Alan Muther, founder of Ardoz Digital. "It's a little bit costly, but it offers a whole lot of functionality better than most other tools while remaining relatively more affordable than premium alternatives with similar capabilities."
Alan continues: "In my experience, it's particularly useful when managing 1,000+ lists, especially for frequent senders. Its reporting and analytics capabilities are unmatched."
Best ActiveCampaign features
ActiveCampaign is a great email marketing service because it offers the following features:
Superb email deliverability score
Integrations with 850+ other apps like Facebook, Shopify, WordPress, and more
Landing page builder to create landing pages optimized for conversion in minutes
Data syncs with a built-in CRM to provide sales teams with advanced lead scoring
Training and tutorials to get the most out of ActiveCampaign
Free migration means no need to worry about losing data or starting from scratch
Site tracking to see how people interact with your website
The interface is intuitive, making it easy to navigate for beginners
The onboarding and support teams provide helpful resources and guidance when needed
Cons of ActiveCampaign
ActiveCampaign isn't the best choice for those who want a beginner's solution, is easy to use, and doesn't require any technical skills. For those that require simple automation and ease of use, the features on offer by ActiveCampaign might be overkill for their needs.
Other disadvantages include:
Reporting and integrations are sometimes challenging to use
Tags can be confusing and challenging to keep track of
Rated below average for landing pages and forms
Alan Muther adds: "The only drawback I find is that its landing pages may not be the best, so I typically use landing pages on other platforms and connect them with Zapier."
ActiveCampaign pricing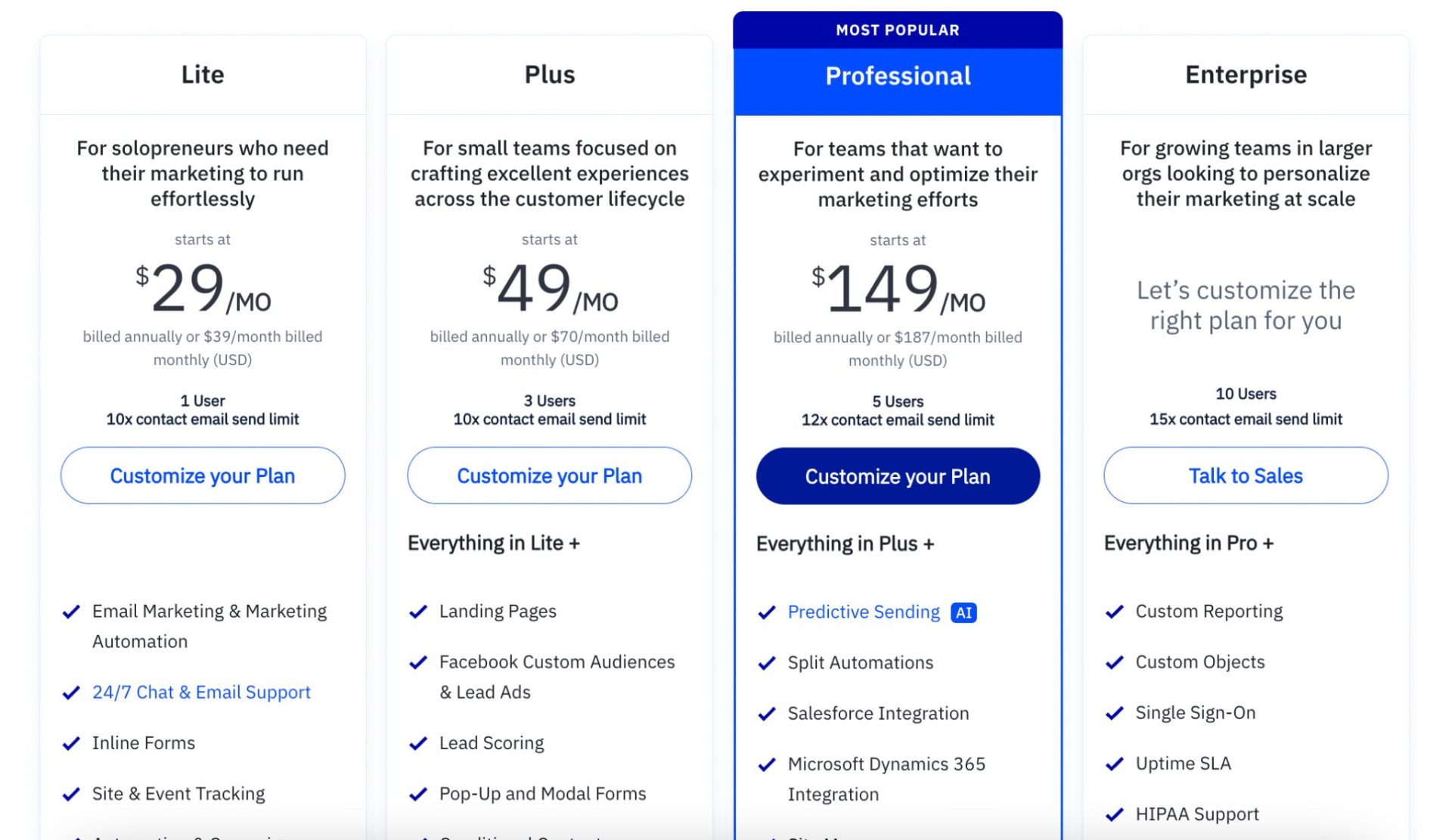 With a 14-day free trial, you can explore all of ActiveCampaign's features without any commitment.
There are four different pricing plans to choose from once that trial is up:
Lite Plan: $29 per month and includes 24/7 chat and email support, marketing automation features, and event tracking.
Plus Plan: $49 per month and includes landing pages, lead scoring, and pop-up forms.
Professional Plan: $149 per month and includes predictive sending, split automations, and integrations with Microsoft Dynamics 365 and Salesforce.
Enterprise Plan: Speak to their sales team for more information.
The above are yearly prices based on an email contact list of 1,000 subscribers. The more subscribers you have, the higher the monthly price.
2. HubSpot
Best for: Sales teams already using HubSpot's CRM who want to personalize their emails.
Are you looking for an email marketing service and CRM that's easy to use? HubSpot provides the right mix of both, allowing you to serve your customers with excellent experiences that will enable your business to scale.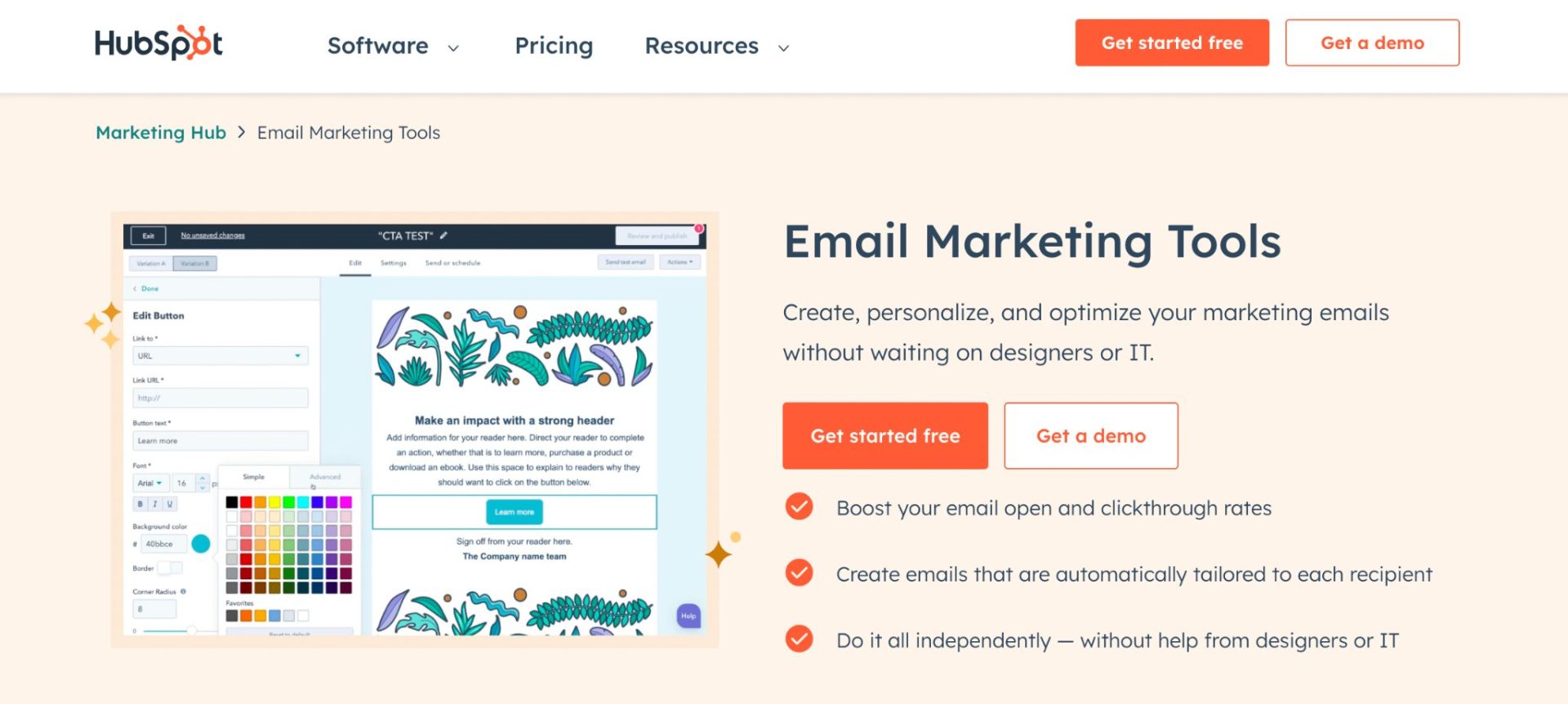 With various hubs for sales, marketing, and operations, HubSpot has all the tools you need for your business. Its email marketing software is one of the easiest ways to design, optimize, and send fantastic-looking emails.
The best part: HubSpot has many custom features and you can pick, plan, and upgrade whether you're a small business or a large enterprise.
Personalization is another strength of HubSpot. You can personalize email content based on merge tags like:
The recipient's first name
The user's device
List segment
Geographic location
Emily Dexter, content marketing coordinator for Good Party, says: "I would recommend HubSpot for organizations with large contact databases, but perhaps not for organizations looking to have more control of the personalization and style of email templates."
Best HubSpot features
If you're considering whether to add HubSpot to your shortlist, here are some of its best features that might help you make your decision:
Drag-and-drop email builder with templates to add text, images, buttons, and dividers
AI writing tools to help you compose new emails at record speed
Preview your email design on different recipients, devices, or email clients
A/B test your subject lines and content to maximize your open rates and click rates
Use HubSpot's GDPR-compliant sign-up forms and opt-ins to protect customer data
Smart Send functionality to adjust your send time to maximize engagement
The support team at HubSpot is very responsive and helpful
Analytics dashboard gives you data on your opens and clicks, plus unique information on the amount of time spent viewing your email
Cons of HubSpot
Ready to sign up for HubSpot? Take these disadvantages into consideration first:
Pricing plans are complicated
The HubSpot Marketing Suite is more expensive than other email marketing services
It's not always obvious how to accomplish tasks, leading to a bit more of a learning curve
Onboarding training could be more direct and concise
HubSpot pricing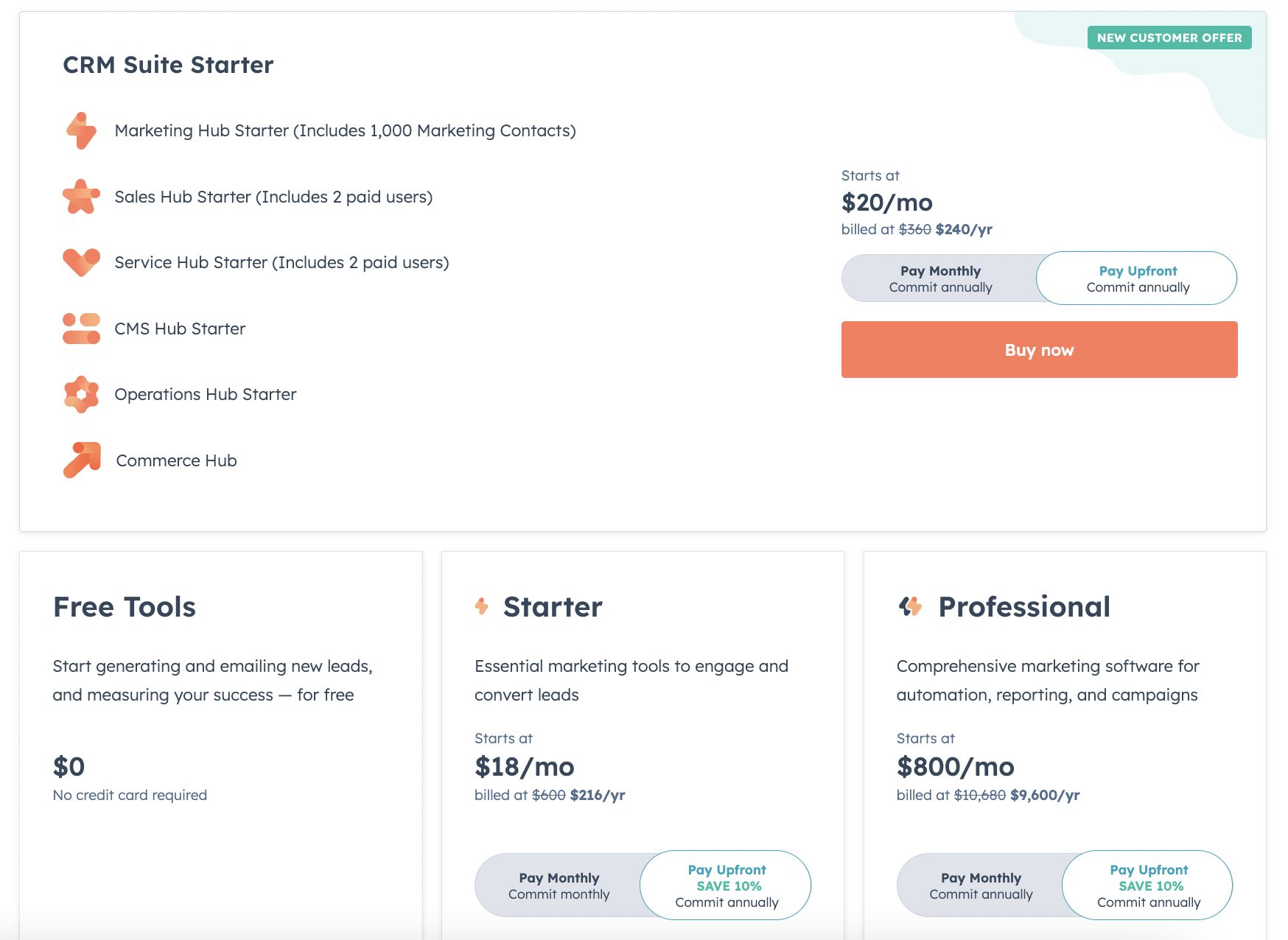 HubSpot's pricing plans are a little complicated since email is just part of its marketing suite. Email marketing also isn't included in the Free Tools Plan.
Instead, you'll need to subscribe to one of its CRM or Marketing Hub plans:
Starter: $18/month and includes bulk emails, drag-and-drop editor, and personalization tokens.
Professional: $800/month and includes automation, reporting, and advanced email marketing features.
3. MailChimp
Best for: Small businesses looking for free email marketing software.
MailChimp may be the market's most well-known free email marketing services. Over 12+ million customers use the platform and make $1.7K in revenue per campaign, on average.
We've recommended MailChimp for small businesses because its free plan gives users a user-friendly interface, up to 2,000 subscribers, and 12,000 email sends per month–more than enough if you're looking to get started with email marketing.
If your needs are minimal and you want one of the more basic options, give MailChimp a try. Just bear in mind that while it can start out as a free email marketing service, it can wind up being expensive as you scale.
"We chose MailChimp after evaluating several tools based on ease of use, feature set, integration capabilities, and scalability," says Vladimir Terekhov, CEO of Attract Group. "MailChimp's widespread popularity and positive reviews from other users played a significant role in our decision-making process."
Best MailChimp features
MailChimp is a popular email marketing service provider because it offers the following features:
Simple drag-and-drop email builder
MailChimp app to send emails on iPhone and Android
Generative AI to create subject lines, subheadings, and email copy
Customizable automations like cart abandonment emails
Deliverability statistics to see how many people receive your emails
300+ integrations with marketing tools like Stripe, Quickbooks, and Squarespace
Personalized onboarding service for customers on paid plans
Sync your email analytics with data from Shopify and Google Analytics
24/7 customer support available
Cons of MailChimp
MailChimp isn't always the best email marketing service for every business. Some of its disadvantages include:
It becomes expensive as you grow your subscriber list
Templates aren't very easy to customize
The free plan has limited features—you need to upgrade to a paid plan to access features like A/B testing and predictive audience segmentation
MailChimp pricing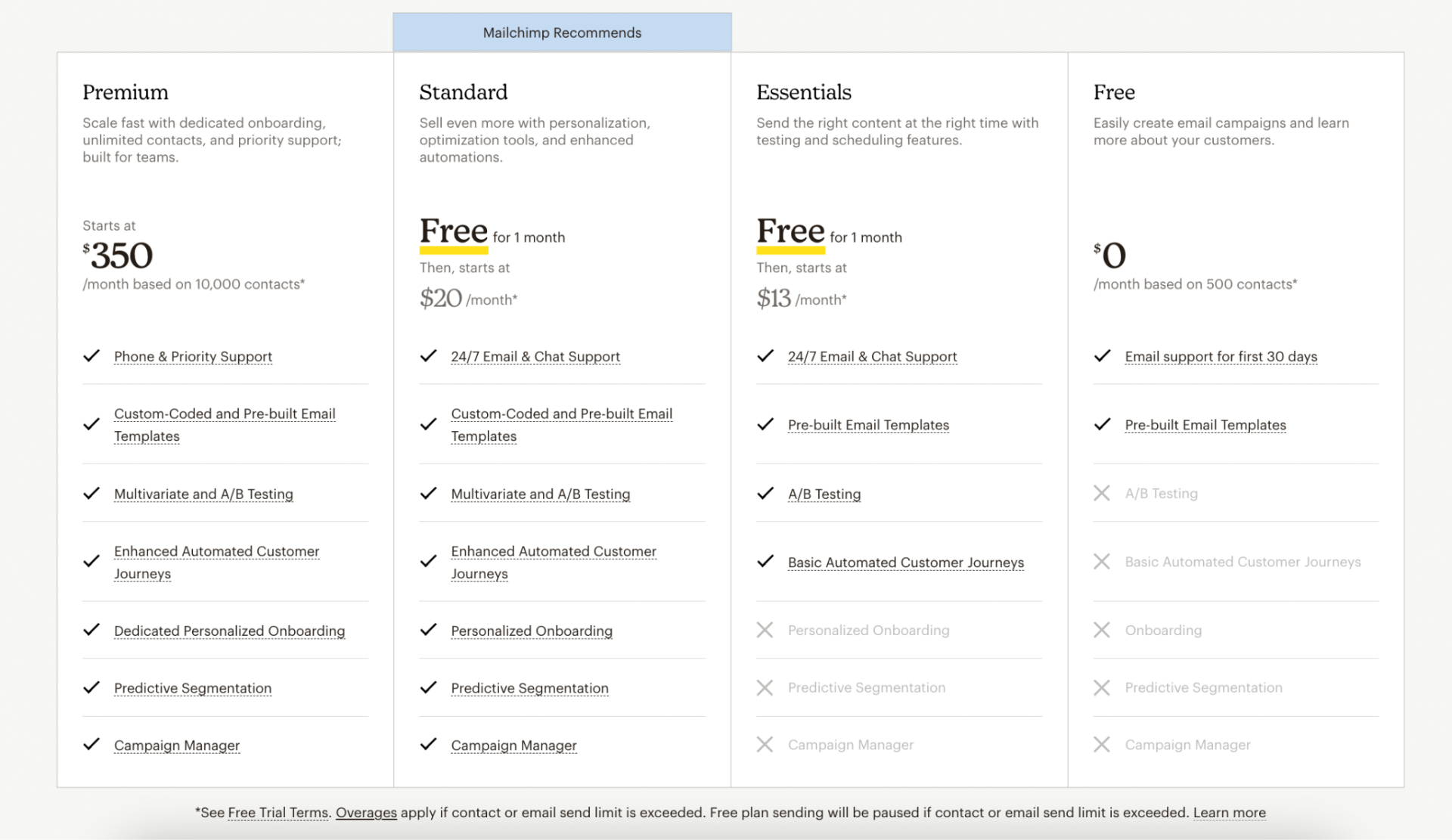 MailChimp offers a free email marketing tool that includes email templates and email support for your first 30 days. It's more than enough for small businesses who want to get started with email marketing.
If you need more advanced features or have a bigger team, MailChimp's paid plans are as follows:
Essentials: $13/month and includes 24/7 support, email templates, basic automations, and A/B testing. There is a free 28-day trial available.
Standard: $20/month, includes everything in Essentials plus custom-coded templates, personalized onboarding, and an email marketing campaign manager. This plan also has a month-long free trial.
Premium: $350/month based on 10,000 subscribers, this plan is designed for mid-sized companies and includes priority support.
4. Constant Contact
Best for: Small businesses who manage events.
Constant Contact provides different digital marketing tools in one interface—including SMS and email marketing, growing your list, social media, and automation. It's the perfect all-in-one solution for small businesses.
One of its most unique features is its event management system and the ability to manage invitations, registrations, and tickets.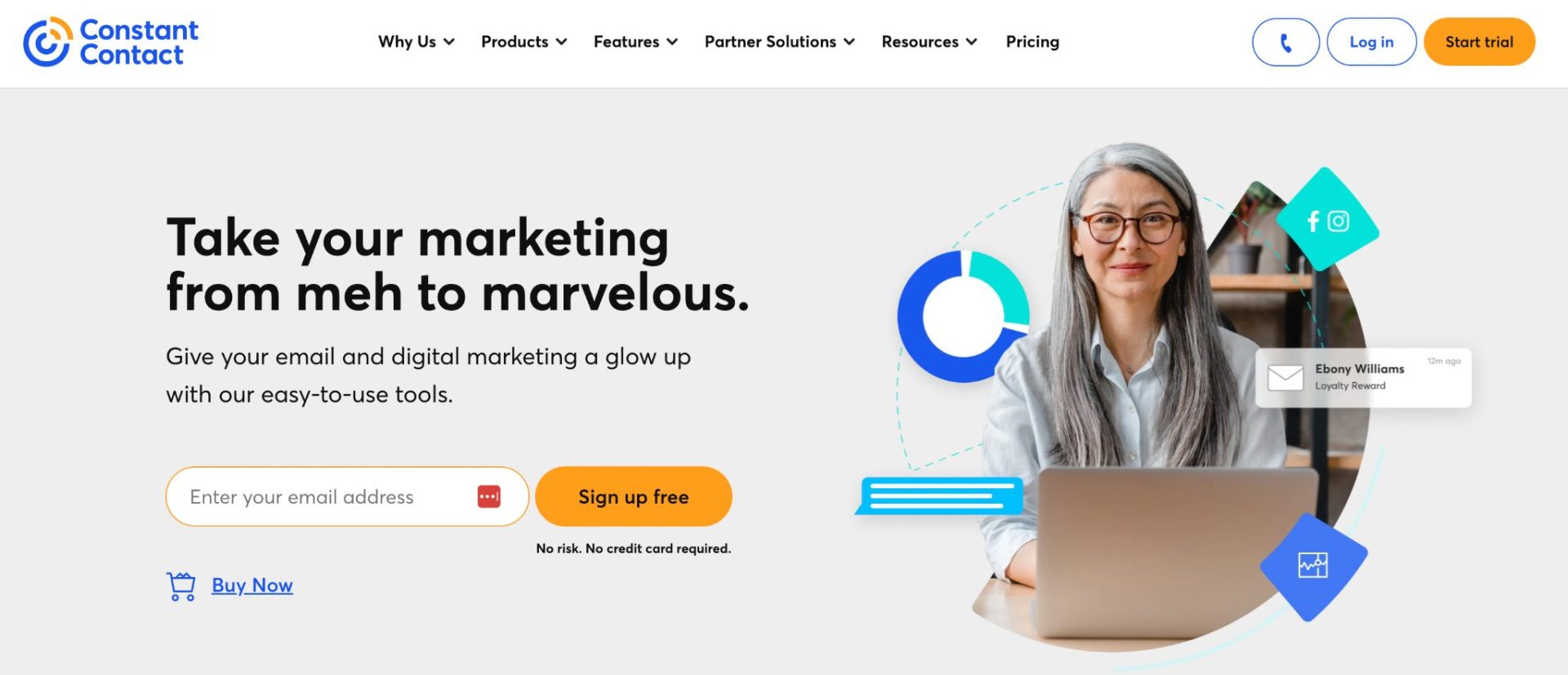 Constant Contact has been in the email marketing space since 1995. Now, it offers 100+ modern, mobile-optimized templates to engage and convert customers, real-time reporting and analytics, and bonus features like coupons, polls, and events.
Constant Contact's growth tools make it easy to grow your email list to reach more customers. You can create beautiful email newsletters to engage your customers and encourage them to buy, and post to social media from the same dashboard.
Tracy Burns is a freelance marketer that's used both Constant Contact and ActiveCampaign. She says: "Both programs are extremely similar in how you build out an email campaign and send it. However, I prefer the reporting tools that Constant Contact Offers.
"If I had to choose between the two, I'd use Constant Contact because it has an overall easier look and feel, where Active Campaign is busier looking."
Best Constant Contact features
Here's why we've ranked Constant Contact as one of the best email marketing services for small businesses:
User-friendly interface that's easy for beginners to navigate
Email deliverability is above average
Professionally-designed templates for those who want to create beautiful email newsletters, but don't have the time or design skills to do so themselves
Growth tools—including a landing page builder, forms, and polls—make it easy to grow your email list
Automation features to send welcome emails to new subscribers and follow up with customers who haven't bought anything
A/B testing allows you to test different versions of your email newsletter or campaign to see which one performs better
Mobile app to check email performance on the go
Cons of Constant Contact
While Constant Contact is a good option, be aware of the downsides before subscribing to a plan:
More reporting options would be helpful to help understand email performance
Sometimes changes made to content don't get saved, which can be frustrating
Support could be faster in responding to questions
Constant Contact pricing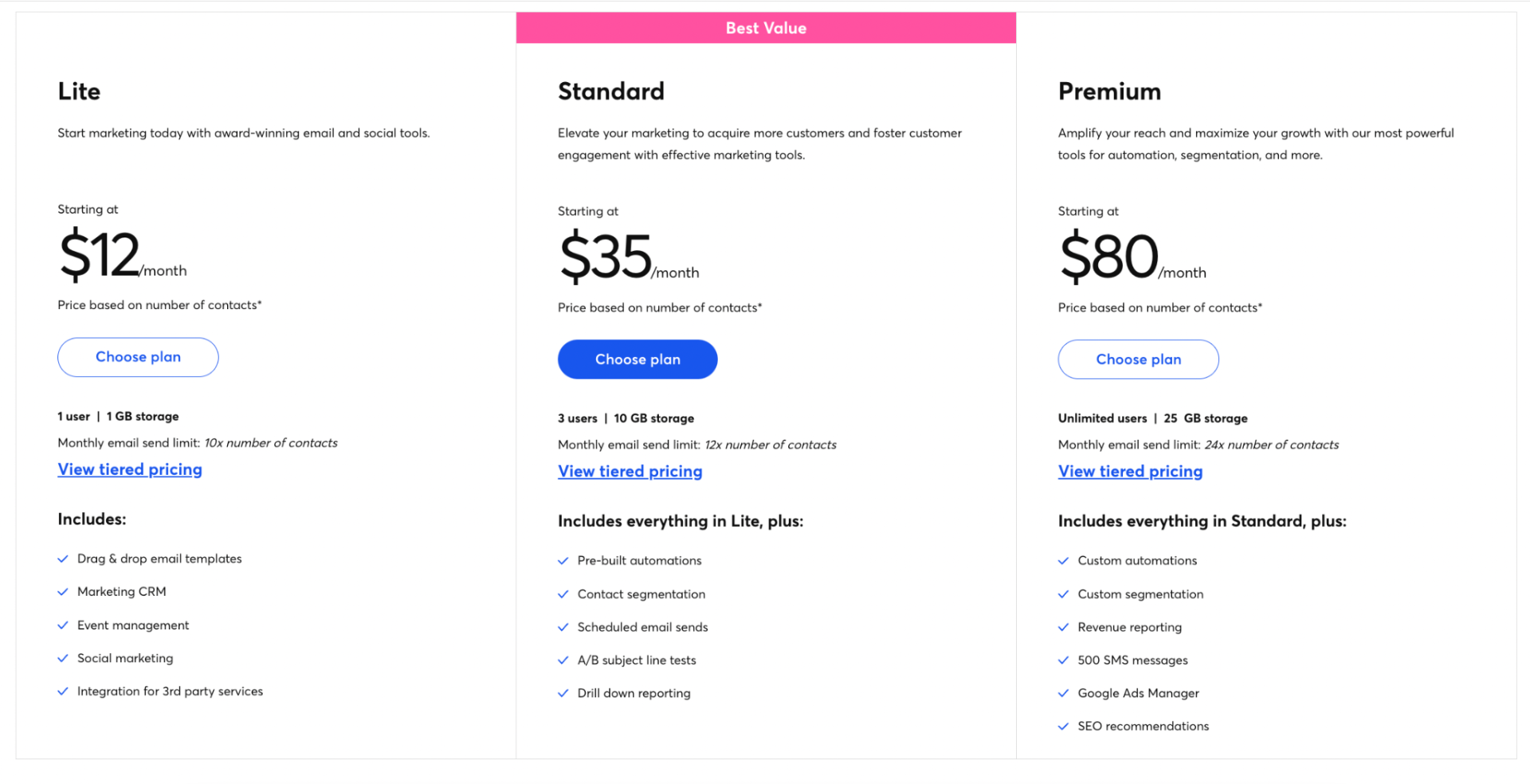 Constant Contact doesn't have a free plan. To use its email software, you'll need to subscribe to one of its paid plans. The following prices are based on a list of <500 subscribers:
Lite: $12/month and includes email templates, a marketing CRM, event management, and social media marketing.
Standard: $35/month and includes prebuilt automations, audience segmentation, advanced reporting, and A/B subject line tests.
Premium: $80/month and includes custom automations, revenue reporting, SMS messaging, and SEO recommendations.
5. ConvertKit
Best for: Creators and bloggers.
ConvertKit is built by creators, for creators. They understand their client's needs and know what it takes to grow an online following, hence why we've ranked it as the best email marketing service for bloggers.
For bloggers looking to send personalized, text-based emails, their designs look like they're coming right from Gmail.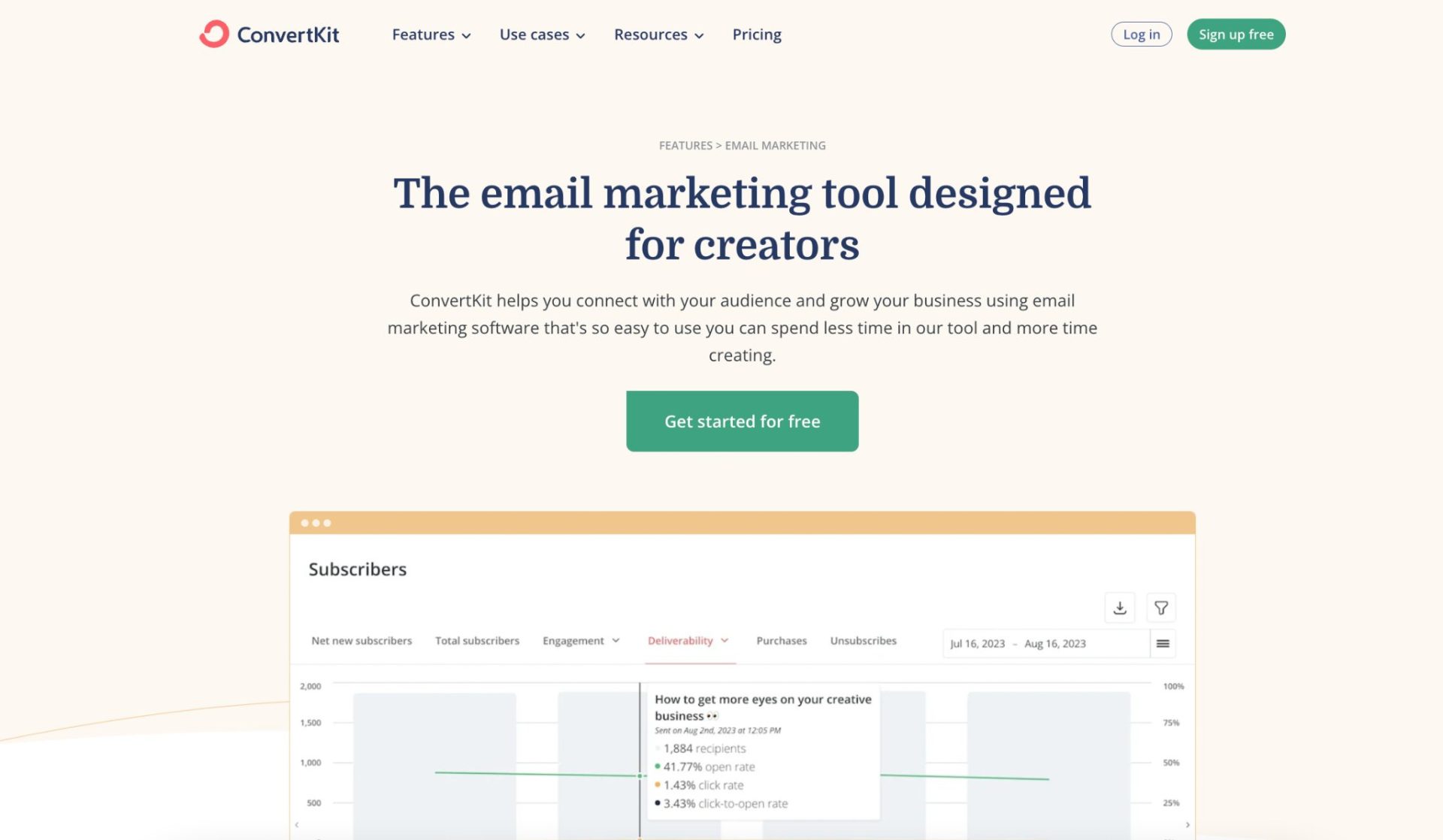 ConvertKit gives you attractive signup form templates that you can customize for more control over your customer experience. You can also increase conversion rates with automated emails and organize your subscribers to maximize engagement.
Rodolphe Dutel, founder of Remotive, says: "We would recommend [ConvertKit] as the customer service is top-notch and the product team is always willing to listen to suggestions. It's not the cheapest option but it's highly reliable, which is what matters to us. They are also GDPR compliant, which is key for our subscribers."
Best ConvertKit features
ConvertKit is a strong pick for a few main reasons:
It's GDPR compliant
Advanced segmentation based on different actions to personalize your email funnels
Text emails look professional and don't have annoying email branding
Landing page and form templates look great on a blog
Join a community of bloggers in your niche through ConvertKit's Creator Network
Built-in newsletter referral scheme to partner with other creators and grow your list
Commerce features, such as tips and paid subscriptions, to make money through email marketing
Cons of ConvertKit
ConvertKit might not be the best choice if the following things are important to you:
Free plan is limited to 1,000 subscribers
Paid plans get expensive as your list grows
Rated below average for CRM and social media integrations
ConvertKit pricing

ConvertKit does offer a free email marketing plan for new creators. It includes unlimited landing pages, forms, and broadcasts, but you're limited to 1,000 subscribers.
Once you pass this subscriber limit (or realize you need access to advanced features), you'll have to choose from one of the following paid plans:
Creator: $25/month based on 1,000 subscribers. This also includes live chat and email support, free migration from another email marketing provider, and automated email sequences.
Creator Pro: $50/month based on 1,000 subscribers. This includes everything in the Creator plan plus subscriber scoring and advanced email reporting.
6. GetResponse
Best for: All-in-one tool for automated sales funnels and landing pages.
GetResponse is an all-in-one online marketing platform to grow your business.
It has professional features to help you grow and manage your list, alongside tools to combine email marketing with other strategies—like building a website, running paid ads, and hosting webinars.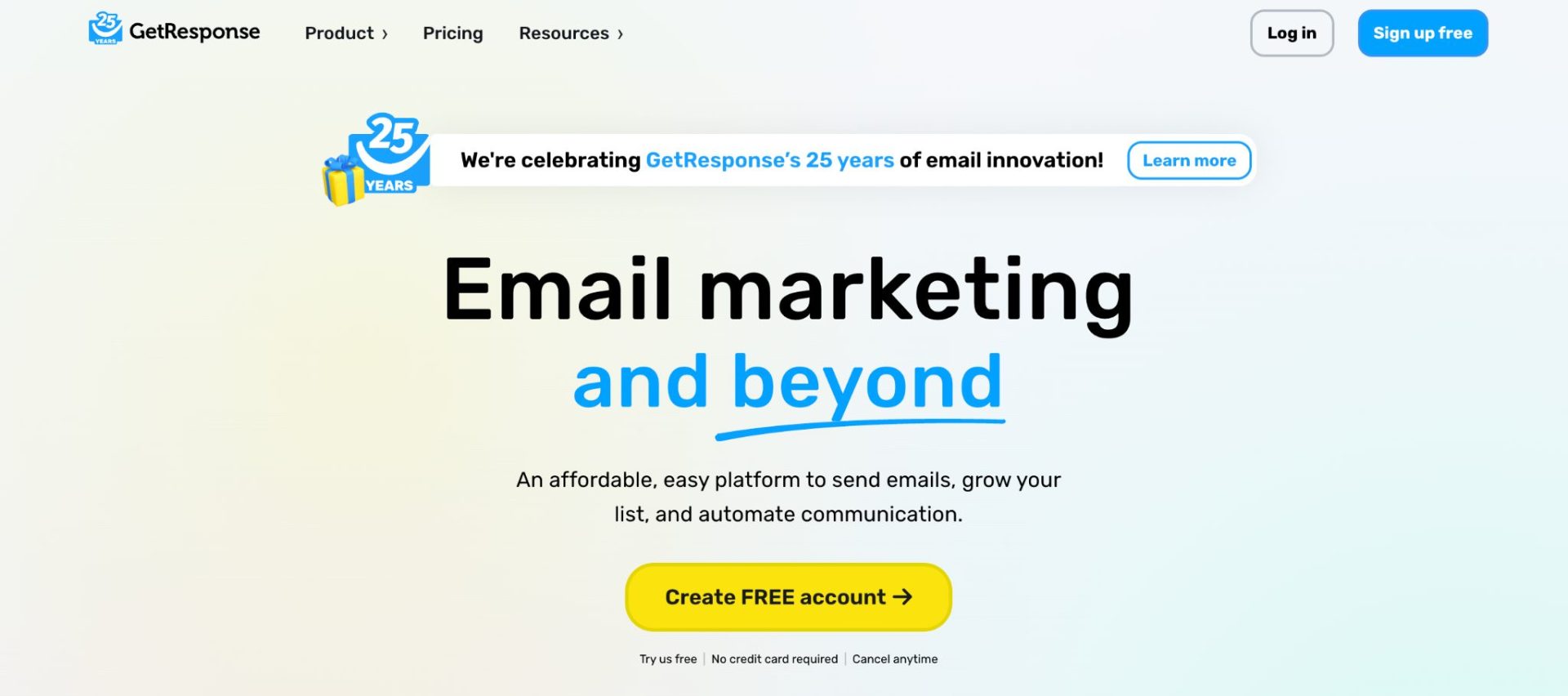 The real standout is Autofunnel—a tool with 30+ ready-made landing pages, email templates, and sequences to generate sales. Whether you want to drive lead generation, product sales, or webinar registrations, you can do it with this GetResponse feature.
"Since switching [to GetResponse] from MailChimp, I've seen a 23% increase in email open rates and a 15% bump in subscriber click through rates," says Melissa Smith, founder of Crystal With.
"The contact scoring and lead nurturing features allow me to focus my efforts on subscribers most likely to convert. Last month, my top engaged subscriber segment had a 40% higher purchase rate compared to my cold leads segment."
Melissa adds: "For any ecommerce business, I'd highly recommend GetResponse. The granular analytics and automation have been game-changing for my email marketing results."
Best GetResponse features
GetResponse is a popular email marketing service because of these standout features:
Great deliverability score (99%)
Autoresponders to give people immediate response via email
AI email generators to save time creating new content for your newsletters
Drag-and-drop website builder that's very intuitive and makes designing a breeze
Web push notifications to convert website visitors into email subscribers
Host webinars from the same platform that powers email
Conversion funnels to move people through your marketing funnel
Generous affiliate program if you love GetResponse and want to get paid when recommending them
Cons of GetResponse
While GetResponse is jam-packed with excellent features, it's not the first choice for some businesses because:
No free plan available
Some templates look a bit outdated
Advanced features have a steep learning curve
Rated below average for live chat features like lead development and customer profiles
GetResponse pricing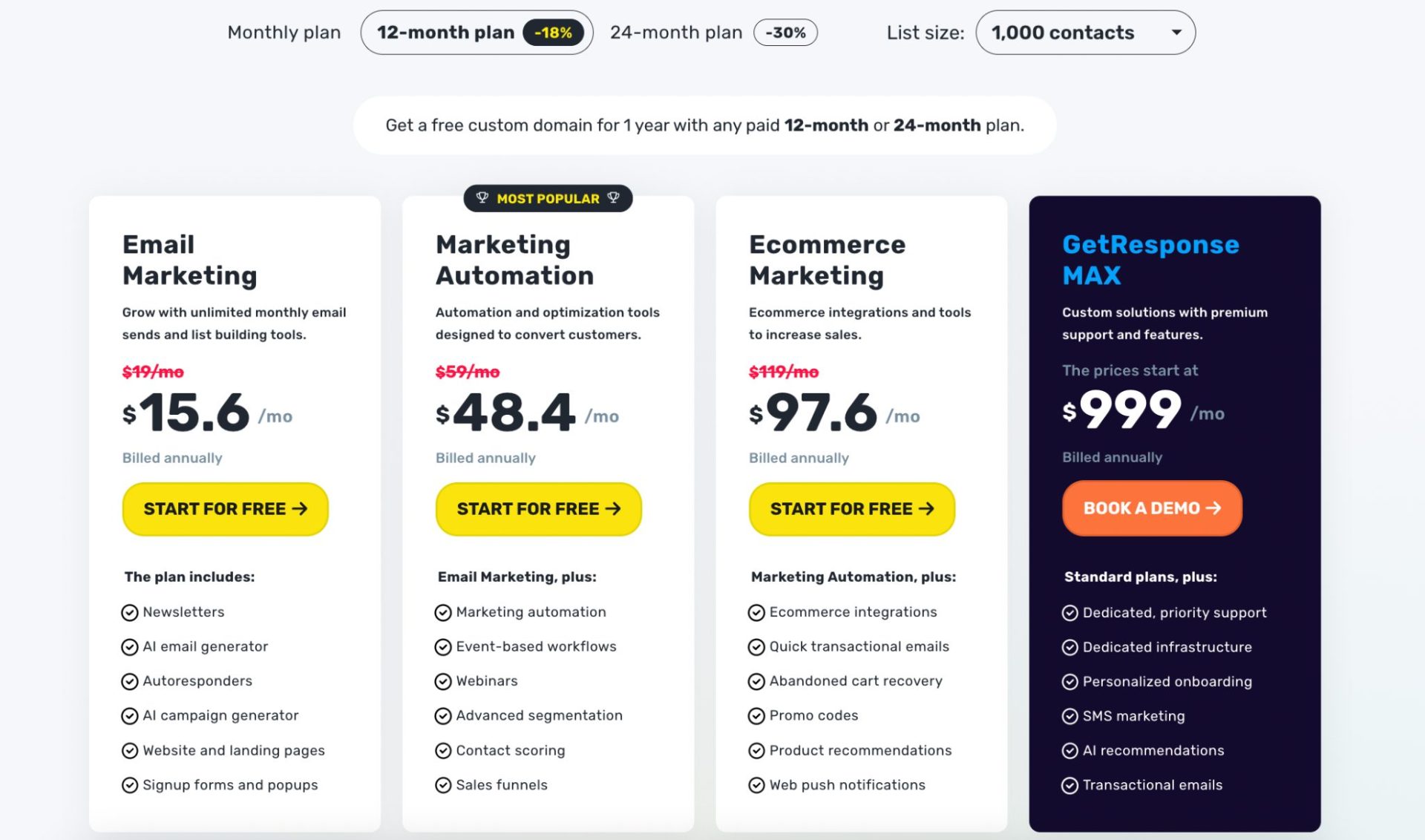 GetResponse doesn't offer a free plan. To use its email marketing service, choose from one of the following subscriptions:
Email Marketing: $19/month and includes newsletters, AI email generator, and autoresponders.
Marketing Automation: $59/month and includes email features plus marketing automation features, webinars, and sales funnels.
Ecommerce Marketing: $119/month and includes integrations, transactional emails, product recommendations, and cart abandonment emails.
GetResponse MAX: $999/month and includes SMS marketing, AI recommendations, and dedicated priority support.
7. Mailerlite
Best for: Premium customer support.
Mailerlite is a popular email marketing tool used by over 1.4 million customers.
It's a great option for small businesses because Mailerlite offers flexible tiered plans based on the size of your contact list. You can start with their forever-free plan if you have less than 1,000 email subscribers.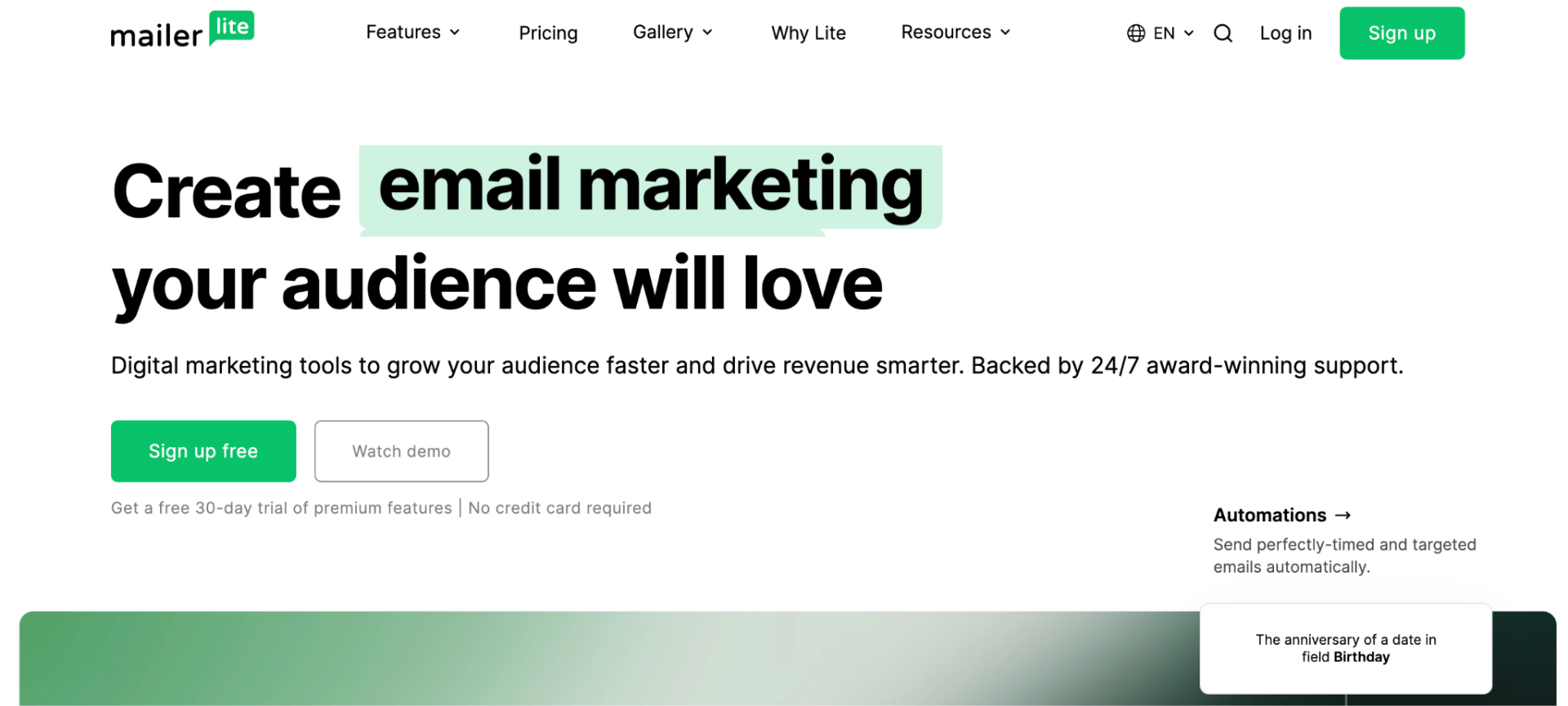 Mailerlite is best known for its easy user interface, responsive email designs, and excellent 24/7 phone support and email support.
Plus, you can track your email marketing results with a click map and opens by location reports.
"MailerLite's combination of robust automation features and an intuitive interface made it easy for me to create dynamic campaigns, which is why I chose it," says Wayne Mills, head of operations for UK and Ireland at Seven Seas Worldwide.
"I suggest it to marketers looking for an affordable option with advanced functionality for making automated, relevant, and engaging email campaigns."
Best Mailerlite features
Mailerlite is popular because it offers the following features:
Amazing email deliverability
Designed to be minimal and functional
Live 24/7 customer support via live chat and email
A powerful and easy-to-use landing page builder
Ecommerce integrations with the top platforms
Paid newsletter subscriptions to monetize your email marketing strategy
Email surveys to learn more about your potential customers
Template gallery to browse and customize email, landing page, website, and pop-up templates
Cons of Mailerlite
Before you sign up to Mailerlite, evaluate whether the pros outweigh these downsides:
Some users report technical issues when using the dashboard
Limited analytics and reporting features compared to other email marketing services
Templates aren't included in the free plan
Mailerlite pricing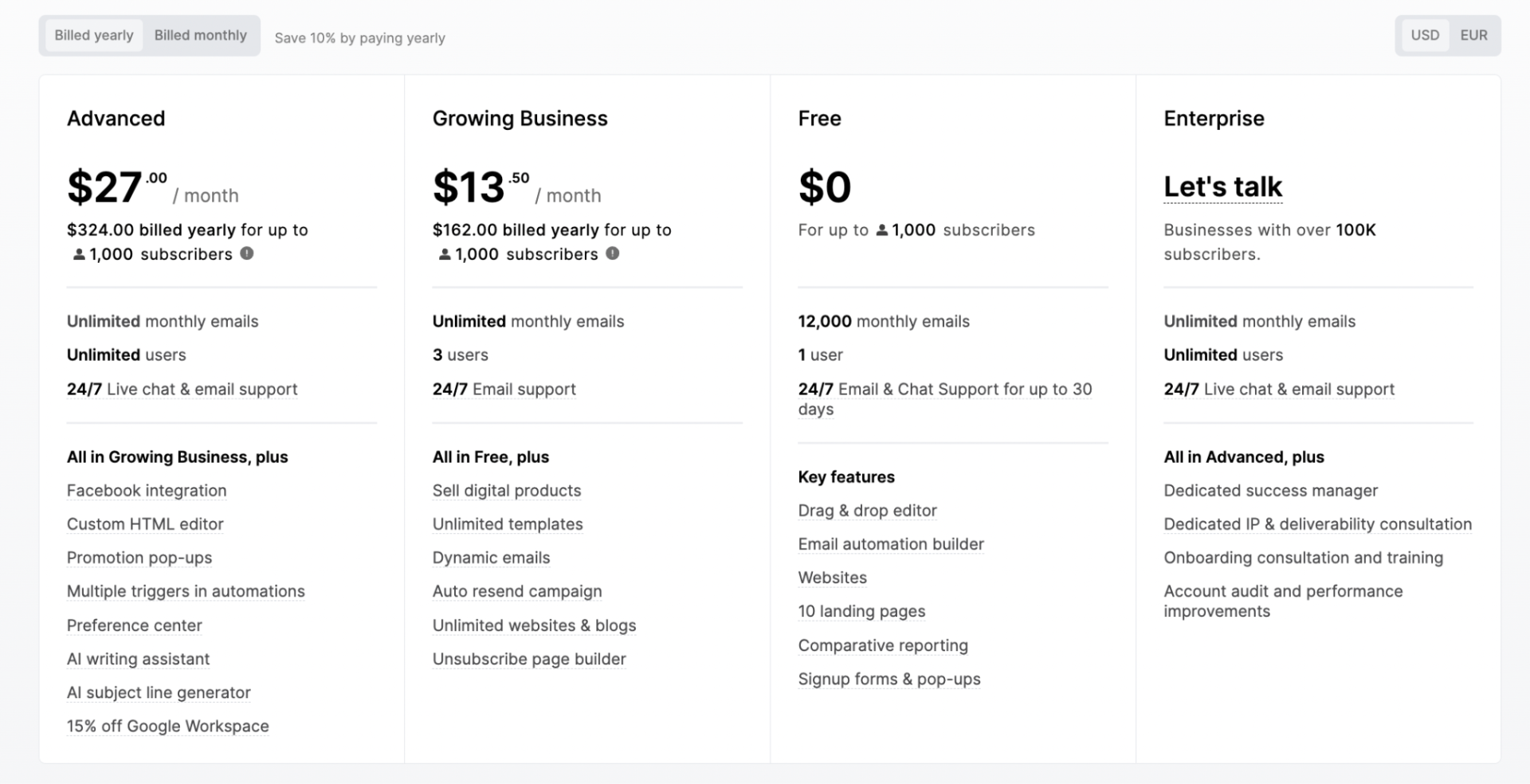 Mailerlite's free plan has limited features and allows you to send up to 12,000 emails per month. If you have more than 1,000 subscribers, you'll need to subscribe to one of these paid plans:
Growing Business: $13.50/month and includes unlimited templates, websites, and pages, plus the ability to sell digital products via email.
Advanced: $27/month and includes a Facebook integration, custom HTML editor, AI writing assistant, and promotion pop-up.
Enterprise: Custom-quoted and includes a dedicated success manager, account audits, and deliverability consultations.
Choose the best email marketing tool for your business
There are tons of email marketing services to choose from. Your choice is ultimately about knowing your price point and which features are most important to you.
Startups require different features than an already-established business, so by focusing on price, deliverability, template designs, ease of use, and the unique features you need, you'll be able to find the right fit.
To recap the options we've shared:
If you're looking for an excellent new email service with advanced automation, go with ActiveCampaign.
If you are looking to add email marketing to your CRM and integrated marketing toolkit, HubSpot is your best choice.
If you want a free email marketing service with the basic tools to get up and running, choose MailChimp.
If you want excellent email deliverability and the all-around best platform for small businesses, Constant Contact is your winner.
If you're a creator looking to grow and monetize your email list, go with ConvertKit.
If you're just starting out and need an email marketing tool that can build your website, create landing pages, and host webinars, GetResponse is the best option.
If customer support is important to you, choose Mailerlite's email marketing software.
Editorial Process:
Our reviews are made by a team of experts before being written and come from real-world experience. Read our editorial process here.
Some of the links in this article may be affiliate links, which can provide compensation to us at no cost to you if you decide to purchase a paid plan. These are products we've personally used and stand behind. This site is not intended to provide financial advice. You can read our affiliate disclosure in our privacy policy.
---
Last Updated on November 22, 2023 by Elise Dopson