Convertkit vs Mailchimp: Which Email Tool is Best in 2023?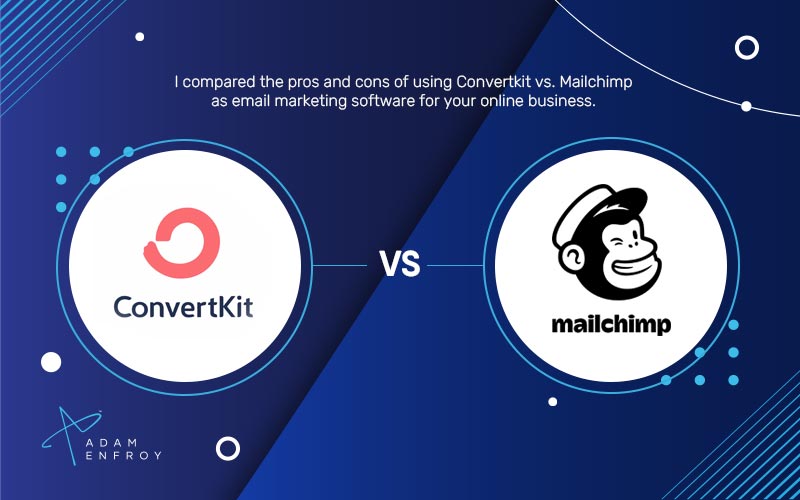 Email marketing software is critical for anyone who wants to build an audience and scale their business.
With various features and benefits that come with each tool, choosing email marketing software can be tough – especially if you're just getting started.
Considering your needs is the best way to make a decision.
Asking yourself questions such as:
How easy is the tool to use?
What are the automation capabilities?
What is the price point?
What integrations does it have?
Does it have good deliverability rates?
What is customer support like?
These are all valid questions that you should be asking yourself when trying to decide which software is right for you.
ConvertKit and MailChimp are two of the most popular email marketing software for bloggers. Both platforms have pros and cons, but which is best for you?
In this article, I'll compare these two platforms based on their email editor, list segmentation, marketing automation, analytics, and more, to help you decide which tool is best for you.
Let's get right into it.
Convertkit vs. Mailchimp: Overview
ConvertKit:
ConvertKit is an email marketing service that helps bloggers, small businesses, and content creators send emails to their subscribers and customers.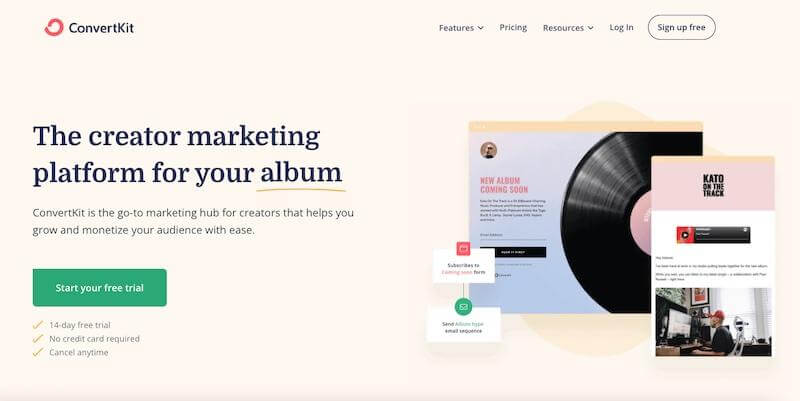 It's suitable for those who want to create simple and primarily text-based email campaigns without worrying about technical issues or spending hours on development.
It also offers a landing page builder, flexible segmentation and list management options, automated workflows, and more.
Other key features include:
Autoresponder and email scheduling.
Visual automation builder.
Send email broadcasts.
Sign-up form and landing page builder.
Automatic tags and customizable segments.
Automated email funnels.
A/B testing.
Email and Live chat support.
MailChimp:
Mailchimp is an email marketing tool that helps you create, send, and track email newsletters.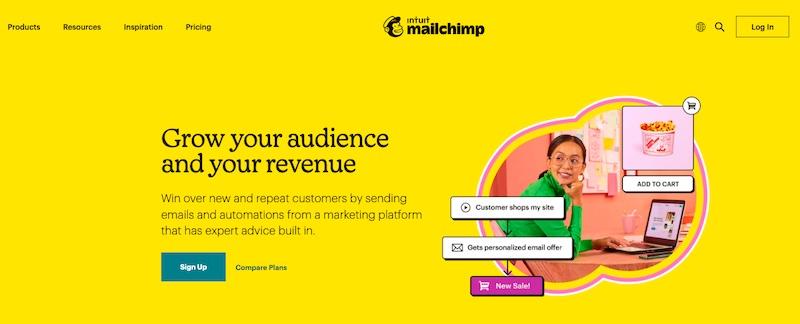 Mailchimp is not just a tool to send newsletters to your customers.
It is also a marketing automation platform that allows you to create campaigns, segment your subscribers and target them with personalized emails based on their actions and interests.
Other key features include:
Send-time optimization.
Competitor analysis.
A/B testing tools.
Landing page builder.
Drag-and-drop editor.
Campaign transparency with advanced reports and analytics.
Marketing automation features.
Pre-built templates and customer journeys.
Subject line testing.
Lead magnet delivery.
Convertkit vs. Mailchimp: Detailed Breakdown
1. Email Editor.
The email editor is one of the most important features when choosing an email marketing service.
It's also where you'll spend most of your time, so it's worth checking out what each platform offers.
Convertkit:
Convertkit's editor is designed with usability in mind – there are no complicated menus or drop-down menus here.
Instead, everything is easily accessible from the front page of the editor.
You can even drag and drop text boxes to create new sections in your message.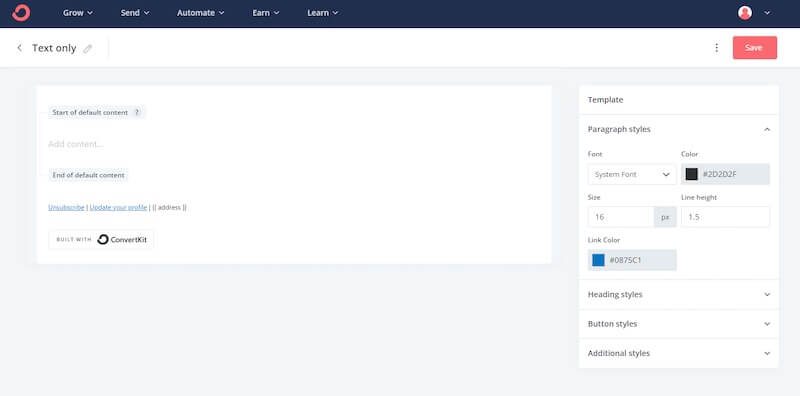 It also allows you to add images, videos, or links to your emails.
The Convertkit editor even supports HTML and CSS editing, which means you can customize any template to suit your needs.
You can also change the font style and alignment as you write, appearing only when needed.
Other key features include:
Personalization: It lets you personalize every text and element by just clicking + icon on any line.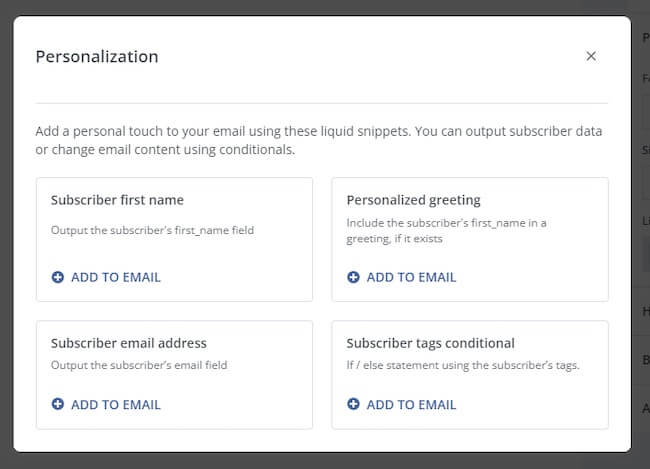 The Convertkit Editor allows you to do all of this:
Change the subject line of your campaigns
Change the body text of your campaigns
Add conditional tags or custom fields into each campaign
Output the subscriber's email field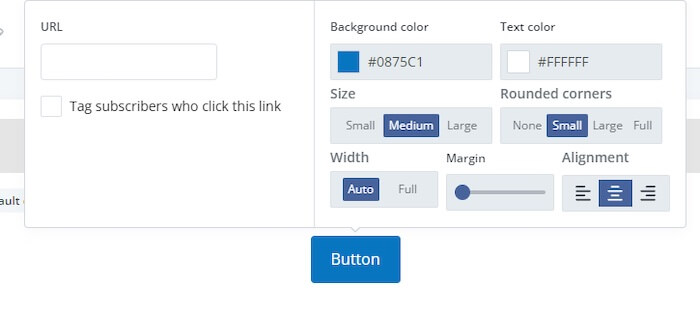 HTML Box: You can fully customize your email with the code – just use an HTML box wherever you want to design.
Unlimited templates: Apart from the main template provided by ConvertKit, you can create unlimited templates as required. It doesn't require technical know-how, and all templates are responsive for tablets, laptops, desktops, and phones.
MailChimp:
MailChimp's interface when it comes to the email editor offers simple drag-and-drop features, so you can quickly add images, content, and other design elements to your emails.
The editor works with all of MailChimp's email templates, so you don't have to worry about making changes to your CSS or HTML code.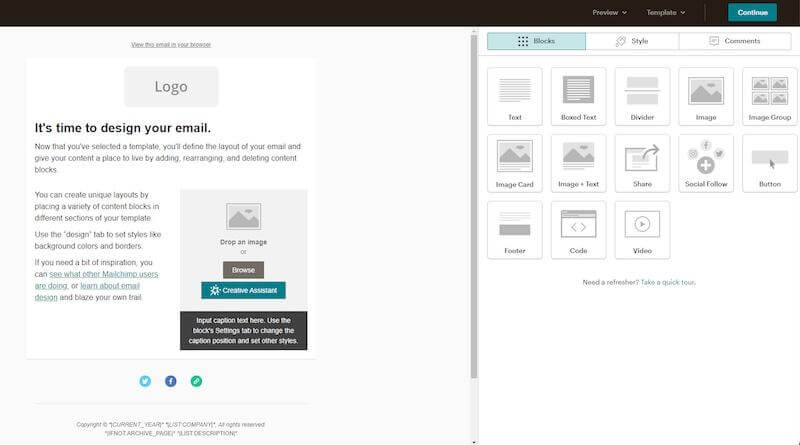 With MailChimp's drag-and-drop email editor, you can create dozens of different types of emails. There's no need for any coding know-how.
You can simply drag and drop different content blocks to the canvas. Some major content blocks include:
Text
Images
Buttons
Video
Image
Image + Text
Social Follow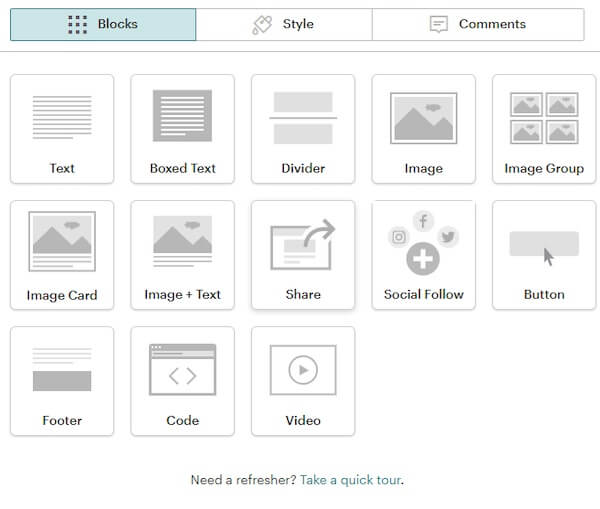 You can customize every element and content block from header to footer.
For every element, a window opens on the right side of the editor with custom styles.
MailChimp also offers a variety of pre-built templates that you can use in your email newsletter campaigns.
You can change the color scheme, text, image, font, or even a simple horizontal line, so you can still create an email that matches your brand.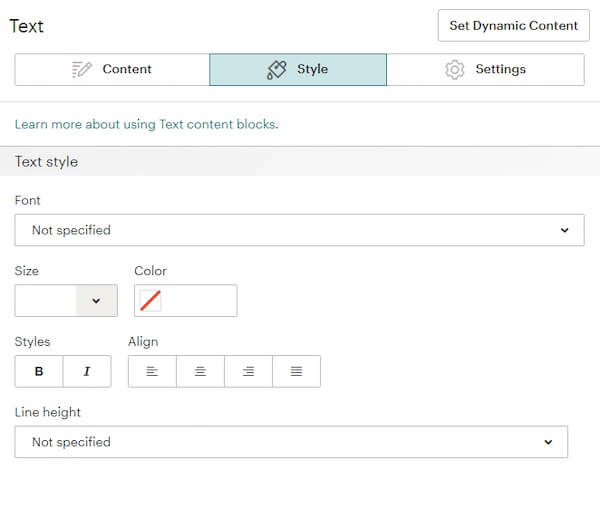 The templates are responsive to all devices.
You can also use themes or use your own code as a template.
To use your code, you can copy-paste your code, import it from a zip file, or import it from the URL.
Other key features include:
Image library: Use MailChimp's image library to save your most used images, such as headers, footers, logos, etc.
Call-to-actions: Add personalized call-to-actions in your emails in the form of buttons. Change fonts, color, redirect to a specific URL, change alignment, or change height/width; everything is customizable.
Use your code: Use your own code in their email designer for more flexibility.
Winner: MailChimp.
While ConvertKit provides a simple and clean editor, Mailchimp wins here because of its flexibility and simple drag and drop content blocks.
Plus, it offers more built-in themes and single to multiple column templates to make your work quicker.
Mailchimp also wins this round because it lets users preview their emails on mobile and desktops, which is impossible with ConvertKit.
2. Email Templates and Customization Options.
Both Convertkit and Mailchimp have email templates that are very easy to use.
You can choose from their premade templates or create your template from scratch.
Let's compare them in detail.
ConvertKit:
You can use ConvertKit's built-in templates to design your email or create your template using HTML and CSS.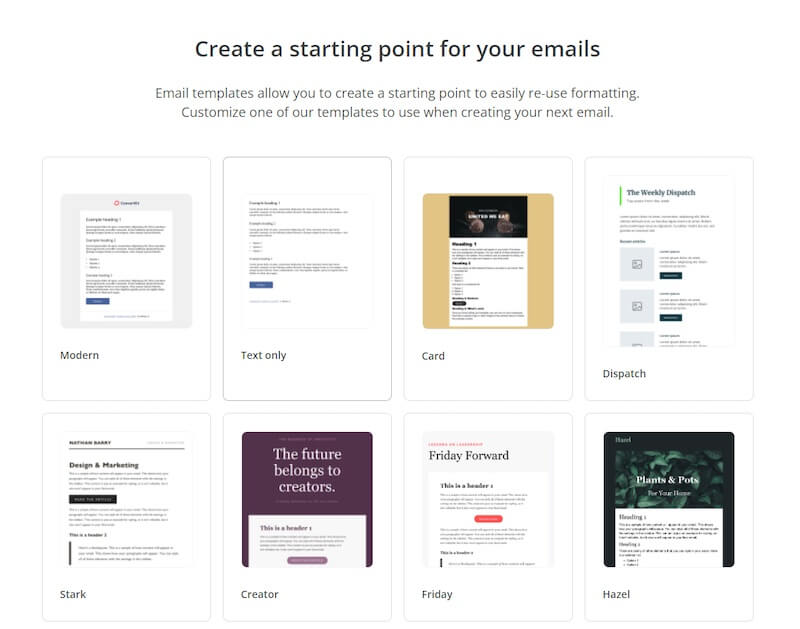 Adding elements to your email template is simple. Just click + sign, and a list of available elements will pop up.
You can add images, files, call-to-actions, dividers, timers, or videos to your template.
It also gives you options for customizing your text, such as bolding, italicizing, and aligning.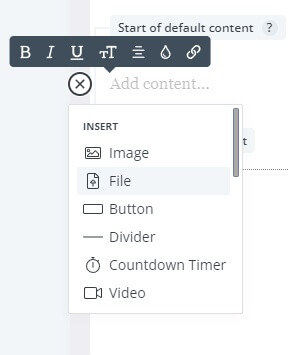 However, ConvertKit mainly offers simple text emails.
It provides a few themed templates, but the options are limited.
Plus, it integrates with Unsplash and Instagram, so you can directly import photos from these two platforms to your image gallery.
You can add videos to your template by inserting a URL or uploading them directly.
ConvertKit supports videos from Youtube, Vimeo, and Wistia, where you can set their size, alignment, color, and more.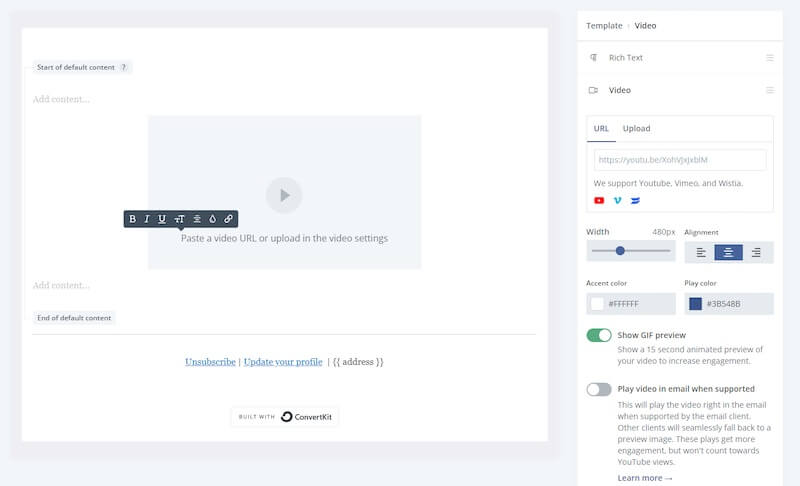 You can use timers to help emphasize important events in your email.
You can choose from various appearance options and set dates, timezones, colors, and more.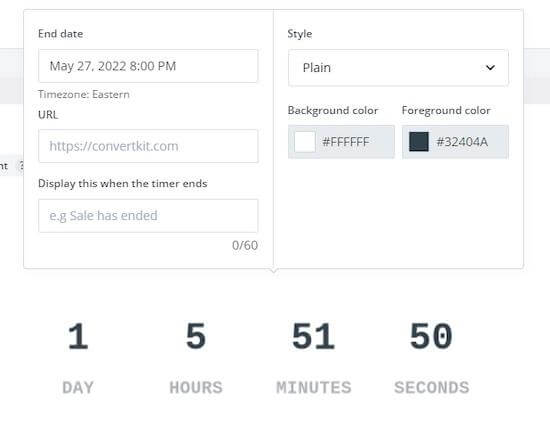 You can also create and schedule broadcasts similar to newsletter blasts in that they are one-way communication from you to subscribers.
You can use them to share upcoming events, announce new products and services, or send periodic updates about relevant topics to your readers.
In addition, ConvertKit lets you send automated email campaigns and sequences based on your customer's or subscriber's journey.
Get started with ConvertKit.
Mailchimp:
Mailchimp offers you templates for building your emails, landing pages, and forms.
It has 100+ themed templates that are easy to modify with simple drag and drop action.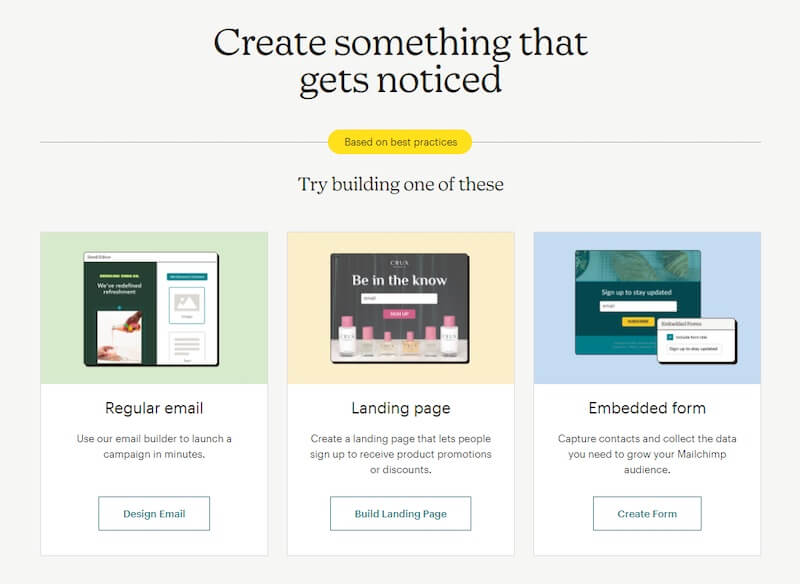 The templates are theme-based, including eCommerce, events, holidays, celebrations, newsletters, notifications, photography, stationery, subscriber alerts, etc.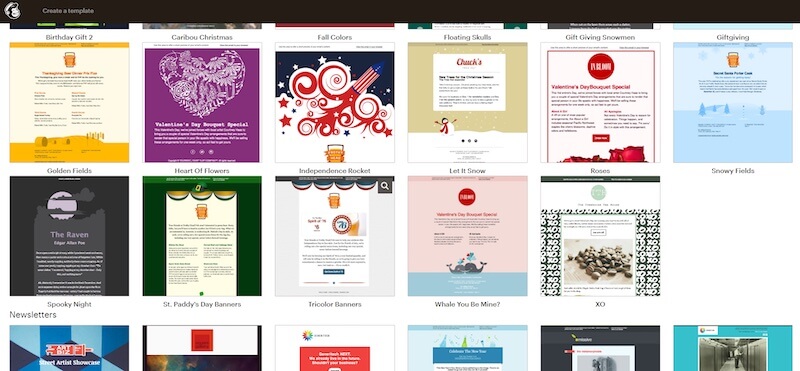 Mailchimp offers different layouts for every situation, including selling products, making announcements, storytelling, education, and follow-ups.
You can build your content in 1 column template, or 1:2 or 1:3 column template, or just plain text.
If you have a complex design or want to tweak the template beyond the basics, you can customize it further with HTML/CSS code.
You can even import your HTML files to the Mailchimp dashboard to use them as a template.
Winner: Mailchimp.
ConverKit offers every element that Mailchimp does.
However, Mailchimp has more template options and is more customizable than ConvertKit.
ConvertKit also offers only basic email templates that may not be sufficient for experienced email marketers.
3. Email List Segmentation and Management.
All email marketing services should offer the ability to segment subscribers.
It's a simple way to send different types of content to different groups of subscribers based on their actions.
Both ConvertKit and Mailchimp can segment your list subscribers based on events and actions, but there are some differences.
ConvertKit:
ConvertKit is a subscriber-centric platform, unlike most other list-centric email marketing platforms.
This means you can add your contacts to a single list and organize them using tags and segments.
ConvertKit makes it easy to assign tags to your subscribers based on their actions.
You can add a dropdown list to your sign-up form and give subscribers the option to find the right tag or add new tags based on links they click in your emails.
Aside from assigning tags, ConvertKit helps you segment your list too.
While tags are for organizing your contacts in a single list, segmenting lets you group your subscribers for broadcasts.
You can create segments using these filters:
Any: It means either
All: Subscribers who meet "both" requirements
And: It will exclude some subscribers

You can also create segments of your subscribers by filtering them by tags, custom fields, or location.
And since ConvertKit lets you create unlimited segments, you can be as specific as you like.
Mailchimp:
Like ConvertKit, Mailchimp also helps you segment your subscribers in multiple ways.
You can segment based on location, signup source, language, name, VIP status, or any other information about your subscribers.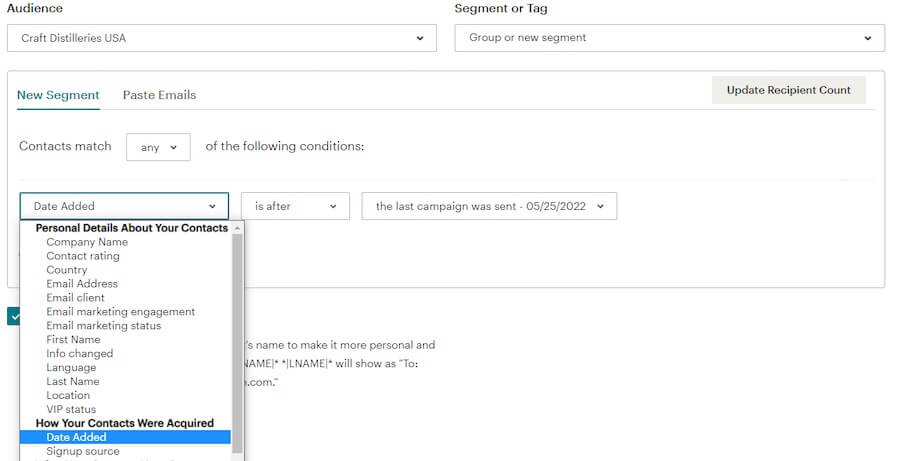 You can also segment audiences based on their behavior, using tags and custom form fields or predictive insights.
You can filter your audience by up to five criteria to find the exact people you want to talk to.
You can save these audience filters, and they'll update automatically with the latest data, so you'll always know you're reaching the right people.
Plus, advanced segmentation lets you create a set of nested conditions based on the data you've collected across various channels – like purchase activity, gender, age-range, and more.
However, there's one downside to using Mailchimp for list segmentation.
If you have duplicate entries in two different lists, Mailchimp will charge you for both of them.
Winner: ConvertKit.
Mailchimp offers more options, but ConvertKit is less complicated.
And unlike Mailchimp, it doesn't require paying for duplicate entries.
4. Email Marketing Automation.
ConvertKit
ConvertKit lets you use its sequence feature to create a sequence of automated emails that get triggered on specific actions.
For example, you can set up a rule that says if someone buys product X, then send them an email thanking them for making a purchase and offering a discount on another product.
Or, you could have a trigger that looks at the time of day or week and sends out an email with a different subject line than usual.
The possibilities are endless!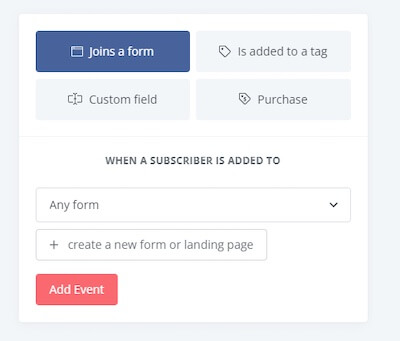 A nice feature is that you can create and edit the emails as you build the sequence.
For example, if you want to insert a video into an email, you can do so right there in the editor.
In a nutshell, ConvertKit's email automation tool helps you:
Create effective automated sales funnels
Set up the rules
Create funnels and direct subscribers based on their actions
Send the suitable material to the right people at the right time
Segment subscribers based on their journey
Then you have ConvertKit's visual automation editor that allows you to connect events, actions, and conditions to create custom paths for each subscriber in your funnel.
By combining all of these aspects into a single, easy-to-understand process, ConvertKit allows you to configure automation once and duplicate that automation for every subscriber in your list.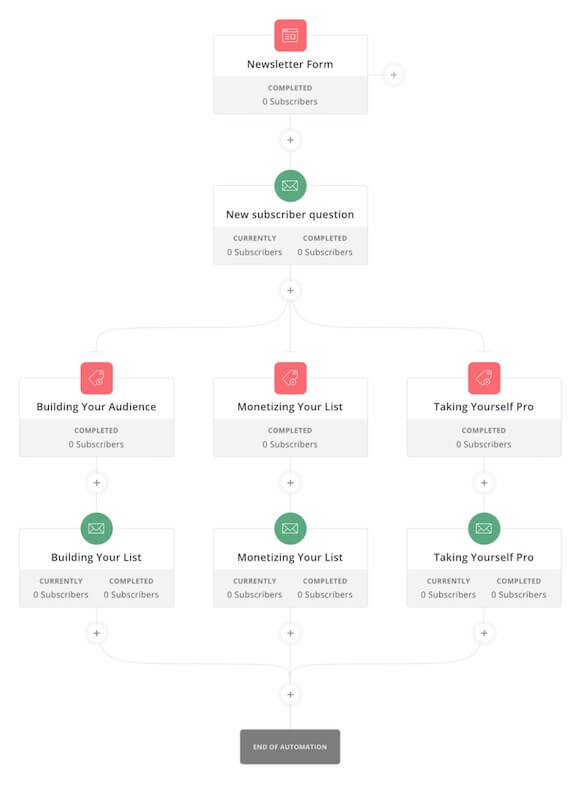 You can add steps to run automation depending on conditions, events, or actions.
You can even create multiple sequences in single automation.
Editing these sequences is also easy. You can do it by clicking on your workflow, which will open the item in the same window.
Instead of creating an entire funnel, you can also create individual automation rules with a simple "if this, then that" functionality.

Mailchimp:
Mailchimp also lets you schedule and automate the delivery of certain emails after meeting specific conditions, such as if a subscriber opens or clicks an email or buys something from your store.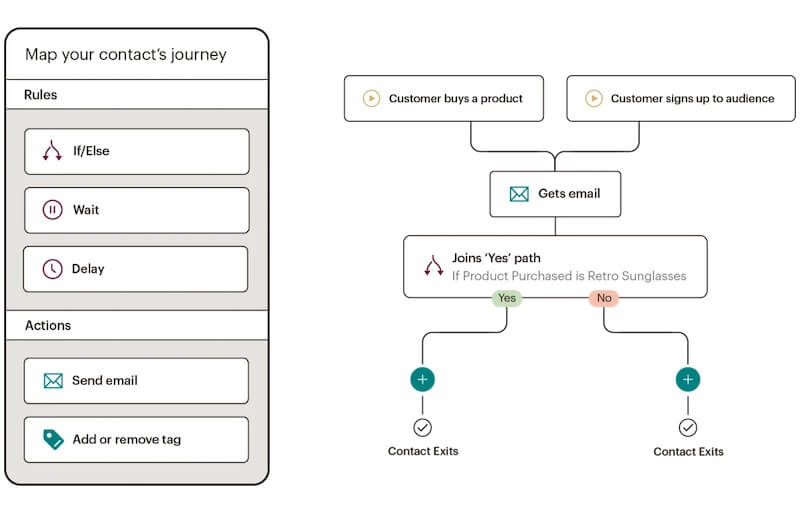 Like ConvertKit, Mailchimp also lets you set up multiple conditions so that you can send one email if they sign up via Facebook and another if they sign up via Google.
Mailchimp also analyzes when your customers interact the most with your emails and offer you optimal times for scheduling.
Not only this, you can schedule your emails according to your recipients' timezone.
One of its standout features is the number of pre-built automated campaigns and customer journeys you get with Mailchimp.
You won't have to map the customer journey with these ready-to-use automation workflows.
That said, you can still customize every aspect of the campaign based on your requirements.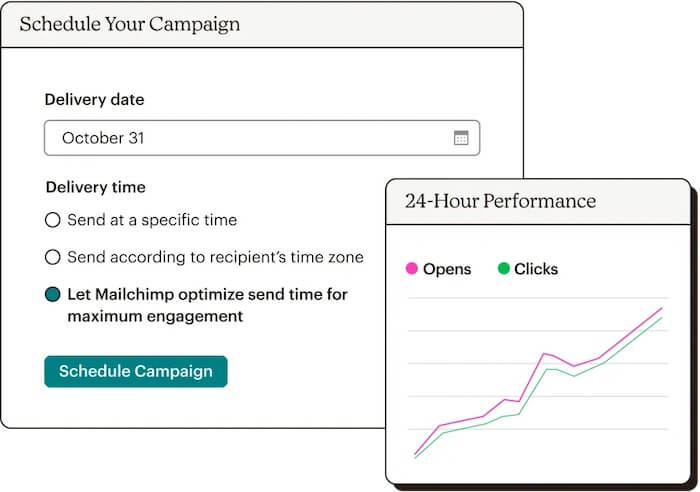 Branching points, delays, and other rules help deliver relevant messages based on their interactions and behavior to your customers.
You can also automate the process of adding tags.
Those tags can help you stay organized by organizing your contacts based on specific interactions and other factors.
Another great feature is the ability to review metrics for each subscriber entering your workflow.
You'll also be able to see how they're engaging as they move along the journey.
You can also enable ecommerce automation by integrating your Mailchimp account with the shopping cart platforms of your choice.
Here are the ecommerce platforms supported by Mailchimp:
WooCommerce
BigCommerce
Shopify
Magento
PrestaShop, and more.
Mailchimp allows you to interact with your customers based on their purchase behavior.
Winner: It's a Draw.
Both Mailchimp and ConvertKit allow you to create automated customer journeys.
That said, Mailchimp does offer more pre-built customer journeys that you can just plug and play.
5. Sign-up Forms.
Sign-up forms are a great way to introduce your brand to new subscribers.
If you want more email subscribers, then you need an excellent sign-up form on your website.
ConvertKit and Mailchimp offer plenty of options and features for creating sign-up forms.
They also allow you to create custom sign-up forms using their drag and drop builders.
You can choose between a wide range of templates and design options, including color schemes, fonts, buttons, and more.
But how do they compare? Let's find out!
ConvertKit:
ConvertKit allows you to create forms that you can embed anywhere on your website, sales page, or landing page.
It offers four configurations – inline, modal, slide-in, and sticky bar – to help you create the type of form you want for your website.

It also offers mobile responsive pre-designed templates to choose from for your forms.
You can customize its color and font, add custom CSS, add a background image, background color, etc.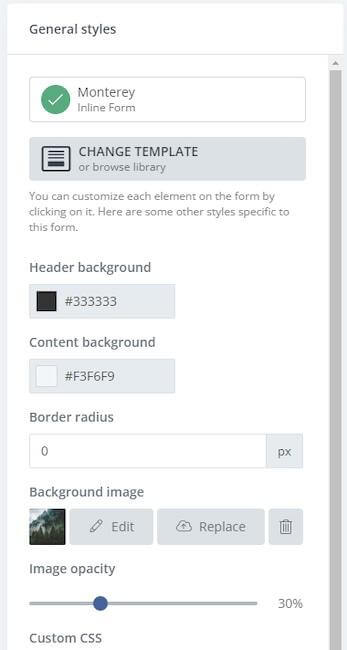 Mailchimp also offers similar options to build forms, and these forms are easier to make as everything is drag and drop and customizable.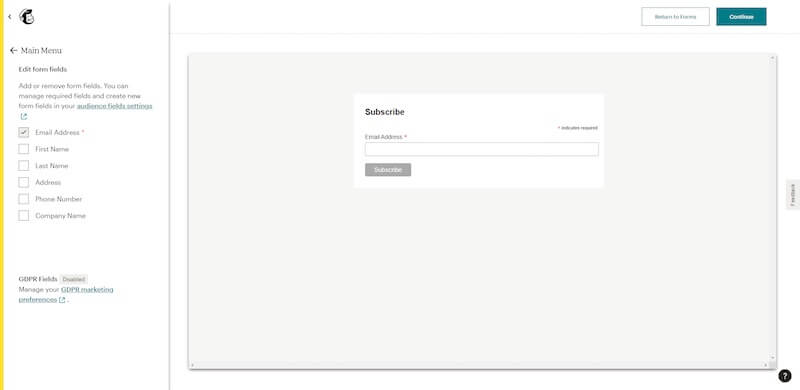 Mailchimp offers a single opt-in signup form, meaning that when a customer fills out the form, they will get added directly to your Mailchimp list.
The service also detects duplicate entries to avoid adding a single contact twice.
For starters, you get the hosted signup form. Mailchimp will automatically generate these forms for all your subscribers and audiences.
However, you can customize them to align with your branding and then share the URL on your website – no HTML knowledge required.
You can also use an advanced hosted form in your paid plan, which requires basic knowledge of HTML.
Mailchimp also allows you to create the following types of forms:
Landing page signup form: Mailchimp enables you to design sharable landing pages to collect new contacts. You can simply keep the email field or choose more fields from the options.


Embedded form: You can embed your form on your website using a simple code that Mailchimp provides. Mailchimp also allows you to personalize your forms with branding if you are familiar with HTML codes.
Pop-up form: These forms appear on your web page based on your chosen criteria.
Winner: ConvertKit.
Although Mailchimp has many options for themes, layouts, etc., ConvertKit provides a streamlined experience for creators.
With Mailchimp, you'll have to use a different editor for different form types.
Get started with ConvertKit.
6. Reporting and Analytics.
ConvertKit:
ConvertKit does not have a separate reporting tab.
You will have to open every individual email to check an analytics report for it.
It will let you view open rates, click rates, unsubscribed, and links clicked.
However, it does not allow you to track bounce rates or other advanced data like geographical information.
Mailchimp:
Mailchimp's reporting is much more detailed than ConvertKit's.
It offers basic performance reports, social media performance, open rate by location, and more. You will also be able to check your campaign's bounce rate, click rates, deliverability, and ecommerce sales report.
Aside from standard email metrics, Mailchimp also shows who has interacted with your marketing, whether they've bought or downloaded so that you can create more compelling content.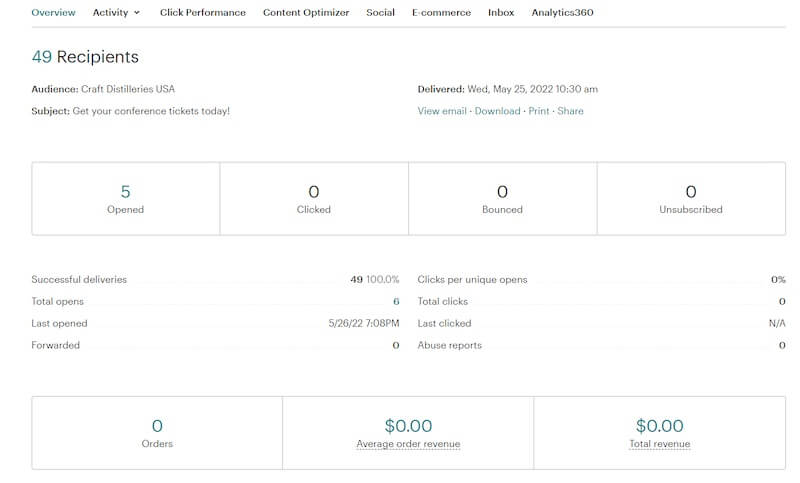 Then you have Click Maps, which lets you see how recipients interact with your emails so that you can adjust your content.
You also get unique features like the ability to compare your email marketing campaigns to those of other companies.
You can see how your open, click, and unsubscribe rates stack up against your industry peers.
Benchmarks appear in your email reports to see how you're doing and what might need improvement.
Winner: Mailchimp.
Mailchimp wins here with its diverse range of analytical reports.
7. Convertkit vs. Mailchimp: Pricing.
With both Mailchimp and ConvertKit, you pay by how many subscribers you have on your list.
Here are the differences between the plans offered by each service:
ConvertKit Pricing:
ConvertKit offers three plans:
Free (For beginners building their list) – Free for 1000 subscribers, unlimited landing pages, unlimited forms, unlimited email sending, audience tagging and segmentation, selling digital products & subscriptions, and community support.
Creator (For growing creators, $25/month) – Everything in the Free plan + live chat, email support, free migration from another platform, automated sequences, visual automation builder, third-party integrations, one additional team member, etc.
Creator Pro (For established creators, $50/month) – Everything in the Creator plan + unlimited team members, newsletter referral system, subscriber scoring, advanced reporting, etc.
These pricing plans are for up to 1000 subscribers. The cost increases with the number of subscribers.
Mailchimp Pricing:
Mailchimp offers four plans:
Mailchimp's Free Plan – Monthly email send limit is 10,000 sends (daily limit of 2,000), Marketing CRM, creative assistant, website builder, Mailchimp domain, forms, landing pages, basic segmentation, behavioral targeting, etc.
Essentials ($9.99 per month) – Everything in the Free plan + email scheduling, customer journey builder, A/B testing, etc.
Standard ($14.99 per month) – Everything in the Essentials plan + predictive demographics, lookalike audience finder, custom-coded templates, multiple starting points for your customer journey, branching points, pre-built journeys, send-time optimization, etc.
Premium Plan ($299 per month) – Everything in the Standard plan + 10,000 subscribers, comparative reporting, multivariate testing, phone support, and advanced segmentation.
This pricing caters to up to 500 subscribers.
The prices increase with the number of subscribers.
ConvertKit Pros and Cons.
Pros:
Landing page builder.
Automation rules.
Email tagging.
You don't get charged for duplicate subscribers.
Automation builder.
Zapier integration.
Cons:
Limited pre-built email templates.
Limited free trial.
No integration with ecommerce platforms.
Advanced analytics are only available with the priciest plan.
Mailchimp Pros and Cons.
Pros:
Easy to use editor with drag and drop content blocks.
Visual automation builder.
Pre-built customer journeys.
Pre-designed email templates for different situations and industries.
Cons:
Charges extra for a single subscriber in two or more lists.
Wrap Up.
In the end, both Mailchimp and ConvertKit have their pros and cons.
Both service providers have a diverse set of features for different types of users, a user-friendly interface, advanced automation, email sequences, landing pages, form builder, stellar customer support, etc.
Their ease of use and streamlined functionality make both a good choice for beginners and advanced users alike.
However, Mailchimp will be your online business's better option if you prefer more flexibility in the design department.
The key is finding what works best for your particular business's needs.
Use ConvertKit if you want to:
Use a more flexible segmentation and list management tool.
Send simple email marketing campaigns.
Get started with ConvertKit.
Use Mailchimp if you want to:
Analyze your email campaigns in depth.
Run a competitor analysis.
Create attractive email campaigns.
Create pop-up forms.
Create automated customer journeys.
Which email marketing platform are you planning to use?
Let me know by commenting below!
Further reading on AdamEnfroy.com: There are also specializations of email marketing software that cater to particular uses.
For example, the best cold email software can help you with prospecting and building relationships with new customers.
In addition, here are a few more direct comparisons of the top email marketing software to consider:
Disclosure: I may receive affiliate compensation for some of the links below at no cost to you if you decide to purchase a paid plan. You can read our affiliate disclosure in our privacy policy. This site is not intending to provide financial advice. This is for entertainment only.
---
Last Updated on December 8, 2022 by Adam Enfroy