Battling Self Doubt to Blogging Success.
Starting a profitable blog took me way too long. Throughout my life, I always wanted to start an online business but perfectionism and a lack of confidence held me back from making the leap. I would start something, not see immediate results, let self doubt creep in, and then quit.
I want you to know who I really am. Every "About Page" talks about how awesome the person is and lists all of their business accomplishments. My friends and family have seen my successes in my career and my life, and they've also seen my failures. So here's my story, and I hope it gives you an idea of who I really am.
1987 – Born into the World: From Nothing to a Real Live Baby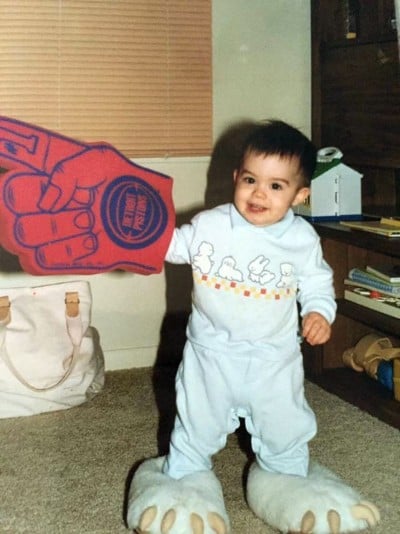 I was born in Southfield, Michigan and spent my early years growing up in the nearby town of Livonia.
My very first memory was sitting in preschool trying to impress a girl by humming the Teenage Mutant Ninja Turtles theme song. I don't think it was very effective. 
I am the oldest of three brothers and spent my time as a kid watching Teenage Mutant Ninja Turtles (obviously), playing outside in the neighborhood, and was apparently a Detroit Pistons fan since birth. 
When I was 4, my brother Alex was born and we spent a lot of time together. (He's still my best friend).
When I got a little older, I joined soccer and baseball teams, collected Pogs, and played Super Mario, Duck Hunt, and Excitebike on our old Nintendo.
1995 – My Childhood in the 90s
When I was 8, my family moved from Livonia to South Lyon, MI where I lived all the way through high school. 
My Nintendo became a Sega Genesis which became a Nintendo 64 (hours of Star Fox, The Ocarina of Time, and Banjo-Kazooie to be had).
In 2nd grade I made friends in my new town pretty quickly, but then in 3rd grade I was put into the dreaded "magnet program" – a class for the supposed smart kids.
I learned from a really young age that it absolutely sucked to be called different. 
I was picked on in 3rd and 4th grade and found that I battled back by avoiding conflict and trying to fit into the group at any cost. By the time I entered sixth grade, I joined the basketball team and was back to "popular status", but most of my self doubt and insecurities stuck with me. I didn't realize it at the time, but this would continue into my teenage years.
2003 – My Teenage Years in the 2000s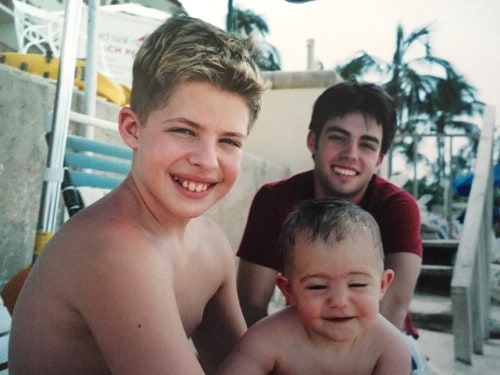 In 2003, I turned 16 and my youngest brother Michael was born. At that time, the 16 year age difference seemed huge, but it was a special bond where I got to watch him grow up (and stroller him around the mall to pick up chicks). 
I did well in high school – I didn't have to try too hard to get A's and B's. However, the old demons of wanting to fit in from childhood led me to developing a newfound relationship with alcohol at 16. I found it was the perfect social lubricant – it made me fit in, feel good, and with everyone else doing it, I didn't see the harm. I swear I must have given my mom a full head of grey hairs from the ages of 16 and 18. I stayed out late, partied with my friends (and some NFL players who lived nearby), and got in my fair share of dumb situations. 
However, I kept my grades together and was accepted to Michigan State University in 2006.
2006 – The College Years: A Downward Spiral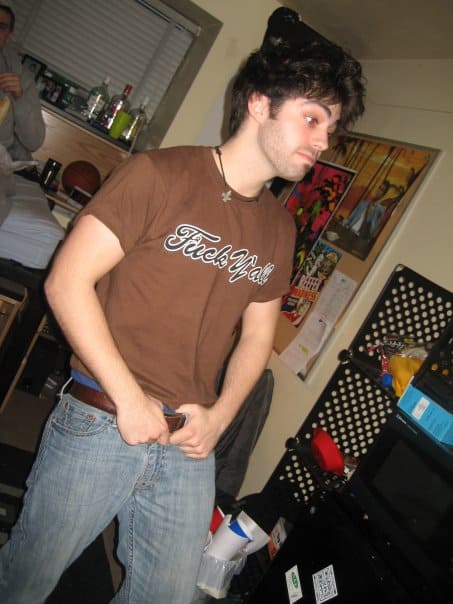 This t-shirt, which started as an inside joke, pretty much summed up my attitude at the time. I vividly remember that sweet moment after I moved into my dorm – my parents drove away, I pulled out that bottle of Jameson, and felt the pure freedom of true independence wash over me. 
Michigan State is a school of 40,000 students and is known as a big party school. Perfect for a spiraling party kid. Looking back now, I know I wasn't ready to handle this new freedom. My freshman year, I met a lot of great new friends from all over the country, maintained decent grades, but continued my most of my bad habits.
And the more time that passed, the more my bad habits crept up on me. By my sophomore year, I had no idea what I wanted to do with my life, I was drinking too much, my grades were slipping, and I started feeling depressed and anxious about my future. I felt trapped in a prison of my own creation.
Flash forward to my senior year – I was overweight, failing several classes, and totally lost. I remember my mom coming to visit me one spring afternoon and could tell she knew something was wrong, but I couldn't get myself to speak up, to tell her how bad things were, or to ask for help. 
Although I was struggling inside, I tried to hide it from the surface.
At this time I started teaching myself digital marketing in my spare time, escaping some of my own challenges by sitting behind a computer and helping people with SEO, PPC, email marketing, and website development. I honestly didn't learn a single thing about digital marketing from my college courses, but I saw the immediate impact and money that this new skill could provide.
While still an utter mess unable to shake my bad habits, I graduated from college in five years ("A lot of people go to college for 7 years. Yeah, they're called doctors"), moved back home with my parents, and kept teaching myself digital marketing in my free time.
Then some magic happened that turned everything around.
2012 – Turning It All Around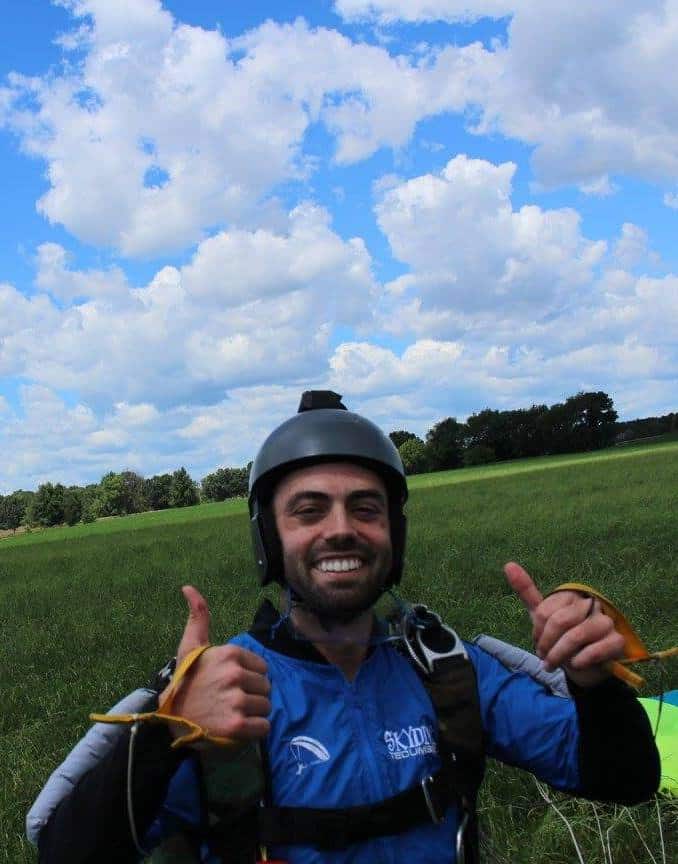 Three years later, at 25 years old, I was making some money as a digital marketing consultant, but I was still struggling to find a full-time job.
Then something happened that totally changed my life. 
I attended a 3-day personal development seminar. It was a rigorous event with long hours, intense human interaction, (and could be mistaken for a cult or scientology in all honesty).
However, once I went through the process, I finally began to understand myself at the deepest possible level.
I learned that getting bullied as a child was still affecting my self worth as an adult. I learned that my feat of rejection was holding me back from taking risks.
I learned that people are all just untapped potential and the only thing holding me back was myself.
I can't describe the process of this realization. All I know is that after that 3-day weekend, I was on fire. 
The next day, I ran a marathon on my own with no training – starting my run after work and finishing well after midnight, in the pitch black woods and covered in dirt. I felt like I was born again. Within a few weeks, I went solo skydiving, shook off my problems with alcohol, and landed my first job at a digital agency. 
I realized that my whole life, fear was holding me back. I was afraid to start a business, to go talk to that cute girl, or to take risks because of a deep rooted fear of rejection and failure. I learned that by doing something every day that scared the shit out of me, I was slowly becoming the person I wanted to be.
Somehow, I was no longer held back. 
Note: Many of my thoughts about life came out in my recent blog posts about human nature.
2019 – Where I Am Today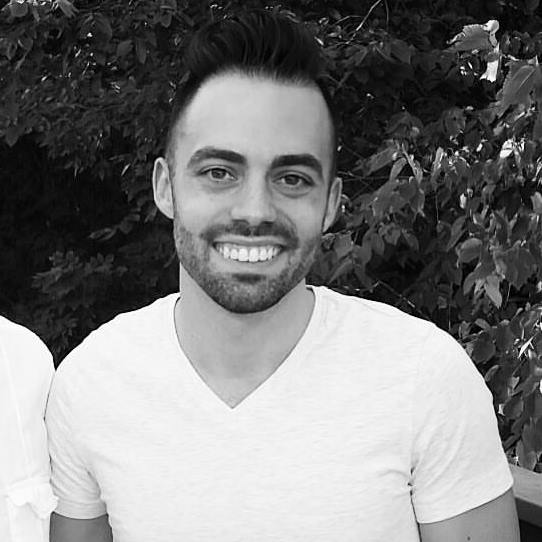 Between 2015 and 2018, I got promoted twice and led an agency team, transitioned to a new role managing ecommerce marketing for national retailers, then moved from Michigan to Austin, Texas to take on a digital marketing role at a large SaaS company. I was making more money than I ever thought possible at my darkest days. 
Every single thing I learned along the way was invaluable to getting me where I am today. I sometimes think everything happens for a reason.
Last year I discovered my love of writing and decided to launch this blog.
Although I always dabbled with entrepreneurship in the past, I could never fully commit and didn't have the tenacity to stick with it long enough to make real money. Luckily, that's all changed. 
Between December 2018 and January 2019, I launched this blog on WordPress and wrote 12 blog posts, contributed 25 guest posts, got over 550 backlinks, and grew my Domain Rating from 0 to 44 while increasing organic traffic over 700%. More importantly, I started making thousands of dollars per month as a content marketing consultant, all while working full-time.
I Know You Can Do It Too
With this blog, I want to help you grow your online influence and make money faster by giving you everything I learned in my short 31 years. I want to help you discover your unique superpowers. 
What are superpowers?
Your superpowers are your unique strengths that come totally natural to you, but seem hard to everyone else. They're the things you do naturally that make you feel good, make you lose track of time, and contribute to the success of others.
Here are my three superpowers I want to share with you:
1. Launching Websites
2. Growing Website Traffic
3. Monetizing Website Traffic
As many of us (myself included) work full-time jobs, I want to use my three skills above to help you scale your online influence and make money faster with your blog, even if you have a full-time job.
Here's the thing: I enjoy my career and I don't want to only make "passive income".
I love the connections I've made, the websites I've contributed to, and the results I've driven for high-growth SaaS startups and bloggers alike.
I don't dream of generating passive income so I can just quit my job and lay on a beach somewhere.
There's a lot more work I'd like to do. I have more content to write, more ideas to contribute, and more entrepreneurs to help with their online businesses.
Because that's my blueprint – I'm a teacher at heart.
My biggest thrills in life don't come when money hits my bank account, but when I am lucky enough to meet someone new and teach them something that may change their life (even in a small way).
Starting a blog and generate side income can bring you more freedom and change your life in many ways.
It could be launching a side business to support your family; making thousands of dollars every month for your content. It could be as simple as making some passive income with affiliate marketing or telling your unique story to the world and getting paid for it.
No matter your goals, my dream is to help get you there faster. Life's too short to not give it a shot.
I Just Want to Take a Moment and Thank You For Being Here.
If you made it this far, I appreciate the time you took to read this and deeply value every relationship I make from this blog.
I'm here for you as both a blogging guide and a friend. I respond to every email and want to learn how I can best help you on your journey.
I want to hear your stories – both the good and the bad. I want my blog to provide a safe place where new bloggers can collaborate and help each other out. Since we're all new bloggers, we need to band together, pick each other up, work smarter, and rally together to win.
If you're looking to finally take the leap to launch, grow, and monetize your blog, you can start here or enter your information below.
I hope that the story of your life is filled with peace, freedom, and happiness.