Blog Income Report for June 2021: How I Made $281,776 This Month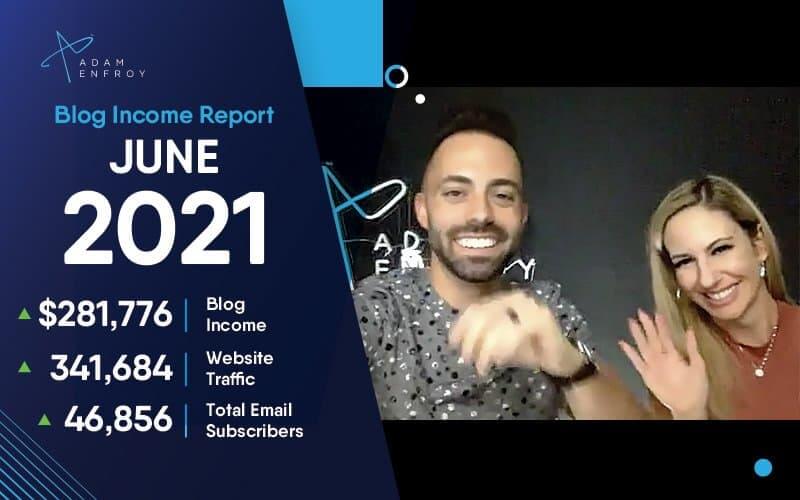 When I started my blog two and a half years ago, I never imagined my life would get to this point.
June 2021 will go down as the most meaningful and life-altering month of my life.
But not for the reason you might think…
After careful reflection, I realize that I've been seeking something my whole life.
Whether it was success through this blog, finding meaning through travel, moving to a new city, or trying to be somebody in this world – I've been searching for a purpose my entire life.
Since I was a child I've been seeking, searching, and trying to find meaning in this difficult world.
I learned that:
Being semi-retired at 32 and feeling like I "made it" didn't lead to happiness; life is about the journey; there is no destination at the end of the road.
Traveling the world can expand your horizons, but life is about people, not places.
External things – money, a house, a car, a bank account – none of it matters. Life is about honesty, openness, deep connections, and sharing who you truly are with the world.
But most importantly, I learned that if you put in consistent effort and do the next right thing, miracles happen.
And in my life, that miracle is named Jen.
I didn't always believe in miracles; in fact, I wasn't even sure if true love existed. I watched the movies and scoffed, heard love songs on the radio and avoided them; I just couldn't relate.
But then there was Jen, the angel who came into my life and changed everything.
The soulmate who showed me that one true love actually does exist.
The one that challenged the defenses that limit me.
Today, I can say that I'm no longer seeking.
The miracle happened: we found each other and for the first time, life makes sense.
So looking now at June 2021, it wasn't just a record month for my blog, it's the month when I got married and my life truly began.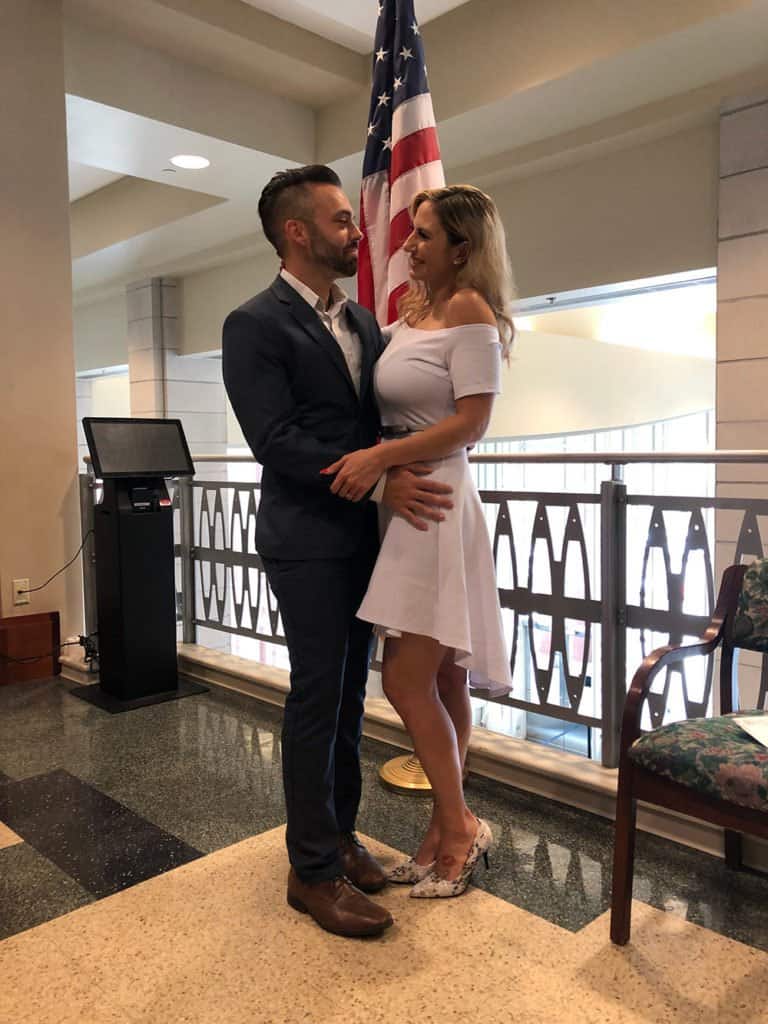 I now know my blog's entire purpose.
It wasn't the money, being able to quit my job, or obtaining some follower count – it was the freedom to move to Orlando and meet my wife.
And I will be forever grateful for that.
Okay, let's move on from the feels and into the numbers – let's get into my blog's income report.
1. Blog Income in June 2021: $281,776
In June of 2021, my blog brought in $281,776 with a profit of $251,328 (89% profit margin).
This is equivalent to the same profit that I would make if I was the owner of:
20 McDonalds locations 🍔
25 Starbucks ☕
Or 107 Subway stores 🥪
Not bad for an online business I started for $3 a month and I work on a few hours a week.
6 years ago, I was making $42,000/year. In June, I made that in less than a day. Times have truly changed.
Here's a quick snapshot of my profit and loss for June 2021 in QuickBooks: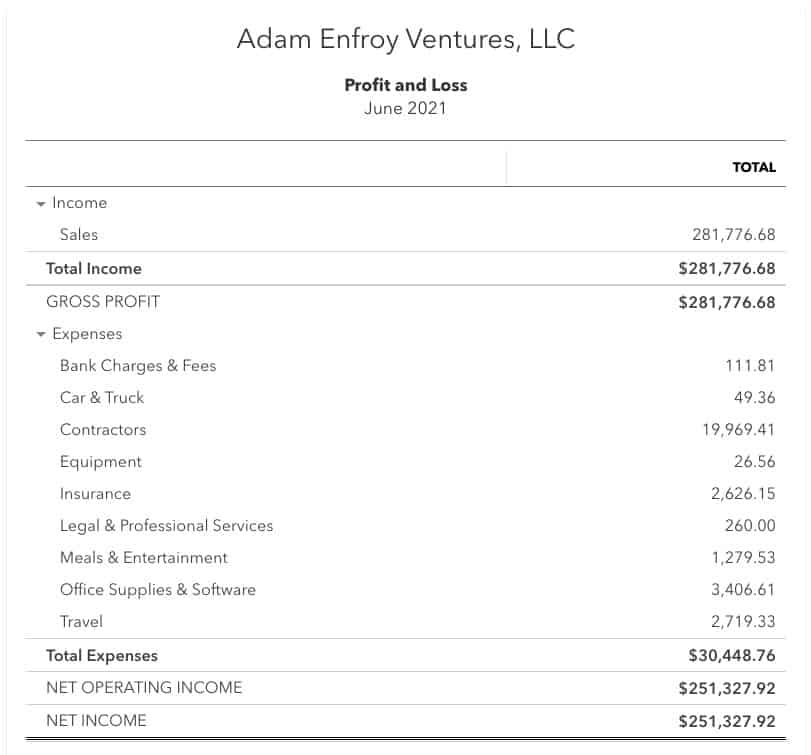 And here's a detailed view of my sales numbers, mainly in the form of affiliate commissions and course sales: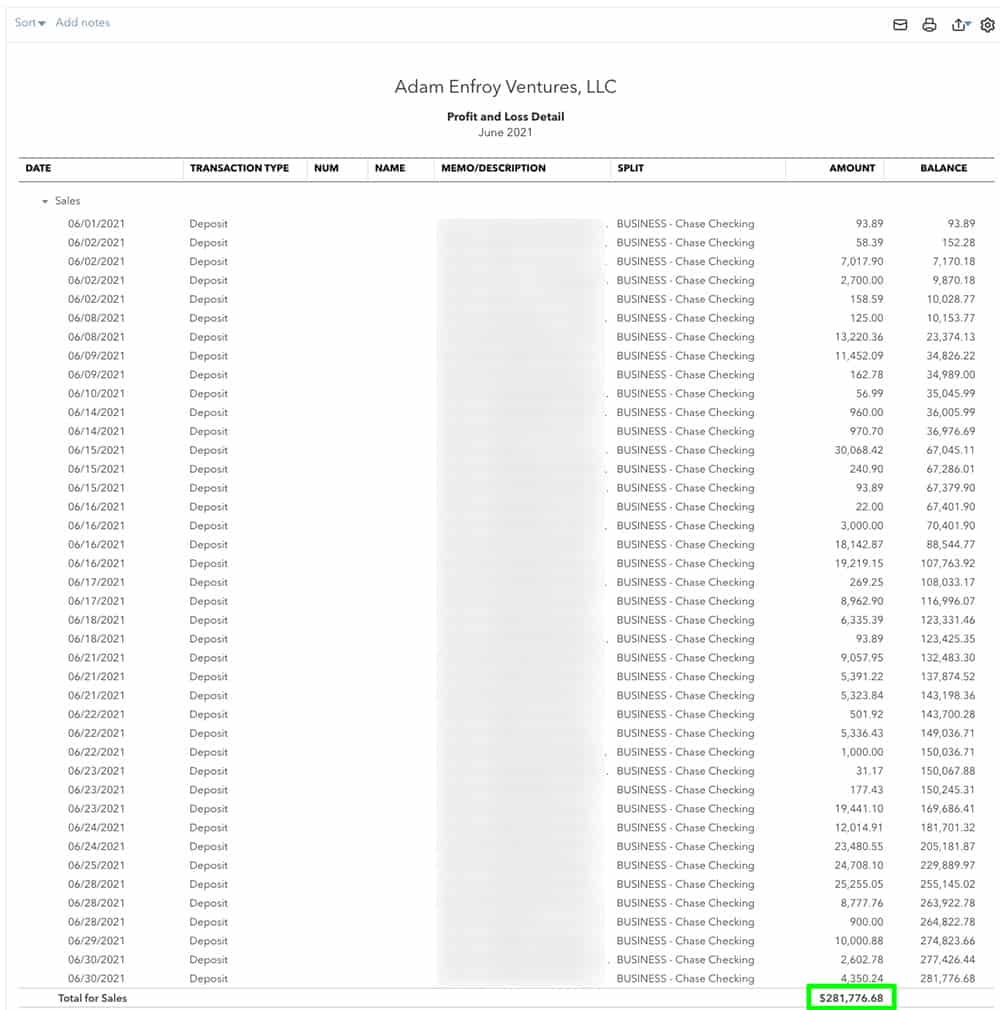 Overall, the launch of my course Blog Growth Engine was a huge success and brings an added layer of stability to my blog's revenue streams.
My blog's laser-sharp focus on affiliate revenue during the first 2.5 years led to a sustainable business and audience that was primed to go to the next level with an online course business.
So after 2.5 years of providing free blogging advice, I launched my premium blogging course on June 14th. It was the culmination of 7 months of work – research and planning, shooting 50 hours of video content, building the marketing funnel, and a lot more.
I set a personal goal of enrolling 125 students and making $100k at launch – I honestly didn't know what to expect.
Ultimately, we enrolled 265 students and made $193,808 during the launch. 🚀
Now that the launch is wrapped up, my time will be spent engaging with the Blog Growth Engine private community and going back to my regular schedule of helpful YouTube videos. 🙂
AdamEnfroy.com June 2021 Revenue Breakdown:
Course sales: $193,808
Affiliate revenue: $80,950
Ad network revenue: $7,017
Blog Growth Engine Course Sales: $193,808
After seven months of work, I launched my course Blog Growth Engine on June 14, 2021. We did a 12-day launch window that included a 60% discount for my subscribers, many of whom have patiently waited years for this course to go live.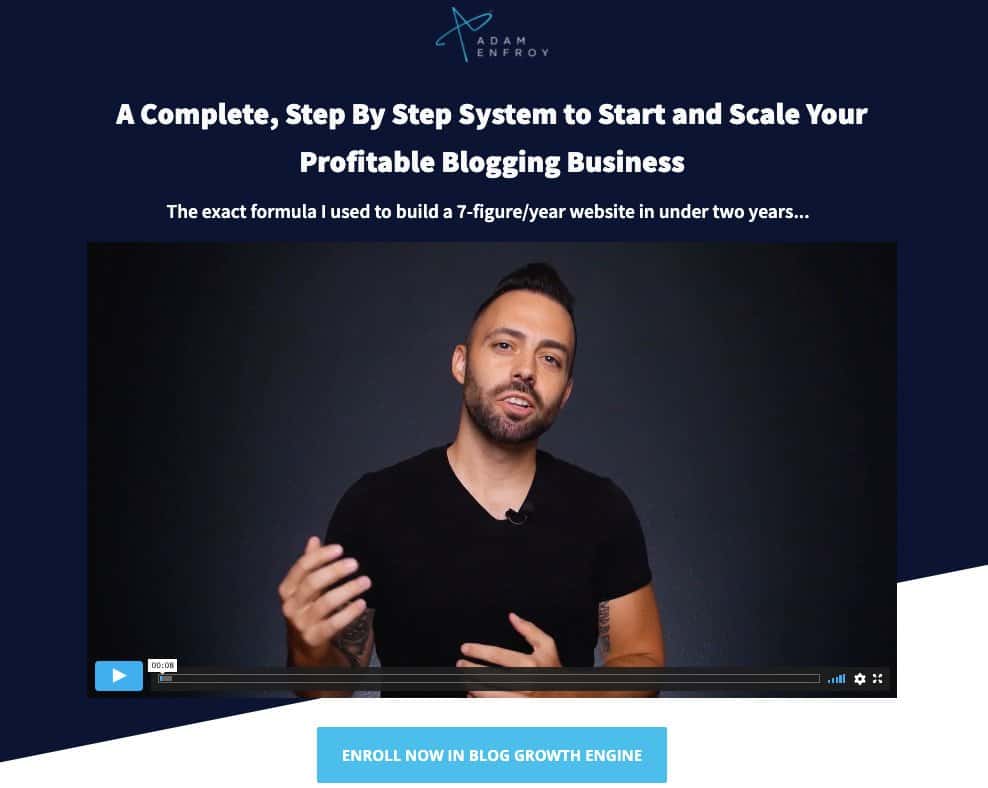 This one-time discount took the price down from $1,997 to $797 (a price that will never be coming back).
As you can see from the numbers below, most sales occurred on the very first day and the very last day of the launch window.
The last day (June 23rd) was a record day for my blog, with 85 course sales coming in for over $60k in daily revenue.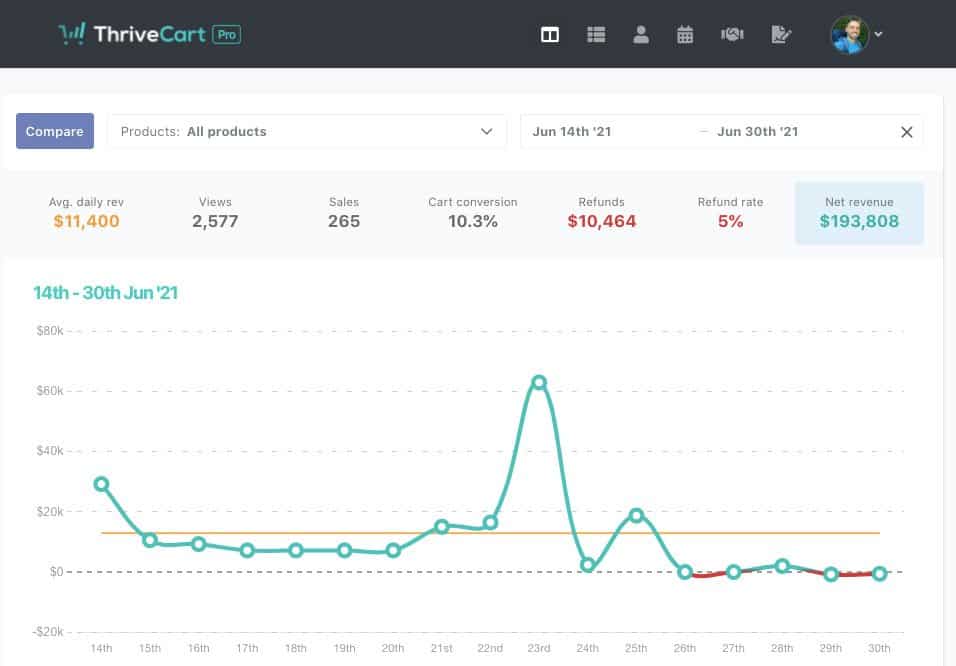 Overall, I'm super excited about growing this course and making it the best blogging community in existence. Many of our students already have their blogs up and running and are actively working on keyword research, content planning, and more.
This course launch was a huge learning experience for me and I couldn't have done it without the help of my course partner Colin Shipp.
He was the brains behind this operation and working with him over the last 7 months has been an absolute game-changer for my business. I'm proud to call him a friend and you'll see his face a lot if you purchase the course.
Now that I have a six-figure course launch under my belt, it's a topic I now feel I'm an expert in and can more comfortably teach in the future.
Affiliate Marketing Revenue: $80,950
Overall, I brought in $80,950 from 63 different affiliate programs (a 55.6% increase compared to June of last year).
These affiliate commissions are about as stable as they get, with 12 straight months of over $60k in affiliate commissions.
In June, I closed a few new flat-fee deals with companies that wanted to be added to high-ranking list posts of mine, bringing in an extra $5k+ of new commissions.
Remember, affiliate marketing is all about relationships and leverage.
As an affiliate, I can offer one of three things to a brand:
I can add them to an existing article they are not yet in.
I can increase their ranking in an article they are in.
I can write a new article and feature them in the #1 position.
Any one of these three options can provide thousands of clicks a month and visibility to a new audience, so I never do this for free or out of the kindness of my heart.
In return, I ask for expect one of the following:
A flat fee deal or large commission increase.
A guest post or backlink from their blog to mine.
Affiliate bloggers are in the driver's seat with these relationships once the traffic starts pouring in. Now that my blog gets a lot of traffic and ranks for lucrative software keywords, I get to call the shots and ask for higher commissions on a regular basis.
Overall, I recommend new bloggers start with affiliate marketing as the foundational monetization strategy, then move to ads and online courses once there is income stability in the affiliate channel.
Ad Network Revenue: $7,017
In June, my Mediavine ad revenue was $7,017.
As you can see from the screenshot below, payout dates for this ad revenue are delayed by a few months, so this payment was based on traffic levels I received in March 2021: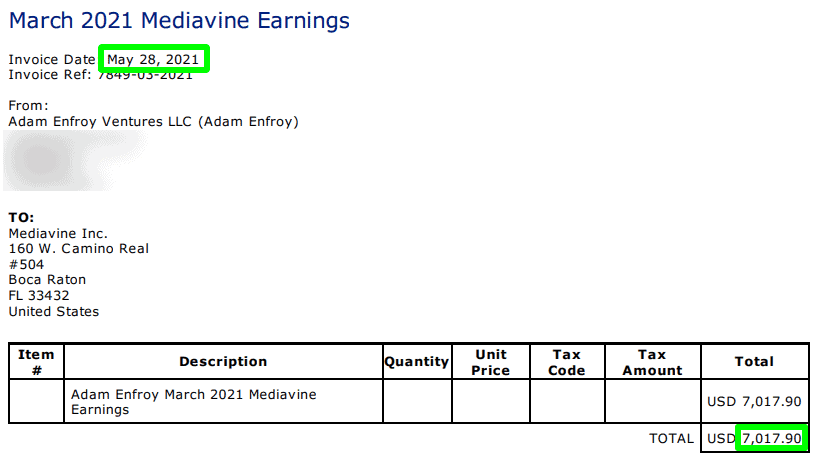 This ad revenue is going to decrease slightly in July and then increase again in August and September due to the traffic rebound my blog has seen in recent months.
Expenses in June 2021: $30,448
Overall, the cost of running my blog in June was $30,448.
Here's a breakdown of some of the main costs:
Freelancers (the team): Between my right-hand man Colin, a few writers, a video editor, a web designer, an outreach specialist, etc., I spent $19,969 on remote contractors.
Software costs: Office supplies and monthly software costs came in at $3,406.
Insurance: My health insurance and media liability insurance came in at $2,626.
Equipment: I bought $428 of new studio equipment.
Accountants: I paid my CPA company $332.
Side Note: when it comes to taxes, I will also add a number of write-offs to these totals, including:
Home office: I can deduct a percentage of my mortgage based on the square footage of my office.
Mortgage interest: I can deduct all mortgage interest.
Phone and internet: I deduct 50-75% of my cell phone and home Internet usage.
Payroll: As a single-member S Corp, I pay myself a salary, which also allows me to contribute to a solo 401k, both lowering my tax burden.
When you're first starting your blog, it's totally fine to keep it a sole proprietorship until you're generating a substantial income. I kept my blog as a sole proprietorship for a little bit too long. To keep things clean, the best route is to make sure your expenses and profits are all going into one bank account so it's easy to organize in QuickBooks.
Total Blog Profit in June 2021: $251,328
Let's move onto traffic and email marketing stats.
Traffic for June 2021: 341,684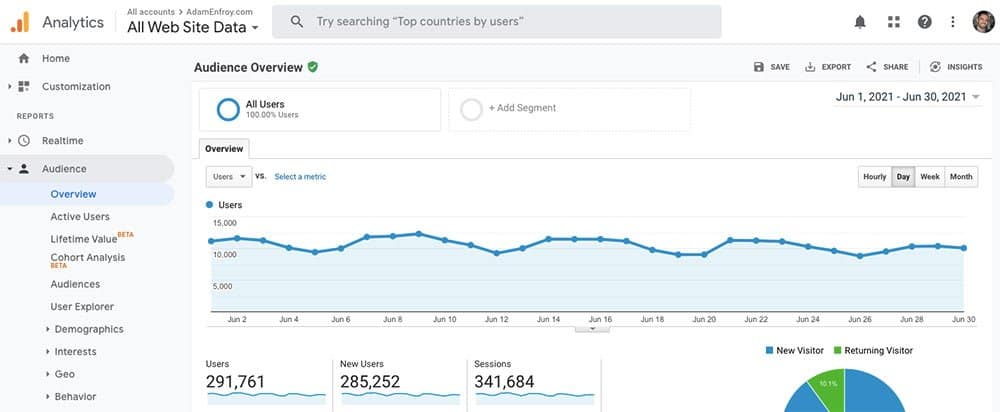 My blog's traffic has been on a steady incline over the past three months due to a more regular content update schedule and hiring my friend to help me full-time on the content side of things.
I realized that over time if a blog post is never updated, the rankings naturally slide down. So by adding a regular schedule of updates, important articles stay fresh and maintain their rankings.
Traffic came in at 341,684 sessions in June, which is actually down 10.99% compared to last year, but up 4.8% compared to last month.
I'll say it again and again – in blogging, traffic does not equal revenue.
Quality, monetizable traffic, and building a real audience equals revenue.
Email Subscribers for June 2021: 46,856
As of June 2021, I have over 46.8k subscribers on my email list. I currently use Convertkit (affiliate link) for email marketing, which I find is a great option for bloggers.
Our Blogpreneurs Facebook Group is also growing quite fast, with 7.5k members as of today. There are a lot of awesome discussions going on and some really cool bloggers helping each other out.
Please join us if you haven't already.
Tasks Completed in June 2021
Got married to the love of my life. ♥️
Launched my online blogging course Blog Growth Engine and enrolled 265 new students.
Published 9 new articles to my blog.
Obtained 21 new DR 70+ backlinks to my blog.
Started doing our live Q and A's and live feedback coaching for Blog Growth Engine students.
That's It For My Blog Income Report for June 2021
I want these blog income reports to prove that with the right strategies, making life-changing money with a blog is still possible. You just have to treat your blog like a startup, pivot, adapt, learn, and update your strategies for 2021.
July for me includes a quick trip to visit my wife's family in Texas, a trip to Iceland to do some hiking with a few friends, and some more wedding planning for our big celebration in Turkey this September. ♥️
That's it for now – thank you so much for reading and I'm grateful you found your way here.
-Adam
If you're looking to launch a blog and use my tactics, you can check out my full guide on how to start a blog and launch your blog with Bluehost for just $2.95/month.
Get started with Bluehost.
Disclaimer: The two Bluehost links above are affiliate links that provide a small commission to me at no cost to you. These links track your purchase and credit it to this website. Affiliate links are a primary way that I make money from this blog and Bluehost is the best web hosting option for new bloggers. You can read full affiliate disclosure in my privacy policy.
Editorial Process:
Our reviews are made by a team of experts before being written and come from real-world experience. Read our editorial process here.
Some of the links in this article may be affiliate links, which can provide compensation to us at no cost to you if you decide to purchase a paid plan. These are products we've personally used and stand behind. This site is not intended to provide financial advice. You can read our affiliate disclosure in our privacy policy.