How to Monetize Video Content Without YouTube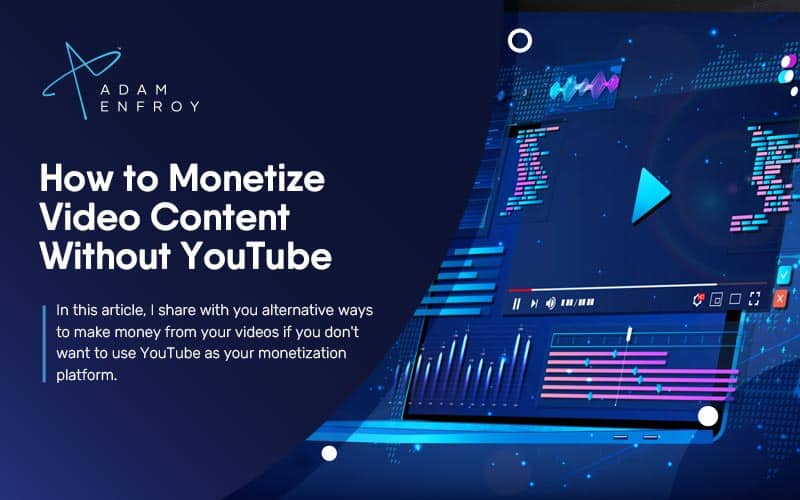 Starting a YouTube channel and monetizing your video content is a great way to make money online.
However, you might be pleased to hear that there are other ways to monetize your video content using various YouTube alternatives.
If, for some reason, you don't want to upload your videos on YouTube or want to explore other avenues, in this article, I'll be sharing with you some alternative ways to make money from your videos.
Let's get right into it.
What Does Video Monetization Entail?
Video monetization is all about making money from your videos.
You can sell products or services through your videos, generate leads, or even charge for access to your videos.
The list goes on and on.
For those that believe YouTube views and subscribers are the only ways to monetize your videos, think again.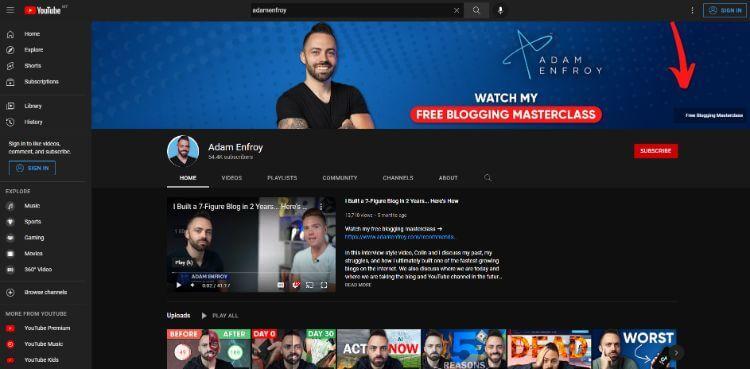 While having your own YouTube channel offers excellent opportunities to make money from your content, build up your audience, and share your message (and I'll get into this later), there are other ways to get the job done.
So, without further ado, let's look at how you can monetize your videos without YouTube.
Monetize Video Content Without YouTube
Here are the top video monetization models to consider.
1. Offer Subscription VOD
A subscription VOD, or SVOD, is a service that allows users to pay a monthly subscription to access your video library.
It's a great way to monetize your videos if you have an extensive catalog of content, and it's a model that's been adopted by many big names in the industry, such as Netflix, Hulu, and Amazon Prime.

If you're thinking of using this method to monetize your videos, you'll need to set up an account on a platform where users can sign up and pay for access (more on this shortly).
Once you have that setup, you must promote your VOD service and get people to sign up.
This type of subscription income compounds over time and is much more reliable than YouTube's ad revenue system.
2. Offer Transactional VOD (TVOD)
In the TVOD model, people make a one-time payment for watching various types of video content.
Here, you could either charge for each video or group videos together into an 'album' and charge for access to that.
Sky Box Office is a good example of a video monetization platform where users pay specifically for the content they want to see.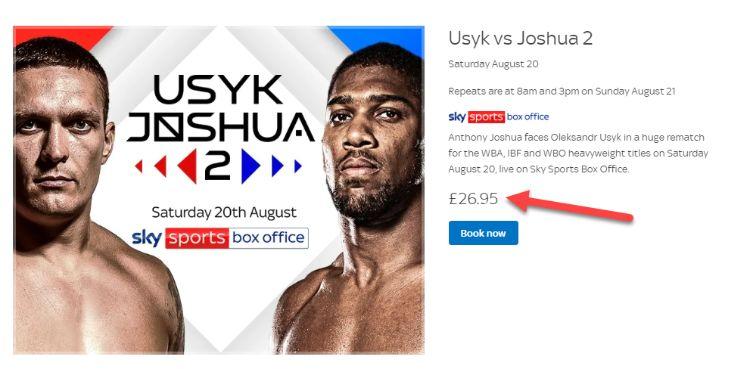 3. Sell An Online Course To Earn Passive Income
While the right video platforms make monetizing your videos easy, there are other ways to make money with this type of content.
Monetizing videos you create using a one-to-many model can be done through online course platforms.
With course platforms offering similar features to video hosting sites when it comes to video streaming, they then provide additional monetization features that deal with the process of selling courses.
Creating this type of passive income source is excellent for long-term stability and can help you earn money while you focus your business on other things.
You could also branch into online coaching as part of the next level of your video monetization strategy.
This involves offering one-on-one or group sessions through the right coaching platform.
This is a great way to connect with your audience on an even deeper level and help them achieve their goals – all while earning extra income.
4. Offer Digital Downloads To Your Audience To Increase Your Revenue
If you have started a blog and use SEO tools to rank high in search engines for specific keywords related to your niche, you could create and sell digital products relevant to your site visitors.
Using the video content you've already created, you can repackage this into an ebook, audiobook, or anything else that can be sold on your website or blog.
This is a great way to monetize your past work without creating content from scratch.
Plus, it's a great way to build an email list of potential customers that you can market to in the future.
5. Create Podcasts Based On Your Most Viewed Videos
Podcasting site platforms like Podbean, Libsyn, and Buzzsprout have become increasingly popular over the past few years.
With the ability to find sponsors that are relevant to your niche, you can make some serious money from your podcasts.
Some video platforms also allow dynamic advertising insertion into your recorded content, which means that for video creators that convert their videos into audio format, there's potential to make even more money without much extra work.
6. Use Affiliate Marketing Knowledge To Sell Others' Products
While creating your video content, there's nothing wrong with making recommendations for products that you use and love.
From selling merch to physical products, there are plenty of ways to make money from affiliate programs.
If you have a sizable audience, you could even approach companies directly and offer to promote specific products in exchange for a higher commission on sales than typically offered.
How to Monetize Video Content Online
Let's get back to using video to help make money online.
With the various video-on-demand platforms that exist, there are many ways you can go about monetizing your video content.
Here are the steps you need to take to start making money from your videos:
1. Create Your Own Online VOD Account
As far as video monetization goes, finding the right VOD platform is critical.
You want to ensure that your own online VOD platform has all the features and functionality you need to run your business.
2. Create A (Subscription) Offer
After you have your account created, you need to formulate a compelling offer that people will pay a monthly subscription fee for.
While many will watch videos on YouTube without overthinking it, if you are charging for access to your content, you need to ensure that it is high quality and worth the price, while answering the burning questions your audience has.
As such, selling access to valuable content starts with creating an offer people will want to pay for.
Some practical examples of subscription video offers include:
A monthly fitness program that provides new workout videos each week
A cooking show where new recipes are released every week
A series of educational videos that are released on a regular schedule
3. Upload Videos
Having your videos online is a must to start making money from them.
With the video platform you choose, there will be a set of steps to follow when uploading your content.
Many platforms offer bulk uploading features, saving you a lot of time if you have many videos to put online.
4. Get On Television!
You can also get on television if you want to take things to the next level.
While this might not apply to everyone, keeping your options open is always a good idea.
You can take your video uploads and make them available on smart TVs and other devices using OTT apps.
This allows you to reach a larger audience and make more money from your content.
5. Consider Live Streaming
Choosing a live streaming platform as part of your video monetization strategy is also an option.
Whether you want to go live and answer questions from your viewers or stream content that is more on the fly, some platforms can help you do it.
With various streaming software available, there are many options in this regard.
Depending on the monetization model you choose to have, live streaming can be one of your income streams when it comes to making money from videos.
Tools And Platforms To Monetize Videos
Here are some YouTube monetization alternatives to consider when it comes to monetizing your video content:
All of these platforms offer different features, so it's essential to choose the one that is the best fit for you and your business.
Your Own Site
If you want total freedom when making money with videos, having your own site is probably the best way to go long-term.
You can use a platform like WordPress to create a website and then use a tool like Vimeo to host your videos.
From there, you can use a variety of plugins and tools to integrate video into your website.
However, remember that professional video providers already have the infrastructure to support video content, so you will need to put in some extra work to get things up and running if you're creating your own video site.
Getting Video Views To Your Site
If you do decide to go down this route, the easiest way to ensure video views without YouTube is to put the relevant metadata into your videos.
Search engines can then understand what your videos are about and display them in search results accordingly.
Your goal should be to make your videos as easy to find as possible so that people looking for content like yours can easily stumble upon them.
To do this, you need to, at the very least:
Optimize your videos meta titles for SEO
Use the right descriptions
Use relevant tags
Create transcripts of your videos
These will all help with the process of ranking your videos in search engines.
Making Money On YouTube With Your Video Content
While the above information might seem to paint YouTube negatively when monetizing videos, the truth is that it can still be a great platform for making money with your content.
The key is to understand how YouTube's monetization model works and then create content that will be successful on the platform.
Here are some of the best ways to monetize your content on YouTube.
YouTube Partner Program
Content creators looking to monetize their YouTube videos can do so through the YouTube partner program.
YouTube videos that are a part of the YouTube partner program can have video ads running on them, with the original video creator getting a cut of the ad revenue.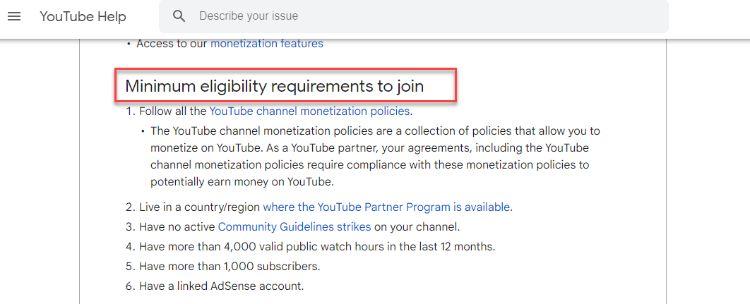 To be eligible for the YouTube partner program, your YouTube channel must meet specific criteria, including having 4,000 hours of watch time in the last 12 months and at least 1,000 subscribers.
As you can see, watch hours are important when it comes to YouTube's business model and might be one of the hardest goals to achieve for beginners.
A Google Adsense account is also required to have ads run on your YouTube videos.
In fact, setting up Google Adsense to get paid on YouTube is how many YouTubers make a living off their channel.
The more watch time you can generate on your channel, the more money you will make from Adsense.
Brand Sponsorship
Another monetization method that many YouTubers use is brand sponsorship.
With monetization options typically coming through product placement, endorsements, or simply having sponsors pay to be mentioned in your videos, there are several ways to go about it.
It is important to note that YouTube has guidelines regarding branded content, so be sure to read up on those before pursuing this option.
Merchandise
Online video is an excellent platform for selling merchandise.
There are various ways to go about doing this.
You could link to your merch store in the video description while also mentioning it verbally in the video itself.
Or, if you have a segment in your videos showing off your latest products, you could invite people to visit your store and use a specific coupon to get a discount when purchasing.
If you have a loyal following, selling merchandise becomes a much easier way to monetize your channel.
Memberships
YouTube offers advertiser-friendly channel membership options allowing viewers to pay for specific perks.
These include badges, super chat, emojis, and other elements, which can create a more engaging experience for viewers.
Why YouTube Might Not Be The Best Platform To Monetize Videos
Despite YouTube being the largest video-sharing platform in the world, it might not be the best option for everyone when monetizing their videos.
Let's consider why that might be the case.
YouTube's Algorithm Might Change
YouTube is a business, and like any other business, its number one priority is making money.
This means that the algorithm that determines what videos are shown to users and in what order is constantly changing to maximize profit.
This can be a problem for content creators, as they may suddenly find their videos are not ranking highly in YouTube's search or suggested lists.
YouTube Takes A Cut Of The Ad Revenue
Another issue with monetizing your videos through YouTube is that the platform takes a cut of ad revenue.
This means that content creators only earn a percentage of their videos' money.
While this might not seem like a big deal, it can add up over time, especially for content creators with many views on their videos.
Huge List Of Possible Violations
A massive list of potential violations could get your video demonetized or even removed from YouTube.
Steering your content too much towards a particular brand, product, or service, using copyrighted music without permission, or even having too many ads in your videos can all lead to YouTube taking action against your channel.
Content Can Be Wrongfully Flagged
As the amount of exclusive content uploaded on YouTube keeps increasing, more automated solutions are being employed to review videos and flag them for possible violations.
While this generally improves the YouTube user experience by removing videos that violate the terms of service, it can also lead to videos being wrongfully demonetized or deleted.
From copyright claims made by music labels to claims of inappropriate content, there are many ways your video can be flagged without you ever having done anything wrong.
Monetization Policies And Eligibility Requirements
Whether it's the number of subscribers, the number of views, or the type of content you're creating, YouTube has several policies and requirements that must be met to be eligible for monetization.
Similar to how a social media platform has requirements for advertising, these can be difficult to meet, especially for small content creators.
Monetize Video Content Without YouTube – FAQ
What Are The Best Video Formats For Monetizing Content?
The best video format will vary depending on your chosen method.
If you plan to sell videos or subscriptions to view your videos, then the best format is likely to be MP4.
MP4 files can be easily downloaded and viewed on most devices.
If you want to embed your videos on a website or blog post, then FLV or WMV files are probably better suited.
However, this all depends on the platform you'll be using.
Can I Create Tutorials Showing People How To Do Things To Monetize Content?
Yes, you can create tutorial videos showing people how to do things.
These types of videos can be pretty popular and generate a lot of views.
If you want to monetize your tutorials, you can charge people to view them.
For example, you could set up a pay-per-view system where viewers have to pay to watch your videos.
What Are YouTube Ads?
YouTube ads are a form of advertising video that allows businesses to promote their products or services on the world's largest video-sharing website.
YouTube ads come in a few different formats, including pre-roll (which plays before a video), mid-roll (which plays in the middle of a video), and overlay (which appears at the bottom of a video).
YouTube ads can be a great way to reach a large audience with your marketing message and can effectively generate leads and sales.
Can You Succeed In Digital Marketing Without Videos?
Digital marketing is incredibly competitive, and it can be challenging to stand out from the crowd without using all the available tools at your disposal.
While it is possible to succeed in digital marketing without videos, it is becoming increasingly difficult.
More and more businesses are using videos to reach their target audiences, and those who don't use them are severely disadvantaged.
Wrap Up
Whether you use YouTube or any other video monetization platforms to monetize your video content, there are several ways to make money from such content.
From finding sponsorships and advertisements to selling products and services, there are plenty of opportunities for you to monetize your efforts.
At the same time, remember that it takes time, effort, and perseverance to succeed in the online video world.
So don't give up if you don't see results immediately – keep creating great content, promoting your videos, and engaging with your audience, and you'll eventually succeed.
Do you have any tips on how to monetize video content using YouTube alternatives?
Feel free to share them in the comments below!
Further reading on AdamEnfroy.com: Video editing software can help you create high-quality videos to post on your blog or other platforms like YouTube.
In addition, closed captioning software can make the process of captioning your videos much easier and faster.
Finally, knowing how to use graphic design software to create engaging visuals will also come in handy when making videos.
From video thumbnails to end screens, there are many ways to make your videos more visually appealing.
Disclosure: I may receive affiliate compensation for some of the links below at no cost to you if you decide to purchase a paid plan. You can read our affiliate disclosure in our privacy policy. This site is not intending to provide financial advice. This is for entertainment only.