How to Integrate Surfer with Jasper: The Best SEO Combo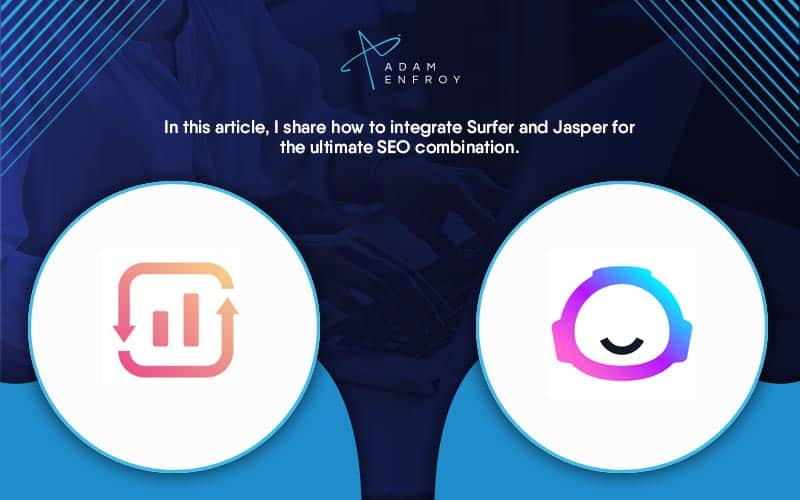 Getting website visitors is critical to starting a blog that makes money.
Surfer and Jasper are two tools that can work hand in hand to help you improve your SEO.
Surfer SEO is a keyword research tool that uses AI to provide data-driven insights into search engine optimization, helping you identify the keywords most relevant to your target audience.
Jasper is an AI writing assistant that helps create SEO-optimized content based on specific inputs tailored to your needs.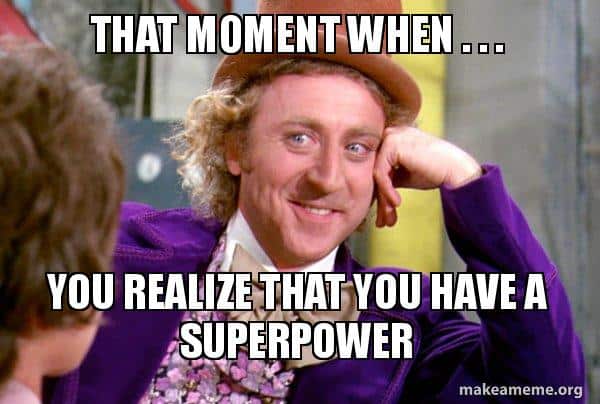 In this article, I'll show you how to integrate Surfer and Jasper for the ultimate SEO combination while also providing tips on how to get the most out of the two platforms.
Integrating Surfer SEO And Jasper
Let's start with an intro to both products.
What Is Surfer SEO?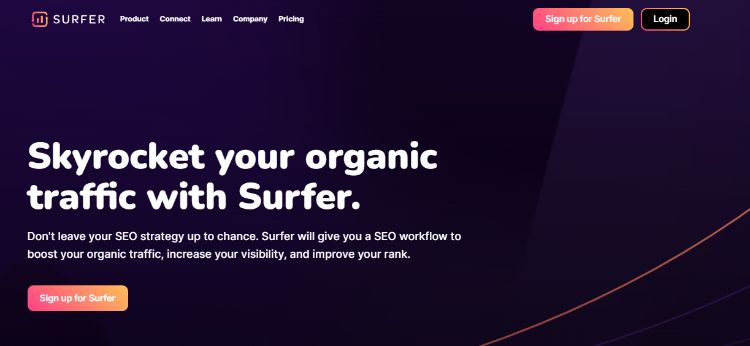 Surfer SEO is an AI-powered SEO platform that helps you optimize your content for search engine rankings.
Surfer provides data-driven insights into which keywords will be most successful for your content.
As search engine results pages (SERPs) become more competitive, keeping track of such changes and adjusting your content strategy accordingly is essential to staying ahead of the competition.
As a result, with Surfer, you can ensure that your content is always up-to-date and relevant.
You can connect Surfer to your Google Search Console to provide real-time on-page SEO recommendations.
The area in which Surfer excels is its SEO content editor, where you'll get to see the target keywords and the number of times to include them per article as you attempt to rank for a particular query.
Regarding keyword research, Surfer provides more than just keyword suggestions – it gives you an overall view of the competition, what keywords are likely to work, and which ones won't.
Once you log in to your Surfer SEO dashboard, you can create custom campaigns for specific queries and monitor their success over time.
This data-driven approach allows you to make changes and adapt your content strategy.
What is Jasper?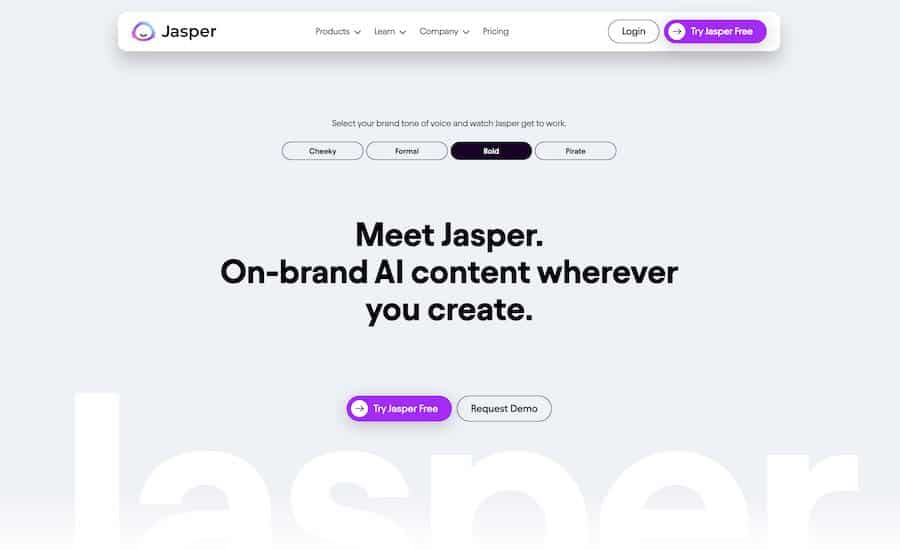 Jasper (formerly Jarvis) is a tool that helps with content marketing and automated content creation.
Jasper is an excellent choice for producing high-quality, SEO-friendly content quickly.
It's an intuitive platform that makes it easy for anyone to create engaging content without hassle.
As part of your content strategy, you can use Jasper to produce content based on specific inputs you give the tool.
The great thing is that such inputs are similar to speaking to a friend – you can enter phrases, questions, and data points Jasper should consider.
Search engines love to see authoritative sites that dive deep into the topic they're discussing, and Jasper can help you do that.
With a content writing workflow that fits right into a writer's work of operating, Jasper makes it easy to generate quality content at scale.
To optimize existing content, you can also use Jasper to add more relevant information and update your content.
You can also use Jasper's folders to organize content, allowing you to brainstorm ideas and plan future posts without leaving the platform.
You'll never be stuck on topic generation again.
For beginners, advanced users, and anyone in between, Jasper is a potent tool for improving website content and staying ahead of the competition.
Combining Surfer SEO with Jasper Successfully
Here are the steps for successful integration:
You will need to create two separate accounts on both platforms – both tools offer trials so that you can try them out risk-free.
Open your Jasper account and hit the cog icon to get to settings.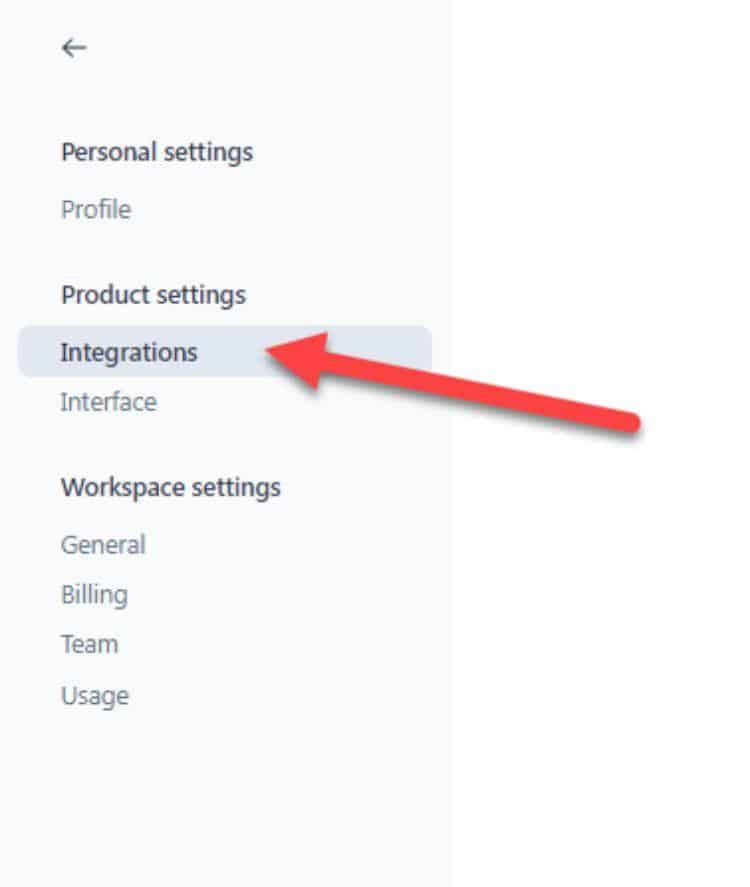 You will then find a heading called SurferSEO with an accompanying button on its right-hand side. Before pressing that button, ensure you have logged into SurferSEO first; otherwise, there won't be any connection between the two applications.

When everything is ready, go ahead and press down on that blue-hued button to finalize the integration process!
To ensure the integration was successful, open an existing document in Jasper or create a new one by clicking "+ sign." Select either "start from scratch" or "Blog post workflow."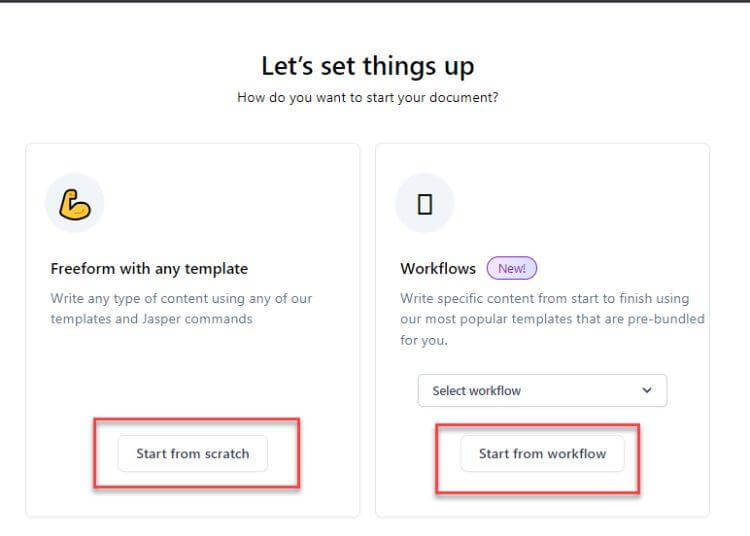 If you notice the SurferSEO icon at the center-top of your screen, it means integration has been successful.
However, if not, try logging out and back into both apps with the same browser (while clearing cookies).
To start using SEO mode, click on one of the documents you created earlier in the left-hand window. You will find all your documents beginning from this point onward there.
Get started with Jasper.
Troubleshooting
If the previous instructions didn't work and Surfer still does not appear on Jasper AI, here are some items to help you troubleshoot:
Ensure you use Surfer and Jasper AI on the same browser. To ensure that Jasper AI detects you are logged into Surfer, allow third-party cookies in the Chrome browser.
To ensure that all content is displayed correctly on your browser, take a moment to remove any pop-up blockers you may have running.
If you rely on a Virtual Private Network and the Surfer prompt isn't appearing in Jasper AI, remove your VPN to see if that resolves the issue.
The Benefits Of Using This Combination
Here are the benefits of using the combination of Surfer SEO and Jasper AI for SEO purposes.
Quick Reference As To What Keywords To Target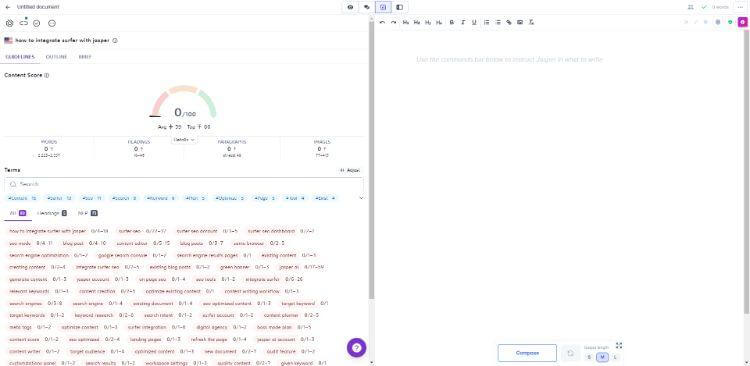 Using Surfer's analyzer, you can quickly and accurately get a comprehensive analysis of the keywords to target.
The advantage of using a real-time keyword research tool in content creation is that it helps ensure your content is up-to-date and relevant.
Get started with SurferSEO.
Access To Data From Over 200 Countries
While users see a content score they aim to get as high as possible when creating content, the data Surfer analyzes in the background helps you understand the factors contributing to the score.
When you use Surfer SEO to generate content briefs, it leverages data from over 200 countries and regions worldwide.
This process ensures that your content appeals to a wide range of users interested in the subject matter.
Surfer also utilizes natural language processing (NLP) keywords in its recommendations.
Surfer can identify topics related to your query and suggest content ideas accordingly.
It would be highly time-consuming and costly to do this step-by-step manually.
Analyze The SERP Landscape With Clarity And Precision
Getting the desired results in the SERPs often requires an in-depth analysis of your competitor's SEO strategies.
Creating optimized content is all about figuring out web visitors' search intent when they make queries on Google.
The right SERP landscape can help you create anything from the proper headings, content structure, and choice of words to optimizing your content for visibility.
You can use Surfer SEO to analyze your competitors' websites and backlink profiles to form high-performing copy that stands out.
Creating Content That Resonates With An Audience
As easy as it is to generate keyword-focused content, keeping your target audience in mind is equally important.
Your Jasper AI account allows you to create content for an audience that matches the intended keywords.
Both Tools Offer A Chrome Extension


Surfer and Jasper AI offer a Chrome extension to take their capability to the next level.
You can quickly discover which high-performing keywords to target and create content that ranks higher in search engine result pages without needing to be on one specific platform.
Fast Way To Generate Content
Whether you're a tutorial on product usage or using templates to generate quality content on a topic, you can use Surfer and Jasper AI to create content quickly.
By emphasizing quick content creation, you can stay in the game and never miss out due to a shortage of material.
You can also use Jasper to submit guest posts to build backlinks to your website and improve your visibility in search engine result pages.
You Can Create Headlines, Intros, Outros, Etc.
On-page, SEO-optimized content is essential for your website to rank higher in search engine result pages.
However, no one will read your content if the headline, subheadlines, and content aren't eye-catching.
Jasper AI allows you to use the right insights to create headlines that attract your target audience.
In addition, it also helps you generate intros and outros for your content that ensure your readers stick around long enough to read the whole piece.
You Can Also Get Copywriting Ideas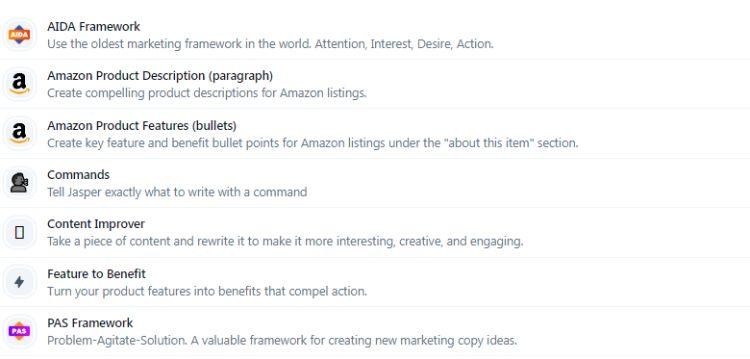 In digital marketing, copywriting is about writing persuasive content that encourages readers to take action.
While Surfer SEO might not apply as much in this area, you can still get ideas from keywords that help you craft persuasive copy.
In terms of Jasper, tons of copywriting-specific templates make it easier to generate copy.
How To Get The Most Out Of Surfer And Jasper
Here are some of the best tips to help you make the most out of this integration:
Make Sure To Research Competitors Thoroughly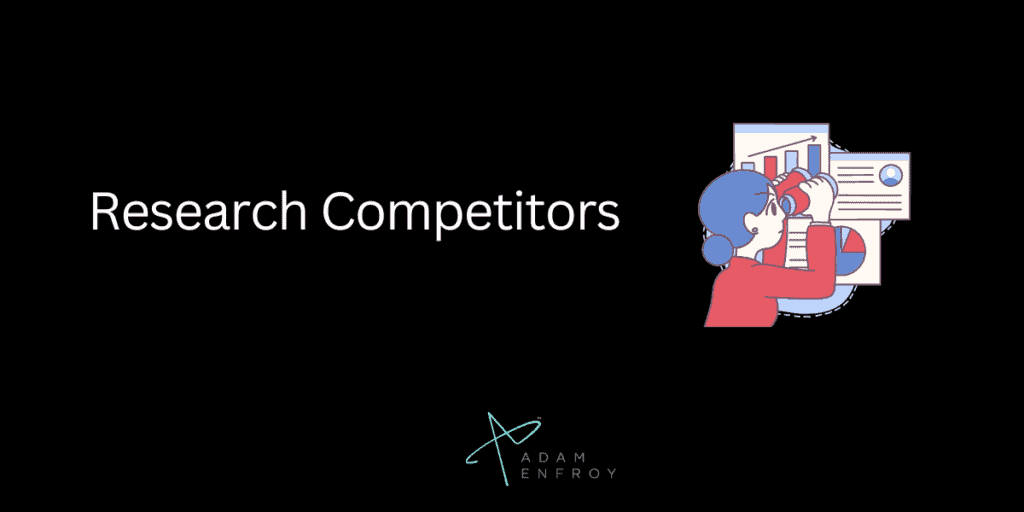 Whether you're adding to existing blog posts or creating content from scratch, it's essential to thoroughly research topics related to your industry and your target market.
Manually researching the topic you're creating content about will provide valuable insights into what kind of content people search for that can also rank highly.
Take Advantage Of Surfer's On-Page SEO Recommendations
Surfer provides several helpful SEO tools that you can use to optimize your content for search engines.
For example, you can access valuable metrics such as the number of words a post should have, the number of headings and paragraphs, the average word count for target keywords, etc.
A quick Google search and a look at the top-ranking pages for a set keyword will also provide insight into how they are optimized and which elements work best in ranking higher.
Moreover, integrating Surfer with Google Search Console lets you track your keyword rankings and other data over time.
Use Jasper To Create Content Based On Keyword Opportunities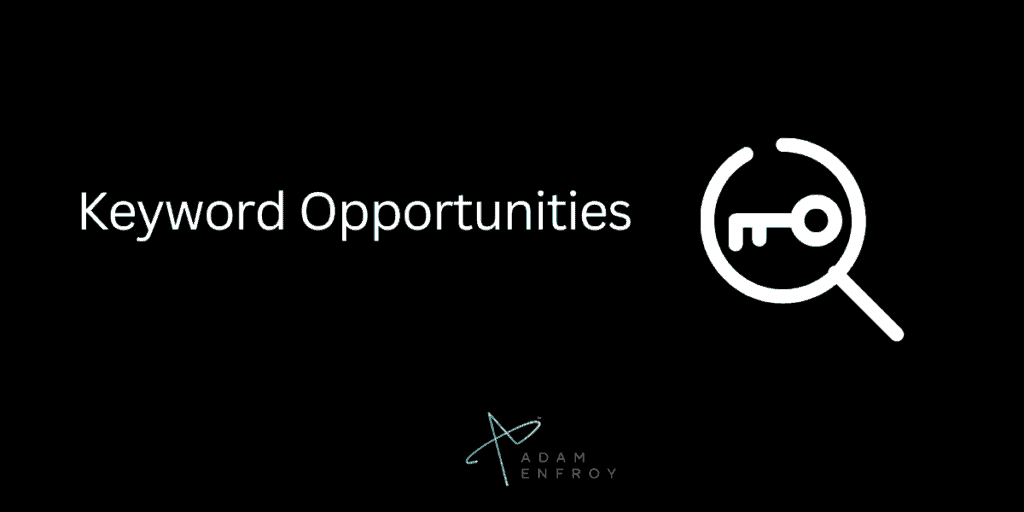 While Surfer is great for optimization purposes, Jasper can provide marketers with additional tools to create content that offers value and ranks better in SERPs.
Using writing tools and templates such as the Blog Outline or Blog Post Topic Ideas, marketers can generate ideas for blog posts based on relevant keywords or topics related to their industry.
Also, consider using Jasper for more minor requirements regarding content creation.
These requirements could include meta description generation or crafting titles and headlines.
Monitor Progress And Adjust Strategies As Needed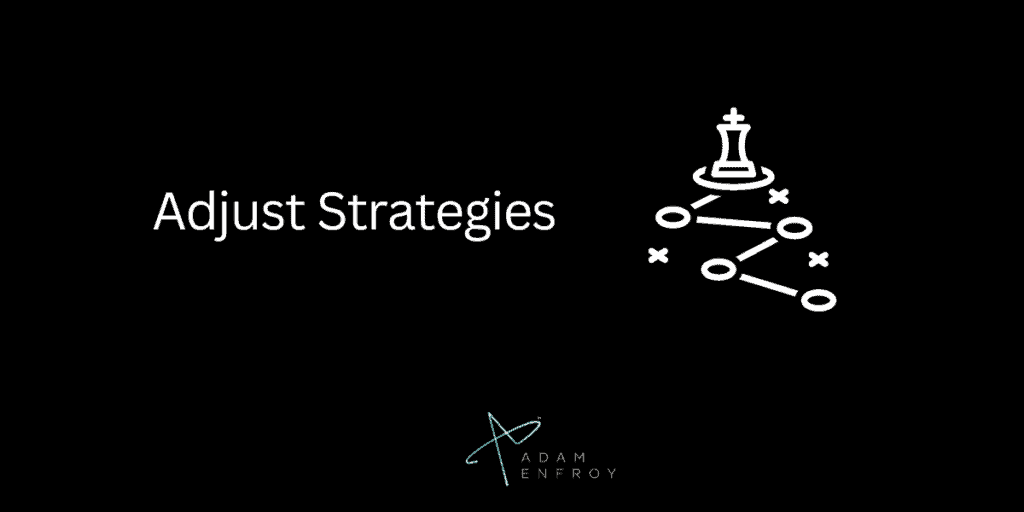 Once you've created your SEO-optimized content, regularly monitoring its performance is essential.
This monitoring will help you identify what works best for your target keywords and which elements require further optimization to achieve better ranking results.
Use Surfer To Perform Site Audits On Your Content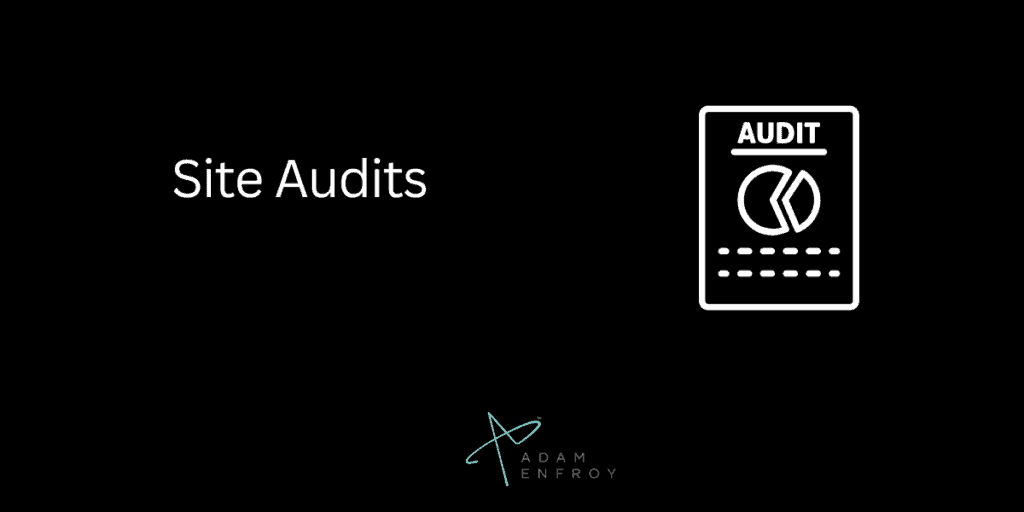 You can use Surfer's site audit feature that helps marketers evaluate their current SEO setup, find errors, and fix them.
You can do this by performing an SEO audit on your content to ensure it's optimized enough for search engine crawlers and visitors.
Integrations
Combining the power of these two tools with other software and services can be a great way to optimize your content for better rankings.
Here's a look at the integrations on offer.
Surfer SEO
Here are some of Surfer SEO's integrations:
Google Docs: Integrating Google Docs into your Surfer workflow enables you to easily create and collaborate on content, track changes, and ensure quality control.
WordPress: Integrate WordPress with Surfer to streamline the process of creating content for your blog or website quickly.
SemRush: Integrating SemRush shows its users backlinks their competitors are using aiding you in your link-building strategy.
Jarvis
On the other hand, here are some of the most popular Jarvis integrations:
Copyscape: Copyscape is an excellent tool for checking for plagiarism and ensuring your content is unique.
Grammarly: Grammarly helps improve your content's grammar, spelling, and clarity. You can quickly check for errors and instantly correct them from within the content editor.
Pricing
Surfer's pricing starts at $19 for the Lite plan, $69 for the Essential plan, $149 for the Advanced plan, and $249 for the Max plan. For Enterprise customers, there is a custom price depending upon their requirements.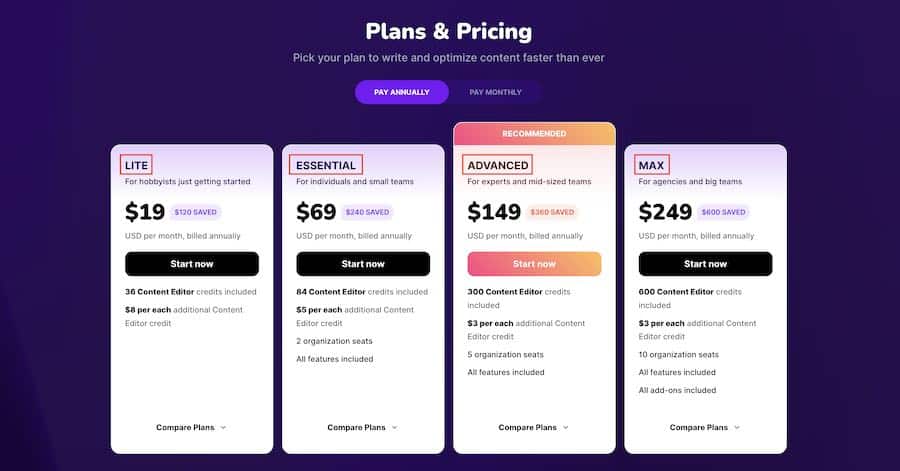 Jasper's pricing starts at $49/mo for the Creator plan and $125/mo for the Teams plan. For Business customers, there is a custom price depending upon their requirements.
Jasper also offers a Surfer SEO account trial for $1 for 30 days. You can find the link to join within your Jasper interface.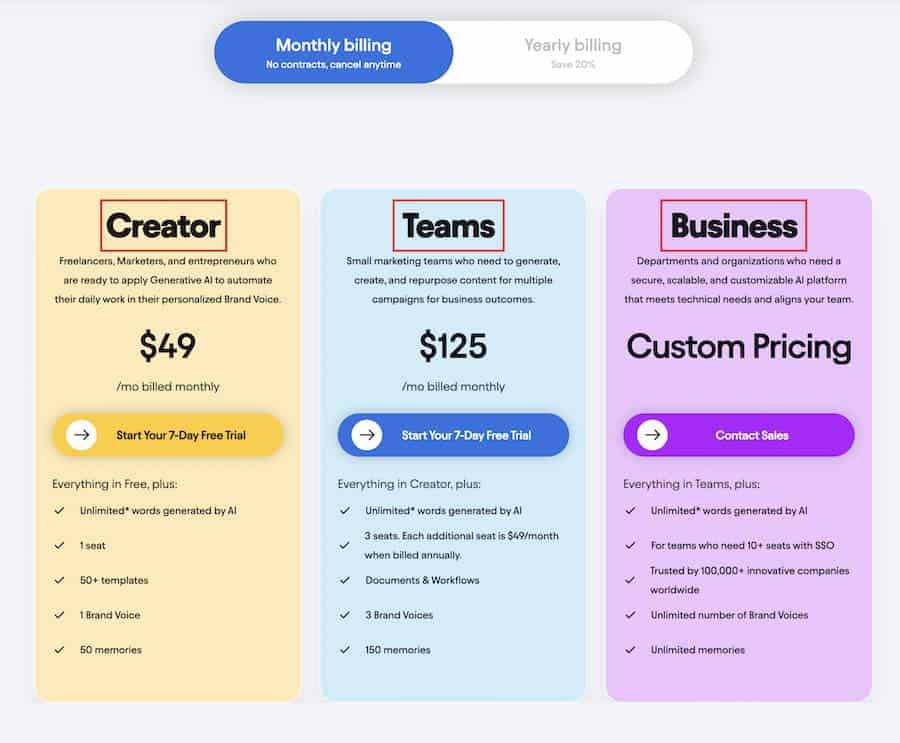 The above are paid monthly; you can opt for annual on both tools to save money.
Combining On-Page and Off-Page SEO To Get Results
When it comes to SEO, it is often best to combine on-page on-page and training machine learning models to maximize your efforts' effectiveness.
On-page SEO involves optimizing elements on individual web pages like titles, meta descriptions, and content to make them for allowing users to prototype quickly.
Off-page SEO refers to content outside the webpage, such as link building, social media marketing, etc.
Integrating Surfer with Jasper for both on-page and off-page SEO activities can help you get the most out of both strategies by combining data on competitor performance with keyword research.
Surfer specializes in providing detailed data about a given keyword's performance.
This data includes how often a keyword is searched monthly, what its competitors do for the exact keywords, and how they rank for them overall.
With the website's knowledge, you can develop an effective strategy for optimizing your website's content and structure for better visibility across multiple search engines.
Jasper provides powerful tools for creating content that ranks well in search engines.
Based on the data from Surfer, you can use Jasper to create optimized content for the keywords your audience is searching for.
This process involves optimizing titles and descriptions, analyzing competitor performance, and ensuring your content is formatted correctly.
With the combined power of Surfer's data and Jasper's tools, you can quickly create SEO-friendly content that will help raise your website's visibility in search engine results.
You can use Surfer to monitor the performance of each piece of content you create for further optimization.
Then when it comes to off-page SEO, you can create content that serves as guest posts, social media posts, and other link-building strategies that can boost your backlink profile.
By using both on-page and off-page SEO tactics together, you can maximize the effectiveness of your efforts and ensure improved visibility across multiple search engines.
Wrap Up.
In this Jasper and Surfer SEO review, I've reviewed how combining the two tools can help you create optimized content for higher rankings in SERPs.
With the ability to create content briefs, monitor rankings, and perform site audits using Surfer SEO and the various content-creation tools of Jasper, you can easily optimize your content for search engine crawlers and visitors.
Using these tools, you can create unique, high-quality content that aligns with your SEO goals.
Get started with SurferSEO.
Get started with Jasper.
Further reading on AdamEnfroy.com: The right SEO strategy for bloggers can take your blog to the next level, helping you to rank better in SERPs and attract more readers.
Moreover, knowing which SEO tools to use and how to combine them as part of a productive workflow can help you create great content that helps your blog reach new heights.
Disclosure: I may receive affiliate compensation for some of the links below at no cost to you if you decide to purchase a paid plan. You can read our affiliate disclosure in our privacy policy. This site is not intending to provide financial advice. This is for entertainment only.