SurferSEO Review – Is It The Top SEO Tool in 2023?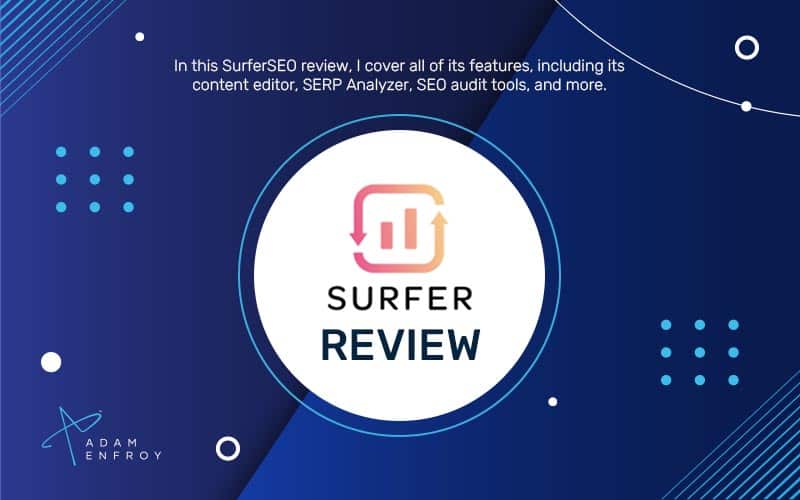 Starting your search for the right SEO tools is not always easy since there are so many different options.
From AI SEO tools that use artificial intelligence to provide recommendations, to keyword rank tracking tools that help you keep an eye on your progress, to tools that can help you with your link-building strategies, the options are endless.
SurferSEO is a popular SEO tool that promises to help users improve their website ranking and visibility in search engines.
It offers a suite of features, including keyword research, competitor analysis, backlink analysis, and more.
So, is SurferSEO the top SEO tool for those who want to improve their website rankings?
In this Surfer SEO review, I will closely examine this tool and its features to help you decide if it is the right solution for your needs.
Let's get right into it.
What Is SurferSEO And Its Key Features?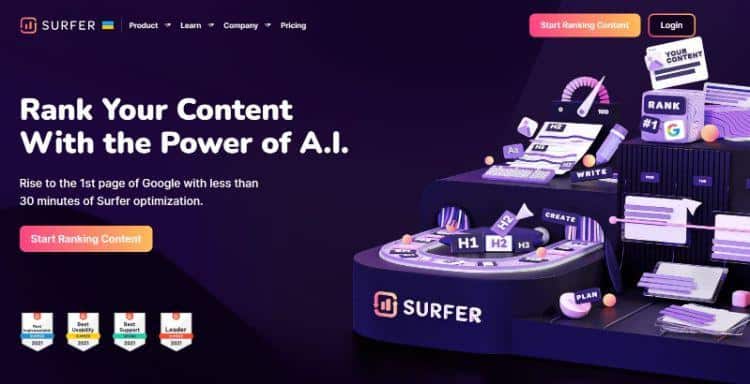 In a nutshell, Surfer SEO is a cloud-based SEO tool that analyzes the top-ranking content for any given keyword and provides detailed information about what factors contribute to its success.
This also means that you'll be able to know what you need to do to rank your content for the specific keywords that work for your business.
With that in mind, let's explore this tool's various features.
SERP Analyzer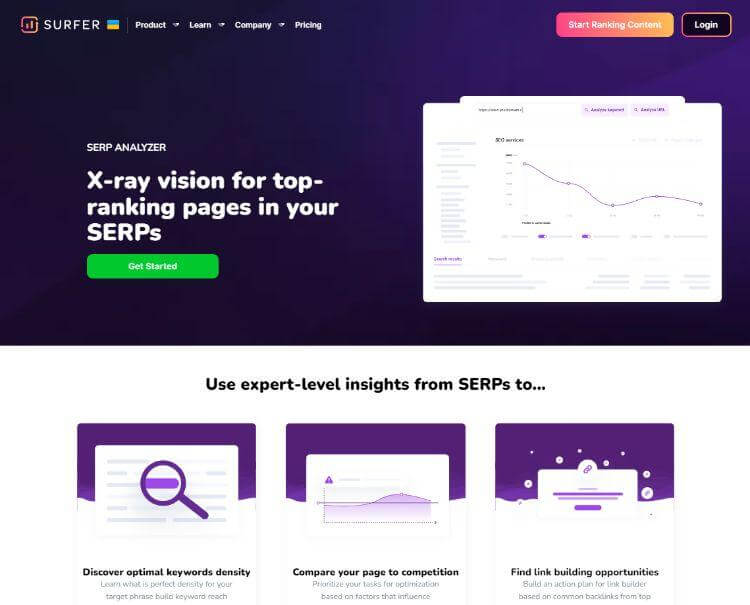 If you want to know what your competitors are up to and what you need to do to get better SEO results, then the SERP Analyser tool is a great feature.
While you can get this process done manually by going over each competitor's result and seeing which keywords they are targeting on their page, analyzing even a single keyword this way will take you forever.
Instead, Surfer SEO allows you to find alternative keyword suggestions that you should include in your content.
These can also include keywords that come from questions people want answered, which is a great way to create content that ranks and satisfies the user intent.
Thanks to Surfer SEO's tools, you can also find link-building opportunities, allowing you to build a plan of action in this area.
Another great thing is that you can see different results based on the mobile or desktop search, so if your site is accessed significantly more by one device than the other, you can get more accurate results.
Additionally, the ability to see how the search results have changed over time is also a great feature, as you'll be able to look at historical data to see whether a keyword is worth going after or not.
Surfer Content Editor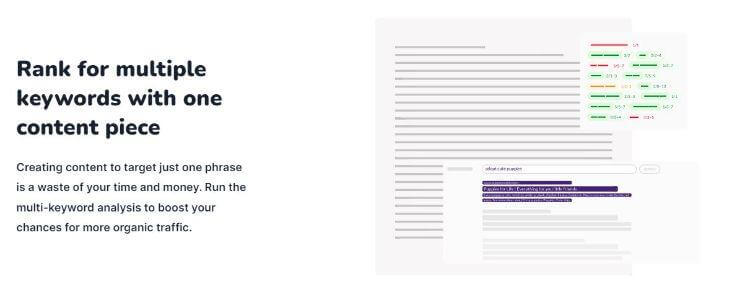 Keywords make up search engine optimization foundations.
If you want the best SEO results, you really need to ensure that your content includes the right keywords in the right frequency.
The Surfer SEO content editor tool that will help you with this by giving you information on how often to use a keyword.
Not only that, but the concept of natural language processing (NLP) is also taken into account, so you don't have to worry about your content sounding robotic.
NLP refers to a computer's ability to understand human language and is used by search engines to determine the meaning of a piece of content.
As such, it's essential to ensure that your content sounds natural and flows well, and the Surfer SEO NLP feature within the content editor tool can help you with this.
To make this happen, the content editor inside Surfer SEO helps ensure you include the right mix of keywords when creating your articles.
As you type inside either a Google document or the editor itself, you will see which keywords you need to include, along with their frequency.
As part of the SEO analysis, you'll also get an indication of the right content length for your article, which is calculated based on the top 10 results for a given keyword.
Keyword Research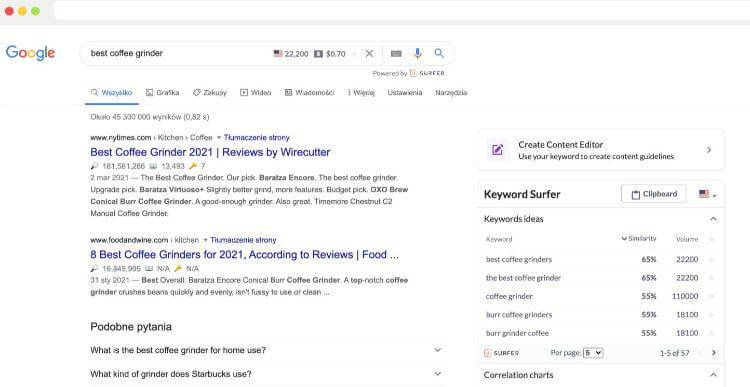 This is another critical component of any SEO-related campaign.
The ability to change location and see which keywords to target as part of your overall strategy helps a great deal when coming up with campaign ideas.
You can also use the tool's clipboard to add keywords you want to target later, giving you an easy way to keep track of them.
From monthly search volumes to getting the correct data from search pages, the keyword research tool provides you with all the information you need about a keyword before deciding to target it.
Whether you want to take over a topical segment or analyze new keywords for your business, this tool is more than capable of getting the job done.
SEO Audit
This is another feature that can get you higher rankings by helping you fix any technical issues on your website.
From fixing the number of headings in your articles, to improving the page speed and meta tag structure on your site, this tool will help you do it all.
After you've used the previous components to understand the articles that need to be created, the audit tool will give you all the data you need to ensure your website is technically sound and primed for such rankings.
When optimizing old content, you can also find new internal linking opportunities, compare your site with competitors and get an overview of your website's health.
Surfer SEO Grow Flow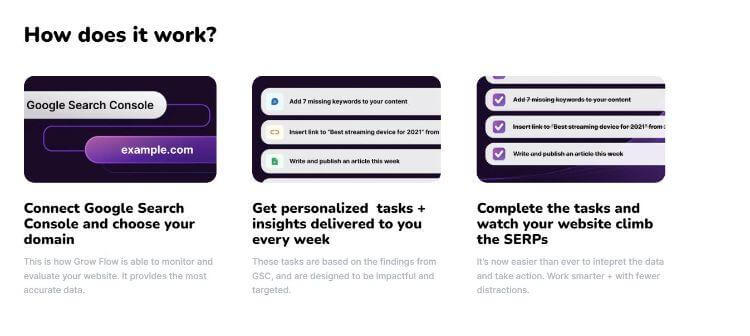 One of the recently introduced premium features is called Grow Flow.
This is a tool that never leaves you wondering what the next steps should be when it comes to developing an effective SEO strategy.
As of now, there are a few different types of suggestions that this tool can provide.
For example, one option allows you to get a list of keywords to add to current live pages on your site, allowing you to improve the performance of up to 10 websites.
Another option provides weekly suggestions that give you action steps to improve your SEO strategy.
As you execute these steps, you can track your progress and see which changes impact your traffic and rankings.
It's good to know that to retrieve correct data, you'll need to connect SurferSEO to your Google Search Console.
However, this is a small price to pay for the wealth of data and features that SurferSEO provides.
Surfer SEO Blog Outline Generator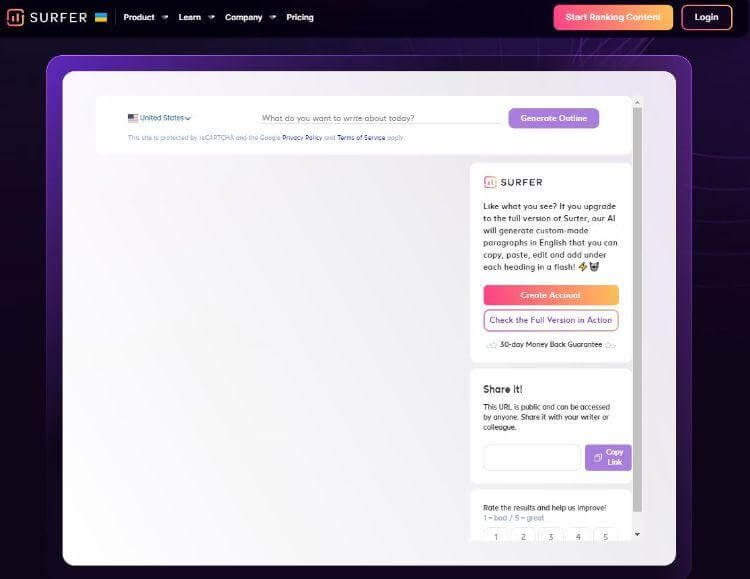 Another recent feature introduced by Surfer is an AI blog outline generator.
In just three steps, you can get a list of relevant blog ideas to your business and have a high chance of ranking.
This is an excellent way to ensure you're always creating valuable content for your audience while also being optimized for search engines.
When you create a content editor, you can now go to the brief section and find the generated outline there.
With a list of H1, H2, H3, and H4 headers based on SERP features and user intent, you can quickly develop an outline that will help you write an optimized article.
This is a nifty feature that makes it easier than ever to create content that's both informative and SEO-friendly.
Advantages And Disadvantages Of Using SurferSEO
Let's now look at the pros and cons of using this software.
The Advantages
Generally, the software is very fast to load.
For example, when you enter a keyword and hit the 'create content' button, Surfer will provide a report that gives you all the keywords you need to include in your article, all in just a few seconds.
There's also a lot of helpful information that can help you get up to speed with how to use Surfer SEO.
There is also the Google Chrome extension, so you can write articles that rank outside the Surfer editor.
This means that you can write directly in Google Docs and get all the features you would usually have if you were inside the software.
In addition, there's also a Surfer SEO WordPress plugin so you can check your content score directly from this content management system.
The user interface is very clean and allows users to find what they are looking for without difficulty.
The Disadvantages
When it comes to the pricing plans of the software, there is no trial involved that allows you to see if it's the right fit for you.
That said, there is a money-back guarantee for the first seven days, so you're not risking anything if you find the software isn't appropriate for your use case.
Main Users Of SurferSEO
With the aforementioned tools and features, you might wonder who the right type of user for Surfer SEO is.
With that in mind, here is a list of the most common types of users.
Those That Have An Interest In SEO
The first, most common user would be the person interested in improving their search engine rankings.
For those who want easy access to keyword analysis and research done on a semi-automatic basis, and who also want to know precisely the frequency of how many keywords to include when creating new articles, the platform offers the right solution.
Businesses That Are Looking For An Edge On Their Competitors
Understanding what your competitors are up to is essential.
This can be achieved by having the right data in hand.
While such processes can be done manually, it wouldn't really make sense from a business perspective, and the amount of time this would require.
As such, Surfer SEO can automate this research to give you insights that would otherwise be tough to get.
This is even more important for businesses in competitive markets where every second counts.
Surfer SEO can help facilitate this research by providing the right tools and data to help businesses take their SEO game to the next level.
Those That Want To Learn More About How Search Engines Work
For those interested in understanding how search engines work and who want to test out various ideas, Surfer SEO provides the perfect amount of data and tools to form hypotheses and test them out.
As SEOs, testing is a massive part of what we do daily, and Surfer makes this process much more manageable.
Those That Want To Audit Their Website For Any Potential SEO Issues
Understanding when your site has underlying issues is a crucial skill for SEO.
Surfer SEO provides tools that allow you to understand what might be holding your site back and, more importantly, gives you the ability to fix those issues.
Those That Outsource Their Content Writing
When it comes to the content editor feature, you can easily share a link with your freelance writers allowing them to know exactly what combination of keywords to use in their content.
There is no need to export lists and find complicated ways of sharing such editors since the shareable link also allows writers to edit the document in Surfer directly.
This also makes it easy to give feedback to a content writer as you can see where they are at in the writing process.
Bloggers That Want To Improve Their Blog Ranking
Bloggers can also use Surfer SEO since they can understand precisely which keywords they should target when it comes to content creation.
From the content structure of their page content to the SERP analysis tool, bloggers will have all the information they need at their disposal to be able to improve the ranking of their blog posts.
If you're a potential blogger that wants to start a blogging business or someone that already has a few articles on their site and wants to make money online with them, Surfer SEO can help you.
Beginners In The SEO Game
More knowledge will always help you make better decisions when producing content and optimizing your site for SEO.
However, the various tools that come with Surfer make the whole process much more manageable.
Due to features that are easy to understand and implement, and which can be used by those without prior knowledge of search engine optimization, Surfer is ideal for those just starting out.
As with anything else in business, the more you understand how a concept works, the better off you will be.
Still, for those that consider themselves beginners, Surfer SEO provides a great foundation to get going through a user-friendly interface.
Surfer SEO Cost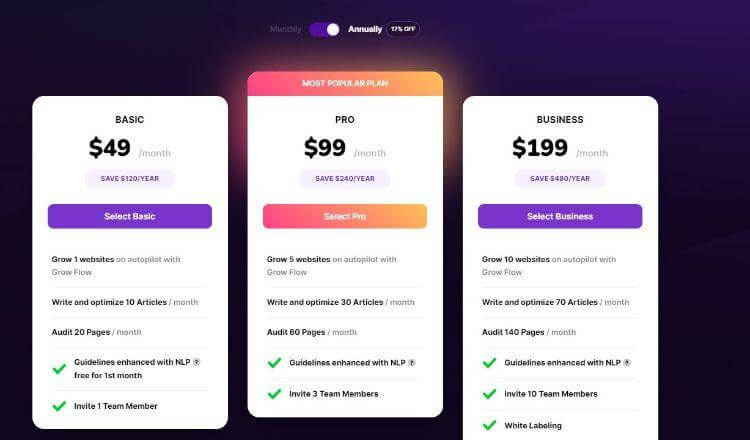 As of now, there are three Surfer SEO pricing plans on offer by this platform:
The Basic plan comes in at $49 per month when paid annually.
With this plan, you'll be able to grow one website using the Grow flow component, write and optimize ten articles per month, and you'll also be able to audit 20 pages per month.
The next plan is the Pro plan, which comes in at $99 per month and gives you similar features to the previous plan, but on a larger scale.
This includes five websites on Grow Flow, twenty articles on the content optimizer, and 60 pages to audit monthly.
Then, the Business plan comes in at $199 per month, where you have more of the same in even larger quantities.
It's good to know that all the Surfer SEO plans include a Content Planner and the SERP Analyser, so you can access these features no matter which plan you choose.
There is also a seven-day money-back period, so you can always check out this product and ask for a refund if you believe it is not the right fit.
Customer Support
Based on various reviews, getting a response within 30 minutes is not unheard of when it comes to their support.
While one shouldn't expect this to be the norm, it is good to know that the team behind Surfer SEO is quick to respond and can help with any issues you might have.
The live chat feature's usual response time is listed as a day, so this is good to remember if you need urgent assistance.
The platform also has an extensive knowledge base where you can search for answers to your questions or find video tutorials using different features.
Surfer SEO API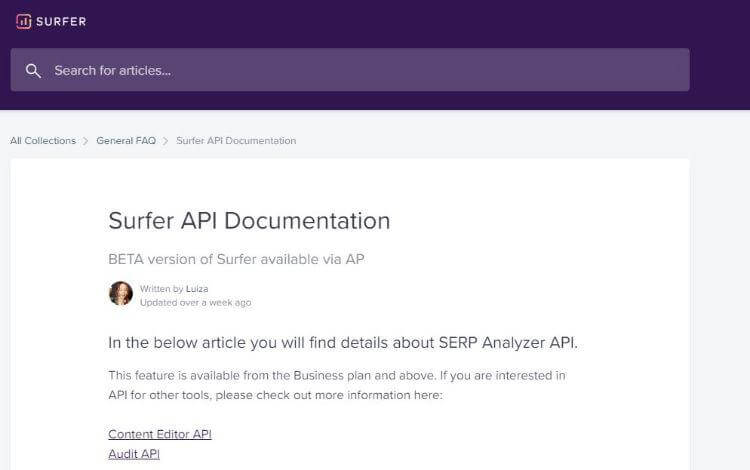 A recent feature of Surfer SEO is the ability to access their data through an API.
The Surfer SEO API gives developers access to all the data that Surfer SEO uses to generate their recommendations.
While this is still in beta, it does give users various possibilities for integrations with third-party tools.
The API is well-documented and easy to use, making it an excellent option for those looking to get started with data scraping or building their tools on top of Surfer SEO's platform.
Surfer SEO Alternatives
Since Surfer SEO incorporates a lot of functionality, knowing about other software with more specific SEO features is also a good idea.
Here are some alternatives for those looking for similar SEO software focusing on different aspects.
Surfer SEO vs. Ahrefs

When it comes to keyword research as part of SEO tools, Ahrefs is one of the most popular software around.
With an in-depth keyword research tool, Ahrefs is a great way to research the competition and find low-hanging fruit keywords.
Ahrefs also boasts an extensive link database, making it perfect for those interested in link building and common backlink analysis.
That said, while Surfer's keyword research tool does not have as many features as Ahrefs, it is still an excellent tool for those starting with keyword research or who want a more simplistic approach.
Surfer SEO vs. Moz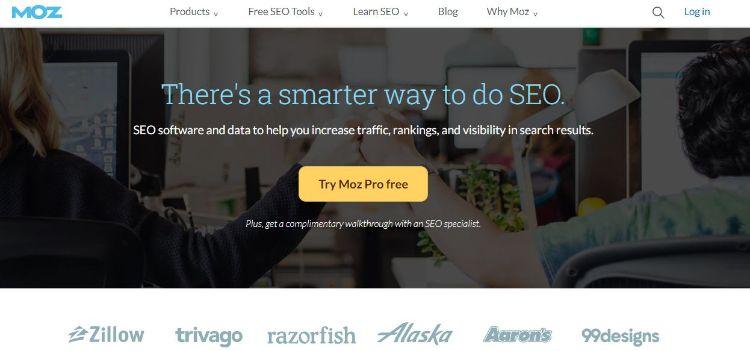 Moz is another popular SEO tool that has been around for a while. Like Surfer SEO, it offers key features such as keyword research, site audits, and rank tracking.
So, which tool is better?
Well, they both have their pros and cons.
For instance, Surfer SEO is more affordable than Moz.
However, Moz offers more features than Surfer SEO, which include SEO alerting, technical SEO features, more custom reports, white labeling, etc.
Surfer SEO vs. Semrush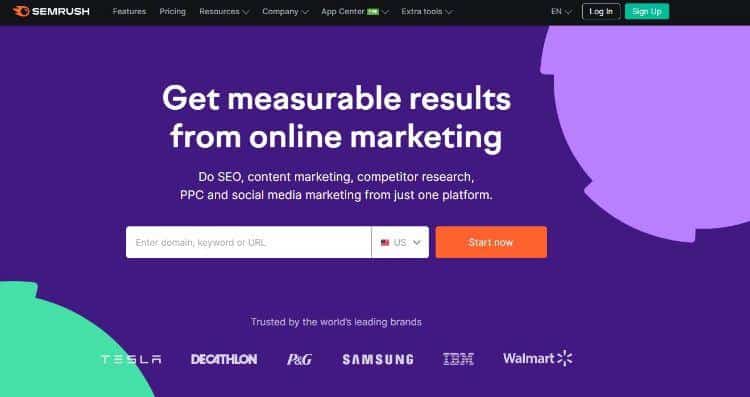 Another overlapping tool to SurferSEO is Semrush.
This SEO optimization tool has been around for a while and offers many features, including keyword research, site audits, rank tracking, and more.
Semrush also goes into pay-per-click analysis, which is beyond the scope of Surfer SEO.
So, if you're looking for an all-in-one digital marketing tool, Semrush might be a better fit.
Surfer SEO vs. Frase
When it comes to on-page SEO tools that help with building a content outline, Frase is an excellent alternative.
Frase is an AI-powered SEO optimization and content tool that helps you research, plan, and optimize your content.
It also offers features such as keyword research and competitor analysis.
You can choose which elements you want in your content outline and get help optimizing your content for SEO on a more refined level of detail with Frase.
While Surfer's new content outline generator is a good alternative, if you're looking for a content-specific tool, Frase is worth checking out.
Surfer SEO vs. Clearscope

As a tool that targets phrases more than partial keywords (or even exact keywords), Clearscope is an excellent alternative to Surfer SEO.
With monthly search volume and search intent insights, Clearscope really makes it easy to understand the right phrases to include.
The tool also offers WordPress and Google Doc integration to make your writing workflow easier.
Surfer SEO vs. Page Optimizer Pro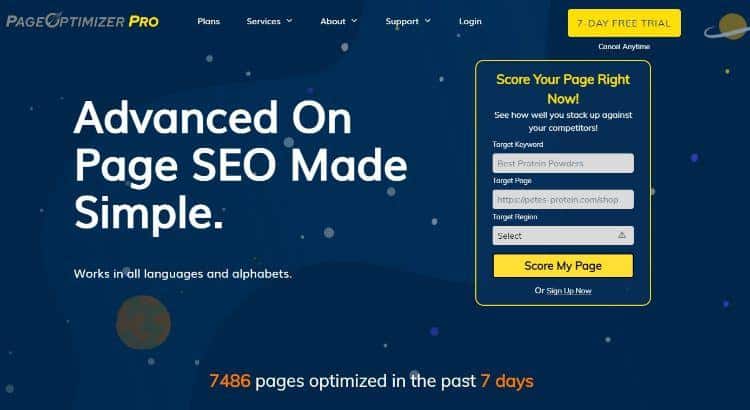 Page Optimizer Pro is a relatively better tool than Surfer if you're only interested in on-page optimization.
With this singularity of focus, Page Optimizer Pro provides an in-depth analysis of your web page elements and offers recommendations on improving your website's on-page optimization.
From the generation of meta descriptions to finding ways to optimize new content found on your WordPress blog, Page Optimizer Pro is a comprehensive on-page SEO toolkit that will save you time and help improve your website's top-ranking pages in SERPs.
This tool also offers page structure suggestions, schema optimization recommendations, downloadable reports, and more.
Surfer SEO, on the other hand, is a more comprehensive tool that analyzes both on-page and off-page ranking factors.
SurferSEO Review – FAQ
What Are Latent Semantic Index Keywords?
LSI keywords are related and similar keywords that help search engines better understand the content on a page.
They're based on latent semantic analysis, which looks at relationships between a search term and its concepts to better understand the meaning of a piece of text.
LSI keywords are important because they can help you rank for various keywords related to your main keyword.
For example, if you're trying to rank for the keyword "SEO tools", using LSI keywords like "SEO software", "SEO tools for small businesses", or "best SEO tools" can help you rank for a variety of different keywords.
Is SurferSEO Good For On-Page SEO?
Yes, Surfer is an excellent tool for on-page optimization as it provides insights into what the top 10 results are doing on their pages to rank for specific keywords.
This allows you to optimize your page to compete better for those keywords.
Does Surfer help with choosing the main keyword for my content?
Yes, Surfer provides valuable insights into what keywords to go for.
This is great for content optimization as it pertains to on-page SEO.
In addition, the tool also shows many related keywords that can help improve your content score as reviewed by the specific search engine algorithm.
Does SurferSEO Have A Chrome Plugin?
Yes, Surfer SEO has a chrome plugin that lets you get insights when writing in Google Docs.
This Surfer SEO Google Docs integration is very useful to ensure your content is well-optimized before publishing.
This means that the Surfer SEO extension lets you see your content's potential performance for specific keywords as you write out such content.
This is a valuable tool as it allows you to make real-time changes to your articles to ensure they are optimized for your target keyword.
How Much Is Surfer SEO?
There are three pricing plans.
Basic costs $49 per month, Pro costs $99 per month and Business costs $199 per month.
These are annual prices.
What Are Some Standard SEO Metrics That SurferSEO Helps With?
From a content perspective, Surfer SEO helps with the keyword density needed to rank for a specific keyword and related keywords that can be used to improve your content score.
Surfer also provides insights into the average number of words for the top 10 results.
Surfer SEO Review Conclusion
From the SERP analyzer tool to the keyword density and word count you should go for, articles that are written following Surfer SEO content suggestions have a higher chance of ranking on the first page of Google.
In addition, optimizing existing content using the right Surfer SEO tool can improve rankings for pages that are already live.
This SEO platform is excellent for both experienced SEO professionals and those just getting started with SEO page optimization, as it is relatively easy to use for both types of users.
If you are in the market for an SEO tool, I highly recommend checking out Surfer SEO.
Further reading on AdamEnfroy.com: Did you know that you can use AI to help you with your article writing?
From writing SEO-optimized headlines to helping you improve the quality of your writing, AI writing software can be a valuable asset for content creators focusing on SEO.
Also, off-page SEO is a crucial component of any solid SEO strategy.
Learning how to approach guest blogging as part of your link-building tactics is always a smart move.
Disclosure: I may receive affiliate compensation for some of the links below at no cost to you if you decide to purchase a paid plan. You can read our affiliate disclosure in our privacy policy. This site is not intending to provide financial advice. This is for entertainment only.
---
Last Updated on February 20, 2023 by Adam Enfroy