How to Use AI to Write Articles that Rank in 2023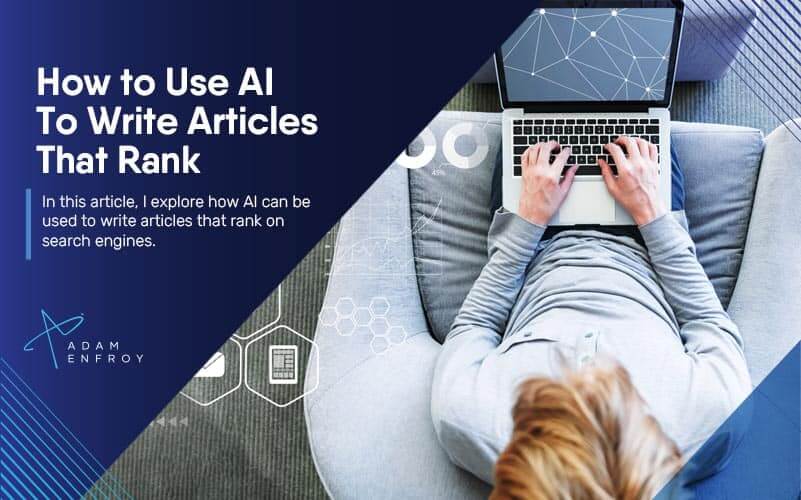 As writers used to sit in front of their computers and stare at the blinking cursor on the screen, they would wonder how to come up with ideas for their next article.
This made the writers' job very difficult as, in addition to churning out new and exciting content day in and day out, they also had to come up with engaging hooks and ideas every time they sat down to write.
However, with the rise of artificial intelligence (AI), writers can now take a breather as AI can help generate article ideas that are not only unique but also have the potential to rank on search engines.
With a wide range of use cases for AI writing software, writers can also get help with the writing process.
With this in mind, it is no wonder that content marketers and SEO professionals are widely adopting this technology.
In addition, there are use cases for such software that might not have come to the mind of professionals who want to make their job easier while providing a higher level of service.
From AI recruiting software that creates better job descriptions to attract top talent to AI SEO tools that help you optimize your content for better ranking, the potential of AI in content marketing is limitless.
In this article, I will explore how AI can be used to write articles that rank on search engines.
This article is for you if you want to stay ahead of the writing curve, produce high-quality content through AI blogging, and learn about the latest trends in AI and digital marketing.
Let's dive deep into this topic.
How To Write Articles That Rank: AI Use Cases
Here are some different ways AI can be used to write articles.
Brainstorming Ideas
An AI writing tool can help with the initial brainstorming of ideas as it can understand the user's needs and provide relevant suggestions to fulfill such requirements.
This is especially useful when a user suffers from writer's block, as the AI tool can help break the cycle of staring at a blank screen and get one's creative juices flowing.
Writing SEO Optimized Headlines
Many AI writing assistants will be able to help with writing headlines that are SEO optimized.
The content creation process is much easier when you get started on the right foot and have a catchy headline that accurately reflects the topic of your article.
A well-optimized headline can rank better in search engines and ensure that people click on it when they come across it.
Writing Meta Descriptions
Getting people to click on your blog post as it appears in Google search results comes down to the SEO title and meta description.
There's no point in producing high-quality content if no one is going to click on it when it appears in the SERPS, so using an AI writing assistant to help you develop and write compelling meta descriptions can be a good idea.
Finding And Focusing On The Right Keywords
Using an AI keyword research tool to both find and focus on the right keywords is essential if you want your content to be successful.
Whether creating long-form content or writing blog posts that are shorter in nature, incorporating the right keywords as part of your article is necessary if you want search engines to find and rank your content.
You can also use keyword rank tracking software to stay on top of your ranked keywords.
Analyzing Competition
This comes in various shapes and forms – whether you want to create a blog post outline based on headlines your competitors are ranking for, or analyze the most common words and phrases used in a competitor's content piece, knowing what you are up against is critical.
As such, competitive analysis is a huge part of SEO.
Optimizing Images For SEO
Not everyone thinks images can be optimized for SEO when creating content.
However, an alternative (alt) keyword-optimized text can help your blog post rank higher.
Using AI-generated content when dealing with images can help to ensure that your photos are properly tagged and named so that they appear in Google image search results.
In addition, this helps people with vision impairments, as the alt text is read aloud by screen readers.
Writing Engaging Content
The most common way people use AI to write articles is by using a content generator to write content that hooks and keeps the attention of the right target audience.
An AI article writer can use a specified tone of voice to generate blog posts that are more engaging and interesting to read.
Combined with human writers who are experts in the topic they're writing about, an AI content generator can take content writing to the next level.
Using natural language processing as part of machine learning software, AI tools can create unique, fresh content or even turn existing text into better content.
Copywriting Needs
When it comes to selling stuff, AI copywriting software tools can help you develop product descriptions and write copy that sells.
With various templates within your chosen platform, you can easily create sales pages and email campaigns designed to convert prospects into customers.
Small businesses and startups can take their sales and marketing to the next level with AI-generated copy.
From creating landing pages with on-point copy that describes the features and benefits of a product, to high-converting Google ads and everything in between, AI can help you sell more stuff and grow your business.
Bonus Ways To Use AI To Get More Traffic From Your Articles
Writing articles is not the only way to make the most of AI tools when getting people to your website.
If you want to get more traffic from your articles, here are a few bonus suggestions.
Use AI to Create Better Videos
Generating YouTube scripts based on a piece of existing content (or even various blog article ideas) is a great way to get more from your content, resulting in more traffic from videos to your site.
Using AI video generation for this process ensures your video is correctly optimized for YouTube's algorithm and gives you a head start on the scripting process so you can focus on creating quality content.
For example, Jasper (formerly Jarvis) has specific templates that can be used to generate YouTube scripts from articles.
Use AI to Transcribe Your Videos
Various AI transcription software can transcribe your videos to be appropriately captioned and indexed by YouTube.
With constantly improving algorithms, video transcription has never been easier and more accessible to get done.
Use AI to Create Podcasts
When you begin writing your podcast script, you can use the blog topic ideas templates found in many tools to create original content that's engaging and interesting to listen to.
Then, record the podcast based on the script, and you're good to go.
Just use one of the many great podcast hosting sites, and you can easily create and publish your podcast for the world to hear.
Use AI to Automate Your Social Media Marketing Copy
From Linkedin posts to Twitter threads, content creators can hone in on their target audience and create content that appeals to them.
By using AI tools to get a head start on your social media marketing, you can easily ensure that your content is optimized correctly for each social media platform.
This saves you time and helps improve your reach and engagement, which is crucial on social networking platforms.
You can also use AI-powered social media management tools to help you schedule posts and analyze your analytics.
Who Can Benefit From Using AI?
Using artificial intelligence can appeal to many users.
From freelancers to business owners, these are some of the top users that can benefit from using AI.
Those That Want To Increase Traffic To Their Website
Written content is one of the most important aspects of SEO, and by using AI to write articles, you can quickly increase traffic to your website.
Content optimized for search engines is essential if you want to rank high in the SERPS.
As an SEO-friendly content writer, AI can help you identify keywords and phrases to target in your content.
Those That Want To Create More Engaging Content
If you want to create content that is more engaging and interesting to read, then using AI to write articles is a great option.
Using natural language processing, AI can help you create content that aligns with what a human would write.
Moreover, ensuring your content follows the proper grammar rules is essential if you want your articles to be readable and engaging.
Some tools also have an in-built plagiarism checker to help you avoid legal issues.
Those That Want To Find New Topics/Hooks To Write About
People involved in digital marketing sometimes find it tough to develop new topics or hooks to write about, primarily if they work within a sub-niche of the industry.
The right hooks can increase the time someone spends reading articles on your website, which is essential if you want to improve your SEO ranking.
When it comes to hooking someone, starting with the right type of article intro and continuing with an exciting story can make all the difference.
This is where artificial intelligence can be beneficial, as an AI writer can help you develop new ideas and hooks for your content.
Those That Save Want To Time On Writing Articles
Experiencing writer's block or simply not having enough time to write can be a problem for bloggers trying to create new content.
With the ability to create a workflow that works for you and that easily integrates AI into your writing process, you can save a lot of time on writing articles.
Wrap Up.
Creating better AI content is a great way to improve your SEO writing, website traffic, and overall rankings.
From generating headings that cause people to click, to long-form content that engages, entertains, and informs, there are many benefits to using the right AI tools.
What do you think about AI and content marketing?
Let me know in the comments below.
Further reading on AdamEnfroy.com: Writing articles for clients is great, but why not use the power of AI to create your own writer's blog and make money from it?
In addition to writing articles, there are various uses for AI in the day-to-day sales operations of a business.
AI art generators are one example of how businesses are using artificial intelligence for content marketing.
This technology can help you create better visuals for your blog posts, social media images, and even infographics.
AI sales software can help improve your sales process and close more deals.
Moreover, using CRM software with artificial intelligence features and lead generation tools that can help you find new prospects can significantly impact your business.
Disclosure: I may receive affiliate compensation for some of the links below at no cost to you if you decide to purchase a paid plan. You can read our affiliate disclosure in our privacy policy. This site is not intending to provide financial advice. This is for entertainment only.
---
Last Updated on February 20, 2023 by Adam Enfroy