7+ Best AI Copywriting Software Tools of 2022 (Top 3 Ranked)
Choosing the right AI copywriting software is crucial to create high-quality, engaging content. From having templates that suggest what to write next to long-form content creation and even content personalization, the best AI copywriting software can help you meet your goals. In this guide, I ranked and reviewed the 7+ best AI copywriting software so that you can pick the best one for you.
---
We're reader-supported. When you buy through links on our site, we may earn an affiliate commission.
Being able to influence others is a valuable skill.
Almost like magic, it changes the energy in a room and can help you get what you want.
In the online world, a copywriter is an excellent example of someone who has mastered the ability to influence.
They know how to craft words that will make people take action or even think differently about an issue.
In this post, I'll go over the best AI copywriting software and tools you can use to create high-converting copy for your business.
No matter if you consider yourself a beginner or a pro, you'll be able to find something to help you write better copy.
And remember, always use this power for good!
What Are The Best AI Copywriting Software And Tools?
Here are the best AI copywriting software and tools to consider.
Best Overall.
Jasper, formerly known as Jarvis.ai, uses artificial intelligence to help you with various copywriting tasks.
It can generate headlines, write product descriptions, create social media posts, and more.
With the advice of some of the top direct response copywriters and SEOs in the world today, along with input from conversion experts, Jasper.ai is a powerful tool that can help you improve your copywriting skills and the results they generate.
This means that you can create original content or improve existing texts, and the tool will help you optimize your copy for better results either way.
The inclusion of Boss Mode, a tool that can expand and improve your writing skills, is also a fantastic feature.
Just give the tool a command – as if you were speaking to someone – and it will take care of the rest.
Here's a comparison article on Jasper vs. Copy AI for more information on these two tools.
Key Features: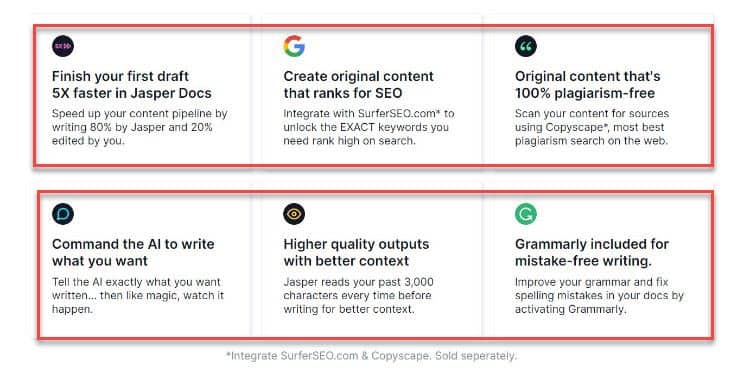 End writer's block with ideas that help you move your project forward quickly
Breakthrough the language barrier by using AI to generate content in multiple languages
Scale up your content marketing fast with content that's ready to go with minimal editing
Stop spending so much time writing blog content and use AI to get the job done more quickly.
Direct Surfer SEO integration helps add SEO-friendly functionality to the tool.
User Experience: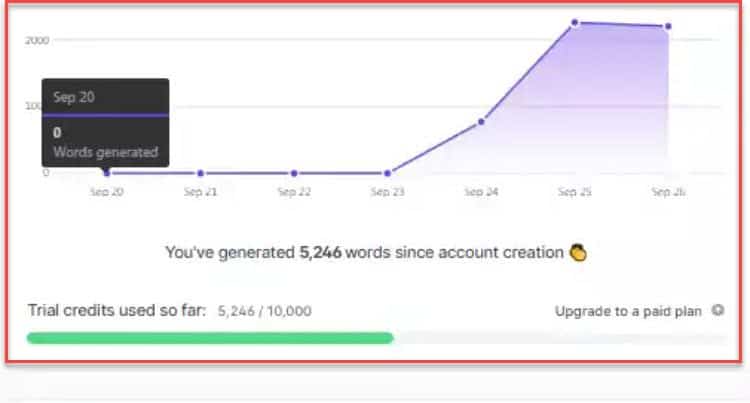 Detailed stats about daily use allow you to know just how much Jasper is helping you scale your content marketing, how much you're spending and saving, and the amount of remaining credits you have in your account.
This is all crucial information to optimize your tool use and get the most out of it.
Pricing:
These are the estimated pricing plans on offer:
Starter Plan (Based on 35,000 words/mo): $49/mo
Boss Mode (Based on 100,000 words/mo): $99/mo
Business: Custom Plan & Prices
What I Like/Dislike About Jasper
Like:
Jasper will deliver high-quality material if you can provide clear directions.
Live training helps you make the most of the tool and improve your writing skills.
Dislike:
The credit system is not always transparent, so understanding what elements spend the most credit can be confusing when starting.
Product Updates:
New product templates are constantly added, along with features that make writing with Jasper even easier. From AIDA templates to a paragraph generator, these templates make life much easier regarding copy creation.
Get started with Jasper.
Best For SEO.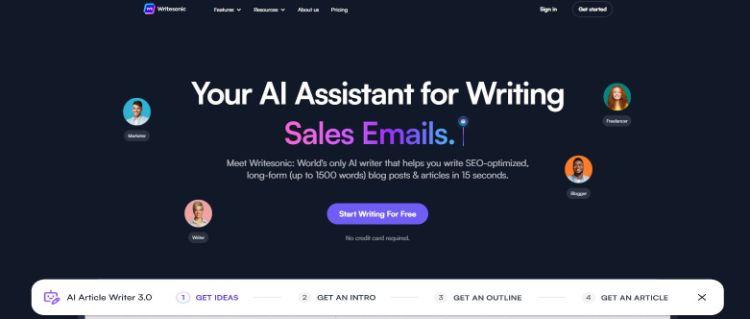 Writesonic is excellent for human writers who want to improve their copywriting speed and accuracy.
Whether you want to create long-form blogs and articles or high-converting landing pages, Writesonic can help you get the job done more efficiently.
Whether it's sales emails, reports, social media posts, or web copy, Writesonic's AI writing assistant will help you get it all done efficiently.
Writesonic can also help those with eCommerce stores, as it can automatically generate product descriptions that are SEO-optimized and conversion-friendly.
You can also use this tool to create various digital ads, including Facebook ads, Google AdWords campaigns, and more.
You can read my full Writesonic review for more information on this platform.
Key Features: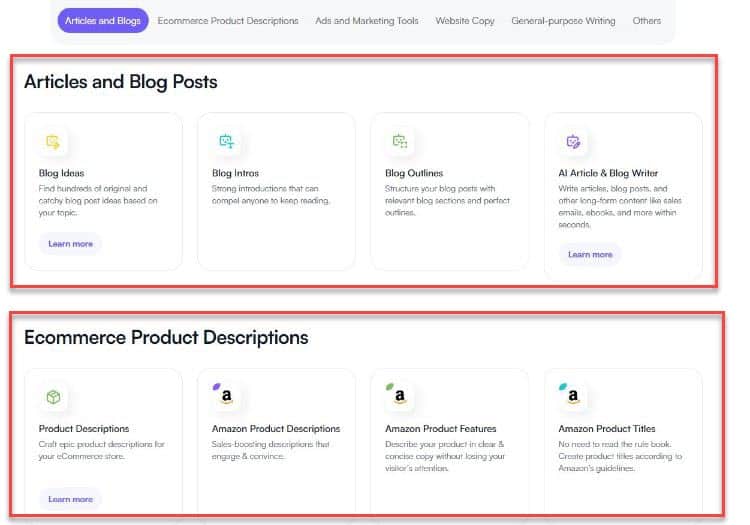 Create blog articles that detail a subject matter you want to share with your audience.
Generate ecommerce product descriptions that are well-written, keyword rich, and optimized for conversion.
Various ads and marketing tools help you create better-performing ads across all channels, including Facebook, Google, and more.
Website copy templates help improve your website's overall conversion rates by ensuring all the correct elements are in place.
Use their general-purpose writing tools to create website content, press releases, and other optimized marketing materials for readers.
User Experience: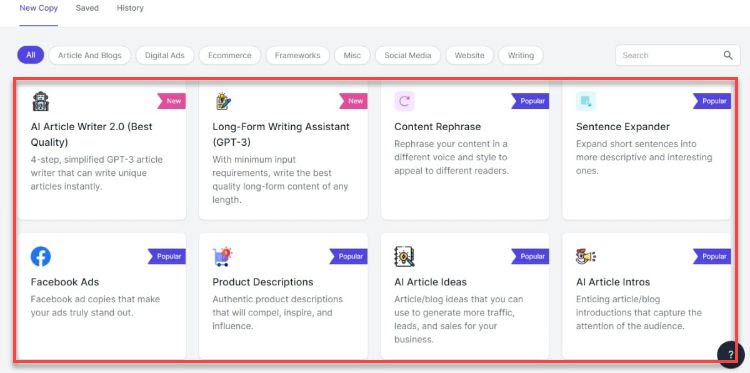 Choosing a template from various options is beneficial for those unsure where to start.
There's also a clear description for each template so that you can use the right one for your needs.
Pricing: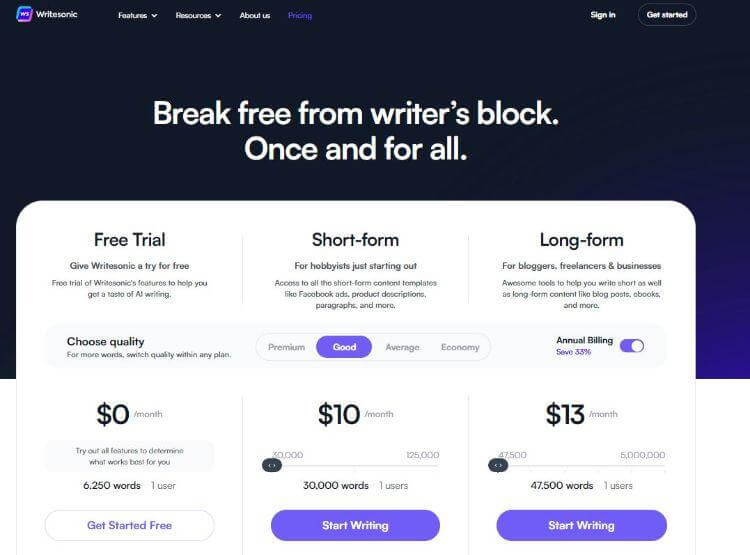 Writesonic offers these pricing plans:
Free Trial: $0
Short-form: $10
Long-form: $13
When you are on the short-form plan, you can choose the desired output quality to ensure you get the right level of detail for your needs. The output choices are as follows:
Premium
Good
Average
Economy
What I Like/Dislike About Writesonic
Like:
The accuracy produced for various content topics is typically very high.
You can start writing copy with SEO-ready titles as the foundation, so you know your content will stand a higher chance of being found online.
Dislike:
The number of free words given as part of the trial will quickly be used up when going through the platform's learning curve.
Product Updates:
The team at Writesonic added more templates to bring the current total up to 50+, so you're spoilt for choice when writing.
Get started with Writesonic.
3. Copy.ai.
Best For Copywriting Templates.
Copy.ai delivers full-blown results within seconds, which is excellent news for those who are short on time and need to produce a wide variety of copywriting content quickly.
From emails, long-form blog posts, social posts, and more, input what you need the software to know and let Copy.ai work to create great content.
You'll get multiple outputs for each generation, allowing you to choose which one you want.
The ability to use the provided editor to edit, polish, and publish your content is a fantastic feature that lets you get your copy ready to go without fuss.
Key Features:
The range of sales copy, blog ideas, and other content types that Copy.ai can produce is fantastic.
You can also generate meta descriptions that help to improve your SEO.
Create feature stories that help to promote your brand and establish thought leadership.
Streamline your content creation process with Copy.ai's automated approach to content creation.
Leverage various writing frameworks to ensure your content is crafted for maximum impact.
User Experience:
All the product templates are neatly organized in a left-hand side menu that allows you to find what you're looking for quickly.
The editor is very user-friendly, with all the features you need right at your fingertips.
Pricing:
Copy.ai offers these plans:
Free: $0
Pro (billed annually): $49/mo
What I Like/Dislike About Copy.ai
Like:
The content produced is quite accurate, which is more than can be said for other tools, especially when starting.
The editor has good collaboration features, such as the ability for editors to leave comments.
Dislike:
No full-length article can be written using the tool, so you'll have to use templates to piece together your content.
Product Updates:
The free credits given as part of one's trial never expire, and users get more free credits at the start of each month, allowing them to keep using the tool for free for as long as they want.
Best For Creating Targeted Messaging.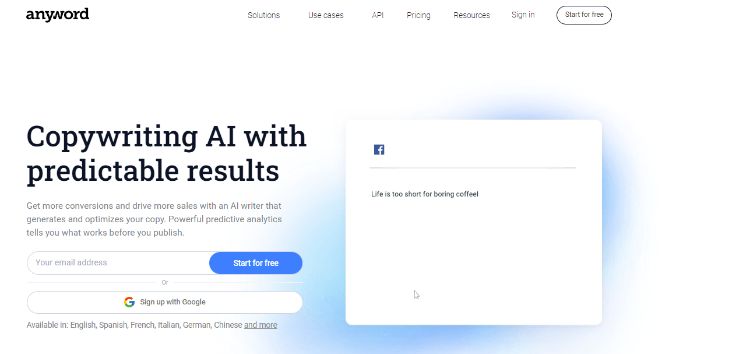 Anyword makes optimizing your site copy for specific keywords and phrases straightforward.
Enter a URL and keyword, and Anyword will create various copy variations you can test.
You can also choose the format you'd like your new content, whether it be bulleted lists, paragraphs, or even a single sentence.
The content will also be graded based on its predicted performance, so you can be sure that your site is as search engine friendly as possible.
With as much as a 30% increase in the expected conversion rates, Anyword is an essential tool for any site owner looking to improve their traffic and search engine ranking.
Key Features:
They have a free social post generator, and I like how it helps me develop ideas for posts.
I appreciate that they have a sentence rewriter because it helps me change my content and make it more interesting.
Their Instagram caption generator is beneficial because it helps users develop catchy captions for their photos.
Use their API to add their automated image captioning power to any website or application.
I like that ecommerce businesses get a product description generator to help create high-quality descriptions quickly.
Overall, I think that Anyword has a great AI writer tool that can be helpful for users in terms of creating targeted content.
User Experience:
Choosing from various use cases, each having the most popular templates, is very helpful.
The app was made with the user's best interest in mind.
Pricing: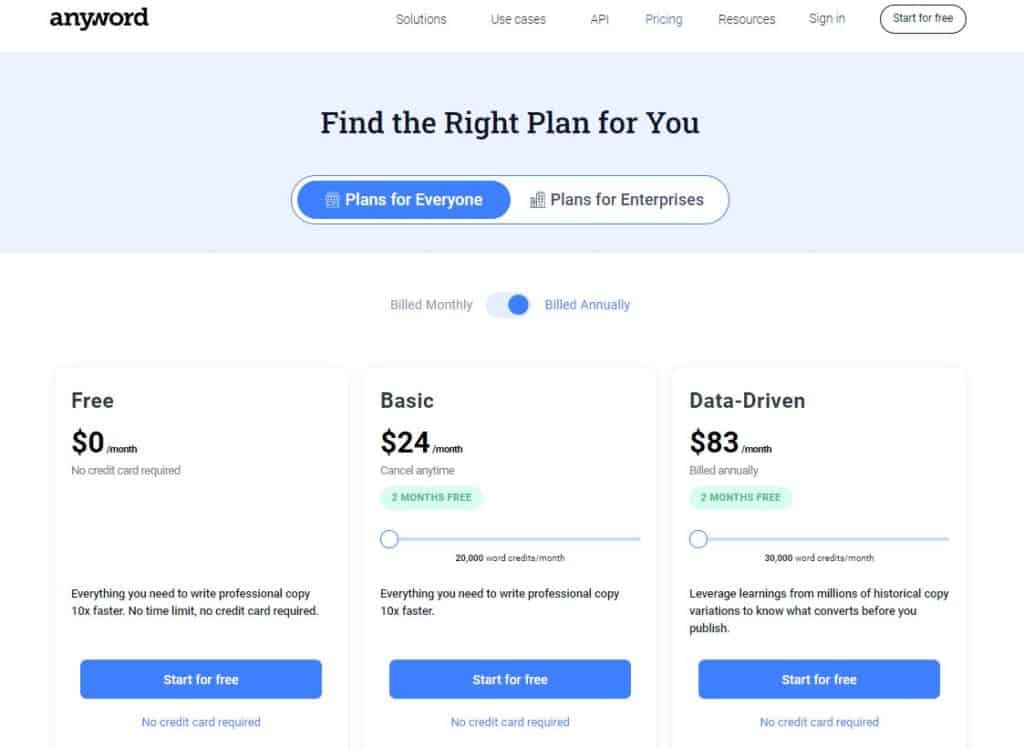 Users can choose from these plans on Anyword:
Free: $0 /month
Basic: $24 /month
Data-Driven: $83 /month, billed annually.
What I Like/Dislike About Anyword:
Like:
Great tool for creating CTAs, irrespective of the specific use case.
Based on the keywords provided, it can suggest relevant content modules to include in the copy.
Dislike:
The free version doesn't have all the paid versions' features.
Product Updates:
The tool is now available in 28 languages so that users can create content in their native language.
Get started with Anyword.
5. Frase.
Best For Performing AI Research.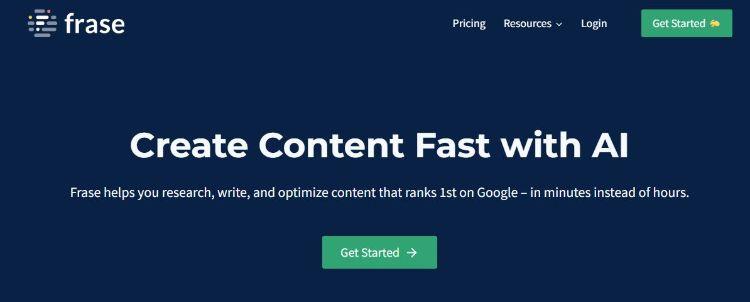 Frase starts by researching competitors, understanding customer needs, and mapping out content to meet those needs.
It's an ideal tool for content strategists or those who want to ensure their writing is aligned with their business goals.
The software takes all the guesswork out of what to write about next by conducting thorough research on your behalf, making it an excellent option for those who want to save time while getting accurate results.
It's also an excellent choice for large businesses or agencies that need to produce a high volume of content, as it can help them scale the content briefs sent to content writers.
You can also use Frase to create custom content templates repeatedly.
Going from content brief to published article is quick and easy with the Frase algorithm, making it a solid option for busy content marketers.
Key Features:
Questions and topical research allow you to understand what your customers are searching for online so that you can create content that meets their needs.
AI-Generated content briefs take the guesswork out of what to write about next.
Content optimization ensures your content is engaging and meets the needs of your target audience.
The Frase Answer Engine provides you with a list of questions that your customers are asking so that you can create content that answers them.
Analyze your user intent data to see what content resonates with your target audience. You can use this data to create more of the kind of content that your customers are engaging with and increase conversions.
User Experience:
The ability to create content briefs your writers can follow is a great way to keep everyone on the same page.
You generate briefs with as little or as much information as you want at the click of a button, which is fantastic when your needs are variable.
Pricing:
Frase offers these pricing plans:
Basic: $39.99/mo (paid annually)
Team: $99.99/mo (paid annually)
Enterprise: Custom pricing plans are available.
What I Like/Dislike About Frase
Like:
You can easily research your competition and see what their SEO strategy is.
The content briefs and outlines created can be dragged and dropped to customize them as needed.
Dislike:
The SEO add-on must be added on top of the standard plans, which means you have to pay extra.
Product Updates:
The SEO add-on has been a significant feature added to the platform. However, as mentioned above, you'll have to pay extra for this.
6. Writecream.
Best For AI Personalization.

Writecream is excellent for generating AI content personalized to a specific audience.
If you know your prospect's work, education, and experience, you can customize your content to appeal to them personally, increasing the chances of conversion.
You can also produce many words quickly, combining personalization and scale, leading to excellent results for your business.
Moreover, you can also create YouTube voice-overs and audio icebreakers, two items not found as part of many other AI copywriting software.
Key Features: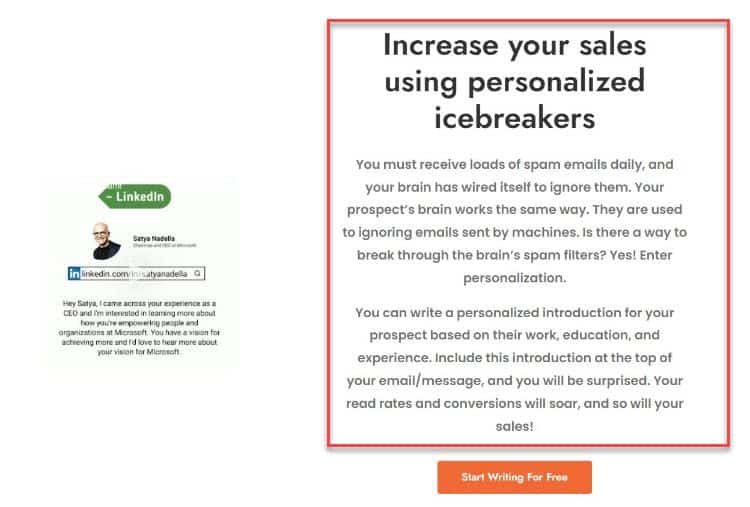 Create social media content, blog posts, product descriptions, and more at a fraction of the time and cost.
Generate cold emails, LinkedIn InMails & backlinks requests that get responses.
Use image & audio icebreakers to connect with your prospects on a personal level.
Create YouTube voice-overs & podcasts that help you stand out from the crowd.
A mobile app and a browser extension make it easy to use no matter where you are.
User Experience:
The templates are conveniently sorted according to whether they pertain to SEO, social, copywriting, etc., so you can quickly find what you need.
Pricing: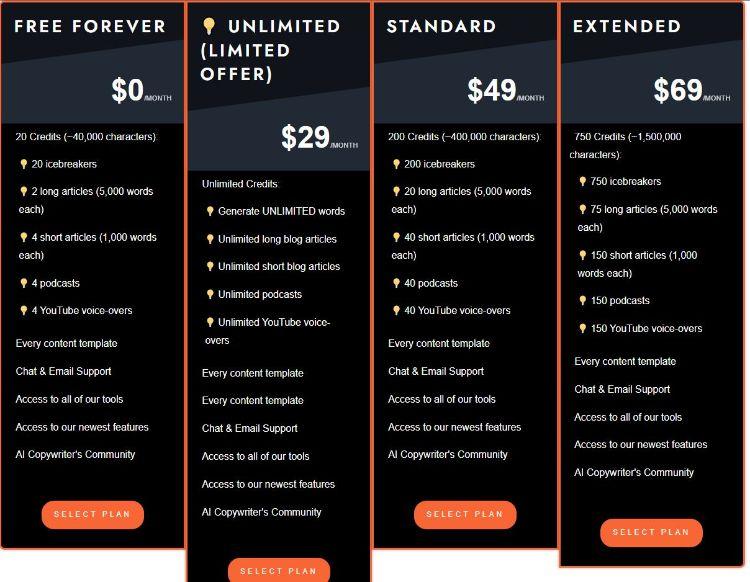 Here are the pricing plans offered:
Free Forever: $0/month
Unlimited: $29/month
Standard: $49/month
Extended: $69/month
What I Like/Dislike About Writecream
Like:
You can personalize your content to appeal to your target audience on a personal level.
The input length is substantial so that you can quickly create large pieces of content while giving the tool the proper context.
Dislike:
The outputs of the social media writing templates sometimes require a few edits to get them just right.
Product Updates:
New additions like 'LinkedIn personalization,' 'audio icebreaker,' and 'image icebreaker' allow users to create more unique and engaging content.
7. Copysmith.
Best For Building Copywriting Campaigns.
Copysmith is an excellent platform for both agencies and teams that need to produce high-quality, engaging content regularly.
The ability to generate multiple versions of your content using Copysmith's AI engine suits those who want to test different versions of their content to see what works best.
You can quickly build a clear path to purchase, allowing your prospects to know what to do next.
With a campaign builder that creates an entire campaign within a few clicks, you can easily manage and monitor your content to ensure it's performing as it should.
Plagiarism checks are also included, so you can be sure that your content is unique and not copied from anywhere else.
Key Features:
Power up your product descriptions and sell more stuff by adding persuasive product descriptions to your eCommerce store
Outrank your competition by writing better blog posts, social media posts, and email subject lines
Scale your store by quickly and easily creating high-quality product descriptions, social media posts, and email subject lines
Spend less time in meetings by using the content generated to create a more engaging presentation
Stop cart abandonment by using the tool to create a more persuasive sales funnel.
Pricing:
These are the plans on offer:
Starter: $19/mo
Professional: $59/mo
Enterprise: Contact their sales team for more information.
8. Rytr.
Best For Fast Startup.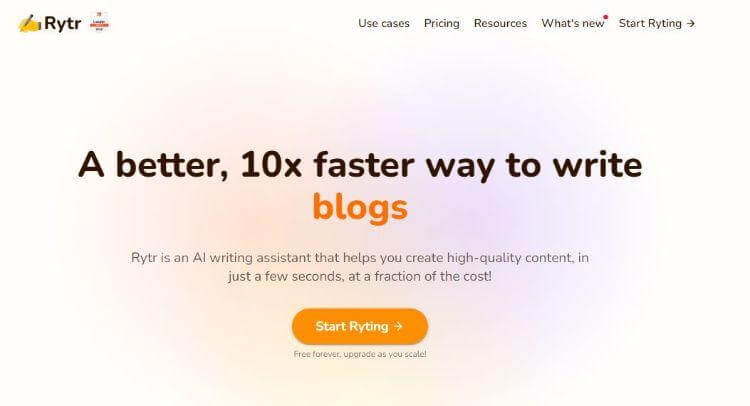 Rytr is one of the fastest tools to get started with if you're looking for an easy way to generate high-quality content.
The interface is very user-friendly, and you can create an entire campaign within minutes.
By adding some input for context, Rytr will generate a full range of content for your needs.
With various use cases, you can use such content for social media posts, blog posts, product descriptions, and email subject lines.
The content is also SEO-friendly, so you can be sure your content will rank well in search engines.
You can also use editing features like rewording, shortening, and more to dial in your content and get the perfect copywriting piece you need.
Key Features:
Produce reader-friendly copy the way you need it based on the specific input you provide.
Check for parts of your text that are similar to others on the web to ensure uniqueness and avoid plagiarism.
Extensive formatting options allow you to create well-formatted copy that's ready to be published.
30+ use cases and templates to help you get started with generating content quickly.
With up to 20 tones of voice, you can create content in the style that you want.
Pricing: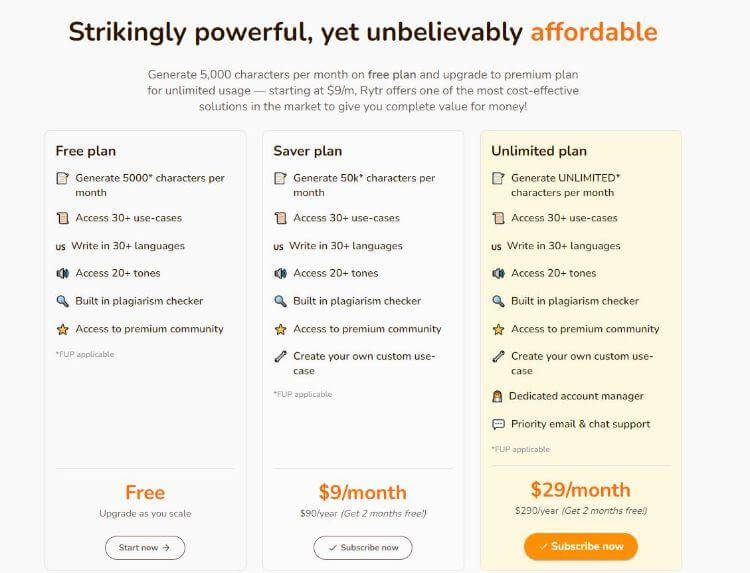 There are three pricing plans on offer:
Free Plan: $0
Saver Plan: $9/month
Unlimited Plan: $29/month
What Are AI Copywriting Software And Tools?
An AI copywriting tool allows users to generate content based on specific inputs.
With these tools allowing users to automate the copy creation process, their popularity is soaring.
From having teams use AI marketing and sales software to help with their daily operations to using AI chatbots to influence customers, there are several ways to use AI copywriting tools to your advantage.
Copywriting Vs. Content Writing
Understanding your needs using AI writing tools can help you know which copywriting platforms to consider.
Whether you want to write blog posts that rank in search engines using the proper blogging SEO practices or create copy to sell stuff, knowing the difference between copywriting and content writing can help you get started.
Content writing is a more general term that focuses on creating written content for a website or blog.
This type of writing can include blog posts, eBooks, and even social media posts.
In most cases, the goal of content writing is to drive traffic to a site.
On the other hand, copywriting is a more specific term that focuses on creating persuasive content.
This content can be anything from product descriptions to sales emails and landing pages.
In most cases, the goal of copywriting is to get the reader to take a specific action, such as making a purchase.
Many of the best AI copywriting tools can generate both types of content, and as such, an AI writing tool should balance the two.
Features Of A Great AI Copywriting Tool
From creating SEO-optimized content to generating bullet points that can help improve product conversions, a great AI copywriting tool will provide various features to help you produce better content.
Here are some of the top features of a great AI copywriting tool.
Natural Language Processing Considerations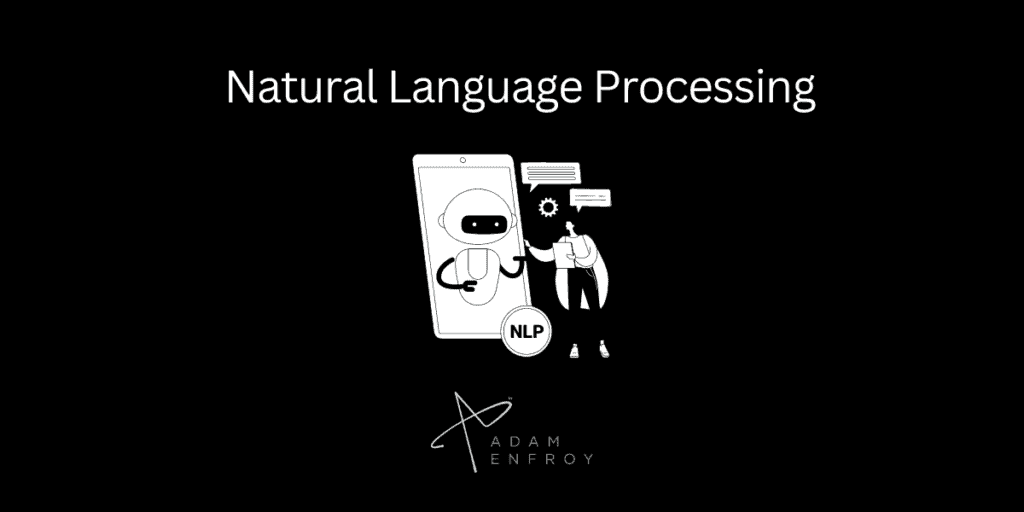 Natural language processing (NLP) refers to the ability of a machine to understand human language, including using variations in the language that refer to the same items.
In addition, it also includes understanding the meaning of words when it comes to the specific context they're found in.
Whether you're writing marketing copy that needs to be SEO optimized or creating product descriptions that are engaging and informative, natural language processing is essential in any AI copywriting tool.
With machine learning software constantly evolving, NLP is becoming more accurate.
In practical terms, this means you can create copy that sounds as if a human wrote it without sacrificing the quality or accuracy of the information.
Various Templates Available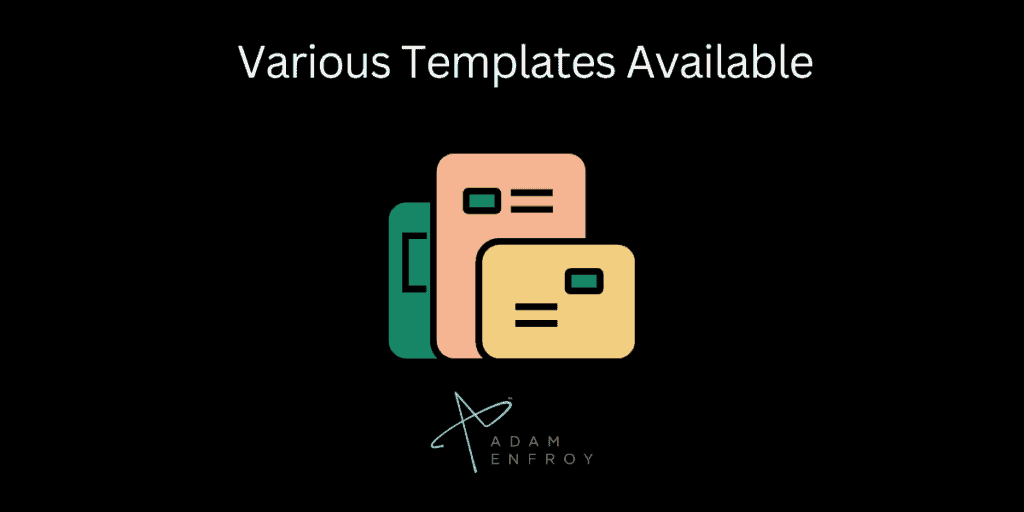 When creating short-form content, social media captions, and ad copy (whether you're making a set of Google ads or a specifically designed Facebook ad), using templates can help save you time.
The best AI copywriting tools will provide you with a variety of templates that you can use, as well as the ability to create custom templates to use in the future.
Some AI copywriting tools only provide elementary templates, while others offer more complex templates that allow you to build on them to create different content.
From writing the intro to a content piece to creating Amazon or Shopify product descriptions, having access to various templates can help you save a lot of time.
Able To Generate Long-Form Content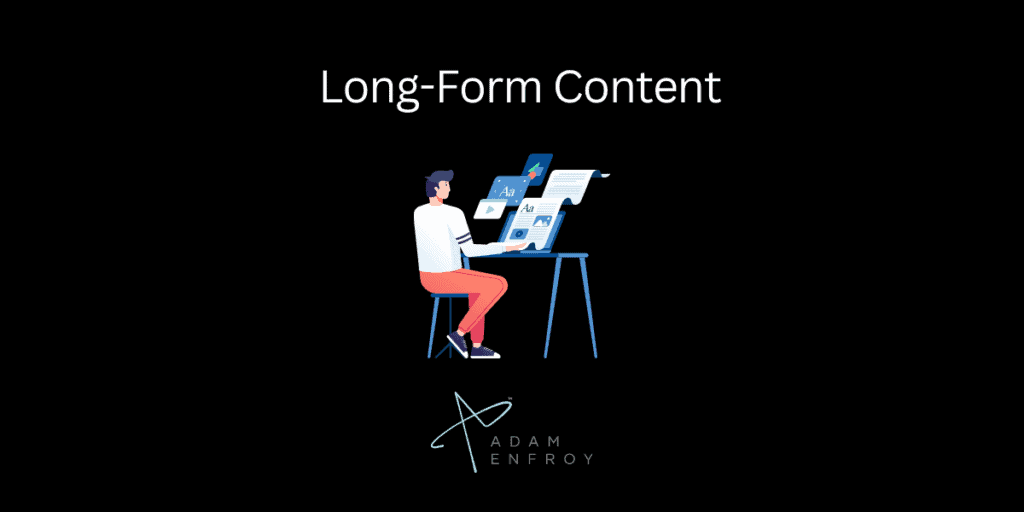 Templates won't get the job done when you want to create long blog posts, sales letters, or even video sales letters.
An AI writer needs to be able to generate long-form content that dives deep into selling a product or service in just a few clicks.
In addition, for bloggers and content creators that produce a lot of long-form content, an AI copywriting tool that can generate this type of text can be a lifesaver.
With some tools also having a plagiarism checker as part of the package, long-form content generation makes writing that much easier.
Able To Follow A Brand Voice
Using an AI article writer to help the content creation process when creating copy can help you save a lot of time.
However, one downside is that it can be challenging to maintain a consistent brand voice when using a generic tone of voice found in an AI copywriting tool.
The best tools will have features that allow you to maintain a consistent brand voice, enabling you to input the tone you want to use during content generation.
You can also use someone famous as your "author" to have their voice come through in writing.
Multiple Languages
Nowadays, content marketers use AI software to generate content in multiple languages.
Using AI software is a great way to reach a wider audience and expand your reach.
From freelancers to marketing teams that deal with international clients, a tool that can work in multiple languages is a must-have.
Moreover, integrating a tool with a company's workflow – while working in multiple languages – can save time and money.
Able To Run On A Web Browser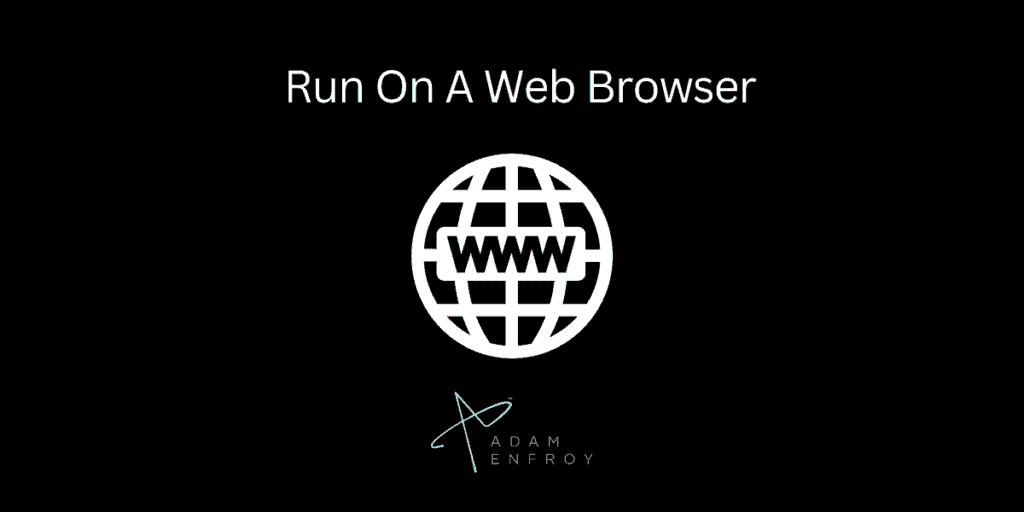 Since many companies now focus on SaaS (software as a service) sales, the right tool needs to be able to run on a web browser.
This feature is important because it allows you to access the software from anywhere, as long as you have an internet connection.
Whether you use Google Chrome, Mozilla Firefox, Safari, or Microsoft Edge, the AI copywriting tool you choose should be compatible with your web browser and allow you to open it up as you would any other website.
How Does AI Copywriting Software Work?
GPT-3 AI is developers' machine learning platform to create various copywriting software platforms.
Making the most of deep learning, OpenAI created this open-source artificial intelligence tool, allowing it to generate text based on specific inputs.
Business owners and entrepreneurs who wish to enhance their digital marketing strategy using AI copywriting tools can use GPT-3 to create content.
In addition, various API software can be integrated into tools that use GPT-3, which allows for a more seamless workflow.
The Current State of AI Copywriting
In recent years, there has been a lot of talk about the potential of artificial intelligence (AI) to revolutionize copywriting.
And while AI-powered tools are certainly starting to change the industry landscape, we are still very much in the early stages of adoption.
Many businesses are still hesitant to fully commit to AI, preferring to stick with tried-and-true human copywriters for the time being.
However, as AI technology evolves and becomes more refined, we will likely see a significant shift in how businesses approach copywriting.
In particular, AI is poised to impact personalization and customization significantly.
By leveraging large datasets, AI can help identify patterns and trends that can be used to generate highly personalized content.
As AI continues to evolve, we can expect to see more excellent examples of how it changes the copywriting landscape.
Top Users of AI Copywriting Software
Many different types of AI copywriting software are available on the market today.
While each program has unique features, they all share one common goal: to help users create high-quality content more quickly and easily.
Here are just a few of the top users of AI copywriting software:
As any content marketer knows, time is one of the most valuable commodities.
Any tool that can help users produce quality content in less time will surely be in high demand.
AI copywriting software fits this need perfectly.
By automating the process of researching and writing, these programs allow users to focus their attention on other aspects of their business.
Another group that stands to benefit significantly from AI copywriting software is small businesses.
These programs can level the playing field by providing access to the same types of tools and resources that larger businesses have been using for years.
In addition, AI copywriting software can help small businesses save money by reducing the need to hire outside writers or consultants.
Finally, anyone creating content for a living can benefit from AI copywriting software.
Whether you're a freelance writer, a full-time blogger, or a content marketer, these programs can help you save time and produce higher-quality work.
AI copywriting software is worth considering if you're looking for a way to improve your writing workflow.
Wrap Up.
AI copywriting software and tools can help you create content that is not only free of errors but also engaging and interesting for your audience.
If you are looking for a content creation tool, consider using one of the AI copywriting software and tools listed above.
With tons of features, templates, and integrations, these copywriting tools will make it easy to create high-quality content, no matter what you want to sell.
To recap, the best AI copywriting software and tools are:
Do you have any experience with AI copywriting software and tools?
What use cases have you found them to be helpful for?
Please share your thoughts in the comments below.
Further reading on AdamEnfroy.com: In addition to AI content platforms, other artificial intelligence tools can help with your business efforts.
For example, you can use an AI development tool to help design your website, creating error-free code much quicker than traditionally possible.
You can also use AI recruiting software to help you find the best candidates for open positions at your company.
And, if you are looking to invest in stocks and other assets, you can use an AI investing tool to help you make the best choices.
Finally, consider using AI voice generators to create voiceovers for your video content using natural-sounding voices that will engage your audience.
Disclosure: I may receive affiliate compensation for some of the links below at no cost to you if you decide to purchase a paid plan. You can read our affiliate disclosure in our privacy policy. This site is not intending to provide financial advice. This is for entertainment only.