10 Best AI Writing Software of 2022 (Ranked)
Choosing the right AI writing software is vital to getting high-quality content output. From creating attention-grabbing headlines to generating long-form pieces of content, the best AI writing software can deliver what you need. In this guide, I ranked and reviewed the 10 best AI writing software tools, along with my top 5 choices, so that you can pick the best one for you.
---
We're reader-supported. When you buy through links on our site, we may earn an affiliate commission.
Eager to create error-free content that converts leads into customers?
Then check out my top tools for writing assistance: Jasper, Ink, and Grammarly.
Brands in the 21st century adopt a content-first mindset and it's all about content quality and content velocity.
It's estimated that around seven million blog posts are published per day.
Amid such colossal volume, it's essential that brands stay ahead of the curve when it comes to using AI writing software.
These tools allow you to use machine learning to start typing, then rely on AI to finish your sentences, audit your grammar, and craft error-free sentences.
AI has gotten wildly more powerful over the past few years – to the point you can now use a whole suite of AI marketing tools to help your business grow.
In fact, a lot of this article (including the entire Jasper section) was written with AI writing software.
What is the Best AI Writing Software?
Here are my top picks for the best AI writing software to try this year.

Adam's Take
If you want to use the power of AI to craft original articles, headlines, ads, and more, then Jasper is my overall recommendation when it comes to AI writing software. With multiple templates available, super-fast output, and a support team that responds to your queries quickly, this is definitely the best AI writing tool right now.
This entire review section was written by Jasper in about two minutes using their AI writing assistant tool Jasper Command.
Jasper (formerly Conversion.AI and Jarvis) is an AI writing tool that helps you transform your text into a completely personalized and unique piece of art.
You can write a blog post, article, or even a poem with Jasper, which will generate automatic long-form content to match the overall style of your writing.
With the Jasper Command, you simply start typing and Jasper will finish your sentences for you. The process is completely automated and works incredibly well with proper punctuation, capitalization, and grammar.
Check out my full Jasper AI review for more information about this tool.
Features
Jasper uses advanced AI to detect key elements in your writing and matches them to the perfect examples from over one million sentences in the Jasper database.
The results are pretty amazing and Jasper can really make your writing come alive.
Jasper is optimized to work for any type of writing, including creative writing, business documents, articles, and even poetry! Some examples include:
Lookup: Identify key elements in your text like people's names or places, pronouns (e.g., he/she, I/me), verbs, adjectives, and nouns.
Find/Replace: You can search for specific words in your text by keyword (e.g., cat, dog, red) or synonym (e.g., animal -> pet). This feature is great for creating a list of frequently used phrases like "the quick brown fox."
Punctuation: Add common punctuation symbols, such as commas, periods, and exclamation marks. This feature is perfect for those who tend to forget the small details like how many spaces to use after a period.
Fonts/Styles: With over 11,000 free fonts and 2,500 categories for different writing styles, you can find the perfect font to match your mood. You can change text color as well.
Quote/Paraphrase: This tool automatically identifies quotes or paraphrased sections of text from their context in your content. I used this feature to highlight.
User Experience
With the ability to use a variety of templates that help you create documents such as proposals, case studies, and ebooks, Jasper provides a great user experience.
You can also access a wide range of tutorials that show you how to use the software to its full potential.
The user experience is also great when using Boss Mode, which allows you to take full control of the content creation process and generate longer AI text documents.
Pricing
Jasper comes with two pricing plans: Starter and Boss Mode.
Starter includes the core feature set, access to 20,000 words per month, and comes with the ability to write 50+ skills like descriptions, headlines, and bios.
Boss Mode starts at $59 per month and provides full access to all Jasper features and no limits. You can also write 2x faster and gain control by using Jasper Command to direct the AI to write exactly what you need.
What I Like/Dislike About Jasper:
Like:
Very user-friendly and helpful tutorials make it easy to learn how to use the software
You can use it for a variety of tasks including proposals, case studies, and ebooks
The quality is much better than most of the other AI software I've tried
Dislike:
You have to use the tool inside of its own editor, which means you can't use it outside of the software
It takes time to learn how to use all of the templates since there are so many
Product Updates
A new paragraph generator helps you create paragraphs with ease
Overall Thoughts
Jasper is an amazing AI writing tool that allows you to produce unique text in response to your own words!
I used this service for this entire review section (I feel quite accomplished now!).
Get started with a free trial of Jasper today, and upgrade to a paid plan to unlock all of its amazing features.

Adam's Take
Want to end writers' block once and for all? I recommend CopyAI. This online tool is designed to help you write copy that is both creative and effective. You can use it to generate ideas for blog posts, headlines, digital ads, and more. Plus, the A.I.-powered content engine can create content in 25+ languages!
If you want to have all the creativity you need when it comes to both content writing and copywriting, then you should use CopyAI.
This tool is designed to help you write copy that is both creative and effective.
Start by selecting the type of copy that you want to write, describe your product, and voila – CopyAI will provide you with a variety of templates and examples that you can use to get started.
You can also use the tool to help improve your writing skills by practicing with different copywriting prompts.
So whether you're stuck for ideas or just want to step up your game, CopyAI is the perfect tool for you!
Features:
With CopyAI you can create words that are suitable for a number of different purposes – whether you're writing sales copy that sells or just want to get your point across more effectively.
The following are some of the features that are available through CopyAI:
Create digital ad copy that sells
Generate blog posts ideas and have the actual content created
Easily come up with headlines for your website
Use A.I. to create content in 25+ languages as needed
Improve your email open rates with subjects lines that promote your products, services, and brand.
User Experience
By filling in a few key information, such as your product name, a description of your product, and a few advanced settings, you can get a well-written product description within seconds.
I also like that you can choose the tone of your description, whether it's serious, funny, or something in between.
Pricing:
With a free plan that's great for testing, there are then these two paid options:
Pro: Great for small businesses, charged at $35 per month (billed yearly)
Enterprise: Great for larger teams, with a custom quote being provided on request.
What I Like/Dislike About CopyAI:
Like:
Great for writing drafts, outlines, and brainstorming
Unlimited credits mean you can use it as often as you like
Using the first draft wizard is simple and straightforward
Dislike:
The UI is a not the easiest to navigate
Creating long-term content still leaves something to be desired
Product Updates
The new content brief generator allows you to create content briefs with ease.
Custom tone and style settings help you create content that is on-brand.
Get started with CopyAI.
Best for AI Co-Writing & SEO Assistant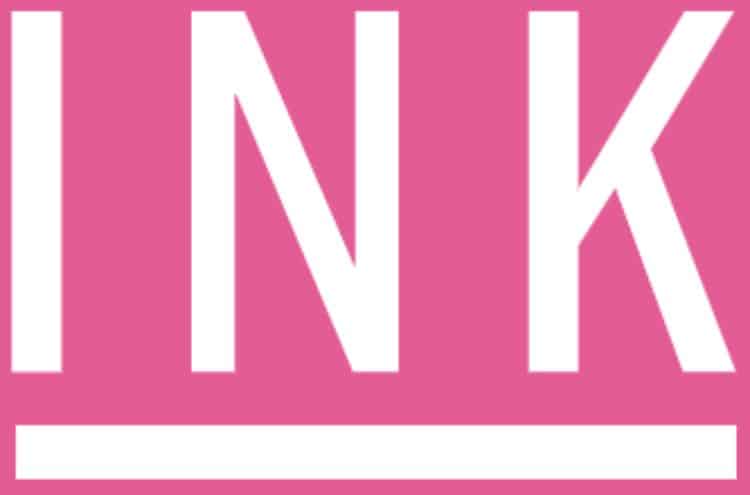 Adam's Take
Communicating with purpose is not always easy. With INK, you can successfully get your message across using their powerful AI writer and then optimize for SEO. If you want a complete AI writing package, then I highly recommend you check out INK Editor.
INK Editor is a distraction-free editor that combines AI co-writing and an SEO assistant.
As an SEO Assistant, INK editor helps create content that'll help you rank higher on search engines and generate more organic traffic.
That's because its patented AI system analyzes your content in real-time and provides suggestions to improve your INK SEO Score.
So, content with a high score is more likely to rank in search engines.
Indeed, a data study suggests that content with an INK SEO Score above 97% is at least four times more likely to rank on Google.
Meanwhile, the AI Co-Writing feature is useful for generating high-performing marketing copy.
Powered by a sophisticated AI, the co-writing feature helps users write, expand, rewrite, or simplify sentences.
With that said, this AI writing software has several other exciting features.
Features: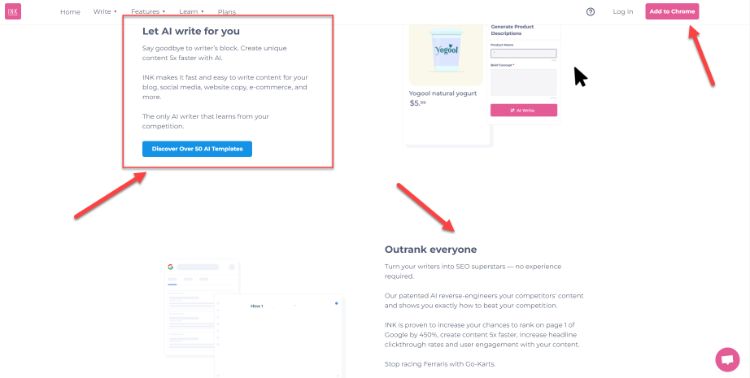 As said earlier, the INK Editor has several AI-writing assistant functionalities, such as AI-Writing, AI-Simplifying, and AI-Expanding. But, it's much more than an original content generation tool. INK has several other features to enhance content visibility and your writing experience.
Here's a list of the essential features that this tool offers:
Meta optimization
Spelling and grammar suggestions
Minimalist interface
Image optimization — compression and resizing
Sentiment analysis
WordPress integration
Accessibility modes — dyslexia and color-blind
Content readability score
Topic suggestions
User Experience
When it comes to INK, it combines with Google Chrome so anywhere you need to write, you can open up the AI writing software and get to work.
INK provides a great user experience as it is extremely simple to use. All you need to do is type in what you need help with and the software will provide you with suggestions.
There are also instances where you just choose an alternative to what you've written and the software will automatically switch it out for you.
Pricing
INK comes in with three pricing plans:
Starter: $8.80 per month
Pro SEO: $44 per month
Team SEO Unlimited: $177 per month
What I Like/Dislike About INK:
Like:
Great for writing SEO-related content since it offers a thesaurus and synonym finder
Great customer service can help when you're having trouble using the software
Easy to navigate and use
Dislike:
Content can sometimes be choppy and not make sense
It takes time to figure out how to use all of the features
Product Updates
Dyslexia & Colorblind Modes help those with different disabilities use the software more easily.
Best for Error-free Proofreading

Adam's Take
If you're looking to harness the power of AI to improve anything you write online, then Grammarly is the tool for you. Integrating with several other tools, Grammarly is as versatile as it gets. In fact, I highly recommend you run everything you write through this tool, as it will take your writing from good to excellent.
Grammarly started operations in 2009 and has positioned itself as the leading grammar and spell-checking tool on the market.
It towers over others because you get to check spelling and grammar as well as spot contextual errors, improving your writing skills.
It lets you perform checks in multiple languages such as Australian, US, and UK English.
The tool also has provisions for plagiarism checking and provides suggestions regarding how you can improve the quality of the text you've written.
One of the aspects of Grammarly that I find enticing is that it comes with an easy-to-use browser plugin.
Once you've included that in your browser, you can run Grammarly checks while composing emails and writing in Google docs.
Such detailed checking makes the writing process fluid.
With the Grammarly extension, you'll never be caught off-guard by errant spelling, punctuation, and other writing mistakes.
Also, the interface and error prompts are very user-friendly, so that's another advantage.
Features:
Grammarly uses advanced AI and Natural Language Processing (NLP) techniques to analyze your text.
The writing assistant tool highlights sentence structure and style problems and can even help you make your text more concise, clear, and understandable.
The following lists some of the features that Grammarly offers:
Spelling, grammar, and contextual error checking
Multi-language support
Plagiarism checker
Content quality score
Easy integration with most business apps
Secure browser add-on
Entirely AI-based checking
Available on both desktop and mobile
User Experience
What's great about Grammarly is that is categorizes the different errors into various categories such as critical, important, and suggestions.
This makes it easy to know what needs to be fixed first.
When it comes to the UI, it's also great that you can install Grammarly on your computer so that it can work in the background as you write in various apps and programs.
These tend to work well with word processors such as Microsoft Word, Google Docs, and more.
Pricing:
Grammarly has divided its plans across three tiers: Free, Premium, and Business.
The Free and Premium plans are best suited for individual marketers and professionals.
For larger teams, it's better if you opt for the Business plan. Here's a quick breakup of each.
1. Free Plan at $0/month
Basic grammar, spelling, and punctuation checking
Limited quality, clarity, and delivery tone detection
Single user only
2. Premium Plan starting at $12.00/month
Plagiarism detection
Advanced writing suggestions
Single user only
3. Business Plan starting at $12.50/user/month
Dedicated admin panel
Centralized billing and priority email support
For teams of three or more members
What I Like/Dislike About Grammarly:
Like:
You can install Grammarly on your computer so it can work in the background
Offers a free version with basic features
Can vary its highlights based on the tone chosen
Dislike:
Sometimes, it picks up wrong errors
Does not work on all apps and programs
Sometimes is too rigid with its rules
Product Updates
Automatic checking of text as you type means that you can get feedback on your writing in real-time.
A new plagiarism checker helps you ensure that your work is original.
To get started with Grammarly, click the button below.
5. Wordtune.
Best for Content Rephrasing
Adam's Take
Wordtune allows you to write what you want to say and then, using the power of AI, change what you've just written based on the situation and tone you find yourself in. Whether you want to communicate in a formal environment, or just want to say something casually, I recommend that you check our Wordtune to improve your online communication.
Wordtune doesn't position itself as a tool for grammar checking. Instead, it's one of the few AI software tools that try to understand the context and semantics of what you write.
It's the brainchild of AI21 Labs and uses multiple language models to rephrase sentences.
Using Wordtune, you can work to make your content more compelling, engaging, and easily consumable.
To help you achieve this, the service uses advanced, neural-net-based NLP technology combined with standard AI tools.
The tool paraphrases the content you've written and rewrites it more fluidly and understandably.
It attempts to improve the readability of the text instead of regular grammar checking that focuses more on syntax than semantics.
Features:
Wordtune helps you write sentences that read great and at the same time preserve the original meaning.
It provides you with several different options for every sentence that you need to rewrite.
Apart from the above, the following are some of the other features Wordtune offers:
Entirely cloud-based tool
Smart paste feature
Works with all editors and email clients
Semantic analysis-based rewrites
Complete control over sentence length and style
Thesaurus based real-time suggestions
Multi-language word finder
Easy integration with social media sites and business tools
User Experience
Wordtune has a great-looking menu that comes with features that help you with sentence rephrasing, grammar, and style.
You simply need to click on a button and the software will bring up a number of different options for you to choose from.
Many of the suggested changes are great and provide you with alternative ways to say what you're trying to say.
Pricing: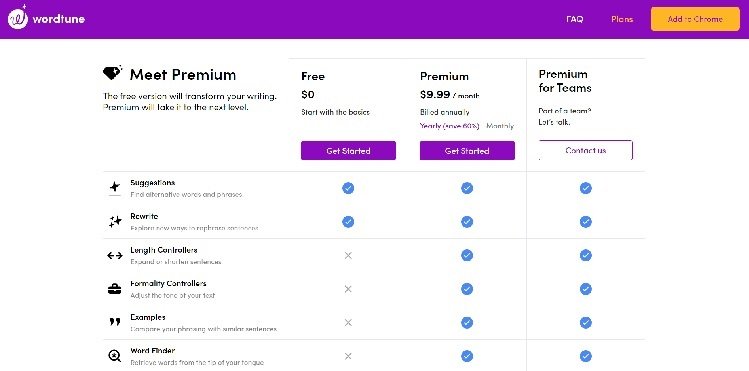 Like Grammarly, Wordtune also has a three-tiered pricing structure.
The Free plan is available for everyone to use without payment or registration.
For advanced functionality, you can switch over to the Premium paid plans, as explained below.
1. Free Plan at $0
Basic suggestions
Basic rewrites
Chrome add-on
2. Premium Plan at $9.99/month
Advanced rewrites and suggestions
Formality and length controllers
Word Finder
3. Premium Plan for Teams
Everything in Premium
Team billing
Custom pricing
What I Like/Dislike About Wordtune:
Like:
The software really understands the tone that you're trying to go for and offers great suggestions
The rephrasing feature is fantastic for coming up with new ways to say things
For those that struggle with written expressions, Wordtune is a great tool
Dislike:
You have to disable it unless you want to use up all the credits when not in use
The Chrome extension can be a little buggy at times
Product Updates
Wordtune is now available for Microsoft Word so you can get help with your writing directly in the program.
Smart synonyms now help you find the perfect word for what you're trying to say.
6. ProWritingAid.
Best for Academic Content Editing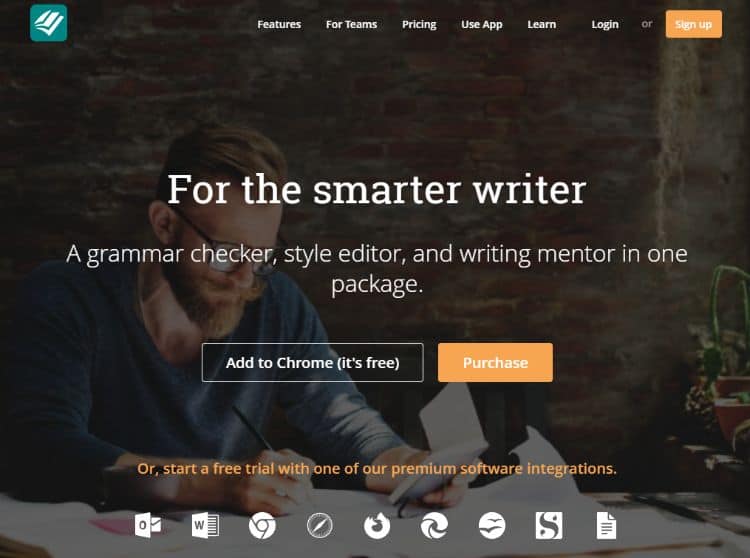 If you deal with academic content that can't afford grammar mistakes, then ProWritingAid can make the task a lot easier for you.
It offers advanced grammar and spell-checking, along with style suggestions.
You can choose from over 1000 writing styles that are pre-built into it.
The software helps the copywriter of various skill levels improve his content by providing detailed reports that can help enhance their writing style.
It also provides you with unique writing suggestions, related articles, and even videos and quizzes to make the editing process more engaging.
ProWritingAid helps you search for and weed out unwanted elements in your text, such as redundant text, vagueness, and excessively long sentences.
And like most AI-based editing algorithms, it learns and helps you learn as you go forward and use it more.
Use it for research projects, professional articles, and more.
Features:
The one feature of ProWritingAid that I need to mention is its ubiquity. The app offers a Chrome extension, an MS Office add-on, and even works with Google Docs and Scrivener. No matter what editor you use, ProWritingAid can help you out.
Here's a list of the essential features that the tool offers:
Grammar and plagiarism checker
Tonal analysis of text
Detailed engagement metrics
Style and sentence formatting
Easy API integration
Completely cloud-based solution
20 detailed writing reports
Integration with popular apps such as Medium and Gmail
Pricing: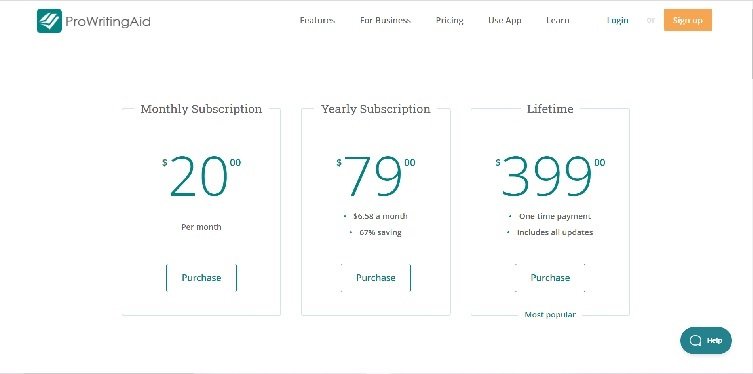 ProWritingAid's Chrome extension is available for free, and you can opt for any of the paid plans as per your needs.
Plans are segmented, keeping user needs in mind.
Here's a quick break up of ProWritingAid pricing plans:
Monthly Plan at $20/month
Yearly Plan at $79/year
Lifetime Plan at $399 (one-time payment)
Individual Business Plan at $6/month
Business Teams Plan at $8/user/month (minimum two users, billed annually).
Enterprise Plan at custom rates
The service also provides discounts for students and bulk purchases.
7. Sapling.
Best for Sales and Support Messages
Sapling is an AI writing assistant software that works with messaging platforms and CRMs.
It works to help sales and support teams compose and send personalized responses to customers.
Using this tool, managers can also gain insights into managing conversations and training teams for better customer communication.
Currently, the tool is used by large brands such as TaskUs and Lionbridge.
Sapling claims to capture language problems and errors much better than traditional spell-checking tools, as it uses a machine-learning algorithm.
It also has an impressive autocomplete feature that can help speed up your process of drafting replies.
Features:
With Sapling, you no longer have to depend on chatbots that use shaky logic.
The tool works to empower human agents by storing and retrieving the most common query responses.
With a single click, you can reply to a customer and resolve their problems.
Apart from the above, Sapling also provides access to the following features:
Autocomplete Everywhere for faster drafting
Snippet library accessible via web tools
Message repository for inserting preformatted text
Ability to provide human-in-the-loop responses
Performance focused reporting
Omnichannel support across a wide range of apps
Enterprise-grade security
Fast installation
Pricing:
Sapling's free plan comes with basic suggestions and can be used on free domains.
It also offers AES-256 and TLS encryption.
To get the benefits of advanced features and suggestions, you'll need to opt for any of the paid plans.
Here's a quick comparison of the Sapling Pricing Structure:
Free Plan: $0/month
Pro Plan: $25/month
Enterprise Plan: Custom rates
8. AI Writer.
Best for Automatic Content Creation
AI Writer is suitable for SEO content writers and content ninjas who don't have the time to perform detailed research for article writing and creation for content marketing.
This tool is essentially an AI content generator that produces an AI article for you based on the information you supply to it.
To use the article writing software, you have to enter a topic headline or keyword, and the automation system in the software will scrape related information from the web and create an article for you.
The company website claims that using it can save up to 33% of writing time.
However, SEO bloggers and content marketers need to be aware that AI Writer is not a substitute for human writing.
It only seeks to augment the writing process by collating information in a persuasive manner which content creators can then optimize as per their needs.
Features:
Apart from being an automated article writing software, AI Writer also provides a text rewriting function.
Here, you can input an article that you've written, and the software will reword it.
You can even reword articles that AI Writer itself has spun.
The following are some significant features that AI Writer offers:
Automatic ad copy writing
Article rewriting/rewording
API for Auto-Blogging
Faster content creation
94.47% Copyscape pass rate
Pricing: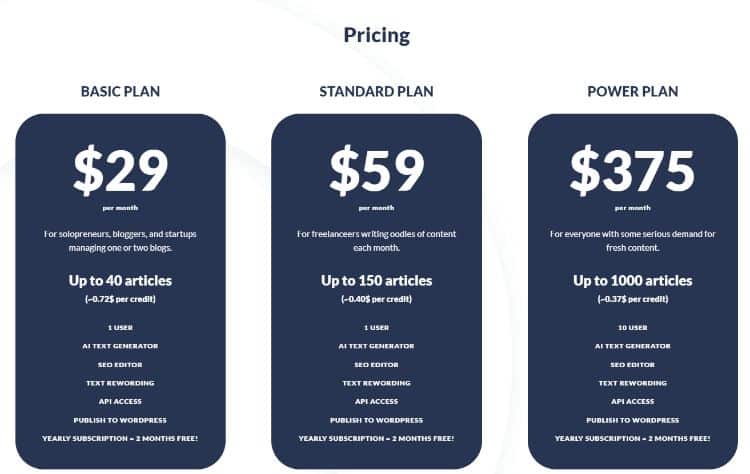 The official AI Writer website offers a free trial with limited capabilities and allows you to generate automated articles for seven days.
If you're satisfied with the trial performance, you can opt for any of the paid plans.
Here's a list of the paid plans that AI Writer offers:
Basic Plan at $29/month
Standard Plan at $59/month
Power Plan at $375/ month
9. Articoolo.
Best for Automatic WordPress Articles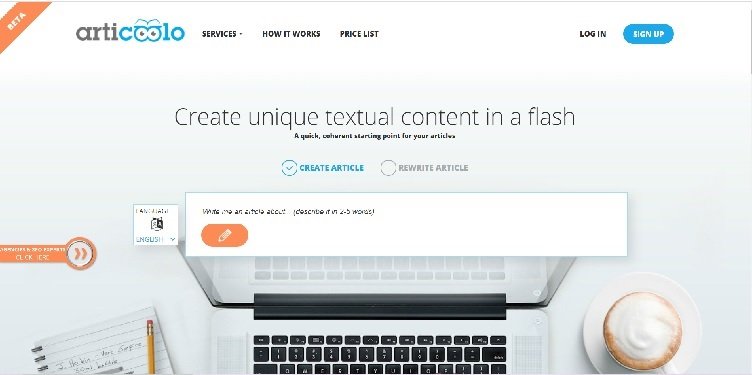 For bloggers working on WordPress, Articoolo can be the best solution for generating blog content rapidly.
It's another article writing software and AI content generator that offers a WordPress plugin to make the process of article creation seamless and effortless.
Articoolo works similar to any other automated AI text generator tool: you need to type in the topic, and the service will create the blog article for you.
Since it uses NLP-based contextual algorithms, you can be sure to get a good AI article to start with, especially helpful for when you're experiencing writer's block.
Using this tool, you don't have to spend time on hours of research and manually collating information.
Just use Articoolo to speed up the process and fast-track your blog posts.
Features:
The primary service that Articoolo offers is that of an AI article writer, but you can also use it for rewriting existing articles. It even comes with an API and a WordPress plugin for smooth integration with other apps.
The following lists the essential features of Articoolo:
Fast article creation and rewriting
Topic idea and title generator
Article summarization
Quotes and image search
Writer's Helper
Pricing: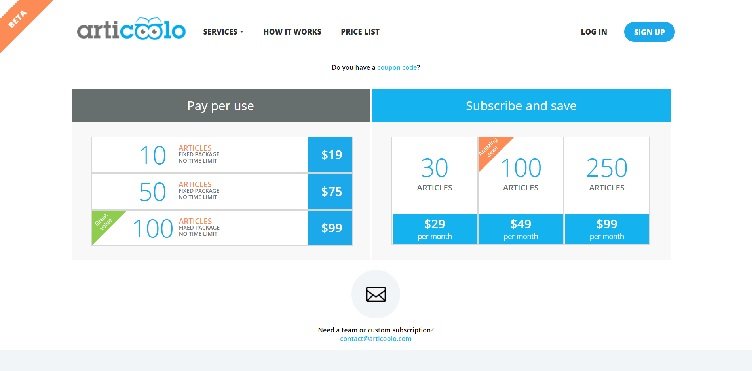 Articoolo's pricing plans are of two types: Pay-per-use plans and Monthly subscriptions.
They also offer team and custom subscriptions for larger businesses that need bulk service.
Here's a list of the pricing plans:
$19 for 10 articles
$75 for 50 articles
$99 for 100 articles
$29/month for 30 articles
$49/month for 100 articles
$99/month for 250 articles
10. Text Blaze.
Best for Automating Repetitive Typing Tasks
Text Blaze works to reduce the monotony of typing by taking care of repetitive tasks.
Using this app, you can create quick and easy text snippets that you can insert anywhere like in social media posts or landing pages.
It further speeds up the process by offering a slew of keyboard shortcuts.
Snippets in the app are usually plaintext, but you can also use contextual, dynamic snippets generated from real-time user input.
It even gives you the provision to apply advanced business logic and communicate with other apps.
Using Text Blaze snippets, you can streamline inter- as well as intra-team collaboration and communication.
For this reason, operations managers, sales representatives, and teachers prefer Text Blaze to save time and create quality text content.
Features:
The one advantage Text Blaze offers over many other AI writing tools is that it's available anywhere you can run Google Chrome, and this includes ChromeOS devices. The set-up process is straightforward, and anyone can manage snippets using it.
Here's a list of some of the features that Text Blaze offers:
Customizable templates
Quick keyboard shortcuts
Available on most popular web apps
Easy collaboration and sharing features
Dynamic formulas for business logic implementation
Pricing:
When it comes to pricing plans, Text Blaze offers a lot of choices.
The Basic plan is free, and you can add the Chrome extension and start working on it immediately.
Since this plan has limited sharing and creation capabilities, teams and professionals will need to upgrade.
The following is a list of the paid plans that Text Blaze offers:
Pro Plan for $2.99/month
Business Plan for $6.99/user/month
Enterprise Plan at custom rates
Other AI writing software not mentioned in this guide include Writesonic, WordAI, Article Forge, Rytr.
What Is Artificial Intelligence or AI Writing Software?
AI content writing software refers to software tools that use artificial intelligence and machine learning techniques to speed up and support the process of creating written human quality content.
These tools are playing a significant role in the content marketing industry.
Using AI writing software, you can create blog articles faster, write better emails, and polish your text to capture the readers' attention.
AI-based writing tools can help you with everything from grammar and synonyms to context, the sentence-style, and structure.
Through the use of deep learning and GPT-3, along with various use cases of AI writing software, the request for AI tools to help improve the copywriting workflow of various writers is at an all-time high.
In addition, as more and more businesses adopt AI-powered marketing tools, the demand for AI content writers is also on the rise.
One great feature of AI writing software is that it can help you to come up with ideas for your content.
If you're struggling to think of topics to write about, the AI can help by suggesting topics based on what's popular or trending.
This is a great way to ensure that you generate content that is always relevant and interesting to your audience.
Are AI Writing Tools Expensive?
I'm sure you've seen from the product descriptions of pricing plans above that AI writing tools are mostly cloud-based and available as SaaS solutions.
You can easily opt for an affordable subscription plan that suits your needs.
Most services even come with free plans and trials.
Wrap Up.
A single typo can have massive implications on your brand image.
As a result, any content that you create needs to be polished, precise, and error-free.
AI writing software helps businesses and startups do precisely that and boost the marketing process.
If you're looking for a suitable AI writing software, then take a pick from the list below:
Whether you're looking to create great content or just generate articles in just a few seconds, the above tools can help you get there.
You can also use a combination of multiple tools for achieving better quality content.
Further reading on AdamEnfroy.com: If you want to learn more about the power of artificial intelligence in business, check out my post on the best AI chatbots available right now.
This will show you how businesses are using such tools to provide the best customer service possible.
Disclosure: I may receive affiliate compensation for some of the links below at no cost to you if you decide to purchase a paid plan. You can read our affiliate disclosure in our privacy policy. This site is not intending to provide financial advice. This is for entertainment only.