21 Best AI Writing Software Tools of August 2023 (Top 3 Picks)
Choosing the right AI writing software is vital to getting high-quality content output. From creating attention-grabbing headlines to generating long-form content, the best AI writing software can deliver what you need. In this guide, I ranked and reviewed the 21 best AI writing software tools, along with my top 5 choices, so you can pick the best one.

Jasper
Jasper is an AI writing tool that helps you transform your text into a completely personalized and unique piece of art.

Writesonic
Writesonic will make your life easier when it comes to creating articles, product descriptions, or even longer pieces.
---
We're reader-supported. When you buy through links on our site, we may earn an affiliate commission.
We all want to create a lot of content online.
But we have to figure out who's going to do it: ourselves, a writer, a freelancer, a writing agency, or… a machine?
Have the machines finally gotten smart enough to master the written word and take over writing once and for all? Will the next successful author be Anne Rice or Anne Droid? 🤖
To compete in the online writing world today, it's all about content quality and content velocity.
Quality articles, plus a lot of articles, typically equals more revenue.
Using AI to write articles is all about using these tools to type in your commands, then relying on AI to finish your sentences, audit your grammar, and craft error-free sentences.
In this article, I'm covering my top picks for the best AI writing software tools.
What is the Best AI Writing Software?
Here are my top picks for the best AI writing software this year.
Best Overall AI Writing Software

Adam's Take
If you want to use the power of AI to craft original articles, headlines, Google ads, and more, then Jasper is my overall recommendation for AI writing software. This is the best AI writing tool with multiple templates available, super-fast output, and a support team that quickly responds to your queries.
Some of this review section was written by Jasper in about two minutes using their AI writing assistant tool Jasper Command.
Jasper (formerly Conversion.AI and Jarvis) is an AI writing tool that helps you transform your text into a completely personalized and unique piece of art.
This tool is constantly improving, recently raising a $125M Series A funding at a $1.5B valuation.
This event has been featured in many of the top tech websites, including Techcrunch, as this is a big step in the future of AI.
With Jasper, you can write a blog post, article, or even a poem, which will generate automatic long-form content to match the overall style of your writing.
With the Jasper Command, you start typing, and Jasper will finish your sentences.
The process is automated and works incredibly well with proper punctuation, capitalization, and grammar.
What I love about Jasper is that the team keeps adding more features and investing in the product.
These actions ensure that users keep finding value when using the product.
Check out my full Jasper AI review for my experience using Jasper.
Let's move on to their key features.
Features
Jasper uses advanced AI to detect critical elements in your writing and matches them to the perfect examples from over one million sentences in the Jasper database.
The results are excellent, and Jasper can make your writing come alive.
Jasper is optimized to work for any type of writing, including creative writing, business documents, articles, and even poetry! Some examples include:
Lookup: Identify critical elements in your text, like people's names or places, pronouns (e.g., he/she, I/me), verbs, adjectives, and nouns.
Find/Replace: You can search for specific words in your text by keyword (e.g., cat, dog, red) or synonym (e.g., animal -> pet). This feature is excellent for creating a list of frequently used phrases like "the quick brown fox."
Punctuation: Add common punctuation symbols, such as commas, periods, and exclamation marks. This feature is perfect for those who forget the small details, like how many spaces to use after a period.
Fonts/Styles: With over 11,000 free fonts and 2,500 categories for different writing styles, you can find the perfect font to match your mood. You can change the text color as well.
Quote/Paraphrase: This tool automatically identifies quotes or paraphrased text sections from their context in your content. I used this feature to highlight.
User Experience
With the ability to use various templates that help you create documents such as proposals, case studies, and ebooks, Jasper provides a great user experience.
You can also access a wide range of tutorials that show you how to use the software to its full potential.
The user experience is also great when using Boss Mode, which allows you to fully control the content creation process and generate longer AI text documents.
You can check these features by signing up for a Jasper free trial.
Pricing
Jasper has three pricing plans: Starter, Boss Mode, and Business.
Creator starts at $49 and includes the core feature set, access to unlimited words per month, and the ability to write 50+ skills like descriptions, headlines, and bios.
Teams starts at $125 per month and provides complete access to all Jasper features and no limits. You can also write 2x faster and gain control by using Jasper Command to direct the AI to write precisely what you need.
Business will require you to contact sales for more information.
You also get a five-day money-back guarantee if you don't like the product.
What I Like/Dislike About Jasper:
Like:
Very user-friendly and helpful tutorials make learning how to use the software easy.
You can use it for various tasks, including proposals, case studies, scripts, and ebooks.
The quality is much better than most of the other AI software I've tried.
Surfer SEO integration.
Dislike:
You have to use the tool inside its editor, which means you can't use it outside the software.
Learning how to use the templates takes time since there are so many.
Customer service could be improved.
Product Updates
A new paragraph generator helps you create paragraphs with ease.
Jasper added a new Chrome extension that works everywhere online.
My Overall Thoughts and Experience
Jasper is a fantastic AI writing tool that allows you to produce unique text in response to your words. They are at the forefront of the AI content revolution and constantly updating their product.
Yes, they sometimes output some bad content, but they are improving and can help you create content faster.
Best for Writing AI Articles.
Adam's Take
Writesonic helps professionals to scale their writing productivity by using artificial intelligence. It provides the ability to generate content ideas, write more minor pieces, and create long-form content based on specific user input.
Writesonic is an excellent tool for those that want to bring their ideas to life without worrying about writer's block. This software will help you create content quickly and efficiently.
More than 60 powerful AI writing tools help you brainstorm and develop your ideas further, so you'll get the job done quickly and easily, no matter what you're working on.
From articles and blog posts to ecommerce product descriptions (and everything in between), Writesonic has you covered, generating unique and high-quality content.
If you want to save time and energy with your content creation, Writesonic is worth checking out.
Features:
Writesonic has been trained using high-converting content, so you can be confident its content is effective.
Whether you're looking for help developing ideas or want to finish your writing tasks quickly, Writesonic can assist you.
The following are some of the features that are available through Writesonic:
General-purpose writing tools help you get the job done no matter what type of content you need to create.
Website copy tools help you create effective, compelling copy for your website.
Ads and marketing tools help you create eye-catching and compelling ads.
Generating ecommerce product descriptions is possible and is an excellent feature if you're selling products online.
User Experience:
Organizing your projects into folders is beneficial and makes it easy to track what you're working on.
The writing tools are straightforward to use, so you can get started immediately without having to learn a lot of complicated features.
Click on the template you want to use, fill in the blanks, and let Writesonic do the rest.
Pricing:
Writesonic offers a free trial, allowing you to generate up to 10K words of content. After the free trial, prices start at $12.67 for the Long-form writer and for the Custom Plan you'll need to contact Writesonic to set up according to your budget.
As part of all plans, you can also select the quality of the words produced:
Premium
Good
Average
Economy
Depending on the quality level, you will receive different word counts. Compared to Premium quality, Economy quality produces ten times more content.
What I Like/Dislike About Writesonic:
Like:
Using Writesonic's AI Article Writer 3.0, you can generate up to 2,000 words of articles within a minute, which can be further extended and refined by using their Sonic Editor feature. The articles come with auto-generated images and can be published instantly on WordPress and other CMS platforms.
With various settings, especially the premium one, the generated content is excellent and economical.
Writesonic comes with tons of templates that can help you get the job done, irrespective of the type of content you need to produce.
Perfect for students in need of writing a great essay.
The cost of purchasing new credits comes at a reasonable pricepoint.
Dislike:
The trial credits run out relatively quickly if you test the platform and the various available templates.
Product Updates
You can connect Writesonic with your favorite enterprise apps to help manage your content creation workflow even better.

Adam's Take
Using the power of artificial intelligence, Content At Scale makes it easy to create compelling content. This AI writing software tool is ideal for businesses and organizations looking to produce high-quality content quickly and efficiently. It produces articles already formatted and optimized for search engine optimization (SEO).
Content at Scale makes it easy to upload single or multiple keywords to get content written quickly and efficiently.
Depending on your needs, you can use either one-off or bulk uploading.
This functionality makes creating high-quality content much easier without spending too much time and effort on each keyword.
Content at Scale also offers team management tools so you can easily manage your team with the ability to assign tasks, add members, and monitor project progress.
This makes it much easier for teams of any size to work together on projects and ensures everyone is working towards the same goals.
This feature makes it easy to keep everyone organized and on track with their tasks.
In addition, Content at Scale offers AI detection capabilities and plagiarism scans to ensure that all your content is original and free from any AI detection tools.
Key Features:
One-off or bulk upload of keywords means you can upload single or multiple keywords to get content written quickly and efficiently.
WordPress integration makes it easy to integrate Content At Scale into your WordPress website to publish content directly from the platform.
API access allows developers to access the platform and quickly get started with content creation.
The automated keyword drip feature allows you to easily add keywords to your content without manually entering them each time.
Reporting dashboard gives you a real-time view of all the activities on your project so that you can optimize and measure your performance.
Team management allows you to manage teams across locations, assign tasks, and monitor progress.
White labeling ensures that all the content is branded with your company name and logo, allowing for increased brand recognition.
Note that some of the features haven't been released yet.
User Experience: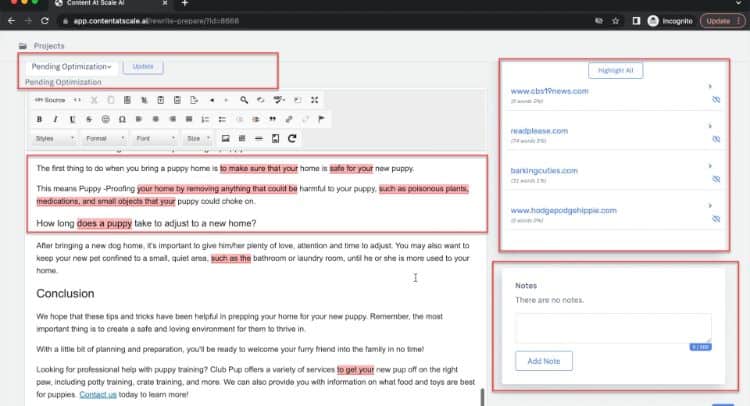 Being able to see which articles are ready and which require more optimization.
The editor is similar to any other text editor, making it easy to use and navigate.
Pricing
Content At Scale offers three plans for different needs:
Starter: $500/mo
Scaling: $1,000/mo
Agency: $1,500/mo
They also offer packages of four and eight monthly posts through the FAQ section of their pricing page.
What I Like/Dislike About Content At Scale:
Like:
You can provide context when uploading keywords, allowing you to get more accurate content.
Long-form content creation tools allow you to quickly create blog posts, articles, eBooks, and more.
Dislike:
Many of the features are unavailable as the software is still in beta.

Adam's Take
Want to end writer's block once and for all? I recommend CopyAI. This online tool is designed to help you write creative and compelling copy. You can use it to generate ideas and write blog posts, headlines, digital ads, and more. Plus, the A.I.-powered content engine can create content in 25+ languages!
If you want to become more creative in content writing and copywriting, then you should use CopyAI.
This tool is designed to help you write creative copy.
Start by selecting the type of copy that you want to write, describe your product, and voila – CopyAI will provide you with a variety of templates and examples that you can use to get started.
You can also use the tool to help improve your writing skills by practicing with different AI copywriting software prompts.
So whether you're stuck for ideas or want to step up your game, CopyAI is the perfect AI writer tool!
Check out my Jasper vs. Copy AI comparison article for a direct head-to-head or my Copy AI review for specific information about this tool.
Features:
With CopyAI, you can create words suitable for several different purposes – whether you're writing sales copy that sells or want to get your point across more effectively.
The following are some of the features that are available through CopyAI:
Create digital ad copy that sells
Generate blog posts ideas and have the actual content created
Quickly come up with headlines for your website
Use A.I. to create content in 25+ languages as needed
Improve your email-open rates with subject lines that promote your products, services, and brand.
User Experience
By filling in a few essential pieces of information, such as your product name, product description, and a few advanced settings, you can get a well-written product description within seconds.
I also like that you can choose the tone of your description, whether it's serious, funny, or something in between.
Pricing:
With a free plan that's great for testing, there are then these two paid options:
Pro: Great for small businesses, charged at $36 per month (billed yearly)
Enterprise: Great for larger teams, with a custom quote being provided on request.
What I Like/Dislike About CopyAI:
Like:
Great for writing drafts, outlines, and brainstorming
Unlimited credits mean you can use it as often as you like
Using the first draft wizard is simple
The monthly free credits for the free plan help new users gain a good understanding of what Copy.ai is capable of.
Dislike:
The UI is not the easiest to navigate
Creating long-term content still leaves something to be desired
Product Updates
The new content brief generator allows you to create content briefs with ease.
Custom tone and style settings help you create content that is on-brand.
Best For SEO Content.
Adam's Take
If you want to improve your online presence, Shakespeare is a must-have tool. It's powered by revolutionary AI technology that can create fantastic blog posts, captivating social media content, and perfectly optimized product descriptions in seconds.
If you're looking for a way to optimize your online presence, you should consider using Shakespeare.
Shakespeare is a revolutionary AI-driven technology that can generate captivating blog posts, scintillating social media copy, and perfectly optimized product descriptions in mere moments.
The tool has been designed to be easy to use and understand.
It doesn't require any coding knowledge or technical expertise.
You only need to provide the topic, and the platform will take care of the rest.
The Blog Wizard is one of the highlights of this tool as it offers several benefits compared to manually creating content.
Instead of spending hours crafting each post or product description, you can generate perfect copy in seconds, saving you time each time you run it.
Key Features:
Access to Shakespeare's Blog Wizard helps you quickly create captivating blog posts and articles.
The Expanded Content Creation Tools provide many features and options to help you create relevant and engaging content.
With thousands of word generations per month, you can guarantee you'll never run out of content.
You can quickly generate more words without hassle if you need more than the package you're subscribed to offers.
Write in over 100 languages to reach a global audience and increase your website's visibility.
User Experience:
Provide a few inputs, and Shakespeare will give you the right outputs based on the chosen topic.
The platform also ensures that your brand is accurately represented across the generated content.
Pricing
There are three pricing plans with Shakespeare:
A free 5-day trial (plus 90% discount on the first month)
Standard ($49 for 45K words per month)
Pro ($59 for 60K words per month)
What I Like/Dislike About Shakespeare:
Like:
Shakespeare makes ad and content writing quick and easy with its natural language processing technology.
Creating social media and blog pages is made efficient and hassle-free with the Blog Wizard.
Easy and intuitive ui with an easy learning curve for new users.
Dislike:
Their free trial only allows you to generate 10,000 words, which may be a bit limiting for some users.
Shakespeare is offering all customers a 5-day free trial + 90% discount on their first month.
The first month's charge would come out to $4.90 on the Standard Package
Best for AI Co-Writing & SEO Assistant
INK Editor is a distraction-free editor that combines AI co-writing and an SEO assistant.
As an SEO Assistant, INK editor helps create content that'll help you rank higher on search engines and generate more organic traffic.
That's because its patented AI system analyzes your content in real time and provides suggestions to improve your INK SEO Score.
So, content with a high score is more likely to rank in search engines.
Indeed, a data study suggests that content with an INK SEO Score above 97% is at least four times more likely to rank on Google.
Meanwhile, the AI Co-Writing feature helps generate high-performing marketing copy.
Powered by a sophisticated AI, the co-writing feature helps users write, expand, rewrite, or simplify sentences.
With that said, this AI writing software has several other exciting features.
Features: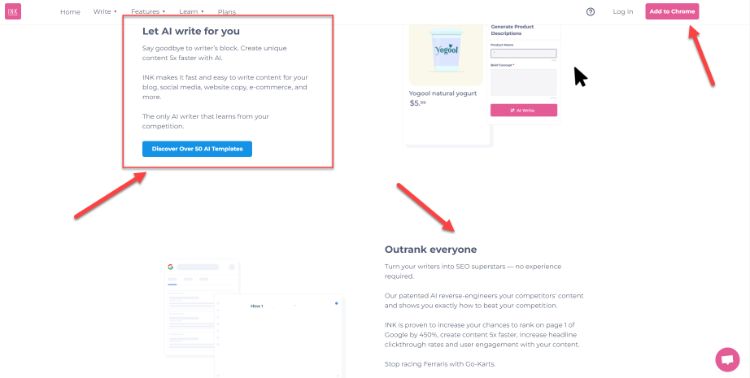 As said earlier, the INK Editor is one of the AI writing assistants with various functions. These include AI-Writing, AI-Simplifying, and AI-Expanding. But, it's much more than an original content generation tool. INK has several other features to enhance content visibility and your writing experience.
Here's a list of the essential features that this tool offers:
Meta optimization
Spelling and grammar suggestions
Minimalist interface
Image optimization — compression and resizing
Sentiment analysis
WordPress Integration
Accessibility modes — dyslexia and color-blind
Content readability score
Topic suggestions
User Experience
When it comes to INK, it combines with Google Chrome, so anywhere you need to write, you can open up the AI writing software and get to work.
INK provides a great user experience as it is straightforward to use. All you need to do is type in what you need help with, and the software will provide you with suggestions.
There are also instances where you choose an alternative to what you've written, and the software automatically switches it out for you.
Pricing
INK comes in with three pricing plans:
Professional: $39 per month
Enterprise: $99 per month
What I Like/Dislike About INK:
Like:
Great for writing SEO-related content since it offers a thesaurus and synonym finder
Excellent customer service can help when you're having trouble using the software
Easy to navigate and use ui system for new users.
Dislike:
Content can sometimes be choppy and not make sense
It takes time to figure out how to use all of the features
Product Updates
Dyslexia & Colorblind Modes help those with different disabilities use the software more efficiently.
Best For Predictable AI Results.
Anyword combines AI copywriting and content writer AI to create the most effective content for your website or blog.
If getting predictable results from your content marketing is what you are after, then Anyword is the AI writing software for you.
Whether you want to get more conversions, traffic, or engagement, this tool can help you achieve your goals.
The tool also uses powerful predictive analytics that helps you understand your target audience better and create content that appeals to them.
Key Features:
I like how the ad copy generator helps users create compelling ads that get results and help them understand their target audience.
I appreciate the blog post features as it helps users to create content that is both informative and appeals to their target audience.
The product descriptions feature is also helpful as it allows users to create more compelling descriptions that can help increase conversions.
Their custom mode is one of the best features because it allows users to train the AI to create content that is more tailored to their specific needs.
User Experience:
Making your copy more playful is one of the best things about this tool.
For those situations where you need to be more serious, the tool also allows you to change the tone of your writing.
Pricing:
Anyword offers the pricing plans:
Starter: $39 /month
Data-Driven Teams: $79 /month
Business: Contact Anyword to schedule a demo.
The data-driven plan is billed annually.
What I Like/Dislike About Anyword:
Like:
The platform has AI that I can use to create my blog post.
I don't have to waste time rewriting and correcting my posts, as the software does it for me.
Dislike:
Occasionally, bugs happen. However, they are fixed quickly, so it's not a big deal.
Product Updates:
The new and improved Website Targeted Messaging helps you create more compelling content for your website by understanding your target audience better.
Best for Error-free Proofreading
Grammarly started operations in 2009 and has positioned itself as the market's leading grammar and spell-checking tool.
It towers over others because you can check spelling and grammar and spot contextual errors, improving your writing skills.
It lets you perform checks in multiple languages, such as Australian, US, and UK English.
The tool also has provisions for plagiarism checking and suggestions regarding improving the quality of the text you've written.
One of the aspects of Grammarly that I find enticing is that it comes with an easy-to-use browser plugin.
Once you've included that in your browser, you can run Grammarly checks while composing emails and writing in Google docs.
Such detailed checking makes the writing process fluid.
With the Grammarly extension, you'll never be caught off-guard by errant spelling, punctuation, and other writing mistakes.
Also, the interface and error prompts are very user-friendly, so that's another advantage.
Features:
Grammarly uses advanced AI and Natural Language Processing (NLP) techniques to analyze your text.
The writing assistant tool highlights sentence structure and style problems and can even help you make your text more concise, clear, and understandable.
The following lists some of the features that Grammarly offers:
Spelling, grammar, and contextual error checking
Multi-language support
Plagiarism checker
Content quality score
Easy integration with most business apps
Secure browser add-on
Entirely AI-based checking
Available on both desktop and mobile
User Experience
What's excellent about Grammarly is that it categorizes the different errors into various categories, such as critical, meaningful, and suggestions.
This makes it easy to know what needs to be fixed first.
Regarding the UI, it's also great that you can install Grammarly on your computer to work in the background as you write in various apps and programs.
These work well with word processors such as Microsoft Word, Google Docs, and more.
Pricing:
Grammarly has divided its plans across three tiers: Free, Premium, and Business.
The Free and Premium plans are best suited for individual marketers and professionals.
For larger teams, it's better if you opt for the Business plan. Here's a quick break up of each.
1. Free Plan at $0/month
Basic grammar, spelling, and punctuation checking
Limited quality, clarity, and delivery tone detection
Single user only
2. Premium Plan starting at $12.00/month
Plagiarism detection
Advanced writing suggestions
Single user only
3. Business Plan starting at $12.50/user/month
Dedicated admin panel
Centralized billing and priority email support
For teams of three or more members
What I Like/Dislike About Grammarly:
Like:
You can install Grammarly on your computer so it can work in the background
Offers a free version with basic features
It can vary its highlights based on the tone chosen
Dislike:
Sometimes, it picks up wrong errors
It does not work on all apps and programs
Sometimes is too rigid with its rules
Product Updates
Automatic checking of text as you type means you can get feedback on your writing in real-time.
A new plagiarism checker helps you ensure that your work is original.
9. Wordtune.
Best for Content Rephrasing.
Wordtune doesn't position itself as a tool for grammar checking.
Instead, it's one of the few AI software tools that try to understand the context and semantics of your writing.
It's the brainchild of AI21 Labs and uses multiple language models to rephrase sentences.
Using Wordtune, you can work to make your content more compelling, engaging, and easily consumable.
To help you achieve this, the service uses advanced, neural-net-based NLP technology combined with standard AI tools.
The tool paraphrases your written content and rewrites it more fluidly and understandably.
It attempts to improve the readability of the text instead of regular grammar checking that focuses more on syntax than semantics.
Features:
Wordtune helps you write sentences that read great and, at the same time, preserve the original meaning.
It provides you with several options for every sentence you need to rewrite.
Apart from the above, the following are some of the other features Wordtune offers:
Entirely cloud-based tool
Smart paste feature
Works with all editors and email clients
Semantic analysis-based rewrites
Complete control over sentence length and style
Thesaurus-based real-time suggestions
Multi-language word finder
Easy integration with social media sites and business tools
User Experience
Wordtune has a great-looking menu with features that help you with sentence rephrasing, grammar, and style.
You need to click on a button, and the software will give you several options.
Many of the suggested changes are excellent and provide alternative ways to say what you're trying to say.
Pricing: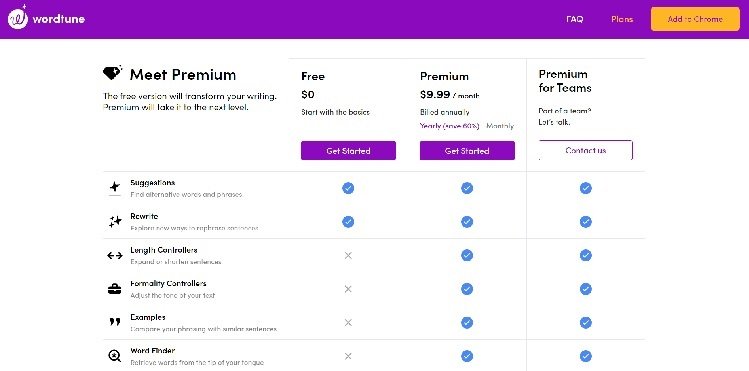 Like Grammarly, Wordtune also has a three-tiered pricing structure.
The Free plan is available for everyone to use without payment or registration.
For advanced functionality, you can switch to the Premium paid plans, as explained below.
1. Free Plan at $0
Basic suggestions
Basic rewrites
Chrome add-on
2. Premium Plan at $9.99/month
Advanced rewrites and suggestions
Formality and length controllers
Word Finder
3. Premium Plan for Teams
Everything in Premium
Team billing
Custom pricing
What I Like/Dislike About Wordtune:
Like:
The software understands the tone that you're trying to go for and offers excellent suggestions
The rephrasing feature is fantastic for coming up with new ways to say things
For those that struggle with written expressions, Wordtune is a great tool
Dislike:
You have to disable it unless you want to use up all the credits when not in use
The Chrome extension can be a little buggy at times
Product Updates
Wordtune is now available for Microsoft Word, so you can get help directly with your writing in the program.
Intelligent synonyms now help you find the perfect word for what you're trying to say.
10. ProWritingAid.
Best for Academic Content Editing
If you deal with academic content that can't afford grammar mistakes, ProWritingAid can make the task easier for you.
It offers advanced grammar and spell-checking, along with style suggestions.
You can choose from over 1000 writing styles that are pre-built into it.
The software helps copywriter of various skill levels improve their content by providing detailed reports that can help enhance their writing style.
It also provides unique writing suggestions, related articles, videos, and quizzes to make editing more engaging.
ProWritingAid helps you search for and weed out unwanted elements in your text, such as redundant text, vagueness, and excessively long sentences.
And like most AI-based editing algorithms, it learns and helps you learn as you go forward and use it more.
Use it for research projects, professional articles, and more.
Features:
The one feature of ProWritingAid that I need to mention is its ubiquity. The app offers a Chrome extension and an MS Office add-on and even works with Google Docs and Scrivener. No matter what editor you use, ProWritingAid can help you out.
Here's a list of the essential features that the tool offers:
Grammar and plagiarism checker
Tonal analysis of text
Detailed engagement metrics
Style and sentence formatting
Easy API integration
Completely cloud-based solution
20 detailed writing reports
Integration with popular apps such as Medium and Gmail
Pricing:
ProWritingAid's Chrome extension is free, and you can opt for the paid plan at $10/month per your needs.
11. Sapling.
Best for Sales and Support Messages
Sapling is an AI writing assistant software that works with messaging platforms and CRMs.
It works to help sales and support teams compose and send personalized responses to customers.
Using this tool, managers can also gain insights into managing conversations and training teams for better customer communication.
Currently, the tool is used by large brands such as TaskUs and Lionbridge.
Sapling uses a machine-learning algorithm to capture language problems and errors much better than traditional spell-checking tools.
It also has an impressive autocomplete feature that can help speed up your process of drafting replies.
Features:
With Sapling, you no longer depend on chatbots that use shaky logic.
The tool empowers human agents by storing and retrieving the most common query responses.
You can reply to customers with a single click and resolve their problems.
Apart from the above, Sapling also provides access to the following features:
Autocomplete Everywhere for faster drafting
Snippet library accessible via web tools
Message repository for inserting preformatted text
Ability to provide human-in-the-loop responses
Performance focused reporting
Omnichannel support across a wide range of apps
Enterprise-grade security
Fast installation
Pricing:
Sapling's free plan comes with basic suggestions and can be used on free domains.
It also offers AES-256 and TLS encryption.
You'll need to opt for any paid plans to get the benefits of advanced features and suggestions.
Here's a quick comparison of the Sapling Pricing Structure:
Free Plan: $0/month
Pro Plan: $25/month
Enterprise Plan: Custom rates
12. AI Writer.
Best for Automatic Content Creation
AI Writer is suitable for SEO content writers and content ninjas who don't have the time to perform detailed research for article writing and creation for content marketing.
This tool is essentially an AI content generator that produces an AI article for you based on the information you supply to it.
To use the article writing software, you have to enter a topic headline or keyword, and the automation system in the software will scrape related information from the web and create an article for you.
The company website claims that using it can save up to 33% of writing time.
However, SEO bloggers and content marketers need to know that AI Writer is not a substitute for human writers.
It only seeks to augment the writing process by collating information in a persuasive manner which a content creator can then optimize as per their needs.
Features:
Besides being an automated article writing software, AI Writer also provides a text rewriting function.
Here, you can input an article you've written, and the software will reword it.
You can even reword articles that AI Writer itself has spun.
The following are some significant features that AI Writer offers:
Automatic ad copywriting
Article rewriting/rewording
API for Auto-Blogging
Faster content creation
94.47% Copyscape pass rate
Pricing: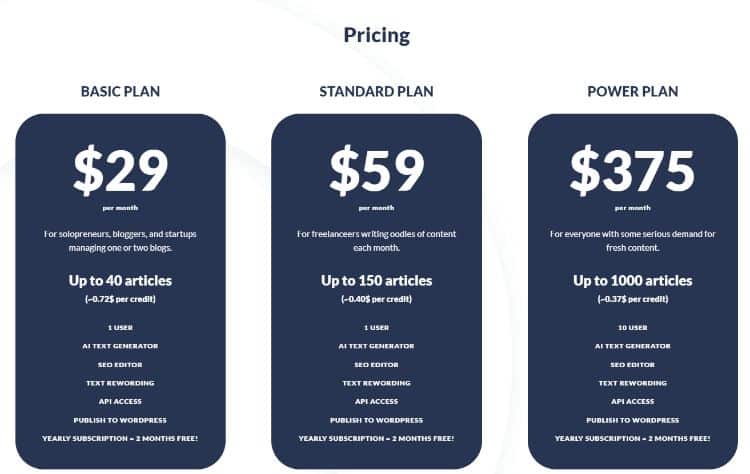 The official AI Writer website offers a free trial with limited capabilities and allows you to generate seven-day automated articles.
You can opt for any paid plan if satisfied with the trial performance.
Here's a list of the paid plans that AI Writer offers:
Basic Plan at $29/month
Standard Plan at $59/month
Power Plan at $375/ month
13. Text Blaze.
Best for Automating Repetitive Typing Tasks
Text Blaze works to reduce the monotony of typing by taking care of repetitive tasks.
Using this app, you can create quick and easy text snippets that you can insert anywhere, like in social media posts or landing pages.
It further speeds up the process by offering a slew of keyboard shortcuts.
Snippets in the app are usually plaintext, but you can also use contextual, dynamic snippets generated from real-time user input.
It allows you to apply advanced business logic and communicate with other apps.
You can streamline inter- and intra-team collaboration and communication using Text Blaze snippets.
For this reason, operations managers, sales representatives, and teachers prefer Text Blaze to save time and create quality text content.
Features:
Text Blaze offers one advantage over many other AI writing tools.
It's available anywhere you can run Google Chrome, including ChromeOS devices.
The setup process is straightforward, and anyone can manage snippets using it.
Here's a list of some of the features that Text Blaze offers:
Customizable templates
Quick keyboard shortcuts
Available on most popular web apps
Easy collaboration and sharing features
Dynamic formulas for business logic implementation
Pricing:
When it comes to pricing plans, Text Blaze offers a lot of choices.
The Basic plan is free; you can add the Chrome extension and start working on it immediately.
Since this plan has limited sharing and creation capabilities, teams and professionals must upgrade.
The following is a list of the paid plans that Text Blaze offers:
Pro Plan for $2.99/month
Business Plan for $6.99/user/month
Enterprise Plan at custom rates
Honorable Mentions
There are also a few other AI writing tools worth mentioning, even though they didn't make it to my top list.
Here are the honorable mentions:
Riku.ai:

Building AI models without using code was a pipe dream. But with Riku.ai, that's now possible. The tool offers an end-to-end solution for training, deploying, and managing AI models.

Scalenut.com: With a guided workflow and an AI-powered content editor, Scalenut.com is an excellent tool for creating high-quality and engaging content.
Shakespeare.ai: Top-notch Writing copy that converts is a tough job. But with Shakespeare.ai, this is made easier with the various available tools. Whether you're a marketer, student, or sales rep, this tool can come in handy.
Writer.com: Whether it's writing rules, personal or team snippets, or setting up a workflow, Writer.com has got you covered. The tool also offers terminology management to ensure consistency in your writing.
Regie.ai: Regie helps build sales sequences that get results. Using AI, the tool analyzes your customer's behavior and provides recommendations on what to say next in the sales process.
Hypotenuse.ai: You'll get back full-length articles ready to be published by providing a few keywords. Just choose your copy type, and the tool will get to work.
Word.ai: Promising as much as 10x the content output, Word.ai is an excellent tool for content generation. The tool also offers quality improvement and clarity updates to content that's already been written.
Articleforge.com: Creating long-form articles can be a time-consuming task. But with Article Forge, you can get high-quality articles in minutes, all at a fraction of the traditional cost.
Rytr.me: With the ability to try out the tool for free and only upgrade when you need to scale, Rytr.me is an excellent option for small businesses and startups. Creating killer content is now within reach, thanks to this tool.
What is AI Writing Software?
AI content writing software refers to tools that use artificial intelligence and machine learning techniques to speed up and support the process of creating written human-quality content.
These tools play a significant role in the content marketing industry.
Using AI writing software, you can create blog articles faster, write better emails, and polish your text to capture the readers' attention.
AI-based writing tools can help you with everything from grammar and synonyms to context, the sentence-style, and structure.
Through the use of deep learning and GPT-3 AI, along with various use cases of different writing software, the request for AI tools to help improve the copywriting workflow of various writers is at an all-time high.
Good copywriting is essential, whether doing sales copywriting for a company's website or creating content for a blog post.
In addition, as more and more businesses adopt AI-powered marketing tools, the demand for AI content writers is also rising.
One great feature of AI content platforms is that they can help you develop ideas for your content.
If you're struggling to think of topics to write about, AI can help by suggesting topics based on what's popular or trending.
This is a great way to ensure that you generate content that is always relevant and interesting to your audience.
Are AI Writing Tools Expensive?
I'm sure you've seen from the product descriptions of pricing plans above that AI writing tools are mostly cloud-based and available as SaaS solutions.
You can easily opt for an affordable subscription plan that suits your needs.
Most services even come with free plans and trials.
What Are the Benefits of AI Writing Tools?
There are many benefits to using an AI writing tool, including:
1. Writing Better Quality Content In Less Time
The most significant benefit of using AI writing software is that it can help you produce quality content in less time.
This is because the software does all the hard work for you, from coming up with ideas to structuring your text and improving your grammar.
All you need to do is provide the topic, and the AI tool will take care of the rest.
The tool will collect the necessary data to improve the user experience through cookies, analytics, and other technologies.
2. Generating Ideas For New Content Topics
If you're struggling to come up with ideas for new content, AI writing tools can help.
Most services come with a feature that allows you to generate ideas based on what's popular or trending.
This is a great way to ensure that your content is always relevant and interesting to your audience.
3. Improving Your Grammar and Style
If you're not a native English speaker or struggle with grammar, AI writing tools can be a lifesaver.
The software is designed to improve your grammar and style, so you can be confident that your text is error-free.
4. Structuring Your Text For Maximum Impact
Another benefit of AI writing software is that it can help you to structure your text for maximum impact.
The software can automatically format your text, making it easy to read and flow well.
This makes it more likely that your readers will read through your entire article or email instead of skimming over it.
5. Consistently Producing Relevant And Engaging Content
As mentioned above, one of the great things about AI writing tools is that they can help you to generate ideas for new content topics.
You'll always have fresh and relevant content to share with your audience.
6. AI Writing Software Is Constantly Improving
The great thing about AI writing tools is that they are continually improving.
As more businesses adopt them and the technology continues to develop, the features and benefits of these tools will only increase.
Is AI Writing Good For Content Creators?
Undoubtedly, AI writing tools can be highly beneficial for content creators.
If you're struggling to generate ideas, improve your grammar, or produce high-quality content, AI writing software can help.
With use cases that include content generation, grammar correction, and style improvement, AI writing software is becoming increasingly popular with content creators of all levels.
How Do AI Writers Work?
Based on various AI models and algorithms, AI writers can analyze and understand data sources, then generate human-like text.
One of the most popular AI writing models today is GPT-3, a neural network model that OpenAI created.
This model is designed to generate text that is realistic and human-like in style.
To achieve this, the GPT-3 model is trained on a large amount of data, including books, articles, and other text sources.
Once the model is trained, it can generate new text independently.
Tips for Getting the Most Out of AI Writing Software
The most effective way to get the most out of AI writing software is to use it as a tool to supplement and improve your existing writing abilities.
Here are some tips for doing so:
Choose the right AI software for your needs. When selecting an AI writing software, consider its features, such as features for editing and proofreading, the ability to generate creative content, automation capabilities, and other functions that can help you create high-quality content quickly and efficiently.
Set up a structured writing process with clear objectives. Having a well-defined plan in place can help you maximize the efficiency of your AI writing process by allowing you to focus on each step one at a time. Define parameters like word count or type of content ahead of time and stick to them while using AI software.
Be aware of any bias in the AI program that might affect your results. Some programs may be biased toward certain aspects of writing, such as grammar or spelling accuracy, which may lead to unwanted effects if not appropriately managed. Before using an AI program, ensure you understand what it can do and how it works so that you can adjust its settings accordingly before proceeding with your project.
Utilize human intelligence when editing and proofreading content written by AI programs. Humans are better than machines at recognizing subtle nuances in language that engines may overlook – for example, idiomatic expressions or more creative ways of phrasing ideas – so it's essential to have someone review the output from an AI program before publishing it to ensure accuracy and appropriateness for the intended audience.
Keep track of data generated by using an AI system over time. Monitoring metrics like editing speed per document or words written per hour, as well as tracking changes made with each new version of an AI program over time so that you can see how far your skills have progressed along with those technological improvements (e.g., increased accuracy).
Mistakes To Avoid When Using AI Writing Software
When using AI writing software, there are a few mistakes that, while easy to avoid, could be costly regarding the quality of your content.
One mistake is using too much jargon or overly technical language that may make your writing difficult for readers to understand.
Another mistake is not utilizing natural language processing (NLP) algorithms to ensure your AI software can understand what you are saying and adequately analyze the text.
Lastly, using automated writing software without ensuring that it produces high-quality content can be a costly mistake.
Ensuring that your AI writing software is up-to-date, you can help protect yourself from these mistakes and produce higher-quality content faster.
What Does The Future Hold For AI Writing?
The future of AI article-writing software looks extremely promising.
As the technology continues to develop, we can expect to see even more advanced features and benefits from AI writing tools.
This will make them even more valuable for content creators, businesses, and individuals who want to improve their writing skills.
Wrap Up.
That's it for the best AI writing software to try this year.
If you're looking for the best overall tools, then take a pick from the list below:
Whether you want to create great content or generate articles in just a few seconds, the above tools can help you get there.
You can also use a combination of multiple tools to achieve better-quality content.
Further reading on AdamEnfroy.com: This Jasper.ai alternatives post can give you more information about the various tools that go head-to-head with one of the best in the industry.
Editorial Process:
Our reviews are made by a team of experts before being written and come from real-world experience. Read our editorial process here.
Some of the links in this article may be affiliate links, which can provide compensation to us at no cost to you if you decide to purchase a paid plan. These are products we've personally used and stand behind. This site is not intended to provide financial advice. You can read our affiliate disclosure in our privacy policy.
---
Last Updated on August 1, 2023 by Adam Enfroy