Jasper AI Free Trial: 10,000 Free Words In 2023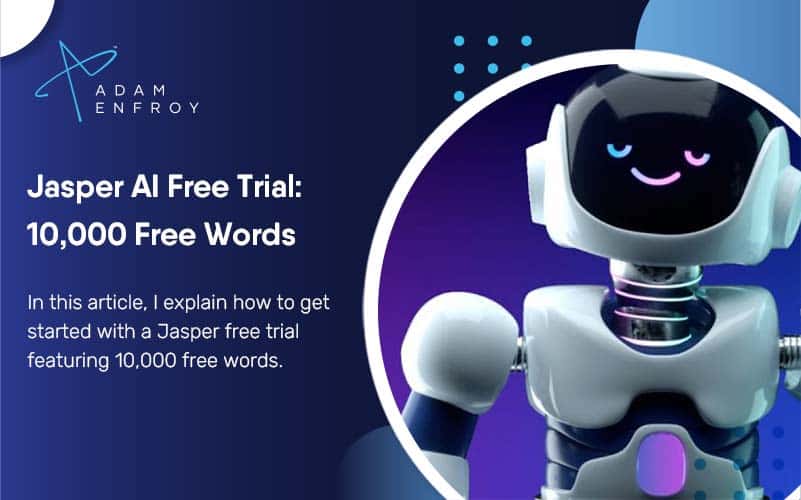 Have you ever found yourself wasting precious time and energy crafting an engaging, relevant piece of content?
What if you could write projects with improved clarity and accuracy in a fraction of the time it usually takes?
That's what Jasper has to offer.
Formerly known as Conversion.ai and Jarvis.ai, Jasper is a platform that helps you quickly craft high-quality, engaging content.
In this article, I'll take a closer look at the fantastic features that Jasper AI has to offer and explain how to get started with a free trial featuring 10,000 free words.
What Does The Jasper AI Free Trial Entail?
Enter your credit card details, and you can get started with this plan, taking advantage of the free trial of Jasper AI.
During this five-day free trial offer, you have 10,000 credits worth of free content, allowing you to use the software and get a feel for its capabilities.

Jasper AI Pricing
From its Starter Plan to its Boss Mode, there is something to suit everyone's needs.
With 20,000 words per month in the Starter plan starting at just $29 per month and 50,000 words with the Jasper Boss Mode plan from $59 monthly, you won't find better value elsewhere.
Here's a more in-depth look at the pricing plans.
The Starter Plan
The Starter plan offers various templates for creating high-quality content around different use cases.
This plan might be enough for those that don't need to write long form content or aren't interested in using personalized commands.
Instead, it's great for anyone who needs basic content creation for their website or blog.
It gives you everything you need to get started without breaking the bank – great value for money.
Boss Mode
Those who want to take their content creation up a notch can upgrade Jasper to Boss Mode.
For only $59 monthly ($49 annually), they can generate as many as 50,000-word credits.
With all the included features, the question won't be how to create content, but how much.
2 Months Free
As mentioned before, Jasper provides a trial period, so users need only commit once they've understood the platform is right for them.
This five-day trial comes with a money-back guarantee for peace of mind.
You can get a full refund if you're not completely happy with the service.
Moreover, investing in a yearly subscription provides valuable savings by getting two months free (17% off).
All the above makes Jasper one of the market's most comprehensive content creation tools.
Get started with Jasper.
The Benefits Of Using Jasper
Jasper offers a variety of benefits that make it easier than ever to get the job done. With this AI-driven platform, you can easily:
Get assistance in 26 languages – Need help brainstorming ideas for your project? Writing content for a specific industry? No problem! With access to over 26 languages, you can find the perfect words for your next masterpiece without searching for hours. Jasper has you covered, whether generating AI copywriting content, creating your next social media post or writing a post about your favorite YouTube tools.
Craft content in a fraction of the time – Let's face it; no one enjoys spending countless hours on a single writing project. With Jasper, however, you can quickly craft great content in less time than ever. Plus, with the improved accuracy of AI content, you can rest assured that your project will be engaging and relevant.
Enjoy reliable support – Not sure how something works? Need help troubleshooting an issue? Don't worry – Jasper comes with dedicated customer support so you can get back on track as soon as possible. You are no more waiting around for answers – just quick, friendly service when you need it most.
Create better quality content – Say goodbye to typos and grammatical errors; with Jasper's AI-driven technology, you can produce better ad copy than ever! Plus, its helpful features allow you to optimize your content for SEO purposes so that more people can find it online. It also provides natural language processing (NLP) capabilities that automatically enable users to generate accurate summaries and categorizations from their data.
Jasper's Template Library
Jasper's built-in template library makes it easier to create compelling content quickly.
You must select a template from the library, fill in the provided prompts, and let Jasper do all the heavy lifting.
For YouTubers, there's the YouTube Outline Script Generator; Video Title Maker; Hook & Introduction Creator, and a Description Generator for their videos.
Marketers and copywriters will love the AIDA (Attention Interest, Desire Action) framework that helps create persuasive sales copy quickly and easily.
And bloggers have access to Boss Mode, which helps them write entire articles from scratch.
There are also generators ranging from topic ideas to meta description generators.
The tool also includes headline creators that come up with just the right way to hook someone to read your posts.
And if there isn't a template that fits your specific needs, no problem.
Using regular English language statements, you can always create a recipe (a set of commands that happen after each other).
That way, you can ensure that every piece of content you generate meets your preferences and goals.
Jasper AI is an excellent solution for anyone who wants to take their content creation to the next level.
Its AI-driven technology and extensive feature set make creating powerful, engaging content faster and easier than ever.
Jasper's Text Editor
Unlike other automated content creation programs, Jasper allows you to customize every aspect of its output — from formatting options to image selection.
You never have to settle for generic-looking results again.
This ability gives you complete control over how each piece looks and allows you to optimize each for maximum visibility on search engines like Google and Bing (which will help drive more organic traffic).
The user interface is intuitive and easy to use, making it suitable even for beginners just starting with SEO optimization and content creation.
Plus, plenty of helpful tutorials are available online to help you get up and running quickly and painlessly with Jasper AI.
Marketing And Selling With Jasper
Here are two critical areas in which Jasper benefits anyone who uses it.
Marketing
Using the content improver, your marketing content can be automatically edited and optimized to reach more people.
In addition, various copywriting templates are available to help you craft compelling messages that will capture your audience's attention.
When you get Jasper, you can use the long-form content writing tool to create comprehensive pieces quickly and efficiently.
Jasper AI has all the tools necessary for marketing success, from creating social media posts to crafting influential blog articles.
Jasper.ai is a potent tool that helps you overcome writer's block and quickly generate original and creative content using preconfigured templates.
With copywriting frameworks like AIDA (Attention, Interest, Desire, Action), PAS (Problem-Agitate-Solve), and Before-After-Bridge, you can write compelling, engaging content that will drive conversions and increase sales.
With these templates, you can quickly construct compelling pieces of content that get results.
Selling
So how can Jasper help entrepreneurs to sell their products or services?
The use cases are various.
For example, if you create Facebook ads to market your product or service, Jasper can help you write engaging copy that will drive clicks and conversions.
Using Jasper, you can quickly generate high-quality ad content without spending time on manual writing.
Jasper AI can also help create titles and descriptions that grab people's attention.
It can also draw users in if you use your Google account to run Google Ads.
From creating headings that make someone want to click on them, to building up a landing page that helps capture leads and convert them into customers, the sky is the limit.
Key Jasper Features
Let's consider a few of this AI platform's top features.
Jasper Commands
This AI writing software also accepts commands that users can input to describe their desired content structure and formatting.
For example, imagine you were talking to a friend and using standard English if you wanted to create a video script.
You could input commands like "write a hook that introduces the topic of x," "add a sentence explaining the benefit of the above product," etc.
Set the tone of voice and any desired keywords you want to include, and you're ready to hit the compose button.
The AI will then interpret your commands and generate content according to them, saving you hours of manual work while producing results that match your desired voice and style.
Jasper Integrations
Let's now consider the various integrations Jasper offers.
Grammarly is one of the top tools for spelling and grammar checks worldwide.
Using this integration, one can edit any article directly from the Jasper platform.
Copyscape is another tool that helps ensure plagiarism free content using Jasper AI.
This plagiarism checker ensures the content generated is of the highest quality and unique.
Surfer SEO is another great integration that allows users to identify which keywords to target for quick SEO rankings.
Customer Support
The support team at Jasper is one of the best in the industry.
Just email hey@jasper.ai, and you'll often get a step-by-step reply that answers any questions or concerns.
There are also tons of FAQs, videos, and a helpful Facebook group that users can join for more assistance and advice on how to use the software.
With excellent customer support, Jasper will provide users with all the help they need to make their AI writing experience smooth and successful.
Get started with Jasper.
Jasper Users

Content marketing is a big part of many businesses today, and Jasper can help with this aspect of any business or industry.
In the digital marketing world, it can provide an advantage when creating campaigns based on email marketing or web copywriting.
A freelance content writer can use the tool to quickly and easily create SEO-optimized articles in minutes.
For those starting an ecommerce business, Jasper can help create product descriptions that are keyword rich and engaging.
Those bloggers involved with search engine optimization (SEO) will find this tool invaluable when optimizing titles and meta descriptions and creating content that's on point.
Jasper's Affiliate Program
Apart from its AI writing tool capabilities, people can spread the word about Jasper and get rewarded for doing so.
By creating their own Jasper AI review, people can promote the platform to potential customers through blogs, social media accounts, or other means.
Then, when new customers sign up for Jasper through a special link, the person that created the review will earn a commission.
As long as the customer keeps paying for a Jasper account, affiliates will continue to receive commissions from the platform.
Jasper and GPT-3
GPT-3 stands for Generative Pre-trained Transformer 3 and is the framework developers used to build Jasper.
GPT-3 is a sophisticated language model developed by OpenAI, which generates human-like text from input data.
It can take any piece of data and turn it into natural-sounding text without any manual effort on your part.
Having this AI integrated into the writing assistant means you can cut down the time it takes when writing long-form content allowing you to create more rich content in less time.
Then, with unlimited project folders, you can easily store and organize all your content in one place.
Wrap Up.
Jasper AI is a powerful AI writing software for anyone looking to unlock the power of artificial intelligence.
With its user-friendly interface, easy collaboration options, and automatic data-saving capabilities, it's no wonder why so many businesses are turning to Jasper AI for their artificial intelligence needs.
Take advantage of the Jasper free trial along with their 10,000-word generation.
Get started with Jasper.
Further reading on AdamEnfroy.com: AI writing software tools help you write faster.
With some of the best work-from-home, this ability can help you create unique content faster than ever.
Editorial Process:
Our reviews are made by a team of experts before being written and come from real-world experience. Read our editorial process here.
Some of the links in this article may be affiliate links, which can provide compensation to us at no cost to you if you decide to purchase a paid plan. These are products we've personally used and stand behind. This site is not intended to provide financial advice. You can read our affiliate disclosure in our privacy policy.
---
Last Updated on February 20, 2023 by Adam Enfroy