40 Best Freelance Writing Jobs and Proofreading Jobs (2023)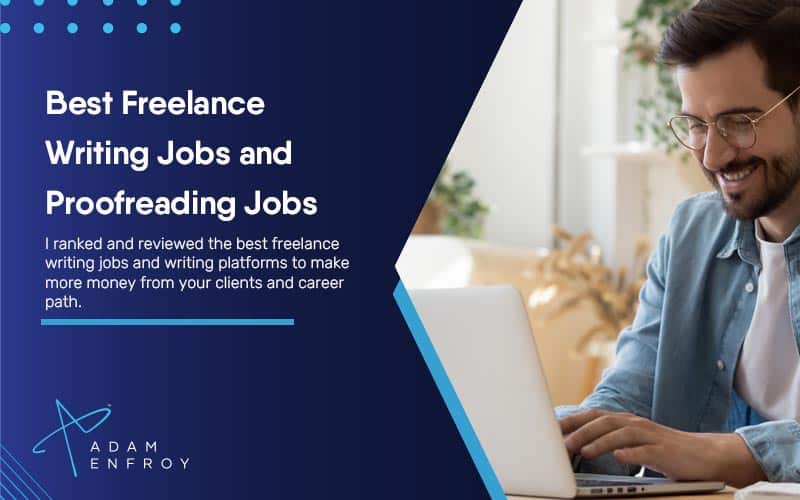 Freelancing is considered to be the fastest-growing job trends in the world.
With more and more people choosing to be part of the gig economy, it's safe to say that the future of working from home is here to stay.
Research indicates that the population of full-time freelancers has doubled in the last 10 years, showing a growth projection of 3.5% annually.
If you're a freelance writer, there are a ton of online proofreading jobs – the key is finding the high-end offers.
Freelancers also wear many hats.
When you start a freelance writing job, you need to market yourself, manage your contracts online, collect payments, email clients, and more.
In this article, I ranked and reviewed the best freelance writing jobs (and sites) so that you can start earning today.
Whether you want to start freelancing part-time, learn how to start a blog for your personal brand, or want to make more money online, this guide is for you.
Let's get started.
Best Websites for Online Writing and Proofreading Jobs
ProBlogger
Being one of the first freelance writing job websites, ProBlogger hosts a wide range of contract, full-time, part-time, and freelance jobs in the writing and proofreading space.
If you're a freelance copywriter or have experience with WordPress and web content, check out their job postings to see what's available.
Candidates also get access to a free dashboard wherein they can create an online resume, manage their job applications, and set up free writer job alerts.
BloggingPro
Similar to ProBlogger, BloggingPro is a free service for content writers and technical writers seeking jobs related to starting a blog, content writing, copywriting, proofreading, blogging, editing, and technical writing.
The website is updated daily with new jobs and claims to have a response time of 24-48 hours.
Mediabistro
If you're looking for freelance writing jobs online, particularly in the PR, journalism, and marketing space, Mediabistro is a good option for you.
It features job posts from leading media companies like CNN, Bloomberg, and NBC Universal among others.
You also get to create your own freelance profile to highlight your freelance writing work and stand out to potential recruiters.
Writers Per Hour
With students turning to writing services for help with their essays, assignments, and research papers, there is an increase in the demand for academic writers.
So, if you have a background in academic writing or are a subject-matter expert, you can apply to Writers Per Hour as a writing expert.
If you make the cut, you're sure to receive a steady stream of work.
All Freelance Writing
From newspapers and magazines to blogs and technical writing, All Freelance Writing hosts a wide gamut of writing jobs.
Interestingly, this website also features the pay rate range making it easier for a successful freelance writer to decide whether they want to spend time applying for freelance writing gigs.
You'll also find publishers frequently posting calls for submissions across various genres.
Contently
Contently is a content marketing platform that connects successful freelance writers with brands. You need to first create an account and showcase your portfolio.
Once you make it through the screening process, you will be eligible to receive job opportunities.
Contently works with some of the most successful brands such as GM, Walmart, Google, GE, and Coca Cola, and offers impressive pay.
This site is best if you have years of experience and are looking for a staff writer position.
Ebyline
Similar to Contently, Ebyline also requires freelance writers to submit their profiles for consideration.
Once you gain the 'Ebyline Approved' status, you will have access to the pitch board.
Ebyline mostly works with journalism publishers and brands looking for writers with newsroom experience.
They have a lot of strong testimonials and you could even turn this into a full-time job.
Proofreading Services
Proofreading Services hires part-time and full-time proofreaders from across the globe.
With flexible hours and competitive pay, they accept those who demonstrate exceptional proofreading and editing skills.
You could be editing blog posts, landing pages, case studies, long-form social media posts, and more.
All you need to do to apply is to take their 20-minute quiz.
OneSpace
Formerly known as Crowdsource when it was focused on being a crowdsourcing platform, OneSpace works with individuals and businesses who are looking to outsource writing and editing jobs.
Apart from creating an account and an online resume, you will have to take a qualification test.
Once you pass it, you will have access to jobs that best suit your credentials.
This site is great for ghostwriters to improve your writing skills.
Book Editing
Book Editing Associates is a book editing service that keeps looking for copy editors, ghostwriters, proofreaders, and publishing consultants with traditional and self-publishing experience.
The only catch is that you need to be based in the US with at least five years of editing experience.
If you want to start ghostwriting and don't know where to look, this is a good option.
We Work Remotely
Even though We Work Remotely does not only cater to writers and proofreaders, it houses plenty of content writing, blogging, copywriting, and editing jobs.
As companies need to pay $299 to post a job, you can expect to find quality and trustworthy clients on this platform.
Remote.co
As a newbie freelancer, Remote.co can prove to be your go-to source for online writing and proofreading jobs.
It curates a list of remote job opportunities across various categories and has a fairly simple and straightforward application process.
Contena
Contena is a paid membership site that consolidates remote writing, editing, and proofreading jobs for freelance writers to choose from.
Their membership fee starts from $42 per month and gives you access to Contena Academy and Contena Scout which is a search tool to find writing gigs.
They also guarantee to give your money back if you're not impressed after trying their service for 30 days.
Compose.ly
Compose.ly is a writing platform that specializes in content marketing.
They work with businesses that are looking to outsource content creation.
Compose.ly offers one of the highest rates in the market.
However, they have a rigorous screening process and are known to accept less than 1% of their applicants.
Jobspresso
Featuring a list of high-quality remote-jobs, Jobspresso is home to writing, editing and proofreading jobs that are hand-picked and reviewed by experts.
They have worked with companies like Microsoft, InVision, Github and Amazon among others.
Apart from manually searching, Jobspresso also gives you the option to upload your resume and be found by potential employers.
Textbroker
From product descriptions, press releases, web copy and blogs to technical article writing, white papers, and news stories, Textbroker claims to execute over 100,000 content orders every month.
To be eligible to work with them, you need to create a profile and submit writing samples.
You will then be given an author rating (between 2 to 5 stars) and start receiving projects accordingly.
Scribe Media
Scribe Media is a company that helps people write and publish books.
They offer full-time and freelance opportunities to writers and editors.
Candidates are required to have excellent writing and editing skills, have a high-level book experience (eg. book agent, editor in a publishing house, etc.) and be good at interviewing people.
Freelance Writing
Founded in 1997, Freelance Writing is considered to be the most comprehensive website for freelance writers looking for high-paying opportunities.
This platform also hosts essay writing, poetry, screenwriting, and short story writing contests wherein the winners are rewarded monetarily.
You can also subscribe to their Morning Coffee Newsletter and receive job updates in your inbox every morning.
Workew
Workew is a freelance writing job board designed for remote workers and digital nomads.
With the most popular jobs being copywriting, blogging, content editor and proofreading, you're sure to find something that suits your skillset.
You can either choose to become a member for free or pay a one-time fee of $9 and have your resume show up at the top of the list of applicants.
Outsourcely
Outsourcely works with startups across industries and sizes who are looking to hire freelance writers and remote workers.
All you have to do is create an enticing profile, apply for remote jobs and wait for startups to directly reach out to you with the project details.
Outsourcely is ideal for someone who's looking for a reliable, long-term remote job.
PubLoft
PubLoft helps startups, small and mid-sized companies scale their content marketing.
They have a writing platform that connects their clients with suitable freelance writers.
In order to be eligible, you need to fill out a form and pass a proficiency test.
They guarantee good and consistent pay. That's not all, the longer you work with them, the more your base pay increases.
Skyword
An 'elite creative community', Skyword connects writers and other creative professionals with top-tier brands.
They work with clients from a vast array of verticals and pay on a per assignment basis.
While creating a profile on Skyword, it's important to showcase the depth of your experience and area of expertise in order to be noticed and considered.
Constant Content
Another content creation service that serves as a link between businesses and freelance writers, Constant Content lets you find new freelance writing opportunities and scale your freelance writing career.
The registration process includes a quiz and a 100-250 word writing sample.
Once you get accepted, you can start applying to jobs and receive requests from clients directly.
The Writer Finder
The Writer Finder is Growth Machine's match-making service that pairs clients with the right writers.
They're expanding rapidly and are looking for SEO-focussed writers across the writing niche.
All you have to do is fill out a form and wait to be matched with a client.
The Writer Finder claims to offer 'good pay for good writing' along with a steady stream of projects.
This is a great option for ghostwriting and their database is expanding quickly.
Journalism Jobs
As the name suggests, Journalism Jobs displays jobs in the field of journalism including TV, newspapers, magazines, radio, government, and trade publications among others.
From full-time and part-time to freelance and internships – this website offers all kinds of job types.
So, if you're specifically looking for online writing and proofreading jobs, remember to filter by 'telecommute' or 'freelance'.
Virtual Locations
Virtual Locations is a job service that provides job seekers with a host of telecommuting jobs.
You can choose to create a free account and apply to jobs or opt for a premium subscription (starting at $15.99 monthly).
Premium membership gives you access to free resources and delivers new job alerts to you on priority.
Kirkus Media
A reputable book reviewing company, Kirkus Media offers freelancing and telecommuting opportunities to experienced writers.
Your job will involve reviewing English and Spanish book titles from self-published authors after which you'll have to write a 350-word review.
There are a ton of different apps you can use to learn English and other languages to improve your multilingual writing skills.
To apply, you'll need to submit your resume, writing samples and a list of your reviewing specialties.
WriterAccess
WriterAccess works with experienced writers in the United States, Australia, Canada, Ireland, New Zealand, South Africa, and the United Kingdom.
They connect writers, editors, and translators with clients.
You'll need to start with building a profile and taking a proficiency test.
Once your expertise is verified, WriterAccess will start matching you with brands and agencies on the basis of your skills and experience.
Canadian Freelance Writing
Don't worry – you don't have to be a Canadian to apply for these jobs. Canadian Freelance Writing regularly publishes blog posts, enlisting a list of new freelance and remote writing jobs.
From writing for reality TV and quizzes to technical writing – you will find all kinds of genres here.
Apart from remote writing jobs, Canadian Freelance Writing also has a separate section that's only applicable for writers based in Canada.
Best Freelance Marketplaces for Online Writing and Proofreading Jobs
FlexJobs has one of the largest databases of remote and flexible jobs.
They offer a smooth job search experience by letting you sort by company name, location or newest jobs and not having to deal with distracting ads.
Even though you're required to pay a monthly fee of $14.95, you can completely trust FlexJobs with legitimate and scam-free jobs.
Get started with FlexJobs.
Fiverr is another marketplace that's great for those who are new to the world of freelancing.
Interestingly, you can sell any service that's legal and in compliance with Fiverr's terms.
It's very easy to get started – sign up for free, create a portfolio, set a price and wait for clients to reach out to you.
Get started with Fiverr.
Upwork
If you have been doing research on paid freelance writing jobs, you're bound to have come across Upwork.
A marketplace for freelancers across various categories such as writing, blogging, digital marketing, designing, accounting and web development among others, Upwork is good for beginners and those who want to gain some experience writing articles.
Start with creating a robust profile after which you can start submitting proposals to potential clients.
Guru
Just like the other marketplaces, Guru requires you to set up a profile, submit quotes and get hired.
You can filter the job search by experience level, payment type, job duration, and hours per week to find the ones best suited for you.
Guru also has a feature called WorkRooms which lets you collaborate with your team members and communicate with clients.
Freelancer
Freelancer claims to connect over 39,621,660 employers and freelancers globally from over 247 countries, regions and territories.
Be it small or large jobs, fixed price or hourly projects and international or local jobs, Freelancer houses any and every kind of job.
All you need to do is complete your profile, browse jobs and send in your best bids.
CloudPeeps
CloudPeeps is a marketplace that mainly focuses on marketing and copywriting jobs.
While it's not as easy to get accepted, once you do manage to make the cut, you will start receiving projects frequently.
The only downside is that you need to be operating out of the 25 countries that CloudPeeps currently serves in.
Best Job Boards for Online Writing and Proofreading Jobs
LinkedIn ProFinder
We're all aware of LinkedIn Jobs but did you know that LinkedIn ProFinder is a more effective tool for connecting freelancers like you with potential clients?
Having over 575 million users, LinkedIn is a goldmine for your freelance professionals.
The first step is to optimize your LinkedIn profile and apply for LinkedIn ProFinder.
Once they feel you're a good fit, you'll be added to their database of freelancers.
Every time a client creates a project request that matches your profile, you'll be invited to send a proposal. If your offer fits, the client will directly reach out to you.
Indeed
Indeed is one of the most popular job boards for finding remote or freelance writing jobs.
Featuring a simple interface, the job search on Indeed is fairly straightforward.
While searching for online writing and proofreading jobs, remember to enter 'remote' in the 'Where' search bar.
ZipRecruiter
ZipRecruiter is an American job search engine that features a comprehensive list of jobs across categories and job types.
As you're looking for freelance or flexible work, you can specifically look under the categories such as 'Work from Home', 'Telecommute', or 'Virtual',
Glassdoor
Glassdoor is no ordinary job board.
Apart from a job search engine, it also has useful information such as company reviews and interview questions to help you find the right companies to work for.
Just type 'remote' or 'telecommute' in the search bar along with writing, editing or proofreading, and Glassdoor will display all the relevant job ads in a matter of seconds.
AngelList
AngelList is home to over 35,603 of the world's best tech companies and startups who are looking to hire.
You will need to create a profile in order to apply for jobs and get paid via credit card, bank transfer, or PayPal.
The best part about AngelList is that there are no middlemen involved – it's just you and the founder/hiring manager.
You're likely to find marketing-related writing jobs on this platform.
Freelance Writing Jobs – FAQ
Do you need a bachelor's degree to be a freelance writer?
While having a degree to be a freelance writer is unnecessary, having one can give you an edge over the competition.
That said, many copywriting jobs will train you based on the specifics of the work you'll be doing.
What are some examples of entry-level freelance writing jobs?
Entry-level freelance writing jobs can include content writing, copywriting, and social media writing.
That said, using AI copywriting tools can really help you break into the field without a lot of experience.
Does a freelance writer job include health insurance?
Some freelance writing jobs may offer health insurance as a benefit, but it is not guaranteed.
Does being a medical writer require a license?
There is no licensing required to be a medical writer. However, if you plan to write prescriptions or provide other health-related services, you may need to be licensed in your state.
How do you hone your skills as a new freelance writer?
Start by building a portfolio of your work, and join online communities and groups for new freelance writers. You can also look for online or in-person writing workshops in your area.
More freelance writing jobs are appearing every day as businesses shift to a remote workforce.
How do you get more freelance writing jobs?
Many writers in the freelance writing niche find work by pitching their services to businesses and individuals. You can also look for writing jobs on job boards and through social media.
A successful freelance writing business begins with a well-crafted and researched proposal.
Having your own writer's blog is also a great way to showcase your writing skills and create credibility in the industry.
Are there any tools that can help me with writing?
AI writing tools can help improve your writing by catching grammar mistakes, suggesting style improvements, and even giving you ideas for what to write about.
My #1 favorite tool to help my writing is Jasper.AI. It helps people to write more clearly, come up with better ideas, and helps eliminate writer's block.
Find Online Writing and Proofreading Jobs
While it's great that there is no short supply of online writing and proofreading jobs; the flip side is that with demand comes competition.
While you no longer have to work for a publisher in New York, San Francisco, or Los Angeles to get your writing out there, there are more freelancers looking for work than ever before.
Therefore, in order to truly stand out and land well-paying projects, you need to build a credible portfolio of work and learn how to market yourself as a freelance writer or proofreader.
Whether you just want some extra side writing gig money, want to make a living writing, or become a major business journalist like Carol Tice, your options are endless.
So, check out these 40 best websites for online writing and proofreading jobs, start gaining experience and you never know how this could grow into a freelance writing business someday.
***
Guest Author: Adela Belin is a content marketer and blogger at Writers Per Hour. She is passionate about sharing stories with the hope to make a difference in people's lives and contribute to their personal and professional growth. Find her on Twitter and LinkedIn.
Editorial Process:
Our reviews are made by a team of experts before being written and come from real-world experience. Read our editorial process here.
Some of the links in this article may be affiliate links, which can provide compensation to us at no cost to you if you decide to purchase a paid plan. These are products we've personally used and stand behind. This site is not intended to provide financial advice. You can read our affiliate disclosure in our privacy policy.