12 Things I Wish I Knew Before Starting My Blog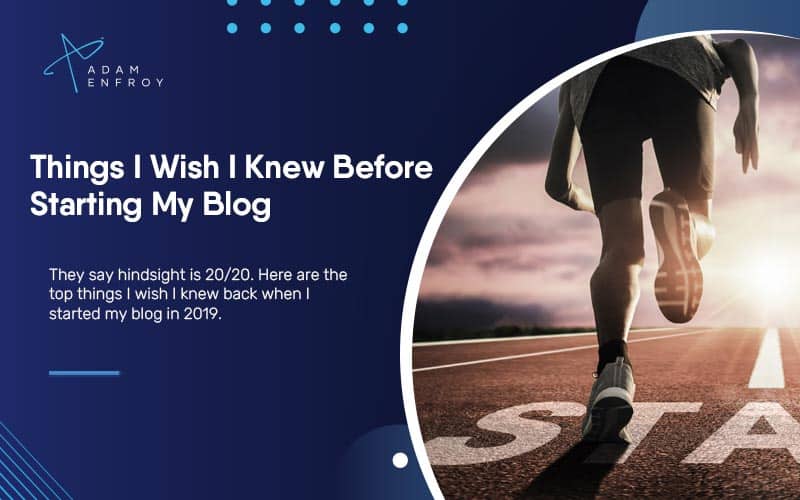 They say that hindsight is 20/20 – it's hard to predict the future and easy to understand what to do after something has already happened.
This is true for new bloggers.
I often think, "If I only knew then what I know now." There are a ton of things I wish I knew before I started blogging.
This blog isn't a success because I'm smarter than anyone else. In fact, the opposite is true – it's successful because I learned from smarter people who knew more than I did.
I tried, failed, tried again, and failed again until I finally learned enough to make a lot of money blogging.
I simply didn't know what I didn't know.
And after gaining this knowledge, I'm making over $100k/month from this blog that I launched in 2019.
Even though this blog found quick success, I still stumbled and fell along the way. I wasted my time (and money) on a lot of things – and I don't want you to make the same mistakes.
I surveyed 531 bloggers in 2020 and this article provides answers to the 12 most common (and challenging) blogging questions.
My answers include a lesson that I wish I knew when I first started and mistakes to avoid.
Here are the top things that you should know before deciding to start a blog.
Subscribe to my YouTube channel for more blogging content. You can also check out Blog Growth Engine for information on how to start your own blog.
1. Don't plan, just do.
Common blogging question: I'm feeling overwhelmed. How do I start planning my new blog?
Let me take a trip down memory lane to some of my planning failures.
In 2016, I created a dropshipping website to try and sell outdoor adventure gear. I called it "Rebel Peak" (sweet name, right?) and the products were at the intersection of camping and adventure: truck tents, tailgating gear, cooler speakers, etc.
I spent countless hours planning every little detail: the company name and branding, the logo, the product line, the design – I even created a Facebook Page and custom banner ads for remarketing (in all common Google sizes of course).
I signed up for an ecommerce platform, synced my products to my Shopify store from a dropshipping supplier, and launched my site.
I also (embarrassingly) announced the new venture to my friends and family on Facebook.
People were very impressed by the nice-looking – yet soon to be unsuccessful – business.
Only after all of this planning did I decide to start a blog on the site to gain a following. I started writing blog posts but spent way too much time on them, thinking that they had to be perfect or I'd be judged by my (non-existent) readers.
I was planning and trying to perfect every detail so that I wouldn't fail.
There was perfection on the surface but no real risk taken underneath it all. I didn't know I was supposed to get backlinks, I didn't build relationships, come to think of it, I didn't actually get out from behind my computer and treat it like a real business.
Long story short, I failed.
I quickly realized that launching a new website isn't the finish line. In fact, it's not even one foot out of the starting gate.
All of my time spent planning could have been spent on taking real action. It's funny to look back and think of how much time (and money) I spent on all of that planning.
So for this blog, I did the exact opposite.
I wrote content first, hustled for guest posts, and didn't worry so much about all of the little details or making everything perfect.
I put myself front and center and used my own name.
I didn't spend hours trying to come up with the perfect domain name – I chose my own name knowing that it wouldn't change and I could pivot my content if necessary.
I created my own logo for free online.
I published just a few posts and started aggressively doing outreach to build relationships with other blogs.
Nothing was perfect, but I worked hard and put the right strategies in place. My focus shifted from perfectionism to vulnerability.
Lessons I Learned: Don't get bogged down in the planning phase. Blogs are like living, breathing documents and can be changed over time. Publish, hustle, and tweak your content later.
Mistake to Avoid: I initially launched this blog on Squarespace. After quickly realizing its limitations, I migrated to WordPress.
2. Your passions will only get you so far.
Common blogging question: How do I choose my niche?
Most bloggers will tell you to choose something you're passionate about so that you can maintain consistency and write about something you love.
I tried this approach in the past and it didn't work out for me. And with 95% of bloggers failing, I politely reject this common advice.
My "Rebel Peak" website above was something I was really passionate about – outdoor adventure.
However, sometimes actively taking part in a passion and writing about a passion are two totally different things.
For instance, being lost in the wilderness camping with your friends is completely different than sitting in front of your computer writing about being lost in the wilderness camping with your friends.
To start a successful blog, you need to both enjoy writing and understand digital marketing. And more importantly, you need to find a suitable niche that has the potential to make you money: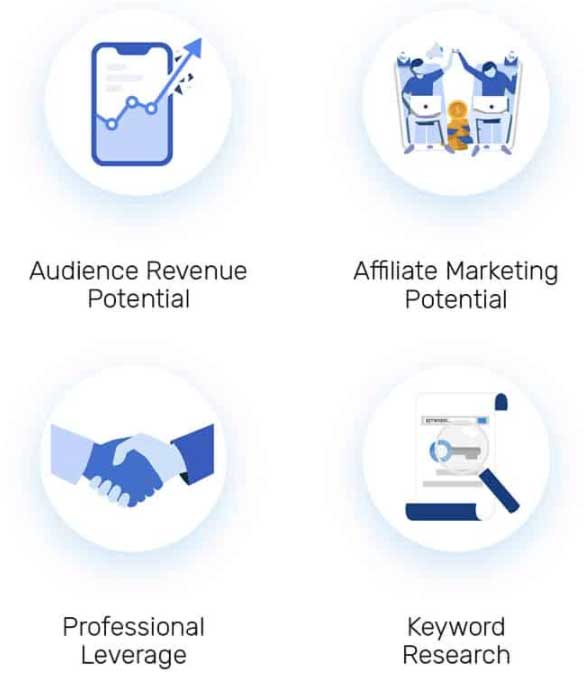 I believe that passion is fueled by success – if you start making money with your blog, you're more likely to keep going.
Which niches are the most lucrative?
If you need niche ideas and how to drill down into individual blog categories and article ideas, I recommend you check out this category page on G2.com.
G2 is a review site and makes money recommending business software. When looking at their categories, you can see that there are an endless amount of niche topics to cover.
I also recommend you check out the following lucrative affiliate sites and how they structure their content:
Finance: NerdWallet
Travel: Nomadic Matt
WordPress: WPBeginner
Food: WineFolly
Technology: Tom's Guide
A successful blog organized its content into high-value search engine optimization (SEO) topic clusters with high-level topics and sub-topics. There is also typically a mix of list posts and how-to guides.
Let's take NerdWallet for example.
They have a high-level list post targeting the keyword "best credit cards." Within that pillar post, they link to their other related posts covering credit card sub-topics like travel, cash back, rewards, balance transfer, etc.
These "best" keywords are great for affiliate income because people are looking for long-form review posts from blogs. These list posts should quickly give the reader what they're looking for and make content easily accessible with a table of contents and links that go down the page.
Next, NerdWallet publishes how-to guides like "How to Build a Budget" and "How to Save Money." These articles don't equate to affiliate revenue like their list posts, but they have higher search volume, bringing in more readers who may navigate to one of their income-generating pages.
Finally, they have comparison posts like "auto insurance A vs. auto insurance B." These articles rank for these vs. keywords and offer comparison charts to compare options.
To recap, new bloggers that want to start a blog in a lucrative niche should plan their keyword strategy based on list posts, how-to guides, and comparison posts.
These target keywords should have a decent monthly search volume (over 1,000) and not be too competitive. You can check out the level of competition by using the Ahrefs Keywords Explorer and viewing stats for the first 10 results.
If all of the top 10 ranking sites have a very high Ahrefs Domain Rating (over 75), it will be hard to compete. However, if you find one site in the top 10 with a lower Domain Rating (under 60), that's a good sign you can compete over time with high-quality content.
Lessons I Learned: Choose your niche not based on your passions but on business factors. You can read about my top four business factors and how to choose your niche in my 15,000+ word guide on how to start a blog here.
Mistake to Avoid: Don't choose your niche based only on your hobbies. You're often more passionate about actively taking part in the hobby than writing about it for years.
3. Don't stray too far from your niche.
Common blogging question: Should I write about topic A or topic B, or both?
Once your niche is chosen, you need to maintain your subject matter expertise in one area.
Google's Knowledge Graph is an engine they created to connect information online. As Google continually evolves and gets smarter, it displays its search results in more accessible ways. Things like featured snippets, knowledge panels, and image carousels provide quick access to topically relevant information.
Gone are the days of ranking for one keyword. Instead, you want to rank for a topic (or cluster) of keywords.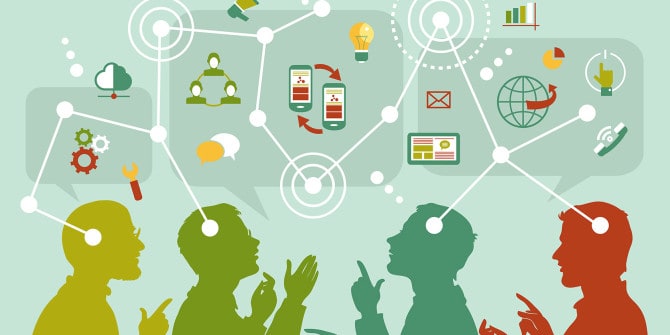 To do this, you need subject matter expertise in the topics you write about. This expertise is earned in the eyes of Google in many ways:
Links pointing to your site from authority sites in the topic area.
Links from sites that do well in the SERPs.
How well the semantic keywords on your page match Google's Knowledge Graph.
My subject matter expertise can be viewed by the marketing topics that I rank for: affiliate programs, blogging, making money online, and different SaaS software reviews.
When this blog was about six months old I tested out writing some articles in the travel niche: best travel backpacks, best travel jobs, etc.
I quickly realized that it was much harder to rank for these keywords because I didn't have subject matter expertise in this area in Google's eyes. I didn't have any good backlinks from travel sites, I didn't guest blog about the topics, and they strayed too far from the cluster of related topics in my niche.
Lessons I Learned: Don't stray too far from your niche. If an article of yours on a certain topic ranks well, write more content on related topics.
Mistake to Avoid: Don't try to be everything at once. You can't be a travel, business, and marketing blogger and rank well in all three categories. Stick to your strengths.
4. Don't pigeonhole yourself when choosing your niche and domain name.
Common blogging question: Is my niche too broad/narrow?
While your niche shouldn't be too broad, it also shouldn't be too narrow.
For instance, if you start a marketing blog and choose the domain name CRMsoftwareguy.com, it may seem a little bit odd when you start writing about the best ecommerce platforms or how to make money blogging.
You need room to pivot.
This goes against common niche site advice, but go with me here.
Let's say you start the blog CRMsoftwareguy.com. You publish 20 blog posts about customer relationship management (CRM) software and related topics. Over six months, you put a ton of effort into your content and link building efforts but don't see results.
Maybe CRM software wasn't quite the right idea.
Now you're stuck with this specific domain and it's more difficult to pivot to a related niche.
The truth is, early on in your blogging career, you may have no idea which posts will get you traffic and which won't. Even if you perform the best keyword research, analyze keyword difficulty scores and competitor data, and craft the perfect content, some articles will simply do better than others.
This isn't to say you should write about totally unrelated topics or throw a bunch of blog posts at the wall to see what sticks. It's just to say that you can't be certain which categories of content will perform best. So don't overanalyze every detail or get stuck. Give your blog the creative freedom to adapt if necessary.
If you're struggling to gain traction in your niche, you can:
Publish your blog posts and allow Google to crawl them.
Google will then give your blog posts an initial ranking.
The higher your initial rankings, the more subject matter expertise you have in that area according to Google.
Pivot your content and link building efforts to be more aligned with these topical areas.
One reason I quit other blogs in the past was that I pigeonholed myself with a narrow domain name. I didn't see early results, felt like I was stuck in one topical area I wasn't passionate about, and quit.
That's one reason I decided to use my own name for this blog. My personal brand allowed me to pivot my content and find my true niche over time.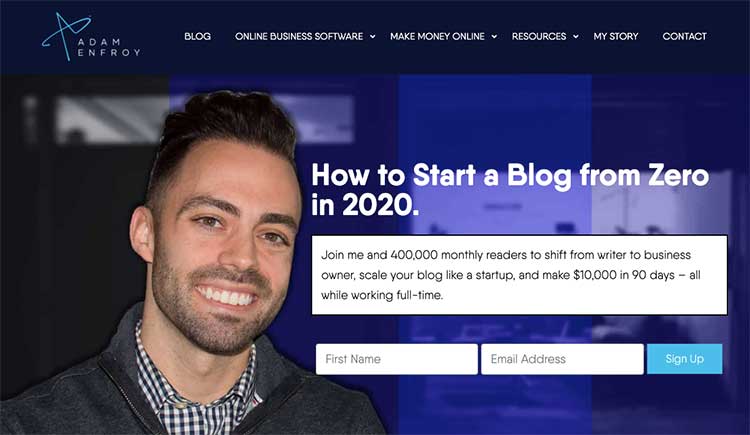 Lessons I Learned: Choose a domain name that covers a broad niche, then get more specific within your blog post categories. Allow your blog to pivot and change course if necessary.
Mistake to Avoid: Choosing an ultra-specific niche that you lose passion for and can't pivot to another topic when it doesn't work out.
5. Use exit-intent pop-ups to build your email list.
Common blogging question: How do I build my email list?
When I launched my blog, I knew I needed to build an email list. Since I didn't have much traffic and didn't want to spend money, I opted for Mailchimp and put a simple form in the right sidebar.
I started to get some traffic, but my email opt-ins were low (and the opt-in form didn't look that great).
So I did some research and decided to sign up for OptinMonster. OptinMonster is an email list-building tool that generates sign-up forms and pop-ups you can add to your WordPress blog.
You just sign up for an account on their website and then install their WordPress plugin.
It was at this point I discovered the power of exit-intent pop-ups.
Exit-intent allows you to trigger a pop-up when a blog visitor's mouse cursor moves within 10-20% of the top of the screen. This cursor position shows their intent to leave, or exit, your site.
These pop-ups can be fully designed and integrated with an email marketing tool like ConvertKit. Once a reader joins your email list, you can send an automated email series with the end goal of selling a product or service.
Based on my OptinMonster analytics, I get the majority of my email subscribers from these exit-intent pop-ups: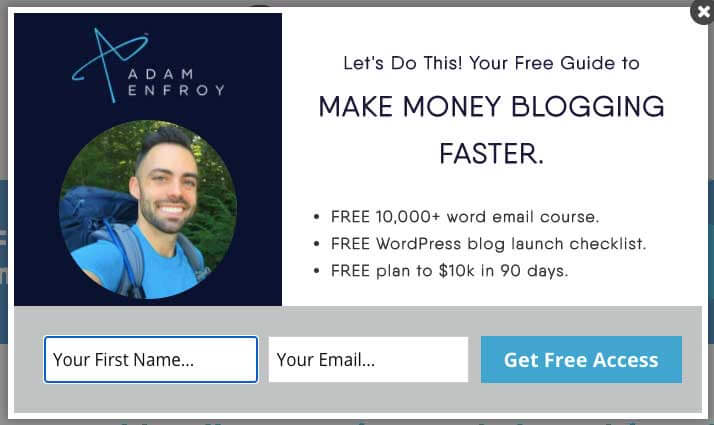 This strategy works because exit-intent pop-ups hit your readers exactly where they are at the right time. They don't have to manually find an email sign-up form somewhere on your blog. The form appears automatically right in the middle of their screen.
Lesson I Learned: Every blogger should be utilizing exit-intent pop-ups, either with OptinMonster, Elementor Pro, or other options. You need a compelling offer with a lead magnet that is valuable enough to entice readers to sign up.
Mistake to Avoid: Don't skimp on your email marketing provider or stay with a free option for too long. While free tools like Mailchimp are good for new bloggers with little traffic, there are plenty of better options out there. If funds are tight, you can start with a free tool and then upgrade to OptinMonster and ConvertKit once you start generating traffic.
There are also a ton of design options when it comes to building popups, pages, and templates. Check out Elementor and other free Elementor widget plugins like Mighty Addons to see all of your customization options.
Bonus tip #1: Use multiple triggers in your pop-up settings. For example, my pop-up fires upon exit-intent or after a few minutes, whichever comes first. The pop-ups also don't fire if the user has already seen them within the last 30 days.
Bonus tip #2: Another good rule of thumb is to avoid annoying your visitors by triggering your pop-up too early. Use Google Analytics to plan your pop-up timing. In most cases, the earliest a pop-up should appear is your average time on page, divided by two.
6. Learn to outsource some of your content creation.
Common blogging question: How do I find a good writer and how much should I pay them? How do I tell them exactly what to write?
My blog covers strategies on how to blog like a startup.
What does this mean exactly?
You need to use systems to scale your blog like a business, not a hobby. Startups scale their website traffic quickly by hiring and outsourcing work to accelerate the amount of content they publish and links they receive.
To manage their blogs, startups typically hire:
Content Managers
SEO Managers
Outreach/Link Building Specialists
Freelancers for writing guest posts
As an individual blogger, common advice tells you that you have to wear all of these different hats: writer, digital marketer, web designer, web developer, SEO guru, outreach specialist, etc.
But if you want to treat your blog like a business, you can't do it all.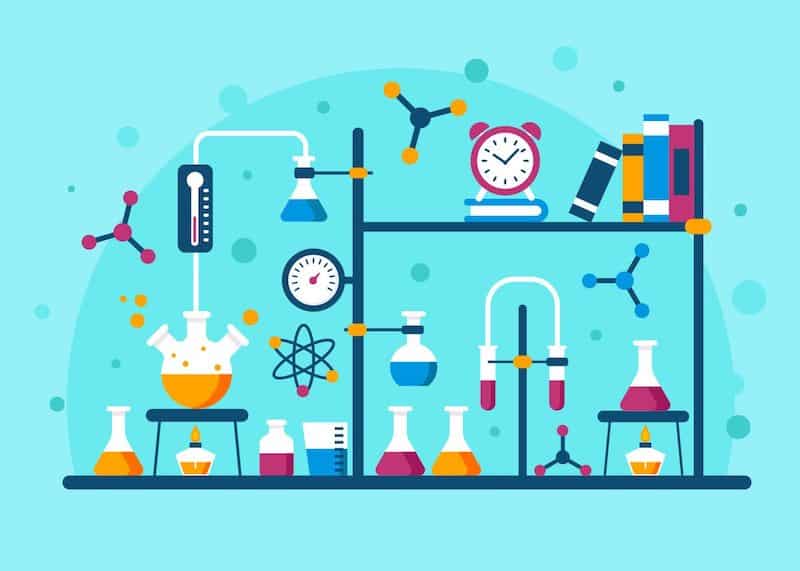 Think about it.
Would a CEO like Jeff Bezos be the one writing new Amazon content or tweaking the Amazon.com design?
Absolutely not. He'd be pulling levers to make the biggest business impact in the least amount of time.
So how do you do this as a blogger, especially if you already have a full-time job?
The first step is to outsource some of your content creation.
Writing blog posts is time-consuming. Marketers spend an average of 1-2 hours for every 500 words. If you need to write a 4,000-word article to be competitive, you're looking at 8-16 hours of writing time.
And if you're working a full-time job or have kids, this task seems almost impossible.
Why not hire a writer to do this for you?
There are an overabundance of ghostwriters you can find online. When I first started my blog, I wrote my early long-form posts and then started outsourcing the first drafts to a freelance writer. (I still edit and update all of my posts. I also still write a lot of posts myself, like this one).
I didn't know exactly where to find a writer, so I posted a job opportunity on job boards like ProBlogger. I mentioned my blog's name, niche, what I was generally looking for, and told the writers to apply and send me samples.
Within 24 hours I had over 50 applications to sort through – varying greatly in price and quality.
I found that freelance writers charge per word, and prices range from around $0.03 per word to $0.30 per word. On the low end, you find that the quality of the writing is typically poor. On the high end, the writing is usually pretty good, but expensive.
I found three good candidates in the $0.05 to $0.10 range and sent them a brief outline as a paid assignment so I could gauge the quality of their work. I was looking for writers with marketing experience, quality grammar and spelling, and quick turnaround times.
I picked one of those writers and she is still working for me today.
In total, I have a few writers, an assistant, a web developer, and an agency for graphic design.
With the writer selection process taken care of, it's time to provide enough information for them so that they can write a high-quality article.
So how do you provide the in-depth information that the writer needs?
You create a simple outline for them in Google Docs.
This outline should include:
The target keyword for your article.
The title of the article.
The word count of the article based on competitor research.
The main H2 headings of the article.
Any sample articles to highlight the writing styles you like.
Any other notes and information on what to include, like stats, comparisons, product features, etc.
Lessons I Learned: By outsourcing different components of my blog to experts, I free up my time to focus on the most important tasks like building relationships with other bloggers and building influence in my niche. There are also a ton of AI writing tools that you can use to help you out.
Mistakes to Avoid: Don't expect to get consistent and ongoing writing help from platforms like Fiverr. Most of these writers have a lot of other articles they're working on at once and quality can suffer. Finding a good writer is truly a 1:1 interview process much like finding a job candidate. With so many writers available, you need to find the individual that works best for you.
7. Format your blog posts correctly for featured snippets.
Common blogging question: How do I format my blog posts?
This is one area that often gets overlooked but is vitally important. I believe that the way you format your blog posts is directly related to how much traffic you get.
When a search engine like Google crawls one of your blog posts, it needs to understand not just the words on the page, but also which words are most important.
You need to make Google's life easy so that they understand your page structure. Plus, well-planned formatting gives you the best possible chance to get featured snippets (position zero).
How do you do this?
First, you start by doing keyword research and choosing a target keyword.
Once you have your target keyword selected, you need to know where to put it.
Here are the main spots to place your target keyword when creating a blog post in WordPress:
In the title of your post (the earlier the better).
In the URL slug.
Within H2 headings.
Within the body content.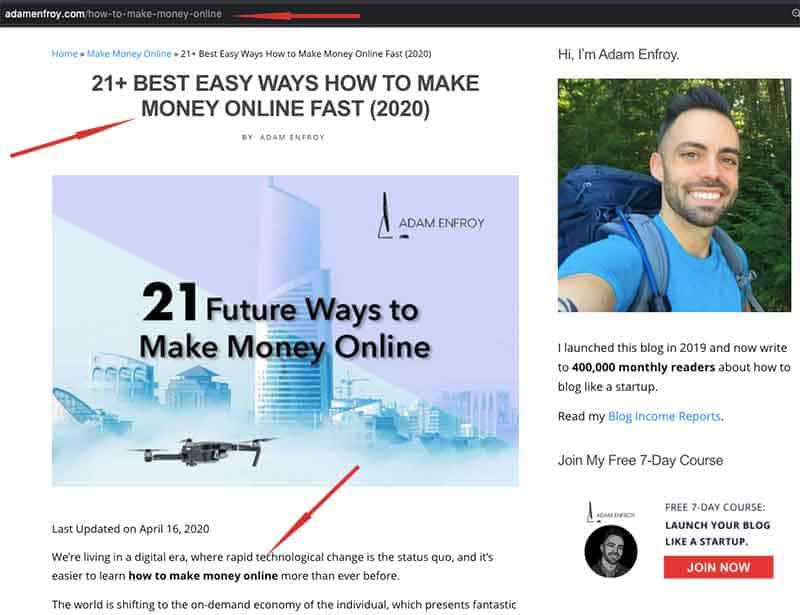 For example, let's say you want to rank for "affiliate programs" like my post here.
After placing the target keyword in my title and URL, I start with some intro paragraphs. Next, after my intro paragraphs and table of contents, I place my first H2 as a question:
What Are the Best Affiliate Programs?
Then underneath are my numbered H3s in a listed format with the answers.
This H2/H3 format is great for list posts and helps you get featured snippets as you can see here: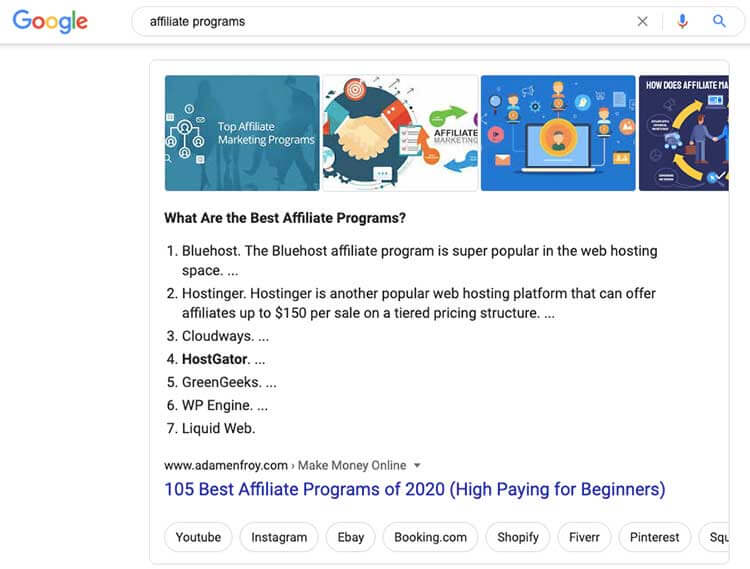 It's pretty simple when you think about it. Google wants to see an organized, hierarchical structure with the right keywords in the right places.
Lessons I Learned: You can outrank sites with higher Domain Authority if you write better content and format it correctly.
Mistakes to Avoid: When I first started my blog, I wasn't that great at keyword research and didn't format my posts correctly. Make sure you're using H2 and H3 headings in your content to tell search engines what's important. Don't stuff too many keywords into your content either – that doesn't work for SEO anymore and your content should be easy to read.
8. Don't skimp on design.
Your blog's design is your brand.
I waited too long to create a professional design for my blog. It was a big ridiculous; I was making $80,000/month and using a $60 WordPress theme.
Again, I started with Squarespace (first mistake), then I migrated my site to WordPress in January 2019 with help from a developer buddy of mine.
I knew for a while that my blog's design wasn't anything special but I didn't act. So after 18 months of blogging, I hired my friend Josh to create a custom WordPress theme for me, which I'm using now.
I also signed up for monthly design services with a company called BrandStrong. They updated my logo, redesigned my lead magnets, and started to create infographics for my blog – you can check one of them out here.
Lessons I Learned: Web design and user experience (UX) are crucial for your blog, so invest in a high-quality WordPress design as soon as you have the money to do so. This can improve your bounce rate and average time on page, which is good for SEO.
Mistakes to Avoid: Don't always use Fiverr or similar platforms for graphic design services. While logo creation is probably fine, the quality is low on more advanced project types. For example, I spent $400 on one Fiverr infographic and now get 5-6 per month from BrandStrong for the same price.
9. Write more guest posts to build credibility (and backlinks).
Common blogging question: How do I get guest posts if I'm a brand new blogger?
A lot of common blogging advice tells you to launch your blog and then focus on your own content by doing things like:
Maintaining a consistent writing schedule.
Writing X number of blog posts per month.
Creating lead magnets to build your email list.
Sharing your posts on social media.
None of these tips are wrong – I just want to stress that it's not the quickest way to accelerate your traffic growth. Even if you launch your new blog and create an amazing piece of content that is better than anything else out there, it's difficult to get traffic to it when you have a low Domain Authority (DA).
DA is a score developed by Moz. It's a number on a scale from 0 to 100 that predicts how well your site can rank compared to other websites (not to be confused with Ahrefs DR, a similar metric). When your blog is brand new, your DA/DR is zero.
The goal is to increase this number over time by getting high-quality links from other websites (like you can see in my Ahrefs profile):

Backlinks, in the simplest sense, are votes of confidence from one website to another. Google crawls these links and builds a trusted flow of semantically related sites to understand site authority.
The higher the DA, the more authoritative the website. A link from a high DA site is usually more valuable than a link from a low DA site.
When you start a new blog, rather than focusing most of your attention on creating more content for your own blog, develop a plan to build your DA.
This plan should include writing guest posts for other blogs in your niche so you can link back to your site and build your authority.
In 2019, I conducted a guest blogging experiment to report on the DA and traffic gains I would receive by publishing as many guest posts as I could in 15 days.
I got 8 blog posts published in 15 days and you can read the results of my study here.
How do get quality guest posts if you're just starting out and haven't built a following yet?
This is one of the toughest aspects of starting a new blog. Without connections, cold outreach seems daunting.
However, once you get a few guest posts under your belt, it gets easier. You can use your previous guest posts as work samples in your email outreach.
Getting a guest post published is primarily done via email and you need to follow a number of steps:
First, you need to find the sites you want to write for.
Next, you need to find contact information for the right person to reach out to.
After you find this contact information, you send a guest post outreach email. These are typically cold email but there are tips you can follow to improve your chances of a response.
If the contact responds and is interested in a guest post, you pitch 3-4 topic ideas.
Once a topic is accepted, the site will provide some editorial guidelines including how long it should be, whether or not it needs images, how many links are allowed, etc. All sites have different length requirements; most range from 800 words up to 2,500 words. I estimate the average to be between 1,200 and 1,500 words.
Now you can start writing the guest post draft in Google Docs, with a typical timeline of two weeks.
Once your draft is finished, you email it to your contact to see if they have any edits and a suggested publish date.
If your guest post is good to go, sit back and wait for your guest post to be published.
There are admittedly a lot of steps to this process and it can seem intimidating at first. Nevertheless, the most time-consuming parts are collecting the right contact information and writing (or outsourcing) the draft.
Bonus Tip #1: Ensure that you add 1-3 links to your own blog posts within the content of the post itself. You also need to add an author bio which can include a link to your homepage.
Bonus Tip #2: Google "[your niche] sites accepting guest posts" to find articles that provide ideas on the domains you should reach out to. Once you have your list, go to the target website or search LinkedIn to find the right person to reach out to. After you know their name, use a tool like Hunter to uncover their email address and send your outreach email.
Bonus Tip #3: Google "guest post outreach templates" to find examples of what to send your target contacts. Make sure to personalize your emails by adding their first name and a quick comment unique to them. Some other tactics include adding previous writing samples and your website metrics (if they're impressive).
Bonus Tip #4: A next-level approach is to link to some of your target sites in your previous guest posts. That way when you reach out via email, you can share that you already sent them a valuable backlink. Remember, link building is always a value exchange. Provide as much value as you can. If you're just asking for a guest post without providing anything in return, your chances of getting accepted aren't very good.
Bonus Tip #5: If you're just starting out and struggling to get responses, you can pay for 2-3 sponsored guest posts so that you can use them as writing samples. I don't typically recommend paying to write a guest post, but spending $100-200 to get an early writing sample can help accelerate your acceptance rate. Just make sure they're on a high-quality site with a good DA.
10. Don't tell your friends and family about your blog too soon.
Common blogging question: How do I promote my new blog?
My answer: do nothing.
All jokes aside, there isn't a ribbon-cutting ceremony. A blog is a long-term investment – mass messaging your friends, social profiles, and subreddits with links to your blog might get you some short-term traffic, but it won't build sustainable success.
So why shouldn't you tell your family and friends about your blog too soon?
It's simple psychology and goes something like this:
You spend a ton of time and energy creating a new blog. You perform keyword research, set up WordPress, create your logo, build your web pages, publish your blog posts, etc.
After all of this hard work, you want to share your status as a new blogger with people you know. As social creatures, you and I both have an innate need to share our accomplishments and seek recognition for our work.
However, this is a psychological trap that often backfires. While launching a blog is a good start and something to be proud of, nothing has been achieved yet.
So when you share the news that you launched a blog with people you care about, you feel a sense of achievement without really achieving anything yet.
This sharing has the opposite effect. It actually makes you less likely to succeed.
Why?
You already received the endorphins and instant gratification for your work. In other words, you received recognition at the starting line, making it harder to reach the finish line.
I didn't tell any friends or family about my blog until I was making over $20k/month.
Lessons I Learned: When you first launch your blog, focus on aggressive guest posting, and backlink acquisition to build your Domain Authority rather than social sharing. I published over 80 guest posts in 2019 and increased my Domain Rating from 0 to 74 in one year with this method.
Mistakes to Avoid: If you think that telling your family and friends about your new blog will hold you accountable, go ahead and do it. Just try not to fall into the trap of the 95% of bloggers who fail and then claim they are just "hobby bloggers."
11. Get your finances in order from the beginning.
Common Blogging Question: When should I form a business entity for my blog, and which type?
Bloggers make money (and get taxed) in different ways depending on the source of revenue.
For instance, when you generate an affiliate marketing income, you're considered an independent contractor, and 1099s and W-9s apply.
If you consult with clients, you're also an independent contractor. You may need an invoicing tool to collect payments and legal templates to create contracts.
Then there's ecommerce. If you're selling products like online courses or digital downloads, you charge sales tax only if there's a sales tax nexus, meaning you operate in the same state as your customer.
It can be confusing at first. Every state (and country) has different business regulations.
I, for one, waited too long to change my blog from a sole proprietorship to an S corp. I was using personal debit cards to pay for expenses and was getting paid to my personal bank account.
This wasn't much of an issue until tax season rolled around and I had to manually review every transaction from three different accounts to add everything up.
I hired an accountant and formed my S Corp shortly after I became a full-time blogger. Now every transaction syncs within one business bank account so keeping track of everything is easy.
Lessons I Learned: Track every single expense from day one. If you're a sole proprietor and don't want to form an LLC or S Corp quite yet, make sure to use one primary bank account for every transaction. In my opinion, an S Corp is the best option for bloggers. As a single-employee business, you can pay yourself a salary and deduct it from your tax liabilities.
Mistakes to Avoid: Don't pay for blog expenses from multiple accounts like your business checking, a credit card, and PayPal. That will just make it harder to manage when tax season comes. Start tracking profit and loss in a spreadsheet on day one.
12. Don't add affiliate links or ads to your blog too soon.
Common blogging question: When should I start monetizing my blog? When do I add affiliate links or ads?
I'm a big proponent of spending your time on the work that moves the needle fastest.
For example, if you're getting 500 visits/month to your blog, it doesn't make sense to sign-up for Google AdSense – you'll make pennies/day.
It also doesn't make sense to spend a bunch of time joining affiliate programs and adding affiliate links with little traffic. Instead, you could be spending your time building relationships with other bloggers and building your site's authority.
Let's say you're building a tea blog where you review teas. Before adding links all over the place, you could start networking with other tea bloggers and getting them to write guest posts on your site.
This will help bring in more organic traffic and build trust with readers that they're getting honest reviews from people who understand the product better than anyone else.
You can then add tea affiliate links after building relationships which is much more effective.
Said differently, you need to monetize your blog with the right tactics at the right time.
In my guide on how to make money blogging, I go in-depth on why you should offer some type of coaching or consulting service when you first launch your blog.
It's a simple numbers game.
If you have 100 visits/month, would you rather generate $0.30 from AdSense, or land a $1,000/month client?
While monetization timelines differ based on pageviews and revenue streams, here are some rough guidelines to follow (after launching your blog with 5-10 pillar posts):
Months 1-3 (or 0 – 2,500 visits/month): Focus primarily on guest blogging to obtain backlinks and build a service page to offer coaching, consulting, or an online course (if you can).
Months 4-6 (or 2,500 – 10,000 visits/month): After getting links to your priority blog posts and generating some traffic, begin to join affiliate programs.
Months 7-12 (or 10,000 – 50,000 visits/month): Continue to focus on content marketing for your blog and getting backlinks. Your focus should still be on building traffic to your high-income pages.
Months 12 onwards (or 50,000+ visits/month): Diversify your revenue streams by adding another component that you don't have yet like a high-value online course or sponsored posts.
Lessons I Learned: It's more valuable to scale your content creation and backlinks to ensure future traffic than attempt to monetize a low-traffic blog.
Mistake to Avoid: Don't add too many affiliate links to your posts or intrusive ads, especially when you're just starting out.
Summary.
That concludes my list of the top things I wish I knew before I started a blog. I hope they gave you some good ideas that you can implement when you start your own blog.
If you'd like to read more of my articles about starting a profitable blog this year, check out these guides:
Editorial Process:
Our reviews are made by a team of experts before being written and come from real-world experience. Read our editorial process here.
Some of the links in this article may be affiliate links, which can provide compensation to us at no cost to you if you decide to purchase a paid plan. These are products we've personally used and stand behind. This site is not intended to provide financial advice. You can read our affiliate disclosure in our privacy policy.