How To Start A Book Blog (Make Real Money Blogging in 2023)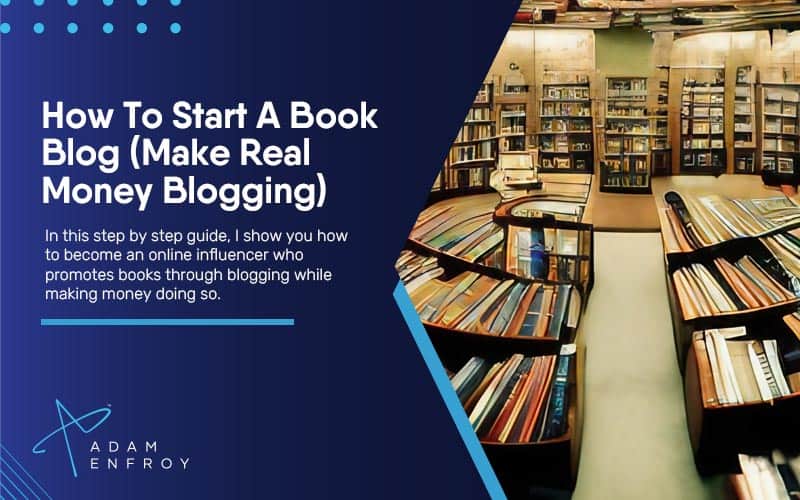 For the bookworms and book lovers out there, nothing is more exciting than curling up with a good book and losing yourself in another world.
Finishing a book feels great, yet at the same time, your whole world feels empty when you've come to the end of a story.
Having no one to share with, talk about the story with or discuss your favorite characters can be a real bummer.
Starting a blog dealing with books is a great way to get back in touch with those like-minded readers out there who share the same enthusiasm for books.
If you're interested in becoming an online influencer who promotes books through blogging, here is a step-by-step guide on how to do it.
Starting A Book Blog
Here are the steps to consider when starting a book blog.
1. Choose A Topic For Your Blog
To money book blogging, your blog must have a central topic or niche.
Whether discussing your favorite books or simply reviewing the books that interest you, having a topic you focus on will help attract like-minded readers.
The type of book blog topic you select can also depend on your expertise and knowledge.
2. Register A Domain Name And Set Up Hosting
The best book blog names reflect your niche and the content you plan to provide.
A blog name helps your book blogging journey immensely as it serves as a memorable URL for readers to visit.
For example, if your blog deals with book reviews about fiction novels, a perfect domain name would be something like "FictionFrenzy" or "FictionalFantasies."
A successful book blog domain name also allows for easier searching and indexing by search engines which will help your blog rank higher on the search engine results page (SERP).
Here is further advice on picking the best blog name for your site.
3. Install WordPress
As a book blogger, you need a management system to create content and manage your blog.
WordPress is the most popular platform, and it's free to use.
Your web hosting provider will generally offer easy WordPress installation as one of the leading Content Management Systems (CMS) available.
There is also the WordPress.com option, which allows you to create free websites on their platform.
However, this option has limits and only allows for specific customization.
4. Create Your Blog's Design
WordPress themes allow for customization, making your blog look unique.
Your blog theme should reflect the niche you plan to cover in your own book blog.
It should also be easy to navigate and visually appealing to visitors.
For new bloggers starting their book blog, differentiating their blog by introducing custom design and visuals can be essential.
Using tools like Canva and Adobe Photoshop can also help you create unique graphics for your blog that will make it stand out from the rest.
You can also use various blog plugins to get your website's desired look and feel.
5. Start Writing Content
Hosting content is why blogging platforms exist.
A book review blog is no different.
The content of an excellent book blog should be informative, exciting, and engaging for readers.
Said differently, providing value should always be your priority when producing content for your blog.
Whether writing book reviews, discussing literary topics with fellow readers, or creating helpful resources, the content you post should be relevant to your niche and serve as a great source of information for readers.
6. Promote Your Blog
A book blogging website that no one knows about won't get any visitors.
You can draw in more visitors to your website with various techniques to promote your blogs,
These techniques include search engine optimization, social media marketing, and email outreach.
7. Monetize Your Blog
From becoming an Amazon Associate to using Google AdSense to monetize your book blog, there are plenty of potential ways to bring in income through your blog.
As an expert doing book reviews, you could also offer sponsored posts for authors looking to get their books promoted.
Having a newsletter and using email marketing to promote different offers is another great way to monetize your blog.
Your Blogging Platform
Here are some of the top blogging platforms you could consider for your book blog.
WordPress.org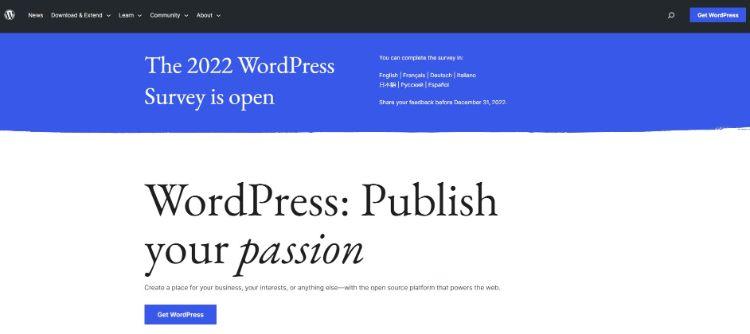 WordPress is one of the most popular blogging platforms and allows one to easily customize a wide range of free themes with plugins.
It also has an active online community offering lots of tutorials, so it's easy to find help when needed.
Wix
Wix is an excellent choice for new bloggers who want to quickly create their websites without worrying about coding.
The Wix platform offers plenty of features and tools to make creating your blog simple, as well as tons of professionally designed themes to give your site a unique look and feel.
Squarespace
Squarespace is another popular blogging platform.
It enables users to create a beautiful website with a simple drag-and-drop interface and features plenty of pre-made templates for easy customization.
Zyro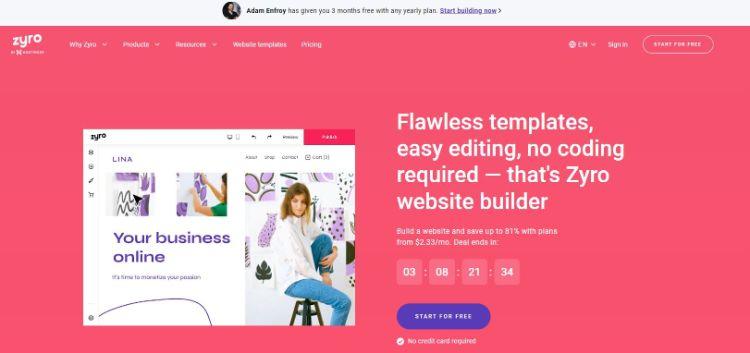 Zyro is an AI-assisted website builder that allows users to create professional-looking websites using built-in tools and plugins.
With Zyro, you can quickly build a blog from scratch without needing any coding skills.
Plus, it offers dozens of free themes that are fully customizable so you can make your blog look unique.
Book Blog Post Ideas
Here are various book blog post ideas to draw in more readers.
Book Reviews
Reviewing books is one of the most common types of posts for book bloggers.
By offering thorough and honest reviews, readers can get an idea about what a book is like and make informed decisions when purchasing or borrowing it from the library.
Book-Related News
Staying up to date with the latest news related to books, authors, publishers, and awards can help your blog stand out from the crowd.
You can also cover various events related to books, such as book festivals or author talks.
Book Lists
For book bloggers, lists are a great way to showcase their knowledge about different genres or topics.
As a new book blogger, you can start by creating lists of books for different age groups or seasonal reads.
You can also create fun lists such as books to read in your lifetime.
Author Interviews
For beginners that want to take their blog to the next level quickly, conducting author interviews can be the way to go.
Writing book blogging posts can be intimidating, so why not go directly to the source and ask authors questions about their works?
You can also ask for review copies of upcoming releases from publishers, giving you exclusive access to resources.
A site like Netgalley is excellent for looking for review copies.
ARCs (advanced reader copies) are also great for early access to new books.
Always ensure you observe the review policy of the publisher and respect their requirements.
You might also want to include a disclaimer in your post, letting readers know that you received the book for free in exchange for a review.
Book Discussion Posts
Discussion posts are great for engaging with readers and understanding their perspectives on different topics.
You could discuss the best book endings, recent releases, or even controversial topics related to books and authors.
Reading Challenges
Many people would love to be able to read more but find it hard to commit and complete a reading challenge.
As part of your book blogging tips, helping others through challenges is an excellent way of reaching out to new audiences.
These challenges can range from non-fiction to YA fantasy books or even classics.
Writing Advice
People want to learn how to write better.
Helping others with book blogging tips that help them find their voice can be an excellent niche to target.
You can also help people understand how to structure posts best.
These ideas are all excellent ways of building your profile as an expert in the field.
Book-Themed Giveaways
Creating competitions and giveaways is an excellent way of engaging with readers and growing your blog.
You can start by giving away one or two free books but create more significant competitions later on if you wish.
Behind-The-Scenes Looks At Publishing Houses
Giving readers an exclusive look into publishing can help them understand how authors create and market books.
You can arrange for interviews with editors or publishers and share informative posts about their process and tips for aspiring authors.
Tips For Successfully Running Your Book Blog
Let's consider some tips for successfully running your book blog.
Be consistent in posting content to your blog: To ensure that your blog is successful, you need to be consistent. Creating a schedule and sticking to it will help keep your readers engaged and interested in what you have to say.
Engage with readers and other bloggers in the book blogging community: Whether a newbie, veteran, or in between, engaging with readers and other bloggers is key to building relationships in the book blogging space.
Participate in book giveaways: Participating in giveaways is a great way to attract new followers and increase page views on your blog.
Offer honest and unbiased reviews of books: Offering fair and impartial book reviews helps maintain credibility with your readers on your blog. Sharing a book's good and bad aspects will help you become a trusted source for readers looking for book recommendations.
Use SEO techniques to optimize your blog posts: From your post title to various headings and images, SEO can help your website's visibility.
Utilize social media platforms: Social media is an effective tool to help spread the word about your blog. These networks can help promote your blog, get more eyes on your content, and drive traffic back to your website.
Making Money with Your Book Blog
Monetizing your blog is the final puzzle regarding running a successful book blog.
Here are some ways you can make money with your blog.
Affiliate Marketing
You can join different affiliate programs and earn a commission for any sales that result from readers clicking on links in your posts.
Ad Networks
You can also sign up with different ad networks and embed ads on your blog.
With ad networks, you receive payment based on the number of clicks and views generated from these ads.
Selling Digital Products
You can create original content, such as e-books or online courses related to books and literature.
Once ready, you can sell directly from your blog.
Sponsored Posts From Publishers And Authors
Authors and publishers often pay bloggers for reviews, book tours, interviews, etc.,
As your blog becomes more popular, you will start seeing people reach out to you inquiring about sponsorship possibilities.
How To Start A Book Blog – FAQ
Are Audiobooks Allowed On Book Blogs?
Yes, audiobooks are allowed on book blogs.
It is up to each blogger what format they prefer to feature on their blog.
Podcasts can also be a great way to share audiobooks.
What Is A Book Club?
A book club is a group of people who read and discuss books together.
Book clubs often meet in person or online to chat about their favorite books and authors and form relationships with other readers.
Bookstagram refers to book clubs on Instagram, so there is an online presence for book clubs.
What Formats Can I Use For My Book Blog Posts?
You can post content using any format that fits your needs.
This includes text, images, audio, and video.
What Kinds Of Books Should I Feature On My Book Blog?
The type of books you feature on your blog is entirely up to you.
It could be literary fiction, non-fiction, romance, children's literature, science fiction, or any other genre that interests you.
Can I Use The WordPress Sidebar For My Book Blog?
Yes, you can use the WordPress sidebar for your book blog.
You can create different widgets to add to your sidebar, including a search box and a list of recent posts.
This will make it easier for readers to navigate your site and find what they're looking for.
Wrap Up.
Managing a book blog is an exciting venture that requires dedication and creativity.
You'll need to keep up with the latest trends in the industry, create engaging content, and establish relationships with other bloggers.
Remember that it takes time and dedication to build a great book blog.
Be patient, and don't give up if things seem hard.
Being consistent can make you an influential figure in the book blogging world.
Further reading on AdamEnfroy.com: SEO for bloggers can help you grow your blog faster by observing the latest SEO techniques.
This is crucial for attracting more readers to your blog and driving traffic from different search engines.
Furthermore, you can also use guest blogging to attract readers and share your content with a broader audience.
Finally, consider that having a book is a great way to become an affiliate of multiple products you used to publish your book on the first page.
For example, if you used Canva to design your book artwork, you can use their affiliate program to get a commission when someone buys their product through your links.
Doing so is a great way to monetize your book's potential and increase your earnings.
Editorial Process:
Our reviews are made by a team of experts before being written and come from real-world experience. Read our editorial process here.
Some of the links in this article may be affiliate links, which can provide compensation to us at no cost to you if you decide to purchase a paid plan. These are products we've personally used and stand behind. This site is not intended to provide financial advice. You can read our affiliate disclosure in our privacy policy.