When picking from the best web hosting, there are literally thousands of options to choose from. Ultimately, a web hosting service is a company which stores your websites' files on their servers to be published to the internet and accessible around the world.
The best hosts provide fast site speed, excellent security, reliability, customer support, and ease of use.
Whether you want to start a blog (or finally use that GoDaddy domain that you've owned since 2006), this guide will help you make an informed decision based on the latest data (updated June 2019).
These service providers are important to your site – they host your files on their servers, and impact your uptime and site speed, now a major SEO ranking factor. But don't get overwhelmed if you can't pick right away.
I've set up, migrated, and managed more hosting providers than I can count. In the end, your decision is never final and you can always switch platforms. Getting started on the right foot is what counts.
This article includes the best 17 best overall picks, free and cheap options, different types of web hosting, and other tips to set you up right from the start.
Let's get started.
Please note, I may receive affiliate compensation for a few of the links below. However, these are tools that I have used and personally recommend when starting a website.
Table of Contents
What is the Best Web Hosting?
To choose the best web hosting, first consider your unique situation. Site speed, security, uptime, ease of use, and integrations can be different based on the host.
Monthly prices can be different. Some control panels are super easy to use; others are more advanced. Some web hosting packages allow more traffic, others are cheap with limited features.
Ultimately, now matter where you are, you need a reputable, secure, fast web host.
Here are my picks for the best web hosting in 2019.

Best Web Hosting Service Powering Over 2 Million Websites Worldwide ($2.75/month)
I currently use Bluehost for my blog and can't recommend them enough. Bluehost is my #1 hosting platform recommendation, with a free domain, free SSL included, 1-click WordPress install, FTP, and 24/7 customer support. Their plans start at $2.95/month and they have a 30-day money back guarantee.
They are an all-encompassing platform tailor made for WordPress and powering over 2 million websites. Their easy-to-use interface allows you to sign in, choose your domain, one-click install WordPress, choose your themes or templates, and create your site – it's that easy. I currently use their basic hosting plan and still have excellent site speed.
Bluehost was founded in 1996 and they now have a staff of over 750 employees to ensure they are the best overall. They have a 99.99% uptime (topping the list), making them the most reliable option.
They have pretty fast page load times, with an average load time under half a second. With my WordPress site and their cheapest plan, I leveraged a few easy plugins and was able to get my site speed to 100.
One of the biggest selling points for me was their security and integration with CloudFlare – a content delivery network (CDN). This CDN prevents DDoS attacks and fake traffic from all kinds of different sources.
Using a CDN also greatly increases site speed by allowing you to host your web files on their worldwide network of servers, speeding up the time that your site loads for uses based on their geographic location.
If you're reading other web hosting comparisons and looking for extra features, Bluehost also integrates with different software in their MOJO Marketplace. For example, if a customer needs shopping cart software or ecommerce functionality, installing software is easy.
They also boast a popular affiliate program and pay up to $130 per sale.
Finally, Bluehost is the "official" WordPress.org recommended platform. Need I say more?
Bluehost comes with my highest recommendation.
Click the link below to get 50% off your Bluehost plan today.
Powerful Web Hosting to Get Your Business Online (70% off)
HostPapa entered the dedicated hosting space in 2002 and expanded to full service web hosting in 2005. They quickly became a leader in the web hosting for small business, as they offer everything a small business would need to run their site.
This includes hosting, domain registration, 400+ business apps to connect to, and both the option of an easy drag-and-drop website builder, or WordPress installation depending on what you are interested in.
HostPapa has three main plans ranging from $3.95 to $12.95/month (that's with 51% off via my link below). 
Their most popular plan is the Business Plan, which is ideal for small business owners and includes unlimited websites, unlimited SSD storage, unlimited bandwidth, and other excellent features: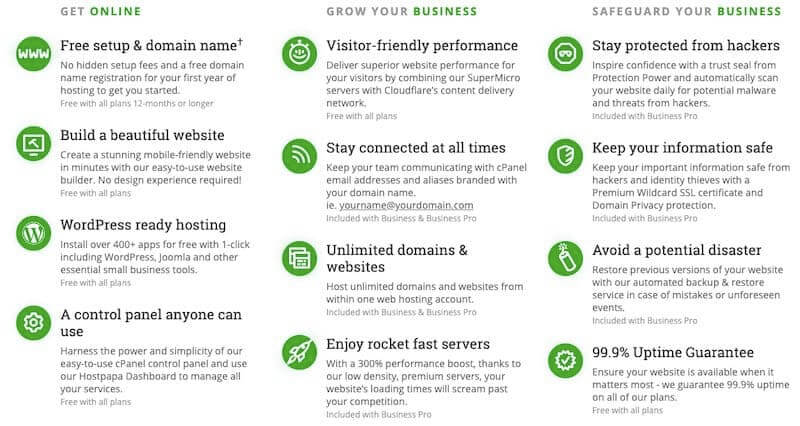 If you already have a website, you can get started with  70% off at my link below. 
Try HostPapa

Best Cheap Web Hosting Service (30-60% off)
HostGator is a well known hosting provider that's based in Houston and hosts over 9 million domain names. They are one of the cheapest options out there, with plans starting at $2.75/month on a 36 month plan. Make sure to check their renewal rates, as they are slightly higher than their introductory rates.
To dive deeper, you can read my full HostGator vs Bluehost and HostGator vs GoDaddy reviews.
Their speed clocks in barely under one second, so they aren't as fast as Bluehost, but their performance is pretty reliable. They also hit a 99.98% uptime, which is better than the industry average of 99.94%. They also offer an uptime guarantee.
They make building a website easy, with simple drag and drop functionality and the ability to add unlimited domains. They'll also assist with free migrations within the first 30 days of your sign-up.
HostGator offers 24/7 customer support through live chat, email, and phone, which is very convenient. However, it's been reported that there can be delays when using their live chat services.
They also offer two higher tier plans which include dedicated IP addresses and SEO tools to grow your online presence. But if you're just starting out, they are very user-friendly and super easy for beginners.
Overall, HostGator is one of the best web hosting options on the market and #2 on my list.
Plus, you can get 30-60% off your hosting plan with promo code ADAMENFROY by using my link below:
Fast and Secure Affordable Web Hosting at a Discount ($0.80/month)
Hostinger is known for fast and secure web hosting and are currently offer a 90% discount on paid plans with really low intro prices starting at $0.80/month.
Using Hostinger allows developers to learn to code and experiment with PHP, FTP, cPanel, and MySQL without the added cost. By using free hosting sites and learning PHP, you can learn to build free WordPress sites and hone your skills at the same time.
Hostinger is great for beginners, you can learn to build free WordPress sites and hone your skills at the same time.
They have a super knowledgeable 24/7 multilingual (20+ language) Customer Success team and are known to pick up a live chat in less than two minutes. Very impressive!
They are also of the fastest web hosting providers with an average page load speed under 200 ms and guaranteed uptime of 99.9%.
Hostinger has its own custom, easy-to-use dashboard – hPanel. The design is simple and clean, which is exactly what you need when building a site. Additionally, they are running a massive sale offering free SSL certificates as well as free domains.
Hostinger provides free WordPress site with 1-click installation so that you can start your blog free of charge in minutes. They also have their own Zyro website builder with 1000's of templates to choose from.
The steps to get up and running with their services are easy:
Go to hostinger.com and click get started
Choose your hosting plan, enter your email, and create a password
Choose either WordPress or build your own site
Edit and publish your site
With some of the fastest loading times among web hosts and an incredible 90% discount on plans, give Hostinger a try.

Best Client Satisfaction ($3.95/month)
SiteGround has offered hosting since 2014 and they're located in Bulgaria. They are best known as a cheap web hosting provider with FTP, cPanel, and unlimited bandwidth.
High uptime is a strong benefit SiteGround clients, as it had an average of 99.99% in 2018. Their platform is built on Linux containers that are very stable, even with random traffic spikes.
They have pretty strong page load times under 750ms (not as strong as Bluehost), but they are faster than the average. In addition to speed, support is strong – they had a 98% client satisfaction rate in 2018.
Their plans start at $3.95/month (plus an additional $14.95 setup fee) and include a free Let's Encrypt SSL, auto daily backups, and unlimited email accounts.
If customer support is important to you, give SiteGround a try today.
Best Fully-Managed Web Hosting and Phone Support for Business ($29/month)
Liquid Web is known as "all the managed hosting you'll ever need". They are known primarily for two things (three if you count their awesome name). First, they have best-in-class cloud hosting and second, they pride themselves on the "most helpful humans in hosting" – yes that's trademarked term.
Their 24/7 customer support has an unbeatable 59 second guarantee. I tested it 3 times and it held up to the test. The first time I called in, I received a real live human in 44 seconds. The second time was 32 seconds. Finally, the third time was 48 seconds – cutting it close, but not a big deal as it was a test, I was chewing on food, and didn't really have much to talk about.
If you're looking for a variety of different hosting options, Liquid Web has 6+ different hosting options depending on your needs:
If you're just starting out, their Managed WordPress hosting starts at $29/month. With that plan, you get 1 site, 20 GB SSD storage, 5 TB of bandwidth, a free staging environment, and backups every 30 days.
If you're a small or medium-sized business that needs fully-managed cloud or VPS hosting, Liquid Web really excels and they are your best choice this year.
Best Premium WordPress Hosting with Migration Support ($30/month)
Kinsta was founded in 2013 with the single goal of creating the best WordPress platform in the world. Their main focus is working with WordPress experts to create hosting with speed, security, and stability that sets the industry standard.
Kinsta's Starter Plan is $30 per month ($25 if paid annually) and comes with 1 WordPress install, 20,000 site visits, free SSL and CDN, and 5 GB of disk space.
If you are a larger business and need to scale your hosting as you grow, they have a tier of 10 different plans which increase your number of websites, SSD storage, and number of monthly visitors.
All plans come with free unlimited migrations from a number of different hosts, automatic daily backups, manual backup points, 24/7 support, and their own white-labeled cache plugin.
Once you tier up to their $60 per month Pro Plan, you get extra features including their free "White Glove Migrations" which allow you to fill out a form and their team of engineers will set up your site for you.
Overall if you're serious about your WordPress speed and security, manage multiple sites, or are an agency developer that wants to host multiple client's sites and scale as you grow, Kinsta is a great option.

Low Web Hosting Price and Free Domain Registration ($1.99/month)
iPage is one of the best platforms to build, market, and grow your website because of it's low-cost offerings and full range of features. iPage is a good choice for businesses because it includes a website builder, and access to Weebly, which allows anyone to build an ecommerce site.
While I don't recommend you use Weebly for ecommerce, if you're looking for one of the cheapest options, iPage gives you everything you need to easily get set up online.
They also offer a free domain, email address, and $200 of worth of free ad credits for search engines like Google and Bing.
Plus, with the link below, you can claim 70% off hosting and get a free domain registration at the super-low price of $1.99/month.

Best Managed Hosting ($35/month)
WP Engine is a managed hosting company based in my town of Austin, TX. They offer enterprise hosting performance with speed, security, and scalability. Their Managed hosting is specifically for WordPress sites and comes at a higher price – it's not exactly hosting, but dedicated services to keep your WordPress site live.
Site speed is where WP Engine really excels. While other providers may include customized servers, you can still get bogged down by installing a lot of WordPress plugins. But with WP Engine, they have a network of servers with more aggressive caching than other providers. In fact, you're not allowed to install other caching plugins in WordPress because their caching is so personalized.
WP Engine provides daily backups of your files so you can keep your piece of mind. They also have excellent uptime, reliable customer service, and high-end custom plans for enterprise. However, if your needs aren't as advanced, you have to weigh the pros and cons.
Their startup plan starts at $35/month and includes 25k visits/month, 50GB of bandwidth, CDN and SSLs, and powerful performance tools. All plans come with a content delivery network (CDN) for faster load times and staging environments so you can test things out before going live with changes.
If you are looking for one of the best premium managed web hosting companies, give WP Engine a test run.

Best Managed Hosting for Experienced Users ($10/month)
As their name suggests, Cloudways is built on a scalable cloud platform that is built for speed and simplicity. Unlike shared web hosting, cloud servers give you more dedicated resources, which can help with speed and stability.
It's a strong hosting service for web developers, as it allows PHP developers to deploy containerized applications and other advanced features. In addition to support for PHP7, Cloudways supports a number of other high-performance technology like HTTP/2, Nginx, and Redis.
All Cloudways customers can add cloud servers to their account at any time. You can also set up a virtual cloud server in under a minute. WordPress is the most popular content management system (CMS) used with Cloudways (not surprising), followed by Drupal, and Magento.
Pricing is tiered based on the server specs you choose and the cloud provider. It starts as low as $10/month and there is a free 3-day trial. It seems like a short trial, but it gives you enough time to dive into the platform and test its functionality. And if you're looking for security, they provide SSL certificates with domain mapping.
If you're an experience developer and want more control, Cloudways is a good option.
Many Hosting Options and EasyWP ($3.88/month)
Namecheap is a company founded in 2000 that manages over 10 million domains. They offer a lot of different options, with domain registration, different hosting options like shared, reseller, dedicated, VPS, and WordPress hosting.
They have a new service called EasyWP that makes it super fast to set up a WordPress site with prices starting at $3.88 per month. I tested it out myself and had a site set up in under two minutes.
With all of their main plans, they also offer free backups, free website migration, 24/7 support, and a 14-day money-back guarantee.
Their shared hosting is slightly more expensive than other cheap options on the list, but with the link below, you can get 50% off for your first year and get started for $15.44 per month.
The All-In-One Solution with Marketing Support ($3.75/month)
Founded in 2000, Domain.com is one of the top players in the domain registration and hosting space that specializes in affordable websites, hosting, email, SSL certificates, web design, and online marketing services.
Domain.com offers their WP Starter plan starting at $3.75 per month which provides a custom control panel, unlimited storage, unlimited bandwidth, free pre-installed themes and plugins, and a .blog domain. This plan comes pre-installed with the W3 Total Cache plugin, which is an excelling caching plugin for site speed.
But it also comes with Jetpack, which has a lot of comprehensive features for WordPress, but I personally remove because of its site speed issues. If you get started with the WP Starter plan, I recommend you remove Jetpack and find faster plugins that can provide the same functionality.
Overall, Domain.com is an all-encompassing website solution and a good choice for beginners without a lot of website experience.
I recommend their WP Essential plan, which adds dedicated WordPress support and starts at a promotional offer of $6.95 per month with my link below.
What is Web Hosting?
Web hosting is a service which allows websites to be published to the internet and accessible around the world on the World Wide Web. These companies buy or lease servers in data centers which are connected to the Internet, and sell space on these servers.
A web server in a data center can contain one or more websites, and the operating system settings will be different if you have shared hosting, dedicated hosting, or VPS hosting.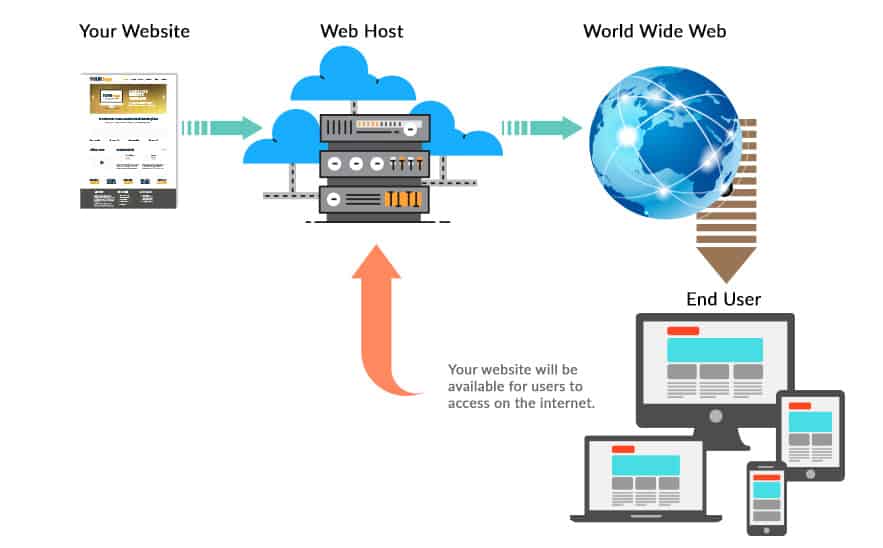 Source: cebuonlinesolutions.com
Websites are just a bunch of files – HTML files, CSS files, images and photos, etc. All of these files must be stored in a folder on a computer that is connected to the Internet. That computer is called a "server" because it serves up files when people come to visit.
When Internet users want to view a website, all they do is type in the web address into their browser. Their computer then connects to the server and webpages (files) are delivered through the browser.
To build a website, you need both a domain name and hosting account. If you don't have a domain, you can purchase one as an add-on.
You can perform domain registration and hosting separately, however you'd have to point your domain to your web host by editing the DNS records. If you purchase the domain name and website hosting from the same company, you will not have to change your domain settings.
But for example if you already have a free domain name with GoDaddy and want to host with Bluehost, you'll have to change the DNS records.
Here are some other things to keep in mind when choosing a provider:
Know your hosting needs
Look into server reliability and uptime guarantees
Investigate hosting upgrade options if scalability is important
Look into signup prices vs. renewal prices, as they may be very different
Research the control panel for ease of use
Make sure the hosting platform has essential features: a one-click installer, FTP and STFP Access, .htaccess files, disk space and data transfer capacity
Research sites speed, page loads times, and if they integrate with a Content Delivery Network (CDN)
What Are the Types of Web Hosting?
1. Cloud Hosting
Cloud hosting is a new type of hosting that uses a network of virtual servers that store your files in the cloud rather than on one server. This is great for security and to mitigate DDoS attacks, as multiple servers and entry points are much harder to hack than a single server.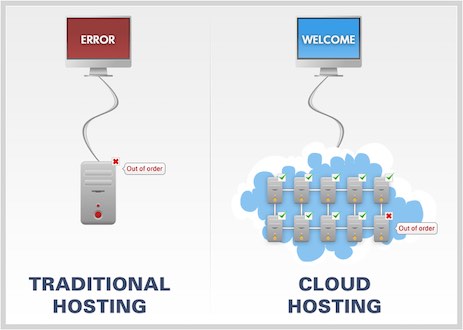 Source: skysilk.com
Cloud hosting plan is usually pay as you go – since they're virtual, when they're not in use they aren't taking up resources. Another benefit to this pay as you go model is that you can easily upgrade your services over a specific time period if you expect a boost in traffic.
One advantage of cloud hosting that that you can add more virtual server resources to your website as your traffic grows – this allows you to incrementally increase bandwidth as your online business scales.
For example, if you used shared hosting and your server goes down, your website is out of luck. However with cloud hosting across multiple servers, your site will not go down and your uptime will be very strong.
Cloud hosting can cost between $40 and $100 per month or higher.
2. Shared Web Hosting
Shared web hosting is when multiple websites are hosted on one server. This is one of the most popular and cheap options out there, as many websites can share server resources owned by the web host.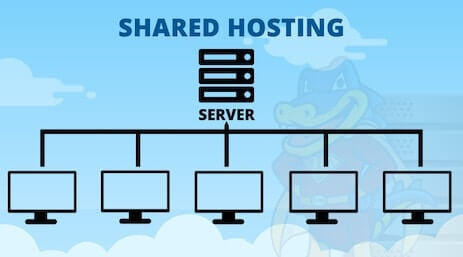 Source: hostgator.in
One downside to shared hosting is that every server also have memory and RAM like a computer, so a website on the same server as you that is getting a ton of traffic and overloading the server can slow your site down. A server can't have unlimited websites – there are safeguards in place against this, but still, shared hosting is one of the slower options because of the shared resources.
This type of hosting is great for new websites that don't have a ton of image or video heavy content, or tons of daily traffic that would slow you down otherwise.
Because shared hosting is on a server with other websites and you have to share limited resources, your performance could be negatively impacted, but you shouldn't notice much of an improvement decline if you're just starting out.
Shared hosting can cost anywhere from $2 to 30 per month.
3. VPS Hosting
The VPS in VPS hosting stands for virtual private servers, which is an improvement over shared hosting.
When you use VPS hosting, one server acts like a series of separate servers. With VPS, you get a dedicated segment of shared server resources, so your hosting isn't impacted by other sites on your server like with shared hosting. So you get your own piece of server space and there are typically a lot less other websites that you're sharing your server resources with.
Source: computehost.com
VPS hosting is a little bit pricier than shared hosting, but you get more resources and the option to scale your website as your traffic grows. In other words, you won't be held back by slow speed if you're generating more traffic and your online business is growing.
This type of hosting typically costs between $20 to 150 per month.
4. WordPress Hosting
While it's easy to use managed WordPress hosting with paid and free web hosts, they also offer their own hosting and you can set up your website and domain on WordPress.com. However this is a stripped down version of WordPress, without the ability to add specific plugins, themes, or deeper settings that you need to create a great website.
WordPress hosted sites are typically faster than shared hosting because of their native integrations and expert support teams. Ultimately, it's worth using a reputable paid host or use GoDaddy and point your domain to a hosting company like Bluehost or HostGator.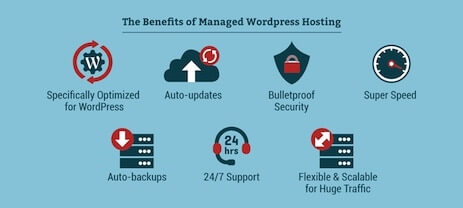 Source: bitcatcha.com
WordPress is also teaming up with other platforms like BigCommerce to bring deeper ecommerce functionality to its offerings. Since 39% of ecommerce merchants reported they've recently lost money due to performance or stability problems, combining the front end functionality of WordPress with the backend power of an ecommerce platform is an excellent option for scaling growth.
WordPress hosting can cost anywhere from $5 to 100 per month.
5. Dedicated Server Hosting
Dedicated server hosting is the process of leasing an entire server and managing all of your web hosting yourself. If you have a major website for a large organization, lots of website traffic, and the capacity to run your own server in-house, this higher cost option gives you the most control over your hosting.
Source: milesweb.com
With complete control over your server, you have the ability to install highly complex programs, scripts, and applications that simply aren't possible with shared hosting. One drawback is that if you don't have the technical knowledge to manage and run your own server and run into issues, you'll either have to suffer website downtime or hire an expert to fix your problems for you.
Dedicated server hosting is typically priced at $120 per month or above.
What is the Best Free Web Hosting?
The cost of setting up and maintaining a website can add up rather quickly, so it's important to pick from the best free options. With a free web hosting and domain, you can set up your website in little time, but typically get less bandwidth and server space.
Although this may not be the best fit for everyone, there are still a number of free providers out there that you can easily give a test run for no cost. This list isn't all encompassing – there are a few honorable mentions like Awardspace not included. Ultimately, I recommend avoiding these providers as they are many drawbacks.
Here are my picks for the best free web hosting in 2019.
1. FreeHosting.com
Easy Site Builder and cPanel Integration
FreeHosting.com is one of the best free hosts out there because of their unmetered bandwidth. They give users 10GB of server space, one free email account, one MySQL database, and one domain (that you must already own). If you don't have a domain, free subdomains are provided.
They also have a simple drag and drop site builder with over 170 pre-designed templates to choose from. A powerful app installer also allows you to add-on over 350 applications.
If their free plans don't cover everything you need, you can opt for their paid hosting plan at $7.99/month. With the paid hosting option, you can add a multi-site, have multiple emails, and unlimited disk space.
One big downside to FreeHosting is their site speed – coming in at around two seconds on average. With site speed being a ranking factor on Google, I would look elsewhere for a free host.
2. Freehostia
Best Server Speeds
Freehostia offers users free plans that includes 250MB of disk space, 6GB of monthly bandwidth, app installers, 3 email accounts, and MySQL and PHP compatibility. They also provide 24/7 support for their users and guarantee a 99.9% uptime – not bad for a free service.
Freehostia features a load-balanced cluster platform, which provides stronger server speeds than many one-server hosting solutions. If you are looking for a more powerful solution, they have virtual private servers from $14/month, semi-dedicated servers from $29.95/month and dedicated servers from $65/month.
Their free hosting plans have some pretty restrictive limitations including a paltry 250mb of storage space – not enough for most developers to add the images and text they need. They also have pretty unreliable uptimes and slow site speed.
3. Infinityfree
Great features and Cloudflare CDN
Infinityfree is one of the most popular free tools out there and has a ton of excellent features. They have been around for over 6 years, boast over 200,000 users, 99.9% uptime, a script installer, and an impressive 50,000 daily hits.
You can have as many domains as you want and are given access to 10 email accounts. Surprisingly, a free DNS service, SSL, and Cloudflare CDN are also included. However the "unlimited bandwidth" that they promise comes with some rules and regulations that can affect the types of files you're allowed to upload.
If these features aren't strong enough for you, they have a cheap plan for $5.90/month which reduces page load time, a small complaint from Infinityfree users.
4. 000Webhost
000Webhost is a free website host that has been around since 2007. They don't force any ads on their users like some other services, and they also offer paid plans.
One major downside of 000Webhost is that there is a required one hour of downtime per day, so your uptime automatically starts at 95.8% – if everything else runs perfectly.
5. Google Web Hosting
Google offers free hosting for small business with a pay per use model, so you only start paying once your site is active. Their Google Cloud Platform is a private network that is available in over 200 countries.
One user said, "I tried out the WordPress and Google combo, and the results were amazing. Our test site could handle over 70,000 requests per second without the users noticing a thing."
This is an impressive new host and one worth looking into, although they're not technically free.
Should I Avoid Free Website Hosting?
I personally believe you should not use free options and go with a reputable paid host like Bluehost or HostGator, especially when their services are only around $4 per month. Plus, free web hosts typically start off as free, severely restrict your settings, and then push you to upgrade to a paid plan. I would avoid the headache altogether and choose a cheap web host or premium one depending on your needs.
While Freehosting.com is the best host on the list, you don't want to skimp on your hosting by choose a free or cheap plan. If you're serious about your website, hosting is one of the most important choices you'll make – and can affect your site speed, uptime, security, and features. Don't go cheap and make an investment to secure your website's future.
What is the Best Cheap Web Hosting?
The best cheap web hosts typically cost between $2 and 5 per month, and can still get you a lot of great features.
My pick for the best cheap website hosting is HostGator. With an affordable host, you need a strong uptimes, fast load times, and great 24/7 support.
Here are my top picks for cheap hosting in 2019: 
What is the Best Web Hosting for Small Business?
When you run your own company, there are a few top priorities to consider when choosing the best hosting for your business website. If you pick a less than reputable provider or your site goes down, gets hacked, or you run into server issues, you could feel a real effect on your bottom line. And now that 84% of communication with customers is visual, your website and hosting need to be top notch.
That's why choosing the best option for your small business is crucial and should focus on three key areas: security, reliability, and price.
Here are my picks for the best web hosting for small businesses.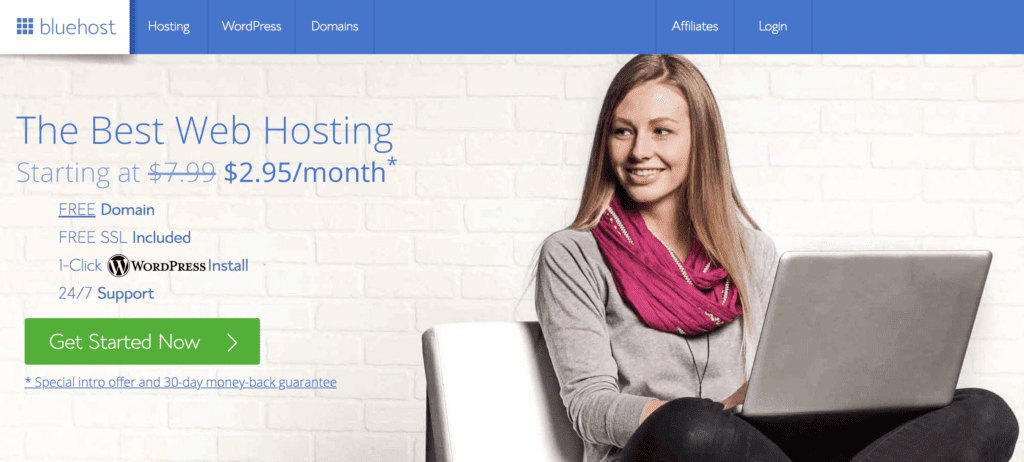 Bluehost is the best overall platform for small business because it's a perfect all-encompassing package that works best with WordPress and is secure, reliable, and fairly priced.
If you're just starting out, you can opt for their shared hosting package. Their very competitive pricing and steep discounts are great for new users.
As your company scales, you can choose their Plus plan. This gives you unlimited domains, SPAM support, and an SSL certificate all for $11/month.
If you run a larger enterprise and need their top of the line offerings, you can choose their Cloud and VPS plans. With these plans, you can more storage, unlimited bandwidth, and faster load times.
Try Bluehost.

With uptime guarantees of 99.9% and over 8 million domains, HostGator is the runner-up for the best choice for small businesses. They are super reliable, have an easy control panel, and offer a money back guarantee if they don't meet their uptime benchmarks.
Their three paid plans (Hatchling, Baby, and Business) scale up as your needs grow. The Hatchling plan is $2.75/month and has pretty basic features. Next, their Baby plan $3.95/month.
If you're looking for the best hosting option, I recommend their highest tier plan. This is $9.95/month and gives you free SSL certificates, a dedicated IP address, and free SEO tools.
Try HostGator.
3. iPage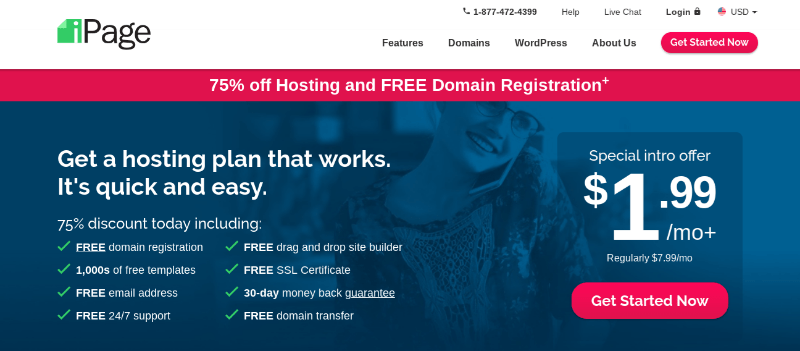 iPage is my #3 choice because of its website builder, Weebly access, and free ad credits for Google and Bing PPC ads.
While growing companies and those that want top notch ecommerce functionality shouldn't use iPage because of some limitations, it's a great option if you're a local shop and just want to get up and running quickly.
Between the free domain and website, email address, and ad credits, you can't go wrong at this price point. However, I have heard complaints about a lack of promptness from their customer service team. Although they have cheap plans, I recommend other options.
Try iPage.
How to Pick the Best Web Hosting in 2019 (Summary)
When choosing a website hosting provider: focus on security, reliability, speed, and technical support. I hope this guide gave you some context around which hosting companies fit your exact situation.
First, if you're looking for the best overall platform, I recommend Bluehost. But there are plenty of other options out there based on your individual website's needs.
If you want the best cheap web hosting from a reputable company, check out HostGator.
And if you have the budget for a powerful WordPress solution, I recommend Kinsta.
Ultimately, a host should give you site speed (a major SEO ranking factor), security, and ease of use so that you can focus on growing your business, not dealing with issues.
Once you have signed up with your host and have a website ready to attract and convert site visitors, check out my guide on the best email marketing platforms to start growing your email list. And to take your traffic to the next level, read my guest blogging experiment where I highlight how to maximize your link building and SEO efforts in 2019.
Give these recommendations a try, and happy hosting!