Best Magento Hosting Providers in 2023 (Ranked & Reviewed)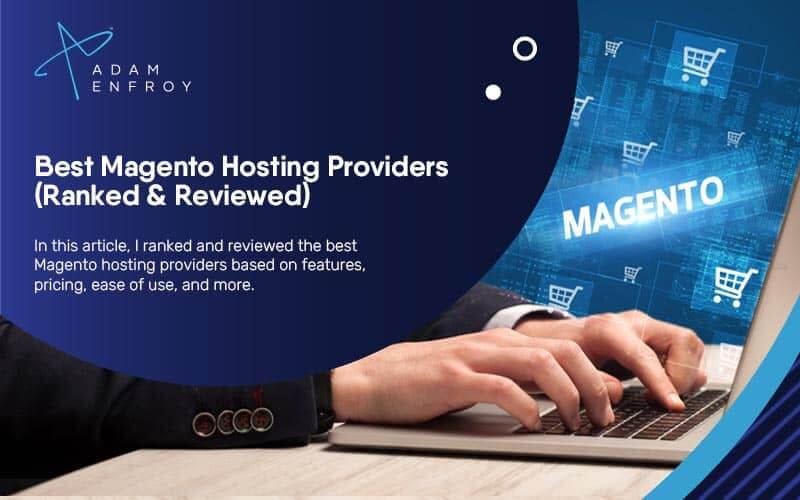 Ensuring your site's content management system runs smoothly is critical to creating an effective online store.
That's why choosing a reliable web hosting provider is essential when building an eCommerce website with Magento.
While this content management system can provide the right features and capabilities, it requires specific technical expertise to get the most out of it.
Therefore, your hosting provider should be able to provide you with the resources and support necessary for successful Magento operations.
To help you decide, I've compiled a list of the best Magento hosting providers based on features, pricing, ease of use, and more.
What Are The Best Magento Hosting Providers?
Here are my top picks for the best Magento hosting providers.
Best Overall.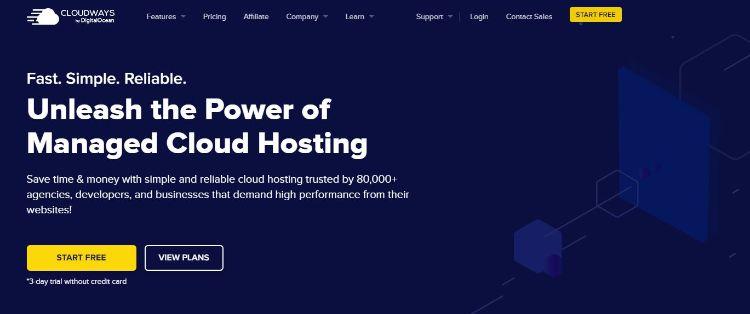 Cloudways offers unbeatable performance that thousands of businesses have come to rely on as reliable partners in their growth journey.
Dealing with fast Cloudways servers allows teams to focus on what matters most in their business rather than trying to solve technical problems.
Cloudways' advanced caching technologies enable blazing-fast speeds and unbeatable performance.
This tech makes it the ideal solution for any business looking to take its online presence to the next level.
Not only does this ensure that customers will have a positive experience navigating your website, but it also helps boost overall rankings.
With Cloudways' managed Magento platform, you can rest assured that your website will be up and running with optimal performance 24/7.
Backed by an experienced team of professionals readily available whenever you need them, the setup takes just minutes, allowing you to get up and running in no time.
Plus, you can control where your data is stored with flexible server deployment options such as AWS EC2 or DigitalOcean VPCs.
Key Features: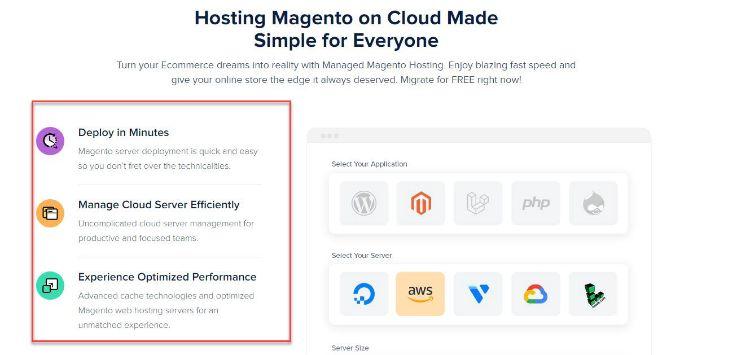 Deploy in minutes, so you won't have to wait to get your website up and running.
Easily manage your cloud server and customize it to suit the needs of your business.
Experience optimized performance to ensure your website is running at peak speed.
Dedicated firewalls keep malicious traffic from entering your website, protecting it from potential threats or attacks.
Regular security patching ensures all vulnerabilities are taken care of, keeping your website secure and up to date.
User Experience: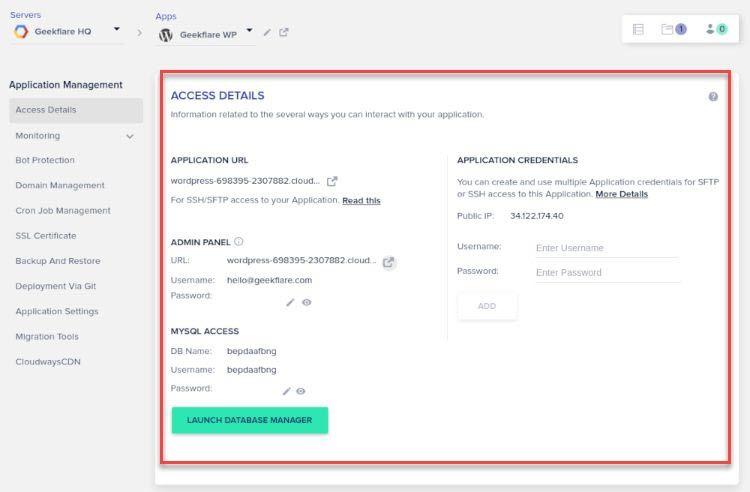 Their easy-to-understand control panel makes managing your hosting environment easy.
Pricing: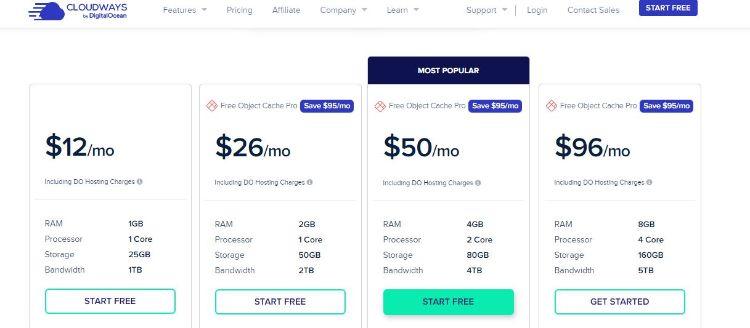 Cloudways offers these pricing plans:
$12/mo – Ideal for small businesses and startups
$26/mo – Perfect for e-commerce stores with medium traffic
$50/mo – Suitable for large websites that experience heavy traffic
$96/mo – Optimized hosting plan for agencies and big marketplaces
What I Like/Dislike About Cloudways
Like:
Competitive market pricing ensures you get your money's worth in hosting value.
Integration with extra services is pre-installed, allowing you to get going quickly and easily.
Dislike:
You cannot downgrade some settings, meaning you may have to pay a higher price for items you don't use.
Product Updates:
A refreshed Google Compute Engine (GCE) platform is currently available, offering a user-friendly approach to server deployment.
Get started with Cloudways.
Best For Speed.

A2 Hosting has been the leading web host for many years thanks to their innovative Turbo Servers and SwiftServer platforms.
This combination promises lightning-fast Magento hosting – up to 20 times faster than other hosts.
You can rely on their servers to quickly process large amounts of data without delays or lags.
These servers also come with an easy-to-use cPanel and one-click installers for popular applications like WordPress and Magento.
Additionally, all of their Turbo Servers have access to SSD storage for increased storage space and unlimited databases.
You can also opt for unlimited email accounts and FTP users.
These features are great for managing your site (or multiple ones) from a central location.
One of the hallmarks of A2 Hosting is its commitment to providing quality customer service 24 hours a day, seven days a week.
Their team of experts is available via phone, email, or live chat to help you promptly resolve any issues you may have with your website or server.
Their customer service is also available in multiple languages to get the help you need regardless of where you are.
Key Features:

Up to 20X faster turbo speeds gives your Magento website the power to load and process large amounts of data.
Guru Crew Support ensures that you have a trained team of experts available.
Free site migration makes it easy to transfer your existing website to A2 Hosting, so you don't have to start from scratch.
A money-back guarantee provides peace of mind.
A 99.9% uptime commitment guarantees that your site remains online during peak traffic hours.
User Experience: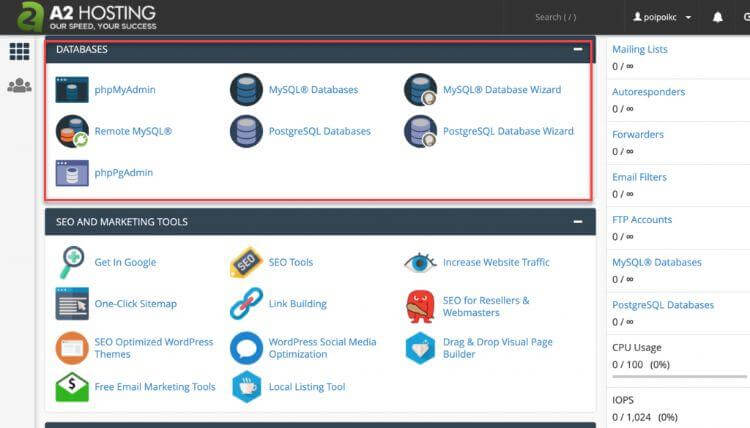 Whether setting up databases or installing software, A2 Hosting makes it easy to get your Magento website up and running quickly.
Pricing:

A2 Hosting offers these pricing plans:
Warp 1: $155.99 / month
Warp 2 AMD: $185.99 / month
Warp 2 Intel: $185.99 / mo
Warp 2 TurboAMD: $215.99 / mo
What I Like/Dislike About A2 Hosting
Like:
Secure hosting means your site and data are safe from potential threats.
The general platform speed is outstanding, and your website will load quickly, irrespective of the number of people accessing it.
Dislike:
Depending on your chosen plan, renewals cost more than the initial price
Product Updates:
Their turbo hosting platform recently got an update to include lightning-fast speeds.
Get started with A2 Hosting.
Best For Compliance.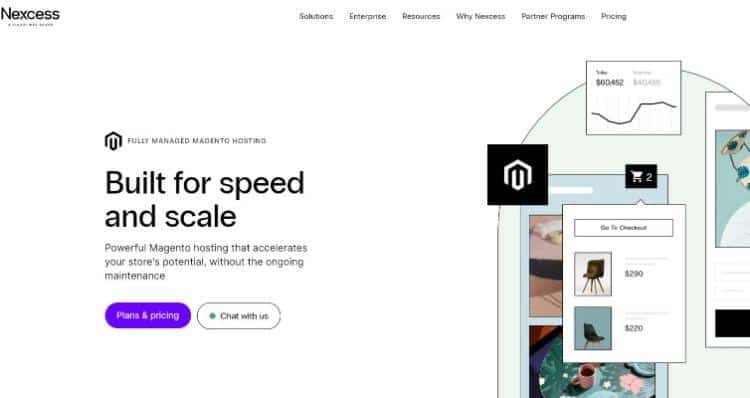 Nexcess can provide top-of-the-line Magento hosting to unleash your online store or website's true potential.
At Nexcess, they offer SSL security and PCI compliance for your Magento sites.
SSL certificates will encrypt sensitive data like credit card numbers between customers and the website, ensuring customer information stays safe from hackers.
In addition, PCI-compliant servers meet the Payment Card Industry Data Security Standards (PCI DSS) requirements.
Nexcess has implemented RAM burst capacity into its hosting plans for busy websites to deliver fast performance.
Customers can access additional RAM during peak traffic times or heavier than typical usages, such as when running scripts or downloading large files.
Additionally, advanced stacks are designed with enterprise-level performance in mind and feature custom-built clusters for optimal speed.
The benefit of this is that pages on your website will load faster than ever before.
Finally, Nexcess offers award-winning tailored Magento support plus free premium migration services when opting into a managed plan or dedicated server.
Key Features:

Server-side scripting gives you the power to access and modify sensitive data.
Dedicated IP addresses give you exclusive control over your server.
On-demand performance testing ensures that your site is fast and stable.
Built-in edge CDN gives customers speedier load times by delivering content from multiple locations worldwide.
Always-on security monitoring and a firewall keep your site safe from malicious activity.
Helpful resources and PHP limits further guarantee optimal performance.
User Experience: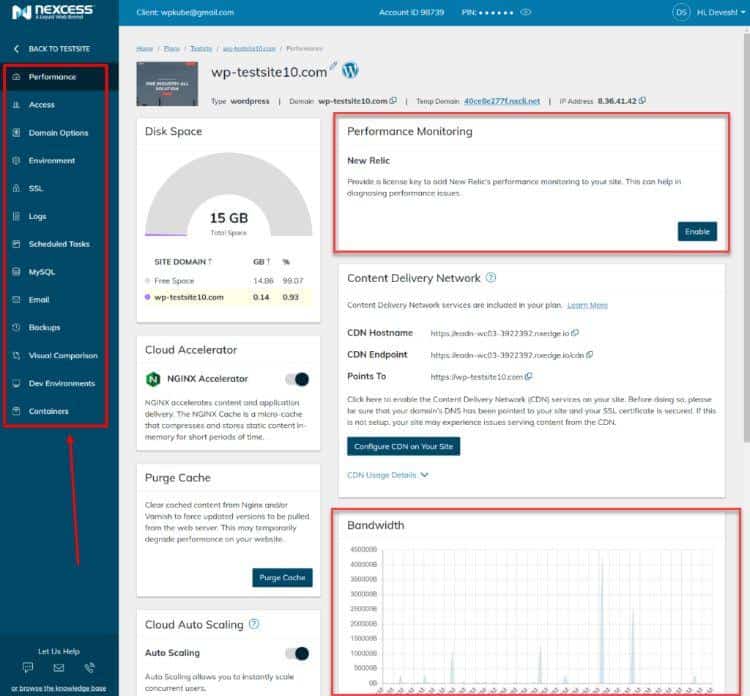 The platform displays all the needed stats and information about the hosting in one place.
Customers can stay informed and make required changes quickly.
Pricing:

Nexcess VIP offers the following plans:
XSS: $41.30/mo
S:$76.30/mo
M:$132.30/mo
L:$216.30/mo
XL:$391.30/mo
XXL: $601.30/mo
What I Like/Dislike About Nexcess
Like:
Their hosting is almost always online and ready to serve your guests
Overall, they provide high-performance hosting at an affordable price
Dislike:
Their customer support could use some improvement, especially with advanced questions.
Product Updates:
Site staging and preview are now available, so you can test any changes or new features before going live.
Get started with Nexcess.
Best For Unlimited Site Storage.

InMotion offers a convenient, easy-to-use solution that makes getting started simple.
All you need to do is log into your Control Panel account and use their Softaculous Apps Installer to find 'Magento' in the search field.
Then it's just one click to install.
With InMotion, you don't have to worry about running out of storage space as they offer unlimited storage space on their servers.
With this much space, you can easily store large amounts of data without worrying about hitting limits.
Just like their storage space, InMotion also offers unmetered bandwidth so that you don't have to worry about using too much data.
Moreover, security is essential in eCommerce sites, and InMotion takes it seriously by providing built-in security measures.
Such measures include SSL certificates and malware scanning tools.
If something goes wrong, or you have questions about setting up your eCommerce platform, InMotion's customer support team is available 24/7.
They can help answer any questions or troubleshoot any issues you may have.
Key Features:

Easy Magento installation means you can quickly set up your online store and start selling without fuss.
End-to-end customer management enables the creation of customer profiles for better tracking and more effortless follow-up on returns and orders.
Manage orders easily by creating different orders, viewing order histories, printing invoices, assigning tracking numbers, and more.
SEO-friendly design helps you to rank higher in search engine results.
Simple updates help keep your store updated with new features, bug fixes, and improvements.
Comprehensive reporting tools provide insight into sales trends, customer behavior, and website performance.
User Experience: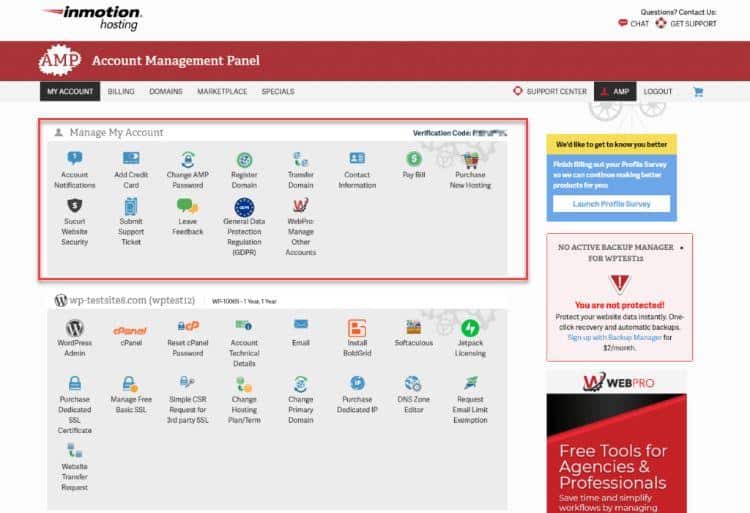 The account management panel is easy to use and navigate, providing quick access to all the features you need.
Pricing:

InMotion offers different pricing plans depending on your needs:
VPS Hosting 4GB RAM: $19.99/mo
VPS Hosting 8GB RAM: $39.99/mo
VPS Hosting 12GB RAM: $49.99/mo
VPS Hosting 16GB RAM: $59.99/mo
What I Like/Dislike About InMotion
Like:
Good technical support team available as needed.
Affordable prices and great value for money.
Dislike:
Since they offer many services, it can be overwhelming if you don't know what you need or how to best get started.
Product Updates:
They have updated their private cloud OpenStack with various new features that improve the platform.
Get started with InMotion.
Best For Site Security.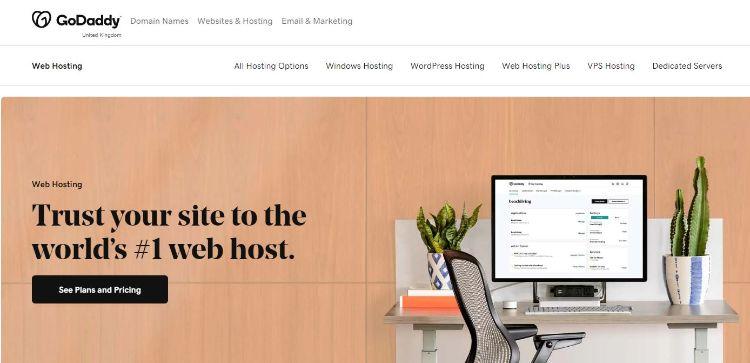 GoDaddy understands the importance of keeping your data secure.
They provide top-notch encryption features on all their shared hosting plans.
Your sensitive information will be encrypted through data centers worldwide.
With powerful hardware and advanced technologies, GoDaddy guarantees lightning-fast page loads and a better overall user experience.
They provide minimal latency across all devices, from desktops to mobile phones, so your customers quickly get the information they need.
GoDaddy also offers enhanced server hardware with improved response times so visitors will get a better overall experience.
The servers come equipped with Intel Xeon processors and DDR4 RAM.
Such servers give you plenty of power to handle high traffic volumes without compromising performance or speed.
Plus, all servers are monitored 24/7 by experts who can quickly identify any potential issues before they become a problem.
Key Features:

Reliable web hosting with years of experience from the industry leader.
Hosting security with encryption for personal data and daily backups keeps your website safe and secure.
Level up with powerful Intel Xeon processors and DDR4 RAM offering lightning-fast page loads.
1-click domain name setup, 1-click to over 150 free apps, and an easy-to-use control panel make hosting simple.
User Experience: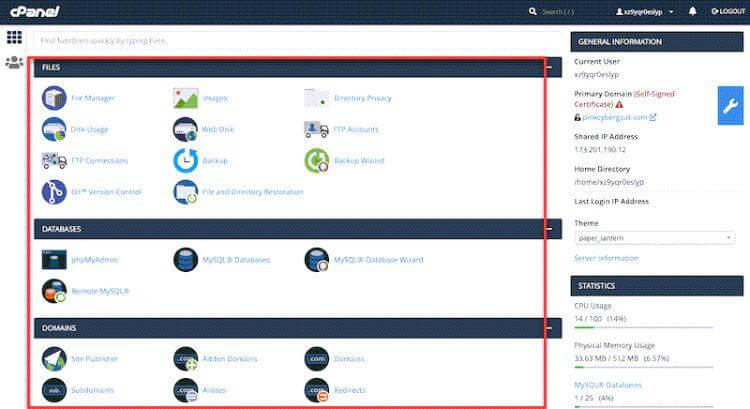 An easy-to-understand control panel allows users to set up and manage their hosting account quickly.
Pricing:

GoDaddy offers different pricing plans depending on your specific needs:
Economy: $5.99/mo
Deluxe: $7.99/mo
Ultimate: $12.99/mo
Maximum: $17.99/mo
What I Like/Dislike About GoDaddy
Like:
You can buy your Magento hosting and domain name from the same provider.
An experienced technical team will support your hosting efforts.
Dislike:
Their hosting speeds are slower than some other providers.
Get started with GoDaddy.
Best For Reliable Hosting.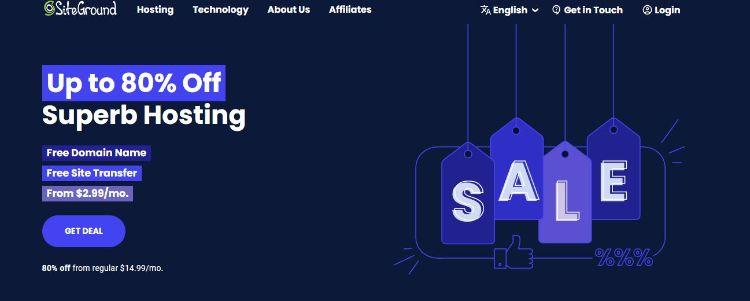 SiteGround utilizes the latest speed technologies like Brotli and HTTP/2.
This tech can compress files more efficiently than ever, resulting in faster page loading times.
Visitors don't have to wait long for your pages or content to load, increasing user satisfaction and ensuring they stay on your website longer.
Having a reliable support team is essential for any successful website, which is something SiteGround understands.
Their friendly multi-skilled teams are ready whenever you need them, so you can rest assured they will address any issues or questions.
SiteGround also uses Google Cloud Hosting as its web server provider of choice.
Google Cloud Hosting is a robust platform that enables websites to scale quickly without sacrificing performance or reliability.
This ability gives users the best of both worlds no matter how much traffic their site receives.
SiteGround also features built-in security measures such as DDoS protection, firewalls, and a free SSL certificate.
This protection protects your website from malicious attacks while providing fast page loading times and maximum uptime availability.
Key Features:
Siteground's knowledgeable and dedicated support staff ensure that customers are more than satisfied with the service they receive.
Their multi-skilled technical teams are available 24/7 to help you with any issue or question.
With their advanced technologies, Siteground can get your website up and running in just a few minutes.
Have the latest security measures, such as DDoS protection, firewalls, and SSL encryption, working for you.
Experience ultra-fast server setup with Google Cloud Hosting and get maximum uptime availability with minimal latency.
Pricing:

SiteGround offers three different plans depending on your needs:
StartUp: $2.99 /mo.
GrowBig: $4.49 /mo.
GoGeek: $7.49 /mo.
Get started with SiteGround.
Best For Unlimited Bandwidth.

Hostinger provides secure and lightning-fast browsing experiences with unlimited bandwidth.
Not only do they offer a free website migration service, but their custom Magento optimization tools give users the ability to make their online presence shine.
Hostinger's hosting solutions rely on self-healing infrastructure and entire Solid State Drive (SSD) servers.
With self-healing technology, their servers can automatically detect any issues that may occur and fix them right away.
As a result, you won't have to worry about downtime or slow loading times.
The full SSD servers also allow faster loading times and more storage capacity than traditional complex drive servers.
For added security, the Premium or Business plans from Hostinger come with a robust in-house developed Web Application Firewall (WAF).
This feature provides extra security for your website by protecting it from cyberattacks.
Key Features:
Fast Magento hosting services cater to website owners requiring high speeds to enhance user experience and ensure maximum uptime.
Get complete control over your hosting environment with unlimited storage, databases, and bandwidth. These features allow you to adjust settings quickly based on the needs of your website.
Global data centers provide reliable performance in different global regions. You'll be able to consistently deliver a great user experience no matter where your visitors are.
Pricing:

Hostinger's prices start from $1.99 a month and go up to $3.99 per month (with a free three-month hosting added at no extra cost).
Get started with Hostinger.
Other Magento hosting providers not mentioned in this review include Hostgator, Linode, Vultr, and LiteSpeed web servers.
What Are Magento Hosting Providers?
Magento hosting is more flexible, reliable, and secure than other web hosting types.
It can handle the enhanced scalability requirements of eCommerce sites while providing a robust and secure hosting environment.
To achieve this, Magento hosting providers specialize in providing web hosting services tailored explicitly to ecommerce stores.
These platforms provide a secure and fast infrastructure environment optimized for the best possible performance.
Additionally, Magento hosting providers offer additional features such as speed optimization services, custom security solutions, reliable customer support, and specialized server configurations.
These services ensure that your online store runs smoothly and performs best.
Magento hosting providers are an excellent choice for those looking to launch their eCommerce store, as they provide an easy and secure way to get your online store up and running quickly and efficiently.
Key Features Of A Magneto Hosting Provider
Here are the top features to look for in a Magento hosting provider.
Speed Optimization
Magento hosting options offer add-on features that help optimize loading speed.
The chosen platforms can provide blazing-fast loading speeds using features like auto-scaling and fast storage options.
This fast loading speed happens irrespective of the server location and where people visit your site from.
Many companies use storage solutions such as SSDs to achieve turbo-boost performance.
Security Features
Magento security is an essential facet of web hosting.
The top Magento hosting providers offer real-time security solutions to protect your website and customer data.
They also provide advanced firewalls, malware scanning, and other security-related features.
Reliable Customer Support
The best hosting providers offer reliable customer support and troubleshooting services to ensure your store runs smoothly.
A team of experts should be available around the clock to help you with any technical issues.
Dedicated Server Configurations
The top Magento hosting providers offer a dedicated server configuration that provides the best performance and reliability for your specific needs.
For example, an Apache configuration allows for faster loading speeds as it eliminates the need for PHP scripts.
Many platforms also allow for MySQL, a powerful database management system used by Magento websites.
Regarding dedicated configurations, Magento hosting providers often provide one-click installation and setup options.
Expertise In Magento Optimization And Development
Magento hosting plans allow store owners to take advantage of specialized services.
The top Magento hosting companies fully optimize the required disk space and resources to meet the needs of your business.
Furthermore, these providers typically possess a deep knowledge of the functionality required to run a successful online store.
The right provider can use their expertise to tailor recommendations to ensure your store runs smoothly.
Automatic Backups And Restores
Magento hosting sites provide automated backups and restores to ensure customer data is secure.
If something were to go wrong with your Magento store, these backups would help restore your website to get back up and running quickly.
Regular Security Audits
The best Magento hosting providers conduct regular security audits on their servers and websites to ensure they are PCI-compliant.
Whether you use VPS hosting or cheap hosting plans, the provider should ensure that all your customer data is secure and protected.
The right providers should also have preventative measures to help secure websites, such as malware scanning and firewalls.
Scalability Options
The right website hosting offers the server resources to help you scale as you grow your online store.
With many platforms offering unlimited websites and close to 100% uptime guarantees, a business can transition from small-scale operations to larger ones.
Free Features
Some Magento hosting providers offer free domain names for those starting an eCommerce store.
Some also offer open-source solutions and free Magento templates to help speed up the design process.
CDN
Popular cloud services providers like Cloudflare and Amazon CloudFront can help improve your website's loading time and performance.
Typically forming part of more advanced packages like VPS plans, a content delivery network will improve the user experience of your website, as well as help protect it from malicious attacks.
How To Make The Most Of Your Magento Hosting
Let's now look at the steps you should take to get the most out of your Magento hosting.
Choose The Right Hosting Provider
It's essential to select a reliable and secure hosting provider that specializes in Magento websites to ensure you're getting the best service possible.
Research different providers and read reviews from other customers who have used them.
Focus On Speed And Performance
Optimizing your website for speed and performance can significantly impact the user experience in a world where attention spans are getting shorter.
Several tools are available to analyze your Magento website's performance, such as Google PageSpeed Insights and GTmetrix.
These tools can help you identify improvement areas and ensure your website runs at its best.
Utilize Caching To Reduce Page Loading Times
Caching refers to the process of storing website data temporarily to reduce page loading times.
Magento Varnish is a popular caching solution for Magento websites that can help reduce page loading times and improve performance.
Update Your Site Regularly With Security Patches
Magento often releases regular security patches to address vulnerabilities and secure your website.
Make sure you apply these patches as soon as they are released to ensure your website is always up-to-date and secure.
Magento 1 vs. 2
Different Magento versions offer various features and capabilities.
While developers launched the first version of Magento in 2008, the more advanced version – Magento 2 – was unveiled in 2015.
Knowing the difference between Magento 1 and 2 can be overwhelming, as both versions offer different features and benefits.
Many providers now offer specific Magento 2 hosting that is faster, SEO-friendly, and more user-friendly than the first version.
Combining Magento 2 with a Magento cloud hosting solution can help you scale up or down your hosting resources as needed.
Wrap Up.
Magento hosting providers can offer businesses the flexibility and scalability they need to grow their ecommerce store.
A hosting company that offers Magento as a service will typically have servers and infrastructure specifically designed to optimize its performance.
When choosing a hosting provider, it's essential to consider the features and support each provides and their pricing structure.
Further reading on AdamEnfroy.com: Looking for dedicated hosting that can handle your scaling Magento store?
As your online business grows, knowing which hosting solution best suits your business can differentiate success and failure.
Editorial Process:
Our reviews are made by a team of experts before being written and come from real-world experience. Read our editorial process here.
Some of the links in this article may be affiliate links, which can provide compensation to us at no cost to you if you decide to purchase a paid plan. These are products we've personally used and stand behind. This site is not intended to provide financial advice. You can read our affiliate disclosure in our privacy policy.
---
Last Updated on February 20, 2023 by Adam Enfroy