How To Get Started As A Canva Affiliate In 2023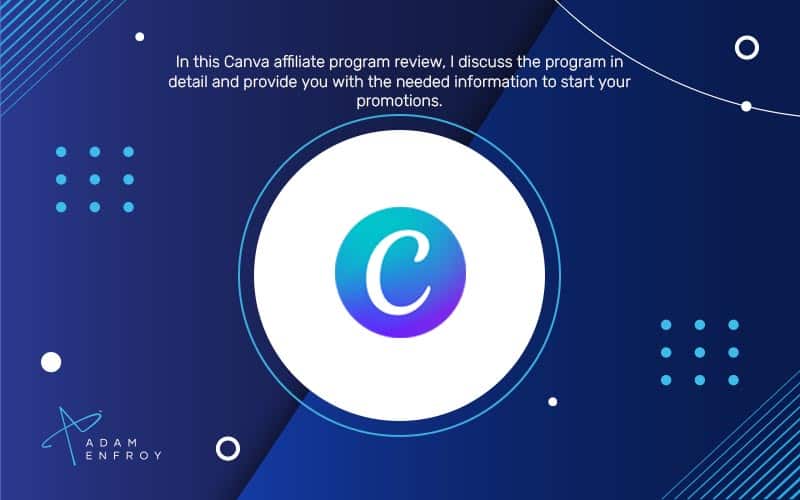 Canva has quickly taken the design world by storm, offering a range of templates to help customers create beautiful designs for their projects.
With easy-to-learn tools and hundreds of templates, Canva has become the go-to source for many businesses seeking a professional look.
Canva also offers an affiliate program that allows affiliates to earn a commission when they refer customers to Canva.
In this Canva affiliate program review, I'll discuss the program in detail and provide you with the needed information to start earning.
What Is Canva?

Canva is a user-friendly drawing software platform that provides an array of creative templates and tools for business owners.
Canva products are highly customizable and excellent for various marketing purposes, including social media campaigns, ads, and presentations.
Design influencers love Canva for its versatility and ease of use, as they can create and share engaging visual content with their followers and students.
With Canva, anyone can unleash creativity and create professional-looking designs in minutes.
Furthermore, users can use Canva to create logos, business cards, flyers, social media posts, presentations, and more.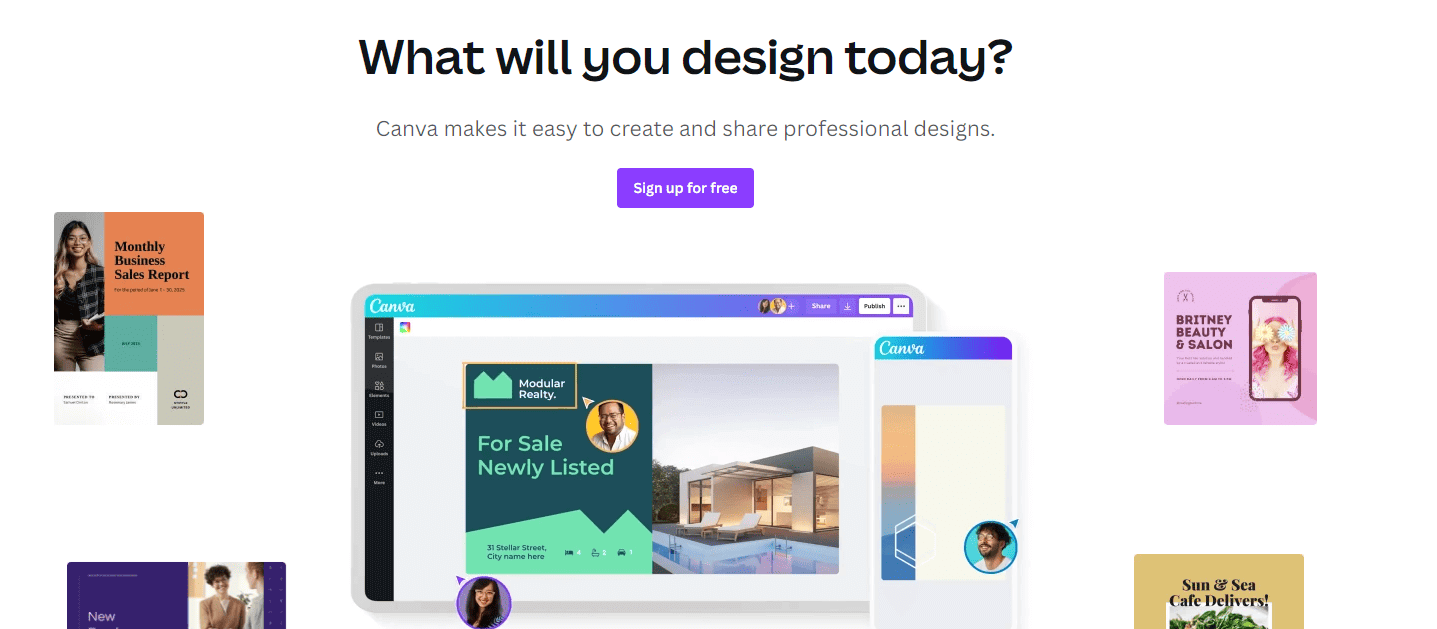 It is an intuitive drag-and-drop platform that is easy to use and open to anyone who wants to create visually appealing designs.
Canva Contributor Program
As part of the Canva Contributor Program, content creators can earn money by selling their designs on the platform.

This opportunity can be a lucrative side hustle for those seeking extra income.
The Canva Contributor program provides a unique opportunity for creatives to get paid for their visual content.
If you're a photographer, illustrator, or videographer, you can submit your work to Canva's library and get a 15% commission rate for each sale.
You'll also retain the copyright of your work, so you can still use it for other purposes.
This program creates a win-win situation for artists as well as users who are looking for high-quality content.
Moreover, the program can benefit small business owners seeking affordable design options for their digital marketing materials.
Canva For Design Education

Canva also has a program for schools called Canva for Education.
This program provides schools an affordable way to give students access to excellent design tools.
With Canva for Education, teachers can create assignments, monitor progress, and provide student feedback.
This program empowers students to express their creativity and learn valuable design skills they can use later in life.
Canva for Education offers customizable layouts and designs for teachers and students to create stunning visual content quickly.
Canva's Commitment To Diversity And Social Responsibility
Canva is committed to creating an inclusive platform that reflects the diverse perspectives of its users.
For instance, Canva offers templates for Black History Month and Women's History Month, and their animations feature diverse characters with disabilities and different ethnicities.
Canva also partners with organizations dedicated to social causes such as mental health, environmental conservation, and gender equality.
Canva's social responsibility initiatives demonstrate its commitment to positively impacting the world.
Canva templates showcase diverse themes for different cultures and occasions, while premium animations bring the designs to life with inclusivity and representation.
Canva Free Plan vs. Pro Plan
The free Canva plan is an excellent option for individuals who need essential design tools and templates without a significant financial investment.
However, despite its pricing, the Pro Plan may be better for those requiring additional features and resources.
The Pro plan offers advanced features, such as unlimited access to premium graphics, custom fonts, and animations, which make it more attractive to users.
Therefore, target those interested in the premium features and benefits of the Pro plan.
The Benefits Of A Canva Pro Subscription
The Canva Pro brand kit feature allows users to create consistent branding across all their designs.
Additionally, the platform offers pre-made templates in multiple formats, making it easy for users to create professional-looking designs quickly and without much effort.
With the growing popularity of TikTok, the platform has even added pre-made TikTok templates, catering to the needs of social media marketers who want to leverage the platform's potential for its brand.
Canva Pro subscribers can access exclusive templates, graphics, photos, and illustrations.
Here's an in-depth look at the features Canva Pro offers.
Effortless Branding With Templates

Canva Pro's template library offers various designs for all your visual needs.
You can quickly create professional designs with templates for social media, presentations, print media, and more.
But what makes Canva Pro's templates even more powerful is the ability to customize them to fit your brand's guidelines.
No more worrying about clashing colors, fonts, and graphics.
Add your brand's assets to Canva, and your team can easily create on-brand designs.
Real-Time Collaboration
Canva offers real-time collaboration for beginners using the free version to create stunning social media graphics.
On the Canva website, users can work together seamlessly and efficiently to produce visually captivating designs for their online presence.
Access To Innovative Features And Premium Templates
With flexible payment options, becoming a new Canva Pro subscriber has always been challenging for a large audience.
Moreover, referral signs generated by Canva's sophisticated system help you maximize your payout while giving your followers access to innovative features and premium templates.
Team Management
Canva Pro's Team feature also offers easy team management tools.
With the ability to set roles and permissions, you can ensure that everyone on your team has access to the tools they need while keeping your brand's assets safe and secure.
Canva Pro lets you comment on designs and leave feedback, making the review process effortless.
How To Get Approved For The Canva Affiliate Program
To get approved for the Canva Affiliate Program, you'll need high-quality content relevant to their product.
Creating engaging, inspirational, and informative content your followers will love is essential.
This content should focus on design and self-publishing, two areas in which Canva excels.
Before applying, ensure you have a good amount of content showcasing your expertise in these areas.
Having a large and active following is a must for the Canva Affiliate Program.
While you need to reach various numbers, having at least 1 million visitors on your social media accounts can be helpful.
It would help if you dedicated time and effort to build your following before applying.
Ensure your content is high-quality and engaging and you utilize all relevant social media platforms.
Upon approval, start promoting Canva with high-quality content and track your sales using provided tracking links for commission.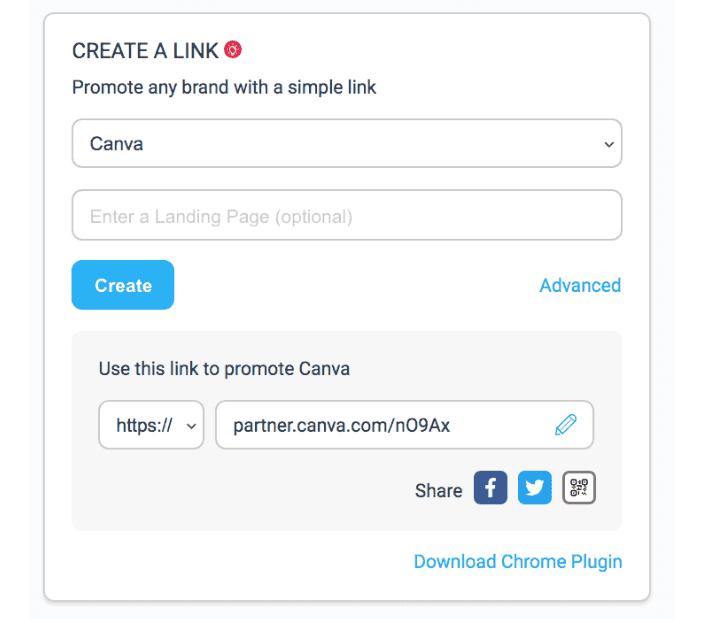 Ensure you share affiliate links on your social media accounts, blog, and website.
You can also create tutorials and other content that shows how to use Canva and why it's such a great tool.
Be creative and find ways to showcase Canva's features and benefits.
Overall, ensuring you have a website or blog with quality content related to design or entrepreneurship is essential.
When applying to the Canva affiliate program, include your website link and relevant metrics.
Who Should Consider Promoting Canva?
With many partnership options, figuring out the best option can take time.
The following are some of the people who should consider promoting Canva as a partner:
Content Partnership: This is the option if you're a blogger or writer of design-related publications. This partnership involves promoting Canva through articles and tutorials in exchange for a commission on any sign-ups or upgrades. If you have a website focusing on design, social media, or marketing, consider applying for the content partnership.
Email Partnership: If you have a mailing list, this partnership type can be lucrative. You'll promote Canva to your subscribers through email campaigns. You'll earn a commission for every sign-up and upgrade through your referral link. Email marketing has consistently proven to have a high ROI, making this partnership type an excellent choice.
Social Media/Influencer Partnership: If you have a significant social media following, you can apply for the social media/influencer partnership. As a social media partner, one of the many ways you can promote Canva on your social media channels. The commissions will vary depending on your following and engagement, making this option ideal for those with a sizable following.
Service Provider/Tool Partnership: If you're a business or app promoting Canva, choose the service provider/tool or consumer software/technology partnership. As a service provider or tool, you can integrate Canva into your service and earn commissions on any sign-ups from your referral link. This option is ideal for businesses that offer design-related services.
Consumer Software/Technology Partnership: As a consumer software or technology partner, you can promote Canva through your software or technology platform. You can integrate Canva into your platform, and your users can create designs without leaving your platform. You'll earn a commission on any sign-ups through your referral link.
How To Get Approved For The Canva Affiliate Program
Here are some tips to increase your chances of getting approved for the Canva Affiliate Program.
Highlight Your Relevant Experience
First and foremost, the Canva Affiliate Program looks for applicants with relevant experience in the design, marketing, or blogging industries.
When filling out the application, highlight any relevant experience you have, such as your blog traffic, social media following, or marketing campaigns you've run in the past.
Highlighting your experience will show the Canva team that you have the skills and knowledge necessary to promote their brand.
Here's a step-by-step model answer you can use in your application:
As a potential Canva Affiliate, my relevant experience includes being a Canva Pro Plan subscriber for the past two years. I have used Canva extensively to create engaging graphics for my and my client's websites.
Canva.com has proven invaluable for my business, allowing me to streamline my design process and save time. I recommend the monthly subscription for anyone looking to elevate their graphic design game.
Showcase Your Creativity
Canva is all about creativity, so showcase your creative skills in your application.
If you're a blogger, create a Canva design to promote your blog and include it in your application.
If you're a social media influencer, show off a Canva design you created for a previous campaign.
By showcasing your creativity, you'll demonstrate to the Canva team that you understand their brand and are excited to promote it to your audience.
Demonstrate Your Knowledge And Passion
In addition to relevant experience and creativity, Canva affiliates should be passionate about design and marketing.
When filling out your application, demonstrate your industry knowledge and excitement to promote Canva to your audience.
Your knowledge could include the following:
Sharing your favorite Canva designs
Discussing how you've used Canva in the past
Talking about why you love the platform
Follow Up With The Canva Team
Once you've submitted your application, feel free to follow up with the Canva team to express your interest in the program.
Ways to show interest include sending a polite email to ask about the status of your application or reaching out on social media to engage with the Canva team.
Showing you're proactive and enthusiastic will increase your chances of getting noticed and approved for the program.
Stay Patient And Positive
Finally, it's important to remember that the Canva Affiliate Program receives many applications.
If you don't get approved right away, keep going.
Instead, use the experience to improve your application and focus on growing your platform.
You'll increase your chances of getting approved by staying patient and positive.
Canva Competitors
In the self-design/publishing niche, Canva is not the only player in the game.
Several graphic design software competitors operate in this space, including Visme, Adobe Spark, Design Wizard, Easil, Snappa, Crello, Stencil, and PicMonkey.
Canva competitors might also offer different affiliate tracking software options to make money online through promoting their products.
Building an audience that trusts your opinion and advice in graphic design and self-publishing will be critical to your success.
Ensure you keep up with the latest trends and stay ahead of the competition by creating valuable, informative, and engaging content.
Whether you're promoting Canva or its competitors, a successful affiliate marketing strategy requires dedication and research to ensure you make the most of your time.
Wrap Up.
The Canva Affiliate Program is an excellent opportunity for businesses, influencers, and creators to earn money from promoting the Canva platform.
If accepted into the program, you can earn commissions through various methods such as referral links, consumer software and technology partnerships, and sponsored campaigns.
By following the above tips, you can increase your chances of getting approved for Canva's Affiliate Program, allowing you to earn money immediately.
Further reading on AdamEnfroy.com: Want to generate a logo quickly?
Here are the best AI logo generators to consider.
Moreover, if you want to use the power of artificial intelligence to edit photos, check out the latest AI photo editing software.
Finally, if you want to learn more about how affiliate marketing works, check out the affiliate marketing courses that can take you to the top.
Disclosure: I may receive affiliate compensation for some of the links below at no cost to you if you decide to purchase a paid plan. You can read our affiliate disclosure in our privacy policy. This site is not intending to provide financial advice. This is for entertainment only.