7 Best AI Content Generator Options (2023)
Choosing the right AI content generator is vitally important to your business. From blog posts to product descriptions, the best AI content generators can help you meet your goals. In this guide, I ranked and reviewed the 7 best AI content generators, so that you can pick the best one for you.

Jasper
Jasper is the perfect content creation platform if you're looking to improve both the quantity and quality of your content. From various templates to a user-friendly interface, Jasper makes it easy to create high-quality content.

Scalenut
If you are looking for a content creation service that can help improve your business, look no further than Scalenut. With its SEO hub, you can ensure that your content is not only well written but also optimized for search engines.
---
We're reader-supported. When you buy through links on our site, we may earn an affiliate commission.
This used to be the typical day for me not so long ago:
wake up
sit down at the computer
start typing away
keep typing away
type some more
go to sleep
repeat.
Sounds pretty tedious.
And it was.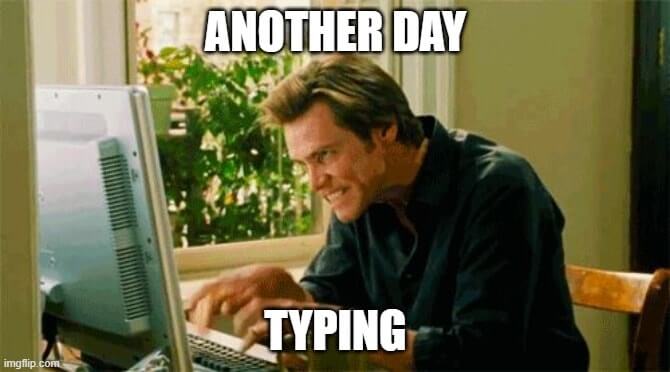 But not anymore!
Nowadays, AI blogging using various content generators can help you create content much faster and easier.
At the same time, content marketing is more important than ever, so a content generator can be an excellent investment for your business.
In this post, I'll rank and review the best AI content generator options based on features, price, and ease of use.
Whether you want to start a blog and make money or you need to create content for your website or social media accounts, these AI content generators will help you get the job done quickly and easily.
Let's get started.
What Are The Best AI Content Generator Options?
The following are some of the best AI content generators available.
Best Overall Content Generator Tool.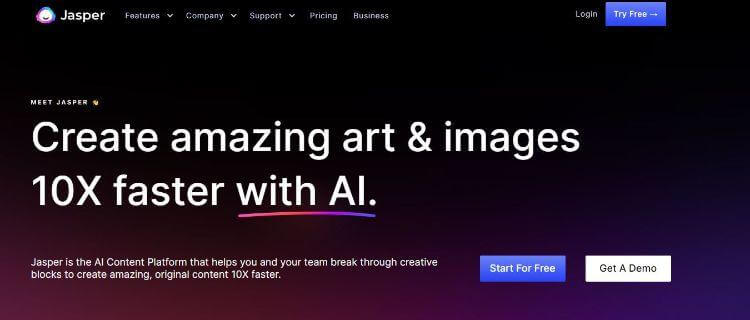 If you're looking for a content creation platform to help you create better content several times faster, then you need to check out Jasper.
Jasper is one of the best AI platforms for content creators and marketing teams, and it offers recipes and templates to turn one piece of content into a whole campaign.
Plus, with Jasper, you can invite team members worldwide to collaborate on content and see real-time updates.
In a nutshell, Jasper can change how you create content by using the available templates and workflows.
These can help you save time while still producing quality content.
Key Features:

I love that you can generate sales content much faster with Jasper, which has helped me a lot in my content creation process. From Facebook ads to AIDA frameworks, it's all included.
When you want to write long-form, original content, Jasper can help you with that as well.
In addition to SEO-friendly article writing, if you need to brainstorm fresh ideas for your content, various templates help do so.
Plus, the platform empowers every team member to work together on content and see updates in real-time, which is a huge plus.
User Experience: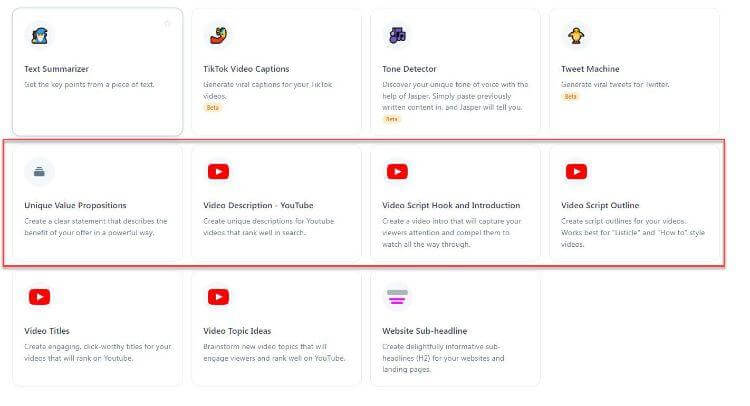 Using Jasper is an easy-to-do process as everything is sorted according to the main category it falls under.
You can also use commands to direct the tool to produce the content you want, so there's no need to learn complicated commands to get the job done.
Pricing: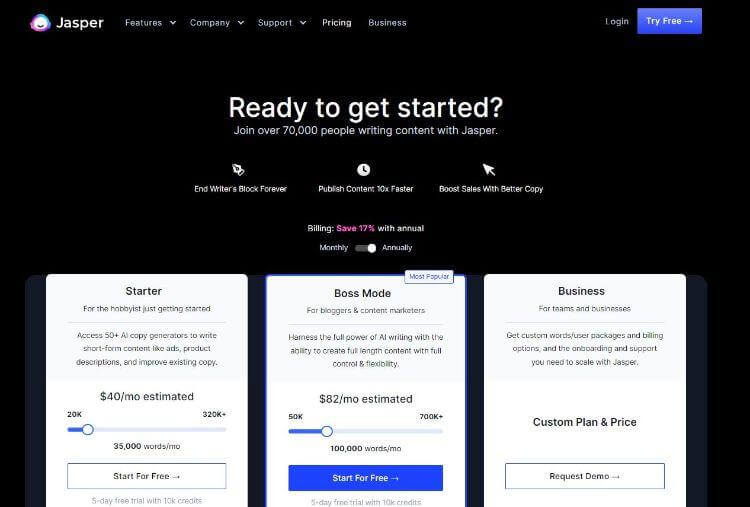 Jasper offers three pricing plans:
Starter: $40+/mo
Boss Mode: $82+/mo
Business: Custom Plans are available.
What I Like/Dislike About Jasper:
Like:
Many features can save you time and help you create better content.
The platform is easy to use and navigate.
Dislike:
With so many templates available, one can quickly get distracted and lose focus of the creation process. This means knowing which template to use is critical.
Product Updates:
The new content summarizer is very useful; this tool will quickly help you to create a summary of your content.
Get started with Jasper.
Best For Content Writing Feedback.
Scalenut is a professional content creation service that can help take your business to the next level.
Whether you need blog posts, product descriptions, ad copy, or anything in between, the team of experienced writers at Scalenut can deliver top-notch content that will capture your audience's attention.
And if you're unsure what you need or where to start, no problem!
A Scalenut expert is available to help you every step of the way.
But that's not all.
With the Scalenut SEO Hub, you can get real-time feedback on the quality of your writing.
The SEO Hub tells you which natural language terms (NLP) you have included (and which ones you haven't), your readability score, word count, and much more.
This valuable feedback can help you fine-tune your content and ensure it is of the highest quality.
With unlimited content ideas at your fingertips with just a click of a button, Scalenut makes it easy to keep your content fresh and engaging.
Key Features: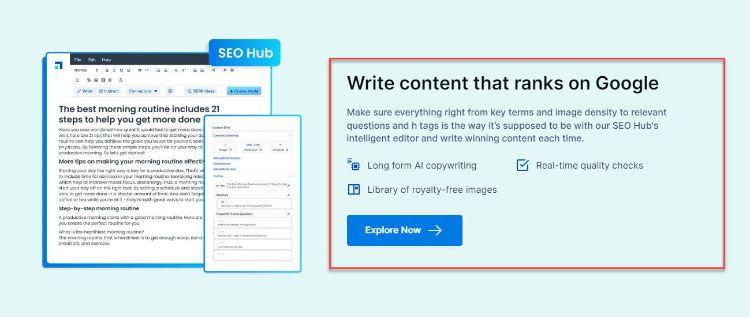 I love that Scalenut is compatible with Google docs because it makes the content creation process much smoother.
The pre-defined AI templates are also really helpful in getting started with writing content.
Plus, I appreciate that there is a Chrome extension for this platform, as it makes things a lot more convenient.
A built-in paraphraser is also an excellent tool, helping create unique content that's exciting to read.
User Experience: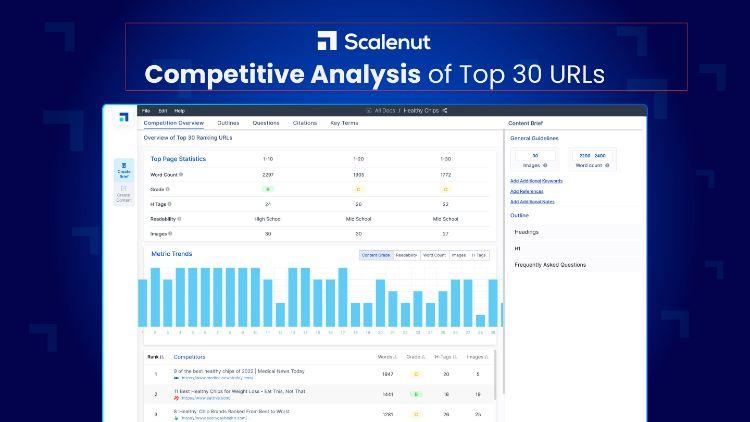 Being able to carry out a competitive analysis directly on the Scalenut platform is helpful.
It's also great to get real-time feedback on the quality of your SEO optimized articles using the provided hub.
Pricing:
Scalenut offers these pricing plans:
Individual: $12/mo
Growth: $32/mo
Pro: $60/mo
What I Like/Dislike About Scalenut:
Like:
The UI is very intuitive and easy to understand when using the software.
Their content writing tools allow even those without experience to create high-quality content.
Dislike:
The pricing can be a little high for those that need to generate a lot of content.
Product Updates:
You can generate unlimited content ideas and turn them into ready-to-publish content with just a few clicks.
Get started with Scalenut.
Best For SEO-Based Writing.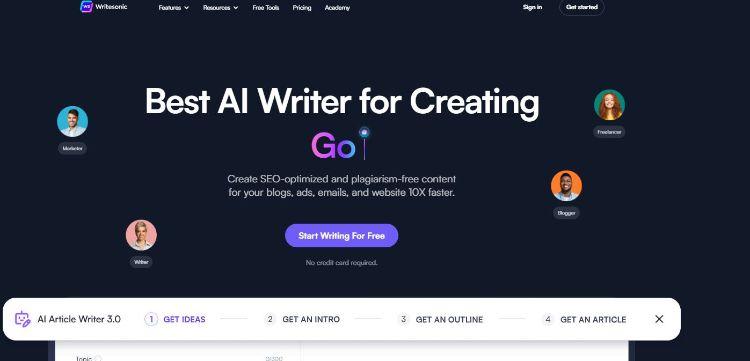 As a content generation software, Writesonic takes the guesswork out of SEO by helping you generate titles, descriptions, and bullet points optimized for search engines and designed to engage customers.
In other words, Writesonic can help you kill two birds with one stone.
Not only will your store's ranking improve on Google, but you'll also see a boost in sales as more people are drawn to your products.
This makes Writesonic an ideal platform for eCommerce businesses of all sizes.
Key Features: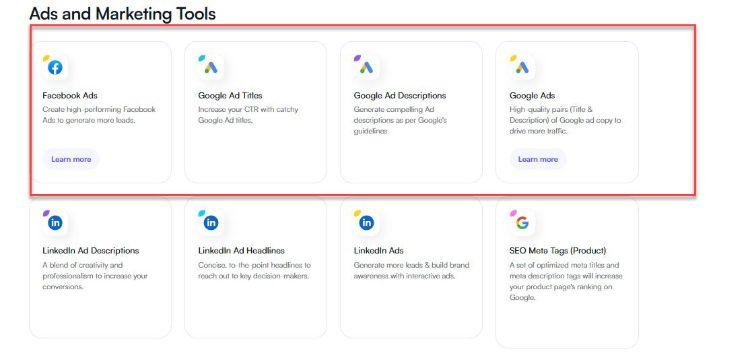 Writesonic can help you develop high-converting landing pages to capture your visitors' attention and get them to stay on your site longer.
Additionally, it can help you discover different ways to build up your sentences to be more engaging and effective.
Plus, I like that it can help you respond to every visitor's needs and questions, making it a great way to provide excellent customer service.
User Experience: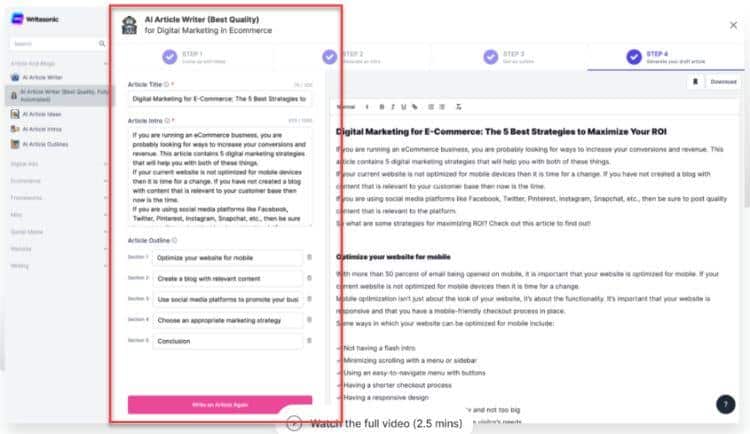 The easy step-by-step wizard helps create content in a much less daunting process than starting with a blank screen.
Pricing:
Writesonic offers a free trial. Then, there are two paid pricing plans:
Short-form: $10 per month
Long-form: $13 per month
What I Like/Dislike About Writesonic:
Like:
The best part of the app is how easy it is to use.
Even if you're not a top-quality writer, you can still create quality blog posts with Writesonic.
Dislike:
If they were to increase the maximum amount of words on the free trial, it would be more enticing for people to try it out for longer.
Product Updates:
The new AI image generator, Photosonic, helps you convert text into high-quality images. This is perfect for creating images for your blog post, featured images, or social media posts.
Get started with Writesonic.
Best For Generating Content Outlines.
Copy.ai is an AI content generator that provides superior results in seconds.
This AI content generator will have the first draft of your blog ready in as little as 30 seconds or less while keeping quality levels high.
All you have to do is enter a topic and some keywords, and the platform takes care of the rest.
Copy.ai takes your topic and keywords and then matches them with its vast library of over 10 million articles, which constantly scans for new ideas.
The goal is to provide you with an article outline so you can start writing immediately.
This makes Copy.ai an excellent tool for content marketers and bloggers who need to generate ideas quickly or want to save writing time.
Key Features: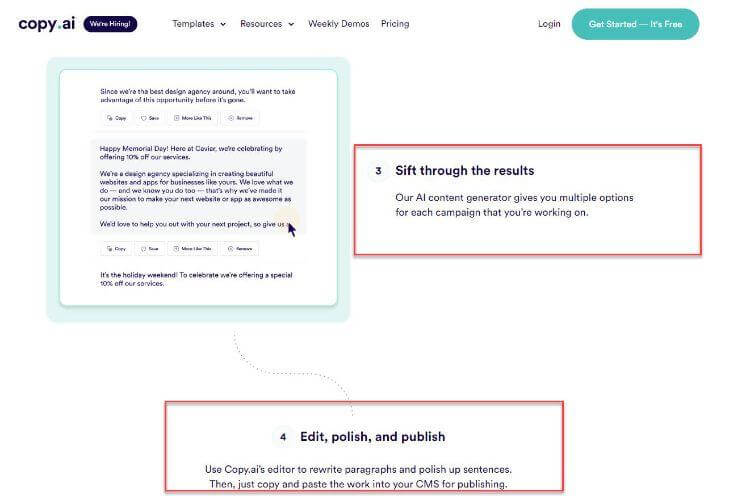 Their content creation templates for social media (such as LinkedIn, Twitter, and more) are some of the best I've seen.
It's beneficial that they have a sales copy feature because it can help you improve your conversion rate.
I also appreciate they have AI writing tools like story plots, hero intro, cliffhangers, etc. These are all great ways to make your writing more engaging and effective.
User Experience:
Seeing all your projects in one place is helpful and makes the editing process a lot easier.
Pricing:
Copy.ai has a couple of plans available:
What I Like/Dislike About Copy.ai:
Like:
Copy.ai is one of the best options for those with an agency model.
You can use the AI copywriting tools to create copywriting material you generally won't be able to think of on your own.
Dislike:
The platform lacks a little knowledge on some topics, so you may have to research on your own if you're looking for something specific.
Product Updates:
You can keep using the tool for free, as the free credits keep regenerating monthly.
Get started with Copy AI.
Best For Content Optimization.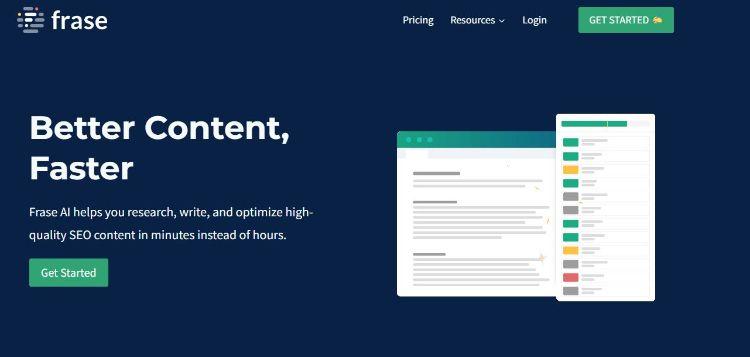 Frase is a content optimization tool that uses AI to help you create better content faster.
Frase allows you to quickly and easily compare your content to that of your top competitors, uncovering new opportunities for content creation.
In addition, Frase's "Content Brief" feature allows you to create detailed outlines of your content before you even start writing.
This is a great way to ensure that your content is well-organized and on-topic.
This tool also helps prevent content decay – ensuring that your content is always fresh and relevant.
Key Features: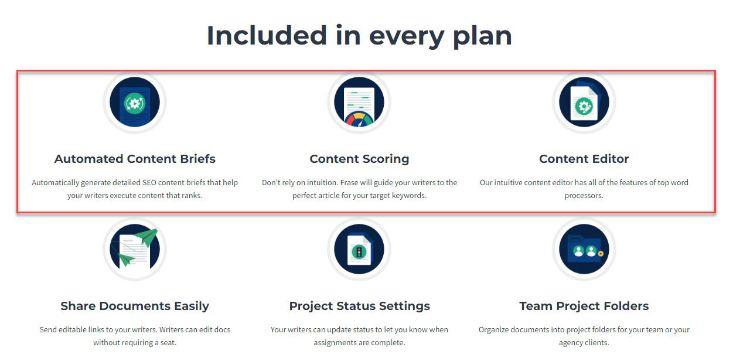 Frase has many features that I like – one of the top ones includes the ability to generate full-length, optimized content briefs.
You can also review the main keywords, headers, and concepts before writing.
Users can compare their content's keywords with their competitors to see where they can improve.
Additionally, it's beneficial that Frase can automatically cluster your keywords to help you stay organized.
User Experience: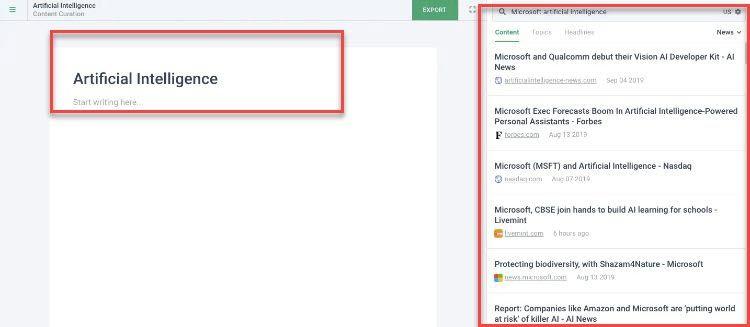 Seeing the competitive research on the right-hand side of the screen while writing is beneficial.
Pricing: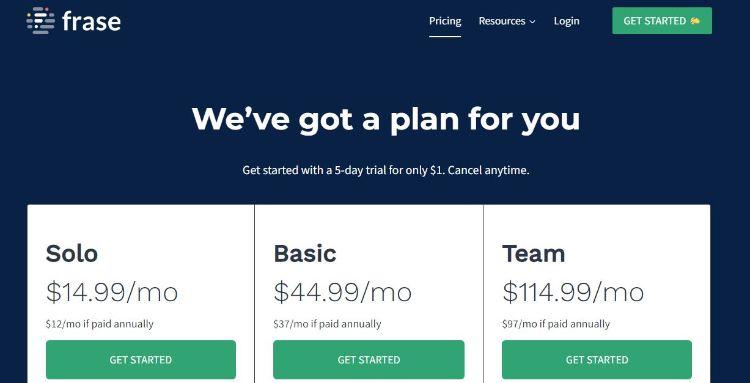 Frase offers its users these plans:
Solo: $14.99/mo
Basic: $44.99/mo
Team: $114.99/mo
What I Like/Dislike About Frase:
Like:
Users can cut down script writing time significantly when using this platform.
The AI writer can rework sentences for any writing project you may have.
Dislike:
Open tagging of documents would be helpful when it comes to finding your documents at a later stage.
Product Updates:
You can see the top questions asked by those on search engines. This allows you to create better content that can rank even higher.
Get started with Frase.
6. Rytr.
Best For Specific Use Cases.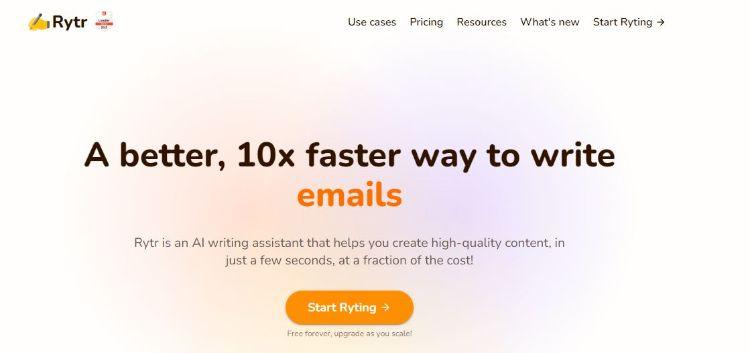 Rytr has saved copywriters tons of hours (and dollars), making it great for specific use cases.
All one has to do is pick the proper use case, enter some context, and let Rytr do the rest!
Rytr will then generate three different options for you to choose from.
You can then select the one you think is best and continue working on it.
From sales letters and advertisements to web content and blog posts, Rytr can help with various content needs.
If you're into creating social media posts, Rytr can also be a valuable asset, as it can help you develop creative ideas for your posts and save time.
Key Features:
The platform offers an SEO analyzer that can help you find the optimal keywords for your content, which is helpful.
Additionally, Rytr is fast, responsive, and mobile-friendly.
Connecting with other Rytr users to get feedback on your content or collaborate on projects is also great.
Finally, the Rytr API is a valuable tool to help you automate your content creation process.
Pricing: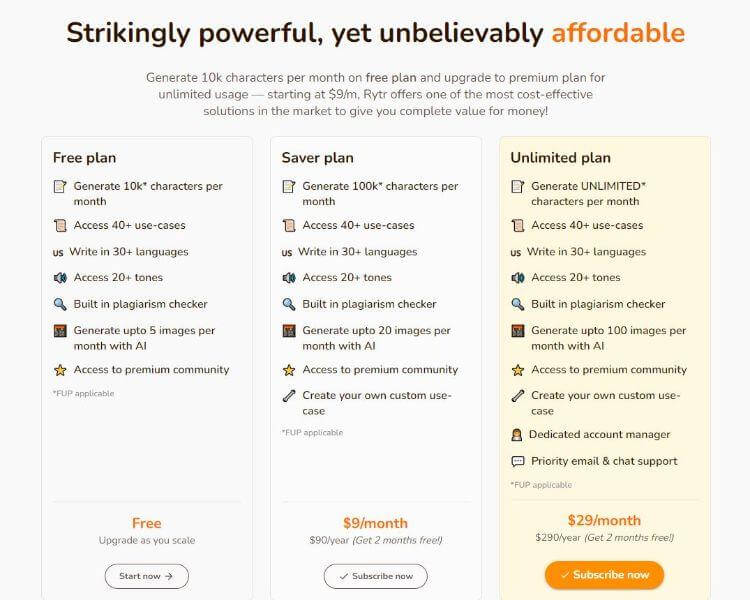 Rytr has three pricing plans:
Free Plan: $0
Saver Plan: $9/month
Unlimited Plan: $29/month
Best For Creating Content At Scale.
7. Copysmith.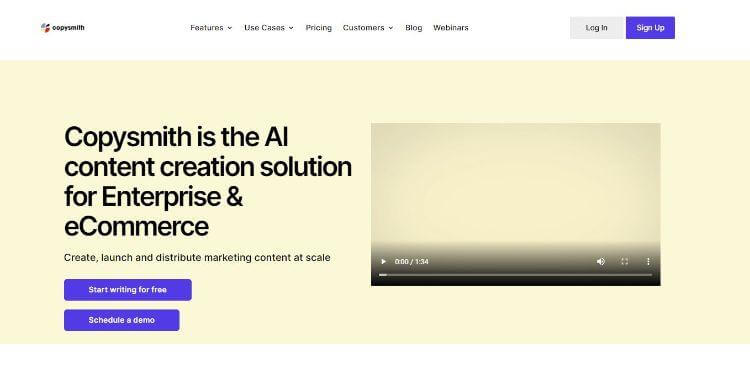 Copysmith is an excellent content creation solution for enterprise and ecommerce businesses that helps create, launch, and distribute marketing content at scale.
Copysmith is an AI text generator that writes well-researched SEO content in the desired tone of voice for various industries.
All you have to do is input a topic or keyword, and Copysmith will generate high-quality content optimized for search engines and conversion rate optimization.
Copysmith is a better way to scale your business by supporting more customers than ever with well-researched SEO content.
This can be written in various voices and tones, allowing you to cater to different industries.
Key Features:
Copysmith offers various integrations to help you streamline your content creation process.
They also have a Chrome extension that makes it easy to create and edit the content on the go.
Finally, their bulk product descriptions and content generation features are helpful for businesses that need to create a lot of content quickly and efficiently.
Pricing:
Copysmith offers these pricing plans:
Starter: $19/mo
Professional: $59/mo
Enterprise: Contact them for pricing
Another AI content generator option not mentioned in this article includes Content At Scale.
What Are AI Content Generator Options?
An AI content generator option is software that can help you write or generate content.
With various AI content generators available, it can take lots of work to know which is right for you.
At the same time, many understand that having AI software in your corner can be a game-changer when it comes to content writing.
Whether you need help with web content, blog posts, sales letters, or social media posts, an AI content generator can make a difference in business regarding time savings and content quality.
Benefits Of Using Writing Tools
Here are the top benefits of using a writing tool as part of your workflow.
1. Time-Saving Benefits
The content writing process can be a long and tedious one.
The right AI writer tool can help you save time by writing or generating content for you.
2. Increased Productivity
Writing article after article as a human writer can become monotonous and lead to decreased productivity.
With AI content generator tools, you can break up the monotony and create high-quality content quickly and efficiently.
3. Improved Accuracy
Working without having a break?
Your accuracy starts to decrease with each additional hour you work.
With AI-generated content, whether you're creating long-form blog posts or shorter (yet still high-quality) content, accuracy will always be on point.
4. Reduced Costs
The costs would quickly add up if you had to generate content by outsourcing it to human writers.
Especially with outsourcing long-form content, the costs can eat into your budget without you realizing it.
Even if it's just updating existing content, the costs when comparing an AI content generator to a human writer are significantly lower.
5. Greater Flexibility
From being able to generate content ideas to using content generators to write entire articles, the flexibility of an AI writing tool is unmatched.
The beauty of AI article generator tools is that you're not limited to one type of content.
You can generate social media posts, web copy, email subject lines, and more with the click of a button.
6. Enhanced Creativity
As you use artificial intelligence to write more and more content, your creativity will flow more freely.
With the right content generator tool, you'll be able to become more creative and produce higher-quality content as a result.
Overall, the right AI writing software offers many benefits that can help you save time and money.
Businesses That Should Consider Using Ai Content Generator options
Here are some top businesses that should consider using content generator options.
1. Ecommerce Businesses
An AI content generator is an excellent option if you need to generate words to help sell more products or services.
Various content creation tool options can help you get the job done quickly and efficiently, from product descriptions to marketing materials.
2. Enterprise Businesses
With more prominent companies, an AI writing assistant can save time and help create high-quality content that reflects the company's brand voice.
This is useful when creating internal or external communications, such as website content, employee handbooks, or marketing collateral.
3. Marketing Agencies
As a marketing agency, you always seek ways to stand out.
As part of your content marketing strategy, an AI tool can help you create unique and engaging content that will capture your audience's attention.
With a plagiarism checker coming with most tools, your target audience will have never seen the content produced.
4. SEO Agencies
You know the importance of creating optimized content if you're an SEO agency.
An AI content generator can help create content that is not only keyword-rich but also exciting and informative, which are essential for on-page SEO success.
5. Content Marketing Agencies
Churning out content regularly often leads to dreaded writer's block, where you just can't develop new ideas.
If you're suffering from writer's block in your agency, an AI content generator can help give you the inspiration you need to get those creative juices flowing again.
Mistakes To Avoid When Using AI Content Generator Options
Now that I've looked into the various AI content generator options available, the following are some of the top mistakes one should avoid when using such a tool.
1. Not Proofreading The Content Generated By The AI
Expecting your content marketing strategy to rely on an AI writing assistant is a recipe for disaster.
While the machine learning algorithms within your content generator software may be able to produce error-free text, it's always a good idea to proofread the final piece before publishing it.
It would help if you worked alongside your AI writing assistant to ensure that all the produced content meets your high standards.
2. Not Understanding How The AI Works And What It Is Capable Of
Whether you're using a free AI writer or a paid one, you must know how to utilize the tool best to get the most out of it.
The content creation industry has produced a lot of low-quality content over the last few years, some of which are not up to par with human-written content.
To avoid this, you need to understand how the AI content writer works and its capabilities before using it to create your content.
Moreover, using AI content detectors will help you spot low-quality content and make sure that the content is of a higher quality.
3. Putting Too Much Trust In The AI
While AI content generation can create text fast, you must always fact-check when necessary.
Relying too heavily on AI to produce your content can lead to errors and inaccuracies that could damage your credibility.
While content marketers want a solution that can create a polished and error-free final product, they should still be prepared to do some editing themselves.
Especially when you create long-form content, you should consider going over the text yourself or having someone else do it to ensure everything is correct.
4. Relying On The AI To Do All The Work
It would help if you remembered that your written content quality would only be as good as the inputs you provide.
You need to take the time to brief your AI writing assistant properly to avoid ending up with subpar content.
Especially with marketing copy, your AI writers need to be given the correct information to produce content that will resonate with your audience.
5. Not Being Prepared To Make Changes To The Content Generated By The AI
Whether you're in the blog ideas generation stages or editing a final draft, you should always be prepared to make changes to the content generated by the AI.
Remember that no matter how good the AI is, it will probably still need improvement.
There will always be some instances where you'll need to make manual changes to the text to mold it in your voice, ensure accuracy, or make it more interesting.
Free Vs. Paid AI Writing Solutions
In the AI content generation industry, various free tools can create generated text in just a few clicks.
These free content generators have a place in a company's arsenal, especially for those just starting to use this technology.
However, free AI will always be limited in its capabilities compared to paid options.
I advise using a free AI content generator if you're getting your feet wet in this area but switching to a paid solution for better results as soon as possible.
Paid options offer many more features than their free counterparts and usually come with better support.
Additionally, if you're using the tools well, you'll get a return on your investment when you consider the time you save by using an AI content generator.
With a 7 (or more) day trial available with most tools, if you want to generate high-quality content that converts, it's worth paying for a good AI writing solution.
Wrap Up.
AI content generation is a great way to produce text quickly and efficiently.
By considering all your options, considering the mistakes to avoid, and investing in a good writing solution, you can create high-quality content that resonates with your audience.
Have you used AI content generator options in your business?
What was your experience?
Let me know in the comments below.
Further reading on AdamEnfroy.com: The AI industry is snowballing and changing the content marketing landscape.
With several AI writing software tools on the market, researching the right platform is crucial to finding the best AI content generator for your needs.
AI marketing tools are another category of tools designed to help content marketers save time by generating text, but again, they're not all created equal.
Knowing what you're looking for is key to finding the best tool for your needs.
Disclosure: I may receive affiliate compensation for some of the links below at no cost to you if you decide to purchase a paid plan. You can read our affiliate disclosure in our privacy policy. This site is not intending to provide financial advice. This is for entertainment only.