B2B SaaS: What it is and the Top 10 Companies in 2023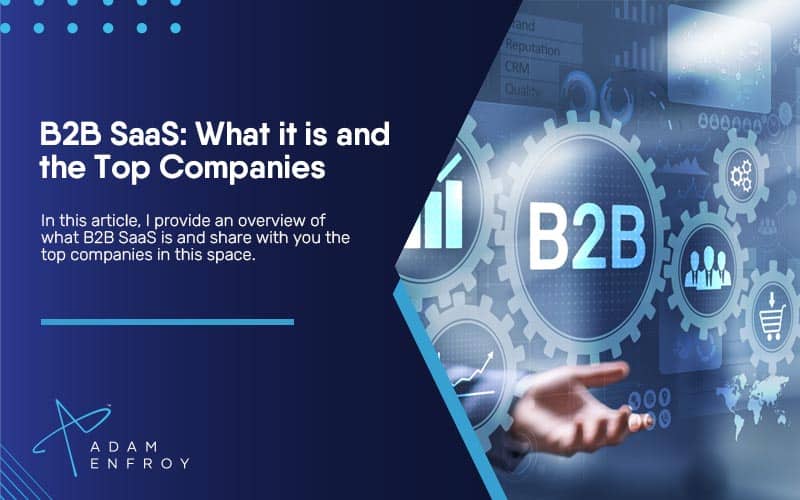 With various types of software used in business becoming more specialized, the need for software as a service (SaaS) is also at an all-time high.
SaaS allows businesses to access the necessary software without installing and maintaining it on their servers.
This also means that SaaS sales are growing rapidly as businesses shift their spending to cloud-based software.
Ranging from help desk software that keeps your customer service team organized to sales management tools that help you close more deals, there's a SaaS solution for every business need.
And with the global pandemic continuing to accelerate the shift to remote work, even more businesses will likely turn to SaaS solutions in the coming years as remote HR tools and communication platforms become increasingly essential.
In this article, I'll give you an overview of what B2B SaaS is and share the top companies in this space that you should keep an eye on.
Based on your specific company's needs, you might even find a new tool to help you boost your productivity and grow your business.
What Is B2B SaaS?
The business model of software as a service comes down to two key components:
The software is delivered over the internet as a service, rather than installed on a local computer.
The customer pays a recurring subscription fee rather than a one-time license fee. In some cases, companies will have an annual recurring revenue model in place.
With business software, the customer is typically a company or organization rather than an individual.
A SaaS model has several advantages for businesses, all of which center around the fact that it is a subscription service.
First, businesses only have to pay for the software when using it.
There is typically no upfront cost and no need to manually purchase new licenses when employees leave or join the company.
This makes it much easier to scale up or down as needed.
If a company experiences a sudden demand increase, it can add more users to its subscription.
Conversely, if demand decreases, it can reduce the number of users without canceling its contract.
Finally, because the service is delivered over the internet, businesses can access their data and applications from anywhere in the world.
What Are The Best B2B SaaS Companies?
The following are the best B2B SaaS companies to consider.
Best Overall B2B SaaS.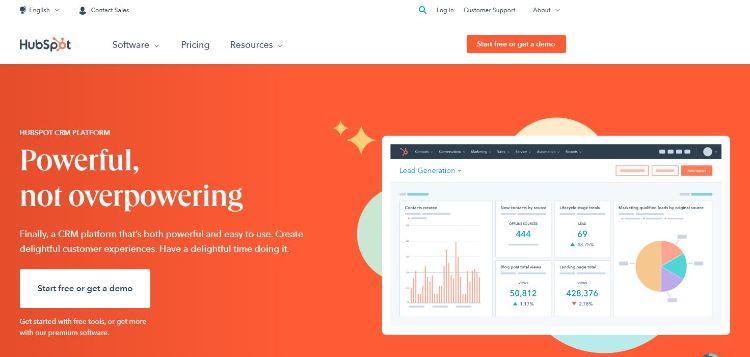 Hubspot attracts small businesses and entrepreneurs with its all-in-one marketing platform that's simple to use and offers a variety of helpful features, including CRM, email marketing, lead capture forms, and social media integration.
If you want to convert more leads and grow your business quickly, Hubspot is an excellent choice as it allows you to track your progress and scale your marketing efforts quickly.
The use cases that HubSpot offers its users range from small start-ups to globally recognized software companies.
If you want to start driving results from your marketing efforts today, look no further than HubSpot.
Key Features: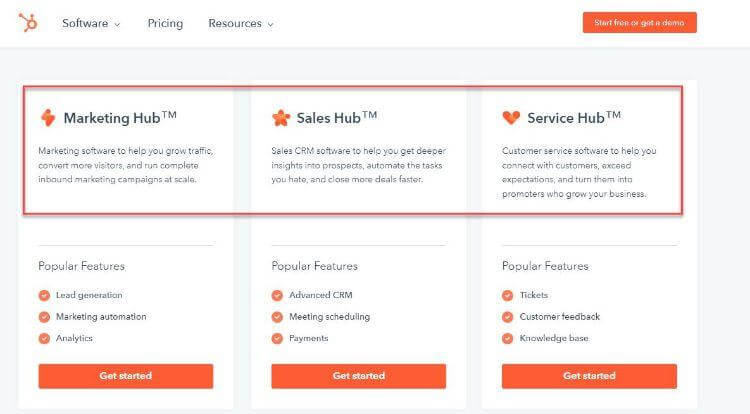 Attract visitors, leads, and users with inbound marketing that is simple to use and offers a great return on investment.
Speed up the time to value with HubSpot's intuitive and easy-to-use software – you don't need to be a marketing expert to start with HubSpot and see results quickly.
Shorten your sales cycle by using HubSpot's powerful CRM to close more deals faster. With everything in one place, you'll have all the data you need to make informed decisions and win more business.
User Experience: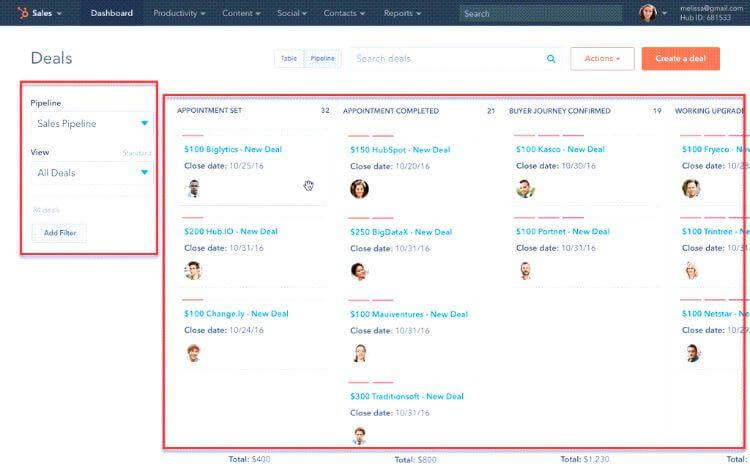 Whether you want to close deals faster or attract more leads and website visitors, HubSpot has the tools you need to succeed.
The software is easy to use and offers a great return on investment for various other businesses in different industries.
Pricing: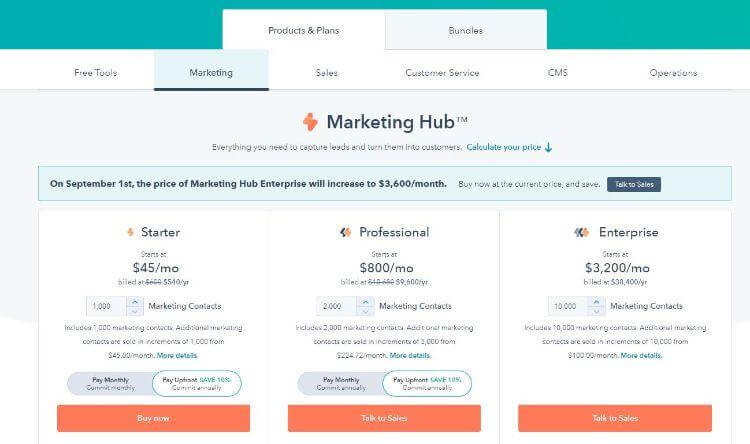 Hubspot offers these pricing plans:
Starter: Starts at $45/mo
Professional: Starts at $800/mo
Enterprise: Starts at $3,200/mo
You can use the software for free or get a demo to see which plan is best for you.
What I Like/Dislike About Hubspot
Like:
Hubspot is generally easier to use than other, more complicated software.
Easy drag-and-drop software makes it simple to use without any prior experience.
Dislike:
The survey tools can be made better when considering the survey-specific needs of various companies.
Product Updates:
The new Service Hub allows companies to view and manage support tickets more quickly.
Get started with HubSpot.
Best For Streamlined Operations.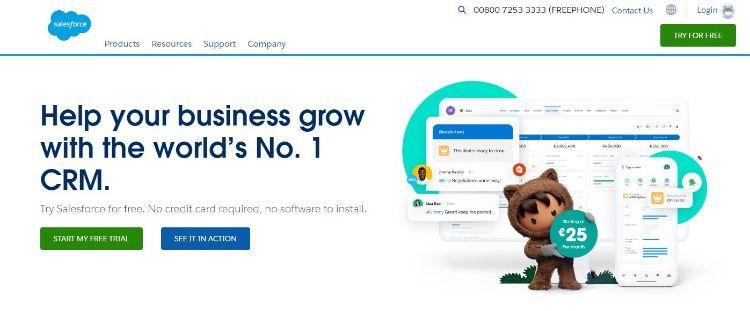 Salesforce makes B2B selling easy with its streamlined software that helps sales teams close more deals and grow their business.
Salesforce's features include lead and opportunity management, account management, contact management, forecasting, reporting, and more.
Maximize your online growth potential with Salesforce's customer relationship management software, allowing you to close more deals and nurture your relationships with customers.
If you want to simplify online buying experiences and increase customer satisfaction and loyalty, then Salesforce might just be the right software for your company.
From stocking the shelves of your retail stores to marketing to your target audience, Salesforce can help you manage every step of the customer lifecycle.
Key Features: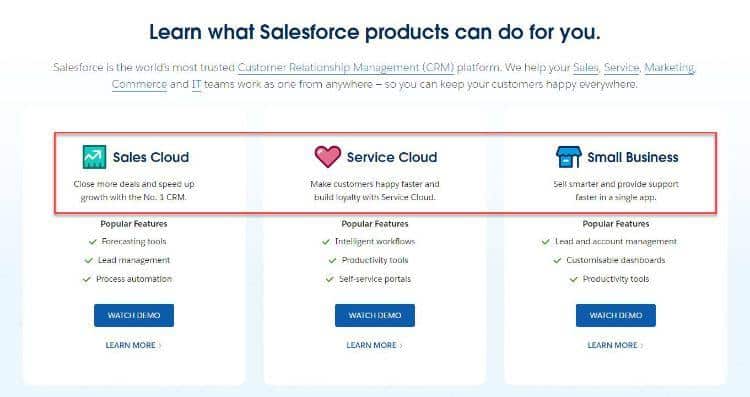 Empower your sales teams to sell smarter and faster with Salesforce's customer relationship management software.
Enable your channel partners to sell more effectively with partner relationship management software.
Get to market faster with Salesforce's easy-to-use, cloud-based software.
Offer your customers a simple, self-service online buying experience with Salesforce's ecommerce software.
User Experience: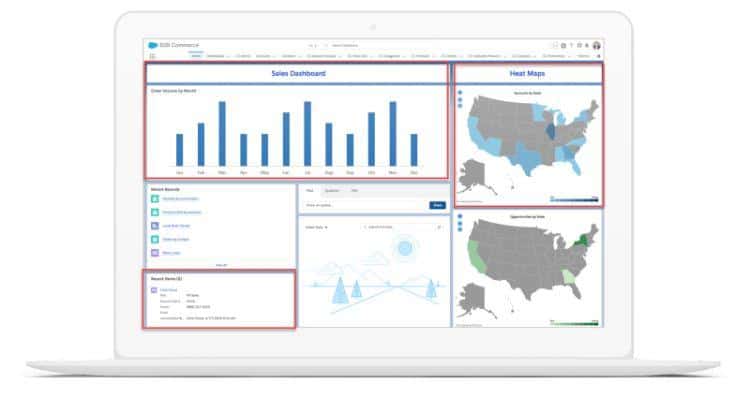 A graphical sales dashboard shows the entire sales team's order volumes, figures, and performance metrics.
You can also configure the interface to display the most relevant information, such as the most recent records and items, or the items with the highest priority.
Pricing:

Contact the sales team for a custom quote.
What I Like/Dislike About Salesforce
Like:
You can capture a lot of contract information, which is always helpful when understanding customer needs.
There is the possibility of tracking various metrics to make it easy to see what's working and not.
Dislike:
There are different ways to reach the same information on the platform, so it does take some time to get used to where everything is.
Product Updates:
Flow trigger and screen enhancements help you to create, update quickly, or clone screens for your mobile users.
Sales Cloud for Slack enables you to connect with your sales reps and see the sales pipeline as needed.
Get started with Salesforce.
Best Ecommerce Solution.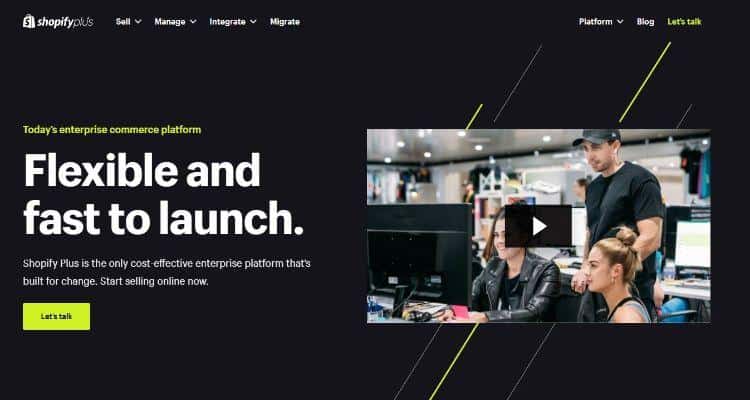 Shopify needs no introduction to ecommerce solutions, as it's one of the most popular platforms on the market.
It offers many features, such as accounting, inventory management, shipping, payment processing, etc.
However, some businesses might not know about the Shopify B2B ecommerce platform, designed for businesses that want to sell online to other companies.
Shopify B2B has all of the features of the regular Shopify platform, plus additional features that help businesses streamline their order processes, manage multiple pricing levels, and more.
You can also unlock the power of customization to create a genuinely unique B2B experience for your customers.
With integration to many other platforms that businesses use, Shopify B2B is a comprehensive solution for companies that want to sell online.
Get all the wholesale features you need from a single platform with Shopify B2B.
Key Features: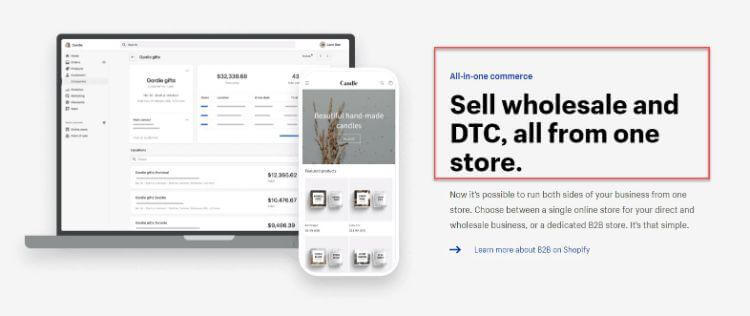 Integrate all your tools without hassle so you can focus on selling
Company profiles give your team the information they need at just the right time
Price lists help you manage multiple pricing levels
Net payment terms let you extend payment terms to your customers
Self serve portal gives your customers 24/7 access to their account
Customer accounts give you a complete view of your customer's buying history
A custom store theme lets you create a branded B2B experience for your customers
User Experience: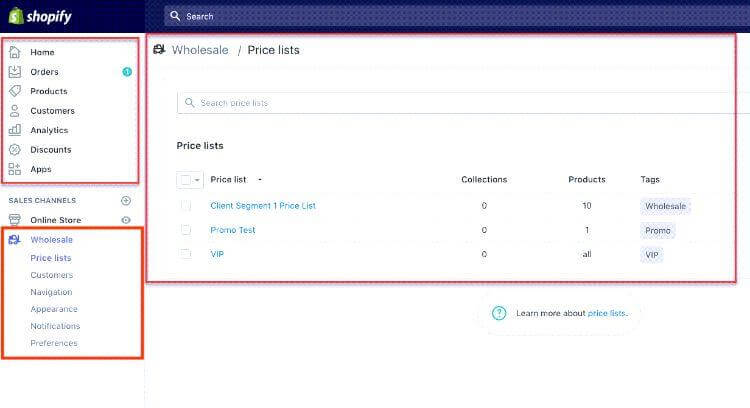 Taking the traditional Shopify experience to the next level, Shopify B2B is designed for businesses that want to sell online to other companies.
With this solution, businesses can create various sales channels that classify and organize their products for different customer types.
Pricing: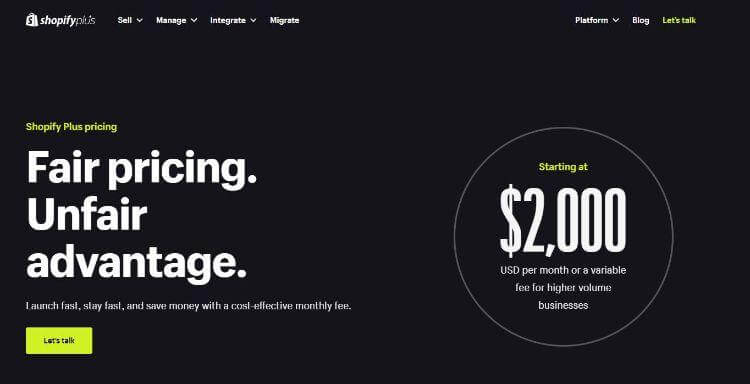 Starting at $2000 per month, you'll have to contact the sales team at Shopify for a custom quote.
What I Like/Dislike About Shopify
Like:
Being a dynamic and user-friendly platform means you don't need a lot of technical knowledge to use it.
Excellent customer service ensures you're never left in the dark, and there's always someone to help if you need it.
Dislike:
Not ideal for hypergrowth companies as the platform is built using Shopify's programming language.
Product Updates:
Tokengated commerce means you can control who has access to your products and content.
Get started with Shopify.
Best For Excellent Customer Service.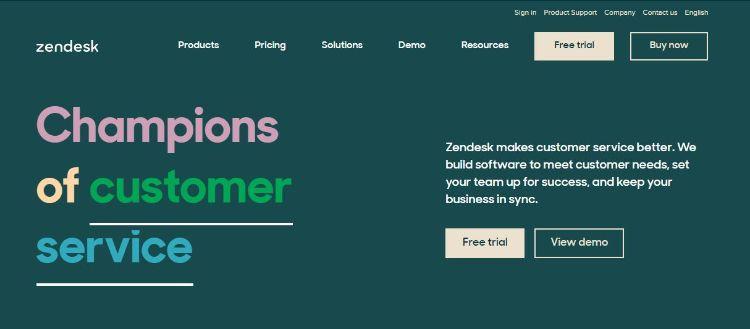 Zendesk is excellent for those businesses that want to provide customer service that exceeds expectations.
With Zendesk, you can create a customer service experience that is unique to your brand and provides the best possible support for your customers.
Give your customers the ability to connect with you at any time, any place, and on any device with Zendesk's customer service software.
You'll also be able to free up your team's time to focus on more essential tasks with Zendesk's automation features.
If you want to convert good conversations into extraordinary experiences and turn your customers into brand advocates, then Zendesk is the right software for you.
Key Features: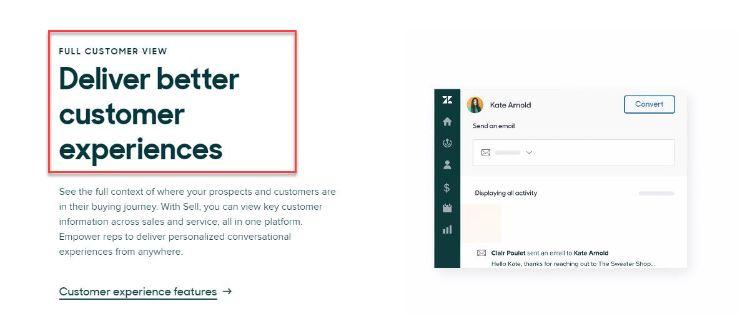 Sell more in an intelligent manner, not a harder one, so your team can close more deals faster.
Follow the leads and get real-time alerts when a prospect interacts with your brand.
Boost team productivity by automating the sales process.
Deliver better customer experiences and create advocates for your brand.
Get complete pipeline visibility so you can make informed decisions about where to invest your time.
User Experience: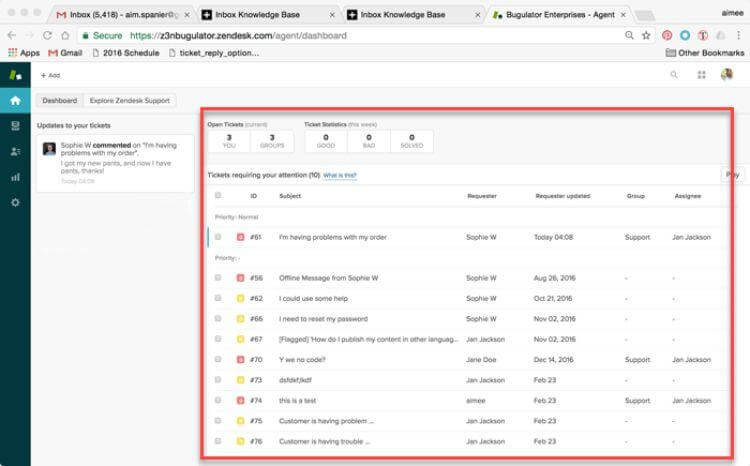 Providing an inbox-like way to deal with customer tickets, Zendesk offers a great user experience for both customers and customer service reps.
You can also see all of your customer's interactions in one place so you can provide a more holistic support experience.
Pricing: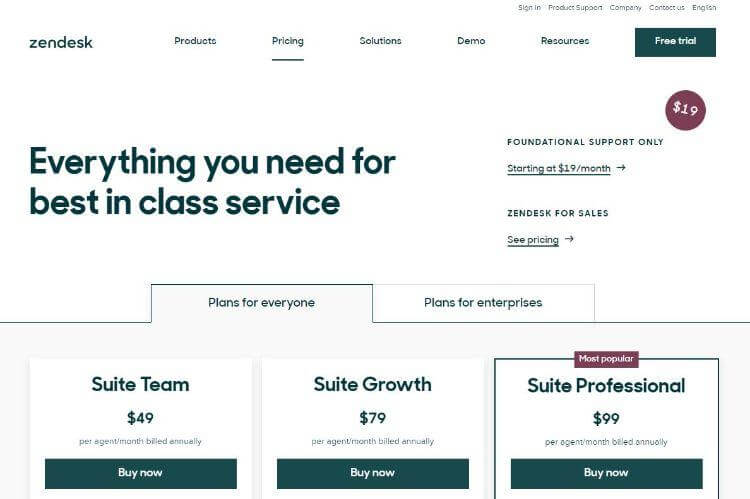 These are the pricing plans available on Zendesk:
Team: $19 per user/month billed annually
Growth: $49 per user/month billed annually
Professional: $99 per user/month billed annually
What I Like/Dislike About Zendesk
Like:
With a suite of tools for every stage of the customer journey, Zendesk is an excellent platform for those businesses that want to provide a great customer experience.
Creating a robust help center is easy with Zendesk, and you can be sure that your customers will always have a great experience.
Dislike:
Keyboard shortcuts would help to cycle through tickets quicker.
Product Updates:
Improved bot building now lets admins create more intelligent bots with less code.
You can add external data into the bots you build, providing more personalization options.
Get started with Zendesk.
5. DocuSign.
Best For Processing Contracts.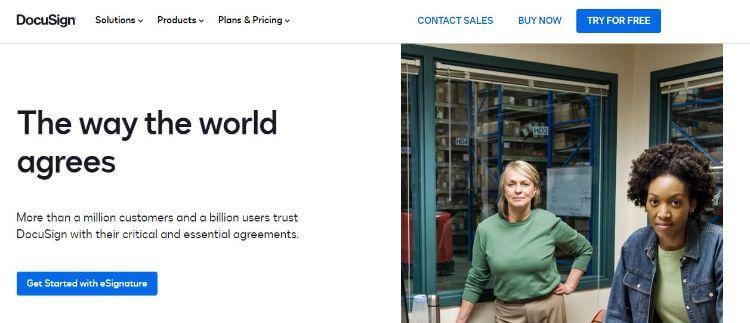 DocuSign is a great software for businesses that want to close deals faster and streamline their contract processes.
DocuSign's software makes creating, sending, signing, and managing contracts and agreements easy.
With DocuSign, you'll be able to accelerate your sales cycles and increase close rates by getting contracts signed electronically.
You'll also be able to save time and money by eliminating the need for paper documents.
If you want to make more instant customer connections that turn into long-term relationships while eliminating paper contracts and manual processes that slow you down, DocuSign's electronic signature software can help.
DocuSign is the right software for you to align your remote sales processes with your in-person sales processes.
Key Features: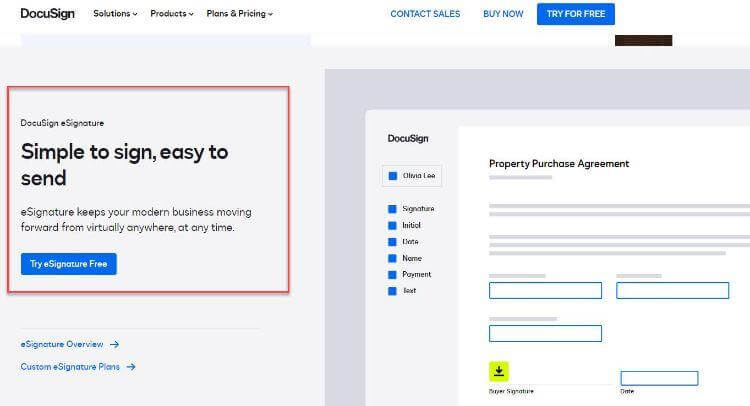 Contract collaboration for every lifecycle stage means you can easily manage your contracts from start to finish.
Integrations for every workflow allow you to connect DocuSign with other business software you use.
Combining hybrid and remote teams ensures everyone is on the same page, no matter where they are geographically.
Get rid of the manual processes and paper contracts holding you back.
User Experience:
Dragging and dropping documents into this platform is usually all that's needed to get contracts signed.
Brief statistics at the top of your main dashboard also give you a quick overview of your team's performance in the key areas.
Pricing: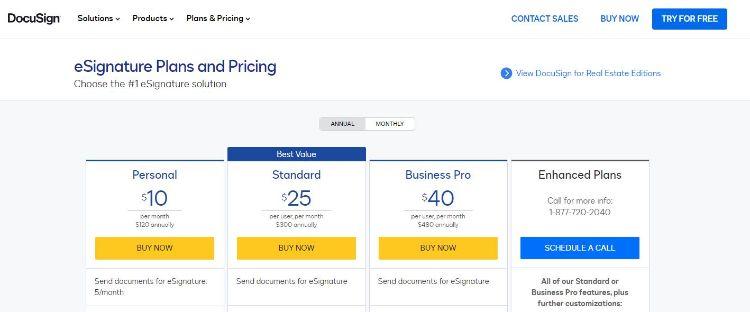 DocuSign offers these plans:
Personal: $10 per month
Standard: $25 per month
Business Pro: $40 per month
Enhanced: Schedule a call with their team
What I Like/Dislike About DocuSign
Like:
The ability to sign documents from anywhere is beneficial for sales teams that are always on the go.
You only have to configure the signature field in many instances, which makes it much easier to get contracts signed quickly.
Dislike:
Advanced rules and routing are not always intuitive and can be challenging to configure.
Product Updates:
Administrators can now create specific agreement rules to create an envelope from a template.
PowerForms allows you to create personalized documents and enable customers to sign them on demand.
6. Dropbox.
Best For Document Management.

Dropbox is a unique document management system for businesses that want to improve their file-sharing processes.
Dropbox makes it easy to share files and folders with anyone, no matter where they are located.
You'll also be able to access your files from anywhere, on any device.
Store, share, collaborate and access your files from anywhere with Dropbox.
Make it easy for your team to access the files they need when they need them with Dropbox's file-sharing software.
With this platform's integration features, you can access both the content and tools you need to work smarter and faster.
Key Features:
App integrations with the tools you use every day
Work from anywhere with an internet connection
Protect your work with robust security features
Simplify file delivery with drag-and-drop functionality
Data security with solid encryption and permission controls
Collaborate with ease with real-time editing and commenting
Pricing: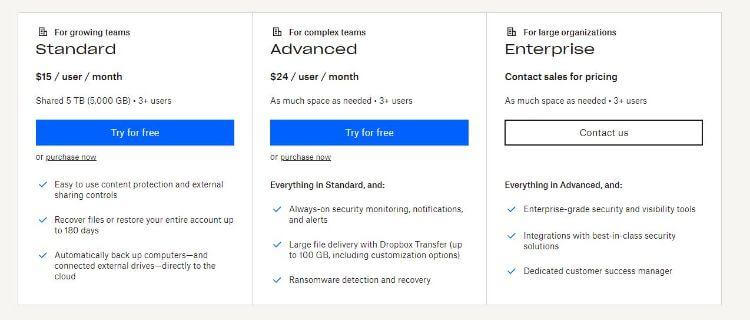 Dropbox offers these three pricing plans:
Standard: $15 / user / month
Advanced: $24 / user / month
Enterprise: Contact sales for pricing
7. Intuit.
Best For Finance Tools.

Intuit offers a wide range of products businesses can use to manage their finances, including QuickBooks, TurboTax, and Mint.
Intuit's products are great for businesses of all sizes as they offer several features and integrations that can be customized to fit your needs.
You'll be able to save time and money with Intuit's products as they automate many of the tasks associated with managing your finances.
With personalized experiences to meet the needs of businesses of all sizes, Intuit is a great choice for those looking for financial management software.
Businesses can use their data intelligence platforms to give them the insights they need to make informed decisions about their operations while saving time with their automated features.
With various tools that simplify finances, Intuit is a great choice for businesses that care about their bottom line.
Key Features:
QuickBooks provides businesses with the ability to manage their finances in one place.
QuickBooks Online is a cloud-based version of QuickBooks that allows businesses to access their data from anywhere.
Checks and Tax Forms enable businesses to print their checks and tax forms.
QuickBooks Payroll is a payroll management system that companies can use to manage their employees' pay.
Payments enable businesses to accept payments from customers and vendors.
QuickBooks Time is a time tracking system that companies can use to track their employees' time.
Mailchimp allows businesses to send newsletters, email campaigns, and other marketing materials.
Pricing:
The pricing depends on the tools you go with.
8. Slack.
Best For Team Communication.

Slack is a great communication tool for businesses that want to improve their team's productivity.
Slack allows businesses to create channels for different topics, projects, or teams so that everyone can stay up-to-date on what's going on.
You'll also be able to search through past conversations to find the information you need.
With integrations with various daily business tools, Slack will make it easier for your team to get work done.
Key Features:
Channels allow you to separate conversations by topic, project, or team.
Slack Connect allows businesses to connect with their partners and customers in Slack.
Messaging allows you to send direct messages or create group chats.
Huddles and Clips allow you to save messages and create groups for easy reference later.
Workflow Builder allows you to automate your workflows.
File Sharing allows you to share files with your team.
Pricing: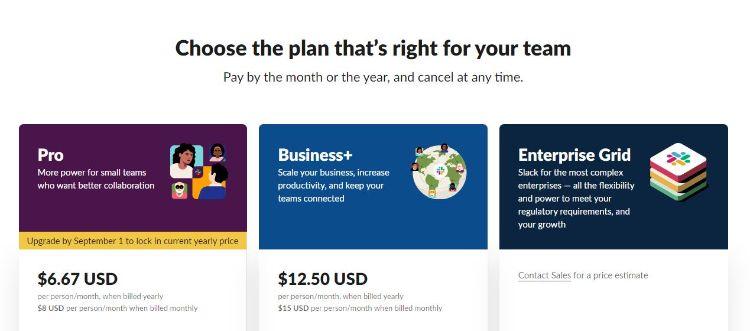 Slack offers these pricing plans:
Free: $0 / user / month
Pro: $6.67 per person per month
Business+: $12.50 per person per month
Enterprise Grid: Contact sales for more information
9. Microsoft Dynamics.
Best For Managing Relationships.

Microsoft Dynamics is an excellent choice for businesses that want a complete solution for customer relationship management needs.
With Microsoft Dynamics, you'll be able to manage your sales, marketing, and customer service in one place.
You'll also have access to tools that will help you better understand your customers and provide them with the best possible experience.
Whether it's sales, marketing, servicing, finance, or commerce, Microsoft Dynamics will give you the insights you need to make better decisions about your business.
Key Features:
Sales insights and reports give you an overview of your sales pipeline and performance.
Mobility gives you the ability to access your data from anywhere.
You can find and connect with more potential customers by connecting to LinkedIn Sales Navigator.
Email integration with Outlook 365 allows you to manage your emails within Microsoft Dynamics CRM.
The customer service dashboard gives you an overview of your customer service team's performance.
Pricing:
Microsoft Dynamics offers different pricing depending on the solution a business needs.
10. Adobe Commerce.
Best For Seamless Ecommerce.

Adobe Commerce is an excellent choice for businesses that want to create a seamless shopping experience for their customers.
Adobe Commerce will help manage every online store aspect, from the catalog to payment to fulfillment.
This platform provides access to tools to help businesses manage inventory, orders, and shipping.
By facilitating the building of one's site and helping with content marketing and promotion, Adobe helps businesses focus on other aspects of their store.
Adobe Commerce is an excellent choice if you're looking for a flexible, extensible, and scalable ecommerce platform.
Key Features:
A single platform for all your commerce needs ensures a seamless customer experience regardless of how they connect with you.
Intelligence from industry-leading AI provides recommendations on products, pricing, and promotions.
Extensible to incorporate any needed technology allows businesses to connect their existing systems and take advantage of emerging technologies.
Pricing: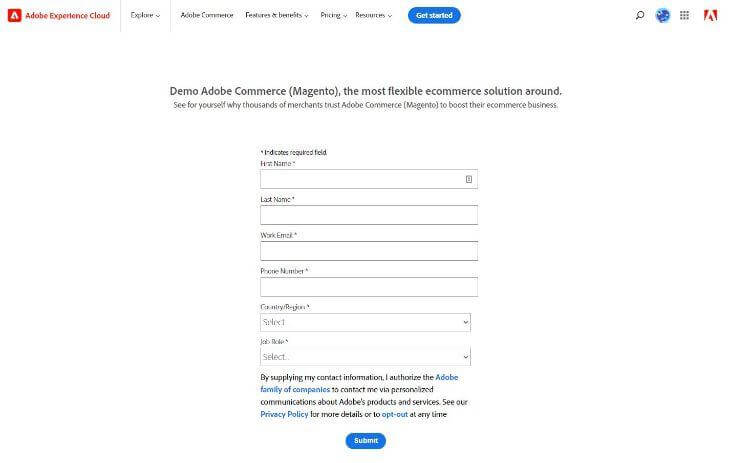 You'll have to get a demo of this platform for an accurate quote for your small business.
How Does A B2B SaaS Company Get Clients?
With the customer acquisition cost constantly increasing and the lifetime value of a customer decreasing, it's more important than ever for B2B SaaS companies to focus on customer retention.
From marketing advice to software development, a B2B SaaS company's business owner must deeply understand their target market and what services their platform needs to provide to keep such people as paying customers.
To reach its target market, a SaaS company can use various digital marketing strategies, including content marketing, search engine optimization, and social media marketing.
In addition, prospective customers are often more likely to trust a recommendation from a friend or colleague than to respond to a traditional marketing or advertisement, so focusing on these marketing channels is also essential.
Sales reps within a B2B SaaS company need to be trained to understand the lifetime value of a customer and what it costs to acquire them.
Then, once a lead becomes a customer, an account manager typically ensures that they are using the product and getting the most value out of it.
Top Features Of A Successful B2B Company
While the industry in which a SaaS platform operates will significantly impact the features a platform needs to succeed, some key elements are common to all successful B2B SaaS tools.
A Focus On Customer Success
A B2B SaaS business needs to deeply understand its target market and what they need to do to ensure they succeed and therefore keep them as paying customers.
From the business-to-business customer support team to the account manager, everyone in a B2B SaaS company needs to be focused on customer success.
Customer support directly affects customer churn, and by having a good understanding of the customer journey, a B2B SaaS business can increase its customer retention.
Aim To Reduce Churn As Much As Possible
Churn refers to the number of customers that cancel their subscription to a service during a set period.
Retention is critical when reducing churn, and a B2B SaaS business needs to focus on keeping its customers happy.
While lead generation is one of the critical metrics of success in customer acquisition, customer retention is just as crucial for a B2B SaaS business.
Efficient Invoicing
A B2B SaaS product can't afford to have an inefficient invoicing process.
Business owners and decision-makers that are clients of a specific SaaS platform need to be invoiced promptly and accurately.
Using the top invoicing software in the SaaS industry, a B2B SaaS business can create an efficient process when it's time to get paid.
Tweaking And Improving The Company's Messaging
B2B SaaS marketing can improve the company's messaging and increase conversion rates.
The conversion rate a B2B SaaS company achieves is essential as it directly impacts the number of customers it can acquire.
Getting new customers onboarded successfully into fully using the software also depends on a company's initial messaging.
With various competitive software products on offer, a B2B SaaS company needs to be clear about the unique selling points its solution provides.
As such, SaaS solutions that offer a free trial or a money-back guarantee are often more successful in acquiring customers than those that don't.
Giving customers the ability to try risk-free software can often help them decide which solution works best for them.
A Desire For More Case Studies
Social proof is a significant factor in any type of sale, and SaaS sales are no different.
Getting a business to 'take out its credit card' and invest in a new software solution is often a big decision.
Whether these case studies are shared through webinars, blog posts, or word of mouth, they can be hugely valuable in convincing a business to take the plunge and invest in a specific company's software.
SaaS companies should always look for new case studies, which can be hugely valuable in acquiring new customers.
Wrap Up.
There's no one-size-fits-all answer to what it takes to be a successful B2B SaaS company.
However, if you can identify and address the needs of your target market, build a great product, and cultivate a strong team culture, you'll be well on your way to success.
A company that can meet the challenges of the B2B SaaS landscape and emerges victorious will be well-positioned to succeed in the years ahead.
What's your favorite SaaS software for business, and why?
Let me know in the comments below!
Further reading on AdamEnfroy.com: As you saw above, the range of B2B SaaS companies is vast and extends across several industries.
The project management software industry is one of the crucial areas for many businesses, allowing teams to collaborate on projects and track their progress.
Moreover, there are also some excellent HR software that can make the process of managing employee data much easier for businesses.
If you plan on scaling your business by hiring the right people, this type of software can make your business life easier.
Editorial Process:
Our reviews are made by a team of experts before being written and come from real-world experience. Read our editorial process here.
Some of the links in this article may be affiliate links, which can provide compensation to us at no cost to you if you decide to purchase a paid plan. These are products we've personally used and stand behind. This site is not intended to provide financial advice. You can read our affiliate disclosure in our privacy policy.