The Best GPT3 Tools In 2023: What Can AI Do For You?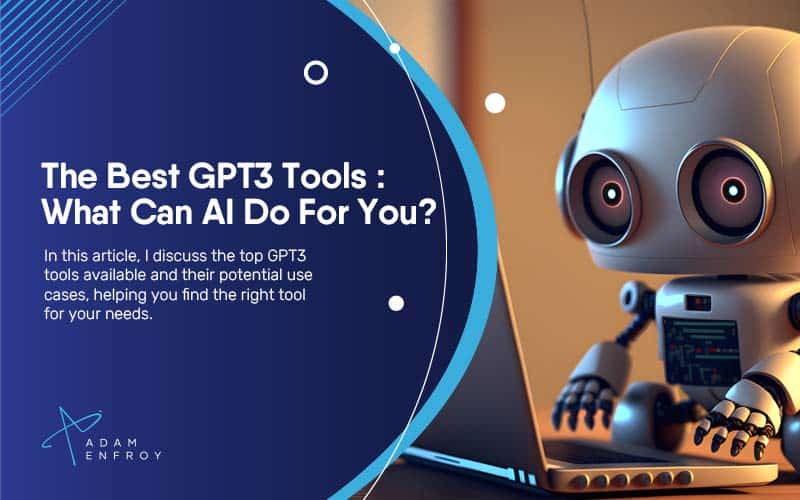 GPT3 tools offer businesses, developers, and even everyday users many possibilities.
Businesses can use GPT3 AI tools to generate customer-facing content, create product descriptions, or even provide customer support in an automated fashion.
Developers can leverage GPT3's natural language processing capabilities to build powerful GPT-3 chatbots that understand customers and respond naturally.
Users can use GPT3 to answer questions and provide advice or recommendations based on what they say.
As the technology continues to evolve, the range of applications for GPT3 tools will only increase.
In this article, I'll discuss the top GPT3 tools available and their potential use cases so you can find the right tool for your needs.
What Are The Best GPT3 Tools?
Here are some of the most popular GPT3 tools available.
Best For Content Creation.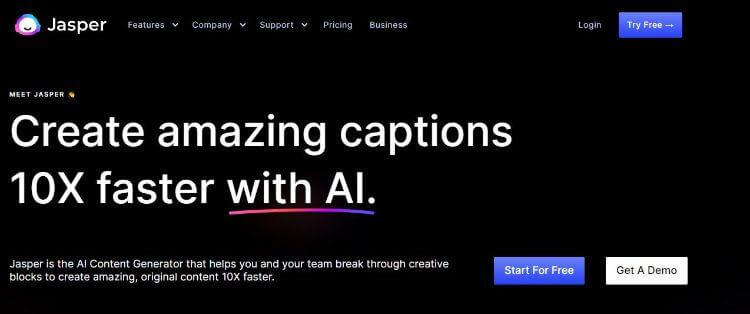 Jasper is a revolutionary AI-powered content-writing tool that can come up with dozens of witty Instagram captions, convert-worthy ads, persuasive emails, website copy, visuals, and more.
Jasper is also one of the most advanced tools using GPT3 technology, providing limitless ideas explicitly tailored to your needs.
One thing that sets Jasper apart from other tools is its ability to generate cleverly written social media captions and engaging website copy.
It also has an AI chatbot feature that helps give users personalized content through natural conversation.
Plus, its AI image generator creates stunning visuals and extensive graphic design work.
And last but not least, its user-friendly interface makes it easy for anyone – even those unfamiliar with AI technology – to get up and run in no time!
Key Features: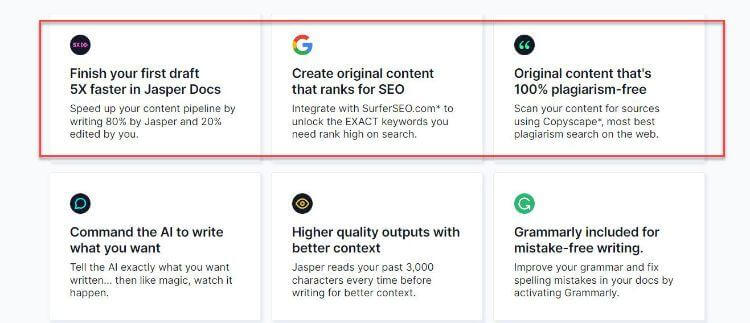 Its AI art features are captivating, helping to draw more people in
Brainstorm unique content marketing angles to capture attention and stand out from the competition – whether you're creating landing pages, sales copy, or anything in between, the AI writing assistant can help.
Research the common pains and desires of your target audience to write content that resonates with them
Come up with dozens of clever captions for social media posts, ads, or emails
Publish entertaining LinkedIn articles that will get your followers engaged and interested
Write catchy video scripts to help convert viewers into paying customers or subscribers.
User Experience: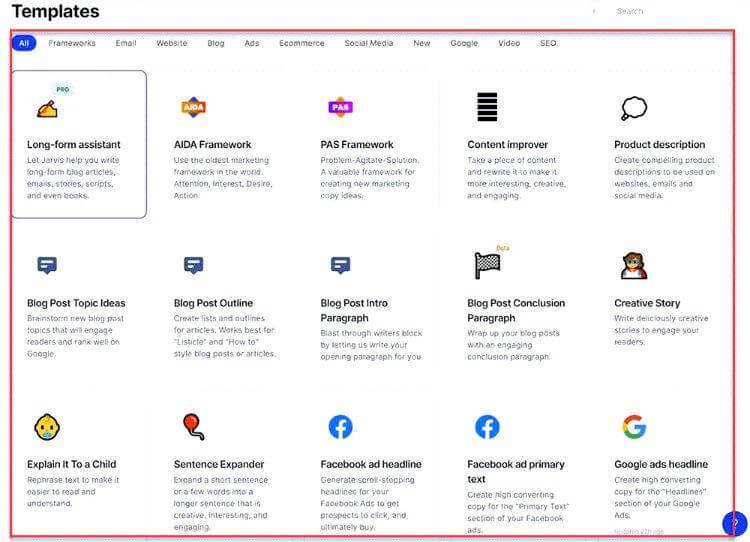 The various templates available with Jasper make it incredibly easy to use. You don't need much technical knowledge, and the user interface is intuitive and straightforward.
Pricing: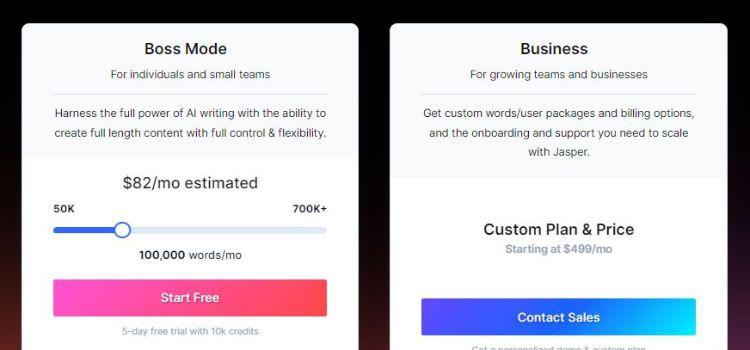 Jasper offers two levels of plans – Boss Mode and Business.
The Boss Mode plan starts at $49/mo, while the Business plan is a custom plan with a tailored price to match your specific needs.
What I Like/Dislike About Jasper
Like:
You can get quality content quickly and easily with little input
The various templates available help you create content specific to your needs.
Dislike:
It may be more expensive than other GPT3 tools on the market.
Product Updates:
Jasper Chat is now available, allowing you to have a natural conversation with its AI-powered chatbot.
Get started with Jasper.
Best For Building Up An Ecommerce Store.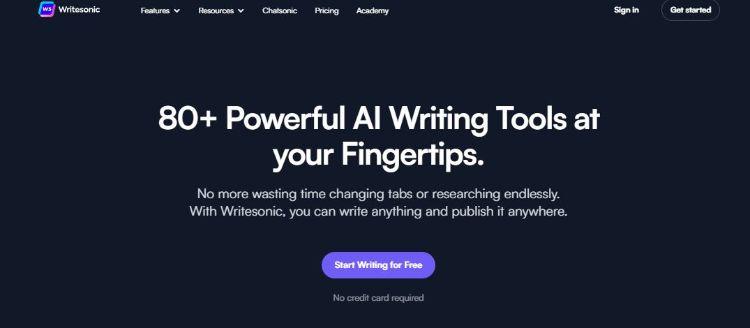 Writesonic is a powerful tool that combines the best artificial intelligence, natural language processing, and machine learning to generate high-quality, plagiarism-free copy ten times faster than manual writing.
Writesonic offers an innovative AI Writer that helps you automatically create compelling content for your website or blog in a matter of seconds.
If you have multiple projects to juggle and need to generate copy fast without compromising on quality, this is just what you need.
It saves time, and its eCommerce capabilities boost your store visibility to get more clicks, conversions, and sales.
In addition, Writesonic has a tailored ad copy generator for Facebook & Google ads.
It also features a landing page creator that allows you to customize your ad campaigns depending on your requirements.
Key Features:
Turn blog ideas into full-length blog posts with the help of Writesonic's AI Writer.
Generate optimized Amazon product descriptions to boost your store visibility and get more traffic.
Expand already written sentences with Writesonic's sentence expander for more natural-sounding content.
Write optimized answers to Quora questions to help boost your brand's visibility and reach a larger audience.
User Experience: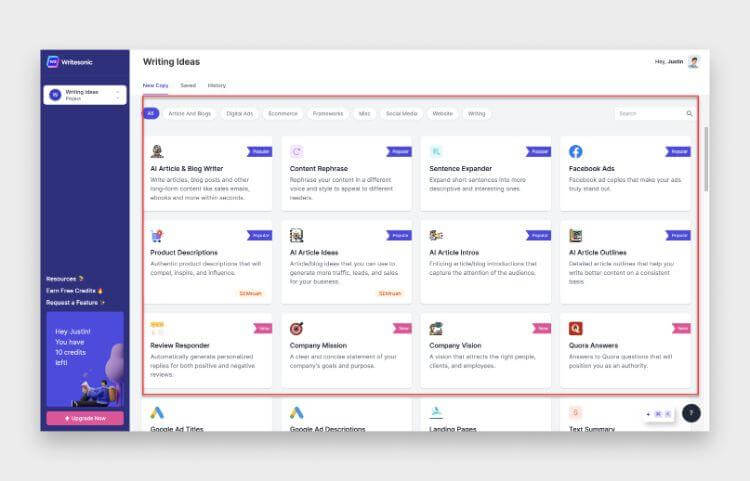 The platform organizes all the necessary features well and makes it easy for users to find what they need.
The user interface is sleek and straightforward, with a step-by-step guide that helps you get started quickly.
Pricing: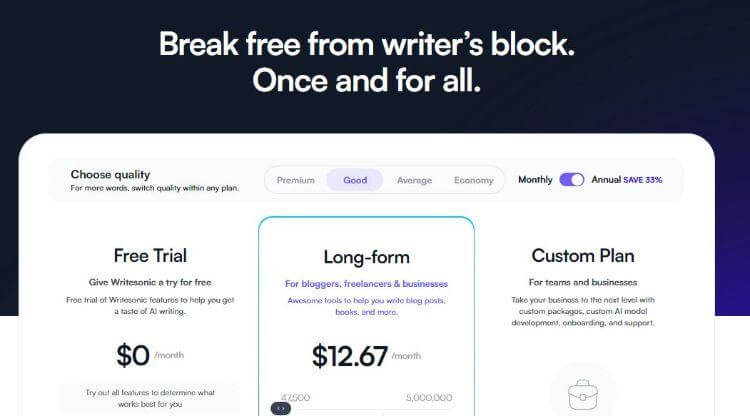 Writesonic offers these pricing plans:
Free Trial: $0
Long-form: $12.67
Custom Plan: Quote-based for teams and businesses
What I Like/Dislike About Writesonic
Like:
The customer support team is accommodating and responds quickly to any queries.
Integration with Zapier allows you to connect Writesonic with other marketing tools easily.
Dislike:
Sometimes the output can be mechanical and generic, so it might take some editing to make it sound more natural.
Product Updates:
Chatsonic allows you to chat with an AI-powered assistant to generate the exact content you need.
Get started with Writesonic.
Best For AI Website Building.
Zyro AI Writer can revolutionize your website and online store-building by providing users with a powerful tool to craft unique content with unprecedented speed.
This platform makes website creation easy, even for SEO newbies.
As a result, Zyro AI helps users save money by eliminating the need for expensive copywriters or editors.
Since the platform uses algorithms tailored towards best SEO practices, users can expect their websites will rank higher in search engine results.
With optimized content from the get-go, you set your business up for the best chances of success.
Finally, its user-friendly interface makes it easy for anyone—regardless of experience level—to use this tool without needing technical knowledge or coding skills.
Key Features:

Build a professional website or online store with Zyro
Create content fast, no matter if you are generating an Amazon product page, a blog post, or even press releases
Save money with automated content creation and optimization
Ensure your content is SEO-friendly by developing text that follows best practices.
Grow your business by using the right keywords and optimized images to drive more organic traffic.
User Experience: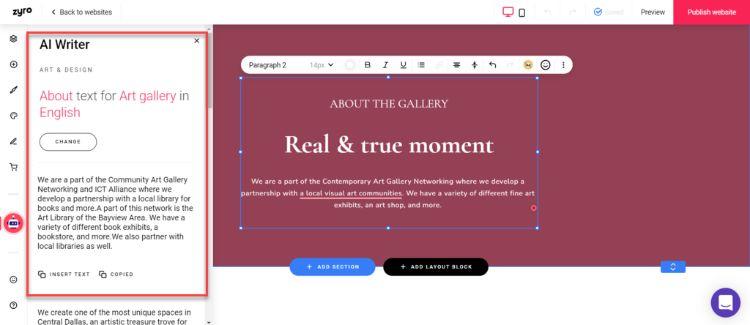 Combining Zyro's AI GPT-based writer with its intuitive website builder makes it easy for users of all levels to quickly and easily create professional websites.
The drag-and-drop interface requires no coding knowledge and features an array of options to customize the look and feel of a website or online store.
Pricing: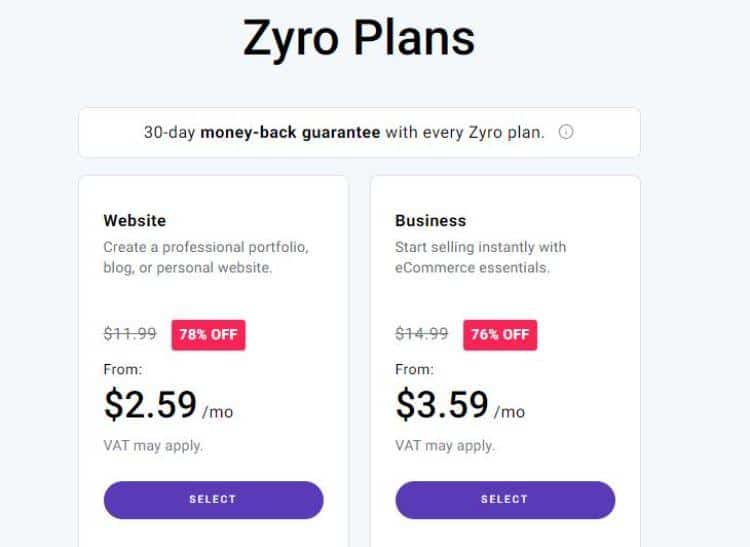 Zyro AI Writer offers these pricing plans:
Website: $2.59/mo
Business: $3.59/mo
What I Like/Dislike About Zyro
Like:
Zyro offers a website builder and an AI-based content creator, allowing users to create SEO-optimized content quickly.
Creating a professional website using Zyro's intuitive drag-and-drop interface requires no coding knowledge.
Dislike:
The templates on offer may be limited, and some users may find them too generic.
Product Updates:
The new ecommerce builder allows users to easily create an online store, complete with all the features needed to start selling with ease.
Get started with Zyro.
Best For Creating Content Outlines.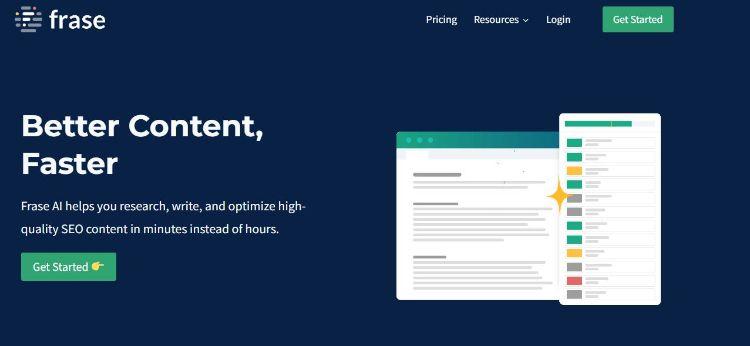 Frase AI has become the go-to tool for anyone looking to turbocharge their SEO results.
Its powerful technology allows users to create quality content at the click of their mouse.
From the fast curation of well-researched briefs to the ability to compare your content against top competitors, Frase is revolutionizing how businesses approach SEO content creation.
The platform provides users with a comprehensive suite of tools that make creating high-quality content easy.
Additionally, Frase provides users with an easy-to-use dashboard that allows them to track their progress in real-time.
You can track page views and conversions, which helps you better understand what works and doesn't when optimizing your content.
Key Features: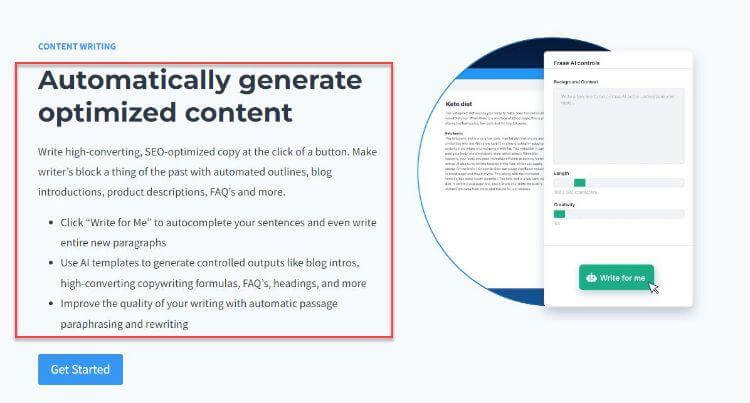 Click "Write for Me" to autocomplete brief templates and generate quality content with the click of a mouse.
Use AI templates to create controlled, consistent, and optimized content for your website.
Use the AI writing software to Improve the quality of your outputs with automated grammar checks and spell-checkers.
Use the topic model to identify topics of interest and create content that resonates with your audience.
Compare your content's keyword density and word choice against top competitors.
Review your page's main keywords, headers, and metadata to ensure high searchability.
Create and store brief templates to generate quality content regularly.
User Experience: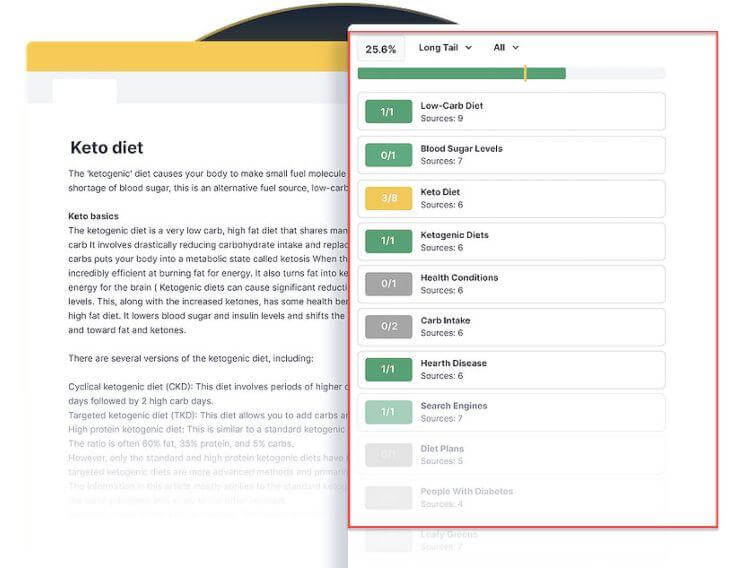 Knowing which keywords you should include in any content piece can be a real challenge, but not with Frase.
You can quickly generate keyword-rich content from templates pre-populated by their AI technology.
Pricing: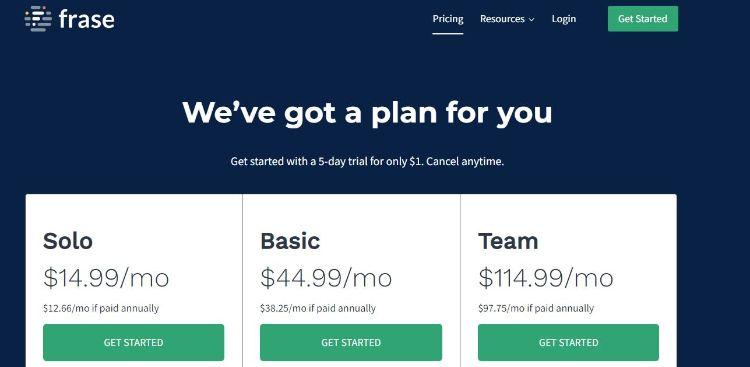 Frase offers three pricing plans:
Solo: $14.99/mo
Basic: $44.99/mo
Team: $114.99/mo
What I Like/Dislike About Frase
Like:
Researching competition becomes easy with Frase, allowing you to stay on top of the latest SEO trends and best practices.
You can also find suitable sources for any content you need, making it easier to create high-quality content quickly and efficiently.
Dislike:
No in-built image generator means you have to source images separately.
Product Updates:
The user experience of the document creation tool has improved and is now easier to use than ever before.
Get started with Frase.
5. Copysmith.
Best For Creating Converting Copy.
With Copysmith, you can create product pages faster than ever before while reducing operational costs significantly.
This platform offers a cutting-edge, AI-powered platform that enables businesses and agencies to outrank the competition, automate lead conversion and set up compelling customer journeys.
Additionally, Copysmith also offers an automatic lead conversion feature which makes it easy for businesses to capture leads from potential customers and convert them into paying customers.
In addition to its automated features, Copysmith also provides businesses with templates that they can use to create customized product pages quickly and easily.
These templates allow businesses to personalize their product page content without manually writing every word from scratch.
These templates reduce operational costs associated with manual content creation.
Key Features: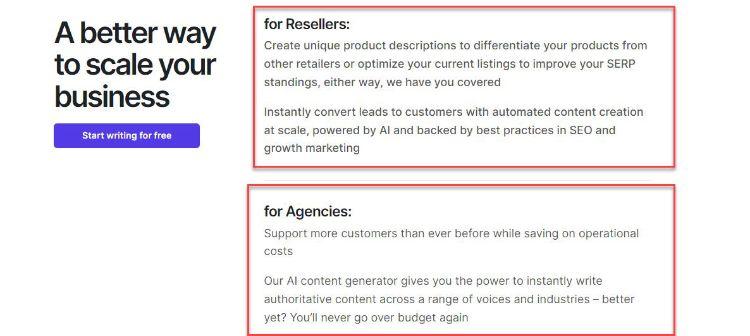 Wear one less hat with automated lead conversion and customer journey setup.
Spend less time feeling stuck as Copysmith AI creates content quickly and accurately.
Speed through research with pre-made templates.
A Chrome extension ensures you can create content no matter where you are on the web
The bulk content generator helps you make loads of content quickly
User Experience: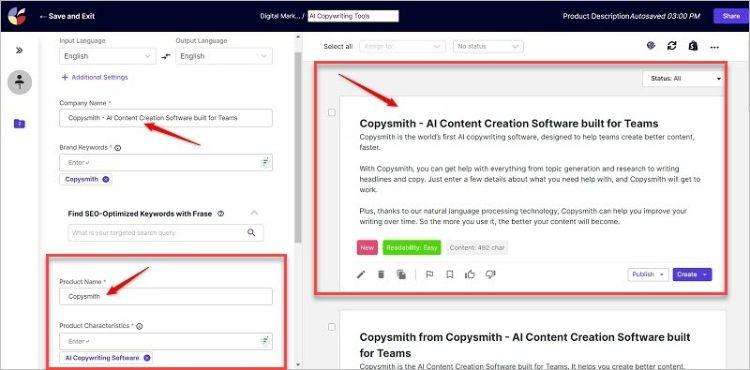 With an input menu on the left and an output screen on the right, Copysmith allows users to create content quickly and save time.
Pricing:

Copysmith offers these pricing plans:
Starter: $19/mo
Professional: $59/mo
Start-Up: $299/mo
What I Like/Dislike About Copysmith
Like:
Whether you want to create converting ads, emails, or product descriptions, Copysmith can do it all and do it quickly.
AI-driven technology means that the content is of the highest quality without requiring much manual editing.
Dislike:
You need to use your credits in a given period, or you'll lose them. If you use the service sparingly, it can become expensive.
Product Updates:
The team added new templates to the platform, so users could quickly create custom-designed product pages.
They also added a bulk export feature, allowing users to export multiple documents with one click.
Best For Optimizing Your Copy.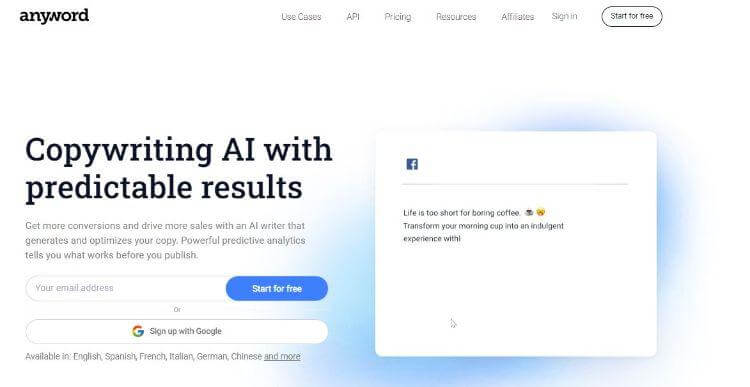 The GPT-3 AI copywriting tool from Anyword is like having a personal copywriter on your team.
With the help of Anyword's AI copywriting tools, predictive performance score feature, and one-click blog post generator, marketers now have an invaluable ally in their content strategy endeavors.
Not only does it guide how to craft compelling headlines and body copy, but it also offers suggestions on optimizing each piece of content for maximum engagement.
The best part is that these suggestions depend on the user's specific audience.
You don't have to worry about creating generic content that won't reach your intended audience.
With the predictive performance score feature, users no longer rely solely on intuition when crafting their content strategies.
This feature lets users see the most successful content based on real-time analytics, such as page views and clicks.
Key Features:
Their API provides a powerful and easy-to-use platform for creating AI-powered content.
The activity dashboard helps keep all your tasks in one place, while the collaboration tools make it easy to collaborate with colleagues from any location.
Content management makes it easier to organize and publish content quickly and efficiently.
Anyword supports managing customer data and creating personalized campaigns for sales teams and organizations.
Its machine-learning capabilities enable users to create innovative content faster than ever.
Pricing:
Anyword offers these pricing plans:
Starter: $24/month
Data-Driven: $83/month
Get started with Anyword.
7. Simplified.
Best For Improving Your Content.

Simplified's Rewriter Tool helps improve existing captions or generate new ones in seconds.
Whether you want shorter captions, more professional-sounding ones, or simple edits, Simplified will make your captions stand out.
Then, Simplified's Long Form Writer allows users to generate longer-form content quickly.
In addition to customizing the content's tone and style with 10+ options available, users also get access to over 50 varieties of copy that can be used as placeholders until they are ready to add their own words.
There are also other features that marketers, bloggers, and content creators will find helpful.
For example, the AI image generator automatically creates images based on your content, and the animation maker instantly creates GIFs.
The platform also offers a magic resizer that helps optimize your images for any platform.
Key Features:
Their AI image generator allows users to quickly and easily create images based on optimized content for any platform.
The background remover tool helps users remove backgrounds from images in one click.
The magic resizer automatically resizes images according to user specifications.
The animation maker allows users to create GIFs quickly and with ease.
The content rewriter helps improve existing captions or generate new ones in seconds.
Pricing:

Simplified offers these pricing plans:
Free Forever: Free
Small Team: $21/month
Business: $35/month
Growth: $85/month.
Other GPT3 tools not mentioned in the article include Algolia, Copy.ai, and Headlime.
What Are GPT3 Tools?
GPT3 tools are Artificial Intelligence (AI) powered platforms that enable users to create content more quickly and accurately than traditional methods.
With the generative pre-trained transformer 3 model, the latest version of a powerful AI model developed by OpenAI, the platform can understand natural language and generate content based on context.
These features make it a powerful tool for content creation.
GPT3 tools allow users to generate high-quality content such as blog posts, articles, and books.
These tools can also generate captions and optimize images for various platforms.
Key Features Of GPT3 Tools
AI technology has come a long way in the past few years with OpenAI's GPT-3.
As such, here are the top features when looking at GPT3 tools.
Natural Language Processing (NLP) capabilities
GPT-3 is a generative pre-trained transformer that uses natural language processing to handle language.
If you're looking for natural-sounding conversations, finding a tool that can take various inputs and understand the context under which users gave them is critical.
Advanced Dialogue Features
GPT3 tools have revolutionized our ability to create artificial intelligence technology effectively.
Whether you need to create a blog post or an entire book, GPT3 tools with advanced dialogue features are game changers for teams that want to create high-quality content quickly and efficiently.
Such tools can assist writers struggling with writer's block, help marketers create campaigns, and support content creators in generating captions that capture the essence of their posts.
Text-To-Speech Capabilities
With the emergence of GPT3 AI writing tools, AI voice generators with text-to-speech capabilities have become more powerful and user-friendly.
Using a text generator that can quickly convert written content into natural-sounding audio clips has enabled users to create the needed audio files easily.
Automated Content Creation
GPT3 tools make it easy for users to generate content quickly.
With AI-driven writing assistants, creating content has become a much simpler process.
Users can easily plug in their content and generate automated output within minutes.
Generate Text From Images Or Videos
The advent of advanced ai tools also led to the development of GPT-3 tools which allow users to generate text from images or videos.
Whether getting a transcript from a video or getting a text description of the style of an image, GPT-3 tools are changing how we process visuals.
These tools can quickly capture and process large amounts of data from images or videos as needed.
With GPT3 tools changing the workflow of creating text descriptions, generating comprehensive outlines for content writers and marketers is becoming much more accessible.
Insightful Analytics & Data Visualization Capabilities
GPT3 tools provide the perfect solution for content generation based on analytics and data visualization insights.
Since the language model can analyze large numbers of unstructured data points with high accuracy, users can quickly produce meaningful content that resonates with their target audience.
For example, if you want a semantic search feature that highlights crucial phrases and points, GPT3 tools can do this.
Then, you'll be able to write blog posts that resonate with your readers quickly and effectively.
Content Optimization Tools
Content writers looking to up their content optimization game can benefit from GPT3 tools as well.
Whether you're creating better marketing copy to increase click-through rates or doing content updates on your blog posts for SEO purposes, GPT3 tools can help optimize your content in several ways.
Top Users of GPT3 Tools
Here are some of the top users that should consider using GPT3 tools.
Customer Support Teams
Customer support teams can take advantage of a GPT3-powered chatbot to provide personalized customer service quickly and effectively.
For example, a customer support team can use a GPT3-powered chatbot to respond to frequently asked questions with more natural conversations and better accuracy.
Content Writers
Content writers use AI content to generate high-quality written pieces in a fraction of the time it used to take.
These AI tools also enable content writers to create more engaging and accurate pieces with fewer errors.
Whether you're a freelance writer or working for an agency, these powerful tools will drastically help you improve your productivity.
Marketing Professionals
With fine-tuning abilities that allow users to customize their content for different target audiences, GPT3 tools are an invaluable asset for any marketing professional.
Marketing agencies, brands, and influencers can use these automated content creation tools to produce tailored and personalized content that engages their audience.
Using ChatGPT, marketing professionals can have full-blown conversations with an AI and get quick content output.
Artists
GPT3 tools provide viable ways for artists to digitally bring their creative visions to life.
With the advent of GPT3 tools, artists can now create artwork faster and more effectively by automating tedious tasks associated with creating works of art.
Fine-Tuning GPT3 Outputs
The above are just a few examples of users that can benefit from GPT3 with the out-of-the-box training data GPT3 tools have.
However, fine-tuning abilities allow users to tailor these models further to their needs.
The technology will become even more potent with interest from huge companies (such as Microsoft) in developing more advanced applications with GPT3.
Developers can create tailor-made GPT3-powered applications and services to suit the needs of various businesses.
GPT3 Tools – FAQ
What Is The Importance Of A Pattern Recognition System In Artificial Intelligence?
Pattern recognition systems are an essential component of artificial intelligence.
Such systems allow machines to identify patterns in data and make decisions based on their observations.
Pattern recognition systems can recognize images, sounds, text, or even more complex patterns such as behavior or emotions.
Are GPT3 Tools A Writing Assistant Or Can They Be Considered A Complete Partnership Solution?
GPT3 Tools are a writing assistant but cannot be considered a complete solution.
A GPT3 writing tool can assist with tasks such as generating ideas, drafting content and providing feedback on grammar.
Still, they cannot provide insight into complex topics or make in-depth judgments about quality.
For these tasks, one still needs manual editing.
Wrap Up.
GPT3 Tools offer an automated way to produce high-quality content quickly.
Knowing which tools best serve your needs is essential to get the most out of GPT3 and any future technology.
With more companies developing advanced applications with GPT3, the potential of this technology will continue to grow.
As such, those who have already taken advantage of GPT3 Tools can be sure that they will stay ahead of the curve and benefit from the vast opportunities presented by this innovation.
Further reading on AdamEnfroy.com: If you're interested in learning more about this new technology, here's a comparison of GPT-3 vs. GPT-4, the next iteration of this platform.
With this knowledge, you can use AI copywriting software, art generators, text generators, and everything else GPT3 offers to its fullest potential.
Editorial Process:
Our reviews are made by a team of experts before being written and come from real-world experience. Read our editorial process here.
Some of the links in this article may be affiliate links, which can provide compensation to us at no cost to you if you decide to purchase a paid plan. These are products we've personally used and stand behind. This site is not intended to provide financial advice. You can read our affiliate disclosure in our privacy policy.