Is An AI Voice Generator Good Enough For Your Business?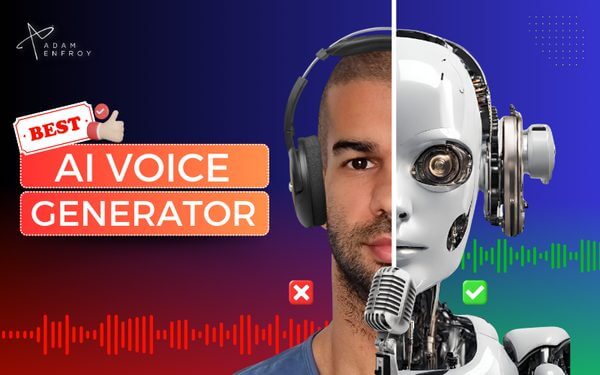 When I first looked to use AI voices in my business (this was in 2022), I remember thinking they were useless.
There was no way this "technology" could ever improve my bottom line. It was clear there wasn't a human behind the voice. No matter what settings I tried to use, there was
no focus on tonality
no pausing for breathing
no emphasis on specific words.
Fast forward a few months.
Here's a video I sent to my friend at the beginning of 2023. We were planning a road trip from Paris to Amsterdam and were at the stage of discussing what to do when we got to Paris.
Just for fun, I typed in a few sentences into an AI voice generator (one I'll mention below), chose my voice clone (more on this later) and got this output:
For clarity's sake, I also chose some images and videos related to the topic to add to the voice.
The result? Much better than the robotic example I had initially heard a few months before.
This brings me to the present. Are AI voice generators usable (or more than usable) in business? Can they help you increase your bottom line? Can they really create videos, ebook voiceovers, podcasts, and more?
Or are they still a cheap party trick that sounds nothing like a real person?
If you're curious about whether you can use realistic AI voices in your business, keep reading to learn the answer.
What is an AI Voice Generator?
An AI voice generator is a tool that changes text into spoken words. It works by using patterns and data.
The software analyzes various voice recordings and learns to mimic how "humans speak". It pays attention to the tiny details, such as voice pitch and speaking rhythm.
Doing so helps the software create something that sounds pretty convincing—or at least, that's the goal. This provides the user with plenty of benefits.
For one, it's fast. You type out what you need to say, and in no time, you have a voiceover ready to go.
It's cost-effective, too. Hiring a professional voice actor can be expensive, especially for small projects. With an AI voice generator, you get a budget-friendly option available whenever you need it.
Is an AI voice generator for you?
If you're a content creator, it might be. Need a voiceover for a video or an audiobook? This tool's got you covered. Entrepreneurs and businesses can benefit as well, using it for promotional videos or even to answer customer queries.
And for educators, this technology can help them create accessible and engaging learning materials.
The Best AI Voice Generators (And Why My Opinion Matters)
Before I get into the list of best AI voice generator tools, let's address two things:
Why you should pay attention to the tools I'm about to recommend
How I define "best" in this list
Firstly: Why should you listen to me?
It all comes down to my time testing and working with AI tools. I've been using these tools for multiple years. I've gone through the good, the bad, and the worse (and believe me, lots that fell in the last category).
I've also tried the free solutions and the paid ones—and the paid ones aren't ALWAYS what I suggest you go for.
Secondly: How do I define "best" in this list of AI voice tools?
When it comes to AI voice generators, there are three key factors that I consider:
Voice Quality: You want generated content that sounds natural, clear, and easy to understand. Anything less and people will be turned off.
Learning Curve: Is it easy to use the tool or do you have to spend hours trying to figure it out? If it requires a degree in audio engineering, you probably won't use it for long.
Scalability (and Cost): If you want to produce more than one-off audio clips, you want a tool that doesn't take hours to generate outputs. Moreover, with scale comes cost. It's key to consider both factors before deciding.
Let's now get into the list of tools. You can also jump directly to any of the tools by clicking on the following links:
Murf.ai
Elevenlabs
Wellsaidlabs
Descript
1. Elevenlabs
Want to preview what your text might sound like in the next few seconds (without registering an account)?
Elevenlabs has this feature. Directly from the homepage, you can paste in your text, choose an AI voice, and listen to a preview.

I haven't seen this implemented in other AI voice generators.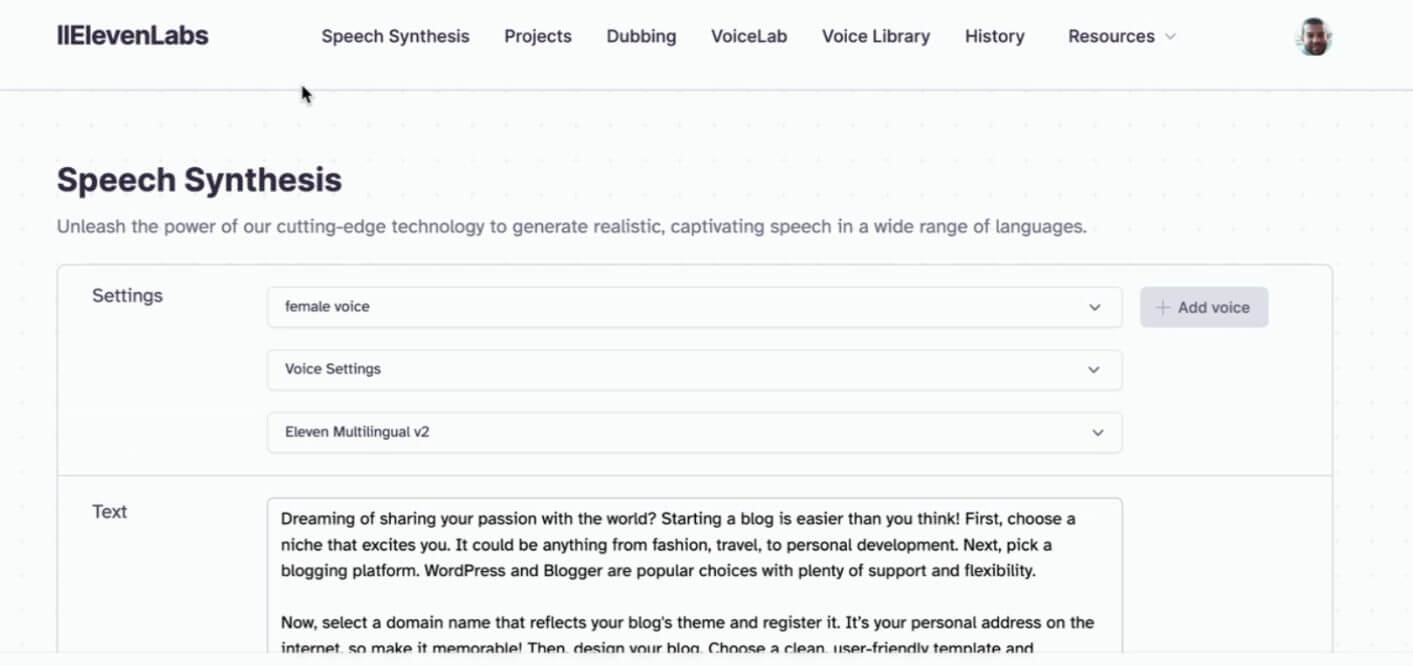 Once you log in, you get to the speech synthesis screen. Here, you have adjustable voice settings based on:
Stability
Clarity
Style
Exaggeration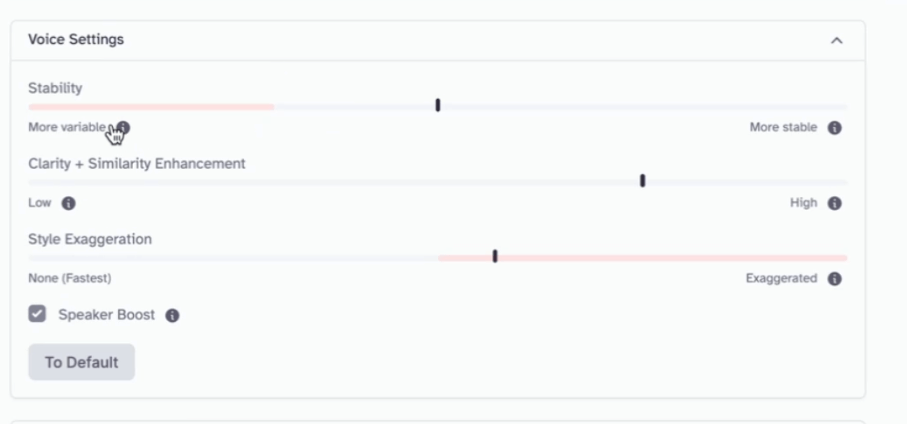 You also have a wide selection of voice characters to choose from.
Once you've chosen your character, input your text and you'll soon get a playback of the generated speech.
I think Elevenlabs have some of the most realistic-sounding AI generated voices from all the platforms I've tested.
Here are the examples I generated.
Example 1 (choosing exaggerated style):
Example 2 (choosing "Adam" as a character):
Example 3 (choosing "female"):
Example 4 (choosing "female" and "faster"):
Moving away from speech synthesis, Elevenlabs also has a voice dubbing feature. You take a video (from YouTube, TikTok, X, Vimeo, etc), and choose your source and target language.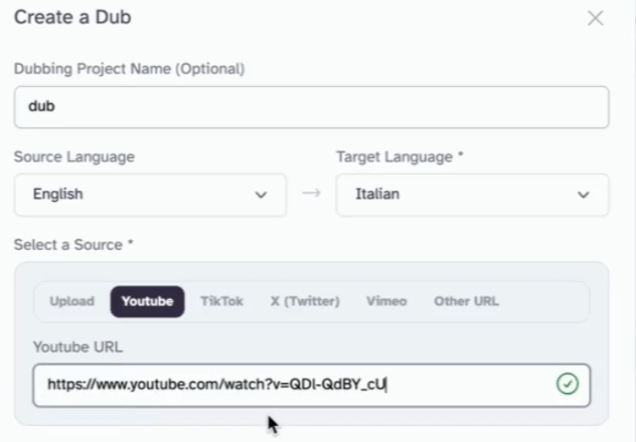 By the end, you'll get a video in a new language.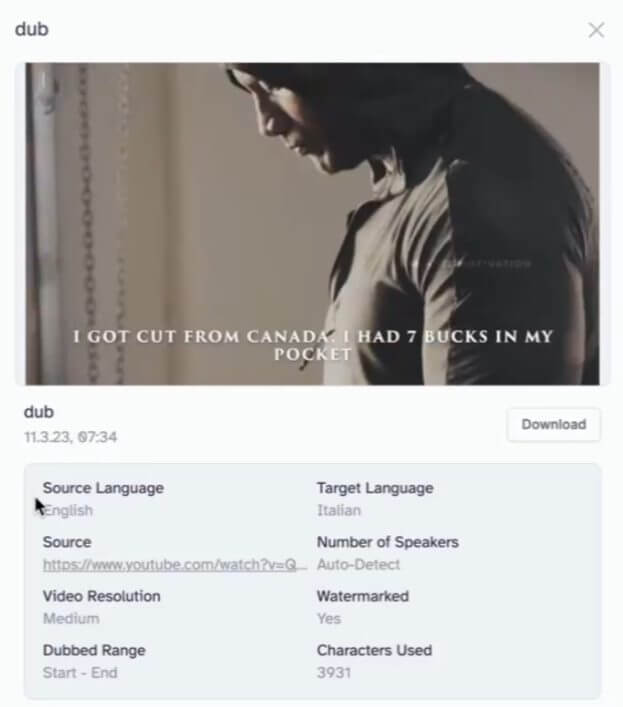 Here's a video of The Rock dishing some motivation—in Italian!
Pretty impressive. The only issue is that there are some hiccups with the speed of the output.
Here's the original video on YouTube:
You can also build your own voice for future use in Elevenlabs. Choose your settings and the voice will be generated.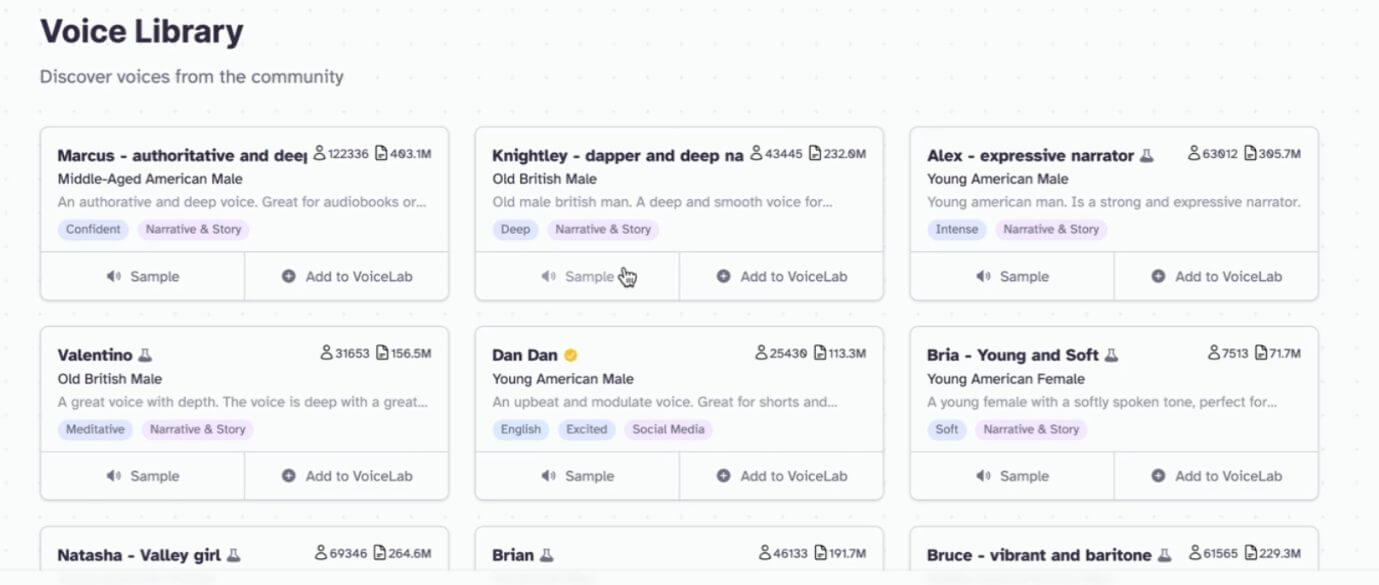 You can also listen to samples of voices others created and use them in your own projects.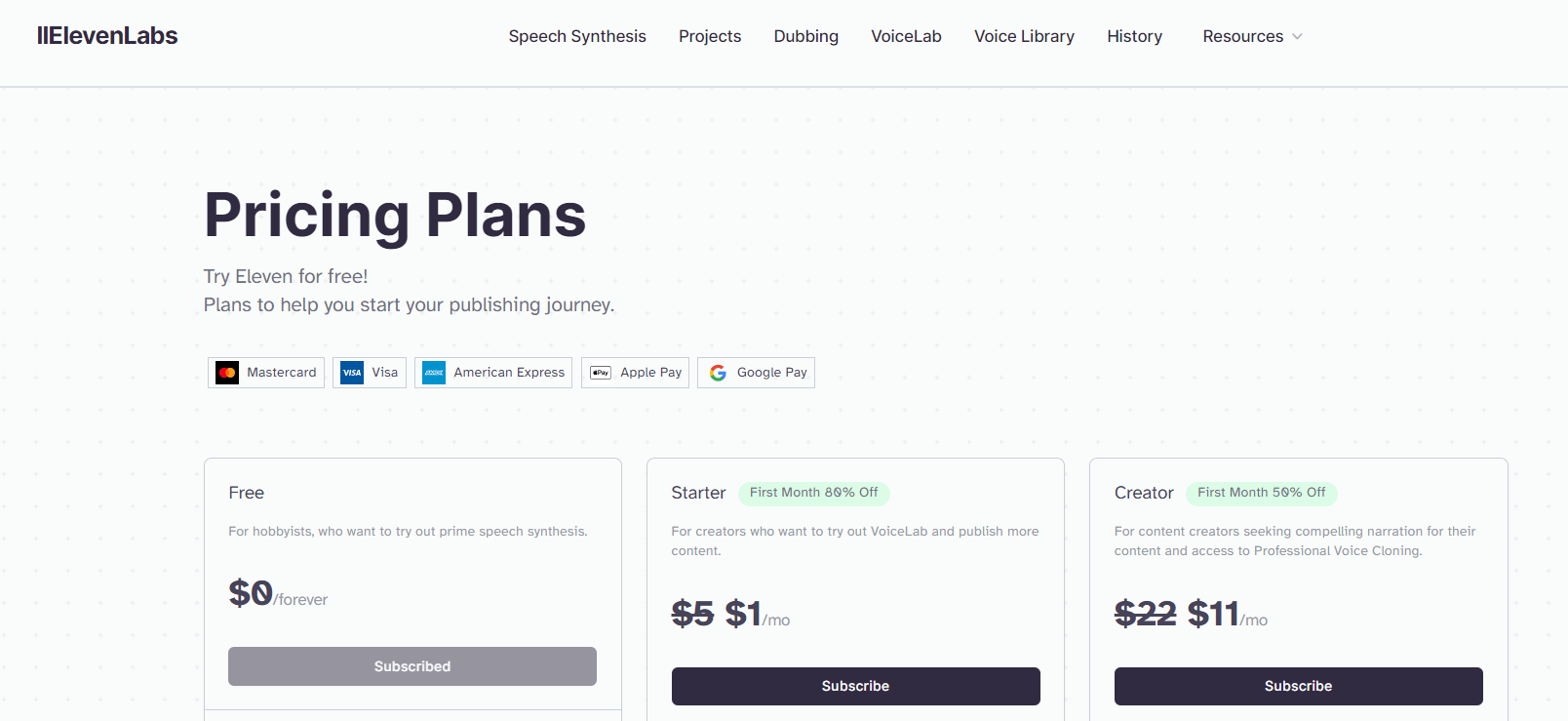 You can try Elevenlabs for free. There's a limit to the amount of characters you can generate but it's good to get an idea of possible outputs. You can also get started with a paid trial for $1 per month or opt for the full package at $11 per month.
What can you create with Elevenlabs?
How about a whole audiobook? Here's Alice in Wonderland (in its entirety) generated through ElevenLabs:
Here's an example of The Great Gatsby:
What do people think of Elevenlabs?
On Trustpilot, users generally speak about the platform's impressive and realistic voice outputs. The platform's user interface is praised as easy to use and user-friendly.
Voice Cloning and Emotional Range
Users are pleased with the voice cloning features. However, they would like more control over the emotional nuances in the dialogue to enhance realism.
Video Dubbing and Translation Features
The new video dubbing feature (mentioned above) has been well-received for its audio quality. Users suggest that incorporating lip-sync would greatly improve the functionality. Additionally, users like the translation feature but would prefer if the translations were editable.
Pricing
On the negative side, a common thread among users is the concern over the cost. The sentiment is that while the service's quality justifies the price, it is still tough for those with a small budget.
Character Count Consumption
There is a notable concern about the rate at which character count gets used up. When experimenting with different tones or finding the perfect voice delivery, these credits get used up quickly.
2. Murf
Murf promises to produce "real people's voices" using AI in minutes. Here's the process I followed to test this out.

First, I created a new project—there are various types you can go for.
For this article, I went with an audiobook.
No matter what you choose, you can then explore the different types of voices available. Based on your needs, you have options based on: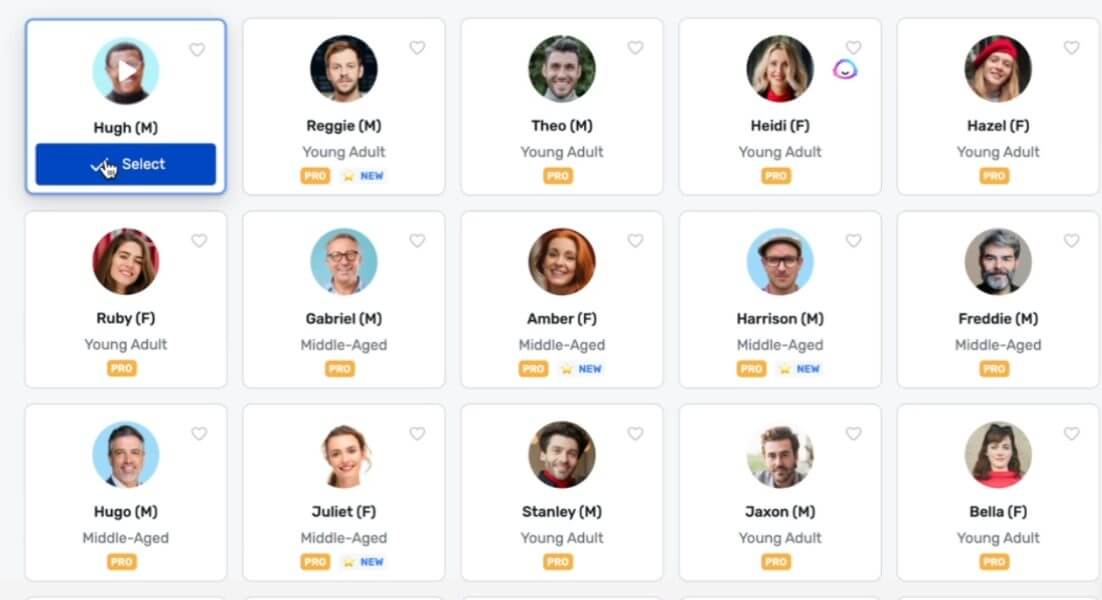 Once you paste in your project text (or upload a recording), you can choose the voice pitch for the project. This is a useful feature if you want to fine-tune your results (more on this later).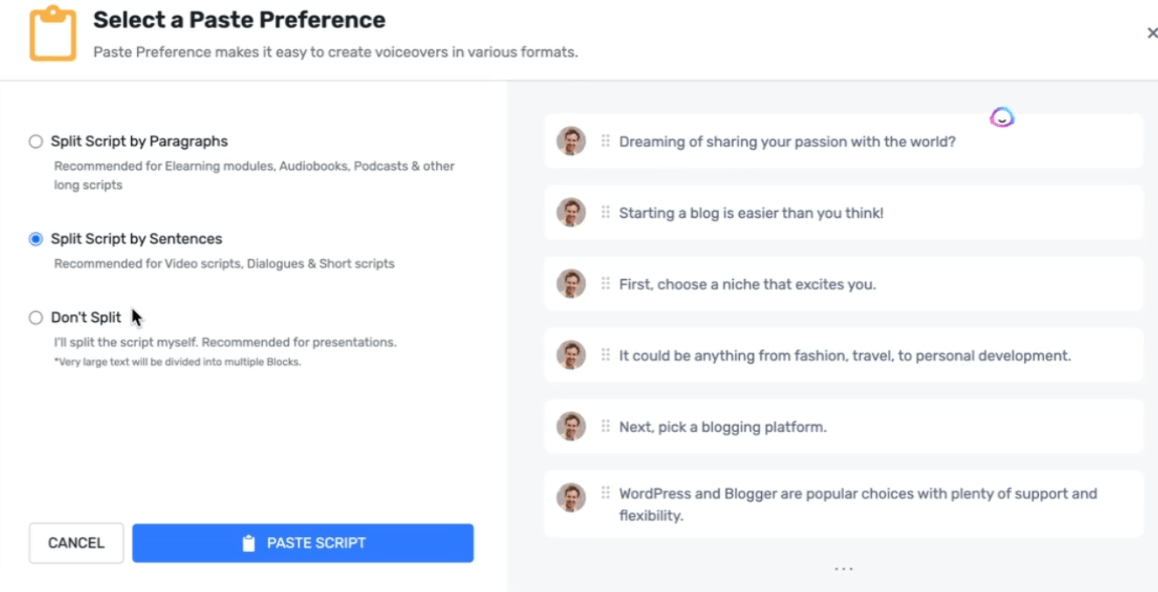 Next, hit the play button and Murf will generate the AI content. Once that's done, you can change the voice tonality.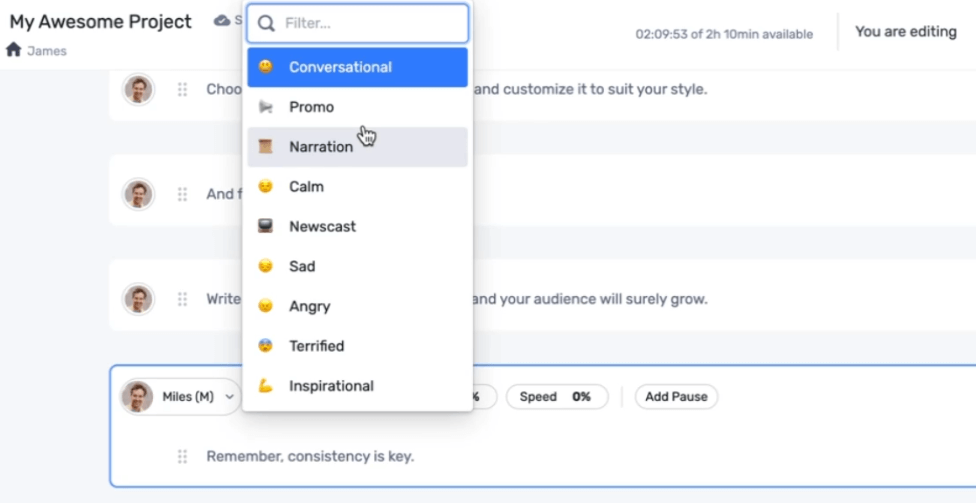 Want a conversational tone? A calm one? A newscast type of tone? Just choose the best option.
Here are two examples generated using different AI voices:
Example 1:
Example 2:
The only thing I don't like in these examples is the intonation when there's a question. Murf doesn't seem to detect this automatically. As a result, the AI speaker doesn't use an upwards intonation.
Apart from that, the output is fast and pretty on point right out of the box.
If you're adding visual elements, you can add additional media, images, and videos. You can then adjust the resolution as well as enable subtitles.
With Murf, you also have a voice changer option. Simply upload an audio file and the system will change the uploaded voice into an AI generated voice sound.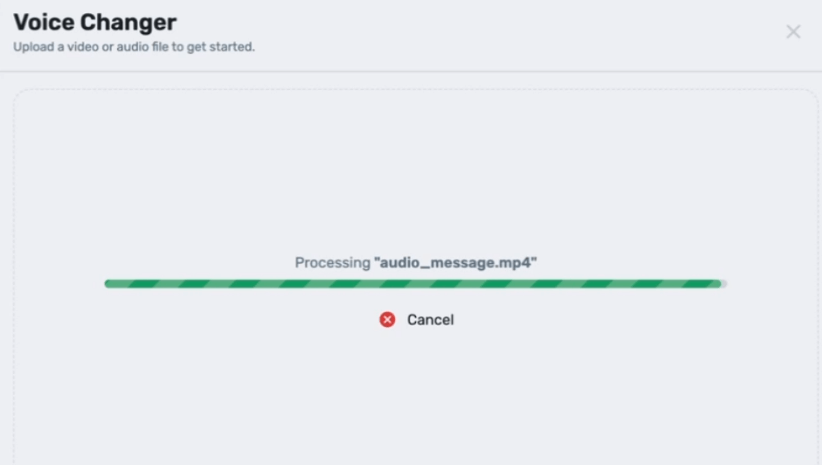 The use case for this? If you already have a sound file available, this could be useful for you.
This feature analyzes the audio you upload, transcribes it, and then converts it into the voice of choice.

Here's an example of me reading the above script. I used a monotone voice to see what the different AI voice tones would allow me to create:
Here's the generated output:
I didn't make any adjustments to the output. I think with some tone changes, it could become useful.

As for pricing, Murf offers a free trial. Know that you can't download the produced output with this free trial. For that, you'll need to go for any of the paid subscriptions. These start from $19/user/month and go up to $75 per user per month.
What can you create with Murf?
Murf promises users they can create a wide range of outputs.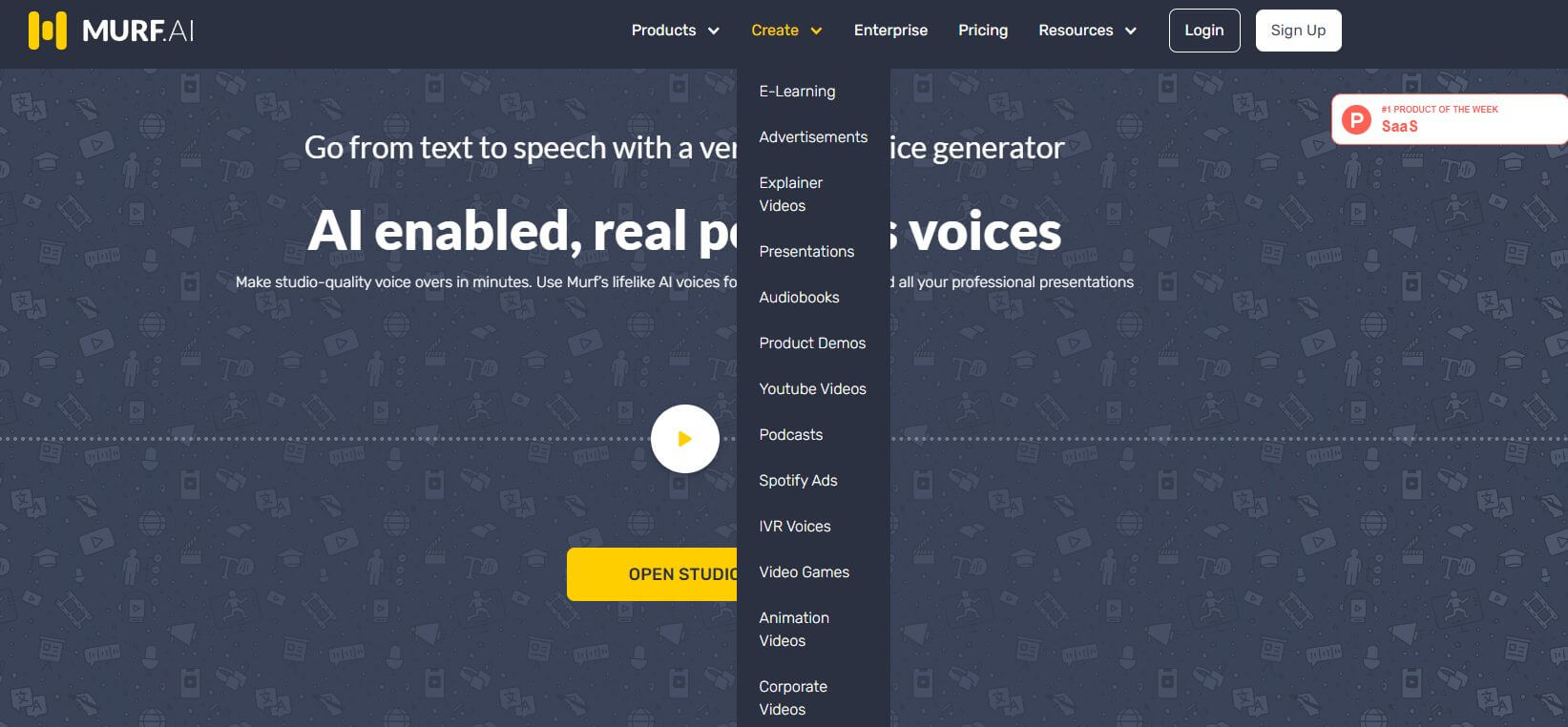 From advertisements to explainer videos, presentations, voice overs, audiobooks, product demos, podcasts, and animation videos, Murf lists a range of options.
But can it deliver? Here's a food delivery (pun intended) advertisement generated using Murf:
Here's a deep-style voice used in a car advertisement:
And here's an inspirational sports ad:
Note: There isn't a preset for these use cases. Instead, it's about finding the right AI voice, adding your script, changing the tonality, and exporting when ready.
What do people think of Murf?
Here's a summary of user reviews on G2.com.
Streamlining the Creative Process
Users report that Murf saves them significant time, especially in creating training content. One user detailed their satisfaction, noting that Murf cuts out the need for multiple recording takes and ensures consistent video quality.
This user also highlighted Murf's Canva integration as a key feature streamlining the design and audio workflow.
Ease of Use and Versatility
Many have praised Murf for its user-friendly interface, claiming it's easy to use even for the less tech-savvy.
The broad selection of voices is a highlighted feature. This allows users to find the right voice for their specific projects.

Customization and Support
Users are happy they can customize various features, like voice pitch and tone. Some users, however, wish for deeper customization to finely tune the AI voices. Moreover, customer support gets top marks for its responsiveness and helpfulness. There's even a mention of offering personal meetings to get outputs dialed in.
Natural-Sounding Voices
Murf's voices impress with their realism—so much so that one user said their friends couldn't distinguish between the AI audio and an actual person. For example, the ability to whisper and show anger adds to this realism. Unfortunately, not all voices have this ability, leaving some users wanting this feature.
Accessibility and Rights Management
Users often mention the prebuilt stock video and music library within Murf. They find this feature very valuable when creating their projects.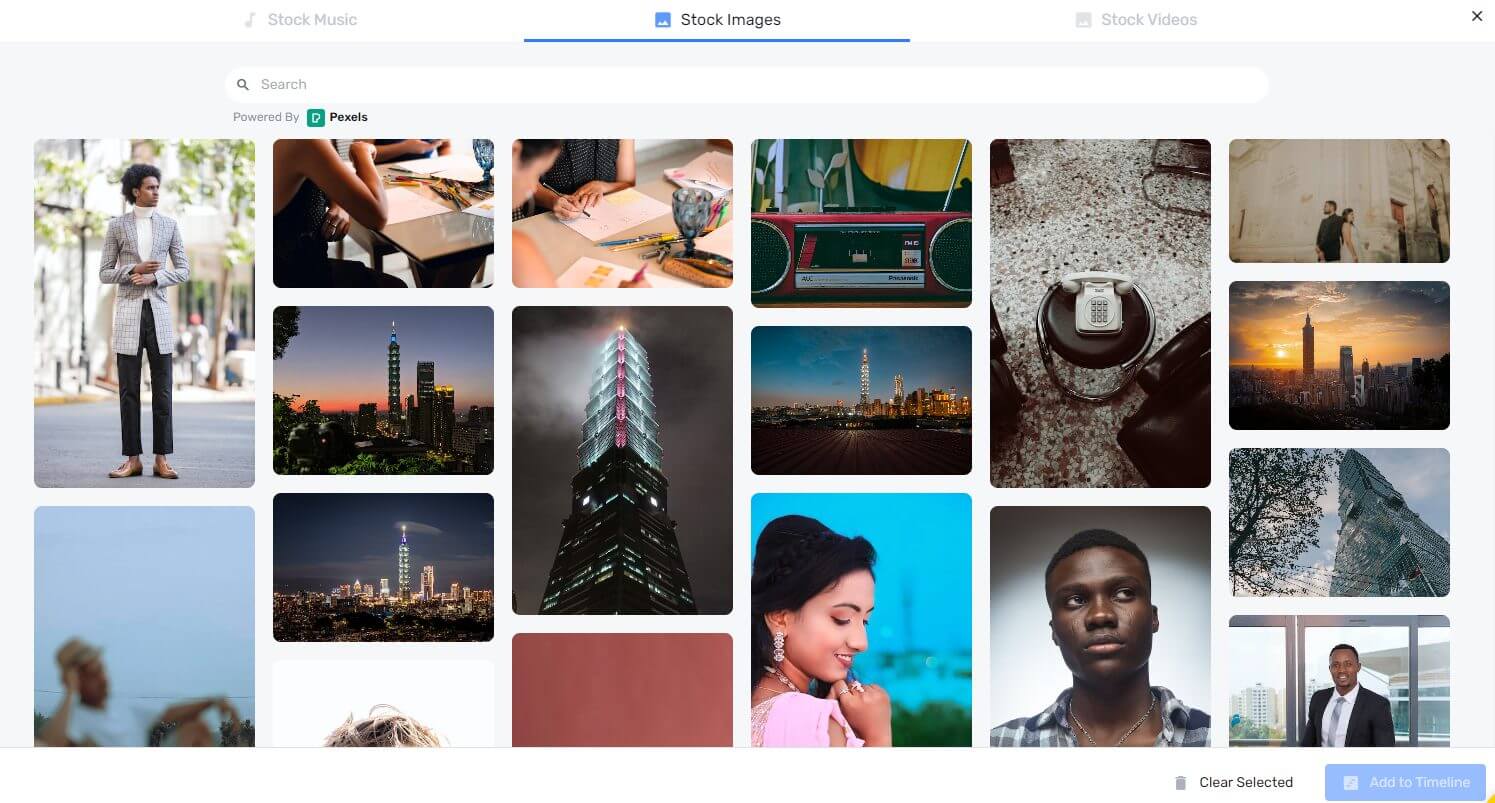 Room for Improvement
Even with the positive remarks, users identify areas needing enhancement. The wish list includes more varied narration styles, additional voice choices, and language options. Farsi and Greek are mentioned a few times.
3. Wellsaidlabs
Wellsaidlabs is another AI voice generation platform to consider.
The process of generating voices is super straightforward. You create an account, choose your voice avatar, input your text, and the platform gets to work.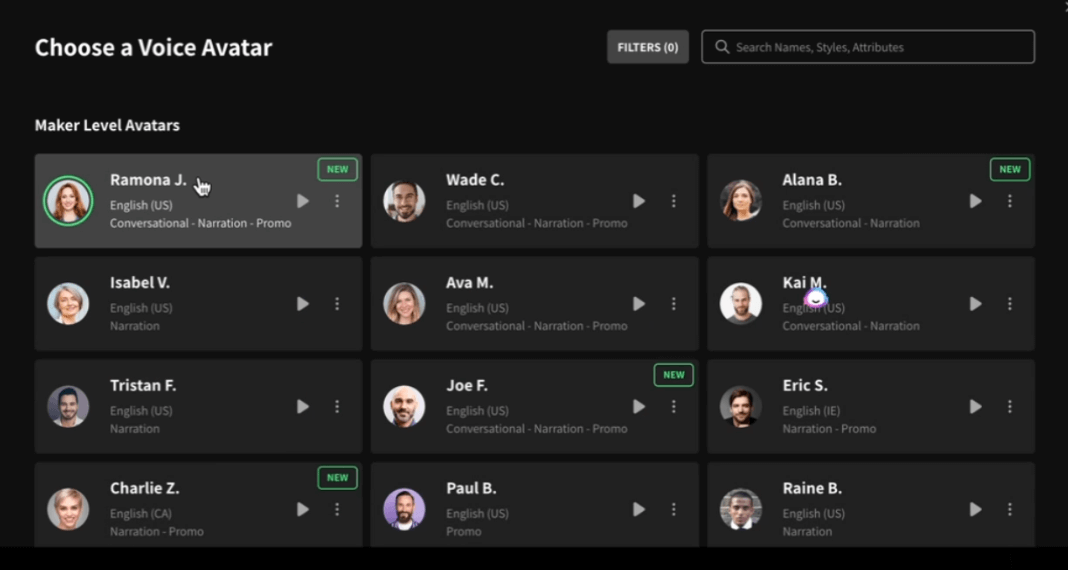 One feature I like about this platform is that you have three options to generate AI output:
Single take
Paragraph by paragraph
Sentence by sentence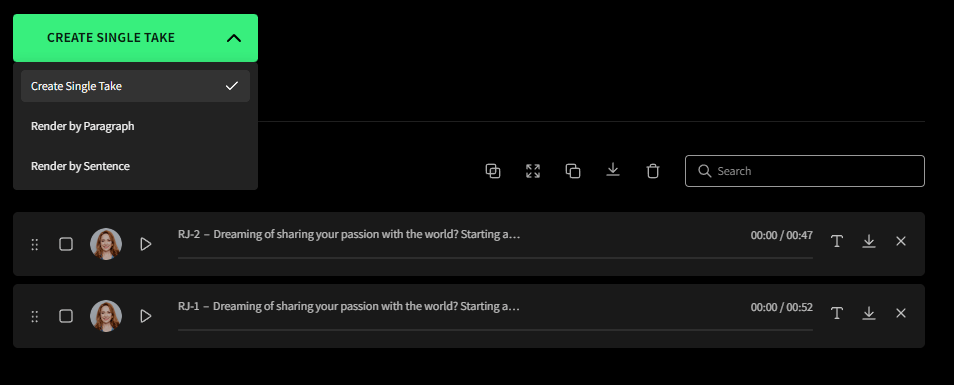 This is great if you want to download portions of the generated output easily. But what about the results?
Here's the first example I generated:
Most voices come with different tonalities. No need to manually play around with the settings. In fact, most characters have a "narration" style and a "conversational" style.
Here is an example using the two styles.
Example 1: Narration
Immediately obvious: there's an issue with rising intonation when there's a question in the script.
Example 2: Conversational
In this one: no problem with the rising intonation.
You can also make use of the pronunciation replacement feature. If you want the system to say any words you specify differently, use this feature and you'll be set.
Here's an example where "Kevin" becomes "John":

Here's the script in the studio: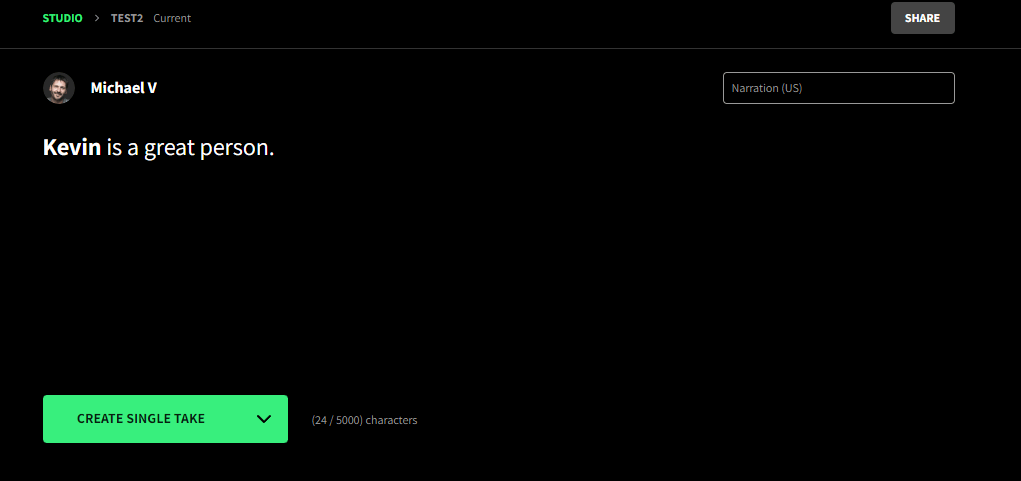 Here's the output (with the automatic replacement):
Users on Wellsaidlabs can also request API access. If you're creating AI voice content at scale, this can be a game-changer.

In terms of voice avatars, there's a big selection. However, not all voices are available on the lower-tiered paid plan.
Moreover, there doesn't seem to be a way to change your voice character once you've generated a specific output. You'll have to create a new project to choose a new character.

There's a free trial to test out the platform. You're quite limited in this trial and can't download the outputs you produce. The paid memberships are on the pricier side, starting from $49/user/month when going with a monthly subscription.
What can you create with WellSaidLabs?
Here are 12 video samples you can listen to. These were all generated using WellSaidLabs voices:
Here's information on how those in the health industry can use this platform to improve patient experience:
The team at WellSaidLabs also goes into detail about the workings of their software. Here's a video showing how they build their avatars:
What do people think of Wellsaidlabs?
I found lots of user reviews on G2.com. Below is a summary of their thoughts.
Transformative Impact on Production
Many users mention how Wellsaidlabs has changed their workflow in film, video, and eLearning projects. They praise the platform for its user-friendly interface and seamless integration.
Wellsaidlabs' customer support receives special mention for its responsiveness and helpfulness. This seems to add significant value to the user experience.
Voice and Audio Quality
The AI-generated voiceovers are consistently praised for their realistic quality, enhancing the professionalism of projects.
The variety of voices and accents available meets a wide range of project needs, contributing to the platform's versatility.
Time-Saving and Efficient
The ability to quickly convert scripts into realistic audio is a significant time-saver. The phonetic spelling feature is highlighted as a useful tool for ensuring accurate pronunciation.
Room for Improvement
A common challenge mentioned is the difficulty in achieving perfect pronunciation for certain words and company names, necessitating multiple attempts and adjustments. Moreover, while the selection is diverse, some users feel there could be more variation in vocal tones, particularly to represent different ethnic groups more authentically.
Subscription Model and Accessibility
The cost of the entry-level subscription is noted as somewhat prohibitive by users.
Users of the free version note that while the service is excellent, the inability to download voice tracks may be restrictive.
Operational Aspects
Finally, as users work on more projects, they seem to find it challenging to manage and retrieve past projects.
4. Descript
Descript is the software I mentioned in the introduction.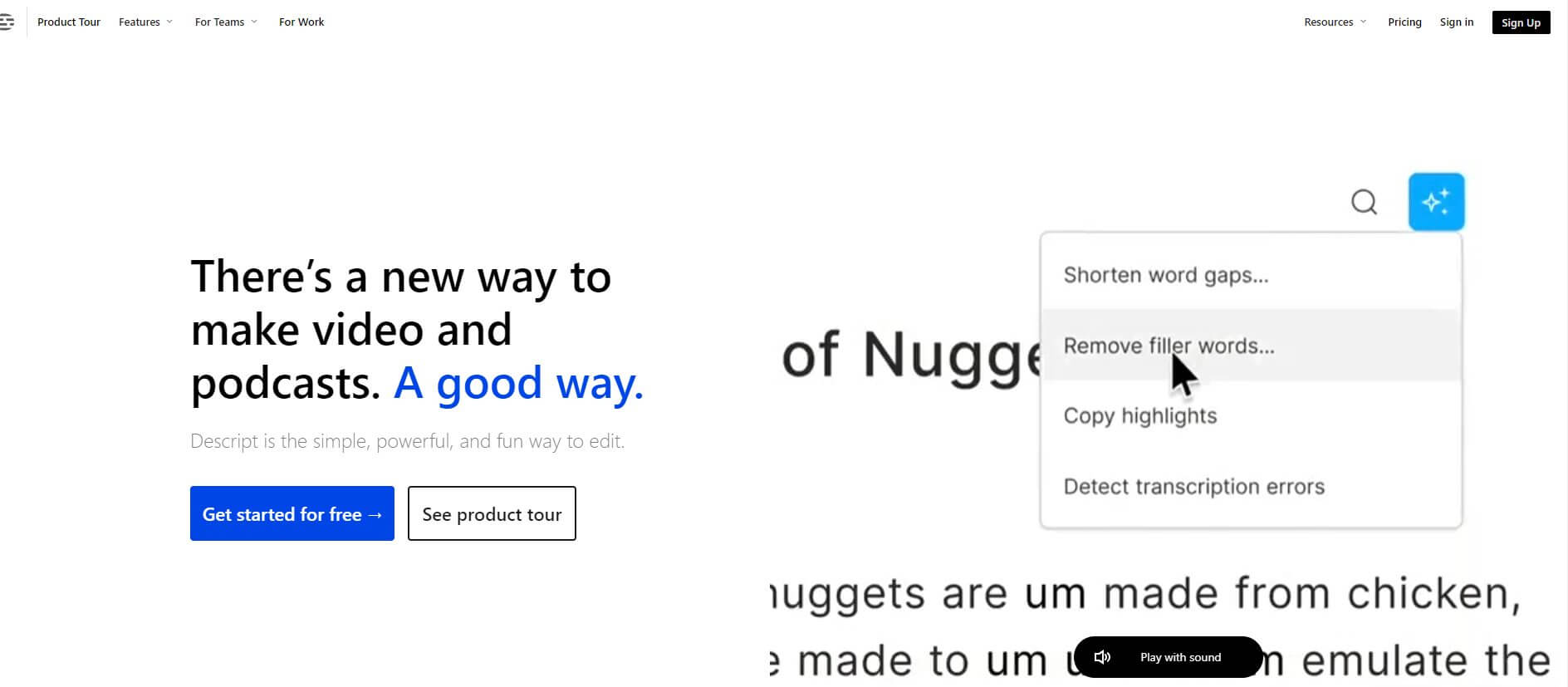 It's also the software that I believe best combines audio and video into one package.
Let's first focus on AI audio creation first. After you sign up for Descript, you can either download the app (Mac/Windows) or use the web version. Both generally work fine.
You then create a project and input your text.
Next, you choose an AI voice and Descript will get to work.
Within a few seconds, you have an AI voice generated and ready to use. There are several AI voices to choose from.
In terms of quantity, there are fewer AI voices available than on other AI platforms.
At any point during audio generation, you can make changes to your script. When you do, Descript will automatically regenerate the portions you change.
There's no "generate" button. It's all done in real time (I love this feature!)
Here's an example generated within Descript:
Out of the box, this needs some work. I think it's too fast, could do with improvements to the tone and there's no regard given to the question at the beginning. However, you can manually play with the settings until you get the right output.
Descript is also a video editor. You can create a video as follows:
Start by pasting your script inside the platform
Create an AI voice or upload a sound file
Descript aligns the two
Use a keyboard shortcut to create "scenes" in your video
Choose the images, videos, shapes, text, etc you want to include. You can use Descript's built-in library or import your own.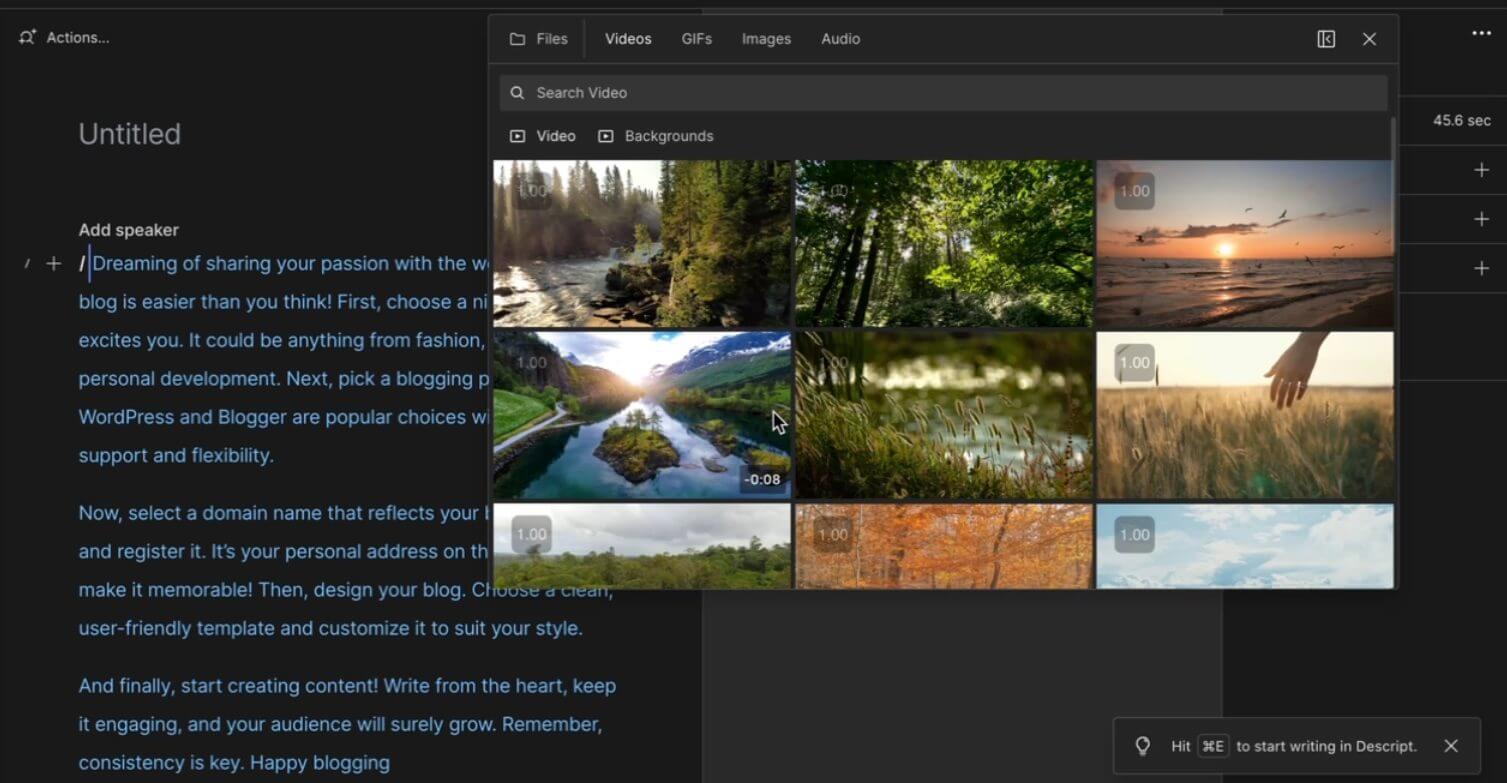 Tweak everything to your liking
Export your video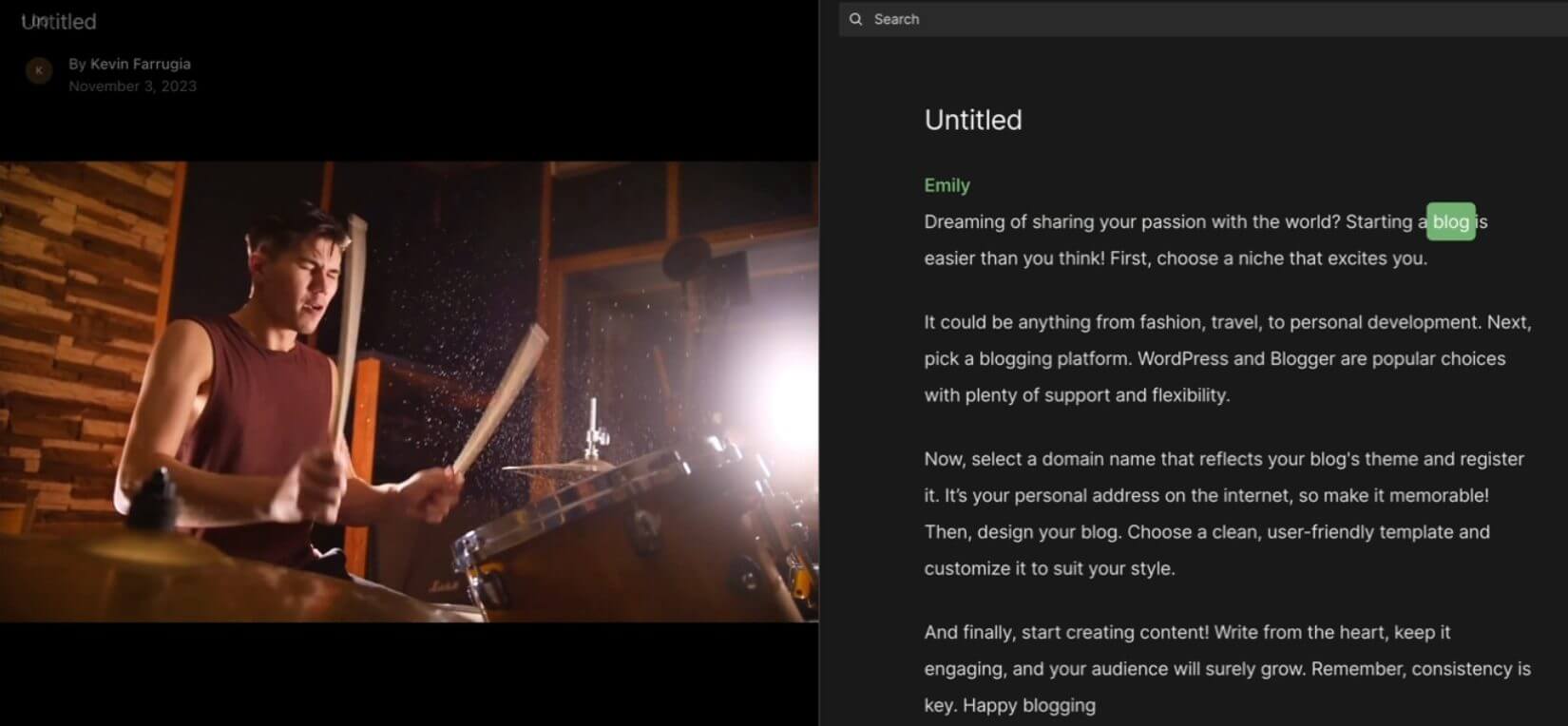 If you're looking to create videos (without learning complex platforms) while combining the power of AI audio and video, Descript is a great tool to consider.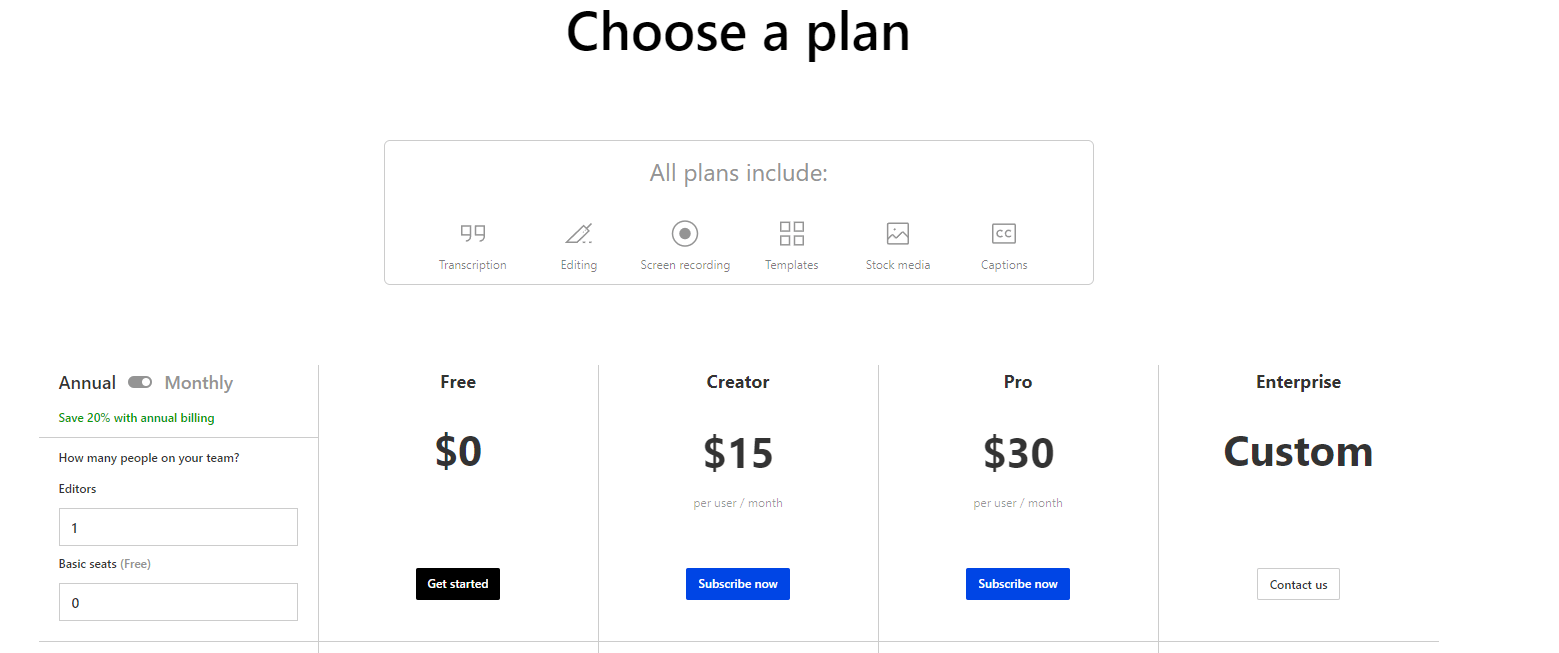 There's a free version you can use to try out the platform. This allows you to export the generated output to the web (instead of exploring locally). Monthly paid memberships start from $15/user/month.
What can you create with Descript?
I think a great use case for Descript is podcasts. With its ability to quickly change words or phrases within your script, you'll never have to worry about re-recording anything you don't like.
Here's information straight from Descript on how to make video podcasts:
The platform is also ideal for those wanting to focus more on the video side of things—without wanting to go into video editing software that has a long(er) learning curve.
You can add animations within the software:
The tool also comes with several handy features. For example, you can make your audio sound better than it actually is:
You can even use a relatively new feature to make it seem like you're looking at the camera while recording (when you're not!).
Pretty powerful stuff.
What do people think of Descript?
Overall, Descript is a big hit because it uses AI to help people do a lot more with their audio and videos. Here's what the top Descript reviews are saying.
The user experience
This is one of the most mentioned points. People are quite excited about how Descript makes editing a breeze. You talk, it writes down what you say, and then you can edit your audio just like a Word doc.
Consistent Updates
Descript gets a lot of updates. The team releases new stuff on a weekly or monthly basis. This is both a blessing and a curse. For some, they love there's something new to look forward to every time you use the software. For others, it's a bit much (and they're somewhat annoyed about it).
First Impressions on Learning
New users seem to love the way Descript teaches them how to use it. It's got a cool interactive tutorial that makes learning fun and not so much like homework.
Simplifying Subtitles
People mentioned that creating subtitles can be a drag, but Descript's got that covered. I have personally used this feature and it's easy to create subtitles and format them as you wish.
Some Negatives to Consider
If you're just starting out, there's a bit of a learning curve to get the hang of all its tricks. Also, some folks using Windows say it can be a bit finicky. Personally, I've used the app on all platforms (Windows, Mac, and online) and never ran into any issues.
Making AI Voice Generators Sound Natural
The tools mentioned above are pretty straightforward to use. You generally choose your AI speaker, input text, hit a button, and wait for the results.
However, sometimes you're not really happy with the final output and want to make it sound more natural.
The best AI voice generator tools offer various features to allow this customization.
Most often these features include the ability to change the output's:
Pitch
Tone
Speed
Emphasis
Playing around with these features generally helps you create the right AI output for your needs.
At the moment, many voice AI tools struggle when it comes to generating emotion. Getting the AI to convey someone feeling overwhelmed, angry, sad, tired, etc., can be a struggle. You can test and tweak to see how you can improve this. However, you might be disappointed.
That said, this industry is making huge leaps forward. It might not be long before generating the right emotions becomes a part of the AI output.
Using AI Voice Generators to Clone Your Voice
One feature that some AI voice generators have is voice cloning. Maybe you've seen the clips of Elon Musk saying something that causes a few raised eyebrows. Or you've come across Joe Rogan saying something pretty controversial (can you believe this was released in 2019?)
In these cases, chances are that someone used AI to clone the person's voice. Then, the person would have used an AI video generator to match the audio with the video.
While I won't get into AI video generators in this post, I'll mention that you can easily clone your voice using AI tools. Let's consider Descript for this section.
The first thing you would do is upload or record training data. If you have previous recordings of yourself you can upload, that's great. Ensure the recordings have no background noise and that you're speaking clearly.
This will help create an AI voice clone that sounds like…you!
If you don't have this, grab your favorite book and hit the record button. Descript requires you to have at least 10 minutes of voice recordings for them to be able to create an AI clone of your voice.
Once you've recorded the text you want to use as training data, you need to record a statement stating that you:
Are currently speaking
You'd like to create a voice clone
That this clone will sound like you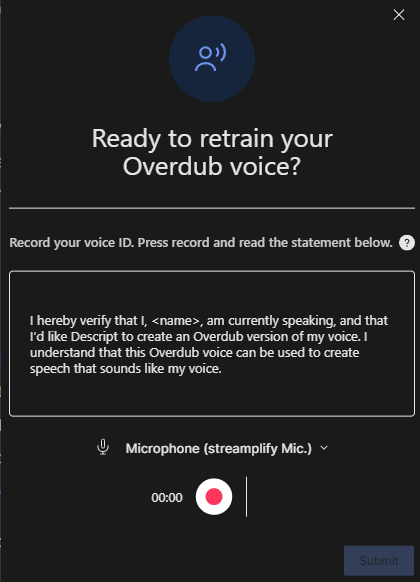 Agree to that, and the AI will start working on your voice clone. This process takes a maximum of 24 hours. You'll then get an email once it's ready to use.
**fast forward 24 hours**
Once your voice clone is ready to use, simply create a new project. Then type in your text, choose your name, and give the software a few seconds. You'll then be able to listen to yourself (in robotic form) speaking. You can also export the audio file to use as you please.
This is great if you're a podcaster, content creator, or anyone who requires the use of your own voice regularly.
Here are two cases that might be of interest to content creators.
Example 1: Mostly human output combined with minimal AI
Imagine you've spent an hour recording a podcast. As you play it back, you realize you haven't gotten your message across well on a few key ideas. No problem!
All you do is highlight the parts you're unhappy with and change the words in the editor to those you want to use. Descript will use your AI voice clone to fill in the gaps. No need to re-record the "wrong phrases."
I once had a situation where I accidentally hit the mute button on my microphone mid-recording. Thinking back, this feature would have saved me a few hours of frustration.
Example 2: Mostly AI output with minimal human output
In this next situation, you've used your AI clone to create a voice output. You're not happy with parts of it where the tone isn't just right. Maybe you want the voice output to convey a certain emotion—something it's currently not doing.
Just highlight the part you want to change, hit the record button, and say your piece. Descript will then stitch everything together.
Conclusion
I believe that using an AI voice generator in your business is now possible. Just understand that it's another tool in your toolbox.
Knowing when and how to use it can make all the difference. So far, you can't just rely on it to do all the talking.
Moreover, being aware of what software is available is critical. As things adapt, knowing your business needs and looking for AI solutions that can help with these is best. In the meantime, why not test the software above to see if they're a good fit for your business?
Further reading on AdamEnfroy.com: Want to see how AI can further help your business? Here are the best AI writing software right now. Moreover, here's the truth about AI SEO tools.
Editorial Process:
Our reviews are made by a team of experts before being written and come from real-world experience. Read our editorial process here.
Some of the links in this article may be affiliate links, which can provide compensation to us at no cost to you if you decide to purchase a paid plan. These are products we've personally used and stand behind. This site is not intended to provide financial advice. You can read our affiliate disclosure in our privacy policy.