7 Best AI Voice Generators in 2023
Choosing the right AI voice over generator is vitally important to your business. From creating realistic character voices for games and movies to generating life-like dialogue for AI applications, the best AI voice over generators can help you meet your goals. In this guide, I ranked and reviewed the 7 best AI voice over generators, so that you can pick the best one for you.
---
We're reader-supported. When you buy through links on our site, we may earn an affiliate commission.
From AI copywriting solutions that help with your marketing messaging to AI sales software that can close deals for you, and AI videos that combine digital avatars and marketing messages, there are various tools that can help businesses today.
But one AI tool that's often overlooked is the voice generator.
Often thought about in the frame of robotic-sounding voices that aren't much more than a plaything, it's good to know that AI voice generators have come a long way.
Some solutions even allow for the complete voice cloning of a human voice, meaning that an AI robot can create audio tracks that sound just like you.
In this article, I review the best AI voice generators today based on features, pricing, level of control, and more.
If you use audio in your business when it comes to content creation, you'll be sure to find a solution that fits your needs.
Let's get right into it.
What Are The Best Ai Voice Generators?
The following are the best AI voice generators to consider.
1. BigSpeak.ai.
Best Overall For AI Voice Generation.
BigSpeak.ai allows you to create voice clips of up to 300 characters by simply going to their website and inputting text.
You can generate up to 1000 characters by creating an account, so the service is excellent for those who need to create longer voice clips.
With realistic-sounding text-to-speech voices and a wide range of customization options, BigSpeak.ai is one of the best free AI voice generators on the market.
From creating a voice chatbot to adding audio to your website or video, one can use BigSpeak.ai's text-to-speech voices for various purposes.
In addition, you can create a voice that suits your brand with consideration for voice and tone.
Key Features:
Voice and tone considerations allow you to create the right voice for your audio needs.
One can also use added pauses in the text to create a more natural sound.
You can also adjust the speech tempo to customize the output further.
Finally, content creators can use SSML markups to add inflection and other natural features to the voice clip.
Pricing:
BigSpeak.ai offers these pricing plans:
Free Plan: $0 / mo
Premium Plan: $49 / mo
There's also a free 14-day trial of the premium membership.
2. ReadSpeaker.
Best For Quick AI Audio Generation.
ReadSpeaker creates lifelike text-to-speech voices for a natural-sounding listening experience.
No matter the industry, ReadSpeaker's AI-generated voices can be used to improve customer satisfaction, enhance text content, and automate business processes.
Allowing you to provide a better end-user experience at a fraction of the cost of hiring artists for voice overs, ReadSpeaker will enable brands to deliver the right message to their target audience.
Key Features:
Extend the reach of your content to a broader audience.
Boost your brand voice and personality.
Enhance business outcomes with ease by speeding up the process of creating content.
Customizable voices allow you to make the voice that best suits your brand.
Pricing:
Subscribe to ReadSpeaker for $4.90 per month.
3. Resemble.ai.
Best For Controlling Intonation.
Resemble.ai takes seconds to create human-like voices.
With various controls over every intonation and inflection, you can create a voice that matches the message being read.
From adding the right emotion to your content to ensuring your brand's message is conveyed correctly, Resemble.ai is the perfect tool for those who want to add a personal touch to their audio using a mix of both human and synthetic voices.
Key Features:
Flexible APIs for developers ensure that you can easily integrate Resemble.ai into your existing applications.
Unity and AI voices allow you to create realistic 3D characters.
Blend human and synthetic voices to create a lifelike voice for your audio needs
Using Alexa with GPT-3 creates an interactive experience for your users.
Pricing: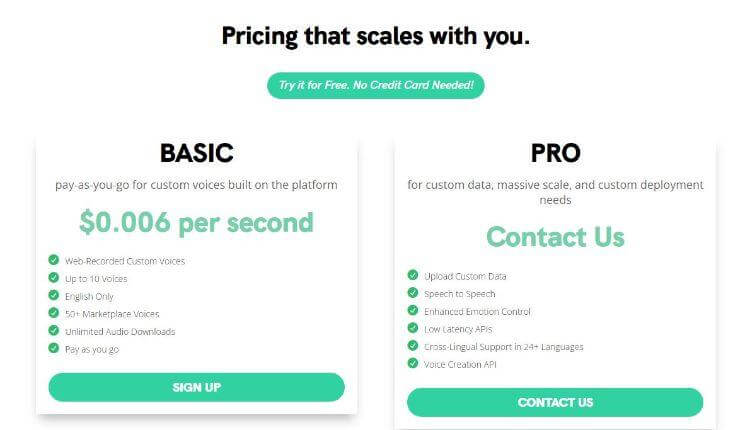 Resemble.ai offers two pricing plans:
Basic: $0.006 per second of generated audio.
Pro: Contact their team for more information.
4. Lovo.
Best For Creating AI Characters.
More than 80,000+ content creators have used Lovo in more than 40 countries to create lifelike voices.
With super realistic human voices and the ability to create any character you can imagine, Lovo is the perfect tool for those who want to add a personal touch to their audio.
Using advanced text-to-speech technology, Lovo can create a voice that sounds exactly like you, removing the need for expensive voice actors.
Whether you require a British-documentary accent, or an American salesperson voice, Lovo has you covered.
And with an API that comes with their paid plans, you can easily integrate Lovo into your existing applications.
Key Features:
Unique voice collection provides you with a wide range of voices to choose from
Authentic voices are perfect for those who want their audio to sound natural and lifelike
Custom voices allow you to create a voice that best suits your needs
LOVO Studio is a powerful tool that allows you to create and edit your audio files with ease
Voiceover API will enable you to integrate Lovo into your current workflows.
Pricing:
Along with a free plan, Lovo then offers three further paid packages, which are billed as follows:
Basic: $19 per month
Pro: $36 per month
Pro +: $99 per month
5. Murf.ai
Best For AI Creation Studio.
Murf uses real people's voices as a foundation to create a voice that sounds exactly like a human one.
This means that you can have your audio sound natural and lifelike, without getting a robotic-sounding voice.
With studio-quality voiceovers that can be used for various purposes, Murf is the perfect tool for those who want to add a personal touch to their audio.
From professional presentations to YouTube videos, product developers, and customer support, Murf can help you add a unique voice to your project, no matter what it is.
Key Features:
Get creative with Murf Studio to get the best results for your audio needs
Add video, music, or image to your audio files to create a more engaging experience for your listeners
A vast library of voices ensures that you can find the perfect voice for your project
AI voices capture the right tone and convey your message in the most effective way possible
Convert home recordings to voiceovers with ease
Collaborate with your team to create the best audio experience possible
Pricing:
Murf offers these pricing plans:
Free: $0 per month
Basic: $13 per month
Pro: $26 per month
Enterprise: $59 per month
6. Play.ht.
Best For Various Download Formats.
Play.ht mixes some of the best synthetic voices through an online AI Voice Generator that can create lifelike voices for your audio needs.
With the quick generation of a wide range of voices, Play.ht is perfect for those who need to create a voice quickly and easily.
If you want to repurpose your blog posts, then Play.ht can create an audio file of your blog post that you can use on your podcast or YouTube channel.
And with an easy download as MP3 and WAV audio files, you can use your new voice on various platforms.
With 900+ natural-sounding voices in over 140+ languages, you're sure to find the perfect voice for your needs.
Key Features:
Text to Speech API allows you to convert text into speech with lifelike voices
Voice generation using AI creates realistic and natural-sounding voices for your audio needs
Free previews that don't use your word credit limit so you can play with various voices before committing to any of them
1000's of integrations with popular applications and platforms
Pricing: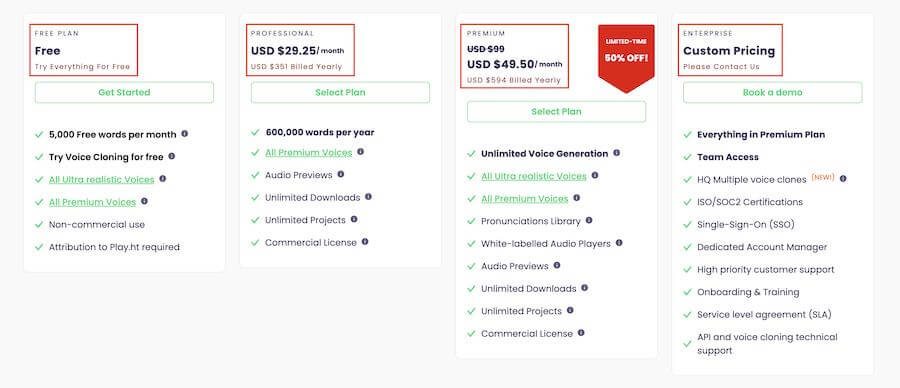 Play.ht offers these four pricing plans:
Free
Personal: $29.25 / month
Premium: $99 / month
Enterprise: Contact to schedule a demo.
7. Listnr.tech.
Best For Embedding Generated Audios.
Listnr.tech is used by freelancers, agencies, and solo entrepreneurs to quickly generate human-like realistic voiceovers for their audio needs.
From explainer videos to eLearning modules, Listnr.tech can help you add a professional touch to your audio.
And with the quick and easy generation of voiceovers, you can complete your audio project in no time.
Covering more than 75 languages, Listnr.tech is the perfect tool for those who need a multilingual voiceover solution.
Once generated, using their site widget, one can easily embed the audio into their website to make it more interactive for the visitors.
Key Features:
TTS editor lets you edit the text before converting it into speech
AI podcast provides you with a lifelike voice for your audio needs
The audio player enables you to play the generated audio on a variety of platforms
Pricing:
You can start building audio for free, then add a site plan to go live.
The plans are as follows:
Individual: $19 per month
Solo: $39 per month
Startup: $59 per month
What Are AI Voice Generators?
While having a voice actor used to be the norm when creating a professional audio recording, an AI voice generator can replace many of these outsourcing needs.
With natural-sounding speech a valuable asset for any business, an AI voice generator can save time and money.
Different voices and voice skin are typically available, suiting various speech requirements as needed.
Voice cloning is also a new option with many of these tools.
Here, one can record their own voice in a few simple steps.
The voice technology will then create a computer-generated voice that would be identical to what the cloned user would sound like saying specific words.
Available for both commercial and personal use, many business owners understand that using machine learning to create an audio file that sounds the same as themselves can give them back a lot of time in their work day.
Features Of The Best AI Voice Generators
With artificial intelligence being at the core of many of these AI voice platforms, the quality of the voices generated has increased astronomically in recent years.
The best AI text-to-speech platforms come with set features that help to create a more natural-sounding recording.
Here are some key features to look for.
Various Languages Available
While English is the most commonly used language worldwide, many AI voice generators are equipped to handle various languages.
High-quality recordings can be created in any language, allowing businesses to reach a global audience.
Fast Speech Synthesis
No one wants to wait a long time for an AI text-to-speech recording to be completed.
Many voice generator tools can produce audio using human-like voices in seconds, allowing users to create recordings quickly and easily.
Ability To Fine-Tune Outputs
From pitch and intonation to speed and volume, users should be able to tweak various settings to get the perfect recording.
A high-quality voice tool will give users a wide range of options to play with, ensuring that the final product is just right.
For example, to create a more natural sounding recording, pitch and tone controls are essential.
These controls that are now part of the top AI voice gen tools allow users to adjust how the output sounds, making it easier to create a human-like recording.
Being able to control the speed at which the text is read is also important.
Sometimes, words need to be said quickly; thus, fast speed is necessary.
Other times, a slower speed might be required to emphasize certain words or phrases.
Having variable speed controls gives users the ability to produce a high-quality recording no matter what the situation might be.
Various Downloading Options
Voice generator tools should give users the ability to download the same audio file in a variety of different formats.
This way, recordings can be used in several different ways.
For example, if a recording is going to be used as part of a website or blog post, having it in MP3 format would be ideal.
On the other hand, if a recording is going to be used in an email or as part of a document, a WAV format might be preferable.
You can even convert YouTube to WAV if need be.
Use Cases Of AI Voice Generators
Here are some everyday use cases for AI voice generators:
Interactive Voice Response (IVR): Being able to create real-time recordings using human-like voices is essential for many customer-facing businesses. IVR systems can be used to greet callers and guide them through various options.
Audiobooks: A professional human voiceover used to be the primary way to create audiobooks. However, with AI voice generators, anyone can create high-quality recordings of their favorite books – whether their creation or someone else's.
Social media: With AI voiceover technology, businesses can easily create audio versions of their social media posts. This is a great way to reach a wider audience and ensure that as many people see their content as possible.
Games: Depending on the type of game in question, using AI technology for voice synthesis can be a great way to create realistic and believable character dialogue.
Wrap Up.
AI voice generators are quickly becoming a popular tool for businesses and individuals alike.
With many offering a free version that allows for basic recordings and testing, there is no reason not to try one out and see how far you can take it.
With artificial intelligence taking over many aspects of business traditionally done by humans, it is only a matter of time before AI voice generators are the new standard.
What are your thoughts?
Do you think AI voice generators are the future of audio recordings?
Let me know in the comments below.
Further reading on AdamEnfroy.com: Knowing how to use audio editing software can be beneficial when tweaking the output of AI voice generators.
Whether you then use podcast hosting sites to share your content with your audience, or simply want to start a YouTube channel combining audio recordings and video content, polishing up your audio correctly can make a big difference.
Disclosure: I may receive affiliate compensation for some of the links below at no cost to you if you decide to purchase a paid plan. You can read our affiliate disclosure in our privacy policy. This site is not intending to provide financial advice. This is for entertainment only.