7+ Best AI Video Editor Tools (August 2023)
Choosing the right AI video editor is vitally important to your business. From professional-grade features to budget-friendly options, the best AI video editors can help you meet your goals. In this guide, I ranked and reviewed the 7+ best AI video editors, so that you can pick the best one for you.

InVideo
InVideo makes the video creation process quicker with its numerous shortcuts and AI-powered software.

Pictory
Pictory offers easy snippet creation, automatic captioning, intuitive editing, affordable pricing, and more, making it a great option for individuals and businesses alike.
---
We're reader-supported. When you buy through links on our site, we may earn an affiliate commission.
Have you ever wanted to create videos but stopped in your tracks when you thought about all the different editing software programs?
Or maybe you've edited videos before but found the process long, tedious, and not user-friendly?
A.I. video editors can help.
These are a new breed of editing software that, along with A.I. video generators, uses artificial intelligence to automate various tasks, making the editing process quicker and simpler.
In this article, I'll introduce you to the best available A.I. video editor tools based on features, price, and user reviews.
What Is The Best A.I. Video Editor?
The following are the best A.I. video editor tools to consider.
Best Overall.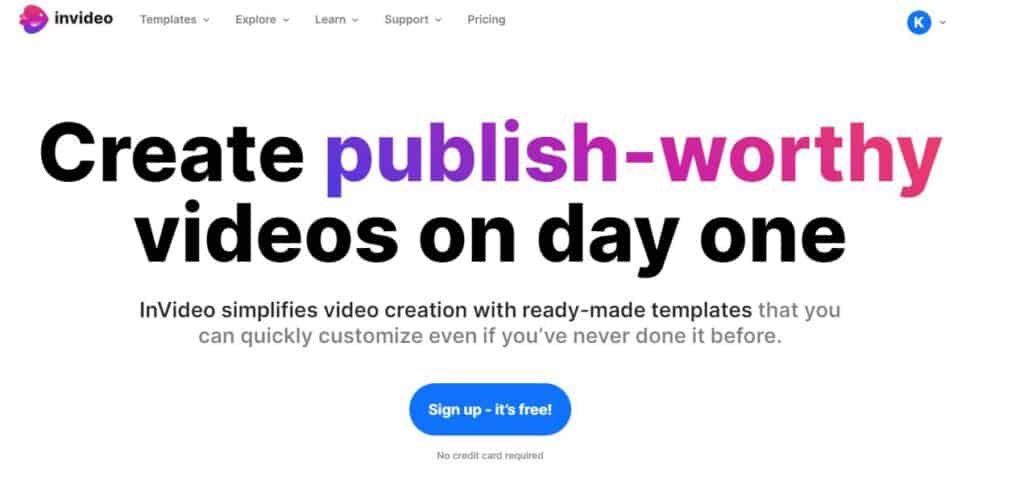 InVideo is a video creation platform that allows anyone to create high-quality videos in no time, regardless of their technical abilities.
InVideo offers a vast array of ready-to-use templates that can be customized with a few clicks.
Whether you want to create a promotional or funny clip for social media, InVideo has got you covered.
The platform has over 4000 templates, each designed with different specifications and requirements.
With AI-powered software, you can customize the content, add background music and voiceovers, and even automatically remove backgrounds.
One of the most remarkable features of InVideo is collaborative team editing.
You can invite your team to edit the video with you, and everyone can add their creative input.
You can comment on different sections of the video, highlight areas that need improvement, and collaborate to improve the final product.
Key Features: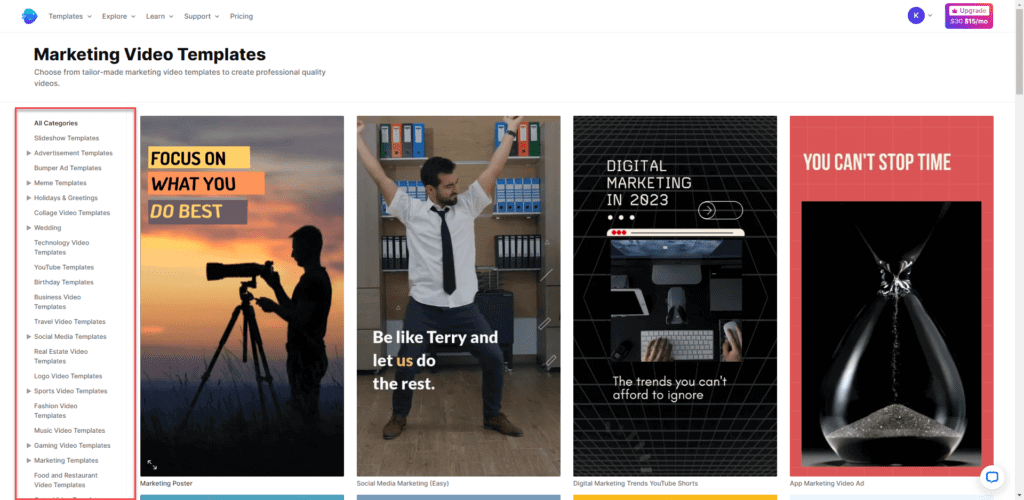 Cloud Storage ensures that your videos are securely stored and easily accessible.
Sharable Link allows you to access and share your projects with stakeholders or clients without downloading them.
Unlimited Team Members make collaboration easier, allowing an unlimited number of people to work on the same project simultaneously.
Automated Text to Speech can create audio by simply entering the text you want to be spoken.
Brand Presets allow you to customize the look of your video so that it contains your branding elements.
User Experience: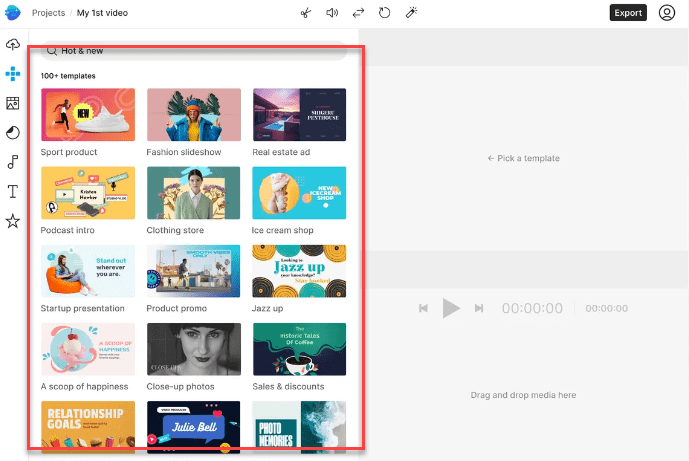 Being able to select from hundreds of templates is a big plus, as it helps to save time and effort.
Pricing:

InVideo offers these pricing plans:
Free: $0
Business: $15
Unlimited: $30
All of these are billed per month and paid yearly.
What I Like/Dislike About InVideo:
Like:
The value for money when using InVideo is outstanding.
The platform packs a lot of features in its pricing plans and even the free plan offers a lot of value.
It's easy to use and requires no technical knowledge.
Dislike:
Switching between templates is not possible so you can't make changes to your video without starting from scratch.
Exporting takes some time and the process can be a bit slow.
Get started with InVideo.
Best For Engaging Visuals.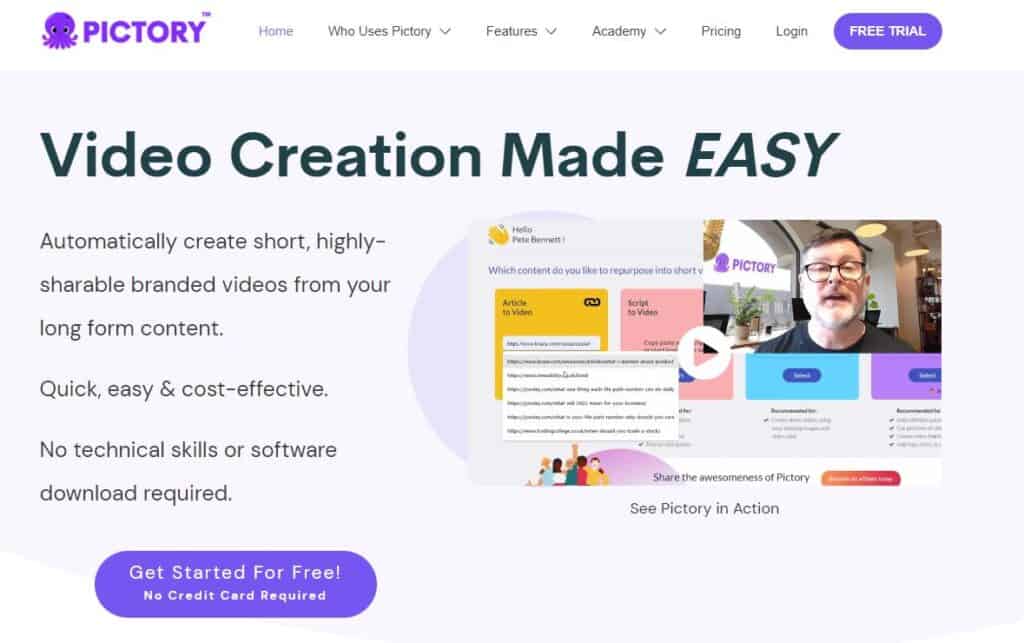 Pictory helps create engaging visuals in minutes that are perfect for marketing or any other creative use.
With Pictory, making engaging video snippets is as easy as clicking one button.
All you need to do is select the video and click the snippet option.
Within a few seconds, you have a captivating snippet that's perfect for sharing on social media, blogs, or sending in emails.
Then Pictory's automatic captioning feature helps you add captions to your videos in just minutes without transcribing them manually.
This feature saves you time and effort, enabling you to create more videos without spending hours captioning them.
Resizing, cropping, and adding text or logos to photos and videos can be challenging, especially if you are a novice.
With Pictory, you can easily edit your visuals with an intuitive interface.
Whether you want to add a logo to a photo or crop a video, the platform offers a vast collection of editing options to improve your visuals.
Key Features: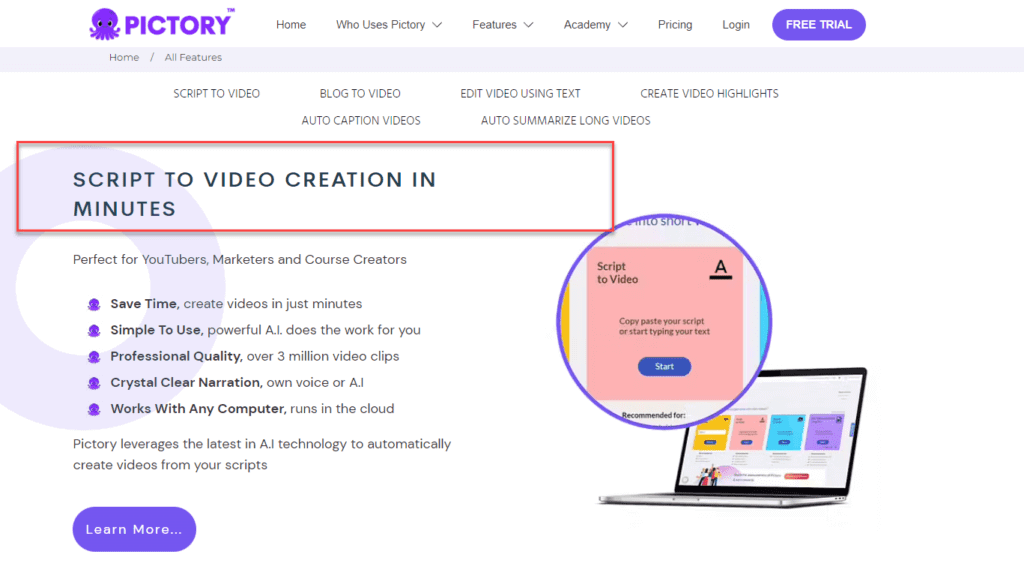 You can edit your videos using text, ensuring they are precise and on-brand.
Create highlights from longer videos, making it easier for viewers to find the needed information.
Auto-summarize long videos, saving time and curating content quickly and easily.
Turn scripts into videos in minutes, allowing you to create high-quality videos without spending hours editing.
Easily convert blog posts into stunning videos.
The auto-caption feature helps you make sure videos are accessible to everyone.
User Experience: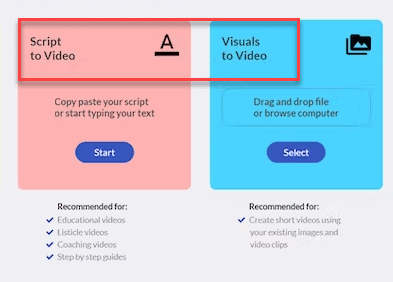 Choosing from various videos, images, and other visuals makes creating content with Pictory easy and fast.
Pricing: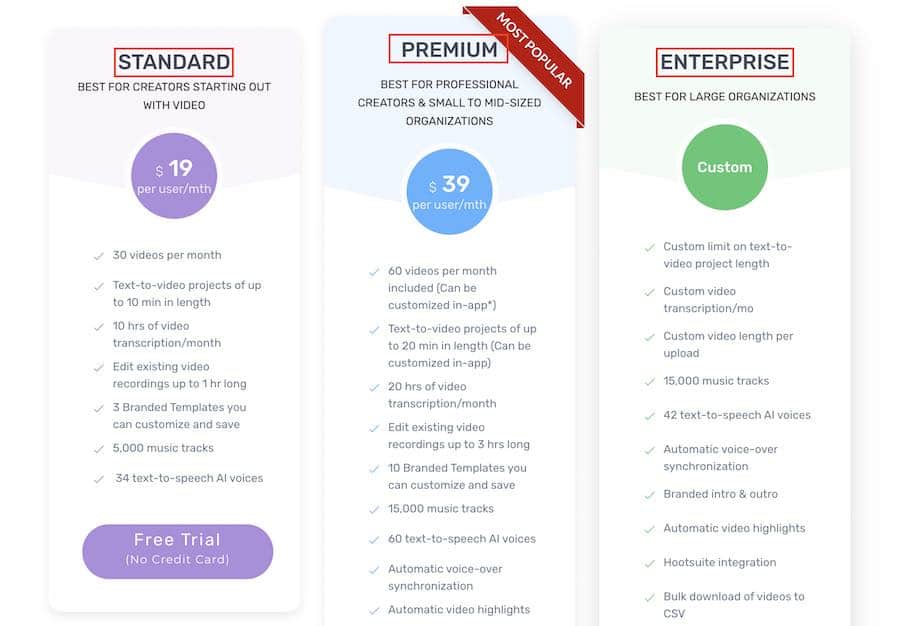 Pictory offers these pricing plans:
Standard: $19 per user per month
Premium: $39 per user per month
Enterprise: Custom pricing
All of these are billed per month and paid yearly.
What I Like/Dislike About Pictory:
Like:
The AI is well-suited to choose the right media files for your video.
You can create the right visuals that look professional and engaging.
Dislike:
Not all features come with the basic plan
No direct video sharing from the Pictory cloud means using other social media-sharing services.
Product Updates:
Storyboard and Script Editor are now equipped with the convenient right-click feature, allowing users to access more options easily.
Get started with Pictory.
Best For Customizable Video Templates.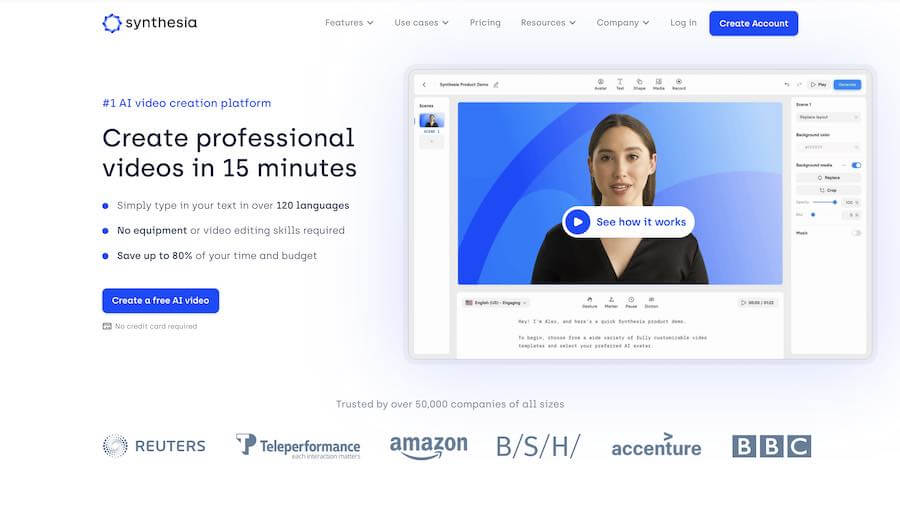 Synthesia can create videos in more than 65 languages.
This feature is essential, allowing you to reach a wider audience with your videos.
With traditional video creation taking time and money, this tool provides an excellent solution for those on a budget.
The software uses machine learning algorithms to create videos that look and sound natural.
You can also use their natural A.I. editing tools to ensure that your avatars perfectly match the text.
Check out my full Synthesia review for more information about this platform.
Key Features:

I appreciate that users get to choose from 70+ ethnically diverse A.I. avatars. This feature allows for greater customization and ensures that your videos can resonate with your target audience.
I also like that you can create your custom A.I. avatar, as this provides greater control over the final product.
The 50+ fully customizable video templates are also a great feature, allowing you to create videos that perfectly match your brand identity.
Whether you are a beginner or a more experienced user, the intuitive interface will make high-quality creation videos.
User Experience: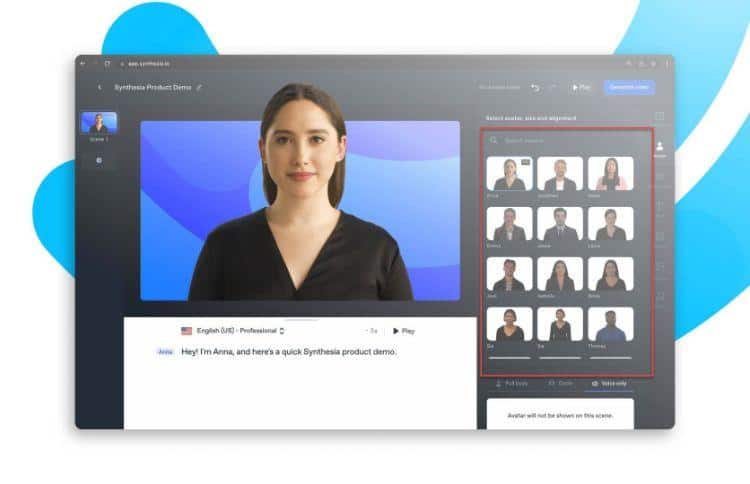 From selecting the right human avatar to choosing from a wide range of templates, the user experience is excellent.
The software is also easy to navigate, and all the necessary features are easily accessible.
Pricing: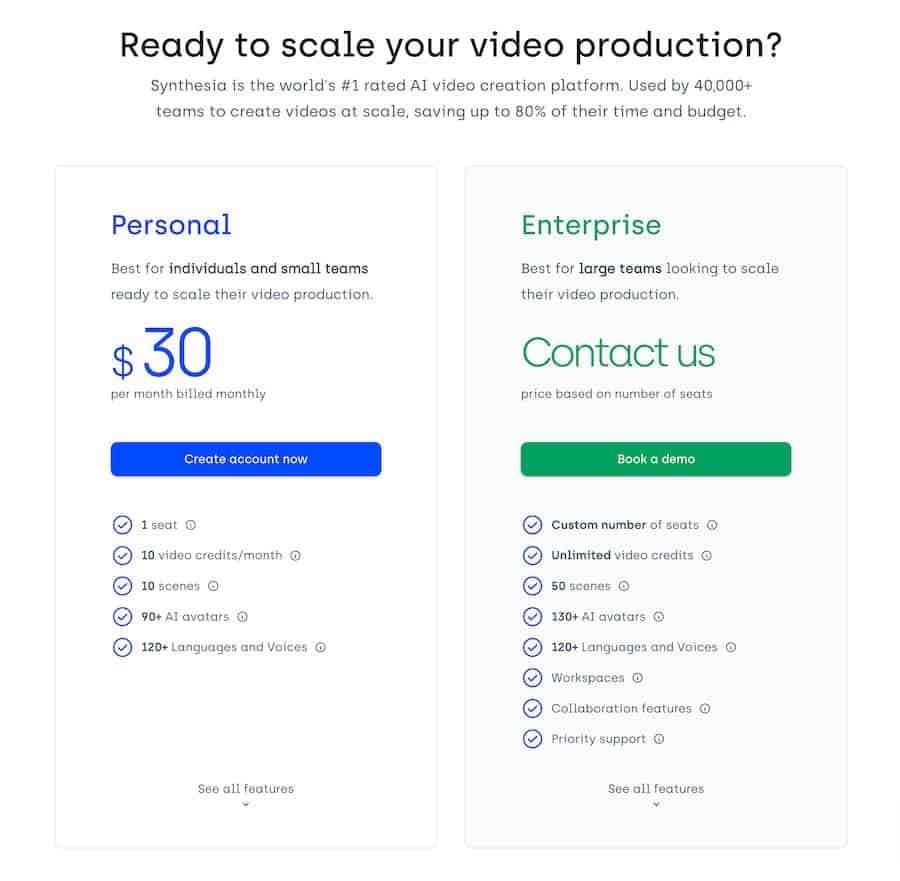 Synthesia offers two pricing plans:
Personal: $30 per month
Corporate: Prices are available on request.
What I Like/Dislike About Synthesia:
Like:
Creating 130+ different avatars in 120+ various languages is a fantastic way to reach a wider audience.
Excellent tutorials help users get the most out of the software and produce high-quality videos.
Dislike:
More editing tools will be a plus for experienced users who want more control over the final product.
Product Updates:
Their AI technology allows you to localize your videos into 120+ languages and accents.
Get started with Synthesia.
4. Lumen5.
Best Overall.

Lumen5 takes the demand for video and turns it into an opportunity for content creators to quickly and easily create videos using AI.
With video creation a process that anyone from beginners to professionals can use, Lumen5 is perfect for creating videos for social media, ads, or your website.
Regarding its editor, you can transform any source content into top-quality videos.
With designs that can be adapted and customized to fit your brand, Lumen5 is an excellent tool for creating videos that are on-brand and look professional.
Using its A.I. functionality, Lumen5 can also polish your videos and make sure they are engaging and informative.
I like that this software is easy to use and can help you solve time-intensive tasks like adding transitions or ensuring your text is displayed correctly.
Check out my full Lumen5 review for more information.
Key Features:
I like that Lumen provides so many templates for users to choose from.
Additionally, I appreciate the ease with which users can create videos with Lumen. Click a link to any blog post, and the A.I. does the rest.
The impressive machine learning aspect allows more creative freedom when making videos.
User Experience: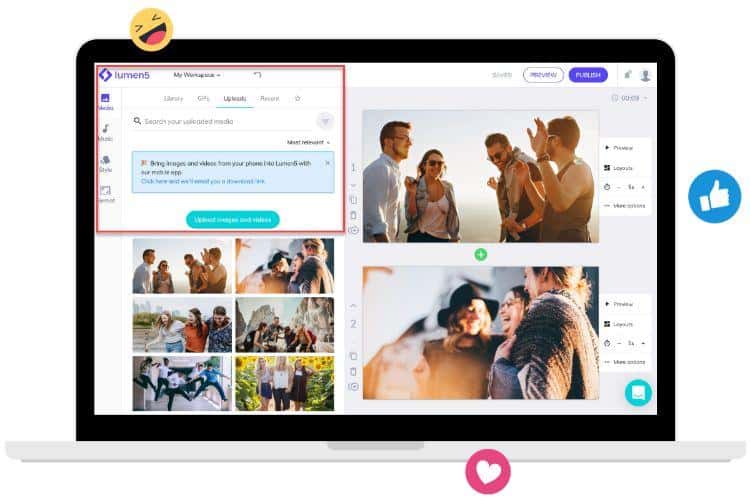 With a workspace that is uncluttered and easy to navigate, Lumen5 makes video creation quick and painless.
The wide range of templates available also means you can find the perfect look for your brand without starting from scratch.
Pricing: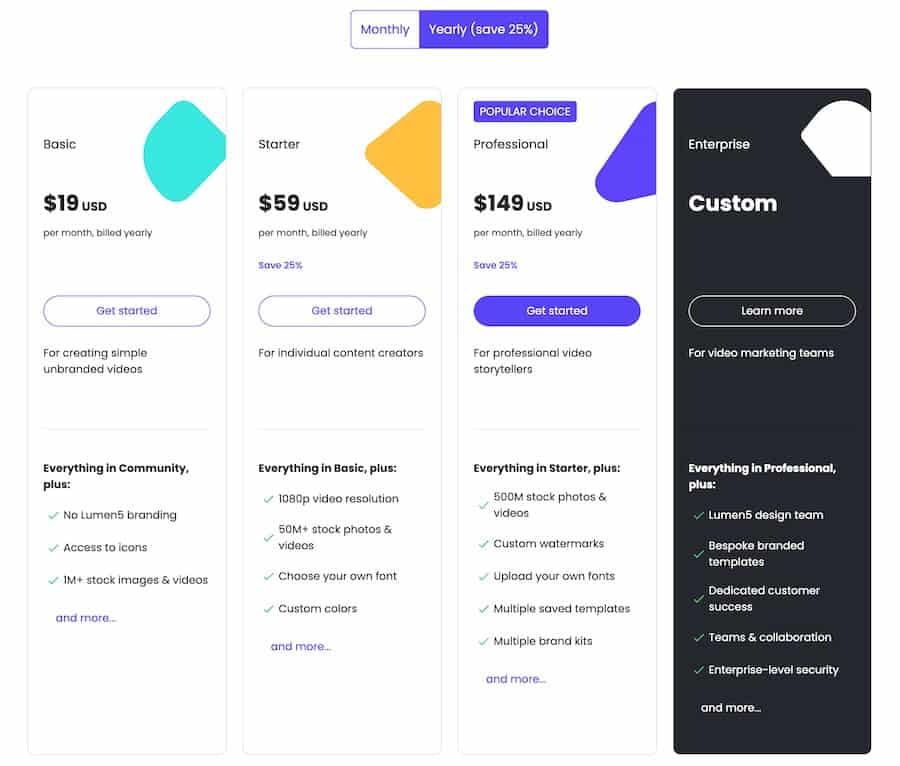 Lumen offers these pricing plans:
Community: $0
Basic: $19
Starter: $59
Professional: $149
Custom

All of these are billed per month and paid yearly.
What I Like/Dislike About Lumen:
Like:
The ability to edit your videos to look like they were professionally curated and created is fantastic and a huge time saver.
The A.I. is also beneficial in video editing, especially regarding text-to-video conversion.
Dislike:
The free version includes branding, so if you want to create a video for your business without Lumen's branding, you must upgrade to one of their paid plans.
Product Updates:
Lumen5 + 5 now allows for videos of up to 10 mins in length.
Get started with Lumen5.
5. Magisto.
Best For Video Clip Selection.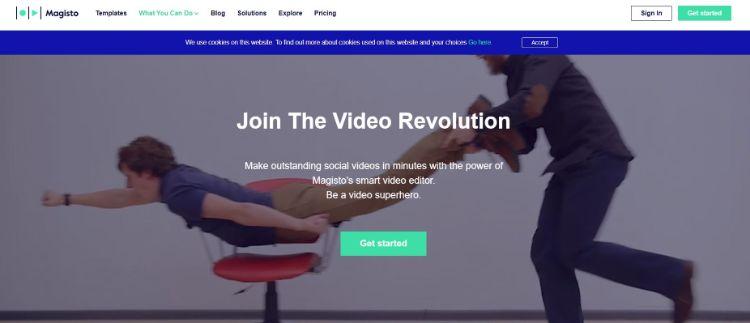 Magisto allows you to edit your videos in minutes, not hours, with its AI-powered video editor.
Using Magisto, you can also create professional videos without prior video editing experience.
With new high-quality video and image options, Magisto makes creating videos that look great on any device easy.
Magisto also offers a wide range of video styles to find the perfect look for your brand.
Creating polished video content is as easy as making a PowerPoint using Magisto, which is excellent for brands that want to create high-quality videos without breaking the bank.
Key Features:

It's beneficial that they have 3+ million full-HD pro stock video clips because it allows me to find the perfect clip for my video.
Their videos can be up to 10 minutes long, allowing me to create a longer video if needed.
The H.D. downloads are of excellent quality, and I love that I can customize the brand colors and fonts.
It's also straightforward to export to the Facebook Ads Manager, a helpful feature for those running ads.
With integration to email marketing tools, I can easily send my videos to people on my email list.
User Experience: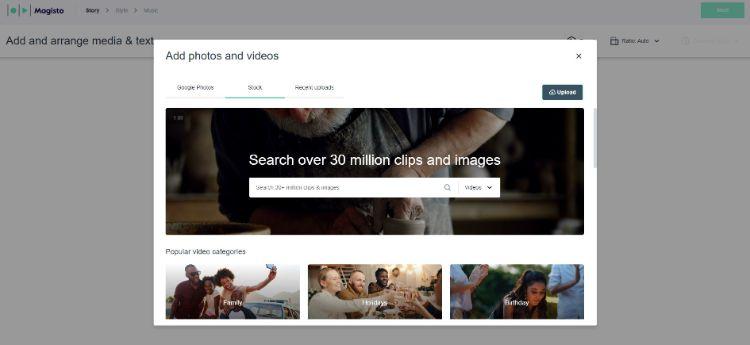 You can easily find the right pieces to fit your story using the provided stock images and video clips.
I also like how the interface is easy to follow and understand, even for those who have never edited a video.
Pricing: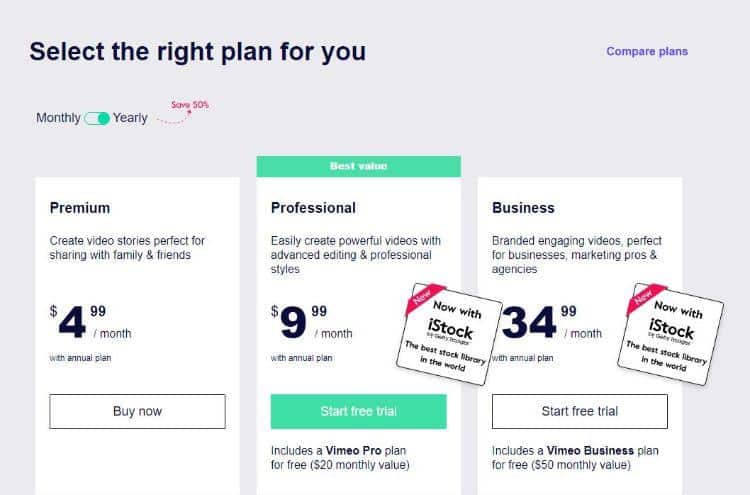 Magisto offers these pricing plans:
Premium: $4.99/ month
Professional: $9.99/ month
Business: $34.99/ month
What I Like/Dislike About Magisto:
Like:
The templates and music cover many emotions and situations, so you can easily find what you need.
High-quality videos can be used for various purposes, such as ads, social media posts, and email marketing.
Dislike:
Sometimes, a loss of quality in the audio can happen when cutting and pasting videos together.
Product Updates:
The range of templates has been expanded to meet various user needs better.
6. Wisecut.
Best For AI Music Selection

Wisecut leverages A.I. and voice recognition to help you edit videos faster and easier.
If you want to create excellent content without wasting time, Wisecut offers "punch in" and "punch out" features that let you quickly identify the best sections of your video and splice them together.
Wisecut is an excellent tool for content creators who want to quickly and easily create great videos by eliminating the long pauses that make editing tedious.
In addition, with captioning options that make videos more accessible, Wisecut is also an excellent tool for businesses and organizations who want to ensure their videos reach the broadest possible audience.
Key Features:

Wisecut offers innovative background music, and I like how it fits my video with the right beats.
The software also has included auto subtitles and translations, which help engage my audience.
I appreciate the automatic audio ducking and storyboard-based video editing.
The sound waves for audio files and background noise-canceling are also great features.
User Experience: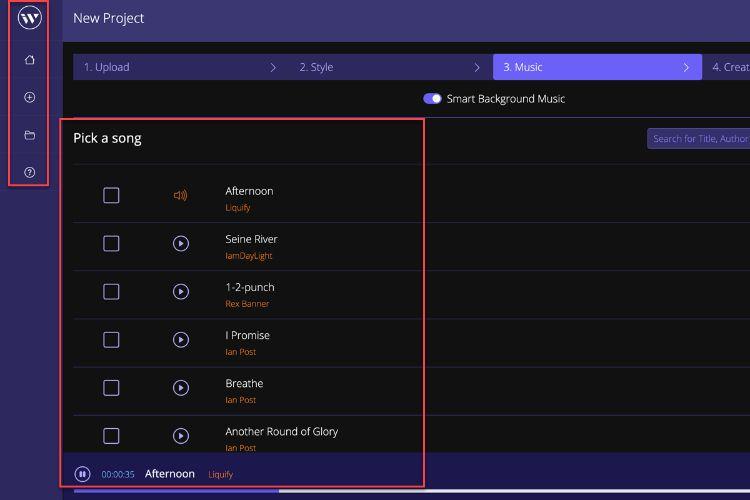 Following a step-by-step wizard to edit your videos as required is critical.
With Wisecut, you can easily do that since the interface is user-friendly and straightforward.
Pricing: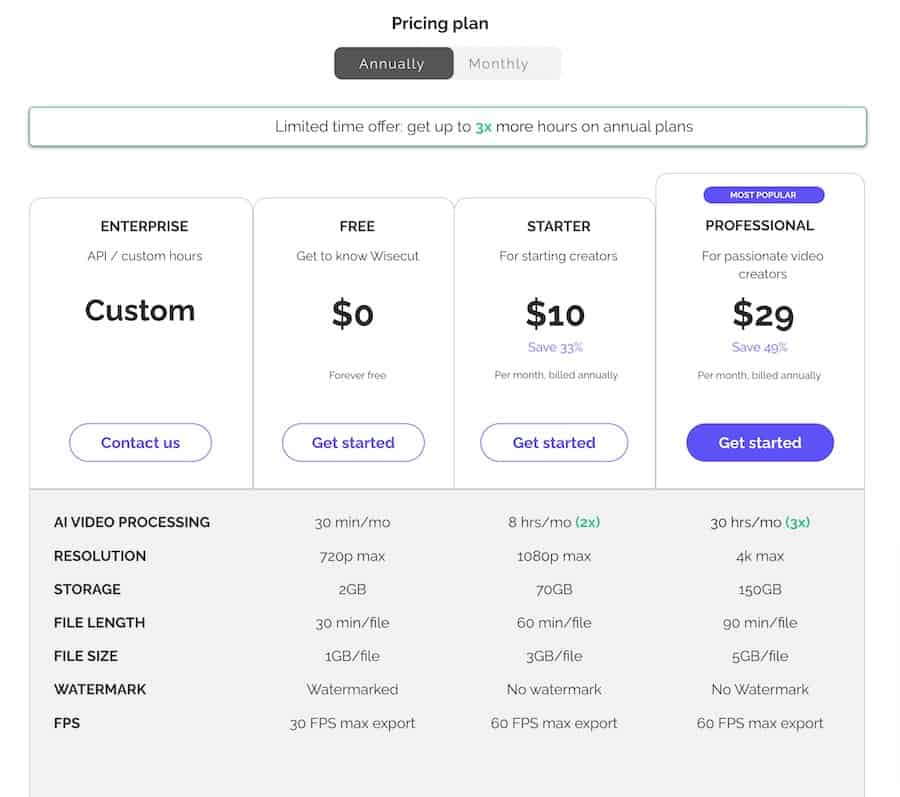 Wisecut offers the following pricing plans:
Custom
Free: $0
Starter: $10
Professional: $29
All of these are per month, billed annually.
What I Like/Dislike About Wisecut:
Like:
You can easily remove pauses that would otherwise make your video editing tedious.
The ability to create jump cuts that keep your viewers engaged is fantastic.
Intuitive and easy to learn UI system.
Dislike:
It would be helpful to use folders to organize your video files.
Rendering time could be improved.
Product Updates:
Auto subtitles and translations are now available to help you engage your audience.
7. Rawshorts.
Best For Social-Ready Layouts.

Rawshorts takes you through converting boring text to fascinating videos – all in just a few minutes.
You don't need any experience in video editing or graphic designing, as the software will do all the work for you.
If you have a video script written, you're ready to go.
Once the tool finishes, you can review the generated draft and publish the video or use the editor's drag-and-drop features to make the required changes.
Key Features: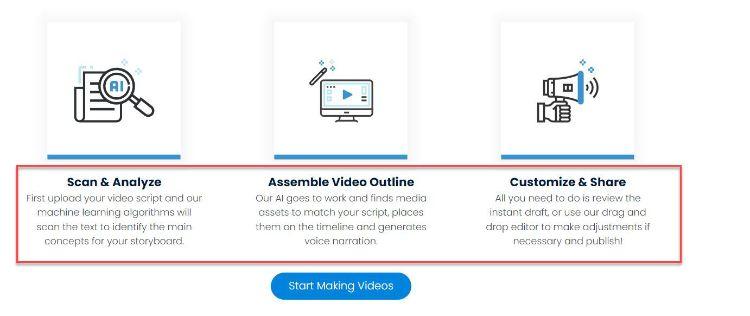 It's great that the tool offers as many as 50 premia monthly exports, which is more than enough for most users.
With 1080p resolution, you can create high-quality videos for your social media channels.
I like their social video layouts that fit both 1:1 and vertical videos.
Getting 20 licensed video clips per month is also great, as this can save you a lot of money in the long run.
User Experience: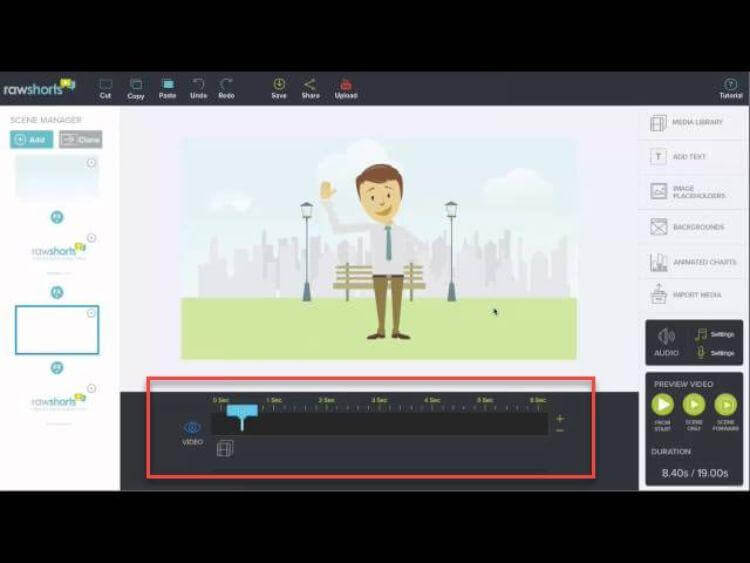 Looking at a timeline and seeing all the steps needed to complete the video editing process is helpful and makes everything much less daunting.
Pricing: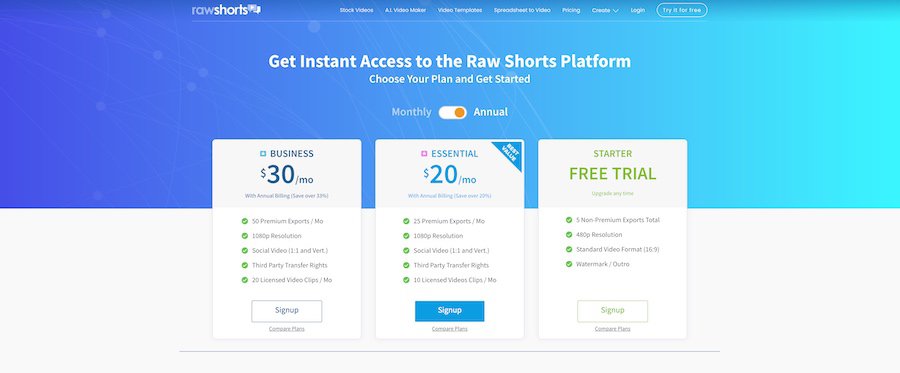 Rawshorts have these pricing plans on offer:
Starter: Free Trial
Essential: $20/mo
Business: $30/mo
What I Like/Dislike About Rawshorts
Like:
The flexibility in graphics and text allows you to create truly unique videos.
I like that it's straightforward for any beginner who wants to create videos without experience.
Dislike:
For more advanced users, the features and tools may be too simplistic.
Product Updates:
The customize and share feature is excellent for those wanting to personalize their videos before sharing them.
8. Rephrase.ai.
Best For Personalized Videos.

Rephrase.ai makes the creation of hyper-personalized videos possible.
Whether you want to enhance communication with clients or create more engaging content, this tool is worth a try.
It also means you can use this tool at every touchpoint of your marketing funnel, so you'll get the highest return on your investment from it.
The software uses cutting-edge machine learning algorithms to deliver the best results.
Gone are the days when engaging personally with the right stakeholders was time-consuming.
With Rephrase.ai, you can save time and energy while still delivering high-quality videos.
Key Features:
I like how one can create unique personalized messages without any repetitive work.
Humanized communication is also a big plus, allowing for more natural-looking videos.
The custom landing pages are great for those wanting to drive conversions.
The API integrations make connecting with other tools and platforms easy.
Pricing: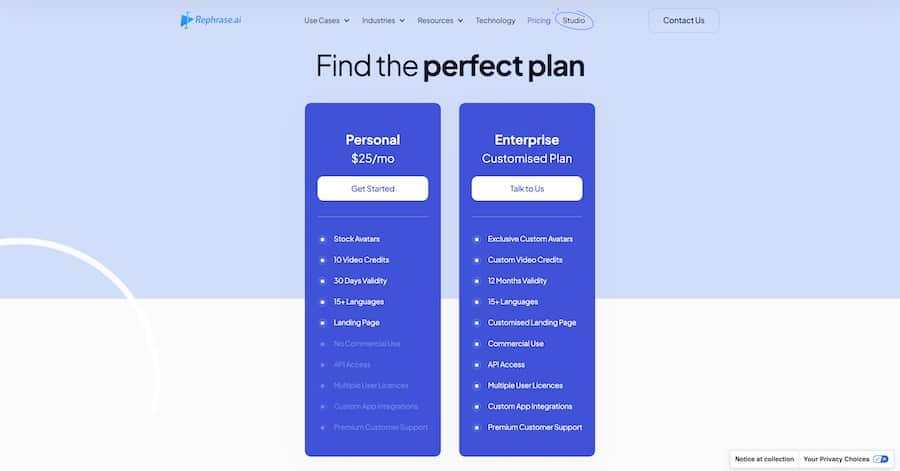 Rephrase.ai have these pricing plans on offer:
Personal: $20/mo
Enterprise: Contact for customized plan
9. GliaStudio.
Best For Its URL-To-Video Feature.

GliaStudio can create videos from virtually any type of content.
From social posts, live sports events, and even news content, this tool can help you create engaging and informative videos.
The software also offers various customization options to ensure your video matches your brand identity.
With access to all the required resources to create a video, GliaStudio makes it easy to get started and create a product you can be proud of.
Key Features:
The various transition effects are one of the best features of GliaStudio. You can use them to add a bit of personality to your videos and make them more engaging for your audience.
Their video music selection is also top-notch, providing many tracks that perfectly match your video's mood.
I like their voice-over tool, as it allows you to create a believable and natural-sounding voice for your avatar easily.
The video layout tool is also great, as it allows you to control the placement of your content easily.
Finally, the URL to video feature is perfect for those who want to create a video from existing content quickly.
Pricing: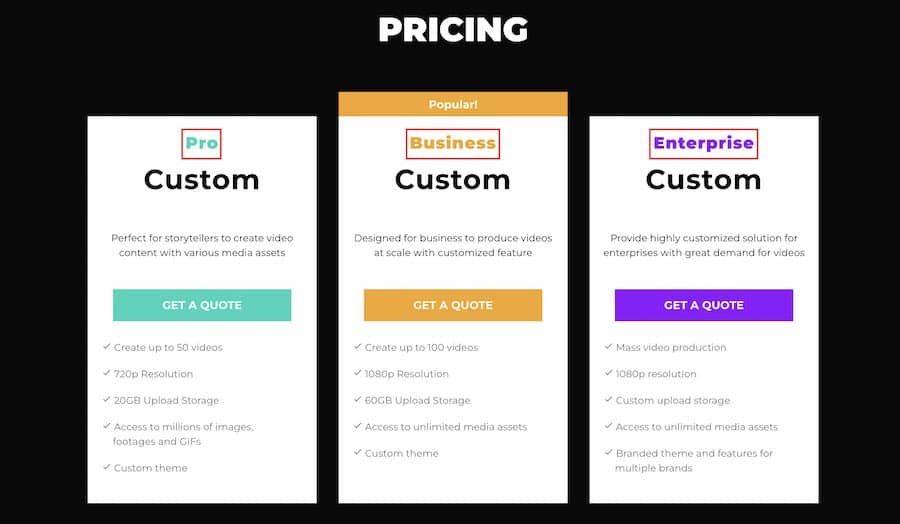 GliaStudio has these pricing plans on offer:
Contact them for a custom quote.
Another helpful tool not mentioned in this review is Synthesys.
What Are A.I. Video Editor Tools?
A.I. video editor tools allow users to create engaging videos that are realistic, interactive, and engaging.
From stunning videos that elicit specific feelings to informative videos that are both educational and entertaining, an AI video editing tool makes editing videos as simple as point and click.
While video editing software has existed for a long time, today's video editors use artificial intelligence to enhance how users edit videos and make predictive suggestions about what might work well in a particular video.
To create quality videos, one doesn't need to be a professional or have any prior experience in video editing.
All required is a willingness to experiment and try out different features.
Features Of The Best A.I. Video Editor Tools
Knowing what A.I. technology can do will help you with your video editing process and ensure you have professional-looking output at the end of your workflow.
The following are features that the best-automated video editing tools can provide.
Editing Features
From removing empty silences from demo videos to ensuring that your talking head videos have the right background music at the right volume and in the right spots, the right AI video editor will be able to take care of the nitty-gritty details of your video so you can focus on the bigger picture.
An app that can edit videos to the best standards will save you time and hassle in the long run, allowing you to get your videos into the world as quickly as possible.
Create Various Types Of Videos
A video maker should be able to create different types of videos for various purposes.
From promo videos that demonstrate how a new product will be able to solve a customer's problem to explainer videos that explain a complicated process in a step-by-fashion, to creating tutorials that go through specific parts of a video game or software program, A.I. video makers should have various use cases that they can address.
Social Media Ready
A video creator should have pre-made layouts that social media platforms can work with when posting videos.
Whether you're creating YouTube videos that look amazing on this platform or TikTok reels that follow a specific format and dimension, a video editing tool should make it easy to create videos ready to be posted online with little to no additional work required.
Green Screen Capabilities
An A.I. video generator should be able to superimpose one video over another.
A green screen is helpful for several reasons, including creating green-screen effects and adding text or images to a video.
With an overlay feature, a video editor can easily create professional-looking videos without expensive equipment or special software.
Watermark Generator
Video production is a time-consuming and often costly process.
A watermark generator can brand your videos with a company logo or other identifying information so that your videos cannot be pirated or used without permission.
Businesses that want to protect their investment and ensure that their videos are only seen by those authorized to view them should use this feature.
Text To Video
One key feature to consider when you choose A.I. video editing software is how easy it is to take text and turn it into a video.
By providing a script and using the right software to turn it into animations that get your message across, an A.I. video maker should make creating videos from scratch or templates easy.
You can also convert blog posts that are live on the internet into videos.
Top Users Of AI Video Editing Tools
Here are some of the top users of AI video editing tools:
Professional filmmakers and editors: While traditionally, most filmmakers and editors have relied on manual editing, AI video tools are increasingly becoming popular among these professionals. These tools can help them speed up their workflow, automate tedious tasks, and create more stunning visuals.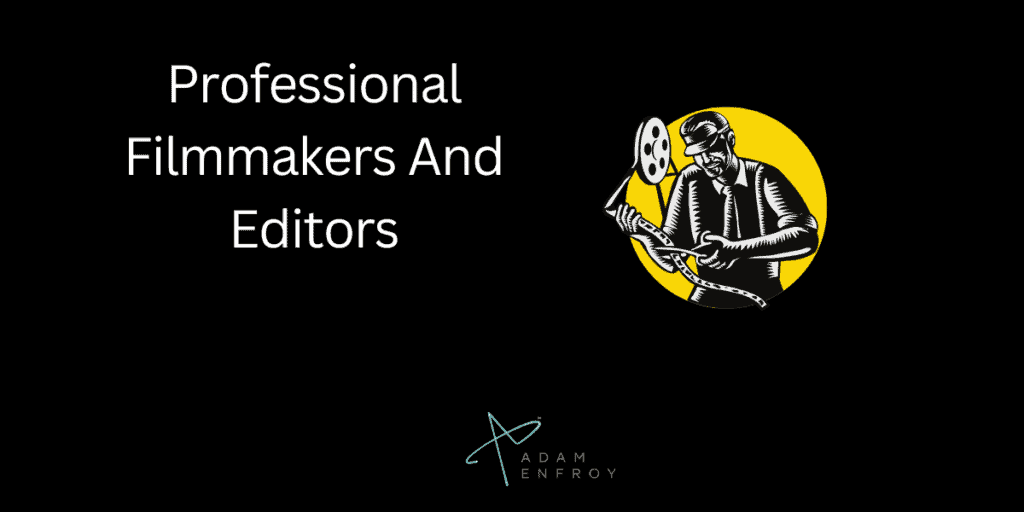 Video production companies: Automating the process of creating high-quality videos can be a big time saver for video production companies. AI editing tools can help them quickly finish projects, save money on labor costs, and reduce the need for costly equipment upgrades.
Advertising agencies: Many advertising agencies now leverage powerful AI video editing capabilities to create compelling ads that capture user attention. With AI technology, they can generate customized videos tailored to specific audiences with greater accuracy and efficiency than ever before.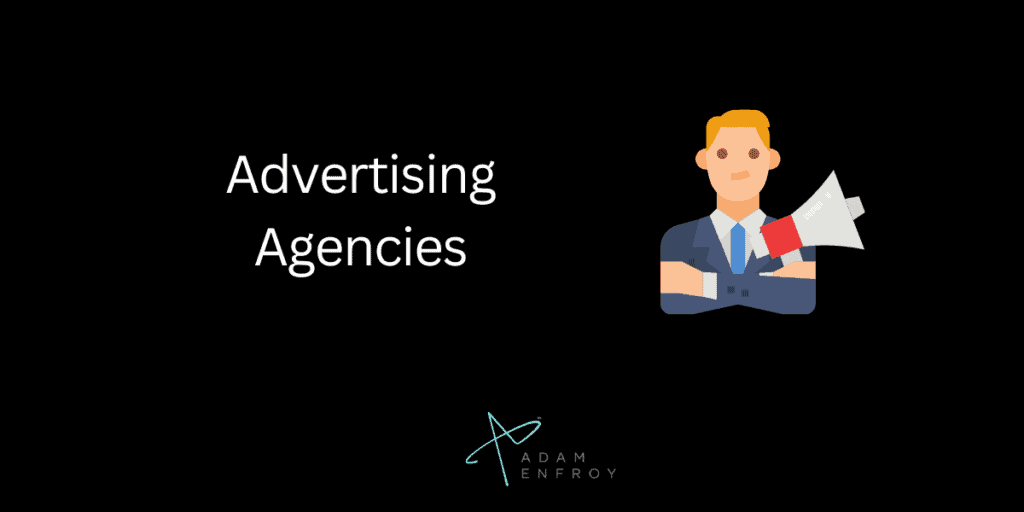 Ecommerce store owners, marketers, and bloggers: If you're an online store owner, marketer, or blogger looking to make your videos stand out, AI video editing tools can help. These tools enable you to quickly create customized videos that resonate with viewers and drive sales.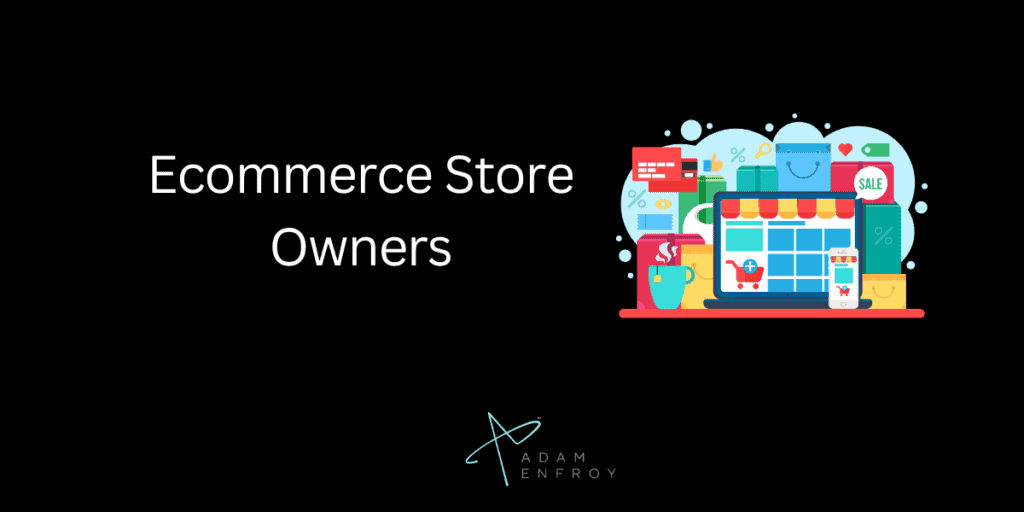 Gaming developers and streamers: Game developers and streamers are leveraging AI tools to produce high-quality visuals for their games and streaming content quickly. With automated features such as color correction, object removal, noise reduction, and facial recognition available in many of these tools, they can easily create stunning graphics without spending hours in post-production.
Social media influencers and content creators: Social media influencers utilize AI technology to enhance content creation capabilities. From creating custom backgrounds for Instagram stories to facial recognition for TikTok videos, AI editing tools can help influencers create eye-catching visuals that increase engagement and attract new followers.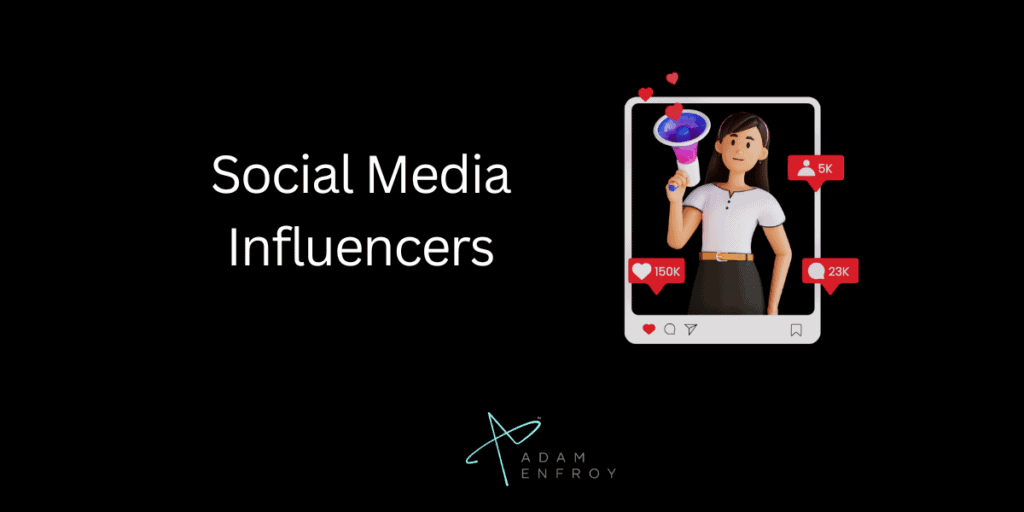 Educational institutions: Schools and universities also use AI video editing tools in their classrooms. With these tools, educators can quickly create engaging learning materials such as virtual reality simulations and interactive tutorials with minimal effort.
Overall, AI video editing tools offer a variety of benefits that make them attractive to many different kinds of users.
Whether you're a professional filmmaker, an advertising agency, or just someone who wants to create stunning visuals without spending hours in post-production, there's likely an AI tool that's perfect for your needs.
Wrap Up.
An A.I. video creator and editor are among the best investments you can make if creating amazing videos is part of your content marketing strategy.
You can create videos from scratch, edit them as required, and watermark them with your branding in just a few clicks.
With the video industry being one that's rapidly changing and growing, investing in the best A.I. video editor now will give you an edge over your competition.
Further reading on AdamEnfroy.com: Video editing software can help create amazing videos for your business.
With more advanced features that come as part and parcel of the best in this industry, the right tool will help you create stunning videos to win more customers and grow your business.
In addition, with transcription software that can be used to brainstorm video ideas or even create your script following one that's been proven to work, the right software can make video creation a breeze.
Editorial Process:
Our reviews are made by a team of experts before being written and come from real-world experience. Read our editorial process here.
Some of the links in this article may be affiliate links, which can provide compensation to us at no cost to you if you decide to purchase a paid plan. These are products we've personally used and stand behind. This site is not intended to provide financial advice. You can read our affiliate disclosure in our privacy policy.