Lumen5 Review: Honest Opinion, Features and Pricing in 2023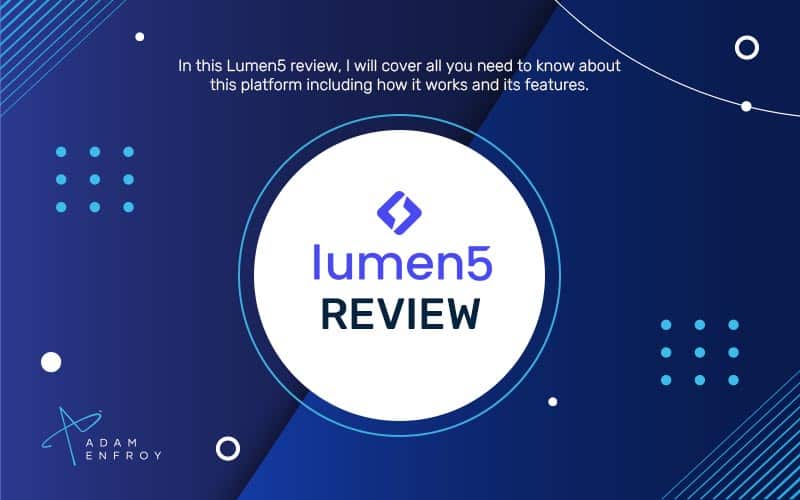 The history of the camera is an interesting one.
What started as a huge piece of equipment used in the late 19th century to capture moving pictures was eventually reduced to a portable and compact camera.
Now an AI-powered video generation tool doesn't even require you to have a camera at all to create content.
If you frequently make videos (or want to start) but don't have enough time or expertise, Lumen5 might be a good option for you.
In this review, I will cover everything you need to know about Lumen5, ranging from how it works to its various features.
What is Lumen5?

Lumen5 allows you to convert text into video, making it easy to get results quickly.
Being a web-based service, you can access it through your browser.
There are no software downloads necessary.
Primarily aimed at businesses, Lumen5 can help with anything from creating marketing materials to producing social media content.
It has already helped more than 400,000 businesses to produce videos that resonate with their audience.
While the company offers a free service with specific limitations, they also provide paid tiers with access to additional features.
Lumen5 Features
Here are the main features of Lumen5.
Video Creation
The most prominent feature on offer is the drag and drop of media elements.
Users can select and move photos, videos, sound clips, text boxes, and more around their project area.
Users can also combine several elements into one video.
You can bring each video to life with stock footage from Lumen5's Standard Library and the ability to upload elements.
Lumen5 users can also add text to their videos with several style options.
While there is a five-minute limit on all videos produced, this is usually more than enough time for most projects.
Video Cutter
Using artificial intelligence, one can produce high-quality video that removes the need for manual editing.
The video creator and video editor use AI to ensure each element in your project meets your needs.
Whether you want to trim scenes or resize your videos, compress your work or remove the original sound to add new audio clips, Lumen5 can help.
There is also the possibility of adjusting elements like your saturation, brightness, and contrast, ensuring each video looks just as you want it to.
Audio To Video
Audio-to-video is a feature that turns a voiceover or podcast into a video.
Users can quickly upload audio and select images or videos to create compelling content.
You could even upload your audio tracks for a unique project on the business plan.
This feature helps create professional-sounding videos instantly and is great for social media or promotional campaigns.
Subtitler
When creating videos with subtitles, your audience can understand the content, even when sound is unavailable.
Most engaging videos we see nowadays have subtitles, and Lumen5 offers an easy-to-use feature to accomplish this.
You can set the fonts for your videos and use the video editing software to ensure they fit your video's aesthetic.
As a result, your project will still be understandable for viewers who consume muted sound content.
Text To Video
You can also create videos from text using Lumen5's Text-to-Video feature.
For social media marketing, these short videos get the point across quickly and effectively.
Provide the link to the article you want to use for your video, or copy and paste the script.
The AI will then produce the right visuals that go along with it.
Automated Workflow
Lumen5 also uses machine learning and natural language processing to make your videos pop.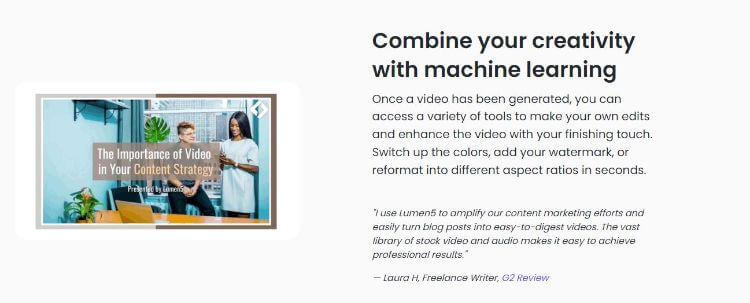 You might know what this looks like if you've previously seen highlighted keywords within subtitle sentences.
Lumen5 helps you achieve this level of quality in your productions.
Using AI to dynamically determine how long scenes should be and which keywords get highlighted, the tool can create an automated workflow for video editing.
Such a workflow saves time and provides consistently high video quality.
This feature also allows you to strategically position your text in a way that will better engage viewers.
Get started with Lumen5.
Team Management
With a Business or Enterprise plan, you can have an account admin that assigns roles and permission levels to team members.
These roles allow different users to collaborate on video projects without needing multiple accounts.
Lumen5 provides a toolset for team management.
You can also use brand-compliant templates for your videos to ensure that collaboration does not affect the quality of the content.
Two-Factor Authentication (2FA)
For both entrepreneurs and video editors that want to ensure their data is secure, Lumen5 offers two-factor authentication.
When you enable 2FA, you'll get a security code through an authenticator app that protects your account from unauthorized access.
Lumen5 Templates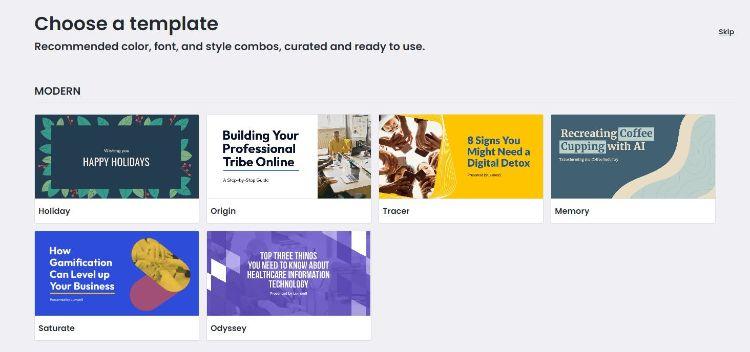 Creating video content from scratch can be a time-consuming process.
Lumen5 also has an answer to that through its video templates.
Using video templates, you can use premade, customizable templates representing your brand and style.
With over 50 options available when you sign up, you can create a video in no time.
You can also create templates to save settings for future videos.
Then, when the time comes, you only need to change the content.
Alternatively, you can import your script and get a great video quickly.
Media Marketplace
Those on the Business plan can use Shutterstock's media marketplace to access high-quality visuals for their videos.
With more credits added every month, finding the perfect visuals to complement your script and create an engaging video is easy.
Lumen5 Setup
Lumen5's video maker allows anyone to create high-quality video content with minimal time investment.
From setting up your storyboard to using visuals in your videos, Lumen5 provides a comprehensive solution.
There are two main options when setting up your video project using the Marketing Video or the Caption Video settings.
Let's explore these in more detail.
Marketing Video Setting
Whether you want to create a video to accompany your blog post or a whiteboard explainer video for your social media platforms, Lumen5 can help with its instant videos feature.
As I mentioned, you can either link to one of your articles or copy and paste a script you want to use in the tool.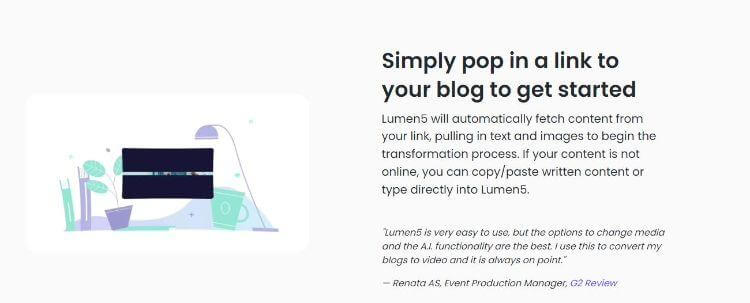 Video Formats
Lumen5 offers a variety of video formats that come preset with the system.
From creating LinkedIn videos to using media files and royalty-free images to build your Instagram content, chances are you'll find the best video size ready to go.
These formats include Facebook Newsfeed, Story and Carousel ad; Instagram Post, Story, and IGTV; Twitter Timeline; Snapchat; YouTube; Pinterest; and more.
Backdrops
By default, Lumen5 will choose from a wide range of stunning backdrops to add visual interest to your videos.
There's also an extensive royalty-free library that the AI can use to auto-generate visuals for you.
However, if you want something specific or tailored for your brand, you can also search for something more relevant in the media marketplace.
Editing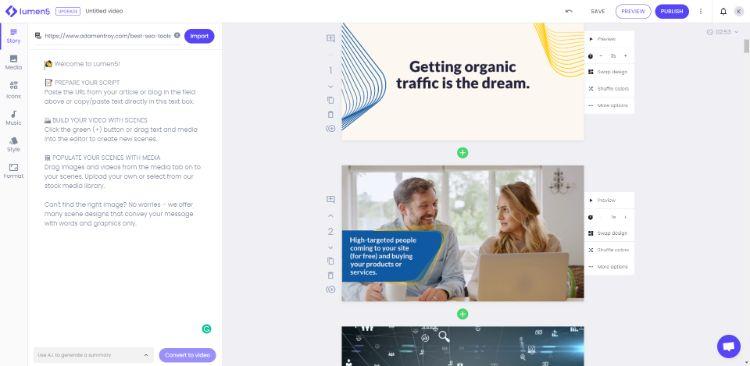 With multiple text options and the ability to choose from different fonts, colors, and sizes, Lumen5 makes it easy to create engaging video content.
You can also highlight different words than Lumen5 suggests.
Moreover, the scenes can follow a different order than the initial order that the AI creates.
Plus, you can set the style of your animations or transitions with a dimmer option that changes the opacity of each scene for a more cinematic look.
Music And Voiceovers
By default, Lumen5 adds royalty-free background music to help bring life to your videos.
Thousands of songs are available in their library, ensuring something perfect for any project.
You can also use their voiceover feature if you prefer to narrate over text instead of having visuals on the screen.
Caption Video
Another option to consider when creating videos with Lumen5 is the caption video feature.
If you're okay with recording using your microphone and camera, Lumen will caption the video and remove any unnecessary parts.
The captioning feature is well implemented in Lumen5 and can help save a lot of time when creating multiple videos.
Exporting
With automation workflows, you can export your finished masterpiece quickly.
Rendering time is variable and depends on your internet connection as well as the length of the video itself.
The more complex a project, the longer it will take to render.
You can also upload videos straight to a social media platform or download them to your computer for later use.
Lumen5 Support
Lumen's customer support adds to the functionality of the video creation platform as it provides users with helpful, fast, and friendly service.
With the ease of use in video production, there are minimal chances you'll run into technical issues.
However, if help is needed, Lumen5 has made it easy to access their support team.
With both email and live chat options available, customers can expect a response within thirty minutes on average.
Lumen5's chat service records past conversations with them and up-to-date information on all your inquiries.
This feature benefits the user by allowing them to quickly refer back to any particular questions they might have asked previously.
A help center also provides helpful tips and tricks related to the platform.
With plenty of YouTube videos that highlight different features of the platform, users can quickly learn more about Lumen5 in the comfort of their homes.
Finally, Lumen5's blog is an excellent resource for users seeking inspiration and advice on video creation and content marketing.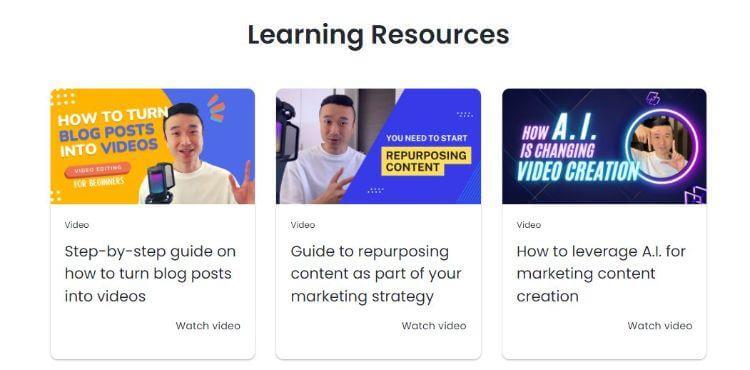 Who Is Lumen5 For?
Lumen5 is an easy-to-use tool created with all skill levels in mind.
Mainly, it caters to those who want to create videos for their content marketing needs automatically.
Its cloud-based video creator can help freelancers, marketing teams, and agencies boost production quality and speed.
Marketing videos are becoming more critical for capturing the attention of an audience and increasing engagement; Lumen5 could be a valuable asset to any content creator.
As you create social media content and other visuals, the platform can come in handy with its royalty-free music library and powerful editing tools.
Businesses looking to develop video ad campaigns can also benefit from Lumen as the platform provides users with the ability to templates and brand kits in addition to its vast stock media library.
Finally, with professional videos that users can easily create, Lumen5 is an ideal tool for businesses wanting to launch their own YouTube channels or increase their presence on other social networks.
The ability to use several video clips to create engaging videos and add branded visuals is an excellent bonus for users looking to create high-quality video content.
Testimonials
Most user reviews discuss their integration with other platforms, ease of use, and cost efficiency.
Customers also comment on how helpful customer support is, which is an excellent benefit for any business.
Many users are satisfied with Lumen5 and appreciate the ability to quickly turn text into video without needing additional resources or skills.
Lumen5 Pricing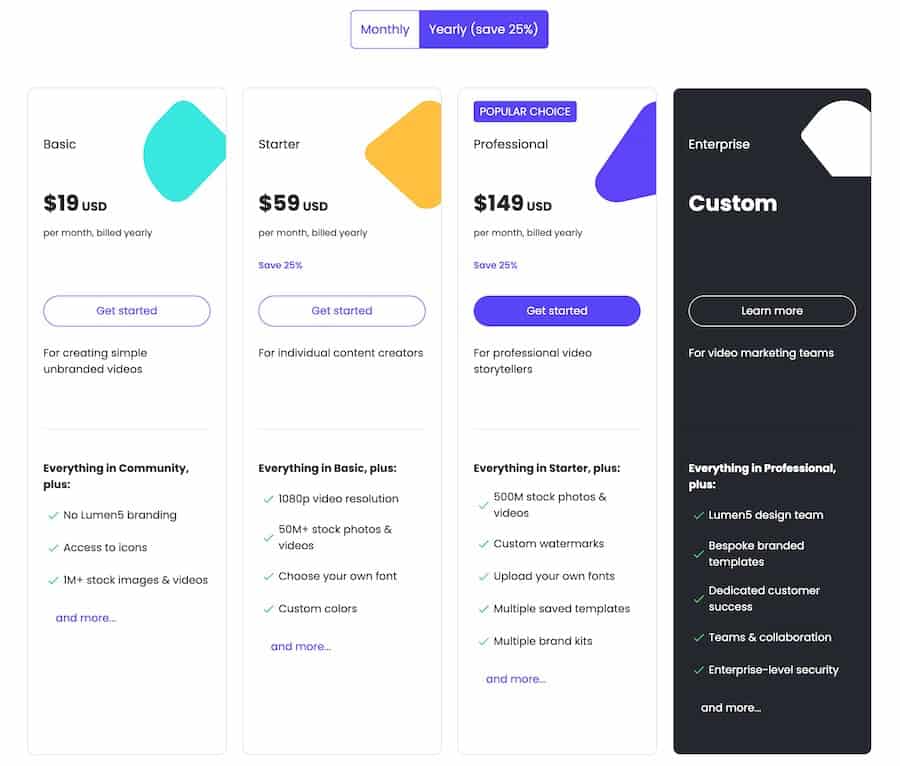 Lumen5's pricing is as follows:
Community: $0
Basic: $19
Starter: $59
Professional: $149
All the above are monthly fees paid annually.

There's the Free Community Plan for those interested in testing out the software first to see if it fits your business needs.
Here's more information about each plan.
The Community plan provides unlimited videos that come with a Lumen5 watermark.
This free version is excellent for introducing users to the platform and its features.
The Basic option removes any Lumen5 branding.
The Starter plan gives a 1080p resolution and more than fifty million stock videos and photos.
Businesses can upload their own fonts and saved templates with the Professional plan.
They can also have multiple brand kits.
There is also an Enterprise plan, for which you'll have to contact their team for more information on this plan.
Wrap Up.
In summary, Lumen5 is an innovative video creation platform that allows users to quickly and easily create stunning videos from various media sources.
The intuitive drag-and-drop interface makes it easy to customize the look and feel of your own videos.
At the same time, the advanced AI capabilities help you find the perfect visuals for any project.
Lumen5 also offers an array of features designed for collaboration so that teams can work on projects in real-time.
Get started with Lumen5.
Further reading on AdamEnfroy.com: AI video editor tools can help marketers polish their content like never before.
As artificial intelligence and machine learning become more powerful, video editors are becoming more intelligent and efficient.
Finally, check out the best video hosting sites for businesses to find the right platform for you.
Disclosure: I may receive affiliate compensation for some of the links below at no cost to you if you decide to purchase a paid plan. You can read our affiliate disclosure in our privacy policy. This site is not intending to provide financial advice. This is for entertainment only.