7 Best AI Video Generator Tools Ranked & Reviewed (2023)
Choosing the right AI video generator tool is vitally important to your business. From product demonstrations to step-by-step walkthroughs, the best AI video generator tools can help you meet your goals. In this guide, I ranked and reviewed the 7 best AI video generator tools, so that you can pick the best one for you.
---
We're reader-supported. When you buy through links on our site, we may earn an affiliate commission.
In the not-too-distant future, video creators will have access to some of the most advanced AI tools to help them create engaging videos.
These tools allow for automatic video generation based on a provided plot or topic.
While many are skeptical of the results at first, they are quickly won over by the realistic and life-like videos these tools can produce.
The best part is that anyone can use them, from amateur creators to professional studios.
As more people start using these tools, the quality of the videos continues to improve.
This leads to a renewed interest in online video content, and viewership numbers continue to rise.
Welcome… to the future!
Whether you want to make money on YouTube by creating business videos, monetizing video content on other channels, or using online video platforms to create the right marketing media, generating videos on demand based on your specific needs is now possible.
Traditionally, creating videos meant working with video editors, graphic designers, and other professionals to create a final product.
There is no more need for that!
In this post, I'll review the best AI video generator tools available today, helping you find the right option for your specific video creation needs.
Coupled with the right AI video editors, these can take your video creation to the next level.
Let's dive deep into this topic.
What Are The Best AI Video Generator Tools?
The following AI video generator tools are some of the best options currently available.
Best Overall.
Synthesia helps you create professional videos from scratch using AI.
It offers various video creation tools, including a storyboard creator, video editor, and more.
You can also use Synthesia to create marketing videos, product demo videos, or educational videos.
With 60+ languages supported, you can target clients in any country.
With intuitive and user-friendly features, Synthesia is one of the best AI video generators for businesses of all sizes.
Key Features: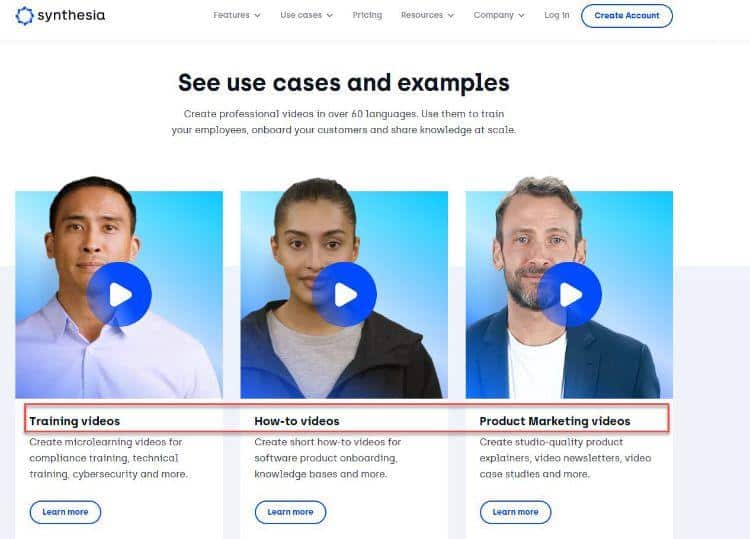 Their AI avatars are really helpful in creating realistic-looking human faces for your videos.
Similarly, AI Voices can be used to create realistic voiceovers.
I like their video templates as they help you create professional-looking videos quickly and easily.
Using their closed captions allows you to add subtitles to your videos.
Another one of their outstanding features is that you can upload brand assets such as logos, fonts, and color schemes and ensure your videos are on-brand.
User Experience:
Drag and drop features make creating videos easy without prior experience.
The interface is also sleek and user-friendly.
Pricing: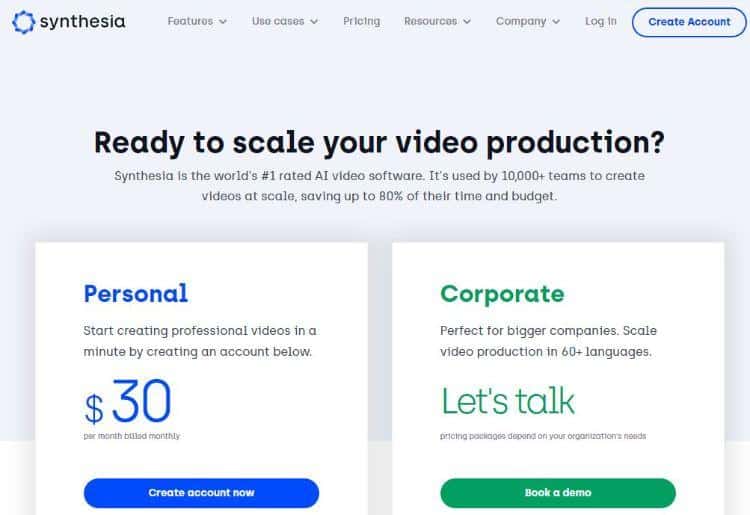 Synthesia offers two plans:
Personal: $30
Corporate: Contact their sales team for information
What I Like/Dislike About Synthesia:
Like:
Choosing an avatar and voice is quick and easy.
When you post a script, its language is automatically detected, making the whole process easier.
Dislike:
The resolution when using uploaded Powerpoint images is sometimes poor.
Product Updates:
New avatars are constantly being added to this tool.
Get started with Synthesia.
Best For Explainer Videos.

Flexclip is a tool that allows for flexible editing in an easy-to-use environment.
You can create stunning videos for your business with a wide range of features, from social media options to branding capabilities.
With templates that are easy to customize, you can also create videos that are both on-brand and professional.
Offering a fantastic collection of text animations, Flexclip is one of the best AI video generators for creating marketing and explainer videos.
You can also use the rich-stock media providers that come as part of the various plans to give yourself even more ways to enhance your videos.
Key Features:

They have 4,000,000+ royalty-free stock assets to ensure you never have to worry about copyright issues.
You can create and share videos seamlessly with team members or clients.
Powerful video tools help you create professional-looking videos quickly and easily.
I think their slideshow maker is great in helping you develop engaging shows for your website or blog.
The included movie maker allows you to combine photos, video clips, and music to create stunning movies.
User Experience: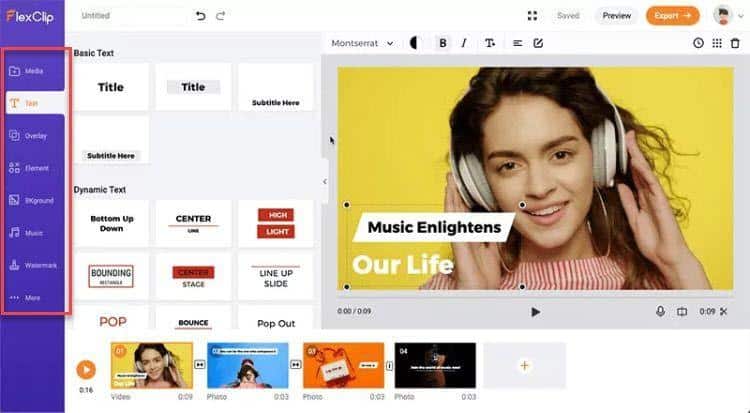 Getting started without any learning curve is a welcomed benefit, and Flexcilp allows you to do just that.
Pricing:

Flexclip offers various plans for different users:
Free: $ 0 /mo
Basic: $ 5.99 /mo
Plus: $ 9.99 /mo
Business: $ 19.99 /mo
What I Like/Dislike About Flexclip:
Like:
Whether creating promotional videos or editing existing ones, Flexclip is incredibly easy to use.
Dislike:
If you need to edit super long video clips, it can be tedious to do so on Flexclip.
Product Updates:
The FlexClip learning center has the latest resources for tips, tricks, and tutorials on how to use the software.
Get started with Flexclip.
Best For Converting Blog Posts.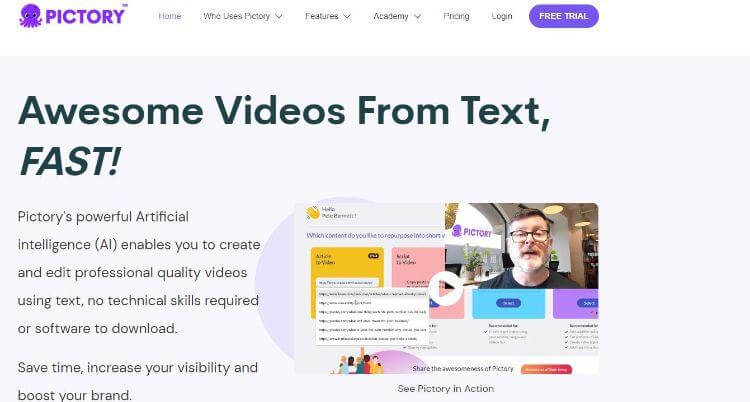 Pictory uses artificial intelligence not only to create high-quality videos but also to help you edit them.
With no technical skills required to create videos, Pictory allows you to paste your script into the app and watch as the AI makes a video for you.
With over 3 million royalty-free video clips and photos, you can create both on-brand and creative videos.
You can also convert blog posts into engaging videos for social media or your website.
Simply provide your blog post's URL, and Pictory will create a video for you in minutes.
If you ever wanted to repurpose your content, Pictory is an excellent solution.
Key Features: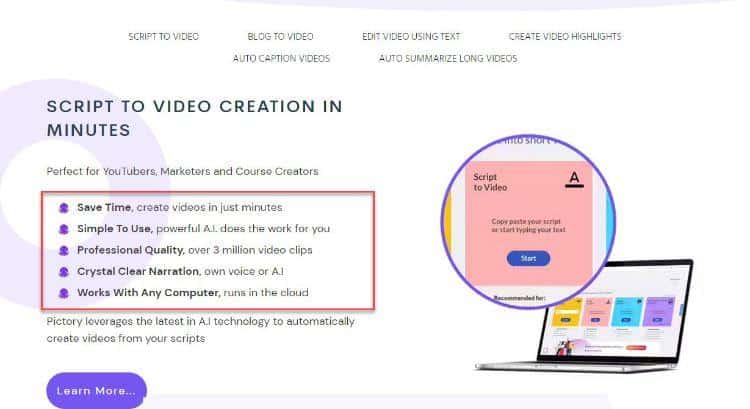 It's really helpful to use the script-to-video maker to create videos from scratch or by pasting in a script.
Similarly, their blog-to-video can convert your blog posts into engaging videos.
When I used their auto caption feature, it helped me generate captions for my videos automatically.
You can also auto summarize long videos and quickly get to the essential parts of a video.
User Experience:

Choosing the type of video you want to create is quick and easy.
The AI-powered video editor is also fantastic for quickly making video edits.
Pricing:

Pictory offers these pricing plans:
Standard: $19 per user/mth
Premium: $39 per user/mth
Enterprise: Custom pricing plans
What I Like/Dislike About Pictory:
Like:
The software produces quality video content every time.
Turning a blog post into a video is a great way to repurpose content, and Pictory does this with ease.
Dislike:
Sometimes, updates are released without being adequately tested, which can cause glitches.
Product Updates:
Scene reordering has now been added, allowing to drag and drop scenes to rearrange them.
Get started with Pictory.
Best For Bulk Video Creation.
Elai is excellent for creating a large number of videos quickly and easily.
Whether you want to boost conversion rates, increase brand awareness, or improve customer satisfaction, Elai can help.
Elai offers a wide range of video templates perfect for any use case.
With automated translations, you can also create videos in various languages.
Then, with their built-in avatar creation tool, you can personalize your videos further, creating the perfect brand video.
Key Features: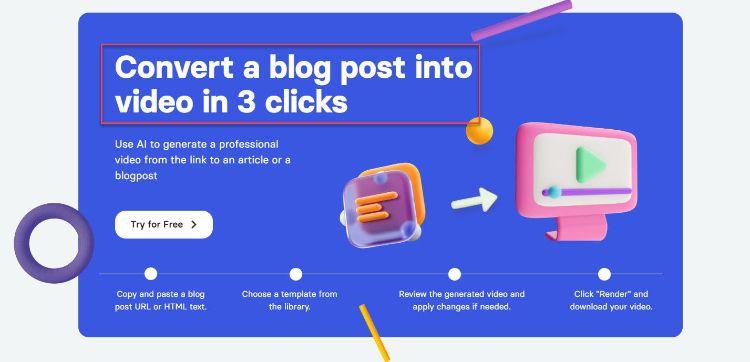 Their Elai builder is a powerful bulk video creation tool
Their range of premium voices allows you to create videos in many languages
I think their custom font upload is a key feature not found in many other pieces of software
A dedicated account manager ensures you always have someone to help you with your video needs.
User Experience: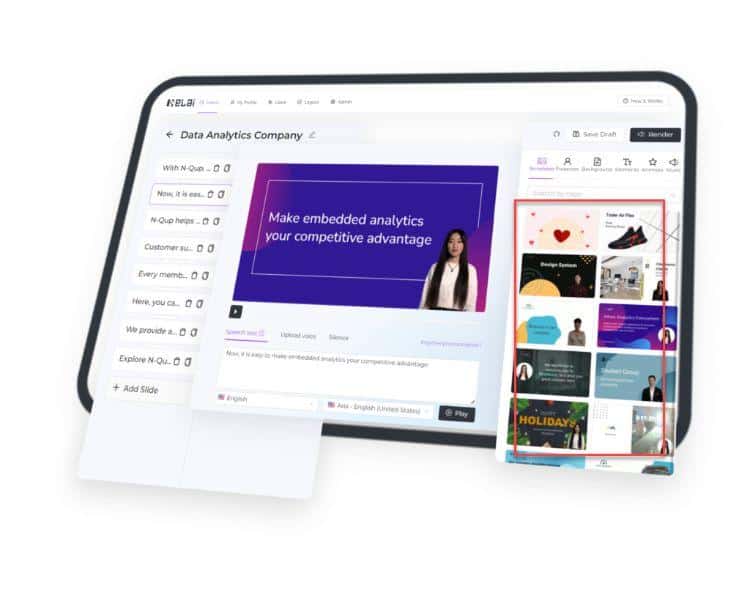 With an extensive working area and an easy-to-use interface, the Elai builder is great for quickly creating videos and being able to organize your workspace.
Pricing:
Elai offers these pricing plans:
Basic: $29.00
Advanced: $99.00
Custom: A corporate plan is available
What I Like/Dislike About Elai:
Like:
You can create and edit any video from your browser, so you don't need to download any software.
The number of features and customization options are quite vast.
Dislike:
Having 4K quality videos available would be great.
Product Updates:
The website and the builder have been given a new look, so it's now even easier to create videos.
Get started with Elai.
Best For Beginners.

Lumen5 makes creating video content as easy as creating a presentation.
You can create videos perfect for any situation with hundreds of included customizable designs.
Using artificial intelligence, you can repurpose marketing content or turn your blog posts into social media videos, product videos, or training videos.
Whether you want to turn videos or Zoom recordings into captivating video clips, Lumen5 can help.
With the provided royalty-free music and video footage, you can boost your video creation process.
Key Features: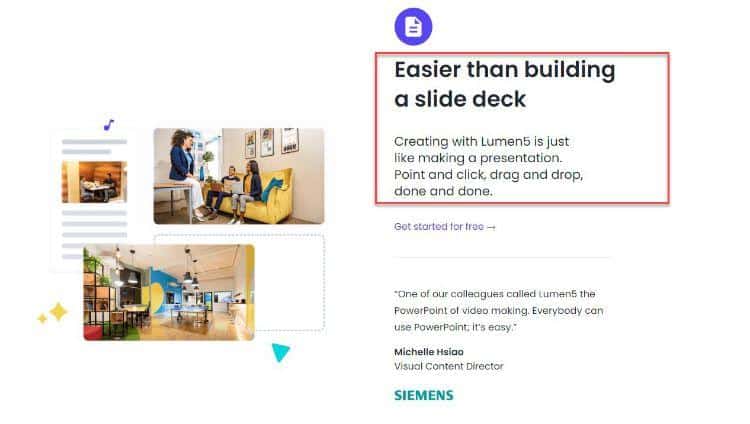 It's beneficial they've created various templates designed to help you stay on brand, so your videos will be consistent with your corporate identity.
The AI is built to repurpose marketing content so that you can quickly and easily create videos from existing content.
I've found that using Lumen5 is easier than building a slide deck, making it perfect for those with little video creation knowledge.
User Experience:
Lumen makes it easy to combine your media, add music, choose your style, and select the proper format for your needs.
With separate screens for each step, you can keep track of your progress and make changes along the way.
Pricing:

Lumen offers a free plan so you can test out the software.
Then, the paid prices are as follows:
Basic: $19
Starter: $59
Professional: $149
All of these are monthly fees that are billed yearly.
What I Like/Dislike About Lumen:
Like:
Professionally curated video footage and music make it easy to create engaging videos.
The drag-and-drop interface is easy to use and doesn't require any video editing experience.
Dislike:
The free version has an included watermark.
Product Updates:
With video branding, you only have to set up your brand once, and then you'll get branded videos forever.
Get started with Lumen5.
6. Synthesys.
Best Humatar Software.

Synthesys uses developing algorithms and cutting-edge AI to create realistic video and audio.
Using Synthesys' text-to-speech technology, you can create videos that sound natural and realistic.
Then, with Synthesys' text-to-video technology, you can create videos that look natural and realistic.
If you're tired of hearing voiceovers that don't sound natural or watching videos that don't look natural, Synthesys is the perfect tool for you.
You can also convert plain old text to dynamic content that inspires, informs, and entertains.
Key Features:
They have as many as seventy-four real humatars included in this tool.
It's helpful they have over 66 languages to use in your videos.
You can completely customize Synthesys to match your brand.
The platform is all cloud-based, so you can use it anywhere.
Pricing:
Synthesys offers these pricing plans:
Audio: $29 per month
Human: $39 per month
Human And Audio: $59 per month
7. Rephrase.
Best For Its Digital Avatars.
Rephrase uses digital avatars to create realistic-looking videos.
This means that you can create videos that include real-looking people as actors.
Whether you want to scale your video content or create needed videos on demand, Rephrase is a great tool.
Rephrase is also one to consider for those who want their corporate communication to become personal, allowing them to get a better return on their video investment.
Key Features:
When I used Rephrase to create videos, along with human-looking avatars, the generated results were remarkable.
I appreciate that this is an excellent tool for those that want their corporate communication to become more personal.
I think this is a great way forward for those who want to scale their communication in a personalized way.
Pricing:
There is no pricing information on the site.
However, you have these options to learn more about what they offer:
Book a Townhall
Monetize your avatar
Partner
You'll have to contact them for any of the three options.
Other AI video generator tools not mentioned in this article include Designs.ai, InVideo, and Rephrase.ai.
What Are AI Video Generator Tools?
AI video generators help create professional-looking videos for businesses and organizations of all sizes.
Using artificial intelligence, the best AI video generators will allow users to create engaging videos their audience can identify with, and scale their video content quickly.
Traditionally, video editing software and video editing tools had a huge learning curve for those that wanted to create high-quality videos.
Now, the right AI video maker can ensure that users create videos that look and sound like a professional made them – without all the hassle and cost this brought with it.
Key Benefits Of Using AI Video Generators
Here are the main benefits of using AI video generators in your business.
1. Automated Video Creation
Whether taking written blog posts and using an AI tool to build up your YouTube channel, or simply have a product you want to show as part of a video, artificial intelligence can help automate the video creation process.
2. Improved Quality
An A.I.-powered video generator can do a much better job than someone just stumbling around with multiple video editing tools.
This means less of a headache because you don't have to go back and edit videos yourself or worry about whether your videos look good enough.
3. Increased Engagement
From posting videos on social media platforms to embedding them as part of email marketing campaigns, video creation is now easier than ever.
The right AI video editor can understand various nuances of your target market and use this to help increase engagement rates.
4. Time-Saving
Using machine learning as part of an AI video creator can save you time in the short and long run.
Whether choosing the right background music for your video topic or applying a watermark that protects your video from being downloaded and redistributed without permission, an AI video generator can automate all these processes.
5. Cost-Effective
Hiring human presenters, voiceover artists, choosing the right images, and more involved a costly process.
With the pricing plans of various AI video generator tools starting at a relatively low cost, and including everything one needs to get the job done, businesses of all sizes can create cost-effective videos.
6. Personalization
Marketing videos aim to elicit a specific emotion in the viewer.
Whether you're doing business outreach and want to create a video addressing a specific pain point or trying to increase brand awareness for your company, an AI video generator can personalize videos for your target market.
From using the proper storyboard to ensure the proper sequence is followed to using a media library to find the right images, the functionality that an AI video creation platform offers can help you personalize your videos.
7. Subtitles
When using a text-to-video AI platform, there are many use cases where having subtitles is critical.
From training videos that capture fine process details, to creating videos for people whose first language is not English, having a video creation platform that includes subtitles is essential.
8. Improved ROI
From a free plan that allows beginners and advanced users to test out the specific functionality they need to a pro plan that offers many more features, an AI video creation platform can provide businesses with an improved ROI.
Additionally, with no need to worry about the quality of your videos or the engagement rates you'll achieve, using an AI video creator is a smart investment for businesses of all sizes.
9. API Integration
With a business plan created with integrations in mind, you can often find various APIs available.
Whether you're creating a promo video and want to integrate this with your CRM or have e-commerce integrations added to a video you generate, an all-in-one video creation platform with an API is ideal for certain businesses.
Wrap Up.
With video taking over how businesses communicate, creating high-quality videos quickly and easily has never been more essential.
Having the right tool in your arsenal to help you do that will give you a serious advantage over your competitors.
AI video generator tools are quickly becoming popular as they offer users many features and benefits.
If you're looking for a tool to help you create videos more efficiently, consider one of the above-mentioned platforms.
To sum up, the following are the best AI video generator tools right now:
What features do you think are most important in a video generator tool?
What's your favorite AI video generator tool?
Let me know in the comments below!
Further reading on AdamEnfroy.com: If you use YouTube to market your business, you need to know how YouTube studio works.
Being able to produce high-quality videos is one thing, but if you don't know how to use YouTube's powerful backend tools, you won't be able to make the most out of this powerful platform.
In addition, using webinars as part of your video marketing campaign can be a compelling way to better reach your target market.
The right webinar software can help you host live or evergreen webinars that generate leads, build your list, and close sales.
Disclosure: I may receive affiliate compensation for some of the links below at no cost to you if you decide to purchase a paid plan. You can read our affiliate disclosure in our privacy policy. This site is not intending to provide financial advice. This is for entertainment only.