Synthesia Review: Pros, Cons & Features in 2023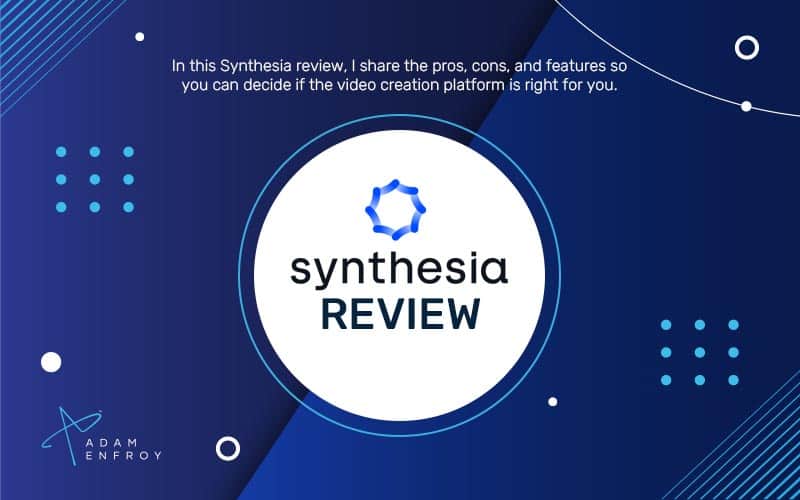 If you understand that video marketing is critical to your business's success, the good news is that AI video creators are now in full flow.
This brings with it the rise of deep fakes, defined as computer-generated images and videos that can be used to create entirely believable narratives.
While this might sound intimidating, these tools can also be used for good.
One of the most popular AI video creators available today is Synthesia.
Synthesia is a powerful artificial intelligence-curated video service that allows users to create stunning videos from basic text and image templates.
It provides users with a highly intuitive platform for creating engaging, high-quality videos quickly and cost-effectively.
In this Synthesia review, I'll show you some of the pros, cons, and features so you can decide whether the video creation platform is right for you.
How Does Synthesia Work?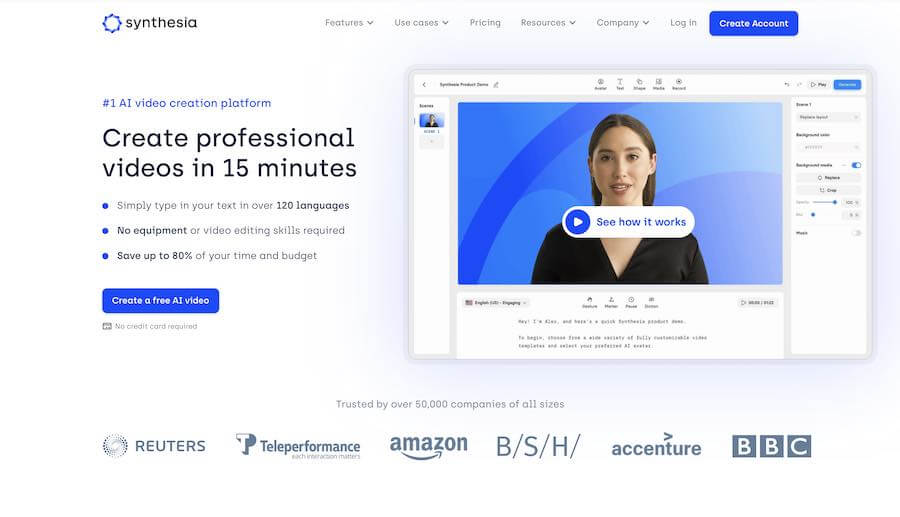 Synthesia is an AI system that makes creating video creation straightforward.
Whether you create explainer videos or a presentation, Synthesia allows users to create professional-looking videos with minimal effort.
You can create a slide deck and choose the video style you want.
You can also add animations, background music, text, video clips, and images to make the video more engaging.
Using AI video creation tools, one can also upload PowerPoint slides to create high-quality videos.
Sometimes, creating high-quality videos requires adding speaker notes to the slides. Synthesia's video creator allows you to do this as well.
For product marketing videos, you can enable the option where the chosen avatar says what you wrote on the slide.
With different languages available, Synthesia is an excellent tool for creating engaging content quickly and easily – without showing your face.
Using Custom Avatars
Nowadays, companies use their avatar in videos and other marketing materials to represent their brand.
From having different personalities for each avatar, or the same character throughout, Synthesia makes it easy to create personalized video content.
You can also customize the look of your avatar.
Your avatar can be unique to your brand, whether it's hairstyle or clothing options.
Who Is Synthesia IO Made For?
The software is excellent for businesses looking for an easy, cost-effective way to create video content.
For those who want to create video content without hiring a professional, Synthesia IO is the perfect solution.
Whether it's marketing videos, product demo videos, or corporate presentations – Synthesia IO can make the process straightforward.
One can also create Facebook ads to sell products online and easily create Instagram Stories and YouTube videos.
The best part is that one can quickly create high-quality video content without needing any prior knowledge or experience in creating video content.
Here are some specific potential users of Synthesia IO.
Course Creators
For those that want to create their online courses, Synthesia IO is an ideal solution.
With its easy-to-use video creator and avatar creator, one can quickly create customized and engaging classes for students.
YouTubers
Starting a YouTube channel and adding videos has never been easier.
If you are a YouTuber looking for a way to create professional-looking videos that stand out, Synthesia IO is an excellent tool for you.
It allows users to easily add animations, background music, text, and images to make their videos more eye-catching.
Bloggers
For those starting their blog, Synthesia IO can quickly help create professional-looking video content to embed in posts.
With its AI video creator, this tool creates stunning videos to attract potential viewers and keep them engaged.
Freelancers
As a freelancer working from home and looking for ways to stand out, creating eye-catching videos can attract more clients.
With Synthesia IO's AI video creator, one can quickly create high-quality videos that wow potential employers and clients.
Online Stores
For those starting an ecommerce business and running an online store, Synthesia IO is the ideal solution for making promotional and marketing videos.
It allows them to quickly create short and engaging videos that attractively showcase their products.
Get started with Synthesia.
Synthesia Step By Step
Here's how to use this platform in a few simple steps.
Select Your Video Template
To create professional videos, you need a suitable template.
Synthesia offers a wide range of professionally designed templates that are highly customizable.
Your video creation process starts by selecting a suitable template for your project.
With video footage that one can add from various sources, you'll have plenty of options for creating stunning visuals.
Edit Your Video Script
Whether creating explainers or marketing videos, having the right script is key to success.
With the Synthesia video script editor, you can create engaging, informative, and informative scripts.
For your own video, this ensures that the content resonates with your target audience while keeping them entertained simultaneously.
As a video maker, editing is an essential step in the process, and Synthesia makes it easy.
Choose Your Avatar
An AI tool that allows for creating custom videos with avatars is a great way to ensure that your video stands out.
With Synthesia, you can choose from various characters and feature them in your videos. You can even have your avatar included in the video if desired.
Using artificial intelligence, this process yields impressive results that look and sound incredibly realistic.
This process is excellent for those who want to avoid dealing with the hassle of hiring actors, finding the proper lighting, purchasing costumes, etc.
Publish Your Video
Using the Synthesia AI presenter, you can now easily publish your video on multiple platforms like YouTube, Twitter, and Facebook.
Whether the video is for a social media platform, an explainer video, or a product launch, Synthesia makes it easy to get the video out there.
You can also download the video created, allowing you to easily upload it to your website or any other platform you may use.
Customize the Look and Feel of Your Video
If you want to edit further before publishing your video, Synthesia gives you plenty of options for customizing the look and feel of your video.
From using custom backgrounds to changing your avatar's location and even altering the font size and color of text, you have much control over how your video appears.
You can also have a video in an audio-only format.
Known as a "voice only" video, this is great for those that don't want to feature an avatar in their video.
You can also loop the background video, ensuring it matches your script to ensure your audience stays engaged.
The Synthesia AI can speed up or slow down certain parts of the video as desired.
Moreover, features such as crop and trim allow you to make the most of your video footage.
While the above might seem like a lot, the platform also offers training.
Synthesia provides tutorials to get you started and create advanced videos quickly.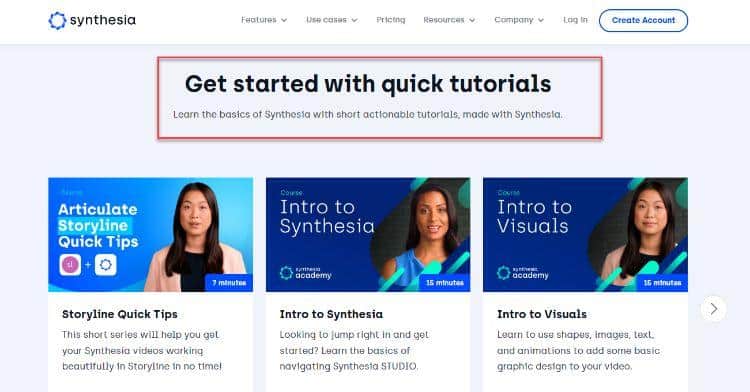 Adding Music
You can add music or sound effects to make your video stand out in the video's audio.
With the option to add music to your video from their database, you can ensure that your content resonates with your target audience while keeping them entertained simultaneously.
You could also upload your music for a more personalized touch.
Integrations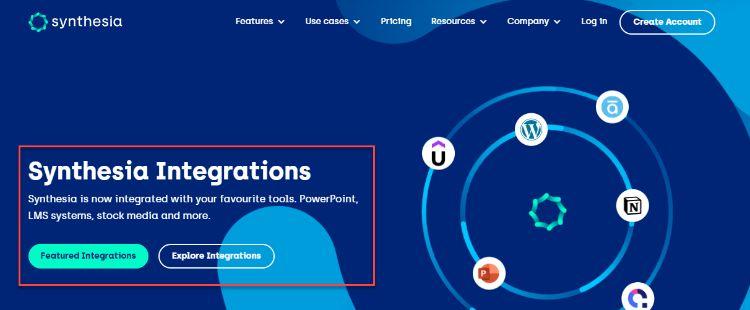 Synthesia AI integrates with tons of platforms.
Two notable ones are Unsplash and Pexels.
Both these platforms allow you to choose from a wide variety of media, such as images, videos, audio, and GIFs, which you can use in your project.
API For Developers And Non-Tech Users
Synthesia Studio can automatically recognize and allow developers to utilize their API for customizing videos.
Developers can quickly use Synthesia to mass-create customized videos for their applications or websites.
As a result, their API easily opens up the number of use cases that require video content production.
Those who aren't technically savvy can still utilize the API through Zapier.
Through this platform, one can connect customer data and, using Synthesia Studio, create personalized videos without coding.
This integration helps you easily create a video tailored to an individual user's needs.
Synthesia.io's Key Features

Here are the main features of Synthesia.io.
70+ AI avatars
The right AI avatar can make all the difference from customer onboarding to customer support and social media posts.
With engaging training that can help you develop unique and personalized videos, Synthesia offers a wide range of AI avatars with customizable features.
65+ Languages
If you use a different language than English to communicate with your customers or colleagues, Synthesia supports 65+ languages.
The option to choose from multiple languages makes the platform excellent for global companies.
Video templates
You can select from 50+ customizable video templates designed to help you develop an engaging end product faster and easier.
Screen Recorder
You can record your screen activity and quickly create engaging presentations in no time based on your screen movement.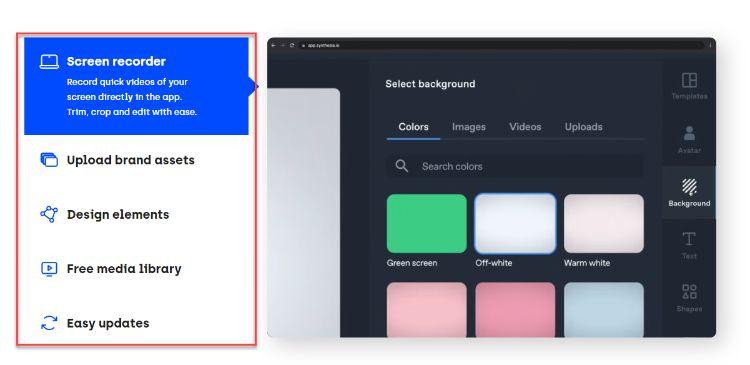 Brand Identity Assets
With their corporate plan, you can upload logos, colors, and other brand identity assets to help users recognize your brand faster.
No need for more film crews bringing in expensive equipment to film training videos.
Free Media Library
This add-on ensures you are never short of visuals for your project.
The free media library is an excellent resource for all video projects and can help with anything from onboarding employees to generating marketing material.
Design Elements
The platform has dozens of design elements to help you create videos that reflect your brand's message and vision.
SAML SSO Support
Users can log in to the platform with just one click and access all their projects securely.
MP4 Downloads
Once the video is ready, you can download it as an MP4 file for further sharing and editing.
Background Music
The platform also has a library of royalty-free tracks that you can use for background music in your video projects.
This music helps add an extra layer of emotion to the end product.
Pros and Cons
Let's now consider the pros and cons of Synthesia.io:
Pros
The high quality of the videos stands out. AI functionalities make it easy for non-professionals to create aesthetically pleasing video projects.
Their various features give numerous possibilities to personalize even what used to be the most basic designs.
The platform is helpful for short promos, teasers, and corporate videos.
They are continuously adding features as time goes on.
Cons
The Personal plan is limited in the number of videos you can generate.
It also lacks API access, limiting the number of videos you can generate.
While Synthesia offers many features, it can't compete with videos created by professional production teams.
Synthesia IO Pricing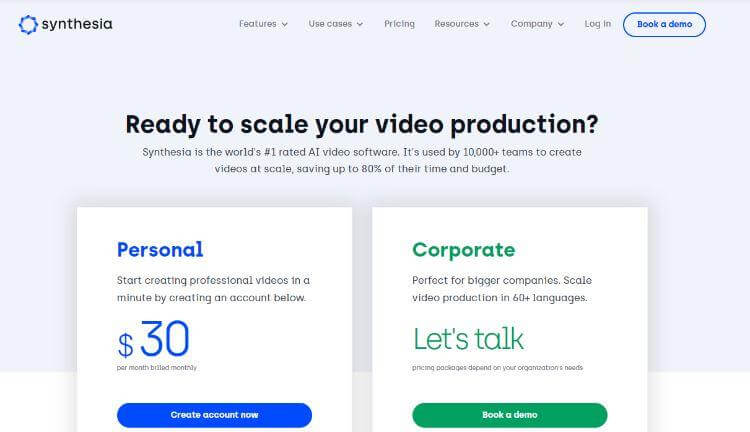 There are two pricing plans on offer:
Personal Plan: $30
Corporate Plan: Contact the Synthesia team for pricing
The Personal Plan gives you 10 video credits for $30 per month.
This plan is ideal for individuals who create a few videos monthly.
The Corporate Plan allows you access to additional features.
The exact cost of this plan will depend on your needs and usage levels.
Synthesia Review – FAQ
Is Synthesia AI Legit?
Yes, Synhesia is a legitimate AI-powered video platform that can create professional-looking videos in minutes.
Their features make it easy for anyone to get started with their video projects instantly.
Is Synthesia AI Worth It?
Whether or not Synthesia is worth it will depend on your needs and how much you use the platform.
The Personal Plan is limited but still provides enough features to make introductory videos, while the corporate program offers more options for power users.
What Are Synthesia's Alternatives?
Other tools considered competitors include Deepword, Invideo, and Rephrase AI.
Wrap Up.
Synthesia is an excellent tool for creating professional-looking videos in no time.
With many AI-powered features, you can easily create videos reflecting your brand's message and vision.
If you want to use a custom avatar to take your video marketing to the next level, Synthesia is an excellent tool in your arsenal.
Get started with Synthesia.
Further reading on AdamEnfroy.com: Video editing skills are invaluable when using video editing software to create compelling videos in today's digital world.
Whether you want to make money from YouTube or use video editing to create marketing materials for your business, these skills are invaluable.
Disclosure: I may receive affiliate compensation for some of the links below at no cost to you if you decide to purchase a paid plan. You can read our affiliate disclosure in our privacy policy. This site is not intending to provide financial advice. This is for entertainment only.