Work From Home Jobs: How To Kickstart Your New Career In 2024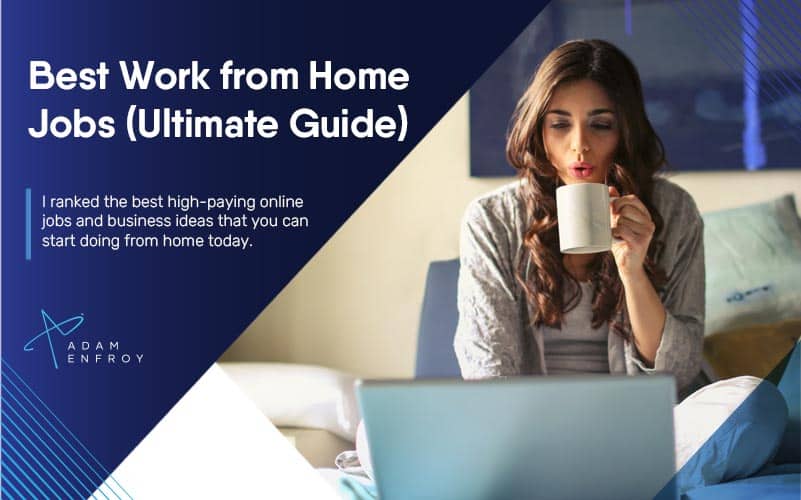 Are you looking to find a new career working from the comfort of your own home?
Then, you've come to the right place.
In this guide, I'm going to walk you through everything you need to know to find a work from home job that's right for you.
Let's get into it…
Disclaimer: Please note, this article includes affiliate links which may provide me a commission at no cost to you. These are merely the best online jobs and the tools to use to be successful. You can read my affiliate disclosure on my privacy policy.
Who Am I, And What Do I Know About Work From Home Jobs?
Hey, I'm James!
I'm the general manager here at Adam Enfroy, and I've been working remotely since 2012. Yep, I'm one of those "I did it before it was cool" people.
The entire team here is remote, spanning every possible timezone on almost every single continent (we're still waiting to hire someone from Antarctica):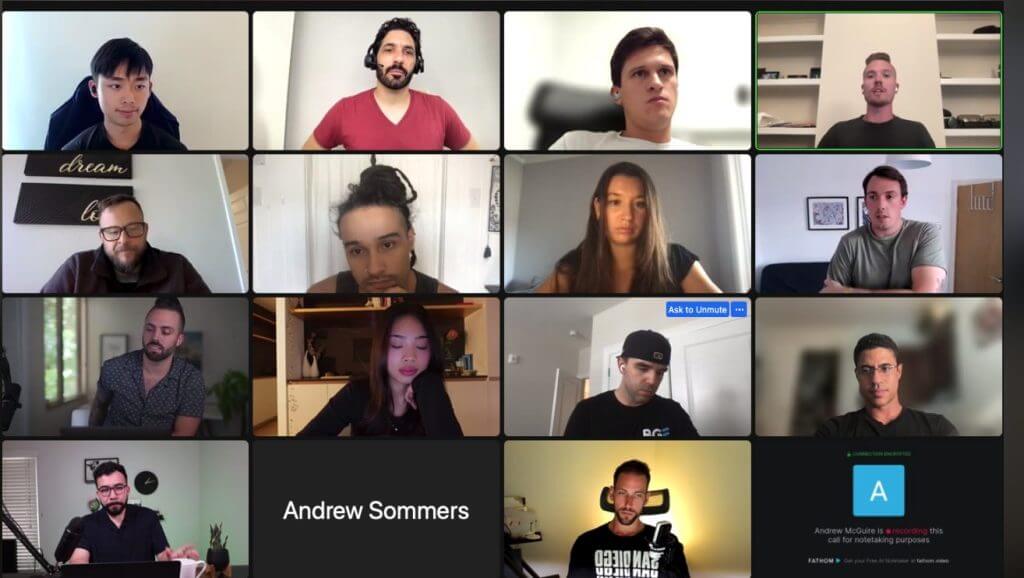 In fact, I've never worked in a real office. I did work in a shoe shop for about a year, but a freelance writing side hustle allowed me to quit and start working from home.
I've spent time both looking for work from home jobs and hiring people for them. I've run entire remote teams and I'm pretty well versed in the tricks of the trade to get noticed by hiring managers.
Now, I'm going to share all of them with you!
Quick-Fire Questions: What You Need To Know About Work From Home Jobs
I get asked a lot of questions about working from home. So, I want to provide some quick answers to the most common ones.
Q: What skills and qualifications do you need to work from home?
A: The skills and qualifications you need are going to vary from job-to-job, the same as they would working in-office. However, what does change is your approach to the work itself.
You'll need to be a:
Natural communicator: remote work means that those water-cooler chats or someone popping by your office for an update can't happen. You need to be able to share updates, provide effective reports, and be good at text-only interactions like Slack messages.
Self-starter: it's on you to get to your desk every day and do your work. When your PS5 is in the next room, or your partner is watching TikToks in bed, this is easier said than done.
Adaptable person: remote companies are usually more flexible, but they often change strategies and processes more often as they grow. Can you adapt to an ever-changing environment?
Eye-roller: because so many people are going to say, "it must be nice for you, working from home".
Q: What does remote work actually feel like?
A: It can be really disorientating at first.

You'll probably find there's a sudden rush of excitement that you get to work from your home office. You'll wear your pyjamas a lot, drink too much caffeine, and do more housework than you're probably supposed to do on company time. You'll be walking on clouds for a while!

Then you might get a bit of cabin-fever and miss the routine of it all. You know, commuting, grabbing a coffee, gossiping with people in person. And, you'll start to wonder if this was the right choice.

You might also find yourself in some odd situations. Like, my first day at this job, I started at 09:00 in the UK…but my boss didn't come online until 16:00 because he's based in Oregon.

You'll need to get used to a lot of asynchronous communication (messages, pre-recorded videos, etc.). And, get comfortable with only seeing your colleagues every few weeks or months.

But it's also incredibly rewarding. You can forge relationships from anywhere, adjust your own schedule, and create an environment that's conducive to your working style.
Q: Will my new company pay for my home office?
A: Good question.

It's typically expected that you have the basics — good internet, laptop, monitor, keyboard, etc. — and the company will provide anything specific you need to fulfil your function after that.

Let's say you're a customer service rep and your new company expects you to have stellar audio. They might provide the microphone you need to make that happen.

I've worked for companies that provide an annual stipend of between $500 and $1000 to kit out your office. Others will just tell you to stick what you need on the company card. So, it does depend. But play it safe by kitting yourself out with the basics — you can always get reimbursed.

Q: Will my new company use software to track my work?
A: Potentially.
Some companies will use time-tracking software, like Hubstaff, that record your computer at certain intervals. These screenshots will be uploaded to a database where your manager can see your productivity.

I personally refuse to work for companies that try to enforce this. I get that there are people out there who want to take advantage. But, I believe in trusting people first.

It's up to you whether this is a deal-breaker or not. Some people really don't mind it. Others absolutely hate it. But it's worth knowing that not all companies use this and you have options.

The 8 Most Popular Work From Home Jobs
1. Customer Success Manager (CSM)
The Gig: Virtual troubleshooters; they're the problem solvers when orders go awry or tech becomes too techy.
Potential earnings: $59,000 – $93,000 per year [Glassdoor]
Skills: Empathy, active listening, multitasking.
Qualifications:
Inside Scoop: Customer Success Managers (CSMs) are key players in Software-as-a-Service (SaaS) companies. These companies are typically remote-first and have higher salaries!
Where to find jobs:
2. Digital Marketing Specialist
The Gig: The masterminds behind the ads you can't skip, the emails you actually open, and the content that keeps you scrolling.
Potential earnings: $45,000 – $97,000 per year [Glassdoor]
Skills: Creativity, analytical mindset, proficiency in platforms like Google Ads and Facebook Ads.
Qualifications: Bigger companies will ask for a degree in marketing. However, you can also have good freelance writing experience, or even just certifications from companies like HubSpot Academy.
Inside Scoop: Digital Marketing is a skill needed by companies of all sizes. If you have less experience, look for startups or small consumer brands.
Where to find jobs: Websites like HubSpot Jobs, LinkedIn, and specific sections of job boards like Indeed tailored to marketing roles.
3. UX/UI Designer
The Gig: The artists and architects behind every click, swipe, and tap you make on digital platforms.
Potential earnings: $60,000 – $110,000 per year [Glassdoor]
Skills: Creativity, user empathy, proficiency in design tools like Sketch or Figma.
Qualifications: Degree in Design, Multimedia, or related field. A strong portfolio is key.
Inside Scoop: In the digital age, a product's design and user experience can make or break its success. UX/UI designers play a pivotal role in ensuring users have a seamless experience. Where to find jobs: Dribbble Jobs, Behance, and LinkedIn.
4. Virtual Event Manager
The Gig: Orchestrators of digital experiences, from webinars to online conferences, ensuring they run without a hitch.
Potential earnings: $40,000 – $75,000 per year [Glassdoor]
Skills: Organizational skills, tech-savviness, attention to detail.
Qualifications: Degree in Event Management or related fields; familiarity with virtual event platforms is a plus.
Inside Scoop: The pandemic has pivoted many live events online, and this trend seems here to stay. Virtual event planners make these events memorable.
Where to find jobs: Eventbrite, MeetingJobs, and LinkedIn.
5. Affiliate Marketing Manager
The Gig: The dynamos driving online sales by building and managing partnerships.
Potential earnings: $51,000 – $95,000 per year [Glassdoor]
Skills: Negotiation, relationship building, analytical mindset.
Qualifications: Degree in Marketing, Business, or similar; knowledge of affiliate platforms like CJ Affiliate or ShareASale.
Inside Scoop: our founder, Adam, started his journey as an Affiliate Manager. This job can really give you the skills to go off and start your own business making money from affiliates as well!
Where to find jobs: LinkedIn, SimplyHired, and on major affiliate platform websites.
6. Remote Data Entry Analyst
The Gig: Inputting data accurately into systems, ensuring databases are up-to-date.
Potential earnings: $30,000 – $45,000 per year [Glassdoor]
Skills: Attention to detail, speed, familiarity with tools like Excel.
Qualifications: High school diploma or equivalent; some roles might require a Bachelor's.
Inside Scoop: An essential role in many companies, ensuring data integrity and supporting various business operations.
Where to find jobs: FlexJobs, Remote.co, company career pages.
7. Online Market Research Assistant
The Gig: Gathering data on competitors, market trends, and consumer preferences to aid business decisions.
Potential earnings: $35,000 – $55,000 per year [Glassdoor]
Skills: Analytical mindset, research proficiency. Qualifications: Typically a Bachelor's degree in Business, Marketing, or related fields.
Inside Scoop: Market insights drive businesses. This role offers a deep dive into understanding industry landscapes.
Where to find jobs: LinkedIn, Market Research Association's Job Board.
8. Virtual HR Coordinator
The Gig: Assisting with recruitment, onboarding, employee relations, and HR administrative tasks. Potential earnings: $40,000 – $58,000 per year [Glassdoor]
Skills: Interpersonal skills, organizational ability.
Qualifications: Often a Bachelor's degree in Human Resources or related; HR certification can be a bonus.
Inside Scoop: A key role ensuring smooth HR operations and positive employee experiences.
Where to find jobs: Websites like SHRM's HR Job Board, LinkedIn.
How To Increase The Chance Your Application Gets Seen
Let's face it:
A lot of people apply for work from home jobs. So, you're going to need to put some work into making sure your application stands out.
Let me explain…
I once posted a job for a Content Marketing Specialist on LinkedIn and received 500+ applications within 48 hours. By the end of the week, it was over 1000. I actually had to bring a HR specialist in to help me sift through them by sharing criteria that was either a yes or a not.
There are 3 things you should take from that:
Hiring managers have to deal with a lot of applications
There are certain pieces of yes/no criteria
The hiring manager might not even see your application
That means the odds can be stacked against you.
You do need to apply via the normal channels so you're in the employers' system. However, you can absolutely circumvent these problems with a quick (mostly) free fix.
And, it made my life as a hiring manager 1000x easier and increased the chance the even the most under-qualified person would get to the interview stage.
This tool is a game-changer.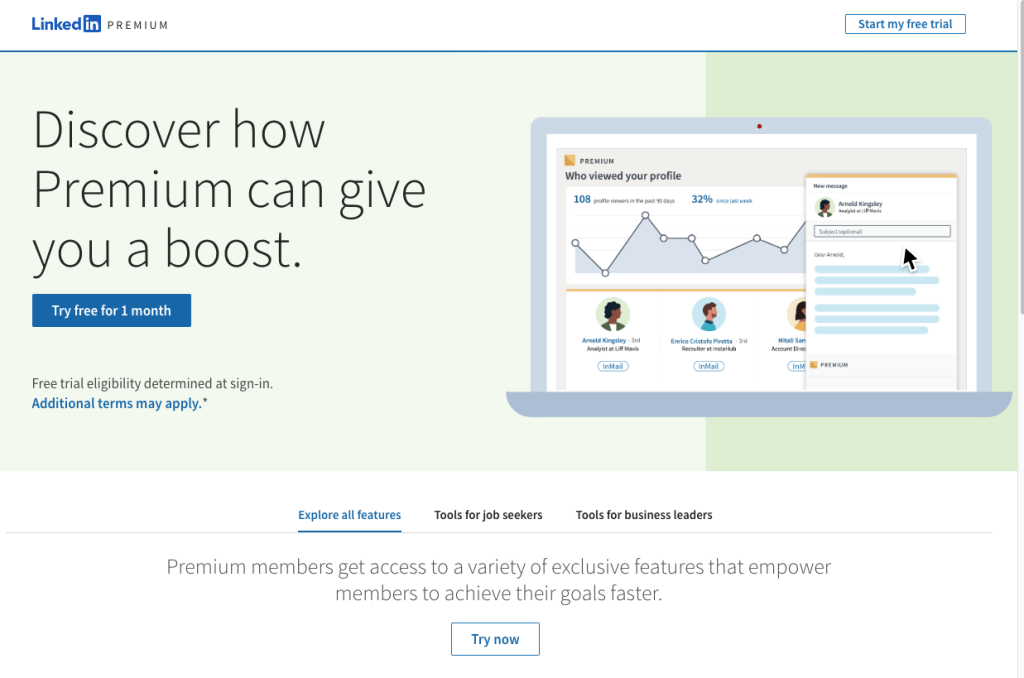 If you've never signed up for it before, you should be able to get a month-long trial for free. Or, you know, invest the $$$ into your future. If you land a higher-paying job, it's worth every penny.
it's going to allow you:
Find hiring managers at the companies you're applying for
Send them messages, even if you're not connected
This is an invaluable way to get in front of a hiring manager and grab their attention, while helping them cut through the noise.
Step #2: Find The Hiring Manager
Once you've signed up, run the company through the search bar and go to their official page. Then, click on either the Jobs or People tab:
If you already know what the job is, just click "People".
From there: scroll down to find an entire list of people who work at the company. You're looking for a job title — probably with "manager" in it — that aligns with the job you're applying for.
So, if you were applying for a job as a Content Marketer, you'd probably be looking for someone with the title "Content Marketing Manager" or "Digital Marketing Manager":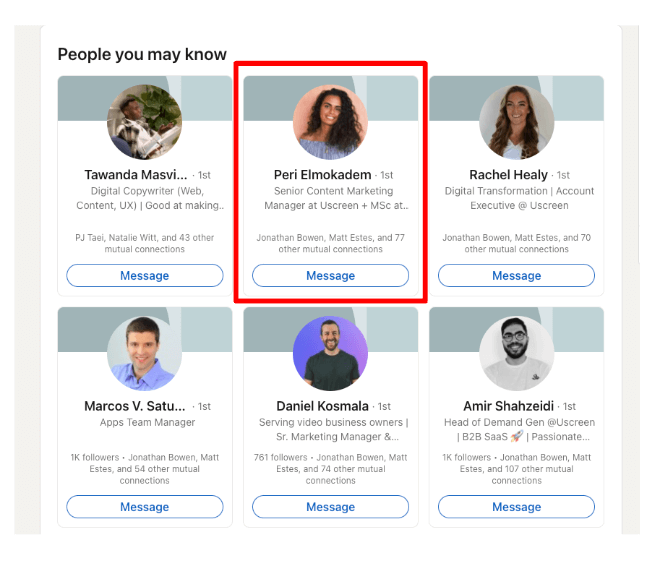 Then, all you have to do, is click "message" and you should be able to send them a direct mail.
But what do you say?
Step #3: Ask Some Relevant Questions
This is the step that's crucial and often sets top-candidates apart.
Can you ask relevant questions that show you're really interested in working somewhere, and understanding the role?
When I've received questions from candidate that are more than just filling space, I've always been open to them. And, I've also had the same experience in sending these messages. Here's one from when I was looking for a work from home job in mid-2023: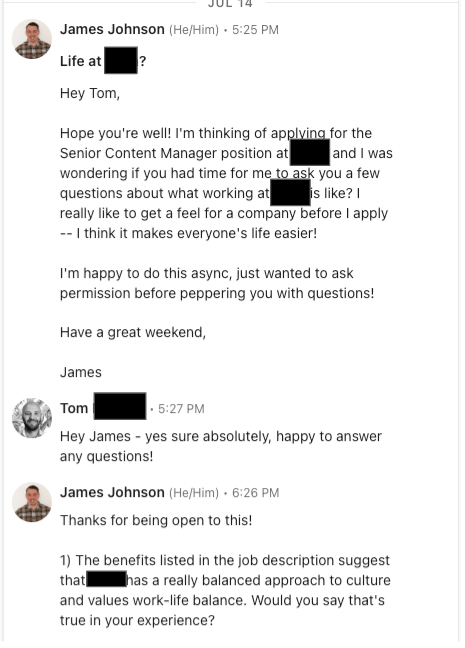 There's no cookie-cutter advice for the questions you should ask. They should pertain to the job and set you apart because you really care about the answers.
For example, I typically ask about:
Company culture
Common KPIs / how success will be benchmarked
If they feel someone who works in the way that I do would be a good fit
These questions receive a response roughly 50% of the time. So, there's probably even space for me to optimize them and get a higher response rate. But I also know hiring managers are busy and not everyone can response.
Made It To Interview? Here's How To Blow Them Away…
Remote interviews are much the same as in-person interviews. If anything, they can be less intimidating, because you're in a comfortable environment that you've chosen!
The most important thing you can do is do your research on the person you're speaking to. Find out what makes them tick and connect on a personal level.
For example:
I found my soon-to-be boss on Linkedin, and did a little Google search to see what I could find on him. In one of his author bios, it said that he loves to play golf. So do I!
When I hopped on the call, I asked him what it was like to play the courses in the town where he lived. I'd even looked at one of them and saw the 12th hole was a tricky one.
His eyes lit up and he talked to me all about it for the first 15 minutes of the call. It was smooth sailing and I was really calm after that.
Beyond doing your research, here's a checklist of things you can do to make sure it goes as smooth as possible:
Test Your Tech: Ensure Zoom is updated and functioning properly. Check your audio, video, and internet connection at least an hour before the interview.
Dress Professionally: Even if it's just from the waist up, dressing appropriately can boost your confidence and make a good impression.
Choose the Right Setting: Find a quiet, well-lit space. Ensure the background is tidy and non-distracting.
Minimize Interruptions: Inform family or roommates about your interview to prevent unexpected disruptions. Mute all non-essential notifications.
Maintain Eye Contact: Try looking at the camera when speaking rather than the screen to emulate direct eye contact.
Practice Good Body Language: Sit up straight, avoid fidgeting, and use hand gestures moderately to emphasize points.
Prepare & Research: Just as with any interview, know about the company, the role, and how your skills align.
Have Resources Ready: Keep a digital or physical copy of your resume, the job description, and any other relevant documents nearby.
Stay Engaged: Show enthusiasm and interest. Active listening and nodding occasionally can indicate you're fully engaged.
Use Earphones: A good pair of earphones with a built-in microphone can reduce ambient noise and improve audio clarity.
Ask Questions: This is a two-way street; inquire about company culture, remote work practices, or any tools they use.
Mind the Time Zone: If it's a company located in a different time zone, double-check the interview timing.
Be Ready to Share or Demonstrate: With Zoom's screen sharing feature, you might be asked to showcase your portfolio or work samples. Have them ready for seamless sharing.
Follow-up: After the interview, a thank-you email reiterating your interest can make a lasting impression.
Stay Calm: Technical glitches can happen. If there are issues, remain calm, address them promptly, and continue with the interview gracefully.
Work from Home Jobs FAQ
What kind of work can I do from home?
As long as you have a computer and an internet connection, there are plenty of possibilities to get online work. Here are some of my favorites:
1. Get a digital marketing job. Many digital tech companies and agencies allow their workers to work from home.
2. You can learn how to start a blog and make money with multiple revenue streams like ads, courses, digital product sales, and more.
3. Data-entry jobs are in high demand and easy to do.
4. If you speak more than one language, you can be an online translator and translate web copy, books, documents, and more.
5. If you have coding knowledge, you can work from home as a web or app developer.
6. You can sign up for a site like Upwork or Fiverr to sell your digital services. This could be anything from freelance writing and graphic design to virtual assistant work and voiceover work.
7. Work as a call center representative. Many call centers need people to answer phone calls, assist customers, and help generate sales.

Check out these extra work from home tips to be more productive this year.
Do online jobs really pay?
Yes, online jobs do pay well and there are a wide range of options and salaries. For example, on the low-end, you could become a virtual assistant and earn an average pay of $17/hour. You could also learn highly-valuable skills to get a remote sales job that makes you six figures. On the high end, you could also learn how to start a blog and make money with affiliate marketing. As you can see from my Blog Income Reports, I make over $80,000 per month with this method.
What companies hire remote work from home?
After social distancing became a new normal in many parts of the world, the number of companies hiring remote workers increased. Here are some of the top companies hiring remote workers this year:
1. Aetna
2. Cisco
3. Dell
4. Hilton
5. JPMorgan Chase
6. Phillips
7. Stryker
8. VMWare
9. Wells Fargo
10. Williams-Sonoma
How do I work for Amazon from home?
Amazon offers work from home jobs and splits up its job postings into fulfillment and hourly jobs. Remote work from home can include customer service jobs, HR positions, cloud service managers, Alexa support specialists, technical support associates, and more. To find this kind of remote work, go to the Amazon Virtual Locations webpage and filter by job category and location.
What is the easiest online job?
If you're looking for an easy, stress-free online job, here are some good options:
1. Freelance writer
2. Product tester
3. Data entry technician
4. YouTuber
5. Graphic Designer
6. Niche website builder
7. Amazon eBook publisher
8. Tutor
9. Customer service representative
10. Survey taker
How can I work for Google from home?
Google is one of the best companies to work for, and they do hire remote workers occasionally. To find these opportunities, go to the Google Career site and click on the "Jobs" link. From there, you can search for jobs by keyword and location. Make sure to only apply through Google – there are many sites claiming to have jobs but aren't associated with Google.
Conclusion
If you want to find the best online jobs to work from home or to travel while you work, you have many options. These opportunities give you the flexibility of working from any location while telecommuting and avoiding rush hour traffic. Find anything from part time jobs for extra cash to full time hustles.
To succeed, stop following the herd with low-value tactics. To make more money, stay away from old articles recommending online surveys, collecting coupons, babysitting, or being a virtual assistant.
Instead, set yourself apart and find your unique digital skillset, Most importantly try to stay ahead of emerging trends in digital marketing to build a passive income stream.
Further Reading on Adam Enfroy.com: To dive deeper into some of these online strategies, check out my guide to learn how to start a blog and how to make money blogging.
Also, if you're not ready for a full-time work-from-home job, but are interested in exploring opportunities that work around your schedule, here's a list of the best-underrated side hustles to consider.
Editorial Process:
Our reviews are made by a team of experts before being written and come from real-world experience. Read our editorial process here.
Some of the links in this article may be affiliate links, which can provide compensation to us at no cost to you if you decide to purchase a paid plan. These are products we've personally used and stand behind. This site is not intended to provide financial advice. You can read our affiliate disclosure in our privacy policy.