In 2019, the dream of making passive income is bombarding you everywhere – Facebook Ads promising instant wealth, social influencers, YouTube ads with some shirtless guy in his garage talking about dropshipping. It gets tiring.
It's true – the world is no longer the same one our parents grew up in. With digital opportunities sprouting up every day, we are lucky to live in a world with so many options to make money online.
And I'm not one to bathe you with false hope – it takes real work to get yourself to a point where you're bringing in real, life changing passive income.
The internet is currently littered with a sea of misinformation when it comes to how to generate this revenue stream. Ecstatic bloggers are consuming piles of "theoretical" passive income ideas; yet these strategies miserably flop in real life when put into practice.
In another worrisome scenario, we have ideas everywhere that are outdated – ideas that might have worked in 2005, but aren't as relevant today.
In this guide, I am going over the best passive income ideas and strategies that work in 2019.
Not ideas from 2005, but ideas on how to create a five-figure/month blog that launched just this year.
Let's get started.
Table of Contents
What is Passive Income?
Passive income is simply earning money from a venture you are not actively involved in. Typically this is an online business that requires work up front, but once it is launched and successful, it can run on it's own without your day to day oversight.
The 4-Hour Workweek by Tim Ferriss really propelled this idea into the mainstream, and Pat Flynn's Smart Passive Income elevated it further.
When many think of passive income, they think of selling digital products, affiliate marketing, online courses, Google AdSense, or selling eBooks.
While there is nothing wrong with these ideas, they requires a ton of traffic to make a real living online. What if you want to make life changing money in three months, not 5 years?
Here are my top 5 passive income ideas updated for 2019:
Start a Blog the Right Way
When you hear of starting a blog, you could be tempted to ecstatically jump on the internet and strew throw content up on a website. However, modern day blogging is not essentially about writing, it's about running your blog like a business.
Let me explain.
To make passive income from blogging, you need to mentally transition from being just a blogger to being a CEO. This psychological shift will allow you better see things from the perspective of a business owner. This way, you aren't blogging as a hobby, but can start to scale your systems like a real business.
First, you need to understand the correct ways to monetize a blog based on the lifecycle and age of your blog. For example, when you're just starting out and don't have much traffic, it doesn't make sense to worry about adding advertisements or affiliate links all over your site.
When starting out, choose your niche based on audience revenue potential and high-end B2B consulting. By starting from day one selling consulting services to businesses and not low priced products to individuals, you can start making thousands of dollars/month from the outset.
So let us begin your epic blogging journey by getting a domain name and WordPress hosting. From my experience, I would advocate that you go with Bluehost.
They are the host WordPress recommendation and more importantly, Bluehost offers all of the features needed to create a secure, reliable, fast blog on WordPress.
Why Are Bloggers Failing?
As many as 95% of bloggers fail.
Many claim that bloggers are failing because they aren't passionate enough or can't stay consistent with their writing.
This simply isn't the case.
The truth is: 95% of bloggers fail because they can't make it profitable.
I'm passionate about a lot of things, including running, astronomy, fantasy football, Game of Thrones, personal development, etc. but if I had to write about these topics every week and never made a dime, I don't think I'd last very long.
How to Choose Your Niche
Ideally, we are building a business, not just a blog, this is why the success and profitability of that blog is largely tied to the viability of the audience we are targeting.
Take this example.
Let's say you're passionate about teaching and your blog is about how to tutor students when you're in college.
Fundamentally, this audience is not the most lucrative. Back when I was in college, I was lucky to have over $500 in my bank account. The small money I was able to save was primarily spent on beer and dates (Tinder wasn't a thing back then or it would have been worse).
Instead of tutoring college students, what if you focused on corporate consulting and learning management?
Here, you're climbing the B2B ladder and selling your services to businesses, not individuals. These companies may have hundreds of thousands of dollars to spend every month, not a few dollars that would be better spent on Tinder dates.
However, you can't jump into a niche solely for its monetary value – you need to have some professional experience in this niche.
How solid is your network in this industry? What kind of influence can you command?
Fundamentally, your chosen niche should have substantial market demand. This is primarily discovered through keyword research.
One great tool for the execution of your keyword research is Ahrefs.
Your principal keywords should have a minimum search volume of 5,000. What this implies is that there is substantial interest in what you are targeting.
This corresponds to a tangible market demand in the niche your keywords are targeting.
Next is keyword difficulty. The keyword difficulty score indicates the relative competition for that keyword on a scale from 0 to 1. Try to find keywords with a difficulty score under 0.4.
Finally, use Ahrefs to view the keyword's search engine results page (SERP) ranking history. Here you can view the Domain Authority (DA) of the sites that are already ranking for the term. If the top 10 sites all have high DAs (think 70+), it will be very hard for your new site to rank.
However, if you find a keyword with a top 10 site with a DA under 50, there is some potential to rank quickly.
Overall, here are the main metrics to track to research the market demand and viability of your blog's niche:
Monthly searches for keyword must have a minimum limit of 5,000.
The keyword difficulty of the keywords should be lesser than 0.4
The search engine results for the first page should have one website with a DA under 50.
The top 5 search engine results should have changed slightly in the last six months
Build Relationships with Other Bloggers
After you choose your blog's niche, launch your blog with Bluehost and WordPress, the biggest thing to focus on is real world relationships.
Create your first five blog posts and stop writing.
Instead, focus on building real relationships with other bloggers in order to get backlinks and guest posting opportunities. You can read my full guide on the importance of guest blogging and how it helps build your Domain Authority.
This was how I was able to gain over 1,000 backlinks from over 300+ domains in my blog's first 4 months.
Also, aim to get backlinks from high DA blogs. The higher the DA and more relevancy to your blog's themes, the more the links will help your search rankings.
Also, remember that we are aiming to build valuable links. This is why the domain authority of the website (we want to link back to us) matters as well. The SEO value of your backlink heavily relies on the domain authority of the website.
Monetize Your Blog
For the first three months of your new blog, focus primarily on building up your blog's Domain Authority. This approach helped my blog go from 0 to 18,000 organic site visitors per month in 90 days.
To make passive income blogging, start with a content and link building strategy, sell high-end consulting first, build you email list, then over time move to online courses and affiliate marketing.
Once you've built up your Domain Authority and have a few consulting clients under your belt, let's dive into how to move one step closer to passive income by selling an online course.
Start an Online Course
Over the last five years, we've seen a revolutionary digitization of education. You no longer have to be sentenced to the four walls of a classroom to get a top notch education.
Understandably, people are embracing this virtual version of modern education and are happily purchasing online courses.
You can leverage this digital shift by starting an online course as well. If you have great knowledge to share, people will listen to you. And you don't need a PhD to start your online course – just a strong background in a topic you care about.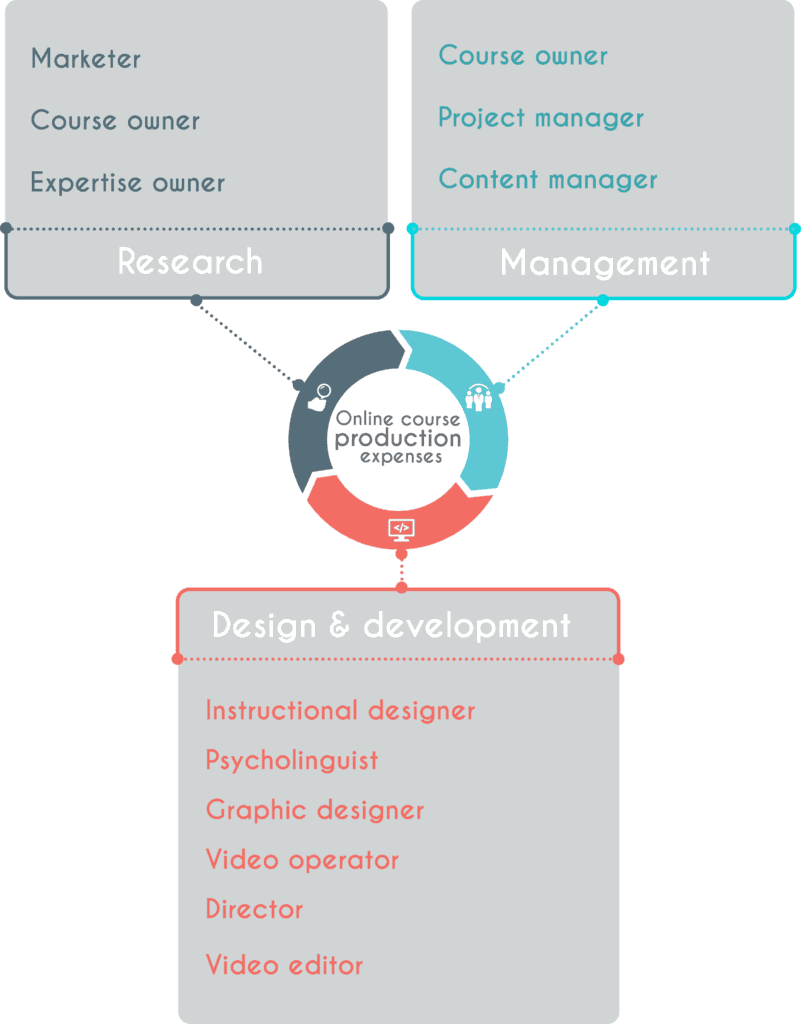 Source: racoongang.com
The first question to ask yourself is: "What is the problem my course is solving?"
The online course platform you choose should allow you manage the full education process and configure your brand – while still allowing for seamless integration with other solutions like MailChimp, Google Analytics, etc.
There are many great platforms like Teachable, Podia, Ruzuku and many others. Ultimately the online course platform I recommend is Thinkific.
Planning Your Online Course
First, you have to prepare your course outline and content plan. How will your course transform your audience when they are done going through it?
After you plan your outline, break it up into 10 minute video segments that you can create.
Before getting too deep into course creation, it is smart to pre-sell your course to your audience. Gauge their interest, send them to a pre-sales landing page, and see if they click that buy button. While asking your readers if they would buy the course can gauge some interest, nothing is more accurate than actually tracking pre-sales.
Your course's price is also an important decision when launching. Premium courses can be sold anywhere from $49 to $1,999. Your price will depend on your audience's needs and how in-depth you are going to go with the content.
A good baseline is to aim between $199 and $499 when starting out.
To launch your online course, get started with Thinkific, get your video equipment, screen-share software, microphone, editing software, and shooting location.
Once shot, edited, and uploaded, it's time to promote your course. Make sure to funnel your welcome email series into your online course offering, and feature it on your blog. You can also share your course on social, create an affiliate program for your course, and test paid social advertising.
When to launch: 6 months after you launch your blog. Within 6 months, you should have enough traffic and a large enough email list to move from high-end $2,000-3,000 consulting sales to a $199 – $499 online course.
You're one step closer to passive income.
Affiliate Marketing
It takes more than just joining high paying affiliate programs and adding affiliate links all over your site to make passive income.
You need traffic.
Which is why I recommend affiliate marketing as strategy #3 when it comes to making money online.
Think about it this way. Let's say you're recommending an affiliate product and make $20 per sale.
If 2% of users who click your affiliate link convert into a customer on the merchant's website, you need 50 clicks on that one affiliate link to make one sale. To get 50 clicks on that one affiliate link in your article, you may need 1,000 visits to that page. In this scenario, to make $1,000, it could require 50,000 visitors that blog post.
To remedy this, make sure to create review posts that can include 5 affiliate programs in one article at a minimum. That way, you are increasing the likelihood of outbound affiliate link clicks and the potential to make more commissions.
Additionally, add affiliate links to different types of content – blog posts, emails, video overlays, etc.
From my experience, affiliate links work better when embedded in affiliate website reviews (where you write an insightful, helpful review of a particular product – not forgetting the crucial recipe of honesty). They can also be added to in-depth tutorials related to the products, a welcome email series (which you can readily automate for fluidity).
When to launch: while you can and should add affiliate links to your blog content at any time when appropriate, you should expect to make a lot of money from affiliate marketing until your blog is 9-12 months old.
After high-end consulting and selling your online courses, affiliate marketing is the final piece of the passive income puzzle.
Now by maintaining your blog with new content and promotions, you will enjoy passive income through affiliate marketing.
Investments and Passive Income
Investment is an amazing cash cow that many are yet to explore. You may not be able to do it as expertly as Warren Buffet and amass north of $80 billion but you sure can do it in your small measure and make investment a very profitable money source for you.
There are a plethora of opportunities for you to reap maximally from your investment. From index funds, lending, real estate and high-yield savings, the possibilities are almost endless. Let me touch on a bit of these.
If you are looking for how to make passive income, one great possibility is by investment in high dividend stocks. The annual rates are more impressive than you can get from your bank investments. The potential for capital appreciation is vast. Therefore you have dual windows for profit accrual – from your capital gains as well as from your dividends.
While not famously exploited, there are great investment opportunities in lending clubs. Peer to peer lending  and social trading platforms are swelling on the internet and you can lucratively leverage on.
Source: etoro.com
The interest rates are spectacular. The amazing thing is that you can go as low as investing your $30 pizza money into a loan and you can even invest in as many as 80 loans. The choice is all yours but it is very rare to see your conventional investments match the saccharin interest rates from lending clubs.
You can go to the extremes of passiveness by bringing in automation to your passive income generation. Through this approach, you could get an algorithm in form of a robo-advisor to manage your investments while you snore away. All you would have to do is nail your risk willingness and let the algorithm rock and roll.
Certificates of Deposit (CDs) are also lovely investment opportunity for those seeking residual income. The fact that interest rates in CD is locked in regardless of volatility in interest rates makes it more interesting. Index funds are impressive low risk investment options if you want to step into the stop market.
Corporate bonds are also good for investment when seeking passive income avenues.
Licensing
Here is a fact, many people don't know the explosive power of licensing in the lucrative sense. Ideas are ruling the world and businesses are drooling for them.
Open innovation is beginning to thrive more and businesses are jumping on ideas that were manufactured elsewhere. If you have got great intellectual property, you are in for big things.
Licensing intellectual property is becoming immensely profitable for inventors. One of the best business ideas you can come up with. You don't need to step into the battleground to exchange fire with competitors before your product stands, just your idea and you have done enough!
On the other hand, you could bring existing products under your creative microscope to detect the cracks and how well to improve these products. Get a specific value out and patent it.
Licensing is one of the most solid passive income systems you can explore. So long as products with your patents are being sold, the extra income keeps dancing into your bank account.
What are the Best Ways to Make Passive Income?
The importance of strategy cannot be over overemphasized when exploring sustainable passive income ideas. If passive income was the easiest thing to build, everybody would throw their resignation letters at their bosses and moonwalk out of the office.
Building a steady passive income stream takes considerable effort. There is also the need for some amount of capital, even if small.
I am just pointing out truthfully that while passive income is lucrative and sustainable, it is not always a walk in the park especially at the beginning.
Take affiliate marketing for instance – it's going to take you an effort to generate sizable or useful traffic as you may need to build your website up to 50 or 100,000 monthly visitors to make really good money.
However, it is possible.
You just have to be willing to put in the hard work up front and break your goals into manageable chunks. As I have a full-time job and a side business, average work weeks can swell to 80-100 hours/week. If you don't have that kind of dedication, you're gonna struggle to succeed without a large investment up front.
Can You Create Passive Income with No Money?
Yes you can start a business with no money – it's going to require more effort from you but it's still possible. Take a look at people making money on Amazon FBA for as little as $39.99/month.
My favorite way personally is to start your a blogging journey with a WordPress blog with Bluehost for just $4/month.
This is my favorite path to passive income:
Start a blog and sell high-end consulting services
Perfect your marketing funnel with the right opt-in offer
At the beginning, focus exclusively on building up your blog's Domain Authority (DA) with guest posts and link building
Begin adding affiliate links to your site
Once your email list is growing to a nice level, sell a product or online course to your audience
Once you're at 100k visitors/month, begin ads and sponsored content on your site
Go from 80:20 consulting/passive income to 50:50, 20:80, and finally 100% passive income
And remember – no time will ever be perfect to start.
Just start now.
Your journey of passive income generation only begins when you actually start your business.
Passive Income: Summing It Up
The possibilities of steady passive income are vast as long as you're dedicated and put in the hard work up front.
The key is to start by selling high-end consulting and work super hard at first. Then take your earnings and and funnel it into content and systems to accelerate your more passive income streams.
There is no get-rich-quick scheme. While passive income is possible, it is the hard work up front that gets you there.