17 Best Learning Management Systems (LMS) of 2023 Ranked
Choosing the proper learning management systems is crucial if you want to make the most of your eLearning initiatives. From corporate training to online education, the best learning management systems can help you meet your goals. In this guide, I ranked and reviewed the 17 best learning management systems, and my top 5 choices so that you can pick the best one.
---
We're reader-supported. We may earn an affiliate commission when you buy through links on our site.
Want my top picks? The best learning management systems are Absorb and TalentLMS.
The online learning market is going through unprecedented growth, likely to surpass a value of $375 billion by 2026.
With eLearning statistics showing that more people are staying at home and learning through online media, learning management systems are becoming one of the most used and sought-after online course platforms.
Knowing how to choose an LMS and what features to look out for is crucial.
Let's get started.
What is the Best Learning Management System?
Here are my top picks for the best learning management systems.
Let's get to the list.
Best Overall LMS Platform.

Adam's Take
If you're looking for a great learning management system, check out Absorb.
It is an excellent resource for anyone who wants to create, manage, and distribute content.
It has social and gamification features that make learning fun and engaging, making your students more likely to remember what they learn.
Absorb was explicitly created for businesses that want to improve and scale their learning programs.
Absorb is more than a learning management system.
It also includes features for creating content ( Absorb Create), customizing your learning without an LMS (Absorb Infuse), and social and gamification features (Absorb Engage).
Absorb is an ideal learning management system for businesses.
It has an easy-to-use interface, robust reporting tools, and comprehensive course management capabilities.
Comprehensive course management features allow businesses to create, manage, and deliver training content quickly and easily.
Absorb is also one of the most versatile and flexible live training tools.
Absorb LMS is an excellent solution for managing employee training, training content sales, and training for global partners.
Key Features:
Intelligent administration allows you to manage users, courses, and content easily.
Advanced reporting and analytics capabilities track employee progress and performance over time.
Comprehensive course management features let you create, manage, and deliver your training content quickly and easily.
Learner engagement tools keep learners interested and motivated.
With robust eCommerce features, Absorb allows you to sell your training content and track sales.
The learner experience is sleek, intuitive, and easy to use.
One feature that stands out is an incredible AI and natural language processing tool called Absorb Pinpoint.
This tool lets you upload your training videos and have them automatically transcribed and timestamped.
Plus, the content becomes searchable for your learners.
Pricing:
Absorb customers can use the LMS in many different ways (employee training, eCommerce, customer training, etc.
They have pricing options that fit your company size, budget, learning goals, and other considerations.
Their pricing is typically not economical for customers with fewer than 100 annual learners.
You can get more detailed pricing on your requirements by reaching out through the get pricing form on their website.
Get started with Absorb today.
Best For Small & Medium-Sized Businesses.
Adam's Take
If you're after a training solution that ensures your employees get the most from their learning, you should consider iSpring Learn. With all training scenarios covered, iSpring Learn is one of the market's most comprehensive learning management solutions.
iSpring Learn enables users to gain access to online learning material for any device and even when offline. It also offers detailed tracking of employees' learning progress.
On top of that, its clean user interface ensures you do not get overwhelmed by the online learning experience.
Through iSpring, administrators can also easily upload content and create courses.
Going beyond standard training delivery, iSpring Learn also offers exciting features that can easily be tracked when learners take the various courses.
iSpring Learn can help businesses quickly train new employees or get existing employees up-to-date on the latest company procedures.
Key Features:
Both online and desktop authoring tools – Create eLearning content easily, online or offline.
Training automation – The platform automatically assigns training to employees based on their role, location, or performance.
Extremely detailed progress reports – These show the learner progress of a particular employee, department, and company.
A built-in newsfeed – Keep employees updated on company news and announcements.
A supervisor dashboard – Give line managers an overview of their employees' learning progress.
An ever-growing corporate knowledge base – With iSpring Learn, you can easily upload new content and create courses.
iSpring Learn has numerous complex features, yet it's still one of the most user-friendly platforms. Its intuitive interface allows anyone to master the platform quickly and easily.
Pros:
iSpring Learn offers a lot of features to help with training delivery. You can see reports, create courses with the course design tool, keep up with company news, view organization structures, and more.
Insightful training statistics clearly show the learning progress of each employee, department, and company.
The platform is perfect for all training, from onboarding new employees to updating existing staff on company procedures.
Involve all your team and get them excited about learning with iSpring Learn's features.
With a highly intuitive and modern interface, iSpring Learn is easy for anyone.
Pricing
iSpring Learn's paid services depend on the number of users, as follows:
Business: $2.29 per user per month
Enterprise: $3.14 per user per month
Get started with iSpring Learn.
Best LMS for WordPress Sites ($159/Year).
Adam's Take
LearnDash should be one of your top choices for an LMS plugin if your business runs on WordPress. This plugin is designed to work seamlessly with WordPress and makes it easy to create and manage your courses. Additionally, LearnDash offers a variety of features that make it easy to track student progress.
LearnDash is a WordPress LMS plugin that enables you to publish courses online.
It has an easy-to-navigate user interface and leverages custom post types to create course modules easily.
It allows businesses to charge a fee for accessing eLearning content in multiple ways. It has an extensive library of official and third-party add-ons and several integration options to leverage additional features.
This cloud-based LMS platform also allows businesses to post complete online courses.
Even if you are a beginner, you will not have trouble creating new lessons and posting eLearning content online because it has a drag-and-drop interface.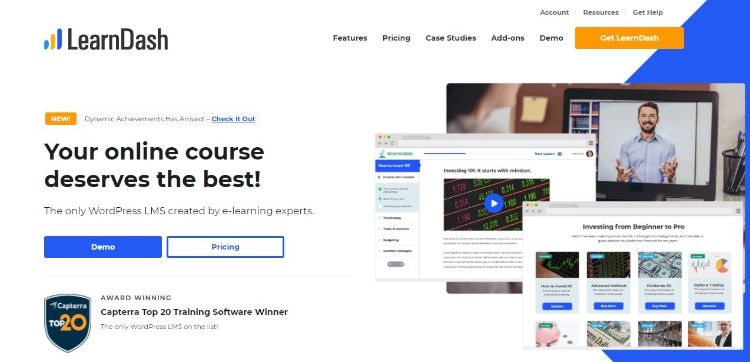 Key Features:
Focus Mode – Give your learners a dedicated virtual learning environment and let your content become the focus by eliminating all distractions.
Flexible Prerequisites – This feature helps learners determine which courses to take and in what order.
Course Bundle – Offer courses to monetize your eLearning content better.
Dynamic Content Delivery – Increase learner engagement by delivering dynamic content tailored to their needs and preferences.
Advanced Quizzing – Take your quizzes further with advanced functionality such as randomization, question pool settings, timer options, branching logic, and more.
Pros:
You have the option to choose from eight different types of questions for more engaging quizzing.
It allows you to award course points to learners as they complete a course module or reach the next level.
It offers powerful integration with Stripe, PayPal, or 2Checkout to help you monetize your eLearning platform.
Run your eLearning platform across multiple sites with the same efficiency.
Access training materials from any computer or mobile device
It's fully compatible with mobile devices, including tablets, smartphones, laptops, and more.
Easy integrations with WordPress and social sharing use cases via social media channels.
Pricing
Its paid packages start from $299 per year.
Get started with LearnDash.
Best Ready To Use Solution($59/Month).

Adam's Take
Talent LMS is a great learning management system. This platform is designed to make it easy for you to manage your content and distribute it to your students. Additionally, the software makes it easy to track student progress and ensures everyone is on the same page.
TalentLMS is the best LMS and is super easy to use.
This cloud-based learning management system offers a ready-to-use solution where you need to sign-up and add courses to enable eLearning.
It also provides a free trial and customizable pricing plans based on the needs of your business.
You can easily host virtual development programs through TalentLMS and integrate virtual conferences and video conferencing software like Zoom into the LMS. It also enables you to build engaging course modules by leveraging the existing media or through content available over the internet.
Key Features:
Ready to Go Out of the Box – Create new courses, add users, and go live with just a few clicks.
Cmi5 – This xAPI-based specification facilitates efficient eLearning data exchange. It also defined interoperability rules for content viewing, session management, authentication, reporting, and course structure between LMS and Learning Record Stores.
File Repository – Organize files, share them with users, and reuse them for your learning modules easily.
Assessment Engine – Evaluate learners' progress with multiple test types and analyze test results through various data reports.
Surveys engine – Create and manage surveys with various question types and analyze survey results.
Pros:
Automation that allows you to create curriculums for learners with restricted learning paths.
Delivers a mix of eLearning and instructor-led training.
It supports calendars, personal messages, and discussion forums.
Easily monetize course materials by selling them via PayPal or Stripe.
Manage your learning environment by segregating them into branches. Each branch will be a separate entity with its users, courses, and theme.
Complete control of content management and content creation.
Access to course training materials, course authoring, and course management.
Provides online training initiatives based on your needs.
Pricing
TalentLMS offers a free plan with up to 5 users and ten courses. The paid plans start from $69 per month for up to 40 users and range up to $459 per month.
Get started with TalentLMS.
Best For Branding($299/Month).
Adam's Take
Want to have a complete, company-branded learning management system that works? I advise you to check out SkyPrep as they provide a great solution to make it easy for you to build and manage online courses.
SkyPrep enables businesses to customize their eLearning interface and is best for corporate training.
It allows admins to include business logos easily, choose themes, and select colors.
They can also choose welcome screens, icons, and images per their branding requirements.
The platform also provides customization of eLearning certificates and custom URLs.
You can easily upload eLearning files, including MS Office files, PDFs, videos, embedded links, and multimedia presentations.
Do you want to save your precious time? For that, it also allows the admin to reuse the same content in other courses saving plenty of time. On top of that, SkyPrep offers powerful eLearning assessment tools and survey features that get graded automatically.
Key Features:
Advanced Reporting – It offers visual reports, multiple reporting levels, and course performance profiles to gauge learners' performance quickly.
Robust Integration – You also get an open API to help integrate with the systems you are already using in your office.
Enterprise-Grade Security – It secures all the data in secure SSL-certified cloud infrastructure and offers total access control of the platform.
Unlimited Training Content – This allows you to manage large amounts of internal and external training content. You can also easily curate from various sources like videos, PDFs, audio files, and more.
Course & Content Creation – It offers an intuitive course builder tool that helps create multi-level systems with high levels of customization and ease. From SCORM and xAPI conformant content to interactive elements, you can create engaging learning experiences.
Pros:
Customize the learning paths to restrict the flow of courses.
It's PCI-DSS compliant to enable secure transactions.
It offers access to several pre-packaged learning materials to help launch an eLearning platform quickly.
You can quickly log in through other social platforms, including Gmail, Facebook, Windows Live, and LinkedIn.
It also offers self-managed systematic training.
Pricing
Its plans are quote based.
Get started with SkyPrep.
Best LMS for Professional Employee Development, Continuing Education, and B2B Training ($599/Month).
Adam's Take
If compliance and safety are important to you and your organization, the Academy of Mine LMS is a great option. I advise looking into the various B2B features and benefits of the Academy of Mine LMS to see if it fits your needs.
Academy of Mine is an all-in-one learning management system best for professional training and certifications.
For example, some of their use cases involve safety training, compliance training, and employee onboarding.
It is powered by a drag-and-drop builder to simplify things for a more novice audience. So, you can easily create new course modules even if you have little to no technical know-how.
Its flexible website builder also lets you create unlimited web pages and landing pages for your website within minutes.
On top of that, it works on multiple devices, including desktops, iPhones, iPads, and all Android devices. It also supports various languages, including English, Portuguese, Spanish, French, and German.
Key Features:
Marketing Tool – It offers all the relevant marketing tools for Content Marketing, Google Analytics, SEO, Keyword Research, and more.
Student Dashboard: Efficiently integrate student and instructor dashboards to track user progress and optimize your eLearning content.
Drip Features: This feature allows you to control the path of your course catalog. You can also unlock or lock content based on rights and flow.
Self-Paced Courses: Create self-paced courses available for students to access anytime, anywhere.
Live Classes: Host classes in real-time with our advanced and comprehensive features. Easily customize sessions according to your course curriculum and interact with students through interactive tools like polls, quizzes, chat boxes, whiteboards, etc.
Pros:
Personalize the LMS completely without writing a single line of code.
Create a unique online shop for your eLearning content using custom pages.
Automate access and course enrollment to save time for more critical tasks.
It leverages TLS 2.0 encryption and SSL to protect your data.
It also offers 24/7 dedicated customer support and onboarding.
Pricing
Its paid plans start from $599 per month. It also offers a customizable quote-based plan.
Get started with Academy of Mine.
7. Docebo.
Best To Automate Redundant Tasks.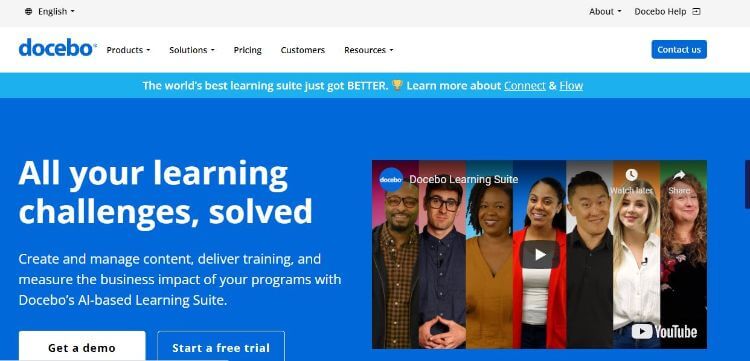 Docebo is one of the most highly acclaimed learning management software with clients ranging from Thomson Reuters to Bloomberg. It works on the coach and shared philosophy and offers many practical features.
One of its unique features is that it enables businesses to efficiently manage, centralize, and organize learning activities – creating a beautiful user experience.
Its unique feature, Docebo Discover, Coach & Share, allows learners to share their learning material. This feature enables them to invite their peers and build an online community of learners.
It also leverages AI-powered tech to ensure that user-generated content reaches all learners quickly.
Key Features:
Advanced Reporting – Easily track and measure the impact of your training program through a customized dashboard and reports that will feature only the required data.
eCommerce – Docebo offers an easy-to-use user interface to enable learners to browse and buy learning modules/ content catalogs.
Gamification – Boost user engagement by introducing interesting elements like badges, points, and awards.
Automation – Use automation to define standard rules triggered automatically to help maintain data integrity.
Audit trail – Document events and user activity with Audit Trail, which offers a clear chronological overview of all system activities.
Pros:
Enhance knowledge retention through contests and leaderboards.
It allows you to track and monitor learners' engagements from a centralized location.
Easily monitor performance, manage classroom schedules and locations, and assign courses to learners and instructors.
It allows you to create a learn-centric user experience while meeting your branding guidelines.
Turn on integrations and extensions instantly to scale up your platform.
Tin Can API compliance.
Pricing
Doceo offers a single pricing plan based on your requirements. However, you need to contact their sales team for an exact pricing plan.
8. Blackboard.
Blackboard Is Best For Businesses That Are Looking For A Premium LMS Solution.
Blackboard allows administrators to design and manage online learning. You can efficiently deliver tests and grades and augment the system using a vast plugin library called Blackboard Building Blocks.
It also offers powerful collative learning and tools, reliable analytics, and a mass notification system.
On top of that, it offers the options of self-hosted, managed-hosted, and cloud-based SaaS configuration. Blackboard also provides seamless integration with institutions' Student Information System, allowing students to access all information in one place.
Key Features:
Actionable Insights – Easily make sense of a large amount of data related to the learning management system used to make the eLearning experience more impactful.
Extensive Integration – Offers robust integration with applications you are already working on. Leverage its comprehensive list of global channel partners for smoother integration.
Zero Downtime Updates – It facilitates constant updates without the requirement of taking the system down for an excellent user experience.
Preview course items – Quickly navigate and preview course items so you can quickly assess the quality of your eLearning content.
Participate in discussions – Encourage collaboration with the help of a discussion forum that enables commenting, real-time feedback, a rating system, and more.
Send announcements – Keep learners informed with timely notifications about upcoming events, tasks or activities by sending the right messages.
Pros:
New features, fixes, and enhancements get delivered every month regularly.
Continuous delivery updates help users adapt to changes quickly.
It offers reliable support round the clock and on all days of the week.
It has reliable web conferencing capabilities to enable learners to reach you from any device.
It also provides creative mobile-friendly flipped tutorials that stay on the LMS permanently.
It's fully accessible to enable learners with different capabilities to participate in eLearning.
Pricing:
Its pricing plans are available on a request basis.
9. Moodle.
A Good Option For Businesses Looking For Global Online Learning Programs (Free).
Moodle helps you in creating your eLearning website within a few minutes. It comes powered by various instructions, features, assessment, and reporting modules.
The LMS platform is adaptive to teaching methodologies, including entirely online or blended learning.
The cloud-hosted solution enables learners to access courses and learners' data from anywhere on any internet-enabled device.
Plus, it allows students and teachers to get together regarding collaborative learning. On the customer support front, it has a robust community of Moodle partners that help businesses fix bugs and problems.
Since it's an open-source platform, it's available for free. However, you'll have to buy its paid plan for dedicated assistance.
Key Features:
Regular Updates – It has a large community of developers to ensure new features and security patches keep coming from regular updates.
Customized Learning – You can easily customize the user role or learning process to fit the learning pattern.
Private Server – To ensure absolute security, moodle offers the option to deploy the LMS software on its server.
Measure & manage – ensure learners progress and learn at their own pace. Moodle allows you to track learner progress, assign tasks, and grade each student.
Competencies & Learning Plans – Assigning competencies and creating personalized learning plans for each learner helps them stay motivated.
Pros:
It supports an unlimited number of users.
Moodle comes with a personalized dashboard and customizable data reporting feature.
For additional LMS features, it provides integration with many plugins and add-ons.
It offers a user-friendly and straightforward user interface.
It supports both Android and Windows.
Pricing
It's available for free. However, there are also different plans available for cloud hosting and other plans where you get information from experts to help you make Moodle work for you.
10. JoomlaLMS.
An Excellent Option For Businesses Looking For A Capable And Cost-effective ($299/Month).
JoomlaLMS comes equipped with a multi-language interface and is highly customizable for custom branding. It complies with AICC and SCORM-based eLearning standards. You can also configure the front page of the LMS.
On top of that, it offers multiple in-built user groups, roles, and group management, along with customizable learner profiles. It can export and import user lists and offers numerous in-built features for enrollment and registration.
JoomlaLMS also enables admins to facilitate eLearning courses in different course categories, including restricted, secondary, and subcategories. You also get a 30-day free trial to help you make an informed decision.
Key Features:
Manage User Roles – It allows admins to manage user roles and modify or assign them as per the requirement.
Media Rich Courses – Create stunning and engaging courses by uploading files of multiple formats, including audio, .text, video, .zip, HTML files, .pdf, links, and event add SCORM/AICC packages.
Control Course Display – Launch courses in the List or Grid view and toggle the Student/Teacher Modes to look at the online lessons from the learners' perspective.
Create online courses in minutes – JoomlaLMS allows admins to quickly and easily create high-quality online courses. The user-friendly drag-and-drop functionality helps you build curriculums in no time.
Multi-language User Interface – With its built-in translation engine, JoomlaLMS allows admins to translate the platform into different languages.
Pros:
Reuse the uploaded learning content to create new eLearning course modules and save time.
Set the course and material availability period and manage it through access levels.
You can group courses into categories or subcategories for better organization.
It lets you leverage the embedded course builder to create online courses within minutes.
Filter the courses category-wise in the search result to help students find relevant courses more quickly.
Pricing
Its paid plans start from $299 per month. You also get an Enterprise plan that provides pricing based on specific requirements.
11. Adobe Captivate Prime.
One Of The Capable Options For Businesses That Want Total Control Over Their Elearning Course Setup.
Adobe Captivate Prime is an award-winning LMS designed to deliver a modern learning experience. It enables businesses to effectively train partners, employees, and customers through an enhanced and enjoyable learning experience.
It also leverages an AI-based Social Learning mechanism to encourage learners to study in their regular workflow and enable peers to learn from one another.
Key Features:
Extended Enterprise & Partner Training – Enable learners to upgrade their skills and collaborate with partner organizations by extending LMS to the external ecosystem.
Customer Education – Deliver customer training programs with a personalized experience through customized URLs. It also enables you to keep users engaged and updated on the latest content delivered on any device or platform.
Discussion Boards – Enable learners to post content on existing boards and create new ones for logical grouping of data and information depending upon job groups, skills, or topics of relevance.
Personalization and recommendation – Deliver learning content tailored to individual interests and needs by leveraging the power of AI-driven algorithms.
Learning Experience Platform – Unify all types of learning into an interactive, intuitive, and engaging learning experience platform.
Headless LMS – Manage and deliver user experiences without any limitations or dependencies on a specific technology.
Pros:
All learners get access to their social feed, curated by activities of peers they are following, discussion boards, and topics of interest.
Learners can easily create a poll question and invite responses from other users.
Mark users as Public, Private, or Restricted to control the audience that can contribute to your discussion or not.
Follow your chosen subject matter experts or peers to see their learning activity.
Learners can gauge the activity levels of different boards to identify suitable boards.
It comes with a 30-day free trial.
Pricing
It costs $33.99 per month per registered user.
12. SAP Litmos LMS.
Best For Businesses That Need To Have Worldwide Delivery In A Secure And Reliable Manner.
SAP Litmos boasts over 22 million LMS users and has some of the top companies as its clients, including YouTube, Mercedes, and Pepsico. The LMS platform offers a powerful combination of SAP Litmos Training and practical training content. It also enables targeted learning, boosts user experience, and safeguards the brand by ensuring compliance.
It engages learners directly in the flow of work while enhancing KPIs throughout the enterprise. It can also unify classrooms, virtual, social learning, and mobile. Moreover, it empowers sales training, service leaders, and HR teams to track training courses and schedule instructor-led online courses efficiently.
Key Features:
Video Assessments enable learners to record and upload their videos to deliver communications, including product overviews or elevator pitches.
Instructor-Led Training (ILT) schedules classroom or virtual training by leveraging the intuitive ILT module. It also offers user feedback, course assessment, and an efficient view of learner progress.
Customized Learning Paths populate multiple courses in logical groupings to build personalized learning paths to gather greater engagement from learners.
Custom branding is excellent for creating a personalized learning experience that reflects an organization's brand identity.
The Developer API makes it easier to integrate SalesForce, Okta, and Dropbox into the SAP Litmos LMS platform for a
Pros:
It offers notifications based on the activities of teams and learners.
Stimulate friendly competition by quickly awarding points, achievements, and badges based on participation.
Automate time-taking tasks such as group enrollment and assignment of tasks.
Easily monetize your courses through pre-packaged features. You can also set up an online storefront through smooth Shopify integration.
It provides custom reports emailed directly to your inbox.
Pricing
Pricing information is available on request.
13. LearnUpon LMS.
Suitable For Businesses Looking For An Lms Solution That Is Easy To Set Up And Use ($699/Month).
LearnUpon is a robust LMS that offers many impressive features, world-class support, and a free trial for all its premium plans. Even if you're new to this, you can get started quickly using its intuitive drag-and-drop feature – you must upload and arrange your content.
It also offers tight integration with several webinar tools to facilitate blended learning, including Zoom, Adobe Connect, and GoToWebinar. You can also easily add instructor-led training (ILT) into your curriculum or conduct live training sessions efficiently.
Key Features:
Automate Exams – Let your learner know their performance by instantly showing the score of online exams with the auto-correct feature.
Surveys – Collect all of the relevant information and feedback on the course. You can also leverage detailed analytics reports to break down the meaning of every answer.
Customized Certificate – Create certificates per your branding guidelines and make better-performing learners feel special.
Course Creation – Design learning materials with the content editor from scratch or upload existing assets to design appealing courses.
Training Delivery – Deliver training quickly and efficiently by creating multiple versions for different types of learners.
Pros:
It generates certificates automatically after a course module gets completed.
Switch and manage between portals as and when required to train a more significant number of people efficiently.
Assign tasks to stakeholders, including managers, admins, and instructors in the portal, to save time.
Easily automate redundant tasks, including user creation, access, data synchronization, and enrollments.
You can add LearnUpon as a Salesforce-connected application to access accurate training data.
Pricing
Its basic plan starts at $699 for 50 users per month.
14. Mindflash.
Online Training For Businesses With A Remote Workforce.
Mindflash is delivering its services to several industry leaders, including Apple and Microsoft. The cloud-based learning management solution enables businesses to train partners, customers, resellers, and employees efficiently.
It also offers a simple user interface that is feasible for users who can instantly enter and exit the LMS system. Its simple navigation focuses on the course content and data reports. Plus, the dashboard comes with a lot of white space, visible tabs, and a highly functional search bar. However, gamification and social networking features are absent in Mindflash.
Key Features:
Quizzes and Assessments – Motivate learners, help them learn, and assess their learning outcomes. You also get all the tools for creating effective quizzes before, during, or after the eLearning course.
SCORM Compliant – Mindflash's SCORM-compliant LMS allows businesses to streamline their processes. It also enables easy access to the live content to ensure employees can follow regulatory compliance, safety, or product training.
Reports and Dashboards – Create customized reports and convert actionable information in easy to understand data.
Video and PowerPoint Support – Upload videos and PowerPoint presentations to your eLearning course quickly and easily.
Adobe PDF and Word Support – Mindflash also supports Adobe's popular file formats for document compatibility.
Pros:
Easy-to-use functionality to create quizzes, add content, and track learners' progress.
Learners can send direct messages to the instructor to resolve queries or problems.
It provides compatibility with 20 foreign languages to help you interact with users from different regions.
Easily add video and audio to training content and quizzes.
It offers an API to plug other software into the system manually.
Pricing
Its pricing is available on a request basis only.
15. Agylia.
A Learning Tool Suitable To Deliver Modern Elearning Experience.
Agylia is a mid-corporate LMS that offers powerful deployment capabilities and boasts a blue-chip client base. It provides an intuitive user experience across devices, depending upon the training needs of learners and administrators. Moreover, it has a visual, sleek interface and a powerful search feature.
On top of that, it offers native iOS and Android applications for mobile learning. Powered by xAPI, Agylia facilitates smooth performance for the native mobile app. Through Agylia, you can deliver training programs that provide a personalized eLearning experience through specific learning programs and role-specific content.
Key Features:
Multi-Device Microlearning – Learners can access micro-learning content from any device, including smartphones, computers, and tablets. The mobile app also enables learners to gain access to eLearning content in offline mode.
Extensive Third-party Integration – It offers integration with HR and talent management systems, authentication and identity management solutions, CRMs, and enterprise social networks.
Google Maps Integration – This feature lets you leverage it to pin locations for classroom-based events.
Administration interface – It provides a comprehensive interface that makes it easy to configure settings, manage courses, and track learner progress.
True cloud-based LMS – Agylia is an actual cloud-based learning management system that enables you to quickly create, deploy and manage learning content in a single platform.
Pros:
Organize instructor-led webinars and virtual training sessions. There's also a waiting list feature where users can wait for their chance.
Enable seamless navigation and SSO among systems to deliver a smoother learning experience.
It also enables self-discovery, browsing, and self-learning among approved content items.
After completing every course, you can award learners customized certificates in PDF formats.
Leverage email messaging and push notifications never to miss a conversation.
Pricing
Its pricing plans are available on request.
16. Chamilo.
An Open-source Learning Platform That Offers Simplified Online Training Solutions For Businesses.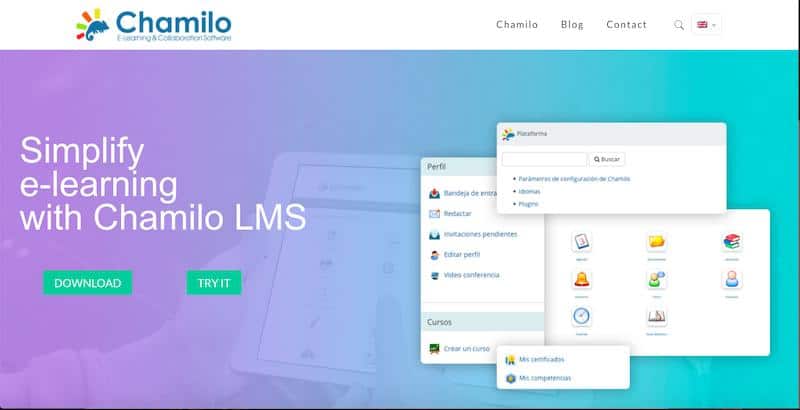 Chamilo is a stable learning management system that is best for businesses looking for a cost-efficient and reliable solution for their eLearning needs. It offers an intuitive user interface and is easy to use, which comes in handy if you're new to eLearning. Using its straightforward authoring tools, you can instantly create simple introductory courses.
The Chamilo community is constantly working to keep the open-source LMS free, relevant, and competitive in the ever-changing digital space. It offers all modern features, including platform customization, mobile support, and robust support through an online community.
Key Features:
Mobile-Friendly – Its responsive design offers mobile support to enable learners to access eLearning content from any device.
Customization – Chamilo has a customizable user interface to help users meet their branding guidelines.
24/7 Support – Its online community is available round the clock to help you with your queries and problems.
Authentication – Chamilo allows learners to authenticate with their username and password, or they can use social media logins like Facebook and Google.
Compliance Management – It helps organizations manage compliance by allowing them to create automatic expiration notices for courses, certificates, and other content.
Pros:
You can leverage its intuitive media and language embedding setting to reflect the branding of your business.
It offers a simple and engaging user interface.
Easily use and navigate through the website with its graphic scheme.
It also offers a training catalog through which you can get certified as a Chamilo expert.
It supports a lot of plugins to help businesses include additional features.
Pricing:
It's available for free.
17. EduMe.
Suitable For Businesses Looking For A Modern Mobile-based LMS Solution For Their Elearning Ventures.
EduMe is a mobile-based eLearning platform capable of delivering today's workforce requirements. It has a solid client base of businesses like Deloitte, Uber, and Vodafone. Plus, it enables administrators to quickly create and deliver eLearning content that is easy to understand and reaches straight to the team member's device.
Online courses of EduMe come in the microlearning format to stay on the point and deliver maximum information in the shortest possible time. Team members can grasp more by spending less time on the eLearning platform. On top of that, its microlearning format is super light and minimizes the text while maximizing images and videos for better understanding and engagement.
Key Features:
In-depth Reporting – Measure the performance of your eLearning content through graphical data delivered in real-time to analyze course completion rate and the pass rate of teams, departments, and individuals.
Communication – Instantly create engaging and informative messages with an option to add images. It also allows you to take surveys to get feedback from teams and individuals.
Teams Management – You can leverage the team management feature to deliver information to employees as per the requirement.
Employee productivity tracking – EduMe helps track employee productivity and engagement with the app.
Role-based Access – The role-based access feature allows admins to assign roles to different users within their organization, ensuring only authorized personnel have access to sensitive information
Pros:
It offers a free trial for all premium plans.
Leverage real-time data of learners to closely monitor the performance of eLearning content and employees.
It offers enterprise-grade security with end-to-end encryption of data.
Easily customize content delivery through flexible APIs.
It offers Single-Sign-On (SSO) capability for the enterprise business.
Pricing
Its pricing plans are available on a request basis only. You get prompted to use their free trial before making the final purchase.
What is a Learning Management System?
A learning management system is a software application responsible for administering, documenting, tracking, reporting, and delivering educational programs.
It was a direct successor of the eLearning concept in the early 1900s.
While LMS was first pioneered in the higher education sector in the 1990s, they are today most widely used in the corporate setup for training, learning, and upskilling.
Moreover, LMS is suitable for online teaching and content delivery and as a support medium for students and teachers alike.
How Do Learning Management Systems Work?
While the features of different LMS platforms may differ, the top learning management systems work the same way. How you use an LMS will vary again, depending on whether you're the course creator or a user.
Let's look at how to use Docebo from the point of view of a content creator.
In the first step, you need to furnish your business email ID and submit the URL for your website.
Next, select the Admin Menu at the top right-hand corner, go to the e-learning section, and click on the 'Courses Management' option. You can create new courses, enroll new users, create new course categories, and manage classes.
Press on the green circular button with a '+' sign to create new courses and select the 'New course' option. After that, select the 'Create & edit' option to start building your course.
You can also choose a relevant thumbnail for your course. You can also add specific information about the system for the ready reference of the course users by adding course widgets.
An LMS usually offers many more advanced features that allow higher levels of customization, but essentially, this is the primary way to use any LMS.
What Are the Benefits of a Learning Management System?
LMS is now widely used in corporate offices, colleges, schools, and other organizations.
The needs and requirements of various businesses will differ, and the business deliverables will likely vary.
However, some features are indispensable to any user, and several vital benefits you can enjoy, including:
1. Selling Courses Online.
Content creators should be able to sell their content online with the help of e-commerce platforms. It adds flexibility and helps the creators earn extra money as well. For example, TalentLMS lets its content creators sell their courses via PayPal and Stripe. The ability to sell courses online is similar to that found on online learning platforms – however, LMSs typically offer many more features.
2. Scalability.
An LMS should be highly scalable. As your courses become popular, more and more people will want to sign-up for them. You need to use the right platform that can scale as per your needs and enroll more users, which is essential for your long-term sustainability.
3. Customizability.
An LMS should offer content curators a high degree of customizability, like SkyPrep. They should be able to design their logos and use their templates, distinctive colors and fonts, and other brand elements to help differentiate them in the marketplace.
4. Bulk Course Creation.
A good LMS should allow users to create content in bulk. Bulk courses are often helpful for corporations and educational institutions. If you are looking for an LMS to help you make learning content in bulk, then you can try out an option like Moodle.
5. Reporting & Analytics.
LMS should have powerful dashboards that allow integration with analytical tools like Google analytics. Reporting and analytical features will enable a business to generate actionable insights from the available data and make informed business decisions. A great example is the Academy of Mine.
6. Integrations with Payment Gateways.
This feature helps businesses take advantage of real-time payment processing. It also ensures sizable cash, which is essential for operational activities. For example, the Academy of Mine integrates with payment gateways like Stripe, PayPal, PayFast, EWay, and more.
7. Multi-Language Compatibilities.
Making courses available in multiple languages ensures you reach a wider audience. From a business perspective, the number of prospective customers increases, and revenue is also likely to increase. For example, the Academy of Mine offers services in languages like English, Portuguese, Spanish, French, German, and more.
8. Learning Engagement & Reusability of Content.
Learning management systems provide tools that keep learners engaged and help to make content reusable. They provide interactive learning experiences, such as gamified interactions, quizzes, surveys, and other activities. This helps to improve retention rates for the course material.
Since many people tend to forget much of the information they learn, content should be designed to be as reusable as possible.
Learning management systems can track which topics have been covered and allow learners to review important material quickly.
9. Automated User Enrollment.
With an LMS, you can manage user enrollment in an automated way. This management ability means less time spent on manual user management tasks and more time to focus on delivering the content.
No more are the days of users having to wait for someone to manually assign them resources or waiting for approval from a manager. With an automated user enrollment process, your users can quickly be enrolled in the course and have access to materials promptly and efficiently.
10. Advanced Security Features for Compliance with Regulatory Requirements.
Learning Management Systems offer advanced security features that ensure compliance with regulatory requirements and data privacy standards.
Data protection is crucial when using any digital platform, and an LMS can provide peace of mind by protecting user data. The system will also help to protect intellectual property and proprietary information. In addition, the system can be used to maintain records for regulatory compliance purposes.
While there are many more considerations, like software security, responsiveness, and in-built templates, these features are essential.
The Importance Of Gamification In Education
One popular way that teachers are leveraging the capabilities of LMSs is through the use of gamification.
Gamification can be described as using elements of gameplay to increase engagement and motivation toward reaching educational goals.
Incorporating badges, rewards, points, leaderboards, levels, and challenges into the learning process can help make learning more fun and interactive for teachers and students.
Studies have shown that gamifying education can positively affect student engagement and performance.
It can also provide an effective way to measure student progress over time.
For example, teachers can incentivize students by awarding points or badges when they complete certain tasks or achieve specific goals within the system.
This helps motivate students to continue learning while providing real-time feedback on their progress.
Additionally, gamification allows students to collaborate as they compete against each other to achieve certain goals or complete specific challenges.
To effectively leverage the capabilities of gamification with their LMSs, however, educators must ensure that their systems offer a balanced approach to its use.
Too much emphasis on gameplay may lead to disengagement, while too little could result in boredom.
Finding a happy medium is critical when implementing this strategy within the classroom environment.
As such, educators should consider how best to structure objectives within games to align with academic standards while still being fun and engaging for all participants involved.
Overall, gamification provides a unique opportunity for educators to enhance the learning experience by making it more interactive and enjoyable for teachers and students.
Utilizing elements from games, such as challenges or scenarios combined with measurable rewards or points, create an environment where learning becomes rewarding rather than tedious – something that will keep learners engaged over time.
Best Learning Management Systems (LMS): Executive Summary.
These were some of the best learning management systems. All of the LMS solutions come with unique capabilities. Choosing the right option depends on your business requirements, budget, and team size.
Overall, the best LMS tool is Absorb LMS.
Open-source options, including Moodle and Chamilo, are most suitable for businesses with a shoestring budget.
If you're a small business looking for premium services, it would be feasible to go with options like SAP Litmos LMS or Adobe Captivate Prime.
Review the different LMS vendors and compare them carefully before making your final decision.
Are there any LMS tools not included in this list? Which one is your favorite? Let me know in the comments below.
Disclosure: I may receive affiliate compensation for some of the links below at no cost to you if you decide to purchase a paid plan. You can read our affiliate disclosure in our privacy policy. This site is not intending to provide financial advice. This is for entertainment only.
---
Last Updated on April 6, 2023 by Adam Enfroy