Just about every marketer is hosting webinars these days. Using webinar software is undoubtedly one of the best ways to interact with your leads, engage with them, and move them further down the sales funnel.
However, hosting live webinars can be challenging. I'm sure we've all experienced either a poor internet connection, getting booted out of a meeting randomly, or forgetting to click that Record Meeting button.
Plus, webinars don't naturally guarantee high conversion rates.
While webinars themselves are a great way to combine web conferencing and marketing automation, the devil is in the details:
What is the waiting room experience for your viewers?
How easy is it for viewers to download the plugin and join the meeting?
How many presenters can you have at one time?
How high-quality is the audio?
How many viewers can you present to at one time?
These factors all matter.
And this is where choosing the best webinar software comes into play.
Selecting the perfect webinar solution is usually time-consuming with a trial-and-error approach.
To make things easier for you, I tested, ranked, and reviewed these tools and curated a list of the best webinar software that'll work for any business.
Disclosure: I receive affiliate compensation for some of the links below at no cost to you. However, these are the best tools that I have used when conducting a webinar. You can read our affiliate disclosure in our privacy policy. Full reviews of Zoho Meetings, LogMeIn, and Livestorm coming soon.
Let's get started.
Table of Contents
What is the Best Webinar Software?
The best webinar software makes it easy to record, share, and follow up with your prospects without any difficulties or downtime.
An excellent webinar tool for small business should help you deliver high-quality video, automate your sales process, and easily engage with your potential customers.
Most webinar software comes with a diverse feature set, including in-built surveys, polls, email marketing, live-chat, automatic recording, live-streaming, conducting one-to-one online events, and more. It's up to you to decide which features align best with your goals and business.
Here are my picks for the best webinar software in 2020.
WebinarJam is the best webinar software currently available. If you have little to no technical knowledge regarding how to set up a webinar, then this easy-to-use webinar platform has you covered. It's perfect if you want to host webinars in an automated fashion to a large audience.
Moreover, it allows you to stream directly to a YouTube page, and have a secure, password-protected meeting with your target audience online.
It also offers some distinct advantages over other webinar platforms, such as:
Providing pop-ups to your audience during the webinar session itself, which allows them to buy your product or service right from the webinar
Offering excellent two-way communication via advanced Live Chat which pulls a video of the participant for 1:1 video communication
WebinarJam employs a unique and distinct Broadcast Distribution Technology which creates a universal signal. Besides, it uses all the latest technology, like RTMP, WebRTC, HLS, and Flash, which makes it compatible with almost all web browsers and devices.
You also get other impressive features, such as HD video, customer-facing interfaces, user-friendly dashboards, and the option of multiple presenters.
Every recording is automatically recorded so that the replay can be sent to your audience. Additionally, the tools is extremely easy to use and they have training videos to help every step of the way.
You can read my full review of WebinarJam here.
KEY FEATURES:
Automatic recording
Offers great customer support
Built-in autoresponder
Social media integrations
Has the ability to handle multiple attendants easily
Compatibility with various browsers and operating systems
Allows you to incorporate polls and surveys with your webinar
Extremely easy to use, with user-friendly dashboards and interfaces
Quick set up process; it takes about 60 seconds to get up and running
PRICING PACKAGES:
Basic Plan: $39.92/month or $479 annually. This plan gives you up to 500 participants per webinar, up to 3 presenters, and 24/7 support.
Pro Plan: $65.25/month or $783/year. With the pro plan, participants increase to 1,000 and presenters go up to 4.
Premium Plan: $83.08/month. This plan is for businesses that rely heavily on webinars for their online marketing. It features up to 6 presenters and a webinar audience of up to 5,000.
Overall, based on the feature set, ease of use, support, and training, WebinarJam is my #1 pick this year.
WebinarJam is currently offering a 60-day trial for just $1.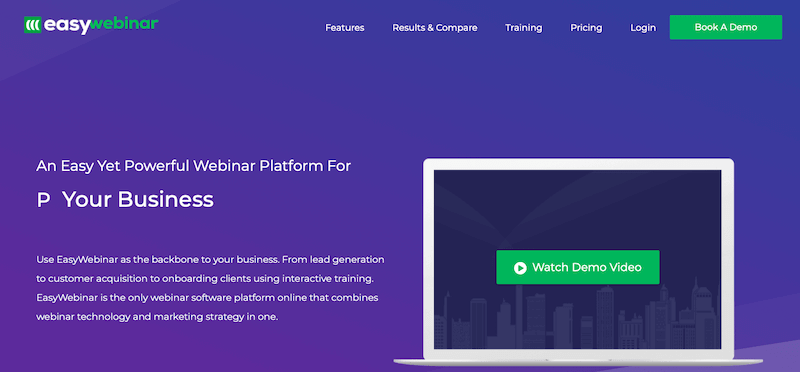 EasyWebinar is the only online software platform that has successfully and seamlessly managed to integrate webinar technology with marketing strategy.
Moreover, it provides an all-in-one solution for both live and automated webinars. The webinar software offers tons of other features, including a multi-presenter option, integration with popular email marketing software, shopping carts, and lead generation tools.
KEY FEATURES:
Multiple presenters, screen-sharing options, HD video, live chats
Allows up to 100 attendees even in the basic plan
Unlimited live viewers using YouTube Live Integration
Robust chat features and a mobile app available
WordPress integration
In-built analytics suite
It allows integration with popular tools like MailChimp, GetResponse, etc.
PRICING PACKAGES: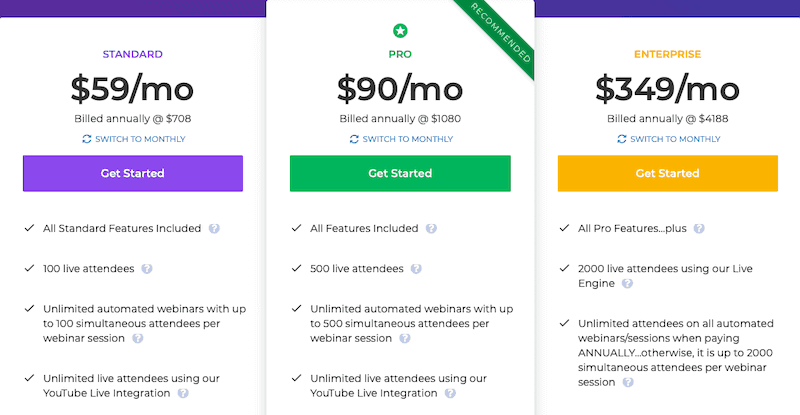 The Standard pack costs $59 per month, which is billed annually at $708; the Pro plan is $90 per month, and the Enterprise plan is $349 per month. If you have over 10,000 attendees, then you can get in touch with them for quote-based pricing.
ClickMeeting is one of the most popular webinar software platforms in this list, with an impressive and user-friendly interface.
ClickMeeting makes it easier for you to reach out to your customers for training, product sales and marketing, and other aspects. All in all, it is a well-integrated, intuitive platform that provides options for automated webinars and customized invites.
Best suited for small and medium-sized businesses, ClickMeeting provides clear instructions to set up the event effortlessly, without worrying over any technical stuff. It also offers analytical insights regarding the past webinars and the audience of the upcoming webinar.
KEY FEATURES:
Offers polls and surveys for feedback
Chat options and interactive sessions
Can be connected to Facebook and YouTube to enhance engagement
You can record the entire audio and video of the live sessions, which are then stored in clouds, and can be downloaded easily
Multiple presenters can present in HD content
PRICING PACKAGES:
The price is reasonable, but the number of attendees allowed is a little low. The rates start at $25 per month (billed annually) for 25 attendees, $35 (billed annually) per month for up to 50 viewers. There is also an option for custom-pricing that's best suited for enterprise customers.
ClickMeeting also has a free 30-day trial.
CONS:
For smooth and seamless video, accessibility to high-bandwidth internet is necessary; the performance mitigates if a fast connection is unavailable
Grievance redressal is a problem on weekends, and usually requires 1-2 business days
Pricing plans offer slightly low audience limit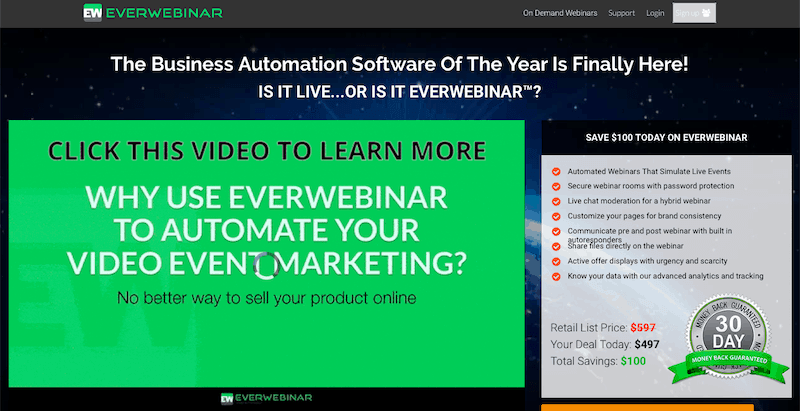 Touted as the "most powerful automated webinar platform," EverWebinar is one of the most popular webinar platforms on this list. It is built with direct integration to WebinarJam, although the parent company sells them separately or in a bundle.
Some of its features include fully automated customer-activity based email connections, the ability to keep users in the loop, and complete set up under three minutes for WebinarJam users. Also, it records the webinars automatically so that the user can replay them for potential leads.
EverWebinar is best suited to small and medium businesses looking to generate leads and boost their sales using Webinars.
KEY FEATURES:
One-click platform swap between WebinarJam and EverWebinar
Allows you to fake your audience count
Performance stats in real-time
Convert past live events into evergreen events
Just-in-time webinars that start right away upon registration
An advanced scheduling system that helps block out unavailable dates
Time-zone auto-detection for the ease of users all over the globe
Unlimited free hosting via reliable, cloud-based servers
PRICING PACKAGES:
It costs $41 per month (billed annually), which is a bit on the higher side. However, the features it provides along with the partnership with WebinarJam makes it worthwhile.
Get a 60-day trial of EverWebinar for just $1. 
The next webinar software on my list is GoToWebinar. With GoToWebinar, you don't have to worry about the clutter and confusion that comes with organizing your webinar and can just focus on reaching more people and growing your business.
All that you do is choose the date you want to host your webinar, and it takes care of mostly everything else.
It also exposes you to a variety of features to improve your webinar experience, ranging from flexible scheduling to the entire event management process. You also have access to several in-built webinar templates that provide the ultimate business environment.
Moreover, with impressive features such as automated email reminders, customizable webinar invitations, and a highly converting registration page, you can now promote your upcoming event and drive massive traffic. Other features include in-built polls and surveys, presenter webcams, automatic webinar recording, and more.
KEY FEATURES:
Pre-recorded events
Robust analytics
HD video quality
24/7 customer support
Integrations with GoToMeeting
In-built polls and surveys to engage your audience
Automatic recording, which can then be shared online
Seamless integration with tools such as Zapier, Salesforce, Unbounce, etc.
Source tracking to discover which channel resulted in maximum webinar signups
PRICING PACKAGES:
The Starter plan costs $89 per month for 100 participants, $199 per month for 500 participants, and $429 per month for 1,000 people, all for annual subscriptions. You can also start a free trial with up to 100 people; no credit card required.
CONS:
Outdated software
The Starter plan limits the count to just 100 attendees
Comes with a hefty price, even the lowest tier plan costs around $900/year
Disclosure: I receive affiliate compensation for some of the links below at no cost to you. However, these are the best tools that I have used when conducting a webinar. You can read our affiliate disclosure in our privacy policy. Full reviews of Zoho Meetings, LogMeIn, and Livestorm coming soon.

WebinarNinja is a powerful, all-in-one solution trusted by major brands like AppSumo, Podia, Printful, and more. They are known as one of the easiest tools to use, with out-of-the-box thank you and sign-up pages, allowing you to create a webinar in under a minute.
WebinarNinja allows you to create four different types of webinars:
Live – broadcasted with a live host for audience interaction
Automated – recorded webinars that run at certain times or on-demand
Series – a group of several webinars
Hybrid – a combination of live and recorded videos
KEY FEATURES:
Lightning-fast live chat
Instant screen sharing
Run multiple polls before, during, and after the webinar
Timed offers to display at any time during your webinar
Email automation and drip campaigns
High-converting, custom registration landing pages
Analytics dashboard with the ability to export data
Integrations with 1,000+ apps with Zapier
PRICING PACKAGES:
WebinarNinja comes with a 14-day free trial to test out its features. Its Starter Plan is $39/month and works well for users will limited requirements and that need only 100 webinar viewers.
Next, their most popular Pro Plan is $79/month and adds another 200 attendees and the ability to create webinar series. They also have a Plus Plan at $129/month and Power Plan at $199/month. These higher-tier plans allow hybrid webinars (a series of live and recorded webinars) and more live attendees.
Overall, WebinarNinja is a great tool for those looking for both advanced features and the ability to create webinars fast.
Try out WebinarNinja and get a 14-day free trial. 
Demio is one of the best webinar software platforms available out there. It's super easy to record your webinar automatically in the cloud. When it comes to visual aesthetics, it delivers real-time, HD streaming, and great looking platform design.
All the pricing plans offer standard features including advanced webinar setup, 24/7 Chat
& Email Support, unlimited webinars, storage for 100 recordings, robust analytics, and so forth.
KEY FEATURES:
It offers a value-based customer experience, by automatically recording sessions in the cloud for use at a later time. These can be accessed and downloaded at any time by the user
Allows extensive customization options to the user
Offers in-built analytics
Can be easily integrated with any marketing tool
Offers powerful tracking options
Provides extensive automation
PRICING PACKAGES: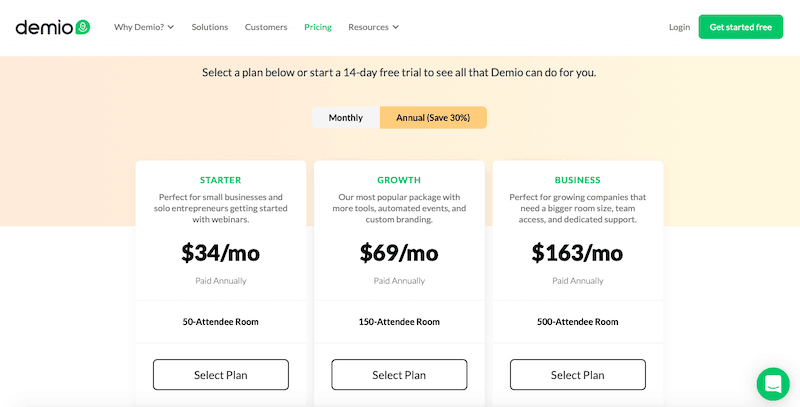 Demio provides a 14-day free trial, which allows you to test out all its features. The Starter plan starts at $34 per month for a 50-person webinar room, $69 for a 150-person room, and $163 per month for a 500-person room. These monthly rates are valid on annual subscriptions.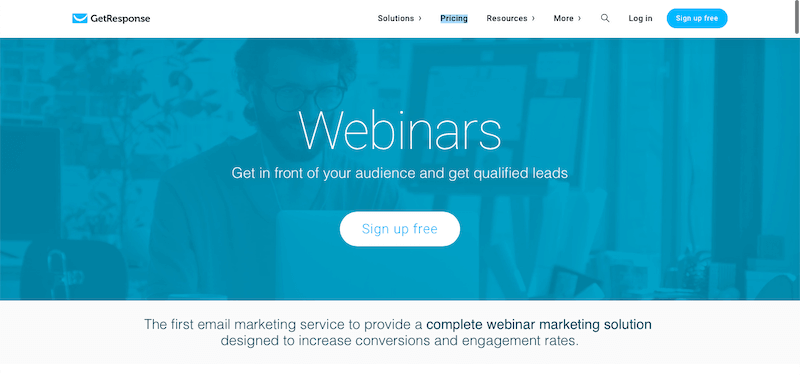 GetResponse is primarily an email marketing platform that offers a wide array of marketing solutions, including a complete webinar marketing solution. It allows you to set up your webinar within three minutes, sometimes even less. Other marketing tools include autoresponders, automated email marketing, Landing pages, list segmentation, and more.
Availability of email list and webinar solution under one roof comes in handy as it allows you to follow-up messages right away after the webinar. Moreover, you can also send reminders and thank-you messages to the registrants.
KEY FEATURES:
Allows you to customize your webinar URL
Pre-existing webinar invitations and reminder templates with pre-filled webinar details
One-click webinar recording
Text chat feature to drive engagement
One-click sharing options
Allows you to set up autoresponders
Tracks conversion stats and provides detailed audience statistics
PRICING PACKAGES:
GetResponse has a free 30-day trial and a Basic plan that doesn't include webinar features. Their Plus plan is the first one that provides webinar solutions and starts at $49 per month for up to 100 attendees.
The Professional plan is $99 per month for up to 300 people and the Enterprise package is $1,199 for up to 500 people. However, it also includes email campaign consulting and a dedicated account manager.
CONS:
Free-trial provides space for up to 1,000 contacts only
Customer support doesn't include phone support
The pricing structure is somewhat complicated. The prices increase exponentially along with your list size
A frontrunner in innovation and technology, Adobe has forayed into webinar platforms with Adobe Connect Webinars.
Apart from creating webinars, it allows you to host videos, share documents, and host meetings for increased interaction with customers. Moreover, it will enable you to customize your hosting room and optimize it as per your requirement. Adobe Connect helps marketing companies and firms showcase their products and services in an impactful way to their target audience.
KEY FEATURES:
Provides a variety of templates to customize your environment as per your requirement
Helps you create unique registration pages
Ability to influence and reach out to target audience with videos, blogs, surveys, and polls
Offers robust analytics for better insights
Integrates easily with CRM software like Eloqua and Salesforce
PRICING PACKAGES:
Adobe Connect comes with a hefty price, one of the highest for webinar platforms. For 100 seats, it is $130 per month, $470 per month for 500 seats, and $580 per month for 1,000 seats. Each plan allows you to host unlimited events. Moreover, you get a 30-day free trial to test out the product.
CONS:
There have been some rare instances of display video and audio compatibility issue in mobile devices
One of the highest prices for webinar software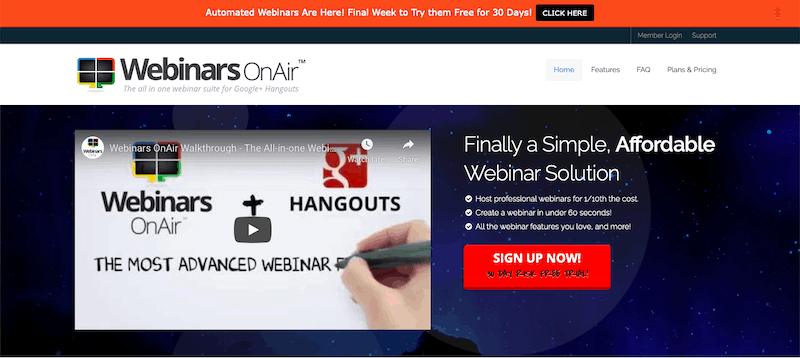 If affordability is your main concern, then WebinarsOnAir is the perfect webinar software platform for you. On top of that, it comes with all the fantastic features required to host an excellent webinar.
The webinar software platform is also exceedingly user-friendly, for the host as well as the attendees. Offered by Google Suite, it allows you to set up your own room. Moreover, it exposes you to a variety of exciting features, including recurring webinar options, polls, and surveys built into the webinar itself, Q and A, and so forth.
It is entirely hosted in the cloud, thus offering extensive scalability power. With WebinarsOnAir, you can also keep track of your audience count, conversion rate, and other vital metrics.
KEY FEATURES:
You can schedule a webinar for up to 50,000 attendees in less than a minute
Offers "Tracking Pixels," which allows you to create "laser-targeted audiences for retargeting purposes."
Live Q&A sessions along with live-chats
Allows 10 moderators/speakers at once
One-click webinar registration
Offers in-built opt-in forms
Cloud-based hosting
PRICING PACKAGES:
30-day free trial. The plan for 25 viewers costs $19.97 per month. For unlimited participants, the plan costs $99 per month.
CONS:
Some features are unavailable to users who do not use Google Hangouts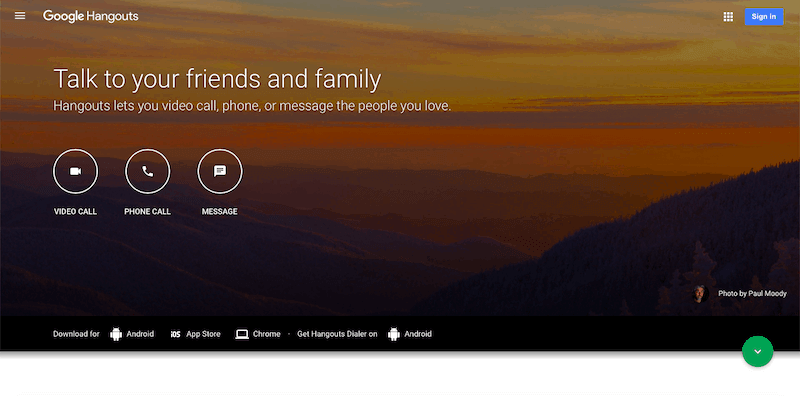 One of the most acclaimed names in this list, Google Hangouts is a completely free webinar software platform that integrates with YouTube and Chrome Browser. Either host a webinar for up to 30 prospects, or you can stream it on YouTube to invite a more extensive audience base.
The best part about Google Hangouts is that it caters to every business level, be it small or medium-sized business, or a big corporate. It also allows several people to speak all at once during the Webinar, and once finished, you can even share it further.
There's one downside, however. Since this webinar platform is entirely free of cost, you are not allowed to make the stream private.
KEY FEATURES:
Allows up to 30 people in the chat
Several speakers can speak during the webinar
Completely free of cost
The recording is done automatically and uploaded on your YouTube channel right away
It can create a webinar in 10 seconds
Integrates with YouTube and Chrome
No additional software download needed
PRICING PACKAGES:
Free, but limited for those looking to optimize their sales funnel.
CONS:
Google account is a necessary prerequisite if you want to take part in the event
Unlike other webinar software platforms in this list, Google Hangouts does not offer any other additional marketing features, such as analytics, paid events, etc.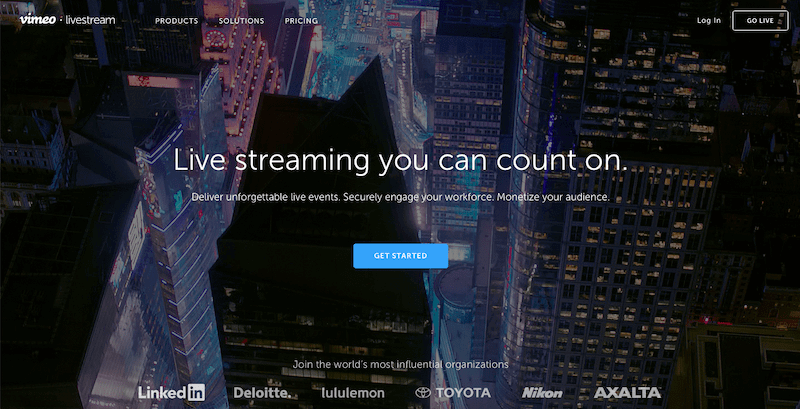 Livestream is an excellent webinar software platform. However, it primarily caters to big businesses and educational institutes. It is best suited for organizations that have already engaged and built a relationship with their target audience.
There's no maximum limit to the number of attendees; an unlimited number of participants can view your webinar.
One of the best parts about Livestream is that it offers unlimited storage and automatically records and stores all your webinar events in the cloud. Other prominent features include limitless streaming analytics, the ability to stream to Facebook Live or YouTube, live Q&A and polls, audience chat, lead generation tools, and so forth.
You also get dedicated phone support for your webinar events and can even privatize your event's access.
KEY FEATURES:
Unlimited storage and unlimited viewers
Impressive customer support
Allows you to privatize your events
Private link sharing
Extensive in-built analytics
Stream to Facebook Live or YouTube
You can embed the webinar into your website
PRICING PACKAGES:
It costs $75 per month if billed annually. Livestream also offers a quote-based Enterprise package that offers additional features such as, dedicated account manager, auto-archiving, pay-per-view option, and more.
CONS:
Some reviews suggest that there are some rare occurrences of connectivity lags
Does not offer a free trial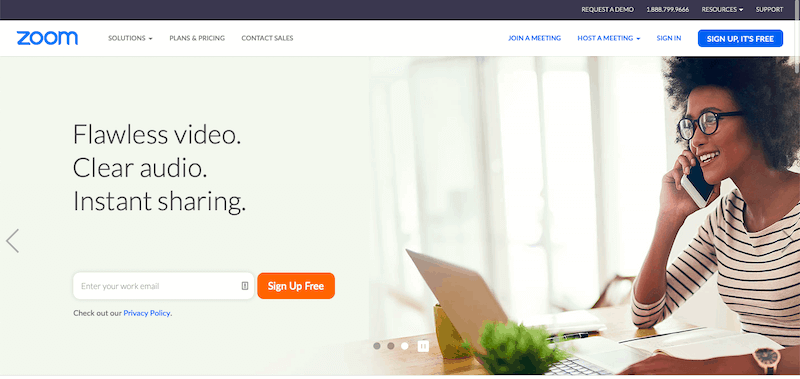 Zoom is one of the best webinar software platforms available in the market today. It is intuitive, entirely cloud-based, and has a user-friendly interface that makes things simpler for its users.
It performs a wide array of activities that make it an asset to any company. Zoom offers HD video and audio, screen sharing, desktop, and app sharing options.
Moreover, it allows you to host the scheduled and unscheduled meeting, and keeps a backup of every session in the cloud for ready and instant access at a later time.
The best part is that it allows private and public chats so that the audience does not necessarily have to interrupt the speaker while he or she is making a point.
It also integrates with Google calendar and Microsoft Outlook, which allows its users to schedule meetings and send emails, seamlessly. Zoom is a one-stop-shop for everything when it comes to hosting a webinar event.
KEY FEATURES:
Exquisite HD video and audio, along with screens sharing facility
Desktop and app sharing options
Backup of every meeting in the cloud
Allows private and public chats, which lets the attendees communicate during the event without any interruption
Offers integration with Google calendar and Microsoft Outlook
Provides free access to up to 100 participants and 40 mins limit on group meetings
Efficient host controls and virtual whiteboards
User-friendly and easily navigable dashboard
There are no one-time fees and it's free to sign up
PRICING PACKAGES:
It is one of the few webinar software platforms that provide a freemium package. The free plan offers 40 minutes on the webinar and allows up to 100 participants. The Basic paid plan offers every feature along with 1 GB of cloud recording and costs $14.99 per month.
The Business package, ideal for small and medium-sized businesses, is $19.99 per month. The Enterprise package, which is best suited for large enterprises, costs $19.99 per month.
CONS:
Some reviews suggest that the audio quality should be improved
Some users have complained that the calls get automatically disconnected sometimes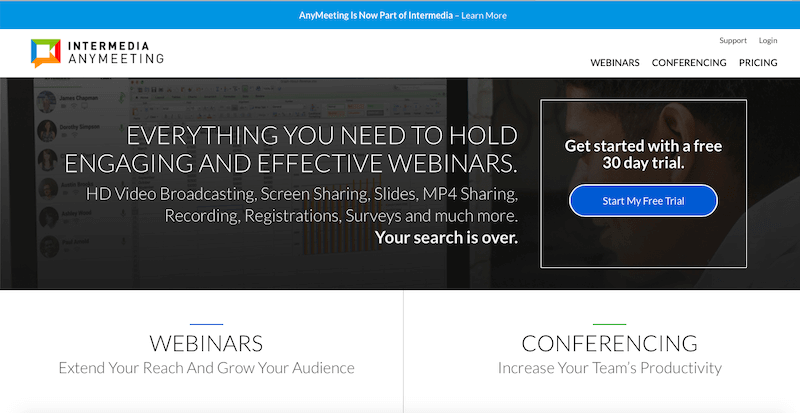 Perfect for small organizations, startups, and educational institutes, AnyMeeting offers essential tools to host your webinar along with a user-friendly and intuitive interface. It is powered with amazing features, such as HD video broadcasting, screen sharing, MP4 sharing, in-built surveys, automatic webinar recording, and so forth.
AnyMeeting offers varied pricing packages that allow you to host up to 1,000 attendees. You also get a 30-day free trial to test out the webinar software platform and check whether it aligns with your preference.
Along with the Webinar hosting options, AnyMeeting also provides web conferencing tools that allow you to conduct collaborative sessions with your fellow team members, prospects, to clients.
KEY FEATURES:
Up to 6 live presenters and up to 1,000 participants
Provide options for real-time audience chat
Offers in-built Q&A sessions, live-chat, polls, surveys to engage your audience
Follows-up with your attendees via emails
Intuitive and user-friendly interface
A free 30-day trial at the start, so that you make sure that the environment suits you
Offers robust analytics and built-in reporting
PRICING PACKAGES:
The basic plan called Webinar Lite is $48 per month for 50 viewers; Webinar Pro that allows up to 200 viewers is $128 per month and $298 per month for the Webinar Enterprise plan that allows up to 1,000 people.
CONS:
Some would say it is a little overpriced, but the value it brings to the table makes it worthwhile
Does not allow broadcasting from mobile devices
A Cisco product, Webex lives up to the expectations that come from having such an acclaimed parent company.
It provides some impressive features, such as a host room along with HD video and audio services that can be accessed on multiple devices. It allows its users a high degree of customization so that the host environment can be tailor-made to suit the business requirements.
Through Webex webinars, you can hold meetings throughout your organization, offer online and offline training sessions, and provide remote support. The key USPs of Webex include mobility, user-friendliness, and compatibility with all devices and browsers.
It is a cloud-based platform, so along with superior speed, there is a guarantee of data security as well.
KEY FEATURES:
Cloud-based platform
Allows you to host up to 40,000 attendees
In-built Q&A sessions, polls, and surveys to facilitate audience engagement
Provides a mobile app
Helps in collaboration and teamwork
The excellent HD video and audio quality
Integrates with popular marketing tools like Salesforce
PRICING PACKAGES:
The Basic plan costs $13.5 per month for up to 50 participants if billed annually. The price climbs up as you move on to a higher-tier plan.
CONS:
More suited for in-house team collaboration than webinars
DaCast is another great webinar software platform in this list that helps you set up your online video conferencing environment within minutes. It offers impressive broadcasting features to help you manage, monetize, and analyze your online video.
Along with secure video hosting, you get 24/7 customer support that comes in handy if you get stuck in the process.
Popular features include the integration of live video with APIs and video streaming over social media platforms such as Facebook. With these features, you can shoot live webinars and then offer your on-demand webinars at a later date.
Simply put, it is a quick and easy-to-use platform that can be used even by novice marketers.
KEY FEATURES:
No viewer limits
Allows FTP access
Real-time analytics
An interactive video on demand (VOD) solutions
Live streaming on social media platforms
User-friendly web conferencing interface
Easy to set up
PRICING PACKAGES:
The paid plans start at $19 per month (billed annually) for up to 300 viewers per hour and range up to $289 per month (billed annually) for up to 15,000 viewers per hour. There is one quote-based custom plan as well that allows you to cherry-pick the features you require.
CONS:
Their webinar services are based on how much data you consume. If you go over the data bandwidth limit, you will be charged extra.
What is Webinar Software?
A webinar is essentially a blend of the words web and seminar. Webinar software runs this online video conference meeting. It's better defined as a lecture, live presentation, meeting, or event that is conducted entirely online and attended by an exclusive audience.
The software that is used to run and conduct a webinar is called a 'webinar software.' These webinar tools help you make your webinars more interactive, engaging, and flexible.
The best part is that these tools are exceedingly customizable, and allow users to modify the webinars according to their requirements. This way, you can even add a personal touch to your webinars.
There are multiple options on the market, including Webinarjam, Easywebinar, and more. Additionally, software like Google Hangouts also provides a free option for hosting webinars, which comes in handy for hosts on a tight budget.
What Are The Benefits Of Using Webinar Platforms?
There are many benefits of using webinar software tools to host your event or presentation.
Here are some of them:
1. Webinars Are Cost-Effective.
Webinars cater specifically to an online audience of interested users. Unlike webcasts, there's no physical location necessary for everyone to join.
Thus, you don't need to pay for many of the things a physical seminar would entail, like renting a room and arranging for chairs.
The attendees don't have to pay much (if anything) to attend these online meetings, and they make excellent business sense for them, too.
The only things you need for a live webinar are:
A webcam
A script with engaging content
A good internet connection
A set of interested people
Good webinar software
Either a nice microphone or just an internal computer microphone
Guest speakers and assistants with expertise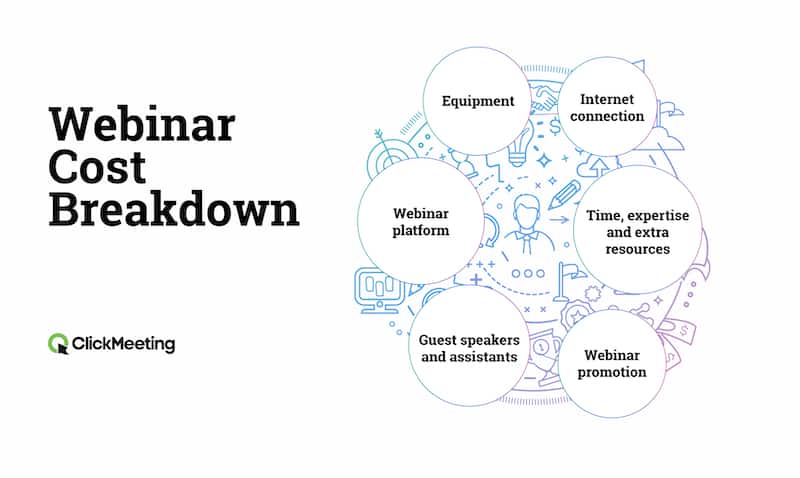 The cost of arranging a webinar is usually between $100 to $3,000, which is a fraction of the cost of organizing a live, physical conference.
However, if you use a webinar platform like WebinarJam, you can save yourself a lot of money as they only cost $1 for a 60-day trial.
Thus, it's a very cost-effective medium of engaging your prospective leads.
2. Expansive Audience.
Using a webinar platform to create your webinars can help you do away with the problems of social media integrations and setting up billing. More importantly, they handle the constraints of addressing a vast audience in a unique way.
Most webinar platforms allow you to reach a vast, expansive audience all over the world, no matter where you are.
The logistical cost of attracting attendees from all over the world for a physical conference or event is not possible in most cases unless a 6,7 or 8 figure deal is on the cards. That's beyond the reach of a small or medium-sized business.
Webinars, on the other hand, allow you to target prospective leads all across the globe at virtually no logistical cost or support involved, no matter what the size of your business.
3. Lead Generation.
According to statistics, 73% of B2B marketers and sales leaders suggest that webinars are the best way to generate high-quality leads.
With the right strategy in place, you can turn your webinar into a well-oiled and automated machine, churning out leads over time.
The audience in a webinar is usually attending it due to their professional or personal interest. While not everyone is a potential customer, it's vital to recognize who they are and target them via email based on their interests and actions.
Many webinar platforms offer lead generation and marketing tools that help you soft-sell your products, focus on the value they create, and steer your audience down the sales funnel.
Take EverWebinar, for instance: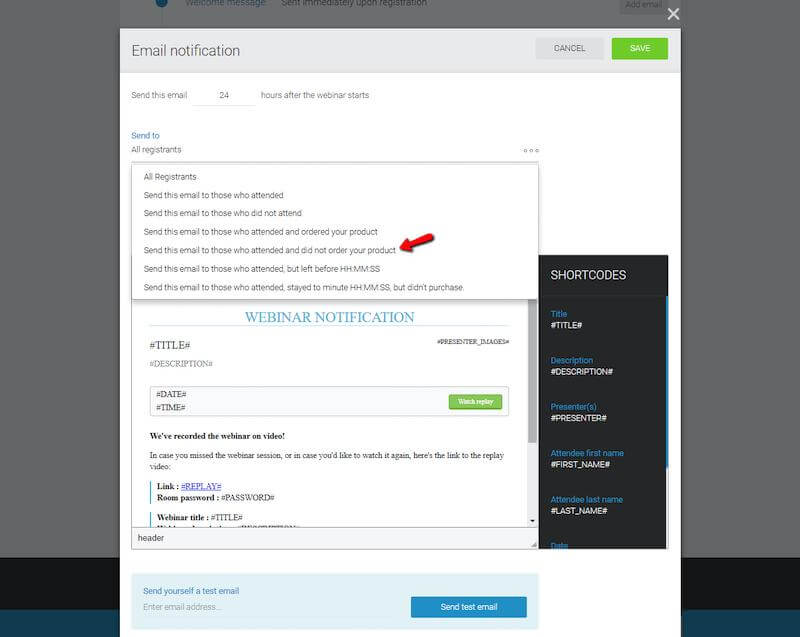 They help you send automated follow-up emails, communicate with your subscribers before and after the webinar, and allow you to customize your messaging.
All these amazing features help you generate more leads than you could ever do if you host a regular webinar.
4. Guest Presentations.
Webinars open up plenty of ways to create engaging and enriching presentations for your potential customers. One way to generate interest is by inviting guest speakers on your webinars.
Getting a guest speaker on-board is an excellent way to boost your credibility. Naturally, industry stalwarts endorsing a webinar usually builds trust in the minds of the attendees.
Moreover, an industry leader is likely to have a lot of peer interaction and a large professional following. By getting an influential member of the industry to speak on your behalf, you stand a great chance of tapping into their entire contact list.
And the best part is that most webinar platforms give you the option of hosting webinars with multiple presenters, which allows you to invite some influential guests to engage a wider audience.
One perfect example is WebinarJam.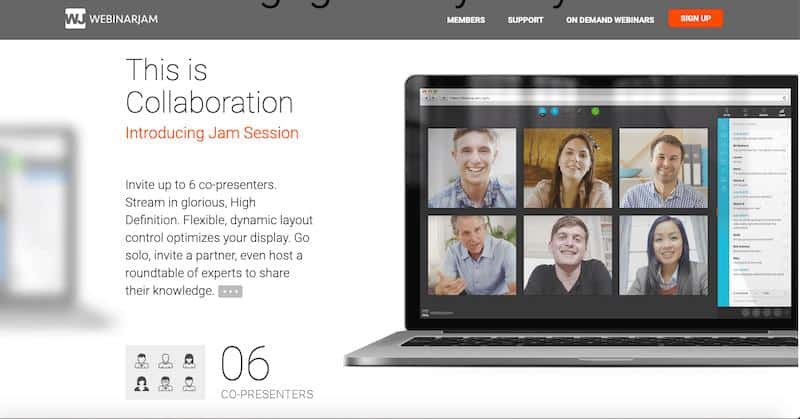 WebinarJam allows you to invite up to six co-presenters and even host a roundtable of experts to share their knowledge.
5. Become a Domain Expert.
Webinars are personal interactions and can increase your domain expertise while connecting you with a new following.
As you continue creating webinars, more and more people begin to attend, you scale up your own brand recognition, pick up a lot of domain knowledge – plus soft skills about presenting and webinar management.
Over time, the benefits of hosting a webinar will translate into your own knowledge, and may even help make you a leader in your industry.
Being recognized as a thought leader and industry stalwart can improve customer retention and customer lifetime value for your business, which can help you boost sales in the long-term.
What Are Some Tips & Strategies For Using Webinar Platforms?
While a majority of online businesses are hosting webinars today, it doesn't mean they are able to turn prospects into customers.
That's the reason why most webinars see get a high conversion rate.
Statistics suggest that webinars have a 35% to 45% registrant to attendee conversion rate. And after that, most webinar hosts expect a single-digit conversion rate.
What you need is a competitive advantage over your competition by creating and providing value.
Thus, strategizing how to best use your software is paramount. The right webinar plan, used in the right place at the right time will make all the difference.
Here are a few tips to help your webinars stand out:
1. Research Your Attendees.
The eventual goal of your webinar is to generate leads and make them purchase your product or services.
Thus, you need to know what type of audience is attending your webinar.
Before you host the webinar, it's decidedly useful to conduct thorough research on the type of people that are attending, their demographics, professional domain and expertise, and industries they belong to.
It helps you get a brief idea about what your audience is expecting from you.
In-depth research about your audience will help you gauge precisely what they're expecting from the webinar, vis-à-vis the current market scenario.
There are some of the ways you can use to gather information:
Conduct surveys
Do online research
Find customer data
Collect additional information via your webinar registration page
Here's a webinar registration page by KISSmetrics:
On this registration form, they ask some pertinent questions that will help them gauge what type of audience is going to attend their webinars.
Identifying your customer needs is a great way to bolster the conversion rate of prospective leads into customers.
2. Visual Branding.
According to statistics, people are likely to retain only 10% of the information that they hear three days later. However, pair a relevant image or visual aid, and the retention rate shoots up to 65%. That's why involving visual branding in webinars comes in handy when it comes to generating more leads.
The creation of visual branding, like the insertion of a logo, tagline, etc. can go a long way in ensuring brand recognition and retention. These brand elements provide cues to the attendees about your brand, for days after attending the webinar, which can only work in your favor.
Repeating the same visual styles for subsequent webinars help build the brand image in the mind of the customer, so that they slowly begin to associate themselves with you, building up brand loyalty in the process.
Many webinar hosting providers help with your visual branding in just a few clicks.
LiveWebinar is one such example.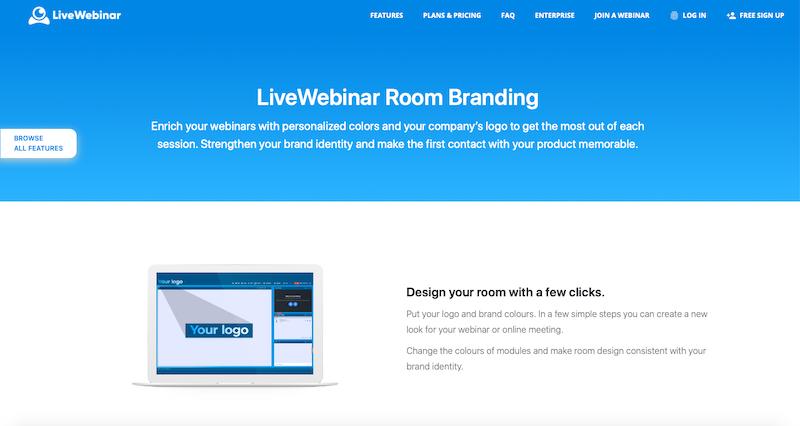 LiveWebinar provides excellent visual branding options to help you strengthen your brand identity and get the most out of your session.
This includes creating custom branding in your pre-event emails, webinar waiting rooms, presentation, and follow-up.
3. Leverage Analytics.
It is essential to leverage analytics to understand what kind of message your audience is most responsive to.
Not only this, there are plenty of analytics tools like Google Analytics and Facebook Insights that can provide you with a far more detailed, customized, and personalized breakdown of traffic on your webinar concerning a variety of parameters.
Each business is unique and cannot be predicted based on your competitors or peers.
With analytics, you get data specific to your business that is aimed at maximizing the potential of your webinars.
Many webinar platforms, like EasyWebinar, come with in-built advanced analytics reporting tools.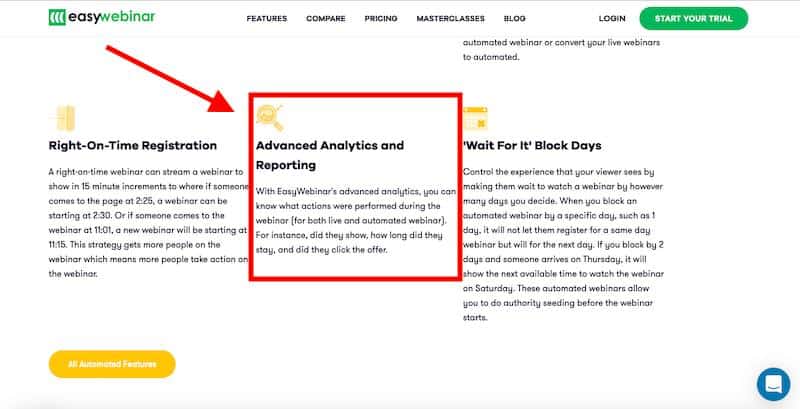 It helps you understand what actions did your audience performs during the webinar (for both live and automated webinars).
4. Keep Your Webinar Succinct.
Not many viewers want to stick around for an hour to listen to you talk.
In fact, recent studies show that 41% of attendees prefer webinars of 30 minutes, and 44% of attendees prefer those up to 45 minutes long.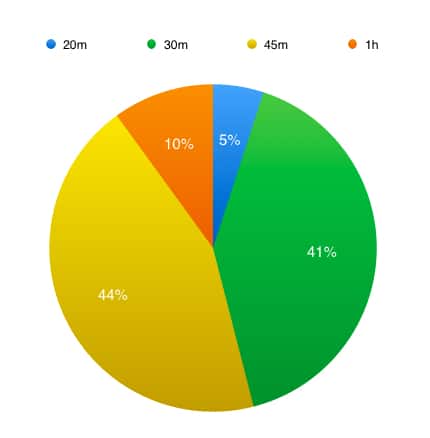 More than 80% of attendees look for webinars under 45 minutes, which clearly suggests that most webinar participants prefer shorter, valued-added sessions.
It points towards another strategic consideration: having the right content to sell.
A long, convoluted speech is unlikely to work successfully here. Your goal should be to talk about things that can be easily demonstrated and are easy to understand.
And the emphasis should be on wrapping it up within 45 minutes and entering your sales pitch for the best results.
5. Well-Timed Promotions.
Suppose it's the weekend and a 50% discount flash sale got announced for 2 days only. There's a real sense of urgency.
However, if the announcement was made over two months ago, no one will remember it when the time comes.
Now, let's suppose you heard about the sale only last week. Would you remember it now? Probably, yes.
It turns out, the time and day of the webinar are not the only significant influences on attendance. The date of the announcement of the webinar is another essential factor in the registration rate.
The 2017 Webinar Benchmarks Report found out that 25% of registrations occur on the day of the webinar, whereas 23% of registration occurs more than two weeks before.
You should also plan to announce your webinars numerous times before launch, including via emails, social media, and other teasers.
Making a short promotional video and uploading it on to your social media sites, Reddit, or YouTube accounts can also bring in large numbers of attendees.
On the other hand, if you're looking at promotional emails and sending out invitations by email, some specific days are more effective than others.
As per the same webinar report, Tuesday, Wednesday, and Thursday are the best days to send promotional emails.

Remember, simply promoting your webinar isn't enough. With so much competition in this online space, using the best webinar marketing strategies is vital.
Webinar Wrap Up
Owing to their impressive and user-friendly features, these are some of the best webinar tools available today.
But the question is which webinar software platform is best for your business. To identify this, you need to take several things into account. For starters, see what your budget is and then compare the features accordingly.
Then you need to identify what size your audience is and what features you might require to engage them. Also, consider things like what features do you need during the event?
What's your end goal? Do you want to boost your conversion rates or need to conduct a poll/survey? It's crucial to select the tool that offers the specific features you need.
The best part is that most of these webinar platforms come with a free trial or money-back guarantee, which allows you to test out the product before upgrading to a paid plan. When you find what you are looking for, then you can make the final purchase.
If you're looking for my top pick, I recommend you get started with a 60-day trial of WebinarJam for $1.
Which webinar software do you plan to use?
Further Reading on AdamEnfroy.com: If you're just launching your online business, check out my reviews of the best email marketing services and best web hosting software to use this year.
Last Updated on