11 Best Membership Site Platforms of 2023 (Ranked)
Choosing the right membership site platforms is crucial for your online business's success. In this guide, I ranked and reviewed the 11 best membership site platforms, along with my top 5 choices, so you can pick the best one.
82% of businesses are adopting a membership subscription model, and statisticians expect the online learning (LMS) market to grow to $28.1 million by 2025.
With hundreds of engaged members as part of an online community, there's no doubt that the business owner who can manage such an endeavor successfully can feel pride in their accomplishments.
If you'd like to succeed where others have failed, the first step to getting started is picking the best membership platform.
This process can be challenging, considering the various options.
In this post, I'll rank and review the best membership sites based on features, pricing, ease of use, and more, helping you make the right choice for your business.
---
We're reader-supported. When you buy through links on our site, we may earn an affiliate commission.
What Are the Best Membership Site Platforms?
Here are my top picks for the best membership website platforms.
Best membership site platform for WordPress ($49 per month – $149 per month).

Adam's Take
If you're looking for the best overall membership site platform, then WPQuickStart is my #1 recommendation. Many have used it to create membership sites with 100s of members successfully. It also has all the features you need to get started right away.
WPQuickStart for Membership Sites is the only solution that helps you build fast, functional membership sites in minutes.
It combines popular software (Restrict Content Pro, Kadence Pro, and more) with superior hosting tailored explicitly to WordPress.
Using the easy setup wizard, you answer a few questions, set up membership levels and payment methods, load content, and go live with your membership site.
WPQuickStart for Membership Sites does the heavy lifting, so you don't have to.
An automated email blast system is also in place to connect with your members.
There are options to schedule emails and modify pre-built email templates.
Where Nexcess shines is the built-in integrations with payment gateways like Stripe, Braintree, 2Checkout, Authorize.net, and PayPal.
This helps the business owner get the most out of their membership site and saves time and money from hiring outside software developers.
In addition, you get access to in-depth reports that give insights into your business performance, profit, and subscriptions.
You don't have to worry about security either.
As a platform, Nexcess employs WordPress security experts who monitor your site for security breaches and threats.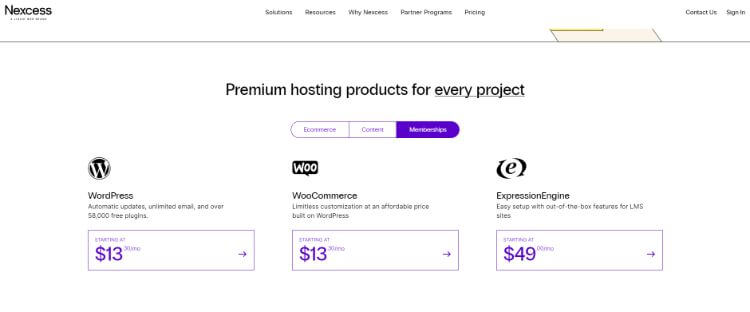 Other key features include:
The ability to offer multi-level subscription packages (including free, trial, and premium).
Fully managed WordPress hosting by Nexcess.
Plugins and themes worth $349 come with every membership plan.
Email support, plugin updates, and complimentary add-ons.
Auto-scaling to keep up with the traffic surge.
Built-in 22-location CDN (Content Delivery Network).
Pricing:
WPQuickStart by Nexcess comes with three paid plans:
Membership Essential ($49 per month) – One site, 30 GB storage, 3TB bandwidth.
Membership Pro ($99 per month) – One site, 60 GB storage, 5TB bandwidth.
Membership Premium ($149 per month) – One site, 100 GB storage, 5TB bandwidth.
All paid plans include 30-day backups, unlimited email accounts, a staging environment, and a 30-day money-back guarantee.
You'll also get discounts if you choose to pay yearly.
For instance, the Membership Essential plan will cost $40.83 per month for an annual plan.
Best For Selling Memberships.

Adam's Take
Mighty Networks provides you with all the necessary tools to sell memberships to the right people. With various insights into the metrics that matter most to your membership site, you can optimize your content and strategies to engage current members and attract new ones.
Mighty Networks is a complete solution for selling memberships.
The platform gives you great data insights that can help you improve your site.
While adjusting your strategy, you can track how members use your site and what content resonates most.
Besides focusing on analytics, Mighty Networks is an excellent platform for those who want to build a community around their content.
The platform makes it easy to connect with members and create forums and groups for discussion.
Key Features: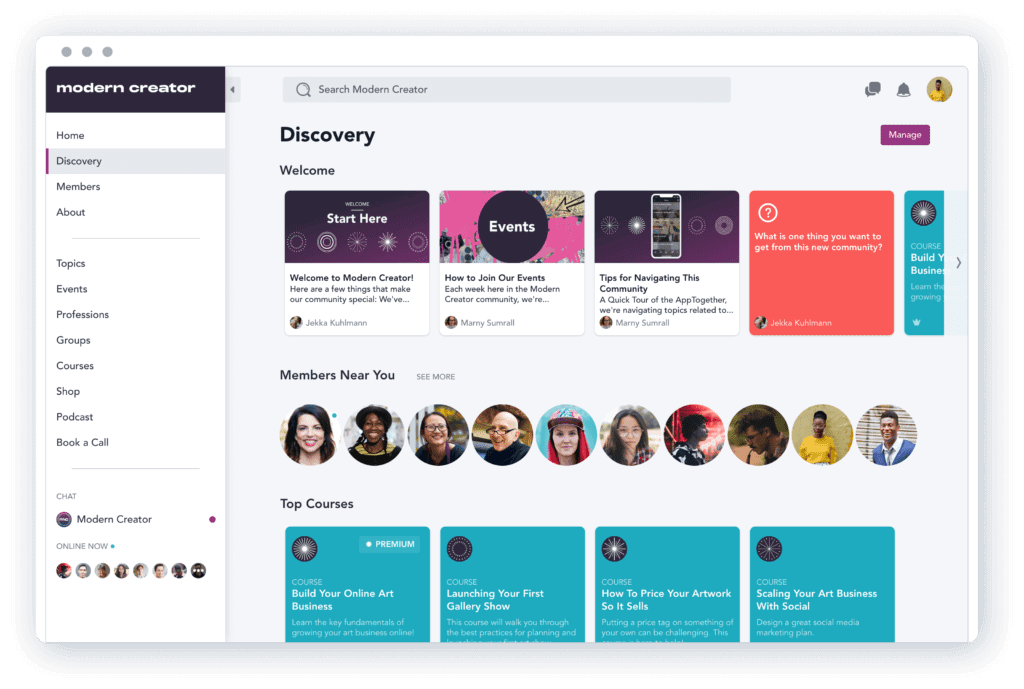 Rich member profiles ensure that you get to know your members well
Private direct messaging helps you keep in touch with members without bombarding their inboxes
Small group chat lets you connect with a smaller group of members for a more intimate discussion
Live events and meetings allow you to communicate with members in real-time
The event calendar ensures that members don't miss any important events or deadlines
User Experience: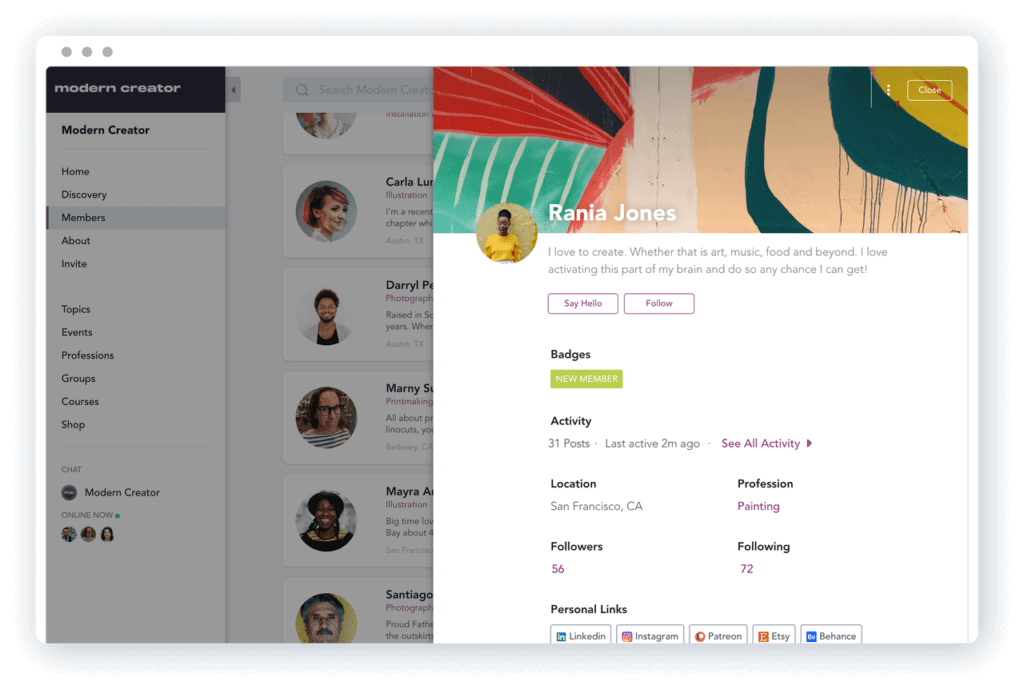 The member category section is excellent for those who want to make connecting and finding relevant content easy for their members.
Whether by interests, title, roles, or anything else, this feature allows you to segment your members in a way that makes sense for them.
The search function is also easy to use and helps members find the content they're looking for quickly and easily.
Pricing: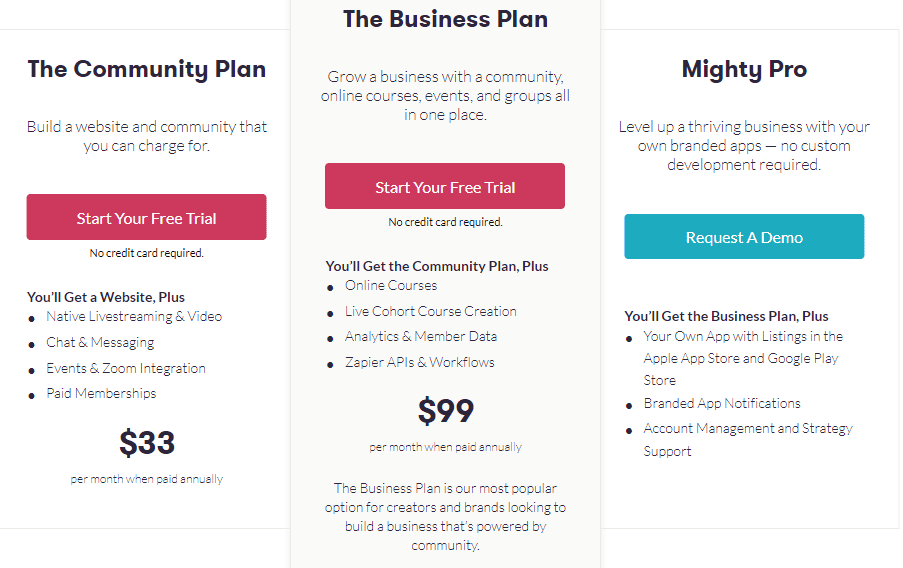 With a free 14-day trial that doesn't require a credit card, it's easy to start with Mighty Networks and see if it's the right fit.
There are then three membership tiers as follows:
The Community Plan: $33
The Business Plan: $99
Mighty Pro: You'll need to get a demo to see the pricing for this one
What I Like/Dislike About Mighty Networks
Like:
The integrated community component makes it easy to connect with members
The focus on analytics ensures that you can make data-driven decisions about your membership site
Dislike:
There are many options to consider, so the learning curve at the start could be a bit steep.
Product Updates:
Web3 Token Gating will soon allow hosts to select which NFTs or tokens are needed to access the content.
Best For Ease Of Use.

Adam's Take
For those that want to do away with traditional Facebook groups yet bring together a community of learners, Skool is the ideal solution. Its user-friendly interface and advanced features combine to create a simple yet powerful membership platform that will serve you well regardless of your goals.
Skool is a comprehensive platform that provides users with everything they need to build strong relationships between students and teachers at every level.
One of the most powerful features of Skool is its user-generated content options.
This tool allows creators to manage efficiently and moderate user-generated content like forums, blogs, Q&As, polls, surveys, and more.
Plus, Skool makes it easier to keep track of conversations and ensures that essential discussions don't get lost in the shuffle.
Skool also features member profiles and direct messaging systems, allowing users to connect more personally.
Plus, members can easily stay up-to-date on their coursework thanks to the intuitive dashboard, which displays all their upcoming deadlines in one easy-to-read timeline.
Finally, Skool has built-in gamification rewards designed to incentivize learners as they progress through their courses.
Some other key features include:
Metrics that help you track and analyze data like student engagement, course completion rates, and more.
Auto affiliate allows you to easily monetize your courses by promoting other products or services directly in the platform.
Search posts feature so students can quickly find relevant content within their Skool account.
Email broadcasts make it easy to send out mass emails to members.
Allow members to build their profiles and follow those who would be their friends.
Pricing:
Skool offers a single plan of $99 per month that includes all of the previously mentioned features.
4. LearnDash.
Best for Building Engaging Courses.
Adam's Take
LearnDash allows me to make courses, insert lessons, and compile all my course materials in a single spot. Additionally, LearnDash can handle multimedia components like videos, audio, and images.
LearnDash allows you to create courses, add lessons, and gather all your course content in one place.
LearnDash also supports multimedia content such as videos, audio, and images, which means you can create engaging and interactive courses to cater to different learning styles.
You can also add quizzes and assignments to reinforce learning outcomes and certificates to reward student progress – all with just a few clicks.
With LearnDash, you can customize your course look and feel to match your branding and style. You can use one of the pre-designed templates or customize your own.
Using drag and drop, you can also use page builders like Elementor or Beaver Builder to create customized pages.
Some other key features include:
Focus Mode hides distracting content and allows video progression.
Badges and certificates are awarded based on quiz performance or course completion.
Profile dashboard view will enable learners to easily check quiz scores and points earned.
Assignment management approves, comments, and awards points for submissions.
Prerequisites can be set for access to courses, lessons, and quizzes.
Pricing: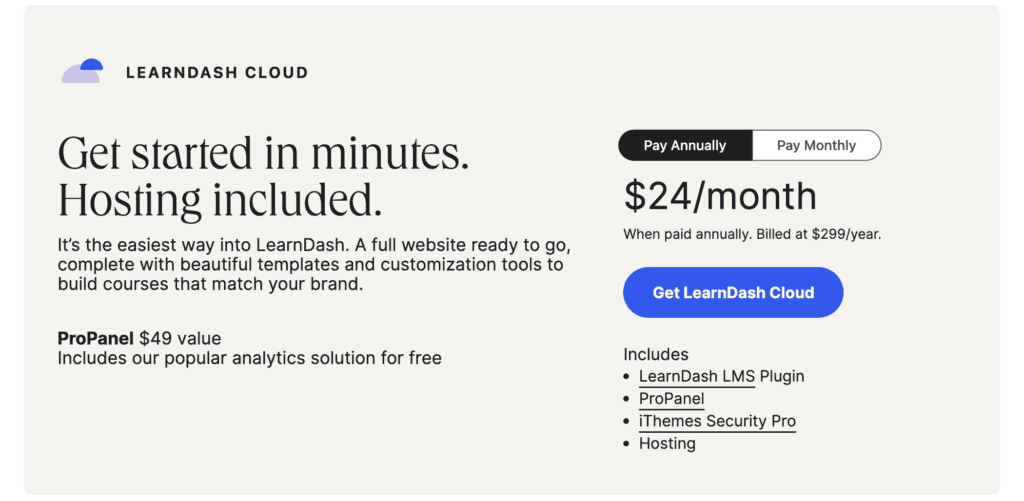 LearnDash offers various pricing plans and infrastructure to help you create, manage and monetize your online courses.
Plans start from $24 per month per user when paid annually.
Best For Online Courses – $499 per month).
Adam's Take
If you want to drag and drop your way to a successful membership site, Thinkific is one of the best platforms. With its intuitive drag-and-drop builder and easy-to-use interface, creating a professional website that engages your students and helps you reach your business goals is simple.
Thinkific is an online course platform that helps you create, market, and sell courses and membership sites.
It provides a drag-and-drop builder to help you build and design your courses and websites.
You can also upload videos and quizzes, schedule lessons, automate your content, and customize other site elements.
The drag-and-drop builder also enables the sorting of various sections across the page and customizes the site's theme to match your style.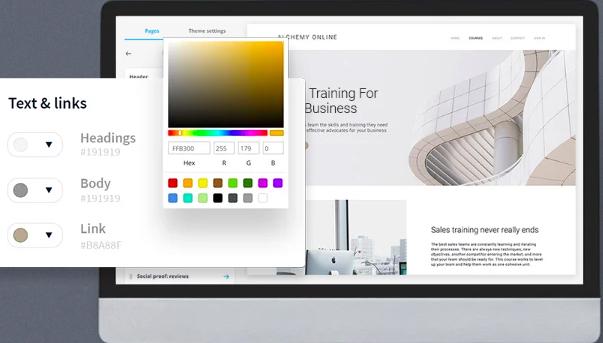 If you're a developer, you get full design access and the ability to create a domain name.
You also get numerous options to create plans and subscriptions, including free trials, payment plans, and custom first-month payments.
Thinkific also allows you to add immediate payment options with a variant of 100+ currencies on your site.
You can accept payment through secure options like MasterCard, Visa, and American Express and third-party payment gateways like Stripe and Paypal.
You can also leverage features like course completion tracking, automated progress emails, course discussions, and more to engage your audience.
It also maintains cloud-based databases with a built-in SSL certificate and 24/7 server monitoring.
Some other key features include:
Drip schedule content.
Downloadable content.
Javascript tracking.
Mobile-responsive content.
Single sign-on (SSO).
Site monitoring dashboard.
Evergreen and expiring content.
Full video and content hosting.
SEO-friendly URLs and meta tag keywords.
You can add multiple instructor profiles.
Automated progress and reminder emails.
Full support for video, audio, PDF, text, HTML, slide presentations, etc.
Integration with over 1000 tools like Google Adwords, Zapier, Mailchimp, etc.
Additionally, it offers advanced marketing and ecommerce features to help you promote your course or site. Some marketing features include affiliate rewards, email send-outs, data tracking, external app add-ons, ad tracking, retargeting campaigns, etc.
It also offers additional student support by providing progress indicators, replay options, language control options, and completion certificates. Plus, it keeps track of data and utilizes all the information to create reports, segment audiences, and export for other purposes.
Pricing:
Thinkific offers four pricing plans:
Free: $0
Basic: $39 per month
Pro: $79 per month
Premiere: $399 per month
The plans offer features like adding quizzes and surveys, content hosting, instant access to your funds, and more. All plans come with a 30-day money-back guarantee.
6. Kajabi.
Best high-end membership platform ($119 per month).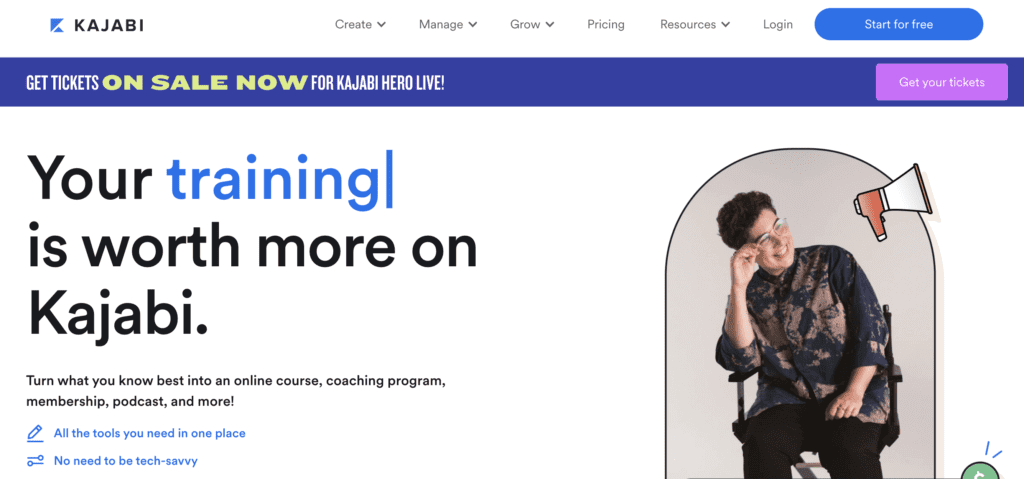 Kajabi is an all-in-one online business platform that helps you create online courses, coaching, and membership sites.
It offers pre-designed and customizable templates and a drag-and-drop to build membership sites without prior coding knowledge.
You even get templates to create landing pages and email marketing campaigns to promote your membership site and courses.
It allows you to send one-time email blasts, automated multi-touch sequences based on customer behavior, event announcements, etc.
It also has a visual editor to preview and customize your site, including elements like countdown timers and videos.
The dashboard also connects your website with your marketing campaigns, emails, landing pages, and products.
The membership software also helps you build automated pipelines using templates and previously developed sales funnels.
There are various ready-to-use playbooks and pre-built frameworks to launch membership activities of any type.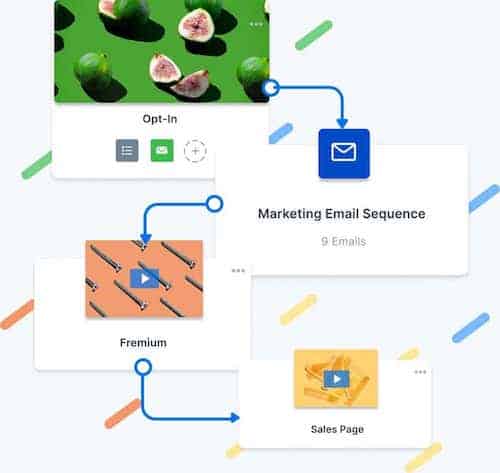 These sales pipelines help you map out and track your members' journeys.
Besides courses, you can use the tool to launch your affiliate program, run podcasts, or automate your entire sales flow.
Regarding analytics, Kajabi analyzes and displays data from all touchpoints to monitor your subscription rate.
It also keeps track of your revenue, offers sold, subscription metrics, and more.
You also get "Subscriptions Churn Reports" to identify profitable critical areas.
Key features include:
Create quizzes and surveys.
Sales page builder.
Video hosting and drip content.
10+ pre-designed product themes.
Private online community area for members.
User forecasting and member progress tracking.
Built-in CRM to track, segment, and filter members.
Additionally, it helps you get paid faster through integration with payment gateways like PayPal and Stripe without additional charges.
Kajabi also lets you set different subscription tiers, including recurring payments, one-time plans, trial payment plans, one-click upsells, etc.
Besides, you get a mobile app for both Android and iOS devices.
The mobile app includes account recovery via saved progress and one-link sign-in features.
Pricing:
Kajabi offers three pricing plans:
Basic: $119 per month
Growth: $159 per month
Pro: $319 per month
All the plans provide automation, ready-to-use templates, zero transaction fees, the ability to host webinars, chat support, and more. It also offers a 14-day free trial with all the plans.
Best for small businesses and non-profit organizations (Free – $600 per month).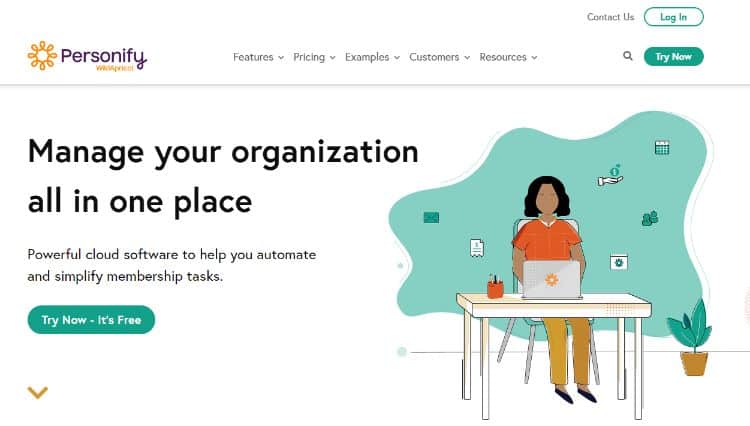 Wild Apricot is a cloud-based membership site tool for building and managing membership sites.
It automates membership tasks and is suitable for bloggers, art councils, non-profits, clubs, historical societies, and more.
It provides a drag-and-drop builder and ready-to-use themes to create mobile-friendly sites easily.
Those themes and the builder help you create a member application page, members-only area, news blog, member directory, events listing, etc.
The platform also saves your members' data in the cloud, allowing you to access it anytime from any device.
It also lets you search and manage your database, automate renewals, customize membership levels, store members' data securely, and more.
You also get a mobile app to manage contacts, edit events, check-in members, accept payments, etc., on the go.
Additionally, the mobile app allows you to look up your directory, view member profiles, edit or update member profiles, etc.
Even your members get their mobile app to manage their profiles, register for events, and search the directory.
Wild Apricot also provides instant payment availability and auto-generation invoices and receipts. You can use your site to collect online donations and set up recurring membership fees.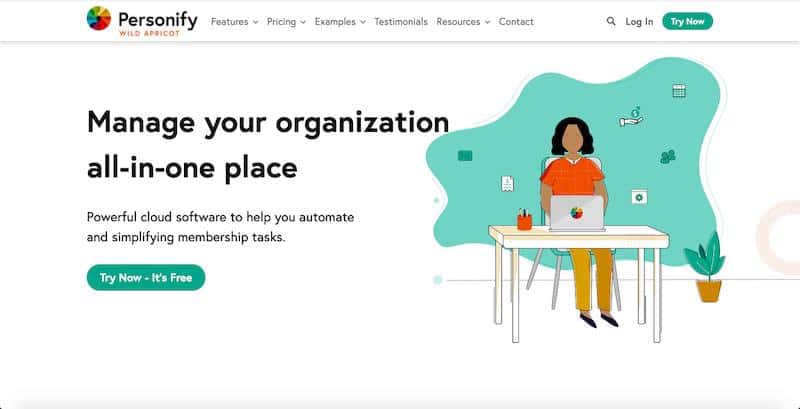 Key features include:
Event management features.
Automatic database updates in real-time.
Set up recurring membership fees.
Embed an event calendar on your site.
Check members and event attendees through QR codes.
Guest and waitlist options are available.
Mobile-friendly website themes.
Integration with Square for credit card payments.
Export your financial data to Excel or QuickBooks
Two separate mobile apps for admins and members.
Wild Apricot also has an email system that integrates with your company's database, enabling auto-confirmations and reminders.
It also helps with advanced contact search, targeted campaigns, email open rate and status tracking, and more.
You can also use Wild Apricot's builder and themes to create an online store.
There are features like online catalogs to sell products, add product variants, and allow special member pricing.
Pricing:
Wild Apricot offers eight monthly billing options:
Free: Always free (for up to 50 contacts)
Personal: $48 per month (for up to 100 contacts)
Group: $60 per month (for up to 250 contacts)
Community: $110 per month (for up to 500 contacts)
Professional: $190 per month (for up to 2,000 contacts)
Network: $350 per month (for up to 5,000 contacts)
Enterprise: $420 per month (for up to 15,000 contacts)
Global: $720 per month (for up to 50,000 contacts)
The freemium plan doesn't offer an online store, payment, or mobile app options, but you get those features with all paid plans.
I advise starting with the free plan if you don't have many contacts, then upgrading to one of their most popular plans – Group or Community.
As a special offer for my readers:
If you sign up for the Group plan, you get a $50 Amazon gift card when you renew your plan for three months.
If you sign up for the Community plan or higher, you get a $100 Amazon gift card after three months of subscription.
8. Teachable.
Best for creating multimedia course content ($39 per month).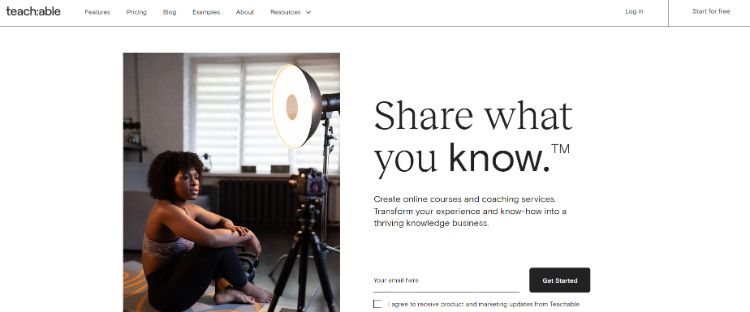 Teachable is one of the most popular online course platforms to create, sell, and host courses and membership sites.
It offers several customization tools to curate and personalize content, with additional payment support.
It has a page editor to create a membership site, multimedia lectures, videos, a sales page, and coaching sessions.
You can add team members and other contributors and set their specific permissions and roles.
The only downside is that Teachable doesn't let you create separate posts or pages – you must deliver all the information in courses.
It doesn't allow the formation of an individual community for your members, either.
Moreover, the tool doesn't let you create a free trial for your membership tier.
There's no option to charge a custom upfront payment either.
You can only create annual and monthly payment levels.
That said, it lets you provide coupons and discount offers to members for incrementing subscriptions and memberships.
You also get an option to accept payments in 130+ currencies through PayPal and other payment getaways.
It also handles payouts to all third-party authors and contributors, affiliate payouts, first and last-touch attribution, etc.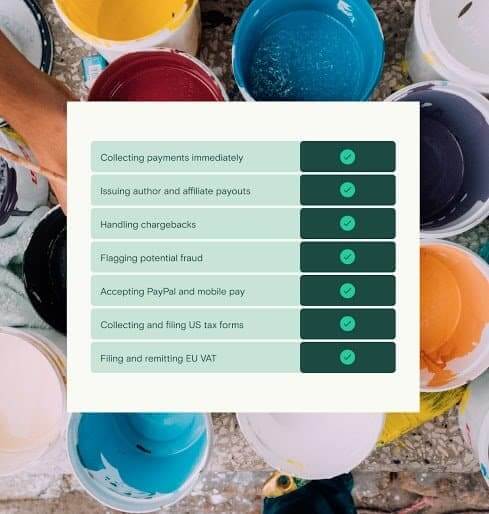 It lets you create and embed various content types, including quizzes, surveys, drip content, certificates, course compliance, etc.
It also supports integration with any tool you want, including help-desk software platforms like Zendesk, Olark, Intercom, and more.
Other key features include:
In-built course player.
Conversions pixel support.
Build one-on-one sessions.
Unlimited video bandwidth.
Live Chat support.
Full EU VAT support for membership payments.
Built-in affiliate marketing tools.
The dashboard provides membership tracking and student insights.
Link your existing site using a custom domain.
Embed forms and surveys to your site to gather feedback.
Teachable also allows Calendar integration with Calendly to schedule and host activities and events. Third-party forms and surveys are also available to gather feedback from students and members.
It also provides hosting for data security and 24*7 data monitoring to support during outages, including auto-updates.
They use a 2048-bit SSL certificate and only work with PCI level-1 compliant payment providers to ensure safety.
Pricing:
Teachable provides three subscription plans:
Free: $0
Basic: $29 per month
Pro: $99 per month
Business: $249 per month
On all paid plans, you get unlimited courses and members, integrated payment processing, quizzes, VAT (value-added tax) for the EU, etc..
9. MemberPress.
Best for WordPress websites ($149 per year).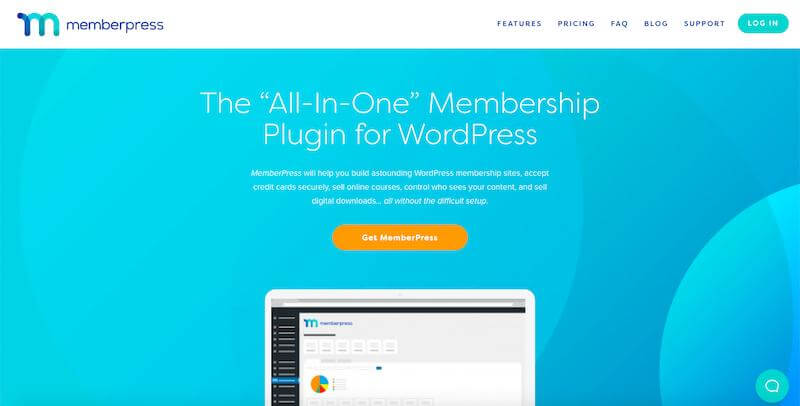 MemberPress is a WordPress and LMS plugin that helps you create WordPress membership sites, courses, and digital downloads.
It provides all standard features like gated content, creating membership tiers, accepting credit card payments, etc.
The setup process only takes three steps: installing the plugin, entering payment details, and adding products.
It comes with customizable themes to help you create variants of pricing pages for the membership products.
You can use customizable themes or build your CSS-style pages.
The tool allows you to add several membership tiers, including custom recurring payments, free/paid trials, annual fees, etc.
You can even limit the number of payments.
It controls content access rules and lets you restrict access based on membership or digital products purchased.
You can control access to child pages, posts, custom post types, categories, tags, and more.
The membership plugin allows you to generate and manage unlimited coupons for running promotions and giveaways.
There are also options to customize coupon codes and control their number of uses and when they expire.
Other prominent features include:
Manage and track membership subscriptions.
Add forums and social communities.
Integrates with your existing WordPress website.
Set up your payment gateway using API.
Reports to track financial status, sales, and marketing activities.
It enables the timed release of content and content access expiration.
Members can create, update, upgrade, or cancel subscriptions directly from the website.
An automated billing system that auto grants or revokes payment based on payment status.
MemberPress lets you install and use WordPress forum plugins like bbPress to create your password-protected community.
The Pro edition of the software includes the Affiliate Royale plugin that helps to manage any affiliate program.
Additionally, it integrates with many third-party payment gateways and business apps like Paypal, Mailchimp, ConvertKit, ActiveCampaign, etc.
You can also install other WordPress themes from companies like StudioPress and WooThemes.
Integrating custom codes and Zapier helps you manage data and connect with various products and services.
It also provides a user manual and a support team to resolve queries about admin pages or features.
Pricing:
MemberPress comes with three annual subscription plans:
Basic: $149 per year
Plus: $249 per year
Pro: $349 per year
The plans include payment integrations, customizable checkout, content protection, content dripping, course creation, a self-serve member dashboard, and more. It also provides a 14-day money-back guarantee.
10. Podia.
Best for promoting membership sites via email marketing ($39 per month).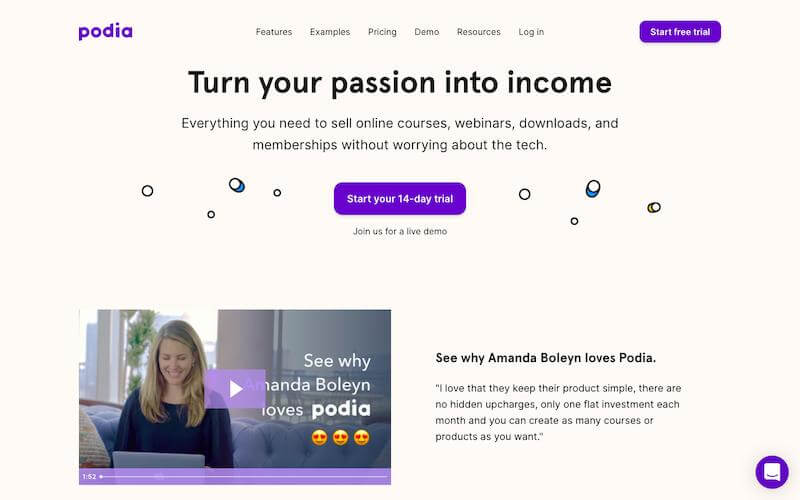 Podia is a digital storefront that lets you create and sell membership content, online courses, digital downloads, webinars, and more.
It assists you through the complete sales funnel, including sales page creation, email capture, charge EU VAT, and payment processing.
The website builder helps you create mobile, tablet, and desktop-friendly sites with auto-update options.
It runs in the background without compromising business confidentiality and lets you collect all membership payments without paying any transaction fees.
You can view purchases with a one-time log-in and filter, sort, and export all assets, earnings, and customer data.
You can accept payments on a one-off basis or set different membership tiers like monthly/annual or free trial periods.
It also lets you monetize online courses, digital programs, periodic content under a membership plan, and a free newsletter service.
Podia's other key features include the following:
Drip-feed your content.
Integrated live chat option.
Pinning important posts on top of the page.
Schedule post updates in advance.
Enable members to comment and react to shared content.
Send email notifications when content gets added.
Integrate videos, images, and social media content with membership posts.
Connect membership to the Facebook group, Slack, or Palapa account.
Community service to connect like-minded people.
Affiliate program to promote membership.
Add coupons based on time and usage limit.
High-converting checkouts for faster payments.
24*7 availability of customer service.
Bundle different products into one membership plan.
Create individual pages or posts for your members.
Restricting specific posts to "Premium Access" based on membership level.
Members can access "Public Posts" through links or search engine indexing.
Podia also has a built-in email marketing platform that helps you send newsletters, create drip campaigns, and segment subscribers.
You can also track your subscribers, email open rate, clicks, conversion rate, and more.
The only issue is that Podia doesn't support learning paths and the ability to charge a setup fee.
However, you can integrate it with advanced tools like Zapier, Google Analytics, Facebook Pixel, Paypal, and more.
Pricing:
Podia offers two payment plans:
Mover: $39 per month
Shaker: $79 per month
Both plans offer 7-day-a-week reports, live Q and A sessions, messaging, email marketing, webinars, your website, etc. They also offer a 14-day free trial period.
Best for building a website ($23 per month).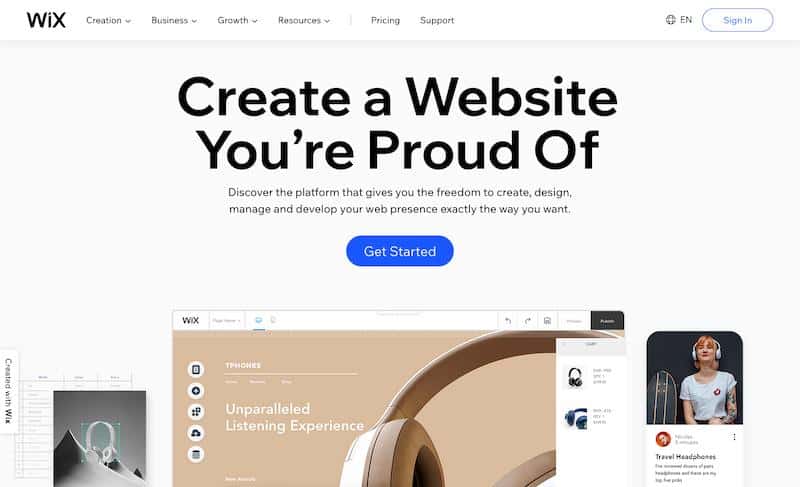 Wix is a website-building platform that helps you manage your web presence by creating, designing, and developing websites. It lets you add a "Members Area" to your site and restrict access to exclusive gated content.
With the help of over 500+ pre-designed templates, the tool helps you create various variants like blogs, portfolios, web applications, or online stores.
Standard features include customizable domain names, CDN performance, traffic monitoring, SSL certificate, multiple languages, etc.
Membership services include free trials, subscriptions, punch cards, display services, timetables, and limited-time discounts.
You can offer different membership subscription options like recurring payments, open trial sessions, members-only content, exclusive services, etc.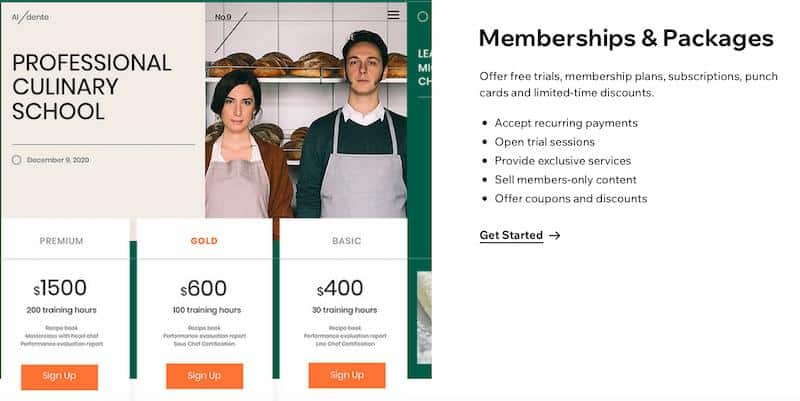 You can also accept payments via cash, digital cards, wallets, or payment gateways like PayPal, Stripe, and Alipay.
It also comes with a built-in "Wix Payments" option, allowing you to receive payments in over 40 currencies.
It also sends automated price quotes and invoices and integrates with popular accounting tools like Quickbooks to streamline economic activities.
Some of its other advanced features include:
Host sessions online with Zoom.
Live chat support.
Offer coupons and discounts.
Notify members via email or SMS.
Bundling services with membership plans and packages.
Calendar integration for scheduling activities.
Provision to accept recurring payments.
Coupon code generation.
SEO tools for managing organic ranking.
Custom booking forms to capture members' details.
Track your business performance and client attendance.
Manage calendars, members, attendance, and clients.
Scheduling option for purchasing services and products.
Permission to collaborate with other members on your website.
Portability of operations and interactions through the mobile app.
Run business email campaigns with custom domain names.
Lead generation tools with invoice and quotes tracking facility.
Plugin to add a business phone number.
Integrations with 250+ professional website solutions.
It also provides resources like blogs, partnerships, privacy centers, and design integrations to enhance website performance.
Pricing:
Wix offers three plans that can help you add a members-only area to your site, including:
Business VIP: $49 per month
Business Unlimited: $27 per month
Business Basic: $23 per month
You can create the membership area for free if there's no requirement for processing payments. Even the paid plans come with a 14-day money-back guarantee.
What Features Do You Need in Membership Site Platforms?
After reviewing all these site-building tools, it's time to select a platform for yourself.
To make your choice easier, here are key points you should consider before investing in a membership tool.
Here are the features to consider:
1. Gated and Exclusive Content.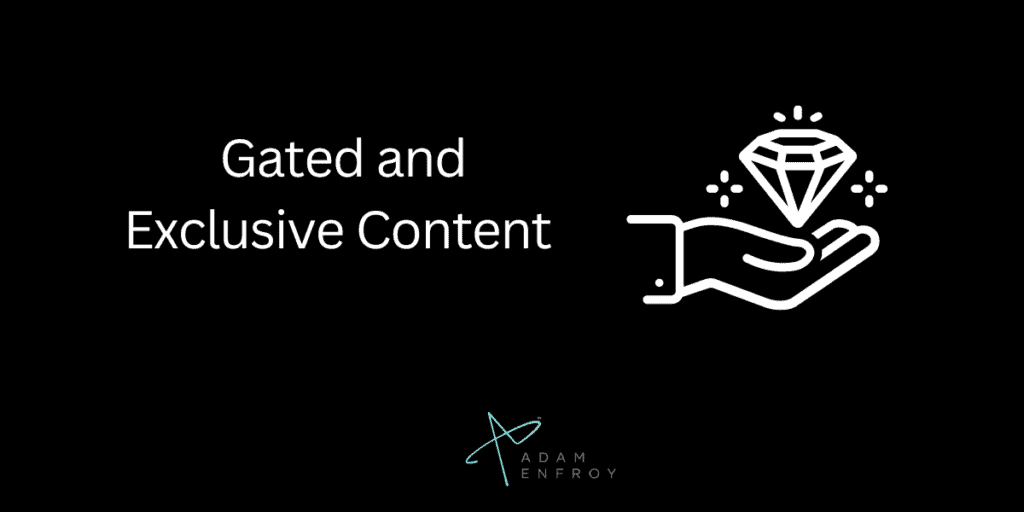 Your site should cater to the members and those just visiting your site.
The platform should be able to provide gated content, which means providing relevant content to the members and a glimpse of what you're offering to regular visitors.
2. Contact Segmentation.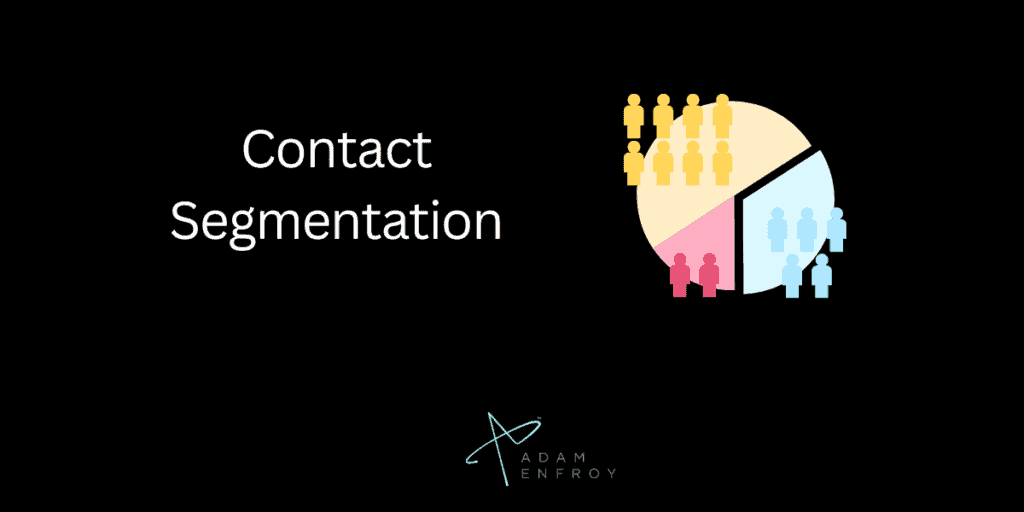 A good membership platform will be able to automatically assort your contacts into members and non-members.
It should also provide CRM-based services and classify other assignments based on the desired target.
3. User and Member pages.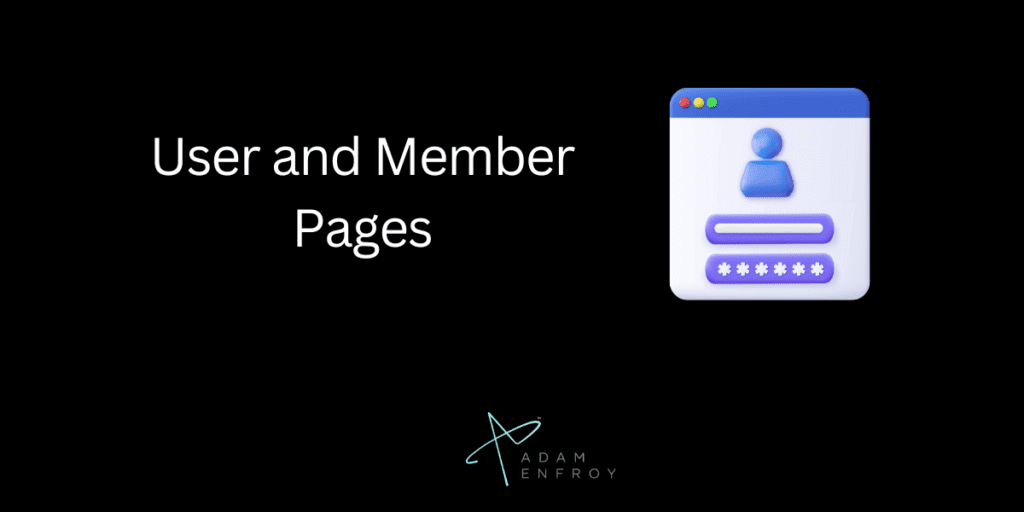 The platform should provide the flexibility to create personalized membership pages, forms, events, sales, pricing, etc.
Most membership tools also come with pre-designed templates and a drag-and-drop editor to create various member pages easily.
4. Automation Features.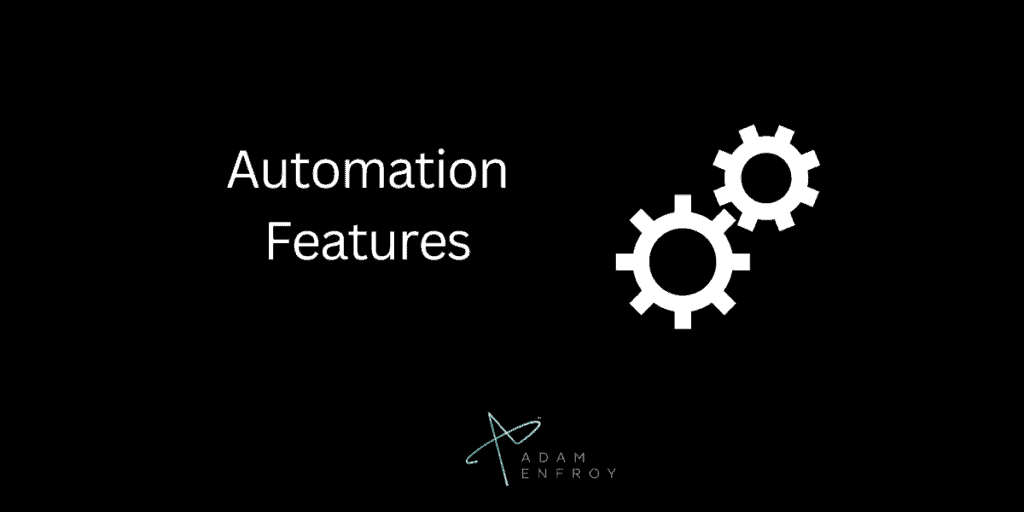 Automated sales workflows help you convert potential members and retain existing users.
You can send email reminders, welcome notes, retargeted ads, discount offers based on specific actions, and more.
5. Payment Gateway Integrations.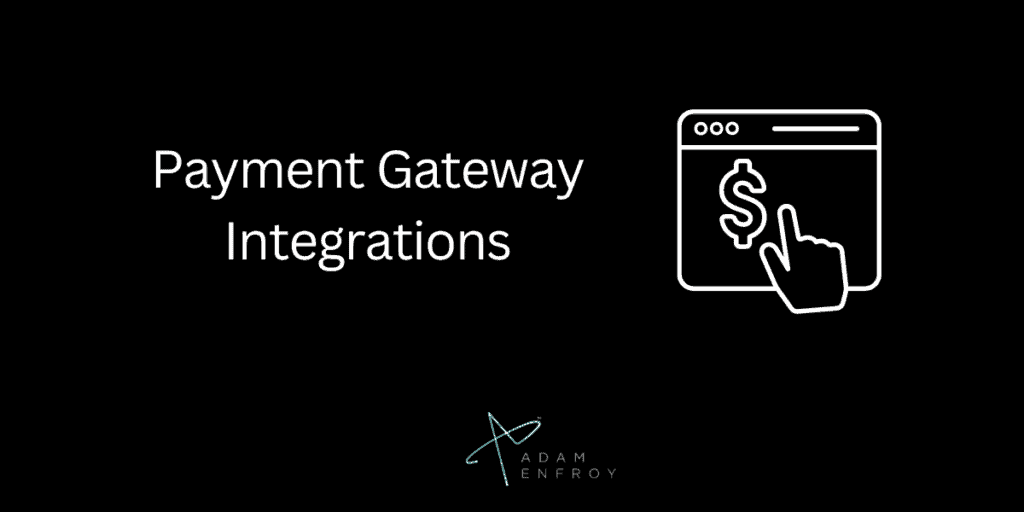 You won't need this feature if you are offering free membership.
However, choose a membership platform that integrates with third-party payment operators like Stripe and Paypal if you have paid membership.
It should also accept payments via wallets and cards.
6. Membership Tiers.
An ideal membership site builder should comply with different levels and provide the necessary information as and when required.
It should allow recurring payments, one-off payment options, annual/monthly subscriptions, free trials, and more.
Other essential features include integration with third-party business apps, email marketing functionality, tracking engagement analytics, blogging, etc.
How Do You Use Membership Site Platforms?
Most of these tools function similarly. To give you an idea, I'm using Wild Apricot to demonstrate the process.
Let's get started:
Step 1. Check Browser Compatibility and Log In.
First, ensure your browser is in sync with your Wild Apricot account.
Provide all the required credentials to start your account if you're a new member.
Next, the system takes you to a pop-up where you must accept the "terms of use" to activate the account.
Next, a message might appear at the bottom right corner that shows unpaid invoices, incomplete registration, renewal date, etc.
Step 2. Navigate to Site Pages.
Click on the Website > Site option from your dashboard. It will take you to the website editor that will help you customize the membership templates.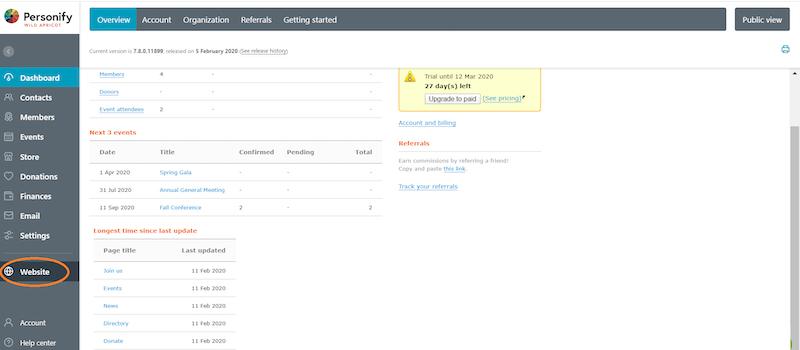 You can choose from multiple themes by clicking on the "Theme" option from the top navbar.

You can use themes and the drag-and-drop builder to create and modify sites, email campaigns, customized renewal reminders, etc.
Step 3. Set Up Membership Levels.
You can also build a membership application form with different membership levels from the same dashboard.
Click on levels under the Members > Level section to create the levels.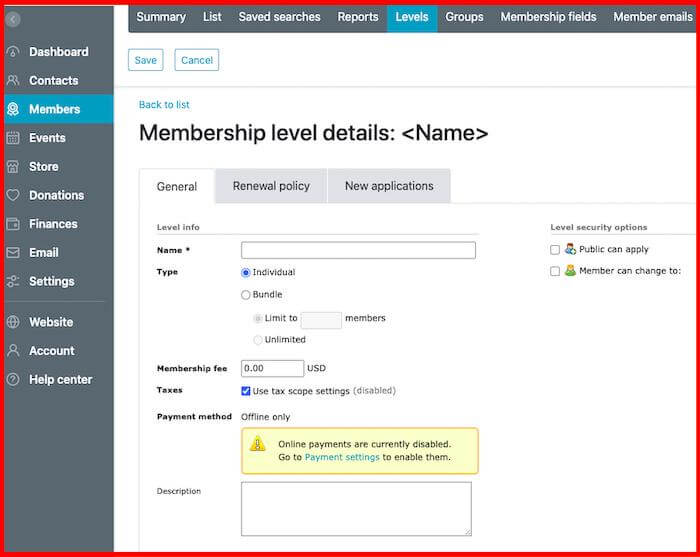 You can change the "Renewal policy" and create custom levels from the same dashboard.
Hover over the "Members" option and click the "Membership Fields" option.
Next, hover over the "Contact" tab and click the "Common Feld" option.
Here, you can also add information about each common field.
Step 4. Set Up Payment Options.
To set up payment, click the "Settings" button and select the "Payment Setting" option.
If you're from the US or Canada, submit an application form with your federal tax ID and bank account details.
Otherwise, you'll have to connect to another payment gateway.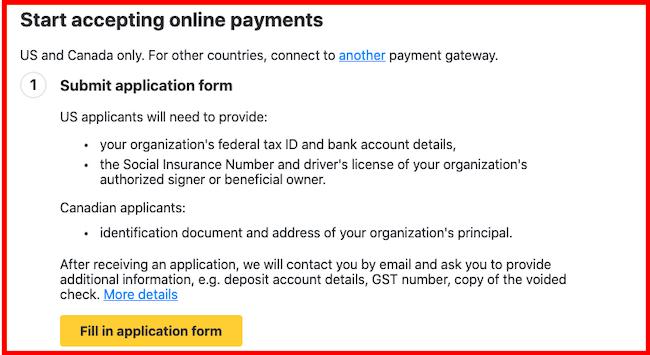 It may take one to two business days to get verified and approved to receive payments.
Return to the "Payment Setting" option once you get approved and check the box for the "Enable Online Payment" option.
Finally, select a payment system along with your account details.
Step 5. Set Up a Membership Application Gadgets.
To add a membership application form, go to the "Website > Site pages" option to create or edit a membership application form.
Next, click on the gadget icon on display and then drag your desired gadget's icon on the page.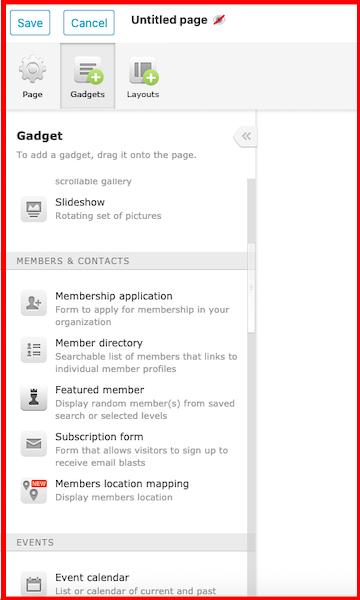 You can embed any desired gadget to your website, including an event calendar, donation form, donation goal, catalog, cart, etc.
You can also customize the gadgets' look, text, color, and fonts and add elements like description and title.
Finally, click on the "save" option to save the changes.
Step 6. Create Membership Discounts.
You can also provide exciting discount offers and coupon codes to encourage members to subscribe to your content.
Click on the "Settings" option, then head to the discount option under the "members" section.
A screen will appear named discount coupons, where you can create discount offers or coupon codes for your members.
Wrap Up.
That's it – this was my list of the best membership website platforms.
Offering gated content and membership options is one of the best ways to enrich customer experience and earn revenue.
If you want to create an exclusive members area, add subscription tiers, and make revenue from your content, consider these platforms:
Which membership tools are you planning to use, and why? Let me know by commenting below.
Editorial Process:
Our reviews are made by a team of experts before being written and come from real-world experience. Read our editorial process here.
Some of the links in this article may be affiliate links, which can provide compensation to us at no cost to you if you decide to purchase a paid plan. These are products we've personally used and stand behind. This site is not intended to provide financial advice. You can read our affiliate disclosure in our privacy policy.