17 Best Website Builders: Reviews for Small Business (2021)
---
Last Updated on December 24, 2020 by Adam Enfroy
Choosing the best website builder can be difficult, as there are 74 popular options to choose from with different feature sets.
Website tools have been around since the early 2000s, and they look a lot different today than they did back then. Features get more advanced, user expectations increase, and building a website isn't the same as it was 10+ years ago.
When learning how to create your website, I want to make this first decision easier for you. By showcasing the top website builders, I want to help you find the right solution for your business.
These website builder reviews take into account web hosting services, price, reliability, technical support, site speed, SEO, features, learning curve, ease of use, template design, and more.
We'll also compare:
The best website builders for small businesses.
The best free and cheap options.
The easiest choices if you're not technically savvy.
The ones with the best SEO.
The best platforms with online store capabilities.
The best builders for agencies.
And the best options for photographers and artists.
Let's get started.
Disclaimer: Please note, I may receive affiliate compensation for some of the links below at no cost to you if you decide to purchase a paid plan. However, these are the best tools I have tested for launching and running a website. You can read my affiliate disclosure in my privacy policy.
Table of Contents
What is the Best Website Builder?
Using a website builder is a quick and easy way to build a presence for your brand or online business. These tools simplify your site management by combining domain registration, hosting, and site design into one platform.
While you lose some control compared to managing hosting separately, website builders can still be a good option.
For example, your requirements will be different, based on the features you need. If you're a local business, a simple 5-page website could work. Or if you're building a personal brand portfolio, web design is most important.
In the end, the choice comes down to ease of use vs. control.
If you're familiar with HTML, CSS, and JavaScript, you can choose a more advanced content management system (CMS) and control the look and feel of your website. If you're not too savvy with web design and development, you'll want to go with an easy drag and drop editor.
The choice is up to you.
Here are my top picks for the best website builder to use this year.
Best Website Builder for Small Business ($13/month)
Wix is the most popular website builder on the market, with over 100 million users. They have 500+ ready-to-use templates to design your website that work for many different categories and industries. These templates are mobile-optimized and have 100 fonts to choose from (or you can upload your own).
Their designs also look beautiful, with scroll effects, and advanced design features like animation and video backgrounds.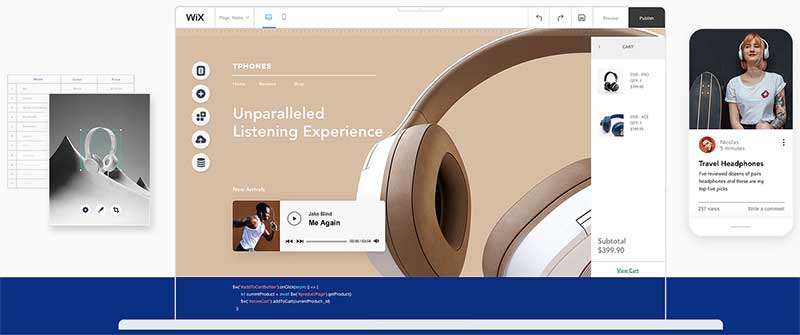 If you already have a domain on GoDaddy or want to register one at Wix.com, they make it very easy. Also, if you'd like to add e-commerce to your site so that you can sell online, plans start a $20/month.
If you're a small business, I recommend Wix as the best online store builder. You don't necessarily need a platform with more advanced options like BigCommerce and Shopify. Wix website owners that want to add an e-commerce store can get these great new features.
Wix is the most user-friendly website tool on the market. You can almost endlessly customize the look and feel of your site with no coding knowledge.
They also have a tool called Artificial Design Intelligence (ADI) – the first artificial intelligence website builder. Wix ADI learns about your site and uses that information to design a site tailored to your specific needs. This tool leverages AI choosing from billions of combinations of images, text, layouts, and contact forms.
Ultimately, if you're looking for the best software for small businesses, Wix is your best choice.
Read my full Wix review for more in-depth analysis.
Get started with Wix.
Best Modern Website Builder with Free Plans (free – $3.49/mo)
Zyro is a website builder with a mission to help local businesses to tell their unique stories online.
Overall, they are best known for simplicity and speed.
With Zyro, you can create a business website quickly and easily with no coding required. Your site also loads fast due to its light framework and looks great on all devices.
With a powerful set of tools, Zyro helps grow your online business with pre-made design templates, AI-driven text, an intuitive drag-and-drop grid tool, mobile-readiness, and over one million stock images to choose from.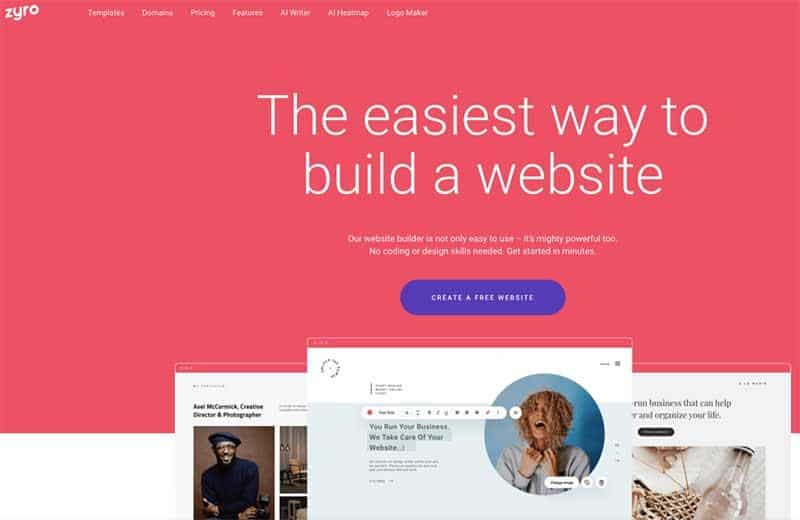 One of their standout features is their AI Content Generator, which provides SEO-friendly content ideas based on your industry and specific business type.
To get started with this tool, you choose your type of business, then write 2-3 sentences describing your brand and context. You then adjust your AI settings and customize them based on length, expertise, and creativity level. Lastly, you click the Generate button and see your uniquely created content.
Since content creation is a challenge for many website owners, this tool creates new paragraphs for you that can rank better in search and increase conversion rates.
Some other excellent features include:
Built-in SEO tools to improve your search rankings.
A free SSL certificate and custom domains.
An AI-driven logo and slogan maker.
24/7 customer support via email and live chat.
AI heatmaps to increase website conversions and predict visitor behavior.
Mobile-optimized, fast-loading website designs.
Free website design templates for different industries like creative agencies, startups, fashion brands, wellness companies, bakeries, and more.
Zyro offers three main pricing plans – a free plan, a mid-tier "Basic" plan at $1.99/month, and their high-tier "Unleashed" plan at $3.49/month.
Their free plan does not include a custom domain name but does provide 99.9% uptime, an SSL certificate, 500MB of bandwidth and 500MB of storage.
Next, their "Basic" plan allows you to connect your own domain name, increases bandwidth and storage, and includes extra features like ad removal and integrations with tools like Google Tag Manager, Google Analytics, and Facebook pixels. This is a very popular plan that is most suitable for small and medium-sized businesses.
Finally, their "Unleashed" plan provides every Zyro feature and provides unlimited bandwidth and storage. At such an affordable price of $3.49/month, it makes sense to go with this plan and enjoy the unlimited features if you plan to have a lot of content on your site.
Overall, Zyro is best for small businesses looking to create and grow a website quickly, save money on writing and logo-making with their AI tools, rank higher on search engines, and increase conversion rates with high-quality, mobile-friendly design templates.
You can get started with Zyro for free to test out their platform, then upgrade to a paid plan when you're ready to grow your online business.
Get started with Zyro and start building your website today.
Best Website Design for Personal Sites ($12/month)
When I think of Squarespace, my mind goes right to their beautifully designed home page. They truly know how to create beautiful, high-quality sites that look great for both small businesses and personal websites alike.
With over 100 design templates to choose from, they lead the pack when it comes to design. Squarespace templates look excellent down to every detail. The fonts, color schemes, and imagery all mesh perfectly for any website.
Besides design, their platform is great for bloggers. I tested out their WYSIWYG blog editor, and it's very intuitive.
You drag elements like images, headings, and text onto the page and position it where you would like. They also offer multiple user permissions, Google AMP functionality, and you can schedule your posts:
A few small SEO limitations hold Squarespace back from being #1 on this list. First, my XML sitemap pulled in two versions of every page with and without a trailing slash "/." This double indexing could potentially lead to SEO and duplicate content issues down the road. They didn't have an easy fix the last time I checked.
Second, your blog headlines always become your meta titles, so be careful when adding your headlines for SEO. You can read more in my full Wix vs Squarespace review.
Other great features make up for these drawbacks. Their ease of use is top-notch – sites are elementary to build with their editing tools. In-built analytics tools provide steady data on-site visitors if you're not using Google Analytics. Plus, it's hard to go wrong with a beautifully-designed website for just $12/month.
Monthly prices range from $12/month for their Personal plan up to $40/month for their Online Store (Advanced) plan. Monthly costs are based on a one-year contract, and Squarespace includes a free domain. The Personal plan provides a free domain name, unlimited bandwidth and storage, free SSL, and 24/7 customer support.
Overall, if you're a small business that needs first-rate web design or a blogger that wants your content to look great, Squarespace is a reliable choice.
Best Free Website Builder (Free – $25/month)
Weebly powers over 530,000 domains and is known as the easy website builder of choice for people without much technical expertise. They offer a lot of great features. If you're a blogger, you can use Weebly.com to pick a domain name and use their editor to add your text, images, and content.
They also have a mobile app to track your website's performance on the go. And email marketing tools let you send newsletters to your subscribers from within their tool.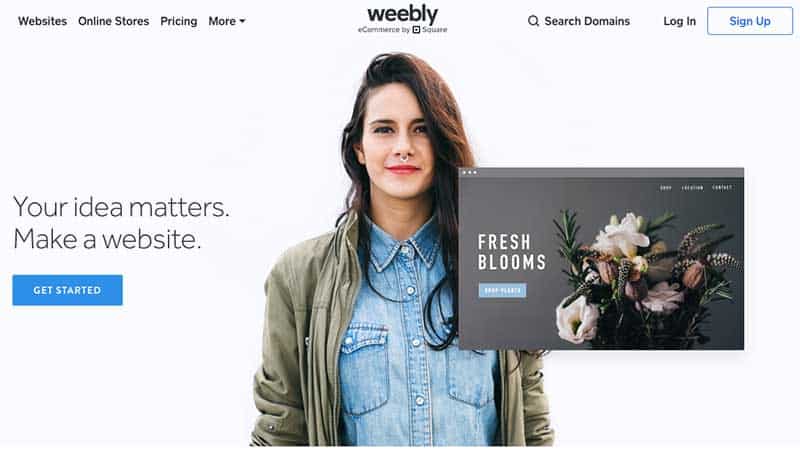 They have a free plan which comes with 500 MB of storage, a free SSL certificate, and a domain with Weebly branding. You can use a custom domain with this plan but are forced to have Weebly branding throughout your site. Also, the free plan only comes with chat and email support, but no phone support.
Weebly's paid plans range from $5 to $25 per month. On the high end, their Business Plan gets you advanced e-commerce functionality, a free domain, and $200 of Google ad credits.
Their e-commerce features include product options/variants, coupon codes, inventory management, a shipping calculator, shipping labels, and the ability to accept payments through Square and other providers.
The level of customer support you receive is based on your subscription level. You can find assistance yourself in many areas, including their blog, support center, community forum, social media, and developer documentation. They also have live chat, email, and phone support.
If you are looking for a simple website creator to get up and running, I recommend you get started with Weebly.
Best Website Builder for Ecommerce ($29/month)
Shopify is a popular ecommerce platform used by over 800,000 online businesses so sell products online. They were founded in Canada in 2004 and quickly became a powerhouse due to their simple dashboard and integrations with thousands of app partners.
While not every website owner needs product-selling functionality, I added Shopify to the list because almost any small business could use them to set up their website.
Take a salon for instance.
With Shopify, not only could you set up a quick website including a blog, a map of your location, contact info, and appointment scheduling (with an app), but you could also sell hair care products online. This creates not only a website but another online source of revenue for your business. 
Shopify has a lot of features you'd come to expect from other tools on this list, including hosting, your own domain name, 70+ professional themes, a free SSL certificate, and marketing and SEO features.
They also offer mobile commerce, 100+ payment gateways, automatic carrier shipping rates, automatic tax rates, and the full checkout experience. Plus, you can enjoy omnichannel selling across Facebook, eBay, Amazon, Instagram, and more.
If you're setting up a new website and think that you may want to sell products online in the future, it's better to get started with Shopify rather than another tool that doesn't take online shopping as seriously.
They offer three plans ranging from $29/month to $299/month. The $29/month Basic Shopify Plan should give website owners everything they need, including a full website, an online store with unlimited products, blog features, 24/7 support, and more.
If you'd like to give Shopify a try, they offer a 14-day free trial with no credit card required.
Best New Multi-functional Website Builder with Built-In Tools (Free – $69/month)
Ucraft is a popular landing page builder that recently launched a great multi-functional website builder. They offer a lot of useful tools – a blogging platform, landing page creator, logo maker, and ecommerce functionality. 
A small business could use Ucraft to create a logo, launch their new website, and start selling products online. 
Ucraft has over 80 pre-designed responsive website templates that cover niches like fashion, photography, restaurants, ecommerce, agencies, sports, business, events, and plenty of others. They also have over 100 pre-designed blocks you can add to pages to include things like CTA buttons, forms, footers, testimonials, etc. 
If you're looking to create a completely free website, they offer a free plan that lets you: 
Connect your domain name.
Obtain SSL security.
Create up to 15 pages.
Add basic page elements.
Add Google Analytics.
Access to 24/7 support.
Their free sites all have Ucraft branding and limitations. If you're looking to create a professional website, you can get started for $10/month and this gives you some new features.
These include the removal of Ucraft branding, unlimited web pages, SEO tools, design tools, and blogging tools. You can also invite multiple team members to edit your site, add integrations, and get started with ecommerce. 
I also really like their logo maker, which lets you add custom icons, text elements, and shapes to create your logo. 
Overall, if you're a small business looking for a website builder that has a lot of built-in tools to help you create logos, landing pages, or sell products online, Ucraft is a great choice. 
Best For Professional Designers ($16 per month).
Webflow is a California-based website builder that helps you build, build, launch, and host websites.
The Webflow designer tool leverages semantic HTML5, CSS, and JavaScript to build a site that aligns with your requirements. You can either drag and drop HTML elements or choose pre-designed elements like sliders, tabs, background videos, etc.
Plus, you can use a CSS based system to make changes to multiple elements at the same time. It also lets you add custom codes to any page in the <head> or before the </head> of any web page.
The ability to create reusable symbols like navbars, footers, signup forms, etc., also helps you design your site quickly.
You also get over 100 free and paid customizable templates for different business, portfolio, and blog types.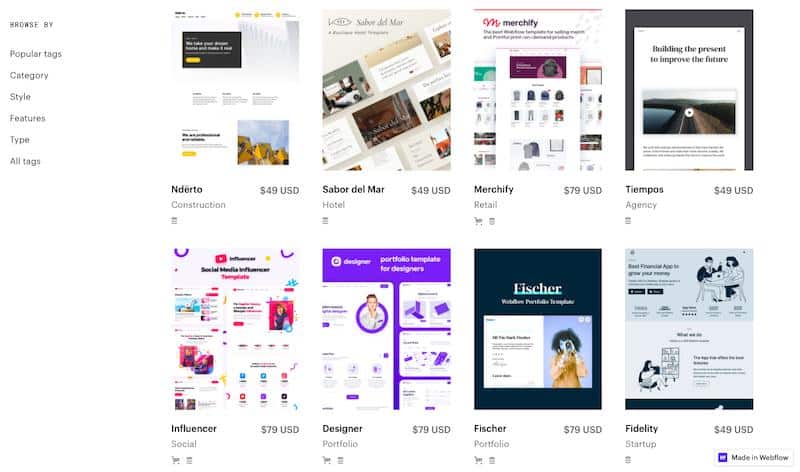 Webflow also puts special emphasis on the visual aesthetics of the site. You can create animation effects like parallax, precise reveal animations, progress bars, etc., and add them to your web pages. For that, it provides over 20 pre-built interactions, animations, and triggers.
Additionally, Webflow works as a content management system that lets you add content directly, import CSV files, or via API. You can even integrate other data sources with Webflow's CMS.
The tool also comes with built-in SEO tools. Some SEO features include auto-generated XML sitemaps, alt tags for images, semantic code, fast page loads, mobile-friendliness, customizable metadata, etc.
You also get specific features to build an eCommerce site. For instance, Webflow provides customizable product fields to highlight product features, images, and other information. The website builder also helps you create a checkout process, customize your homepage and gallery layout, upload your logo, etc.
Webflow also provides you with web hosting from Amazon Web Services and Fastly. The hosting meets HTTP/2 standards that help your site load faster.
You can even buy your domain directly from GoDaddy and Google Domain and connect it to your Webflow site.
Some of its other key features include:
You can add and edit content to your live website.
Invite other team members to collaborate on a single dashboard.
Add up to 100 pages to your website.
99.9% uptime guaranteed and SSL certificate.
Automated backup.
Custom fonts available.
Create custom 404 pages.
Customer support via email, Webflow community forum, and help center.
Integration with Zapier lets you connect with tools like Slack, MailChimp, and Asana.
You can add up to 3000 products on your website with eCommerce support.
Pricing:
Webflow offers two types of plans. The Site plans help you connect your custom domain, collaborate with other members, and enable checkout for your eCommerce site. On the other hand, the Account plans allow you to add your logo, add more projects, create a team dashboard, and more.
Site Plans:
Basic: $12 per month
CMS: $16 per month
Business: $36 per month
Enterprise: Custom-pricing
Account plans:
Starter: $0 per month
Lite: $16 per month
Pro: $35 per month
The free plan lets you experiment with two projects and helps you try the platform before upgrading to more advanced plans.
Best WordPress Themes for Photography and Creative Websites ($279 one-time).
Flothemes is a company that provides customizable WordPress themes. These templates help you build websites inside of WordPress without the need for custom coding. It's powered by Flex block, a powerful free flow page builder, providing limitless customization options.
All of the templates and themes come with premade layouts and content blocks. You can also customize colors, fonts, the structure of the page, and more.
Flothemes help you build your website in a few steps, including:
Register a domain name and hosting service provider for your site. You can also check Flothemes cloud hosting services, starting at $26 per month.
Install WordPress.org and connect it to your website hosting. Luckily, most hosting services provide a one-click WordPress installation.
Finally, pick a theme for your website or portfolio.
You can watch several how-to tutorials by Flothemes or contact the customer support team.
If you need help setting up the entire site, you can drop a message, and their team will do everything for you.
Flothemes will help you set up your site for just $499-$1999. Besides setting up your site from the beginning, they also provide services like page load speed optimization, SEO, styling, etc. Plus, you get two screen sharing sessions of 45 minutes each with experts and one SEO consultation call of 45 minutes. All in all, you get six rounds of implementations.
Additionally, Flothemes provides features like SSL implementation, WordPress installation, Typography, color scheme stylization, and more. You also get complete design freedom, SEO options, and a dashboard.
Pricing:
While their themes cost a one-time $279, Flothemes offers three pricing plans for their website setup services, including:
Simple Setup Package: $499
Advanced setup packages: $999
Pro Setup packages: $1,999
The Simple Setup Package helps you skip the technical parts and jump straight to adding content and personalizing your theme. It provides features like WordPress installation, site layout setup, theme installation, WordPress transfer, website launch, etc.
The Advanced Setup Package includes full assistance with site setup, styling & launch, site speed optimization & an SEO consultation. Additional features include typography & color scheme stylization, SSL implementation, speed optimization, etc.
Pro Setup Package includes all the features from the Advanced Setup Package along with the tailored mockup & implementation for your homepage.
Best Website Tool with Integrated CRM Tools (Free – $350/month)
HubSpot is a top-notch CRM tool that also has a full-featured CMS and website builder. Using their platform, you can create website pages, blog posts, landing pages either from scratch or with their pre-built templates. 
Their drag-and-drop editor uses responsive design to help you create webpages that look great on any device. Where HubSpot stands out is its personalization and integrations.
Unlike other tools on this list, HubSpot comes integrated with a wide range of marketing software, including tools to manage email marketing, get found online, and capture, engage with and understand leads. 
For example, when you create a webpage, you can add calls-to-action and forms that convert visitors into leads. Then, when you understand your visitors, you can dynamically create content unique to site visitors based on their location, device, language, traffic source, or any other detail you choose to capture in your HubSpot CRM. 
This integrated marketing suite covers all parts of the customer lifecycle:
Forms, live chat, and conversational chatbots capture leads.
Email marketing, retargeting, and messenger integrations send personalized messages to your leads.
Their contact report builder, analytics tools, and list segmentation help you understand your leads. 
Personalized experiences, calls-to-action, and smart content turns leads into customers. 
Overall, if you are looking for a website builder that also comes with a full-featured set of CRM and marketing tools, HubSpot is the best choice.
The World's Most Popular CMS ($5/month)
Since its release in 2003, WordPress has quickly become the most popular content management system (CMS) in the world – hosting over 75 million websites.
There are two options. You either choose a web host and create a WordPress site on WordPress.org or use their self-hosted WordPress.com website builder.
Read my full comparison of Wix vs. WordPress for more detailed information.
With WordPress.com, you can create a website for anything – a blog, a local business, an online store – the options are limitless. With their free plan, you get a website, access to 3 GB of storage, and customer support. When you upgrade to one of their five paid plans, you get access to more advanced features, plugins, and priority support.
WordPress.com also has its Jetpack essential features built-in, which includes basic SEO, social sharing, and site analytics. The popular, all-in-one Jetpack plugin covers all kinds of functionality from SEO and analytics to security and marketing.
Paid plans range from $5 per month for a simple blog set up to $45 for full e-commerce functionality. Most users opt for their Premium Plan at $8 per month, which gives you everything you need to design, edit, and control your website's content.
Overall, it's a simpler, stripped-down version of WordPress with fewer features but higher ease of use. If you want to test out WordPress but aren't quite ready to use your own separate hosting, give the WordPress website builder a try.
Easiest Free Website Builder for Small Websites (Free – $12.80/month)
SITE123 is a simple website builder that offers users a free plan to test out a new site. When you sign up, you get a free subdomain, 500 GB of storage, and 1 GB of bandwidth. You can also connect your own domain (or purchase one within their dashboard) with premium plans as low as $12.80/month.
They boast a stable uptime of 99.97%, over 200 design templates to choose from, and e-commerce plans starting around $22/month. Once you sign up, you can quickly pay via PayPal or credit card and get set up in minutes.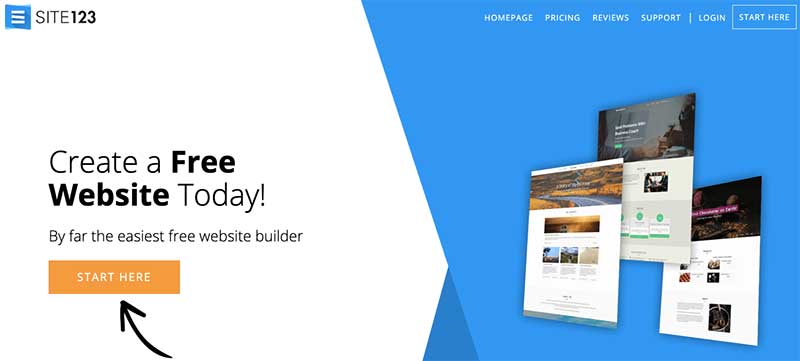 They are known as SITE123 because of the three simple steps to create a website:
Select your website type
Upload your content
Publish your site
Once your site is live, they also have SEO tools to optimize your titles, meta descriptions, and other items needed to improve your rankings.
Their Advanced, Professional, and Gold plans all come with email accounts and you can buy additional email accounts separately from the plans. And if you aren't happy with your current plan, you can easily switch or upgrade your plan and only pay the difference.
If you're looking to build a new website with SITE123, you register a free domain name, choose a basic plan, and use their site builder. With this site comes unlimited bandwidth, add-ons, contact forms, and advanced features that help you rank on search engines.
Overall, SITE123 is best a drag and drop builder for people that don't have a web designer and want to get into website building without coding knowledge.
Best Digital Marketing Website Builder for Local Businesses ($99)
Hibu is an internet service company founded in 2001. They're best known for their integrated digital marketing solutions for small and medium-sized businesses. They help with features outside of your standard small business website builders – website design, local listings management, online reviews, display advertising, and SEO services.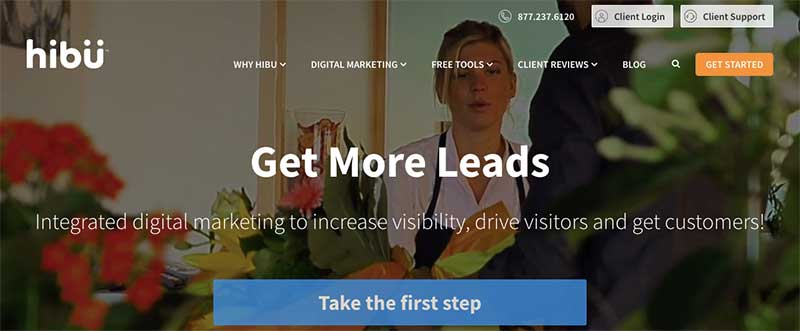 Users find their local listings and SEO services most helpful. For a local business, building your online presence across places Google My Business, Yahoo, Bing, Yelp, Yellow Pages, and social media is paramount to developing visibility.
On the digital marketing front, Hibu has provided websites with over 800 million visits, 225 million ad clicks, and over 6 million phone calls – pretty impressive.
When you sign up with Hibu, a team of digital marketing experts meet with you and provide one-on-one customer service. This support is perfect if you don't have the know-how on using HTML, CSS, and hosting services. With partners like Google, Facebook, Bing, and Yahoo, they can quickly develop a website strategy for your business.
They don't show pricing on their website, but Hibu pricing typically involves a $100/month fee and an initial set-up fee of $499 to $599.
If you run a local business and need help with web design, support, and visibility across local listings, Hibu is your best choice.
A Personalized Website with the Power of AI (Free – $9/month)
Jimdo allows you to create a website in as little as 3 minutes by asking questions about your business and leading you to the right design choices.
Instead of static templates, Jimdo uses flexible content blocks that can change based on user behavior. If you're a small business, they also automatically create navigation menus and pages to fit your industry. For example, a local restaurant will automatically get a map page with their logo, address, text blocks, hours, and more.
If I had to sum up Jimdo in one word, it would be automation. Automatic SEO syncs up your Google Search Console in three clicks. Content blocks build web pages faster than older page builders. AI asks you questions and makes a website based on your specific industry vertical.
They have a free plan available with limited features and on-site ads. When you upgrade to their $9/month plan, you get your domain free for the first year, a completely ad-free site, advanced SEO features, and analytics reporting.
If you need stock photos, Jimdo uses AI to build your site images from their image library, which can be quite helpful. They also have easy social media integrations, navigation menus, and page designs that fit your industry. Ultimately, I'd say the AI is similar to Wix ADI but slightly better.
Here are the steps to create a website with Jimdo:
Create a free Jimdo account.
Answer a few questions and Jimdo gathers your business information from Facebook and Google.
Choose a pre-made design. Jimdo will use photos and text you already have from your listings and can provide more personalized content.
Make any final edits and finishing touches.
Publish your new website.
If you're someone looking to build a website in under 3 minutes with the power of AI, Jimdo is an excellent choice for you.
Best for Large Online Stores ($29/month)
BigCommerce is not your typical website builder but instead a powerful ecommerce platform that also has excellent website functionality and zero transaction fees.
I added BigCommerce to this list because of its very advanced feature set. These features include best in class SEO (URL structure, site speed, uptime), conversion rate-optimized themes, and 600+ product options.
If you're looking to build a website and might sell products one day, BigCommerce is only $29.95/month and has more advanced functionality than other tools on this list.
If you're looking to add shopping cart software to your website, look no further than BigCommerce. First, I love their free themes because conversion rate optimization is a top priority with your web pages.
Sites look great, load fast, and optimize conversions. I currently use their BigCommerce for WordPress plugin to sell digital products on my WordPress site, and the speed is fantastic. Instead of bogging down hosting companies by sharing resources, BC4WP uses an open-source API, allowing front end content on WordPress and a back-end commerce engine on BigCommerce:
I originally installed the WooCommerce plugin (and their three extra necessary plugins) and was not a fan of their shopping cart or checkout pages. They were poorly designed, CTA buttons were in strange places, and I realized my sales would suffer because of the user experience.
By switching to BigCommerce, I've increased my conversion rate substantially.
They have three retail plans available, ranging from $29.95 to $249.95/month, and they offer a free 15-day trial to set up your website.

Great for Photographers and Artists ($6/month)
Pixpa is a website building platform tailored for creative professionals and is best for photographers and artists.
They offer a 15-day trial period where you can see if it suits your needs or not.
Like many other platforms, you don't need to learn coding to build a website. Their theme designs keep photographers, artists, and designers in mind. The image-friendly themes will suit you if you are a creative professional.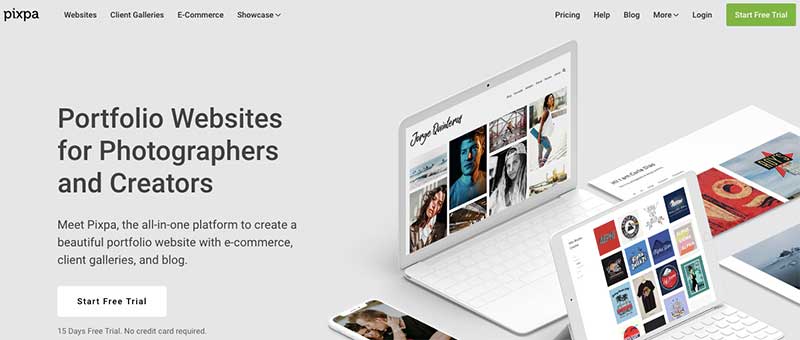 All themes work well on mobile devices as well, and they have more than 35 to choose from.
If you are a blogger, then their multi-blog feature on a single website might attract you. There are even many gallery layout options in Pixpa, which allows you to display your images in many different ways. You can manage the SEO data for each page as well.
The fully-featured e-commerce integration offers you to sell physical and digital goods, as well as the services you offer. If you are a photographer, then you can sell your images through galleries, instead of using the store.
Pixpa provides customer service 24/7 through email and chat. There is no direct helpline number where you can call and ask questions. However, the knowledge base is quite comprehensive.
Pixpa is priced quite reasonably with their monthly plan starting at $6, which increases if you want to sell more products and add more space for original files. The basic plan gives you 2 GB space, and you can add up to 10 products to your e-commerce store. Although, after the first year, you will have to pay for the domain name separately to the service provider.
Overall, Pixpa is a good option if you are a creative professional on a budget. Their software is best if you want to manage your website, client galleries, and blog all in one place.
Best for startups that want to create bootstrapped sites (Free).
Designmodo is a design tool that helps you design your websites and emails.
The website builder provides three sub-products, namely Designmodo Slides, Postcards, and Startup. While Designmodo Slides and Startup help you build websites, Designmodo Postcards is for creating email newsletters.
Used by massive companies like Nike, Adobe, GoDaddy, NASA, Ikea, and Microsoft, Designmodo Slides helps you create static and animated website templates on your own.
You can use pre-made website templates and slides for your website. You get to choose from over 200 slides, 118 website templates, and 30 panels. Setting up elements like sidebar, dropdown, Contact form, navigation, popups, and buttons is also easy.
Moreover, it leverages easy-to-understand programming languages like HTML, CSS, and JS. You can change the code whenever you like without harming your website load speed or tempering other parts of your live website.
On the other hand, DesignModi Startups is a startup theme designer tool that can help you create bootstrap websites. It comes with over 300 pre-designed blocks and a drag-and-drop builder to build your site and landing pages.
Besides, Designmodo creates optimized sites for all devices, including mobile phones, tablets, and desktops. It's also compatible with all retina devices.
What's more, you don't need to edit the backend system to make changes. The custom theme builder allows you to edit and add content visually.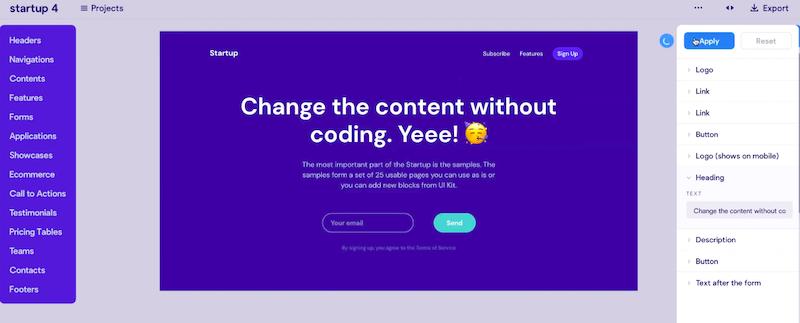 Designmodo Startup also integrates with Google Fonts – which helps you choose whatever font style you want. Unlimited website styles and the ability to write semantic HTML codes automatically also come in handy to build a website for your startup.
The fact that Designmodo comes with an email builder is also a plus point since it helps you integrate your website and email marketing process. The email builder creates email newsletters that are compatible with platforms like Gmail, iPhone mail app, Outlook mail, etc.
The email builder also comes with its own drag-and-drop builder to create newsletters. You can either build your email from scratch or choose from over 100 pre-built customizable email templates.
Other key features include:
Their software also helps you with project management.
It offers unlimited effects and slides.
Extensive customer support and automatic updates.
Export your complete website (with images, text, and styles) into your system.
It integrates with various third-party tools like Trello, Slack, MailChimp, etc.
It provides a freemium plan.
Pricing:
They provide different plans for its two products – Designmodo Slides and Designmodo Startups:
Designmodo Slides:
Demo: $0 (no credit card needed)
Monthly: $29 per month
Quarterly: $49 every quarter
Annually: $179 per year
Aside from the Demo plan, all the plans offer 200+ slides and templates, project management, support & updates, and more.
Designmodo Startups:
Starter: Free plan
Quarterly: $89 per quarter
Annually: $249 per year
All the plans (including the Free plan) offer full access to all the features and free Sigma sources. Paid plans also offer unlimited exports and priority support.
Best Website Builder for Agencies and Multilingual Websites ($14/month)
Duda is a website builder that's been around since 2008 and stands out for its multi-language capabilities. It also has some nice-looking themes, good SEO features, and is optimized for speed. 
They're a good tool for agencies too. With client management tools, agencies can white-label the software and send clients website previews and resolve comments.
Another interesting feature is Dynamic Pages.
Teams can speed up the website building process by multiple pages based on one design and content stored inside the editor.
Duda hosts their websites on Amazon AWS and boasts an impressive 99.99% uptime. Its also pretty flexible and extensible, with developer tools and integrations with their API. 
Multi-language capabilities allow you to create sites in over 55 different languages. You can also improve your international SEO with language-specific URLs based on geo-targeting.
Duda's basic plan starts at $14/month and provides one website hosted on AWS and email support. 
Their agency plan is $59/month and provides four websites, priority support, dynamic pages, access to team and client management tools, and all other features. 
Overall, they're a good website builder for agencies that build a lot of small websites and have international customers. 
What is a Website Builder?
A website builder is a tool that allows anyone to manage a website and domain name without manual code editing. In other words, a website builder is a tool or software program to help you build a website.
In the old days of the web, programmers needed to know HTML and CSS to create a website. Today, if you want to code a site, you need to have extensive knowledge of JavaScript and PHP. As there are currently over 1.7 billion websites online, not everyone can be a coder, right?
These tools help everyone from small businesses and bloggers to news sites and ecommerce businesses to easily create websites in minutes.
Source: syntacticsinc.com
How Do You Choose the Best Website Builder? [Infographic]
What is the Best Website Builder for Small Business?
The best software for small businesses will give you everything you need to get set up quickly. The builder needs steady uptime so that your site doesn't go down, and should provide email accounts for your employees.
Local small businesses also need unique website features like maps and directions, store hours, the ability to share coupons, photo galleries, social media integrations, and more. While most of the software tools on this list cover the basics that small business websites need, there are a few that rise above the rest.
Here are my picks for the best website builder for small business:
Wix is my #1 choice as they are the easiest and most feature-rich platform on the market for small businesses and have some of the best themes.
Businesses can easily connect their domain to Wix.com, choose a theme for their site, add in their information, and click publish.
While Wix isn't quite as easy to use as basic editors like Hibu or SITE123, the themes and SEO features make it a standout for companies looking to build an online presence.
Here are some unique features that make Wix a great choice for small businesses:
Easily get found online by syncing your Google My Business page.
You can connect to Google Search Console so that Google can automatically index your site. You'll start showing up in search results within minutes. 
Use their built-in scheduler to book appointments. 
You can create and send invoices right in one place.
Quickly build your customer email list with built-in email marketing tools.
Add custom forms like contact forms, surveys, quizzes, and polls to collect website visitor information.
Overall, Wix makes it easy to build a solid business website in a single afternoon. Although I'm a blogger and use WordPress for this site, I've built small business websites for friends and family and always use Wix.
Hibu is my #2 choice for businesses because of its digital marketing features. The key to getting traction as a local business is to have a strong online presence on Google, Facebook, and all local directories. And not just that.
You also need to take steps to improve your local rankings and know that Google determines local rankings based on relevance, distance, and prominence.
Hibu knows this and helps in all aspects of digital marketing, including local listings management, online reviews, social media marketing, search engine marketing (SEM), and search engine optimization (SEO).
If you're not tech-savvy and just want a simple website so that people can find your business online, SITE123 is a good choice for you.
Due to their three-step simplicity when starting a website, almost anyone business owner should be able to get a simple 3-5 page website up with their software.
While I recommend one of the two above, if you need to get something up quickly, SITE123 makes it easy.
What is the Best Ecommerce Website Builder?
The best e-commerce website builders offer both easy ways to drag and drop content on your site, as well as robust e-commerce features like product pages, shipping integrations, product options, coupons, payment gateways, and more.
Here are my picks for the best e-commerce website builder: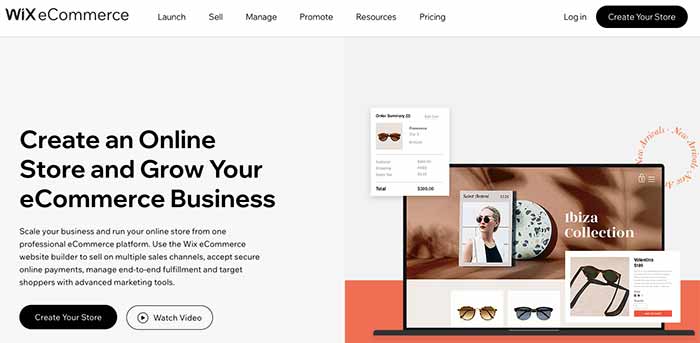 Wix has strong online selling capabilities and is super easy to use. They also score points for some nice looking ecommerce themes.
Here are the simple steps to create your ecommerce website with Wix:
Log in to your Wix account. 
Choose from one of over 500 ecommerce website themes.
Customize the design of your store.
Add your products to your online store.
Connect your payment provider of choice and configure your shipping settings.
Pick a custom domain for your new site. 
Publish your site and start selling online. 
Make sure to check out my guide to the best ecommerce platforms for more information.
Shopify is my #2 pick for building an online store as their app partner directory and ease of use allow almost anyone to launch a website quickly. They have an excellent blend of online store functionality with website features.
With over 70 themes to choose from and native blog functionality, you can create a website and add products in minutes.
BigCommerce is a fantastic platform and has strong backend functionality, but it's behind Shopify on this list because it's not a website builder at heart. It is built more for advanced online stores with high sales volumes, not someone simply looking to build a website.
While the backend features are strong, some overall website features are lacking, with few themes to choose from, somewhat difficult to use drag-and-drop tools, and limited blog features.
If you want to build a content-rich website, I recommend the BigCommerce for WordPress plugin. You can install the plugin from your WordPress dashboard and sync products to your WordPress site via the BigCommerce API.
This combo allows you to have all of the features of WordPress with a powerful ecommerce engine powering your store and not slowing it down.
Why Should I Use a Website Builder?
Building your website can be tedious. From programming to making a custom marketing plan, you have to take care of a lot of things. However, outsourcing the process to a web developer may end up costing you thousands of dollars.
Today, website builders take the guesswork out of web design so you can design a perfect website for your business without any coding.
Here are some of the most significant benefits of using a website builder:
1. It Doesn't Require Any Technical Skills.
The most significant part about these tools is that you don't need to use any code to build websites.
With most website builders, you can simply register with them, buy an account, and start building your website right away.
Take Wix, one of the most popular companies in the market, for instance:
It comes with a user-friendly interface and features like drag-and-drop editor that can help you build your website without having to write a single line of code.
Without these helpful applications, you'd have to write lengthy codes to create even a single web page. Now, you can create, edit, and modify your web pages without any technical skills. This is a viable option for a lot of less tech-savvy individuals.
2. Easy File Storage.
When you decide to build a website yourself, more often than not, you have to use your computer's storage to save the web files. Cloud storage is possible, but the instances are few and far in between. If the computer isn't readily accessible at the time of need, you can't even make any changes to the web files.
When you use website builders, the web files are stored online, in specific cloud-based servers. This allows you to access, edit, and customize the web files any time you want and from any location, resulting in a higher degree of control.
3. No Manual Design.
Designing a website can be a formidable task, especially if you aren't aesthetically inclined. It also requires a lot of code writing and testing, which may not be everyone's cup of tea.
Website builders, on the other hand, usually come with in-built templates and themes. They even allow you to customize them and modify them in a way that's better suited to your goal.
Have a look at these templates from Squarespace:
These templates offer a high scope of customizability so that you can transform a favorable template to the desired appearance, even if you don't get the exact design.
4. It's Cost-Effective.
Not everyone is tech-savvy. If you do decide to build your own website, and then run into a snag, you have no option but to seek professional help. And that can run into several thousands of dollars. Plus, they may charge extra for any customization options that you may want, or any additional apps you want to install.
However, when it comes to the website builders, you get plenty of additional features, along with customer support free of charge.
In fact, most of the website builders offer you a wide range of services like email integration, plugins, free domain names, and more. Even when you have to pay for a service, the prices tend to be reasonable and affordable for the most part.
Sometimes, you can even build your website for free, only paying for advanced features.
5. You Save Time.
Building an advanced website can take weeks or even months. It may also run into a longer period of time if you plan on writing page and blog content after your website is up and running.
Most businesses don't have that kind of time. Delay in setting up a website isn't conducive to a business environment.
Here is where website builders provide a great advantage. They provide the technology to have your website up and running literally in hours.
6. You Get Additional Functionality.
Apart from building your website, a website builder offers you numerous additional functionalities that are involved in operating a website.
Take the example of Shopify, one of the most popular website builders in the market right now. It provides you with a multitude of options, all pooled on to the same platform so that you don't have to run around for getting professional assistance.
These include 70+ professional themes, a full blogging platform, and simple templates to brand and customize your online store.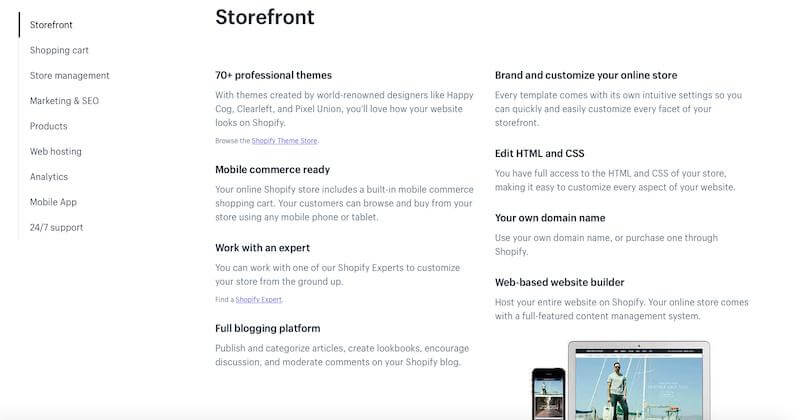 There are also a lot of add-ons you get for free when you purchase a website plan.
It offers you a great package of features like choosing font styles and presets, interactive cards, mobile editors, multiple professional themes, customizable menu bars, and much more.
It's challenging to replicate these features on your own website. You'd need to hire web designers for every small detail if you are not well versed in the technical aspects.
On the other hand, a website builder takes care of all of these for you, and more.
7. Updates and Maintenance.
Building a website is the easy part. After that, you've got to maintain your website and update it regularly.
Most of the website building platforms have a dedicated team of technical professionals who can help you out every time you run into an issue. You also get proper assistance to update your website or plugins associated with that website.
Features to Look For in Website Builders.
When choosing a website builder, there are certain fundamental features that all good programs should have.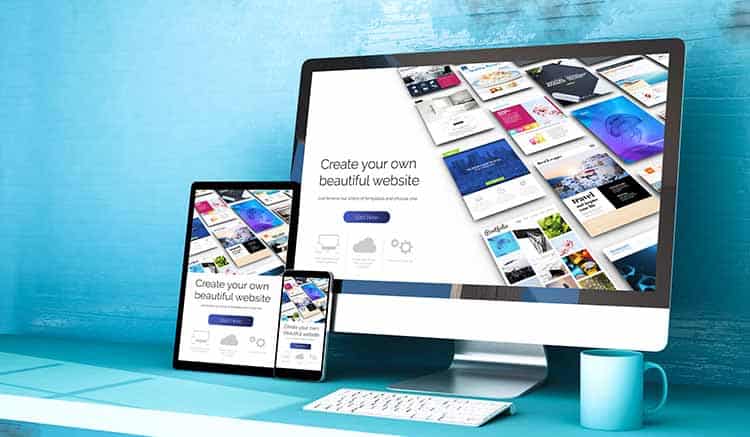 There are four main features that all tools need: pre-made templates, drag and drop editors, mobile responsiveness, and domain names.
1. Pre-Made Templates.
Nearly every website builder has templates. Templates control how your website looks based on the layout, color scheme, font choices, and other design considerations.
For example, if you're a blogger, you may want a blog-specific template that easily highlights your blog posts. Or if you're in ecommerce, a product-based template could lay out your product and category pages with ease.
2. Drag and Drop Editors.
Another vital feature is the ability to use a WYSIWYG editor to move around elements on a page. With a drag and drop editor, you can add and move around sections on your page, including:
Text
Images
Spacers and dividers
Navigation menus
Headers
Footers
Individual pages can be created and manipulated with these editing tools to make up all of the webpages on your site. These are common web builder platforms that allow you to easily edit your content without coding knowledge.
3. Mobile-Responsiveness.
More users browse the web on smartphones than on computers nowadays, so your website needs to look great across all devices. In fact, 58% of all website visits are from mobile devices.
All modern website builders should have mobile-responsive templates that adjust your website's elements to fit the device they are presented on.
4. Domain Names.
Domain names are the URLs that users put into their web browser when they want to visit a website. One benefit of using a website builder is that website hosting and domain name registration occur within the same platform.
When you're ready to build your website, you can either choose a new domain name or import one you already own from another tool like GoDaddy.
5. Blog Functionality.
Website builders are built for simplicity and ease of use. They're not as good as a CMS like WordPress when it comes to learning how to start a blog. However, website builders should be able to compete with WordPress and provide a fully-functional blog. 
Look for a website builder that has attractive blog themes, intuitive post editors, and SEO features to build a traffic-generating blog. 
How Do You Use a Website Builder?
Building your own website is crucial when you want to run your business online.
But it may be a difficult task, especially to someone with no background in coding. Hiring professionals would mean spending thousands of dollars, which is not feasible for a startup.
And this is where website builders come into the picture.
Source: webbuildersguide.com
Most website builders offer a comprehensive solution to everything related to building websites, without coding and technical work. That's why millions of businesses trust them all over the globe.
Website builders have made it easier to create websites, without writing even any code so that even a novice can start their online business right away.
Here, we will discuss how do you need to go about using a website builder and what are the things that you need to consider to be able to work on them.
Let's find out:
1. Choose Your Website Builder.
With thousands of website builders available (free & paid), choosing the one that perfectly aligns with your requirements can be challenging.
You need a clear idea of what you're trying to achieve, and represent, and what your goals are.
Trying out several website builders and experiencing them first-hand is a perfect way to choose the perfect one for you. Since most of the website builders come with a freemium plan or offer a free-trial, trying them out becomes easy.
Here're some of the things that you need to consider before choosing a website builder:
Customer Support
Features they offer
Number of users worldwide
Cost
Ease of use
2. Choose an Appropriate Pricing Plan.
Have a look at all the pricing plans by Squarespace: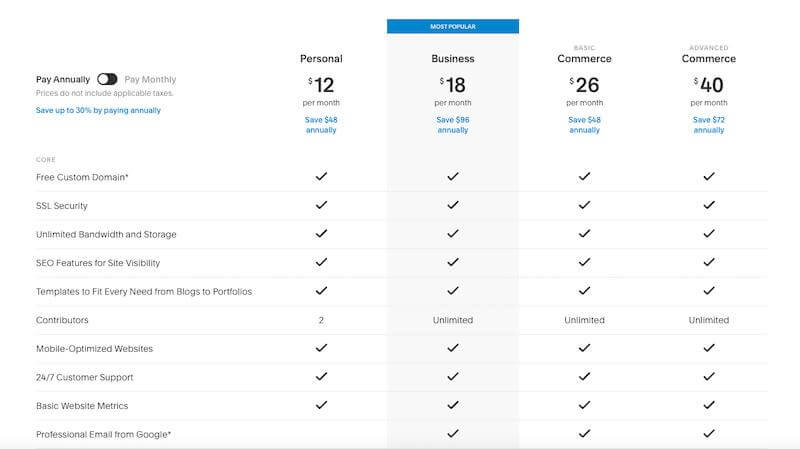 As you can see, all four pricing plans are offering different features and are catering to different goals.
For instance, if you are planning to set up an advanced ecommerce website, then you should purchase the "Advanced Commerce" for maximum efficiency.
You need to make sure you have all the attributes and functions that you need and don't end up paying extra for the functions that you may not require.
3. Choose Your Domain Name.
You need to have a relevant domain name to attract and appeal to your target audience.
The good news is that when using a website builder, all you need to do is choose the name — your website builder itself is likely to handle the registration.
Domain names can make or break a deal for you. Thus, make sure it is connected to what you aim to do with the website.
You can try out these best name generators to come up with a domain name that is relevant to the niche of your website.
4. Choose a Template For Your Website.
The fact that website builders offer pre-designed templates and website themes is one of the biggest reasons for their success.
Templates are attractive backdrops, based on which you can create your website. A beautiful template is adept at captivating the attention of a disinterested user and enticing them into scrolling down your website and browse further.
Templates include the toolbar, menu bar, headings, easy user operability, and so forth.
Every website builder offers a variety of templates to choose from, and it's easy to be overawed by the diversity.
Take the example below from Wix, which offers more than 500 templates.
Choosing the right template is what counts.
However, templates can only offer a start. The customization, editing, and making it tailor-made to suit your purposes is up to you.
Drag-and-drop website builders allow you to play around with the layout, letting your ideas flow so that you can come up with new ideas.
You can perform actions like:
Adding or subtracting the pages
Tweaking the font size, colors, etc.
Increasing or decreasing the number of elements
Adding widgets or other advanced blocks
Integration with apps from the app store and social media sites
While things can get complicated, website builder software usually handles all these situations for you.
A majority of them even provide in-depth video tutorials to help you get started.
5. Test Behind The Scenes.
So you've done the hard work and toiled for a long time. Now your website is ready to go.
However, it is still not ready to be launched right away.
You've got to double-check for any small errors or QA issues that might have inadvertently crept in your work. That's something you can't afford, so it's better to be safe than sorry.
So, make sure to look out for some of the most common errors:
Spelling mistakes
Grammatical errors
Incompatibility with PC and mobile
Low-SEO compatibility
High website loading-time
Layout issues
If you want to avoid the errors mentioned above, it is essential to audit and evaluate your website before launching it in the market.
You can also yield unbiased reviews from your family members, friends, and relatives.
Many website tools even offer an in-house team to help you run A/B tests and rectify the issues your website might be facing.
Website Builders FAQ.
How much does it cost to build a website?
Website builders typically charge a monthly fee and offer different pricing plans based on the features you need. On average, website builders cost between $3 and $50 per month. They also come with hosting and file management, however, you do need to purchase your own domain name.
If you're looking for ecommerce platform functionality, that typically starts at the mid-tier price points of around $20-30 per month.
Is Wix better than WordPress?
Wix and WordPress both have their own strengths and weaknesses and choosing one over the other will come down to your needs. While Wix is easier to use and covers both building and hosting a website, WordPress requires you to get separate web hosting. WordPress also is better for SEO, customization, and blogging features.
In the end, if you're a small business that needs a simple website, Wix is a good choice. If you need a more complex website or want to start a blog, WordPress is the better option.
How much does a website cost monthly?
The cost of managing a website on a monthly basis ranges from $3 to $50 per month. You need to factor in the monthly pricing of your website builder and average out the yearly cost of your domain name.
For example, a $10 per year domain name and $6 per month Weebly plan comes out to $6.83 per month. This doesn't factor in any third party services like email marketing or SEO tools to build your web presence.
Does Google have a website builder?
Google has a single-page website builder simply called "Website". It is free to use and allows small businesses to build and manage a website quickly on either desktop or mobile. While the tool is easy-to-use, it is definitely not the best website tool to use as it lacks custom features, SEO tools, and other key items to run a website.
Can I get a free website for my business?
Yes, you can get a free website for your business, but there are some limitations. For example, Wix has a free plan but you don't get your own custom domain name. If you want your own "dot com" domain name, you need to buy your domain and choose a paid plan.
Summing It Up.
There you have it – my list of the top website builders. As there are 74 options out there, I've condensed the list down to the very best so that you can choose the option that is right for your business or online brand.
If you are looking for the best website builder overall, I recommend you get started with Wix.
For the best designs and templates, check out Squarespace.
If you need an e-commerce website to sell products online, Shopify is a good choice.
What website builder do you use?
Further Reading on AdamEnfroy.com: If you want more control over your own website on WordPress and go with your self-hosted solution, you can read my reviews on the best web hosting.
If you want to sell products online, check out my reviews of the best ecommerce platforms. And if you just need to publish a simple landing page, read my reviews of the best landing page builders.
---
Last Updated on December 24, 2020 by Adam Enfroy