8 of the Best Website Builders: Reviews, Prices, Features, and More
Choosing the right website builder is vitally essential to the future success of your business.
From selling products online to monetizing a blog, you need to find a platform that makes it easy to create your own website.
Ultimately, there is no "best" website builder—the right choice for you depends on what you want from a tool.
My coaching website, for example, is powered by Squarespace because I wanted a sleek design and access to templates. The website for my community Peak Freelance, however, is hosted on WordPress because I wanted more control over the site experience.
Unsure where to start? This guide shares eight of the best website builders on the market today.
For each one, we'll share the price, reliability, web hosting services, technical support, site speed, SEO, ease of use, template design features, and more—so you can find the right website builder for your new site.
The best website builders for bloggers
1. Wix
Best for: Beginner entrepreneurs who want a simple website builder.
Wix is one of the most popular website builders that powers over 11.4 million websites worldwide.
Wix has 500+ ready-to-use templates to design your business' website in any industry—all of which are mobile-optimized and come with 100 fonts to choose from. And, you can almost endlessly customize the look and feel of your site with no coding knowledge.
"Wix is pretty user-friendly, and that's what I like about it. You don't need to be a tech wizard to get your site up and running. It's a solid option for beginners." —Michael Wall, founder of Codefixer
Wix is the best web builder if you're a small business. You don't necessarily need a platform with more advanced options like BigCommerce and Shopify. Wix website owners that want to add a basic ecommerce store can get these great new features.
Best Wix website builder features
Wix is a popular website builder for a reason. Amongst its most impressive features include:
Advanced website design features to control your website's look and feel, from the color scheme to the font style.
Mobile optimization so that your website will look great on any device—whether a phone, tablet, or computer.
Access to hundreds of apps that can help you improve your website, including contact forms to live chat.
Advanced SEO tools to drive organic traffic from search engines.
Stunning website templates to give you a professional-looking website without having to hire a designer or learn to code.
Wix ADI (artificial design intelligence) which uses AI to learn about your business and design a site tailored to your needs, choosing from billions of combinations of images, text, layouts, and contact forms.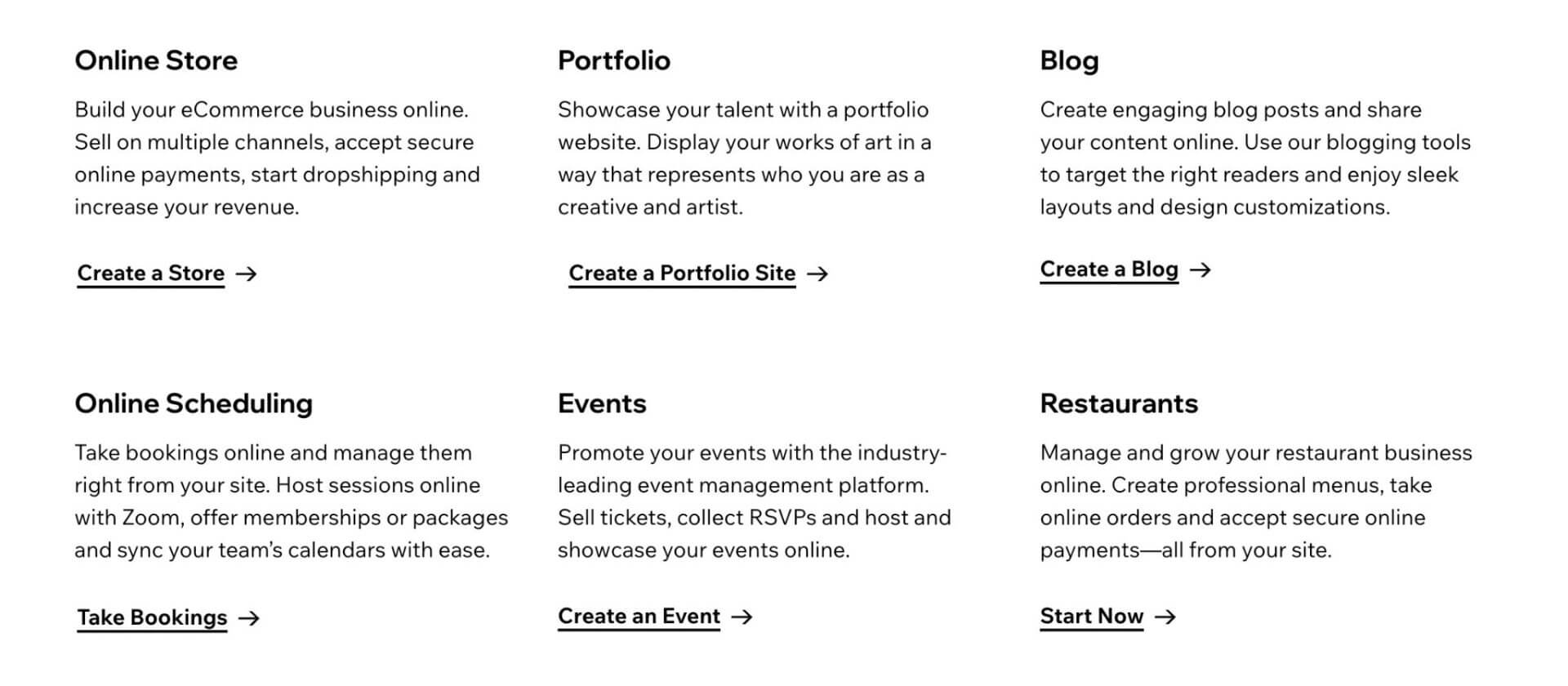 Pros of Wix's website builder
Alongside the features it has to offer, let's cover the advantages of using Wix to build your website:
Drag-and-drop editor is excellent for those who don't want to learn to code.
The variety of templates means you can find the perfect look for your website.
Rated 4.2 out of 5 stars on G2.
Cons of Wix website builder
That said, there are some minor disadvantages to building your website on Wix:
You must design your site separately for mobile if you want it to look good on smaller screens.
Getting things to line up correctly can sometimes be challenging, making your site look cluttered.
Occasionally, Wix can take a long time to load a window.
Wix pricing
All Wix plans include a custom domain, no Wix branding, and 24/7 customer support. But the right plan for you depends on what features you need access to.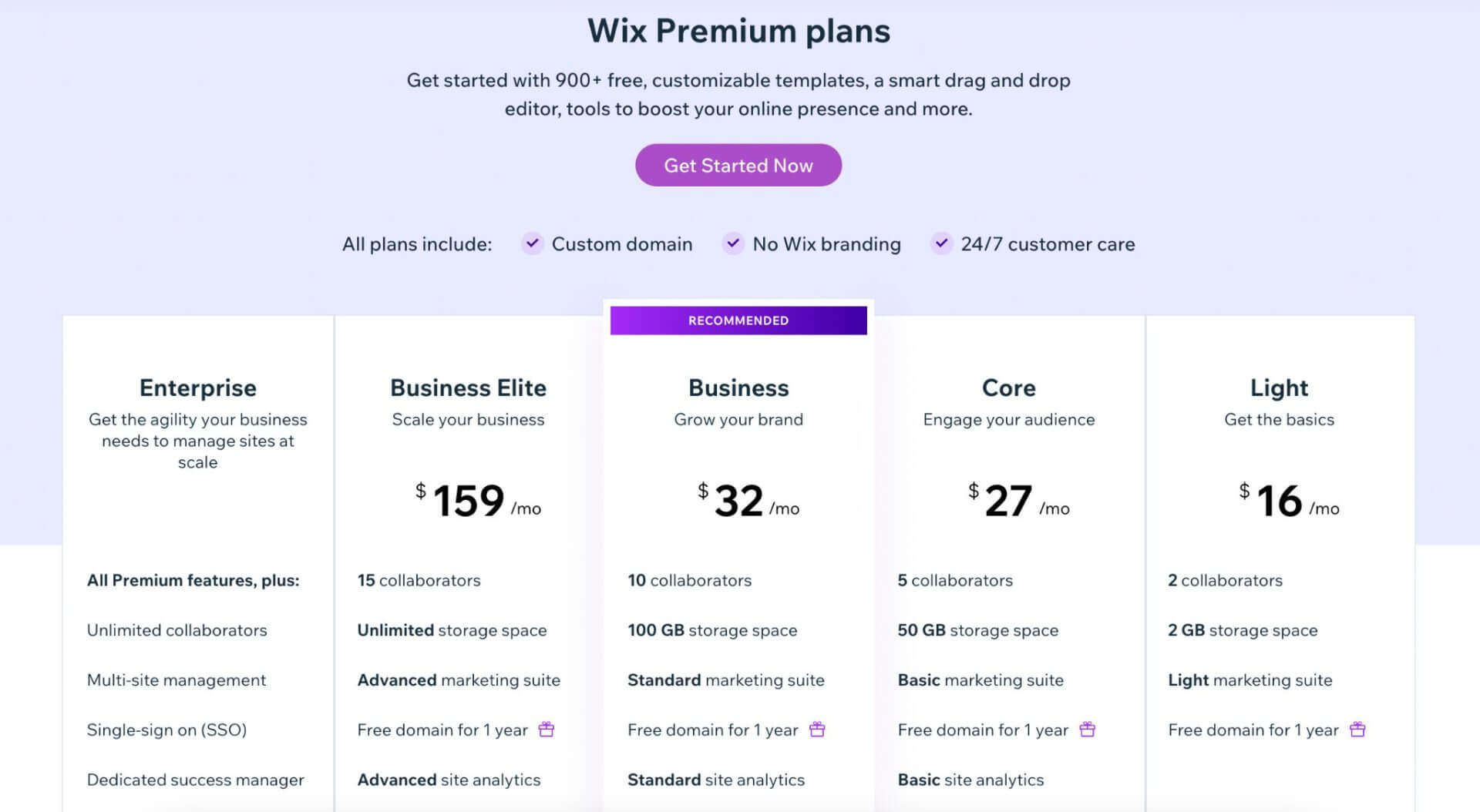 Prices for the Wix website builder starts at $16 per month, which is ideal for new bloggers. This includes 2GB of storage space and a light marketing suite to get up and running.
If you want to add ecommerce to your site to sell online, premium plans start at $27/month. The Core plan gives you 50GB of storage space, basic website analytics, and ecommerce functionality to accept credit card payments through your store.
For enterprise companies, Wix's Business plan starts at $32 per month. This gives you standard site analytics and 100GB of storage space.
The premium plan for Wix's site builder, Business Elite, gives you unlimited storage space, advanced analytics, and an advanced developer platform. This costs $159 per month.
2. Squarespace
Best for: Bloggers who want stunning website templates.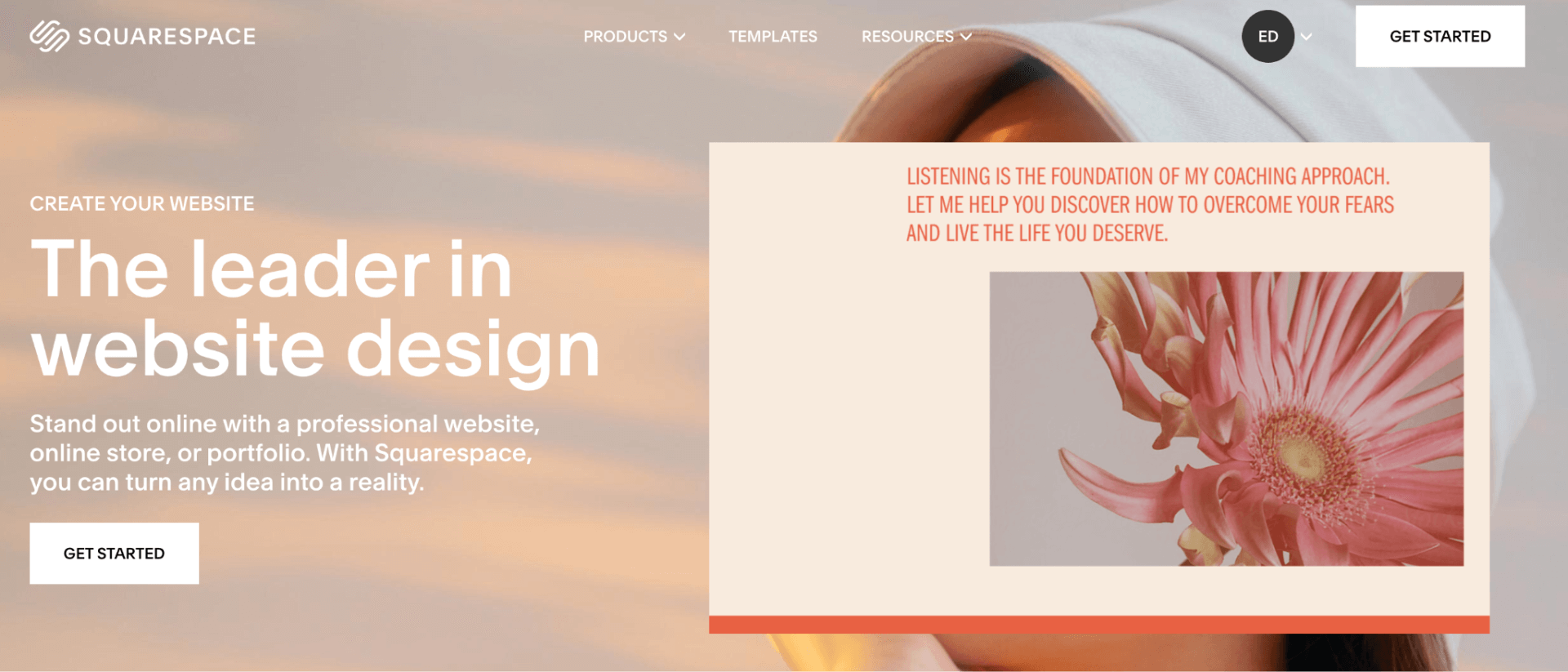 Squarespace truly knows how to create beautiful, high-quality sites that look great for small businesses and personal websites.
With over 100 design templates to choose from, they lead the pack in design. Squarespace templates look excellent down to every detail. The fonts, color schemes, and imagery all mesh perfectly with any website.
Besides design, their platform is great for bloggers. I chose Squarespace for my coaching website because its WYSIWYG blog editor is very intuitive. You drag elements like images, headings, and text onto the page and position it where you want.
Sites are easy to build with Squarespace's editing tools. In-built analytics tools provide collected data for on-site visitors if you're not using Google Analytics. Plus, it's hard to go wrong with a beautifully designed website for just $16/month.
Best Squarespace features
Squarespace is a great website builder for bloggers because of the following features:
Design Panel is excellent for those who want complete control over their website's look and feel.
Content types allow you to create different types of content, such as blogs, portfolios, and more.
Pre-built layouts make it easy to find a web design you love and customize it to perfection.
Customizable templates allow you to change the look of your website without having to start from scratch.
Password and page locks keep your content only available to those with the proper authorization.

Pros of Squarespace website builder
Now we know the standout features of Squarespace, let's cover the biggest advantages of choosing it as your site builder of choice:
SEO is straightforward with the Squarespace interface. You can add your keywords and set up page titles with ease.
The font packages are great for those who want a more professional-looking website.
There are beautiful pre-designed layouts that make it easy to get started, and then you can customize them to perfection.
In-depth website and blog analytics to figure out what performs best.
Rated 4.4 out of 5 stars on G2.
Mark Blakey, CEO of Autism Parenting Magazine, says: "Squarespace simplifies website creation with its intuitive drag-and-drop interface, making it accessible even for those without technical skills.
"The platform's reliable hosting, security, and excellent customer support ensure a hassle-free website-building experience."
Mark adds: "Overall, Squarespace combines aesthetics, functionality, and ease of use, making it my top choice for website creation."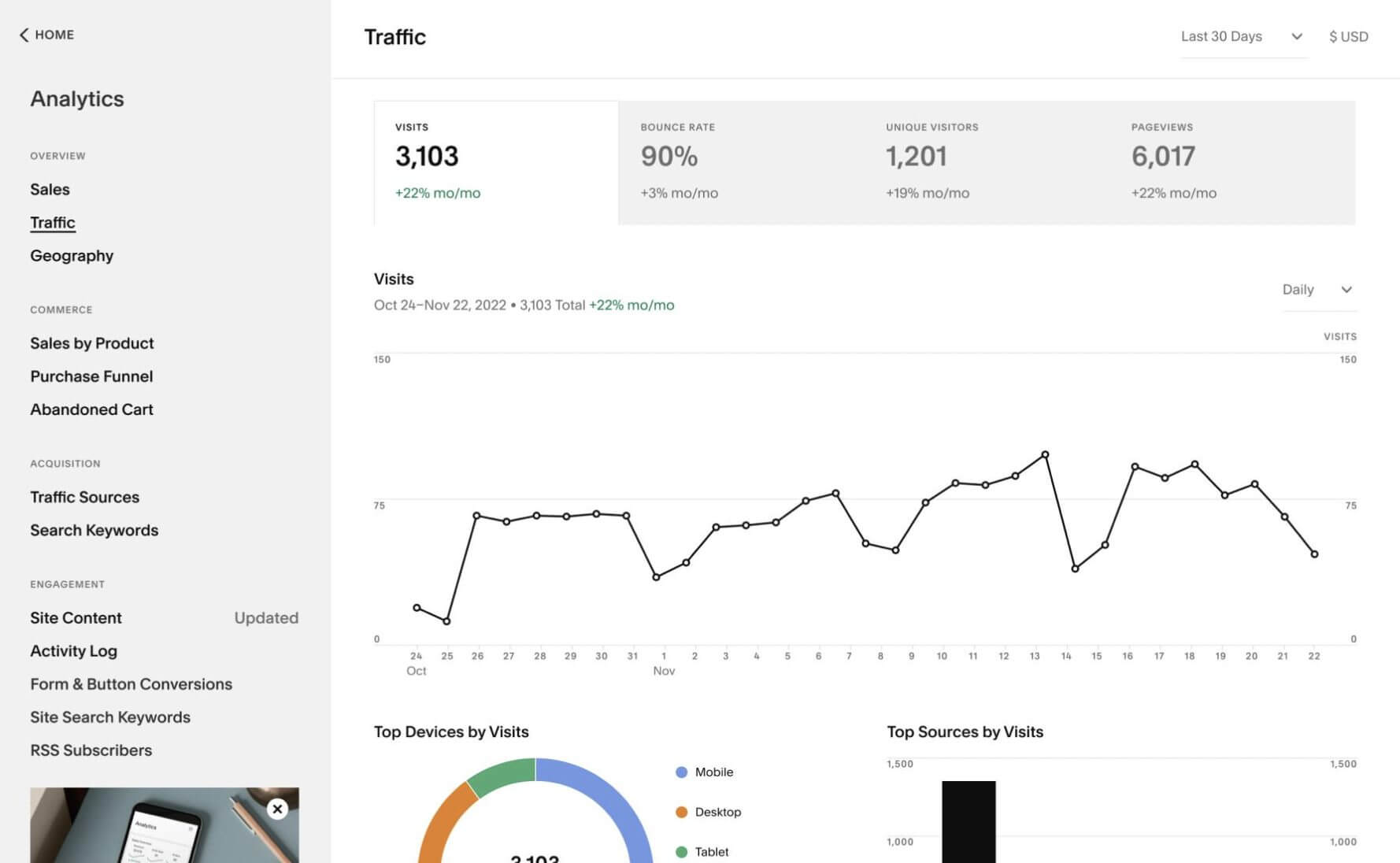 Cons of Squarespace website builder
A few minor limitations hold Squarespace from being #1 on this list:
Limited customization options since Squarespace is a one-size-fits-all platform, so if you're looking for something particular, you might not be able to find it here.
Some website builder features can be hard to find in the dashboard.
Customer support only available via email.
Squarespace pricing
Squarespace offers a 14-day free trial for people who want to experiment with its website builder. This offer applies to all pricing plans.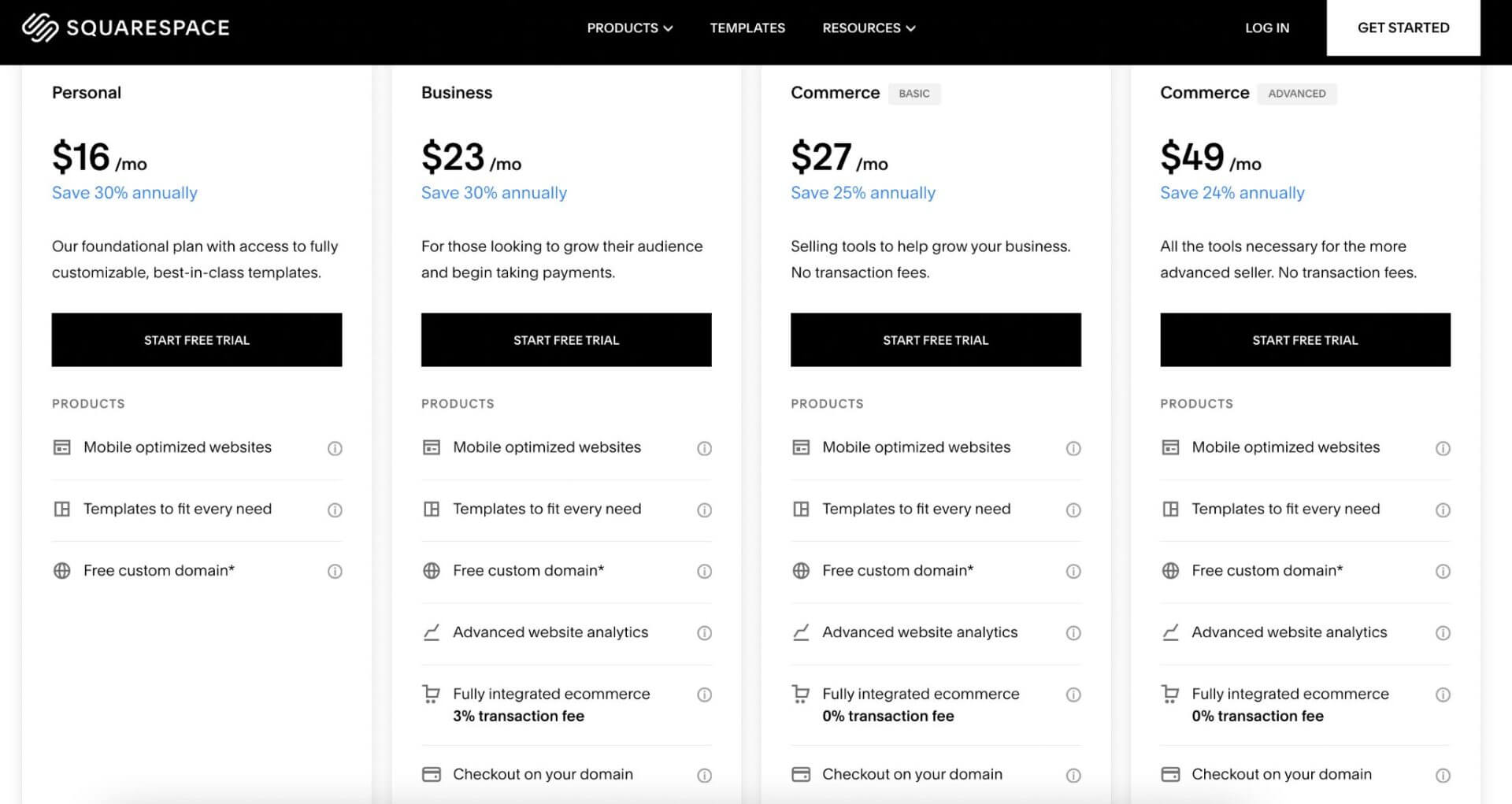 Squarespace's most basic plan costs $16 per month and includes mobile-optimized websites, free templates, and a free custom domain.
Its business plan, which starts at $23 per month, also includes advanced analytics, checkout features on your website, and integrated ecommerce features with a 3% transaction fee on any payments made through your website.
Commerce, Squarespace's plan for online store owners, starts at $27 per month. Businesses on this plan benefit from a 0% transaction fee and powerful merchandising features.
Its most premium plan, Commerce, costs $49 per month and gives you access to everything—including advanced shipping and discounting features, and tools to help you sell subscriptions through Squarespace's website builder.
3. WordPress
Best for: Bloggers who want ultimate control over their website.

With WordPress, you can create a website for anything—a blog, a local business, or an online store—the options are limitless. More than 810 million websites around the world (or 43% of all sites) use it to post content online.
There are two options to build a website on WordPress:
Wordpress.com: A free website builder to create a website quickly and easily.
Wordpress.org: A paid, more advanced website builder that gives creators more advanced customization tools.
WordPress.org, which I use for my community membership website, also has its Jetpack essential features, including basic SEO, social sharing, and site analytics. The famous, all-in-one Jetpack add-on covers all functionality, from SEO and analytics to security and marketing.
"While it may have a steeper learning curve compared to other website builders, the flexibility and control it offers are worth it. Plus, there's a huge community of users and developers who are always willing to help out." —Liam Lucas, blogger at Off Road Genius
Best WordPress features
"My favorite feature is the Gutenberg editor, which makes creating and editing content a breeze," says Liam Lucas, blogger at Off Road Genius. "It's a drag-and-drop tool that simplifies the whole process, allowing you to focus more on the content rather than the technical aspects."
Aside from that, other standout features of WordPress.org's website builder include:
Unlimited pages, posts, and products to create the website of your dreams without worrying about running out of space or options.
Easily integrate news and blog posts into your website, giving you an easy way to keep your followers up-to-date on the latest information.
Vast integrations and plugins. "Just about everything integrates with WordPress," says Heather Stephens, blogger at Wise Owl Marketing. "For example, you can build a subscriber list using MailChimp, Convert Kit or any other email service."
Plan in advance and schedule new blog posts with its flexible post scheduling feature.
If you ever need to make changes to your content, you can restore deleted pages and use rollback versioning so that any changes are reversible if necessary.
WordPress.com provides portability and vendor lock-in avoidance, meaning you won't be tied down to a single vendor. Your website content can go with you wherever you go.
Pros of WordPress website builder
WordPress.org is the go-to website builder for so many creators because of these advantages:
Extremely customizable—there are an infinite number of ways to design your site.
Thousands of free plugins to get added features that a WordPress site doesn't have as standard, such as analytics or SEO.
Rated 4.4 out of 5 stars on G2.
Cons of WordPress website builder
Despite WordPress being the world's most popular website builder, it does have some vulnerabilities:
Customization options are endless, which can make the website builder overwhelming to new website creators or bloggers.
You're responsible for your own website security.
You'll need your own hosting, and to install the WordPress software on your server, to use WordPress.org's more advanced features.
Rated below average for quality of support.
WordPress pricing
With WordPress.com' free plan, you get a website, access to 1GB of storage, unlimited pages, and unlimited users.
Get a free domain for your first year by upgrading to its Personal plan, which starts at $4 per month.
WordPress.com's Premium plan includes premium themes and style customization. Expect to pay $8 per month for these features.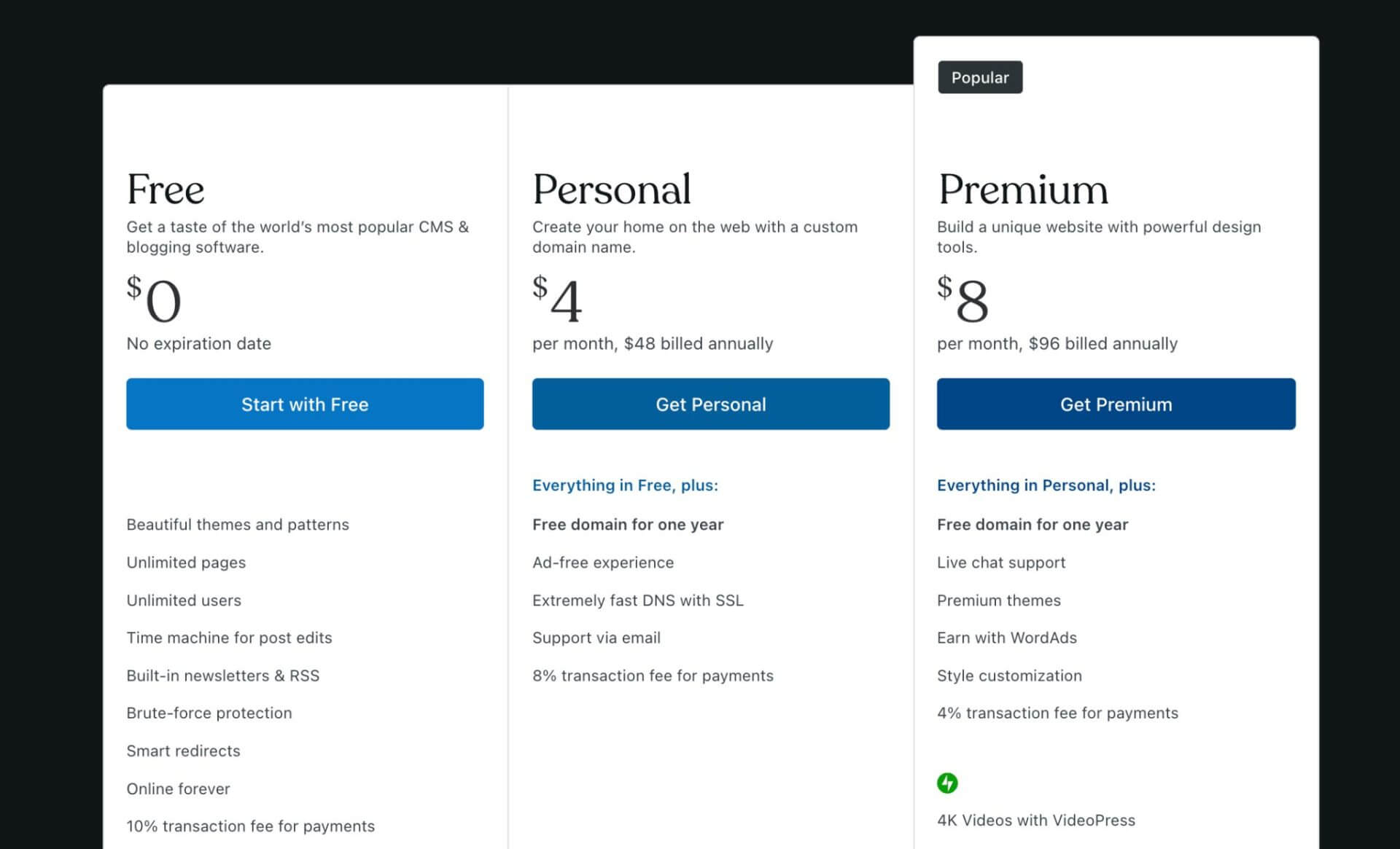 If you're looking to upgrade or pay for premium features, it's best to start off with WordPress.org as it gives more advanced features you'll need to build a world-class website.
Because you'll need to download the software and install it on your server, it's often best to find a web hosting service that offers WordPress.org. Popular options include BlueHost and HostZinger.
4. Weebly
Best for: Beginners who want a drag-and-drop ecommerce website builder.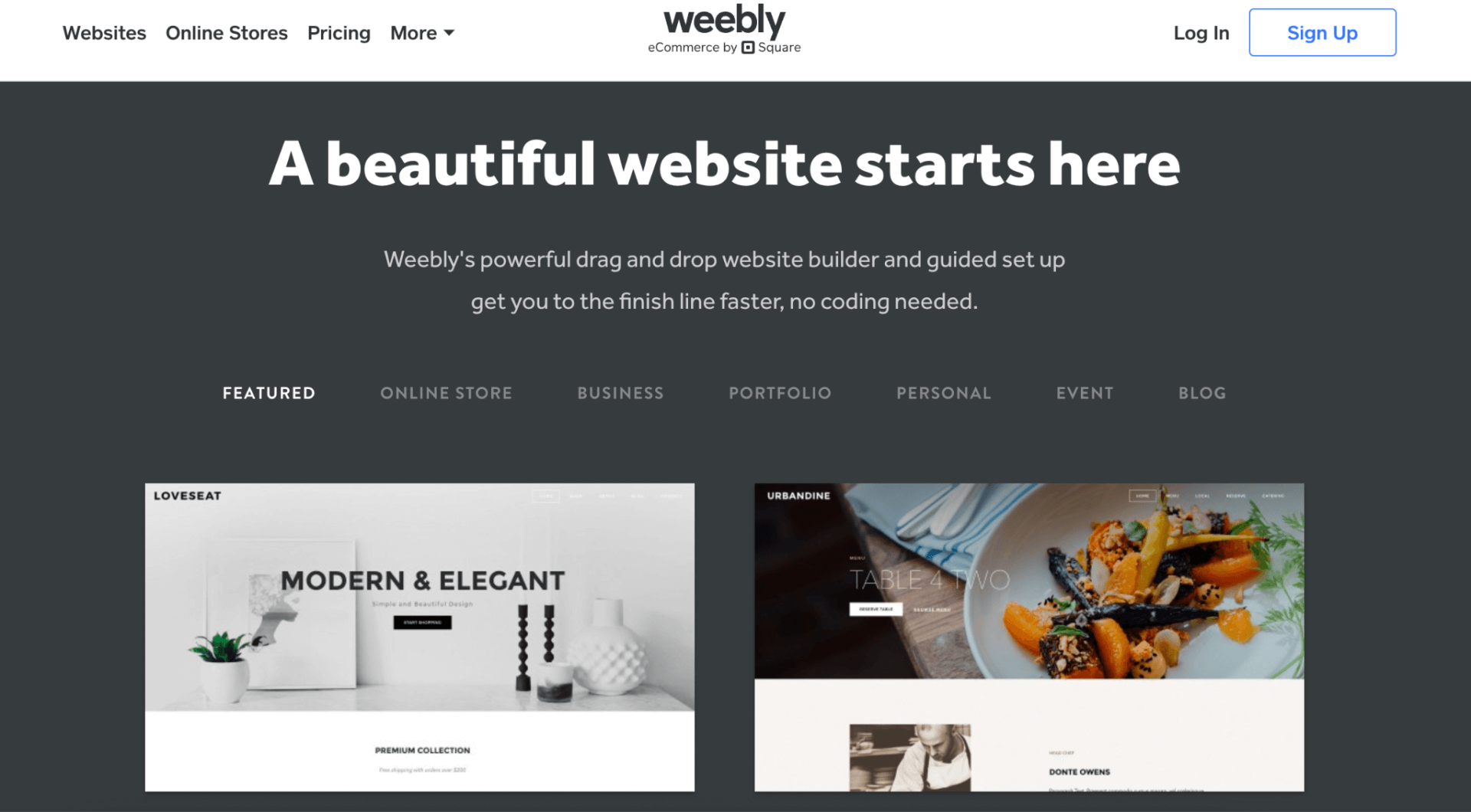 Weebly powers over 882,000 live websites and is known as the free website builder of choice for people without much technical expertise. It was acquired by Square, a payment processing provider, in 2018.
If you're a blogger, you can use Weebly.com to pick a custom domain name and use their editor to add your text, images, and content. It also has built-in marketing tools—like email marketing and SEO features—to help drive traffic to your new website.
Overall, it's a good option if you're looking for a free website builder that makes it easy to launch a new ecommerce website.
Best Weebly features
Consider Weebly's website builder if the following features are essential to you when evaluating potential options:
Build a blog that reflects your style and personality to build an online presence quickly.
The App Center has 200+ great apps you can add to your website to improve its functionality.
Video backgrounds and pre-designed layout options to design your website.
Design tools allow you to customize the look and feel of your website without having to learn to code.
Mobile apps allow you to optimize your website for mobile devices and track your website's performance on the go.
Ecommerce plans to start selling physical and digital products online.
Pros of Weebly website builder
Weebly is a good website builder to consider because:
Previewing links is beneficial because you can ensure they go to the right place before publishing your site.
The prebuilt options are great for those who want to get started quickly,
The drag-and-drop widgets make it easy to customize your site without learning to code.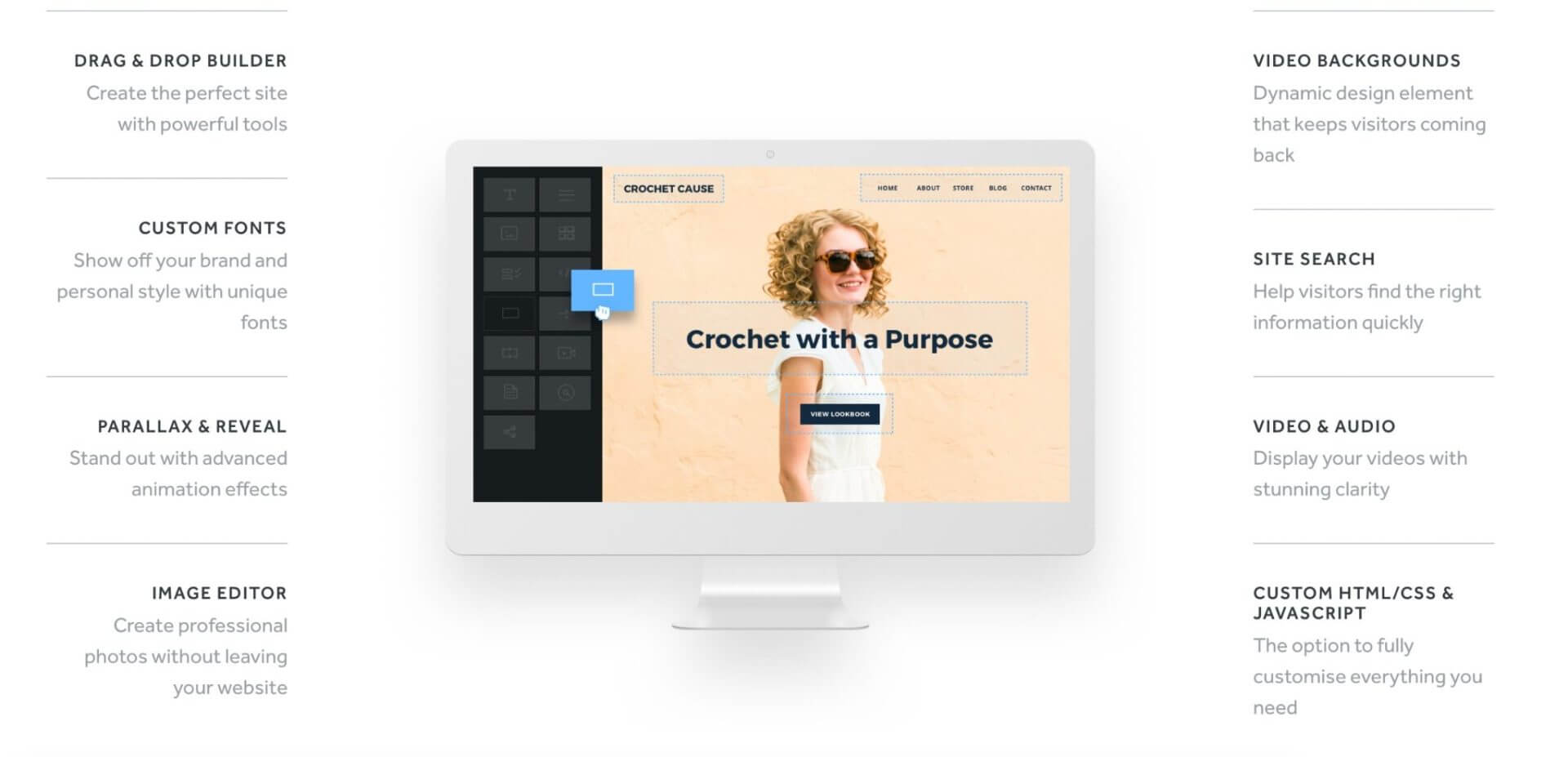 Cons of Weebly website builder
Weebly does have some downsides that might not make it the best website builder for you.
A little more tutorial or help would be great for those just starting.
Some layout elements are not as customizable as you might like, which can limit what you can do with your site.
Custom objects or views would be a great addition to make Weebly even more powerful.
Weebly pricing
Weebly has a free plan that gives you a free SSL certificate and a domain with Weebly branding. With this plan, you can use a custom domain but are forced to have Weebly branding throughout your site. The free plan also only comes with chat and email support—no phone support.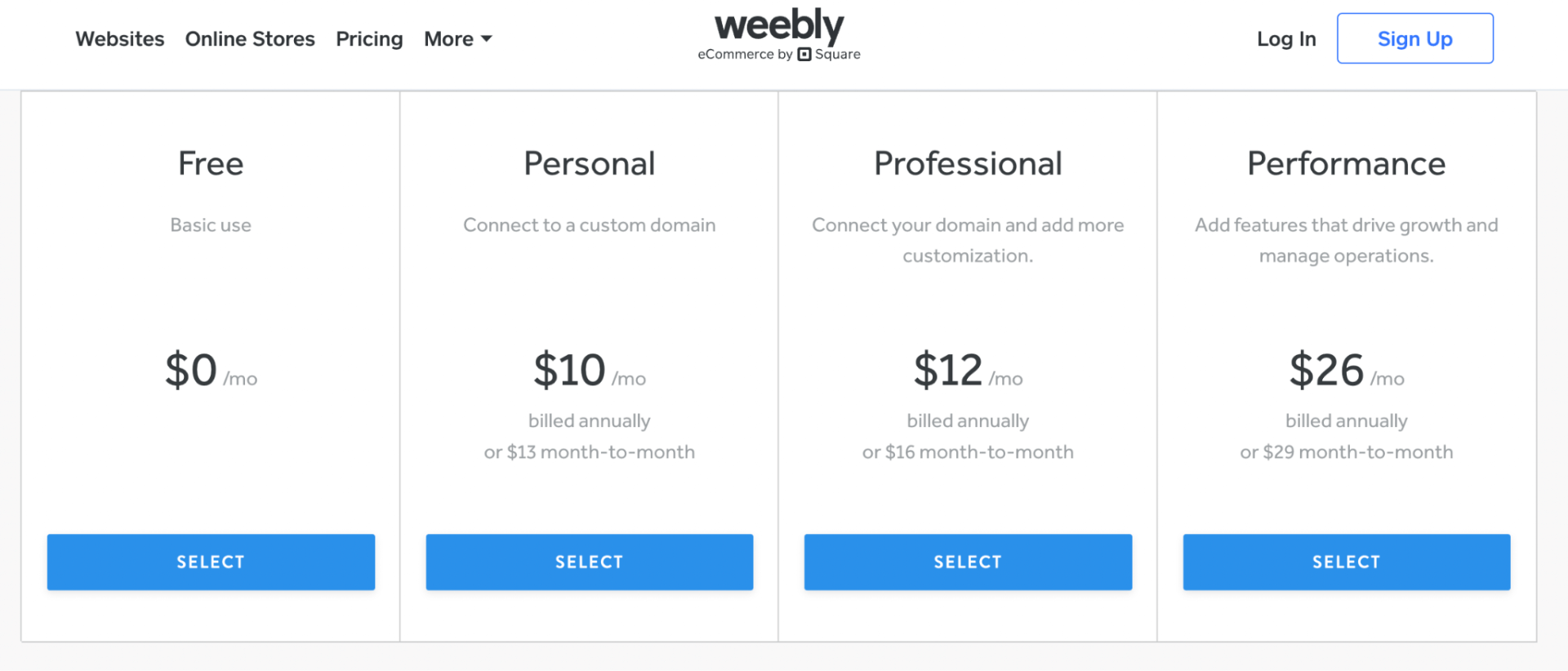 If you want to upgrade your site, Weebly's Personal plan starts at $10 per month. You'll have to connect a custom domain but you'll get access to advanced ecommerce features like digital goods, shipping calculators, and pop-up website notifications.
Weebly's Professional plan starts at $12 per month and also includes a free domain, password protection, and the ability to remove ads on your website.
Its Performance plan is the most advanced option. Get access to cart abandonment emails, advanced ecommerce analytics, and priority support for $26 per month.
5. Shopify
Best for: Website owners who want to sell products online.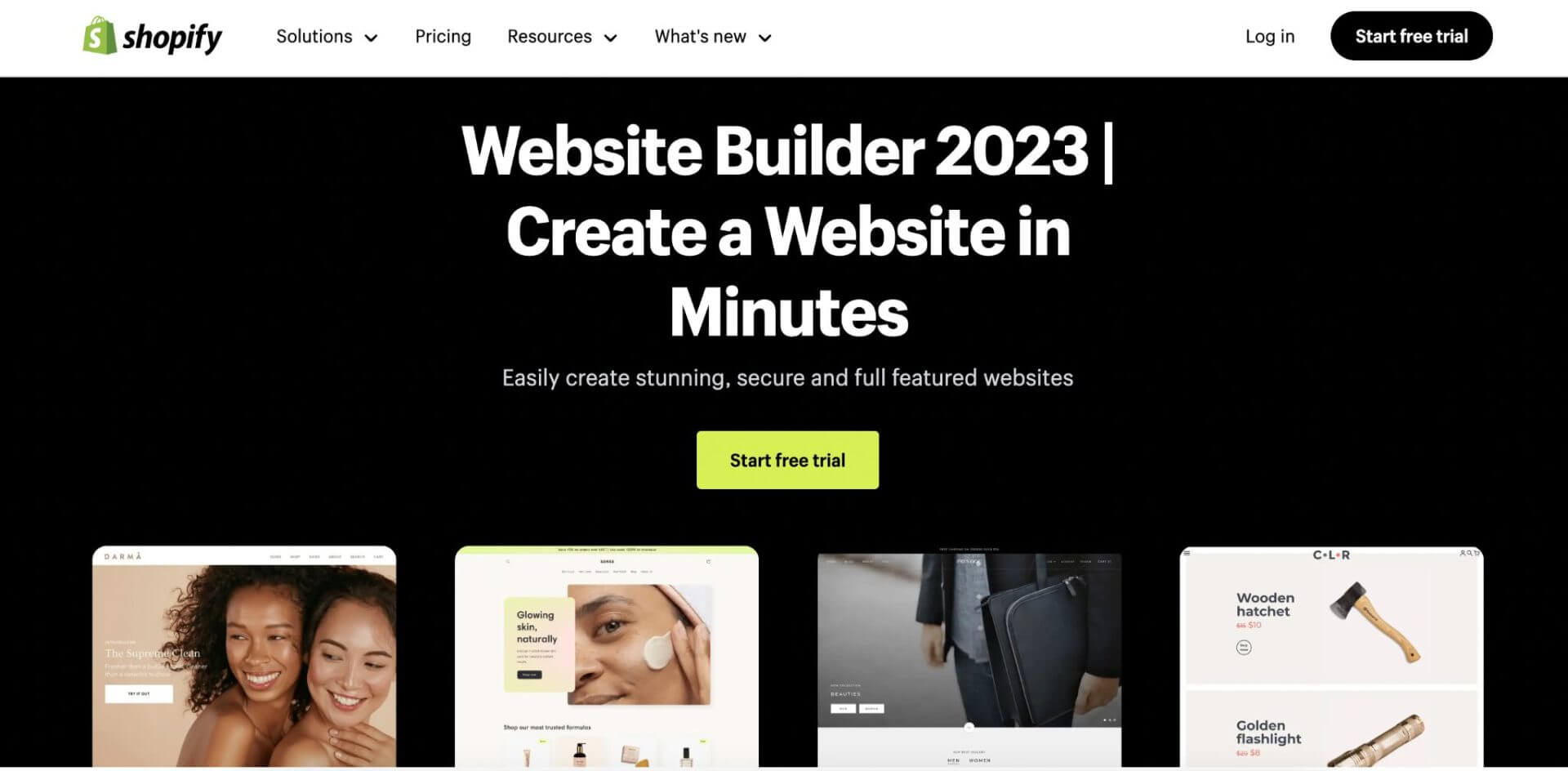 While not every website owner needs product-selling functionality, Shopify is the best website builder if you're selling products online. Over 4 million ecommerce businesses use to sell products through their website.
With Shopify, you could set up a quick website, including a blog, a map of your location, contact info, and appointment scheduling (with an app), and you could also sell hair care products online. This creates a website and another online source of revenue for your business.
Shopify has a lot of features you'd come to expect from other tools on this list, including hosting, your domain name, 70+ professional themes, a free SSL certificate, and marketing and SEO features.
It also offers mobile commerce, 100+ payment gateways, automatic carrier shipping rates, automatic tax rates, and the entire checkout experience.
If you're setting up a new website and think you may want to sell products online in the future, it's better to get started with Shopify—rather than another tool that doesn't take online shopping as seriously.
Best Shopify features
Shopify is considered one of the top website builders for ecommerce business owners because of the following features:
70+ top-notch themes allow you to choose the perfect look for your store.
Shopify offers a free 256-bit SSL certificate for your security, allowing customers to shop on your store securely and confidently.
Shopify also offers integrations for dropshipping and inventory management all in one dashboard, allowing you to quickly source products from different suppliers and deliver them directly to your customers.
Shopify supports SEO, so you can be sure that customers can find your store in the search engines.
Automated store emails make it easy to stay in touch with customers—allowing you to send special promotions or thank them for their purchases.

Pros of Shopify website builder
Shopify is the world's most popular ecommerce platform because of the following advantages:
Very user-friendly for entrepreneurs with no website building experience.
Use Shopify sales channels to sell across Facebook, eBay, Amazon, Instagram, and more within the same website builder.
Thousands of incredible apps on the App Store to get more value and features inside Shopify's website builder.
Rated 4.4 out of 5 stars on G2.
Cons of Shopify website builder
Shopify is great, but it does have some disadvantages:
It's one of the more expensive website builders on this list with no free plan available.
It can be tricky to customize Shopify themes if you have no coding skills or knowledge.
Limited page or blog customizations—though this can be fixed with a landing page builder from the Shopify App Store.
Shopify pricing
While Shopify doesn't offer a free trial, you can start building your ecommerce site with its website builder that costs $1/month for three months.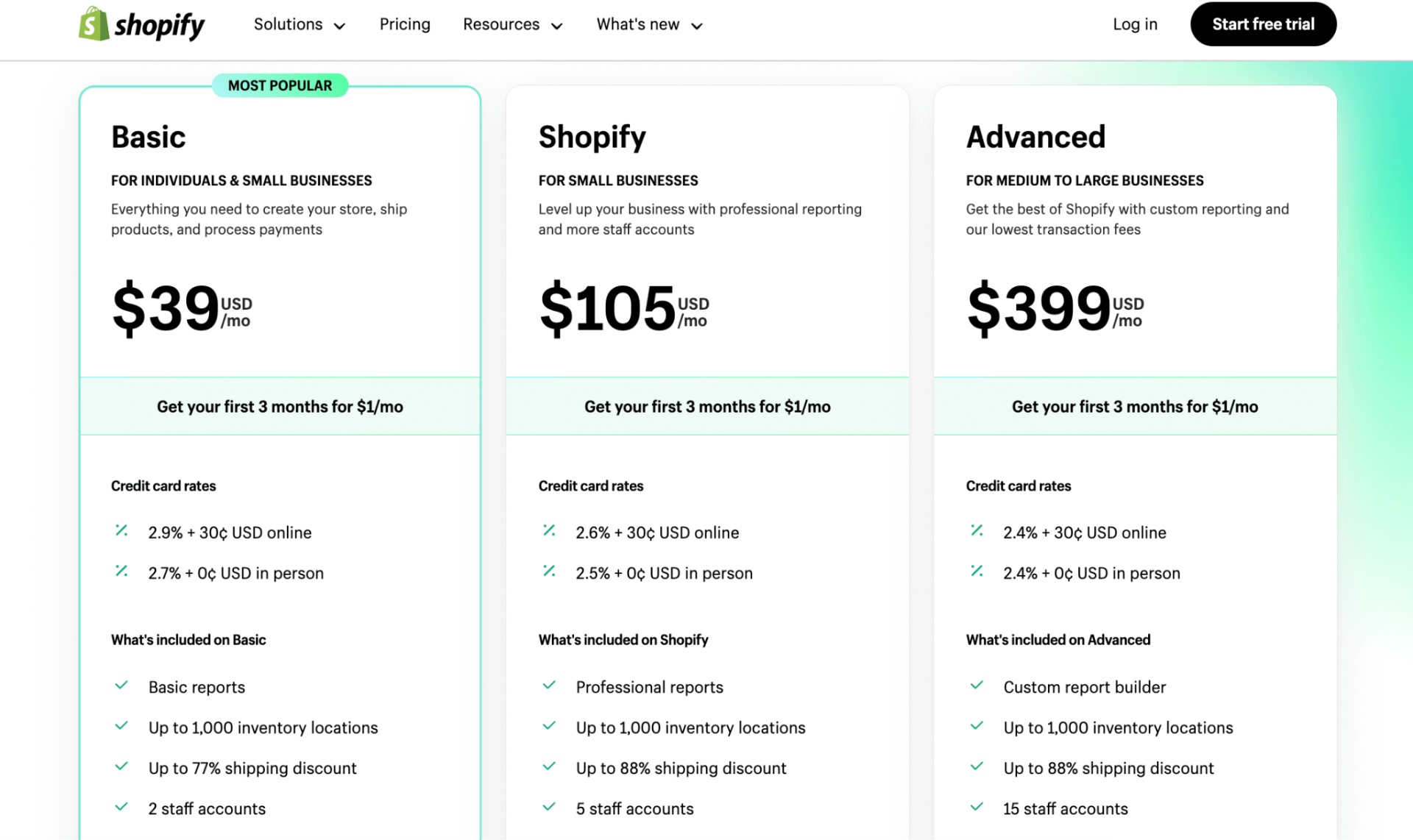 Shopify's paid plans start at $39 per month. This will give you access to basic reports, two staff accounts, and free themes to get your website up and running.
The next-best plan, appropriately named Shopify, offers better payment processing fees and five staff accounts. You'll also get better shipping discounts to make more profit when selling products online for $105 per month.
Its most advanced plan costs $399 per month. This offers the lowest payment fees, 15 staff accounts, and tools to manage duties and import taxes.
6. GoDaddy website builder
Best for: Bloggers who want hosting, email addresses, and domains from the same website builder.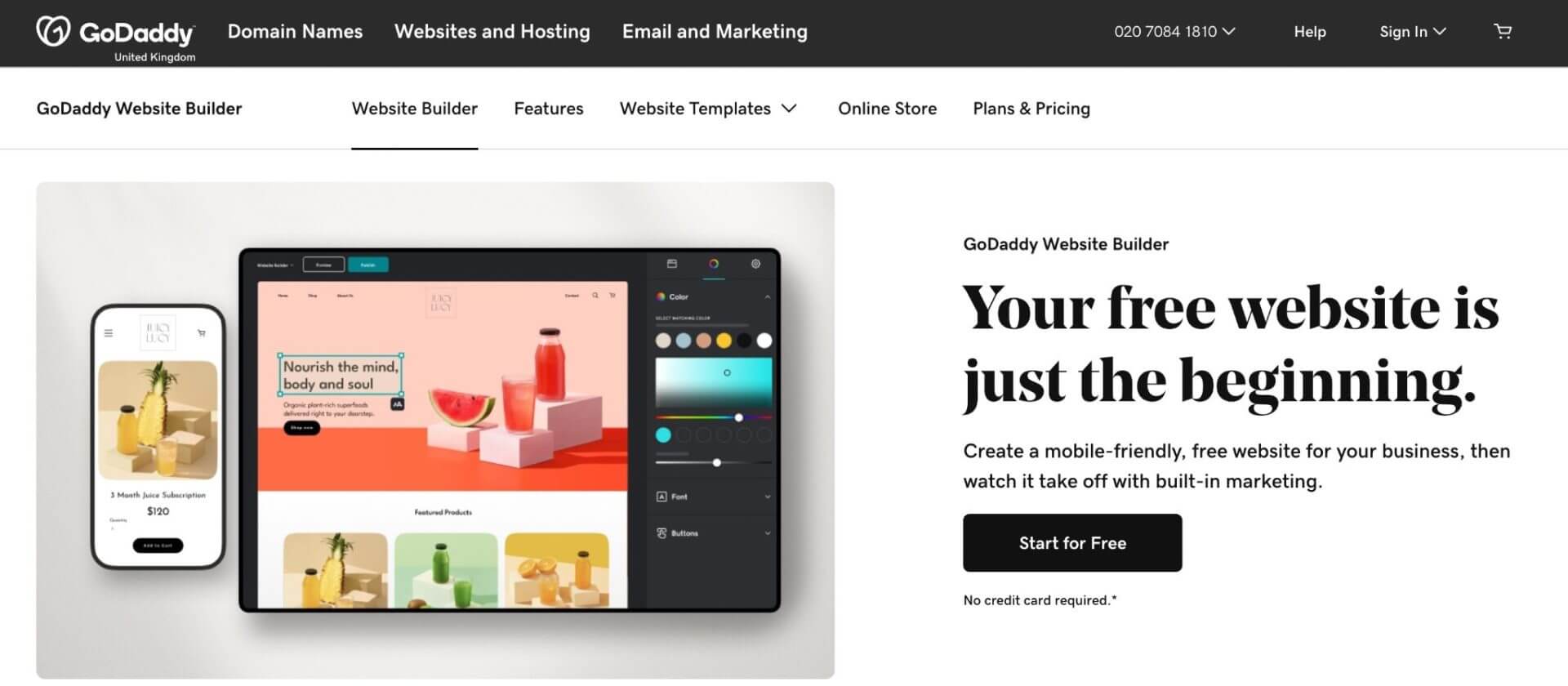 GoDaddy used to be known as a domain registrar that provided good service at reasonable prices. But they've upped their game in recent years and become a powerful website builder.
GoDaddy's website builder is one of the easiest to use with its simple drag-and-drop interface, making it simple to create a website—even if you have no prior experience. The platform also offers built-in marketing tools to help drive traffic and engagement, which is crucial to getting your website seen by potential customers.
"I find GoDaddy to be my go-to choice for a website builder due to its comprehensive features and user-friendly interface. The platform is designed for individuals with varying levels of technical knowledge, making it accessible and easy to use. This ease of use is particularly beneficial when you need to make quick updates or changes to your site." —Chris Muller, blogger at Money Under 30
Best GoDaddy features
Overall, GoDaddy is an excellent choice for those looking for an all-in-one solution for creating a website. It offers:
Email and social media marketing help you reach a larger audience with ease.
One-time appointments to quickly schedule and take payments all in one place.
Start selling online with GoDaddy Payments—no need for a separate ecommerce platform.
Secure web hosting services to keep your site safe and secure.
SSL certificate is included to keep your site secure and boost your SEO.
Built-in marketing tools help to spread the word and boost your audience.

Pros of GoDaddy website builder
Bloggers love GoDaddy because it offers:
A wide variety of templates allows you to get started quickly.
24/7 customer support through live chat, email, and phone.
A domain, branded email address, website builder from the same platform.
Rated 4 out of 5 stars on G2.
"I would certainly recommend GoDaddy to another blogger," Chris Muller says. "The platform offers a balance of ease-of-use and professional features that can benefit bloggers in all niches."
Cons of GoDaddy website builder
GoDaddy does have some disadvantages. Consider these cons if you're evaluating GoDaddy as your website builder of choice:
The GoDaddy platform could do with more ecommerce features to take things to the next level.
Limited customization options for bloggers who want to build a stand-out website.
Relying on one provider for your domain, email address, hosting, and website builder can be problematic if there's an issue with the platform.
GoDaddy pricing
GoDaddy offers a free website builder that includes GoDaddy Payments, SSL certificates, and email/social media marketing features.

If you want to upgrade, GoDaddy's basic plan starts at $9.99 per month. This offers advanced features like online payment links, sales tracking, and social media posts.
GoDaddy's premium plan costs $14.99 per month and is the best option if you take appointments through your website.
If you want to sell products through your GoDaddy store, you'll need to upgrade to its $16.99 per month Commerce plan. This is the only plan that allows you to list products on your online store and process 50 orders per month from marketplaces.
Its most advanced plan, Commerce Plus, has added automations to make your life easier as a website owner. For $29.99 per month, upload unlimited products to your store and send 100,000 emails each month.
7. Webflow
Best for: Bloggers with technical knowledge and want to design their own professional website.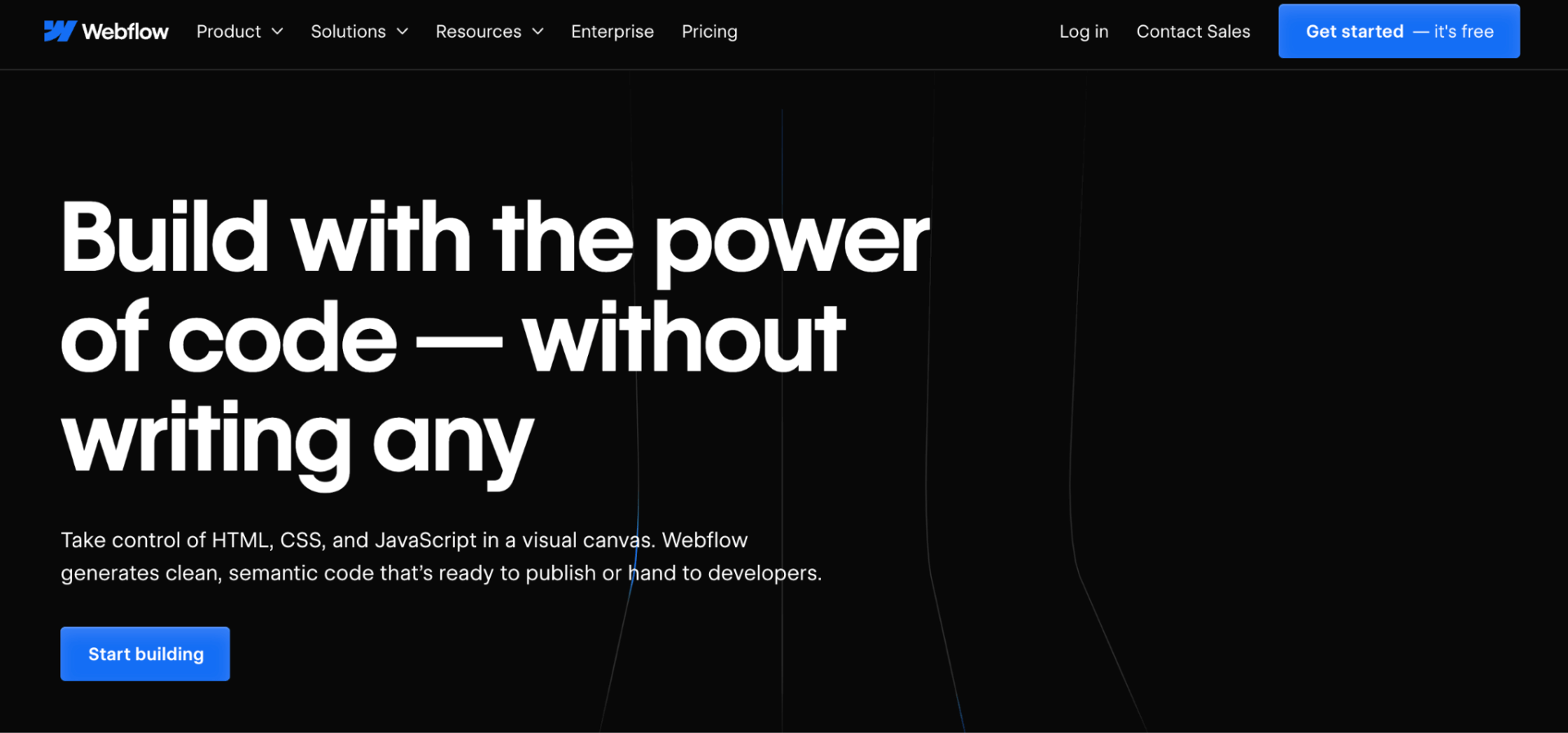 Webflow is a California-based website builder that helps you build, launch, and host websites.
The Webflow designer tool uses semantic HTML5, CSS, and JavaScript to build a site that aligns with your requirements. You can drag and drop HTML elements or choose pre-designed features like sliders, tabs, background videos, etc.
Plus, you can use a CSS-based system to make changes to multiple elements simultaneously. It also lets you add custom codes to any page in the <head> or before the </head> of any web page.
Webflow also puts particular emphasis on the visual aesthetics of the site. You can create animation effects—like parallax, precise reveal animations, and progress bars—and add them to your web pages. It provides over 20 pre-built interactions, animations, and triggers.
You also get specific eCommerce tools if you're interested in building this site. For instance, Webflow provides customizable product fields to highlight product features, images, and other information. The website builder also helps you create a checkout process, customize your homepage and gallery layout, and upload your logo.
Best Webflow features
Webflow is a popular scalable website builder because creators love these standout features:
Invite other team members to collaborate on a single dashboard.
Integration with Zapier to connect your Webflow site with tools like Slack, MailChimp, and Asana.
Add up to 3,000 products to your website with ecommerce support.
Over 100 free and paid customizable templates for different business, portfolio, and blog types.
SEO features including auto-generated XML sitemaps, alt tags for images, semantic code, fast page loads, mobile-friendliness, customizable metadata, etc.
"The Interactions feature in Webflow is by far my favorite. It provides the ability to animate elements on the page and create unique scrolling and hover effects, which add a dynamic touch to the overall website experience. This kind of advanced animation capability is rare to find in other builders without delving into custom code." —Tom Molnar, content creator at Fit Design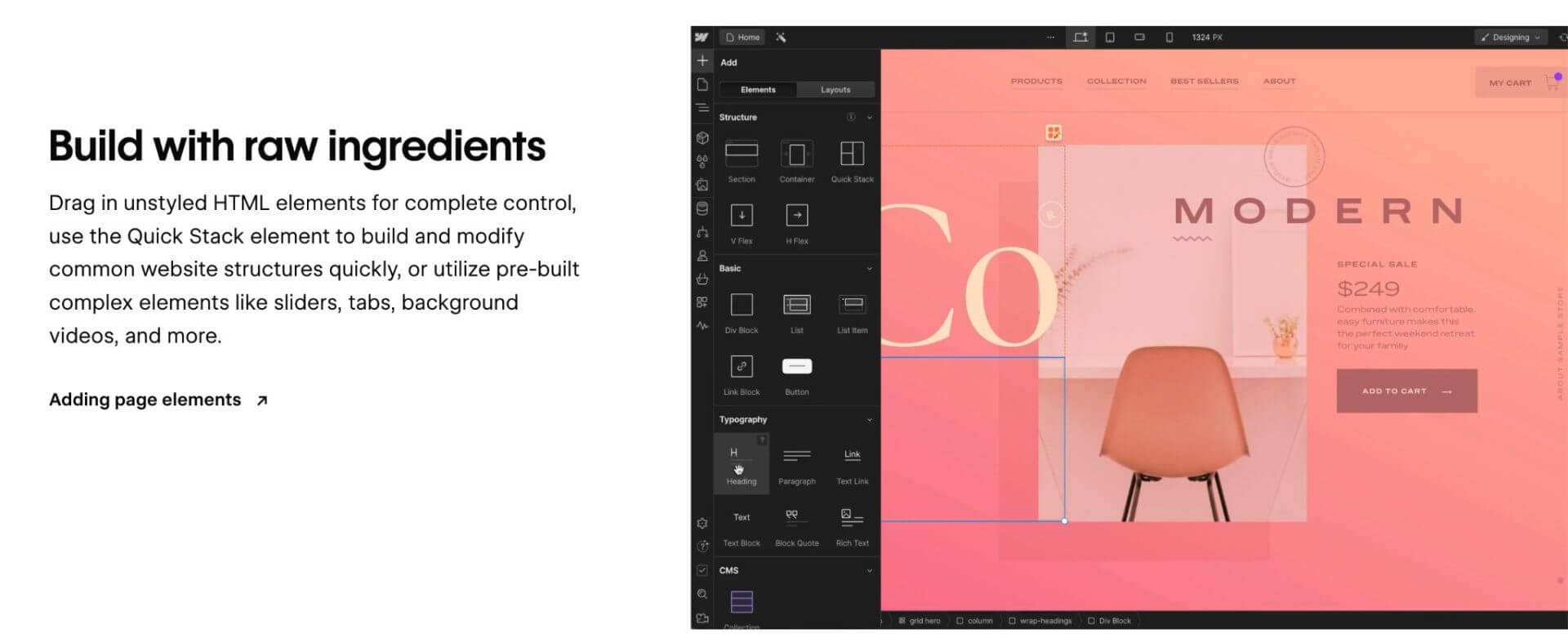 Pros of Webflow website builder
Add Webflow to your shortlist of potential website builders if these advantages are important to you:
Web hosting from Amazon Web Services and Fastly. The hosting meets HTTP/2 standards that help your site load faster.
Buy your domain directly from GoDaddy and Google Domain and connect it to your Webflow site.
99.9% uptime guaranteed and SSL certificate.
Rated 4.4 out of 5 stars on G2.
Cons of Webflow website builder
Webflow might not be the best website builder for you, based on the following disadvantages:
Webflow has a steep learning curve and requires some coding knowledge.
Rated below average for marketing tools and integrations.
It's more expensive than other website builders on the market.
"If the new blogger is keen on learning and has the time to dedicate to understanding the ins and outs of Webflow, then it's an excellent choice," says Tom Molnar, content creator at Fit Design.
"The platform offers an enormous amount of creative freedom and fine-grained control, which can result in a truly unique and professional-looking blog."
Tom continues: "However, if the blogger is looking for something straightforward to set up and easy to manage, without a lot of complexities or a steep learning curve, they might be better off with a different, more user-friendly platform, such as WordPress."
Webflow pricing
If you want to launch a new website quickly, Webflow offers a free plan that includes a webflow.io domain, two pages, and 1GB of bandwidth. However, there is a 1,000 visitor limit on this plan.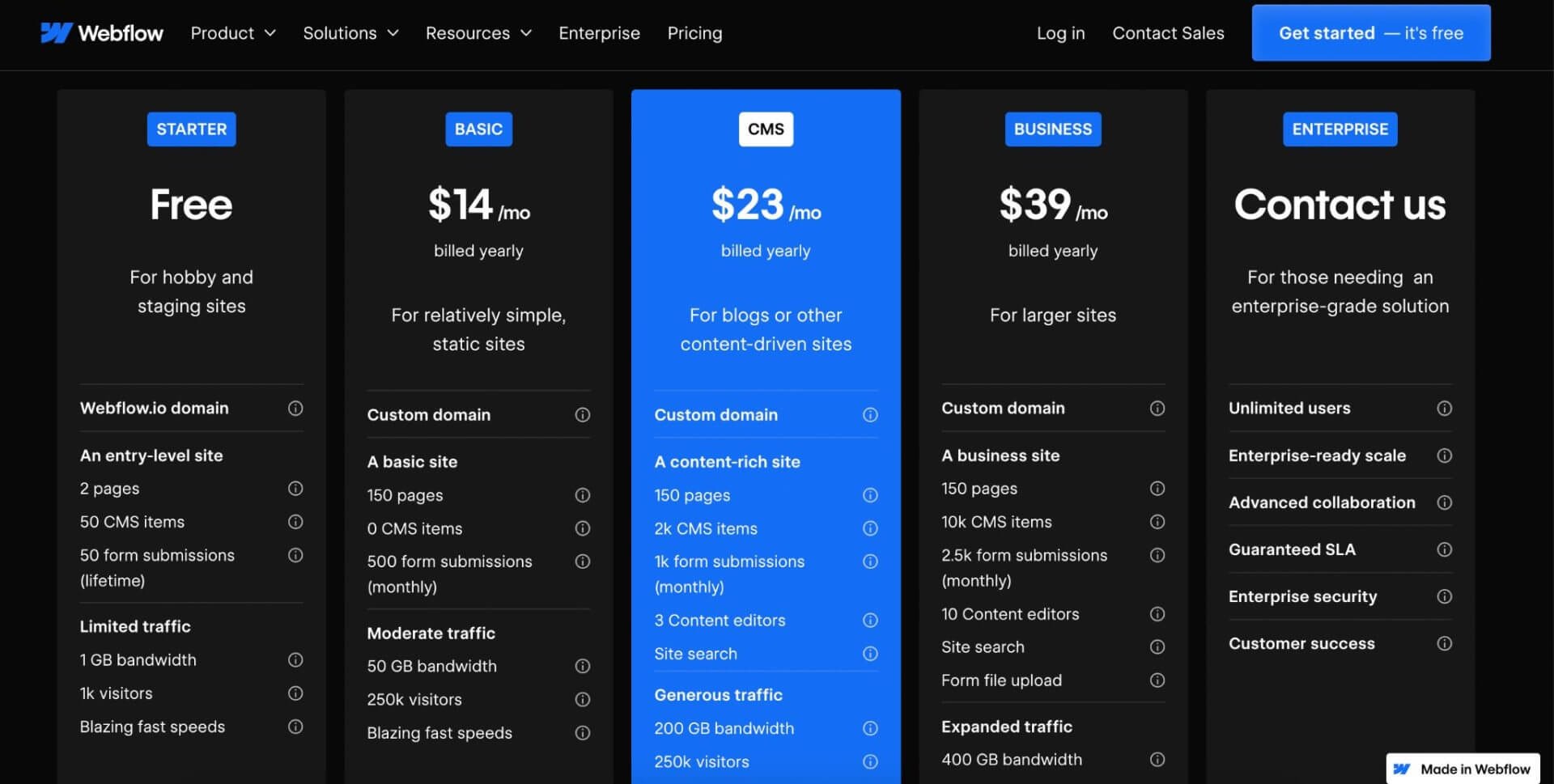 If you surpass the monthly traffic limit or want more advanced features, Webflow's Basic plan costs $14 per month. You can build 150 pages, 250,000 visitors, and 50 GB of bandwidth.
Its CMS plan, designed to help website owners add more content to their website, allows you to create three editor profiles and 2,000 CMS items for $23 per month. You'll also have site search functionality to improve website navigation.
The Business plan is designed for larger sites that need 400 GB of bandwidth and 10,000 CMS items. Pricing for this plan starts at $39 per month.
8. Ghost
Best for: Bloggers who want to build a content subscription or membership website.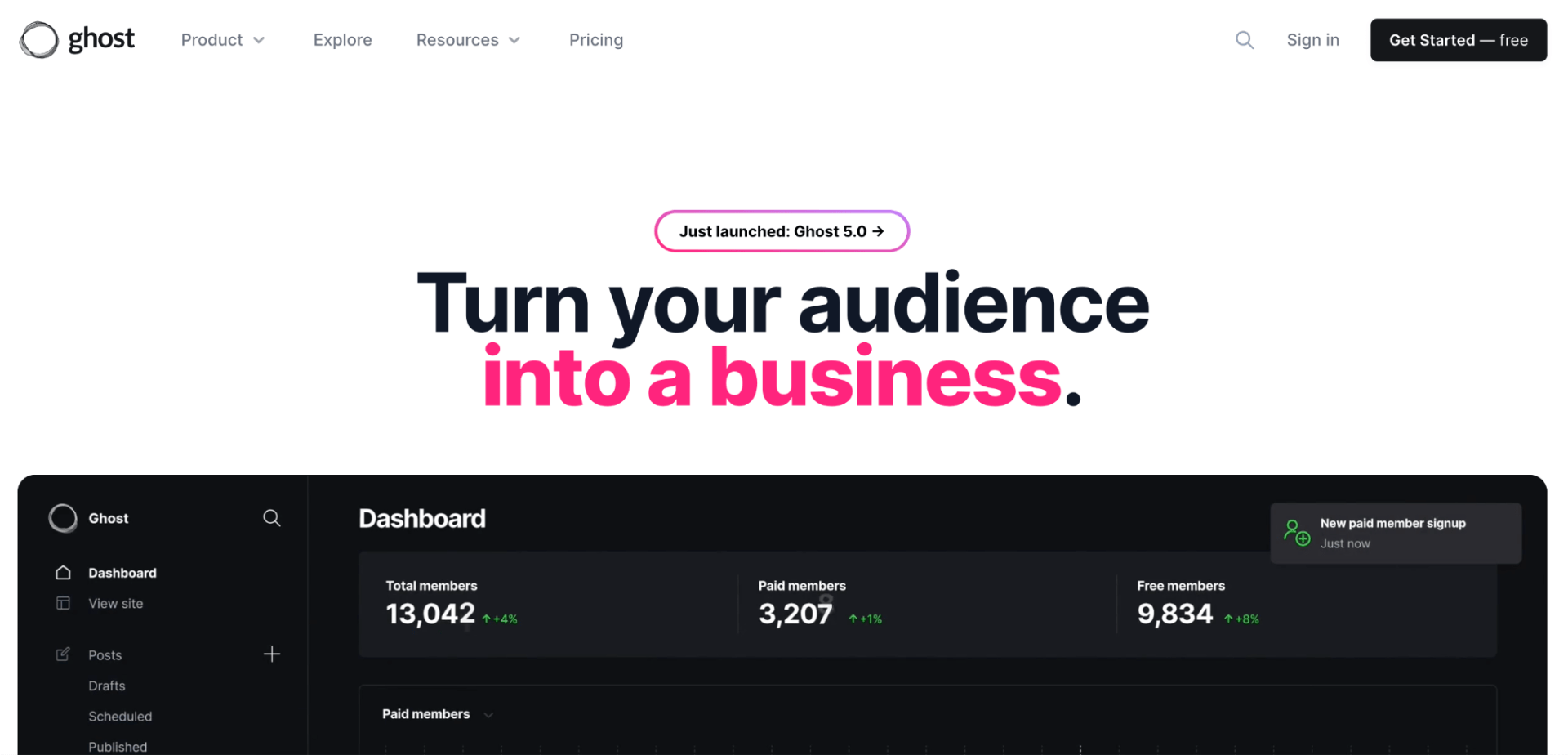 Ghost is an open-source publishing platform that allows creators to make their own website.
Designed for bloggers, Ghost is primarily a content management system (CMS) but it offers themes and templates for creators who want to start making money from a new blog.
There's also extra functionality to help you grow an audience through your website—including newsletter, paid subscriptions, and payments which can all be managed through Ghost's website builder.
Overall, Ghost is a superb option for bloggers who want to grow their audience and build a website that manages their audience engagement and monetization strategy.
Best Ghost features
Ghost is a popular CMS and website builder because of the following benefits it offers to creators:
Intuitive publishing features to create and format your blog content.
Built-in SEO features like XML sitemaps, Google AMP pages, Open Graph tags, and optimized URLs.
Hosting services to share your content with the world.
Hundreds of professionally-designed website themes to get up and running quickly.
Rich media and dynamic cards to add images, GIFs, video, boxes, and bookmarks to your website content.
Sign-up forms to gate premium content on your website behind a paid subscription.
"My favorite feature has to be the newsletter and analytics capability with built-in SEO," says Cathy Diaz, blogger at Why We Journal.
"I want my blog to be discoverable and to learn how to improve its ability to reach audiences. I would definitely recommend Ghost CMS if the new blogger was willing to give a little time each day learning a new skill."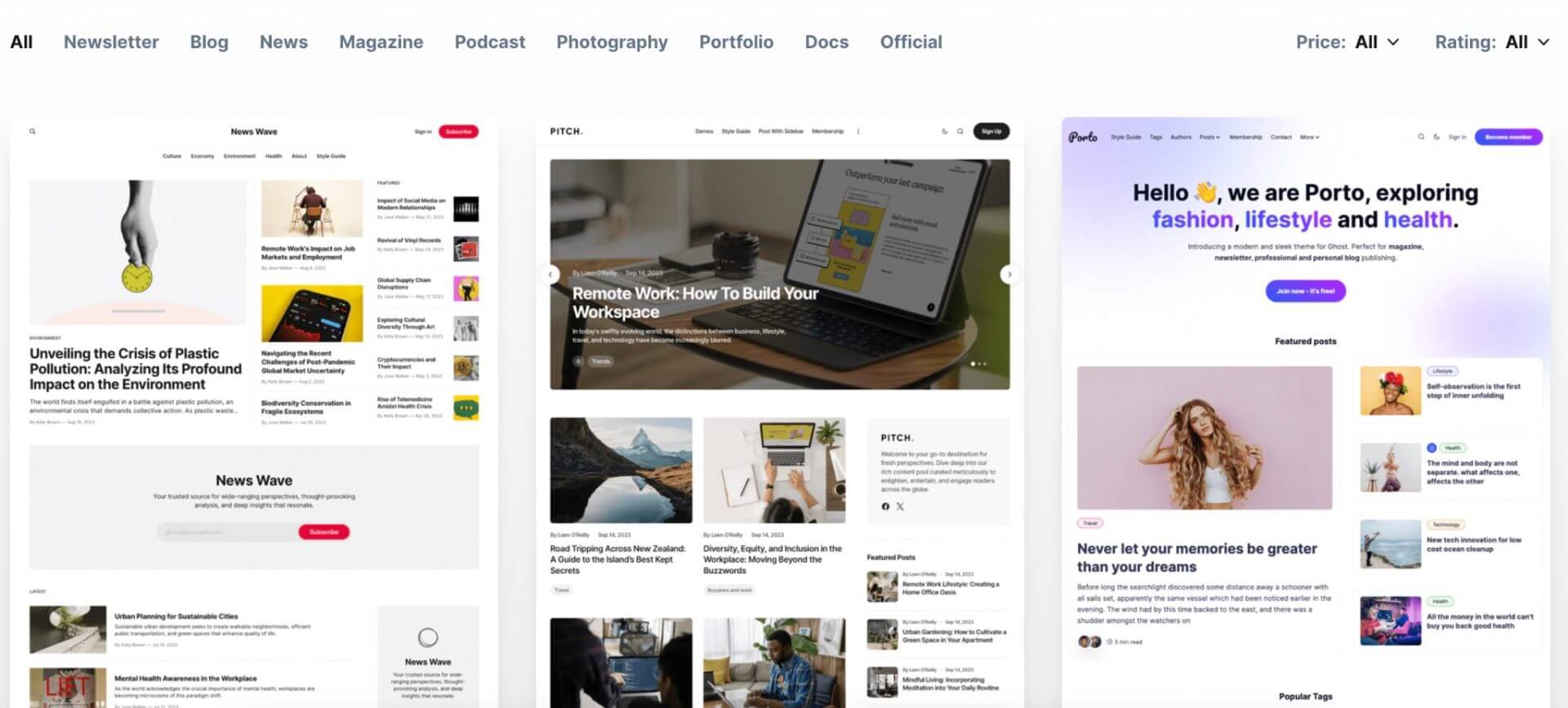 Pros of Ghost website builder
Ghost has been growing in popularity because it offers bloggers the following benefits:
You can use Ghost's headless CMS to publish blog content that stands separate from your business' main website.
Bring your own web hosting to Ghost or use its cloud service.
Great built-in features for creators who want to monetize their content, without paying for extra plugins or integrations.
Rated 4.1 out of 5 stars on G2.
Cons of Ghost website builder
Some of the downsides of Ghost include:
No mobile app to check website analytics on the go.
It might not be the best option for website owners who don't publish new content since Ghost's best features are publishing-related.
Some coding knowledge is required to get the most value from Ghost.
Ghost pricing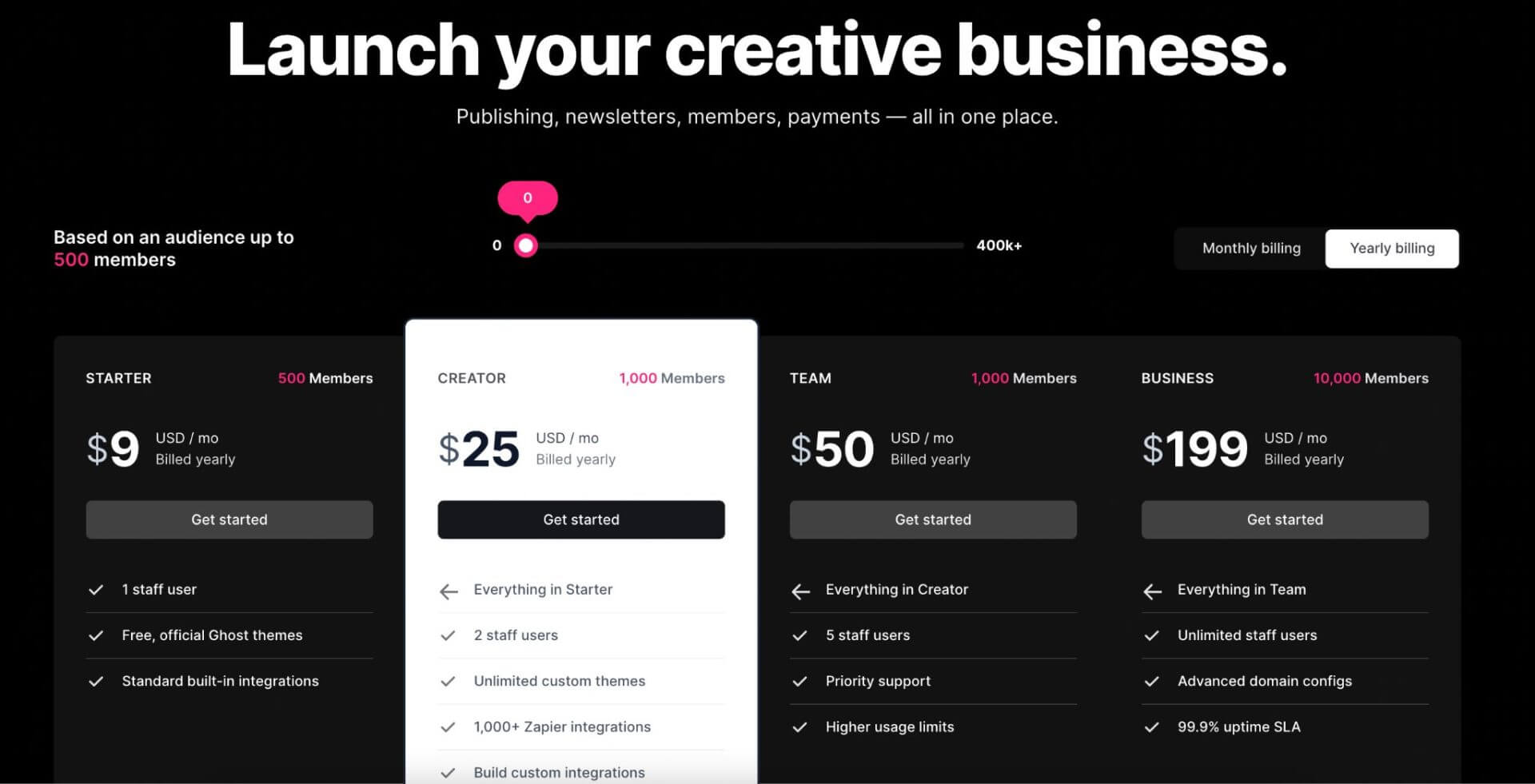 Pricing for Ghost's website builder depends on how big your audience is. Its beginner plan, designed for 500 audience members, is billed at $9 per month. This includes access to free Ghost themes and built-in integrations.
Its Creator plan, built for bloggers with 1,000 members, gives you unlimited custom themes and 1,000+ Zapier integrations. This costs $25 per month.
If you hire people to help with your website, the Team plan—which allows you to have up to 1,000 members—gives five staff accounts for $50 per month. You'll also get priority support and higher usage limits.
Finally, for high-growth creator businesses that have 10,000+ members, pricing starts at $199 per month. You'll get unlimited staff accounts and 99.9% uptime SLA.
"There is a free version but you would have to have the knowledge for self-hosting, which I do not have. I chose the starter subscription level for my needs which costs $108/year." —Cathy Diaz, blogger at Why We Journal
Find the right website builder for your blog
There's a lot that goes into finding a website builder when creating a new site.
From ecommerce functionality to SEO features, evaluate the most important features you need from a website builder and work through this shortlist to find the right one for you.
We've covered a lot in this article, so to summarize:
For an easy website builder that gets you up and running quickly, check out Wix.
If you are looking for website templates, I recommend you get started with Squarespace.
If you need ultimate creative control over your website, choose WordPress.org.
For a drag-and-drop ecommerce website builder, look into Weebly.
If you need an ecommerce website builder to start selling products online, check out Shopify.
For hosting, domains, and website builders all in one dashboard, start with GoDaddy.
To design your own website from scratch, choose Webflow.
If you want to monetize your content and publish content on your site, go with Ghost.
Best website builder FAQs
Which is best: WordPress or Wix?
Wix is a good website builder for beginners who don't have much design experience. WordPress, however, offers greater customization features for those who want more control over their website.
What is the best website to build your website?
Wix
WordPress
Squarespace
Ghost
Shopify
Webflow
Weebly
GoDaddy
What website builder do most bloggers use?
WordPress is the most popular website builder, but bloggers often use Ghost, Webflow, Squarespace, Wix, or Weebly to build their blogs.
Editorial Process:
Our reviews are made by a team of experts before being written and come from real-world experience. Read our editorial process here.
Some of the links in this article may be affiliate links, which can provide compensation to us at no cost to you if you decide to purchase a paid plan. These are products we've personally used and stand behind. This site is not intended to provide financial advice. You can read our affiliate disclosure in our privacy policy.
---
Last Updated on October 30, 2023 by Elise Dopson