Website builders are a perfect solution for upcoming bloggers and small businesses to build an attractive website without breaking their bank. And the decision may come down two of the most popular platforms: Wix vs Squarespace
The internet is flooded with countless of website builders, which is why it can be a bit tricky to select the right option.
To narrow it down, Wix and Squarespace are touted to be the top contenders in this race. But again, which one is the right platform for you?
In this article, I will help you choose the best website builder by going over parameters like ease of use, SEO, design flexibility, customer service, pricing, and more.
Let's get started.
Wix vs Squarespace Breakdown
1. Ease of Use: Which Is Better for Beginners?
2. Design Flexibility
3. Features and Tools
4. SEO: Which Will Rank Higher in Search Engines
5. Help and Support
6. Pricing and Packages
Wix vs Squarespace: Ease of Use
Before looking at other parameters, most of the beginners or even experts for that matter, look out for ease of use.
What use would amazing features be if you can't even use them to their potential best? That's why there's no point in opting for a website builder if you are completely out of your element while using it.
Both Wix and Squarespace share a lot of unifying features. For instance, both have drag-and-drop website building features, which is why they are pretty easy to use. You simply select the element you want to add to your website and drag it in order to position it wherever you want. It can be anything you want, be it text boxes, images, social sharing widgets, and more.
Wix is the best option if you are looking for a pure drag-and-drop website builder. With Wix, you literally can drag and drop the elements as per your own preference — it is that simple.

On the other hand, Squarespace is only semi drag-and-drop website builder. This means that you can't exactly drag and drop elements as you like and it takes some time getting used to navigating through the website builder.
Wix Ease of Use
Creating your website with Wix is extremely easy, but it is not boring — far from boring, actually. The way all the elements move around is fun, creative, and full of agility. The best part is that Wix does all this without dumbing down its functioning and caters to both beginners as well as the tech experts.
And it is not compulsory to use drag-and-drop functioning. If you are uncomfortable with this approach, then Wix offers a unique option called Artificial Design Intelligence (Wix ADI).
You just need to enter some details regarding your website, including name, the purpose of your website, elements that you would like to include in your website, the type of themes you like the best, and more.
Once you enter all the required details, Wix ADI will automatically create a website that aligns best with your preference.
Squarespace Ease of Use
While Squarespace is also a great option for beginners, it is somewhat more technical than Wix. You can't simply start right away without any technical know-how of the website development. However, once you get used to the layout and its user interface, things get a lot of easier, and everything begins to fall in place.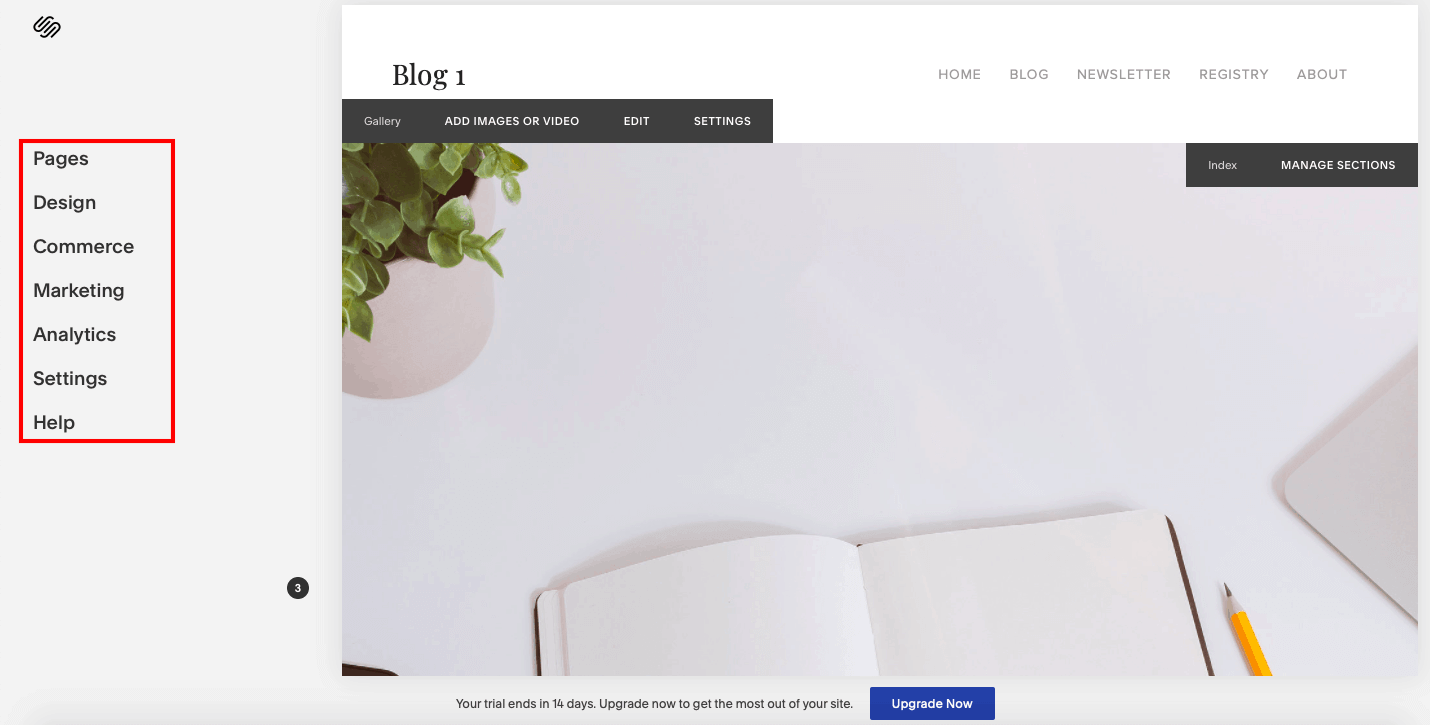 One great thing about Squarespace is that it lets you use multiple templates at once for a single website. Adding content on your website is also very easy. Just click anywhere on your website and start typing.
WINNER: Wix
Wix wins this round fair and square. While both the website builders are user-friendly and easy to work around, Wix had an edge in terms of being more beginner friendly.
Wix vs Squarespace: Design Flexibility
Everyone wants to build a super snazzy website to attract their target audience. And building a creative website is a lot easier with more design flexibility and a variety of template options. There are other factors also that you need to take into account, including how easily can you switch from one theme to the other, are the designs pleasing to the eyes, and so forth.
Let's see which website builder wins in terms of design flexibility and creative control.
Wix Templates
If you skim down the long list Wix templates, you will see a great range and quality of designs. You are not confined to a few templates in some special domains. Instead, you have an option to choose from over 500 attractive templates listed in different industries, including blog, photographers, Video, and more.
Here are some more facts to consider:
Templates are professional looking and offer lots of whitespaces
Templates are not fully responsive. This means that to make them mobile-friendly, you have to perform some minor tweaks on your own.
You can't make major changes to your existing template without completely revamping your website's content. You can still edit minor things like color, fonts, etc, but otherwise, you would have to rebuild the website all over again.
Squarespace Templates
With Squarespace, you don't have as many template options as you have with Wix and even the elements are not as easy to move around.
However, Squarespace is more flexible when it comes to switching your website template.
Here are some more facts to consider:
Over 60 professional and beautifully designed templates to choose from
Templates are fully responsive and are good for mobiles and tablets since the beginning
Switch templates for your website any time you want without worrying over the content loss.
Template Designs
When it comes to a wide range of templates, Wix will come out as an unmatchable winner. In addition to the variety, Wix also has attractive looking templates with responsive designs.
However, when it comes to the designing part of the templates, Squarespace wins without any doubt. It has stunning templates with minimal colors and modern design that exude sophistication. It is easy to discern that each and every template is crafted with care by top-notch graphic designers. And the best part is that all of them are mobile responsive right off the bat.
In a classic case of quality over quantity, Squarespace is the unmistakable winner when it comes to template designs.
Template/Theme Customization
It's settled that both Wix and Squarespace have amazing looking templates. But no matter how beautiful the templates are, you still need to make changes as per your own preference.
With Wix, customizing a template is extremely easy, designed especially for beginners. Just a few clicks and you can replace just about everything, including images, text, logo, etc. However, choose your template carefully because Wix makes it impossible for you to switch to a different template further down the line. You would have to rebuild your website altogether.
While Squarespace has limited drag-and-drop options, it is still a great option as it allows you to switch to a different templated down the line without any hassle. You can also make other important changes like fonts, background, color, and more.
WINNER: Squarespace.
When it comes to design flexibility, Squarespace is the ultimate winner. It has everything one requires in a website builder; professional and beautiful looking templates, ability to switch to a different template midway, and mobile responsiveness.
Wix vs Squarespace: Features and Tools
You have created a spellbinding layout for your website and are now ready to welcome your visitors…but hold on a minute. While creating a beautiful looking website is important to attract more visitors, but in order to make them stay and further explore your website, you would need to provide attractive features and options.
That's why it's important to go for the website builder with better features and tools.
If you aim to build a website without writing even a single line of code, then Wix is a great option for you. It offers varied tools to build websites for different industries: e-commerce, corporate websites, and more.
You don't even need to incorporate any additional tools and features. Most of the tools offered are native and can be accessed right away from the control panel. However, if you want more options, you can install third-party tools through the Wix App Market.
The only possible downside is that most of these apps come with limited features in their freemium package. To get a complete experience, you would have to shell out extra bucks. However, you can still use basic functions for free.
Squarespace, on the other hand, doesn't have any additional app market like Wix. That is why it is powered with a variety of tools and features within the control panel itself.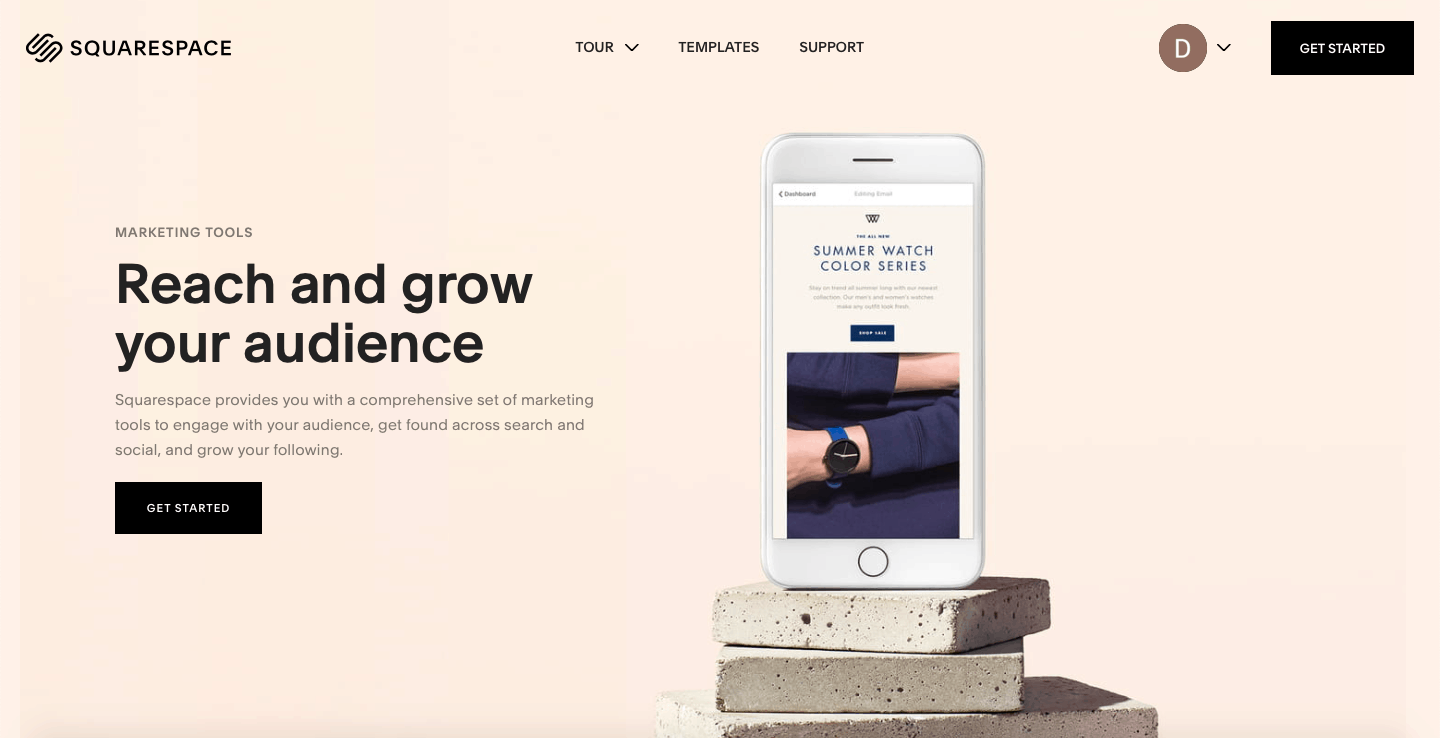 Both Squarespace and Wix have exceptional tools and features for three different functions:
Ecommerce Tools
Blogging Tools
Marketing Tools
If you are building out an ecommerce website, then you definitely need some amazing ecommerce tools to add an extra oomph to your website.
When it comes to ecommerce tools, both Wix and Squarespace share most of the features.
Wix Ecommerce
Wix offers a variety of ecommerce template options and all the options come with amazing built-in tools. Some key features include no commission fee, Google Analytics to track performance, no adverts, unlimited bandwidth, up to 50GB storage, and more.
Squarespace Ecommerce
Squarespace also offers attractive ecommerce options. The initial option is primarily designed for product merchandising and selling a few products, while the other themes are used for rich ecommerce experiences.
Again, like Wix, Squarespace also offers amazing ecommerce features like Google analytics, unlimited bandwidth, card recovery, email marketing, and more.
Blogging Tools
Building your own blog is much more than just publishing blobs of text. That's why additional blogging tools and features are exceedingly important to scale up your blog.
Wix allows you to choose a beautiful layout and create a blog right away. It has amazing features like feeds, galleries, email campaigns, built-in templates to help you grow your blog and elevate it to greater heights. For a better experience, you can also add the Wix Blog app to your site.
Squarespace also comes with amazing blogging tools, all built into the editor itself. Owing to its visually appealing blog templates, Squarespace is especially useful for photography and graphic-related blogs. It also offers other useful features such as multiple author contribution, social sharing, category support, and more.
Marketing Tools
Your website is not going to promote itself on its own. To make it grow more and increase outreach, you need some effective marketing tools. And both Wix and Squarespace don't cut any corners when it comes to their marketing tools.
Wix's suite of marketing tools allows you to kickstart your email marketing campaign by sending out attractive newsletters. It also helps you track your success rate, assist you with social media marketing, and more.
Squarespace also helps you run amazing email campaigns and send out customizable and stunning email newsletters. Other features include integration with social media platforms, built-in analytics, and more.
WINNER: IT'S A DRAW
Both the website-building giants offer a suite of amazing tools and features to help you build your website. While Wix has an added advantage of its App Store, Squarespace makes up for it by offering equally amazing tools built into the control panel itself.
Wix vs Squarespace: SEO
The more traffic your website receives, the more successful you will be. And getting high traffic gets decidedly easier with a winning Search Engine Optimization (SEO) strategy as it helps you rank higher in the search engines' result pages.
Both Wix and Squarespace are the right option in this regard. From optimizing your website to make it mobile-friendly to including metadata and high-ranking keywords, these website builders cover just about every aspect of SEO.
Other unifying SEO features include adding alt-text for images, optimization for headings, free SSL certificate, and more.
Wix SEO
Wix also offers an extended SEO guide to help you set up an SEO technique for your website the right way. As is expected from Wix, the SEO guide is specially designed for beginners who are new to this world of SEO.
And this is not it! Wix also offers Wix SEO Wiz, a personalized SEO setup plan to help out novice bloggers. You just need to enter your details and other information such as the purpose of your website, enter some keywords that are relevant to your industry and then sit back, Wix will do everything else for you.
Wix also offers other amazing built-in SEO features, such as:
Rapid page load time
Automated mobile optimization
Instant Google Indexing
XML sitemap
Default meta tags
Squarespace SEO
Meanwhile, Squarespace also makes sure to build most some of the most prominent SEO techniques into every Squarespace website.
They implement various SEO strategies to help your site appear higher in search engine results, such as:
Automatically generates a proper sitemap
Offers free SSL certificates
Cleans HTML markup
Automatic image tagging
Clean up URLs to make them index easily
Creates a lightweight version of webpages to ensure faster load speed on mobile devices
Google search keywords analytics
Just like Wix, Squarespace also provides a thorough SEO guide to assist beginners with their SEO strategy. However, it doesn't offer the same personalized step-by-step SEO set-up process as Wix. I also had some problems with the Squarespace sitemap, as it was pulling both the trailing slash "/" and non-trailing slash at the end of my URLs, which could impact SEO because of duplicate content.
WINNER: Wix
To begin with, both the website-builders come with amazing SEO features. However, thanks to its personalized SEO guide, Wix wins this round in the end. For beginners, Wix is the ultimate choice for SEO.
Wix vs Squarespace: Help and Customer Support
It is absolutely important to peruse which website builder provides better customer support and how quickly.
Imagine you get stuck with something on your website. You have tried just about everything, but there seems to be no way out.
What will you do next?
Of course, your next resort would be to call or use any other means to get in touch with customer service.
That's the reason why customer support is an important measure to look out for before using a brand.
Both Wix and Squarespace offer great customer support with a variety of ways to solve your problems. From customer support forums to informative articles and step-by-step video guides.
Wix Customer Support
When it comes to lending a helping hand, Wix provides diversified channels for customer support.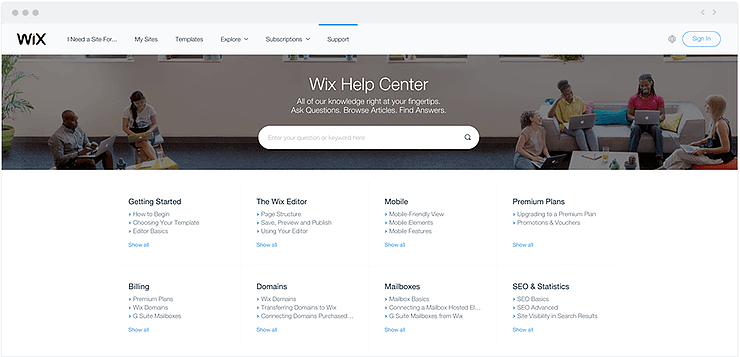 Wix offers help and support via platforms, such as:
Email
Social media channels
A dedicated support center
Over the phone
Step-by-step guides
Forums
Informative blogs and articles
Squarespace Customer Support
Like Wix, Squarespace also offers various means of help to its customers. Apart from how-to guides and other common functions, Squarespace also offers Live chat support. On top of that, Squarespace has a customer support policy of replying back to every email within an hour.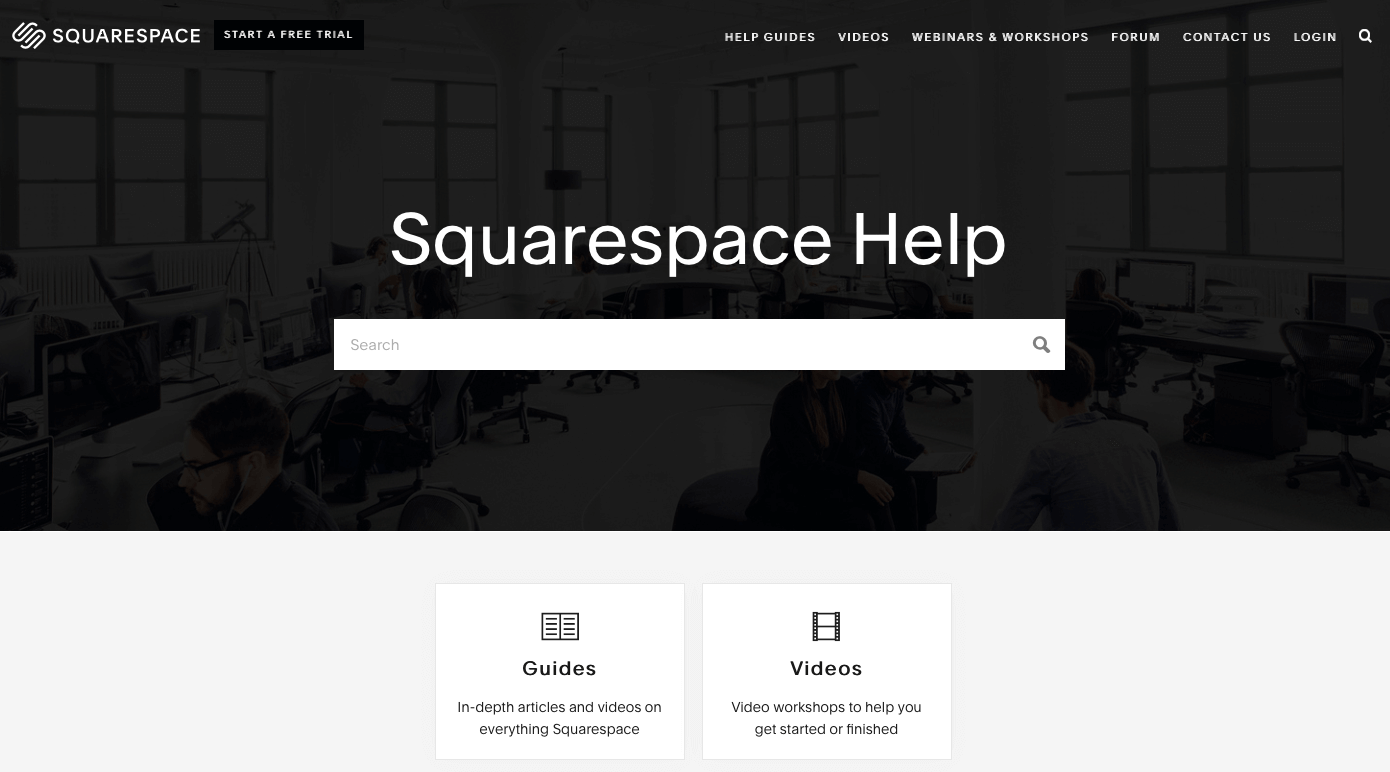 Squarespace supports its customer via platforms, such as:
Step-by-step guides
24/7 email response team
Video workshops
Community forums
Webinars
Live Chat
Informative blogs and articles
Up until this point, both Wix and Squarespace have almost similar customer support features.
However, when it comes to on-page help, Wix is much better.
With Wix, you have access to help built into your website editing page. So whenever you get stuck with something, you don't have to exit the page. Just click on the 'help' option and you will have access to answers to all the questions you might need help with.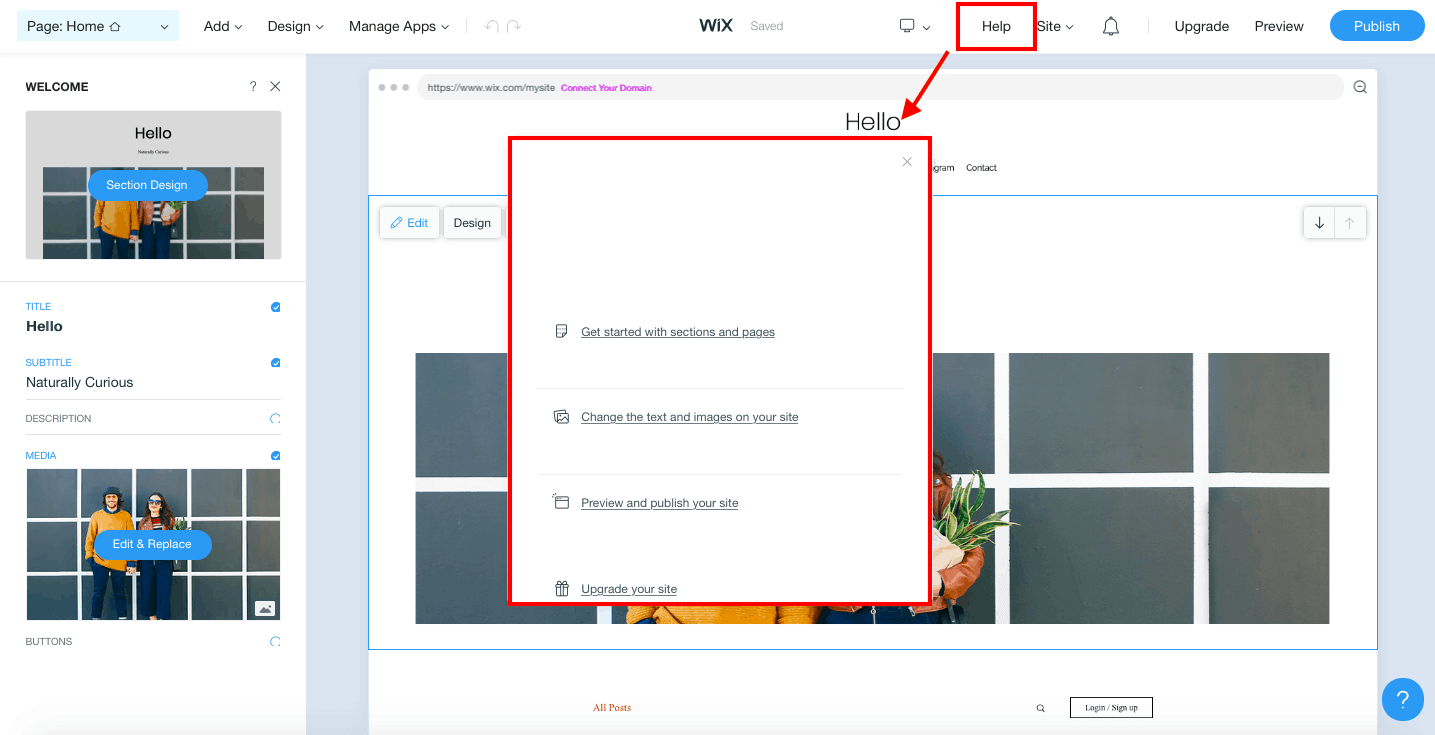 Squarespace, on the other hand, does not offer any on-page support. But it still has an edge over Wix in terms of its impressive Live Chat option.
WINNER: Wix
It's pretty difficult to declare one final winner when it comes to help and support. Both Squarespace and Wix have their specialties. For instance, Squarespace has a built-in Live Chat feature for better customer support. Wix, on the other hand, offers phone call support. However, it's Wix's unique on-page support that helps it win this round.
Wix vs Squarespace: Pricing and Packages
Both Wix and Squarespace are exceedingly popular for their amazing plans and pricing packages.
Their packages are designed keeping the different target audience in mind, be it solopreneurs, small to mid-sized organizations or large organizations with a website of over 30 webpages.
Let's see what are the plans that they offer in terms of their packages.
Squarespace Pricing
Squarespace has 4 premium pricing plans.
The first two plans are most suited for basic websites. The latter of the two packages are designed for ecommerce websites.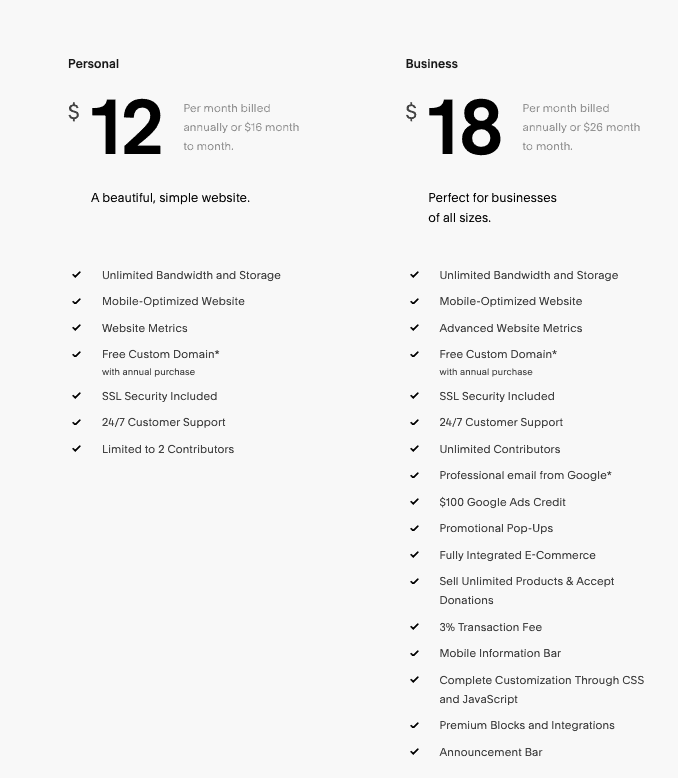 The Personal plan, priced at $12 per month (billed annually), is perfect for a basic, yet beautiful looking website. If you opt for the monthly plan, the plan will cost you $16 per month. It offers amazing features for a starter website, including unlimited bandwidth and storage, mobile-optimization, website metrics, free domain, free SSL certificate, and more.
The Business plan, priced at $18 per month (billed annually), is the right fit for businesses of all sizes. If billed monthly, then it would cost you $26 per month. For one, it offers everything available on the Personal plan, but with more features of its own. Additional features include promotional pop-ups, $100 Google Ads credit, professional email from Google, and more.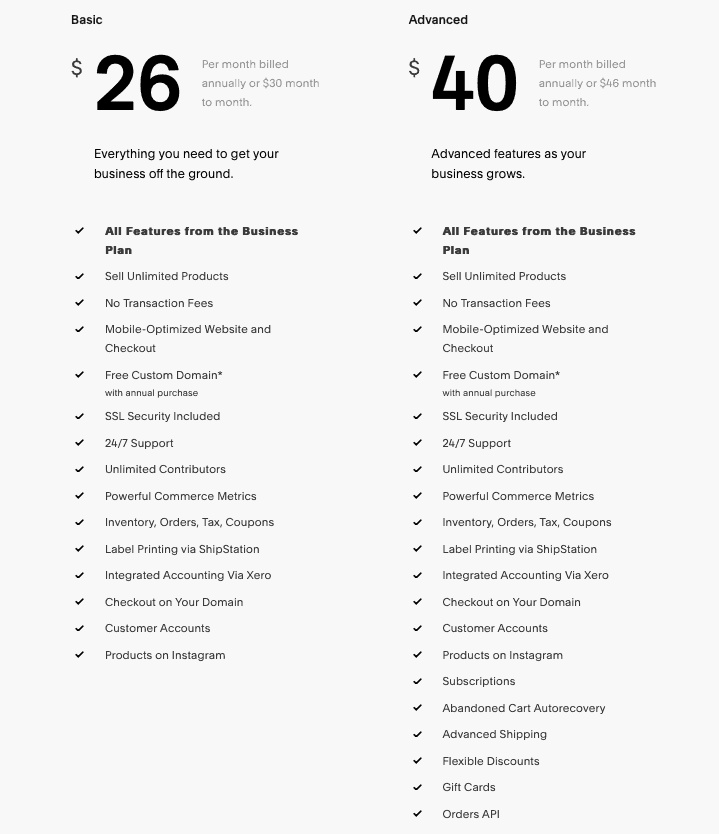 The Basic plan for your online store, which is priced at $26 per month when billed annually, is perfect to get your business off the ground. When billed monthly, it is priced at $30 per month. If you are building your new ecommerce store, then this is the right plan for you. Key features include powerful commerce metrics, integrated accounting via Xero, checkout on your domain, Label printing via ShipStation, and more. On top of that, it also offers every feature included in the Business Plan.
The Advanced plan, priced at $40 per month (billed annually), is best suited for your growing ecommerce business. It will cost you $46 when paid month to month. It provides some powerful features such as abandoned cart auto-recovery, incorporates gift cards with your marketing campaigns, flexible discounts, and so forth.
Wix Pricing
Wix offers more diversified options in terms of packages and pricing.
It has a wide range of 7 Premium plans in total. These plans are further divided into Website Plans and Business and Ecommerce Plans.
Website Plans offers all the important features required to run your website and scale it to get more outreach. Meanwhile, Business and Ecommerce Plans are more suited to run your online store and allow you to accept payments through your site only.
Wix Plans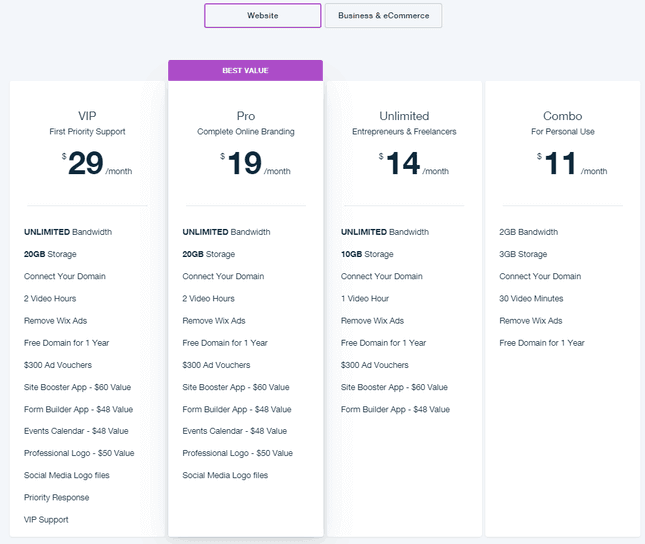 The Combo Plan, priced at $11 per month, is the cheapest plan offered by Wix. While it is a great plan if you are just learning the ropes of your website, but it is not ideal for a long-term plan. The Combo Plan offers minimal basic features like 3 GB of storage and 2 GB of bandwidth, domain connectivity, removal of Wix Adverts, and 1-year free domain voucher (yearly plans only).
The Unlimited Plan, priced at only $14 per month, is perfect for freelancers and bloggers. It has all the regular features that one may require to kickstart their freelancing business or blog. Features include domain connectivity, removal of Wix Adverts, 10 GB of storage and unlimited bandwidth, and Wix vouchers and Premium Apps. It also allows you to upload up to 1 hour of video.
Now, for $19 per month, you can avail Wix's Pro plan, one of the most popular websites plans available. It comes with amazing features such as increased storage (of up to 20 GB), ability to upload up to 2 hours of video with Wix Video, custom domain, professional logo, unlimited bandwidth, and much more.
Next, you have the VIP plan, which shares most of the features with the Pro plan, except for some additional features like priority support. This means that you will get a priority-based customer support service, without waiting for a longer period of time. It is priced at $29 per month.
Wix Ecommerce Plans and Pricing
Business & Ecommerce Plans by Wix are perfect to scale up your online store.
The three plans are as follows:
The Business Basic Plan is priced at $20 per month and is perfect for a new ecommerce store. With this plan, you can accept online payments within your website only and also avail more features like a free domain for 1-year, site booster app, Google Analytics, and so forth.
Next, Wix offers Business Unlimited Plan, priced at $25 per month, for additional features like a professional logo, social media logo files, permission to upload up to 10 hours long videos, and much more.
Lastly, Wix offers the Business VIP plan for $35 per month. With this plan, you get the full suite of impressive features like priority response, VIP support, and all the features available in the Business Unlimited Plan.
NOTE: All the Premium Plans offered by Wix differ from one country to the other. You can find all the details here.
WINNER: Wix
Thanks to its free plan and more diversified, cost-effective offers, Wix comes out to be the ultimate winner. As compared to Wix, Squarespace's website plans are more costly but you get more features for the extra money that you pay. It also offers a 14-day free trial. But in the end, the ultimate winner is Wix.
Wix vs Squarespace: Summary and Final Verdict
After carefully evaluating all the features, it is safe to say that Wix is the winner, albeit by a small margin. Both the website builders share a lot of common features but only a couple of additional elements are enough to make a difference.
In the end, it depends on your preferences and requirements. If you want the most value for your money, then Wix should be the right option for you. However, if you like classic, minimal template designs, then Squarespace if the perfect choice.
Get started with Wix today.
To help you solidify your decision, here is a perfect FAQ based on some important queries regarding Wix and Squarespace.
Wix vs Squarespace FAQs
1. Who Should Use Wix?
If you are completely new to website development, then Wix is the perfect option for you. With on-site editing help and easy drag-and-drop features, one doesn't need to have any prior knowledge about website development. Wix is also perfect for solopreneurs, small to mid-sized businesses, and personal websites.
2. Who Should Use Squarespace?
Squarespace is perfect for creative industries. Their templates exude class and sophistication in abundance. Although it is also perfect for beginners, you still need to have a slight knowledge of technical aspects. Squarespace is perfect for photographers, graphic designers, and artists who are looking to build their portfolio sites.
3. Which website builder is easier to use: Wix vs Squarespace?
As mentioned above, Wix is, without any doubt, one of the easiest and most beginner-friendly website builders on the internet. You can literally just pick an element and drop it wherever you want in the website. Squarespace is also pretty easy to use, but Wix is just something else altogether in terms of ease of use.
4. Which website builder is better in terms of template designs: Wix vs Squarespace?
Squarespace wins here, hands down. Although Wix offers more templates, when it comes to visual appeal, Squarespace is in a league of its own. This is not to say that Wix does not offer beautiful-looking templates, but the templates offered by Squarespace are carefully designed by professionals to provide the best visual aesthetics to your website.
5. Which website builder offers better value for money: Wix vs Squarespace?
After breaking down the website plans for both the website builders, it would be safe to say that Wix offers better value for money. It not only offers more varied plans but also offers cheaper options for people who are unwilling to spend more in the beginning. On top of that, Wix also has a free package.
6. Which website builder has better customer support: Wix vs Squarespace?
Both Wix and Squarespace are great at customer service, but Wix has a slight upper hand due to its in-built support. Wix is also very comprehensive and also offers step-by-step guides to assist you in setting up your website. Squarespace is not far behind, with its amazing customer service including a readily available Live Chat option.
In the end, it's a close call, but I recommend Wix.
You can get started with Wix and try them for free today.
I hope this comprehensive Wix vs Squarespace guide helped you decide how to get started when building your new website. You can read more reviews of my top website builders, web hosting services, and ecommerce platforms to help you decide on the best platform that is right for your business.