How to Make a Website in 9 Easy Steps: Ultimate Guide
There's no way around it: any modern business needs an online presence. If you landed on this article hoping to know how to make a website, you're already one step closer to making money online.
A website is a place to tell people about your business, products, and services. It's also a superb platform to educate people on the problems your products solve.
But to see success when making a website from scratch, your site needs to have an incredible user experience, sound technical structure, and engaging content.
Confused? Don't panic. This article shares a nine-step guide to create your own website—regardless of whether you're making an ecommerce website, online portfolio, or personal blog.
How to make a website in 9 easy steps
1. Create a swipe file of website inspiration
Unless you already know exactly what you want your site to look like, a proper plan can help you design the essential elements of your website that you can't afford to forget.
Start to brainstorm things like:
The pages and sections of your website that are essential (your sitemap)
The design of your header
The main focus area of the website
The topics you want to cover
Your design and color considerations
Your home page images and messaging
One great way to approach this planning is to create a swipe file—a collection of websites you can use as inspiration for your own website design.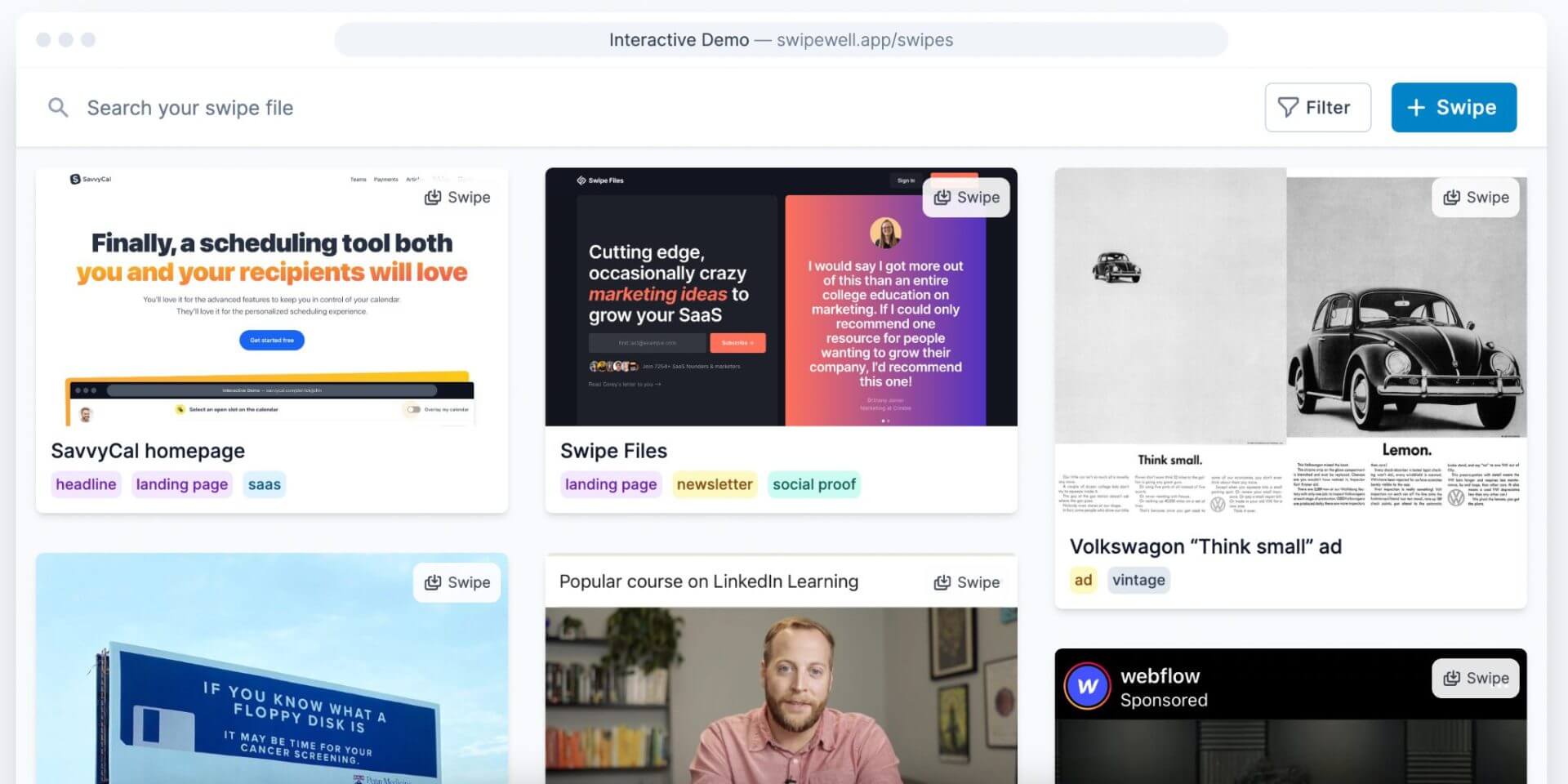 Google sites in your niche, or ask your target/existing customers to share the sites they visit.
While you're browsing the competition, think to yourself:
What do I love about this website?
What do I hate about it?
What about the design keeps me engaged?
How can I replicate this on my own website?
Choose a tool like SwipeWell to capture these websites and your thoughts. It can come in handy when you're building your website. You'll have a list of best practices from first-hand experience as a visitor—all of which are specific to your industry.
Having a list of ideas you can use to improve your website is invaluable.
2. Choose a domain name and logo
According to a Nielsen study, there are more than 500,000 brands worldwide in over 2,000 product categories. It's challenging to stand out among the competition.
A unique domain name and logo can help immensely.
Domain name: A personalized domain name generates trust and confidence in your customers. It also helps you establish the authenticity of your brand. If you don't already have one, choose a free domain name that is short, simple, and easy to remember.
Business logo: With a strong logo and website color scheme, people will be able to familiarize themselves each time they land on your business website. Make your logo relevant, memorable, and versatile—it should be easy to see on all devices.
If you need help making a logo, website builders like Wix offer business logo design services.
Answer questions about your needs and wants, business focus, and personal style. Each question is based on your intended target consumers, your industry, and the media you will use to highlight them.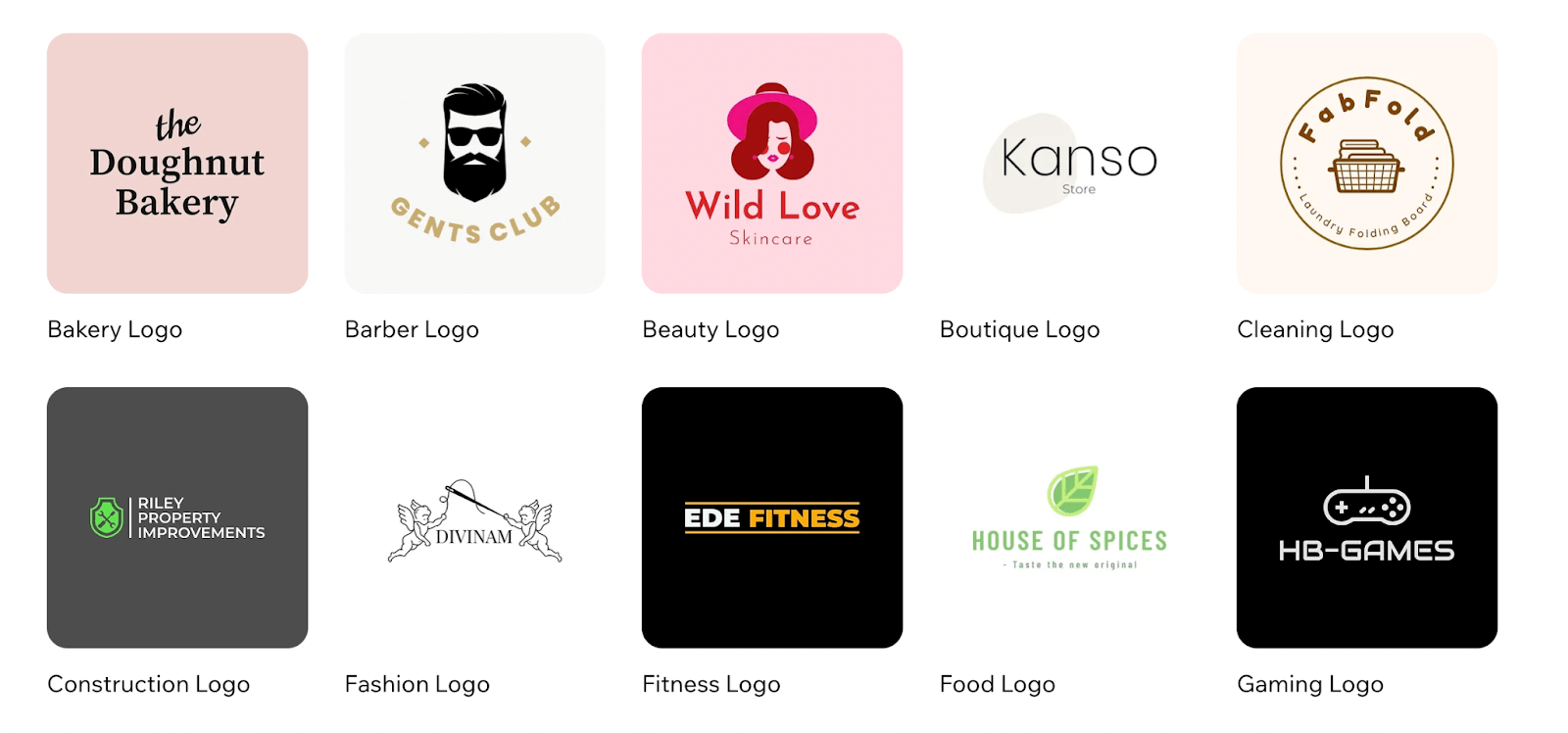 3. Choose a website builder
Website builders help you turn your ideas into a fully functioning website. Some of the best ones are Wix, Squarespace, Zyro, Weebly, and WordPress—many of which offer website hosting plans as part of their software.
Wix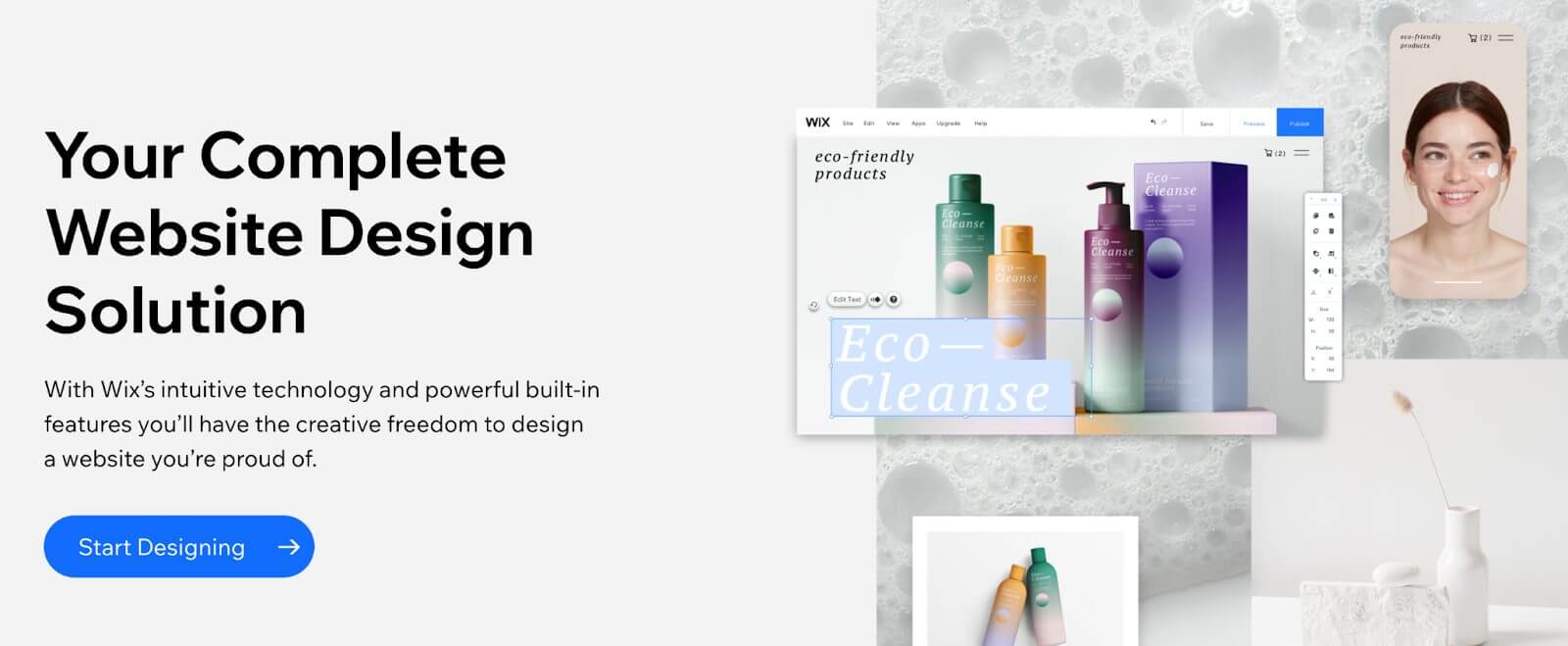 Drag-and-drop editors are helpful when you design and customize your website to align with your business.
These editors negate the need for professional website designers, web developers, or technical knowledge. They benefit novices with no technical expertise and let them build some of the most beautiful websites.
Wix provides a highly intuitive drag-and-drop editor to help you customize the website design. With a low learning curve, you can tinker with numerous attributes available, get practical experience, and try out various website designs before selecting one.
Other advantages of Wix include:
The editor allows you to build your website manually without any technical knowledge or experience.
Wix optimizes the screen display for devices like mobiles, PCs, laptops, and tablets, making it compatible across multiple platforms.
Wix ADI creates stunning websites based on Artificial Intelligence. It's a quicker and more intelligent version of the Editor that creates a website based on your prompts.
Zyro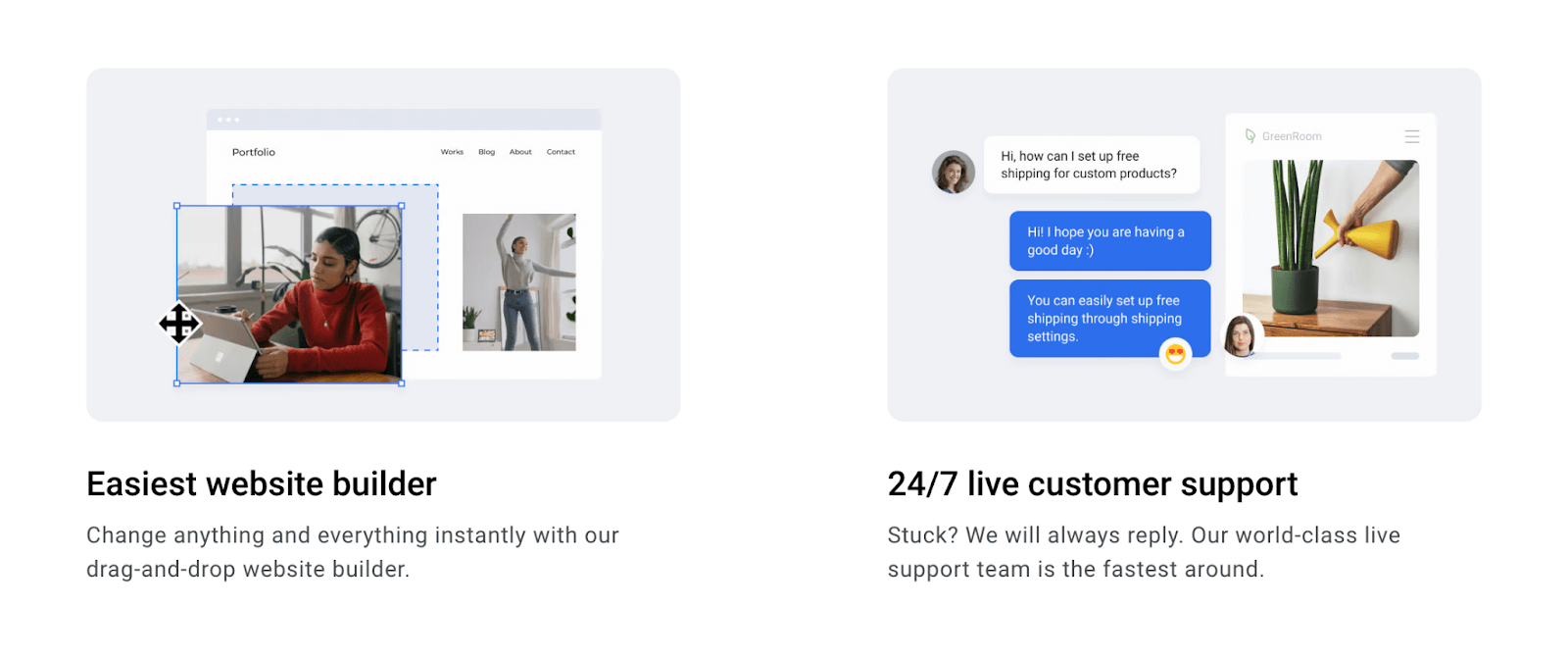 Being able to build a website fast and start growing it is key in today's digital world. But having a professional setup also doesn't mean spending a fortune.
Zyro is a website builder made to help entrepreneurs and business owners create a professional website in no time so they can focus on growing their businesses.
With Zyro, you can customize your webpage with just a few clicks, adding images, text blocks, or customizing navigation menus to make it look like you want. You don't need any prior coding knowledge.
Other benefits of Zyro's website builder include:
Web design software includes templates that follow the latest trends and best practices.
Free website domain for one year.
Payment processor to accept credit and debit card payments through your ecommerce site.
Squarespace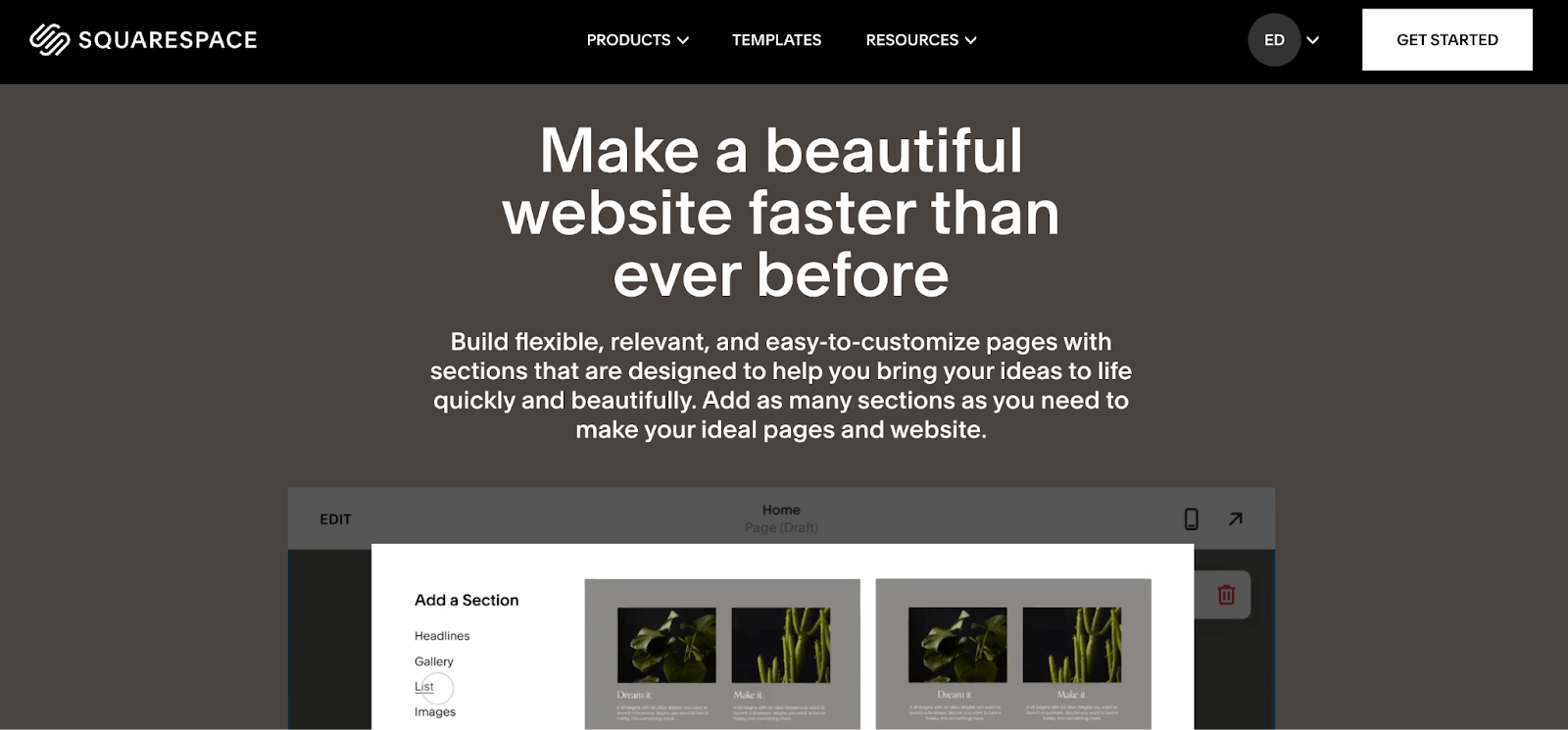 Squarespace is an all-in-one solution for every business to create a beautiful website. You can use it to create professional stores, online websites, and portfolios.
Squarespace offers some incredible features for people learning how to make a website. You'll get customizable templates, image SEO capabilities, gallery blocks and display effects, and free Typekit and Google Fonts access to customize your new website.
Other advantages of using Squarespace to build your website include:
Oer 100 stunning pre-designed website templates.
Extensive support by hosting webinars, forums, blogs, and help guides.
Data analytics tools to analyze your customers' behavior.
Weebly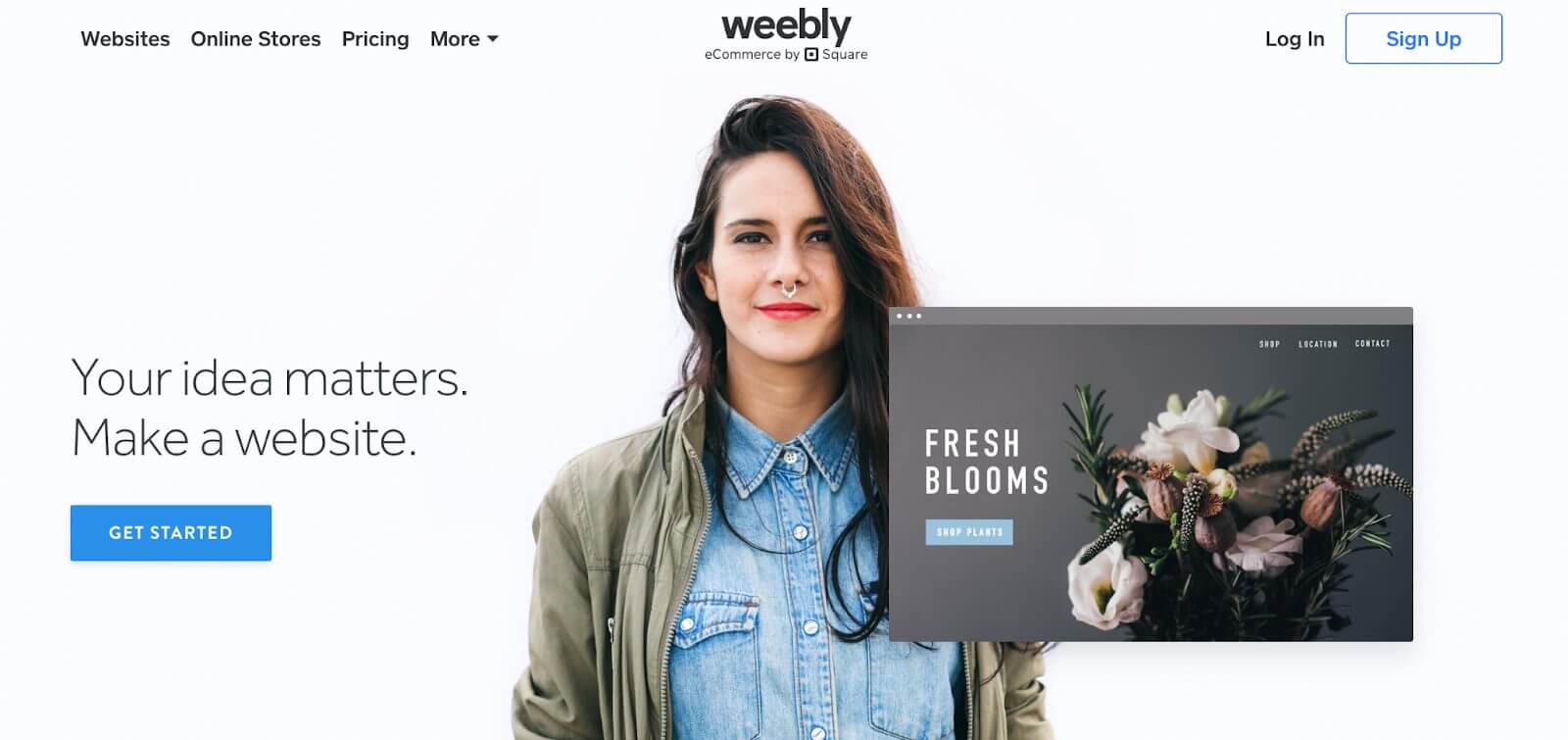 Weebly is another popular website builder with customizable designs and ecommerce tools to help you grow your business.
Essentially a drag-and-drop website builder, it added numerous essential features over the years. All its paid plans provide free custom domain and website hosting for a year, saving you a lot of money.
Weebly is great because it offers:
Integrated ecommerce platform.
Highly responsive professional website themes.
Built-in suite of SEO tools for maximum customer outreach.
Excellent free plan available.
WordPress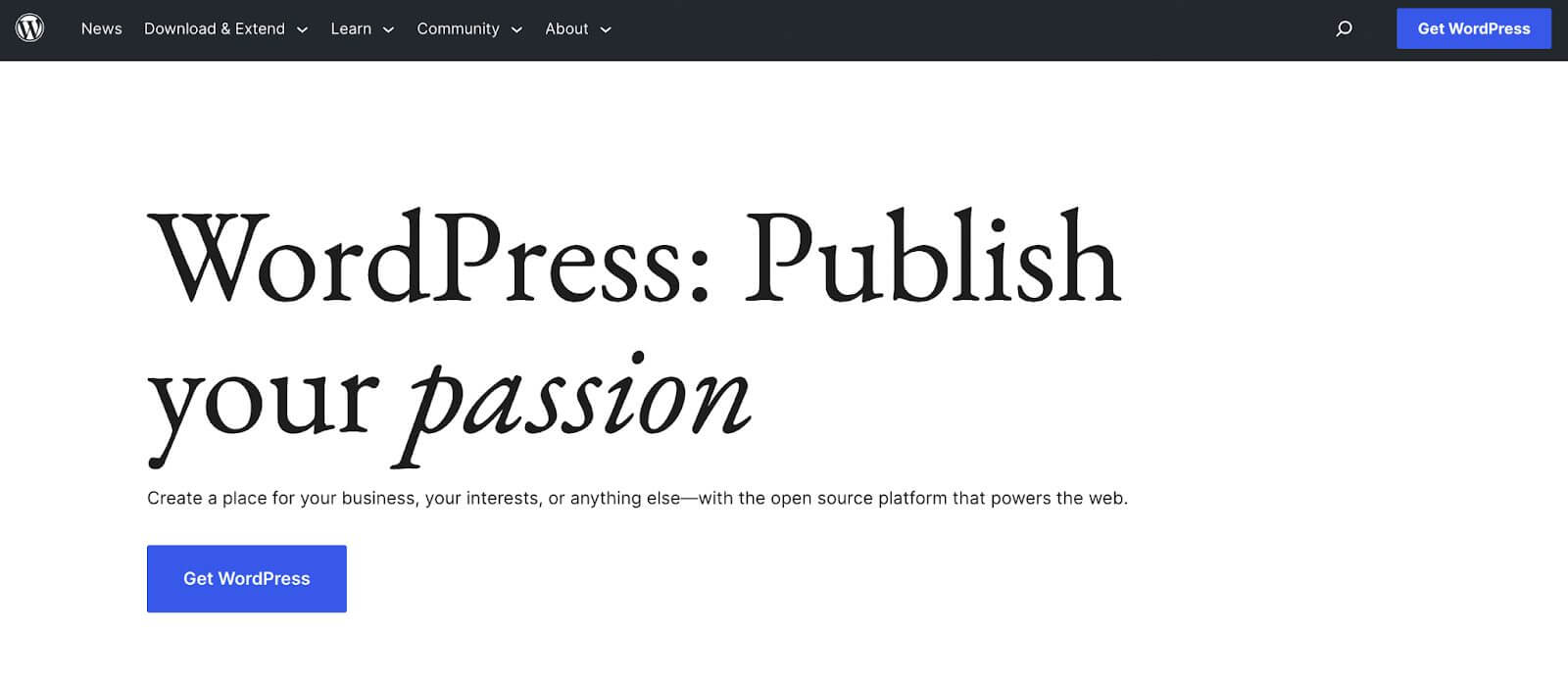 After its release in 2003, WordPress became the world's most popular content management system. It now powers over 810 million websites globally.
There are two ways to create a WordPress site. The first, WordPress.com, has impressive features like built-in Jetpack, SEO tools, website analytics, and social sharing.
There is also WordPress.org, which requires you to get your own web hosting from a web hosting provider like Bluehost or GoDaddy when you start building your website. It's the most customizable option with HTML and CSS coding options.
Amongst the many benefits of starting a WordPress website include:
It's highly flexible and scalable.
It comes with over 50,000 plugin options and thousands of themes.
You can one-click install WordPress from many web hosts.
Choose any web hosting company.
Can sell online with plugins like WooCommerce and BigCommerce for WordPress.
4. Create website pages
Website visitors are impatient and need to understand what your website is all about at a glance. For example, you don't need much information on your home page. A strong headline, sub-headline, and call-to-action should quickly give visitors the necessary information.
The pages your business' website will require may also be different from your competitors. But some website pages are indispensable and more important than others.
Homepage
Your homepage is usually the first thing a user will see on your website. You never get a second chance to make a first impression.
Use your website homepage as an opportunity to greet new visitors and introduce your online business. Mention who you are and what you do, and divert your visitors to the necessary pages using a fluid navigation structure.
Pipedrive, for example, uses its website homepage to describe what its software is. There's also a short description on who the business targets, with a screenshot of the dashboard and call to action button to prompt people into starting a free trial.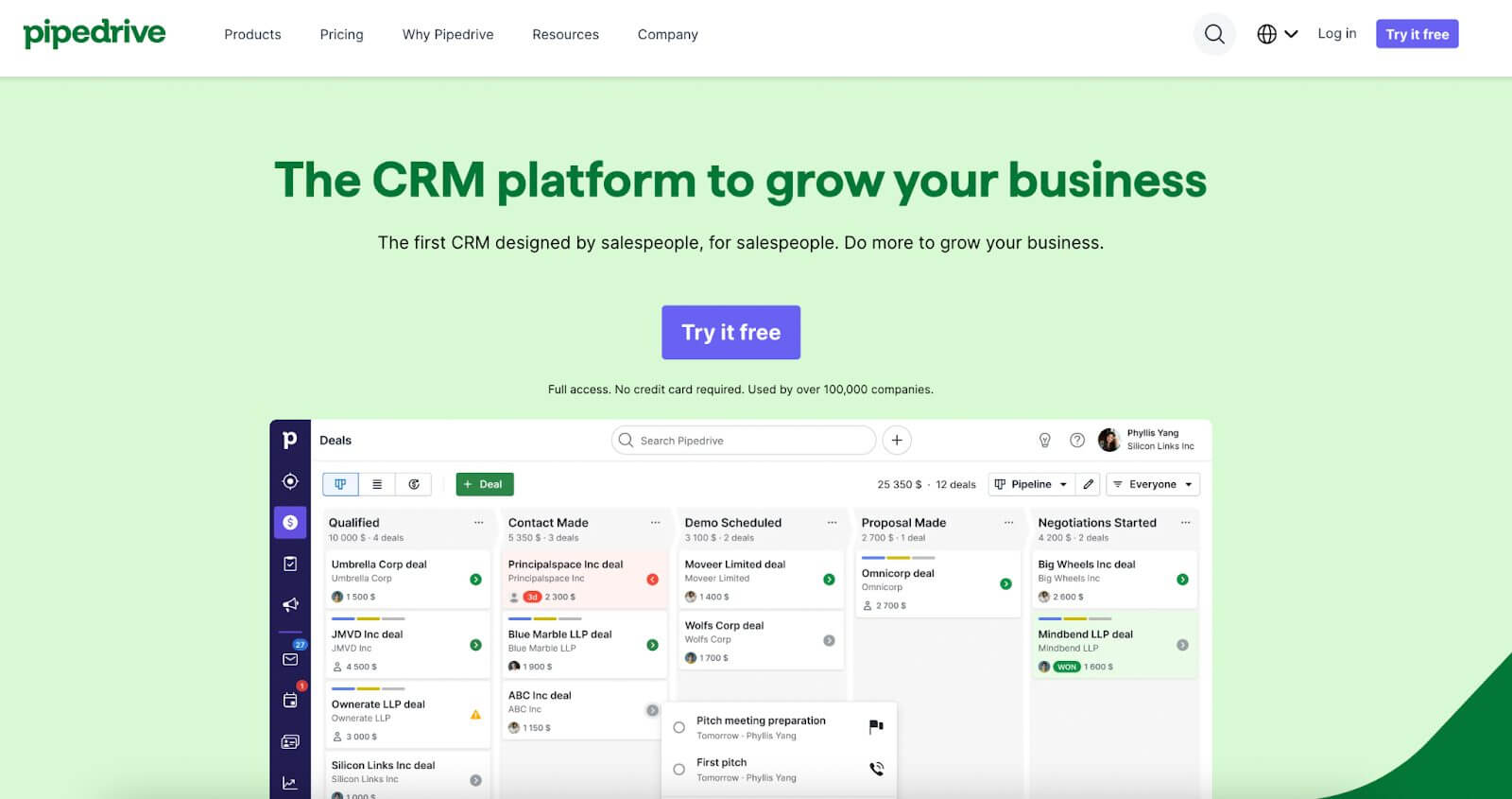 Service or product pages
This type of page on an ecommerce website describes a product or service in greater detail. Also known as landing pages, they're where you offer value and nudge the visitors towards a conversion (such as a sale).
Components of a great service or product page include:
High-quality product imagery
Succinct descriptions of product and service features
Real testimonials from satisfied customers
Your brand promise and what customers can expect from your business
Social sharing buttons
Be vocal about the shipping of your goods, return policies, damaged goods policy, and free services. It might sound counterintuitive to talk about returns on a product page, but 67% of online shoppers seek a business' returns policy before they buy.
"About Us" page
The About Us page is where you talk about yourself. It's also one of the essential pages of your website.
Here, you can highlight things like:
How you started your online business
Your mission and vision
Your core values
The ideals you swear by
The problems you want to solve
Here's a great example from Bulldog Skincare, a brand that uses its About Us page to showcase its unique selling proposition and the background of its company: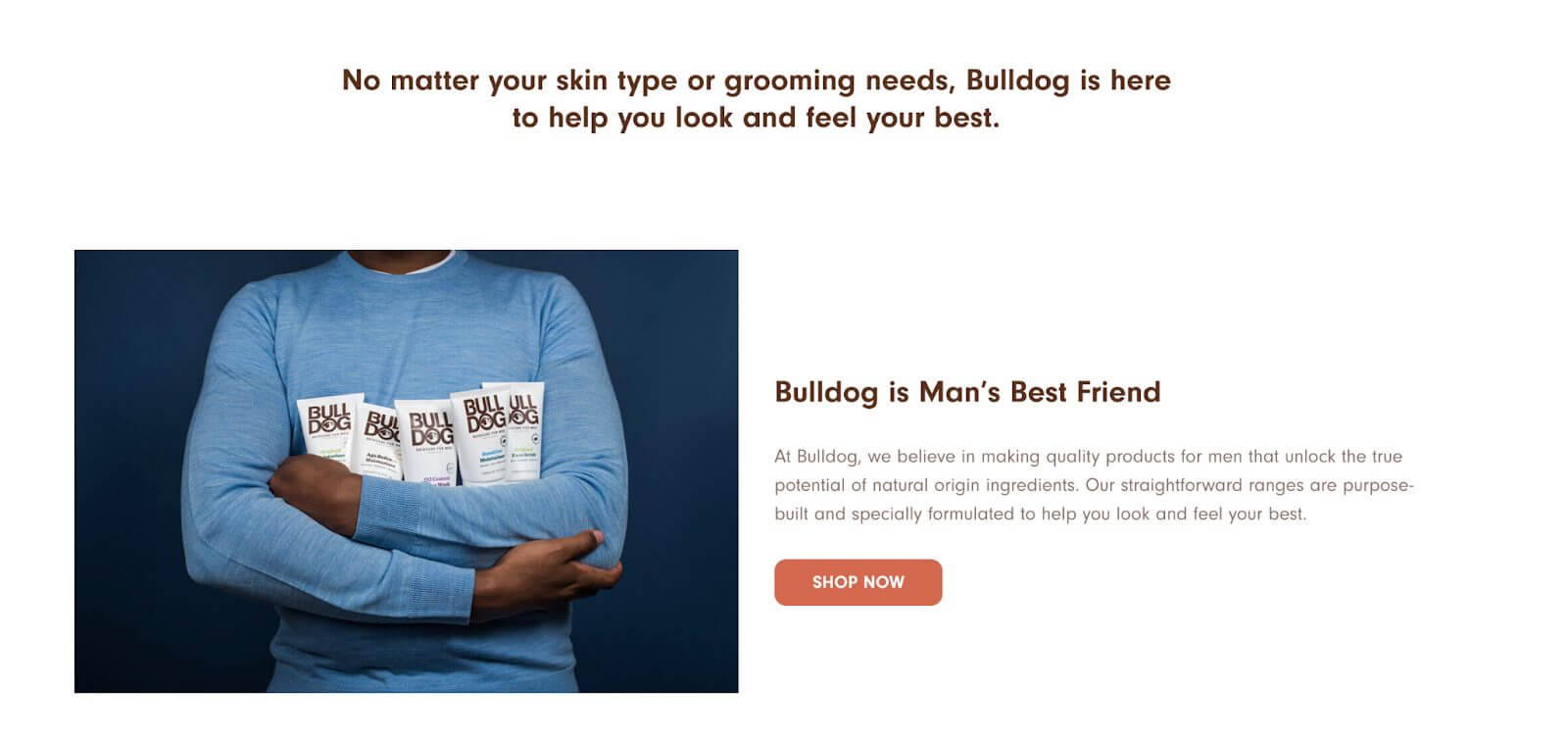 Contact page
Online businesses need to make it easy for potential customers to reach them.
On your new website, create a contact information section that includes things like:
Your phone number
Email address
Postal address
Social media accounts
Customer support opening hours
Live chat features within your contact form will also help you immediately address customer queries, enhancing customer experience. The idea is to make yourself readily available to your customers and solve the problems they need to overcome before purchasing.
5. Design your website
Once you've got the foundation of your website set up, it's time to bring it to life.
Website design is one of the most important parts of any site. People form their first impression 17 milliseconds of landing on a site—and that impression is 94% design-related. During this website, they decide whether to stick around.
Get visitors over the first hurdle by thinking about the following website design elements:
Page structure. Every page has a top, middle, and bottom. Think about the journey someone would have when visiting your page. Introduce them to something at the top, add more context in the middle, and use calls to action to convert them at the bottom.
Spacing. Instead of cramming all of your page content into one section, space it out and make your content more digestible. Don't be afraid of white space!
Fonts. Stick to a maximum of three fonts throughout your website design. Aim for one serif and one sans-serif font—the latter of which is ideal for headings.
A consistent color scheme. Go back to your logo and pick out a handful of colors to use throughout your website. A consistent color scheme can help with brand recognition and make your site look visually appealing.
Visuals. Adding photos, illustrations, and videos to your blog design is a great way to pique the customer's interest. It also helps you engage your customers and increase your odds of conversion. Optimize your images by compressing them and adding the page's target keywords to your alt text, file name, and caption.
You don't have to design your site from scratch. Many website builders have templates for you to create your page structure, use consistent fonts, and have placeholders for images.
6. Create a blog for your website
A blog helps you rise in the search engine rankings, solidify your niche, attract new website visitors, and ultimately increase sales.
Conduct thorough market research to understand the essential pages for your business. Or, evaluate your competitors' websites to identify important web pages.
If you're looking to create a website for your small business, make sure to do these three things correctly:
Make sure that your content is unique
Update your content regularly
Offer relevant information through your content and provide some value to your target audience
Use images to illustrate your points (humans process images 60,000 times faster than text)
Wix makes it easy to start writing a blog and improving search rankings. Here are the steps to set up a blog in minutes:
Choose from hundreds of in-built templates to start writing your blog on Wix. If you use the ADI, you only need to answer a few questions and build your blog.
Head to the Blog Manager and click Create new post. Provide an SEO title that doesn't exceed 60 words and includes relevant keywords.
Create a publishing schedule according to your comfort level. Deciding how often you want to address your readers, leads, and prospective customers would be best. You can publish each blog daily, weekly, bi-weekly, or bi-monthly. The aim is to set realistic goals.
Finally, go ahead and publish.
7. Create email accounts for your website
Every business has its own set of customers, and there's a need to communicate with them regularly. One of the easiest ways to do so is through email marketing.
A professional email account is a symbol of authenticity that results in significant brand building and the development of customer trust.
For example, an email address that says yourname@business.com is far more trustworthy than one that says yourname@gmail.com or yourname@yahoo.com—simply because the latter two may not always be verifiable.

Wix allows you access to your professional website and a custom email address. Plus, it comes integrated with G Suite, allowing your business to leverage the full power of Google.
Here's how you can create your business email account with Wix:
Make your website (using the steps and process mentioned above).
Choose a premium plan. Although Wix provides a freemium plan, it doesn't allow you to have your domain and business email. However, upgrading to the cheapest web hosting service premium plan will give you access to a professional domain name and a business email account.
Head over to the My mailboxes page. Click on the Connect a domain option to connect your business domain here. You can choose any number of mailboxes as you want. Simply click the '+' sign until you reach the required boxes.
Add any mailbox prefixes that you have (if any).
Choose a subscription frequency, whether monthly or yearly. Select your payment method and click on the Submit purchase button.
After completing the payment and purchase procedure, activation takes around three hours. You can start emailing your customers, prospective customers, and leads immediately after the activation.
8. Optimize your website for SEO
Search engine optimization (SEO) is one of the most critical tasks of website creation. Without it, all the time and effort you put into your site could be for nothing.
Studies show that just 0.63% of people click on a result beyond the first page of Google results. In other words: you only reach a fraction of your potential website traffic if you're not on the first page of Google search results.
The problem? Reputed websites with many backlinks usually dominate the first page of search engines. Here are some SEO tips for new websites to take over the top results.
Create a Google Search Console account: Google Search Console is the platform the search engine uses to communicate with website owners. If there's an issue with your site's visibility, this is where you'll find out.
Do keyword research: Prioritize long-tail keywords that have substantial monthly search volume but a low keyword difficulty score. Categorize them by intent—the goal of someone searching for it—and create website pages to target each one.
Prioritize fast load speeds: Did you know that more than half of website shoppers expect a site to load within six seconds or less? Use Google PageSpeed Insights to analyze how user-friendly your website is. It'll show your current site load speed and provide suggestions to make it faster.
Build backlinks: Connecting your website to high-authority pages that generate a lot of traffic can help your website increase SEO rankings. Search engines like Google see your site as more trustworthy, and therefore, worthy of ranking higher in search results.
Optimize for mobile: Mobile devices account now for over 60% of internet traffic worldwide. Make it easy for Googlebot to access and render your content using the same robot tags on mobile and desktop sites.
9. Promote your new website
You've done the hard work of creating a business website. Next, it's time to spread the word about your online presence and drive more traffic to your site.
That includes:
Building an email list and diverting subscribers towards your website
Contributing guest posts on other websites in your industry (and including a backlink to your business website)
Answering questions related to your niche in industry forums
Submitting your website to online directories
Similarly, if you have an existing audience, use it to your advantage. For example: if you've been building your LinkedIn network prior to building your website, share the link with your audience and use LinkedIn as a way to tell your connections more about your business.
Make your own free website with these tips
With buying decisions increasingly moving online, every business needs a professional website. But many companies don't take the simple steps to make a quality website.
Luckily, many excellent website creation options exist, like Squarespace, Weebly, WordPress, and Wix—the latter of which handles SEO optimization, fast page loading times, an intuitive user interface, and a seamless customer experience.
Use this website building guide to plan your site, get to know SEO, set up your domain and hosting, build your website, and start attracting customers.
You'll soon start to experience the power of having your own website.
How to make a website FAQs
Can I create a website for free?
Website builders like Wix allow you to create a free website. Use it to create a personal blog, business website, portfolio, or event page.
How can I create my own website?
Make a plan for your website
Design a brand
Create your site with a website builder
Add new website pages
Design your website
Optimize it for SEO
Create email accounts
Promote your website
Is it cheaper to build my own website?
It's much cheaper to build your own website than rely on professional designers and developers, which can be expensive. With web hosting and a site builder, you can build your own website for less than $50.
What is the best way to create a website for beginners?
Website builders like Wix, Squarespace, and Weebly make it easy for beginners to make their own website. You can get a domain, find a hosting plan, design and optimize your website within a single platform.
How can I create a free website for my small business?
Wix: best for small businesses
WordPress: best for those who want more control
Squarespace: best for website templates
Weebly: best for personal blogs
Zyro: best for ecommerce small businesses
Editorial Process:
Our reviews are made by a team of experts before being written and come from real-world experience. Read our editorial process here.
Some of the links in this article may be affiliate links, which can provide compensation to us at no cost to you if you decide to purchase a paid plan. These are products we've personally used and stand behind. This site is not intended to provide financial advice. You can read our affiliate disclosure in our privacy policy.