How to Sell on Etsy: 7 Steps to Open Your Etsy Shop in 2023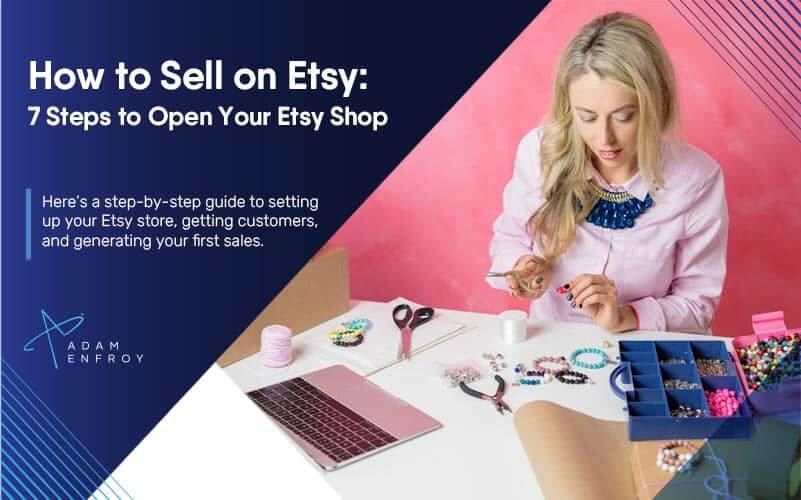 Since its launch in 2005, Etsy has expanded into one of the world's biggest online marketplaces. There are 81.9 million active buyers and 4.1 million Etsy sellers. Additionally, there are more than 50 million unique items listed for sale on Etsy.com.
Learning how to sell on Etsy is one of the ways you can make money online and can lead to big business.
If you want to start an Etsy business and make money by selling items to this vast collection of potential buyers, please read on.
What is Etsy?
Etsy is an e-commerce platform that specializes in the buying and selling of artistic goods, collectibles craft supplies, and vintage items difficult to find in a traditional online store.
Buyers on Etsy browse their marketplace to find handcrafted products rather than mass-produced goods.
It is also an outlet for part or full-time small business owners such as art shops and artisan crafters with artistic skills to showcase their goods and sell to a broader audience without needing their own website like with Shopify.
It is a hybrid company that combines the excitement of an art fair with a marketplace like eBay.
People who look for products on Etsy will find vintage and handmade items, made-to-order works of art, hand-printed clothing, custom-made children's toys, and more.
There is a major category of vintage products for sale on Etsy. For items to qualify as vintage, they must be a minimum of 20 years old.
There is a wide variety of collector items that you can get for a reasonable price. The platform uses a particular storefront where an Etsy seller lists their products for a fee.
The unique niche that Etsy occupies makes it the number one platform for art items and collectibles in the world.
It is essential to point out that Etsy does not make the products. Instead, it acts like an intermediary connecting both buyer and seller, bringing them to one marketplace. Etsy has a central headquarter in Brooklyn, and this is where it carries out daily operations.
The company also has a crafting class known as Etsy Labs – a class where people learn and improve their artistic skills.
With an Etsy app that is available on both iOS and Android, you can also get the most of Etsy on the go.
How Much Does it Cost to Sell on Etsy?
It costs $0.20 to set up an Etsy account and list an item to the marketplace. According to the seller handbook, a listing will remain active for four months or until the item is sold. Once an item sells, a 5% transaction fee occurs on the sale price.
Many people pack up shop after a mere month because of little or no sales. And the worst part is that you keep running expenses based on your listings. Therefore, it is crucial to consider the long-term revenue to cost ratio.
This is especially true when you have many products to sell. So how much does it cost to sell your products on Etsy?
Let us find out.
1. Etsy Store Cost.
An advantage of Etsy is that it cost a seller nothing to set up shop. Yes, opening your store on Etsy is free. But that is where the free stuff ends – at least for now. This is because Etsy has a standard listing fee of $0.20 per item. This listing fee is for four months. But let us talk about the listing.
Etsy has a listing different from other online market giants. For this online marketplace, a listing and a product are not the same things. This is because a listing can contain multiple products.
For example, if a seller is selling a hat, and the hat has different color schemes, the seller is only obliged to create "one listing" to cover the different color variety while giving buyers the choice of selecting a hat with any of the colors.
So if the seller has 100 items of that hat, and they come in different colors, the seller creates only one listing to cover them all, updating the quantity as the sales come in.
Every four months, the validity of a listing runs out. It is now up to the seller to either renew the listing automatically or manually at the same $0.20 per listing. Although allowing the store to renew itself automatically can make good sense for a first-time seller who has not yet grasped the financial basics of running an online store, it makes even more sense – at least from a financial angle –to renew the store manually.
This way, you can study the data to find out which products are making sales and turning out a profit, and which products are taking a loss before you renew your listing for another four months. Take note that the cost of each listing remains $0.20 per list.
This means if there are 100 listings in your store, you are liable to pay $20 every four months. This becomes a problem if you are not making any sales because the $20 keeps adding up in your expense sheet, which could also include the cost of crafting your product in the first place.
2. Is The $0.20 Cost All There Is?
Many show owners confuse themselves on how to remit the $0.20 fee when the sales come in. They forget a listing differs from a product and that the charge for listing and the renewal fee for the store depends on the number of items on sale. See these examples for clarity:
Example 1:
A seller has an Etsy handcrafted table store. In that store, there is only a single handcrafted table for sale. The table sells, and the seller opts not to renew the listing or craft another table again.
The seller pays is $0.20 to list the table. Since the table has sold, the seller is no longer charged a listing fee (although there are other fees which we shall explain later).
Example 2:
A seller creates handmade sweaters available in five different colors. When the seller creates a listing, there are six pairs of the sweater in stock. So for the following four months, the seller will pay $0.20 for a listing of those six pairs of sweaters.
If there are no sales within that period, the seller gets another charge of $0.20 for renewing the listing.
But if the seller sells one of the sweaters, everything reverts to zero and the listing will auto-renew for another "fresh" 4 months for the remaining five sweaters. If the seller adds more sweaters to the quantity available, or the seller has new colors of the sweater and would like to display new pictures of those colors, the seller can edit the listing at no extra cost.
Each time the seller makes a sale, the stock renews again and again until they sell all available sweaters or the 4-month period ends with no sales.
However, if a buyer purchases three pairs of sweaters from the seller in one order, the seller will get an extra charge of $0.40 alongside the earlier $0.20 for three listing fees.
Finally, the listing auto-renews itself again even though three sweaters got paid for in one transaction.
3. What is the Etsy Transaction Fee?
Just like eBay, and Amazon, there are Etsy fees that a seller has to pay to keep doing their online business. First, a seller will pay Etsy a 5% transaction fee of the sale price whenever an item is sold.
4. What Does it Cost to Promote on Etsy?
Etsy users can also choose to create promoted listings and advertise their products. The minimum to get started is $1/day and it is based on a cost per click model. When a user conducts an Etsy search, there are both paid and non-paid listings. The only difference that buyers can see in promoted listings is the small, white "Ad" in the top left corner of the image: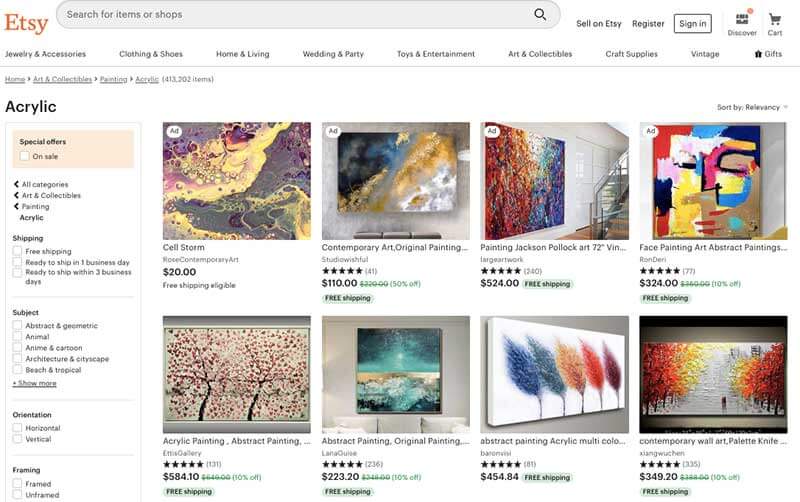 It's usually challenging for a new seller to make waves on Etsy out of the gate, especially when launching a new product. Investing in Etsy ads to gather more visibility may not be a bad idea to test out your product's market viability. Once you start promoting, you'll get access to a dashboard where you can view your stats.
I recommend you set a maximum cost per click (CPC) between $0.10 – $0.50 per click to start testing results.
5. What Are the Etsy Payment Processing Fees?
When a buyer checks out directly on Etsy and uses the Etsy payment system, Etsy charges a payment processing fee of 3% + $0.25 per transaction.
Also, depending on the seller's location, there could be extra expenses in the form of taxes, including the cost of converting the local currency where the items listed are not in US dollars.
6. What About Etsy Shipping Costs?
Usually, the buyer pays for shipping. The cost will depend on the location of the buyer. Often, problems arise in situations where the shipping fee is not properly calculated, and the seller realizes they have to pay more for shipping than originally intended.
If this happens repeatedly, it could significantly increase the total cost of doing business on Etsy, especially when the cost of insurance is included in the shipping charge, which drives the cost further.
A solution is to do the research and find out exactly how much shipping items to different locations will cost. Shipping is never free on Etsy or any other online shop. Etsy sellers who offer free shipping should be prepared to include the cost of shipping into the sale price. On another note, sellers can purchase USPS shipping labels directly on Etsy.
7. Final Thoughts on Etsy Pricing.
It is tempting for you to think it's only 20 cents to start selling on Etsy and rush to open a shop.
Before starting an Etsy shop, it's smart to have a clear understanding of the total fees required to both list and sell your products.
The total cost of setting up shop on Etsy includes the listing fee, transaction fee, payment processing fee, shipping fee, and any promotions you take part in.
Also, remember none of this includes the cost of goods sold (COGS). So if you price your items too low to attract more buyers, you may eat into your profit margin and sell online products at a loss.
There are always external charges to consider if you want to manage your business properly. Get a spreadsheet ready to track your inflow and outflow to be adequately informed on what is going on in your business.
Try not to get ahead of yourself until you see a decent return on investment (ROI). It's important to incrementally scale up your business rather than get too aggressive with pricing right away.
As you keep selling on Etsy, you'll get the hang of the fees and adapt your business accordingly.
How to Sell on Etsy.
Etsy makes the process to start selling easy. Here are the steps on how to sell on Etsy and set up your own online shop.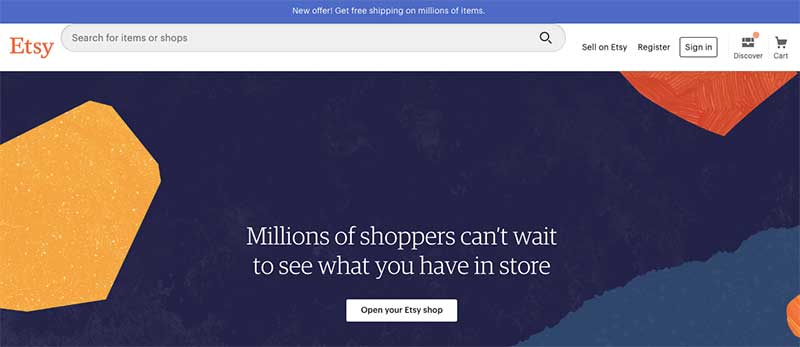 1. Go to Etsy.com to Get Started.
Visit the Etsy homepage, click the Sell on Etsy link, then click Open your Etsy Shop.
2. Customize Your Shop's Settings.
Being your own shop manager, you can set your shop preferences for how you want to sell your products. Select the language for describing your products, and the currency for trade, include your location, etc.
3. Select a Shop Name.
This is the part where your creativity can come into play. You should come up with an Etsy shop name that reflects your personal brand. Your name should be synonymous with your product offerings and easy for customers to remember. The name needs to be between four and twenty characters with no spaces or special characters.
4. Start Listing Your Products.
Follow these steps to set up your product listings:
Add Photos: Etsy sellers are advised to have a minimum of five photos for each item, to be taken from different angles so buyers can have a proper idea of what your product looks like. The pictures should be of high quality and shot with a nice background.
Adjust thumbnails: Thumbnails are the first pictures a buyer comes across when they search or stumble upon your product. These dictate the look and feel of your shop, so make sure they are consistent and match your brand.
Complete your listing information: Your product description should have a title and description that describes what it in detail.
Also, make use of the 13 'tags' available for each product. Buyers look for products on Etsy based on keywords, so make sure these keywords match what is in your tags.
Enter inventory quantity and price: Add the price for each item and make sure you factor all the costs into your sale price. Include the quantity in stock, and also if there are product variants such as size, color, and material.
Set the shipping fee: This is where you include shipping fees, country of origin, processing time, weight, and size. You can always update this information later if needed.
Preview your Etsy listings: Look at the shop to see if there are any changes to make. It's important to feel good about your shop's look from a customer's perspective before publishing for the first time. Click finish and you're all done adding your first product.
5. Select Your Payment Method.
There are many types of electronic payments available on Etsy. You could offer PayPal or Etsy Payments which is what most sellers use. Etsy Payments allow sellers to get their money through different options like credit and debit cards (as well as store credit), and Etsy gift cards.
6. Include Billing Information.
This will depend on your country of origin. Etsy may want a credit card for authorization and identification. You will also provide a card where Etsy can charge you for fees and commissions.
That's it. You're all set up and it's time to start optimizing and promoting your products.
7. Optimize Your Shop.
Here are a few ways to optimize your Etsy shop and attract more sales.
Add Your User Profile: This will include a short bio about you with a photo. This will let visitors know who you are and increase your credibility as a seller. You can use this opportunity to create a personal connection with your customers and give more insight into your product.
Add Your Shop Policies: This section includes FAQs that customers may ask about the product. You can also add processing and shipping timelines so customers can have an idea of how long it will take to get their product. Return policies (if any) also fall into this section.
Add A Store Bio: This is the section that allows you to talk more about your ecommerce store and who you are. Etsy sellers are given 5,000 characters to write your biography. Remember to write with passion and create a connection with your potential customers.
People value transparency, so try to be open about your values. You can also show them how you create your products by inserting photos or videos of your workspace. You can share your shop's social media links here too.
Use Etsy's Marketing Tools: This allows you to reach out to a wider customer base through social media. Etsy has made this easy to do with a new marketing tool to allow sellers the opportunity to share their products on social platforms like Pinterest, Facebook, Instagram, and Twitter.
More Tips for Selling on Etsy.
Now that you have your Etsy shop set up and optimized, how do you drive sales over time? What are some ways to boost your "Etsy SEO" and gain more visibility as a new shop owner?
Here are six final tips for selling on Etsy.
1. Hire a Professional Photographer.
People are visual – we want to see, touch, and feel products before we buy them. And there's a psychology behind great product photography.
The main types of product photography shots include hero shots and lifestyle shots.
First, hero shots are close-ups of your products with a simple white background. These are great for your main photos and should be in high resolution so users can zoom in and see the product by itself.
Next, lifestyle shots show the product being used by a person or with more background context. For example, an image of a women's sweater may be worn by a smiling woman outside in a park.
A final tip is to use a combination of both of these styles, as well as shots in between. For example, an image of a craft supplies set could be disassembled to show all of the parts and laid out in a beautiful pattern.
Etsy allows a maximum of 10 photos, so uses them all. High-quality photos on your Etsy shop will help drive sales for your products.
2. Learn Etsy SEO.
SEO, or search engine optimization, enables you to increase visibility online on platforms like Google. But Etsy SEO is key to driving sales too.
SEO techniques depend on the platform. eBay, Amazon, and Google all have different SEO techniques, and so does Etsy. However, the basics are the same and it all comes down to keywords.
What are items on Etsy are people searching for? Try to understand the main product categories you're in and use unique keywords to stand out. Use as many valuable keywords as you can so users search can match with your products and bring out your business in the search results.
If you find it hard to think of keywords for your product and business, use a tool like erank.com to understand and optimize your Etsy keywords. You can also use some of the best SEO tools on the market to understand what people are actively searching for in your particular niche.
3. Optimize Your Pricing.
Pricing has a direct impact on how much you sell on Etsy. It's usually difficult to get the right price for your product because undercutting the competition can lead to a price war, while selling too high can lead to zero sales.
Find ways to cut production costs so that your profit margin is higher. Test, test, test. You can update your pricing regularly to reflect economic factors such as the cost of raw materials as well as your competition.
4. Keep Good Financial Records.
Proper bookkeeping can help you understand the direction your Etsy shop and business is heading. It can also help you set targets and know whether you are turning a profit or running at a loss. The better your grasp of the exact numbers, the more informed your decisions are.
The right business accounting software can definitely help you stay on top of your financials so you can focus on running your Etsy shop.
5. Study the Data.
Use analytical tools to help you keep track of your Etsy business. Some products may sell more than others and you may need to drop non-performing products and increase the quantities of performing ones.
6. There's a big difference between copying and using others' listings as inspiration.
Using inspiration from other designers can be a great way to build your craft and hone your skills without having to reinvent the wheel. Selling copies of someone else's work is not good, and could see your Etsy shop shut down pretty quickly.
Copying is against the Etsy ToS, but inspiration is fine. If you're using a photo of someone else's original work as a guide, create your unique design and don't claim to be the creator of the original piece, if you don't have any original ideas of your own.
7. Take your time when choosing the right product shop name.
This is the first thing that people see when looking for your products, and it can be a great way to get them interested in what you're selling. Plus if someone's particularly good at remembering names, they may come back later too. So choose something catchy, but not rude or offensive.
When thinking of a name for your shop, it may help to list some words that describe your style or the type of product you sell. Try and get a balance between something short and easy to remember, but also descriptive so you can easily build on what people see in your shop name.
For example – "YourName" Art Studio – tells people what kind of art they'll find there, without being too lengthy. If you have a longer name for your store which seems more fitting with its products but is a little harder to remember, consider creating a shorter version of it as a shop tagline. For example: Painting With Light – hinting at the nature of the product while still giving shoppers an idea of what to expect from your Etsy shop.
8. Take payments in different ways in your Etsy shop.
Etsy's Direct Checkout system is a simple and secure way for your customers to pay without the need for an Etsy account. It uses Etsy's system to collect payments which has been shown to make buyers more likely to purchase from you since there are no external factors involved.
However, be sure to take card payments too – not everyone likes paying online with one specific method, so it's still worth having other options on your Etsy shop. This all translates into more money in your bank account.
9. Set up a database to track your products.
A database can help you keep track of your stock, ensure that everything is labeled correctly on the listings page, and keep your pages looking neat. There are also apps available for most types of mobile phones which can let you do all of this whenever inspiration strikes while out doing other things during the day.
For the serious crafters or artists, however, databases are more than just an organizational tool – they can be used to create mock-ups of products before actually making them, ensuring that every item will look exactly how you want it to in time for its photoshoot. Some of the more advanced database applications even let you add prices, average processing times, and shipping costs so that your Etsy shop can be updated automatically.
10. Start collecting email addresses.
Don't assume that the sales will come rolling in as soon as you put your Etsy shop online. Even if people think the products you're offering are great, they might not buy from you until a few days or weeks down the line. Having a mailing list set up helps keep potential customers reminded of your existence, while also allowing you to build customer relationships for future sales.
Get subscribers by offering freebies such as templates, tutorials, and even templates of your Etsy listings. Sometimes it might be good to run a promotional period where people can get something of decent value for free in exchange for their email address – just make sure you have the resources available to keep doing this throughout the promotional period.
You can also create a newsletter to send out to your subscribers, giving them news of new items in your Etsy shop and any other updates, like blog posts on your site. Some people even like to create fun-themed newsletters every now and again so be creative with the process.
Summing It Up
Remember, most successful shop owners on Etsy started small and grew with time. The biggest obstacle to selling on Etsy is usually the reluctance to start. You don't need a huge team – 79% of businesses on Etsy are run by single individuals, with 97% run from home.
With millions of potential buyers, and the ability to share your own unique products with the world, why not take this advice on how to sell on Etsy and get started today?
Further Reading on AdamEnfroy.com:check out my reviews of the best ecommerce platforms and my Shopify review to see if there's a better fit for you.
Editorial Process:
Our reviews are made by a team of experts before being written and come from real-world experience. Read our editorial process here.
Some of the links in this article may be affiliate links, which can provide compensation to us at no cost to you if you decide to purchase a paid plan. These are products we've personally used and stand behind. This site is not intended to provide financial advice. You can read our affiliate disclosure in our privacy policy.