Green, Black or Oolong? Finding The Best Tea Affiliate Programs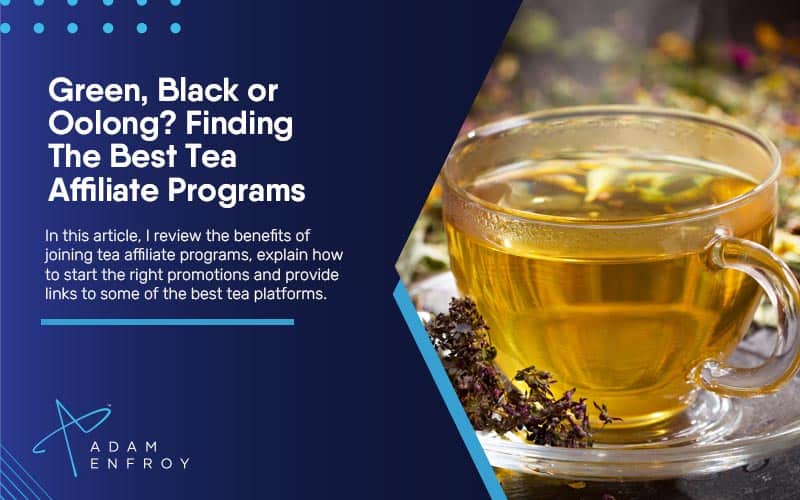 In every corner of the globe, a universal truth brings us all together: people love tea.
As sure as the sun will rise and your next-door neighbor will forget to return your lawnmower, a steaming cup of tea will be savored somewhere around the world.
From the spicy chai of India to the rich matcha of Japan, tea is truly a global obsession.
But have you ever stopped to think that this ubiquitous obsession could be your ticket to making some serious cash?
Tea, meet money. Money, tea.
In this article, I'll review the benefits of joining tea affiliate programs, explain how to start the right promotions and provide links to some of the best tea platforms.
The Best Tea Affiliate Programs
Here are some of the best tea affiliate programs to consider.
Teabloom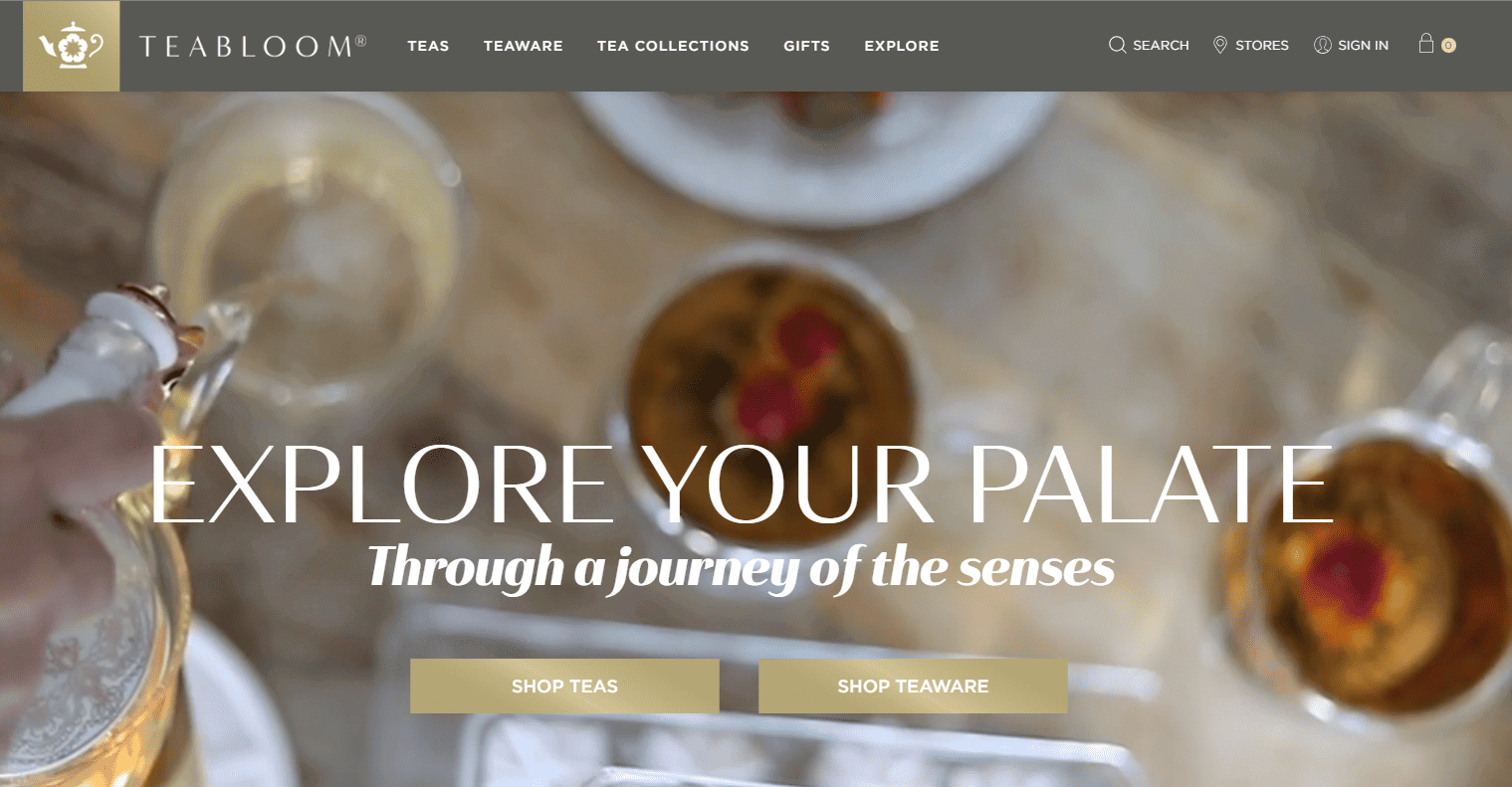 Teabloom is an online tea retailer offering over 100 delightful gift sets, including blooming, loose-leaf, bottled, and tea accessories.
Teabloom's unique point of difference is its eco-friendly packaging, made with compostable materials.
Teabloom sources high-quality teas from ethical and sustainable tea estates worldwide.
They use organic herbs, spices, fruits, and flowers to create signature blends.
Their tea sets range from the classic English Breakfast to exotic Golden Oasis.
Their tea sets include glass teapots, tea tumblers, and infusers.
Teabloom makes its packages from compostable and biodegradable materials, which reduces carbon footprint and environmental waste.
The packaging comprises plant-based materials such as cornstarch, sugarcane, and bamboo fibers.
Teabloom's ShareASale affiliate program gears toward social influencers, bloggers, and businesses Nestled in a pristine and delicate environment passionate about tea and sustainability.
The program offers a generous commission rate of 12% and offers a 90-day cookie duration.
Affiliates will also have access to various marketing materials, including banners, images, and social media content.
The affiliate program has an average order value of $47.35, an EPC of $35.51, and a conversion rate of 5.94% which is an excellent opportunity for affiliates who want to earn a passive income through promoting sustainable tea products.
Overall, Teabloom's affiliate program allows affiliate partners to earn commissions on sales through their unique referral link.
As a result, tea enthusiasts can enjoy a cup of tea and profit from promoting Teabloom's high-quality, fresh loose-leaf teas in their online store.
Harney & Sons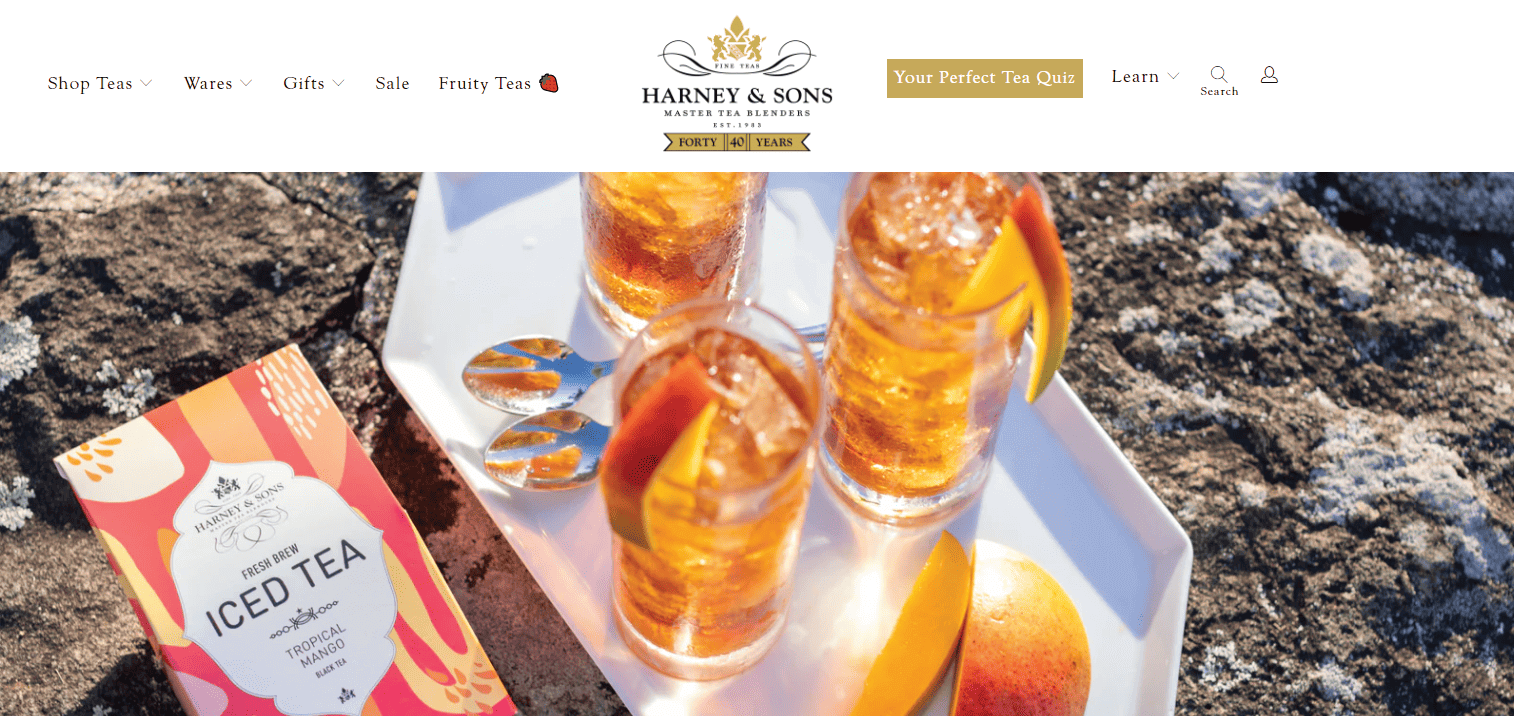 Harney & Sons is a family-owned business.
The company has been selling premium teas for over 30 years.
Whether you're an avid tea drinker or just starting to explore the world of tea, you'll find something you love.
They offer everything from classic black and green teas to unique blends like hot cinnamon spice and Paris tea.
Their unique collections, such as caffeine-free herbal and organic teas, also cater to specific dietary needs.
What I love most is the variety of new tea formats available – from loose leaf to tea bags and sachets – making Harney & Sons the perfect one-stop shop for any tea lover.
But what about their affiliate programs?
Harney & Sons offers one of the highest-earning affiliate programs in the tea industry.
By signing up for their affiliate program on Refersion, SOVRN, or Yazing networks, you'll receive commissions paid just 30 days after conversion.
What's great is that various payment options exist depending on the network used, including PayPal, check, and bank transfer.
So, not only can you treat yourself to high-quality tea, but you can also earn a commission while doing so.
TeaVivre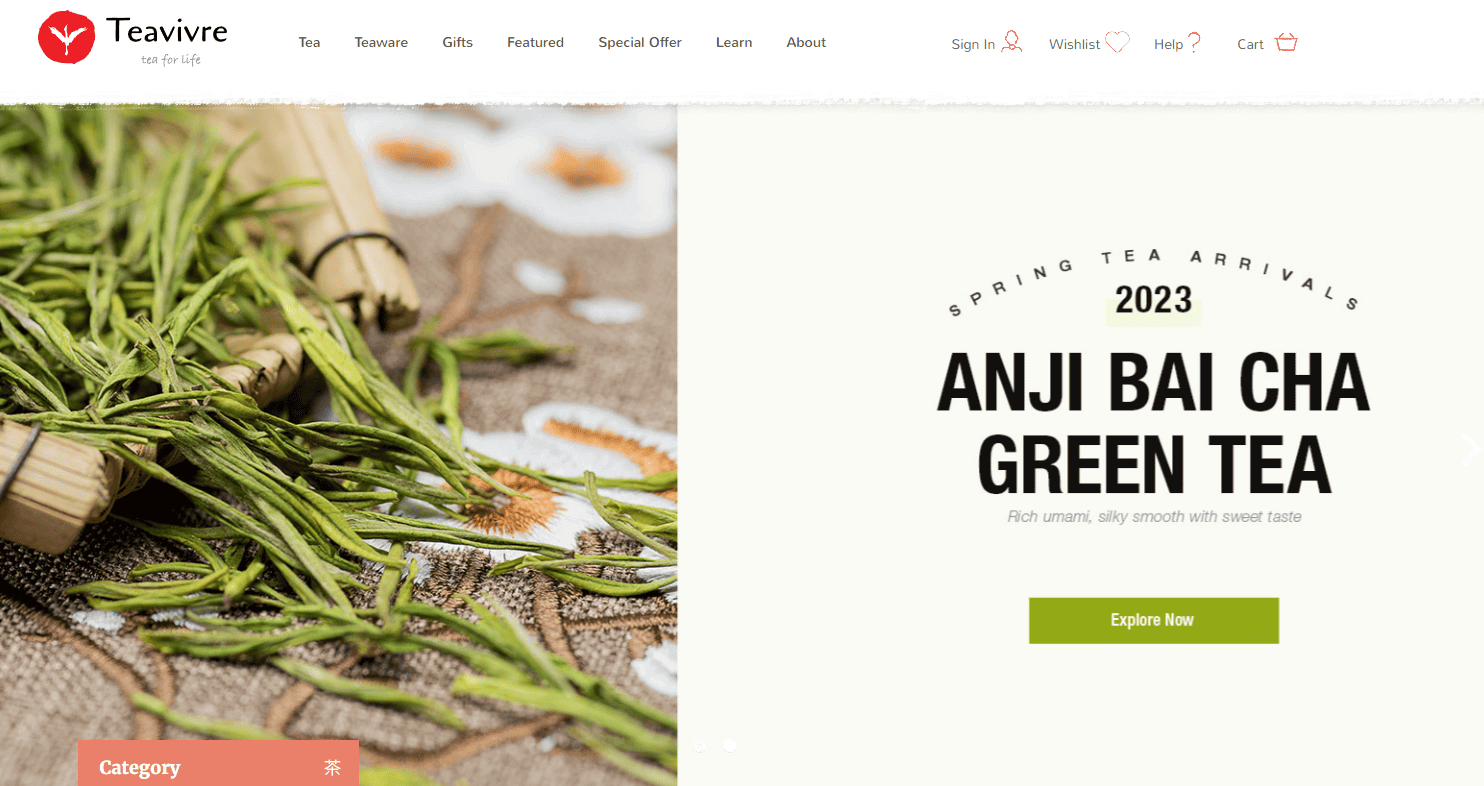 TeaVivre is a China-based tea brand that specializes in high-quality Chinese teas.
They offer various teas, including Black, Green, White, Oolong, Pu-erh, and Herbal.
They source their teas directly from growers in China and pride themselves on providing their customers with fresh, authentic, and high-quality teas.
As an affiliate, joining the TeaVivre affiliate program on ShareASale means earning a flat 12% commission on all sales you generate within a 45-day cookie window.
Whether you have a website or a blog related to tea, food, drink, health, or lifestyle, you can join their affiliate program and start earning money immediately.
TeaVivre's affiliate program is simple; all you need to start is an account on ShareASale.
Furthermore, TeaVivre provides excellent promotional materials for its affiliates, including banners, text links, and coupons.
You can place these on your website or blog to promote TeaVivre's products to your audience and earn commissions on any sales you generate.
Art Of Tea

Tea Master Steve Schwartz founded the Art of Tea in 1996 Los Angeles, California.
The company provides high-quality loose-leaf teas from around the world at an affordable price.
Art of Tea offers over 200 organic and sustainably sourced tea blends, including classic, signature, and unique botanicals.
Their teas are hand-crafted in small batches, which ensures quality and freshness.
The company also offers accessories, such as teapots, mugs, and infusers, to enhance the tea-drinking experience.
Art of Tea is famous for excellence and has won numerous awards, including the Specialty Food Association's sofiTM Award for best hot beverage.
Their subscription service allows customers to have a regular supply of tea delivered right to their doorstep.
Tea lovers can earn commissions by promoting their products through their affiliate program.
ShareASale, a leading affiliate marketing network, manages Art of Tea's affiliate program.
The program offers a competitive commission rate of 10% on all sales, with a high average order value of $85.01 and a conversion rate of 3.08%.
Approved affiliates gain access to a newsletter, data feed, and creative assets, allowing them to promote Art of Tea's products easily.
Payments are available through a check, direct deposit, international direct deposit, wire transfer, and Payoneer, ensuring accessibility for affiliates worldwide.
As a result, when you promote their program as an affiliate, you'll earn a generous commission on all subscription orders.
The Tea Spot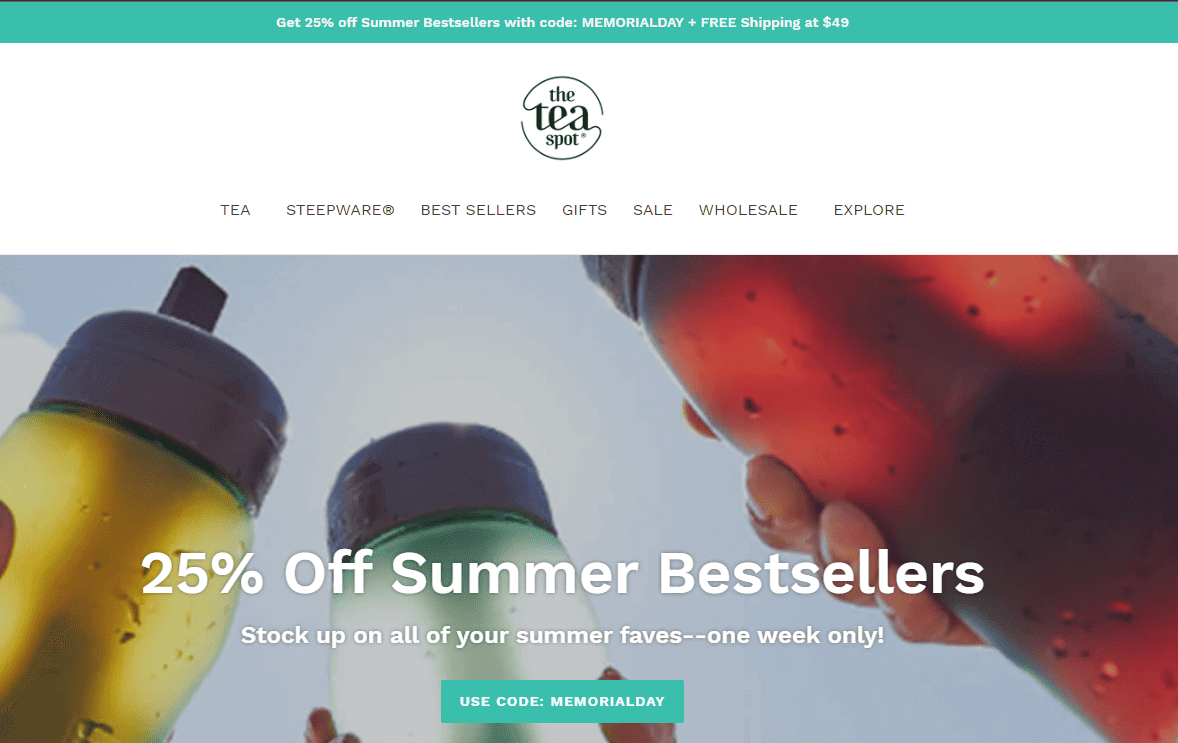 The Tea Spot, a tea company, has provided high-quality tea products for almost two decades.
The Tea Spot provides a wide variety of tea products, ranging from green tea, black tea, white tea, herbal tea, and many more.
Their tea products are sourced from the best tea gardens worldwide to ensure the highest quality.
The Tea Spot's tea is organic, fair trade, and non-GMO, making them ideal for tea lovers who care about the environment and the provenance of their food.
Their commitment to using only the highest quality teas is evident in the sourcing and selection of the tea leaves they use in their blends.
The Tea Spot offers an affiliate account to promote its high-quality teas.
This platform offers a 5% commission on an average sale of $45, with monthly payments and a 30-day cookie duration.
Plus, sign-up is easy, and the requirements for starting are basic personal information.
MantraMatcha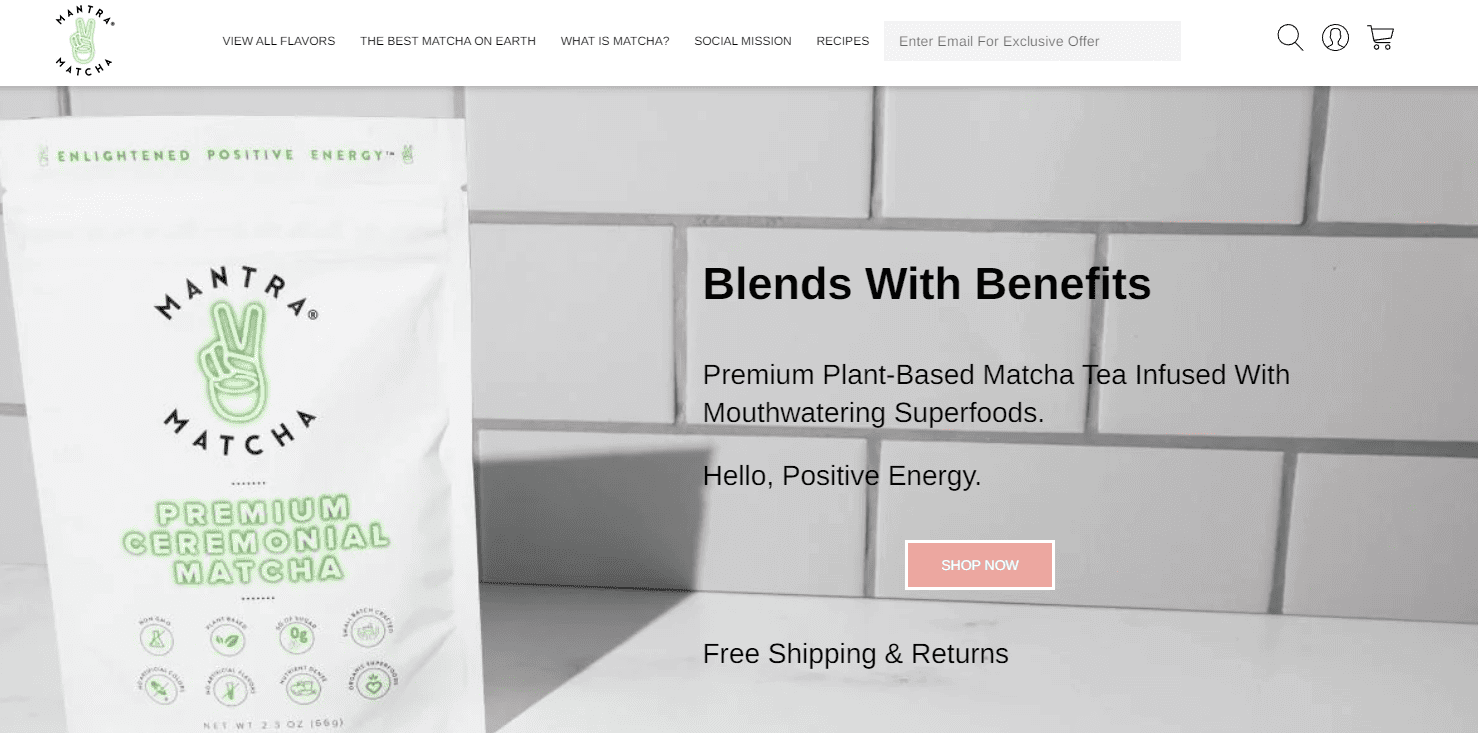 MantraMatcha's oolong teas boast a unique array of flavors and health benefits.
The tea brand is nestled in a pristine and delicate environment.
It also offers a convenient tea subscription for avid tea lovers who want to have their tea filled all year round.
MantraMatcha's herbal infusions reflect the brand's commitment to sustainable farming and preserving the environment, making it a top choice for conscious consumers.
If you're a tea influencer or blogger, check out MantraMatcha's tea affiliate program.
With a generous commission rate of 8% and payouts occurring at the point of sale, you can earn money while promoting a product you believe in.
They even offer a standard cookie duration of 30 days, so you can be sure you'll get credit for any sales from your referral links.
Applying for the program is easy – provide basic site information and a description of your content and display ads, and start promoting!
Twin Flame Tea Co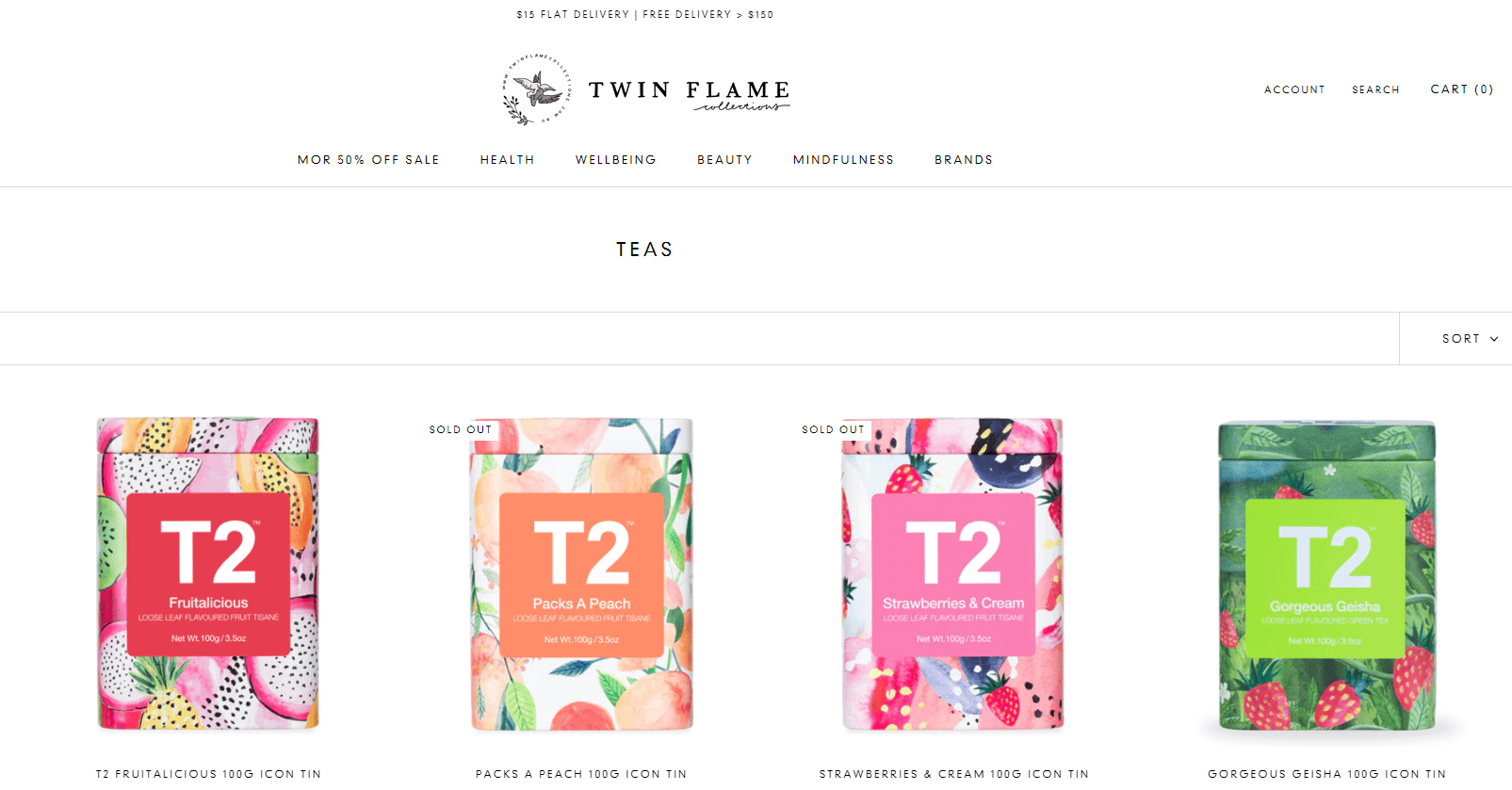 Twin Flame Tea Co. offer hand-crafted loose-leaf teas, but they also have hemp-infused herbal infusions that offer a unique twist on traditional teas.
Iced teas are among their popular products, the perfect refreshing summer drink.
In addition, they have a range of exquisite tea gifts, ideal for any occasion, from birthdays to Christmas.
If you're looking for a little extra boost from your tea, you'll want to try Twin Flame Tea Co's hemp-infused herbal infusions.
They offer a natural and healthy alternative to traditional teas and are perfect for relaxing or unwinding after a long day.
Their hemp-infused teas come in various flavors, including lavender, chamomile, and peppermint.
Not only do they taste great, but they also offer numerous health benefits.
Twin Flame Tea Co offers an affiliate program to those interested in earning money by promoting their delicious teas.
Their affiliate program offers a generous 30-40% commission rate and auto-deposit payouts.
Plus, their cookie tracking period lasts for 30 days, which means that you'll have plenty of time to earn commissions.
As an affiliate, you can promote their teas through your website, social media channels, or email marketing campaigns.
Twin Flame Tea Co offers various creatives, including banners, logos, and social media assets, to help promote their tea affiliate program.
They also provide a FAQ section for affiliates to address questions or concerns.
The Vitamin Shoppe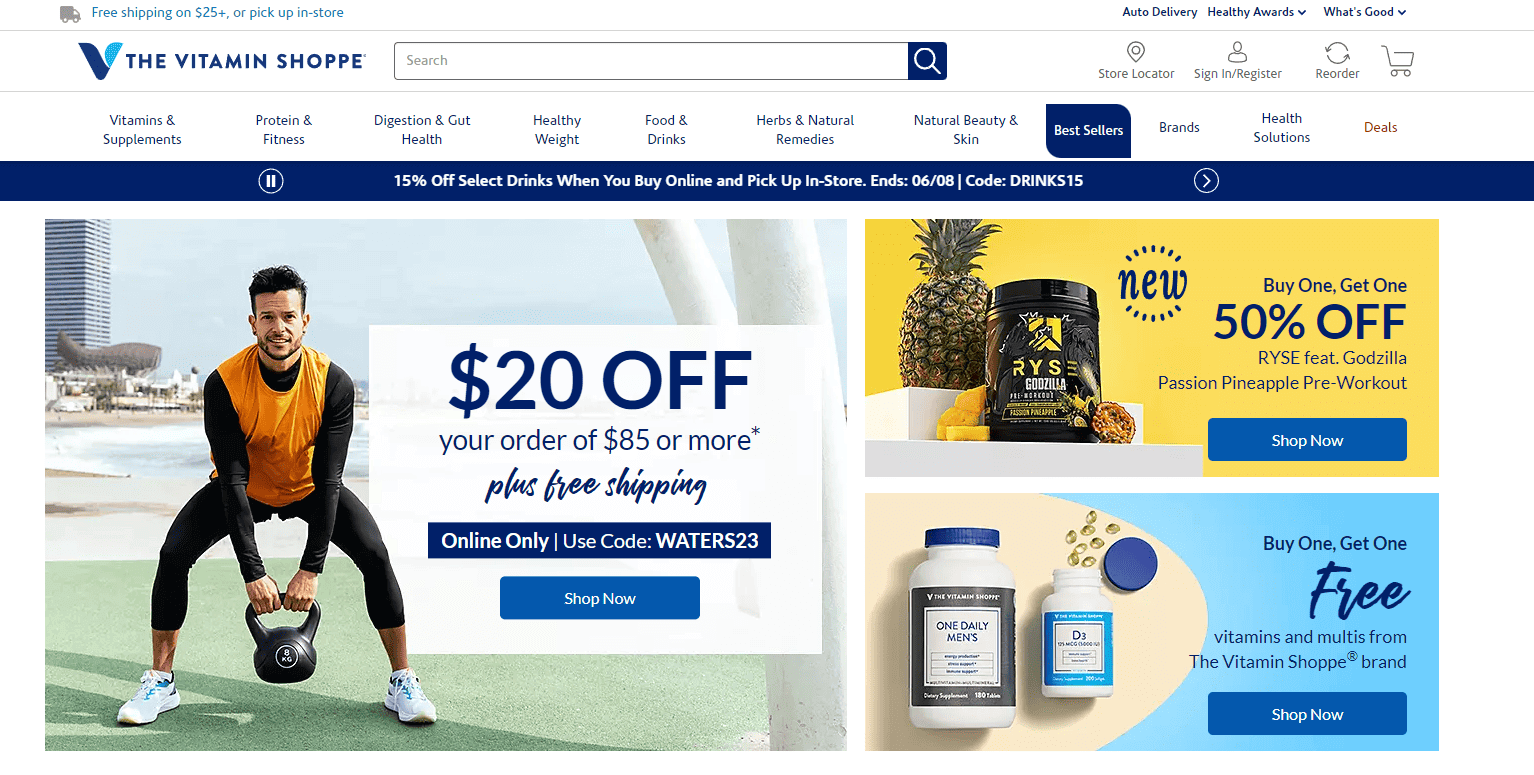 The Vitamin Shoppe is one of the leading retailers of health and wellness products in the United States, with over 700 stores and a vast online presence.
They offer a wide range of products, from vitamins and supplements to essential oils, natural remedies, skincare products, and more.
One thing that sets The Vitamin Shoppe apart is its sheer number of products for different health needs and lifestyles.
Their extensive inventory boasts over 25,000 wellness wonders, including organic teas, coffee, all-natural remedies, and gut health products.
Moreover, The Vitamin Shoppe provides only the highest quality products to its customers.
They partner with trusted and well-known brands and carry exclusive lines unavailable elsewhere.
As an affiliate marketer promoting The Vitamin Shoppe, your audience will appreciate the quality of your recommended products.
Another great benefit of promoting The Vitamin Shoppe is the commission rate.
With commissions of up to 10% on referred sales, it's an excellent opportunity for savvy affiliate marketers to earn extra income.
Additionally, The Vitamin Shoppe offers several payment options, including checks, direct deposit, PayPal, or EFT, so everyone can easily earn.
Other Tea-Based Affiliate Programs
When looking for tea affiliate programs beyond the basics, it's worth checking out lesser-known options like the Teabox and Teatulia programs.
Both brands offer unique products like single-garden organic teas from regions like Assam and Darjeeling, perfect for those seeking tea perfection.
Additionally, the DavidsTea affiliate program is an excellent option for promoting trendy and innovative tea blends while incorporating teaware like a tea subscription box.
Making The Most Of Your Chosen Tea Affiliate Programs
Standing out in a sea of affiliate programs can be difficult, so here are a few tips for making the most of your chosen tea affiliate programs.
Create A Website Or Social Media Platform Exclusively Dedicated To Tea-Related Products
Creating a website that features tea reviews, brewing guides, and tea-related news can drive traffic to your affiliate links.
Similarly, a social media handle that focuses on tea can help generate leads and increase conversions.
By focusing on an exclusive niche, you become an authority in the tea community, which can go a long way in building trust and credibility with your followers.
Win The Trust Of Your Audience By Providing Them With Helpful Content And Valuable Resources
One of the biggest challenges of being an affiliate is winning the trust of your audience.
To succeed in tea affiliate programs, you must convince your followers that you know what you're talking about and that your recommendations are of value.
The best way to do this is by providing them with helpful content and resources such as tea recipes, brewing techniques, and tea reviews.
This way, your followers will see that you're passionate and knowledgeable about tea products, which makes them more likely to trust your recommendations.
Set Yourself Apart From The Competition By Highlighting Your Unique Selling Point
With many tea bloggers and influencers vying for attention, standing out from the competition can take time and effort.
One way to do this is by highlighting your unique selling point.
Ask yourself, what is it that sets you apart from others in the tea niche?
You may specialize in tea from a particular region, or your brewing techniques may be unique.
Whatever it is, make sure to communicate it to your audience.
Your followers will remember you for your unique qualities and be more likely to come to you for their tea needs.
Provide Key Pieces Of Information When Applying For Most Tea Affiliate Programs
When applying for tea affiliate programs, provide essential information such as your website name, website traffic and content, and a brief explanation of why you want to become an affiliate.
Also, include your plan for promoting products.
Be specific about your intentions and goals, and give an overview of how you intend to promote the products' affiliate links, ensuring a successful application and a smooth conversion rate.
Wrap Up.
Tea affiliate programs offer an excellent opportunity for savvy marketers to earn money while promoting products they believe in.
With the right strategies and tactics, you can make the most of your chosen tea affiliate program, drive conversions, and maximize profits.
From creating a website or social media platform that focuses on tea-related products to highlighting your unique selling points, there are plenty of ways to make your affiliate program stand out.
Further reading on AdamEnfroy.com: Here are some of the best affiliate marketing courses to consider if you want to learn more about this marketing channel.
Moreover, if you want to know about specific affiliate programs in set industries, here are a few posts to consider:
Disclosure: I may receive affiliate compensation for some of the links below at no cost to you if you decide to purchase a paid plan. You can read our affiliate disclosure in our privacy policy. This site is not intending to provide financial advice. This is for entertainment only.