37 Best Pet Affiliate Programs to Make Money in 2023.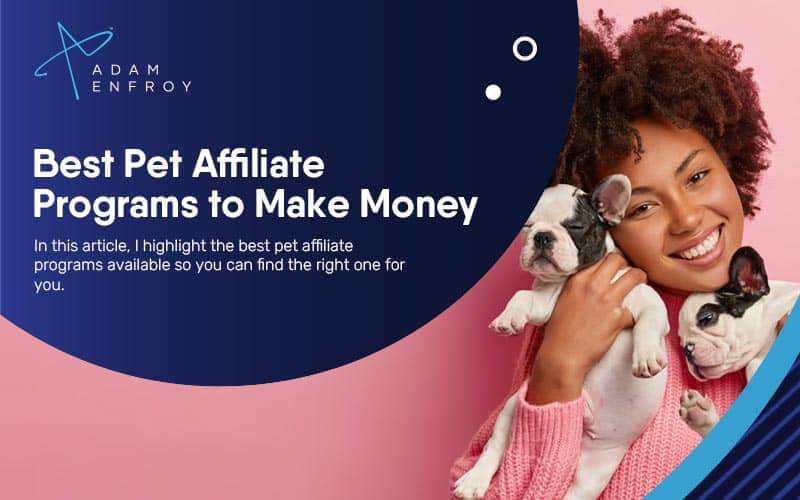 Have you ever thought, "Pets are so much better than people"?
Many people confess they prefer the former over the latter.
Pets are loyal and dependable while providing unconditional love.
With pet ownership on the rise, in this article, I'll highlight the best pet affiliate programs available so you can find the right one for you.
With nearly eight out of ten owners having acquired pets during the recent pandemic, there has never been a better time to join the right affiliate program in this industry and start making money online.
What Are The Best Pet Affiliate Programs?
Here are the top pet affiliate programs to consider.
1. Hepper.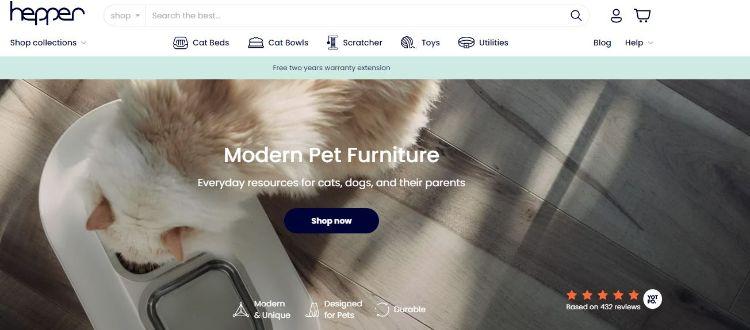 If you're a pet owner who wants the best for your animal, Hepper is a great company.
Their furniture is well-designed, looks good, and provides safety.
When you buy Hepper products, you can rest assured knowing your pet is safe.
The pet affiliate program is great for those looking to earn a 12% commission on purchases. This number can increase if the affiliates sell a lot of furniture.
Commissions are paid every other week in USD, and you must earn at least $50 before withdrawing them.
2. NomNom.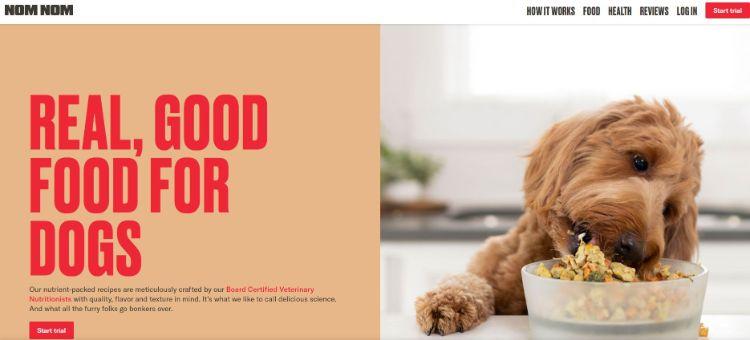 NomNomNow is an excellent choice for pet owners who want fresh food delivered to their doorstep.
The company offers free shipping, automatic reordering, and portioning tailored to their pets' nutritional needs, and they also emphasize health and well-being by selling probiotics and microbiome testing kits.
All NomNom meals are made with high-quality ingredients and cooked in their local kitchen.
The company then sends the food safely to all customers so that everyone can get the best nutrition for their beloved four-legged family members.
3. Pet Pro Supply Co.

Pet Pro Supply Co offers a commission rate of 4% and encourages interested affiliates to join their growing network.
With a 15-day cookie, affiliates have plenty of time to make a sale and earn money.
Pet Pro Supply Co strives to provide excellent customer service and support with every transaction.
They can help customers with a variety of transactions.
These transactions range from selecting the best pet food one's pet to finding the top-notch equipment veterinarians use in their clinics.
4. HolistaPet.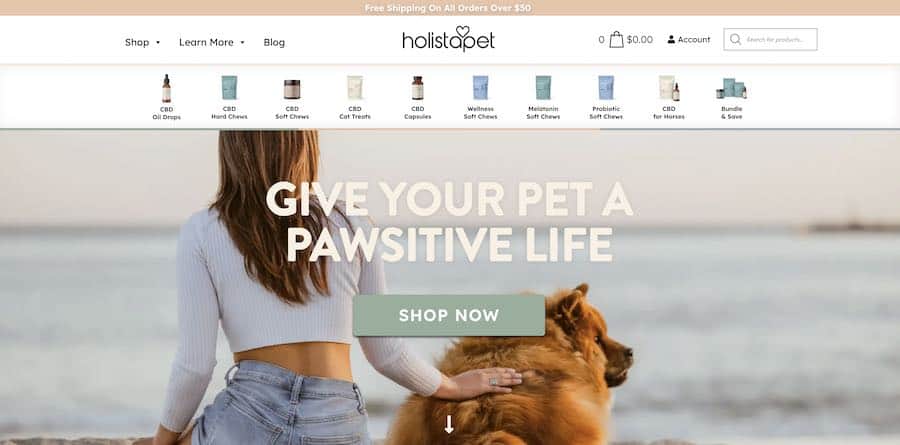 HolistaPet is quickly making a name for itself in pet health with its range of organic and natural CBD products.
Their products have undergone rigorous testing in a third-party laboratory and have gotten overwhelmingly positive reviews from many satisfied customers.
After trying out HolistaPet's products, customers wanted more for their beloved pets, so the company developed a line of treats and oils for cats and dogs.
HolistaPet has recently surged in popularity thanks to its dedication to quality as an alternative for furry family members.
5. Petcube.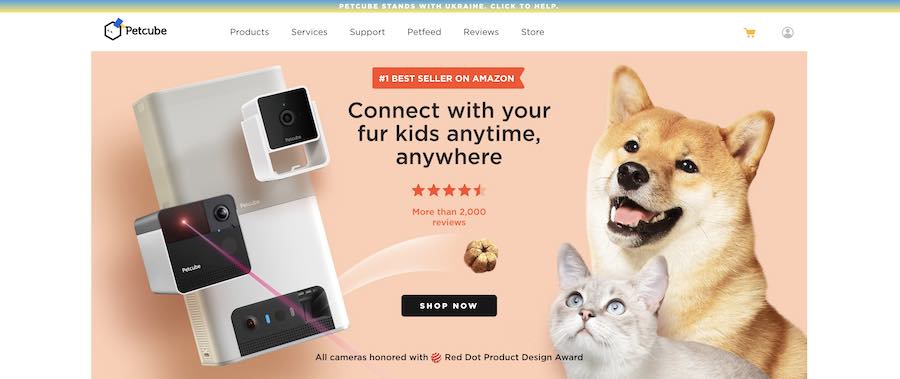 Pets can be a part of the family, so why not give them the same special treatment when you're away?
PetCube is a great way to keep connected with your furry friends while you're busy at work or on vacation.
With its unique camera system, PetCube allows you to see, talk to, and even reward your pet with treats, whether you're halfway across the world or just a few streets away.
You don't have to worry about your pet's safety, either.
PetCubes have sound detection that alerts you of any barking or meowing.
6. Bark Potty.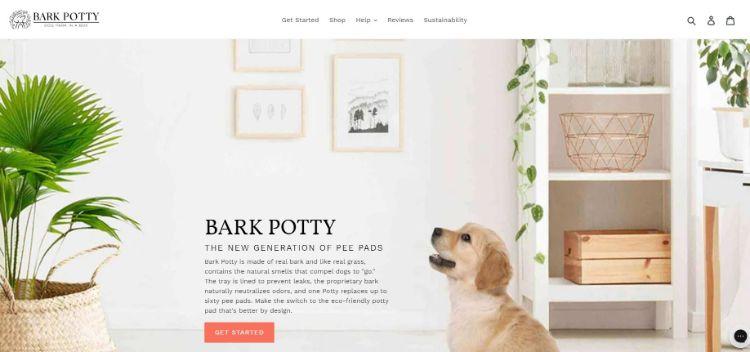 Bark Potty is revolutionizing the pet potty market in an eco-friendly way.
Their sturdy organic pads are designed with natural bark and like-real grass, providing a natural environment for your pup that encourages them to do their business.
The tray holds the pad in place to prevent leaks, making it easy to clean up and dispose of afterward.
Not only that, but by design, it also neutralizes any odors that may arise.
Moreover, you can also join their pet affiliate program and get rewarded.
They pay a 10% commission for every new subscriber you bring within a 30-day cookie window.
7. GreaterGood.

GreaterGood is an incredible resource for the global community, with its commitment to giving generously.
The company has a remarkable history of raising money for charity, having given more than $60 million since first starting operations.
Along with their positive financial impact, they also focus on making a difference in humanity by helping people and providing resources to areas across the planet.
8. Embrace Pet Insurance.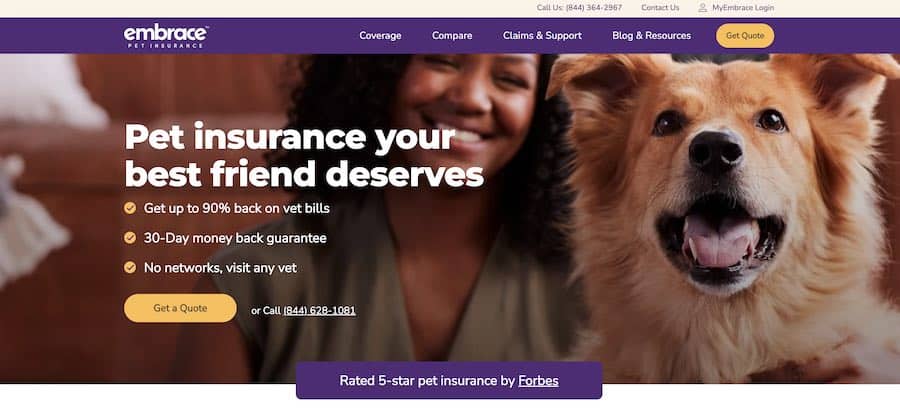 With Embrace Pet Insurance's affiliate program, you can offer your audience policies and plans tailored to their pet's needs.
Their flexible wellness plans, personalized accident and illness policies, and superior customer service put them ahead of the pack when it comes to being an affiliate partner.
Plus, they take corporate social responsibility seriously: $2 from every policy is donated to charity.
That being said, this isn't the most generous of pet insurance affiliate program out there, given that you get only a $5 commission per lead.
9. Yumwoof.
Yumwoof is a natural pet food company that provides wholesome, human-grade ingredients for healthy, satisfied pets.
It is also committed to meeting or exceeding the nutrient profiles set out by the Association of American Feed Control Officials.
Being able to guarantee this high level of quality and safety while still being affordable makes Yumwoof a great pick for pet owners seeking nutritious and budget-friendly food.
Affiliates can also benefit from the Yumwoof affiliate program, which boasts an impressive 15% commission rate and a 45-day cookie duration.
With so much potential on one platform, it's easy to see why Yumwoof is gaining momentum with affiliates nationwide.
10. Pets Warehouse.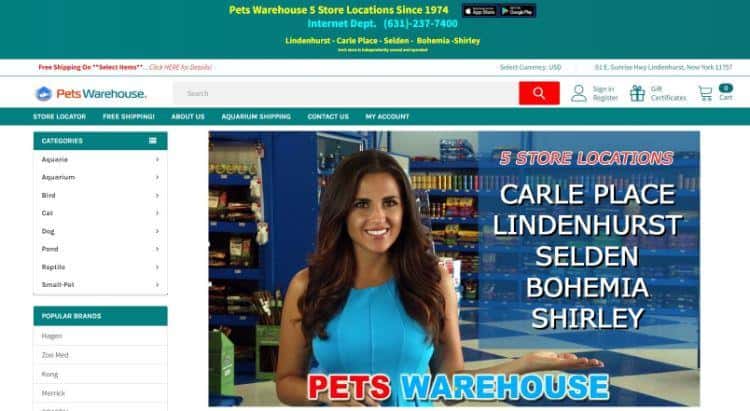 Shopping for your furry family members got much more accessible with Pets Warehouse.
The prices range from affordable options to steep price tags of up to $3,000.
On average, the average order is about $60.
They offer a super affiliate program that pays out per sale and a regular affiliate program that pays out 6% per sale.
11. Animal Den.
Animal Den is a great online destination for passionate pet and animal lovers who want to offer a special treat to their furry friends and purchase unique items.
They have an impressive selection of thousands of exquisite animal-themed products, and their affiliate program collateral offers you various opportunities to make money.
For every sale you make, you'll receive a 12% commission plus an extra 1% if your performance exceeds certain levels.
To maximize your earnings potential, you can also strive to pull together at least $1,000 per month in sales and make a 13% commission rate rather than 12%.
12. Petplan.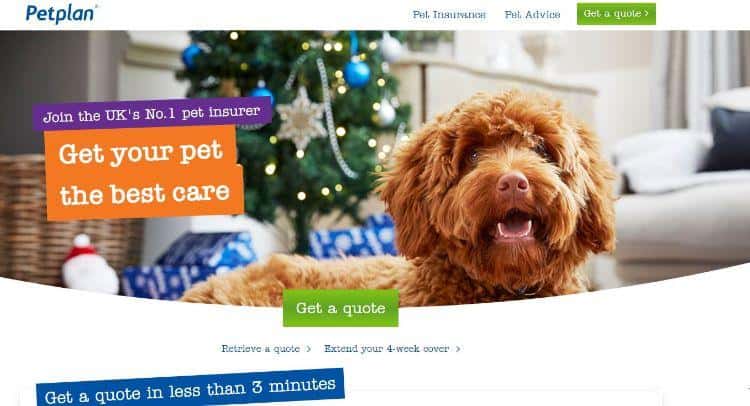 Petplan offers pet owners a comprehensive range of insurance plans to fit the needs of any pet lover.
From plan options designed for everyday medical needs to items like routine checkups, Petplan provides a solution that is both affordable and reliable.
Furthermore, their program pays for leads at $25 each for anyone looking to make money in this sub-niche.
13. My Bully Sticks.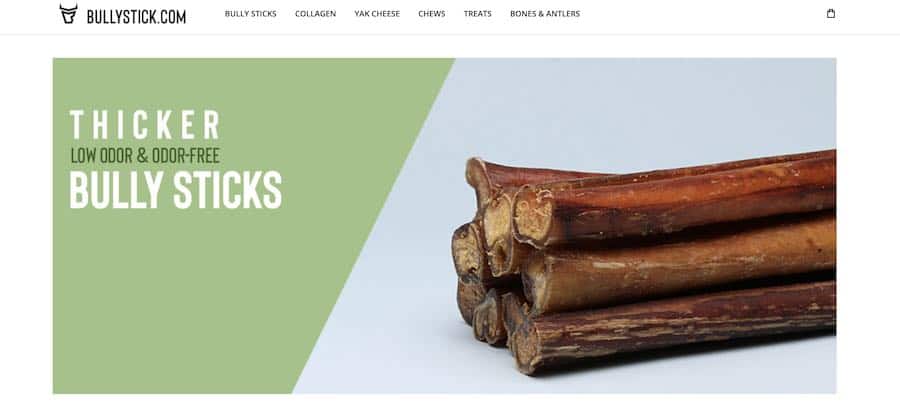 My Bully Sticks has all the treats pet owners need to keep their furry friends happy and healthy.
From delicious bully sticks and chews to crunchy bones, My Bully Sticks has committed to providing pet owners with all the options they need regarding treats.
All the products sold by My Bully Sticks are of the highest quality and safety, so pet owners know they are getting them.
14. FurHaven.

Thanks to their affiliate marketer program, FurHaven rewards those who become affiliate marketers with 10% of any money made from selling their products.
Additionally, FurHaven boasts an impressive conversion rate of 9.6%.
This estimate means that approximately 1 out of 11 visitors will result in a sale worth around $10 for the affiliate marketer.
15. Bulletproof Pet Products.
Bulletproof Pet Products is ideal for pet owners looking for durable and safe products for their furry friends.
Their rubber toys are specially crafted with tough-on-toys dogs like Pitbulls and bulldogs in mind, offering reliable strength and longevity.
Moreover, customers can take advantage of a 90-day one-time replacement guarantee if an item breaks or becomes unsafe.
Recently they expanded the brand's offerings to include skin care products and yummy treats to give pet owners even more options.
With sure-to-please items like these, Bulletproof Pet Products will be a hit with your target audience.
16. Chewy.

Shopping for your pet on Chewy is a great way to get what your furry friends want and need.
They have everything from food to toys and accessories, with various brands to choose from.
With the Chewy affiliate program, you can save money on recurring purchases or items you buy often.
And if you want extra cash, their affiliate program pays out 4% of your sales.
17. Pet Care Supplies.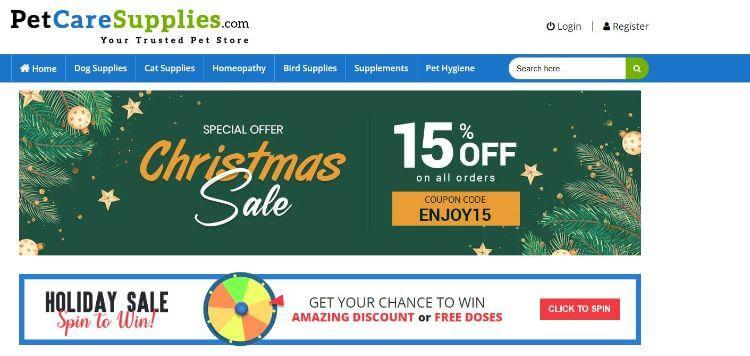 A great way to monetize your pet website is to become an affiliate for Pet Care Supplies.
This company specializes in pet health products such as collars, treats, and food for all pets.
As a pet retailer, the variety of products helps customers make the proper choices for their pets.
Furthermore, their average order value is an impressive $120, allowing affiliates to make 10% of that for each sale.
18. Rover.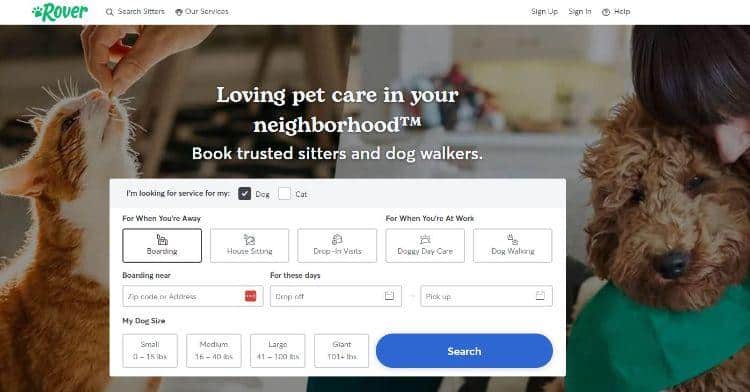 Rover is the go-to service for pet owners looking for help with their furry friends.
Whether they need someone to walk their dog while they're away or take care of them while they're busy, Rover has people available to fulfill all types of pet services across the country.
With a great referral rate of 15%, plus a cookie duration of 30 days, Rover continues to be a reliable and trustworthy network for pet owners in need.
19. King Kanine.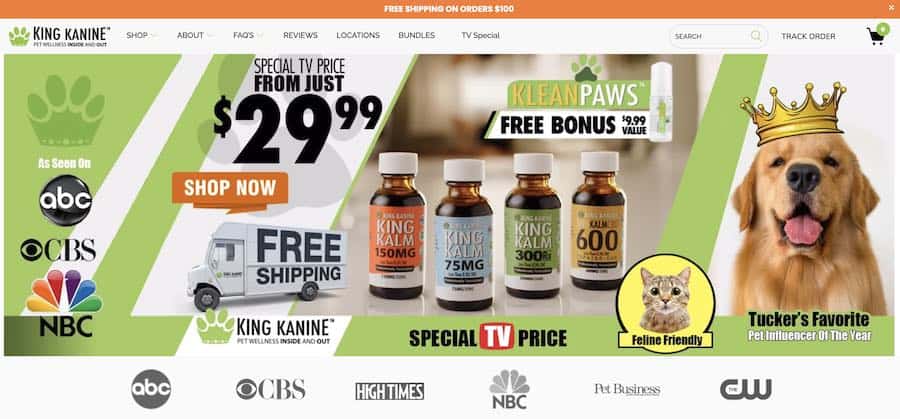 King Kanine stands out from the pack as a company offering a wide range of products to keep pets happy and healthy.
Their selection includes sprays, balms, and shampoos infused with CBD, which is renowned for its calming properties.
King Kanine products make an excellent addition for those looking to increase their affiliate site sales.
They are reliable, safe, and essential in helping pet owners take good care of their beloved animals.
20. Brain Training for Dogs.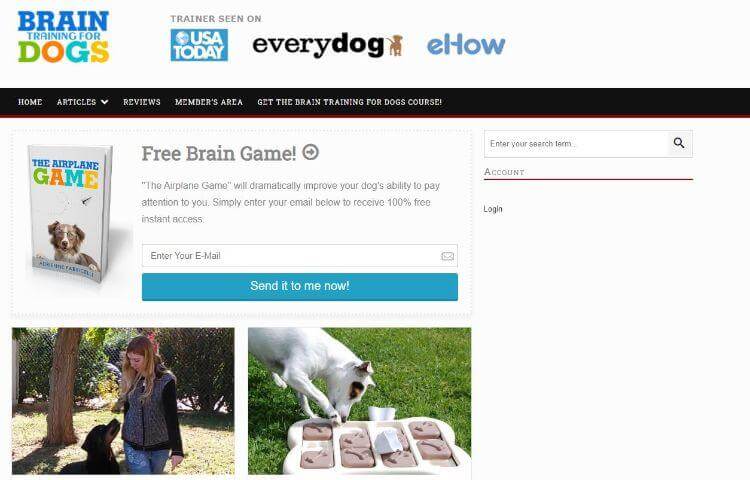 The Brain Training for Dogs Affiliate Program is a boon for pet owners struggling to modify their problematic behavior.
Instead of harsh methods or physical discipline, the program promotes an enjoyable and interactive approach that uses games and rewards between the dog and its owner.
Neuroplasty is the cornerstone of this training method, effectively debunking the myth that dogs cannot pick up on new tricks.
As an added incentive, affiliates who market this program through Clickbank will earn up to 75% commission off successful customer referrals, creating an opportunity to make money while promoting animal welfare.
21. Petco Supplies.

From selling pet accessories to helping in-store groomers in the United States, Petco diversified its range of services for pets and their owners.
Throughout the turn of the century, Petco branched out even further by offering to mail-order businesses and joining social media for affiliate marketing when internet usage boomed nationwide.
The Petco affiliate program does not pay commission on sales from their affiliates but receives high EPC rates of up to $45.5 per click-through from an affiliate's website.
22. Vet shop.
VetShop, now owned by TotalPetSupply, has undoubtedly made its presence known since it began in 2010.
To drive customers to their store, they spend around $100,000 every month on advertisements.
Across the board, eight percent of visitors who view the ads decide to follow through and check out the website, proving that the ads attract attention.
VetShop's affiliate program offers a great incentive for interested parties.
The user receives a 10% commission for anything purchased within seven days.
23. Ollie.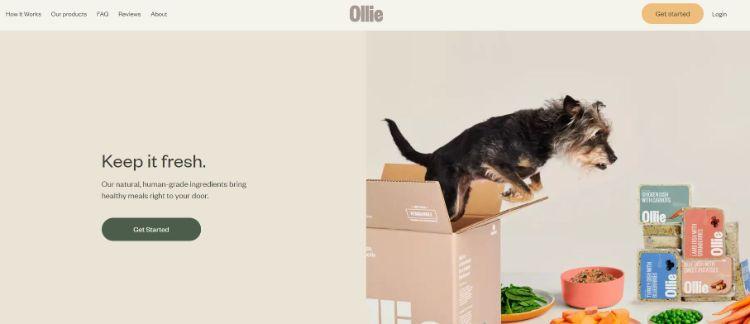 Ollie dog food is an excellent choice for the health-conscious pet owner.
It contains only the finest, high-quality meats suitable for human consumption, so you can rest assured that your pup is getting all the nutrients they need.
Even better, one can find no added fillers in this brand's pet foods.
And with meals tailored to individual pets based on age, breed, and lifestyle, you can be sure you're feeding your dog well.
Plus, if someone you know decides to try Ollie with your unique link, the Ollie affiliate program pays out $60 per purchase.
It's a win-win for both humans and their canine companions.
24. TruDog.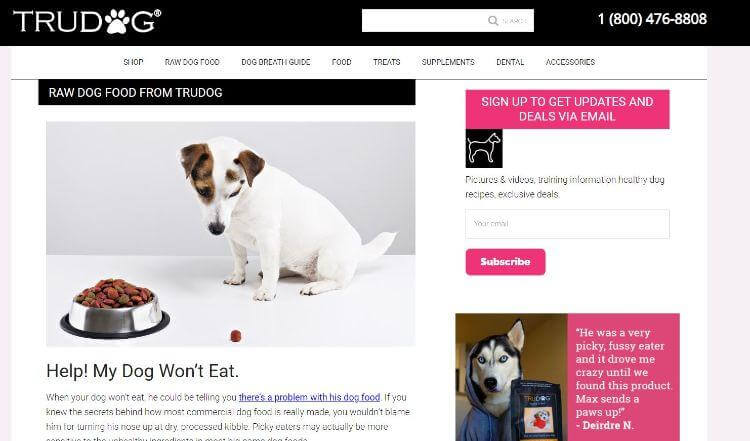 Founded by Lori Taylor, TruDog is a pet food company devoted to providing healthy options for our four-legged friends.
Their goal is to offer freeze-dried raw food, supplements and treats with few ingredients so that dogs can stay healthier for longer.
Not only does TruDog provide great products for pet owners, but they also have marketing assets like product reviews and content contests that people can use.
25. Raised Right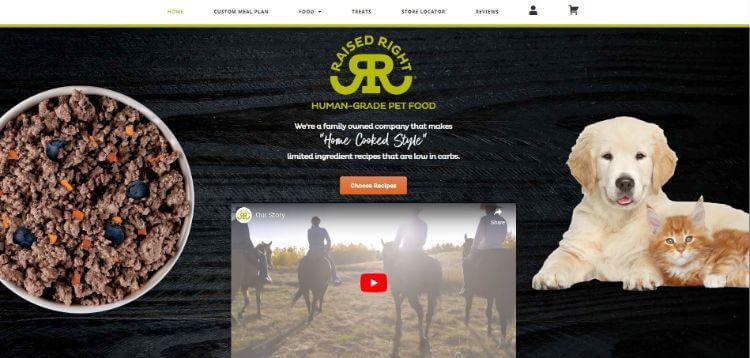 Raised Right is the ideal solution for easy, healthy meal prepping for pet owners.
The family-run business provides freshly-made meals that are good enough to eat.
All ingredients are human quality, as checked and confirmed by Check Your Pet Food.
There's also no need to over prepare.
One can put the frozen meals in the fridge to defrost overnight and is ready to serve up to six days later.
26. Embark.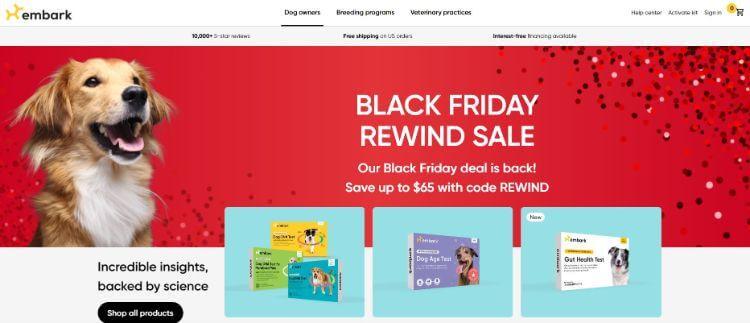 Embark, an affiliate program offering DNA home testing kits, provides an innovative proposition for evaluating the health of pet owners and their canines.
With prices ranging from $129 to $199, the kits feature intriguing benefits, one of which is identifying what kind of dog one owns and assessing its health.
In addition, Embark allows users to unlock more nuanced genetic insights about their four-legged companions with more profound analysis on their website.
For these reasons, pet-focused sites make perfect sense to join the Embark endeavor.
27. Sittercity.
For pet owners looking for a reliable, trustworthy service to provide pet-sitting services, Sittercity has become the go-to choice.
Their extensive selection of services capitalizes on helping people in various scenarios.
Whether one needs to take a vacation or have animals that require exceptional medical attention, there are plenty of situations where this service comes in handy.
Whether administering medication or standard cleaning duties, the sitters provide all necessary assistance.
With detailed profiles and reviews for each sitter, filterable search query options for location, and particular skill sets to accommodate pet owners' unique requests, Sittercity makes pet-sitting one less thing to worry about.
28. Paw.com.

Paw.com has created a product that pet parents everywhere love, and it's easy to see why.
Their dog beds are designed for maximum comfort and use high-quality memory foam that molds to the shape of your pup's body.
Not only are they soft and luxurious, but with an average cost of $120, you can make a good commission as an affiliate by recommending this product to fellow pet owners.
29. BarkBox.

If you're a pup parent who loves to treat their furry friend, BarkBox is a perfect service.
You'll receive two toys, two bags of treats, and a chew for your pup every month.
The great benefit is that all this comes for as low as $23.
More than two million dogs are also already using BarkBox.
You can become an affiliate and get $18 for each sale.
30. Revival Animal.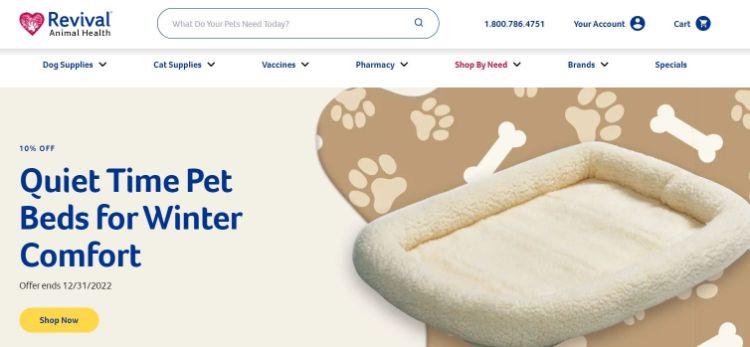 Since 1989, Revival Animal Health has ensured all pet owners can access the best and most up-to-date products for their furry friends.
The online store stocks over 1,500 products that affiliates can help direct customers to and earn 10% of each purchase.
Moreover, cookies remain active for 45 days, meaning affiliates still get credit for purchases.
An enthusiastic, dedicated manager is also willing to assist with any queries.
31. FitBark.

Pet owners can find comfort and peace of mind in the FitBark GPS tracker.
This tiny device packs a big punch, with its 4.3-star rating on Amazon showing just how much it's appreciated.
Affiliates have many reasons to love the product, too, with a generous 12% base commission per sale plus a perk of an extended 60-day cookie window.
As a Fitbark affiliate, this window is much longer than other programs offer.
32. Natural Wonder Pets.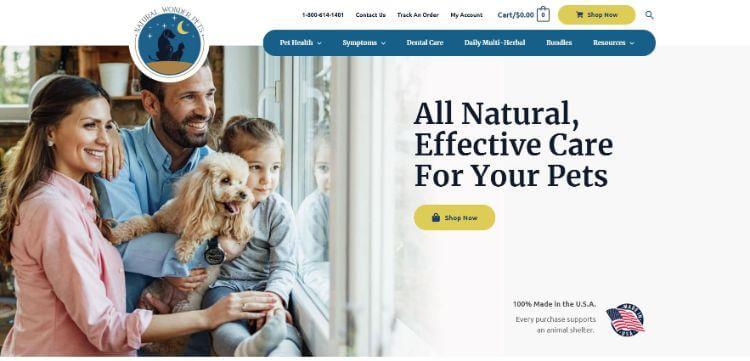 Natural Wonder Pets knows that your pet's health matters, so they take pride in providing remedies from the most natural ingredients.
Their products are the result of many years of extensive research and testing, getting only the best ingredients that are certified organic by the USDA.
Furthermore, their harvest process is as humane as possible.
This information provides priceless peace of mind about your pet's well-being.
Natural Wonder Pets offers a base commission rate of 15% that rises to 18% for monthly sales of $1,000 or 21% for monthly sales of $5,000.
33. Furbo.
Furbo is a revolutionary dog camera created by pet lovers for pet lovers! You can check in and interact with your beloved pooch no matter where you are.
With excellent picture quality, even in low light conditions, plus two-way audio so you can hear and speak to your pup, Furbo brings dog owners peace of mind.
You'll also receive an alert when your doggo is barking, so no need to worry about any neighbors complaining.
Not only that, but Furbo's affiliate program rewards you with 5% of all sales made through your link.
34. The Online Dog Trainer.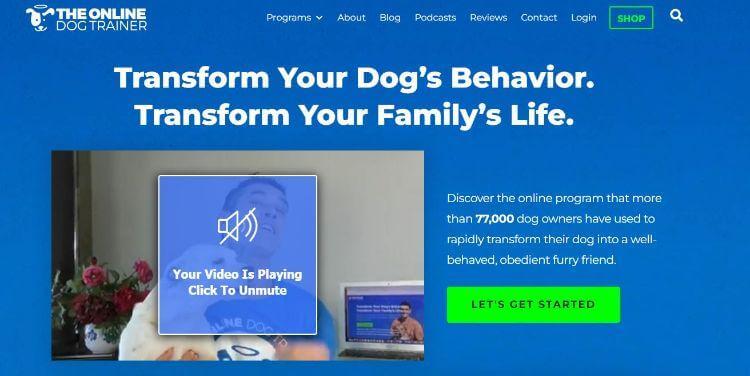 The Online Dog Trainer is one of ClickBank's most successful pet products.
It has helped more than 57,000 families train their dogs, and its popularity keeps growing.
It offers a fantastic deal to its affiliates with an impressive 70% commission rate for every sale they make within 60 days.
Plus, its refund rate is only 3%, one of the lowest in the industry.
This rate is tangible proof of customer satisfaction.
35. Pet Warehouse.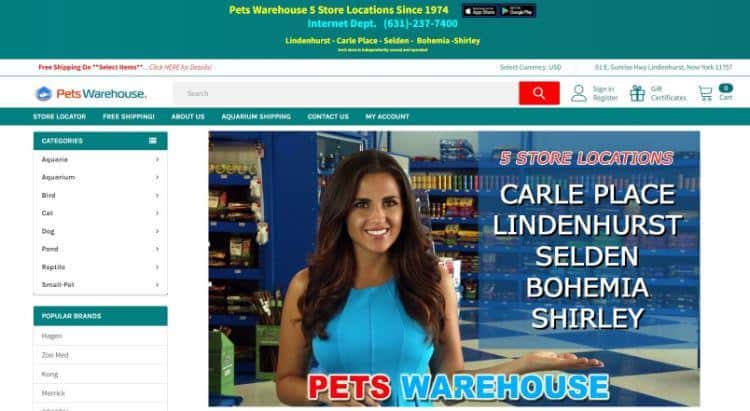 The Pet Warehouse has lots of things going for it.
The company's prices are lower than other companies while providing a wide selection of products.
However, they have strict requirements, so they may only be an ideal partner if you meet their criteria.
Recently, they reduced the amount of time given to buying items to 10 days which can be difficult for some people trying to purchase items from the company.
36. Ruffwear.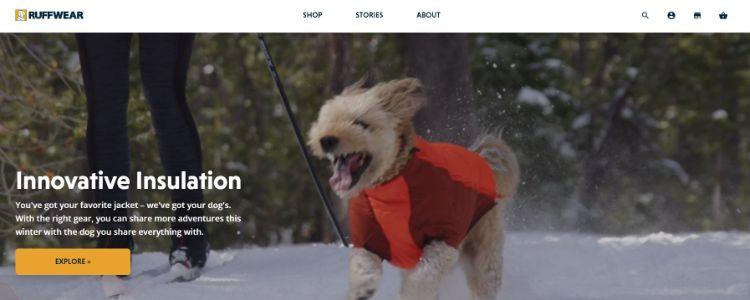 For those in the outdoor niche and their canine companions, Ruffwear provides a truly excellent opportunity to earn some extra money.
In terms of products, you'll find tough-as-nails gear built so that humans and their dogs can explore nature for hours without worrying about durability or comfort.
Crafted from materials and components that are standard in the outdoor industry, Ruffwear products offer just what adventurers need for their next journey – at an affordable price.
Take part in the affiliate program (8% commissions) and join others monetizing from striding confidently into nature.
37. Zooplus UK.
Affiliate marketers in Europe can take advantage of Zooplus.
With 8,000 products to promote, such as food, accessories, and medical treatments sold on their website, affiliates have a wide range of product offerings.
Signing up for their affiliate program is easy through Commission Junction; Commission rates may be low at 2% – 3%, but affiliates can make up for it with large volume sales.
What Are Pet Affiliate Programs?
Pet affiliate programs are an innovative way to promote pet products online.
By becoming a pet affiliate, you can earn commissions from referring online shoppers to sponsored pet product websites.
Most popular pet affiliate networks allow affiliates to choose from thousands of different pet-related merchandise and services.
These items include food, toys, grooming supplies, health care products, pet insurance, travel accessories, and more.
What Makes A Great Pet Affiliate Program?
Here are the primary considerations when choosing the right pet affiliate program.
A Generous Commission Rate
A great affiliate program offers a competitive and generous commission rate in exchange for promoting its products or services.
With many pet owners wanting to provide the best care possible for their animals, there is often an opportunity to make meaningful commissions from pet-related products and services.
When promoting pet affiliate programs, you must consider how much you will earn for each sale.
Said differently, higher commission rates are often more attractive to affiliates.
Also, the top pet affiliate programs tend to have generous commission structures that help affiliates make the most out of their efforts.
A Long Cookie Duration
A cookie is the tracking code vendors give, which tracks if a customer purchases via an affiliate link within a certain period (the "cookie duration").
Depending on the vendor's policy, this duration can range between a few days to several months.
From dog collars to dog toys and health products, having a longer cookie duration prevents affiliates from losing sales if the customer takes a long time to make a purchase decision.
With pet supplies being essential items customers need to buy regularly, having a long cookie duration is crucial when selecting an affiliate program.
Variety Of Products And Services To Promote
Bloggers interested in the pet niche often want to promote various categories of pet-related products and services.
This need for variety encapsulates anything from dog food, treats, toys, leashes, and harnesses to subscription boxes, pet grooming, and veterinary services.
Whether it's a new CBD oil, better dog treats, dog leashes made of different materials, or even pet subscription boxes – having variety opens up more potential opportunities to make sales.
An online pet store should offer products and services covering multiple categories to maximize its affiliates' earning potential.
Easy-To-Use Tools For Affiliates
The affiliate link that vendors give to affiliates should be easy to copy and paste onto their site or blog post.
However, an affiliate area offering additional marketing materials such as banners, images, and widgets is often beneficial for the affiliate when promoting pet-related products.
Having these resources available also makes tracking and monitoring vendor affiliate sales easier.
For an affiliate, selling to a new customer is much easier if they have access to suitable marketing materials.
Platforms like Shareasale offer tools that allow affiliates to quickly generate links and banner ads with just a few clicks.
If a vendor runs their affiliate program, allowing affiliates to customize the right resources is even more beneficial as it gives you more control over how your promotion looks.
An Established Reputation In The Pet Industry With Happy Customers
For a person buying online, their dog's health is paramount.
Therefore, when selecting affiliates to promote pet products and services, it is essential to look for programs with a good industry reputation with happy customers.
Whether you're promoting organic CBD pet products or human-grade ingredients in dog food, it's essential to ensure that the vendor has an established track record of providing quality products and services.
In the pet niche, reputation is vital, and having an affiliate program run by a reputable brand can help significantly increase your chances of making sales.
If customers know they're getting quality service from a trusted provider, they are more likely to purchase through your affiliate link.
As an affiliate, research the company behind the program and ensure they have a track record of happy customers.
An Affiliate Program That Is Easy To Sign Up For
Whether you want to offer potential customers a coupon or promote an online pet store, having an affiliate program that is easy to get started with is essential.
The ability to quickly apply for a program and start promoting is key for any successful pet-related affiliate.
Transparent Terms And Conditions Which Protect The Interests Of Both The Vendor And Affiliates
No one likes being told one thing and then finding out something else entirely when it comes time to receive payment from an affiliate program.
This truth also applies to the pet industry.
Affiliates want clarity on payment terms.
Especially with a subscription service, one must be aware of hidden fees or charges that could eat away at their commissions.
Having clear terms and conditions helps protect the interests of both vendors and affiliates.
Finally, getting paid on time is crucial.
Even better than that is getting paid recurring revenue like clockwork.
Finding a program that offers recurring commissions will ensure you get the maximum return on your investment of time and effort.
An affiliate program with these features helps build trust between vendors and affiliates.
This trust is key to building a successful pet-related affiliate business.
What's The Best Way To Get Started With Pet Affiliates?
Here are the main steps to consider.
Research Pet-Related Products And Services To Find The Best Programs That Fit Your Niche
There are many different types of pet-related products and services out there for affiliates to promote.
With new niches such as DNA testing to valuable products such as the Furbo Dog Camera, there are plenty of options to choose from.
One can also cater to specific diets or meal plans and sell quality foods that help keep pets healthy.
Vaccines are another great way to make money through affiliates.
As you can see, many options are available for pet-related affiliate programs.
Create A Website Or Blog Dedicated To Your Chosen Niche With Helpful Content
Setting up a website or blog dedicated to your chosen niche is essential to success in the pet industry.
Having helpful content on your site will entice potential customers and make them more likely to purchase an item you promote.
Also, a blog will help with SEO, increasing site traffic.
Reach Out To Potential Customers
Finding the right target audience is key to success in the pet industry.
If you want to sell food, finding feeders with large social media followers can benefit your affiliate program.
As another example, if you want to sell pet insurance – targeting owners of more expensive breeds can help you bring in a higher commission.
With different payouts based on the products or services you promote, ensure that you are targeting your efforts accordingly.
Track Progress Regularly With Analytics Tools
Tracking your performance is essential for any successful affiliate program.
Using data visualization platforms can help you track how well your campaign is doing and what changes to make.
Wrap Up.
The dog is men's best friend, and selling pet products and services through affiliates can be a great way to help owners build up that relationship while making money online.
You can take advantage of a niche market and make good profits by selling products others have created in the pet industry.
Further reading on AdamEnfroy.com: How do beginners succeed with affiliate marketing?
To get started, here is all you need to know about affiliate marketing.
Finally, here are the most realistic ways to make money online at home.
Editorial Process:
Our reviews are made by a team of experts before being written and come from real-world experience. Read our editorial process here.
Some of the links in this article may be affiliate links, which can provide compensation to us at no cost to you if you decide to purchase a paid plan. These are products we've personally used and stand behind. This site is not intended to provide financial advice. You can read our affiliate disclosure in our privacy policy.
---
Last Updated on September 13, 2023 by Adam Enfroy