The Best Recurring Affiliate Programs For Small Businesses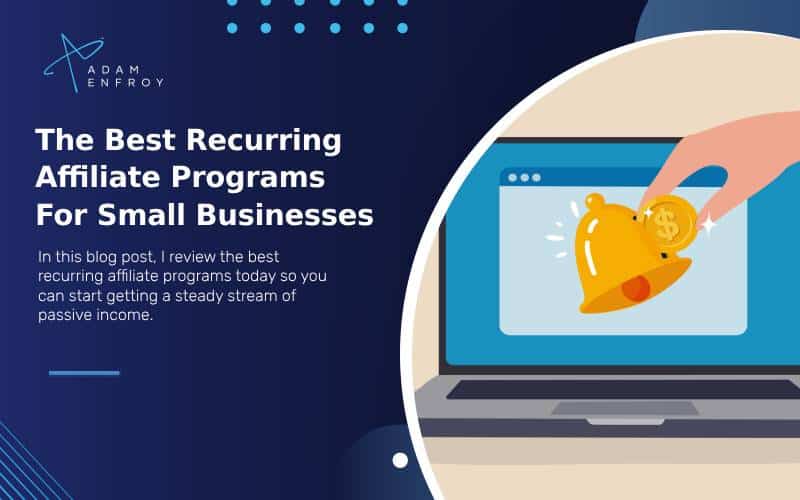 The word recurring is one of those words that make small business owners perk up.
Recurring income equates to reliable income with minimal effort, which all businesses should strive for.
The problem is finding the right affiliate programs to join is difficult.
It takes research (along with trial and error) to be sure you have picked the best program for your business.
In this blog post, I'll review the best recurring affiliate programs today so you don't have to do the heavy lifting.
What Are The Best Recurring Affiliate Programs?
Whether you're starting your affiliate marketing journey or think of yourself as more of a veteran, here are some of the best recurring affiliate programs to consider.
1. ClickFunnels.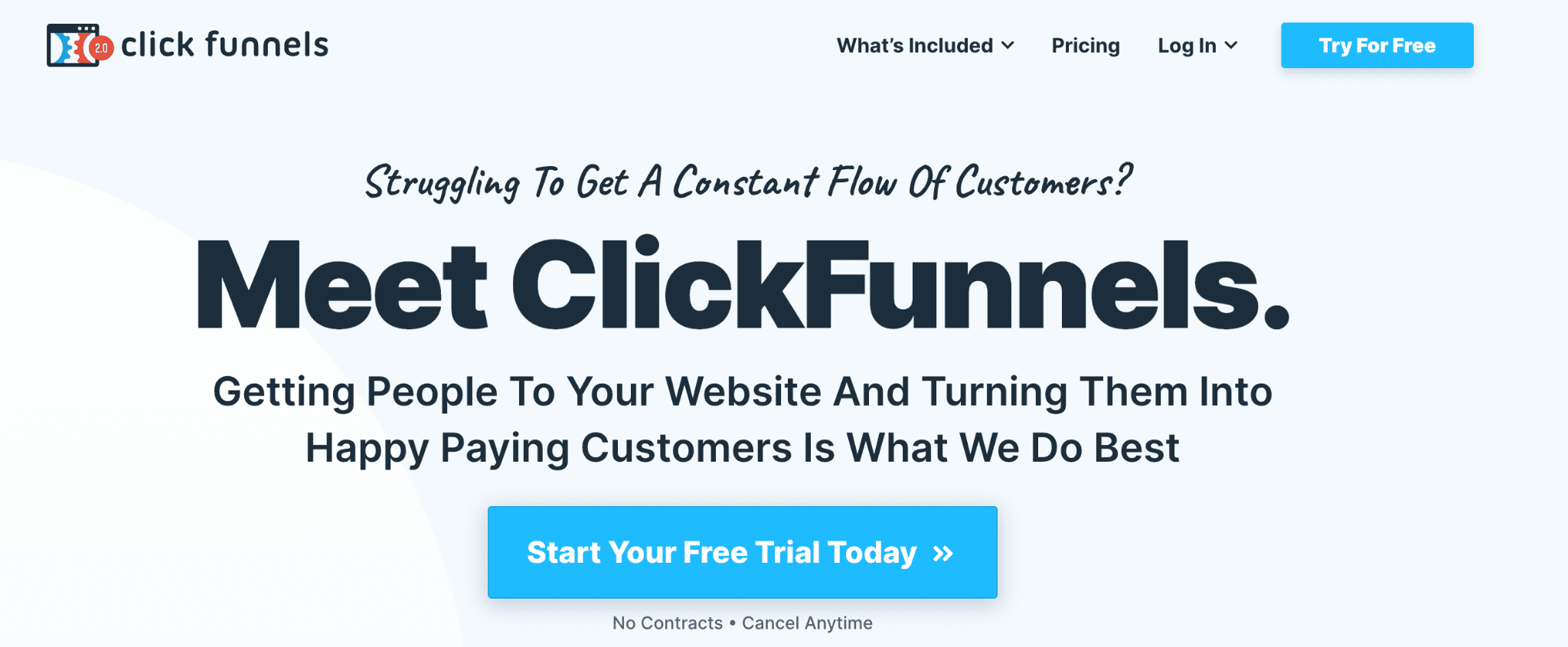 ClickFunnels' core idea is to promote the software and earn commission rates in return.
You can earn up to 40% commissions through different products and bounties.
Besides, the affiliate program provides all the resources you need to ensure maximum success as a promoter.
You also get a dashboard with performance insights, pre-designed banners, and sample email templates to share with your audience effortlessly.
That means you don't have to hire a professional marketer to create content for your website.
Clickfunnels offers a lifetime recurring commission of 20% for every customer you refer to the software and any additional products they acquire.
The best part is that you earn a higher commission rate as your referrals increase.
If your referrals earn up to $1000 a month, you unlock 30% recurring commissions.
Aside from earning commissions on the software, ClickFunnels also offers bounty commissions on specific products – the "One Funnel Away Challenge" and the "30 Days" book.
Both products cost $100, but you earn $100 in commission every time a customer uses your affiliate link to buy them.
That's a 100% commission rate!
Your income potential increases beyond the software, and you get rewarded for promoting the company's products.
2. Samcart.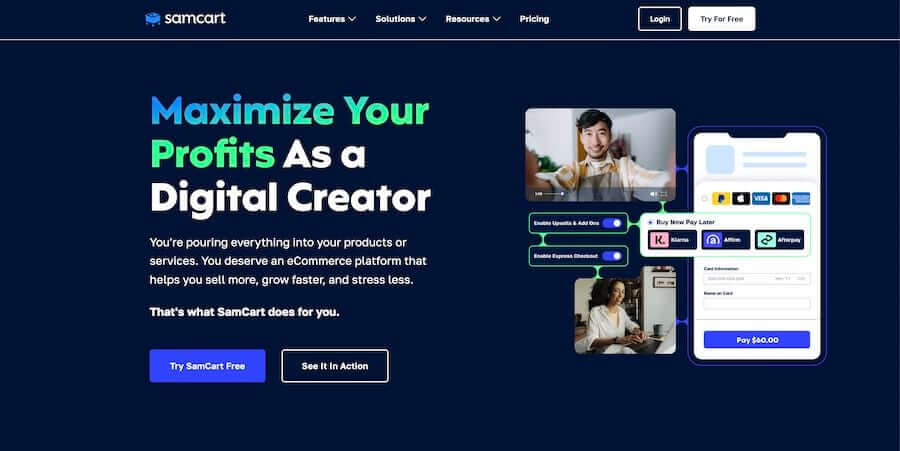 Are you a creator looking for a platform to sell digital products like online courses and ebooks?
Look no further than Samcart.
Samcart is an excellent e-commerce platform that can provide creators like you with a straightforward and efficient way to sell your products online.
Samcart is a user-friendly platform that provides users with a simple and easy-to-use interface.
The platform makes it easy for creators to create product pages, manage sales, and process payments.
It is an excellent solution for those who aren't particularly tech-savvy and want a platform that is easy to navigate.
One of the most compelling reasons to consider Samcart is the affiliate program.
Samcart offers a generous 40% recurring commission to affiliate marketers who direct traffic to the platform.
This commission is higher than most other affiliate marketing programs in the industry.
However, it's crucial to note that Samcart doesn't accept just anyone into their affiliate program – you'll need to apply and show that you can drive traffic.
If you're an entrepreneur looking to start your affiliate program and choose your commission percentage, Samcart has got you covered.
The platform gives you complete control over managing your affiliate program.
You can choose how much commission to pay your affiliates and get the ball rolling.
Starting your affiliate program can be an excellent strategy if you want to grow your business and increase your revenue.
3. ActiveCampaign.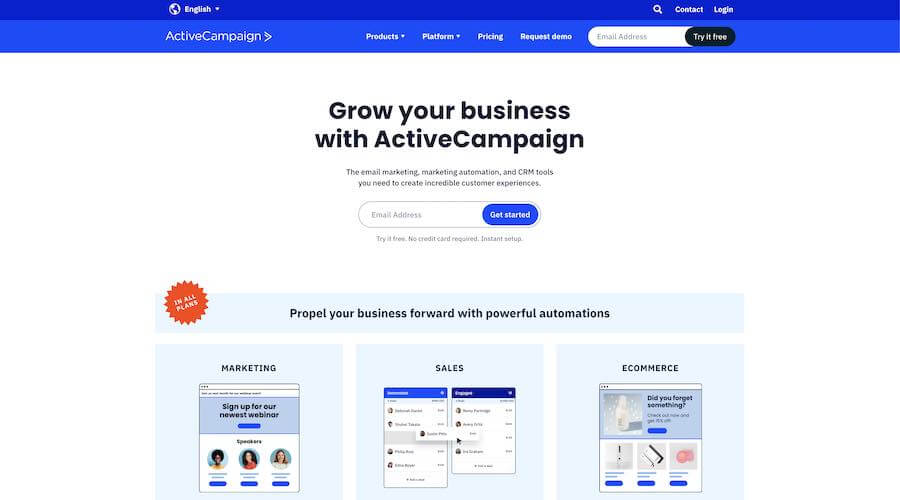 ActiveCampaign is a top-rated customer experience automation platform that simplifies complex marketing tasks.
Their email marketing tool streamlines email campaigns and has advanced automation features that enable businesses to create personalized and engaging messages that reach the right audience at the right time.
ActiveCampaign's CRM tool is equipped with predictive intelligence and lead-scoring capabilities, helping businesses nurture their leads and build lasting customer relationships.
What sets ActiveCampaign apart is its automation features.
You can create workflows and automated campaigns and segment your audience with ease.
The platform also offers robust tracking and analytics to help you monitor the performance of your campaigns, measure ROI and optimize your strategies.
With ActiveCampaign's referral program, you can earn at least 20% recurring commissions for every customer you refer.
Their average affiliate earns $1,350 per sale, and there's no cap on your earnings.
Your commission percentage only increases based on your success, offering unlimited earning potential.
Plus, with a 90-day cookie duration, you'll continue to earn commissions from customers who sign up later.
To become an ActiveCampaign affiliate, you must sign up for their referral program and promote their products.
The platform will automatically generate your referral links, making sharing them with your audience easy.
You can also track your earnings, performance, and conversions to help you improve your commissions and optimize your strategies.
4. Thinkific.

Thinkific is a powerful platform that helps creators build and sell online courses and memberships and earn a substantial commission from their sales.
Thinkific is a complete learning management system that allows creators to build and host online courses and programs, as well as memberships and communities, all in one place.
With Thinkific, you can customize your course, add multimedia and interactive features, and easily manage your students and their progress.
Thinkific has a user-friendly interface and offers a range of pricing plans, from a free starter plan to advanced pro plans, depending on your needs.
Thinkific offers a lucrative affiliate program that allows you to earn a 30% commission for every new customer who signs up for a paid plan through your referral link.
This commission is recurring for as long as the customer remains a paying member, meaning your earning potential is limitless.
Thinkific pays out commissions monthly, and with a 90-day cookie duration, you can earn up to $1,700 per year per referral.
5. Elegant Themes.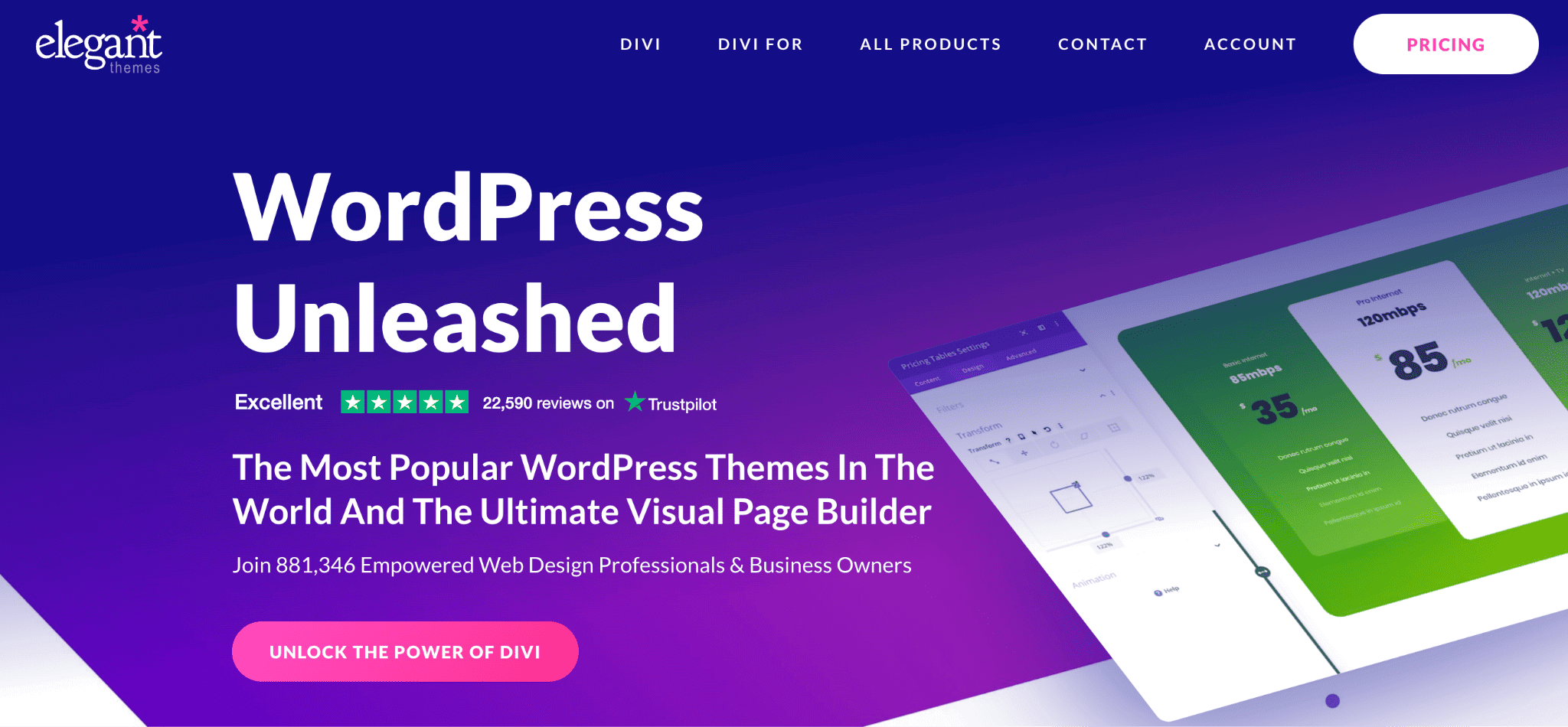 Elegant Themes offers an excellent opportunity to earn recurring income through its affiliate program.
If you are a blogger, web developer, internet marketer, or have a website, you can become an affiliate and start promoting Elegant Themes.
You can earn a recurring 50% commission on every yearly renewal of Elegant Themes, which is a significant advantage for affiliates.
It means you earn every year once you refer a customer and they renew their subscription.
The elegant Themes Affiliate Program offers several benefits to affiliates.
Firstly, the long cookie duration of 90 days is an advantage as it allows you to monetize traffic and generate ongoing passive income.
Secondly, Elegant Themes offers a high 50% commission on yearly renewals, meaning affiliates can earn a consistent income.
6. Hubstaff.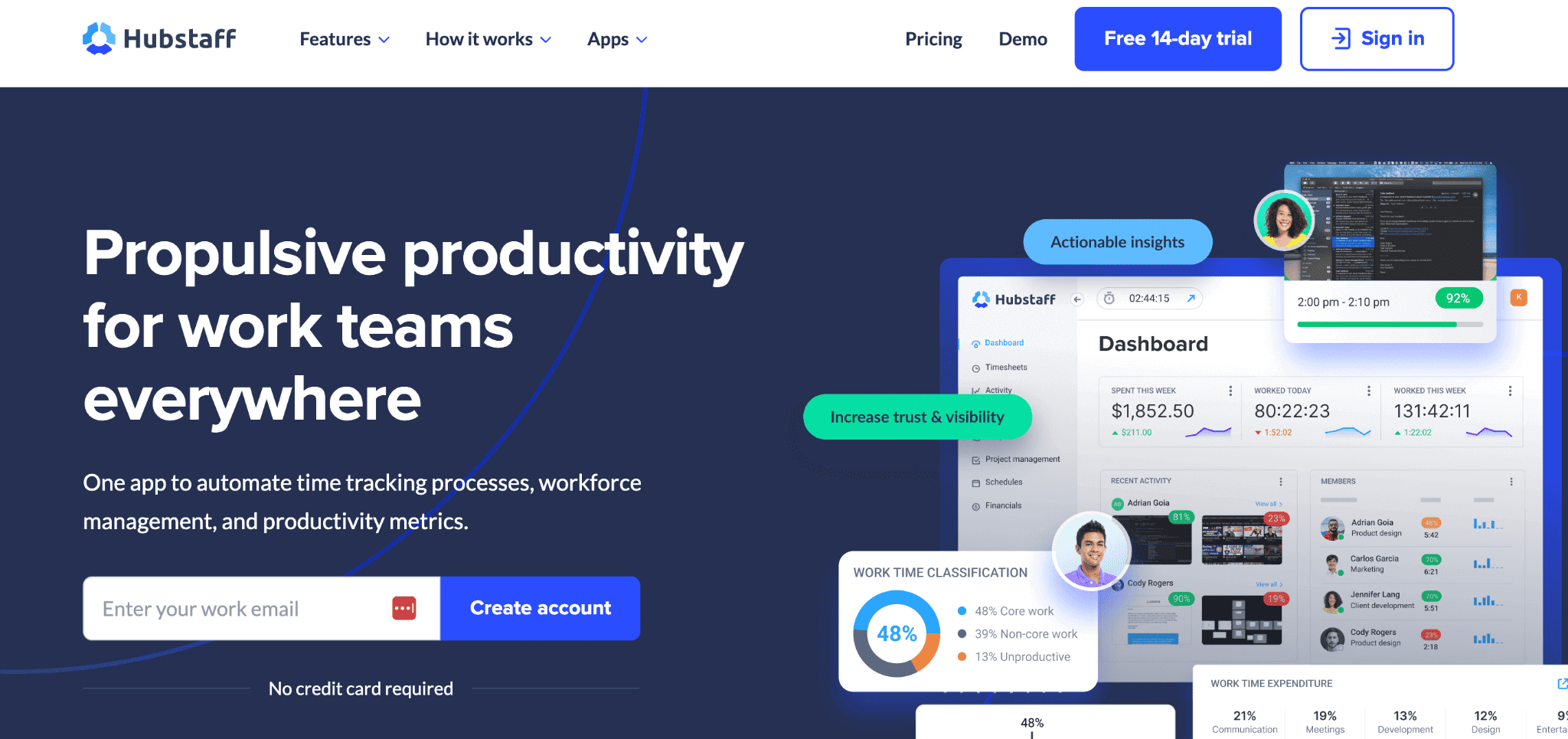 Hubstaff is a time-tracking and productivity management software that helps businesses to streamline their operations and improve productivity.
The software is easy to use, and you can access it from any device, making it convenient for teams working remotely or in the office.
Hubstaff allows managers to monitor their team's productivity, track their time spent on tasks, and generate reports to help make data-driven decisions.
Hubstaff offers an affiliate program that pays a 30% commission on all sales made by your referred customers for the first 12 months.
Hubstaff's software is affordable, starting at just $14 for two users, making it an attractive option for businesses of all sizes.
Hubstaff's software helps businesses streamline their operations, improve productivity, and save time, making it a valuable tool in today's business world.
Hubstaff's recurring commission program is attractive as it allows affiliates to generate revenue month after month, even after the initial sale.
Moreover, Hubstaff offers a 120-day cookie duration, meaning you will earn commissions on any sale within 120 days of the initial click.
7. NordVPN.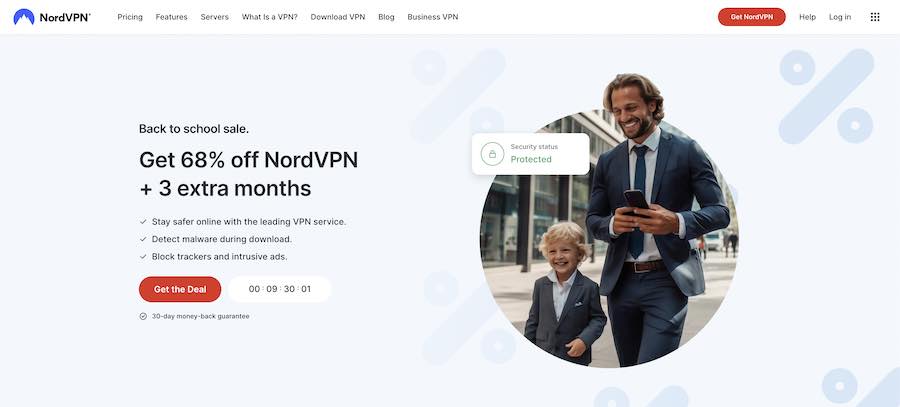 NordVPN offers advanced security features, including military-grade encryption, Double VPN, and CyberSec.
These features help to protect your online activity from hackers, identity thieves, and other cybercriminals.
NordVPN has a strict no-logs policy, meaning they don't track or store your online activity.
Therefore, your online privacy is always protected.
NordVPN's affiliate program offers an excellent opportunity to earn extra cash by promoting their VPN services.
With a 30% commission on renewals and up to 100% on initial sales, you can quickly earn some serious cash.
Plus, with a 30-day cookie duration, you'll have plenty of time to convert your referrals into paid users.
To become a NordVPN affiliate, sign up for their program and start promoting their services.
They'll provide you with various marketing materials, including banners, text links, and email templates, to help you get started.
Plus, their affiliate dashboard provides all the tools and data you need to track your progress and earnings.
8. SEMRush.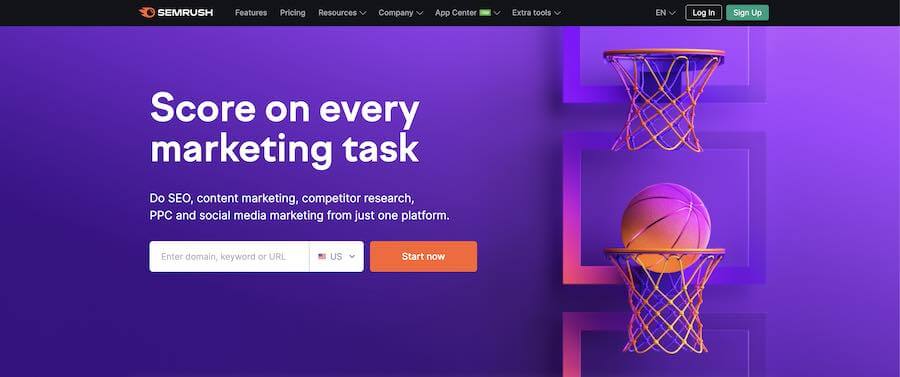 SEMRush is a complete marketing software platform aiming to provide SEO, PPC, competitor research, and content marketing tools to the market.
SEMRush provides a broad range of marketing tools you can promote as an affiliate partner.
These tools include SEO tools for keyword research, link analysis, and on-page SEO.
You can also exclusively promote the PPC (pay-per-click) tools used for keyword research and competitor analysis.
In addition, the comprehensive competitor research tools are also great to promote, allowing users to discover and analyze their competition's online marketing strategies and digital visibility.
Finally, content marketing tools provide valuable features, including social media management and topic research, to help identify trending topics to post relevant content for your audience through various channels.
The first step to getting started with the SEMRush affiliate program is to create an account on their platform through their affiliate signup page.
SEMRush provides promotional materials, including banners and links, which you can place on your website or share on social media to promote their products.
SEMRush tools help convert leads into paying customers by providing easy-to-use landing pages with step-by-step instructions on getting started with their platform.
Furthermore, the Marketing Calendar feature allows you to manage and track your promotions, making it easier to understand your campaigns and maximize your earning potential.
SEMRush Affiliate program offers a range of commission structures to help you maximize your earning potential.
You will be able to earn a recurring commission for each new subscription to SEMRush.
By joining the SEMRush affiliate program, you can earn a higher commission rate than you would with other affiliate programs.
9. SocialPilot.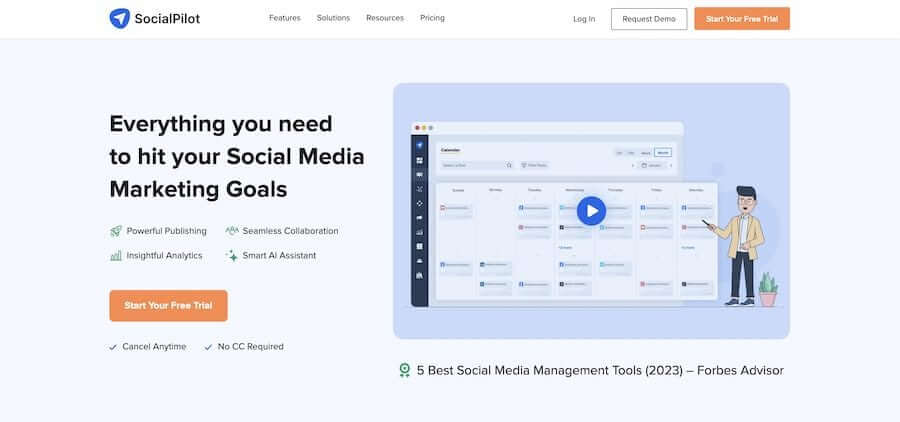 SocialPilot is an all-in-one social media scheduling and analytics platform that enables users to schedule and publish posts on multiple social media channels, including Facebook, Twitter, LinkedIn, Instagram, and Pinterest.
With SocialPilot, you can save time and effort while managing all your social media accounts.
The platform offers a user-friendly interface, making it easy for beginners to use while providing advanced features for expert social media marketers.
One of SocialPilot's notable features is its bulk scheduling capability.
Unlike other tools that limit the number of posts, SocialPilot allows users to schedule up to 500 posts at once.
SocialPilot's content curation feature also enables users to discover relevant content that can drive engagement and followers and save time for regular content creation.
SocialPilot's Affiliate program is another excellent way to earn extra cash while boosting your social media presence.
As an affiliate, you can promote SocialPilot's product and earn a commission of 30% on all new paid subscriptions, plus renewals.
The commission rates vary between $20 to over $100, making it an excellent opportunity for those looking to supplement their income.
In addition to the commission rate, SocialPilot offers a 60-day cookie duration.
You can earn the commission if a customer clicks your affiliate link and purchases a SocialPilot subscription within 60 days.
SocialPilot's comprehensive tracking system lets you monitor your earnings and performance in real time.
10. Kinsta WordPress Hosting.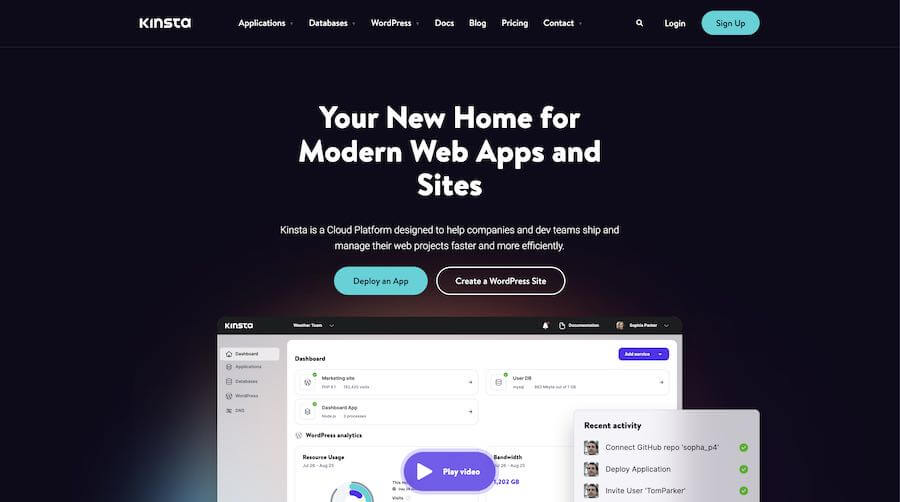 Kinsta is a great partner for all your WordPress hosting needs, providing you with high-performance plans that match your business size, budget, and goals.
Moreover, Kinsta offers a generous affiliate program that rewards you for spreading the word about its hosting services.
One of the main benefits of choosing Kinsta as your hosting provider is the flexibility of their plans.
You can choose from various options depending on your website traffic, storage needs, and server location.
For instance, the Starter plan costs only $30 per month.
It includes 1 WordPress install, 20,000 monthly visits, 10 GB SSD storage, and free SSL and CDN.
The Enterprise 2 plan, on the other hand, costs $1,500 per month and offers 80 WordPress installs, 3,000,000 monthly visits, 1,000 GB SSD storage, and advanced features such as free migration, multisite support, and custom infrastructure.
Whatever your business size and budget are, Kinsta has the right plan for you.
Another great advantage of Kinsta is its affiliate program.
By joining the program, you can earn generous rewards for each successful referral and enjoy 10% monthly recurring commissions throughout the customer's lifetime.
Therefore, you earn passive income by promoting Kinsta hosting and helping other businesses find the right hosting solution.
The referral payouts range from $50 to $500, depending on the customer's plan.
Moreover, Kinsta has a low churn rate of only 4%, meaning customers are satisfied and loyal to their hosting provider.
What Are Recurring Affiliate Programs?
While making a one-off sale can be profitable, recurring affiliate programs offer a much more sustainable and reliable income.
This program operates on a recurring commission structure, ensuring that you receive monthly payouts for the customer's lifetime.
Selling someone a product once is excellent, but recurring affiliate programs enable you to make money off of that same customer repeatedly.
This type of structure allows for a steady stream of income month after month, making it an attractive option for affiliates who want to maximize their earnings potential.
Recurring affiliate programs also benefit the merchant as they can establish a reliable customer base and increase their overall profits.
Merchants can use affiliate programs to generate leads, build brand awareness, and promote new products or services.
Merchants can incentivize affiliates by offering recurring commissions while ensuring long-term customer loyalty.
Benefits Of Recurring Affiliate Programs
One of the best ways for affiliate partners to secure a consistent income stream is by joining recurring income affiliate programs.
These partner programs offer recurring affiliate commissions for as long as a referred customer continues to pay for a monthly subscription.
Compared to one-time commissions, lifetime commissions from recurring affiliate programs are a more reliable source of income for business owners, resulting in boosted passive income.
An essential factor to consider when joining a recurring affiliate program is to understand the systematic payment structure.
Instead of getting paid a one-time commission when a referred customer makes a purchase, the affiliate partner receives a percentage of every payment made for the first year and beyond.
Recurring payments are advantageous for the affiliate partner as it helps foster customer loyalty and result in more sustainable income.
In addition to generating passive income, another benefit of recurring affiliate programs is cultivating customer loyalty.
As affiliate partners consistently promote a product or service, customers are encouraged to remain in the program due to the convenience and ease of monthly subscriptions.
It leads to increased customer retention and more affiliate commissions for the partner.
Overall, joining a recurring affiliate program is a wise choice for those looking for long-term, sustainable income.
With lifetime commissions, monthly subscriptions, and a focus on customer loyalty, these programs offer business owners a chance to secure a consistent revenue stream for years.
Choosing The Right Recurring Affiliate Program For You
When choosing the right recurring affiliate program for you, there are a few key factors to consider.
As bloggers, influencers, freelancers, and entrepreneurs, aligning with your audience's interests is essential when choosing the best affiliate programs.
Select products or services your audience is interested in and ensure they align with your brand and business goals.
Evaluating the affiliate program's terms and conditions is also crucial.
You'll want to understand commission rates and payment structures.
Researching and joining reputable affiliate networks like Shopify, Amazon, PureVPN, Teachable, Cloudways, and Mangools is wise.
These recurring commission affiliate programs offer reliable income streams and top-notch product quality and reputation that your audience will love.
Promoting Your Chosen Recurring Affiliate Programs
When promoting your chosen recurring affiliate programs, there are several effective ways to leverage your affiliate website and make the most of your marketing efforts.
First, consider using WordPress themes and website builders to create a visually appealing, user-friendly website that will attract your target audience.
Once you have a website, consider utilizing marketing automation and a marketing platform like Ontraport or GetResponse to streamline your efforts and optimize your results.
You can also use email marketing to reach a wider audience and promote your recurring affiliate programs.
Tools such as ConvertKit, Aweber, and MailerLite can help you create and send effective email campaigns to drive traffic to your website and increase engagement with your content.
Social media marketing is a powerful tool to help you reach new audiences and promote your affiliate programs to a broader audience.
Use platforms like Facebook, Twitter, and LinkedIn to engage with potential customers and promote your content.
Finally, optimizing your website for search engines using tools such as SERPstat and TubeBuddy can help you increase your visibility in search results and attract more traffic to your affiliate website.
By utilizing these various tactics, you can create a comprehensive digital marketing strategy that will help you effectively promote your chosen recurring affiliate programs and increase your chances of success in the affiliate marketing industry.
Tracking Your Affiliate Program Performance
Tracking and improving your recurring affiliate program performance is essential for any online business looking to generate sustainable revenue through affiliate marketing.
To accomplish this, small businesses must focus on setting up proper tracking systems, understanding key performance indicators (KPIs), regularly reviewing their performance, and experimenting and optimizing their strategy.
For instance, plugins such as Thrive Themes and Leadpages can help businesses create high-converting sales funnels and landing pages that drive better outreach and lead generation.
Additionally, providing tutorials and webinars can help affiliates maximize their one-time commission and generate recurring revenue through cryptocurrency or SaaS products.
Pop-ups and other conversion optimization tools can improve conversions and drive more sales.
Overall, improving and tracking your recurring affiliate program performance is crucial for the long-term success of any online business.
Wrap Up.
A recurring affiliate program is an excellent way to increase your income as an affiliate marketer.
From offering web hosting to financial services, a recurring affiliate program pays out more than a one-time commission.
Depending on the merchant, affiliates can earn commission rates ranging from a few percentage points to high double digits.
The recurring nature of the program means that affiliates can count on a steady stream of income as long as their customers remain loyal.
Further reading on AdamEnfroy.com: Is affiliate marketing legit?
While the answer is a definitive yes, knowing the scams to avoid and the best practices to follow is essential.
Also, knowing about AI affiliate marketing and how this could potentially maximize your revenue is also important.
Whether you're into promoting sports, luxury, music, or even SaaS affiliate products, understanding the fundamentals of affiliate marketing is key.
Editorial Process:
Our reviews are made by a team of experts before being written and come from real-world experience. Read our editorial process here.
Some of the links in this article may be affiliate links, which can provide compensation to us at no cost to you if you decide to purchase a paid plan. These are products we've personally used and stand behind. This site is not intended to provide financial advice. You can read our affiliate disclosure in our privacy policy.