AI Affiliate Marketing: The Best Tools For More Sales (2023)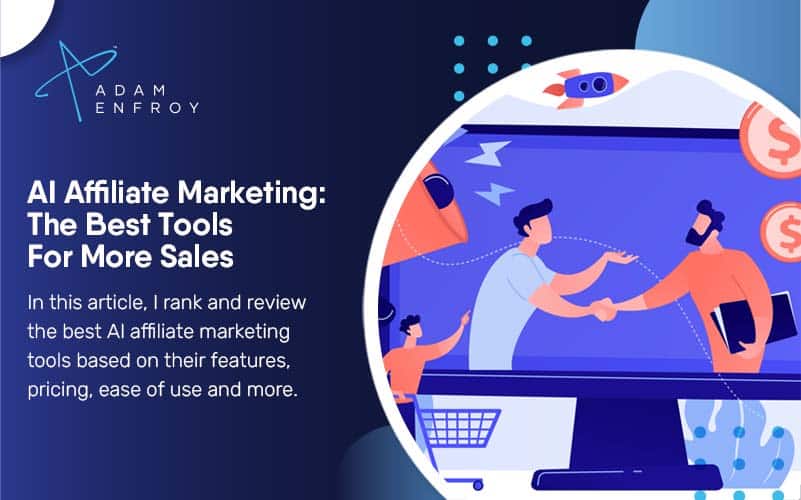 With the evolution of technology, spreading the word about products, services, and offers you believe in is easier than ever.
Couple that with artificial intelligence, and you end up with powerful tools capable of helping to promote affiliate marketing products and services in the most effective way possible.
As an affiliate marketer, this presents a huge opportunity to share the message about brands you believe in and make money while doing so.
In this article, I rank and review the best AI affiliate marketing tools and software that can help you make smarter decisions about where to allocate your budget.
What Are The Best AI Affiliate Marketing Tools?
Here are the top AI affiliate marketing tools businesses can use to maximize results.
Best Overall AI Marketing Tool.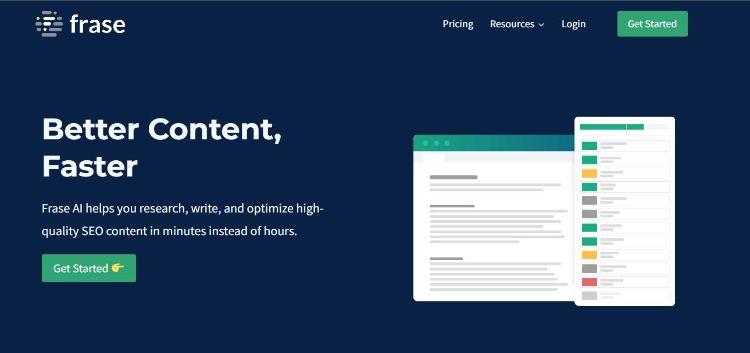 Frase.io is an AI-powered platform that promises to revolutionize SEO content creation.
In minutes, users can generate high-quality copy and access well-researched briefs.
Plus, it saves time on SERP research with automated outlines, blog intros, and product descriptions – all in one place for optimized writing.
Frase is a cloud-based platform that uses natural language processing (NLP) and machine learning to help users generate high-quality content faster and more efficiently.
Frase also offers a built-in SERP research tool to quickly find relevant keywords and optimize your content for better search engine visibility.
Key Features: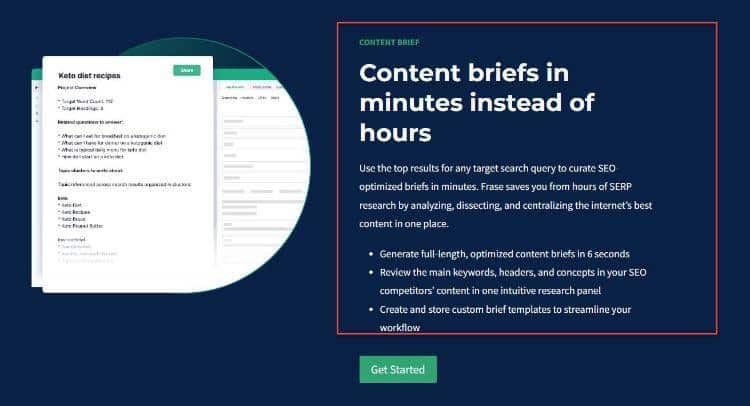 Content opportunities served up on a platter allow you to quickly find individual pieces of content or complete campaigns with ease.
Automatically generate optimized content for your affiliate marketing campaigns, such as product descriptions, blog posts, and more.
Generate content briefs in minutes instead of hours, so you don't have to spend time researching each keyword or topic.
Create and store brief custom templates to quickly generate content briefs.
Use AI templates to generate controlled outputs like product descriptions, blog intros, and SERP research.
User Experience: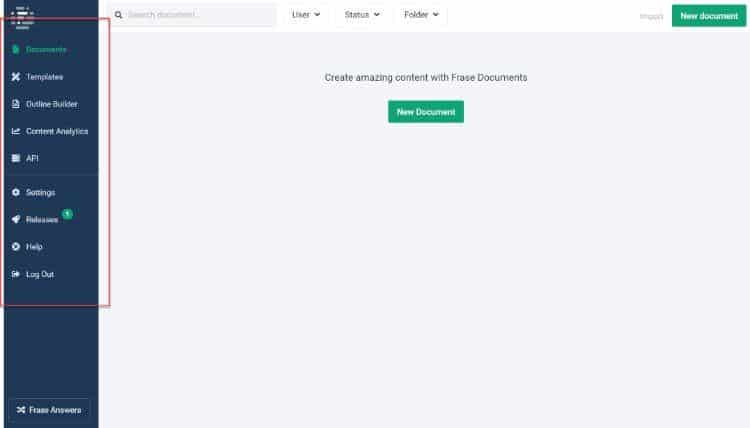 The Frase engine provides easy-to-use tools to help users create content quickly.
Pricing:
Frase.io offers these pricing plans:
Solo plan: $14.99 per month
Basic plan: $44.99 per month
Team plan: $114.99 per month
What I Like/Dislike About Frase
Like:
It's great for gathering content for research, helping with SEO, and generating content briefs for affiliate marketing campaigns.
You can cite sources and sources right in the tool.
Dislike:
An increased focus on SEO would make the tool more attractive.
Product Updates:
Their content briefs engine can identify pages slipping from the SERP and provide recommendations for improving the content to get more traffic.
Get started with Frase.
Best For AI Video Marketing Generation.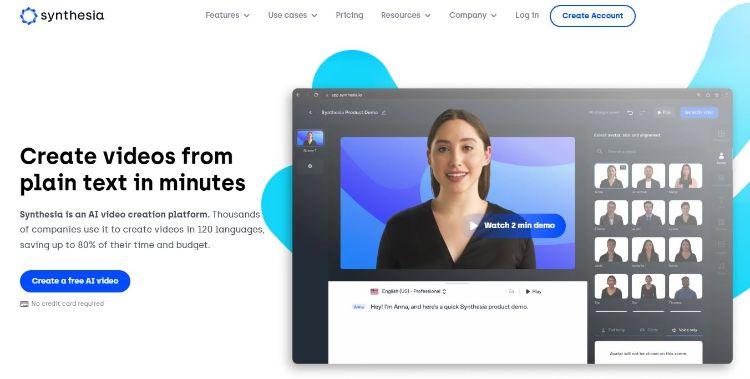 Synthesia is an AI-powered video creation platform revolutionizing how companies create stunning visuals.
This platform makes creating training or product marketing videos with professional actors easy.
Its intuitive design requires minimal prior editing experience and provides endless opportunities for updating media.
Synthesia uses cutting-edge artificial intelligence technology to generate realistic 3D avatars that lip sync with audio recordings in real time.
You can create professional-looking videos without hiring expensive actors or spending hours in a recording studio.
Not only is Synthesia more efficient than traditional video creation methods, but it's also more versatile.
Thanks to its intuitive design, you can easily update your videos with new images, text, or audio without starting from scratch.
Plus, you can share your videos online embedded on other sites or download them as MP4s.
Key Features:

85+ video avatars help you choose the perfect virtual actor for your videos, regardless of language or style.
55+ templates allow you to customize your video with various professionally designed templates and layouts.
Custom avatars let you create your custom avatars for a unique look and feel.
PowerPoint to video features allow you to convert your PowerPoint slides into professional-looking videos in minutes quickly.
Their online video maker lets you quickly and easily create stunning videos with professional actor avatars from your mobile device.
User Experience: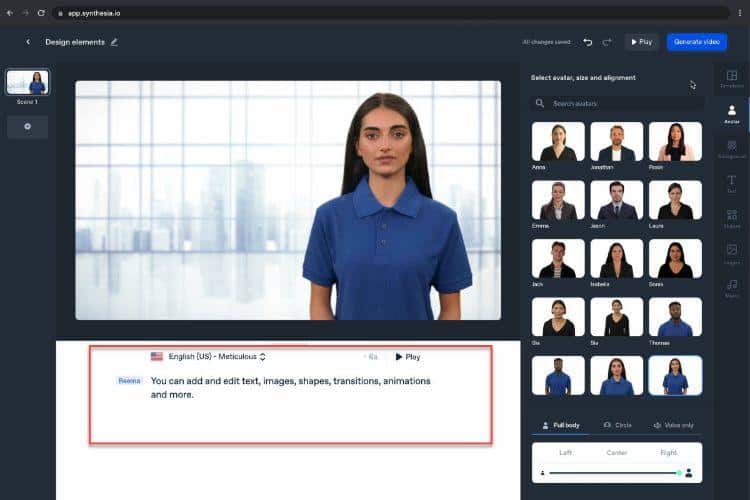 Choosing the right avatar and template is simple with Synthesia's design.
It's also straightforward to add text, images, and audio and customize your video to fit the look you're going for.
Pricing: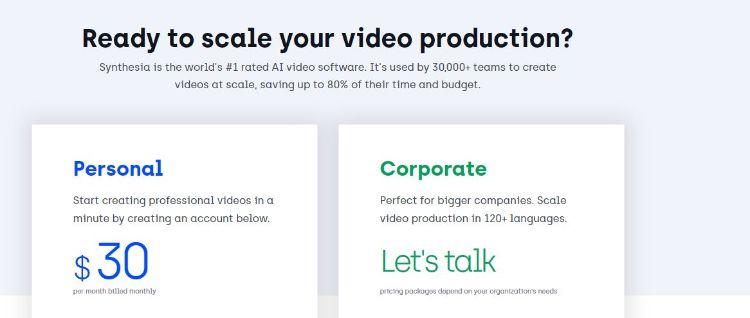 Synthesia offers two pricing plans:
Personal: $30/month
Corporate: contact Synthesia for a personalized plan and pricing.
What I Like/Dislike About Synthesia
Like:
You can add facial gestures and lip-sync your videos in seconds.
The platform also offers screen captions, which helps you to create more engaging videos.
Dislike:
Videos can be up to 3 minutes in length, which may be limiting for some projects.
Product Updates:
If you want to reuse previous projects' elements, you can now use a finished video as a new template.
Get started with Synthesia.
3. MailChimp.
Best For Building Customer Journeys.

With MailChimp's Customer Journey Builder, you can set up automated systems to send customized messages depending on customer behavior.
MailChimp also provides many features, including customizable templates, list management tools, segmentation options, and analytics reports.
In addition, the platform offers a wide range of integrations with other online services, such as e-commerce platforms, CRM software, and webinar providers.
Email campaigns can be created using one of MailChimp's templates or made from scratch using the company's drag-and-drop email builder.
Key Features:

Make your email content more engaging with MailChimp's easy-to-use email template editor.
Get the insights you need to improve your email content using MailChimp's reporting feature.
Boost your email engagement with data-driven suggestions from MailChimp's AI engine.
Drive more site traffic by integrating MailChimp with other services, such as e-commerce platforms and webinar providers.
Show off your style with MailChimp's customizable templates, which can be edited and customized for each affiliate marketing campaign.
User Experience:

Setting up campaigns with MailChimp is straightforward using the drag-and-drop editor.
Pricing:
MailChimp's pricing plans are as follows:
Free plan: $0/month
Essentials plan: $13/month
Standard plan: $20/month
Premium plan: $350/month
What I Like/Dislike About MailChimp
Like:
It's easy to design, build, and test emails with the drag-and-drop builder.
Setting up segmentation and automation is straightforward and user-friendly.
Dislike:
There are various moving pieces to keep track of when setting up campaigns, which can confuse those just starting.
Product Updates:
Their campaign manager now does a better job of streamlining and automating critical business processes.
4. Adscook.
Best For Generating Paid Affiliate Traffic.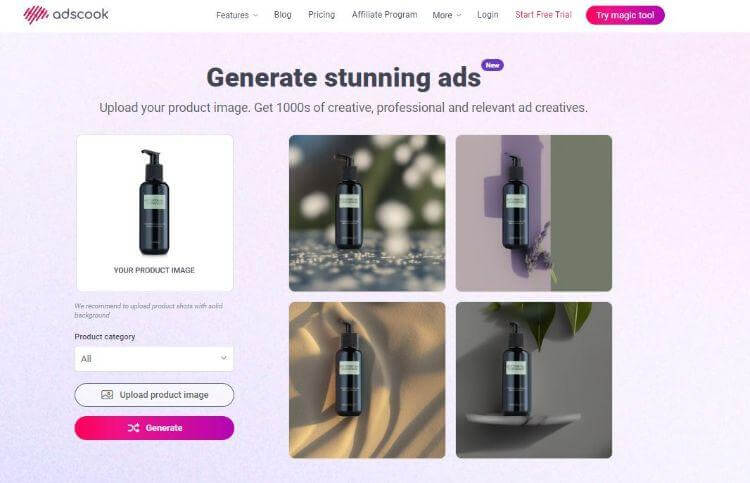 Adscook is a powerful AI-driven tool that makes it easy to create beautiful ads that convert.
With its 24/7 automation rules, real-time dashboard, and ROAS optimization capabilities, you can generate hundreds of ad variations with just the click of a button.
The main power behind Adscook is its automation rules.
These rules allow users to set up automated processes for creating ads in bulk with maximum efficiency.
Additionally, users can set up triggers, like specific keywords or phrases, which will automatically trigger certain actions when encountered.
In addition to its automated processes, Adscook also provides users with a real-time dashboard that allows them to monitor their campaigns.
This dashboard displays all vital metrics in one convenient place so users can quickly see how their campaigns perform and make changes accordingly.
Key Features: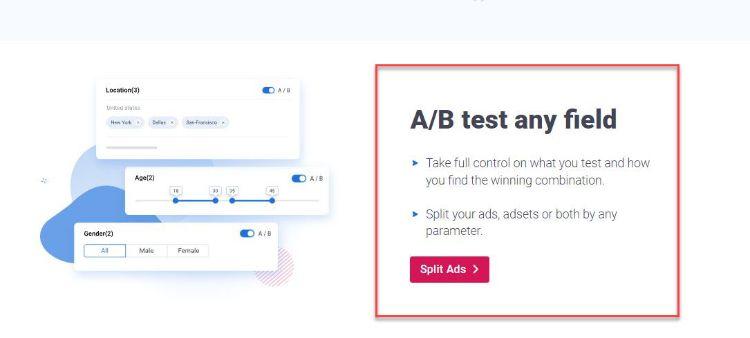 Adscook lets you automatically apply proven strategies to create more effective ads and help you get the results you need.
With Adscook, you can easily define and customize your strategy based on your specific goals.
The platform allows users to monitor trends in their campaigns and act on them in real time to optimize performance.
The multi-account dashboard gives you a clear overview of all your accounts in one place, making it easy to manage multiple accounts.
Adscook also offers funnel analysis that lets you quickly analyze how users progress through sales.
User Experience:
Setting up automation rules with a few mouse clicks is easy and helps you avoid many headaches as you go about your campaigns.
Pricing: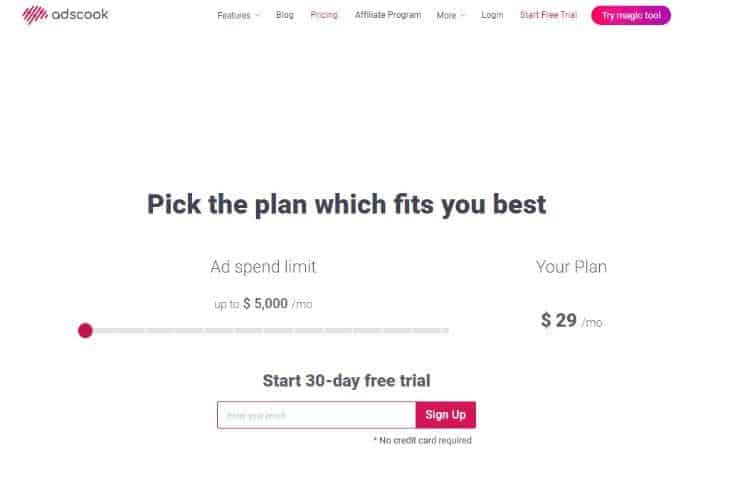 The pricing for Adscook is based on the amount of ad spend you are willing to commit.
Adscook offers plans starting at $29 per month with an ad spend limit of up to $5,000/mo for those with a budget on the lower end.
For larger businesses, Adscook provides plans starting at $1,999 per month with an ad spend limit of up to $3,000,000/mo.
What I Like/Dislike About Adscook
Like:
Their analytics are easy to understand and provide insights to help optimize performance.
The setup is straightforward, allowing you to set up the proper automation rules.
Dislike:
Creating audiences and ads in Adscook isn't superior to doing it in Facebook's business manager, so there's no point in using Adscook for those tasks.
Product Updates:
The platform now supports Instagram campaigns, allowing users to manage their ads across multiple platforms.
5. Scaleo.
Best For Scaling Affiliate Marketing.

If you're looking for a way to take your affiliate marketing to the next level, then you need to check out Scaleo.
Scaleo provides brands, networks, ad agencies, and media buyers with powerful tools to monitor, analyze and optimize their campaigns more effectively.
Their advanced Anti-Fraud Logic™ helps eliminate fraudulent traffic from your affiliate marketing strategies.
At the same time, their AI technologies ensure maximum real-time performance gains.
The platform also has an advanced Anti-Fraud Logic™ system that eliminates fraudulent traffic from your strategies.
Key Features: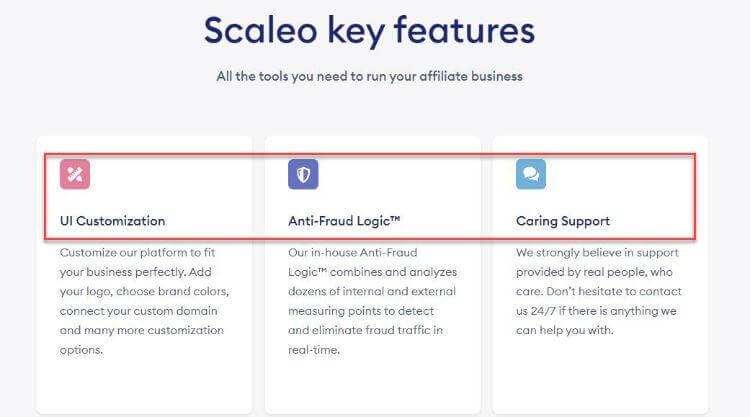 Scaleo allows you to customize your user interface to match your branding.
They provide extensive helpdesk support and 3rd party integrations so that you can easily sync your data across multiple channels.
With a lightning-fast interface, you can quickly adjust your campaigns and get the most out of them.
You can also access multiple currencies so that you can work with international customers as well.
Scaleo provides advertiser and affiliate access to ensure that everyone involved in your campaign has the necessary information.
User Experience: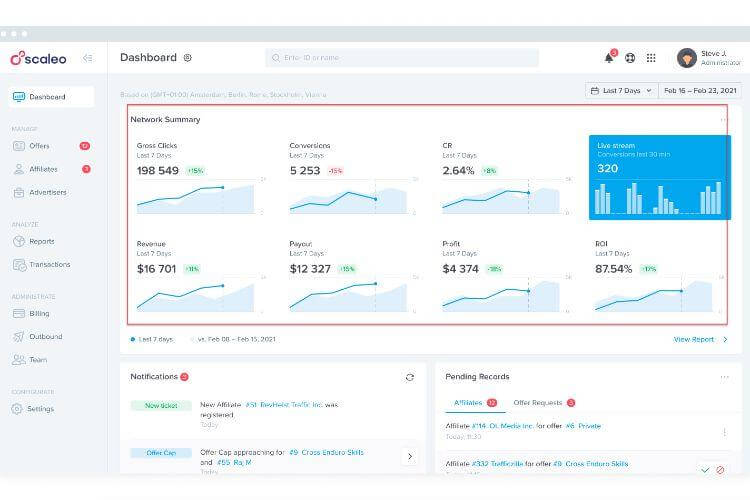 The dashboard is very visual, helping users navigate the platform easily.
Pricing: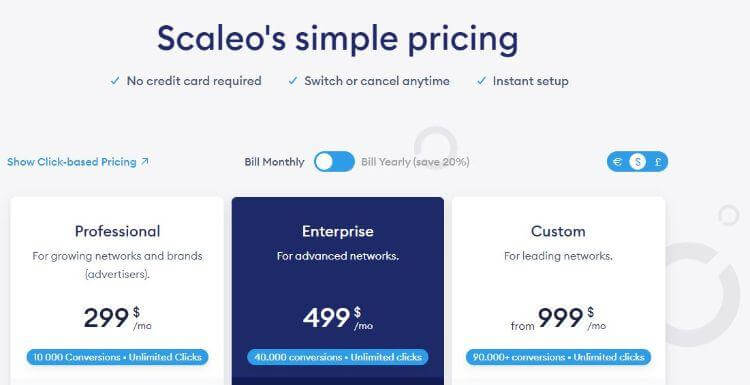 Scaleo offers three plans:
Professional plan: $299 per month
Enterprise plan: $499 per month
Custom plan: $999 per month
What I Like/Dislike About Scaleo
Like:
Great for those wanting to take control of their affiliate program and get the most out of their campaigns.
Their documentation is excellent for both beginner marketers and tech-savvy users.
Dislike:
There is only a little customization that you can do with the user interface.
Product Updates:
Scaleo now supports bulk actions, allowing users to adjust campaigns quickly across multiple networks.
6. Link Whisper.
Best For Internal Affiliate Linking Opportunities.

Link Whisper can help you automatically add dozens of relevant and robust internal affiliate marketing links to your site's content.
If you're looking for an easy way to improve your website's ranking on Google and boost your affiliate promotions, this tool can help.
One of the best features of Link Whisper is that it automatically adds internal links to your content while editing.
Plus, you can be confident that the links are relevant and robust since Link Whisper uses a sophisticated algorithm to determine which links to add.
Key Features:
With automation link suggestions created as you write, you can ensure that you are adding the most relevant and robust links to your content.
With Link Whisper's internal link reporting, you can quickly find and build internal links to old posts that need more attention.
You can also focus on specific keywords while fixing broken links, ensuring your website always performs at its best.
Pricing: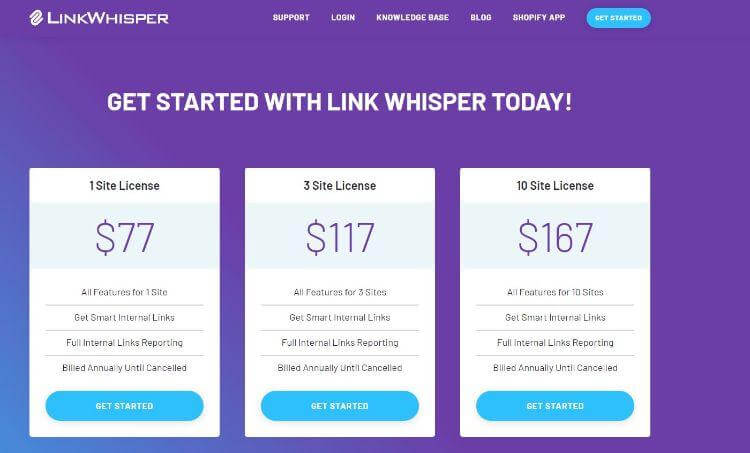 Link Whisper offers several pricing options, depending on the number of sites you need to use it for.
The 1 Site License is $77, the 3 Site License is $117, and the 10 Site License is $167.
7. Wave.video.
Best For Easy Video Generation.

The Wave.video platform offers an all-in-one solution for video generation.
You can securely store your creations with Wave's website landing page feature and invite guests into the recording process with just a few clicks.
Whether it's a product launch or keynote presentation, Wave Video provides everything you need to produce a stunning broadcast with minimal effort.
Their video hosting capabilities provide secure storage for your creations, while their expansive stock library ensures you always have access to the latest audio and visual elements.
Wave Video also makes creating captivating videos even more straightforward thanks to its intuitive online editor.
Not only does this allow for easy customization of thumbnails & text animations, but it also enables users to crop/resize images as needed.
Key Features:
The built-in stock library makes it easy to find the perfect visuals for your videos.
Reliable video recording capabilities ensure that you always get the best quality footage.
Secure and stable video hosting provides a safe place to store your creations.
Customizable live streaming studio lets you create a professional-looking broadcast with minimal effort.
The intuitive online editor allows you to customize thumbnails, animations/transitions, and more without needing coding knowledge.
Pricing: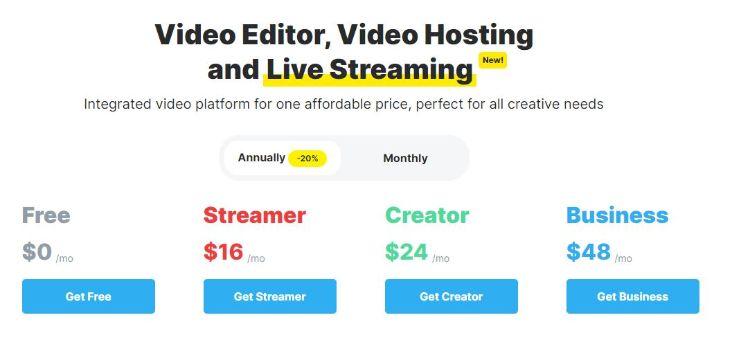 Wave Video has several pricing plans to fit your needs:
Free: $0
Streamer: $16/mo
Creator: $24/mo
Business: $48/mo
What Is AI Affiliate Marketing?
AI Affiliate Marketing is a form of marketing that combines machine learning algorithms to explore and uncover new opportunities for affiliate marketers.
It leverages artificial intelligence to help bloggers, content creators, and entrepreneurs capitalize on the ever-changing affiliate world trends.
AI affiliate marketing also involves algorithms that detect patterns in user behavior and make predictions about what will be popular in the future.
These insights enable affiliates to take advantage of these trends before they become irrelevant.
AI affiliate marketing is a quickly growing marketing area, offering new opportunities for marketers to monetize their websites and maximize their potential income streams.
Key Features Of Affiliate Marketing Software
Here are the main features of AI affiliate marketing software.
Automated Link Tracking
AI affiliate marketing tools can generate quality copy and pair it with intelligent affiliate marketing tracking.
The software can keep track of each link click.
It can also track where the click came from and how much money it made.
These insights help marketers understand which links are performing best and use them to their advantage for more successful campaigns.
Targeting Options
AI-enhanced marketing tools also help with targeting options.
As AI marketing tools revolutionize the optimization levels one can achieve, leveraging the latest data allows organizations to market to their target audience more accurately.
AI-enabled affiliate marketing software can use sophisticated algorithms to create targeted landing pages or content that considers user data and preferences.
Real-Time Analytics
AI affiliate marketing offers real-time analytics on sales, conversions, and customer behavior.
Through various metrics tracking systems, marketers can gain insights into the effectiveness of their campaigns.
You can then use the data to optimize campaigns and adjust targeting strategies accordingly.
For example, if the data suggests that a particular piece of content is performing poorly, the affiliate marketer can adjust their approach to reach more customers.
Fraud Protection
AI-driven affiliate marketing helps businesses to combat fraud and protect their revenue streams.
Online security standards have grown increasingly stringent, and AI solutions are taking the lead in ensuring online safety for all parties involved.
Integrated Payment Gateways
Internet affiliate marketing campaigns run through various payment gateways like PayPal or Stripe.
Utilizing affiliate marketing software that integrates directly with these services allows users to monitor their transactions.
Digital media buyers can also compare and contract payment gateways and benefit from reduced transaction fees and faster payouts.
Advanced Reporting Tools
Affiliate marketers continually strive to gain better insights into their audience and the performance of their campaigns.
Whether through better visualizations or more profound insights, AI-powered reporting capabilities are revolutionizing how affiliate marketers report on their performance.
The best affiliate is the one that can translate such data and advanced analytics capabilities to create effective marketing strategies.
Affiliate-Based Marketing Strategies
Here are a few areas where AI-powered tools can help affiliate marketers optimize their campaigns.
AI Writing Assistance
Nowadays, AI copywriting tools are becoming increasingly popular for online marketing.
With the right AI writing algorithms, marketers don't have to worry about creating high-quality content that resonates with the target audience.
Such algorithms allow marketers to create FAQ sections, product descriptions, and more.
Generate Better SEO Campaigns
As far as keyword research and search engine optimization are concerned, AI tools can help marketers increase their visibility online.
Optimizing each blog post to ensure it ranks highly in the SERP used to be a time-consuming process.
Nowadays, AI-driven tools in SEO affiliate marketing can help marketers automate the process and generate better optimization results.
With various templates ready to use, marketers can create engaging content that gets higher search engine rankings.
Create High-Quality Content
High-quality content is essential for an affiliate marketing program to be successful.
Whether you're a beginner, an experienced marketer, or someone looking to refresh your campaigns, an AI writing assistant can help create the best content possible.
Build The Right Landing Pages
Landing pages are an integral part of any successful online marketing campaign.
Having site visitors consume high-quality content on optimized landing pages (that reflect the brand's values) can significantly drive conversions.
As a result, the business that can drive traffic and get better conversions and payouts based on their landing pages will be the most successful.
Better Utilize Social Media
Marketing campaigns on social media can no longer be about posting any content and hoping it'll go viral.
Instead, marketers should use AI-driven tools to create highly targeted and optimized campaigns for various social media platforms.
Improve Copywriting Skills
Copywriting is about understanding the target audience and creating compelling content that resonates with them.
Thanks to AI-driven tools, marketers can develop better copywriting skills without spending hours mastering the process.
Who doesn't want to drastically reduce the time to create engaging content that provides the target audience with the right message?
Moreover, with various tools that combine copywriting with an AI chatbot to generate personalized copywriting, it's easier than ever for marketers to reach their audience.
Find The Right Influencers
Influencers are the modern way of marketing.
The right AI tools can help you identify suitable influencers who will drive traffic and conversions to your affiliate program.
AI-driven tools can help you find influencers in your niche by analyzing their social presence, content performance, and engagement rate.
Some tools will even help you contact influencers and manage all the affiliate campaigns in one place.
Choose The Right Affiliate Marketing Program
AI affiliate marketing programs can also help you identify the best programs to join based on budget, goals, and audience demographics.
Whether you start with Amazon Associate's program or go with Clickbank, Etsy, or CJ Affiliate, AI-driven tools can help you make the best decision for your business.
AI tools can provide insights into product trends and customer buying patterns to help inform decisions.
The right tools can also factor in various fees affiliates must pay while doing business.
For example, if Paypal's charges are too high for a particular product, AI-driven software can suggest alternative payment options that would be more cost-effective.
Use Email Marketing Effectively
Finally, AI-powered email marketing allows marketers to build an email list of highly targeted leads and buyers.
As email is still one of the best marketing channels, AI-driven tools can help you create and send automated email sequences tailored to each subscriber's interests.
And with knowledge widely available, the great news is that finding the proper tutorial has never been easier.
AI Affiliate Marketing – FAQ
What Is An Affiliate Marketing Business?
An affiliate marketing business is a type of digital marketing that allows you to earn commissions for promoting products and services from other companies.
The best niches for affiliate marketing are ones with high demand, low competition and good monetization opportunities.
The process of setting up a business involves creating an online presence (such as starting a blog or website) and leveraging it to promote products or services from the right company.
What Are The Best Marketing-Based Strategies?
The answer is that it depends.
The type of product or service you promote plays a significant role.
The target audience is also a significant factor.
For example, an affiliate partner that relies on SEO-specific marketing strategies might use this knowledge to promote digital products.
On the other hand, an influencer outreach campaign for makeup products might be more suitable for those promoting affiliate retail products.
Overall, your strategy and AI-driven tools can help determine the best choice for your business.
Wrap Up.
Affiliate marketing is a big business, and it's easy to see why so many people want to get involved.
With the dream of passive income, more people are turning to affiliate marketing as an avenue for financial success.
While the promise of overnight success might be enticing, affiliate marketing is a skill that requires dedication and hard work.
Fortunately, the right AI-driven tools can help you become better at affiliate marketing quickly and with minimal effort.
Editorial Process:
Our reviews are made by a team of experts before being written and come from real-world experience. Read our editorial process here.
Some of the links in this article may be affiliate links, which can provide compensation to us at no cost to you if you decide to purchase a paid plan. These are products we've personally used and stand behind. This site is not intended to provide financial advice. You can read our affiliate disclosure in our privacy policy.