7 Best AI Logo Generators (Ranked & Reviewed)
Choosing the right AI logo generator is vitally important to your business. From shopkeepers to enterprise organizations, the best AI logo generators can help you meet your goals. In this guide, I ranked and reviewed the 7 best AI logo generators, so that you can pick the best one for you.
---
We're reader-supported. When you buy through links on our site, we may earn an affiliate commission.
A logo is one of the most important aspects of any business.
It's essentially the face of your company and one of the first impressions people have of your business.
That's why it's so important to have a well-designed logo that accurately represents your brand.
Whether you want to build a blogging business, start a coaching company, or take advantage of various small business ideas, a logo is a must-have.
And while you could always hire a professional designer to create one for you, that can be pretty expensive.
Fortunately, AI logo generators can now help you create a professional logo without breaking the bank.
In this article, I'll share with you the best AI logo generators I've found that can make the logo design process quick, easy, and affordable.
Let's get right into it.
What Are The Best AI Logo Generators?
The following are the best AI logo generators you can use to create a logo for your business.
Best Overall For Logo Generation.
Tailor Brands provides one of the best logo makers on the market.
With its easy-to-use interface, you can create a logo in minutes.
Using artificial intelligence, you can use their wizard to select the perfect font, icon, and colors for your brand.
This means that you can have a high-quality logo perfect for your business with just a few clicks.
Tailor Brands also offer other legal services to help you in your entrepreneurial journey, so it's worth considering them for all your business needs.
Check out my full Tailor Brands review for more information.
Key Features:
100's of design variations help you choose the perfect logo for your brand
High-resolution logo files provide you with a versatile file that can be used on any platform
Social media formats help ensure your logo looks great on all social media platforms
Additional business tools such as legal and branding services help you in other aspects of your business
Customer support is available if you have any questions or need extra help
Pricing:
Sign up to use their free logo maker and see various options, and then simply pay for the one you want to proceed with.
Get started with Tailor Brands Logo Maker.
2. Looka.
Best For Vector Logo Downloads.
Looka combines the user's logo design preferences with artificial intelligence to create a stunning logo.
This means you don't need prior experience creating a logo with Looka.
All you need to do is enter your business name and what industry you're in.
From there, Looka's AI takes over and creates a beautiful logo for your business.
With the ability to download vector logo files and color variations, Looka is an excellent option for those looking for an easy-to-use AI logo generator suiting a wide range of needs.
Key Features:
High-res logos ensure that your logo will look great on any platform
Vector files provide you with a versatile file format based on your specific needs
Color variations give you the ability to change the color of your logo to match your brand
Social media templates help ensure your logo looks great on all social media platforms
Business card designs help you create a professional-looking card that goes along nicely with your logo
Post-purchase changes allow you to make changes to your logo after you've purchased it
Pricing:
You can create and preview the logo for free.
Then, you can download the created brand kit (which includes your logo and 300+ branded materials) that update as you change your logo.
Best For Various Design Needs.
Canva is a well-known platform in the design world.
While it's not solely a logo generator, it offers a wide range of templates you can use to create a beautiful logo for your business.
All you need to do is enter your business name and tagline, then browse through their library of logo templates.
Made for non-designers that want an easy-to-use platform, Canva is an excellent option for those looking for logo inspiration.
Giving you the ability to tweak everything from the font to the icon, you can create a design that's well-representative of your business.
Key Features:
Collaborate with your team to ensure everyone is on the same page when creating your logo
Make it pixel-perfect so that your logo looks great on any platform
Set the mood with the right colors to ensure your logo reflects the right message to your target audience
Pricing:
Canva offers these pricing plans:
Free: $0
Canva Pro: $119.99 /year
Canva For Teams: $149.90 /year
Get started with Canva.
4. Logo AI.
Best For Best Design Practices.
Logo AI uses the latest in artificial intelligence and machine learning to create a logo for your business.
With an engine created to keep design best practices in mind when creating a logo, you can be sure that your logo will be professional and on brand.
Whether you want to create matching identities for your social media platforms or are looking for a more complex logo, Logo AI can help.
Having helped close to 40000 businesses create a logo, Logo AI is an excellent choice for those who want to rely on both AI and design expertise to get the correct output.
Key Features:
Visual identities help you create a consistent look and feel for your brand across all platforms
The brand center enables you to keep track of all your branded materials in one place
Pricing:

Logo AI offers these pricing plans:
Basic: $29
Pro: $59
Brand: $99
5. Design Iconic.
Best For Fine Logo Tweaking.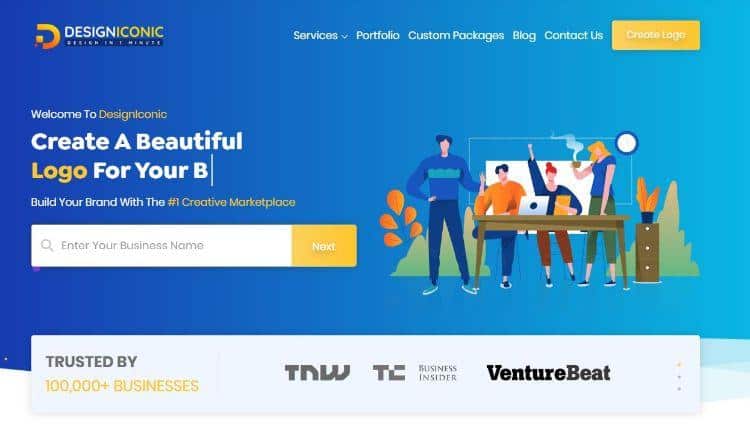 Design Iconic uses a wizard-based approach to help you create a logo for your business.
With several industries that this AI caters to when it comes to logo design, you can be sure that your logo will be on brand and relevant to your business.
From agriculture and forestry to gaming and sports, this logo generator has you covered.
In addition, with a wide range of features that allow you to customize your logo, Design Iconic is an excellent option for those who want a lot of control over the design of their logo in a business world where details matter.
Key Features:
Being a powerful online logo maker, businesses can easily design their logos with this AI tool
Designs are saved for free in the design cloud for future use so businesses can easily access them when needed.
There is a wide range of templates to choose from so businesses can find the perfect logo design.
Custom business cards that feature your logo can also be easily created
Pricing:
Create an account to start creating your logo with Design Iconic.
6. BrandCrowd.
Best For Generating Visual Resources.
BrandCrowd allows you to start your logo-creation process from scratch or go through thousands of templates to create the right design for your business.
In addition, this platform has a wide range of resources for any visual content you might need for your business.
For example, you can create business cards that look stunning in seconds, allowing you to get your brand out there as quickly as possible.
You can also design your Facebook cover with BrandCrowd's easy-to-use tools., a key element in any social media strategy.
You can also build up your social media posts to look precisely how you want them to, which is very useful if you're trying to maintain a specific (and constant) aesthetic for your brand.
Key Features:
Facebook Story Maker helps you create Facebook stories that are on brand and look great
Instagram Post Maker lets you create beautiful posts that will make your feed stand out
YouTube Banner Maker helps you create banners for your YouTube channel
Pricing:
Start for free to create your logo with BrandCrowd.
7. Hatchful.
Best For Enterprise-Level Backing.
Hatchful is a product that Shopify offers to help businesses with their branding.
If you're looking for an AI to help you design a logo backed up by a well-established company, then Hatchful is an excellent option.
From customizing your free logo with the help of their easy-to-use tools to downloading your logo in various file formats ready for multiple platforms, Hatchful has everything you need to get started with creating a logo for your business.
There's no need for any design experience as their platform is very user-friendly and guides you through the process step-by-step.
Key Features:
Build a unique brand starting with a logo that represents your business
Hundreds of templates to choose from, so you can find the perfect one for your brand
Social media assets such as banner images and profile pictures can be created with your logo
Pricing:
Hatchful is free to use.
What Are AI Logo Generators?
An AI logo maker combines the power of artificial intelligence with a user-friendly interface to create custom logos for businesses.
With various logo styles that business owners can go for, the right logo creator takes a very logical approach to creating one's own custom logo.
Also, since the logo creation process used to take a lot of back-and-forth communication with a designer, it could be frustrating for business owners that wanted to get on with things.
Now, in just a few minutes, one can have a custom logo design by using professional logo templates that look good and reflect the business's brand image.
Features Of A Great AI Logo Generator
While creating your own logo isn't something that should require a ton of effort for the business owner, it's still important to consider the software features that will make the process easier.
With that in mind, here are the main ones to consider when choosing an AI logo generator.
Unlimited Attempts At Creating A Suitable Logo
Playing around with the logo design and making changes until you're happy with the results is crucial when creating a logo.
At the creation stage, the right logo maker tool should allow unlimited revisions so that you can keep tweaking the design until it's perfect.
Creating an artificial intelligence logo might take some time, but it'll be worth it in the end, as overall, the process will be much shorter than if you were to go through a design agency or freelancer.
Ability To Download A Transparent Background Logo
Whether you share your logo with a professional designer or go ahead and upload it to your site, there will always be a need for a transparent PNG of your logo.
Ensure that when you finalize a logo, you can download it in this format to be able to use it in future projects.
Ability To Download In Various Formats
While PNG is the absolute minimum, considering other file formats is also essential.
From vector format to SVG, a company logo should be available in multiple formats so that it can be used in any situation.
With small businesses using their logo in various print and digital materials, a high-quality version of their logo should be available for download in whatever format is needed – without any additional conversion steps required.
Ability To Select Logo Styles
While many beautiful logos can be created with just text, adding in a simple graphic element can make your logo pop.
As such, going for a style that reflects your business's personality is vital in creating a great logo.
Logo fonts are also vital in this respect, with many businesses choosing a serif font for their logo to convey a feeling of sophistication.
Being able to tweak the logo color ever so slightly should also be something to consider when creating your logo.
Cloud Storage For Future Reference
While a free logo generator can help you create a logo in minutes, a startup might need to return to the design tool in the future to make changes to their logo.
Rather than messing with a different logo setup each time one needs to make any adjustments, being able to refer back to a saved project is much easier and will save time in the long run.
Logo Can Be Scaled To Multiple Sizes
While the ease at which creating a unique logo should be considered, it's essential that the final product can be scaled up/down to multiple sizes without losing quality.
From putting a great logo on a t-shirt to help your brand identity, to having various logo ideas that can be used for various marketing materials, a scalable vector graphic is key.
Wrap Up.
The right company logo can represent a brand better than pretty much any other design element out there.
To create beautiful logos for your brand, consider the above tools and their various functionality when choosing the platform.
With the ability to go through the logo-creation process and end up with a high-quality logo you'll use for the duration of your business operations, a top-notch AI logo generator is hard to beat.
What do you think about logos?
How important are they in the grand scheme of things?
Have you ever used an AI logo generator to create a logo for your business?
Let me know in the comments below.
Further reading on AdamEnfroy.com: Whether it's about personal branding or creating a brand for your company, knowing what the latest branding statistics indicate about the current business landscape is critical to your success.
From picking up the best blog name ideas to finding niche products to sell online, serious consideration of such stats is necessary for any business owner looking to make their mark in today's digital world.
This can even help you make the most of the right AI image generator to create incredible visual content for your brand.
Disclosure: I may receive affiliate compensation for some of the links below at no cost to you if you decide to purchase a paid plan. You can read our affiliate disclosure in our privacy policy. This site is not intending to provide financial advice. This is for entertainment only.