7+ Options of How To Use AI Art To Make Money (2023)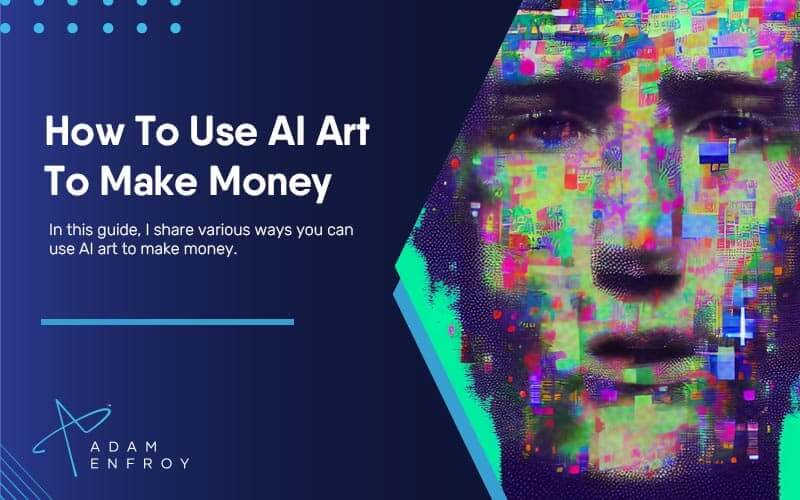 Many view the life of an artist as one of struggle and poverty.
Working long hours creating pieces that may or may not sell while making very little profit if they do sell doesn't sound very exciting.
But what if you could be an artist using a robot's help to create your art?
Even better, what if you could create art in just a few seconds?
Anyone can use AI art tools to create great-looking art simply by explaining their vision in plain English.
In this guide, I'll share various ways you can use AI art to make money.
If you feel the artistic life is for you (or even if you're just curious), keep reading to find out more.
How To Use AI Art To Make Money
Here are some of the best ways to monetize AI art.
1. Designing New Creative Characters To Develop Storylines
People love stories.
AI-generated art can help create fascinating new characters that one can use to develop storylines for books, movies, or games.
Consider artists who create AI-generated art and develop anime.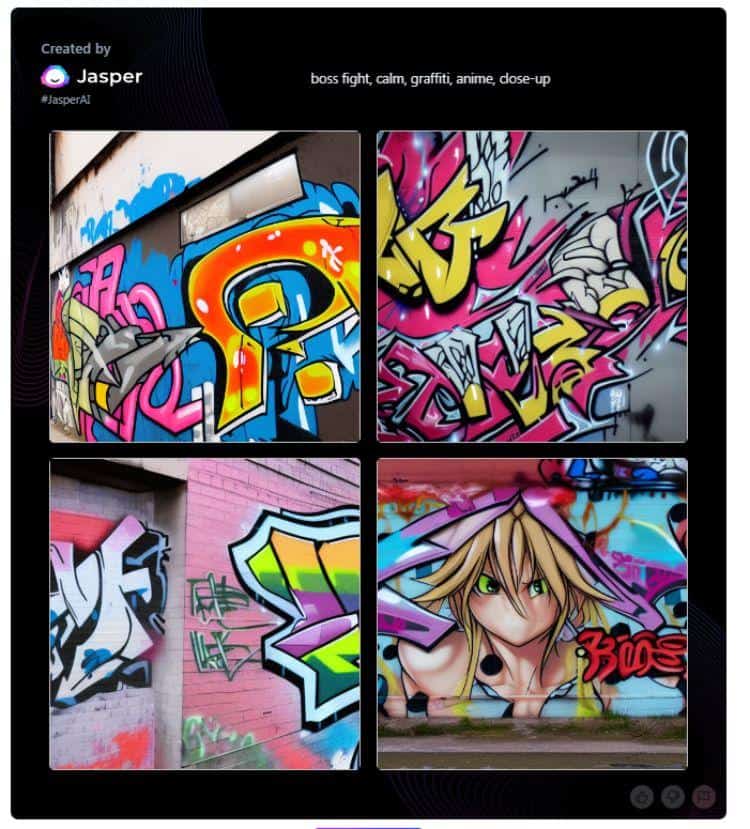 They can get paid for their work by selling the characters or props they make.
In addition, one can enhance these characters with various props to make them even more intriguing.
Artists can then use such characters to write a series of books they can sell online.
Combined with AI story generators, one can earn money by developing creative writing services using digital art tools.
2. Building Engaging Websites And Mobile Apps
AI-generated artwork can help the development of both websites and mobile apps that cater to a range of different audiences.
With generated images, artists have the commercial rights to use them how they see fit.
As this new technology develops, more and more people will be looking for ways to create AI art.
Moreover, with 1.14+ billion websites on the internet, there will always be the need for new and improved website designs.
Related to mobile apps, you could also go about creating mobile wallpapers for various screen sizes and on a specific theme.
Finding a niche market willing to pay for such services is the key to success.
3. Generating Compelling Marketing Materials
Creativity and marketing go hand in hand – AI art can help give your marketing materials a new look (or a completely new feel).
For example, using AI images within a company that specializes in real estate could help create more realistic – and therefore more compelling – property listings.
AI art generators can also create logo designs and other branding elements.
Tons of businesses can benefit from high-quality AI art in website banners, social media ads, email headers, and more.
4. Write An Ebook Or Guide On How To Create Ai Art
When you start creating AI art, you begin understanding what generates the exact output you want.
As you gain more control over the technology, why not start selling your knowledge?
eBooks are a great way to share your expertise with a broad audience, and since marketers can sell them as digital products, there's no need to worry about printing or shipping costs.
Creating products that are easy to consume is a great way to make money from your AI art skills.
5. Offer Private AI Art Classes Or Workshops
Traditionally, online selling platforms helped people to share their knowledge and creativity with the world.
Further to creating eBooks, artists can now share their art generation insights and expertise on artificial intelligence and machine learning in tutorial form through online course platforms.
With mainstream AI being a relatively new area, those teaching AI art generation on platforms like Thinkific and Udemy can get in on the ground floor and be some of the first to market their skills.
One can also teach AI art generation by specializing in a subset of this industry, such as concept art, character design, or landscape painting.
Human artists can also create courses showing how to use AI art in conjunction with traditional art forms to create unique pieces.
Such a mix of creativity and technical know-how is always in demand.
To make even more money, you could offer private classes or workshops teaching people how to use AI tools to create their artwork.
6. Sell Prints, Posters, And Other Merchandise
AI tools make creating prints, posters, and other merchandise easy and affordable.
Whether for your projects or someone else's, selling art prints is a great way to make money from your AI art.
From selling t-shirts on Etsy using a print-on-demand model to using art generators to create one-of-a-kind designs, there are many ways to sell AI art prints.
With various holidays throughout the year, you could create greeting cards, gift wraps, ornaments, and other seasonal items.
7. Serve As A Consultant For Businesses Utilizing Ai Art
As businesses come to grips with AI artwork's benefits on their bottom line, the demand for consultants that can help them utilize this technology will only grow.
Not all people want/have time to learn how an AI art generator functions.
As a result, AI artists can also become digital artwork consultants whose job will be to help businesses create and implement AI artwork strategies.
A business with an online store that wants to create art and maximize its conversion rate, along with brick-and-mortar stores looking to use AI-generated window displays, there's a wide range of potential clients for digital artwork consultants.
As an artist, you could also use websites such as Fiverr to get your foot in the door, list your services, and connect with businesses that need help.
8. Sell Images On Stock Photo Sites
Stock image websites provide users with website backgrounds, illustrations, and photos.
These are great places to find royalty-free artwork for those requiring online assets.
With AI-generated graphics, users can sell digital and physical prints of their work.
Websites like Shutterstock are embracing AI images, which opens up new opportunities for artists.
Knowing the terms and conditions set for each website is vital before submitting any images.
9. Create NFTs
NFTs (non-fungible tokens) are cryptocurrency types that allow users to purchase, sell, or trade digital assets.
NFT art involves creating unique artwork and listing it on the blockchain, using various NFT marketplaces to find buyers.
The appeal for many artists in this arena is the ability to create one-of-a-kind artworks that people can sell for a high price.
Usage Rights With AI Art
Most companies that allow users to output images based on AI art state their users have full commercial rights to sell any images they create.
However, that could also open up a whole world of copyright issues.
If the final results generated resemble any copyrighted image, the user could be liable for infringement.
Being aware of such risks is important before selling any AI art.
What Started AI Art?
OpenAI opened Dall-E 2 to the general public in 2022, opening up a new world of possibilities for artists.
Platforms like Midjourney and GANBreeder also helped pave the way and now allow users to create unique images they can sell as artwork.
As the image quality of AI-generated art continues to improve, we'll see even more platforms and tools emerge in the coming years.
Platforms such as Jasper Art and Photosonic are now considered frontrunners in the AI art world.
Considerations When Making Money With AI Art
Knowing a thing or two about pixels, Photoshop, and AI-generated images can help you with AI-generated photos when marketing your work.
Here are the top considerations when making money with AI art:
High-Quality And Well-Crafted Images Are Key
While there are various ways to make money with AI art, high-quality images are crucial to success.
Learning to make money with AI art requires understanding how to create and market high-quality images.
Knowing the basics about image correction, upscaling images, and preparing images for print can help you create better-quality photos.
Think About How You'll Market Your Work
With AI-generated artwork being available publically, the differentiating factor for those that succeed and those that don't will be marketing.
Think about how you'll market your work before you start creating it.
For example, will you create a website to showcase your work?
Will you use social media?
How will you drive traffic to your work?
While many sites will have their traffic, you'll be more likely to succeed if you can apply a marketing strategy for digital growth.
Be Prepared To Work With Clients
Finding clients through social media, online job boards, or word-of-mouth is a great way to get started.
Having proven templates for creating AI art can also help attract potential clients.
For example, if you're good at creating avatar images, you can create a template that potential clients can use to create their own.
Templates allow you to demand higher work prices, as the client knows they're getting a better return for the price they pay.
Have A Solid Understanding Of The Business Side Of Things
Thinking about making money with AI art as if it were a business (which it is) is key to long-term success.
Whether you're a blogger, YouTuber, or artist, understanding the business side of things is essential to making a sustainable income.
Such knowledge includes understanding how to price your work, get paid, and manage clients.
Be Willing To Put In The Time And Effort
Irrespective of whether you're using a stock photo website to sell your work or dealing with clients directly, you need to be willing to put in the time and effort.
Creating high-quality AI-generated images takes time.
You will only be successful if you're prepared for trial and error or willing to put in the extra effort.
Use The Correct Text-To-Image Commands
AI-generated art output depends on the text-to-image commands artists use.
AI artists that can manipulate the tools available to generate high-quality images will be more successful than those that can't.
The text prompts fed into the AI art tool play a significant role in the final output.
Using the correct prompts (tools like ChatGPT can help with this) can help create better results.
For example, Jasper Art allows you to choose or add various options such as:
Keywords
Style
Inspiration
Medium
Mood
These help artists generate better results and customize outputs according to the user's needs.
Wrap Up
As various AI image generator tools improve, there is a goldmine of opportunity to make money selling AI-generated art.
Knowing the features of various AI art tools, how to create high-quality images, and having a solid understanding of the business side is key to success.
By following the tips in this article, you'll be well on your way to making money with AI art.
What other ways can you think of to make money with AI art?
Let me know in the comments below.
Further reading on AdamEnfroy.com: AI writing tools can help you create content faster than ever.
With various options available, choosing the right one for your needs is essential.
In addition, AI copywriting software can help you sell your content by optimizing it for SEO and addressing the prospects' needs, ensuring that the right people see your content.
Finally, if you're looking for ideas on how to make money blogging, here's the best way to build a blogging business.
Disclosure: I may receive affiliate compensation for some of the links below at no cost to you if you decide to purchase a paid plan. You can read our affiliate disclosure in our privacy policy. This site is not intending to provide financial advice. This is for entertainment only.