13 Best Graphic Design Software of 2022 (Free and Paid)
Choosing the right graphic design software is vitally important when creating high-quality images and designs. From creating logos and illustrations, to photo editing and web design, the best graphic design software can help you meet your goals. In this guide, I ranked and reviewed the 13 best graphic design software, along with my top 5 choices, so that you can pick the best one for you.
---
We're reader-supported. When you buy through links on our site, we may earn an affiliate commission.
Want to cut straight to the chase? The best graphic design software right now are Adobe Photoshop and Adobe InDesign.
Stunning design that speaks to an audience is paramount for brands of all sizes.
Whether you need this software to help you start a blog like this one or edit product photos for your ecommerce business, selecting the best graphic design software can take your brand identity to the next level.
Considering this trend, Adobe Photoshop has become the reference point of image editing and AI design software.
However, over the years, several other visual design software tools have emerged to cater to different needs and preferences of designers.
A capable graphic design tool not only enhances efficiency, but it also helps in putting stunning creativity into real-world design.
This article will cover the top options ranked in order of quality.
Let's get started.
What is the Best Graphic Design Software?
The following are the best graphic design software on the market right now.

Adam's Take
If you're looking for the best graphic design software for your needs, I highly recommend Adobe Photoshop. Used by professionals, this software will get you the results you want.
Adobe Photoshop is synonymous with photo editing for graphic designers. It is one of the most popular photo editing software tools in the market in a robust package that offers excellent graphic design capabilities.
Key Features:
Design Tools: Offers a lot of design tools for both mobile apps and web
Creative Cloud: Its active synchronization with Adobe Creative Cloud offers a lot of unique features, including Content-Aware Crop, Face-Aware Liquify, Artboards, the Design Space view, synced libraries, a glyph panel, Cloud Documents, touch, and stylus input support, among others.
User Interface: The Adobe graphic design software interface is continuously updated to provide a more customizable user interface. It offers several targeted workspace layouts, including Graphic and Web, Motion, 3D, Painting, and Photography, Designer can also create your own custom layout of panels and windows.
Open-Source GIMP Software: If you don't want to pay a dime, then you can download and install this software for free. Consider installing it on a powerful machine to avoid lag and other performance issues.
User Experience:
With the ability to work in offline mode through your browser, you can use Adobe Photoshop to quickly edit photos with a few clicks.
The software provides an intuitive user interface that is easy to use, making it a great choice for those who are new to photo editing.
At the same time, advanced features allow those that are experienced to get the most out of the software.
Pricing Plans:
Adobe offers Photoshop at a subscription price of US$20.99 per month per license.
What I Like/Dislike About Adobe Photoshop:
Like:
It offers a complimentary mobile application
Its slick user interface offers a lot of assistance for easy use
Got a rich set of typography and drawing tools
Comes loaded with 3D design capabilities
Offers a library and photo management with Adobe Creative Cloud
Efficient file transfer between different programs
Multiple design tools come with responsive graphics
Ability to edit animation and video layers
Users can define the size of the canvas, create custom brushes, work in 3D, isolate elements from backgrounds, among others.
Dislike:
Adobe now offers Photoshop along with the subscription of Creative Cloud. The recurring payment turns out to be more costly, and people who want to buy software forever don't have the option to buy a perpetual license
A plethora of features might overwhelm a new user
Offers lessor support for raster and vector images like SVG files
Product Updates:
Improvements to cloud documents means you can now work on your Adobe Photoshop projects even when you're not connected to the internet.
Edge enhancement in your skies means that you can get better definition and detail in your photos, making them look more realistic.
Get started with Adobe Photoshop today.

Adam's Take
For publishers that want to create stunning outputs that are also functional, I suggest you check out Adobe InDesign. With a lower learning curve than Photoshop, InDesign is an excellent software for those who want to create beautiful layouts for published works quickly.
Adobe InDesign is a must-have software tool if you are in the business of publishing. It offers excellent capabilities to design stunning magazines, info sheets, and brochures while easily exporting them to PDF or HTML.
Key Features:
Easy To Use: Unlike PhotShop, InDesign requires a low learning curve. That means new users can quickly learn how to combine text and graphics to achieve the best results.
Adjust Layout: The 'Adjust Layout' feature empowers the designer just to change the text of the template, and design gets adjusted automatically, which is great for infographics.
Sensei Technology: Adobe's AI-powered Sensei technology ensures automatic resizing and arrangement of images.
Adobe InCopy: Designers can leverage InCopy to work with other members of the team by sharing text, colors, and graphics.
User Experience:
With an interface similar to Photoshop and Illustrator, Adobe InDesign provides a familiar experience for those who are used to using Adobe products.
If you work with text, images and/or vector artwork, then InDesign will give you the professional results that you're looking for.
While there is a learning curve to using the software, there are tons of tutorials that can help you get up to speed quickly.
Pricing Plans:
Adobe offers InDesign at a monthly subscription of $20.99. The full Creative Cloud costs $52.99 per month.
What I Like/Dislike About Adobe InDesign:
Like:
Graphic designers can efficiently combine graphics and texts for easier streamlining and optimizations of files.
It allows users to add tags to indexes, keywords, anchor text frames, footnotes, table of contents, and captions with hyperlinks.
It supports HTML exporting that enables web developers to export clean and simple codes during the implementation of the website's layout designs. This works great for WordPress sites.
It can help you eliminate redundant div tags in HTML files along with insignificant content grouping.
Has the capability of resizing multiple objects and changing the width and height at the same time.
Designers can leverage its Eyedropper tool to apply position or size instantly to another object within the document.
It is an industry standard for desktop publishing.
Dislike:
The less intuitive user interface can make things overwhelming for new users.
Not positioned for general users. Suitable for enterprise use only.
Relatively expensive than other similar software available in the market.
PDF comment integration needs perfection
Product Updates:
Adobe has updated the InDesign UI to better match the scaling of other Adobe Creative Cloud products on high-resolution displays. This makes it easier to use InDesign on devices with high pixel density, such as Retina displays.
The Adobe Capture extension for InDesign lets you quickly turn photos into design elements that you can use in your InDesign layouts. With the extension, you can capture colors, shapes, and textures from photos and apply them to your designs.
Get started with Adobe InDesign today.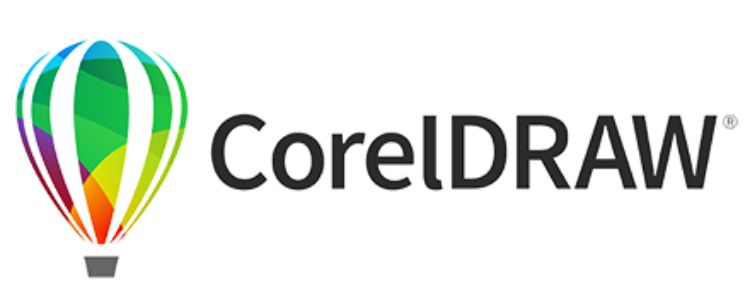 Adam's Take
CorelDraw gives you all the professional-level features you need to create illustrations, logos, and marketing materials. It's a great program for anyone who wants to create vector-based graphics. If graphic design is part of your professional life, CorelDraw is a must-have software.
CorelDraw Graphics Suite packs some pro-level features and offers a highly accessible interface that is easy to use. It is a bundle of multiple applications that deliver powerful editing features.
Key Features:
Content Exchange: It is Corel's online digital library through which registered users can get access to thousands of high-resolution photographs and digital images. It also offers over 2000 vehicle templates, 1000 fonts, 350 professionally designed templates, more than 500 interactive frames, over 600 gradients, vector, and bitmap fills.
Flexible Payment: Corel offers three payment programs through which users can buy the software along with nominal charges for regular upgrades. It also offers an upgrade program for existing users.
Customizable UI: You get a customizable UI environment for the desktop, icon sizing, toolboxes, options for how your documents open, and window border color scheme. Users can also visit Corel's developer community website to design macros that suit their workflow.
New Pointilizer: Corel's new pointilizer offers a lot of variable parameters that are not just limited to regular dots.
User Experience:
CorelDraw takes concepts from other vector software and combines them into an intuitive interface that is easy to use.
The software is packed with features but still manages to be user-friendly.
If you're involved in print-based media, chances are that the features will already be familiar as the software is designed to be used with professional printing equipment.
Pricing:
CorelDraw is available for a 15-day free trial. Its full version is available for $499 with a 30-days money-back guarantee. You can also pay for an annual subscription for $249 or just $20.75/month.
What I Like/Dislike About CorelDraw Graphics Suite:
Like:
It offers app-wide workflow and under-the-hood innovation and performance enhancements to boost productivity
Works perfectly without any lag with Surface Pen
Users get the option to choose GPU acceleration over the default CPU while working with system-intensive sophisticated vector graphics
Smooth transition from desktop to tablet mode to leverage touch features
It offers better EPS and third-party PDF importing capabilities and leverages with their GPL Ghostscript feature
It is capable of exporting files in up to 48 file types, including AutoCAD, JPG, PNG, SVG, AutoCAD, JPG, and TIFF. It can also open 35 file types, including EPS, HTML, AutoCAD, PDF, PowerPoint, SVG, and even old FreeHand files
Dislike:
Unlike Adobe, there are no complimentary mobile applications offered by Corel
Two many payment options might confuse the user
Not easy to operate for beginners
Product Updates:
Direct access to online fonts so you can easily add fonts to your designs from a variety of sources.
A streamlined collaboration workflow that allows you to work on design projects with others in real-time.
Asset management capabilities that let you easily find, organize, and share the assets you need for your designs.
Get started with CorelDraw Graphics Suite.

Adam's Take
I advise you to go for Adobe Illustrator illustrative if you work with artwork, page layouts, logos, and typography regularly. It's the industry standard for vector illustrations, providing you with all the tools you need to create beautiful designs.
Adobe Illustrator is more than just a graphic design tool that is perfect for illustrative artwork, page layouts, corporate logos, website mockups, and almost anything else as per the requirement. Moreover, it's an industry benchmark in vector creation tools.
Key Features:
High-customizability: Adobe Illustrator is highly customizable through multiple preset layouts along with other customizability options. Users can leverage the drag and drop feature to move panels anywhere on the screen.
In-Panel Editing: Its in-panel editing feature allows designers to edit multiple artboards simultaneously to help designers work with more efficiency.
Highly Compatible: It is highly compatible with numerous devices that have different configurations from Mac and Windows.
User Interface: Its user interface is highly accessible and customizable. It offers custom viewing and space-saving features to help you work on any machine.
User Experience:
Creating logos, designs, illustrations, and graphics can be done with ease using Adobe Illustrator.
The software is easy to use and the tools are self-explanatory which makes it user-friendly.
There are also all the features you would expect from a vector drawing app, such as the ability to create custom shapes, apply gradients and strokes, and add text to your designs.
Pricing Plans:
Adobe Illustrator offers a monthly subscription of US$20.99.
What I Like/Dislike About Adobe Illustrator:
Like:
Instead of stored pixels, it generates graphics based on mathematical equations to ensure crisp and sharp lines that you can print in any dimension
It creates graphics files in relatively small sizes so that designers can share them easily through a simple email attachment
You get access to over 90 million images, graphics, templates, and videos from Adobe Stock
Use Adobe font integration to select thousands of fonts and implement the most suitable font for the project
Tight integration with other Adobe products
Dislike:
It is costlier in comparison to other vector-based graphic design tools
So many features can look a bit overwhelming for new users. It requires a steep learning curve to use it efficiently
It could eat up a lot of space on your machine
Product Updates:
Blend objects in your design for a more natural look.
Map artwork onto 3D objects and then edit and paint them to create unique graphics.
Get started with Adobe Illustrator today.
5. Inkscape.
Adam's Take
Inkscape is my pick for scalable graphics. It's an open-source graphics editor, making it a great option if you're on a budget. With images that can be as big as you need them to be, Inkscape is perfect for creating professional-quality designs at virtually no cost.
Inkscape is a capable free graphic design software that can help designers create scalable graphic designs that won't stretch or blur during resizing. It's a user-friendly option for hobbyists or beginners interested in vector drawing.
Key Features:
User Experience: For free vector software, the user experience is quite impressive. Designers who are familiar with Adobe tools can efficiently operate Inkscape.
Regular Updates: Inscape has a robust community of developers that enables it to provide updates and new features regularly. Its latest update has got mesh gradients, a checkerboard background to view transparency more comfortably, improved spray, and measurement tools.
Free of Cost: It is one of the most robust and capable alternatives to Adobe Illustrator that is available as a free tool.
Manual Improvement: Users can leverage the open-source code to change the lines of code and enhance or personalize the software as per the requirement.
User Experience:
If you've used other vector drawing software before, you'll find Inkscape easy to use.
The interface is straightforward and the tools are self-explanatory.
Using this software is intuitive and you can quickly create designs, illustrations, logos, and graphics with ease.
There's also a status bar that shows you information about the currently selected object, such as its size, position, and color.
Pricing:
Inkscape is an open-source platform that is available for free.
What I Like/Dislike About Inkscape:
Like:
Users can easily make individual text lines without frames along with the paragraph type.
It supports multiple gradients and comes with a separate tool to create complex combinations.
It comes equipped with Bezier handles to ensure more effortless movement of nodes.
Inkscape offers several well-designed and full-featured tools to create, edit, and convert vectors.
It is also capable of downloading or creating ready-made plugins.
Users can leverage different preset categories of filters to save time and effort.
Dislike:
Inkscapes' streaming text needs to be converted into plain text, for instance, before export.
The Mac version is not error-free.
Processing is a bit slower than other graphics software.
Compatibility with Illustrator is not bulletproof.
Product Updates:
Improves translations for 15 languages to make the software more accessible to a wider audience.
The bugfix version solves nearly 60 issues, including some that could cause crashes
6. Sketch.
Sketch is a vector-based graphic design tool that is best suited for app, web, and interface design. It is best suited for creating interactive prototypes for UI/UX purposes.
Key Features:
Low Cost: Sketch offers a yearly subscription that is significantly lower than other subscriptions
Great For Mobile and Web: It leverages grids, snap to grid functionality, and snap to pixel functionality to avoid half-pixel renders or imperfect alignment. These perfections are critical to ensure perfect responsive design/multiple screen sizes and resolutions.
Screen Templates: It offers a library of artboard templates for iOS devices and responsive web design layouts. Designers just need to select an artboard and the device.
Custom Plugins: Designers can easily find custom plugins for specific tasks through robust community support
Pros:
It allows easy sharing and collaboration through the cloud. Designers can share the entire interface in the cloud through a simple file sharing process
Users can mirror designs on larger devices for team viewing to identify how the design would exactly look in a particular device
Users can export any layer or group as a PNG file
Sketch autosaves all the changes in the design step by step to avoid any loss of design. Significant relief for designers, indeed!
Users can leverage libraries with standard Android icons, iOS icons, and Mac icons
It requires a low learning curve
Cons:
Being a new design tool, it is not entirely polished and requires a lot of enhancement
It offers limited illustration capabilities that can hamper intricate illustration work
Screens don't render in high resolution while accessing from the cloud
Available only for Mac users
Absence of automatic layout flowing option
Pricing Plans:
The yearly subscription costs $9 per month.
7. Affinity Designer.
Affinity Designer is a clean, capable, and cheaper alternative to Adobe Illustrator. It offers an excellent budget proposition that is also easier to use and faster than Illustrator.
Key Features:
Grid Systems: Its versatile grid system enables designers to set up grids while creating isometric video game graphics and icons. This feature helps users in acquiring total control over angles, gutters, spacing, subdivisions to create accurate layouts.
Snapping Option: It allows designers to lock and position objects and elements depending on multiple things, including grids, alignment guides, shapes, and nodes of other objects.
Dual Environment: Through Affinity Designer, users can work in both pixel art environments and vector art environment without opening any other application.
Zoom Feature: Its zoom feature can go as far as 1,000,000 percent enabling designers to design with utmost precision and accuracy.
Pros:
Designers can leverage dynamic on-screen guides to ensure objects and designs are laid out with accurate measurement and alignment
Users can create smooth and accurate curves through rope and window stabilizers to create beautiful vector illustrations
Boolean operation is not only capable of combining shapes, but it is also capable of efficiently moving and editing some parts
It offers a wide selection of colors to enhance designs.
Users are also allowed to apply for their work on one project to multiple numbers of artboards
Its Apple iPad app is as powerful as its desktop application
Cons:
Doesn't export files in AI
Absence of natural perspective grid
Absence of vector eraser in Designer Persona
Some tools are missing that are available on Illustrator
Pricing Plan:
Designers can buy Affinity Designer software for a one time cost of $54.99 on desktop, or $9.99 on an iPad.
8. GIMP (GNU Image Manipulation Program).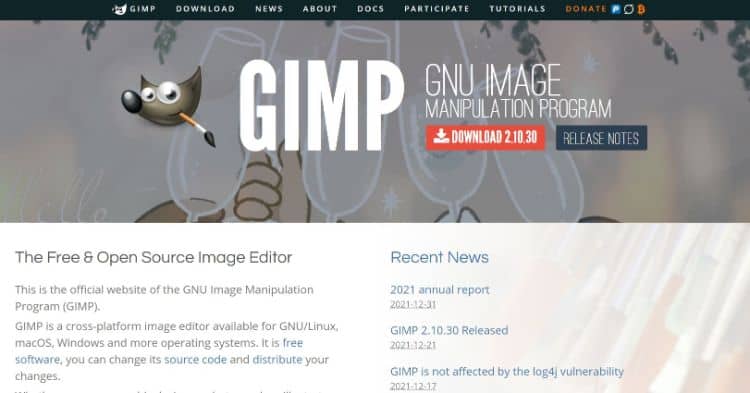 GIMP is much more than just a photo editor that offers a lot of incredible Photoshop features for free. It provides multiple professional-quality functions to fine-tune snaps and create artworks from scratch.
Some would even consider it to be one of the best free graphic design software on the market.
Check out my GIMP vs. Photoshop review to see how these two software compare.
Key Features:
Flexibility: The photo editing tool's user interface is highly customizable, and the GIMP community has developed several incredible plugins for added features free of cost. People who know coding can customize it to higher levels as per the requirement.
Regular Updates: Its active community of developers means that it keeps getting regular updates and the addition of new features.
GEGL Scripts: It is one of the best features of GIMP that makes it an open platform for image processing.
Compatibility: It is compatible with a plethora of operating systems including macOS, Linux, Windows, Solaris, and BDS
Pros:
It enables users to sketch the drawing by leveraging tools, including cloning, pencil, and airbrush
GIMP offers tutorials for every feature to help out the users
Its Layers feature allows designers to design an image under an existing image
Clean and easy to use user interface for users who are new to the world of image editing
It offers the option of working on a modular and single-window interface
It is very lightweight and uses the computing resources optimally, leading to ensure speedy performance
Cons:
The user interface is not perfect for Mac users
Adjustment layers come with a non-destructive way of combining multiple photo manipulations
The developer community is not significant. As a result, it gets updated at a much slower pace
Pricing Plans:
Since it's an open-source platform, it's an entirely free version of design software.
9. Xara Designer Pro X.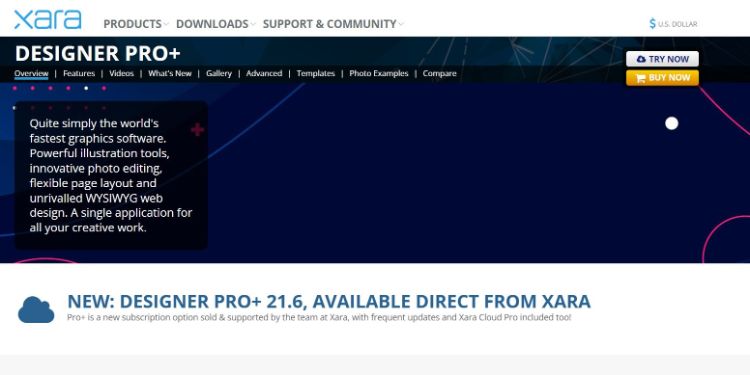 Xara offers advanced features and tools while that provide advanced design elements. The software is used extensively for web and print design solutions to create illustrations, edit photos, and design web pages.
Key Features:
Direct Action Tools: The 'direct action' tools offer robust features and stable functionalities for general use.
Drag and Drop Feature: This time saving and intuitive feature allows designers to zoom up to 25,000 percent and leverage direct action tools easily for faster execution of the job. It also allows placing any item on the page through a simple drag and drop.
Performance: It offers faster performance and gives users an easy way to implement creativity. It also allows users to make numerous modifications through unlimited redo and undo options.
Super Fast: Xara boasts of one of the fastest and most sophisticated vector rendering engines. This gives it the capability to deliver more complex and professional graphic designs efficiently.
Pros:
Xara Designer Pro offers substantial editing options, including solid dragging, scaling, and rotating of objects to achieve the best in editing results
It offers anti-aliasing that helps in improving the quality of on-screen images by softening the edges of objects through blending the edges with the background
It comes with cloud capabilities to view, edit, and update documents through a web browser on any computer or tablet
The zoom tool is capable of zooming up to 25,601% to enable designers to take a closer look
Designer Pro is capable of syncing files with Dropbox and Google Drive
It offers support to an extensive range of file formats, including bitmap types like JPEG, BMP, GIF, PNG, TIFF, PSD, and allows import of photos such as RAW or JPEG XR
It also supports importing and exporting Adobe PSD files, including layer support, alpha channel, and 16-bit color and CMYK layer conversion
Cons:
It is available only on Windows
Requires a steep learning curve to use all the features efficiently
The masking feature is cumbersome and difficult to understand
Pricing Plans: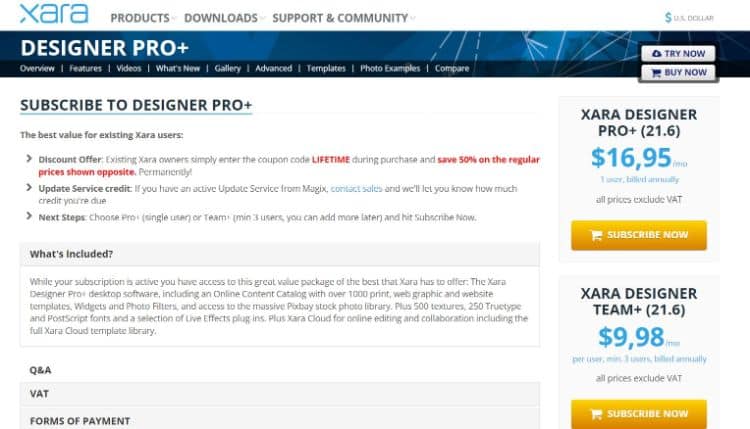 The Xara Designer Pro+ is available at a monthly subscription of $16.95 per month. The Team+ plan is available at $9.98 per month.
10. Gravit Designer.
Gravit Designer is an HTML-based graphic design application to deliver high-quality vector graphics. It is one of the most suitable tools for graphic, product, or web designer professionals.
Key Features:
Gravit Designer Dashboard: The dashboard is easy to navigate and allows to switch between the tabs or switch dark themes instantly easily. Users can also easily set the width and height of the document through the dashboard.
Pages: Its pages feature a perfect blend of artboards and pages that comes with its canvas settings.
Tools and Effects: It offers several tools, including the Bezigon tool, Lasso tools, and Pen tool, among others. It also allows adding multiple fills to an element.
Portability: It offers absolute cross-platform portability for Windows, Mac, Linux, and Chrome OS to enable the designer to work from any machine efficiently.
Pros:
It offers a modern user interface that is entirely customizable, engaging, and easy to use
Gravit Designer offers an implicit way to design social media posts for various platforms, including Instagram and Facebook
It offers natural flexibility through web and desktop versions of the software
It supports multiple file formats for export as well as import
It allows editing of scalable vector graphics
Users get knife and tool support for non-destructive Boolean that makes it a potent tool for user interface design
Designers can easily open multiple documents and go to the papers on the tab
Its Pro version offers unlimited cloud storage
Cons:
There is not a lot of information present about the software from official resources
A real-time collaboration feature is absent
Designers can't run prototypes on smartphones to find out how would they look
Fonts need an active internet connection to work
Pricing Plans: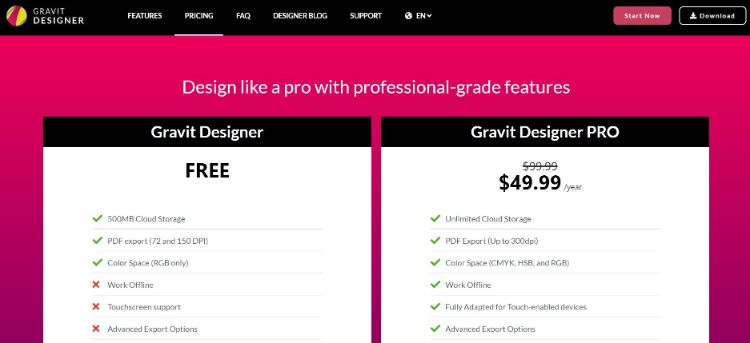 Gravit Designer comes entirely free of cost with limited features. Gravit Designer Pro is available for $49.99 yearly.
11. Photoscape.
Photoscape offers indispensable features for editing and managing photo archive. It positions itself as a tremendous free graphic design tool for beginners and professionals who don't want to buy expensive subscriptions.
Key Features:
Editing Tools: Photoscape offers numerous types of image editors, including page, batch editor, editor, viewer, print, combine, print, screen capture, animated GIF, print, combine, and so forth. Its editing toolkit offers a set of distinct and well-labeled features for beginners.
Multi-lingual: It comes loaded with English and Korean. However, designers can gain access to more than 30 languages through downloadable modules.
User Interface: It offers a simple and easy to use interface that helps beginners to use the software efficiently.
Design Module: Its design module and image editing capabilities pack a lot of features, including color adjustments, size, gamma, backlight, resolution, brightness, and so forth. It also comes loaded with text, design, and drawing tools, including effects brush, filters, paintbrush, clone stamp, among others.
Pros:
The batch editor feature is a boon for designers who edit images regularly. It allows the user to resize, convert, or rename multiple pictures with a single mouse click
It is capable of opening RAW photos and comes equipped with a converter that allows converting RAW images to JPEG images easily
It is a cross-platform design app compatible with Mac, Windows, and Linux machines
It comes with a PhotoScapeX edition for Windows 10 machines that is available free of cost.
Offers integrated editing and graphic solutions
It is highly responsive and lightweight that leverages computer hardware smartly
Cons:
Doesn't provide advanced image editing capabilities like in Photoshop
Not available on Linux
Pricing Plans:
Photoscape is available free of cost.
12. Genially.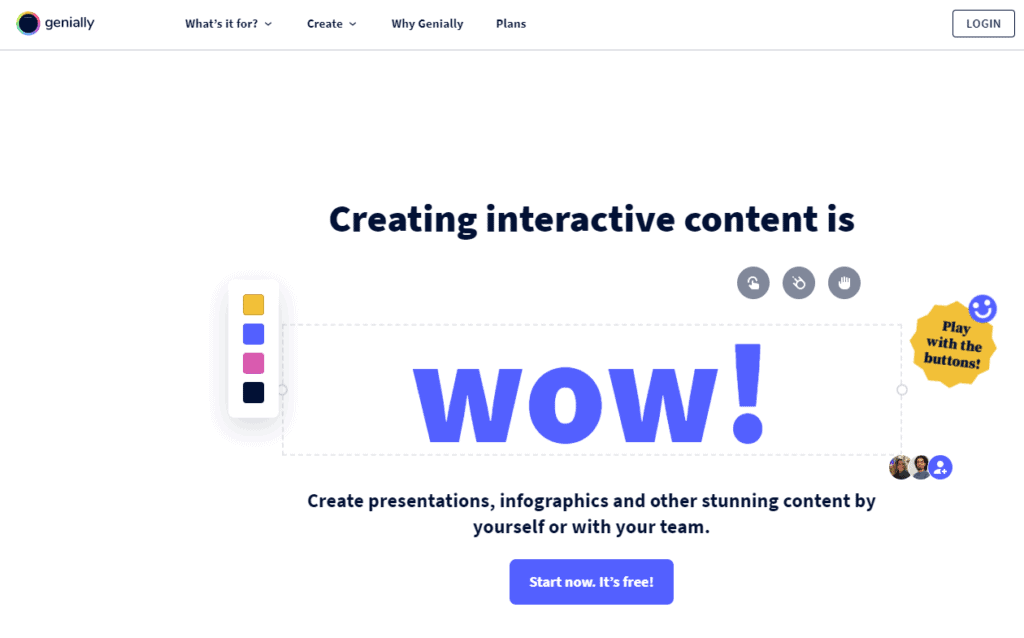 Genially allows you to take your content and turn it into graphics that look professional on a website, blog, Pinterest, or Facebook in just a few minutes.
You can share your creations across all social media channels without using additional plugins for each page.
Key Features:
Choose from many templates, and your content is pushed into that template. If you want to, you can customize the color and design further.
The graphics it produces are simple, yet effective. It's easy to use and makes good quality graphics for business, social media posts, and more
Create presentations, infographics and interactive images and turn content into an effective and powerful marketing tool.
If you want to create gamification, visual and interactive quizzes, then Genially can help you do that.
Video Presentations are also catered for by this app.
Pros:
You can create presentations to upload.
You have the power to choose from a number of templates or design one yourself.
You can also customize it further with your content, videos, images and other media formats if you want to.
Training Material is available so you can learn how to use the app.
Cons:
With so many features, it sometimes tries to do too much and the interface is a bit confusing.
The free version doesn't allow you to import PowerPoint files from your computer
Pricing: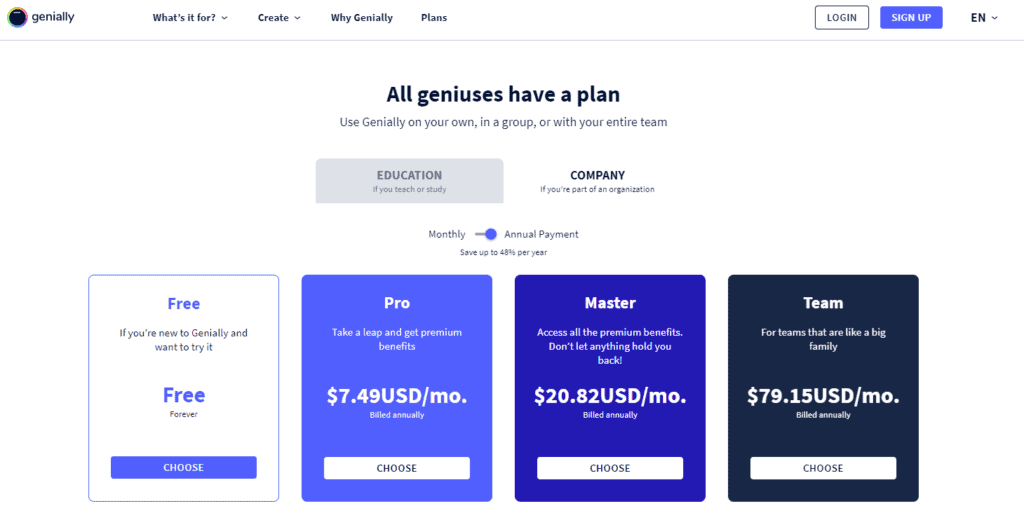 The pricing plans are as follows:
Pro: $7.49 per month (billed annually)
Master: $20.82 per month (billed annually)
Team: $79.15 per month (billed annually)
13. Vectr.

Step into the realm of Vectr, a wonderful yet simple Free graphics program that lets you create stunning vector art and designs, edit images and customize projects for web and print.
They also offer a free Chrome plugin to enhance your experience while designing your graphics.
Key Features:
If you're a beginner, it's not an issue since the user interface is simple and easy to navigate.
In addition, if you have no experience in designing graphics software, you will find it effortless when setting up the various tools used for drawing your vector artworks or modifying images or photos.
Real time sharing allows you to invite anyone and work on a document that is accessible by the public.
The design tools are intuitive and user-friendly, with an array of popular fonts, graphics, effects and shapes available for you to use in your documents.
Resize without losing the clarity and quality of your graphics.
Pros:
Make vector images that are scalable without losing quality
Share projects online with your team or clients to work on together.
Free forever plan that gives you access to all the features
AI powered image resizing will ensure you always get an image that is the right size
Laid back and easy to use user interface
Cons:
There is no desktop version so you have to use their online interface.
Pricing:
Vectr is free forever.
Note: other design apps not yet reviewed for this list include Vectr, Microsoft DrawPad, and Pixlr.
What Are the Benefits of Graphic Design Software?
A capable graphic design software tool enables designers to create visually stunning graphics and images.
Here are a few crucial benefits that a capable graphic design software brings to the table:
1. Flexibility and Scalability.
It provides you with the flexibility to create visually stunning images and graphics without actually shooting them. Aside from this, the user can get the file exported into multiple file-formats instantly for easy distribution to other marketing platforms.
2. Cost Efficient.
Apart from paid tools that offer great value for money, there are also free open source graphic design software that designers can leverage to create beautiful designs. It helps in saving a lot of expenses on shooting real objects.
3. Branding.
Graphic design tools help organizations in maintaining their brand positioning by embedding logos and watermarks on marketing collaterals. Users can save templates in the software that can be used every time to maintain consistency of image size and design.
4. Increased Engagement.
High-quality visuals created through graphic design software helps in enhancing brand engagement. It helps in sending the message to the audience more clearly.
5. Time-Saving.
Using graphic design software helps in saving a lot of time that would have otherwise been spent on shooting photos and videos. It also allows users to create bulk images in just minutes, which are ready for immediate upload and distribution.
6. Minimum Human Intervention.
It helps in getting the required visuals by leveraging artificial intelligence algorithms to edit photos and videos instantly without any human intervention. Furthermore, it enables marketers to get high-quality graphics edited within seconds and seconds itself that can be shared across multiple platforms like social media, websites, etc., at once.
7. Custom Branding.
Graphic design software allows users to create custom branding for marketing collaterals like images, infographics, videos, etc., according to the brand's requirements. This helps in promoting brands that are unique and differentiated from the competition.
How Does Graphic Design Software Work?
There are several graphic design software tools available in the market with their unique set of capabilities. However, they all are built with a single goal of creating stunning artworks. Hence, their basic functionalities are the same.
Here are some of the steps that will help you get the hang of some of the basic functions of a graphic design software work.
1. Create a New Document.
For instance, you are using Adobe Photoshop to create graphics.
You have to launch Photoshop first and click on the "File" option and then "New Document."
The designer can either select a template or customize the size of the document manually.
2. Enter The Camera Raw-Panel.
Next, you can see what the camera raw-panel actually looks like in Photoshop. Here, you can select the crop tool available in the sidebar to resize your design.
3. Workspace Overview.
This window will display the project you are working on. It may have multiple tabs depending on the number of projects you are working on simultaneously.
Have a look at the workspace from Adobe Photoshop.
4. Learn The Meaning of Basic Tool Icons.
Before you move further, you should know the meaning of the vital tools you'll be using for graphic design.
Here is the list of tool icons that you must know by heart to use any graphic design platform efficiently.

5. Layers, Groups, and Guide.
Playing with layers at the right spot will help in creating visually appealing designs. To create a new layer, just click 'Layer > New > Layer' or tick the box with the folded corner at the bottom right of the window. You can also lock the layers to avoid editing them accidentally.
6. Create a Wallpaper.
Users can leverage a lot of tools to create simple images into stunning visuals that can be used as high-resolution wallpapers.
Executive Summary.
Finding the best graphic design software that meets all your requirements can be overwhelming.
If you want to make the right decision, then it's crucial to ponder over a few essential points, including:
Budget – Analyze whether you can afford a paid tool or not, or paying the subscription for graphic design software is feasible or not. Decide by weighing the features that you can get from open source tools and what USPs paid tools are offering.
Features – Go for a quality tool like Adobe Photoshop only if you require intricate vector designs regularly. Otherwise, free software tools like Inkscape are more than enough when it comes to managing basic editing work.
Collaboration – If your work methodology includes frequent collaboration, then look for a graphic design platform that comes equipped with cloud capabilities for seamless collaboration and sharing of files.
Thinking over these points can help you make the right decision without much confusion.
Further Reading on AdamEnfroy.com: For more software reviews, check out my reviews of the best image editing software, the top choices for video editing software, and my full guide to start a blog for beginners.
Disclosure: I may receive affiliate compensation for some of the links below at no cost to you if you decide to purchase a paid plan. You can read our affiliate disclosure in our privacy policy. This site is not intending to provide financial advice. This is for entertainment only.