The Ultimate Guide To Affiliate Marketing On Pinterest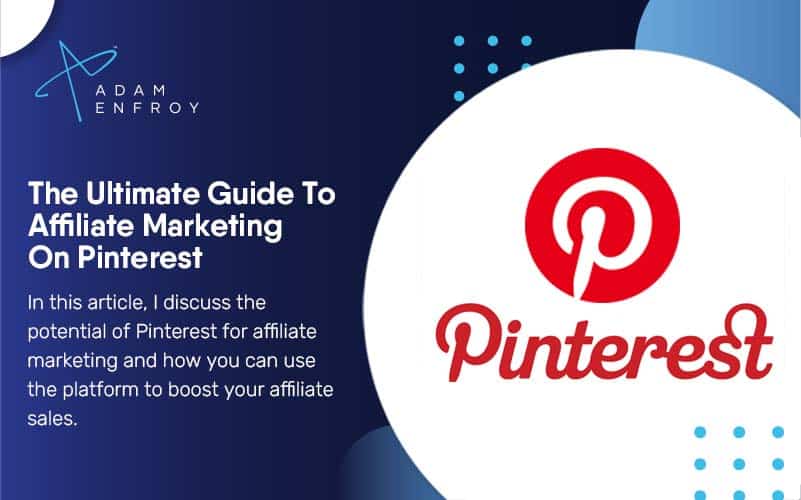 What if I told you that beneath those layers of mason jar salads and shabby chic furniture on Pinterest, the platform is an absolute goldmine for affiliate programs?
It's like stumbling upon a secret garden of untapped potential, just waiting to be unearthed by marketers savvy enough to wield a digital shovel.
With over 463 million monthly active users, Pinterest is one of the leading social media platforms, making it an ideal playground for marketers who understand visual content's power.
In this article, I'll discuss the potential of Pinterest for affiliate marketing and how you can use the platform to boost your affiliate sales.
Benefits Of Using Pinterest For Affiliate Marketing
Here are some benefits those using Pinterest marketing can experience.
Creating Perfect Pins To Drive Traffic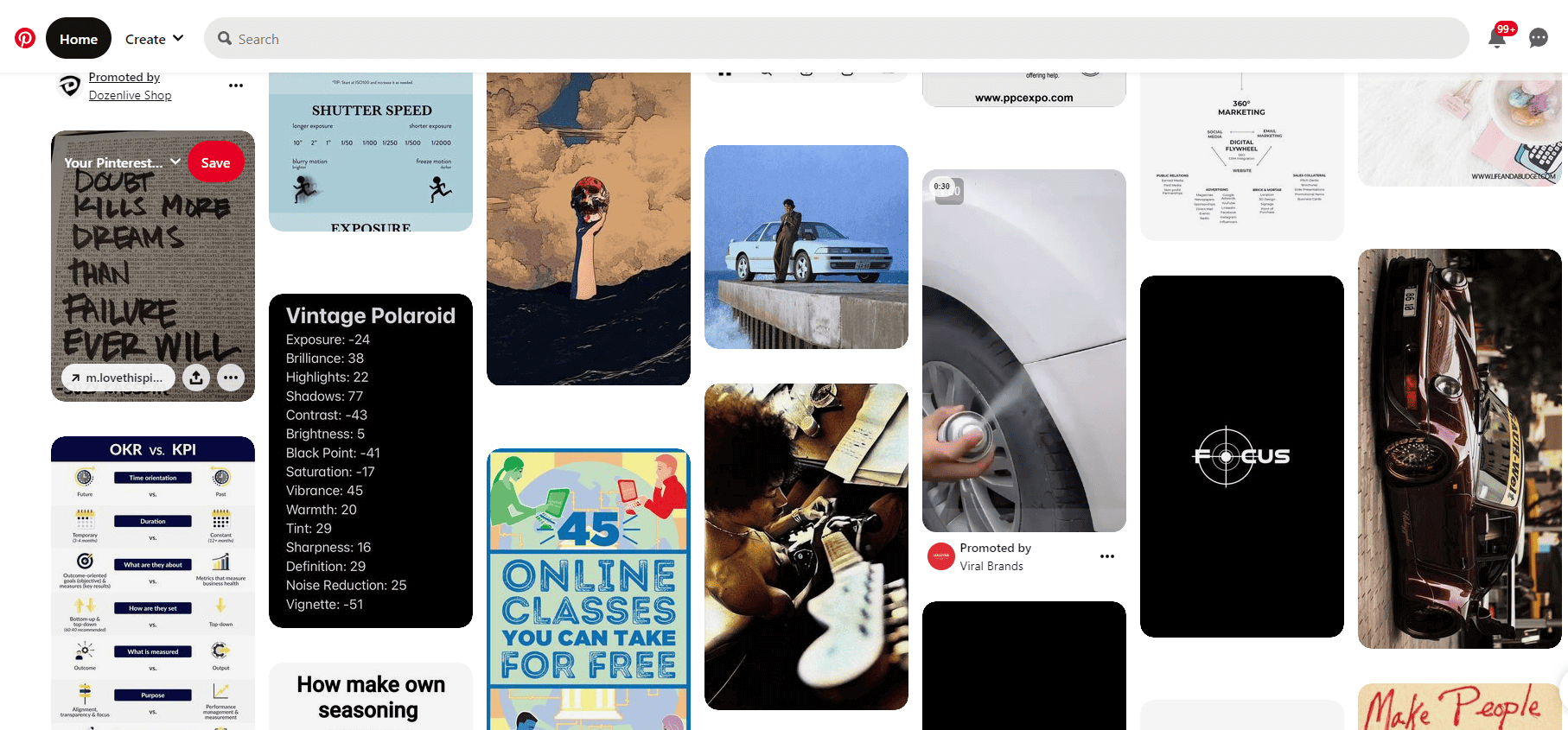 One of the primary benefits of Pinterest is that it allows you to display your products visually and appealingly.
It is no longer about product descriptions and plain images.
Therefore, affiliate marketers must ensure their pins are of high quality and have a clear call to action.
Some tips for creating perfect pins include having high-quality images, adding descriptions, including relevant keywords, and using vertical pins instead of square ones.
To actively engage with your audience, create multiple pins with images and headlines showcasing your products or services.
Doing so can increase your chances of driving traffic to your website from Pinterest.
Social media marketing strategies outside of Pinterest, such as promoting your content on other platforms, drive traffic and increase engagement.
Building Trust Through Boards
Pinterest boards are an excellent way to curate content related to your niche.
It can range from inspiration, tips, and lists to DIY projects.
The boards allow you to showcase various content related to your industry, which can be a valuable tool for generating traffic to your affiliate links.
Creating eye-catching pins that lead to a well-designed landing page is the key to increasing click-through rates.
Additionally, building boards help establish trust with your audience by positioning yourself as an authority within your niche.
Understanding the Pinterest algorithm ensures your content reaches the right audience.
Whether you're an Amazon Associates affiliate or even want to sell your e-commerce products, building trust through boards on Pinterest is crucial for success.
Integrating Affiliate Links In Pins
Affiliate networks are crucial when following a Pinterest affiliate marketing strategy, allowing creators to earn commissions by promoting products.
Disclose affiliate links, as the law requires, to maintain transparency and trust with followers on the social network.
Additionally, Pinterest's affiliate marketing strategy can involve creating boards and pins specifically geared towards affiliate promotions and actively engaging with the community through commenting and sharing.
Importantly, disclose your affiliate links to comply with FTC guidelines.
Increasing Reach Through Collaboration
Beginners can benefit from collaboration with experienced pinners in their affiliate marketing campaigns, as it allows for knowledge sharing and increased exposure to a broader audience.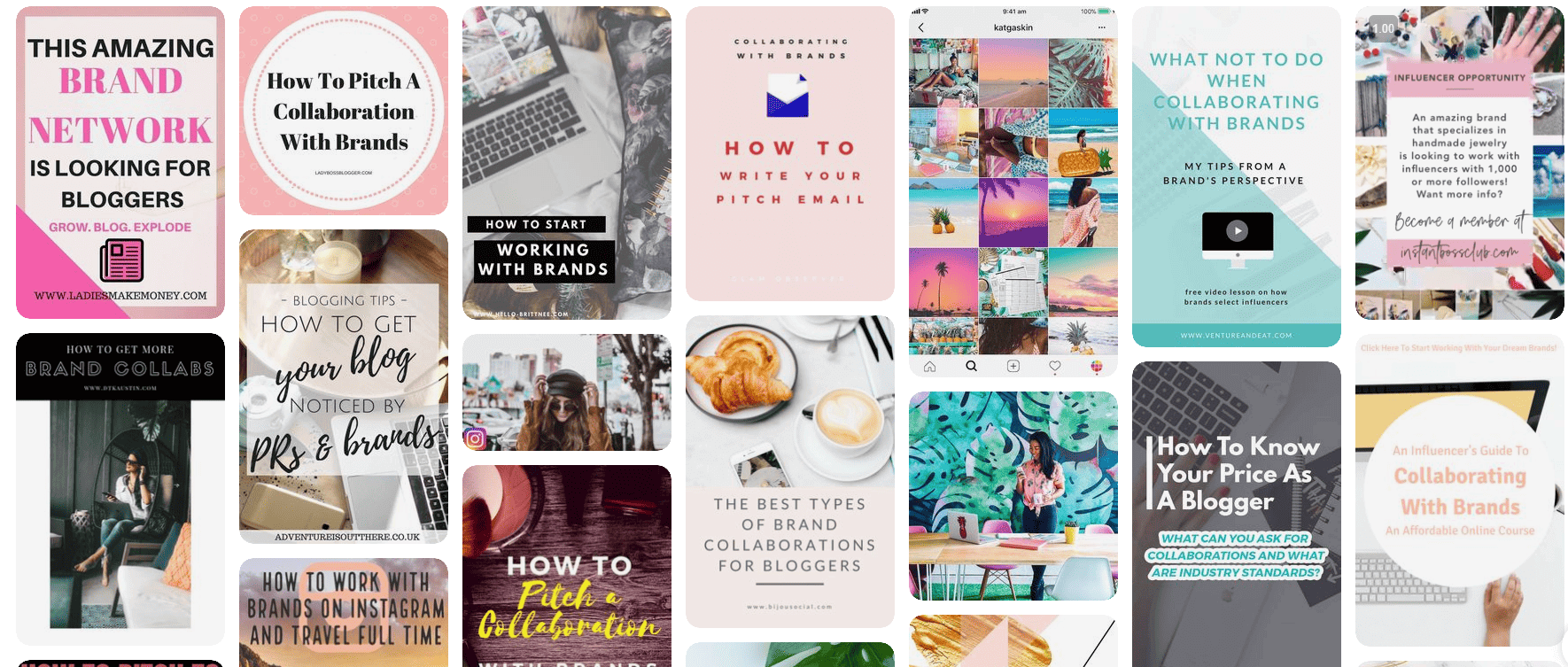 By partnering with complementary brands, a marketing campaign on Pinterest can reach new potential customers and drive more traffic to your destination link.
Analyzing Performance And Growth Metrics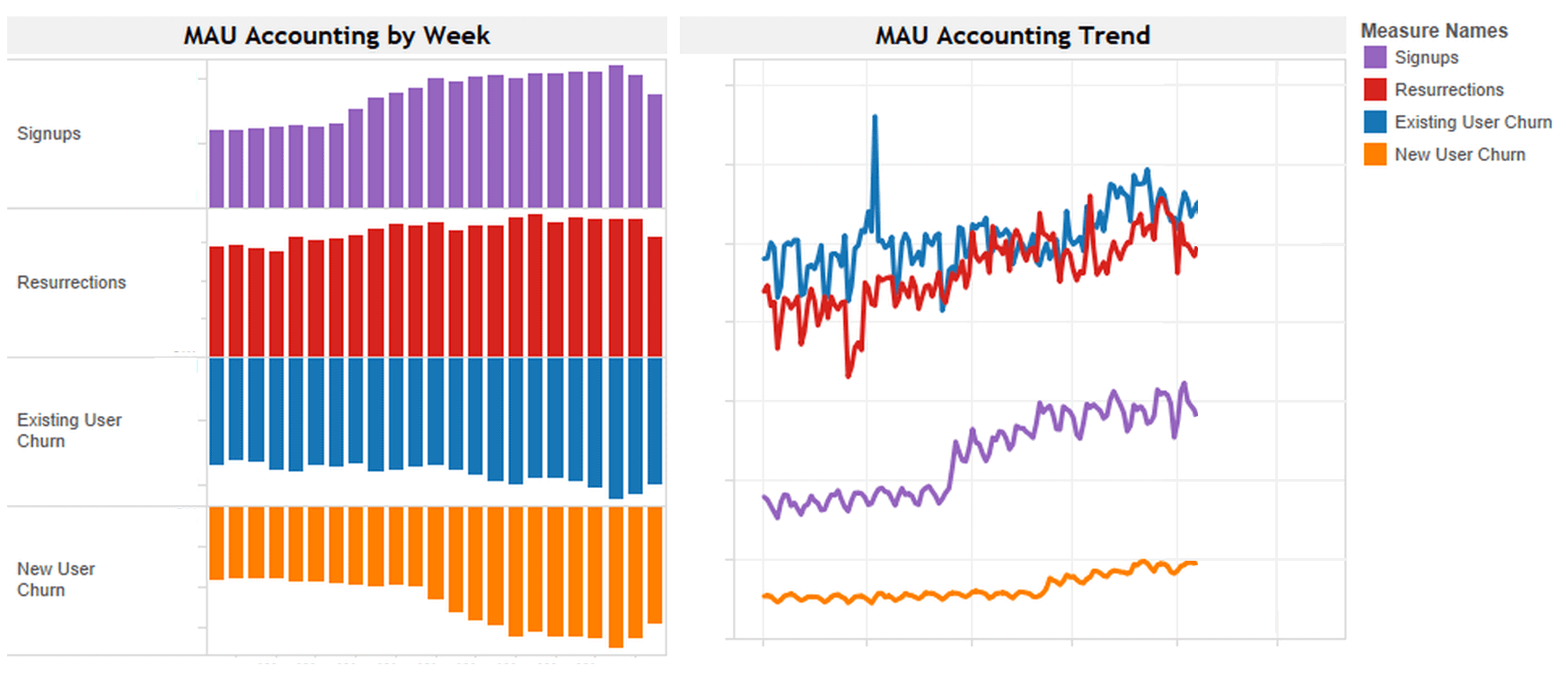 Image credit: https://jwegan.com/
After implementing an effective affiliate marketing strategy, track and measure performance metrics with marketing tools, which can inform decisions.
Analytics for Pinterest accounts tracks your performance and growth metrics to determine which pins drive the most traffic to your affiliate link.
Once you identify your successful pins and boards, it's time to focus on optimization.
You can better understand your audience and pinning habits by analyzing impressions, engagement, and click-through rates.
Test and experiment to see what works best for your brand and niche.
Pinterest As The Go-To Platform
Social media has been a game-changer for businesses, with various platforms catering to different target audiences.
Among them, Pinterest has emerged as a hub for millennials and Gen Z, who spend hours scrolling through the platform seeking inspiration for their latest projects.
With several advantages over other social media platforms, Pinterest has become an excellent site for affiliate marketing, especially in the luxury category.
Over 60% of this audience comprises women, making it a perfect platform for brands' female-oriented products.
With so many people purchasing items on the platform, it is a gold mine for affiliates to cash in on.
Pinterest users often look for inspiration and ideas on what to buy, with 9 out of 10 users turning to Pinterest for purchase inspiration.
As an affiliate marketer, this presents an excellent opportunity, providing a chance to showcase luxurious products and inspire users to purchase from specific brands.
Given these statistics, every luxury brand that wants to reach millennials and Gen Zs should have a presence on Pinterest.
Boosting Your Business With Pinterest Advertising
For businesses that want to take their Pinterest activity to the next level, paid advertising might be a no-brainer.
Pinterest Ads are an excellent tool for driving traffic to affiliate links, as they allow you to target specific audiences and customize your message.
To start promoting on Pinterest, create a Pinterest business account.
Once you have that, it's time to create pins.
The key is to create visually appealing affiliate pins with accurate and concise descriptions.
Use high-quality images with text overlay to tell a story about your product or service.
You can even use proven templates to help increase your conversion rates.
Next, ensure your pins get in front of the right audience.
Pinterest has a feature called Interest targeting, which allows you to target users based on their interests.
You can also target users by location, language, and device.
One of the best things about Pinterest advertising is that it is cost-effective compared to other social media platforms.
On average, you can expect to pay $2-$5 CPM, $0.10-$1.50 per engagement, and $0.10-$1.50 per website visitor.
Creating high-performing pins with high click-through rates can save you money while achieving tremendous success.
Unlike other social media platforms, Pinterest Advertising is a cost-effective way of driving traffic to direct affiliate links.
Maximizing Affiliate Marketing Commissions
Before diving into affiliate marketing on Pinterest, consider your goals and define your niche.
Here are the steps to earn commissions through Pinterest's affiliate marketing.
Determine Your Niche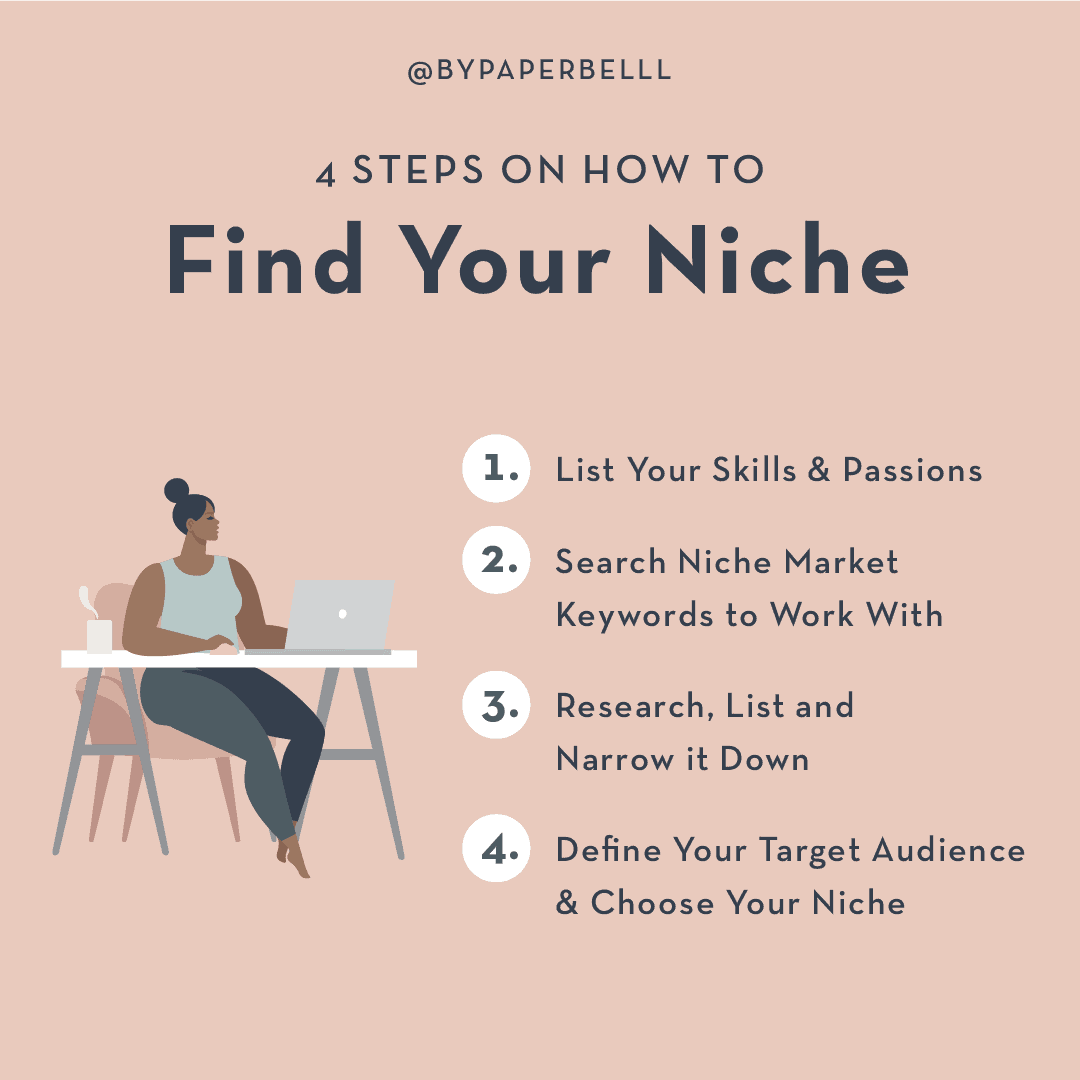 Image credit: https://www.pinterest.com
Before promoting offers or creating content, you must clearly understand your target audience.
Your niche should align with your interests, skills, and knowledge.
Visual-based niches such as travel, food, health and fitness, DIY crafts, and home décor are particularly successful on Pinterest.
These niches allow for a more appealing visual approach and can help build organic traffic through the platform's search engine.
Join Affiliate Programs
To start with affiliate marketing on Pinterest, one can join various affiliate programs.
Once you have identified your niche, the next step in affiliate marketing on Pinterest is to join affiliate programs that align with your niche.
Many companies offer affiliate programs that you can join.
Joining an affiliate program will enable you to earn commissions by promoting their products and services on your Pinterest board.
Finding affiliate programs that align with your niche and promoting products you believe in and would use yourself is essential.
Create Quality Content
After researching popular affiliate offers, create visually appealing graphics and descriptions that cater to the interests of your email list subscribers and pinners.
Sharing details of your affiliate products, informative content, engaging images, and a call to action in your pins help minimize bounce rates and increase engagement, ultimately leading to higher conversions.
Consistently providing valuable and relevant content, effectively utilizing keywords and hashtags, and building a solid relationship with your audience are keys to successful affiliate marketing on Pinterest.
Optimize Your Pins
To optimize your pins on Pinterest, use Canva, an accessible graphic design tool that allows you to create visually appealing pins.
With Canva, you can easily customize your pins to attract potential customers.
Utilize relevant keywords and phrases in each pin's titles, descriptions, and hashtags.
It makes it easier for interested users to find your content and click through to the product or brand you are promoting.
Additionally, ensure that your pins contain a link to the originating page, which can help you track and measure conversions.
Remember to regularly create new pins to keep your account fresh and engaging for your audience.
Share & Promote Your Pins
Once you have created quality content for your pins, sharing and promoting them is crucial to get more eyes on your content and earn more commissions.
Utilize influencers and partner with other content creators in your niche to cross-promote each other's pins.
You can also consider utilizing email marketing strategies to reach a wider audience.
However, it's crucial to ensure that your tactics align with Pinterest's community guidelines to avoid potential consequences.
Additionally, pay attention to the growing popularity of TikTok as a platform to amplify your affiliate marketing efforts.
Reusing content on various platforms increases engagement and leads, thus, higher conversions.
The Power Of Pinterest Scheduled Pins
Scheduling your pins lets you control when your content goes live on Pinterest.
Ensure that your pins go live when there's maximum engagement on the platform.
It results in better visibility and more clicks to your website.
Moreover, it helps you maintain consistency in your posting schedule, which is essential to build a loyal following on Pinterest.
Several tools also help you schedule pins automatically, such as Tailwind, Later, or Hootsuite.
You can use them to upload your pins, set a schedule, and forget about it.
They'll post your pins at the designated time, taking the hassle out of manual posting.
Consider the best time to post when creating a schedule, depending on your target audience.
For instance, posting during the day or evening might be your best bet if you're targeting stay-at-home moms.
You can use Pinterest's built-in analytics to determine when your audience is most active on the platform.
Also, vary the timing of your pins throughout the day to reach different users.
Utilizing Pinterest Group Boards
Image credit: https://newsroom.pinterest.com/
Pinterest Group Boards are boards created by users that invite other users to contribute by pinning their content on that board.
Group boards on Pinterest can be public or private, and membership can be invite-only or open to everyone.
Group boards relevant to your niche provide a resourceful platform to share your content and help it reach a wider audience.
These group boards can be a powerful tool to help grow your affiliate marketing business.
To maximize the potential of group boards, find the right ones that fit your niche.
One way to search for group boards is through Pingroupie.
Pingroupie is a tool that provides an extensive list of group boards on Pinterest based on your keywords.
You can find the right group boards within your niche that suit your target audience by searching with relevant keywords.
Before you hit the join button, it's essential to read the group board description carefully.
Group boards have specific rules and guidelines that you must follow regarding how many pins you can post, how frequently you can share content, and what type of content to share on the board.
Some group boards may not allow you to post links directly to an affiliate product page.
If this is the case, share pins that direct the user to your blog post or YouTube video.
Tips For Getting The Most Of Your Pinterest Account
If you are starting, ensuring you're making the most out of your account can be challenging if you don't know what steps to take.
Here are some tips to maximize your Pinterest account for affiliate marketing:
Emphasis on Visual Content: As mentioned earlier, Pinterest is a unique platform focusing purely on visual content. The quality of your images and videos is of utmost importance when promoting your affiliate products. By curating visually appealing boards and pins, affiliate marketers can attract followers and increase visibility, directly growing traffic and sales.
SEO on Pinterest: Another added advantage of Pinterest for affiliate marketing is the ability to optimize your pins for this visual search engine. By applying SEO principles to your board and pin descriptions, you can improve the discoverability of your affiliate products on the platform. Keywords, hashtags, and alt text are all essential tools to use when optimizing your pins for search engines. It helps drive organic traffic to your pins, increasing affiliate revenue.
Board and Pin Organization: Staying organized on Pinterest can significantly improve visibility and engagement. Grouping your affiliate products into relevant boards can help attract the right audience and showcase your products visually. Additionally, regularly pinning new content and re-pinning old content can keep your boards active and prevent them from appearing stale.
Collaboration and Influencers: Collaboration with other businesses, influencers, and bloggers can amplify the reach of your affiliate products on Pinterest. Collaborating with those in your niche can help you reach a wider audience and gain credibility with your followers. Additionally, working with influencers can help increase trust in your brand and boost sales through referral links.
Analytics: One of the best parts of Pinterest is the analytics dashboard that allows you to track the performance of your pins and boards. The dashboard lets you see which pins are performing well, which boards are receiving engagement, and where your traffic is coming from. You can use this information to refine your strategy and optimize your pins for maximum engagement and revenue.
Optimizing Pinterest SEO For Content Creators
Just as marketers do SEO for websites and blogs, content creators should do SEO for Pinterest.
Here are a few ways that you can optimize your pins for success.
Keyword Research
The first step toward an effective Pinterest SEO strategy is to find the right keywords.
Once you have your keywords, use them effectively in your pinboards and pin creatives.
Make sure to use long-tail keywords that are specific to your content and have a high search volume.
Whether you're creating a step-by-step tutorial or just want to pin images that feature your brand, you should include keywords in the pin description and title.
Optimize Your Profile
Your Pinterest profile is your identity and introduction to your audience.
Make sure to optimize your profile by including all the relevant information about your brand, such as name, bio, and profile picture.
Your Pinterest profile should be visually appealing, with high-quality images and consistent branding across your other social media channels.
It helps create a coherent brand identity and makes it easy for your audience to recognize your content across various platforms.
Pin Descriptions
When you pin your content, add relevant and specific descriptions that include your long-tail keywords.
The Pin descriptions should be relevant and descriptive and add value to the content.
Use your Pin description's first 50-60 characters wisely, as the text appears in the Pinterest feed.
Ensure your text is attention-grabbing and includes long-tail keywords to attract the right audience.
Board Descriptions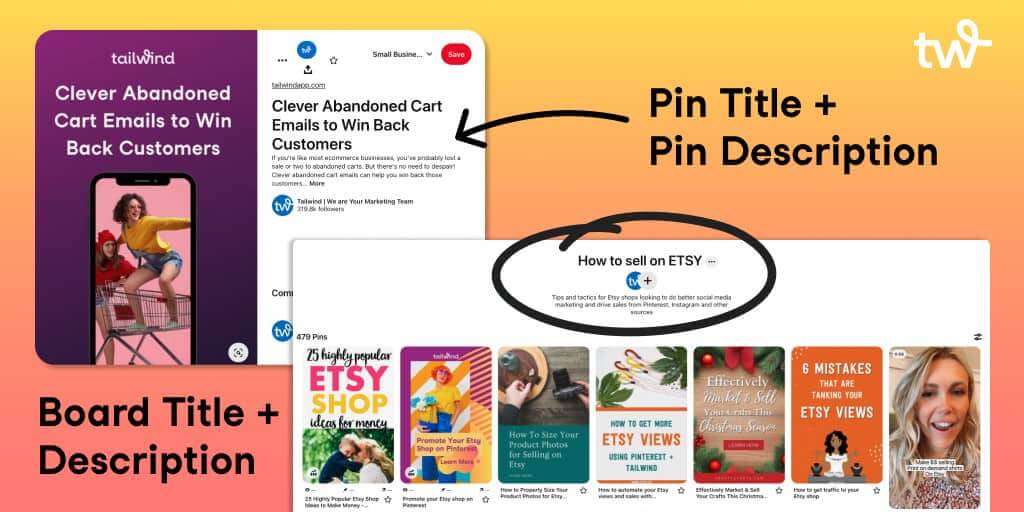 Image credit: https://www.tailwindapp.com
Finally, remember to optimize your board descriptions.
The board descriptions should be keyword-rich and specific to the board.
Use featured boards to promote your content (and links) and make it easy for users to explore.
Make sure your board titles are descriptive and also include relevant long-tail keywords.
It is a simple step that can improve the visibility of your boards.
Understanding Pin Performance Analysis
Improving your Pinterest affiliate marketing with pin performance analysis is crucial to success.
Pin performance analysis helps you track and measure the success of your pins on Pinterest.
With Pinterest Analytics, you can gain valuable insights into your audience, see how much engagement your pins are receiving, and track the success of your overall strategy.
Additionally, scheduling tools such as Tailwind can help you save time and easily manage your pins, enhancing your performance data.
While Pinterest Analytics provides excellent insights, creating a custom Google Analytics segment that tracks Pinterest traffic is essential.
Custom Google Analytics segment helps you better understand your audience's behavior and see how they interact with your website.
By knowing which pins drive traffic to your site, you can optimize your strategy and tailor it to your audience's interests.
Wrap Up.
Succeeding with passive income through Pinterest affiliate marketing requires a solid strategy and effective optimization.
You can increase your chances of success on Pinterest by conducting keyword research and optimizing your pins, boards, and profile.
Additionally, understanding pin performance analysis helps you track the success of your pins and tailor your content accordingly.
Further reading on AdamEnfroy.com: AI affiliate marketing is taking off in the industry.
You can generate more sales and increase conversions by utilizing AI to improve your audiences' experience.
Editorial Process:
Our reviews are made by a team of experts before being written and come from real-world experience. Read our editorial process here.
Some of the links in this article may be affiliate links, which can provide compensation to us at no cost to you if you decide to purchase a paid plan. These are products we've personally used and stand behind. This site is not intended to provide financial advice. You can read our affiliate disclosure in our privacy policy.