13 Best Database Software and Systems of 2023 (Ultimate Guide)
Choosing the right database software and systems is vitally important to your business. From finding the right provider to ensuring smooth scalability, the best database software can help you meet your goals. In this guide, I ranked and reviewed the 13 best database software, along with my top 5 choices, so that you can pick the best one for you.
---
We're reader-supported. When you buy through links on our site, we may earn an affiliate commission.
Want to cut straight to the chase? The best database software and systems right now are Knack and Improvado.
Whether a small business or large corporation, digital transformation has enabled organizations to generate data at every touchpoint.
From customer data to marketing automation, organizations need to store data in an organized manner while ensuring its security.
91% of businesses with more than 11 employees are leveraging CRM and database software to streamline their data for all types of useful purposes. And the mobile CRM and database market grew 11% in 2019 and is now worth $15 billion.
With 127 new devices joining the internet every second, having the right database in place is vital.
But before leveraging the right one, you need to choose one that works best for your business.
To help make this decision easier, I ranked and reviewed the best database software to use this year.
Let's get started.
What is the Best Database Software?
Here are my picks for the best database software to use this year: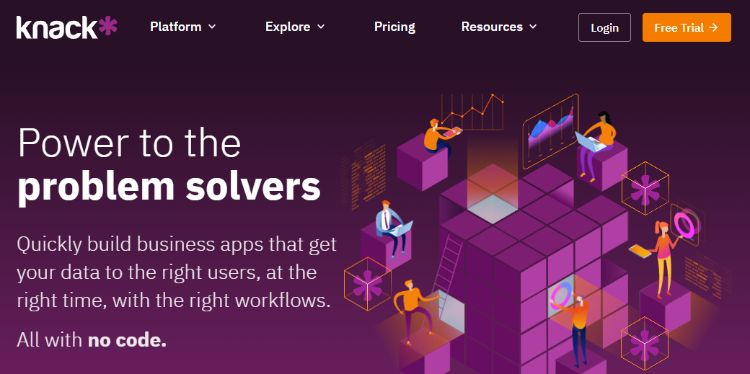 Knack was founded in 2010 and is the easiest online database tool I've come across.
They're a SaaS-based online tool that allows their users to easily structure, connect, and extend data with no coding required.
Knack has an impressive customer base, including Intel, Capital One, HP, Spotify, Panasonic, Zendesk, Honda, Harvard University, and many others.
To use Knack, you start by structuring your data with the main columns that you need – including things like name, email, address, phone number, and any number of custom categories.
Next, you connect your data by integrating it with different systems. They boast a powerful API that integrates with a lot of popular tools like Zapier, extending its functionality: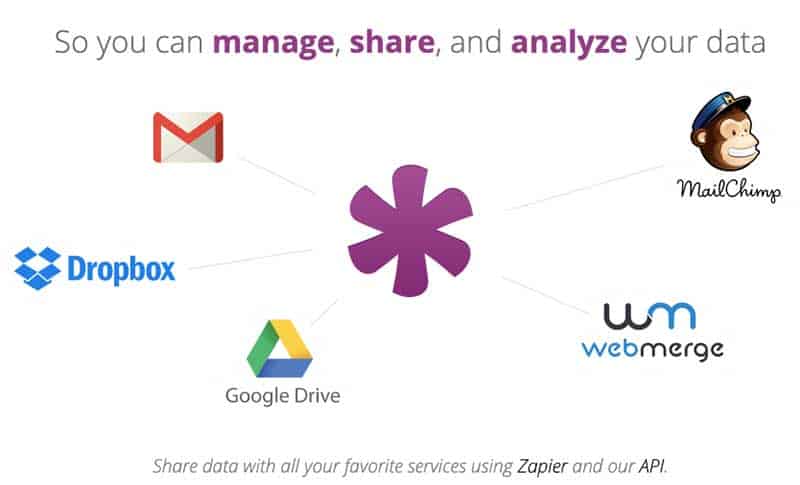 Finally, you extend your data and make it more useful with custom formulas and equations. And all of this is done in a simple web-based interface with no deep coding knowledge required.
Knack also features 39 pre-created database templates to choose from based on organization type or features.
For example, if you're an agency, there's a custom CRM template where you can manage customers, and assign tasks and meetings to generate sales.
If you're a large enterprise, there are database templates to do everything from project management to managing purchase orders, inventory, payroll, and even adding job listings on your website.
With this much functionality in one simple piece of software, you're able to save a lot of money between interdepartmental teams that may be using 4-5 different tools to do all of this.
Pricing:
Knack has three main pricing plans starting at $39/month up to $179/month.
Their Starter Plan at $39/month gives you up to 20,000 records, 2 GB of storage, and 3 app connections
The Pro Plan at $79/month provides 50,000 records, 10 GB of storage, and 8 app connections
Finally, their Corporate Plan is very popular and gives you 125,000 records, 50 GB of storage, 25 app connections, and premier, white-glove support
They also offer custom enterprise plans called Plus 1, Plus 2, and Plus 3 which vastly increase the database. For example, with the Plus 3 plan at $999/month, you get 1.5 million records.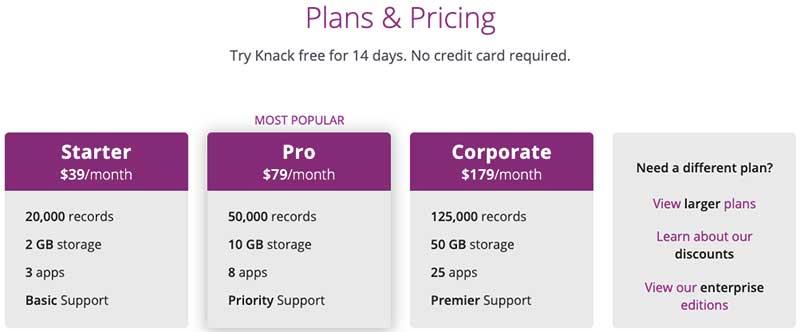 The best strategy is to simply choose your plan based on how many records you need in your database.
Overall, Knack is a fantastic online tool that is changing how we think about managing data online.
They offer a 14-day free trial with no credit card required.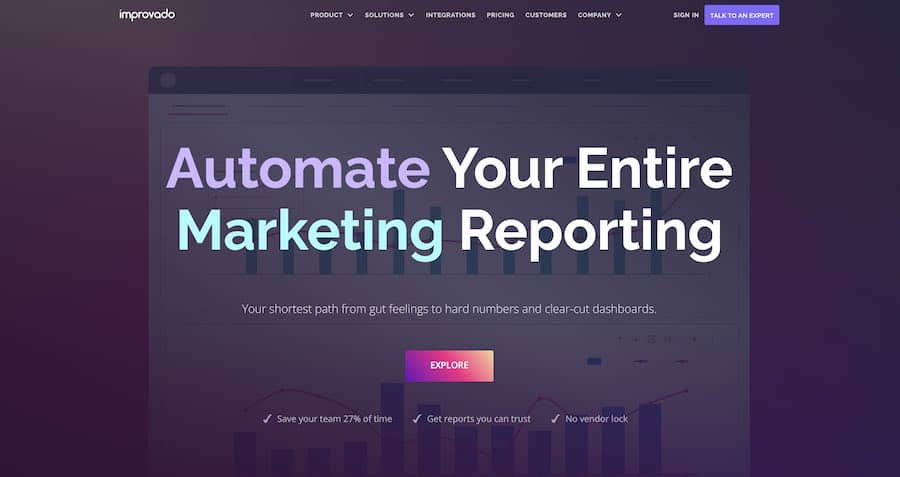 Improvado is a popular database software tool that can help you aggregate all the marketing data for small and large enterprises in real-time. It is a flexible and scalable marketing middleware solution.
Key Features:
Integration: It offers integration with numerous third-party tools, including Google Adwords, Excel, Facebook, Tableaus, Twitter, Salesforce, MailChimp, BigQuery, among others.
Reporting: It has a robust reporting mechanism and reduces manual reporting by over 90 percent.
Data Visualization: Easily extract and send all data sets to visualization tools, including Google Data Studio, Looker, Tableau, and Google Sheets, among others. It is also equipped with an intuitive dashboard.
Cost-Effective: With Improvado, you don't need SQL experts to understand its functionality; hence, hiring a developer is not required.
Pros:
Ability to migrate your data and duplicate the online database instantly
Side-by-side comparison of metrics for quicker business decision making
Real-time integration of data models amid live connection on a dedicated database server
Robust customer support from the highly trained and experienced engineering team
Clean user interface and navigation control
Constant access to regular statuses and updates on multiple projects
Error-free and insightful data analytics
Backup software and data recovery option for users
Well planned and clean database documentation
Cons:
The database often excludes the latest entries during the analytical comparison.
Pricing: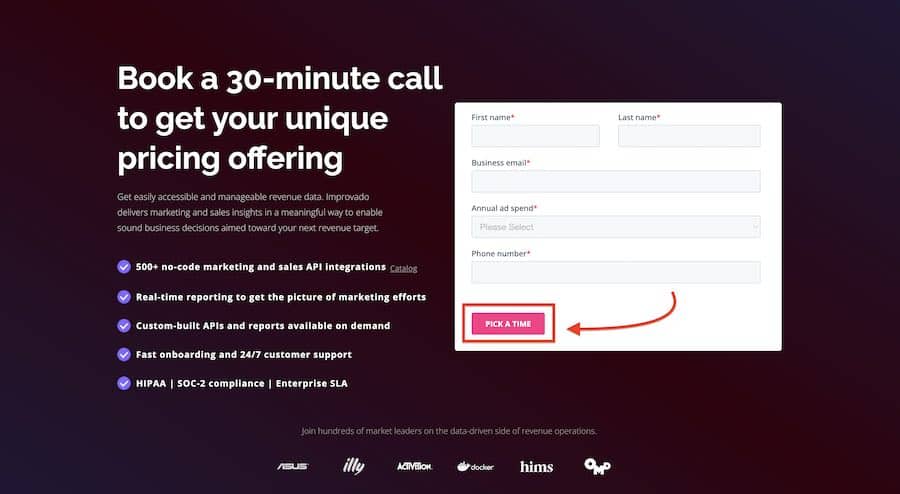 You'll have to request the pricing by filling in the form above.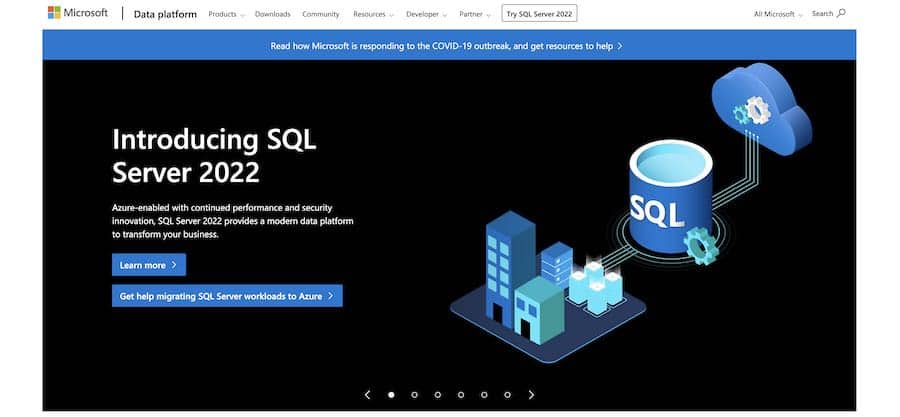 Microsoft SQL Server is one of the most effective and sought after database software.
This relational DBMS server is perfect for storing and retrieving multiple requests at once.
Key Features:
Excellent Performance: Turns raw data into actionable insights that can be delivered on any platform or device.
Free Trial: The developer and express versions of the Microsoft SQL server is available free of cost
Improved Query Processing: It now leverages adaptive query processing features to enhance query performance in SQL database and SQL server
Automatic Plan Correction: Fixes SQL plan performance issues by identifying problematic query execution
Pros:
Easier to set up a brand new database server from the start
Capability to create several tables, designs, and view data without syntax
Leverage Developer Network Feature to develop advanced queries
Handles complex queries and integrate with other programs
Identifies numerous names in the database system through Template Explorer
Combines scripts and views of linked objects or groups
Advanced querying and easy management of distributed databases
More advanced software than Microsoft Access
Cons:
Long query execution often takes longer than the expected calculated time
Data maintenance is cumbersome with a selective schema
Pricing: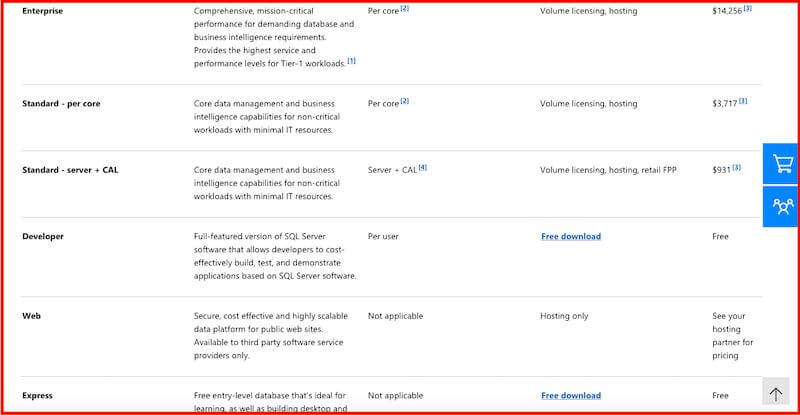 The "Express" and "Developer" versions are available free of cost. The paid plans start at $931 and range up to $14,256 (one-time cost).
4. MySQL.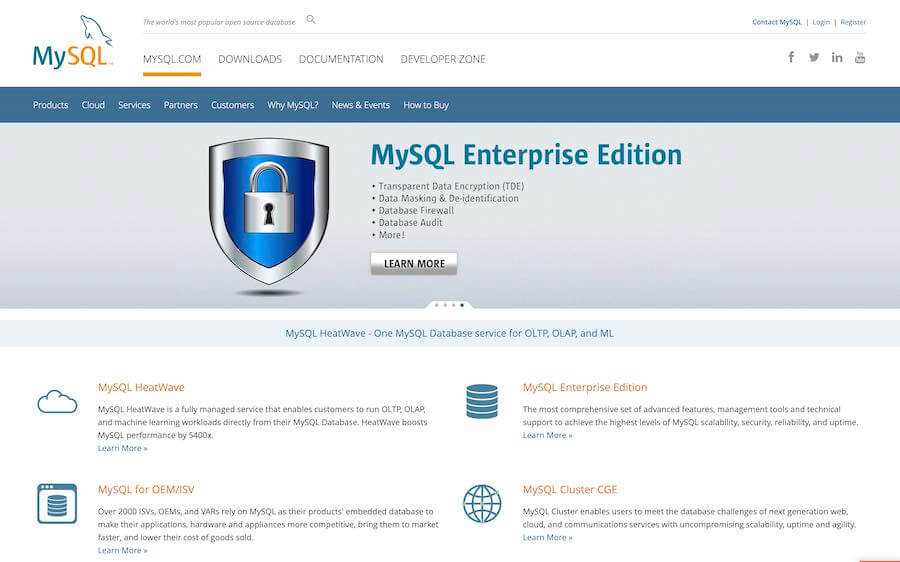 MySQL is an open-source relational database system. The majority of the web hosting providers bundle MySQL in their basic packages. Hence, it is popular among both amateur and professional web designers.
Key Features:
Scalability: It increases the scalability and security of the database
Business Oriented: Ecommerce sites can leverage business-oriented sophisticated applications
Technical Support: Offers robust technical support and fights potential cyberattacks
Easily Applicable: Reduced risks and costs. Lesser complexity in development, deployment, and management of crucial applications
Pros:
Offers better data recovery capability
Folks without a programming background can quickly learn its foundational features
Being an open-source tool, it provides complete flexibility in data customization
The low-cost structure makes it a more feasible option for small-size businesses and entrepreneurs
The adjustable data development process for small and heavy applications
Easy integration with Apache web engine
Cons:
Queries don't respond after you restart or refresh the software
Over-dependence on third-party plugins
Linux OS makes data operation more complex
Pricing:
Its pricing plan starts at $2000, $5000, and $10,000 for MySQL Standard, Enterprise, and Cluster Carrier Grade editions, respectively.
5. Amazon Relational Database Service (RDS).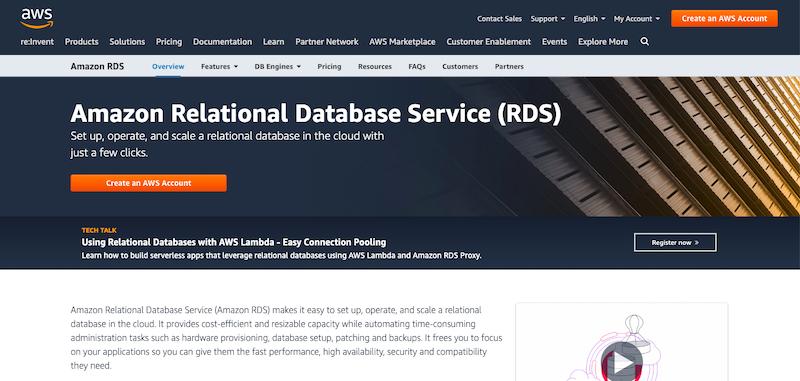 Amazon RDS is a stable and capable relational Database-as-a-Service (DBaaS) that is at par with other competent offerings from Amazon Web Services (AWS). It is a good option for experienced data scientists, users, and digital-native companies.
Key Features:
Data Backup & Security: Offers dedicated secure connection and backs up data automatically through its inbuilt feature
Flexible: It offers the option to scale computing resources or increase the storage capacity of the database through a single API call
Scalable: You can scale up to more than the capacity of the single database deployment for read-heavy database workloads
Easy to Use: Amazon RDS offers access to the abilities of a more familiar MySQL, Oracle, or Microsoft SQL Server database engine
Pros:
Processes heavy workloads in a single database system
You have to pay only for the number of resources you use at any point in time
Get easy access to Oracle, MySQL, and Microsoft SQL database among others
Flexibility and increasable storage through simple API request makes it a favorable option among programmers
Offers stable and robust performance
Plenty of controls and features for users
Responsive and capable customer support
Leverage big data tools seamlessly through its EMR service
Cons:
Offers limited auto-scale capabilities
Absence of physical servers prevents users from checking server logs
Relatively costlier than other DBMS options available in the market
Pricing: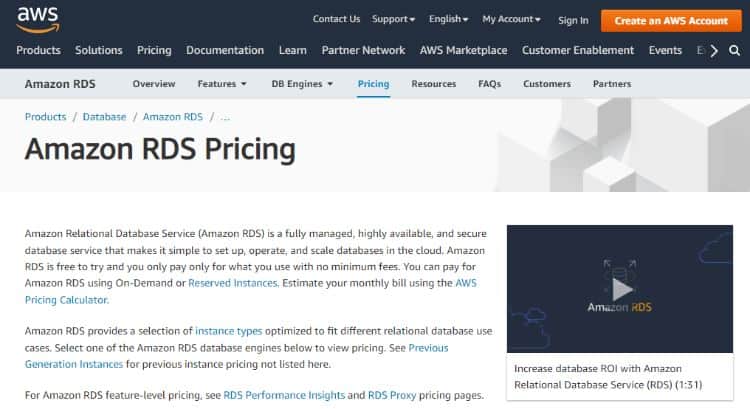 Amazon RDS is a 'free to try' tool. Users can pay for only those resources that they use. You can leverage On-Demand or Reserved Instance to pay for its services.
It might look overwhelming to pay for resources used, but you can easily estimate your monthly bill through its AWS Simple Monthly Calculator.
6. Oracle RDBMS.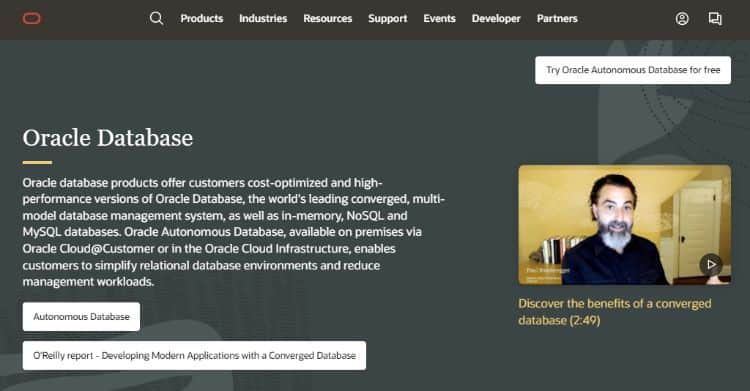 Oracle RDBMS is one of the most object-relational DBMS tools that has introduced some crucial capabilities in its latest version. It enables businesses with enterprise-scale database technology that can be stored on-premises or in the cloud.
Key Features:
Pluggable Databases: This feature reduces the risk of data consolidation and also lowers down resource consumption. It also allows independent backup and recovery of the pluggable database
Performance: It offers concurrent execution of union branches to reduce query execution time and wait time along with improved SQL elapsed time
Efficient: The latest version provides a more significant database, captures less space, higher security features, and processes your online database fast
Flexible: Oracle RDBMS can be run on a personal computer or sophisticated supercomputer with the same efficiency. Its active design triggers a highly compatible referential system
Pros:
Users can create partitions to achieve greater administrative control over the data
Offers greater data security and smooth transactional process
Efficient optimization of complex queries
Dynamic support is provided for seamless integration with various platforms to assist the development of applications with different technologies
Its smart suggestions help developers work more accurately and efficiently
Offers sturdy and stable performance
Cons:
Its pricing plan is not feasible for startups and smaller enterprises
Client applications get automatically plugged-in
The design looks a bit outdated
Consumes a lot of resources and lags while dealing with significant stored procedures
Pricing:
The cost of Oracle RDBMS varies based on the size and type of business you have, along with the existing software solutions being used in your IT infrastructure.
Therefore, you'll have to get in touch with their customer support executive to the exact pricing information for your business.
7. SQL Developer.

SQL Developer offers secure connection capabilities with many database technologies.
It provides vast flexibility and a great variety of tools that can be leveraged for any purpose.
Moreover, it helps in simplifying the management and development of the Oracle database in the cloud or traditional deployments.
Key Features:
Tighter Integration: It offers tighter integration with other database options and other products.
Reusability: It enables users to reuse queries for creation of report definitions in different layout and rendering the output in PDF or HTML formats
Feature-Rich: It offers free access to all of the companys' other features and other similar databases. Some of the worth noting features include SQL worksheet, database utilities, object development, and management, DBA controls, modeling, among others
Efficient: It takes lesser time for the execution of multiple queries. It also allows users to generate queries in several formats, including XML, HTML, PDF, or Excel.
Pros:
Users can simplify data management
It offers access to several database technologies
Its user interface is intuitive for its basic functionalities
Provides excellent customer support to resolve any sort of malfunction or bug
There is no need to install the software. Just copy its folder on the operating system
Cons:
Automated operating systems often change the database queries
Utilities including storage and resource manager are not intuitive
No integration with SQL developer with Enterprise Manager
Pricing:
SQL Developer is entirely free.
8. IBM Informix.

IBM Informix reliably manages and secured business-critical data.
It offers unlimited scalability and broad functionality to harness the power of data.
It is known for its industry-leading OLTP (Online Transactional Processing) performance delivered at cost-efficient prices.
Key Features:
Real-Time Analytics: It helps businesses leverage analytics-driven actionable insights while staying close to data sources for enhanced local decision making
Eliminates Downtime: Capability to maintain, upgrade and configure the grid without any downtime while successfully meeting service level agreements
Enhanced Development Agility: Offers support for unstructured and structured data through a hybrid database management system to ensure more natural development and flexibility
Lesser Hassles: Informix offers simpler deployment features, including smart triggers for database push notifications and event-based data processing. It also allows automation and frees up resources to focus on core business activities
Pros:
Offers cutting-edge data warehouse performance through the basic engine and Warehouse Accelerator module
Can be embedded more efficiently in comparison to other RDBMS systems
Offers high scalability and compatibility from Raspberry PI to the state-of-the-art multi-layered distributed nodes computing system
Ability to merge relational data in a time series with geospatial data, JSON data, and other unconventional data types
Perfect for enterprises that want to leverage parallel and multi-threaded processing of data
Intuitive dashboard to monitor server performance
Pluggable Authentication Modules can configure user authentication mechanism
Data compression capability helps in faster I/O, replication and backup operations
Cons:
Replication feature needs improvement
Difficult to find resources having hands-on experience with Informix
Pricing: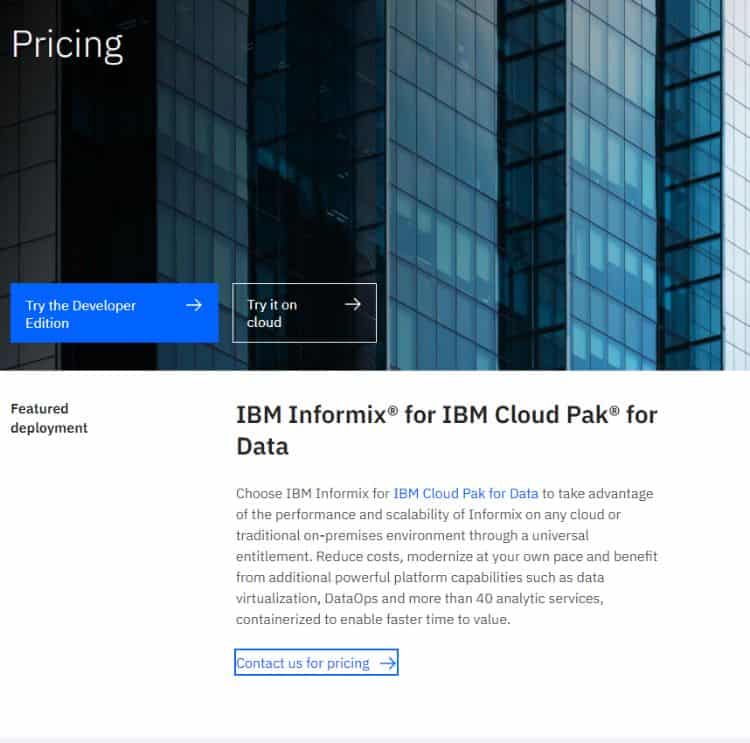 You'll have to contact IBM Informix to get more information about their pricing.
9. Altibase.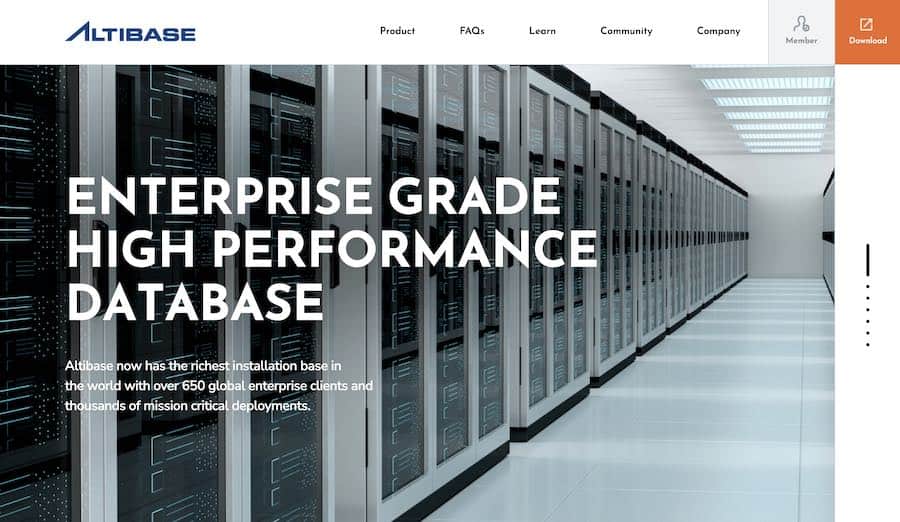 Altibase is an open-source, enterprise-grade, and high-performance relational database.
It scales horizontally and vertically by auto-extend in-memory sharding, and tables, respectively.
Some of the big corporations, including Samsung, Hyundai, and HP, are its most prominent clients.
Key Features:
IMDB (In-memory Database): It offers user-friendly and lightening fast architecture. It is efficient for use cases that demand low latency and very high throughput
Flexible Deployment: It provides three types of deployment modes, including In-memory only, On-disk, and Hybrid mode (memory & disk)
Highly Available: It supports highly partitioned tables capable of transferring data from memory tablespace to disk and vice-versa
Sharding: Its large scale sharding-out capabilities enable linear performance enhancement sans any coordinator related bottlenecks. Hence, there is no performance degradation while scaling up the database
Pros:
Offers wider accessibility across a plethora of industries including telecom, finance, manufacturing, and public service
The unified engine supports in-memory including disk-resident database
It offers all of the relevant tools and relational capabilities to service enterprise-grade applications
It supports ANSI SQL-92 and other SQLs provided by other systems as well
It supports all of the languages that support JDBC and ODBC along with other multiple programming languages including C, C+, Java, and more
Offers extensive customer support via training tickets, and Remote Altibase DBAs handles abrupt failures
It also offers preventive health checkups to ensure maximum availability and reliable performance
Migration from the legacy database is simpler
Cons:
Data operations might slow down in case you misconfigure it
Mobile access is not supported
Lack of own GUI database management tools
Server and client for Windows and Mac are not supported
Pricing: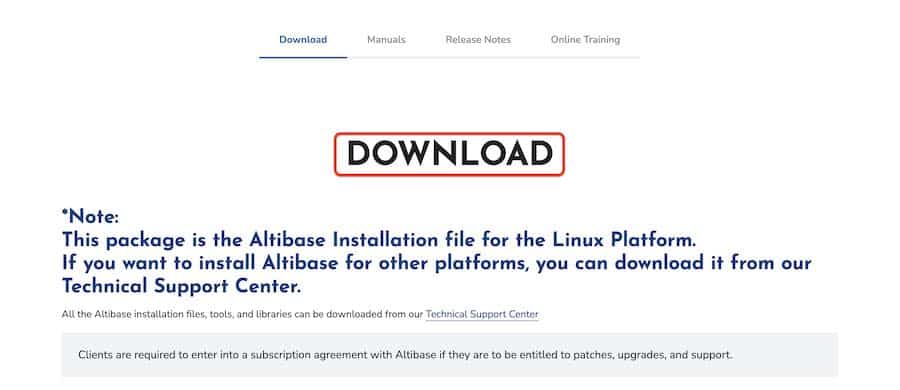 It is an open-source database management system with no subscription fees or processing charges.
10. EMS SQL Manager.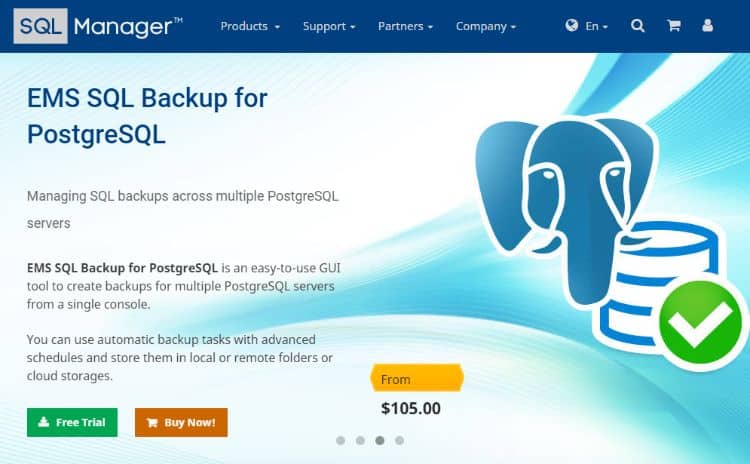 EMS SQL Manager enables you to create data analytics components within one dashboard.
It also offers robust vendor support that is capable of servicing all of your online database activities.
Key Features:
Database Conversion: It allows easy export and import of data files in various data formats flexibly. You can import MS Excel and MS Access file among others
Support: It supports MySQL versions from the range of 4.1 to 5.7. It also has the capability to control all objects in a sequential manner
SQL Backup: Can save up to 95% disk space and time during backup. It also supports automation of database maintenance process to enhance data availability
SQL Administrator: Helps in simplification and administration of SQL server administration process, along with the maintenance of tasks, server permissions management, performance statistics analysis, among others
Pros:
It facilitates users who want just want to monitor the existing database system
EMS is already integrated with multiple SQL tools
Simplified execution of multiple SQL queries on the database
Offers access to PostgreSQL server via HTTP protocol
It has an intuitive and powerful visual database designer
Efficient data manipulation and more significant security management
Significant data export and import capabilities
Cons:
Gets slower while handling multiple database objects at the same time
The system to provide multi-user access becomes complicated sometimes
Pricing: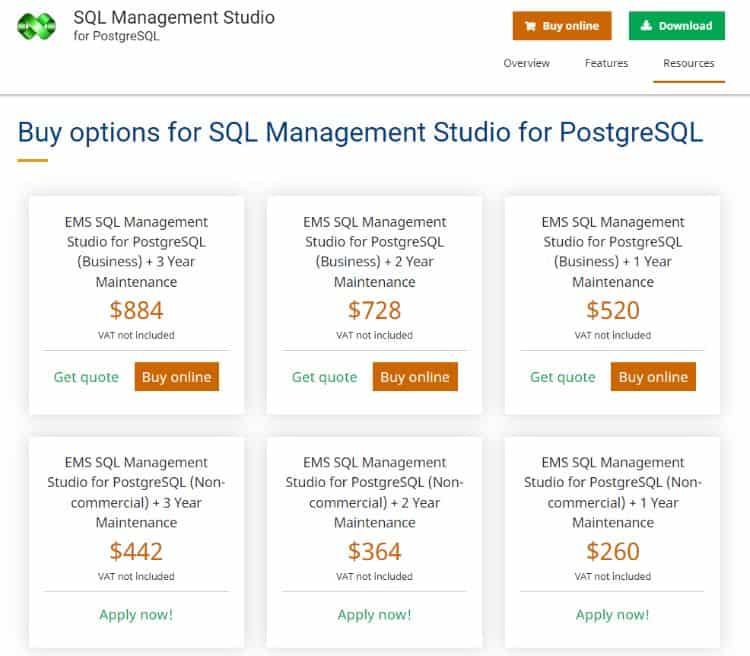 There are various products within the EMS SQL manager interface based on your specific business needs.
11. IBM DB2.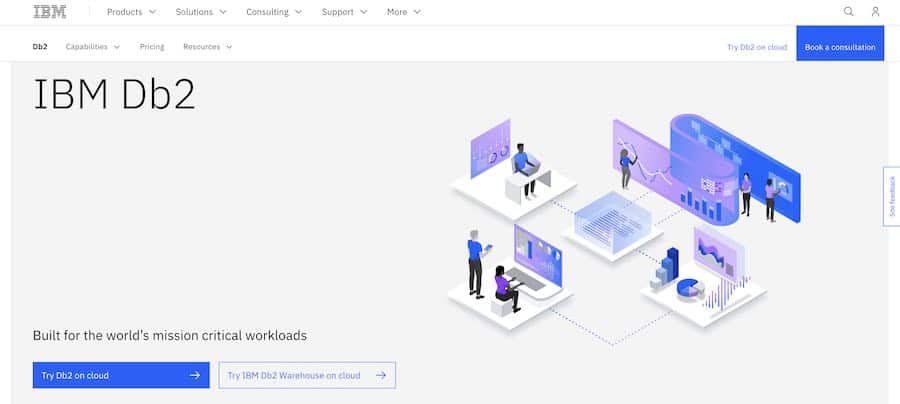 IBM Db2 provides solutions for the Operational Database, Data Lake, Data Warehouse, and Fast Data. It is, without a doubt, one of the ideal database software for the most demanding workloads.
Key Features:
XML Support: It enables enterprises to minimize the time and resources required to persist and leverage their XML data. It helps in a significant reduction of development expenses and enhances business agility
Task Scheduler: Its Task Scheduler supports statistics gathering and reorganization of indexes and tables without the need for any user interaction. It also allows the job to be run under other jobs
High Availability: It leverages ASYNC, NEARSYNC, and SYNC HADR models to keep multiple options and ensure a high uptime ratio
Supports Legacy Software: It meets the requirement to support legacy Java tools by leveraging the technology of the robust mainframe
Pros:
Data segregation is easier through easy partitioning due to automatic storage and tablespace usage
Smoother administration through commands, including CLI (Command Line Interface) or via Control Center / Data Studio ( DB2 10.x+)
It offers support to both private and cloud environments
It comes equipped with AI-dedicated capabilities that can structure and manage complex data
It can be deployed easily and integrated with multiple platforms, workloads, and languages
Extremely stable and requires deficient maintenance
Offers robust security
Distributes and remembers the exact location of every track where the data is located
Cons:
Non-developers might find the functional features of the DBMS entangled with too many complexities
You need to get paid IBM support for prompt assistance
The download of data is too heave and includes a lot of bloatware
Licensing fees keep on rising every year
Pricing:
Download and usage of the Community version in the production environment are free of cost. IBM DB2's Standard edition costs $1,850, and the Advanced edition costs $7,800 per virtual processor core (VPC) for 90 days.
12. Teradata.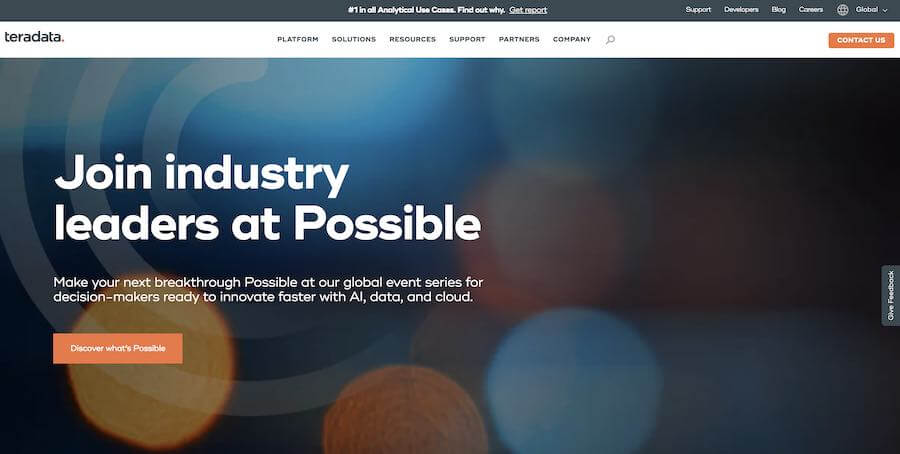 Teradata is one of the oldest and most trusted database management software.
It offers excellent processing speed to export and import data reliably. It efficiently manages complex data queries and simplifies the management of the data warehouse system.
Key Features:
Flexibility: Teradata offers the flexibility to analyze anything, deploy anywhere, and deliver analytics that matter the most to your business by analyzing data all the time. It can be done on-premise or from cloud storage.
Parallel: Its parallel processing capabilities give an advantage to other database software for analytics and data integration.
Scalable: Teradata provides high scalability options and comes equipped with vast pre-built functionalities.
Fast and Efficient: It is capable of churning out outputs at a quicker pace while handling multiple queries at the same time.
Pros:
It offers real-time processing and is capable of distributing large databases at a lightning-fast speed.
Its data analytics is capable of conducting enterprise-level operational activities for the business.
It leverages well-crafted permission controls to collect and track your data.
It provides amalgamated data storage by using a flexible multivariate data format structure.
It allows the end-user to access reports without any hassles.
Comes equipped with fast load and multi-load capabilities that are coupled with t-pump to ensure near real-time operations.
Full table scanning is feasible at a much faster pace.
Cons:
Third-party tools are not appropriately responsive.
GUI looks dated.
Costlier than other RDBMS present in the competition.
13. Database Performance Analyzer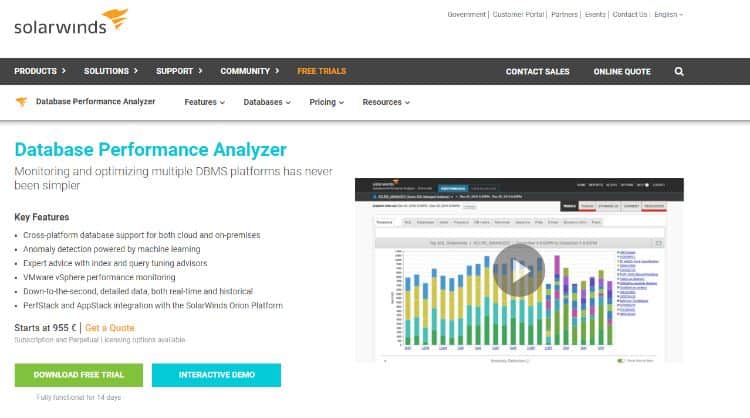 With Database Performance Analyzer, the database performance guessing game is over.
Database performance analysis is now easy to do, and you can get results without leaving your desk.
Key Features:
The Database Performance Analyzer is capable of analyzing thousands of SQL statements in just minutes to determine how changes affect the performance of your databases.
You can instantly see the overall performance of your entire database, or drill down to view specific sections and tables.
You can slice and dice your data in a variety of ways, such as by SQL statements, connections, durations, execution plans and more.
It's never been easier to keep an eye on and improve several DBMS platforms.
Pros:
Database connectivity on various platforms for data and schema browsing.
Transaction tracing to evaluate when statements start, when locks are applied and released, and when commits/rollbacks occur.
Machine learning-based anomaly detection means you no longer have to schedule regular database "health checks" – the database performance analyzer will automatically detect when things go wrong.
Real-time and historical data is available down to the second.
Cons:
The Optimization Advisor is focused more on indexing strategies, rather than more advanced topics such as query optimization and locking issues.
Pricing:

The pricing is as follows:
Subscription: Starts at €955
Perpetual: Starts at €1,835
Other honorable mentions include Filemaker, Redis, MariaDB, MongoDB, SQLite, and SAP.
What is Database Software?
Database software is a utility or software program developed to create, edit, store, search, extract, automate, and maintain database files and records.
Database software management system (DBMS) helps users to manage data in the form of structured fields, columns, and tables.
In simple words, database software stores data in an organized manner within web applications.
Additionally, another key is the relational database management systems (RDBMS).
These relational databases allow database administrators to identify and access data in relation to other data in the database.
In the end, databases store data in tables. The tables can grow quite large and have a lot of records in columns and rows. RDBMSs use SQL to manage all of this complex data in an easier to use way.
What are the Benefits of Using Database Software?
A capable database helps enterprises in enhancing their access to heaps of data generated regularly.
The primary purpose of an efficient DBMS is to ensure easy access and sharing of data among different stakeholders.
Here are some of the essential benefits of using database software in an organization:
1. Reduced Data Redundancy.
Database software tools are somewhat unlike file-based systems, where sometimes multiples copies of the same file are stored at different locations or at even at various data centers that may lead to data redundancy.
Today's DBMS software leverage a single database, and any modification in the files are reflected immediately.
Hence, it eliminates the chance to retrieve any duplicate data.
2. Efficient Data Integration.
The practical implementation of a database reflects an integrated organization.
Organization-wide access to data helps different stakeholders to analyze how data of one process is affecting other operations and vice-versa.
The right IT service managment processes ensure that your data is integrated in various locations without being corrupted.
3. Consistent and Compliant Data.
Consistent data is essential to meet compliance and enforce accountability. Different versions of the same data can create confusion and chaos.
Efficient DBMS ensures that the user can share corresponding data at all points of contact.
Combined with CRM software, a business can create and store email templates to use for their customer communication. This can help ensure consistency when sending emails as it captures the tone and style of the organization's brand in one place. Additionally, CRM software provides analytics so that you can begin to understand what works best with customers and use those tactics more often.

With this knowledge in hand, businesses
4. Data Security.
Cloud computing has enabled today's databases to become more secure against cybersecurity threats.
Aside, a robust system to give access to authorized users makes it a reliable system to store and manage large amounts of enterprise data.
5. Backup and Recovery.
DBMS is equipped to take automatic backups of the data at regular intervals.
It is also capable of automatically restore the database to its previous state in the event of any crash or system failure.
6. Privacy.
Database software helps you safeguard the confidentiality of data at any cost.
Users are authorized to gain access to data as per their authorization levels.
Different access constraints are given to different levels of users to safeguard the privacy of data.
7. Quicker Decision Making.
Efficient DBMS ensures easy and fast access to heaps of data at any time and from anywhere.
New-age DBMS software comes equipped with a better data management system to offer high-quality, actionable insights for better decision making at a faster pace.
Quicker decision making also helps in enhancing end-user productivity.
How Does Database Software Work?
Modern database software works on relational principles. This means that the data is stored in a structured form using columns and rows.
A relational database management system helps in faster retrieval of information by quickly locating specified values within the database.
We call it relational because all of the values in a table are related to each other.
Depending on the requirement, tables can be related to other tables.
The relational structure helps in running queries across multiple tables at the same point in time.
The majority of DBMSs use Structured Query Language (SQL) to implement a scripted method to establish a connection and interact with the database.
Modern database applications offer a graphical interpretation of data to make data consumption easy and intuitive. SQL works in the background to transform raw data into graphical reports.
How Do You Use Database Software?
Databases are an efficient way of organizing large amounts of data generated regularly in a faster and more accurate manner.
Here are the main ways to use database software.
1. Data Analytics.
An efficient DBMS tool can help in segregating high-quality data that is credible and not redundant to churn actionable insights for business development and customer support.
Capable DBMS enables enterprises to leverage advanced analysis methods and help you visualize data efficiently.
Take Improvado's data visualization and reporting tool, for instance: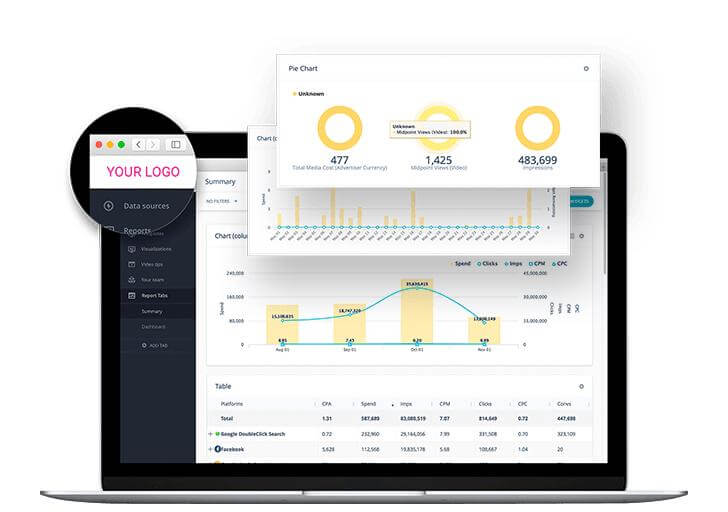 It offers agility in terms of data provision, data processing, and data preparation from IT.
Most systems also support Artificial Intelligence, Machine Learning, and predictive analytics capabilities of an organization.
2. Data Presentation.
These tools are essential for safe, secure, and efficient presentation and reporting of data across relevant stakeholders. It also offers the functionality to make data reports visually appealing and engaging through its graphic rendering capabilities.
Graphic-rich reports help in a better understanding of the data and incite more significant interaction and discussion.
3. Multi-User Access Control.
DBMS offers the capability to give secure access to multiple users to enhance collaboration and accessibility to data.
It is implemented through concurrency control strategies to ensure the integrity of data is maintained, and the accessed data is always correct.
4. Data Security.
Modern DBMS offers multiple layers of data security to keep enterprise information safe and secure.
It restricts unauthorized access, regular load, or capacity testing is done to prevent crashing of database and regular fixes for known and unknown vulnerabilities.
Aside from this, cloud database and computing has made a breach of data even more difficult as servers are not accessible physically.
Whether you need a NoSQL database solution for Android or a distributed database like Oracle, data security is paramount.
5. Data Storage.
The storage of data has been the subject of much debate, with data being created faster than ever.
A database management system is a collection of software that provides services for creating, storing, and accessing data files.
A DBMS also gives the user the ability to create multiple users and control their access privileges.
6. Data Sharing.
Sharing data with the right person is one of the most challenging tasks.
There are several factors that should be kept in mind while sharing data, for example 1) What has been shared and 2) with whom has it been shared? 3) When was it shared? 4) How much has been shared?
7. System & Data Administration.
This field is divided into two parts: System Administration and Data Administration.
System administration consists of installing, maintaining, configuring, and upgrading computer systems servers, networks, etc.
As per the field of data administration, it includes developing databases for storing different types of data, computing structures to store database objects in memory, managing database files stored on disks, etc.
Executive Summary.
Databases have become new goldmines for businesses.
The constant development of Artificial Intelligence (AI) and Machine Learning (ML) capabilities have made data processing more accessible and more efficient.
Enterprises are leveraging big data analytics to achieve better business outcomes faster.
From churning out actionable insights to stay ahead of the market by delivering highly customizable and personalized services to their customers, data has opened a plethora of opportunities for businesses.
But the possibilities mentioned above can only happen in the presence of a robust database management system (DBMS) that is capable of creating and managing heaps of data consistently.
An efficient DBMS allows you to retrieve or update the data through a few simple clicks.
Enterprises need to choose the DBMS that meets their specific requirements while staying productive and cost-efficient.
Are you using any of the database software mentioned above? If so, which one? Comment below.
Further Reading on AdamEnfroy.com: To check out my other software reviews, read my post on the best marketing automation software, project management tools, or best ERP software to use this year.
Editorial Process:
Our reviews are made by a team of experts before being written and come from real-world experience. Read our editorial process here.
Some of the links in this article may be affiliate links, which can provide compensation to us at no cost to you if you decide to purchase a paid plan. These are products we've personally used and stand behind. This site is not intended to provide financial advice. You can read our affiliate disclosure in our privacy policy.